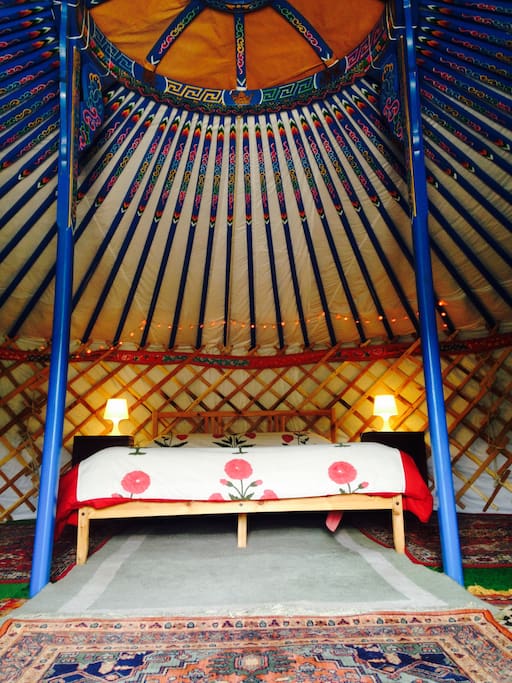 Come and spend some time(lessness) in a luxurious, hand-crafted, eco-friendly, lovingly-made Mongolian yurt located on an deep in the heart of spectacular Andalusian countryside. It is surrounded by lush almond groves and beautiful valleys.
Kohde
Experience the traditional home of the nomadic Mongolians which they move according to the pastures available for their herds.
PLEASE NOTE: We have just replaced the yurt in the photos with a slightly larger, brand new blue yurt with many of the same furnishings so it will be slightly different (and better!) than the current photos.
Located in a beautiful National Park, Los Montes de Malaga, deep in the countryside with an orchard and olive groves, the property is an absolutely gorgeous 350 year old Spanish farmhouse set in 17 hectares of almond and olive groves and wilderness. Our project is called 'The Unique Retreat' and you can read more about that by searching for it online in Colmenar, Malaga.
The yurt, which was imported directly from Mongolia, is spacious and tastefully decorated with eclectic Asian and Moroccan furnishings.
It is completely organic and authentically crafted with yak hair so as to maintain a very comfortable temperature in winter as well as in summer. It has the additional attraction of an open crown which can be left open to enjoy spectacular night views of the stars with absolutely no light contamination.
There is a double bed with a top of the range mattress and 100% cotton linen. The space is best for just 2 people. The yurt also has the benefit of being a very private space although it is only 20 metres from the main farmhouse.
The farm also has its own vineyard (Shiraz grapes mainly) and is totally organic. It has a warm, cosy, homely feel and is set amongst breathtaking countryside. It has a salt water swimming pool to which guests have full access and beautiful, fully-restored bedrooms and is full of atmosphere and charm.
We also have several beautiful and comfortable rooms in the house which you can see on my profile looking for Same Location/Other Listings. The rooms are called Gorgeous Andaluz Farmhouse Malaga 1, 2, 3 and 4 and their listing numbers on Airbnb are (PHONE NUMBER HIDDEN) and 462477.
Guests may also use the kitchen, share a large airy bathroom and enjoy long walks on the property or around the surrounding countryside.
This is a safe and relaxing place to chill out and explore and is by far the best deal you are likely to find anywhere near here!
There are also four double bedrooms in the house (two with modern ensuite bathrooms with power showers) and a very comfortable single room so if you are wanting more than one room in this spacious farmhouse which can sleep 10 people, please check our other room listings. Please contact us even if dates come up as fully booked as we may still have availability.
The shared bathroom is large, airy and full of natural light and has a deep sunken bath tub and power shower.
Guests say they sleep like logs here. It is extremely tranquil with just birdsong to accompany your slumber. You may awake in the morning to swooping swallows and a breeze gently caressing the yurt.
There is a large, comfortable kitchen (with great coffee as well as lots of teas and infusions) internet, wifi, a landline, enormous fireplace, salt water swimming pool, organic vegetable garden, and lots of great areas to walk in. There is a lending library with a wide variety of literature.
You can do yoga, paint, write or whatever outside in the orchard, by the pool or anywhere you like.
We can do yoga with you if you like, have informal classes and can organise specific workshops as we are friends with a number of very experienced yoga teachers from a variety of traditions. There is also a weekly Tai Chi class in the village.
We are 5 kilometres from the nearest town, Colmenar, which is very typically Andalusian with a good variety of bars and restaurants which we can happily recommend.
We are 40 minutes from Malaga and the airport and 1.5 hours from Granada, 1 hour and a quarter from Cordoba, 1.5 hours from Seville - ideally situated for getting to know these amazing Andalusian cities and seeing the Alhambra, the Mezquita of Cordoba, El Torcal, a beautiful national park 25 minutes from here and the prehistoric dolmen caves near Antequera etc.
PLEASE NOTE, if you would like to go to the magnificent and not-to-missed Alhambra in Granada, please make sure to reserve tickets well in advance as they sell out very quickly.
Equally we are only half an hour from the beaches of the Mediterranean and the Costa de Sol and two hours from the more wild, white sandy Atlantic beaches of the beautiful Costa de Luz, Tarifa for windsurfing and partying, Vejer de la Frontera and Cadiz, the oldest port in Western Europe.
We love preparing delicious, healthy food which can be traditionally Spanish, Asian-inspired and international and is principally vegetarian although we also love fresh, locally-sourced fish and organic, home-grown fruits and vegetables.
Nacho, my husband, trained in catering at the renowned 'La Consula' where Hemingway lived and members of the Royal Family and other notables have sampled local delicacies.
Breakfast has a small additional cost and depending on what you would like (fruit salad, smoothies, a traditional Andaluz breakfast, eggs (poached, boiled or fried), croque-madame, porridge, cereal, toast and homemade marmalade etc. etc.) costs between €3 and €6.
We can happily provide you with other meals as well depending on your preferences and lunch and supper costs between €6 and €20 depending on what appeals to you.
We are incredibly happy here and feel like we are living in a paradise and often have people come to stay who just revel in their time here. My Spanish husband has twenty years of experience in the catering and hotel industry as a maitre d' in 5 star hotels and Michelin-starred retaurants and is a fabulous (and very friendly) cook.
I am a very experienced and fully qualified therapist and can give massage and reflexology treatments in the treatment room here. Please let me know in advance if you'd like to book in a massage or reflexology session to make your stay here even more extra special!!
If you would like to organise your very own personalised retreat for yourself or a small number of people, we would be delighted to help put this together for you.
We love meeting new people and have been called excellent hosts. You can be as social or reclusive as you like - there is plenty of space to just hang out in, read, paint etc..
It is a beautiful retreat space and we often host workshops on yoga, meditation, photography, permaculture, Spanish language and cuisine, art, flower remedies etc. as well as the occasional party. We are very respectful of others' views and won't force any of this on you, though, if that's not your thing...
There is plenty of parking and if you are travelling without a car, there are good public transport connections from here and we can do airport pick-ups or pick-ups from Malaga if necessary. We speak Spanish, English and French.
Please note, guests often wish they could stay for an extra night to really be able to make the most of relaxing on the farm and getting to know the local area so please bear that in mind when you book.
We have two friendly cats and a German Shepherd dog who is a sheer delight and very sweet and loving who would be happy to take you on walks in the mountains around if you would like that.
We hope to see you! Enjoy and happy travels!
---
Kylpyhuoneet: 1 (Jaettu kylpyhuone)
Sisäänkirjoittautuminen: Milloin tahansa 15:00 jälkeen
Uloskirjoittautuminen: 12:00
Huonetyyppi: Yksityinen huone
---
Alueella maksuton pysäköinti
---
---
Sisäänkirjautuminen milloin tahansa klo 15:00 jälkeen.
We ask guests to be respectful of our space, our home, the countryside around us, our cats and of course, of each other!!

We encourage you to help us to save electricity by turning off any lights that you are not using when you are not in your room.

Please be conscious of your use of water as the South of Spain needs to conserve as much water as possible.

Please bring your own towels for use by the pool or for the beach.

Please help us keep the house neat and tidy by not leaving belongings scattered about.

We ask guests to smoke outside and to be very careful with cigarette butts as there can be a fire-risk. Please use the ashtrays available.

Guests are welcome to use our washing machine and can use the kitchen appliances and oven if you choose to be self-catering and we just ask for a small contribution towards the cost of electricity/gas and water.

We recycle and ask guests do the same and we have separate rubbish bins for plastic, paper and card and organic material.

If you borrow anything, please put it back where you found it. Guests will be responsible for any damage caused to the property.

If there is absolutely anything we can do to make your stay more comfortable or pleasant in any way, please don't hesitate to tell us.

Many thanks and enjoy your stay!!
---
Tiukka
Jos peruutat viimeistään 7 päivää ennen matkaa, saat 50 %:n hyvityksen. Jos peruutat 7 päivää ennen matkaa tai myöhemmin, et saa hyvitystä varauksesta.
---
---
Vähintään 2 yön majoittuminen.
---
Unmissable magic is exactly what this stay was. From sleeping in the yurt, to reflexology treatments, organic meals cooked by Marina and Nacho! They were the perfect hosts!This is by far the best AirnB stay yet! We will definitely come back.
Vastaus käyttäjältä Marina:
Nicola, it was soooooo special to meet you and have you all here. We loved it and would love for you to come again as we like you all so much! Thanks for the information shared and for the great conversations and vibe. See you perhaps in Ireland or here again, hopefully!
---
We were looking for a quite, friendly, scenic, comfortable place to stay for a little getaway from life..and we found it and much more here with Marina and Nacho. I could not find fault if i tried to be honest, communication was top notch and prompt, the food was locally sourced, cooked/prepared fresh and delicious. the yurt was large and bright with a very comfy bed and plenty of storage as well. Marina and Nacho are wonderful hosts and the whole experience along with some other brilliant guests ( who we are all keeping in touch with) made our stay so special. The views when you step out of the yurt first thing are breathtaking and sitting in the chill out area with a fresh smoothie before a dip in the clean well sized salt water pool is in my mind a pretty good start to a day! Even though it is secluded and most people may hire a car , we found it fine to walk into Colmenar and back as long as you have a good supply of water and don't mind a 40 minute walk each way and for our 3 day stay it was fine. We will definitely be back :)
---
Marina and Nacho made us feel so welcome, their farmhouse is beautiful and the yurt exceeded our expectations. They gave great advice on finding beautiful beaches and nice places to eat which meant we had exactly the trip we wanted. We especially loved the saltwater pool and amazing wine!
---
This place is so charming. If you like walking you will like this place otherwise you have to rent a car and it would be great because it's quite and relaxing place. Marina and Nacho was so nice and help you if you need any advice for restaurants or interesting places. The food we get was great and of course if you try things they are not for free so if you order food/drinks/shots you have to pay for it even if it's sounds like a invation but that's okay and the price for everything is totally okay and also they don't give you that feeling that you have to order all! The food was really delicious and the atmosphere was so nice and we felt like eating with a big family. Also the pets around us was so lovely and the dog Laila is such a cutey. We wish Marina and Nacho all the best and also would go there for a visit again we stayed at the jurt and it was really comfortable and so lovely to see the moon and the stars at night. We will keep this place in our hearts forever :) Thanks
---
Marina et Nacho sont là pour nous permettre de vivre tout ce qui est possible dans cette magnifique région Andalousie!! Wow combien d'amour dans cette belle atmosphère, et aux petits soins pour les papilles, du petit déjeuner aux autres repas Nacho cuisine de délicieux plats régionaux! Parfait cet endroit est un délice, les nuits dans la yourte, génial. Tant d'amour en pleine nature!! Muchas Gracias, David & Aurélie
---
We arrived at Marina & Nacho's retreat for a break after a tough year. What a beautiful experience we had. We stayed in the new yurt which is handcrafted and nothing like I had imagined. Its very spacious and cool and I have never seen so many stars in the sky! We were also greeted by the lovely animals and it was a pleasure spending time with them too. It was lovely to meet the other guests staying there and we felt so comfortable. Nacho's cooking is top class! I only wish we had stayed longer to experience all of his dishes on the menu...but we will definitely be back! I'd spoken with Marina about a meal for our first anniversary and I must say that it beat any restaurant. We had a candle lit dinner in the chill out area, which is very beautiful. Everything was perfect. Thank you so much to you both for allowing us to stay in your beautiful home.
Vastaus käyttäjältä Marina:
Andrea, thank you so much for your stay and your very kind thoughts here. We could not be more happy that you enjoyed your stay so much after having had a difficult year. We wish you both all the very best and look forward to having you back. Big hugs to you xxxx
---
que dire; cette maison est un havre de paix; idéale pour se reposer; la nuit dans la yourte très cool; Marina et Nacho sont super sympathiques ; tout était parfait
---
I am an experienced interpreter, reflexologist and Thai Yoga Massage therapist originally from Ireland but I have lived in Tanzania, East Africa, Bermuda, England, India, France and Colombia and have travelled extensively in several continents.

My husband, Nacho, is from Malaga and has worked for over 20 years in the restaurant and catering world and has been a 'maitre d' in five star hotels and Michelin starred restaurants. He is an extremely kind and generous as well as fun and a great cook.

We both feel our best roles are those of service and doing what we can to make people's experiences of life that much richer and more fun. We are positive, intelligent, easy-going, fun-loving people who love open-minded, open-hearted folk, nature, literature, art, film, photography, travel, yoga, horse-riding and animals in general, hiking, dancing, music, great food and wine and all kinds of exploring amongst loads of other things.

My professional background also includes working with young people in difficult circumstances, rehabilitation of street children and those with alcohol and drug dependency as well as physically and sexually abused young people.

I'd like to think there is nothing I can't live without but fresh air and good vibes definitely keep me alive in more ways than one! I feel totally at home here in Spain, am very well-integrated and love the lifestyle and joie de vivre of the Andalusians, their fiestas and traditions as well as Islamic architecture, of which the Alhambra in Granada, only an hour and a half away from our house is Spain's finest example. We adore much of Asia and many things about it, particularly its aesthetic, gentleness and food and equally love South America and Africa and much of Europe - so many great places!

We love the old Celtic idea that every stranger is a potential friend and we live by that in our home and on our travels. We are very independent, adventurous travellers and feel blessed to have travelled the world as widely as we have and had the extraordinarily amazing experiences we have had, often thanks to the hospitality and generosity of strangers as well as the incredible landscapes and soundtracks which have accompanied us.
Kielet:
English, Español, Français
Vastausprosentti:
100%
Vastausaika:
tunnin sisällä
Tarkat sijaintitiedot annetaan varauksen vahvistamisen jälkeen.
Tutustu muihin vaihtoehtoihin kaupungissa Colmenar ja sen ympäristössä
Enemmän majapaikkoja kohteessa Colmenar: