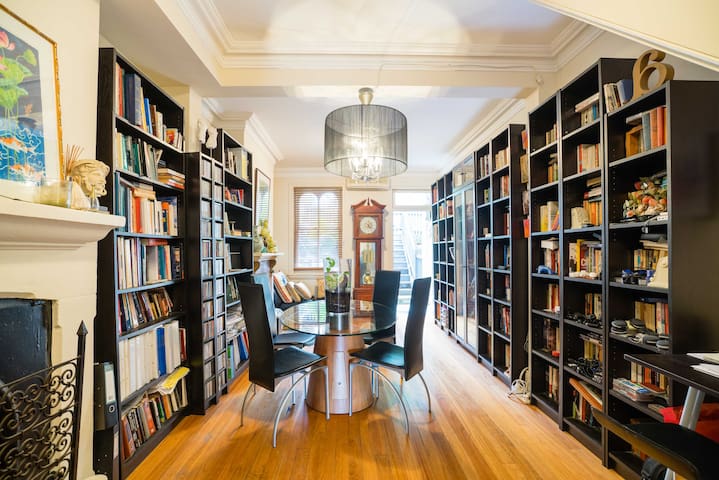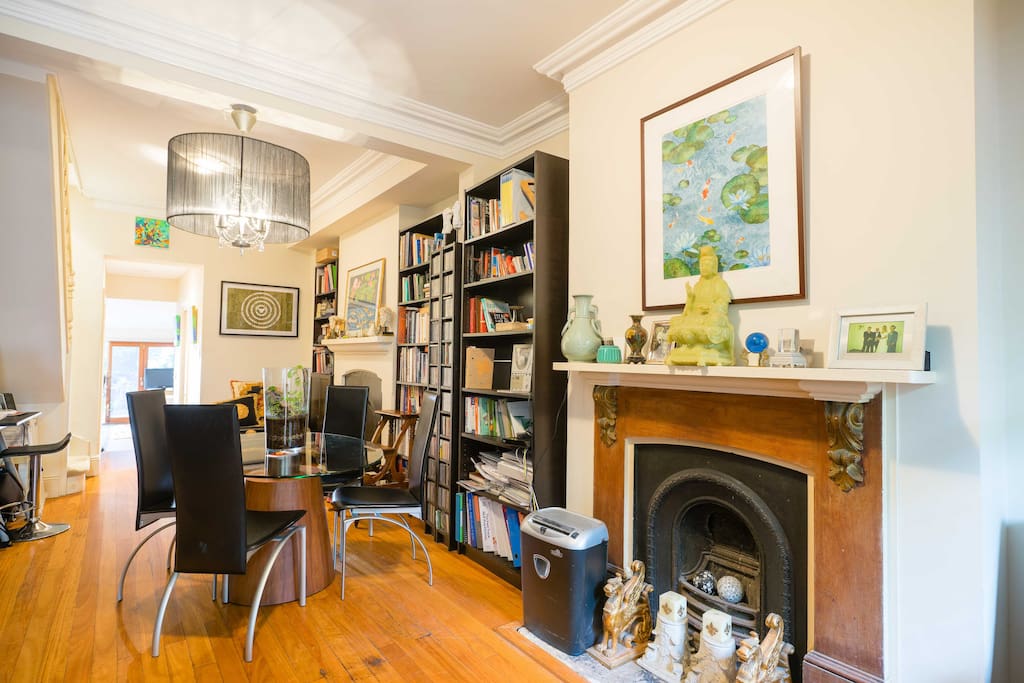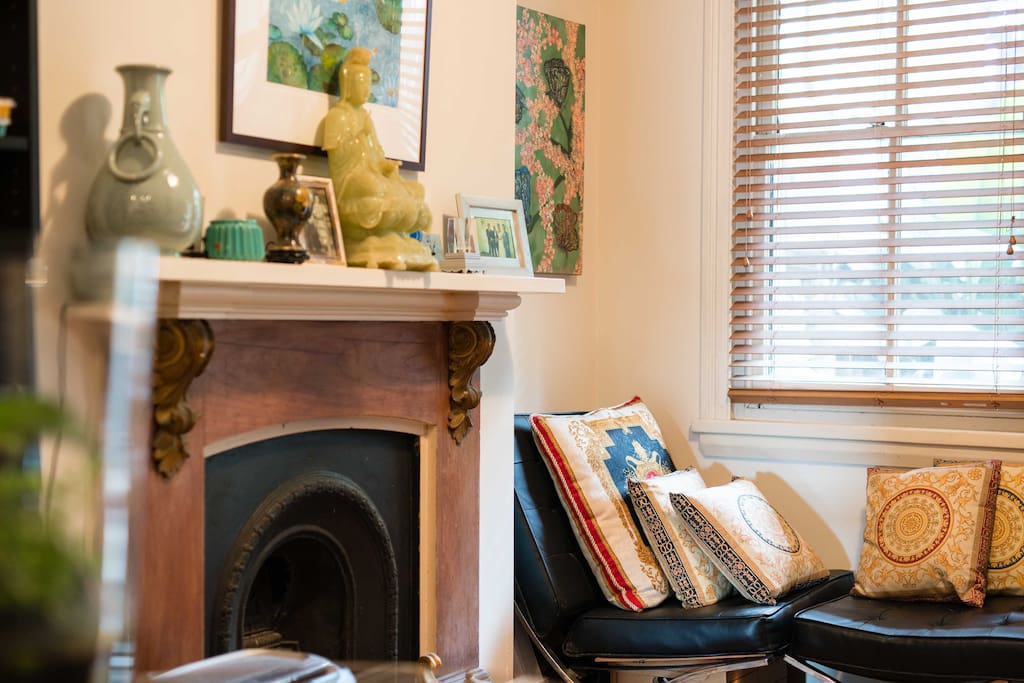 Tule pysymään Vinh & Stuartin kanssa (palkittiin yhdellä Australian suurimmista isännistä Airbnbin toimitusjohtajan Brian Cheskyn ja avainhenkilön Ashton Kutcherin kanssa. Olemme Sydneyn # 1 arvioidut isännät myös). Selvitä, miksi meitä on käsitelty positiivisesti yli 500 kertaa. Lue ensin listallemme (hintti) Emme hyväksy varauksia henkilöiltä, joilla ei ole vahvistettua profiilia. Älä myöskään tee varauspyyntöä ennen kuin olemme vaihtaneet viestejä. Olemme kiinnostuneita keskustelemaan ensimmäisenä ja varmistamme, että voimme tarjota sinulle viiden tähden oleskelun
Come stay with Vinh & Stuart (Awarded one of Australia's top hosts by Airbnb CEO Brian Chesky & key shareholder Ashton Kutcher. We're Sydney's #1 reviewed hosts too). Find out why we've been positively reviewed 500+ times.
Please read our listing first (hint hint)
We do not accept reservations from people without a verified profile.
And please do not make a reservation request before we have exchanged messages. We're keen to chat 1st and make sure we can offer you a "Five Star Stay"
Kohde
Ole hyvä ja kiitos ja lähetä meille viesti * ENNEN * teet varauspyyntösi ... Se auttaa nopeuttamaan asioita ja sileitä asioita ... Lue meidän listalle. Se saa vahvistetun varauksen saamisen helpommaksi :) Katso alla (vihje vihje) - G'Day Vinh & Stuartista Sydneyssä! Kiitos, että tulit tutustumaan listalle :) Meillä on toinen btw ... http://www.airbnb.com/rooms/73639 jos tämä ei ole käytettävissä "Sydney City Home with Harbor Views"; meidän varahuoneen ullakolla. Olemme melko rentoja isäntiä, ja kuten Sydneyn # 1 isännät toimimme aktiivisesti Airbnb-yhteisössä, mutta ymmärrämme täysin, että joudumme jonkun toisen kanssa kotona, ei ole jokaiselle. Saamme sen, paikkamme ei ole kaikille. Joten me emme ole loukkaantuneet, jos jätät tämän listan (siellä on runsaasti muita hienoja Airbnb-listoja, joista valita ei tarjoa isännöi kokemusta). Koska olimme Australian ensimmäisten Airbnb'ers (matkustajien + isännät) joukossa, olemme kehittäneet melkoisen laajan profiilin, joka perustuu kaikkiin vieraiden kysymyksiin, joihin olemme vastanneet vuosien varrella. Lukemisen kautta kuvaus loppuun (hintti) ja "House Rules" tarkoittavat, että löydät kaikki tärkeät tiedot, jotka tarvitset, jotta Sydney Airbnbisi pysyy fantastisena. Voit vapaasti lähettää meille viestin kaikista kysymyksistäsi, jotka olette meistä, kotimme, Pyrmontista, Sydneyn tai Airbnb: stä ... Haluamme kuulla sinusta! : D Tämä ei ole yritys tai hotelli. Olemme rento Airbnb-isäntä, ei hotellipalveluja. Tämä on meidän perheen koti. Asumme täällä. Et ole vuokraamassa tyhjää huoneistoa. Tämä ei ole "sub-let". Ja meillä ei ole sotilashenkilöiden joukkoa, jotka odottavat laukkujen ottamista päivällä tai yöllä. Meidän "check in" / "saapumisaika" / "bag drop" on kaikki sama asia. Huoneesi: * Yksityinen makuuhuone (lukittava ovi) * Queen size-vuode * Kaikki liinavaatteet, tyynyt, peitot, pyyhkeet, jne., Tarjotaan myös * Täysin ilmastoitu * Wifi Valo-aamiainen (vilja, hedelmät, paahtoleipä) sisälsi: * Aamiaisen asioita ja maukkaita herkkuja * Seasonal Fruits * Leivän paahto * Pääsy "Seinfeld-kaappiin" * Kaikki Vegemite, jota voit käsitellä * Teas & coffees - Olemme espresso fiends, älä syytää meitä, jos jätät paikkamme täysin johdotettu tai riippuvainen yhdestä alkuperästä; Vieras kylpyhuone (jaettu): * Suihku heti (täysipaine) kuumalla vedellä * Hiustenkuivaaja * Pyyhkeet tarjotaan Sydneyn kotiisi: * Upeat näkymät Sydney Harbour, White Bay ja Glebe Island * Kolmen tason terassitalo * Vain 2 minuutin kävelymatkan päässä Pyrmontin keskustasta * Vain muutaman minuutin kävelymatkan päässä kaikista Sydney tarjoaa * Lähellä lentokenttää ja kaikki julkisen liikenteen Hiljainen katu * Ulkouima, jossa on istuimet ja vedenäköala * Täysin ilmastoitu * Ilmainen wifi koko talon Pari asioita, joita sinun tarvitsee tietää ennen varaamista: -> STEEP STAIRS - Koska talo on kolmella tasolla ja portaat ovat jyrkät, emme suosittele kiinteistöä ihmisille, jotka haluavat matkustaa paljon matkatavaroita, liikuntarajoitteisia ihmisiä tai lapsia. -> TALKAN US ENSIMMÄISELLÄ - Lähetä meille viesti ja keskustele kanssamme ENNEN ennen varauksen tekemistä -> SAATAVUUTTA KOSKEVA KALENTERI ON TÄRKEÄÄ - Tee vain varauspyyntö tarkat (ja täydelliset) päivämäärät, joita tarvitset. Voit käyttää kalenteriamme listalle nähdäksesi saatavuuden kuukausittain. Jos päivämäärät, joita tarvitset, eivät näy käytettävissä olevina kalentereina, koska ne on varattu niille päivämäärille ... Anteeksi :( -> HYVÄKSYT ARVOSTUSOHJELMAT ennen kuin teet varauksen PYYNNÖSTÄ - Vieraan saapumisaika on kuusitoista. Katso lisätietoja muista saapumisajoista / lähtöselvitys / pussiin liittyvistä yksityiskohdista jne. Ilmoita meille ensin suunnitellusta saapumisajasta ennen kuin teet varauspyynnön. -> VOITTAA VERIFIED PROFILE - Olemme paljon todennäköisimmin hyväksymään Airbnb'ersin profiileja, ystäviä ja suosituksia koskevia pyyntöjä jne. Samalla tavoin voit tuntea enemmän ihmisiä, me myös teemme. Ja profiilikuva kissasta ei todellakaan leikkaa sitä ... PLEASE ASK - Lähetä vain viesti, jos sinulla on kysymyksiä siitä, onko meillä oleskelua tai käymme Sydneyssä. Viisi tähteä - Nyt tässä tärkeintä: ** Käytä koodisanoja. "Viiden tähden oleskelu", kun ilmoitat meille varauksestasi - Pudota nämä sanat viestiisi meille. Se kertoo meille, että olet lukenut nämä tiedot ja että olet valmis fantastinen viiden tähden isännöi kokemusta meille Sydney Cityn kotona. En voi odottaa tapaamaan sinua! Kippis, Vinh & Stuart PS Hyvin tehty lukemiseen asti! Useimmat ihmiset eivät :( Anteeksi, tämä on niin kauan, mutta tiedämme, että olemme vastanneet kaikkiin kysymyksiinne nyt. Muista käyttää koodisanoja; Viisi tähteä pysyä viestissasi.
Please say hello and message us *BEFORE* you make your reservation request... It'll help speed things up, and smooth things out...
Please read our listing. It will make getting a confirmed reservation so much easier :) See below (hint hint)
--
G'Day from Vinh & Stuart in Sydney!
Thanks for coming to check out our listing :)
We have another btw... http://www.airbnb.com/rooms/73639 if this one is unavailable "Sydney City Home with Harbour Views"; our spare room in the attic.
We're pretty relaxed hosts, and as Sydney's #1 hosts we play an active part in the Airbnb community, but we fully appreciate staying with someone else, in their home home, is not for every-one. We get it, our place isn't for everyone. So we won't be offended if you leave this listing (there's plenty of other great Airbnb listings to choose from that don't offer a hosted experience).
As we were among the first Airbnb'ers in Australia (travellers + hosts) we've developed quite an extensive profile based on all the guest questions we've answered over the years.
Reading through the description to the end (hint hint), and the "House Rules", will mean you'll find all the important information you need to make your Sydney Airbnb stay a fantastic one.
Feel free to send us a message with any question you have about us, our home, Pyrmont, Sydney, or Airbnb... We'd love to hear from you! :D
This is not a business, or a hotel. We're casual Airbnb hosts, not hoteliers.
This is our family home. We live here. You are not be renting an empty apartment. This is not a 'sub-let'. And we do not have a team of porters waiting to take your bags any time of the day or night.
Our "check in" / "arrival time" / "bag drop" is all the same thing.
Your room:
* Private bedroom (with a lockable door)
* Queen size bed
* All linen, pillows, blankets, towels, etc, provided too
* Fully air-conditioned
* Wifi
Light Breakfast (cereals, fruits, toasts) included:
* Breakfasty things and tasty treats
* Seasonal Fruits
* Bread for toasting
* Total access to "the Seinfeld cupboard"
* All the Vegemite you can handle
* Teas & coffees - We're espresso fiends, please don't blame us if you leave our place fully wired, or addicted to single origin ;p
Guest Bathroom (shared):
* Shower with instant (full pressure) hot water
* Hair-dryer
* Towels provided
Your Sydney Home:
* Amazing views of the Sydney Harbour, White Bay, and Glebe Island
* Three level terrace house
* Only 2 minutes walk from the centre of Pyrmont
* Just minutes walk from everything Sydney offers
* Close to the Airport & all public transport
* Quiet street
* Outdoor deck with seating and water views
* Fully air-conditioned
* Free wifi throughout the entire house
Couple of things you do need to know before you book:
--> STEEP STAIRS - Because the house is on three levels, and the stairs are steep, we wouldn't recommend the property for people who like to travel with lots of luggage, people with any mobility issues, or for children.
--> TALK WITH US FIRST - Please send us a message & have a chat with us BEFORE you make your reservation request
--> THE AVAILABILITY CALENDAR IS ACCURATE - Please only make a reservation request for the exact (and complete) dates that you require. You can use the calendar on our listing to see our availability month by month. If the dates you require are not showing as available on that calendar, it's because we're booked for those dates...
Sorry :(
--> AGREE ARRIVAL TIMES BEFORE YOU MAKE A RESERVATION REQUEST - Guest arrival time is 6pm. Please see the "Other Things to Note" for more information about arrival times / check in / bag drop details, etc.
Message us first about your intended arrival time BEFORE you make a reservation request.
--> HAVE A VERIFIED PROFILE - We're much more likely to accept requests from Airbnb'ers with profiles, friends, & recommendations, etc. In the same way you feel more comfortable knowing more about the people you're staying with, we do too. And a profile pic of a cat doesn't really cut it either...
PLEASE ASK - Please just send us a message if you've any questions about staying with us, or visiting Sydney.
FIVE STAR STAY - Now here's the most important bit:
** Please use the code words; "Five Star Stay" when you message us about your reservation - Just drop those words into your message to us. It lets us know you've read this information and are ready for a fantastic five star hosted experience with us in our Sydney City home.
Can't wait to meet you!
cheers,
Vinh & Stuart
PS
Well done for reading this far!
Most people don't :(
Sorry, this is so long, but we know we've answered all your questions now.
And remember to use the code words; "Five Star Stay" in your message.
Vieraan pääsy
Talomme on talosi - emme ole hotelli, tämä ei ole liiketoimintaa. Se on meidän kotimme. Asumme täällä. Odotamme toivottaa sinut tervetulleeksi sinut tervetulleeksi perheeseemme ja ystäviimme. Tarjoamme sinulle oven koodin, jolla on helppo ja turvallinen pääsy, joten voit tulla ja mennä haluamallasi tavalla. Työskentelemme kotoa, joten yleensä on aina joku.
Our house is your house - we are not a hotel, this is not a business. It is our home. We live here.
We look forward to welcoming you to stay you just as we would welcome our family and friends.
We'll provide you with a code for the door with easy (and secure) access, so you can come and go as you please.
We work from home, so there's generally always someone around.
Vuorovaikutus vieraiden kanssa
Niin paljon kuin vain haluat. Asumme täällä. Tämä on meidän kotimme. Olemme kotona, kun pysyt, ja yleensä noin ja jos ja kun tarvitset meitä.
As much or as little as you like.
We live here. This is our home.
We will be at home when you stay, and generally around & about if and when you need us.
Muita huomioonotettavia seikkoja
Meillä on muutamia syitä saapumisaikaan / check in / bag-pudotusaikaan kello 18.00. Yksi niistä on, että olemme todella joustavia lähtöselvitysaikoina. :) Kun työskentelemme kotona, emme erityisesti halua lähettää internetiä, jos olemme poissa kotoa. Siksi saapumisaikasi on aina listattu kello 18.00. Meidän "check in" / "saapumisaika" / "bag drop" on kaikki sama asia. Se ei ole kuin meillä hotelli, jossa on joukko sotilashuoneita, jotka odottavat laukkuja päivällä tai yöllä, onko kotona vai ei. Joten, jos emme ole sopineet eräistä vaihtoehtoisista järjestelyistä, odotamme innolla sinua kotona kello 18.00. Vaikka voimme ehkä järjestää joitakin saapumisaikoja / laukkujen pudotuksia / tarkastuksia aikaisemmin, meidän on tehtävä nämä järjestelyt hyvin etukäteen. Joten jos klo 6.00 lähtien lähtöselvitys ei ole sinun mieltymyksesi, ota yhteyttä meihin * ennen * teet varauksenne. :)
We've a few reasons for the 6.00pm arrival time / check in / bag drop time... One of them is that we're really flexible with check out times. :)
While we do work from home, we don't particularly want to broadcast on the internet if we are away from home. That's why our arrival time is always listed as 6pm.
Our "check in" / "arrival time" / "bag drop" is all the same thing. It's not like we're a hotel with a team of porters waiting to take your bags any time of the day or night whether we're at home or not. So, if we haven't agreed some alternate arrangements, then we look forward to welcoming you to our home at 6.00pm.
While we may be able to arrange some arrival times / bag drops / check ins earlier, we do need to make those arrangements well in advance. So if the 6.00pm check in time isn't your preference, please talk to us about it *before* you make your reservation. :)
Työpiste kannettavalle tietokoneelle
Viesti aina Airbnb:n kautta
Maksusi turvaamiseksi älä koskaan siirrä rahaa tai viesti Airbnb-sivuston tai -sovelluksen ulkopuolella.
Makuuhuone 1
1 queen-size-vuode
Ei sovi lemmikkieläimille
Ei juhlia eikä tapahtumia
Ei turvallinen eikä sovelias lapsille (0–12-vuotiaat)
Sisäänkirjautumisaika on 18:00–20:00
Uloskirjautuminen 10:00 mennessä
Itsepalvelusisäänkirjautumisen vaihtoehdot: smart lock
We look forward to welcoming you to stay you just as we would our family and friends.
"Farm Gate Rules" - if a door is open, leave it open, if a door is closed, please leave it closed. We ask that you always close the gates behind you (our little dog is an escape artist - while he's been very slow learning how to pick the locks, leaving the gate open makes it much too easy for him to get away and find himself in all sorts of mischief).
We'd ask that you'd please not eat in your room, or smoke inside the house. We've a kitchen and dining room for meals (and of course, feel free to use the fridge) and a sheltered, undercover area outside that you're more than welcome to use if you smoke.
We tend to work from home, meet clients in our home office, and work by phone too. So this means that our home would be better suited to guests wanting to be out sightseeing during the day, rather than spending the days inside. (But why would you want to stay inside all day when there's so much to see and do anyway?)
Every experience we've ever had with Airbnb has been a positive one. Whether we've been hosting, or staying as guests, we've met kind & considerate people, had interesting conversations, and made great new acquaintances & friends.
We don't imagine you'll be any different, and we look forward to welcoming you into our home.
Sinun täytyy myös hyväksyä
Vieraiden tulee käyttää portaita - Ours is a terrace home (narrow) with steep stairs - Multiple flights
Majoituspaikassa ei ole pysäköintimahdollisuutta - You can walk everywhere, and buses, trains, ferries, and light rail are all easily available.
Jotkut tilat ovat jaettuja - You have PRIVATE BEDROOMS, we share bathrooms, kitchen, and living spaces.
Lukko makuuhuoneen ovessa
Hyvin valaistu polku etuovelle
Vähintään 2 yön majoittuminen.
18. joulukuuta 2017 - 31. tammikuuta 2018 alkaen majoittumisen vähimmäiskesto on 4 yötä.
G'Day from Australia!

He's Vinh, and I'm Stuart...

We're big fans of AirBnB having used it when traveling in the USA not long after AirBnB first started.

Since then we've enjoyed traveling with AirBnB across the US, around Australia, in Hong Kong, and also in Vietnam.

As guests we're always out & about most of the time and won't be intruding too much.

We're neat & tidy and vibrant conversationalists...

We operate ArtSHINE industries - Australia's independent Creative Industries Enterprise Acceleration Platform + Launch Pad identifying, advancing, and funding commercially minded and innovative Creative Industries Professionals who focus on art, craft, artisanal making, design, fashion, entertainment, photography, music, writing, film & television, digital technology, and games & interactive content. ArtSHINE also incorporates a coffeehouse and coworking space; CoSydney CoWorking + Project Space, in the City of Sydney's Chippendale Creative Precinct.

So here's an open invitation to come check us out.

My partner Vinh is a keen traveler who works a lot with artists and designers in his coaching practice. He's the energetic, vibrant one...

I lived in Bolivia for a year as a young man just out of school and have worked in social enterprises and not for profits over the years. I'm the more serious, bookish one (with a wicked sense of humour though). Currently working in financial services too...

One of the things we're keen to do is catch up with some social entrepreneurs, coworkers, not for profits, and microfinanciers.

We're particularly interested social enterprise, coworking, and small business incubators & mentoring projects.

More that happy to answer any questions that you may have.

All the best,

Vinh & Stuart
Australia
Kielet:
English
Vastausprosentti:
91%
Vastausaika:
muutama tunti
Tutustu muihin vaihtoehtoihin kaupungissa Pyrmont ja sen ympäristössä
Enemmän majapaikkoja kohteessa Pyrmont: