El nostre allotjament està molt ben ubicació tranquil·la amb vista sobre les muntanyes de l'Oberland bernès. A pocs passos de la casa també poden gaudir de les vistes del llac de Thun i Brienz, a Interlaken. L'apartament és molt acollidor i es troba tot el que ús. Vostè pot sentir còmode aquí. Recordeu que amb nosaltres tot està inclòs en el preu, és a dir, wifi gratuït, estacionament, impostos, electricitat, pròpia rentadora i assecadora!
Ampli apartament de 2,5 habitacions per a max. 4 adults i 1 Nen - nova, àmplia cuina moderna, nevera amb congelador, cuina moderna i forn, microones, cafetera, rentavaixelles, taula de menjador - gran saló amb llit doble i sofà llit, butaca, TV & Video moderna pantalla plana - ampli dormitori amb llit de matrimoni, còmoda, un armari, un escriptori - Bany modern amb banyera de dutxa, inodor, lavabo, / rentadora i assecadora - Zona d'estar amb taules, cadires i gandules - Roba de llit, roba de bany i cuina estan inclosos en el preu! - Internet Wi-Fi gratuït -Meravellós vista de les muntanyes de l'Oberland bernès, sobre el llac Thun, prop de Thun, Spiez, Interlaken, Grindelwald (Jungfrau cim d'Europa). Les excursions a Valais (Zermatt, Matterhorn, Saas Fee, etc.) El millor és viatjar en cotxe per nosaltres o amb el tren a Spiez i després amb l'autobús a Aeschi és. Anem a recollir en Spiez. L'estació d'autobusos més propera està a uns 10 - 15 minuts de distància de nosaltres. ciclistes Benvingut! Bon punt de partida per a excursions amb bicicleta.
Nous avons passé un voyage inoubliable chez Christine et Marcel. L'Emplacement est juste génial, le paysage est paradisiaque. L'appartement est très propre et très fonctionnel et au calme. Si vous cherchez à passer un séjour dans la région des lacs (Brienz et Thun), nous vous recommandons sans hésitation cet appartement. Nous aimerions y retourner bientôt!!!!
Maeva
2016-05-21T00:00:00Z
Το σπίτι ήταν άνετο, πεντακάθαρο, πλήρως εξοπλισμένο (πραγματικά τα είχε όλα) και σε εξαιρετική κατάσταση. Περιτριγυρισμένο από καταπράσινα λιβάδια με αγελάδες και με απίθανη θέα σε χιονισμένα βουνά. Ήταν από μόνο του μια εμπειρία, τέλειο για διαμονή οικογένειας με παιδιά. Η Christine ήταν εξαιρετική οικοδέσποινα, απολύτως διακριτική και είχαμε άψογη συνεννόηση.
Andreas
2016-05-08T00:00:00Z
Visited Switzerland again in 5 years, this time in September and this time we stayed in Spiez... in this charming little chalet. Christine has a great place with a great view of the mountains, and, after a few yards' walk, a great view of the lake Thun. It was easy for us to go out in any direction, be it Thun or Interlaken, as we were in the middle and the drive was superb as well. The place was so peaceful that my wife and I kept waking up in the middle of the night for no reason as we're not used to such silence, but we got used to it... we realised what peace and quiet actually meant. The chalet is cozy and I can only imagine how great it will be in the winters. Christine was very helpful in explaining everything to us and she's very friendly as well! She has kept the place in A1 condition. We look forward to visiting again!
Jay
2013-09-15T00:00:00Z
I've just spent a perfect holiday with my wife and 2 teenage children in Christina's apartment. This worked out OK with the way the beds where arranged. The apartment is in a lovely quiet spot, with mountains nearby and lake thin visible from the nearby road. It's only a short walk to the village and the bakery. Christine was very friendly and helpful and I would recommend Christine's apartment if you're in the area
Andre
2016-04-07T00:00:00Z
The accommodation was situated in a ground floor of the house. It contained the living room, bedroom, kitchen and bathroom. All was very clean and good equipped including TV, video, cooker, dishwasher, refrigerator, wash machine, dryer. WiFi connection warked well. The owners are very friendly and helpful people. They live on the first floor of the house, but we had privacy and quite. The house is in a very quiet area with sparse buildings, surrounded by meadows with grazing cattle :-) With the accommodation we were very satisfied and considering it´s price we can definitely recommend it.
Jaroslav
2015-08-16T00:00:00Z
Наше пребывание у Кристин было восхитительным. Дом расположен в горах, воздух и открывающиеся виды просто изумительные. Так как мы путешествовали общественным транспортом, нас Кристин встретила на вокзале в первый день, рассказав по дороге много полезной информации, и проводила в последний. Квартира оснащена абсолютно всем необходимым для комфортного проживания как самостоятельным взрослым путешественникам, так и семьям с детьми. В одной из комнат лежало большое количество полезной продукции (карты, расписание транспорта, реклама интереснейших мест Швейцарии и др), был бесплатный Wi-Fi. Сам городок небольшой, но имеет все необходимое для комфортного проживания: от ресторана и булочной со свежайшей выпечкой до тропинок в горы и велосипедных трасс. Мы обязательно остановимся у Кристин еще раз.
Анжелла
2012-08-22T00:00:00Z
Our family spent almost a week in December at Aeschi bei Spiez. During the day, my husband commuted (easily) to Berne to attend a conference, whilst the children and I stayed in Aeschi. This was a most serendipitous decision. Yes, Berne is an historical, highly cultured, well ordered and precise city, but the small village of Aeschi was by far the highlight for all of us. Set amongst staggeringly beautiful terrain and constantly entrancing due to the changing light on the mountains, the wide open skies and morning mist on Lake Thun below, Aeschi bei Spiez is a Swiss treasure. There was also an unusual fall of snow so that made it picture perfect. Our hosts were impeccably kind and helpful, and even took over the wheel to get us up the mountain when we couldn't handle our car in the snow! The apartment is cosy and spotless, warm and inviting. It is only a short walk to the village for basic supplies and the larger town of Spiez is only a bus-ride away if there is a need for anything more comprehensive. We were all very impressed.
Sarah
2012-12-16T00:00:00Z
Christine and her husband were great hosts and the apartment was perfect for the four of us (two couples)! It's in a beautiful location, you wake up every morning to snow covered peaks illuminated by pink-hued sunlight (if you get up early enough) just out your window! It's very roomy and clean. The bathroom is modern and the kitchen is filled with many appliances and cooking tools. This apartment would be best if you are going to have a car since it is not right in the middle of a town...but there is still a small town with a grocery store within walking distance. Christine and her husband live just upstairs and were always willing to answer any questions we had about the area. They even made us a delicious fondue dinner one night!!! We made a great choice staying here! Thanks Christine!
Kelsea
2012-03-29T00:00:00Z
Huonetyyppi
Koko talo/asunto
---
Majoituspaikan tyyppi
Huoneisto
---
Majoittujien määrä
5
---
Makuuhuoneet
Aeschi bei Spiez, Bern, Sveitsi
Un apartamento de dos habitaciones muy acogedoras y bien equipadas en un precioso chalet en el centro de Aeschi. El apartamento está en el primer piso con un gran balcón orientado hacia el este, que promete una impresionante vista a la Cumbre Niederhorn, el lago de Thun ...
El chalet está situado muy cerca al centro de la localidad. Sólo 3 a 5 minutos a pie de las tiendas y restaurantes ... también la parada de autobús está a sólo 3 minutos a ... también hay un aparcamiento privado para el chalet
Hay otras personas que viven en el chalet. Por favor tenga cuidado de todos ellos y dejar una buena impresión a ellos ...
Appartement tres confortable, agréable à vivre et pratique. Idéal pour un couple et un bébé. Nous avons été tres bien accueilli, Andreas est à l'écoute de ces hôtes. Séjour à refaire !
Adélaide
2016-08-01T00:00:00Z
ANDREAS WAS NICE GUY. ARRIVE BEFORE US ONCE WE GAVE HIM TIME. THE PLACE IS NICE FOR CAR OWNERS AS IT IS NOT NEAR TO SIGHTSEEING POINTS BUT AWAY FROM HUSTLE & BUSTLE OF TOWN LIKE INTERLAKEN.
ajay
2016-09-25T00:00:00Z
We had a fantastic stay at Andi's apartment. A really beautiful location with incredible views, ideal for exploring the region. Everything was beautifully presented, modern, clean and tidy and we had everything we could possibly have needed (including, if we'd had the time or inclination, tins for baking cakes!) Andi himself was a friendly, warm host. He met us on arrival and showed us where everything was, how everything worked, and answered all our questions about the local area. The building and surrounding area are lovely and peaceful, we did see some of the neighbours but everybody was quiet and respectful of each other. The beautiful chimes of the clock nearby are about the only noises you hear! We chose to cook during our stay but there are also local restaurants within walking distance, as well as some small supermarkets. Overall, we couldn't fault our stay here and only wished we could have stayed longer. If we return to Switzerland we will certainly be looking to see if Andi's apartment is available!
Gemma
2016-09-08T00:00:00Z
Andi is wonderful and his apartment is fabulous. It is immaculate. The kitchen is well-equipped and the view from his large balcony is beautiful.
Linda
2016-09-19T00:00:00Z
A lovely stay. The place was clean, nice, and a beautiful balcony view. We originally booked our stay for 3 nights, and added 2 more nights to the stay after the 1st day. It is in a cute town, and close walking distance to the store and bus stop. Highly recommend.
Maddie
2016-03-07T00:00:00Z
We had a very nice time at Andreas'. The place is really clean and you have every thing that you could need. I would really recommend the apartment for a few days close to Interlaken but without so many tourists.
César
2016-09-21T00:00:00Z
We loved our time staying at Andi's place in Aeschi. It was a large, clean apartment with beautiful views (better than the pictures) of farms, mountains, and the lake. The apartment is modern and comfortable. We bought food at the market up the street and cooked often; the kitchen is great. The bedroom is large and clean, as is the bathroom. There are other apartments in the building but it is still very quiet and peaceful. There is a comfortable couch and nice tv in the living room. We loved being away from the crowds in Interlaken but still very close for day trips and seeing all the sites. Andi's communication was great and we really felt like he was available to help with anything if we needed. Overall excellent and would highly recommend!
Jeff
2016-06-24T00:00:00Z
The apartment is excellent, modern and provides a beautiful landscape view. We appreciated the assistance of Julia who took us to the place and explained all the features. We would recommend this accommodation to others.
Maurie
2016-08-30T00:00:00Z
Huonetyyppi
Koko talo/asunto
---
Majoituspaikan tyyppi
Huoneisto
---
Majoittujien määrä
2
---
Makuuhuoneet
Aeschi bei Spiez, Bern, Sveitsi
Situat al centre del poble, però un entorn tranquil i rural, Aeschi és a prop de Interlaken i Thun. Rutes de senderisme comencen just fora de la porta. Les fotos estan preses en les rodalies prop de l'edifici.
apartament dúplex de 3 dormitoris moderns i confortables, decorades. sala d'estar amb sofà d'alta qualitat, sistema banc de la cantonada. Cuina oberta en forma d'U amb rentaplats. Dos dormitoris dobles, cambra de bany amb dutxa / WC, WC de convidats. Rradio, TV de pantalla plana amb dos DVD, telèfon, connexió a internet ADSL (Swisscom), WiFi gratuïta. Balcó amb impressionant llac i vistes a la muntanya. aparcament subterrani. roba de llit, tovalloles inclòs en el lloguer. Bressol i cadira alta es pot proporcionar, sense cost addicional. Els restaurants de la planta baixa. En el complex de l'hotel: sauna i bany de vapor (de pagament). parada d'autobús davant del complex d'apartaments-hotel. Moderna piscina coberta a pocs minuts a peu. GRATIS: PanoramaCard (viatge lliure per autobús i postauto a la regió i moltes altres ofertes), (URL HIDDEN)
Aeschi (860 m sobre el nivell del mar) i la mentida una mica més alt situat Aeschiried (1000 m) en una terrassa assolellada i ofereixen una meravellosa vista del panorama de les muntanyes dels voltants i del llac de Thun. El poble camperol original encara està marcat de l'agricultura, el folklore i la tradició. Si vols escapar de l'atrafegada activitat diària, que està just a quedar amb nosaltres. Aeschi ofereix una natura intacta per repostar les seves bateries. Gràcies a la situació molt cèntrica, totes les destinacions turístiques ben coneguts de l'Oberland bernès estan molt a prop. Aeschi és de fàcil accés tant en transport públic (tren i autobús a Spiez a Aeschi / Aeschiried) i amb cotxe. Diverses botigues de queviures, carnisseria, fleques, dos bancs, una oficina de correus, perruqueria, etc. piscina coberta en Aeschi i piscina exterior a Spiez.
Warm and inviting welcome.
Juliette
2016-10-05T00:00:00Z
Huonetyyppi
Koko talo/asunto
---
Majoituspaikan tyyppi
Huoneisto
---
Majoittujien määrä
4
---
Makuuhuoneet
Aeschi bei Spiez, Bernin kantoni, Sveitsi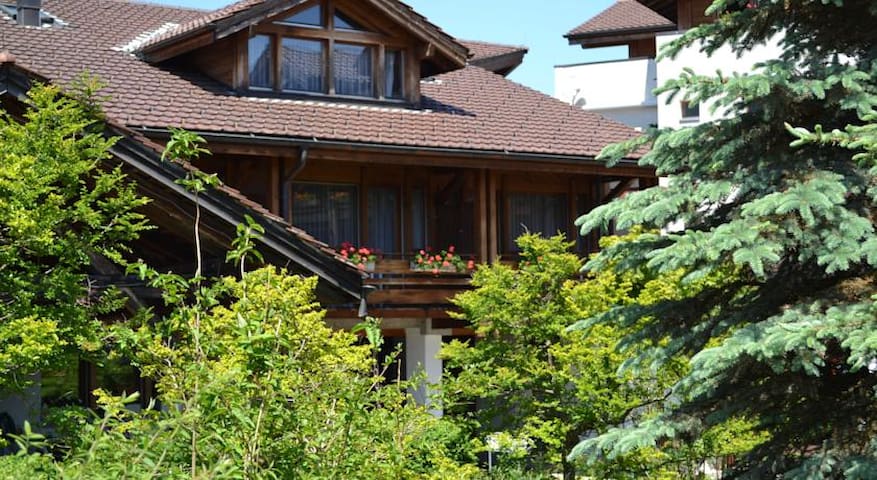 Mi casa está cerca de actividades para la familia y excelentes vistas. Te va a encantar mi propiedad debido a la ubicación, el medio ambiente y el vecindario. Mi alojamiento es bueno para parejas y familias con o sin hijos.
terminado de 2 1/2 ambientes con sala de estar con chimenea, televisión, radio, Internet cocina moderna separada, 1 dormitorio con 2 camas, cuarto de baño con inodoro y una ducha y bañera, 2 áreas al aire libre, 1 plaza de garaje, 1 garaje.
View Lake / mountains. Sports: Fishing, climbing, paragliding, cycling, sailing, diving, Wasserskie, winter skiing (downhill) or Skiing (Cross Country), sledding, sleigh rides. Distances: Busstation Ebenengässli 750 meters. Next town with all shops Spiez 5 km away. Distance village Aeschi-center with restaurants and shops 2km.
Huonetyyppi
Koko talo/asunto
---
Majoituspaikan tyyppi
Huoneisto
---
Majoittujien määrä
2
---
Makuuhuoneet
Aeschi bei Spiez, Bern, Sveitsi
My property is surrounded by mountains and lakes. Close to art and culture, restaurants and food and great views. My accommodation is good for couples, lone adventurers and business travelers.
Huonetyyppi
Yksityinen huone
---
Majoituspaikan tyyppi
Huoneisto
---
Majoittujien määrä
2
---
Makuuhuoneet
Aeschi bei Spiez, Bern, Sveitsi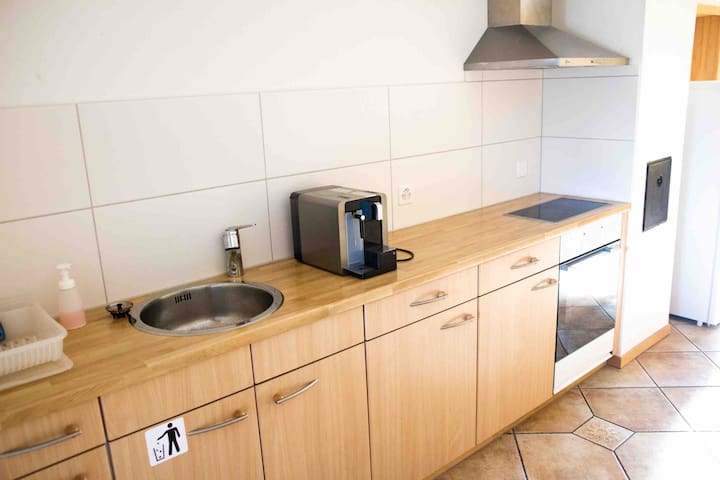 cozy 3-room apartment, private parking, public transport in 2 minutes. Natural garden, barbecue area, Mountain View, Indoor pool with spa department in the village center, supermarket, bakery, butcher, cafe and several restaurants, Free "Panorama Card" with many discounts for mountain railways and shipping in the region. Tourist tax payable locally (adults 2,50 SFr./Nacht, Children 6-16 years 1,00 SFr./Nacht)
Flat in a Chalet, on the ground floor, with a terrace and free access to the entire garden. For fabulous vacation you are in our nature-loving property right. We live in the same house upstairs, have two small dogs, and we also guests with dogs are welcome. Please note that the final cleaning SFr.beträgt in this case 135th On the ground floor, the 3-bedroom guest apartment, consisting of living / dining room, 1 double bedroom, 1 room with single bed, sofa bed in the living room, radio, CD, satellite TV, separate kitchen with dishwasher, refrigerator, oven, bathroom is with tub and toilet, terrace, biotope, garden grill or barbecue on the terrace belonging to the apartment, parking. All utilities are included in the daily rate beyond the final cleaning and the tourist tax. Laundry 3:50 Sfr per wash. Cots surcharge on request. The price of the apartment depends on the season
Aeschi has an indoor pool with a small but very fine wellness area. From the house walks are all categories today. Entry into the track with floodlights for about 10 minutes on foot from the house. Various restaurants for every taste
房子在Spiez小镇附近的郊区,62路公交车12分钟就可以到达,很方便,我们喜欢体验宁静的乡村生活,这里有小花园和菜园,还有两只可爱懂事的小狗狗,傍晚能看到晚霞,厨房卧室餐厅一切都很满意。最棒的是房东Cornelia很热情很有活力,给了我们旅程的很多建议信息,很是贴心,如果下次还来一定再住这里!
薇
2016-10-01T00:00:00Z
Cornelia and Jacob made us feel very welcome and we loved staying at their place! It was a very rural setting despite being in a village - surrounded by farms. Location was very convenient to Lauterbrunnen and Grindelwald as well as above Lake Thun. It was a beautiful area.
Denise
2016-07-09T00:00:00Z
Sehr gemütliche Wohnung und sehr freundliches Paar. Wir mögen die zwei Hunde sehr.
Viviana
2016-12-31T00:00:00Z
We were made to feel very welcome by Cornelia and Jakob. No question was too much. Cornelia provided some very useful advice and even a remedy for one of our dogs. We could not have hoped for a better reception by our hosts. Very much appreciated.
Peter
2016-10-15T00:00:00Z
Cornelia and Jacob are very warm and welcoming hosts. They are kind and patient to give us a lot of advices and suggestions about the area. Staying with them you would feel like being part of a family. Our 4 days holiday was memorable. The place was lovely and spacious, with good view to pasture and mountains. A wonderful place for retreat and vacation. Recommend to all travellers looking for good airbnb experience in the area.
Stan
2016-07-29T00:00:00Z
Huonetyyppi
Koko talo/asunto
---
Majoituspaikan tyyppi
Huoneisto
---
Majoittujien määrä
3
---
Makuuhuoneet
Aeschi bei Spiez, Sveitsi
Our accommodation is close to family-friendly activities and great views. You'll love my property because of the location, environment and neighborhood. My accommodation is good for couples and families with children. We are centrally located, have the spas only one half to one hour drive! We are at 895 m above sea level and therefore here is the air is very good for Astmatiker + allergic people.
3 1/2 Zim.Wo.für max.4 Pers. complete with living room with fireplace, TV, radio, separate modern kitchen, 1 separate bedroom with 2 beds, separate bathroom with toilet and separate shower and bath, 2 outdoor areas, 1 parking space, 1 garage. The 2nd bedroom with 2 beds, with separate toilet and Lavabeau, lockable.
View Lake / mountains. Sports: Fishing, climbing, paragliding, cycling, sailing, diving, Wasserskie, winter skiing (downhill) or Skiing (Cross Country), sledding, sleigh rides.
Huonetyyppi
Koko talo/asunto
---
Majoituspaikan tyyppi
Huoneisto
---
Majoittujien määrä
4
---
Makuuhuoneet
Aeschi bei Spiez, Bern, Sveitsi
1-room apartment 60 m2, on the ground floor, modern and tasteful furnishings: living / sleeping room 30 m2 with 1 double bed, satellite TV, radio, CD and DVD. Exit to the patio. Kitchen (oven, dishwasher) with dining table. Bath / WC. Terrace 45 m
In addition to the central heating you have a wood stove available (wood available)
Grocers 500 m, restaurant 400 m, swimming pool 6 km, indoor swimming pool 600 m. Ski lift 1.7 km, skisport facilities 24 km, cross-country trail 1.7 km.
Alles hat gut und unkompliziert geklappt. Die Wohnung ist sauber und wohnlich dekoriert. Der Gastgeber hat trotz seiner Abwesenheit uns die nötigen Infos auf Papier wissen lassen und wir haben uns gleich wohlgefühlt.
Irene
2016-05-09T00:00:00Z
Huonetyyppi
Koko talo/asunto
---
Majoituspaikan tyyppi
Huoneisto
---
Majoittujien määrä
2
---
Makuuhuoneet
Aeschi bei Spiez, Bern, Sveitsi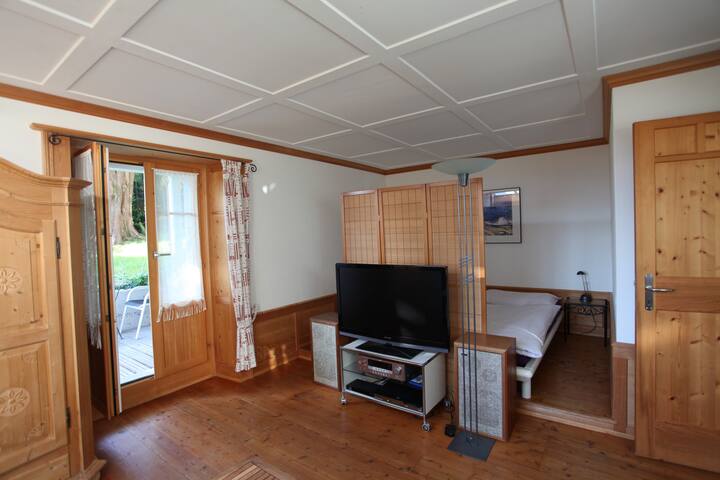 Huonetyyppi
Koko talo/asunto
---
Majoituspaikan tyyppi
Huoneisto
---
Majoittujien määrä
5
---
Makuuhuoneet
Aeschi bei Spiez, Bern, Sveitsi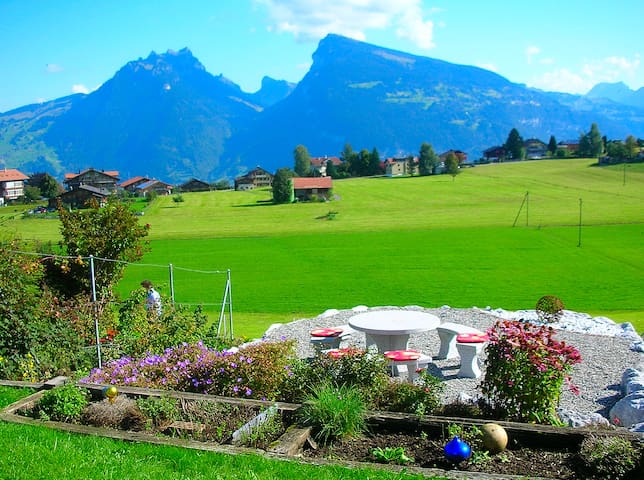 غرفة نوم مزدوجة مريح في شقة مجهزة تجهيزا كاملا. شرفة مغطاة يدعوك للاستمتاع بالنظر إلى المناظر الجبلية الخلابة. فقط 5 دقائق سيرا على الأقدام من محطة و 10 دقائق سيرا على الأقدام من وسط ثون. المكان المثالي لإقامتك!
موقع مذهلة فقط على بعد 5 دقائق سيرا على الأقدام من محطة و 10 دقيقة سيرا على الأقدام من مركز جميلة ثون، حيث العديد من المحلات التجارية والمقاهي والمطاعم في جميع أنحاء. بحيرة ثون يمكن الوصول إليها سيرا على الأقدام في 20 دقيقة فقط (أو عن طريق الحافلات في 5 دقائق فقط). هذا هو المكان المثالي لاكتشاف ثون وكله بيرنيز أوبرلاند. غرفة نوم مزدوجة مريح في شقة مجهزة تجهيزا كاملا - المكان المثالي ليكون للإقامة القصيرة أو الطويلة. شرفة مغطاة يدعوك للاسترخاء والتمتع بالنظر إلى المناظر الجبلية الخلابة. تقدم غرفتك وجهة نظر مدينة لطيفة مع القلعة القديمة ثون. -Peaceful، حي هادئ غرفة نوم مزدوجة -Comfy -shared مطبخ مجهز بالكامل مع غسالة الصحون -shared غرفة معيشة كبيرة الحمام -shared مع مرحاض / حمام / دش -Fresh، سرير نظيفة والمناشف، مجفف شعر هلام -shower والشامبو -واى فاى مجانى -maps، معلومات سياحية الشاي خالية أو الخدمات صنع القهوة والحليب والتوابل مدينة ثون هو نقطة انطلاق مثالية للرحلات، على سبيل المثال لبرن (20 دقيقة بالقطار)، إنترلاكن (20KM)، غرينديلولد، أعلى أوروبا جونجفروجوتش، كانديرستيج، اديلبودين.
very nice room, very nice, friendly, helpful couple host, they meet us at the train station and help us know the information around, everything is good there, the place is really highly recommended, I will be there next time:)
rongrong
2015-12-17T00:00:00Z
房东亲自到火车站接我们,并介绍在图恩旅游的信息。图恩不是旅游胜地,但是是一个漂亮到城市,值得一游。
hanjun
2016-06-06T00:00:00Z
It was our first trip in Switzerland. And it's a great trip. Great weather, great accommodation, great hosts. Doris and frovitt are very warmth welcome us to their apartment and very helpful. The arrival checkin was smooth although its not hard to reach the building and we arrived very late but Doris still went to guided & helped us at the train station. Thx you so much :) The apartment was very cleaned and in perfect location with a good view of thun castle on our room side and beautiful mountains on the other side. In room there are city map and information of the city. The kitchen and living room were cleaned and well organized. Sorry that our plan are very tight so we only spend oneday in Thun the rest in other cities. Thun city is beautiful, quiet and in center of everything we can reach bern in 30 min, zurich in 1.5 hr, zermatt in 2 hr, interlaken in 20 min. Tip : take a walk near the lake or get on the boat to beautiful thunersee lake. Also try an Italian restaurant near the watergate at city center "alponte" pizzeria.
Mann
2016-05-09T00:00:00Z
Doris and Forvitt are lovely friendly couple that welcome you to their cozy house packed with the great view of Swiss Alps from their living room and Thun castle from our Airbnb room/kitchen. Their unit are near Thun train station and it very easy to reach historical pack Thun town by foot. If you drive, car park available downstairs at roadsides with standard parking fee applied. Room view are awesome! facing Thun Castle and Cathedral that come to live during sunset as the ray shine on them (Room are not direct facing sunlight). We enjoy our stay with Doris and Forvitt very much. Doris very helpful and very details lady that will make sure your needs is taken care of. We had a dinner session with Doris and Forvitt during the stay and it was real good time that all of us cheerish the moment :) Stay experience: beyond Awesome! Super host indeed :)
Timothy
2016-05-02T00:00:00Z
Doris and her husband stay in the apartment with us and they are both kind and polite, we are very happy and enjoyed the stay.
Crystal
2016-05-12T00:00:00Z
It is really cozy and great She greeted me with smile and gave me ladybug chocolates(it was cute and good) The kitchen has door so you can prepare meal more easily Above all things, you can feel comfortable
령아
2016-02-05T00:00:00Z
We had a good stay with Doris. She was home to welcome us when we arrived and showed us around the apartment. The apartment is as advertised. I had a great walk around nearby the Thun Castle. Breakfast was provided and Doris was helpful with parking advice.
Tesa & Guy
2016-05-21T00:00:00Z
Doris hat uns ein schönes Zimmer zur Verfügung gestellt und wir durften auch die Küche benützen. Die Lage der Wohnung ist zentral und doch ruhig. Wir haben uns wohl gefühlt.
Diana Arnold
2016-03-04T00:00:00Z
Huonetyyppi
Yksityinen huone
---
Majoituspaikan tyyppi
Huoneisto
---
Majoittujien määrä
2
---
Makuuhuoneet
Thun, Bern, Sveitsi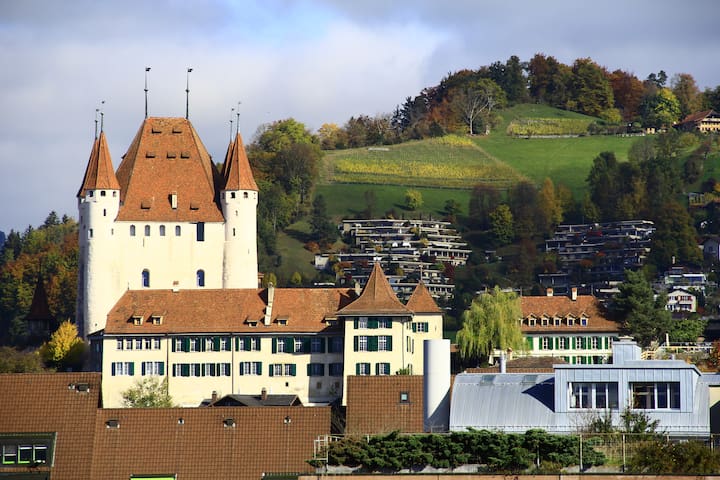 숙박에있다 기차 sation와 부두에서 도보로 칠분 도시의 중심에서 5 분 카지노 주차장 (하루 CHF 22)에서 도보로 2 분 거리 다음 버스 정류장 1 분 아레 강의 입, 대규모 Stockhorn 산 멀리서 우리의 아름다운 아파트 (부엌, 욕실, 침대와 침실 공간과 발코니)의 완벽한보기를 결론 지었다.
우리의 1 방 거주지 컨버터블 침대 (1.40 m)와 두 개의 침대가있다. 냉장고, 밥솥, 전자 레인지, 커피 메이커, 보일러 및 소형 식기 세척기 부엌 손에있다. 그것은 화장실, 화장실과 샤워 시설이있는 멋진 욕실이 있습니다.
카페와 backery 모퉁이 돌면됩니다.
nice view on the mountains and comfortable, well decorated appartment: perfect stay for 2 days in THUN region
Christophe
2017-04-06T00:00:00Z
Pia was an excellent host. The house was located at walkable distance from supermarket and railway station. We had a good welcome when we arrived at the house. All the necessary items were properly arranged and communication with the host was also easy. The house was clean and sufficient for stay of 4 people. She was very kind to provide help for a couple of required things. Looking forward to stay there again. Kind Regards, Chanpreet
Chanpreet
2017-03-03T00:00:00Z
The host canceled this reservation 162 days before arrival. This is an automated posting.
Noël
2017-02-26T00:00:00Z
The Apartment is in a great spot and with view to the Swiss alps. Just a few minutes walk from the center of tun and directly in front of the Thun lake. The flat (studio) is smaller than we thought but even for 3 people was ok to sleep. Anyway, you don't want to be in the flat in this amazing place and you should be out discovering the amazing and colourful cities around and breathtaking views!
Cesar
2017-03-18T00:00:00Z
The apartment was clean, comfortable and very nice. It had a panoramic view of the lake. We did a little 'late to check out but Klaus and Pia were really friendly. It was a nice experience.
Anina
2017-04-03T00:00:00Z
Fantastic place to stay! Will definitely come back.
Ahmad Basyaruddin
2017-03-16T00:00:00Z
Pia and Klaus' flat is lovely, clean, very comfortable. The view of the lake is stunning. Less than 10 mins from the station and from the historic centre. Klaus took care of the check-in. Communication was prompt and effective. If you want to spend a few days in Thun, Pia and Klaus' flat is a great choice.
Agostino
2017-03-27T00:00:00Z
Huonetyyppi
Koko talo/asunto
---
Majoituspaikan tyyppi
Huoneisto
---
Majoittujien määrä
4
---
Makuuhuoneet
Thun, Bern, Sveitsi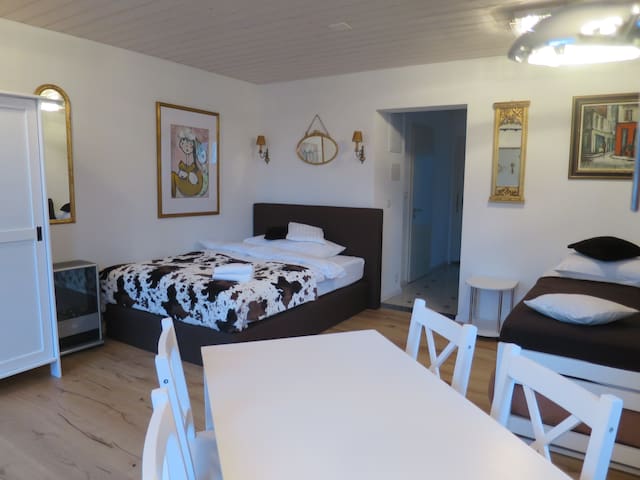 paradis au-dessus des toits de faire, spacieux appartement très lumineux au 4ème étage d'une maison d'affaires avec ascenseur. dispose d'une cour - offrir la fenêtre une vue magnifique sur les montagnes, le lac et la ville. dans le sous-sol abrite également un cinéma.
Vous trouverez des serviettes et un lit de 160x200 avec des draps frais. Si vous réservez pour plus de 2 personnes, il y aura une deuxième chambre avec un lit de 160x200 prêt pour vous. il est une promenade à travers la chambre, mais il est possible de marcher autour de la salle en utilisant le patio. vous allez partager l'appartement avec moi, le propriétaire. Si vous souhaitez réserver pour encore plus d'invités, il y aura un canapé-lit dans le salon pour 2 personnes supplémentaires. L'appartement sera nettoyé chaque semaine pour longtemps les clients séjournant. Réfrigérateur, lave-vaisselle, lave-linge, vaisselle etc. sont disponibles et peuvent être utilisés. Ainsi est TV, WiFi, fer et planche à repasser.
L'appartement est situé dans le centre-ville. Vous pouvez prendre de belles promenades le long du côté du lac, à travers la belle vieille ville ou à la château. Vous trouverez beaucoup de possiblités d'achat en quelques minutes à pied et il y a beaucoup de bons restaurants et bars tout près. Le bus juste à l'extérieur du bâtiment, vous amène à la célèbre Caves St. Beautus, aux zones de montagne ou d'autres endroits passionnants. Je serai heureux de vous donner des conseils sur demande.
nice location to stay in thun for a few days. Very close to the city...
Christian
2016-10-01T00:00:00Z
Olivier is a really nice guy. He is a really sociable and friendly person. He was always willing to help. When I arrived in the late evening, he offered me some dinner. He also recommended me to go to some really nice places in Thun.
Jacobo
2016-12-15T00:00:00Z
The apartment is nice and clean with some adorable decorations. The bed is cosy which made me slept well. Oliver is a friendly host who provide valuable suggestions for my trip. He also replied my massage quickly. 'Thun' is a beautiful town that I did't regret to stay here. In a word, highly recommend you to stay at Oliver's apartment for who want to visit 'Thun' and 'Interlaken'.
Abby
2016-09-30T00:00:00Z
Oliver ist ein sehr netter Gastgeber und die Kommunikation im Voraus hat bestens funktioniert! Wir hatten einen schönen Aufenthalt in seiner Wohnung und würden jederzeit wieder kommen.
Nicole
2016-10-23T00:00:00Z
The apartment is clean and in a great location. Oliver is friendly and informative, he even met us at the train station to give us a key. This was our first time using Air B&B during our 2 week travel through Switzerland and every thing was great, however, I do have to say this was the most expensive place we stayed. We stayed in large cities and the country and on average we paid around $120 per night, in Thun it cost about $180. Not that anything was wrong with the accommodations, you do have access to the entire place so if you want to cook or hang out more you can, we just needed a bed and a bathroom and it felt more like $120 value than $180. Thun could also be a more expensive area with less options but in Bern, Interlaken, Luzern, and Lausanne we stayed for less.
Jason
2016-09-10T00:00:00Z
The apartment is very clean and Oliver was friendly and very helpful with information.
Randal
2016-10-02T00:00:00Z
房子超级棒,是在顶楼的一个开放空间,窗外可以看到河,很美,房间很干净,房东也很好,重要是位置方便,离火车站步行就可以,周围就是市区,图恩超美推荐来瑞士旅游的多住几天图恩。 Thun is a great city, really beautiful and clean. The house is like an attic, so that you can see the surrounding views from the windows. The owner is very friendly and kind, we've had also a nice talk.
aizhu
2016-09-15T00:00:00Z
The apartment locates in the city center, the free parking place is quite far away ca. 1200 m. The kitchen and the toilet are shared. Oliver is quite friendly and helpful, he provided us the power adaptor. The sleeping room can not be locked, I am personally not the type of the person who can sleep in the open air. The room should be suitable for the backpackers.
Victor
2016-08-26T00:00:00Z
Huonetyyppi
Yksityinen huone
---
Majoituspaikan tyyppi
Huoneisto
---
Majoittujien määrä
4
---
Makuuhuoneet
Thun, Bern, Sveitsi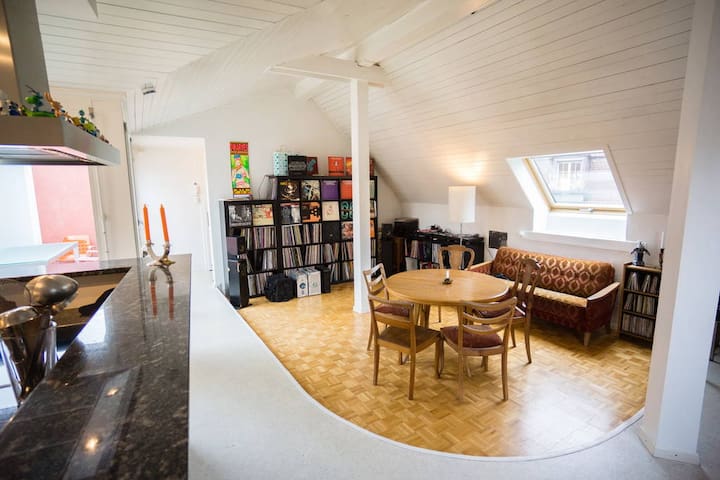 Direkt im City.Bedroom mit eigener balcony.Nice Ansicht. Dedicated Privates großes Badezimmer, zwei Waschbecken, Schlafzimmer ist direkt mit Bad verbunden. -In 25 Minuten mit dem Auto oder dem Zug in Interlaken und Bern (Zug direkte Verbindung) -In 50 Minuten in Lauterschilt -In 1,15 Std. in Luzern -Use Küche zum Kochen -Pay Aufmerksamkeit und unten lesen, wenn Sie ein Auto haben !!!!
Parkplatz, wenn Sie ein Auto gemietet: Wie ich schrieb ich in der Stadt direkt leben. Sie werden keine üblichen Parkplatz außer Parkhaus finden. Ich empfehle Ihnen, Parkhaus City West (Strasse: Aarestrasse 14) oder Parkhaus City Nord (Strasse: Grabenstrasse 6). Es ist nur 3 Minuten von meinem Platz zu gehen. Eine andere Möglichkeit ist, mein privater Parkplatz. Aber ich muss 9 Dollar pro Nacht berechnet cos i in der Nähe von meinen Eltern parken und zahlen genau auf 9 Dollar. Das ist billiger als in der Parkgarage aber falls Sie d`ont zu fragen, bevor Sie den Parkplatz isn `t verfügbar ankommen. Dies geschah nun mehrere Male. Also müssen wir mit diesem vor Ihrer Ankunft Zeit beschäftigen. basierend auf ich ein eigenes Auto haben `t i mein Parkplatz versprechen
Thun火车站下来乘坐1路车2站就能抵达Oliver的房子。房间很大也很干净,有私人的卫生间和漂亮的阳台。非常推荐!
Fei
2016-09-28T00:00:00Z
Oliver was one of the most host ive ever met! Though my booking was quite late, he helped me a lot. I was with my mom so i needed to use kitchen and he allowed me to use it ! He is so kind and it has a nice view. Especially his red sofa in his room was perfectly comfortable. I recommend you guys his room seriously.
Yoo
2016-07-26T00:00:00Z
Very trendy, big and confortable room and kitchen with all mod cons and very nice and helpfull host. The room was very quiet.
Hilma
2017-03-17T00:00:00Z
Oliver was fantastic and the room was exactly as described. My son and I actually arrived in town early and he was kind enough to let us check in early. The location is perfect for exploring Thun. The balcony is great for relaxing in the evening and we could not have been more pleased.
Dan & Kristie
2016-09-05T00:00:00Z
하루일정이었지만 숙소위치도 너무 좋았고 주위 왠만한 상점 모두 있었어요. 쿱 약국 맥도날드 등등 이때까지 다녔던 유럽나라들 숙소 중 최고좋았어요~ I had a great time. Thun is very beautiful place. the house is good place and condition.
sujeong
2016-10-08T00:00:00Z
Charles
2017-02-08T00:00:00Z
Best choice in town as describe, Oliver is a super host, very kind and helpful
Tum
2016-09-17T00:00:00Z
The place is great. Just in the centre of Thun. It's advisable to arrange the parking space with Oliver, as it's very hard to park in the area and you need a public parking lot
Dory
2016-10-14T00:00:00Z
Huonetyyppi
Yksityinen huone
---
Majoituspaikan tyyppi
Huoneisto
---
Majoittujien määrä
2
---
Makuuhuoneet
Thun, Bern, Sveitsi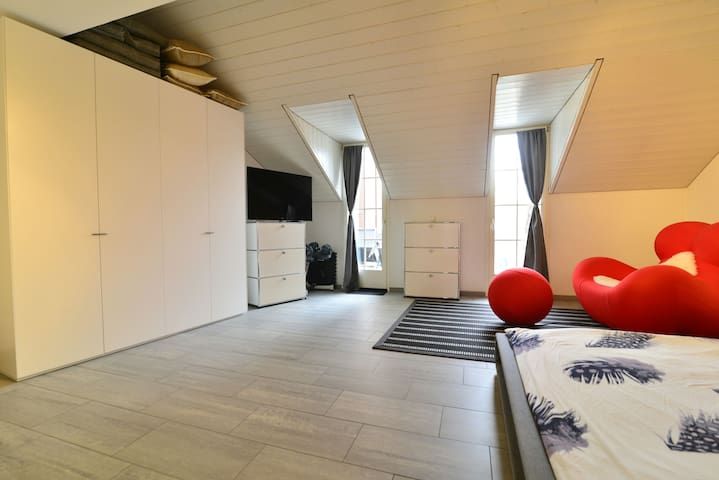 Schönes Doppelzimmer in Thun der Nähe der historischen Altstadt, Bahnhof Thun (10 Minuten), See Thun (5 Minuten), 1 Minuten zu Fuß zu den öffentlichen Verkehrsmitteln. Flughafen Zürich (~ 90 min) Unser Platz ist gut für Paare (+ ein Kind), Freunde, Solo-Abenteurer und Geschäftsreisende. Die Stadt Thun, die am unteren Ende des Thunersees ist, ist das Tor zum Berner Oberland. Es ist eines der originellsten Städte in der Schweiz und wird von Besuchern Druck auf Interlaken übersehen.
(URL HIDDEN)
Sara est une madame très très gentille.Elle nous a accueilli à la gare et préparé un petit déjeuner très copieux et délicieux . Sa chambre est très jolie,propre et comfortable. Jusqu'à présent , C'est vraiment ma meilleure expérience d'avoir très bon rapport qualité-prix! Sara 是一位非常好的房东,她的房子又舒服又漂亮,她到火车站接得我们,还为我们准备了丰富的早餐。这是目前我订的性价比最高的房子。
zijiao
2017-03-23T00:00:00Z
Great location, lovely place, perfect host! Would definitely recommend staying here :)
Bryn
2017-04-09T00:00:00Z
Supersauber! Sehr aufgeräumt! Mit viel Liebe und Stil eingerichtet. Sara ist zuverlässig und eine ganz tolle Frau! Insgesamt war die Familie zurückhaltend und zuvorkommend. Es war ein unkompliziertes und sehr angenehmes Miteinander.
Santena
2017-04-11T00:00:00Z
Sara is a wonderful host! She picked me up from the station when I arrived with heavy luggage and made me feel at home from the first minute. The flat is clean, cozy and beautifully decorated. The room is nice and quiet with a very comfortable bed and even a computer. The flat is located right in the center of town with everything in walking distance. I enjoyed my stay a lot and would have loved to stay longer!
Miriam
2017-03-13T00:00:00Z
Super nette Leute , toller warmherziger Empfang, super Lage , sehr ruhig mit toller Aussieht , in Wohnung drin ist picobello, sauber und hergerichtet sehr gut bis zu kleinsten Finessen ,Gastfreundlichkeit ist bis zum maximum sogar noch mehr, Hilfsbereitschaft in jeder Hinsicht , Preis ist auch für schweizer Verhältnisse sehr in Ordnung , für die Stadt Thun selber da brauchen wir überhaupt nicht diskutieren absolut FABELHABT , also Leute ihr habt einen tollen Gastgeber , tolle Stadt , tolle Sehenswürdigkeiten , GO FOR IT :) ;)
Burim
2017-03-19T00:00:00Z
Huonetyyppi
Yksityinen huone
---
Majoituspaikan tyyppi
Huoneisto
---
Majoittujien määrä
2
---
Makuuhuoneet
Thun, Bern, Sveitsi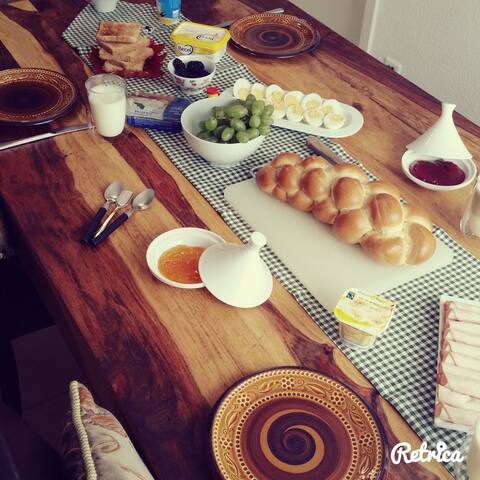 Snový penthouse s velkou terasou k relaxaci a užít si výhled na úchvatné horské scenérie. Snadná dostupnost do veřejných dopravních sítí, různé nákupní možnosti jsou v blízkosti a do centra města Thun je dostupná autobusem nebo autem za pouhých 5 až 10 minut. Místnost má rozkládací pohovka (140 x 190 cm) pro jednu až dvě osoby, TV a Netflix v pokoji. Vlastní WC s lavabo je k dispozici. Sprcha / vana musí být rozdělen s námi. Free Wi-Fi je včetně a také získat kávu a čaj, stejně jako chcete. Naše kuchyně mohou být použity pro přípravu vašeho jídla Žádáme, abyste vyčistit všechny použité nádobí poté a zanechali kuchyni v čistém stavu. Jsme 2 osoby domácnost 2 kočky. Všimněte si náš byt se nachází ve 3. patře a bez výtahu. Jsme rádi pomůžeme se zavazadly. V létě je zde mnoho kulturních akcí v Thun. Také hodně turistiky, poznávací možnosti v této oblasti v blízkosti. Můžete navštívit krásné staré město Thun se zámkem nebo si užít den na slunci na parní lodi na jezeře Thun. V zimě Thun je ideálním výchozím bodem pro dosažení všech známých lyžařských areálů v Berner Oberland. Cestujete-li autem, máme několik parkovacích možnostech, žádné zaručené parkování zdarma.
velmi bezpečné a klidné okolí.
Sonja was absolutely welcoming and helping. I arrived earlier than I had announced and she hosted me with a smile and warm welcome. The comfortable room was set with plenty of information on Thun, interesting books on travel and TV and films to relax, and above all, the fantastic view on the Alps direct from the room over a huge terrasse surrounding the appartment. A delight. Sonja and her partner really let me install and rest at my own rythm and also helped me with some computer matters. It's top of my list if I go back to Thun.
Sylvie
2014-01-29T00:00:00Z
Stay is very good First night Chris took us to Thun town & be our tourists guide talked about Castle and Thun city ; we had great meal & sharing Second night Sonja so friendly cook for us as guests Overall it's just more than 5 star hotel experiences ; because of friendly human touch from the hosts' sincere hearts We do invite them to come to East like Singapore Malaysia , Indonesia then we will be hosts
Eric
2016-06-17T00:00:00Z
스위스의 아름다운 산 경치가 보이는 굉장히 멋진 집이였어요 그들에게 여행에 유용한 팁도 많이 받아갔어요 그들은 매우 매우 친절해요 그들의 고양이 2마리는 사람을 매우 좋아한답니다 그들의 고양이들이 그리워요♡
Young Kyoung
2016-05-28T00:00:00Z
Sonja und Christoph waren sehr nette und unkomplizierte Gastgeber. Ihre Wohnung liegt gut erreichbar und ist sehr gemütlich und geschmackvoll eingerichtet. Leider kam ich nicht dazu, die riesige Terrasse zu geniessen, der Blick nach draussen ist aber allein schon herrlich. Ein grosses Einkaufszentrum befindet sich in Gehdistanz und der Weg ins Zentrum ist mit dem Bus leicht zu finden.
Martina
2015-03-23T00:00:00Z
Our stay at Sonja's place was amazing.. As mentioned, the house is beautiful with a breathtaking view. Sonja and Christopher are very nice and honest people and I am so glad that we chose their place. It is conveniently located near bus station and it was very easy to find. Sonja helped us with our itinerary and also informed us about the bus and train timings. I would highly recommend this place. Thank you guys for making it so convenient and comfortable for us.
Vini
2015-09-13T00:00:00Z
Sonja and Christ are very nice host. They prepare a good meal for welcome and discuss with us. The place is very convenient , has a big supermarket. The direction to place is clear just go straight 5-7 min. The room is clean and nice view , strongly recommend.
Nisa
2016-04-10T00:00:00Z
Sonja and Chris were amazing hosts. Very friendly and great communicators. They have a beautiful home and friendly cats. They were very kind and allowed me to join them on a drive through the mountains and a tour of the local chocolate factory, Callier. The extraordinary views from their terrace were also a big plus. Thanks for the great weekend, you two!
Andrew
2016-06-21T00:00:00Z
Sonja and Christophe are great hosts! They picked me up from the train station and took the time to show me around Thun. The apartment is equally wonderful, clean and bright. And if that wasn't enough, Sonja's breakfast was delicious and she has real talent with that juice machine of hers! Thanks for the stay!
Francois
2013-05-11T00:00:00Z
Huonetyyppi
Yksityinen huone
---
Majoituspaikan tyyppi
Huoneisto
---
Majoittujien määrä
2
---
Makuuhuoneet
Thun, Bern, Sveitsi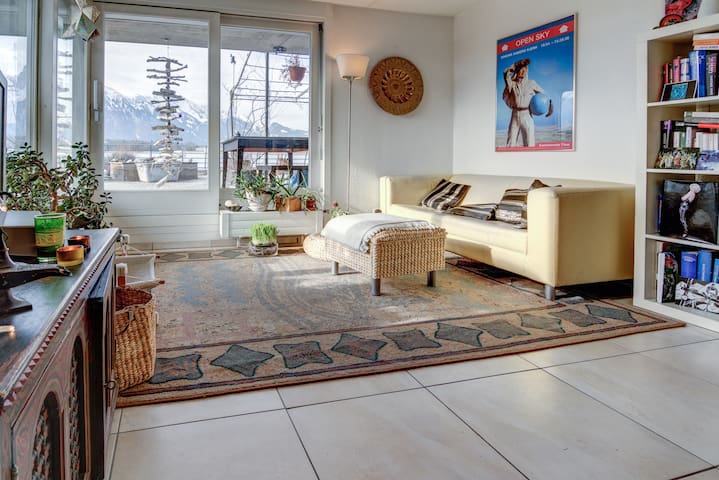 For your stay in Thun I welcome you to my lovely home. There's a comfy double bedroom waiting for you. If you like you may share a well equipped kitchen, a cozy living room and a tiny balcony with me. The apartment building is located next to the train station. The town center is within 5 minutes walking distance. There's also a parking just around the corner. I'm looking forward to your visit.
당신은 툰을 방문 할 계획입니까? 좋은 생각! 이 작은 사랑스러운 마을 IST는 아름다운 산 근처 호수에 위치하고 있습니다. 머무는 동안 나는 나의 아름다운 집에서 당신을 환영합니다. 아파트 건물은 기차역 옆에 위치하고 있습니다. 마을 센터는 도보로 5 분 거리에 있습니다. 모퉁이를 돌면 주차장도 있습니다. neoclassicist 건물은 1923 년에 지어졌으며 여전히 볼이 단장하고 현대적인 표준을 충족 비록 이전의 매력을 느낄 수있다. 내 아파트는 2 층에 있습니다. 불행하게도 엘리베이터 없다 그러나 나는 당신의 짐을 함께 당신을 도울 수 있습니다. 잘 갖춘 주방, 아늑한 거실과 당신이 나와 함께 공유 할 환영합니다 작은 발코니가있다. 당신은 모든 객실에서 산을 엿볼 수 있습니다. 객실은 조용한 뒤뜰에 직면 해있다. 그것은 단순하지만 아늑한 가구이고 편안한 더블 침대를 갖추고 있습니다. 우리가 공유해야합니다 하나의 욕실이 있습니다. 하지만 난 당신을 위해 정돈 약속드립니다. 방은 커플, 가까운 친구와 싱글 여행객을위한 최적입니다. 당신이 집에서 느낄하려면이 Wi-Fi 및 샤워 수건, 여기에 간단한 아침 식사를 할 수 있고 당신이 목 말라 있다면 당신은 항상 신선하고 맛있는 수돗물을 마실 수도 있습니다. 당신이 다른 아무것도 필요, 그냥 나 한테 물어. 나는 툰에서 당신을 환영 기대 당신과 함께 내 사랑하는 가정을 공유하고있다.
Huonetyyppi
Yksityinen huone
---
Majoituspaikan tyyppi
Huoneisto
---
Majoittujien määrä
2
---
Makuuhuoneet
Thun, BE, Sveitsi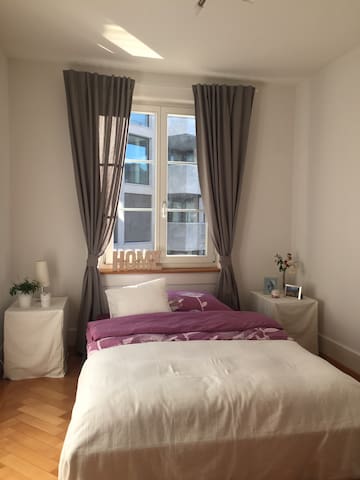 Fühlen Sie sich in einem 270m2 Penthouse-Loft-Stil mit der besten Dach in der Stadt neben dem Schloss. Ihr Gastgeber ist eine unkomplizierte, Reise-erfahrene Person. Sie werden einen Aufenthalt erleben, wo Sie willkommen fühlen. Sightseeing-Spots sind in der Nähe der Tür - egal ob Sie sich für Wanderwegen suchen, Meer Trottoirs oder einfach zu gehen, einen Drink. Es gibt 2 große Zimmer, jedes mit einem sehr bequemen Bett (180 cm x 200 cm) und 2 Schlafsofas. fühlen Sie sich frei in der voll ausgestatteten Küche zu kochen.
Meine Freundin und ich leben in der gleichen Penthouse in einem privaten Raum. Sie haben noch genug privaten Raum, die Sie zu Hause fühlen können.
in der Mitte der Altstadt.
Manuel is a very friendly and helpful host. His apartment is a dream, we loved it! Especially the rooftop view over the beautiful old town of Thun is amazing.
Hanna
2017-01-01T00:00:00Z
It was my first time Airbnb , i enjoyed all my time , the place in a great location and irs really great house , even play card is there. The most inportant is Manuel he is a friendly and he became a friend not only a host Lovely expedience
Abdulrahman
2016-10-11T00:00:00Z
Excellent. Manuel was a friendly and helpful host.
Scott
2016-08-07T00:00:00Z
The place is definitely unique, and the view from the rooftop breathtaking.
Coralie
2016-09-02T00:00:00Z
Manuel was a very friendly, perfectly organised Host. The Appartment which is located in the Heart of Thun were very clean and cosy. If we had questions or needed some tips, Manuel has a huge network of Colleagues who came up with secret spots or "places-to-be" We will visit Manuels Rooftop very soon!!
Oliver
2016-09-26T00:00:00Z
We were 6 to invade Manuels place in August and it was an amazing week end! Manuel and Olga are great hosts! Very helpful and always in touch. There was more than enough space - their duplex is really big. Very practical kitchen with everything you might need to get all set for the BBQ which will take place on the roof! I won't exaggerate if I say that its the best terrace in town! Location is just perfect - in the very heart of Thun. Internet was fast and worked fine. Huge and clean bathroom:) We had a great overall experience there! Olga, Manuel thank you and guys, we apologize for being so many:)) Take care and we'd love to be back:)
Alexei
2016-08-14T00:00:00Z
Manuel's place is stunning. Right in the center, the apartment is huge and offers many corners. Perfect to explore the city and yet calm and relaxing. It's clean and Manuel is a caring host, his service is excellent. If I'll be back in Thun, I will go back to Manuel's place!
Beni & Franziska
2016-12-07T00:00:00Z
We had a great time staying at this place. The living room was so big, perfect for our group and the rooftop view is awesome. Manuel is a great host, he asked to make sure we had everything we need and was very helpful, definitely will rent again, would highly recommend.
Martin
2016-09-17T00:00:00Z
Huonetyyppi
Yksityinen huone
---
Majoituspaikan tyyppi
Huoneisto
---
Majoittujien määrä
6
---
Makuuhuoneet
Thun, Bernin kantoni, Sveitsi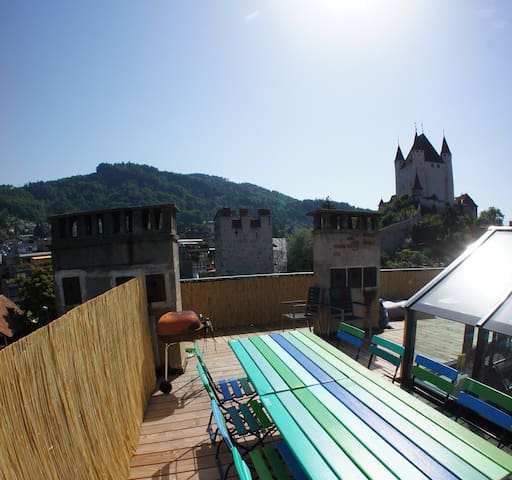 내 숙박 시설은 도시 센터, 쇼핑 센터와 경기장에서 가깝습니다. 당신은 그것을 그릴 바베큐 및 사용할 수있는 주방과 테라스가 있습니다, 그것은 조용하고 좋은 내 숙박 시설을 사랑합니다. 내 숙박 시설 커플, 솔로 여행객과 비즈니스 여행객을위한 좋다.
Bei Simon zu wohnen, ist wie wenn man einen Freund besucht, supernett.. Das Zimmer ist groß genug, das Bett bequem und man hat eine eigene Toilette, das ist super! Die Wohnung ist stilvoll eingerichtet und sauber. Bei schönem Wetter kann man im Garten direkt vor dem Wohnzimmer sitzen und es sich gutgehen lassen. Die Lage ist zentral und doch ruhig - Top!
Bernhard
2016-09-14T00:00:00Z
We had a nice stay with Simon!
Danielle
2016-11-04T00:00:00Z
Eine ruhige, saubere, heitere Bleibe. Offener Gastgebe, Du kannst dich hier sehr wohl fühlen. War mit dem Auto dort - alles bestens beschrieben, gut zu finden, zügig von der Autobahn vor Ort. Kann mir gut vorstellen wieder dort zu übernachten.
Madeleine
2017-01-15T00:00:00Z
Simon is very nice. The house is clean and comfortable.
sophie
2017-03-19T00:00:00Z
Simon was very friendly and kind as to fetch us from the nearest bus stop to his house. Simon's place was big and nice, which is 5 min bus from the station. He even give us swiss chocolate and the coffee maker at his place makes good coffee. His house is spacious and have a nice living room and garden. He even provide international travel adapter for us. Everything from the first time we came in we felt it like home as it was very clean and nice.
Shun Jie
2016-09-17T00:00:00Z
This is a nice room in a really lovely flat (even better than the pictures) but the best thing of all was the welcome from Simon. We arrived late, having got lost, but Simon was fine about it despite the fact that he needed to get to work. He was really helpful, friendly and hospitable, and even printed us a map to help us get to our next destination! We felt like we were staying in a friend's home. Thun is a very interesting, historical and scenic town, well worth spending time in. It's close to several castles along the lake, and set against the breathtaking backdrop of the Alps.
Marion
2016-09-23T00:00:00Z
My sister and I had a great stay with Simon. His house is clean and he even let us to use the kitchen. We had a great chat and he is so friendly towards us. If we would like to come again to Thun, his place would be always be our first choice. And also his house is so near to the bus stop. Not to forget, with a great view of alpine when we walked from the bus stop to his house :-)
Diyanah
2016-10-23T00:00:00Z
The house is very nice even much better than the pictures, including a very beautiful garden. The room is very clean and all instruments are perfect. The most important thing is that simon is very very nice. He is really friendly and hospitable. In room, he prepared some detailed maps and chocolates for us. And he provided perfect coffee, you can enjoy. If you like cooking, you can also use the kitchen. The equipment of the kitchen are very comprehensive and modern. You can have a nice meal in the beautiful garden. Meanwhile, he is very helpful. He would like to give us some advices and provide some better routes. Especially, one day, when we missed the bus, he drived us to the railway station. Thanks very much for his help. The location of the house is very convenient, close to the railway station, within 5 minutes by bus. And you can arrive most cities of Switzerland with 2 hours by train. If you have a plan to travel to Switzerland, we strongly remmend nice Simon and his prefect house.
Chong
2016-10-03T00:00:00Z
Huonetyyppi
Yksityinen huone
---
Majoituspaikan tyyppi
Huoneisto
---
Majoittujien määrä
2
---
Makuuhuoneet
Thun, Bern, Sveitsi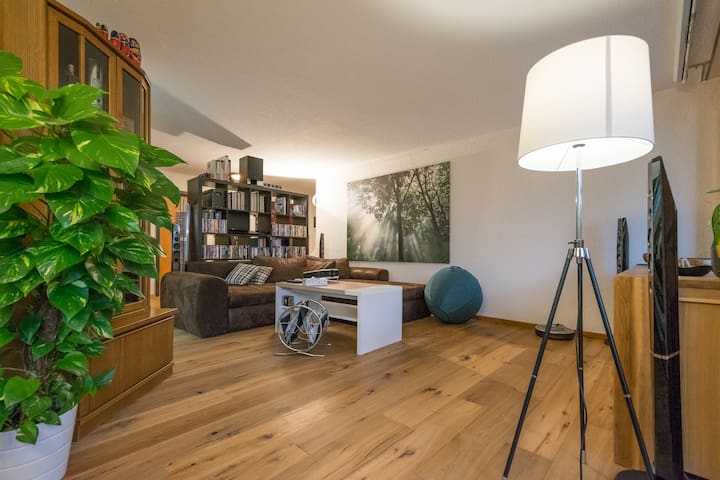 1

–

18

hakutuloksista

300+ vuokrahuoneistoa
Anna päivämäärät nähdäksesi kokonaishinnoittelun. Lisämaksuja sovelletaan. Veroja saatetaan lisätä.