Naše Hüsli je unique.Its stavět ze dřeva a je obklopen stromy a fields.Its rodinného domu a Jet v blízkosti village.If byste chtěli odpočinout a vzít si oddechový čas, jeho ideálním místem pro to. Minimální délka pobytu: 3 noci!
Obklopen be přírody. 10 minut chůze do vesnice s organickým obchodě. 15 minut autobusem na větším městečku. 15 minut Krásná procházka na úžasné jezero obklopené horami. Tam je nádherný potok, kde můžete získat některé osvěžující v létě a jeho rájem pro děti. Spousta místa pro děti na hraní bez nebezpečných silnic. V zimě je naprosto útulná s krbem v obývacím pokoji. Máte-li rádi lyžovat můžete to udělat v blízkém okolí.
Ein sehr schönes und liebevoll eingerichtetes Häusli mit allem, was man zur Selbstversorgung benötigt. Es steht alleine umgeben von einem wunderschönen Garten mit Goldfischteich und Grillstelle. Aus den Fenstern und insbesondere von der Terasse geniesst man eine umwerfende Aussicht auf das Tal, den Eingang der Viamala Schlucht und die Berge. Top Ausgangspunkt für Wanderungen in der Umgebung oder einfach zum Abschalten oder bei gutem Wetter für einen erfrischenden Sprung in den See über den Hügel. Suna ist sehr sympathisch und hat uns super geholfen. Ihre Tipps für Unternehmungen sind Top. Wir hatten sehr schöne Tage in ihrem Häusli. Vielen Dank!
Michael
2016-09-14T00:00:00Z
As Bablina described the place... so it was - or even nicer? My sons and me spent three wonderful days in this so quite, welcoming home in nature. Thank you very much, Bablina for letting us enjoying this place. Love, Nadia
Nadia
2016-02-04T00:00:00Z
Ich fühlte mich im Hüsli sehr wohl. Die Umgebung ist wunderschön und sehr ruhig. Ich erhielt vor meinem Aufenthalt sehr detailierte Infos und auch im Hüsli selber war alles bestens angeschrieben. Das Hüsli ist wirklich einzigartig und es ist auch spürbar, wie es den Vermietenden am Herzen liegt. Vielen Dank für euer Vertrauen!
lea
2016-06-19T00:00:00Z
Super gemütliches Hüsli mit allem was man braucht. Ideal für uns als kleine Familie. Super Aussicht auf die Viamala Schlucht und die Berge. Mit dem Schnee dazu ein Traum .Schöne Gegend zum laufen . Haben den Aufenthalt genossen und kommen gern wieder.
Sylvia
2017-01-05T00:00:00Z
This place is very wonderful, I loved sleeping in the middle of the nature and warm yourself with the fireplace. It's also well situated for hiking. I don't have meet Bablina but she seems to be really sympathic!
Soazig
2016-03-29T00:00:00Z
Sehr gemütlich, rustikal, mit schönem Ausblick und Spazier- / Wanderwegen direkt vor der Haustüre. Wir werden sehr gerne wieder mal in dieses Hüsli zurückkommen... Suna ist sehr freundlich und hilfsbereit. Die Kommunikation mit ihr ist angenehm und läuft problemlos ab.
Antonio
2017-02-12T00:00:00Z
Dear Suna We enjoyed every moment of our stay. The hüsli was beautiful, especially when the sun was shining. We enjoyed the wood stove very much. We had great walks and an overwhelming view. Thank you for everything! Greetings Thomas & Emmily
Emmily
2017-01-28T00:00:00Z
Die Kommunikation verlief sehr unkompliziert und die Instruktionen, Informationen waren klar formuliert /gut sichtbar hingelegt.. Auch für weitere Fragen war immer Raum da. Wir besuchten diesen gemütlichen Ort bereits zum zweiten Mal und freuten uns wieder mindestens genauso viel dort sein zu dürfen :-)
Nadia
2017-02-02T00:00:00Z
Huonetyyppi
Koko talo/asunto
---
Majoituspaikan tyyppi
Talo
---
Majoittujien määrä
3
---
Makuuhuoneet
Rodels, Graubünden, Sveitsi
My house is near Savognin de. You'll love my accommodation for the views and a cozy atmosphere. The price for the overnight stay is per person.
I had a wonderful time staying at Sonja's inn. My room was very pleasant, overlooking the charming streets of Salouf, with a view of the snowy mountains nearby. Sonja served me exquisite breakfasts and dinners and even left a bottle of wine in me. She was a very genial host, and it was fun to hang out and talk with her. I would definitely recommend staying here.
Bill
2017-02-23T00:00:00Z
Traditionelles Bündnerland
Markus
2017-03-10T00:00:00Z
Great service, confortable in beautiful Graubunden
Pedro
2017-02-11T00:00:00Z
Wunderschönes Engadinerhaus mit gemütlichem Zimmer. Sonja ist eine sehr nette und entgegenkommende Gastgeberin! Und Salouf ein sympathisches Dorf.
Felix
2017-01-07T00:00:00Z
Everything was super.
Martin
2017-02-19T00:00:00Z
Wir waren sehr zufrieden, sehr netter Kontakt. Nur zu emfehlen :)
Claudia
2017-01-29T00:00:00Z
Sonja war super.
Urs
2017-03-03T00:00:00Z
Bei Sonja mietet man nicht einfach nur ein Zimmer, sondern kann, wenn man das so will, ganz am Leben im Kulturhotel Salouf teilnehmen. Der Hund Emma und die Katze leben mit im Haus, drei Esel und zwei Alpaka im Stall. Sonja ist ein grosser Natur- und Menschenfreund. Sie ist unkompliziert, grosszügig, gesprächig und hilfsbereit in allen Belangen. Wir hatten viel gemeinsame Zeit, ich konnte mich aber auch gut aufs Zimmer zurückziehen oder einfach alleine was unternehmen. Das Haus ist warm und ordentlich aber nicht pingelig geputzt. Die Lage ruhig und erholsam. Im Dorf gibt es einen Volg mit allem, was man so fürs tägliche Leben braucht. Bei Stefan im Restaurant kann man gut essen. Rundum gut!
Gabriela
2017-02-04T00:00:00Z
Huonetyyppi
Yksityinen huone
---
Majoituspaikan tyyppi
Talo
---
Majoittujien määrä
3
---
Makuuhuoneet
Salouf, Grisons, Sveitsi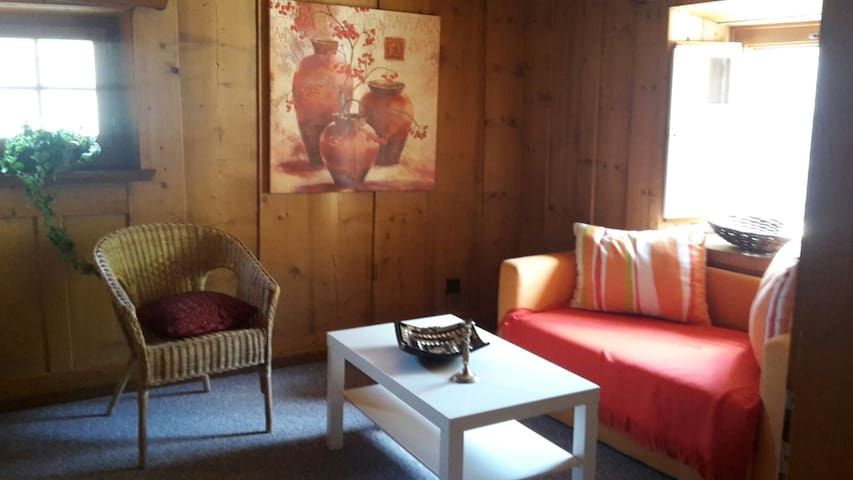 Das sorgfältig ausgebaute Maiensäss liegt sonnig und ruhig mitten im kleinen Walserdorf Obermutten. Ein Sitzplatz lädt ein zum Verweilen. Der Skilift ist für Familien sehr geeignet. Im Sommer kann man von Obermutten aus schöne Wanderungen machen, wobei auch die blühenden Paradieslilien im Berg zu bestaunen sind.
The host canceled this reservation 26 days before arrival. This is an automated posting.
paolo
2017-02-04T00:00:00Z
Der Austausch mit Yvonne und Urs war unkompliziert. Sie sind offene und freundliche Gastgeber. Ihr Haus ist gemütlich. Für Ferien mit Kindern ist das Haus ideal. Die Küche ist sehr gut ausgestattet. Das Haus ist super gelegen, um zu Fuss verschiedene Ausflüge in die Natur zu unternehmen. Wir haben unsere Ferien in Oberbetten sehr genossen.
Marc
2017-01-04T00:00:00Z
Ein schönes Häuschen an einem traumhaften Ort mit sehr gut ausgestatteter Küche und gutem Bad. Muckelig warm! Alles da, was man braucht. Die Vermieter sind sehr nette Leute!
Oliver
2016-11-18T00:00:00Z
Huonetyyppi
Koko talo/asunto
---
Majoituspaikan tyyppi
Talo
---
Majoittujien määrä
7
---
Makuuhuoneet
Obermutten, Graubünden, Sveitsi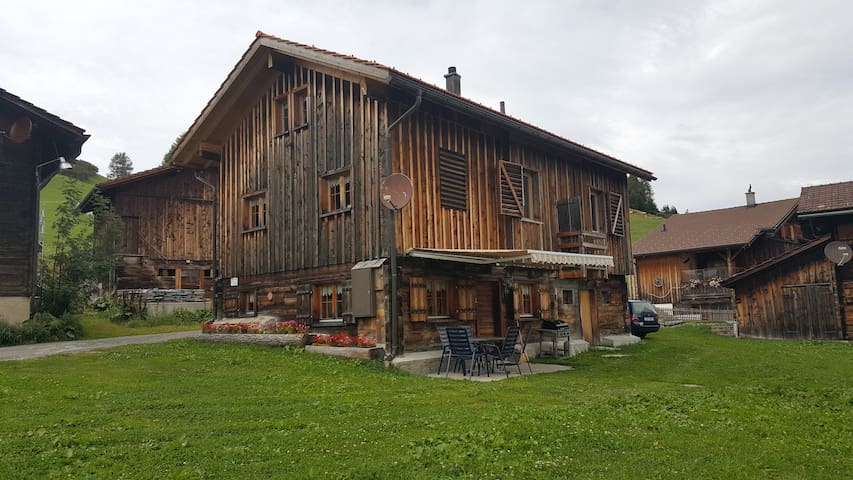 3 bedrooms, 6-9 people, sauna, whirlpool, fireplace, oven. Located 1350m ab. sea level in a sunny & peaceful location, approx. 10 or 15 km from the famous ski regions of Savognin and Lenzerheide. Absolute tranquillity and a great mountain panorama.
This holiday home with lots charm offers the most possible comfort on 130 m2 thanks to the spacious, open construction - renovated & furnished in July 2010. Ideal for families with children, because hardly any traffic, lots of animals in the village, kiddie pool + children's furniture & toys available. Enjoy a romantic bath by candlelight in the whirlpool! It is absolutely peaceful here, you only hear the nature! From the parking spot below on the slope, you have to go up 66 steps) The village of Stierva has 180 residents (Rhaeto Romanic & German is spoken) & is somewhat far from the large tourism centres & their stress. In the forest, not far from the house, you will find a playground for children & a ski lift for them as well. Skiing in Savognin (10 km from Stierva): 80 slope km for all levels! The ski region of Savognin is on a transit route in the heart of the Tales Surses or between Tiefencastel and Julier/Septimerpass in beautiful Graubünden. 13700 ski and snowboard lovers can be transported up the mountain per hour through 7 lifts and 3 cable cars. The chair lifts come from 3 sections of the valley (1200 m) up to the 2670 m high Piz Martegnas. This is really a great ski mountain. From the summit, you can have a stunning view of the skiing area under the Piz Cartas (2713 m). Altogether, the region has 80 slope km, from which 10 km are difficult, 37 km are medium and 33 km are easy. The ski region can be reached by car in about 15 min (through Mon or Tiefencastel). Skiing in Lenzerheide: Powder snow and sunshine are not rare! The Lenzerheide ski region is an upper valley, embedded between the mountain chains of Stätzerhorn and the Piz Scalottas. It is a passage - on its north-south axis are the cities of Parpan, Valbella and Lenzerheide. On the east and west side of this axis are the descents of the ski region. The valley is at approx. 1500m above sea level, the only summit can be reached just under 3000 m (Rothorn 2980m, Stätzerhorn 2575m). It is possible to enter the winter sport region at multiple points. By sunshine (not rare here!) it is worth beginning on the west side in the morning, so between Stätzerhorn and the Piz Scalottas, in order to enjoy the early sun.
The house is located approx. 1350 m above sea level in a sunny & peaceful location on the lower edge of the village of Stierva (Albulatal)- approx. 10 or 15 km from the famous ski regions of Savognin (80 slope km) and Lenzerheide (155 slope km). Stierva is a part of the ELA - the largest nature park in Switzerland (with more than 1000 km of marked hiking paths). The small streets that lead from Savognin through Mon or from Tiefencastel to Mon end shortly behind our house. Clear mountain air, crystal-clear lakes and streams nearby, signs of Rhaeto-Romanian culture. Hiking & cycling routes begin directly next to the house. In the village of Stierva, there is a small supermarket, post office and a family-run restaurant where the best Capuns ('mangold wrap') in Graubünden are served. Swimming: year-round in the wellness centre in Bad Alvaneu, sulphurous warm brine (15 minute drive); in the summer in the reservoir lake Lenzerheide.
It is a very comfortable and cozy place. The house is very well equipped and you can basically find anything you may need. ;) Its Sauna and Jacuzzi are fantastic too! We were very pleased staying there.
Faezeh
2016-10-01T00:00:00Z
Beautiful place with fantastic views. Big and clean full equipped house, very comfortable and cozy. There are two cable cars nearby - 30 min by car, river, waterfalls, forrest. The place is ideal for family staying.
Alexander
2016-07-20T00:00:00Z
Huonetyyppi
Koko talo/asunto
---
Majoituspaikan tyyppi
Talo
---
Majoittujien määrä
9
---
Makuuhuoneet
Stierva, Graubünden, Sveitsi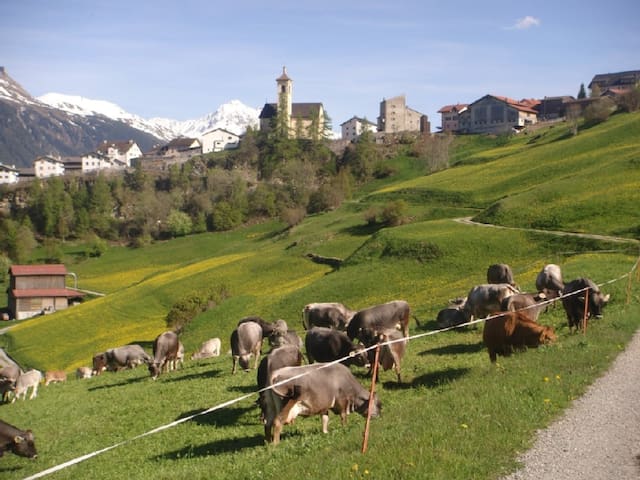 Huonetyyppi
Koko talo/asunto
---
Majoituspaikan tyyppi
Talo
---
Majoittujien määrä
8
---
Makuuhuoneet
Savognin, Graubünden, Sveitsi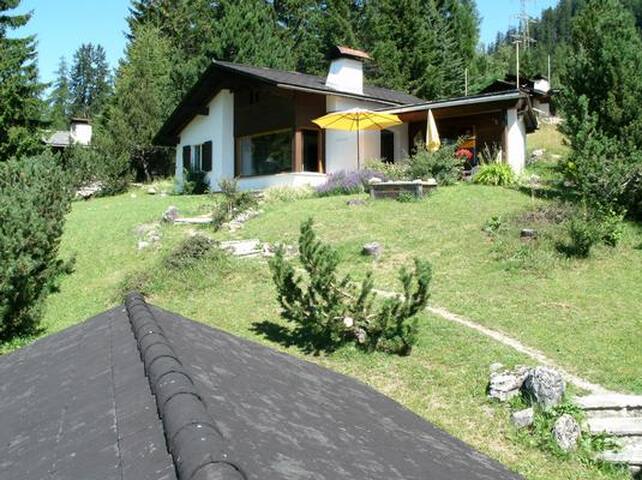 Our accommodation is near shops and is an ideal starting point for hikes. You'll love our accommodation for the views, the quiet location and proximity to the Nolla Bach. In winter, 2 skiing areas nearby above Thusis. Breakfast is included.
Our home is located in a side street in Thusis. Our house has 3 floors. On the ground floor are kitchen, living room, dining room, WC. On 1st floor are the private rooms of hosts. On 2nd floor (guest area) The large room and the bathroom / toilet is located.
Wir waren während des Transruinaulta- Trailmarathons und des Transviamala Run & Walk 2016 für zwei Nächte bei Manuela & Daniel zu Gast. Das Zimmer ist super geräumig, das Bett wunderbar bequem und alles tiptop sauber. Manuela & Daniel sind super herzliche Gastgeber und wir haben uns in dieser kurzen Zeit wie zu Hause gefühlt.
Judith
2016-10-25T00:00:00Z
Manuela and David's B and B is in one of the most gorgeous locations we have ever stayed in. Surrounded by the Alps and a river flowing by. Up in the guest bedroom all you can hear is the sound of the river. Manuela and David are such excellent hosts. Very warm and friendly and we had a nice chat with them in the evening over beer. Oh, do check out David's excellent and quirky telephone collection and Manuela's dolphin collection. Their cats are gorgeus too. Highly recommend this place.
Bhanupriya
2016-08-27T00:00:00Z
Great couple. The room was clean and it was just like photographies. But we was suprised we couldn't use the kitchen. For the breakfast, all was perfect. Thanks a lot !
Juliette
2016-08-10T00:00:00Z
Nice, big and renovated room and bathroom. We felt welcome and also got a nice breakfast. We would recommend staying with Manuela and Daniel. Thusis is a small town, well situated to discover the region.
Sebastien
2016-07-11T00:00:00Z
We had a lovely stay in Manuela and Daniel appartment. It was very convenient from perspective of departure and arrival flexibility. The surrounding is very interesting , looks it is good place to spent vacation. Vey clean , quiet , and vey comfortable. Everything as described , and even better than our expectations. Hosts are very nice and friendly people. Really worth recommending
Andrzej
2016-07-07T00:00:00Z
Dank der herzlichen und offenen Art von Manuela&Daniel fühlten wir uns sogleich wie zu Hause. Sie kamen uns entgegen beim Check-In, da wir etwas später anreisten. Das Zimmer und Bad/Wc waren sehr sauber! Das Frühstück war lecker! Wir konnten den Parkplatz vor dem Haus benutzen und durften zwischendurch die Kaffeemaschine benutzen:) Auch liegt Thusis sehr zentral für Ausflüge in die Region. Wir kommen sehr gerne wieder!!!
Jeanine
2016-10-03T00:00:00Z
Everything was ок. Manuela and Daniel very hospitable. They made us a breakfast. The house and room very cleand and has all what you need (bathroom, internet, towels and linen, kitchen).
Svetlana
2016-07-09T00:00:00Z
Es war wirklich alles tip-top! Grazie mille, favoloso ;) Entschuldigung fur die Verspätung beim Feedback
Leandro
2017-02-27T00:00:00Z
Huonetyyppi
Yksityinen huone
---
Majoituspaikan tyyppi
Talo
---
Majoittujien määrä
2
---
Makuuhuoneet
Thusis, Graubünden, Sveitsi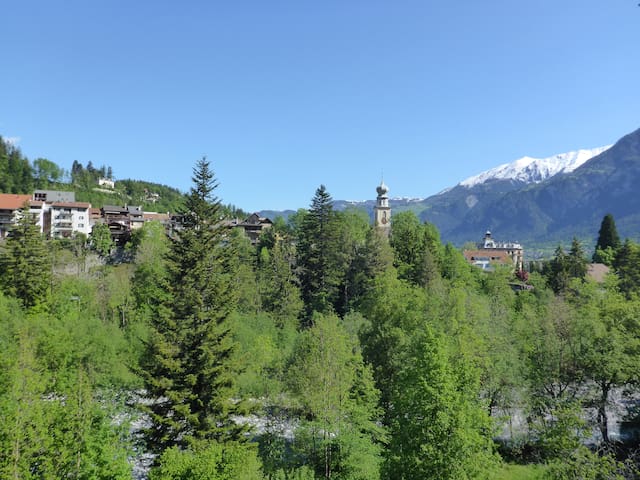 Huonetyyppi
Koko talo/asunto
---
Majoituspaikan tyyppi
Talo
---
Majoittujien määrä
6
---
Makuuhuoneet
Heinzenberg, Grisons, Sveitsi
Ich vermiete am sonnig gelegenen Heinzenberg oberhalb Thusis im beschaulichen Urmein ein Ferienhaus. Das frisch renovierte Haus bietet Platz für 4 - 6 Personen und verfügt über ein gemütliches Ambiente. Das familienfreundliche Skigebiet Tschappina ist in 5 Minuten erreichbar. Der Heinzenberg ist ein sehr schönes Bike- und Wandergebiet.
Das Haus wurde innen komplett renoviert. Es ist ein helles Haus mit viel Raum und Platz. Der Specksteinofen versprüht behagliche Gemütlichkeit, die Infrarotelektroheizung garantiert ein vollständig warmes Haus.
(URL HIDDEN) (URL HIDDEN) (URL HIDDEN)
Superschöne Unterkunft in einem kleinen Bündner Dorf unweit eines kleinen Ski-Gebietes. Sehr charmante Dorfgemeinschaft (unsere Kinder durften jeden Tag die Kälbchen im Stall eines Bauern besuchen gehen und der Nachbar hat uns an Silvester unkompliziert mit Maizena für unser Käsefondue ausgeholfen). Dafür ist Urmein klein und es gibt nicht mal einen Laden. Man braucht also möglichst ein eigenes Auto. Das Haus ist superschön renoviert. Wir hatten selten so gute Betten in einem Ferienhaus und auch die Küche ist überdurchschnittlich gut ausgestattet. Und der alte Specksteinofen ist ein Traum! Unsere Kinder haben sich sehr über die vorhandenen Spielsachen gefreut. Und der grosse Wohn/Essbereich lädt ein zum gemütlichen Beisammensein. Der Kontakt zu Manuela und Familie Lareida (Kontaktperson vor Ort) war unkompliziert und sehr nett. Familie Lareida hatte sogar bereits eingefeuert als wir ankamen. Wir kommen gern wieder!
Nina
2017-01-01T00:00:00Z
Huonetyyppi
Koko talo/asunto
---
Majoituspaikan tyyppi
Talo
---
Majoittujien määrä
6
---
Makuuhuoneet
Urmein, Graubünden, Sveitsi
uraltes Patrizierhaus in historischer Umgebung "Kleiderzimmer" in meiner Privatwohnung neben WC / Bad Veranda und Gartensitzplatz optional Frühstück CHF 12
Huonetyyppi
Yksityinen huone
---
Majoituspaikan tyyppi
Talo
---
Majoittujien määrä
1
---
Makuuhuoneet
Cazis, Graubünden, Sveitsi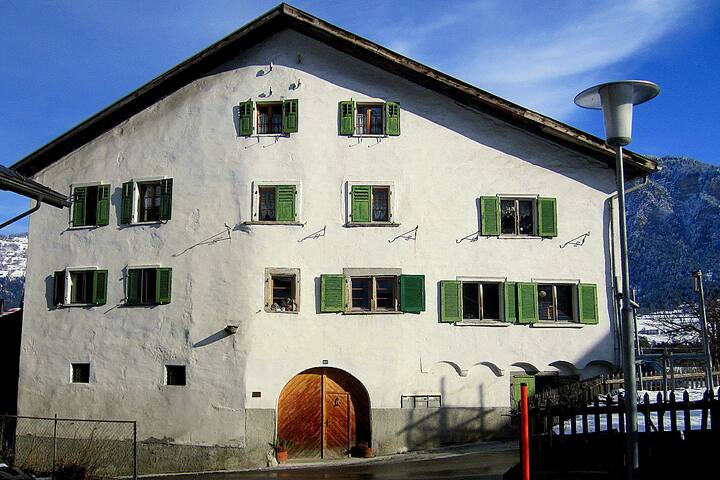 Casa Sharon lies in the intact village of Scharans offers relaxation for the whole family. The sunny Domleschg with its many castles, orchards and rolling mountain hills is beautiful for hiking and biking.
Kitchen / living room: Electric stove with oven Nespresso coffee machine Italian coffee maker kettle Wood stove for heating the whole house Children's Books / family games / DVD / TV Around the house: Patio with table and chairs Schopf with firewood and tools 2 bikes and 2 Davos sledge for free use In the town: Village shop and bus stop nearby. www (dot) scharans (dot) ch. Near: Hiking and biking trails, many hot springs (Andeer, Alvaneu, Vals, Valbella ...) and lots of golf courses. Chur, the oldest town in Switzerland, reached in 20 minutes, with its picturesque old town, its shops, restaurants, cinemas and more. More information at www (dot) viamala (dot) ch Accessibility for ski resorts by car: Heinzenberg (directly by post bus) in 20 minutes Splügen in 20 minutes Flims and Laax in 30 minutes Valbella Lenzerheide in 30 minutes Savognin in 30 minutes
www(Punkt)scharans(Punkt)ch
The host was very welcoming, providing us with pasta and sauce our first night. We arrived later than we intended but that was no problem. She accommodated our needs. The house was clean and well equipped to meet essential cooking, cleaning and showering. The washer in the basement was wonderful since some of us had been traveling for 10 days and needed some fresh clothing. Internet access and speed was great. Recommend this place for families.
Martha
2015-07-02T00:00:00Z
Das kleine Haus in einem typischen urigen Bündner Ort ist sehr charmant und gemütlich eingerichtet. Hier hat es alles, was man zum wohlfühlen braucht. Wir kommen gerne wieder!
Claudia
2016-07-18T00:00:00Z
Soggiorno in Svizzera con amici. Abbiamo optato per questa splendida casetta e si è rivelata un'ottima scelta. Ambienti caldi, luminosi e spaziosi, pulizia, buona accoglienza. E' situata nel grazioso villaggio di Scharans, in posizione comoda per chi arriva dall'Italia attraverso il San Bernardino. Nel raggio di 50 km si hanno a disposizione le Terme di Vals, il centro storico di Coira e le piste da sci di Lenzerheide! Consigliato!
Fabio
2016-03-20T00:00:00Z
Wir haben Franziska zwar nicht persönlich getroffen, aber die Kommunikation verlief ohne Probleme. Vom ersten Augenblick an fühlten wir uns in ihrem toll gelegenen und gut eingerichteten Haus äusserst willkommen. Wir können das Casa Scharans definitiv weiter empfehlen und bedanken uns bei Franziska herzlich.
Remo
2016-03-25T00:00:00Z
Vielen Dank für den schönen Aufenthalt. Wir konnten ein paar erholsame Tage im Casa Scharon genießen. Gerne wieder einmal.
Marcel
2016-12-22T00:00:00Z
Our stay at Casa Scharons was wonderful. The cabin is cute and cozy, perfect for our family with children. The cabin was very clean and Franziska provided all of the information we needed. The location is good - close to skiing and other outdoor activities. Scharans itself is very very small, quaint, but not much going on...good for peace and quiet. We enjoyed it very much!
Carlee
2016-12-28T00:00:00Z
Superbe séjour chez Francisa qui a été une hôte extraordinaire. Le chalet est très beau, bien équipé et idéalement situé. Une bonne bouteille de Valpolicella nous attendait à notre arrivée. Francisa était toujours joignable et nous a donné de précieux conseils de visite. Nous avons été aux Thermes de Vals qui sont à une heure de voiture du chalet. Dommage que nous n'ayons pas pu rester plus longtemps !
Philippe
2015-08-11T00:00:00Z
This is a great accommodation option, if you are looking for a nice and cozy place to stay, in a quiet village in the close vicinity of beautiful mountains. There are loads of nice places to visit in the region and a lot of hiking trails to follow. The chalet is charming, very well-equipped and pet-friendly (it even had a dog bowl).
M
2016-12-26T00:00:00Z
Huonetyyppi
Koko talo/asunto
---
Majoituspaikan tyyppi
Talo
---
Majoittujien määrä
6
---
Makuuhuoneet
Scharans, Graubünden, Sveitsi
Nice cozy chalet between Davos (20km) and Lenzerheide (20km) situated; quiet with terrace, parking space, barbecue, etc. Many outdoor activities (Excursions in the photos) and relaxing holidays in the Swiss mountains await you.
Rustic yet comfortable chalet in the mountain village Schmitten (Albula) in Graubünden. Optimal and quiet among the top destinations Davos and Lenzerheide. Search Ideal for winter sports enthusiasts, bikers, hikers and those seeking tranquility and relaxation in the Alps. Ideal for families (swimming and climbing in Davos or Lenzerheide, summer tobogganing in Pradaschier, sledging and Trottifahren on Rinerhorn, Mountaincart - Driving in Savognin, etc.)
Sehr stilvoll eingerichtetes kleines Häuschen für einen angenehmen Aufenthalt. Hat alles was man braucht :) Gut erschlossene ÖV (allerdings nur bis ca. 18:00) und kleiner Volg nicht weit vom Haus. Können wir nur weiter empfehlen und vielen Dank nochmals!
Fränzi
2017-02-03T00:00:00Z
We have been 2 couples in a ski trip and we have been very confortable at Siggi's house. The house is really well equipped, very confortable and clean. Siggi is very kind, it is easy to comunicate with her and she makes the check-in very easy. We would, with no doubt, book it again.
Carmen
2017-02-13T00:00:00Z
Geschmackvoll eingerichtet - wir haben uns sehr wohl gefühlt. Bad und Küche modern ausgerüstet. In der Küche ist alles vorhanden was man zum Kochen braucht. Wir waren zu Dritt und hatten mehr als genug Platz. Die Lenzerheide ist im Auto in ca. 20 Minuten zu erreichen. Es hat einen Kinderskilift in Alvaneu (5 Min mit dem Auto von Schmitten entfernt)
Albert
2017-02-25T00:00:00Z
Huonetyyppi
Koko talo/asunto
---
Majoituspaikan tyyppi
Talo
---
Majoittujien määrä
5
---
Makuuhuoneet
Schmitten, Graubünden, Sveitsi
Huonetyyppi
Koko talo/asunto
---
Majoituspaikan tyyppi
Talo
---
Majoittujien määrä
8
---
Makuuhuoneet
Vaz/Obervaz, Graubünden, Sveitsi
Built in 1691 this unique "Engadiner" farmhouse offers exceptionall accomodation, well off the beaten track. Thanks to the careful renovation by the current owners, the Ganderhaus is the ideal spot to get away from it all and recharge your batteries enjoying a comfortable and relaxing time in the swiss alps. You'll have the entire house to yourselves. The Ganderhaus has central heating. Wood for the stoves is included in the price. Extra charges: Tourist tax - CHF 3.00 per person/night / children from 6-12 years old CHF 1.50 - this tax is not included in the airbnb fee and has to be paid cash on check-out The arched entrance way leads directly into the spacious reception hall "sulèr". Leading off from here you will find the roomy kitchen with large dining table, built-in wooden bench seating and a wood-burning stove.The cozy panelled living room with original stone oven feature is warm and relaxing, perfect after the days outdoor activities. Upstairs the accommodation comprises 3 generous double bedrooms: the first is wood-panelled with 2 single beds, the second features a queensize bed with an antique daybed in the anteroom and there is a further large twin bedded room with it`s own washbasin. On this floor there is a family bathroom with shower and toilet as well as a separate WC with washbasin. Outside in the large lawned garden there is a seating area with BBQ and deckchair loungers for warm sunny days. Situated in the midst of the Ela nature reserve at a height of 1551 meters, you will find peace and tranquility in abundance with panoramic views of the Albula valley below. Stuls offers superb hiking right on the doorstep: whether it be a leasurely stroll to the picturesque village of Latch or the somewhat more strenuous alpine hiking in the Sertig/Davos region and the rugged wilderness of Val Tuors and Piz Kesch. Travel onboard the historic Unesco listed "Rhätische" railway as far as Preda and then continue on foot to the breathtakingly beatiful lake at Palpuogna. Just 15 mins away bus or car at Alvaneu, enjoy a round of golf or revive body and spirits at the Thermal baths with indoor and outdoor mineral pools. In winter try out the world-famous taboggan run at Preda or head off-piste to the virgin powder slopes of Darlux. Whatever it is you decide to do, you are sure to take home some unforgettable memories. We look forward to welcoming you to Ganderhaus, your home in the unspoiled Albula Valley in the Swiss Alps.
Der Kurzurlaub im Ganderhaus hat sich gelohnt, und hat unsere Erwartungen noch übertroffen! Das Haus ist sehr urig und ursprünglich, und wir haben uns sehr geborgen gefühlt. Es fehlte an nichts. Wir haben die Zeit in den wunderschönen noch schneebedeckten Bergen sehr genossen und würden gerne mit etwas mehr Zeit wiederkommen.
Birgit
2016-05-09T00:00:00Z
Wir hatten eine super Zeit im Ganderhaus! Die Beschreibungen und Fotos sind gut getroffen. Das Haus ist gross, gemütlich und hat seinen eigenen Charme. Es ist sehr abgeschieden und ruhig, etwa 15Min von Bergün entfernt. Peter war sehr zuvorkommend und hilfreich. Vielen Dank!
Benjamin
2016-02-26T00:00:00Z
Wir hatten mit unserer Familie wunderschöne Ferien im Ganderhaus. Dawn und Peter sind die perfekten Gastgeber und wir fühlten uns von Beginn weg willkommen. Das 350-jährige Haus ist beeindruckend und liefert trotzdem allen Komfort. Wir können es nur empfehlen! Die Ortschaft Stuls ist wirklich ruhig und lädt zum entspannen ein. We can only recommend this place, especially should you want to relax and indulge in the beauty of the Swiss mountains.
Christian
2016-08-21T00:00:00Z
Das Ganderhaus ist ein traumhaft schöner Ort mit unbeschreiblich viel Charme. Das Haus ist äußerst großzügig mit einer perfekt ausgestatteten Küche und zwei Holzöfen die schnell eine gemütliche Wärme erzeugen. Vom sehr beschaulichen Stuls bietet sich außerdem eine grandiose Aussicht in das Albulatal. Leider waren unsere vier Tage im Ganderhaus ein Bisschen zu kurz um diesen wunderschönen Ort ausgiebig genießen zu können -nächstes Mal bleiben wir länger.
Stefan
2015-01-28T00:00:00Z
Wunderschönes Haus, viele tolle Details. Sehr freundliche Besitzer. Man kann sich in Stuls wunderbar erholen, die schöne Landschaft geniessen, wandern oder einfach Sein.
Sandra
2013-10-21T00:00:00Z
We have stayed for 5 days and truly wish we could stay forever. The Haus itself could not be more comfortable or beautiful. It has absolutely everything you could desire to stay at home, go sledding or go for a walk. The pictures don't do this place justice, everything is done with sick great care and passion. The communication with Peter and his son were excellent, we were met and shown around and it was ensured that we had all we needed. We cannot wait to come back any time of the year!
Kristina
2017-01-20T00:00:00Z
Wir wurden von Peter herzlich im Ganderhaus mit einem Present mit lokalen Spezialitäten begrüsst - welch schöne Überraschung. Das Haus ist heimelig, wunderschön renoviert und geschmackvoll dekoriert - sogar mit einem geschmückten Christbaum. Trotz Schneemangels hatten wir einen tollen Aufenthalt - wir können es bestens weiter empfehlen und werden sicher zurück kehren: unsere Erwartungen wurden weit übertroffen, herzlichen Dank!
Barbara
2016-12-30T00:00:00Z
Thank you so much Dawn & Peter for sharing your piece of paradise with us. Stuls is a beautiful, tranquil location. We were looking for somewhere special off the beaten path and we found it. There are many walking opportunities directly from the house. The Ganderhaus is an amazing property surrounded by spectacular views. The accommodation far exceeded our expectations. It is steeped in history and has been sympathetically preserved. The kitchen is spacious but also cosy and very well equipped. The stubli was wonderful for after dinner board games or reading. The dining area and bedrooms are fantastic. The whole house has wonderful touches to make it homely and we absolutely loved it all.
Jane
2015-08-16T00:00:00Z
Huonetyyppi
Koko talo/asunto
---
Majoituspaikan tyyppi
Talo
---
Majoittujien määrä
6
---
Makuuhuoneet
Bergün, Grisons, Sveitsi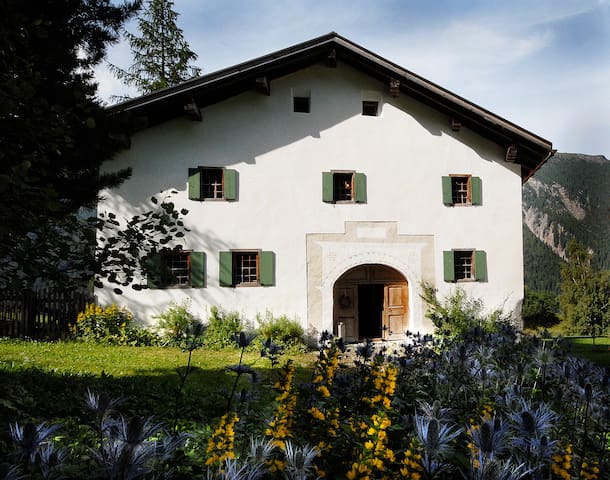 Este típico agricultor casa de madera de 300 años en las montañas suizas. Tenga en cuenta que esta casa se calienta con un Kachelofen tradicional en la cocina para calentar la sala de estar. Todos los dormitorios y el baño tienen sus propios calentadores.
We had a fabulous time in the swiss mountains. Praden and your house are unique! We felt immediately at home. Your old farmer house is comfortable, completely and lovingly furnished with a secretly ambience. Annegreth, thanks very much for your hospitality and we are looking forward to a next visit. Liebe Grüsse, Ron, Margriet, Dion, Lobke und Nynke
Ron
2016-03-01T00:00:00Z
La maman de Peter nous a accueilli dans son chalet avec une tisane. Le chalet est charmant et Ana ( la maman de Peter ) tres gentille. C est avec plaisir que nous y retournerons.
annabelle
2015-12-28T00:00:00Z
Wir hatten sehr schöne Tage in Praden und haben uns heimelig und sehr wohl gefühlt, auch weil die Unterkunft genau in die Gegend passt und damit eine Identität geschaffen ist, die man nur in einem so liebevoll eingerichteten Haus findet. Annagreth hat alles perfekt vorbereitet und uns sogar den Kachelofen geheizt. Alles hat prima geklappt und ist so, wie beschrieben. Wir kommen gerne wieder.
Karin
2017-04-02T00:00:00Z
Gemütliches und persönlich eingerichtetes Haus in einer ruhigen und schönen Lage. Der Kachelofen und die warmen Kirschenstein-Säcklein als Fusswärmer im Ofen runden das Erlebnis ab. Die äusserst herzliche Hauseigentümerin hat sich vor und während unseres Aufenthalts mehrmals bei uns gemeldet und alles perfekt vorbereitet - in einem anderen Jahr kommen wir gerne wieder!
Lukas
2016-10-09T00:00:00Z
It took me a while to reach this place. There where some trouble with my gps and I ended up in the wrong village. So I called the host for some directions and she ( Peters mother ) jumped in her car to pick us up and guided us over some quite steep roads to Praden. She prepared us a very welcoming welcome with some local sausage and cheese and a good wine. And then the house: it's a beauty. It really takes you back in time and it has so many romantic details. All the rooms have a cosiness you can't find in a modern house. During our stay we made a lot of day trips to other parts in Switzerland, but every time driving back to Praden was like coming home. The garden around the house offers a lot of spots to sit and enjoy a drink or a meal, which we did a lot because we had nice weather. The views from the windows were amazing as well. When the evenings became a little colder we fired up the stove which kept us comfortably warm until the next morning. An overall amazing house and host we could recommend to everyone.
Mark
2015-08-01T00:00:00Z
Wir haben das Haus und die Gastfreundschaft von Anngegret sehr genossen. Eine super schöne Lage überhalb von Chur, tolle Aussicht, ein herziges Haus und wunderschöne Sitzgelegenheiten um das Haus. Wir danken Annegret dafür.
Heike
2015-08-07T00:00:00Z
Huonetyyppi
Koko talo/asunto
---
Majoituspaikan tyyppi
Talo
---
Majoittujien määrä
6
---
Makuuhuoneet
Praden, Graubünden, Sveitsi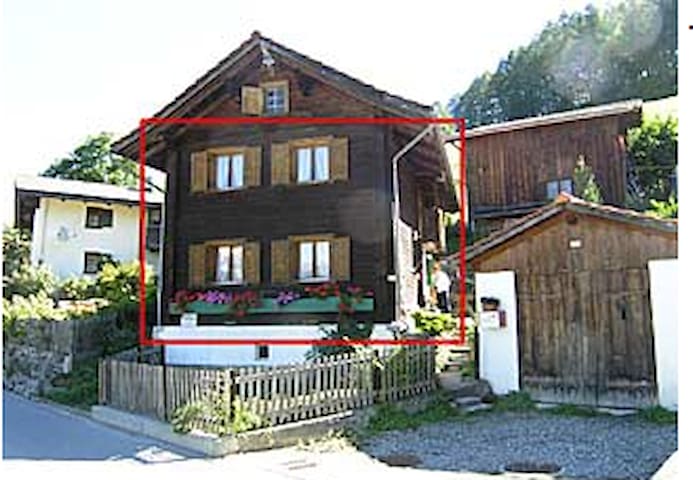 Sehr gute Lage für Skifahrer... für Nicht-Skifahrer ist es eine sehr ruhige Lage.. man braucht ein Auto..
Tayfun
2017-02-26T00:00:00Z
Huonetyyppi
Koko talo/asunto
---
Majoituspaikan tyyppi
Talo
---
Majoittujien määrä
7
---
Makuuhuoneet
Valbella, Graubünden, Sveitsi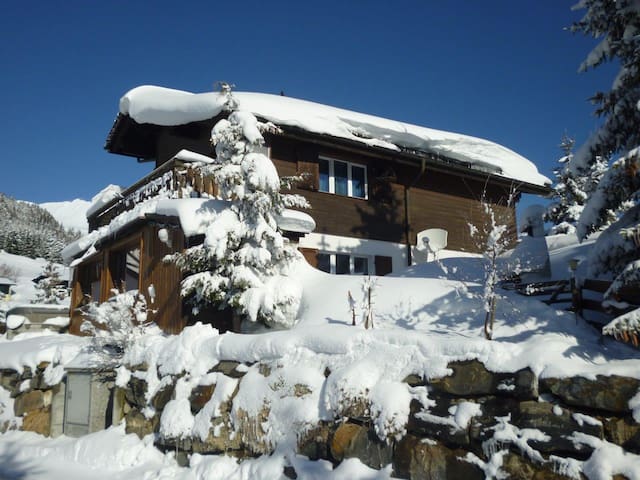 Idyllic family house with large garden. An ideal base for bike rides and walks in the Grisons. Davos, St. Moritz in 1 hour. Reach Route A13 towards Italy Double bed, shower / WC Non smoking No pets
Der Empfang bei Annelise war sehr freundlich und wir fühlten uns sofort sehr wohl. Bei solch einer fröhlichen und offenen Stimmung ist der Reisstress sofort vergessen. Das Haus mit einem schönen großen Garten liegt sehr ruhig, aber trotzdem ist man schnell im Zentrum. Alle Zimmer sind sehr gepflegt und geschmackvoll eingerichtet. Wir haben morgens und abends sehr gern mit Annelise und Hannes geplaudert und viel Interessantes erfahren. Von Thusis aus gelangt man in wenigen Minuten in die herrliche Viamala - Schlucht und kann viele schöne Wanderungen unternehmen. Diese tollen Gastgeber sind sehr zu empfehlen!!! Vielen Dank und für die Zukunft noch viele nette Gäste!
Roland
2016-07-05T00:00:00Z
Ich war schon zum zweiten mal dort und es war wieder ein schöner, angenehmer und persönlicher Kontakt möglich. Sehr empfehlenswert.
Matthias
2016-08-26T00:00:00Z
Anneliese hat uns herzlich empfangen, sich für uns Zeit genommen und uns auch zusätzliche Infos organisiert, welche wir brauchen konnten. Alles war sehr unkompliziert und angenehm. Das Zimmer und das Bad super sauber, ruhig und hell. Alles super und wir haben uns sehr wohl gefühlt! Vielen Dank!
Silvan
2016-06-27T00:00:00Z
Hier stimmte einfach alles. Ich kam an und fühlte mich sofort wie zuhause. Anneliese und ihr Partner sind einfach toll. Ich habe von den Beiden viel über Land und Leute erfahren und tolle Tipps für meine Motorradtouren bekommen. Der Ausflug zu ihrer Maiensäss war ein ganz besonderes Erlebnis. Lange Rede .....kurzer (URL HIDDEN) Besten Ihr fahrt selbst mal hin :-)
Sabine
2016-06-04T00:00:00Z
Great place, lovely people, recommended.
Jonathan Reinholt
2017-03-21T00:00:00Z
Der Empfang war sehr herzlich und hilfreich. Die Wohnung ist ruhig, geräumig, modern, sehr sauber und geschmackvoll eingerichtet. Die Gastgeber sind sehr umgänglich und freuen sich über den Austausch mit dem Gast. Anneliese kocht sehr gut und gesund. Das Morgenessen ist sehr reichhaltig und liebevoll angerichtet. Herzlichen Dank!
Ernst
2016-06-19T00:00:00Z
Great room in lovely house central in Thusis, and very nice and friendly hosts! Only had a short stay here but would definitely revisit if we are coming back to the same area later.
Andreas
2016-06-29T00:00:00Z
Eine strahlende aufgestellte Frau hat uns am Bahnhof in Thusis abgeholt. Die Fahrt nach Hause hatte Anneliese benutzt um mit uns eine " kleine " Dorfführung zu machen. Ihr Haus eine Oase innen wie aussen zum Wohlfühlen. Danke Anneliese wir haben uns sehr sehr wohlgefühlt und können Dich bestens weiterempfehlen und wünschen Dir noch viele tolle Gäste.
Erika
2016-06-22T00:00:00Z
Huonetyyppi
Yksityinen huone
---
Majoituspaikan tyyppi
Talo
---
Majoittujien määrä
2
---
Makuuhuoneet
Thusis, Grisons, Sveitsi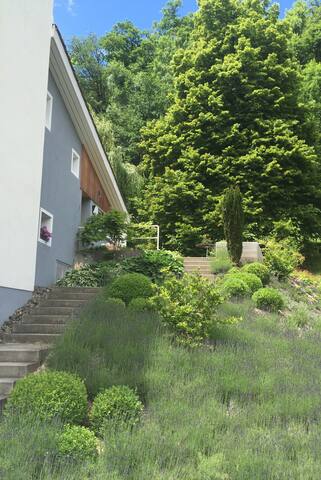 Idyllisches Dorf in der Bündner / Graubünden 30-40 Minuten von St. Moritz oder von Chur, 1h30 von Zürich. Ideal im Sommer mit seinen verschiedenen Aktivitäten auf dem See oder den Hängen des weltbekannten Mountainbike. Im Winter, Bobbahn hervorragende Skipisten, etc
Dieses Haus war Ende 1800 bauen. Renoviert durch den großen Großeltern, wenn sie das Haus gekauft 1900 beginnen. Modernisiert, wo im Jahre 1953 durchgeführt.
Old wooden house with a long history. The living room is cosy as well as the bedrooms. Lot of decorations and historic items in the house. Less suitable for small children. Close to the ski lifts, walking distance! Although partly wooden, the house is warm.
Margreet
2017-03-04T00:00:00Z
Nette, kleine Unteekunft in den Bergen. Danke vielmals
Adrian
2017-02-04T00:00:00Z
Huonetyyppi
Koko talo/asunto
---
Majoituspaikan tyyppi
Talo
---
Majoittujien määrä
6
---
Makuuhuoneet
Savognin, Graubünden, Sveitsi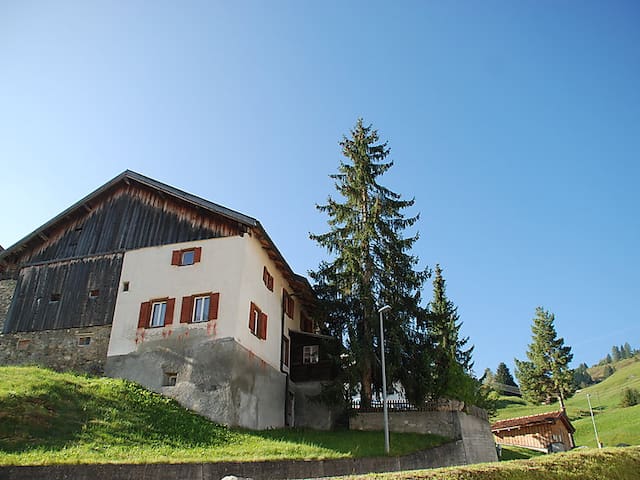 In unserem heimeligen Häuschen kannst Du herrlich entspannen und die Ruhe geniessen. Für wohlige Wärme sorgt ein Schwedenofen. Kochen darfst Du in einer modernen , offener Küche. Zum Schlafen gibt es 2 Doppelzimmer und ein Bettsofa .
Unser Ferienhaus bietet Platz für 5 Personen. Der Wohnraum mit offener Küche ist im Obergeschoss , sehr gemütlich eingerichtet mit Schwedenofen, Sitzgruppe , Essecke, TV Die Wände sind mit Arvenholz getäfert. Im Untergeschoss sind zwei Doppelschlafzimmer und das Badzimmer ( WC, Dusche und Lavabo ) Im Preis inbegriffen sind Bett,-Küchen ,-und Frottierwäsche sowie Feuerholz
Mutten-Stafel ist ein heimeliges Maiensäss. Sehr ruhig gelegen. Ideal zum Entspannen oder die herrliche Bergwelt bei einer Wanderung zu geniessen. Für Wintergäste ist Das Häuschen ideal gelegen , der Skilift ist nur ein paar Schritte vom Haus entfernt.
Wir haben die Sommerferien in der wunderbaren Muttener-Bergwelt mit unseren beiden kleinen Kindern sehr genossen! Das Häuschen ist sehr schön umgebaut und sorgfältig eingerichtet und wir haben uns rundum wohlgefühlt. Unsere Kinder haben das kleine Häusernest: Mutten-Stafel mit den vielen verstreuten Findlingen ringsherum (die man wunderbar beklettern kann), den vielen Brunnen mit eiskaltem Wasser und dem kleinen Postauto, welches sich 3x amTag die Schotterpiste hochkämpft (das Ereignis des Tages!) geliebt. Wir sind begeistert von der wunderschönen Umgebung und der fantastischen Aussicht und hoffen, schon bald wiederzukommen. Silvia und Meinrad waren überaus nett und zuvorkommend! Ganz herzlichen Dank euch beiden!
Brigit
2016-08-07T00:00:00Z
Das Wochenende in Mutten war perfekt. Silvia hat uns den Weg zur Hütte gezeigt und den Ofen bereits vorgewärmt. Die Hütte sieht besser aus als auf den Bildern und ist perfekt eingerichtet. Ich werde diese Unterkunft wieder buchen.
Muriel
2015-12-01T00:00:00Z
Our stay at Silvia's property was just perfect! Clean, warm and fully equipped with an astonishing view of the Alps, located in a lovely calm village on top of a mountain. Perfect for chilling out and disconnecting from day to day stress. Silvia was fully available when we needed and very kind! Highly recommended!
Gustavo
2016-09-11T00:00:00Z
Die Unterkunft ist abgelegen, jedoch super gemütlich und sauber! Innerhalb von ein paar Minuten erreicht man Natur pur. Silvia ist wunderbar & die Organisation unkompliziert & sehr herzlich! Wir kommen sehr gerne wieder!
Joyce
2016-11-28T00:00:00Z
Wir haben uns in Silvias Haus sehr wohl gefühlt und haben die Ruhe der Umgebung genossen. Der gemütliche Specksteinofen war vorgeheizt als wir ankamen und für Tee und Kaffee war alles schon da mit ein paar feinen selbstgebackenen Weihnachtsguetzli :-) Die Küche bietet alles was man braucht, Gewürze, Oel, Essig und ein paar andere Dinge waren schon vorhanden. Es liess sich gut kochen auch backen. Das Haus war angenehm sauber und die Betten gemütlich. Unsere Hündin Shila hat sich auch wohl gefühlt und konnte draussen gut rumtollen. Wir kommen gerne wieder an diesen schönen gemütlichen Ort.
Christa und Torrdan
2016-12-12T00:00:00Z
net huis, alle voorzieningen waren aanwezig. Ook fijn dat kleine dingen zoals suikerklontjes, bakolie, thee aanwezig waren. We hadden op aanraden van de verhuurder zelf eten meegenomen maar hadden niet aan deze dingen gedacht. Het huis ligt op een half uur rijden van de dichtsbijzijnde supermarkt en daarom is dit erg fijn.
Joep
2016-08-15T00:00:00Z
All perfect, beatiful and welcoming house and thanks for all Silvia , very grateful and attentive Thanks Javier
Javier
2015-08-31T00:00:00Z
Overall the experience was fantastic, a lovely house in a quiet village built traditionally but with all modern features internally, Sylvia was a very pleasant person to deal with and she even had the wood stove burning ready for our arrival.
ralph
2015-08-24T00:00:00Z
Huonetyyppi
Koko talo/asunto
---
Majoituspaikan tyyppi
Talo
---
Majoittujien määrä
5
---
Makuuhuoneet
Mutten, Graubünden, Sveitsi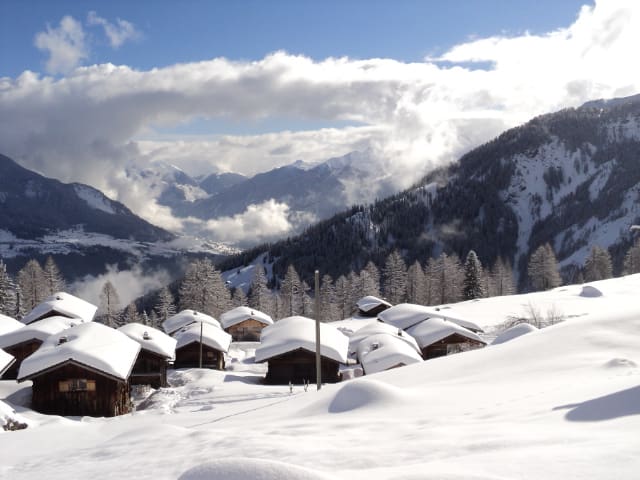 1

–

18

hakutuloksista

221 vuokrattavaa taloa
Anna päivämäärät nähdäksesi kokonaishinnoittelun. Lisämaksuja sovelletaan. Veroja saatetaan lisätä.