266 vuokrattavaa huoneistoa
Presidio Da Vinci Tower is located at Lakefron Sucat, Muntinlupa City.
Huonetyyppi
Yksityinen huone
---
Majoituspaikan tyyppi
Huoneisto
---
Majoittujien määrä
4
---
Makuuhuoneet
Muntinlupa, Manilan pääkaupunkialue, Filippiinit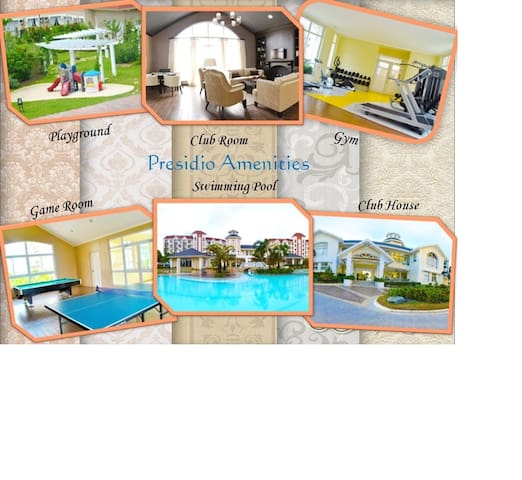 A 400 square feet (37 square meter) studio type Apartment is located in an nice business and commercial district of Filinvest. The unit is completely furnished with all the necessity for a comfortable stay.It is located on the 7th floor of the building with a beautiful view of the area. It is just a 10 minutes walk to the Supermarket, Restaurants serving various International dishes and Malls ( Festival , Ayala Town Center, Metropolis). SM South Mall is a 10 minute ride .Public transportation is just a 50 meters away from the apartment and you can ask the security personnel at the lobby of the apartment to call a taxi for you if you need a ride to take you to other cities. You must try the local transportation using a multicab which brings you to any area close to the apartment for a very cheap price. Most important is the apartment is 30 minutes away from the airport and is accessible via Skyway ( elevated expressway) which is traffic free. So no worry of catching your flight going back home. You will be close to Manila (1 hour drive) where you can visit various historical places like Intramuros, Fort Santiago and Rizal park. While in Manila visit the biggest Mall in Asia which is Mall of Asia and see Ocean Park. If you want to save then cook your own dishes since the apartment has it's own kitchen with complete utensils necessary for cooking.
Huonetyyppi
Koko talo/asunto
---
Majoituspaikan tyyppi
Huoneisto
---
Majoittujien määrä
2
---
Makuuhuoneet
Muntinlupa, Manilan pääkaupunkialue, Filippiinit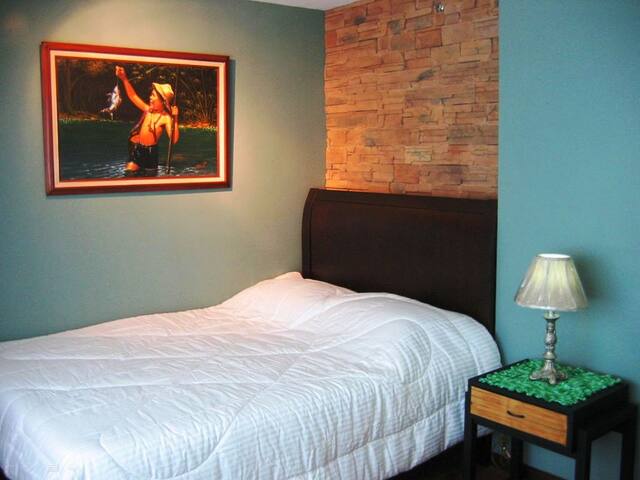 NEST @ Tagaytay is a perfect place if you are looking for a place where you can indulge in a rewarding slumber and relish the company of family and friends while enjoying the perfect weather of Tagaytay. We chose to design our unit with Scandinavian feel that is refreshing and inviting with the airy and spacious feel that is easy on the eyes, perfect for couples, families, barkada and solo adventurers. It is located at Tagaytay Prime Residences by Cityland near Rotonda.
Our unit is furnished to give our clients a cozy feeling and unforgettable staycation. •It is a 25.45sqm 1 bedroom unit •Double Sized Bed ( 54" x 75") •Single Sofa Bed ( 24" x 68" ) •Extra Foldable Mattress •Bedsheets & Blankets •Led TV perfect for all day movie bonding experience •USB loaded with blockbuster movies •Window Type Aircon •ABS-CBN TV Plus •PLDT Wifi Access •Kitchenwares : Microwave, Refrigerator, Electric Kettle, Rice Cooker •Dinnerwares •Bath Towels ( Good for 2pax only ) •Separate Toilet with bidet & shower with heater •Strictly Maximum of 4 Pax (including Kids)
Clean, cozy, very very nice host. Check in and check out was easy.
Vincent
2017-01-07T00:00:00Z
Everything is perfect Brice and brian are very accomodating. The place is picturesque. We had the best monthsary celebration ever. We enjoyed watching movies. Also the music list are great.we love bruno mars❤great thing also is its very accessible to cafes and foodchains. Very clean and smells great. we will surely book again.
Piore fe
2017-03-22T00:00:00Z
The place is exactly the same as what is posted.Its clean and neat. Homy. Brice and Brian is so accomodating. Thank you.
Noemi
2016-12-19T00:00:00Z
We really had a great time at their place. It was very clean and cozy. AC is good and wifi is excellent. Great place to unwind and relax. Host is very accommodating and even had a welcome gift for us. Place is near mcdo, 711 and other stores. Looking forward to stay here again in the future. :)
Ace
2016-12-28T00:00:00Z
Beautiful place. Has everything you need. Accurate as shown in the photos.
Bryan
2017-01-13T00:00:00Z
Booked The Nest for our 2nd anniv and it was worth it! Love the place! The hosts brian and brice even prepared a sweet lil surprise for our anniversary - wine, cupcakes and chocolates and other free snacks. We love staying in all day just watching movies. The place is so comfy and homey. We will definitely go back(URL HIDDEN)
Kristina Faye
2017-03-29T00:00:00Z
We just wanted to stay in instead of going out because the unit was too cozy and tranquil. It was so convenient because everything is provided. The owners were very accommodating and artistic! The Nest is an ideal place for me for staycation. We will definitely be back!
Eunice Ann
2016-12-11T00:00:00Z
Perfect
Jay
2017-04-03T00:00:00Z
Huonetyyppi
Koko talo/asunto
---
Majoituspaikan tyyppi
Huoneisto
---
Majoittujien määrä
4
---
Makuuhuoneet
Tagaytay, Calabarzon, Filippiinit
@ CITYLAND CONDOTEL PRIME RESIDENCES TAGAYTAY ALL CONTACT INFO ARE HIDDEN BY AIRBNB UNTIL CONFIRMATION OF YOUR BOOKING. Fully furnished condo. Near the famous Olivarez Rotunda. Includes towels, shampoo, soap, toothpaste, toothbrush, & H2O all for 2pax Our WiFi connection is yet to be installed We currently have 3 units in Cityland should you need more than 1 unit for your stay.
We have a Full size Salem bed (54" x 6") with extra foldable Uratex double size bed (48" x 2") for additional 2 guest FREE. Our WiFi connection is yet to be installed. Extension of stay is fine, however, it is subject to availability. Rate is @ Php 100.00 per hour succeeding the 1st hour extension. Note: Romantic arrangement upon request (no additional service charge, you just have to pay for the flowers, chocolates, & wine).
Partial view of taal from the balcony as shown in the photo. Cityland is the only high-rise bldg in the area, thus, easily located. Serin Ayala Mall is a 10 min walk from the condo. Several restaurants are in the vicinity as well.
Place - Near Restos, public transport.. Nice view Room - Very clean.. With kitchen utensils.. plus toiletries..
RhOna
2017-03-29T00:00:00Z
The place totally looks like what it was in the picture. The place is so clean. Naomi was easy to deal with and can easily be contacted. If we will be going back to Tagaytay for an overnight trip, I want to stay in her place again.
Love-Cel
2016-05-11T00:00:00Z
Noemi was very prompt replying to all my queries. We enjoyed our stay at her place and will definitely come back! Thank you for welcoming us to your home
Danes
2016-07-02T00:00:00Z
The host is polite & reaponds promptly. The place is cozy & stragically near to everything. The unit is well groomed & equipped with what u need from cooking to toilettries. Will stay here again next time.
Andrew
2015-12-24T00:00:00Z
Our overnight stay was great. Owners were pleasant even if thru sms conversation only and the place is very cozy that my boyfriend and I just stayed in the condo (even tho we planned to drive around Tagaytay during the night) hehe!
Chinkai
2016-04-15T00:00:00Z
Noemi and Erwin was very accommodating. We were late for check in but they patiently waited for us. The complimentary welcome drink was awesome! When they saw my friends carrying their dresses for a wedding, Noemi even sent a full size mirror for them to use. Will definitely stay again at their place. More than the place, it's the people that you encounter. Thank you, Noemi.
Raven
2015-10-24T00:00:00Z
Great place to stay if you want to relax and unwind. The unit is clean, simple and complete with basic needs. Erwin and Noemi is very accomodating and kind. They treated us with drinks at caffe nativo instead of complimentary wine which i think a good altenative. Thank you for making us feel at home.
Liza
2016-03-13T00:00:00Z
Nice place with Taal view and easy to groceries stall
kanna
2016-11-09T00:00:00Z
Huonetyyppi
Koko talo/asunto
---
Majoituspaikan tyyppi
Huoneisto
---
Majoittujien määrä
4
---
Makuuhuoneet
Tagaytay, Calabarzon, Filippiinit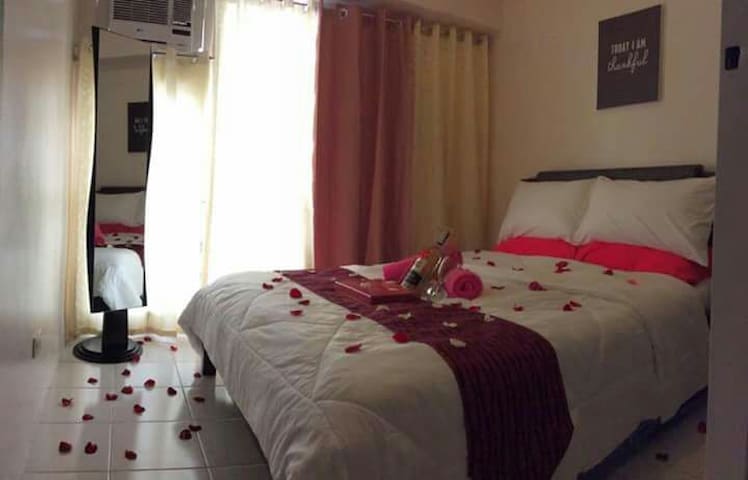 Escape the hustle and bustle and enjoy the cool breeze In Tagaytay. Our apartment offers: * EXCELLENT Location!! * NO WEEKEND / PEAK SEASON rate!! * AMAZING and RELAXING VIEW!! * COMPLIMENTARY Flavoured and Herbal tea!! * FREE WI-FI!! !!! For first-time airbnb users, contact details are hidden by airbnb until the booking is confirmed.
Traveling with your buddies or family can be tricky when you are on a budget. Our studio unit is perfect for small families and friends who are looking for a budget-friendly relaxation in the heart of Tagaytay City. Enjoy the amazing and windy view from the 20th floor of Wind Residences. Our space is furnished with a double bed and a sofa bed that sleeps 2 pax each. I also have a floor mattress that sleeps an additional pax who wants to cozy up on the floor. The apartment has a split-type air-con, fridge, microwave, electric stove, electric kettle, cooking and dining wares and a shower heater. We have installed cove lighting onto the ceiling to set a relaxing mood and atmosphere. The sliding window can also be opened to experience the natural cool breeze of Tagaytay flowing freely inside the apartment. We do not have Weekend / Peak Season or additional guests surcharges because we want our guests to enjoy our relaxing and budget-friendly cozy space.
You can enjoy other recreational activities in Tagaytay like Zipline and horseback riding at Picnic Grove. You can also have fun at Sky Ranch which is just walking distance from the condo. You can also enjoy food tripping since the condo is just across a strip of restaurants such as Josephine's and Gerry's Grill. Starbucks and Robinson's Supermarket are walking distance. BDO, 7-11 (Tower 1) and ACE Hardware are located on the ground floor of the building.
Ms. Jean's Place was as pretty as the photos. The response to confirm our reservation was swift. The place is highly accessible. We took the bus from Manila and dropped at Olivarez Plaza. From there, it was only a 2 to 3 minute jeepney ride. Gina welcomed us on time. The place is well-kept and very homely, with a nice touch of fragrance and tea too! A grocery is just a 5 min walk. The famous Josephine Resto is just around the corner. And Sky Ranch is also just a 10 min walk. Though typhoon Egay kept us from going around, we still had a good time. How can it not be when we were tucked under warm covers, sipping warm choco, and immersed in the beauty of the lovely Taal Lake.
Jalene
2015-07-08T00:00:00Z
Cozy and clean unit. Feels a bit cramped for 4 people but if you're just looking for a place to sleep in while in Tagaytay, this place is good enough. They have plates, utensils and outlet extensions ready for use. Would appreciate extra blankets though. :) Very convenient location. You can walk to restos, supermarket and even Sky Ranch. Would definitely stay again for a quick getaway.
Cielo
2016-07-31T00:00:00Z
Great view! Great value for money.
Ma Lorena
2017-04-07T00:00:00Z
Good deal. We love the location! Great value for your money! Thank you
John Paul
2017-01-06T00:00:00Z
I booked the place for an overnight stay in preparation for a friend's wedding nearby. Jean is really nice and flexible in allowing my requests; I really appreciate it. The studio unit is good for 2 occupants (sleeping in bed), but can accommodate 3 (to sleep in the sofa bed). The unit is clean. It has basic items you'd need during your stay. I was glad to see bath towels and even complimentary tea on the table. The car parking, however, will make you walk a bit. You can request from her caretaker to rent a parking space on the same building of the unit but it'll cost you twice, P300.
Clariz
2016-12-05T00:00:00Z
We stayed in the place the day after our wedding. Luckily, Ms. Jean and Ms. Gina were quick to respond. We inquired at 11am and was able to check in at 3pm on the same day. Room is comfy and relaxing with great view of Taal/Tagaytay. Location is great as it's accessible to malls, restaurants, bank, convenient store. We will definitely return and stay in that place for another mini-honeymoon :)
Eloisa Lorreine
2016-04-23T00:00:00Z
I booked the unit for my brother and his family. I was informed that their stay was great. Check-in and out went smoothly.
Angelita
2016-05-02T00:00:00Z
Jean's Place is very cozy and clean. Would definitely recommend it!
Cess
2017-01-25T00:00:00Z
Huonetyyppi
Koko talo/asunto
---
Majoituspaikan tyyppi
Huoneisto
---
Majoittujien määrä
4
---
Makuuhuoneet
Tagaytay, Calabarzon, Filippiinit
Fully furnished with towels linen and own parking
Me and my hubby had a great stay! RJ was so easy to deal with. The unit is nice, clean and has everything that we need. I appreciate the provided utensils and microwave. The location is very convenient too, it's 5 mins away from Tagaytat Rotonda and very near to stores / restaurants. RJ was so easy to deal with. Highly recommended!
Sharene
2016-05-10T00:00:00Z
Super thanks to RJ for being such a kind and wonderful host! We had a comfortable and peaceful vacation in Tagaytay. Great location, parking was for free, everything that was described in the listing was there...awesome value for your money! I will definitely come back! Thanks again RJ! :)
Leideanne
2016-10-17T00:00:00Z
Great place and great location. Rj was a good host.
Keith
2017-03-12T00:00:00Z
Great place to stay, family friendly home and easily accessible plus a scenic view to boast. Sir Rj is a very accommodating host and kind. We definitely recommend his place if you are planning to stay at Tagaytay for your next vacation.
Janna
2017-04-02T00:00:00Z
This is extremely memorable. We didnt stay longer in the place due to an earthquake in Batangas which we felt up to Tagaytay area. We just stayed for 30mins i guess. But RJ was really flexible, he allowed us to reschedule.
Jaja
2017-04-10T00:00:00Z
Sir rj was really an awesome host! Easy to communicate with and really accommodating!Their room is spacious, cozy, clean, and comfortable, and the pictures are accurate. The price is reasonable and there is free parking!! The location is great as well! We had a memorable time and we enjoyed our stay! Would love to come back again soon! Thank you, sir rj! :)
Mayee
2016-12-23T00:00:00Z
Thank you for being so nice!!! I love your place and will definitely book your place again when I plan to stay again in Tagaytay. I hope I was a good guest to you.
Marc Dave
2017-03-27T00:00:00Z
Rj was great though he wasn't around (we communicated mostly through Viber), and the place was even better. There was a bit of confusion with the check in at the beginning but it wasn't anything we couldn't handle. Overall, Rj was very pleasant, the unit was AWESOME, and we are definitely going to be back. Hope we could meet you next time!
April
2017-04-08T00:00:00Z
Huonetyyppi
Koko talo/asunto
---
Majoituspaikan tyyppi
Huoneisto
---
Majoittujien määrä
3
---
Makuuhuoneet
Tagaytay, Calabarzon, Filippiinit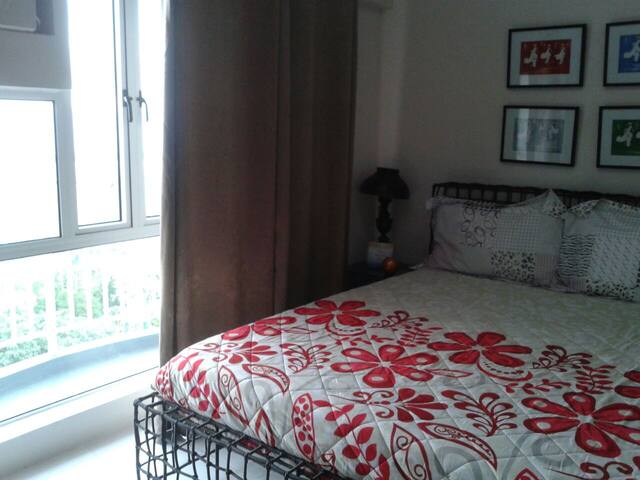 Sie werden es lieben, wie ruhig und sicher die Nachbarschaft ist. Aber Sie werden auch die Liebe, wie nahe es ist, wo die Action ist.
Das Gerät und seine Annehmlichkeiten Sie suchen nach einem Ort zum Entspannen, oder vielleicht Geschäfte zu machen? Sie wollen bleiben, wo die Luft frisch ist und alle Plätze sind nur innerhalb Ihren Fingerspitzen? Wenn ja, dann ist dies der perfekte Ort für Sie! Die zwei Zimmer Eigentumswohnung Einheit, die vier (4) Personen passt wird Ihnen die schönsten, sicher und bequem Platz zu einem sehr erschwinglichen Preis zu bleiben. Hier finden Sie sofort nach rechts zu Hause fühlen. Ein Zimmer mit einem Doppelbett und das andere Zimmer hat ein Einzelbett mit einer ausziehbaren-Bett. Für ein Höchstmaß an Komfort, haben beide Schlafzimmer Klimaanlage und sind mit Schränken geliefert. Das Bad hat eine heiße und kalte Dusche. Bettwäsche und Handtücher sind auch für Sie zur Verfügung gestellt. Keine Notwendigkeit, über die Küche zu kümmern - es gibt bereits grundlegenden Küchengeräte, Geschirr, Geschirr und Gläser. Sie können 24/7 mit einer neuen WiFi-Verbindung in Verbindung bleiben. Dieses Gebäude ist sehr sicher, mit 24-Stunden-Sicherheitsdienst und zwei Aufzüge. Ein Waschsalon und Convenience-Shop sind nur im Erdgeschoss befindet. Für alle Gäste mit Autos, Parkplätze gegen eine geringe Gebühr von hundert Pesos pro Tag (Php 100.00 / Tag). Der Wachmann wird Ihnen helfen, es zu finden. Die Möglichkeiten sind spektakulär - Scandia Suiten verfügt über einen eigenen Swimmingpool. Dort finden Sie einen atemberaubenden Blick auf Mt. haben Makiling, einer der am meisten, wenn nicht sogar die berühmtesten Berge in Luzon, die eine Reihe von Dichtern, Schriftstellern und Lyrikern für eine lange Zeit inspiriert hat. Eine weitere Bonus- direkt vor ist ein Jogging-Pfad, wo Sie endlich genießen können eine glatte, ruhige Lauf nur mit der saubersten Luft. Aber warten Sie, es wird noch besser! Wenn Sie ein Golf-Liebhaber, ein 18-Loch Weltklasse-Süd Forbes Golf Course und Leisure Club ist nur fünf Minuten zu Fuß entfernt! . Diese Art der Gelegenheit wird nicht kommen wieder in eine lange Zeit, so dass es jetzt nehmen, während du kannst! Ort Scandia Suites befindet sich in einer entspannten Atmosphäre in South Boulevard, South Forbes Golf City, Sta Rosa City, Laguna, etwa 45 Minuten südlich von Makati. Es ist der 5- stöckigen Gebäuden in der Umgebung. Wenn Sie möchten, Aktion, mehrere Einkaufszentren, nämlich Solenad 1, 2 und 3 in Nuvali und Paseo de Sta. Rosa sind nur fünf Minuten entfernt von pedicab, die die Form der Beförderung zu den Einkaufszentren ist. Der neueste, Solenad 3 ist ein Einkaufszentrum mit mehr Freiräume als Gebäude und perfekt, wie ein Wochenende weg für Menschen, die krank und müde von der Beton-Dschungel sind. Wenn Sie ein Auto mit Fahrer mieten wollen, kann ich Ihnen ein zu einem vernünftigen Preis zur Verfügung stellen, aber das hat Vor- angeordnet werden. Dinge in den Einkaufszentren zu tun, umfassen, sind aber nicht beschränkt auf: Fischfütterung in Nuvali, Shopping, Gastronomie, Flanieren, Radfahren und Boots ride.Experience den Reiz des Lebens! Die Weltklasse-Republik Wakeboard erwartet Sie nur 10 Minuten von Nuvali entfernt. Internationale Wettkämpfe werden hier in regelmäßigen Abständen statt. Enchanted Kingdom, das führende Entertainment-Park 'Philippinen ist nur 10 Minuten entfernt von der condo.Why die Magie beginnen nicht lassen? Wollen Sie die weltweit kleinste Vulkan, der Taal Vulkan zu sehen? Es ist nur 20- Minuten entfernt. Wollen Sie schwimmen in natürlichen heißen Quellen zu gehen? Es ist auch eine 20-minütige Fahrt zum nahe gelegenen Calamba City. Wahrlich, Sta Rosa ist eine Mischung aus allem. Laidback, frische kühle Luft und doch von allen Dingen umgeben, die das Leben angenehm machen. Und ja, ein zusätzlicher Bonus; da der Host mehrere Hautpflegezentren besitzt, sind alle Gäste ein besonderes Privileg, 50% Rabatt auf die veröffentlichten Preis im Service-Menü auf Skintrends Paseo Zweig gegeben, die etwa 5 Minuten entfernt von der Eigentumswohnung Einheit (URL HIDDEN) "Das ist ein Leckerbissen können Sie 't anderswo "finden ...
es ist eine ruhige Gegend
Host was a quick responder and the unit is great! There was no hassle getting in the tower and we have been accommodated well. I like how the unit was prepared and how they also provided some toiletries (like extra towels and tissues). Basic necessities are also available in her unit which made the stay more convenient for our short stay!
Carllyn
2017-04-13T00:00:00Z
Had an awesome stay. Highly recommended.
Glenn
2017-01-13T00:00:00Z
We had a pleasant stay at Dra. Joy's place. Everything we needed was there and beds were comfortable. Her place is 7 to 10 minutes away from Nuvali Wakepark. We will surely book her place again.
IceKim
2016-04-07T00:00:00Z
Doc Joy's place is easy to find, good place to unwind, complete amenities, we had a good time staying. Doc Joy is very resposive in our inquries. We definitely going back.
lorenz
2016-11-13T00:00:00Z
The place is clean and you've got all the basic household necessities here. Rooms are cozy with cold a/c. There's also a laundry area where you can easily dry wet swimsuits/towels after swimming. We were not able to swim though coz we didnt know there was a reservation so make sure if you intend to swim here, check out pool availability on the date of your visit. Dra. Herbia was also kind enough to check on me and suggest directions within the area. There are also massage/spa, grocery stores and other commercial stores at the ground level so every need is right at hand.
Gianne
2016-04-05T00:00:00Z
Staying at Scandia Suites for an overnight was a wonderful experience. Overall, the place was neat and clean. Given another opportunity, we'll come back maybe for two or more nights of stay. Thank you Dr. Herbia Joy Mongcal.
Efren
2016-11-19T00:00:00Z
The place was exactly what we were looking for. Located in quiet surroundings and not far away from Paseo de Santa Rosa with shops including a convenience store and a cafe located in the same building. Facilities in the apartment were perfect, clean and fully functional and the host was very cordial with any queries or directions. One drawback for those who love to be glued to a TV set is the lack of cable connection in the apartment, or wifi internet, but those were not necessities for us and we didnt face any problems with those not being there. Will love to stay in this place again another time.
Raman
2014-12-27T00:00:00Z
L'immeuble est agréable, propre et proche de Paseo (40 pesos en tricycle) et Nuvali (100 pesos environ). La piscine est bien entretenue et propre. Nous avons pu en profiter quasiment comme une piscine privée car il y a peu d'utilisateurs. L'appartement est tel que décrit par Herbia. Même s'il est peu spacieux, il est suffisant pour un séjour de quelques semaines. Un regret tout de même est la cuisine qui est minimaliste et petite ce qui n'aide pas pour préparer de vrais repas. Pour ceux qui souhaitent utiliser Internet, Herbia nous a prêté une box 3G/wifi. Pour environ 250 pesos, il est possible d'avoir une connexion illimitée pour durant une semaine.
Stéphane
2015-08-21T00:00:00Z
Huonetyyppi
Koko talo/asunto
---
Majoituspaikan tyyppi
Huoneisto
---
Majoittujien määrä
4
---
Makuuhuoneet
Santa Rosa, Calabarzon, Filippiinit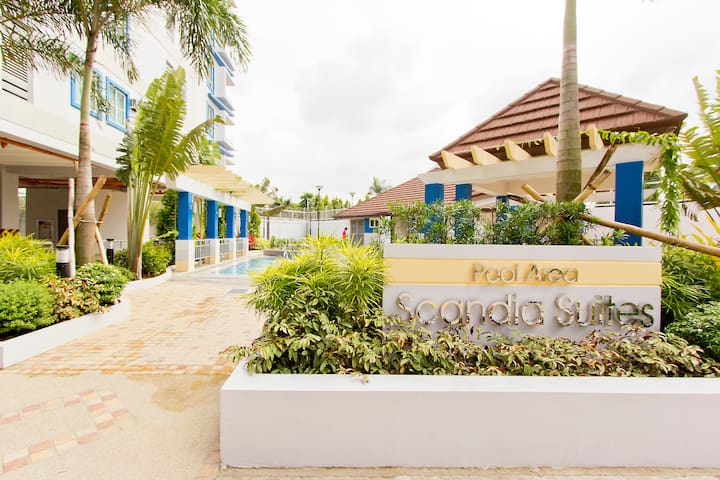 A Resort Condo with view facing Taal Lake. Furnished with 2 full size bed, Split type air-condition, Refrigerator, Led Tv, Microwave, Electric Kettle, and Water Heater. Max 4 persons. Parking fee and Pool Fee not included. Parking Fee 150 /day. Pool P150/day/person. Pool fee on holiday P300.
With the Scenic View of Taal Volcano
We had a great time at Alan's condo unit. The unit was facing the main road hence full view of taal lake and taal volcano from the balcony. Highly recommended!
Chad
2016-05-20T00:00:00Z
Really nice view love it!!! Really worth it....
Arlene
2016-11-20T00:00:00Z
Nice and clean place. Accessible and affordable.
Angeli
2016-09-10T00:00:00Z
overall experience is superb. i would also like to commend sir alan for keeping in touch with us and to his assistant jobel. Thank you!
Maii
2016-06-18T00:00:00Z
Alan's space is nice find. It's spacious that my toddler had fun running around. Thumbs up to the big beds. And of course, one can never go wrong with view on his balcony. His assistant Jobelle is also courteous and attentive. Will definitely book this place again.
Rio
2016-10-10T00:00:00Z
I had my friend stay at Alan's unit for three days. First of all, communications with Alan is a breeze. He called me and asked for my friend's number just to make sure what tine she is coming. My friend described Alan's place as very tidy, spacious, and has a fantastic view of taal lake. There is also a starbucks beside the building and the location is very close to everything. she had a relaxing time at Alan's unit and she would like to go back there again. I highly recommend Alan's place.
Renel
2016-10-08T00:00:00Z
Awesome place to stay. Will definitely choose this place again. The view is perfect
Ron
2016-10-01T00:00:00Z
The place is nice, clean and has an awesome view of the taal volcano! Thumbs up!
Arvin
2016-05-03T00:00:00Z
Huonetyyppi
Koko talo/asunto
---
Majoituspaikan tyyppi
Huoneisto
---
Majoittujien määrä
4
---
Makuuhuoneet
Tagaytay, Calabarzon, Filippiinit
The space is a 25sqm 1 bedroom unit in Tagaytay Prime Residences. It is located in the 19th flr. It has a balcony with a view of Taal Volcano and Tagaytay Rotonda. Perfect for a small family or group of friends who want to bond and unwind in Tagaytay. It is close to Ayala Serin Mall, Restaurants, and Coffee shops.
The space has a modern minimalist interior which offers both comfort and a homey feeling.
We arrived a little early for our check in but Ms Vic accommodate us right away. The space was nice and super clean. Check out was fast too. Shops are very near the area. There's a 711 at the back of the bldg.
Racquel
2017-03-16T00:00:00Z
Great experienced with petals of roses (pink, red and white). Thank you Ms. Edralin and Ms. Vic sa pag set-up.:) It was so romantic.
IRISH ANN
2017-03-04T00:00:00Z
Me and my family enjoyed our stay here. Definitely worth the price! The host is very accommodating and she even dropped by to give her pocket wifi. Highly recommended for 2-3 pax. Will surely come back here soon!
Karla Lou
2017-02-12T00:00:00Z
The unit was cozy and clean. We loved the interior design that were equipped so nicely. We had the things we need for our stay, just Wifi is not really fast.But overall, we had a great stay at Vics place. It became our home for four days. We love to stay again in future..Thank you, Vic! :)
Vaibhav
2017-03-20T00:00:00Z
Very great (URL HIDDEN) was very accommodating with my queries and she had a really clean unit...2 thumbs up!Will definitely be back soon
Christine
2017-04-02T00:00:00Z
The place is very clean and very homey. The interior was simple yet cozy. I love the view on the balcony. Got no trouble communicating with Ms. Vic. She was so kind and very responsive. For me, she is a super host.
Lorden
2017-02-21T00:00:00Z
We definitely had an awesome stay here. The location is very accessible even for public transportation. The place minimalist design makes it comfortable and very relaxing. My transaction with Ms. Vic was great, she responds promptly to all my inquiries. Our stay here was amazing and we are already planning to go back. ❤️
Frecielyn
2017-02-05T00:00:00Z
Good place to stay in Tagaytay! Very close to 7-11, Mcdonald's, Starbucks, etc. Highly recommended! :) Perfect for two guests.
Alyssa Mae
2017-02-28T00:00:00Z
Huonetyyppi
Yksityinen huone
---
Majoituspaikan tyyppi
Huoneisto
---
Majoittujien määrä
4
---
Makuuhuoneet
Tagaytay, Calabarzon, Filippiinit
Graded by Airbnb as Superhost, Overlooking pool from balcony.Stay & enjoy in a comfortable, cool and beautiful place in Tagaytay city. Furnished w/40"TV &USB w/movies.Unit is also has water purifier, flat iron&hair dryer,also cooking&kitchen utensils
P1500 only maximum of 4persons on May 3*4.. 15% OFF ON FRIDAY ACCOMMODATIONS.. "FREE ROMANTIC ARRANGEMENT" with 2shots of wine upon request. Flowers, chocolates and bottled wine may be available with corresponding charge. The space is 1BR with queen bed, also with sofa bed & 2single foldable mattress. The place is cozy enough for couple, but could also be family & "barkada"-friendly. FLUSH ACCESSORIES NEWLY REPLACED. Guaranteed clean unit & fresh bedding. The space is completely furnished and you could stay comfortably as if you are just in your home. You have option to cook since the space has complete cooking & kitchen utensils. The toilet has bidet that is separated from bathroom, which is provided with water heater. There is also water purifying system that you would not need to go out and buy for drinking water The room has air conditioner, with 40" Television provided with latest movies to enjoy your stay better and maximize bonding time. There is also Cable Channels to complete your day. One of the necessities to our modern time, the unit has hi speed wi-fi up to approximately 3mbps. Towels, maximum of four, are provided. Bed sheets and blankets are provided depending on the number of guests, also essentials like toothbrush, toothpaste, soap, shampoo & tissue paper. Consumables like liquid hand soap & dishwashing liquid are also available. Water Purifier is available, option for drinking water but not advisable to those with previous gastrointestinal problems or very young children. Digital lock available, to make late check-ins possible. Unit is in Cityland-Tagaytay Prime Residences, near the known e.aguinaldo ROTONDA. On its left, way going to people's park/Tagaytay Highlands. On its right, you can see Pamana Restaurant, Bag of beans, Serin (Ayala mall) and way going to Skyranch/Taal Vista/Leslie's.. Building is walking distance to Olivarez Station, in which you can find grocery, stores & restaurants You will surely be comfortable in my unit, and will enjoy the city of Tagaytay!
Unit is located at Tagaytay Prime Residences by Cityland, near E.Aguinaldo-Rotunda. Very near to new Starbucks branch (overlooking Taal volcano), Bag of Beans, PAMANA Restaurant and Serin (Ayala) mall. There are also walking distance grocery stores and convenience stores. Famous Tagaytay Highlands, People's park, Picnic Grove, Sky Ranch and Taal Vista are accessible by public and private transportation, and would took around 10-20mins, a little longer depending on the traffic.
Good place to stay while in Tagaytay!
Lena
2017-01-19T00:00:00Z
This is an awesome place where you can feel the perfect condo lifestyle. Good temperature Good WIFI Good security and privacy
Kristian
2017-03-12T00:00:00Z
This place is great. Affordable and just near tmto Rotonda where you can find fastfood chains and grocery stores to buy your needs! Kuya Michael was very accommodating and responds to our text messages during our stay. Hope you get to try their unit :)
Aries
2017-04-12T00:00:00Z
The place is good and very accessible. Value for money.
Richard
2017-01-05T00:00:00Z
Great value for money. I would definitely book again!
Maria Margarita
2017-01-06T00:00:00Z
I stayed in Maria Lourdes' place overnight to attend my friends' wedding. It was a pleasant stay overall. Both Maria Lourdes and her assistant, Michael, were very easy to communicate with and very responsive of my inquiries and requests. I had to change my check in time several times but had no trouble whatsoever. My only issue was with the (party) noise from the other rooms very late at night and the noise from construction work during the morning. I know it's not Maria Lourdes' fault so I can't hold it against her and her unit. If I have to nitpick, my only complaint would be with the description about the 2 TV's coz it only has one. Everything else is as described. I'll definitely consider this place again next time I visit Tagaytay. Hopefully, it'll be for a longer stay so I can enjoy the beauty of the unit (and Tagaytay) even more. Highly recommended!
Adrian
2017-02-10T00:00:00Z
As a first time user of this portal, Malou's place set a stand that will make me come back for more. She responded very timely despite my flowing requests. Her duo with Michael, the guy who took care of me after booking was above and beyond. Nice and cleen place which very easy to find. Keep it up Malou. I'm looking forward to booking you others places in the future. They displayed the realy value of Filipino hospitality. Kudos!
Cerila
2016-10-29T00:00:00Z
Everything was great except for some issues we had with the water pressure in the toilet and the bathroom drainage but nothing big that can't be handled. Both the owner and caretaker (Michael) were helpful even if communication was just through text messaging.
Marge
2016-11-26T00:00:00Z
Huonetyyppi
Koko talo/asunto
---
Majoituspaikan tyyppi
Huoneisto
---
Majoittujien määrä
7
---
Makuuhuoneet
Tagaytay, Calabarzon, Filippiinit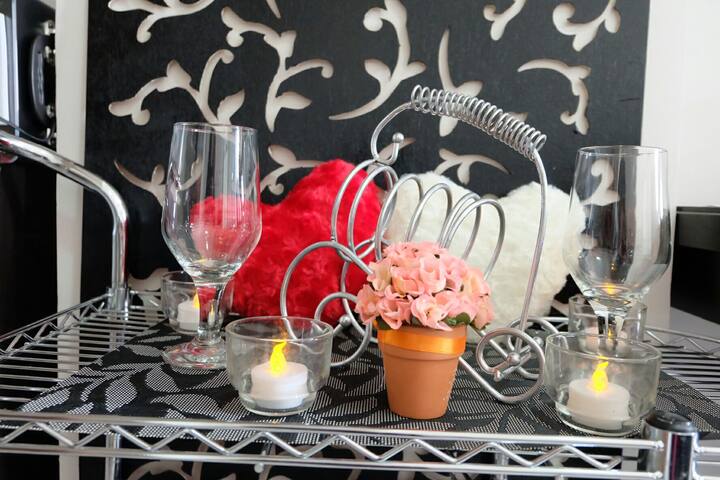 Cozy and spacious Condo for rent in Rotonda Tagaytay very near in Pink Sisters, Ayala Mall, Skyranch, and restaurants with free access in swimming pool and view deck.Our unit is complete with kitchen tools, sala with tv cable, aircon, etc.
Nice place. Flaw less transaction.
Ian
2016-01-27T00:00:00Z
It was an awesome experience. The check in/out is seamless. Very professional to deal with. Highly recommended!
Anthony Nanette
2016-05-27T00:00:00Z
We rented Ghe's place last week in Tagaytay. The unit is nice and fully equipped. We did not have any issue during our stay. Ghe and Zhel were very helpful and even accommodated our request of early check in and check out. Definitely we'll consider her place again next time! :)
Marge
2015-12-12T00:00:00Z
We had a great time at Ms.Ghe's place. My experience upon communicating with her was very good and I really appreciate it. She reponded quickly on my inquiry. We contacted her assistant Ms.Zhel upon reaching the place. Unfortunately, she made us wait for around 20 to 25minutes before getting down to 3rd floor. It was sad that she explained the room was still messy because we booked instantly. But that is the thought, we had an INSTANT Booking so we can have a prepared room and it was 4PM already. It is already too late yet we waited for her to clean the room and change linens. Thus, we just proceeded to Picnic Grove to give her time as well,though it is late. I clarified this with the owner and she said it wasn't her protocol. It was so nice of the owner to be receptive to opinion. She's very open and accomodating. In a good note about the room, it's SPACIOUS enough. Queen size bed has good foam,yet thin blankets. The wifi is fast. I like it that the toilet is separated to shower room. Also, hot and cold shower is working pretty well. There were no shampoo and soap, but it's okay, just bring your own. We didn't have the time to cook but cookwares are complete. TV has cable. There's a sofa bed if guests are more than 2. Thank You so much for the stay. We also had a good view at 24thfloor, rooftop. Looking forward going back and choosing her unit again. Overall we were satisfied.
Dianne
2016-11-14T00:00:00Z
Listing was accurate, pictures were as is. We felt welcomed and well taken cared of.
Ruben
2015-08-15T00:00:00Z
We rented Ghe's suite for three days. The building is a short walking distance to almost everything. Ghe (owner) is very quick in responding to inquiries via Airbnb or text message. Her assistant Zhel was very pleasant as well. I will definitely recommend Ghe's suite to my peers if they look for a place to stay in Tagaytay.
H
2016-01-08T00:00:00Z
Had a pleasant time. Ghe and Zel accommodated our late check in at 8pm. The rooms were clean and WiFi was good. Will definitely come back
Chary
2016-12-16T00:00:00Z
Nice place to stay in Tagaytay; great view from the top roof and nice swimming pool
damian
2017-01-28T00:00:00Z
Huonetyyppi
Koko talo/asunto
---
Majoituspaikan tyyppi
Huoneisto
---
Majoittujien määrä
6
---
Makuuhuoneet
Tagaytay, Calabarzon, Filippiinit
FREE service only>ROMANTIC Set Up!! > Anniversary, Birthday, Wedding FREE 2shots of Wine>upon Request FREE 3/1 Coffee & candies You only pay the cost of flowers, chocolates, balloons, cake depending on your budget. In FRONT of New MacDOnalds in Tagaytay. Walking distance to supermarkets, McDonald,KFC. Short distance to Ayala Serin Malls . Adjacent or Just beside this unit is BNew 1BR Tagaytay wPool& Wifi. Same size and amenities. Also listed here,
KINDLY READ FULL DETAILS OF My LISTINGS, ANY Questions in mind MIGHT BE HERE AFTER READING IT. This is 26sqm apartment style 1 bedroom with queen bed 8"x60x75 and pull out single bed as well as a couch in the living room which can be used as bed too. With Airconditioner, a ceiling fan and slim fan available for use. Perfect for small families and group of friends who are looking for a relaxation staycation in tagaytay. FREE Swimming pool access for our registered guests only. Fully equipped kitchenette like induction electric cooker, refrigerator, microwave, water heater, rice cooker, bread toaster, as well as standard kitchen utensils, plates, fork, spoon, glasses, cups, saucers, mugs, pot and pan if you want to prepare a simple light meal once in a while. Living room has a comfortable couch, Sony 32"Led Tv with remote. PLDT DSL wifi available for guests use. Free Pldt landline local call. Bathroom has a shower heater and with separate toilet w bidet, exhaust fan Towels, linens, blankets, toilet paper, shampoo & soap are provided. In the balcony is an amazing view of the city and slight taal on the left side. Cold and very windy breeze circulating inside the unit. 24hr CCTV cameras & roaming guards, 6 new high speed elevators,fire and smoke alarm, sprinkler system.. New Mcdonalds, 7/11 in front of condo. Gryn sushi Wasabe also there. Walking distance to everything like supermarkets, McDonald, KFC, Bag of Beans rotonda, and 10minutes fast walk from rotonda to the new Ayala Serin Malls.
Walking distance 2-3minutes to Rotonda, Olivares Terminal and Mall, Mc Donalds, 7/11, KFC, Puregold supermarket, Uno factory, Goldilocks, and 10mimutes fast walk to Ayala Serin Malls. Public Transportation is easy like tricycle is just in front of the lobby ground floor. Mcdonalds& 7/11 in front of the 3rd floor calamba tagaytay road, laundry Shop, coffee shop, restaurants.
Good location easy to find from bus stop. Clean sheets. Walking distance to restaurants and shopping
David
2016-09-14T00:00:00Z
We really had a great time staying there,even for a very short notice. It feels like we are home, it very accessible to market and food chains. Ms. liberty and ate teresa is really nice and kind. Will surely book the place again next time. :)
Miciel
2016-06-29T00:00:00Z
My husband and I loved the location of this place! Walking distance to most places I wanted to go to. Nice too that it's just in front of the new McDo branch! cool! =)
Kathryn Joy
2016-12-30T00:00:00Z
The unit was perfect, it has everything we need for our stay including a stable/reliable internet. The location is also nice, close to a convenience store, groceries and places where you can eat. Both the host and property manager are very accommodating. Looking forward our next staycation.
Jose Inigo
2015-12-09T00:00:00Z
We really had a great time staying there, and literally,just stayed there the whole day just watching tv, cooking, and eating. It feels like we're really at home that we didnt bother to go out. Ms. liberty and ate teresa is really nice and kind. Will surely book the place again next time. :)
rae
2016-03-31T00:00:00Z
Liberty's place was exactly how she described it, place was clean and very comfortable. Her assistant Teresa was very helpful during our check-in and check-out. We will definitely stay here again during our next visit to Tagaytay.
Vanessa
2016-11-13T00:00:00Z
We had a pleasant stay. Thank you Liberty
Tracy
2016-03-06T00:00:00Z
My family had a quick staycation at Ms Liberty's place. We didn't get to meet her but we were welcomed by Teresa who was very nice and accommodating. The reviews here were right, the place is cozy and clean. Glad that i made the right decision in getting this room.
Tina
2016-11-02T00:00:00Z
Huonetyyppi
Koko talo/asunto
---
Majoituspaikan tyyppi
Huoneisto
---
Majoittujien määrä
4
---
Makuuhuoneet
Tagaytay, Calabarzon, Filippiinit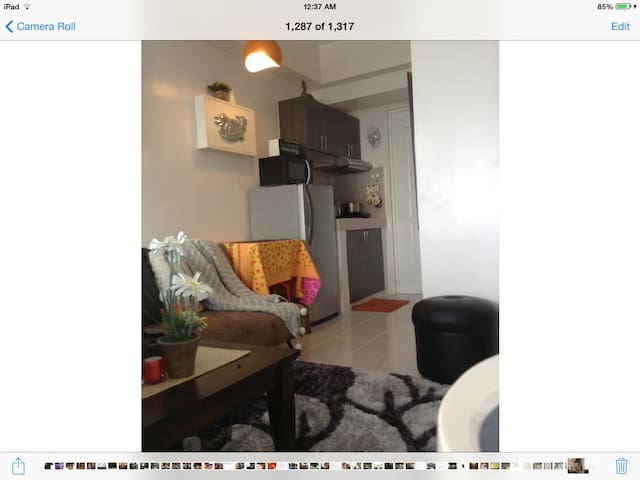 The unit is in Tagaytay Prime Residences situated near the rotonda of the beautiful city of Tagaytay. It offers a beautiful view of Tagaytay Lake and breathtaking sunrise in the mornings. It is equipped with high speed internet and other appliances for your needs. The bus that travels to and from Manila is located at Olivarez Bus Terminal and is just a few minutes away from the place. Restaurants and places of interest can be found nearby and is accessible via public transportation.
The unit is 25 sq. meter with one bedroom and a balcony that has a beautiful view of Taal Lake and breathtaking sunrise in the mornings. Being located on the 17th floor, the area provides a view that you can easily appreciate the wonderful beauty that Tagaytay provides. Bed sheets and comforters are provided for your comfort, along with towels (for two persons) and tissue paper. The bedroom has one double-bed with a single bed pull-out. The unit accommodates 4 persons, this number includes children. Toiletries, blankets and towels will be provided for 2persons only. Additional person is P250 per night. The unit is provided with 42 inch LED TV with cable channels. Airconditioning unit and a ceiling fan will provide comfort on warmer days. The shower has hot and cold. Provided also are refrigerator, rice cooker, electronic kettle, microwave oven and induction cooker. Cooking foods that releases strong odors (i.e. daing, tuyo etc) is strictly prohibited. Please ensure that hood is turned on when cooking to avoid accumulation of smoke in the unit. A penalty of Php1,000.00 will be given for violators. Smoking is also a no-no, penalty of Php2,000 will be charged. The living room has a sofa bed that can accommodate 2 persons as additional. Dining table is big enough for four persons to eat comfortably. Utensils for eating and cooking are provided for your convenience.
As it is conveniently located near Tagaytay Rotunda, places to see are accessible via public transportation. Jeepneys are available until 10pm. Family favorites such as Picnic Grove, People's Park, Sky Ranch and the like are just a few minutes ride away from the place. Individuals who offer a package tour to explore Tagaytay Lake and volcano are in the area. We are not responsible anymore for dealings made with these groups.
The place is as good as the description and posted pictures. The view is very beautiful which definitely made the entire package more worth it. The owner and the caretaker are easy to transact with. The unit had everything prepared from toiletries, coffee and even utensil for cooking if you plan to do so. The free HD movies are definitely a plus! Will definitely come back!
Lula
2017-02-26T00:00:00Z
The place is very homey and clean. We had no trouble communicating with Ms. Mary Grace because she's very responsive and nice. We had a really great time and I'll surely recommend it to my friends whenever they need a place to stay in Tagaytay :)
Katherine
2017-03-11T00:00:00Z
Grace and her staff is very accomodating! I have additional request for some stuff and they didnt have second thoughts to help me out. we will definitely come back!
Selle
2017-04-01T00:00:00Z
The place is new, spacious & clean. Grace was very accommodating and replied promptly despite the fact the she was on a trip during our actual stay. The place brought comfort after a tiring day :)
Sharlene
2017-02-25T00:00:00Z
Mary Grace (the host) was very responsive even before I got to book my stay. This was the reason I chose to book with her even if there were similar places in the same area. The residence was as advertised on the pictures. It had everything one needed including a refrigerator, an electric hot water kettle, an induction cooker, a rice cooker and a hair dryer. The bathroom was simple but modern. It had a water heater and two kinds of showers - a rainshower and a telephone shower. Check-in and check-out were both easy thanks to her efficient assistant. The location of the place is very convenient as it was very near a McDonald's and a 7-11. A five minute walk will bring you to a Puregold supermarket, a KFC and a lot of commercial establishments. If you're a Churchgoer, the building is beside a church which has early morning and evening masses. Overall, it's a good place to stay at.
Victor
2017-03-22T00:00:00Z
The host is very accommodating, she ensures that we have a great stay in their place. All things you need is there. Got the nice view up there especially the sunrise. Thumbs up for this place aside from the cozy unit, and instagrammable stuffs, the location will give you peace of mind and a worth it staycation. We'll surely go back :)
Jasmine Carmela
2017-03-19T00:00:00Z
Just a lovely place overall! If you're heading out to Tagaytay to just relax and unwind, the scenic view and the location will make this unit a winner. I work via online so the fast internet was such a big plus for me! Ms. Mary Grace and her assistant were also so nice and helped us out. Thank you!
Abigail
2017-04-12T00:00:00Z
The place is convenient for all our needs and is very accessible. Grace went beyond what we expected, had things prepared without even us asking for it. The free HD movies were a big plus. Worth every buck. Looking forward to our next stay, will definitely come back!
Marco
2017-02-23T00:00:00Z
Huonetyyppi
Koko talo/asunto
---
Majoituspaikan tyyppi
Huoneisto
---
Majoittujien määrä
4
---
Makuuhuoneet
Tagaytay, Calabarzon, Filippiinit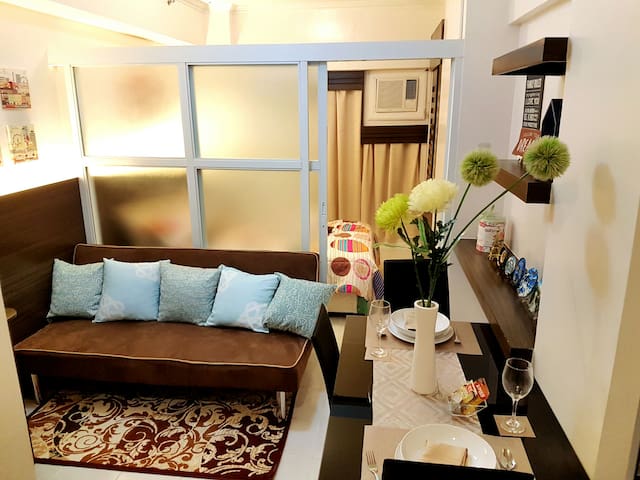 The sweet escape located at CITYLAND PRIME RESIDENCES near ROTUNDA. A warm and cozy place to relax with your family or friends and specially, spend your own me time. With a great view of taal lake and cool breeze of tagaytay. You'll definetly love and enjoy your stay.
The place is clean and it has a nice view. The couch has a built-in bluetooth speaker which can also be used. The bed and pillows are clean and they felt awesome on the head and back. The vicinity is also good. Just a stone-throw away from eating places and places of interests. Building Management charges P50 per entry during weekends though. Will surely visit again!
Harry
2016-07-24T00:00:00Z
The place is very accessible. Our kids enjoyed the playground and the pool. We had a restful night. And I definitely enjoyed sipping my coffee while sitting at the balcony and staring at the wonderful view of Taal.
Marinela
2016-09-12T00:00:00Z
The place is really great, location is perfect close to convinience store and mcdonalds except for the fact that the area has very poor signal for LTE.
JovyLyn
2017-04-01T00:00:00Z
Mark is easy to contact, very nice of him to agree with my request. A quiet, cozy place with impressive view of taal lake right infront of the room's balcony. we had a great stay.
Joanne
2016-02-10T00:00:00Z
We enjoyed our stay even if its just a quick night getaway. The host is responsive though we were not able to meet him, he made sure that we will have a smooth check in and out through his caretaker. If you want a decent , very nice environment , clean unit and an affordable place to stay in tagaytay then definitely this unit should be part of your top pick. Highly recommended. Will book again for sure in the future.
Yeyet
2016-04-05T00:00:00Z
Good location and nice view of lake. Overall stay is good.
Line
2016-10-13T00:00:00Z
Mark's apartment/condo is very conveniently located with a lovely view to Taal lake. It was clean, tidy and secure. Water pressure in the shower was strong, which seems to be a rarity in the Philippines. It lacked a couple of, what some travellers would feel are essentials, such as a kettle and tea towels but you can still boil water on the stove top. Wifi would've been a welcome addition. Overall it was a solid, comfortable place for us to base ourselves for two nights and we thank Mark for allowing us to be his guests.
David
2017-03-06T00:00:00Z
Easy to find no frills condo.. accessible to almost everything you need in tagaytay.. host is easy to contact..
Joreen
2016-01-21T00:00:00Z
Huonetyyppi
Yksityinen huone
---
Majoituspaikan tyyppi
Huoneisto
---
Majoittujien määrä
6
---
Makuuhuoneet
PH, Filippiinit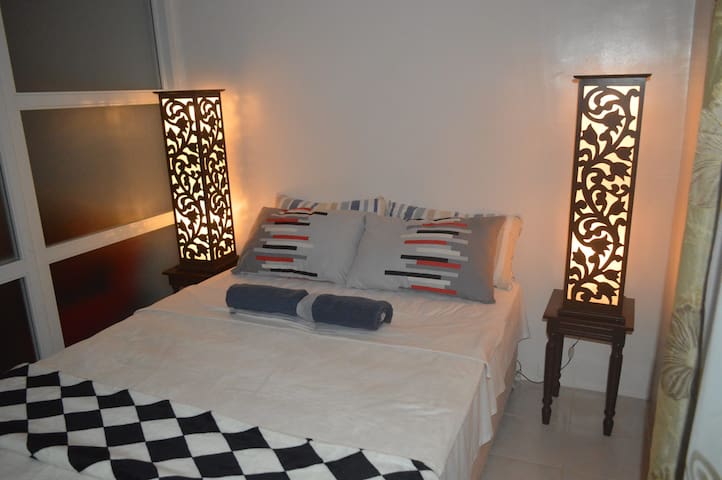 The best place to unwind & relax in Tagaytay with variety of authentic restaurant and bars to chillax and enjoy the high floor with cool breezy balcony overlooking panorama mountain views and taal lake. This unit equipped with wifi and cable tv.
This unit is 58 sq m floor area with 2br, 2 T&B with water heater each shower ; huge living room. 2 balcony is located on the 12th floor of Cityland Tagaytay prime residences , very accessible to all authentic resto, grocery , ayala malls serin, 7/11 soon to open on the ground floor, near to the public market, bus station and jeepney. Very huge living room and very comfortable to relax . Have amazing view of Taal lake right from your two balcony.
Very quiet neighborhood. Close to newly open ayala malls. Walking distants to restaurants and puregold supermarket.
Very nice accommodation and highly recommended! I will book again soon ;)
Sheena Lourdes
2017-02-05T00:00:00Z
i made the reservation for my brother and his family. they have 2 toddlers and the apartment was spacious enough for all their stuff. it was clean and comfortable, and the location was great..
Christine Zarah
2016-02-27T00:00:00Z
Host is nice and replies immediately. Pictures give justice to the place. Will definitely recommend to others.
Patrishia
2017-03-12T00:00:00Z
The unit was spacious for 6 people and location was accessible to all places in Tagaytay. :)
Marie Angelique
2016-08-29T00:00:00Z
As a first timer in Airbnb,i am satisfied staying in ms.pearl's place. It is clean and very (URL HIDDEN) parents who were celebrating their 35th wedding anniversary had a great time relaxing and enjoying the view. :) the location is accesible to nearby restos and grocery. I will definitely consider booking ms.pearl's place again when I go back to Tagaytay.
Michelle
2016-07-18T00:00:00Z
We weren't able to meet Pearl since she was sick when we arrived but Tess (her assistant I suppose) was there, showed us the place, assist and hand us the key. Pearl constantly send us messages though to make sure we're okay. Suggesting us what to do, like having our food delivered in the condo since it was raining on our first day. The house is exactly what's describe on her page. It was very neat, peaceful, all the appliances were working, and the view? it's breath taking!! We stayed for 3D/2N and we can say it's really our home.
Marife
2016-01-03T00:00:00Z
Thank you so much for letting us use this place for my little getaway with friends. It was a great location, near everything, 2-3 minutes walk from the convenient stores and restaurants. The room was very nice and clean and simple, and the view from the balcony was really amazing. Next time I go to tagaytay, im definitely going to use that place :)
Jon
2016-06-17T00:00:00Z
If you are looking for a great place for a good value, I definitely recommend this place. Very accessible to all places around Tagaytay. I am going back to this place when I visit Tagaytay again.
Idris Jeffrey
2016-08-06T00:00:00Z
Huonetyyppi
Koko talo/asunto
---
Majoituspaikan tyyppi
Huoneisto
---
Majoittujien määrä
6
---
Makuuhuoneet
Tagaytay, Calabarzon, Filippiinit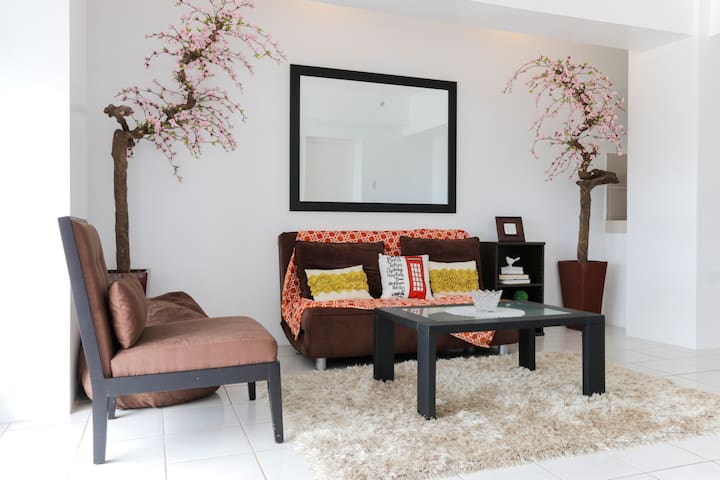 1BR equiped w/ 3 queen size beds (loft bed sleeps 2 children or couple comfortably. Below is another queen size bed. Sofa bed that accomodate another 2 people. Balcony facing Taal lake/volcano Elegant shower room, clubhouse, strategic location. 23flr
An Elegant Family friendly 1 Bedroom condominium unit with close proximity of almost all interesting places in Tagaytay City. Situated at the 23rd floor of Tower 1 of WIND RESIDENCES with a majestic uninterrupted view of the complex ISLAND, WITHIN A LAKE, IN A VOLCANO, IN A LAKE, ON AN ISLAND...well known as TAAL LAKE and VOLCANO.
The nearby towns and provinces of Batangas and Cavite are gifted with beauty of nature and rich history. Beach, lakes and rivers are all over the place. There will be no dull moments exploring them. Old spanish inpired towns and churches are interesting place to visit as well. It will give you a glimpse and feel of old Filipino diversed culture. Amusement parks are also just stone throw away. Gourmet houses are plenty to choose from. Bar and restaurants are all within reach. Mini zoos and farms are fun places for the active little ones as well.
Nice place to stay and enjoy taal view all day long.
David Joseph
2017-04-13T00:00:00Z
It is a good place & view.
Emiliana
2017-04-09T00:00:00Z
5star ️
Mari
2017-03-12T00:00:00Z
The view is not the only spectacular thing in the place--the accommodation and the graciousness of the hosts are beyond compare. The hosts were there to meet us when we arrived; they showed us the place and have ensured that we have everything we needed. The place is roomy enough to accommodate our party of 5, and intimate enough to ensure a unique family bonding experience. The decor and the unique features of the place have all been functional. This place will surely be in our shortlist in our future outings.
Joel
2017-04-03T00:00:00Z
Great location, good communication by Beery and check in ran like clockwork. Thanks for a really enjoyable staycation!
Rain
2017-03-30T00:00:00Z
No need to ask for more its practically all there exact details as featured in air bnb.
Rosanna
2017-03-19T00:00:00Z
Huonetyyppi
Koko talo/asunto
---
Majoituspaikan tyyppi
Huoneisto
---
Majoittujien määrä
5
---
Makuuhuoneet
Tagaytay, Calabarzon, Filippiinit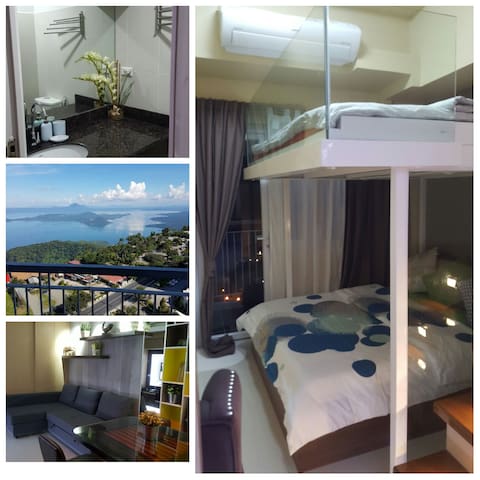 A panoramic view of Taal volcano at a convenient price of a hotel, location likewise is very convenient, walking distance to supermarket, convenient store, laundry services, restaurants, bank & hardware. Accessible to Sky Ranch & Casino. Guaranteed indoor parking slot available No hidden charges except the use of amenities. No charge for the 1st five persons.
- A Panoramic view of Taal Volcano with an Italian style condo unit facing TAAL view with a reasonable price so that you can enjoy your vacation stay - We have indoor parking slot for one vehicle for free - We offer free pldt WIFI inside the condo. PLDT landline within Tagaytay - 24 hour CCTV Cameras and roaming guards - 3 -high speed elevators - Back- up power system - Fire alarm and sprinkler system - Centralized air-conditioned lobby and mail room - Accessible to restaurants, convenient stores, supermarket and laundry services, hardware and bank within the premises - Clubhouse, Function Rooms, Jogging Path, Playground Areas - Swimming Pools ( Indoor and Outdoor ) with shower rooms - Garden with lawn - Basketball court - Tennis court - Badminton court - Amenities and Facilities are already available ( the guest will shoulder all the fees and charges) - Children of age is considered as one person -Maximum of 6 guest - the Admin. Office requires original government issued id to be surrendered at the lobby receptionist.
Accessible to restaurants, convenient stores, supermarkets and laundry services. Tagaytay is known for their famous Bulalo and there are restaurants nearby. Fine dinning also offers at Antonio's. For healthy food and SPA Sonya's Garden is the one for you. For attractions you can visit SKY Ranch, Paradizoo, Peoples Park, Palace in the sky, Picnic Grove, Puzzle Mansion, Waltermart, Ayala malls SERIN and Tagaytay Hi-lands ( for members only) There are churches nearby Lourdes Church, Pink Sisters, Our Lady of Manaoag at Tierra De Maria, Caleruega Church and the famous Father Fernando Suarez Healing Chapel ( Monte Maria Chapel )
It was my first time to try airbnb in my own country and it was all great! I got the instant booking and it went all smoothly. Arbie was so accommodating. The place was clean and what you see in the picture is exactly the things you will get. Its worth every penny i must say. Its very near in all the tourist spots in tagaytay. I will definitely recommend this place to anyone who wants to have a very convenient, relaxing stay in tagaytay.
Leah
2015-04-03T00:00:00Z
Our hosts were very accommodating to my questions, especially that this was my first time to book through AirBnB. I thought the place looked really good in the photos but the room looks even better in person. The view from the room was a real highlight for us.
Najmah
2015-09-22T00:00:00Z
The view from Edward's place is amazing. The place itself is clean, comfortable and complete with everything we need. Location wise, it is very convenient. Definitely recommended!
Kristia
2016-06-27T00:00:00Z
Edward and his wife are probably the nicest hosts I've ever come across to. I had a last minute accommodation request but they warmly helped me and made sure I was comfortable. Their hospitality alone made my stay worthwhile. Their place is beautiful with nice comfy beds and a clean bathroom. The location of the building is perfect. Downstairs are restaurants and convenience stores. I highly recommend this place to everyone.
Glenn
2016-12-09T00:00:00Z
Very cozy place! With a really great view. The hosts were very welcoming, they frequently checked on us just to make sure that everything is in order. Highly recommend!
Pia
2015-11-30T00:00:00Z
Eventhough theres been a miscommunication on the owners side. It turned out great, the only problem was the security of the condo itself, the guard was too hard on us and wont let us in, though its understandable that its their sop. We felt offended by their aproach
Break
2016-06-12T00:00:00Z
AirBnb Virgin? Don't fret. You're in good hands with Edward. The host will guide you from the beginning until the end. No need to research for further reviews either since the photos posted on the ad are exactly similar to the actual pad. Thanks again Edward for entrusting your unit with us :)
Paul
2015-12-24T00:00:00Z
Communication was fast. Clean unit, and perfect location. We enjoyed our stay. Thanks!
Jessa Marie
2016-08-01T00:00:00Z
Huonetyyppi
Koko talo/asunto
---
Majoituspaikan tyyppi
Huoneisto
---
Majoittujien määrä
6
---
Makuuhuoneet
Tagaytay, Calabarzon, Filippiinit
Our romantic studio condo unit w/ private balcony boast it's scenic view, homey comfort and relaxing ambiance! It can accommodate 2-4 and is located at the heart of Tagaytay, walking distance to Ayala Malls Serin, Walter Mart and Bag of Beans. Secured parking space available, with free access to swimming pool and rooftop viewing deck. Complimentary bottled water, coffee/tea, fresh towels, bed linens, toiletries and kitchen supplies are also provided.
The place is ideal for couples or families with 1-2 children or small group of friends who are looking for a wonderful and yet affordable getaway. The unit is situated on higher floors and quiet side of the building, giving you a nice scenery of the country side while enjoying Tagaytay's cool & breezy atmosphere. The unit was tastefully designed with a homey feel in mind, furnished with air conditioner, queen-size bed, sofa bed/extra mattresses, 32" LED TV (comes with huge collection of movies & TV series), 4-seater sofa and 2-seater dining table. The Kitchen is equipped with microwave oven, refrigerator, induction cooker, oven toaster, rice cooker, electric kettle; including complete sets cooking and dining utensils. The Bathroom has shower heater and toilet w/ bidet. Complimentary inclusions were as follows: fresh towels and bed linens, coffee/tea, bottled water, toiletries (soap, shampoo & conditioner and toilet paper) and kitchen supplies (condiments, dish washing soap, kitchen towel and garbage bag). Additional appliances such as pocket Wi-Fi, flat iron and hair dryer is also provided upon request.
It's proximity to tourists' centerpoint and accessibility to transportation and commercial establishments make it a remarkably ideal location for everyone. Experience the perfect blend of nature, culture and comfort in this centrally located vacation home.
100% accurate posting. Host was very accommodating and helpful. Will surely go back and recommend this posting to others.
Von Cristopher
2016-06-26T00:00:00Z
Liza's unit is nice and cozy. It has everything that you need for a staycation. It is located in a more quiet part of tagaytay, but still accessible nonetheless. The balcony is quite small though and is facing the ridge side of tagaytay so no view of Taal Lake but on a clear day you get to see Laguna de Bay from afar.
Candy
2015-07-19T00:00:00Z
Great location! Very clean room and easy check in. Liza was quick to respond and address our queries. Will definitely book again :)
Ma Carmina
2016-12-03T00:00:00Z
Liza is very accommodating and patient with us. That time, we had a bit of a problem finalizing the time of our arrival because we also had to ran and get stuff for preparation of my friends wedding. The place was so neat and tidy. We enjoyed staying there.
Charisma
2015-05-13T00:00:00Z
Nice place, very clean and good location. Will definitely consider staying here again. Thank you Liza for patiently answering my queries.
Tinette
2015-01-18T00:00:00Z
We had a really nice stay, the room and t&b was clean and new, the bed was really comfy and the size was just perfect for a family of 4. The location is ideal since it is a few minutes away from the main Tagaytay establishments, that the road in front is most free of traffic jams. Liza was a good host. She answered questions timely and he checked with us if there is anything else we need.
Regine Ann
2015-02-15T00:00:00Z
Place was great and comfortable. Good view, accessible and host was easy to talk to. No hassle vacation.
Rafael
2017-03-19T00:00:00Z
The the place was very clean. Liza was on top of everything and all transactions were hassle free. She was very accommodating. She waited for our arrival and made sure that everything was settled before leaving. We will definitely come back. Highly recommended!
Brian
2017-02-19T00:00:00Z
Huonetyyppi
Koko talo/asunto
---
Majoituspaikan tyyppi
Huoneisto
---
Majoittujien määrä
4
---
Makuuhuoneet
Tagaytay City, Cavite, Filippiinit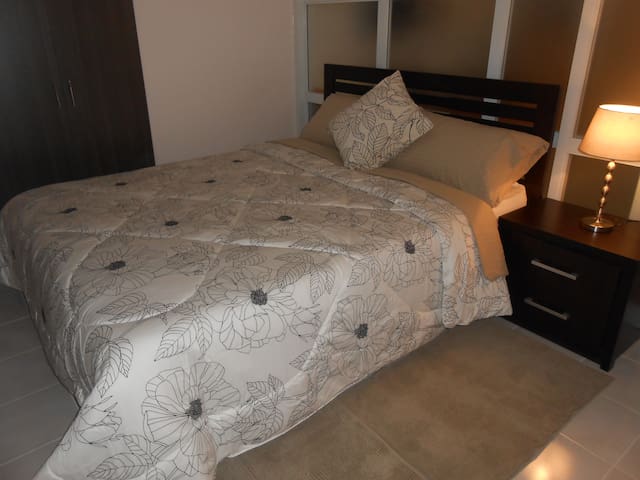 1

–

18

hakutuloksista

266 vuokrattavaa huoneistoa
Anna päivämäärät nähdäksesi kokonaishinnoittelun. Lisämaksuja sovelletaan. Veroja saatetaan lisätä.