61 vuokrattavaa huoneistoa
Superbe loft tout équipé situé dans le cœur de Farnham, ville à 40 minutes de Montréal, 30 de Bromont ou des États-Unis. Sur une rue principale et près de tout, vous aurez une vue sur la rivière. Il n'y a PLUS de chats dans le loft.
Pour le prix, vous avez votre intimité complète et vous ne trouverez pas mieux qualité-prix!
À côté de mon appartement, il y a un Irish pub où je vous conseille d'aller prendre un verre et de manger, c'est excellent. Il y a aussi un resto avec une magnifique terrasse. À 5 minutes de marche et moins : le Canard gourmand, restaurant gastronomique hyper chaleureux où vous serez comblés par la qualité des plats et le service. Piste cyclable à moins de 5 minutes direction St-Jean ou Granby/Waterloo pour les cyclistes. Pour le vélo de route, je peux vous conseiller plusieurs parcours à proximité. Golf: Pour les amateurs, le terrain est situé à moins de 5 minutes de voiture. Ski: Bromont se situe à 20-25 minutes. Vignoble: À 20 minutes de Dunham et 10 minutes du vignoble La Bauge.
Tres satisfait de l'accueil de Melissa endroit plaisible et propre et en plus deux beau chats pour passé les moments avec nous merci Melissa je recommenderais a tout le monde une viste chez toi,et que dire du pub iris pour ses hamburger incroyable et les frites egalement
Paul
2016-06-23T00:00:00Z
We had an amazing time staying in Melissa's loft! The place was exactly like the pictures, cute, quaint, and clean. She was very helpful with giving directions and when we arrived to the property. She was also very good about giving us ideas of things to do in the area. We definitely plan on staying here again!
Nicole
2017-02-26T00:00:00Z
Le loft est très bien situé et propre. Melissa est une hôte sympathique qui met tout en œuvre pour rendre votre séjour agréable. J'y retournerai.
Isabelle
2016-09-06T00:00:00Z
Très bon appartement. L'appartement correspond avec les photos. Il est bien situé. L'appartement est très propre. Mélissa est toujours disponible. Je conseille ce superbe loft.
Erika Maria
2016-06-27T00:00:00Z
Mélissa est une hôtesse très organisée qui fera tout pour que votre séjour soit des plus agréables! Bel espace, lit confortable et proximité! Merci pour tout!
Sabrina
2016-09-27T00:00:00Z
This was the second time we stayed here! We will definitely be back! Thanks for everything Melissa!
Katie
2016-12-12T00:00:00Z
Nous avons passé un très bon séjour à Farnham et ses environs. Le loft de Mélissa est très confortable et la petite ville de Farnham très confortable. Mélissa a tout fait pour nous faciliter notre séjour. Nous recommendons fortement cette adresse !
Gaelle
2016-08-23T00:00:00Z
Mélissa a été une formidable hôte! Dès notre arrivée, elle nous a accueillis chaleureusement et nous a très bien renseignés sur les alentours. Le loft est très bien situé, proche de tout. Tout était impeccable dans le logement. Moi et mon copain étions à Farnham pour faire la route des vins, et le Airbnb ne pouvait pas être mieux situé. Et aussi, les chats sont des amours.
Juliette
2016-08-20T00:00:00Z
Huonetyyppi
Koko talo/asunto
---
Majoituspaikan tyyppi
Huoneisto
---
Majoittujien määrä
4
---
Makuuhuoneet
Farnham , Quebec, Kanada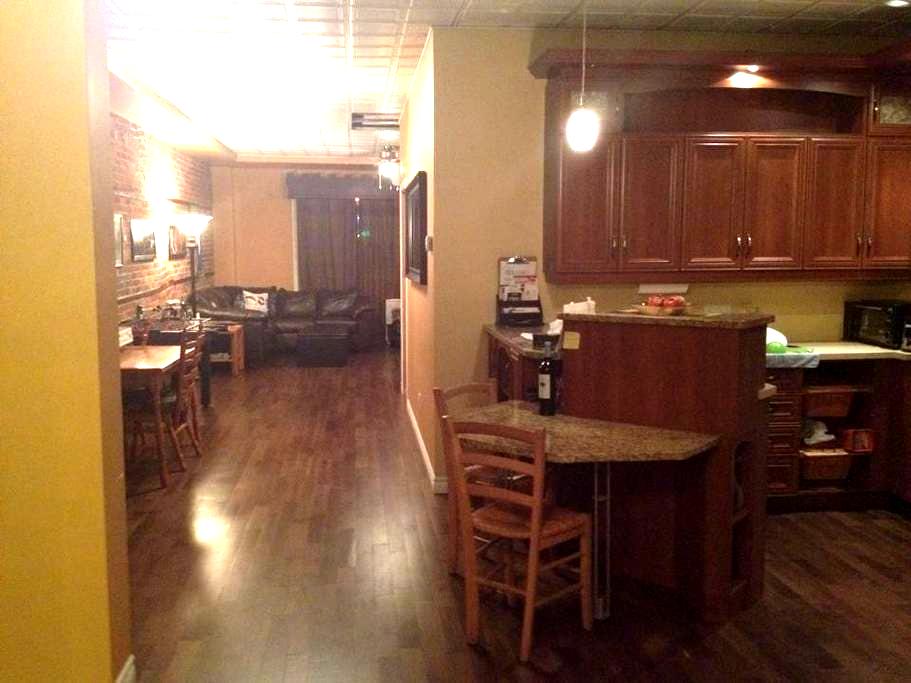 In Rougemont, this inn, located on a vineyard, offers a breathtaking view of the valley and the mountains of the Eastern Townships. The inn offers a spacious living space with 3 bedrooms and up to 6 people.
Whether to explore the area for a relaxing holiday, a gourmet getaway or bike Auberge du Coteau is the appropriate setting for a moment of pure happiness. Offering vast bright spaces, L'Auberge Coteau Rougemont offer you an unforgettable stay. Hiring at the night or the week, including a large kitchen equipped with distinctive design. Plaque of cuission and oven Réfrigérateur Cafetière Cellier Lave dishwasher Micro oven Couverts, cutlery and cookware Other amenities: Air conditioning Wifi available in all rooms Sèche Hair Laveuse and dryer Fer and ironing board Téléviseur flat screen Digital Récepteur Lecteur DVD outdoor Terrasse Espace secure available for your bikes or motorcycles Non smoking Animaux not allowed The lounge meanwhile, allows you to admire the view and enjoy comfortable furnishings.
Nous avons passé un merveilleux week-end à l'auberge Julie notre hôte s'est très bien occupée de nous l'endroit est majestueux et la maison très grande propre et très confortable c'est vraiment un petit paradis à moins d'une heure de Montréal en plus nous avons pu cueillir des pommes dans le verger et faire une dégustation de vins et cidres directement au vignoble de l'autre côté de la rue ;-) je recommande cet endroit c'est vraiment un 5 étoiles!!!
Genevieve
2016-10-10T00:00:00Z
Parfait,paysages magnifiques et endroit super confortable! Je le recommande fortement
Valérie
2017-03-05T00:00:00Z
My main contact was with Julie she called to make sure we new how to get into the apt. and then followed up with another call to make sure everything was good. Apt was exactly as shown in the pictures very clean and nicely decorated.
Steven
2016-06-04T00:00:00Z
Le luxe et le confort d'un hôtel combinés à l'espace et le calme d'une maison de campagne!
Roxane
2017-03-26T00:00:00Z
Our trip to Quebec was made much sweeter by staying at Auberge du Coteau. Julie and Michel were gracious hosts and great communicators in every way. The photos do not do the house justice and we only wish we had more time and more friends and family to enjoy it with. The beds were very comfortable and there is a ton of space for all your needs. Staying on a vineyard was an experience in itself and the nice touch of a wine cooler with Coteau Rougemont wine for purchase was the cherry on top. The views were amazing and the neighbourhood was very peaceful. Thank you again to Julie and Michel for all that they've done to accommodate us; we would love to come back and enjoy Auberge du Coteau again in the future. Highly recommended!
Jenny
2016-07-08T00:00:00Z
Logement tout à fait conforme à la description même mieux! Très spacieux, lumineux, neuf, décoré avec goût et très bien équipé (literie, cuisine, sanitaire). Belle vue sur les vignes et les verger de pommiers, ainsi qu'une agréable terrasse sous les érables. Nous avons été accueillis par les propriétaires qui donnent volontiers des renseignements sur le secteur.
Delphine
2015-08-23T00:00:00Z
Spacious, tasteful, clean, comfortable, fully-stocked place set in a beautiful location. Nothing to complain about, as advertised and more. It was a wonderful experience for us and we.shall.return :)
Andrea
2015-08-14T00:00:00Z
Huonetyyppi
Koko talo/asunto
---
Majoituspaikan tyyppi
Huoneisto
---
Majoittujien määrä
8
---
Makuuhuoneet
Rougemont, Québec, Kanada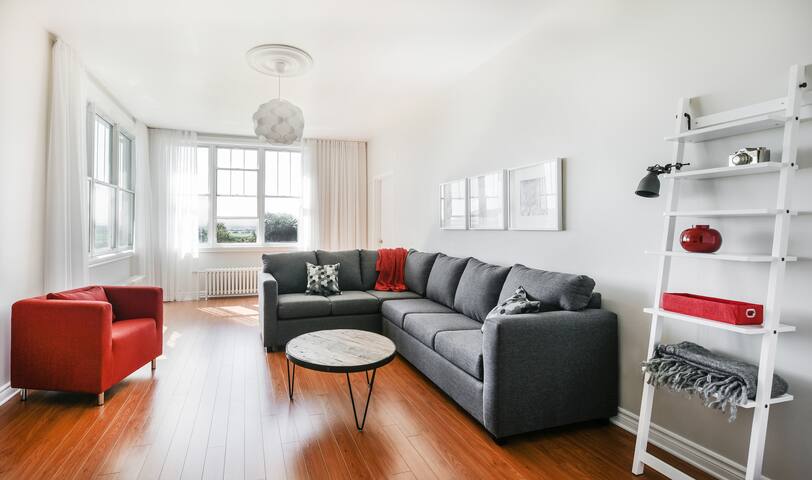 My home is near the zoo entrance and purchasing center in Granby. Public transport, 3 minutes from downtown and near the parks. Enjoy my apartment for his cleanliness, comfort, decor and large kitchen with island. In a very quiet and safe neighborhood. My accommodation is perfect for couples, solo travelers, business travelers, families (with children) and large groups.
Huonetyyppi
Koko talo/asunto
---
Majoituspaikan tyyppi
Huoneisto
---
Majoittujien määrä
6
---
Makuuhuoneet
Granby, Québec, Kanada
RABAIS À LA SEMAINE DURANT LA SAISON DE SKI Logement situé en zone rurale, à 5 km de Cowansville où l'on trouve tous les services. Ce logement est idéal comme point de départ pour explorer les attraits de la région: Vignobles, vergers, vélo, ski, randonnée pédestre, Zoo de Granby à 25 minutes.
Logement confortable situé au dessus d'un garage double. Tranquillité et vue magnifique sur la campagne environnante. Une chambre fermée avec lit queen, divan-lit double dans le salon. La cuisine est bien équipée: four micro-onde, four conventionnel, 4 ronds de poêle, cafetière, grille-pain, chaudrons... Salle de bain avec douche. Activités de plein-air accessibles tout près: Lac Davignon 10 minutes, Bromont 15 min., Parc de la Yamaska 25 min., Sutton 30 min., Parc du Mont Orford 30 min., Owl's head 1 heure. Réseau cyclable tout près.
East Farnham est un petit village tranquille tout près des services. Un dépanneur est à 10 minutes à pied. Beaucoup de gens aiment prendre de longues marches dans le village. Excellente restauration régionale: Cowansville, Dunham, Bromont,
Accueil merveilleux et logement très agréable! Alain et Nathalie nous ont présenté leurs chevaux et indiqué de belles promenades. Nous avons passé une super belle fin de semaine.
Emma
2017-01-29T00:00:00Z
Nathalie et Alain nous ont très bian accueilli. Le logentment était très propre et tel que décrit. L'endroit est splendide et la vue magnifique: champs, forêt, couché de soleil. Tout est impécable et très bien entrtenu. Alain et Nathalie ont tout fait pour rendre notre séjour agréable. On y retournera c'est certain!
David
2016-06-20T00:00:00Z
I very much enjoyed my 2 month stay at Nathalie's and Alain's place in East Farnham. The apparment is perfectly equipped with everything needed also for a longer stay. I felt always very welcome and could ask for help and directions at any time. Hopefully, I will get back there soon.
Jonas
2016-05-07T00:00:00Z
Une fin de semaine pleines d'émotions. Merci à Alain et Nathalie qui nous ont chaleureusement accueilli. Un endroit très agréable. Le logement est très bien entretenu. Les amoureux de la nature seront plus que ravis. Nous y sommes restés deux nuits et c'est certain que nous allons y revenir lors d'un prochain séjour dans la région. Notre fille gardera toujours une petite pensée pour Noisette (la jument) et Globule (le labrador), qui resteront ses nouveaux amis de coeur.
Olivier
2016-03-05T00:00:00Z
Merci à Alain et Nathalie pour leur hospitalité ! L'endroit est situé dans un décor enchanteur, et les routes autour sont magnifiques pour le cyclisme.
Emilie
2016-05-24T00:00:00Z
Nous n'avons pas rencontré Nathalie mais nous nous sommes sentis les bienvenus dans un endroit propre et soigné. Le lit est très confortable et le voisinage très calme. C'était un plaisir de se réveiller au milieu des chevaux et des champs enneigés et d'aller se promener dans les bois en suivant les nombreuses traces d'animaux... En résumé, cet appartement très simple correspondait parfaitement a nos besoins, je recommande!
Sophie
2016-01-17T00:00:00Z
Le mari de Nathalie, Alain, nous a chaleureusement accueilli à l'appartement à notre arrivée. Le cadre était magnifique sous la neige et nous avons beaucoup apprécié notre court séjour. Il y a avait tout le nécessaire pour cuisiner et nous espérons y revenir l'été prochain!
Alice
2016-01-06T00:00:00Z
Un endroit super chouette!
Nancy
2017-03-25T00:00:00Z
Huonetyyppi
Koko talo/asunto
---
Majoituspaikan tyyppi
Huoneisto
---
Majoittujien määrä
4
---
Makuuhuoneet
East Farnham, Québec, Kanada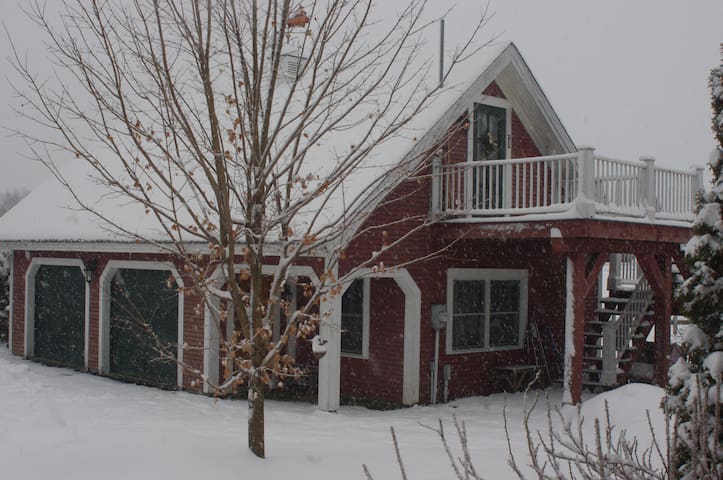 Appartement disponible au deuxième étage d'un duplex. Dans l'appart la déco est aux allures texane & look de l'Arizona. Il y a un lit sur la véranda également disponible.Dans ma région ,vivez des sensations fortes! Les cantons de l'est sont reconnus par les motocyclistes pour leurs routes sinueuses et paysages à couper le souffle ... welcome bikers! ( si vous êtes entre 5 à 8 personnes je peut vous référer à un logement complet, confortable et bien situé avec 4 lits )
Près du centre-ville de Granby & commodités, ici il y a une cuisine très fonctionnelle, 1 salle de bain partagée, il y a 2 chambres disponible, lit queen. Pour les plus intrépide, un futon double sur la véranda fera votre bonheur les nuits d'été
à pied des commodités, épicerie, bars & centre-ville. Le zoo est à 10 minutes en voiture. Et la région est magique rempli de paysage majestueux et fenêtre ouverte vu sur les paysages incroyable!
Josée est une hôtesse extraordinaire et d'une grande générosité. Elle s'est assurée dès le début que notre séjour soit des plus agréables. Elle nous a proposé plusieurs trucs pour nous accommoder. Nous nous sommes sentis comme si nous occupions la demeure d'une bonne amie. L'appartement est vaste; les lits, très confortables. Tout y est, c'est très bien équipé. Il y a même un balcon à l'arrière où l'on peut manger et prendre le caf du matin. Les parents de Josée habitent en bas du duplex. Ils nous ont bien accueillis et nous ont fait sentir les bienvenus également. À 5 minutes du zoo et à côté des pistes cyclables, l'endroit est bien situé pour ce type de visites. Un grand merci à Josée, ce fut un plaisir de la rencontrer.
caroline
2016-07-09T00:00:00Z
We enjoyed Josee apartment, it is 2 minutes away from the principal street. Great communication with the host and a plaisant stay for us! Plus a kitchen with everything you need to cook, which was very convenient for us. Thanks for everything.
Corine
2017-03-12T00:00:00Z
A great place to spend the night before and after a day of skiing! Josée is a wonderful host and her home is cozy, well equipped, and provides a nice atmosphere. Would definitely stay again!
Julia
2017-01-05T00:00:00Z
My three friends and I had a great time at Josée's place. Very positive experience for all of us. She was super kind and welcoming.
Alannah
2016-06-06T00:00:00Z
L'hôtesse est très serviable et accueillante.
Claire
2016-12-30T00:00:00Z
Lovely location. Spacious unit. Host was very friendly and helpful with suggestions.
Anca
2016-07-20T00:00:00Z
Très bel appartement ! Accueil agréable. Merci poour tout
Clotilde
2016-08-20T00:00:00Z
Josee (and her parents) were very welcoming and helpful from the moment we arrived to us leaving later in the day on the Friday. The location was ideal for us, with easy access to the L'Estriade bike trail and it was a very quiet area during the evenings, but still with easy access to shops/restaurants etc. Definitely somewhere to use for a short break in the Granby area, at good value for what you get in terms of size and amenities in the apartment.
Craig
2016-07-02T00:00:00Z
Huonetyyppi
Koko talo/asunto
---
Majoituspaikan tyyppi
Huoneisto
---
Majoittujien määrä
4
---
Makuuhuoneet
Granby, Québec, Kanada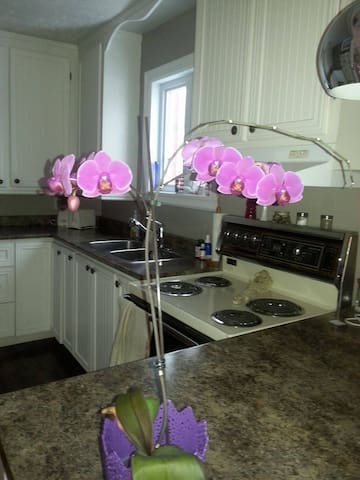 À louer à la semaine, charmant appartement d'une chambre à coucher, situé sur la prestigieuse rue Mountain, avec cour arrière donnant sur le terrain du Club de golf Miner. Idéal pour couple ou personne seule, hiver comme été. Complètement meublé et équipé, foyer électrique, laveuse/sécheuse. À proximité de Ski Bromont, de le Route des vins, du Zoo de Granby, de l'Estriade et de plusieurs autres activités et incontournables des Cantons-de-l'Est.
The Victorian on the Golf offers a unique experience and allows you to feel right at home when travelling. Thoroughly renovated, the living space has beautiful original European- style architectural details such as ceiling height, decorative columns and archways, molding, a brick chimney, and wood flooring. Tastefully decorated and equipped with the finest accessories (Ralph Lauren bed sheets, Royal Doulton china, Cuisinart appliances, Lagostina pots and pans), this lovely pied à terre will meet all your expectations! Exceptional comfort at an affordable price point.
The property is located in one of Granby's most beautiful neighbourhoods. Mountain Street is a residential tree-lined street full of beautiful Victorian houses. The apartment is walking distance to various services (grocery store, drug store, boutiques and restaurants) and to Lac Boivin. It is located just a few minutes away from l'Estriade bike path and its backyard has direct access to Miner Golf Club.
Loved it! I highly recommend the Victorian on the Golf. It's a charming apartment with a beautifully renovated kitchen and bathroom. It's comfortable, very well furnished and equipped, immaculate and private. I slept like a log! The location is perfect too. I could walk to downtown Granby in just a few minutes, passing other beautiful properties the whole way, and it took me only ten minutes to drive to Bromont. Genevieve was wonderful to deal with and hospitable from the get go! This was my first rental with Airbnb and based on this experience, the Victorian on the Golf is going to be my 'pied-a-terre' whenever I travel to the Eastern Townships.
Adrian
2017-03-10T00:00:00Z
Huonetyyppi
Koko talo/asunto
---
Majoituspaikan tyyppi
Huoneisto
---
Majoittujien määrä
3
---
Makuuhuoneet
Granby, Quebec, Kanada
Condo situer à 2 min de l'estriade à 15 min de Bromont et à 10 min du zoo
The host canceled this reservation 7 days before arrival. This is an automated posting.
Roberto
2017-02-10T00:00:00Z
Huonetyyppi
Koko talo/asunto
---
Majoituspaikan tyyppi
Huoneisto
---
Majoittujien määrä
4
---
Makuuhuoneet
Granby, Quebec, Kanada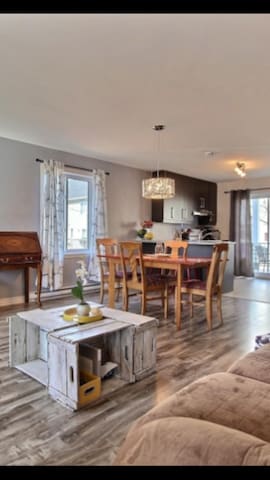 My property is very well located. It is spacious, clean, quiet, easy access and close to everything the area has to offer. It is perfect for couples, solo travelers and business travelers. You will feel good at home. My accommodation is very well located. It is spacious, clean, peaceful, Easily Accessible and near the area All That Has to offer. It is perfect for couples, solo travelers and business travelers. You will feel at home!
Spacious new condo with two large private bedrooms, a beautiful bathroom, a well equipped kitchen and a terrace in a new very well situated Granby sector. Welcome home!
The accommodation is situated in a new area of Granby and in a cul de sac, on the edge of a wooded, very peaceful. It is just minutes from Highway 10 (exit 68), the city center, the Granby Industrial Centre, 10 minutes from Lac Boivin, 12 minutes from the Granby Zoo, 100 meters from the bike path 'Estriade and 20 minutes from the ski slopes of Bromont. Granby and Bromont has several attractions. Granby Zoo, one of the finest in Canada, beautiful well maintained bike trails, a nature center, several festivals including the wine route and the old cars. For golf lovers, several golf courses are available in the area and nearby. Bromont is a place frequented by lovers of winter sports, such as downhill skiing, snowshoeing, snowboarding and cycling. We also have very good restaurants.
Huonetyyppi
Yksityinen huone
---
Majoituspaikan tyyppi
Huoneisto
---
Majoittujien määrä
2
---
Makuuhuoneet
Granby, Québec, Kanada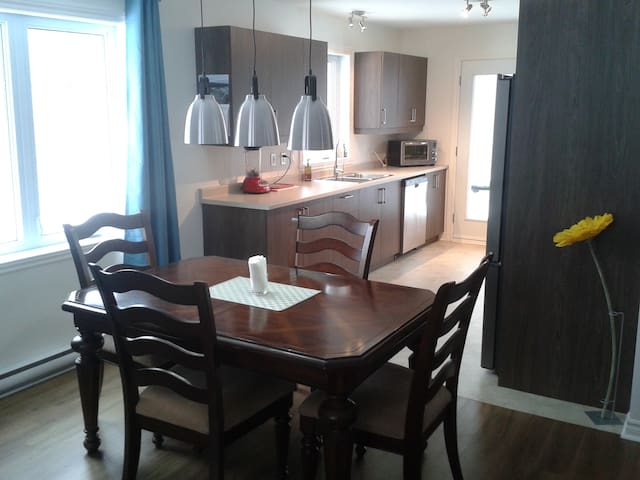 My home is close to the city center and public transport.
Huonetyyppi
Yksityinen huone
---
Majoituspaikan tyyppi
Huoneisto
---
Majoittujien määrä
2
---
Makuuhuoneet
Granby, Québec, Kanada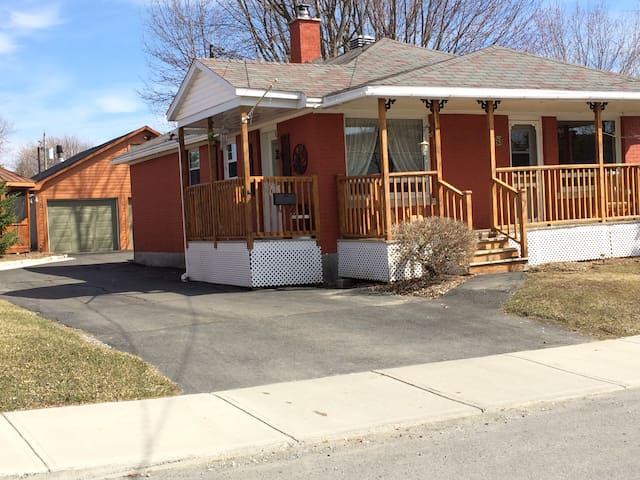 Close to Palace ( 50meters) good place if are you looking for a really centre vile , you can walk for all places , around 1,5km from the Lake ! You can have a good breakfast at ( C'est Belge) aprox 5min walking . Close to all events in the centre vile , festivalinternatinaldechanson fetedesmascottes and internationaloldcars
René a été très accueillant et il est super gentil. Nous avons beaucoup apprécié notre petit séjour chez lui.
Sylvie
2016-09-18T00:00:00Z
Huonetyyppi
Yksityinen huone
---
Majoituspaikan tyyppi
Huoneisto
---
Majoittujien määrä
2
---
Makuuhuoneet
Granby, Québec, Kanada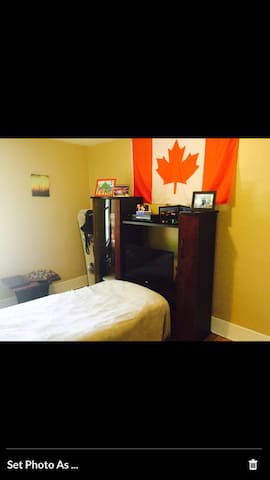 Our accommodation is located near Downtown Granby. It is quiet, bright and spacious. reserved parking and wi-fi provided, all inclusive, large windows, property is perfect for couples, families (with children) and groups of 6 people.
Just 15 minutes from the slopes of Bromont. About 40 minutes from Orford. Remember that the Zoo De Granby is open from December 26 all weekend. Perfect for your stay during hockey tournament! In short we are equally welcoming in winter! Nice the flat! it's friendly and helpful owner. We welcome you to our lower duplex, we prefer young family as being parents of three young children we know how difficult it is and not affordable to stay with a family on a vacation. So we want to give the chance to young families or vacation in our city can enjoy the attractions of our region while staying in a large apartment inexpensively.
Located close to everything! Quiet neighborhood. Small park with water feature opposite City center within 10 minutes walk Caisse Desjardins Bank and within 10 minutes walk Grocery and pharmacy within 3 minutes by car Convenience store and gas station at the corner Granby Zoo within 7 minutes drive Canteen and ice cream from the famous Ben's belly Granby within 5 minutes walk Several restaurant nearby which Imperial's chief François Côté Not to mention all the attractions within 15 minutes drive: Parc de la Yamaska, Climbing and everywhere Lac Boivin Interpretation of Nature Centre, the Palace Theater ...
Super cute appartement! Marie-André a été très acceuillante. Nous avont pas trop exploré le quartier car nous somme allé à Bromont, mais le coin est super tranquile.
Julie
2016-09-09T00:00:00Z
The place was cosy and easy to reach. Granby is a charming little town and we enjoyed exploring Bromont from here. The beds were comfy and we had everything we needed! Great find :)
Alena + Clément
2016-10-16T00:00:00Z
Notre séjour chez sympa l'appart était notre toute première expérience avec Airbnb. je peux garantir que ce ne sera pas la dernière! Marie-Andrée nous a très bien reçue, l'appart était grand, spacieux et tout y était. Elle a été super accommodante et accueillante! C'était notre premier "vrai" voyage avec notre famille (nous avons 5 enfants de 1, 4, 6, 7, 10 ans) parce que c'est toujours trop dispendieux ou bien nous sommes trop pour les forfaits offerts. Grâce à sympa l'appart, nous avons passé 2 belles journées au Zoo et 3 nuits à granby. merci, merci, merci!! Sasha
Sasha
2016-08-03T00:00:00Z
L'appartement de Marie-Andrée est très bien situé à seulement 3 minutes du Zoo de Granby et offre un très bon rapport qualité-prix. Nous étions 4 adultes et 3 enfants (6-8-9 ans) et nous avions de l'espace amplement. Il est facile et rapide de communiquer avec Marie-Andrée, elle est toujours disponible pour répondre à nos questions et nous offrir de bonnes suggestions d'activités pour toute la famille. L'appartement est près de tout et très bien équipé. Les enfants se sont bien amusés dans les jeux d'eau juste en face dans le Parc Racine. Merci Marie-Andrée pour cet agréable séjour et pour toutes les suggestions d'activités. Le spectacle de clôture du Festival international de la chanson de Granby et les feux d'artifice ont bien terminé notre séjour :)
Annie et Julie
2016-08-28T00:00:00Z
Marie-Andrée was helpful throughout our stay, and the house was clean and comfortable. It is close to amenities and to beautiful country sights.
Zahraa
2016-10-10T00:00:00Z
My friends and I had a great stay here this past weekend. Marie-Andrée sent me a message with instructions regarding check-in details before we arrived which was very helpful. The location was great - about a 15-20 minute drive from Bromont. The apartment was well-equipped with the basic necessities: pots, pans, cooking utensils, towels, and even basic condiments. Marie-Andrée and her family lived right above and were easily accessible for questions. Would definitely recommend staying here!
Ashley
2017-02-05T00:00:00Z
Four of us stayed at Marie-Andree's apartment for some skiing at Bromont. Check-in was simple and quick, and the space was large but cozy. Lots of grocery stores around for cooking dinner for ourselves. It was perfect for our purpose.
David
2017-02-20T00:00:00Z
Endroit très bien tenu, à proximité de tout, lit très confortable.
Frederic
2017-02-12T00:00:00Z
Huonetyyppi
Koko talo/asunto
---
Majoituspaikan tyyppi
Huoneisto
---
Majoittujien määrä
8
---
Makuuhuoneet
Granby, Québec, Kanada
Mon logement situé à Granby et près de Bromont, d'activités adaptées aux familles, du Zoo de Granby, de pistes cyclables et diverses activités de plein-air, des épiceries, d'un centre commercial, de l'autoroute 10. Vous apprécierez mon logement pour son emplacement, pour sa tranquillité et également pour votre espace privé. Mon logement est parfait pour les couples, les voyageurs en solo, les voyageurs d'affaires et les petites familles (avec enfants). Prenez note qu'un chat habite ici.
Il n'y a pas de téléviseur en bas. Vous avez un accès WiFi.
Hello, my house is me, it is warm, zen and happy. I am pleased to offer the lower part to travelers. As I live in the upper part, so I am available if needed.
Jacinthe est une hôte attentive et chaleureuse tout en étant très discrète. Nous avons apprécié notre séjour chez elle. Le logement est propre et calme. Très confortable! Les équipement pour cuisiner sont minimaux mais en bon état et propre: bien pour réchauffer des plats. Je vous recommande cette hôte.
Maud
2017-03-18T00:00:00Z
Cette chambre est propre et confortable. Il faut une voiture pour être près de tout, mais en voyage d'affaires c'est parfait: on a tout ce dont on a besoin, et on ne se sent pas trop "chez quelqu'un", puisqu'on a tout le demi-sous-sol à soi (c'est quasiment comme un logement). Jacinthe est très gentille et très serviable. On se sent à l'aise.
Simon
2017-02-09T00:00:00Z
Vous entrez dedans et tout de suite vous vous sentez reposé ! Jacinthe y a mis une énergie chaleureuse, calme et reposante. Le studio est très bien équipé. Facilité de communication avec Jacinthe. A 20 min des pistes de ski et du spa balnéa !
Hortense
2017-02-19T00:00:00Z
Je conseil a tout le monde
Carl
2017-03-16T00:00:00Z
Premier passage , La chambre est spacieuse et la maison de manière générale est très bien entretenue et propre. Je recommande sans hésitation. Merci Jacinthe!
Jerome
2017-02-15T00:00:00Z
Huonetyyppi
Yksityinen huone
---
Majoituspaikan tyyppi
Huoneisto
---
Majoittujien määrä
4
---
Makuuhuoneet
Granby, Québec, Kanada
TO AVOID MISUNDERSTANDING IT IS A PRIVATE ROOM THAT WE RENT IN OUR CONDO AND NOT THE ENTIRE CONDO. My home is near the Yamaska beach, downtown Granby, Bromont, Granby Zoo, bike paths. We are renting a private room Within Our condo. My condo is close to the Yamaska National Park (beach), Bromont (skiing and outlet shopping), spas (Balnea), the famous Granby's cycling paths, Zoo of Granby and Its Downtown. We are located in a very quiet and wooded spot
Your room is located in a modern condo and decorated and illuminated to date! In this sense, we find different decorating themes (The Caribbean, New York, London, Boreal Forest). In addition, access to the bike path is only a few meters of housing, we can even provide you with bicycles during your stay! Your room is Located within a modern hip / cozy condo with a single decor. Hence, you will find different themes across the apartment (The Beach, London, New York, The Boreal Forest). The access to the cycling path is only A Few meters away from our condo, we can-even Provide the bikes if needed!
We got a very warm welcome and were treated very hopsitably, including being offered lots of delicious home-made food. The rooms of the appartment are all designed and illuminated according to different themes, "London", "New York", "The Beach" and so on. Very cool! :D
Anna Franziska
2016-10-10T00:00:00Z
Super gentils, ils nous ont tout de suite mit à l'aise, chambre super belle et propre, super host, je les recommande à tout le monde.
Stéphanie
2016-08-29T00:00:00Z
Appartement idéalement situé pour découvrir la région et aller skier à Bromont. Super accueil de la part de Krys et Kevin, je recommande vivement !
Anne-Laure
2017-03-15T00:00:00Z
Merci à Kevin pour ton accueil ! Super appartement ! Tout est impeccable ! Chambre bien aménagée et lit confortable! Salle de bain et douche moderne et spacieuse !
Samuel
2016-11-29T00:00:00Z
Condo très bien décoré
Serge
2017-02-04T00:00:00Z
The host canceled this reservation 2 days before arrival. This is an automated posting.
Maud
2017-03-15T00:00:00Z
Superbe accueil et communication impeccable. Le condo est vraiment très beau et tout à été fait pour nous rendre à l'aise, moi ma conjointe et notre fille de 12 ans. Ce fut notre première expérience AirBnB et nous avons trouvé cela génial!
Benoit
2016-09-05T00:00:00Z
I had an amazing stay at kris' place ! My friend and I really enjoyed their hospitality from the moment we arrived! Everything is exactly as described in the ad . Very clean and cozy condo :) i would definately recommend this place To Anyone passing through Granby !
Melissa
2016-08-22T00:00:00Z
Huonetyyppi
Yksityinen huone
---
Majoituspaikan tyyppi
Huoneisto
---
Majoittujien määrä
2
---
Makuuhuoneet
Granby, Québec, Kanada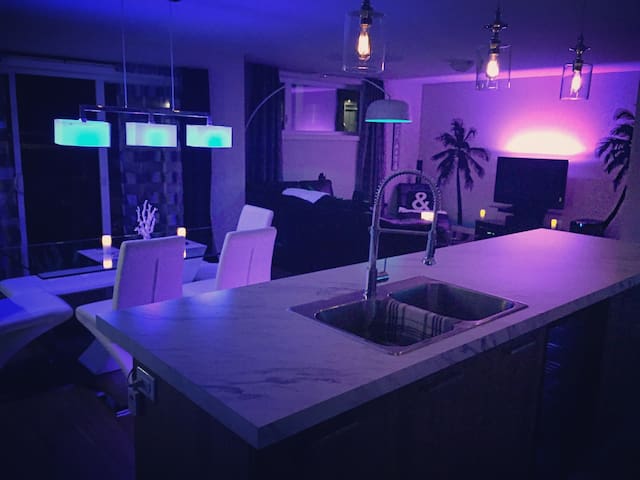 Mon logement est proche de Vieux St-Jean à pied 5 min de marche, marina, bon Resto (imprévu, Batos...), pub, épicerie. Proximité mont St-Gregoire, mont St-Hilaire. Très acessible via autoroute.. Vous apprécierez mon logement pour Pour vous détendre, sortir. Possibilité de chambre d'enfant au besoin (lit simple et jouet).. Mon logement est parfait pour les couples, les voyageurs en solo, les voyageurs d'affaires et les familles (avec enfants).
A 5 min à pied du vieux st-jean, proche des épiceries et microbrasserie. Parc et piste cyclable disponible au alentour de l appartement.
Appartement impeccable, propre, immeuble récent, quartier tranquille. Fidèle aux photos/description. À proximité du pont pour se rendre dans le Vieux St-Jean. Très facile de communiquer avec Katia - merci pour les suggestions de restos, on s'est régalé... ! Nous suggérons cet appartement sans aucune hésitation. Nous y retournons volontiers !
Sylvain et Syntia
2017-02-05T00:00:00Z
Très beau logement, propre et bien emménagé. La communication avec Katia a été super facile. Je recommande!
Anne-Sophie
2017-01-20T00:00:00Z
Katias apartment was perfect,  modern and brand new.  A beautiful neighbourhood right on the river.  She greeted us and was available within minutes of any inquiry we had.  She was so welcoming and inviting into her home.  She kept her apartment spotless  and clean.  I traveled with my 1 year old and she offered all her sons toys for him to play with.  He had such a good time and I am thankful to her for that. I highly recommend katias apartment to all!!
Noah
2016-11-23T00:00:00Z
Katia's place was perfect for what I needed to do in St. Jean - Everything was super clean and comfortable. The condo was in a perfectly quiet part of town close to ammenities and the military base. The parking spot was also helpful especially during winter time. Would recommend Katia's place 100 times over!!
Sam
2017-02-17T00:00:00Z
The host canceled this reservation 4 days before arrival. This is an automated posting.
Malik
2016-12-19T00:00:00Z
Katia waited for us to give us the key, the appartment was clean! Everything perfect :-)
Katharina
2017-01-07T00:00:00Z
Katia made us feel very welcome, provided a tour and explained the coffee machine and tv. Very clean modern decor. Excellent water pressure in the shower. Excellent location, close to restaurent and cute downtown St-Jean.
Martine
2016-12-09T00:00:00Z
Impeccable!!!! L'appartement était fidèle aux photos et encore mieux. Très propre et tout équipé. Il y a une épicerie et centre d'achat à moins de 2 minutes. C'était ma première expérience et je suis tout à fait comblée. Nous étions en tournoi de hockey moi et mon garçon et c'était à 4 minutes et 9 minutes des arénas. Katia nous a accueillis à l'appartement et nous à mis très à l'aise en nous expliquant les fonctionnalités. Elle répond rapidement aux courriels. Un gros merci à Katia et son garçon Emerick de nous avoir laissé leur demeure pour un séjour mémorable. Je vous recommande fortement de louer cet appartement vous ne le regretterez pas!!!
Melanie
2017-01-29T00:00:00Z
Huonetyyppi
Koko talo/asunto
---
Majoituspaikan tyyppi
Huoneisto
---
Majoittujien määrä
3
---
Makuuhuoneet
Saint-Jean-sur-Richelieu, Québec, Kanada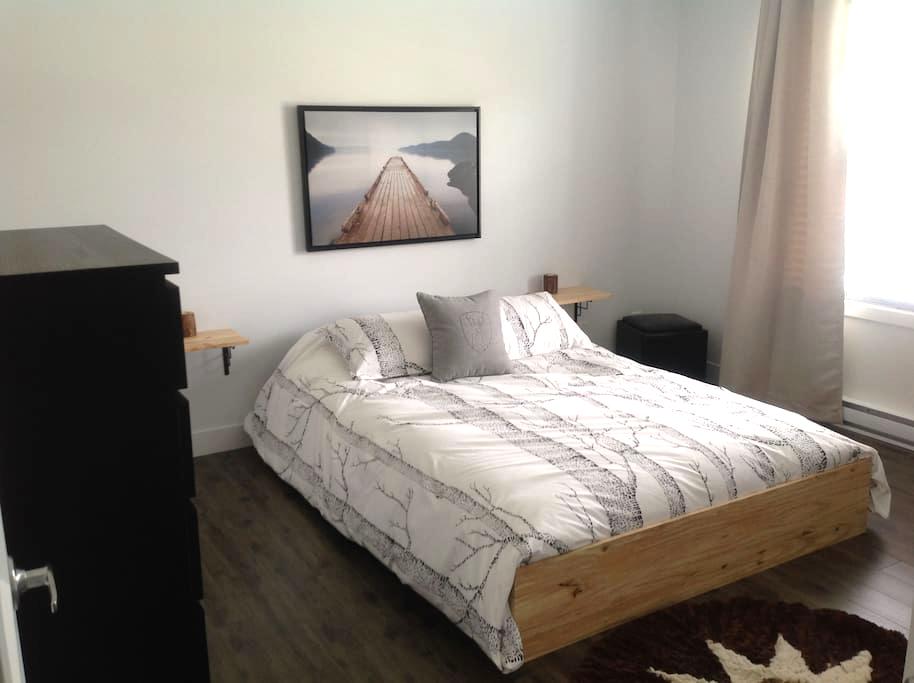 Charmant pied-à-terre au cœur de l'Estrie, 2 c.à.c. sur le Mont Shefford à 4 km de Bromont. Si vous êtes des amoureux de la nature, du calme et de la forêt, vous serez conquis. Cuisine bien équipée (poêle, réfrigérateur, micro-onde), salon avec vue sur le boise, salle à dîner bien pourvue pour un souper romantique,salle de bain complet et moderne,accès à une laveuse/sécheuse. Une chambre avec un lit double et une deuxième chambre avec deux lits simples. Terrasse extérieure privée avec foyer et BBQ au charbon de bois.Stationnement et entrée privée. Pour tous renseignements additionnels n'hésitez pas à me contacter : (EMAIL HIDDEN)
Paul was very friendly and the place was beautiful. Lots of room for myself and 3 friends. Very close to Bromont ski and bike resort. We will definitely be using his place again when we come back to Quebec.
dalton
2012-10-15T00:00:00Z
Logement tres agreable , bien situe, bien equipe conforme a la description Proprietaires tres gentil et tres serviable Sejour tres agreable
Laurence
2014-12-27T00:00:00Z
We had a great weekend stay here. The hosts were excellent and very accommodating. The apartment was cute, clean and had everything we needed. The location is great - close to Bromont, but set in a very quiet, peaceful setting. Highly recommended!
Steve
2014-01-13T00:00:00Z
Nous avons passé un excellent week-end dans ce charmant pied-à-terre. Paul nous a reçu avec une grande gentillesse. L'appartement était très propre et était équipé de tout le nécessaire pour cuisiner. Nous avons grandement apprécié prendre notre petit-déjeuner sur la jolie terrasse. Nous y retournerons assurément !
Suzanne
2013-09-30T00:00:00Z
Suzanne et moi avons passé un très beau séjour a cette demeure Toute les renseignements à propos du gîte était adéquat. Ce logis est très propre, comfortable et est situé dans un environement paisible. Un gros MERCI, a Paul et Danielle. Lucien et Suzanne.
Lucien
2014-07-07T00:00:00Z
Nous avons beaucoup aimé notre séjour, Paul et Danielle sont très gentils et l'endroit est tranquille, charmant, propre et bien situé.
Anick
2014-07-26T00:00:00Z
My boyfriend and I were looking for a nice getaway in the woods for a weekend and found just the place. Paul is a great host even giving us small things we had run out of and making sure we were comfortable. The area is magnificent, located on the mountain in the woods, with the soundtrack of nature all around. It was a very nice change from the everyday hustle and bustle not even missing tv and technology for one second. A great place to recharge with nature for a few days. Thanks Paul!!!
isabelle
2014-06-23T00:00:00Z
A lovely little home, perfect for my family and a great location for skiing at Bromont. Paul made us feel very welcome and gave us lost of useful info. Can't wait to come back.
Tom
2015-02-22T00:00:00Z
Huonetyyppi
Koko talo/asunto
---
Majoituspaikan tyyppi
Huoneisto
---
Majoittujien määrä
4
---
Makuuhuoneet
Shefford, Quebec, Kanada
Cute little apartment located in Bromont (Mont-Gale and next to Balnea Spa). You will have access to the Beatnik Hotel facilities (lobby, lounge, terrace, bistro, pool, etc.) while enjoying your own private entrance. Come and relax !
Newly renovated, you will find a small kitchenette, a living room space and a large mud room. All 3 bedrooms are next to each other and the access is independent and direct.
We are located in Bromont, surrounded by Mount-Gale and within walking distance from Balnea Spa + Reserve Thermale and from Domaine naturel du Lac Gale. We are 7 minutes away (by car) from the Village of Bromont and the Mountain of Experience.
Huonetyyppi
Koko talo/asunto
---
Majoituspaikan tyyppi
Huoneisto
---
Majoittujien määrä
9
---
Makuuhuoneet
Bromont, Québec, Kanada
Appartement chaleureux situé au coeur de Bromont, tout près du centre du village et à moins d'1 km de la montagne, épiceries, SAQ,pharmacies et restaurants. Tout près des sentiers multifonctionnels de Bromont (course, marche, vélo de montagne, etc.)ainsi que la route verte. Vous serez aussi accueilli par mon chat. N'ayez crainte, il adore les gens, et aime beaucoup jaser et se coller si on l'interpelle. Il est calme et gentil . Idéal pour personne seule ou en couple.
Il s'agit d'un 4 et demi où l'on devra partager les espaces communs.
Calme , résidentiel
Huonetyyppi
Yksityinen huone
---
Majoituspaikan tyyppi
Huoneisto
---
Majoittujien määrä
2
---
Makuuhuoneet
Bromont, Québec, Kanada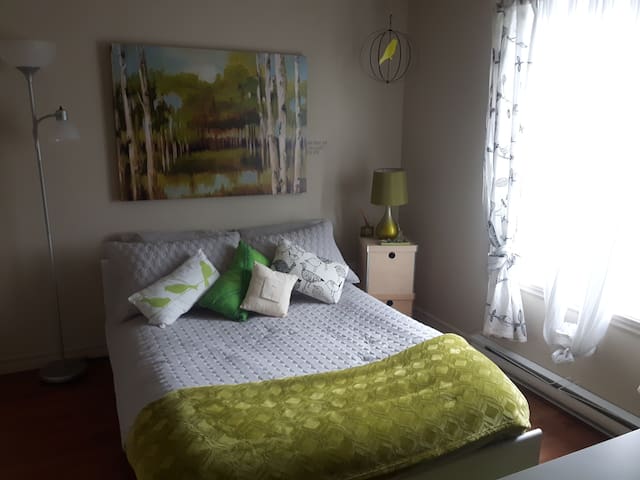 Open loft style, 45 minutes from Montréal and 3 minutes from Bromont alpin ski hills. Great variety of restaurants, shops, groceries and activities.
Television and cable in each rooms ( 45'' in leaving room, DVD and CD player ) WI-FI and local phone calls. Fully equipped kitchen ( dishes, silverware, pots and pans, accessories, keurig coffee maker, espresso machine, microwave, dishwasher, fridge and stove ) bedding and towels, washer and dryer, therapeutic bath. Electric fireplace for ambiance
Huonetyyppi
Koko talo/asunto
---
Majoituspaikan tyyppi
Huoneisto
---
Majoittujien määrä
4
---
Makuuhuoneet
Bromont, Québec, Kanada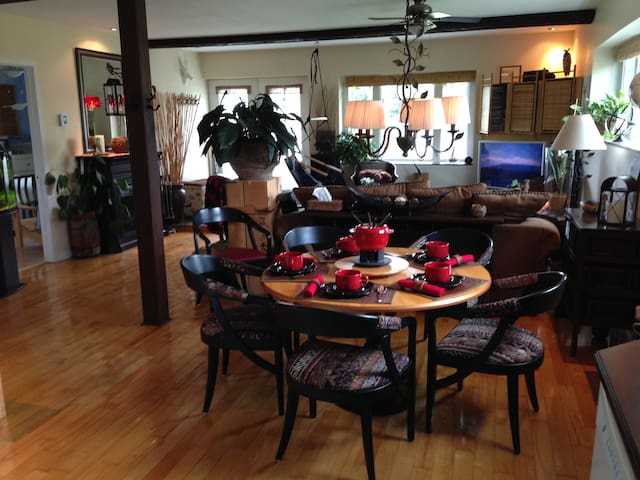 1

–

18

hakutuloksista

61 vuokrattavaa huoneistoa
Anna päivämäärät nähdäksesi kokonaishinnoittelun. Lisämaksuja sovelletaan. Veroja saatetaan lisätä.