6 vuokrattavaa huoneistoa
Simple apartment in the mountains of Roanoke, VA. There are plenty of amenities! Rose garden on sight for you to sip wine and relax if you would like (ask me for directions on how to get there, 1 min walking distance from my door) pool, 24-hour gym access, 24- hour business center for all of your printing needs etc, and 24-hour wifi care with coffee. Spacious apartment with California King bed. Very clean.
Set atop a beautiful hillside surrounded by the majestic Blue Ridge Mountains, this apartment complex is recognized as one of the most distinguished communities in Roanoke, VA. Built on the site of a former apple orchard. Take advantage of the activities the community offers - grilling out while catching some sun by the pool, playing tennis or joining a game of volleyball, getting some work done in the 24-hour business center, or getting a good workout in the large, fully equipped fitness facility. Hiking and biking trails can be found in almost every direction
Eshae is so lovely and helpful!
Melanie
2017-03-12T00:00:00Z
One of the best hosts I've had and beauitful and secure place. Great communication the whole way. Totally willing to accomodate in any way she could. I would stay there again if I'm in town again.
Andrew
2017-03-19T00:00:00Z
Great stay over apartment... good water pressure!
Andrew
2017-04-02T00:00:00Z
Eshae's place is really comfortable and cosy. The bed was one of the best bed's we slept on in a long while - really comfortable! Though we never met Eshae, she still did an excellent job making everything very accommodating. Would recommend staying at her place again!
Jonathan
2017-03-25T00:00:00Z
Huonetyyppi
Koko talo/asunto
---
Majoituspaikan tyyppi
Huoneisto
---
Majoittujien määrä
3
---
Makuuhuoneet
Roanoke, Virginia, Yhdysvallat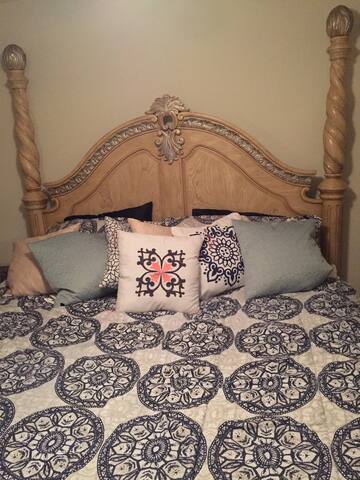 Artsy, huge, eclectic, attic apartment on 2nd floor with shared entrance. Excellent location less than 1 mile from airport & 4 miles from town. Flexible/late check-ins. Suitable for moderate-size outdoor functions.
It's hard to capture the charm of this unique apartment in photos. Usually visitors' first remarks go something like... "WOW!!" and then... "There's so much room up here." and then..."How did you think of that?" Each spot of the sun-filled, open space with homey dark wood floors invites you to find your niche in the eclectic, yet cohesive sprawl of nooks. Would you like to: spread out and play games...prepare for a business meeting or exam...get ready for a night on the town...unwind after a long day of antiquing or hiking on the porch...watch nature in the backyard from the window seat...prepare a snack or small meal...nap on the loveseat....grill in the backyard......freshen up in the huge bathroom....chill with a book or crossword puzzle in a secluded hideaway.... Somehow everyone can comfortably manage all of this at the same time. The space is very versatile, FUN, and comfortable for 1 or more couples/families, a family with kids of all ages, or a group of singles. (Up to 2 additional spots can be booked simultaneously at "Snuggle Inn" downstairs for even larger groups.) Extra twin mattress (not pictured) stored under main bed can be pulled out at night time. There's plenty of room to bring your own air mattress/es or sleeping bags if you need more sleeping spots than the 8 spots (9 if you count the outdoor bed) I have beds for. And a very small person may even be comfortable sleeping on the loveseat. Look at the photos and their comments carefully and maybe you can picture what I mean. It is soooo cool up there!!! Contact me for questions about groups larger than 8. You also have your own separate heat/AC with remote control for the whole unit. And a ceiling fan too. Although I am happy to have children of all ages, I do not have anything "child-proofed". There are a few breakables, accessible sockets, long draperies, etc. So please be careful if you bring very small children. I recommend you bring or rent a portable playpen for infants/toddlers if you have concerns especially since you are on the second floor. I am happy to discuss preparations ahead of time to make sure everyone is safe and comfortable. Can't part with some of my favorite home school books/activities so I keep them up there for you to carefully borrow if you like. TV has local antenna and Roku only. Enjoy 14 local channels and whatever Roku compatible accounts you have (Netflix, Hulu, Amazon, etc.) with your password. Maybe even your video games will be compatible.
***Very quiet, short, dead-end street in a residential neighborhood less than a mile from the airport*** -Staples, Post office, UPS, Fed-ex, over a dozen banks all within 1-2 miles for you business folks -Bad Wolf Barbecue, Pete's Deli, Hibachi Grill & Supreme Buffet, Cookout are good, average priced restaurants within walking distance. Every fast food place you can think of is also within walking distance including Steak & Shake. -Steak & Shake, Cookout, Sweet Frog Ice Cream, & Sonic are all very popular for ice cream and shakes... also within walking distance. But Brusters is the best a bit further away by car. -You can also walk to Kroger or Aldi for groceries, Walgreens for prescriptions & sundries, and Sam's Club for..... EVERYTHING!! -Being in the Bible belt we have houses of worship on nearly every corner -Multiplex Movie Theater 2 miles away -2 public libraries are less than 2 miles away -A small golf course is less than a mile away - Several parks are within 2 miles -Walmart, Valley View Mall, & GOBS of good restaurants and other nice shops are less than 2 miles away -Downtown with all the normal attractions including Taubman Museum Berglund Civic Center are about 5 miles away. -Antiquing & Thrift Shops GALORE!!! -Our landmark Mill Mountain Star and miles of greenways are also about 5 miles away -Central to OODLES of hiking/nature spots all over Appalachia. -Mileage to: Hollins College- 3, Roanoke College-10 , Virginia Western Community College- 7 , Jefferson College-5, Virginia Tech-35
We had a great stay with Sue! She welcomed us last minute and helped us feel comfortable in her space. It was a lovely upstairs apartment with everything we needed.
Nina
2016-08-15T00:00:00Z
Sue was an excellent and accommodating host. She was very generous and took us in on quite short notice. Everything was clean convenient and wonderful. I highly recommend her and her wonderful place for its warmth and friendliness.
Jason
2016-02-22T00:00:00Z
If you are scrolling through Roanoke listings, looking for that perfect place, just STOP and BOOK this place now! It is a true gem - eclectic and fun, meticulously appointed, roomy, fun to explore. My wife and I both wanted to leave the event we came for early so we could go back and hang out in Sue's place (and we did!). You get the entire upstairs to yourself, very clean, everything exactly as described, comfy bed. Sue is very warm and welcoming and acts as a true BnB host, we enjoyed our brief chats with her. Our only regret is that we didn't make the time to book two nights. You will love it here.
chris
2016-10-24T00:00:00Z
The attic apartment is charming. Sue was a great hostess who told us where all the great hiking was in the area. Also pointed us to the antique stores. Sue also stocked the bathroom with shampoos and lotions, which was very nice.
Trish
2016-07-03T00:00:00Z
Sue place was eclectic and clean. But I agree with previous reviewers that the listing is not accurately described. As others before us, we expected a separate house as was depicted in the picture. The upstairs 'apartment' is actually one room and a bathroom. It is impossible for more than three people to be accommodated comfortably. So to say 2-10 people is misleading. As is the picture on the listing. There is also no kitchen and kitchen sink. The entrance is through the kitchen of the downstairs area occidental by the owner so you constantly feel like you are imposing on the household. This is not quite what is expected when you book a separate house/apartment.
Tharuka
2016-04-18T00:00:00Z
Sue's place was as sweet a suite as you could ask for -- a very comfortable night's rest in a lovely neighborhood for three road-weary travelers. The countless thoughtful little touches and amenities scattered throughout her turquoise space made it clear that welcoming guests into her home space is truly a labor of love. Above and beyond that, Sue is an absolute angel, considering that car trouble and a punctured tire brought us to her door hours later than planned; she showed true grace and kindness when our bad day turned into her late night. We will look for a chance to stay with Sue again on one of our inevitable trips down highway 81!
Michele
2016-08-20T00:00:00Z
Sue was a very warm and welcoming host and accommodated my late arrival. The songbird suite had everything I needed for the night and more. Was very kind and offered to let me wait in the apartment when I locked my keys in the car and had to wait for AAA. Will definitely return if I ever find myself in the Roanoke area again.
Jodie
2016-06-02T00:00:00Z
Ms. Sue stays in a quaint neighborhood with homes that have been kept up nicely. It's a quiet area but near some very nice amenities such as food places and grocery stores. Best of all, she's only 19 minutes away from McAfee's Knob, which is a great hike by the way and the reason for our coming. Everything was just as the listing said. All the beds were made, the area was clean, and the bathroom was spacious and clean as well. The space is one large upstairs room with one side room that looks out of the window. Though it's only one room with a side room, the area has lots of beds set up nicely which makes it a nice for a group needing a place to stay. It's also nice for a couple needing a place to stay. The host was very nice and easy to get a long with. My group really enjoyed her. She obviously loves people and does her best to accommodate. I recommend this stay! Josh
Josh
2016-06-27T00:00:00Z
Huonetyyppi
Koko talo/asunto
---
Majoituspaikan tyyppi
Huoneisto
---
Majoittujien määrä
10
---
Makuuhuoneet
Roanoke, Virginia, Yhdysvallat
800 Sq. ft. of Comfortable open living space. Sunny patio overlooking the Blue Ridge Mountains. Walk to lake. Separated office area. Grocery, Restaurants, Gas, Services, Blue Ridge Parkway all within 4 miles. Ideal for frequent business travelers and out of town guests.
My neighborhood is quiet and serene. Great for relaxing outdoors. Wildlife is also comfortable here. The neighborhood lake is just steps away with a beach area and resident geese. Enjoy!
Huonetyyppi
Koko talo/asunto
---
Majoituspaikan tyyppi
Huoneisto
---
Majoittujien määrä
2
---
Makuuhuoneet
Troutville, Virginia, Yhdysvallat
Our home is close to the interstate and the airport. We are looking forward to meeting you! You will have a parking space and a paved walkway to your door. Your studio apartment is the entire lower level of our home. You will need to go down a set of stairs to access your door. UPDATE to our listing: My job has been moved to another city. We have listed our home for sale. We would welcome your visit but please realize that you may need to accommodate a real estate showing.
You will have complete privacy in the space we have created for you. Of course, if you need anything, we are only steps away.
Very quiet neighborhood.
The gentleman, Jim, who created us at the door was very nice and welcoming. He showed us around and made us feel very comfortable during our night. Amazing hospitality!
Alyssa
2017-02-23T00:00:00Z
Great place to stay. Clean, friendly, and comfortable.
Cary
2017-02-18T00:00:00Z
Great place to stay for the price. Thanks for hosting us!
Brian
2017-02-19T00:00:00Z
Jim is a great guy (only got to meet Paula briefly), and I enjoyed chatting with him. This is a big room in a big house, Good sized desk to set my computer up on. My girlfriend loved the place. I would definitely stay here again.
Eric
2017-03-26T00:00:00Z
Great place to stay.
Cary
2017-01-21T00:00:00Z
If you want privacy thisnoalce is perfect. Beautiful home in very safe area of town. Seperate entrance and easy access. Best deal I've seen in Roanoke for an entire room.
Steve
2017-01-24T00:00:00Z
Paula and Jim were very welcoming. Upon arrival Jim gave us some excellent recommendations, and was very knowledgeable about the surrounding area. The cozy apartment was very comfortable, safe, and conveniently located. Everything we needed was provided, making our stay stress-free, and relaxing. Additionally, the yard was beautifully groomed, picturesque, and lush with beautiful tress and flowers. Overall, Paula and Jim helped make our trip perfect!
Patricia
2017-03-12T00:00:00Z
Private entrance, perfect value.
Steve
2017-01-23T00:00:00Z
Huonetyyppi
Koko talo/asunto
---
Majoituspaikan tyyppi
Huoneisto
---
Majoittujien määrä
2
---
Makuuhuoneet
Hollins, Virginia, Yhdysvallat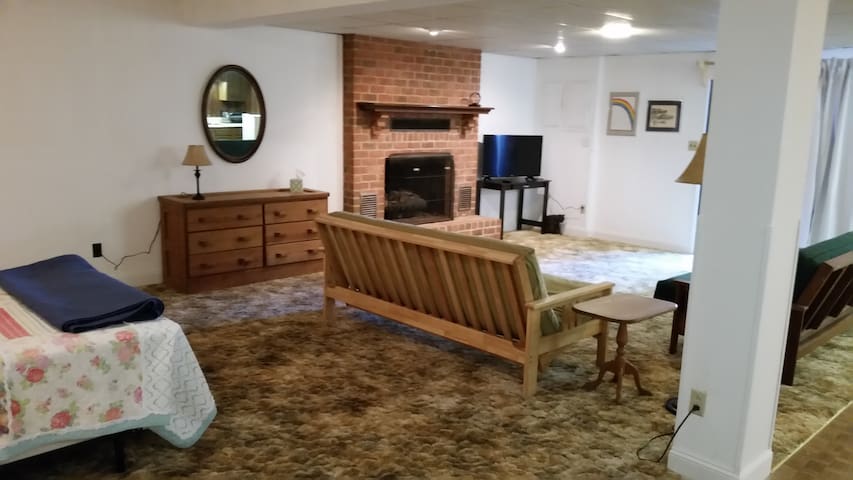 The apartment is furnished with new furniture and appliances. This is an uplifting space with lots of light and views of the forest. The space is great for a small family (one child), a single person or a couple.
The bathroom is handicap-accessible with a smooth, walk-in shower and shower seat. The kitchen does not include a dishwasher, but it does include a toaster oven, hot water pot, pots and pans, cutlery, microwave, full-size electric stove, large refrigerator.
The house is located on nearly 17 wooded, mountainous acres. It is not visible from the street, especially in the summer. People in the neighborhood have horses, dogs and chickens. About 100 homes are tucked into the hillsides that surround this property, but it retains its rural feeling. No neighbors are too close!
Huonetyyppi
Koko talo/asunto
---
Majoituspaikan tyyppi
Huoneisto
---
Majoittujien määrä
3
---
Makuuhuoneet
Salem, Virginia, Yhdysvallat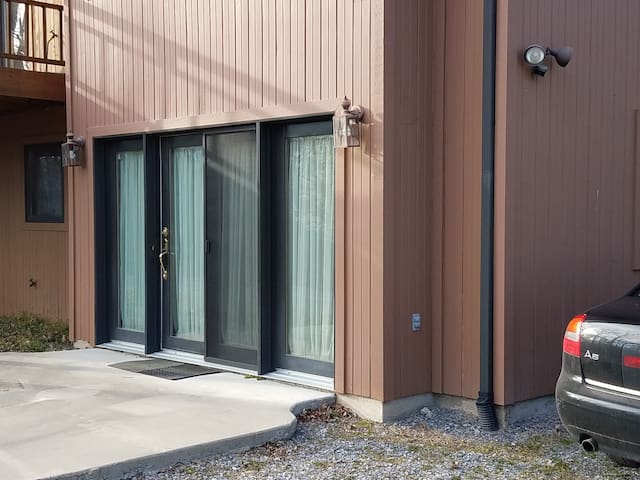 asdf
Huonetyyppi
Yksityinen huone
---
Majoituspaikan tyyppi
Huoneisto
---
Majoittujien määrä
1
---
Makuuhuoneet
Troutville, Virginia, Yhdysvallat 1

–

6

hakutuloksista

6 vuokrattavaa huoneistoa
Anna päivämäärät nähdäksesi kokonaishinnoittelun. Lisämaksuja sovelletaan. Veroja saatetaan lisätä.