Uno splendido ed accogliente appartamento dove trascorrere le tue vacanze in Toscana immersi nella natura e nel più completo relax.
L'Eremo Natura Il Giglione is located in the Alps of Poti, beautifully framed by the Tuscan Appenines at an altitude of 600 metres above sea level. Despite that, you can reach the enchanting historical centre of Arezzo in about ten minutes. Situated along the antique path (first Roman and then medieval) of Pietramala, L'Eremo Natura Il Giglione will welcome you in an uncontaminated landscape capable of charming you in every season with ever changing, fascinating natural scenery. The inside of the apartment is warm and cosy and characterised by a mix of wood and local stone, furnished according to the old rural Tuscan tradition and finished with striking, elegant elements in a rustic style. The localities also have kitchen access. Outside, you can enjoy the view from the terrace or relax in total privacy in the swimming pool. There are also wooden tables and benches and a barbecue in the garden, ready to be used by the guests. In the surrounding area, you can explore numerous paths and old mule tracks on foot or by mountain bike (provided by the hosts free of charge). During your stay, you can also enjoy products of the earth from our vegetable garden, honey from wild flowers and eggs from happy hens. Linen, wi-fi and utilities are included; breakfast upon request.
Uncontaminated nature and proximity to the most beautiful places in Tuscany.
What a great place to stay with even better hosts. Located in the mountains around Arezzo this place is unique and breathtaking. Perfect for someone who wants to escape the trouble of a city life and relax in an typical italian environment which you normally just see in a movie. Besides the incredible surroundings and the apartments the hosts Tony and Marthia are phenomenally. You will never have something to complain. They taking care of you like you are their own family. From local wine and liquor to an incredible italian breakfast everything is given. Overall a great place to stay with even greater hosts!
Christian
2014-10-18T00:00:00Z
My stay with Antonio was just wonderful. Actually wonderful can't describe how perfect it was. First, Antonio and his wife are the sweetest people, they will make you feel like part of their family. The room is under their floor of the home. It is very nice and spacious. Big bathroom with a wonderful shower. The room has everything you need. Very quiet setting, and comfortable beds. They have fresh eggs from their own chickens and so I had a wonderful breakfast. Complete with their own honey from their own bee's. Don't worry about the language, My first day, Antonio invited me in the house and had a laptop all ready with (SENSITIVE CONTENTS HIDDEN) translator loaded and said type…. I am working on my Italian, so they were most helpful and accommodating with my learning. Their location is ideal for enjoying the tuscan countryside. It is close to Arezzeo, where "la vita è bella" was filmed. If you are planning a trip to Italy, you won't have the complete Italian experience if you don't stay with Antonio. Words just cannot explain how perfect my stay was….Molto Brava antonio, sono felice di chiamarti amico. Arrivederci al prossimo anno con la mia famiglia.
Ryan
2013-07-01T00:00:00Z
Staying with sr ANTONIO and sra Marcia was a dream. The place is absolutely amazing and we felt like we truly their guests! Sra marcia gave us way more than we needed and filled us with treats!! We have already decided to return in the spring!!!!!
Andressa
2013-12-31T00:00:00Z
Our stay at l'eremo was truly remarkable. Antonio is a gentle soul who is an amazingly talented craftsman who has outfitted this country home with modern conveniences done tastefully using traditional stonework and artistry. Martsia is a warm passionate woman who adds beautiful homey and decorative touches to the place. Their generosity is extensive, offering delicious eggs from their chickens, plenty of good food, and delicious salad and herbs from the garden. Whether relaxing by the private pool, hiking or biking in the countryside, or visiting nearby Arrezo (wonderful historic village where Life is Beautiful was filmed) and other Tuscan hill towns, this is the perfect place to stay. By far, our most memorable location and hosts in Italy. We will most definitely return. Gracie Martzia and Tony for making our 35th anniversary trip so perfect.
Ellen
2015-06-15T00:00:00Z
Molto gentile! Antonio and his wife were exceedingly kind beyond this world, they came to get us from the train station even though we got in very late in the evening, and when we arrived back at the premises they had laid out a platter of amazing authentic Italian food and antipasti, with honey from their own bees and wine from their own vineyard! Even a torta dolce! We also had eggs from their own hens during our stay and a lettuce from their crop. They recommended we visit the old town of Arezzo and took us there and picked us up, it was incredible and I'm very glad we went. They also helped us stock up on food at the local hypermarket. The place itself is beautiful, if you can handle the hills you can get lost in the wilderness, also check out their chickens, rabbits, bee houses and if it's sunny (unfortunately it wasn't for us!) you can go in the pool amid the tree covered mountains. Molto bella! The property itself was incredibly beautiful, rustic and aunthentic Italian rural style. The stone floors kept it nice and cool but there was a wood burning stove for when it got cold at night! Will definitely come back again soon when the sun is shining hopefully! Tanta grazie to our marvellous hosts!
Kat
2016-04-27T00:00:00Z
der Aufenthalt bei Marzia und Antonio hat alle unsere Erwartungen übertroffen. die Gastfreundschaft und Herzlichkeit von Marzia und Antonio ist überwältigend, wir sind begeistert mit welcher Leidenschaft unsere Gastgeber ihr kleines Paradies in der Natur führen. die Unterkunft ist noch schöner und gemütlicher als auf den Fotos. Die Umgebung sorgte dafür, dass wir von der ersten Minute an entspannt unsren Urlaub genießen konnten - das liebevoll gepflegte Grundstück befindet sich mitten im Toskanischen Land, wo man ungestört seine Ruhe findet und dennoch ist man in 15 Min. in der netten Stadt Arezzo. wir bedanken uns ganz herzlich für den unglaublich schönen Aufenthalt und die vielen liebevollen Aufmerksamkeiten. wir hatten das Gefühl, willkommene Freunde und nicht Gäste in Il Giglione zu sein. wir werden auf jeden Fall wiederkommen und empfehlen diese Unterkunft als Geheimtipp sicher weiter. ------- staying with Marzia and Antonio has exceeded all our expectations. the hospitality and warmth of Marzia and Antonio is overwhelming, we are excited about how passionate our hosts run their own little paradise in nature. the accommodation is more beautiful and more comfortable than you can see on the pictures. The area was perfect for enjoying from the first minute on during our very relaxed holiday - the lovingly maintained property is located in the Tuscan countryside, where you can rest in peace undisturbed and yet it is only 15 minutes to the nice city of Arezzo. thank you very much for the amazing stay and the many loving little somethings, that made our stay even more perfect. we felt like being welcome friends and not only guests in Il Giglione. we will definitely come back and recommend this property as a wonderful place.
Kathi & Dani
2014-05-11T00:00:00Z
"Eremo" is quite accurately named, this is indeed a Hermitage, although that might lead one to believe it was a hermit's cell with no amenity, not so! This is a sensitively renovated stone house in a stunning location quite close to Arezzo. Cozy would be one descriptive because while we were there it rained nearly everyday but we stayed warm and dry, partly due to the small wood stove that was burning brightly on our arrival. Our hosts were generous beyond compare, providing fresh fruits, eggs, yogurt, bread, water, juice and much more. The kitchen and living area were warm and comfortable, the bedroom large and the bed very comfy. The bathroom was plenty big and considering my husband is a tall person the shower was quite accommodating. We thoroughly enjoyed our four nights at Eremo. Despite the rain we headed down the hill every day to explore the near by cities of Arezzo, Cortona and Montepulciano. This is certainly a place for the adventurous, the road is unpaved for the last bit but quite manageable. We'd love to come back when it's warmer and take advantage of the pool with its million dollar view and the offer of mountain bikes. A thank you is hardly enough, we are very grateful for our time there and for the kind attentions of our hosts. We would recommend this spot very highly.
Mary Lee
2014-11-17T00:00:00Z
We stayed 5 nights at this beautiful place. Antonio and Marcia are very amazing and warmly hosts and the accommodation was perfect to relax and totally to feel good. Antonio and Marcia supplied us with fresh organic food. They gave us tips for our trips around Arezzo. We highly recommend this special place. Thank you both.
Christian
2016-06-26T00:00:00Z
Huonetyyppi
Yksityinen huone
---
Majoituspaikan tyyppi
Huoneisto
---
Majoittujien määrä
3
---
Makuuhuoneet
Arezzo, Toscana, Italia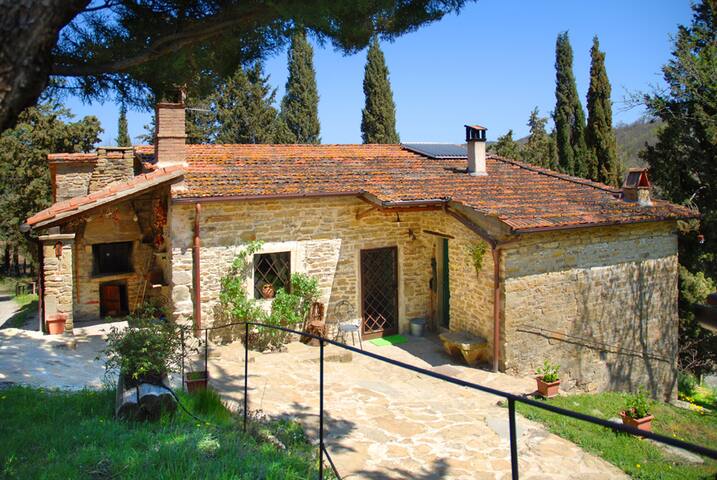 My accomodation is warm and cozy. In the heart of the town centre, near Piazza Grande, la Pieve, Casa del Vasari, San Francesco, with the Piero paintings, etc. It's near amazing monuments, restaurants, activities for the family. You'll like my accomodation for these reasons: the environment, the external spaces, the neighborhood, the lighting and the people. My accomodation is suitable for couples, singles, business travelers, families (with children) and pets.
L'appartamento è composto da una camera doppia, soggiorno, studio, cucina e bagno. L'ospite avrà una camera privata. L'appartamento si trova in pieno centro storico, a pochi metri da Corso Italia, la via principale di Arezzo e da Piazza Grande. Nelle vicinanze ci sono molti ristoranti e negozi di ogni tipo e un supermercato.
La casa si trova nel centro storico di Arezzo, a pochi passi dalla via principale, Corso Italia e da Piazza Grande. Arezzo è una incantevole città medievale, ricca di storia e cultura. A poca distanza dalla casa ci sono chiese e monumenti importanti, tra i quali il Duomo, la Pieve, la Basilica di San Francesco, la chiesa di San Domenico, con opere di Piero della Francesca e di Cimabue, le Logge del Vasari.
The room and the apartment are neat and orderly and near the center of Arezzo. Silvana made me feel welcome.
Anita
2016-09-15T00:00:00Z
Tutto corrispendente all'annuncio, nessuna sorpresa.
Stefania
2016-12-13T00:00:00Z
Silvana was great! We had some early mornings and late nights, but she always worked with our schedule to best accommodate us. Breakfast was always ready whenever we woke up in the morning. I would definitely stay there again!
Vanessa
2016-11-23T00:00:00Z
It was really nice experience to stay here. And Host is really friendly and kind. so I felt comfortable while staying.Thank you so much Silvana. I recommend this house and host family. I will come back it some day.
Harunobu
2016-09-09T00:00:00Z
Silvana è stata fantastica e così suo figlio Nicola. La casa è carinissima e impeccabilmente pulita, nel cuore del centro storico, vicino a tutti i luoghi più belli della città. I nostri ospiti ci hanno accolto con calore mettendoci a nostro agio e facendoci sentire a casa. La comunicazione è stata perfetta prima, durante e dopo il soggiorno e abbiamo fatto anche delle belle chiacchierate! Davvero consigliatissimo! Per il vostro soggiorno ad Arezzo scegliete la casa di Silvana e Nicola senza esitazioni. Torneremo! Grazie di tutto!
Giulia & Susanna
2017-03-05T00:00:00Z
Grande gentilezza e disponibilità della proprietaria. La posizione è ottima, si trova nel pieno centro storico della città. Camera molto pulita ed ordinata. Perfetto rapporto qualità-prezzo.
Federica
2016-09-05T00:00:00Z
Silvana è una persona molto disponibile. Si è nel cuore del centro storico e realmente a 10 minuti a piedi dalla stazione. Stanza essenziale, pulita e confortevole. Ottima colazione. Sicuramente ritorneremo. Laura e Laura.
Massimo
2016-11-06T00:00:00Z
Simona è una host gentilissima e sempre a disposizione per ogni evenienza..! L'alloggio è vicinissimo al Centro e a Piazza grande, in 5 minuti o poco più a piedi si è nel cuore di Arezzo. Fantastica la colazione, c'era davvero di tutto! Quando tornerò ad Arezzo sarò ben felice di stare qui ancora!
Federico
2016-11-04T00:00:00Z
Huonetyyppi
Yksityinen huone
---
Majoituspaikan tyyppi
Aamiaismajoitus
---
Majoittujien määrä
2
---
Makuuhuoneet
Arezzo, Toscana, Italia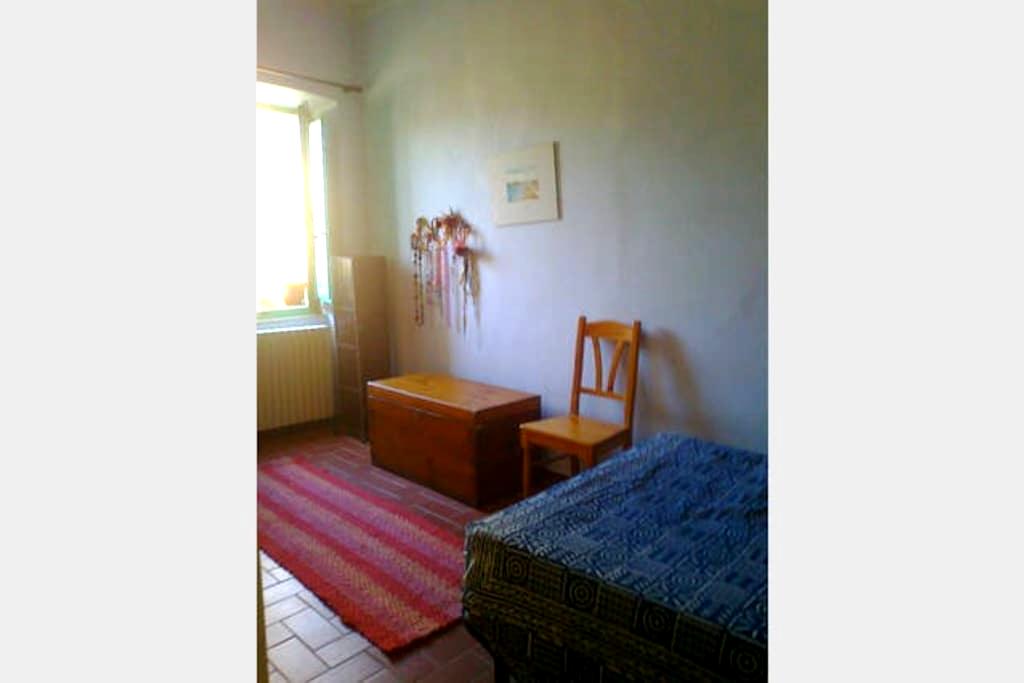 Single house 4 miles away from Arezzo historic center: master bedroom with private bathroom and Tuscan style kitchen. Separate entrance, parking and front yard available for our guests.
Our house was built just a few years ago. We wanted to make it look coozy, with a typical Tuscan style. In order to accomplish this we used old stones and briks, as a matter of fact the villa resemble a nice old Tuscan house, just recently refurbished. The master bedroom as well as the kitchen are furnished with wooden crafts, old farmers tools and numerous local antiques. Our guests will find the comfort of a new house in an environment of the past.
I like the area first of all because I was born here! I really enjoy being in the country, we have a nice garden with fruit and flowers. Futhermore I can ride my bike to reach Arezzo in five minutes.
Posto tranquillo a pochi chilometri da Arezzo. Stanza curata nei minimi particolari. Il sig. Alfonso e la sua famiglia si sono dimostrati premurosi e nello stesso tempo discreti. Un soggiorno in cui si è respirato il clima di accoglienza. Un grazie di cuore a tutta la famiglia.
Paolo
2016-02-11T00:00:00Z
Alfonso simpatico e disponibile, camera bellissima e riservata! Ve lo consiglio!
Stefano
2016-01-07T00:00:00Z
Auf jeden Fall empfehlenswert! Wir waren mit unserer 9 Minate alten Tochter da und haben uns jederzeit wohl gefuehlt, wurden herzlich empfangen und die Gastgeber, die neben uns wohnten, waren zurueckhaltend, aber immer erreichbar, wenn wir was gebraucht haben. Discreti, ma sempre disponibili! Wir haben einen Terrassentisch zusaetzlich bekommen und Obst als Willkomenngruss. Die laendliche Lage des Hauses ist wunderbar und mit dem Auto ist das Zentrum von Arezzo in wenigstens als 10 Minuten erreichbar. Es lohnt sich auf jeden Fall!
Beatrice
2015-08-22T00:00:00Z
Abbiamo trascorso due giorni molto piacevoli ad Arezzo nella bellissima casa di Alfonso. La camera rispecchiava esattamente la descrizione ed Alfonso è stato molto gentile a mettere a nostra disposizione dell'acqua e della frutta di benvenuto, lasciandoci anche la possibilità di usufruire del cortile antistante la camera. Siamo contenti di aver soggiornato qui. Anche la posizione è favorevole essendo a pochissimi minuti di auto dal centro di Arezzo.
Donatella
2015-08-18T00:00:00Z
We chose this room based on the good reviews it got and we were not disappointed. Maybe a bit out of the way but if you're also after the experience of staying in an authentic Tuscan campagna then this is the place. By car it's only s few kilometres from the centre storico. The place has large grounds so ample parking for a car. The room was nicely furnished, clean and well maintained. It has its own private entrance so you can come and go as you please. Our hosts were very nice, welcoming and accommodating. We were late in arriving as we didn't expect the traffic out of Rome. We planned to arrive in the afternoon but got there early evening instead. But Alice was there to wait for us and even gave us directions to get there as the satnav could not find the place. Overall a very good experience and we wouldn't mind coming back.
Kris
2015-04-05T00:00:00Z
Accoglienza ottima, abbastanza facile da trovare, silenzio totale.
DARIO
2015-09-26T00:00:00Z
Alfonso e una persona Accogliente e molto simpatica ! Abbiamo trascorso da lui la nostra prima notte di nozze e per questa occazione ci ha riservato delle picole attenzioni. Ottima stanza in un luogo splendido
Tim
2014-08-25T00:00:00Z
Davvero un posto magnifico, in un borgo molto tranquillo immerso in un paesaggio meraviglioso. L'appartamentino è semplice ma dotato di tutti i comfort ed arredato con gusto. Alfonso e sua moglie sono persone molto gentili e disponibili. Vivamente consigliato.
antonio
2017-03-26T00:00:00Z
Huonetyyppi
Yksityinen huone
---
Majoituspaikan tyyppi
Huoneisto
---
Majoittujien määrä
2
---
Makuuhuoneet
Arezzo, Toscana, Italia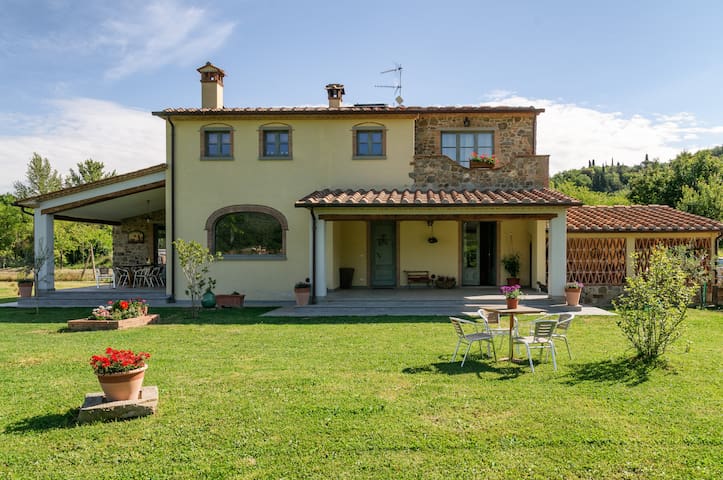 The offer includes a double room, a private bathroom and a a room with cooking space in a classical Tuscan villa. They are inside the villa, but form an indipendent apartment. You can also freely use the garden.
Enjoy the best of Tuscan landscape: the armony of nature and culture. The skyline of Arezzo is the background of this peaceful place, made of olive trees, vineyards and fields. Soundtrack: cypresses in the wind and the swallows whistling.
The village of Ceciliano is small and calm, build on a hill with view on Arezzo and the Appennines. It's a good starting point for hikes on foot or by bike and, of course, to visit the city. There is a food store, which is also pizzeria and restaurant, and in the village at the foot of the hill, Case Nuove di Ceciliano, you can find all other kinds of shops.
Aldo gave us precise information to reach his villa. He and his friends welcomed us very nicely. The villa is superb: immense rooms overlooking Arezzo and a beautiful toscan landscape. This family house and its garden were our best stay in Toscany.
Lionel
2016-07-22T00:00:00Z
Wow. We arrived at a magical place. Amazing Castle that comes straight from history, more the 100 years ago. The furniture, possessions and memorabilia is still there, and everything is clean and well-kept perfectly. Aldo charming and friendly guy who keeps the family estate perfectly good. The room we got was really suite with large bedroom and a Royal bed like in the picture here, kitchenette and a bathroom as part of the suite, all spacious and comfortable. It was so pleasant to be there, we did not want to leave. Aldo provided us with bicycles for a tour in the neighborhood.
iris
2015-06-04T00:00:00Z
it was perfect, a little difficult to find, cause is in the middle of nowhere, but Aldo´s indications were right to arrive. It´s a hidden jewel and at a great QPR. Stylish villa that needs to improve some light in the garden in order to be perfect
alejandro
2015-05-15T00:00:00Z
Encantador lugar, con un gran parque donde poder caminar disfrutando de la quinta, las gallinas y el monte de olivos. Habitación muy cómoda con un espacio extra de comedor y cocina y un cómodo baño.
Francisco
2016-08-02T00:00:00Z
I wasn't staying at Aldo's place myslef, I have booked it for my sister as part of her Italy trip I organised for her and her husband as a present. They both told me they were enchanted by the house and the property. They loved the old feel the house has, the old and stylish furniture, the views from the windows and the friendly atmosphere. They also haven't met Aldo because he was away, but he very smoothly arranged that someone else would welcome them in the house. They would have loved to stay much longer if I hadn't booked another place for them already! Very recommended!
Dorota
2015-08-12T00:00:00Z
Wir haben nach langem Suchen der Unterkunft das Telefon zur Hand genommen und Aldo telefoniert. Er hat uns dann gleich um die Ecke abgeholt. Wir haben ein wunderschönes Haus mit tollem, sauberem Zimmer/Dusche/Kochniesche vorgefunden. Sehr zweckmässig! Der wunderschöne und gepflegte Garten hat uns besonders gefallen mit den Olivenbäumen im unteren Teil. Was wir verbessern würden..., mindestens einen Duschvorhang sollte schon angebracht werden oder besser noch einen Duschwand. Leider mussten wir viel zu früh wieder abreisen. Kommen aber auf jeden Fall wieder zurück und die Empfehlung für die Unterkunft ist bereits von uns weitergegeben.
Irene
2016-05-31T00:00:00Z
Aldo's place is a beautiful, peaceful place to enjoy nature and the beauty of Italy. The room is spacious and the view are breathtaking. Aldo was helpful and was patient with my attempts to speak in Italian, His olive oil from his own olive trees is the best! I would love to return.
Linda
2016-07-09T00:00:00Z
We found the place with Aldo's instructions with no problems. Pity he was not at home, but we met his neighbour Alina and friend Marina, both very nice :) The whole place was just amazing! Paradise! Exactly how you imagine Tuscany in its clasic way. And beautiful view from every window. Thank you, Aldo for everything.
Petra
2015-08-30T00:00:00Z
Huonetyyppi
Yksityinen huone
---
Majoituspaikan tyyppi
Huoneisto
---
Majoittujien määrä
2
---
Makuuhuoneet
Arezzo, Toscana, Italia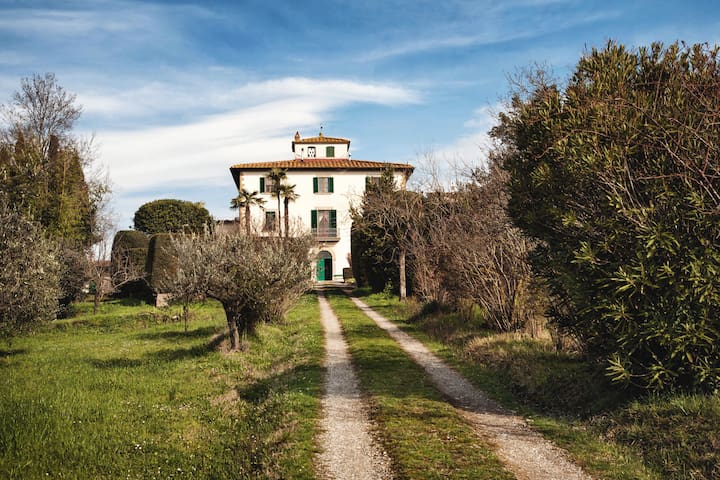 Camera singola o matrimoniale in condominio signorile posto al piano rialzato. L'appartamento è di fronte al Parco Pertini accanto a piazza Giotto. Qui si trovano negozi, bar pasticceria, supermercati. A 5 minuti dal centro e dalla stazione.
La camera è composta da due letti separati oppure uno accoppiato, una scrivania e un armadio è dotata di finestra. Con bagno e doccia condivisi.
L'appartamento si trova in una zona tranquilla e residenziale a pochi passi dal centro cittadino. Si trova vicino ad un bar pasticceria, ad un ottimo ristorante e rosticceria. Nella piazza ci sono due supermercati ed una lavanderia Waterland a gettoni sotto il portico di via Tiziano 52.
Mijn verblijf bij Barbara was zeer aangenaam! mooie kamer, rustige straat. reuring is er op zaterdag tijdens de markt die voor de deur plaatsvindt ;) Barbara zelf was heel behulpzaam. Zo nam ze mee naar een lokaal koffietentje!
Maurits
2016-08-10T00:00:00Z
Everything went great, perfect organisation and very clean. The decoration was not our taste though, a bit austere. But we recomand it anyway.
Thomas
2016-08-19T00:00:00Z
La camera è molto spaziosa, la casa è tenuta bene e pulita. Barbara è stata gentile e disponibile durante il mio soggiorno. Se dovessi tornare ad Arezzo so dove alloggiare:)
Caterina
2017-03-26T00:00:00Z
La casa de Barbara es hermosa. tiene una excelente ubicación dentro de Arezzo y además lugar para dejar el auto. Nos sentimos muy cómodas viviendo en su hogar. Barbara nos hizo sentir como en casa, y nos ayudó en todo lo que necesitamos.
Solange
2016-08-01T00:00:00Z
Hola el lugar es muy chiva, súper cerca de otros lugares que se deben de ir a visitar, como castiglione del lago o cortona, nosotras usamos tren, pero también se puede llegar en bus. Arezzo muy bonito un lugar par relajarse y alejarse de tanto turista.
Raquel
2016-09-24T00:00:00Z
Yes, I felt very welcome. The neighborhood was very safe
James
2016-11-16T00:00:00Z
Barbara is a very friendly and welcoming host. She recommend us some local restaurants and gave us a map of the city. The room is nice and spacious. All the apartment is very clean! It is in a short walking distance to the center. I recommend!
Maria
2016-08-19T00:00:00Z
La descripción es correcta. Todo limpio y amplio.
jalparamio
2016-07-26T00:00:00Z
Huonetyyppi
Yksityinen huone
---
Majoituspaikan tyyppi
Huoneisto
---
Majoittujien määrä
2
---
Makuuhuoneet
Arezzo, Toscana, Italia
Ampio bilocale in palazzo vincolato del XVI secolo in posizione centrale e a pochi passi dai luoghi di maggiore interesse turistico. Parcheggi a pagamento nelle immediate vicinanze e parcheggio libero a 10 min. A breve distanza anche la stazione ferroviaria.
L'appartamento si trova al piano terra ed è composto da un'ampia camera da letto matrimoniale, soggiorno con cucina attrezzata, disimpegno e piccolo bagno con doccia. Nella camera da letto può essere aggiunto a richiesta un letto pieghevole. L'appartamento è stato completamente ristrutturato e dotato di moderni comfort. I pavimenti in cotto originali ed i soffitti decorati sono stati recuperati preservando lo spirito originale della dimora. Una scala interna conduce a due locali seminterrati, anch'essi ristrutturati ma al momento solo parzialmente arredati. L'appartamento non è particolarmente luminoso ma è corredato da un piccolo spazio esterno con sedie e tavolino. L'ingresso principale é in Zona a Traffico Limitato, ma il palazzo ha anche un ingresso posteriore fuori dalla Z.T.L., sempre raggiungibile in auto.
Il palazzo si trova fra piazza della Badia e piazza della S.S Annunziata, in zona tranquilla ma prossima alle vivaci strade dello shopping e dei locali dedicati alle specialità eno-gastronomiche. Molto vicina anche l'area dove si svolge la Fiera Antiquaria (ogni prima domenica del mese ed il sabato che la precede). I principali punti di interesse storico e artistico sono tutti raggiungibili a piedi in pochi minuti.
Elena é stata molto gentile. A causa di un imprevisto abbiamo ritardato rispetto all'orario inizialmente indicato, ma Elena é stata molto flessibile. Ci ha anche dato l'opportunità di ritardare il check-out nel caso ne avessimo avuto bisogno. Pulizia ottima e casa molto ampia! Consiglio questo alloggio!
Alessandra
2016-10-09T00:00:00Z
Elena è stata sempre super disponibile e gentile! Appartamento spazioso e confortevole a due passi dal centro!
Serena
2017-02-06T00:00:00Z
Appartamento ottimo che supera le più ottimistiche previsioni. Host gentilissimo, puntuale e al massimo della disponibilità per qualsiasi necessità. Vivamente consigliato.
flavio
2017-03-06T00:00:00Z
Elena ci ha accolti con calore e simpatia! Ha fornito in anticipo tutti i dettagli per facilitare il nostro arrivo e ci ha indicato il parcheggio più vicino. La casa, restaurata da poco, era dotata di tutto il necessario, c'erano persino i volantini delle mostre e degli eventi di Arezzo! L'appartamento è bellissimo, con affreschi e mobili d'epoca.. ed è a pochi metri dal centro. Ci torneremo!
Nicoletta
2016-08-28T00:00:00Z
Appartamento incantevole ed estremamente pulito,posizionato in un palazzo storico e di gran pregio. Elena si è dimostrata una persona davvero squisita,spero di aver modo di tornare. Consigliatissimo anche per la buona posizione che permette tranquillamente di non spostare l'auto.
Luca
2016-12-10T00:00:00Z
Molto puntuale e precisa. Consigliabile per comodità al centro, facendo attenzione alla ZTL magari!
Maurizio
2016-12-29T00:00:00Z
Massima disponibilità della sig.ra Elena. Appartamento accogliente con tutti i confort,pulito e centralissimo.
Mauro
2017-03-21T00:00:00Z
Het is een verblijf waard! Een heel mooi appartement met een uitstekende ligging t.ov. het centrum. Alles is dichtbij; centrum, winkels, restaurants, bars, etc. Het appartement heeft alles wat je kan wensen. Het is ruim, mooi ingericht, een goede douche/ toilet ruimte. De gastvrouw is geweldig en heeft ons zelfs naar de auto gebracht met de koffers toen we weggingen, De gastvrouw spreekt prima (URL HIDDEN) kunt er prima verblijven met drie personen, het heeft aparte slaapkamers en een aparte keuken/leefruimte. Parkeren kan buiten het stadje op een gratis parkeerplaats. Loopafstand is ongeveer 8 - 10 minuten)
Henk
2017-04-06T00:00:00Z
Huonetyyppi
Koko talo/asunto
---
Majoituspaikan tyyppi
Huoneisto
---
Majoittujien määrä
3
---
Makuuhuoneet
Arezzo, Toscana, Italia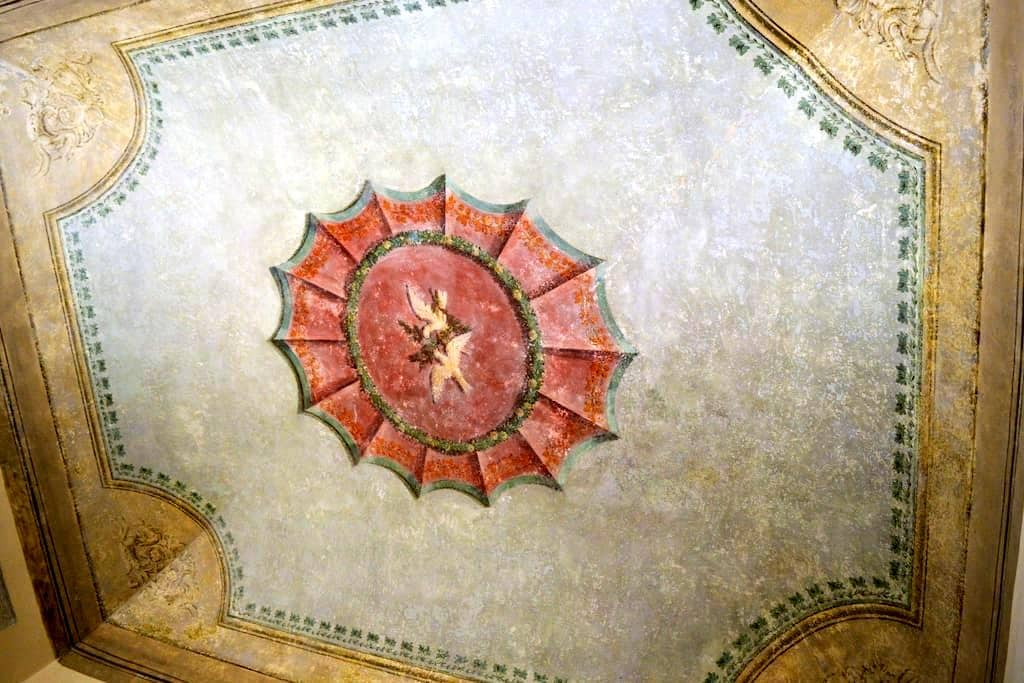 Il nostro NIDO, dove abbiamo trascorso fantastici anni, si trova nel centro storico a metà di Via del Saracino, ed è a vostra disposizione per godervi il centro di Arezzo. A pochi passi dalla Clinica San Giuseppe e dal parcheggio Cadorna.
Our cute flat is right in the city centre! Just halfway Via del Saracino. You will be able to enjoy the city centre both during the day and at night without having the hassle of driving or having to renounce to an extra glass of eccellent wine! ;) You can reach the flat by car only from 12 to 5 pm and from 8pm to 8.30 am and you can park the car only the time to download or unload it during these times. Anyway there are parking facilities in the surrounding area. PARKING FACILITIES: parcheggio Cadorna (free from 8.30 pm to 8.30 am and Sunday -all day- except on the 1st Sunday of the month when the Antiques Fair is held). Parcheggio Cadorna is less than a 3-minute walk from the flat. There is free parking called Parcheggio Pietri a bit further (a 15-minute walk). We will help you find the best parking option the day of your arrival.
There are small food shops in the surrounding area and a market which sells local gorgeous food. There are a lot of restaurants nearby and everything is reachable on foot. Perfect place during the Saracino Joust or the Antiques Fair!
Our host Gaia, Luca and their studio are too good to be true. Don't miss this wonderful ensuit located in the most ancient neighbourhood in Arezzo! A paid car park just nearby, yet Gaia was so nice and took us to another free parking. She is the most passionate and warm host we have ever met, and speaking great English. Her husband Luca knew all the history, festival and artwork about his town. They are both enthuthiastic on traveling and it was a pleasure to hang out with them. Regarding to room, it is much bigger than it looks like on pics, comfortable, very clean and tidy. And there is a WASH MACHINE!!! We really appreciate all their efforts on details, such as toiletries from local organic store rather than a bargain shop, home fragment , refreshment and breakfast. We really feel like staying at home. Make sure you read Gais's book of wisdom, there are everything you need to know about local cousin, restaurant, shop and tourist attraction. The pizza and salami they suggested are amazingly!
ellen
2016-06-09T00:00:00Z
Gaia è stata sicuramente la migliore host che ho mai incontrato! Sin dai primi messaggi è stata di una gentilezza unica. Mi ha dato molto consigli su cosa fare e vedere nei dintorni di Arezzo e quando siamo arrivati in città è venuta a prenderci addirittura al parcheggio. Sempre sorridente e gentilissima ci ha fatto subito sentire ospiti benvoluti. L'appartamento è situato proprio nel centro di Arezzo, vicino alla via pedonale principale ed è comodo, pulitissimo ( molto importante), bello, silenzioso e con diverse cose a disposizione degli ospiti in più rispetto a quelle che ci dovrebbero essere. Ha fatto un quaderno con tutte le informazioni riguardo a dove andare a mangiare, mappe, consigli utili ecc. Dire che gaia è stata gentilissima è dir poco, grazie mille di tutto, se dovessimo tornare da quelle parti sicuramente ci piacerebbe tornare nel tuo caldo e accogliente nido! Consigliatissimo a tutti!!
francesca
2016-11-27T00:00:00Z
Ubicazione centrale, perfetta per visitare Arezzo, Gaia e Luca si sono prestati fin dalla prenotazione per garantirci un soggiorno senza pensieri con indicazioni precise, accoglienza calorosa e puntualità. Una bella esperienza toscana, lo consigliamo e ci torneremo!
leo
2016-10-05T00:00:00Z
La nostra permanenza al "Downtown Nest" è stata semplicemente fantastica! Location in pieno centro storico di Arezzo, a due passi dalla frequentata Piazza S. Francesco, il Corso Italia, il Duomo, il Prato (grande parco dietro al Duomo) e Piazza Grande (dove si svolge il Saracino). Nel cuore anche della Fiera dell'Antiquariato. Quindi per chi voglia visitare Arezzo credo non ci sia posizione migliore per godersi la vita della città, i negozi, i locali, i ristoranti, le mostre e gli eventi! Gaia è una ragazza molto alla mano e solare, è stata disponibilissima (anche per messaggi (SENSITIVE CONTENTS HIDDEN)) per qualsiasi bisogno e consiglio su dove andare a mangiare, o posti da vedere. L'appartamento è un gioiellino, molto silenzioso, anche perché le finestre si affacciano su di un cortile interno e non sulla strada principale. Un posto dove torneremo sicuramente volentieri per la nostra prossima visita nella splendida città di Arezzo :-) Consigliatissimo.
Simone
2016-05-23T00:00:00Z
It was a perfect stay! I spent 4 days with my daughter in Gaia's apartment and we really felt like home. The place is very cosy and clean, we found everything that we might need. The apartment is situated right in the center of the old town, it's quiet and it has its special atmosphere. Gaia is the perfect host! She is very welcoming and friendly! Thank you for everything! I just love all about my stay and hope to come back there soon!
Alena
2017-01-04T00:00:00Z
I had a fabulous stay in Gaia's place. The apartment is really pretty and it has everything you need. It is in the city center, so you can leave your car at the suggested car-park and walk through the city. I didn't meet Gaia, but she was very kind and friendly while we were setting the stay. Luca received us and he was really nice and willing to help us.
Lorenzo
2017-02-04T00:00:00Z
Nel Nido di Gaia ci siamo trovati benissimo...è pulito, accogliente e non manca nulla per vivere dei giorni di relax nel cuore della città di Arezzo... Gaia è una host fantastica, simpatica, disponibile è pronta a risolvere qualsiasi problema possa sorgere! Assolutamente consigliato!
Federica
2016-11-20T00:00:00Z
Il nostro soggiorno da Gaia e Luca è stato davvero positivo: il loro monolocale è completo di tutto ciò che può essere utile, molto pulito e fornito. È situato in posizione centralissima e anche se situato in zona ztl, gli host sono stati così gentili da aiutarci a parcheggiare e hanno persino modificato i loro programmi personali x essere presenti e di aiuto all' arrivo. Tutto è ben organizzato e curato x un soggiorno anche lungo, anche se noi abbiamo pernottato una sola notte. Bellissima l' idea dei libri da scambiare, quando torneremo ad Arezzo faremo sicuramente del loro nido la nostra casa, se ci vorranno! ;-) Grazie di cuore per la calda accoglienza e la disponibilità!
Viviana
2016-08-08T00:00:00Z
Huonetyyppi
Koko talo/asunto
---
Majoituspaikan tyyppi
Loft-asunto
---
Majoittujien määrä
3
---
Makuuhuoneet
Arezzo, Toscana, Italia
One double and one twin bedroom, two bathrooms, live in kitchen and a large living room with armchair, sofa, TV and Wi-Fi. Shops, bars and restaurants nearby. 15 min walk to central Arezzo train station, 20 min to town center. Hospital, University and Congress centre are at just 10 minutes walk. Close to parks and free parking space within the building.
The apartment is extremely bright with a wide view and has shutters on all windows. It is at the second floor of a two storey building with lift and staircase shared with 3 other apartments. Living room Large and bright, with one window and one French window leading to a small balcony. Fitted with one sofa, one armchair, dining table with chairs, writing table and bookshelves. Kitchen Fully equipped with fridge and freezer, electric oven, cooker, dishwasher, kettle, toaster and all essentials. You are also free to use the washing machine, iron and ironing board. Bedrooms Both bedrooms have french windows leading to a wide balcony. There are wardrobes and drawers with plenty of storage space. One of the bedrooms has one double bed and the other has two single beds. Both bedrooms are fitted with and independent air conditioning system. Balcony In the 7 metre wide balcony, facing south, you will find two chairs, one tray table and one deckchair. Bathrooms Both of them with washing basin, bidet, WC and air extractor. One of them is fitted with bath tub and shower. Unlimited WI-FI internet access is available on all rooms, including balconies. There is also an independent heating system with temperature control.
Fabrizio è stato gentilissimo e disponibilissimo, la casa molto accogliente e in ottima posizione. Giudizio ottimo.
Eleonora
2016-07-22T00:00:00Z
Totally brilliant host, understanding and helpful when I needed to cancel one night due to leaving to go to Venice earlier than planned. Lovely lovely apartment, its massive! Super clean, perfect! 5stars! Thankyou Fabrizio!
Cat
2016-05-09T00:00:00Z
Ottimo appartamento, silenzioso, comodo per una famiglia di quattro persone, host gentile.
Filippo
2016-12-29T00:00:00Z
L'appartamento è ben ubicato, molto vicino al centro storico, in un quartiere ben servito da negozi, parcheggi e mezzi pubblici. La casa è accessoriata di ogni confort necessario per un comodo soggiorno in città. Fabrizio è una persona molto simpatica e disponibile, ci siamo trovati molto bene. E' stato un host molto attento nell'accoglienza, ottima la comunicazione.
flo
2016-07-11T00:00:00Z
Casa centrale, confortevole e Fabrizio ottimo host!
Sara
2016-07-16T00:00:00Z
Ottimo appartamento dotato di tutti i comforts, silenzioso e molto luminoso. Sig. Fabrizio gentilissimo Torneremo di sicuro
LORENZO
2016-11-21T00:00:00Z
Der Aufenthalt in Arezzo war toll! Fabrizio war ein sehr hilfsbereiter und netter Gastgeber. Das Apartment war sehr sauber und alles Nötige war vorhanden, wir haben uns sehr wohl gefühlt.
Petra
2016-07-19T00:00:00Z
El piso es igual que las fotos, muy acogedor y cómodo!! Y Fabrizio es muy amable, siempre atento y dispuesto a ayudar con lo que ha podido!! Es un alojamiento que recomiendo al ser una zona también bastante tranquila
Alba
2016-06-22T00:00:00Z
Huonetyyppi
Koko talo/asunto
---
Majoituspaikan tyyppi
Huoneisto
---
Majoittujien määrä
4
---
Makuuhuoneet
Arezzo, Toscana, Italia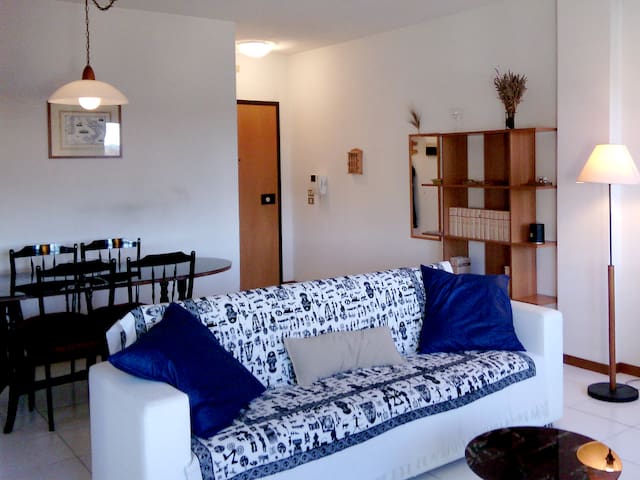 The house is brigth and comfortable, close to the city center and the station Fitted with a terrace, a small veranda and an outdoor garden. You can relax in the living room. Single bedroom available. Look at "host's directions" to found me exactly!
Arezzo is a lovely city in the middle of Tuscany. My appartament is near to the city center and to the station (20 min.wolking); 5min. By bus (n.6 and 4). I have also a bicycle ro rent. There is also free car parking in front of the house. I can host up to one person in a private bedroom. For a second friend asked me if it's possible. My apartment is a little jewel, fitted with a terrace, a small veranda and an outdoor garden. You can also relax in the living room. In my nest you can feel friends of mine. Look at "host's directions" if you want to know where I am !
Arezzo is A VERY BEAUTIFUL CITY, home town of Piero della francesca and Giorgio Vasari, with plenty of nice historic and artistic attractions. The city is quiet but there are frequent music festivals and cultural events. Every month, on the first week-end, in the old town centre is hosted an antiques fair. You can find a lot of good restaurants and very interesting museums. People are friendly, and the wether is fine in every season!! No traffic, no smog. And if you like... Many very elegant shops !! LOOK AT: (URL HIDDEN)
Ho trascorso 3 giorni meravigliosi ad Arezzo grazie anche a Chiara, una ragazza solare e molto disponibile! Mi ha dato anche dei consigli utilissimi! Mi sono sentita proprio a casa! Consiglio vivamente a chiunque voglia passare una o più giornate ad Arezzo, di soggiornare da Chiara.
Albena
2017-03-31T00:00:00Z
Chiara was an amazing and very kind host, I felt as it was my own house. The room and house was super clean. I enjoyed the beautiful garden and terrace . Very warm and welcoming atmosphere. I would 100% stay there again.
Jiand
2017-03-11T00:00:00Z
Camera con tutto il necessario, bagno pulito e ospite gentile. La posizione è leggermente decentrata in una palazzina posizionata in una via laterale. Prezzo rivedibile secondo me
vittorio
2017-04-01T00:00:00Z
Chiara is lovely, and very accommodating -- even though I wasn't staying another night, she allowed me to leave my backpack at the house while I explored Arezzo during the day.
Lachie
2015-08-17T00:00:00Z
Chiara è stata molto puntuale nelle comunicazioni ed è stata disponibile durante il soggiorno. Ho scelto questo alloggio per la vicinanza al centro congressi (a piedi 10'). La camera è essenziale, spaziosa, pulita. Il bagno è luminoso e pulito. La distanza dal centro e dalla stazione è di 25' a piedi o 10' in bus (frequenza ogni 30' ma fino alle h20). Non ho utilizzato il soggiorno e la cucina.
Leonardo
2015-05-30T00:00:00Z
La stanza è ampia e pulita. Vicino alla tangenziale quindi un po' rumorosa bisogna tenere doppia finestra chiusa per il massimo silenzio. 20 minuti a piedi dal Duomo. Chiara è aperta gentile sorridente disponibilissima per me ha organizzato la colazione ideale per il cicloturista... E può dare tantissime informazioni
sergio
2015-06-22T00:00:00Z
chiara è un'ottima ospite, ma soprattutto un'ottima persona con cui condividere dei giorni! la casa è bella è pulita, ben consigliata!!!!!
Elisa
2015-12-12T00:00:00Z
Chiara and her apartament are wonderful! I had a great stay in Arezzo and enjoyed being just a 20 minute walk from the train station, and able to easily visit the surrounding area.
Sophia
2015-07-05T00:00:00Z
Huonetyyppi
Yksityinen huone
---
Majoituspaikan tyyppi
Huoneisto
---
Majoittujien määrä
1
---
Makuuhuoneet
Arezzo, Toscana, Italia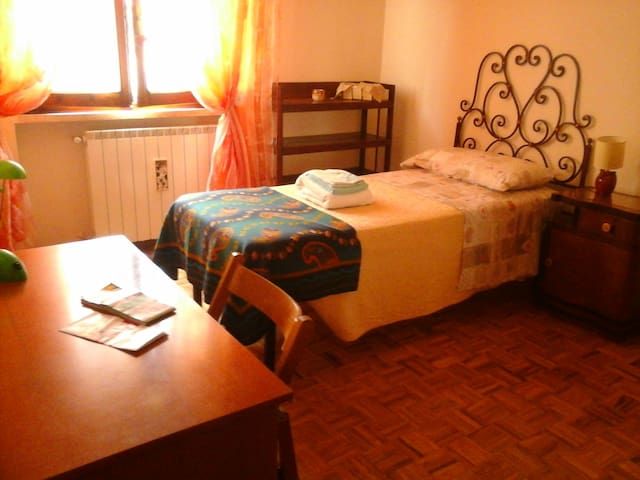 Nelle colline tra Arezzo e Cortona, appartamento in villa moderna con piscina tra gli ulivi. Unico appartamento con piscina in esclusiva - Panorama sulla Valdichiana - Immerso nella natura tra bosco e uliveti. Non isolato - vicinanza ai servizi.
La villa, abitata dai proprietari, è caratterizzata da uno stile moderno con finiture minimal, presenta al suo interno un appartamento di tipo trilocale indipendente ad uso esclusivo degli ospiti, posto al piano rialzato dell'edificio. Si trova in un contesto di campagna e ville private nelle immediate vicinanze della città di Arezzo, incastonata nelle bellissime colline coltivate ad ulivi, con posizione panoramica in direzione della Valdichiana a 300 metri sopra la strada che porta a Cortona (distante solo 15Km). La particolarità di questa casa è la posizione privilegiata in quanto comoda, non isolata ed al contempo riservata ed immersa nella natura; a soli 10Km c'è il bellissimo centro storico della città di Arezzo, mentre in pochissimi minuti a piedi si può raggiungere sia la fermata del bus che porta in centro città, sia il bosco distante solamente 500 metri sopra la casa, percorrendo il sentiero tra gli ulivi subito fuori dal viale di accesso. Per gli appassionati ci sono anche sentieri da percorrere a piedi on in bicicletta. La villa con tanto spazio circostante è immersa nel parco di proprietà di 4000 metri; è posta in un terreno terrazzato tipicamente toscano con molti ulivi, alberi da frutto, prato, terrazze con vista. Al centro del parco c'è una bellissima piscina ad uso esclusivo degli ospiti di 5x10 metri profonda da 1,20 a 2,40 metri. L'appartamento spazioso e accogliente di circa 65mq è stato ristrutturato nel 2014, insieme all'intera casa, ed è adatto ad ospitare comodamente fino a 5 persone, vi si accede con propria scala esterna dal retro della casa ed è così composto: sala da pranzo con cucina completa di elettrodomestici, una camera molto spaziosa con letto matrimoniale più un letto singolo e grande armadio guardaroba, una camera con comodo divano letto matrimoniale, un bagno con grande lavabo e doccia. Tutte le stanze sono molto luminose ed ariose, arredate con uno stile moderno, come il resto della casa. L'appartamento è dotato di tv, wi-fi 24/7, asciugacapelli, forno, microonde, bollitore, macchina caffè americana e macchina espresso. All'esterno si trovano molti spazi attrezzati ad uso esclusivo dove gli ospiti possono rilassarsi e godersi il panorama, cucinare alla griglia nel barbeque, e mangiare in tutta tranquillità nei tavoli esterni o nel grande gazebo allestito nel solarium, tutti con vista sulla Valdichiana.
Natura e bellissimi panorami in ogni stagione dell'anno. Centro commerciale con negozi, banca, farmacia, etc. a 3 minuti di auto. Posizione strategica per visitare i luoghi magici della Toscana e dell'Umbria, nei dintorni raggiungibili in meno di un'ora di auto ci sono luoghi incantevoli, splendide città e borghi medioevali collinari come Cortona ed il lago Trasimeno, Lucignano, Poppi, Anghiari, Citerna, Montepulciano, Pienza, Siena, Firenze, Perugia e tanti altri. Questa è anche la zona dei famosi vini toscani e delle migliori produzioni dell'olio extravergine di oliva, qui si possono fare degustazioni e percorrere le strade del vino "Terre di Arezzo" e del "Vino Nobile di Montepulciano". Nell vicinanze (5 Km circa), da segnalare un importante centro ippico "L'Arezzo Equestrian Center", dove si possono prenotare passeggiare a cavallo.
Wonderfull, peacefull place on a hill between the olive trees. Perfect place to relax, sit by the pool, have a sunset dinner on one of the terasses, read a book in one of the hammocks,... Appartment was everything we could wish for, modern, clean, defenitely spacious enough for 3. Good place for organising trips to Firenze, Siena, Arezzo, Cortona, Lago Trasimeno, Perugia,... The hosts were very friendly and helpfull. They did everything to make us feel welcome and comfortable. We defenitely recommend this place!!
Sien
2015-07-30T00:00:00Z
We had amazing holidays, the appartment is very good, everything looks fantastic and it's very clean. The food is awsome and the owners are very kind!!
Benjamin
2016-08-21T00:00:00Z
Mein Mann und ich hatten wunderschöne 2 Wochen in dieser Unterkunft. Bei der Ankunft wurden wir durch die Familie sehr herzlich begrüßt und willkommen geheißen. Dies hat sich auch in der gesamten restlichen Zeit nicht geändert. Das Apartment ist wunderschön, modern, sauber und perfekt eingerichtet (auch die Küche ist mit sämtlichen Hilfsmitteln zum kochen ausgestattet!). Es hat ganz einfach an nichts gefehlt. Der Außenbereich mit den verschiedenen tollen Sitzmöglichkeiten zum grillen & chillen & sonnen, sowie der großartige Pool zum schwimmen - sind einfach herrlich!!! Eine wunderschöne Aussicht umrandet das gesamte Anwesen, sowie ein toller Olivengarten - einfach wunderbar!!! Wir waren schon sehr oft in Italien in Häusern unterwegs - dieses können wir ohne wen und aber zu 100% weiterempfehlen!!
Manuela
2015-06-13T00:00:00Z
Loved our stay!!! Beautiful home, welcoming and friendly hosts. Kids loved the pool and outdoor veranda.
Andy
2015-06-23T00:00:00Z
A great value and a beautiful apartment with stunning view. Would absolutely recommend this beautiful location.
Christian
2016-09-27T00:00:00Z
Gabriele and his parents are fantastic! The best. They are very friendly and helpful. We stayed with our two kids and we had such a pleasent time. The appartment and also the garden are both top and you will find everything you need. To visit Tuscany, this place is second to none. Sure we will come back. Paul and family
Paul
2016-10-04T00:00:00Z
Nous avons été accueillis avec le sourire et de délicieuses spécialités toscanes. Après les présentations, nous avons visité l'appartement qui était propre et frais, tout nous a été expliqué et montré. Nous nous sommes tout de suite sentis à l'aise.
Séverine
2015-07-17T00:00:00Z
Gabriele è un ragazzo molto disponibile,e così anche i suoi genitori. Ci siamo trovati benissimo,e l'appartamento era molto molto carino,pulito e nuovi!!
Silvia
2015-05-03T00:00:00Z
Huonetyyppi
Koko talo/asunto
---
Majoituspaikan tyyppi
Huoneisto
---
Majoittujien määrä
5
---
Makuuhuoneet
Arezzo, Toscana, Italia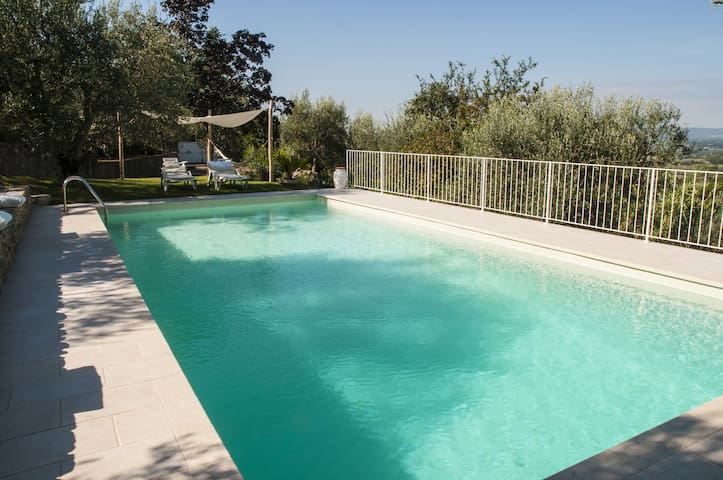 L'appartamento è in pieno centro storico medioevale di Arezzo in un' antica palazzina. A pochi passi ci sono la Pieve, la Basilica di S. Francesco con gli affreschi di Piero della Francesca , la Chiesa di San Domenico con il Crocefisso del Cimabue, il Duomo, la fortezza Medicea, Piazza Grande nonché numerosi negozi per lo shopping. Ogni prima domenica del mese e sabato precedente si svolge la Fiera dell'Antiquariato nella zona tutta attorno alla palazzina.
L'appartamento di 65 mq interamente a disposizione degli ospiti si trova al secondo piano servito da scale ed è composto da camera, bagno e salone con angolo cottura.
Bellissima casa, spaziosa e ben accessoriata. Accoglienza ottima e molta cura anche ai piccoli dettagli! Casa comodissima anche come posizione, nel centro storico di Arezzo, vicino alle più importanti attrazioni della città. Ottimo prezzo date tutte le caratteristiche positive dell'alloggio!
Matteo
2017-04-02T00:00:00Z
Huonetyyppi
Koko talo/asunto
---
Majoituspaikan tyyppi
Huoneisto
---
Majoittujien määrä
3
---
Makuuhuoneet
Arezzo, Toscana, Italia
Located in the historical centre, on the 1400 building, recently renovated, one bedroom apartment of 30 sqm with three beds (1 double bed and 1 sofa bed), kitchen and bathroom with shower, aside laudry with washing(+3dd). Heating, TV, 2 bikes.
The apartment is large (30 sqm) and well furnished, is situated in the heart of the charming town of Arezzo. After an enjoyable visit to historical monuments or a fashionable evening between local people, you can find refuge in a characteristic, but large Studio with a bedroom, sitting area, kitchen and laundry , cradled between the reserved splendor of Piazza Grande, the historicity of the streets of the city centre and the tranquility of the Park of the Fortezza Medicea. NO WIFI Trafic limited Area, you can't come near the studio with car, there are lots of parking lots near the historical centre.(GUEST ACCESS)
We are in the heart of Arezzo and from the windows of the apartment you can see Piazza Grande with the apse of the Pieve (church). Piazza Grande is the place where the Fiera Antiquaria is happened monthly and twice a year is happened the costumed reenactment of the Giostra del Saracino. 500 metres around there are more important monuments of the city, places and locales where the social life and nightlife of the city occurs. Locations made famous by the film, Roberto Benigni's "LA VITA E' BELLA" as the Caffè dei Costanti in Piazza San Francesco and always in Piazza San Francesco the namesake church that houses the famous cycle of frescoes by Piero della Francesca, the LEGGENDA DELLA VERA CROCE (legend of the TRUE CROSS). Proceed in front of the Pieve, a beautiful Romanesque style church, then go up to the Gothic Cathedral, names Duomo for the Arezzo citizens, and then, from the gardens of medieval city walls, ren down in Piazza San Domenico, where, inside the Church, you can admire the crucifix by Cimabue. You can eat in one of the many restaurants, country pubs, trattorias and wine bars that are abundant in the area and finally laying to intence thinks before a nice bottle of Chianti. By now it's late, perhaps 1 o'clock or so, it's time to go on the piazza Grande, sit on the steps of the palazzo della Fraternita, and, under the dim light of the street lamps of the Vasari loggias, passing through in front of the Romanesque apse of the Pieve,set forth apartment, there nearby. NO WIFI
Appartamento perfetto e confortevole. Giulia è stata puntuale e molto gentile. Appartamento e host consigliati!
Claudia
2015-12-22T00:00:00Z
Dear Guilia, thank you for waiting for my arrival and picking me up right on the street. The studio is very nicely located in the middle of the medieval town of Arezzo. The studio is very nicely equiped, the bed is soft and cozy. with its baldachine of a moscito net, I slept like a princess (although I am a prince!). The studio is ideal for two.
Kurt
2015-04-18T00:00:00Z
Giulia was an excellent host and made sure we were well taken care of even though she was not in town, her mother and a friend met us at the apartment with smiles and left us the keys. The apartment is quite tiny but was perfect for us (two friends) - I would not suggest any more than two people or to bring children to this apartment. The location cannot be beat, Piazza Grande is at the end of the street and several delicious restaurants just a stones throw away. The only potential drawbacks are no WIFI and no A/C though these are clearly stated in the description - so if you have data on your phone and are fine with open windows, you should have no problem (to note, the street can be a little noisy on the weekend). This was a lovely apartment and a great stay - thanks Giulia!
Ali
2016-08-08T00:00:00Z
Un lieu exceptionnel au cœur du centre historique, charmant, et romantique. Giulia a été disponible, très accueillante. Le parking gratuit à 15 min est parfait. Une expérience à renouveler et que je conseille à tous
Annelaure
2016-08-13T00:00:00Z
Monolocale caldo e accogliente. Piacevolmente arredato
Andrea
2016-11-20T00:00:00Z
l'appartamento è stupendo e dotato di tutto il necessario. Giulia gentilissima e disponibilissima. straconsigliato!!!
Alberto
2016-11-26T00:00:00Z
L'accoglienza di Giulia è stata perfetta. E' una ragazza molto affabile e disponibile. Ci ha dato anche indicazioni su dove andare a mangiare e cosa vedere. Purtroppo il mio soggiorno è stato troppo breve per godere delle bellezze di Arezzo. Ero lì non per turismo. La casa è carina e ha tutto, anche se molto piccola. Al centro di Arezzo storico, veramente comoda!
Fabiana
2016-07-22T00:00:00Z
L'alloggio è veramente carino e accogliente. Perfetto per una coppia in un week end romantico. Noi ci siamo stati a capodanno ed è stato veramente comodo e tranquillo. Giulia è un'ospite precisa e molto disponibile. Assolutamente consigliato.
Martina
2017-01-01T00:00:00Z
Huonetyyppi
Koko talo/asunto
---
Majoituspaikan tyyppi
Loft-asunto
---
Majoittujien määrä
3
---
Makuuhuoneet
Arezzo, Toscana, Italia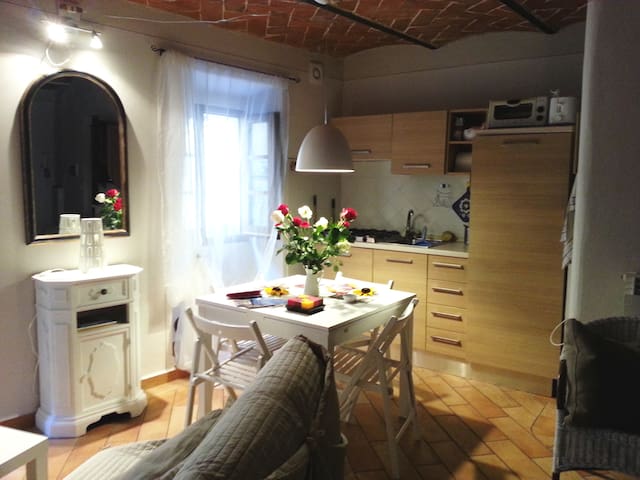 Il mio alloggio è situato nel centro storico di Arezzo in una graziosa palazzina dell'800. L'ampia camera con letto matrimoniale è dotata di bagno privato e ingresso indipendente, per garantire la privacy degli ospiti. Particolarmente adatta per turisti che vogliono godersi una vacanza nella provincia Toscana e per chi viaggia per lavoro. Basta uscire per respirare l'atmosfera dell'Arezzo di Vasari e di Piero della Francesca.
La stanza è riservata e con accesso indipendente per permettere agli ospiti un'autonomia totale. La stanza si affaccia su una piccola strada con vista sui tetti del centro. Ha un carattere tradizionale, in stile toscano, ma l'intero appartamente è stato recentemente ristrutturato. Il bagno è dotato servizi e di un'ampia doccia.
L'alloggio è situato nel quartiere di Porta Crucifera, cuore storico della città, nel quale si trovano anche Piazza Grande e la Pieve romanica. Tutta la zona è caratterizzata da edifici medioevali e dell'800, le palazzine sono piccole e circondate da giardini nascosti.
Although new to airbnb, Benedetta is a natural host--she is warm, gracious, and kind. The room is absolutely lovely--it is actually nicer than in the pictures. Everything is new, fresh, and thoughtful. The bed is verrrry comfortable--something always welcomed by a tired traveler! The apartment is located in the historic district of the city, and the view out the windows transports you to another time. Out the front door are several great restaurants. In fact, the most highly rated restaurant in Arezzo, Bistrot31, is in the same block as the apartment Down a very short hill and you are in lively Piazza Sant' Agostino, with cafes, restaurants, and shops. For a very inexpensive meal, try Mr. Brusco. Yum! Parking is a little difficult, so be prepared to park a 10-minute walk away if you bring a car. Thank you Benedetta for a lovely stay!
Mary
2017-01-06T00:00:00Z
Due notti comode comode in una cittadina fantastica! Stanza pulita e accogliente e completa di tutto.
Elias
2016-12-30T00:00:00Z
Un posto perfetto per un soggiorno a Arezzo, comodo e accogliente. Benedetta è molto simpatica e ha fatto tutto per sentirci veramente bene. Highly recommended !
Marie
2016-12-27T00:00:00Z
Benedetta è stata molto carina e disponibile. La stanza era grande, pulita e confortevole, così come il bagno privato. Posizione molto centrale.
Cristina
2017-01-15T00:00:00Z
Huonetyyppi
Yksityinen huone
---
Majoituspaikan tyyppi
Huoneisto
---
Majoittujien määrä
2
---
Makuuhuoneet
Arezzo, Toscana, Italia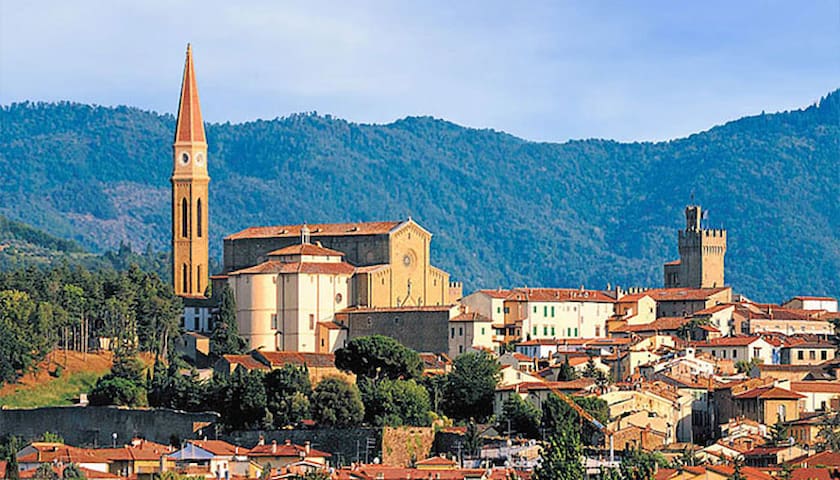 The apartment is small but comfortable and centrally located: you can walk to the main monuments and train station from which you can comfortably reach Siena, Florence, Perugia and Rome. it's equipped with wifi, washing machine and dishwasher.
1 bedroom (2 single bed), 1 bathroom, 1 kitchen
Quartiere medioevale, la casa si trova a pochi passi dalla bellissima Piazza Grande e dai principali monumenti cittadini. Ogni prima domenica del mese e il sabato precedente si svolge la Fiera Antiquaria.
Paola è stata molto gentile e disponibile. La casa è magnifica, accogliente e centralissima!! Ci tornerò sicuramente!
Sabrina
2017-01-01T00:00:00Z
We really enjoyed our stay in Arezzo, Thanks to Paola and her nice apartment and wonderful hospitality. The apartment is very nice and convenient to the major attractions, restaurants and shopping. Paola met us at the train statin and was very helpful in making suggestions and tips on Arezzo. She even called her personal Dentist to arrange a quick emergency appointment! That is great hospitality and caring!!! Many Thanks!
Jeff
2015-10-27T00:00:00Z
Ci siamo davvero trovati benissimo. Paola è stata molto gentile fornendoci tutti i chiarimenti ai nostri dubbi. L'appartamento è molto vicino al centro e la posizione è davvero ideale per vedere la città. Appartamento ideale per una coppia in una via tranquilla. Lo consiglierò sicuramente
Mirko
2015-01-03T00:00:00Z
Grazie a Paola per l'accoglienza e la possibilità di vivere la storia in pieno comfort. La casa è accogliente, e dotata di tutte le comodità compresa la lavatrice, indispensabile per chi viaggia tanto. Paola è molto disponibile e gentile. Ritornerei ancora!
Maria
2016-11-09T00:00:00Z
Amo Arezzo ci vengo per lavoro da 15 anni è una città che ho nel cuore , voglio dire che L appartamento di Paola non è bello ma spettacolare pulito nel centro attaccato al mio ristorante preferito( L Agania ) e lei è stata super gentile e cortese lo raccomando
gabriele
2016-10-17T00:00:00Z
Paola met us from the station with her car which was very helpful. She made us very welcome with a map showing good places to eat and visit. The situation of the flat was excellent in the heart of old Arezzo. The flat was a spacious, medieval building which was a good base to explore Arezzo.
Mike
2015-10-16T00:00:00Z
great place!!! beautifull apartment!!! I would go back there for sure! Thank You Paola!
Joseph
2016-06-09T00:00:00Z
I loved Arezzo and loved staying in Paola's apartment! The location is great...on a quiet street, but close to Piazza Grande, Corso Italia, etc. Paola was very responsive with communication and even picked me up from the train station. I had trouble with the key at one point, and Paola was there in a few minutes to help...Grazie, Paola! I will definitely come back to Arezzo and would love to stay at Paola's place again:)
Stefanie
2016-08-16T00:00:00Z
Huonetyyppi
Koko talo/asunto
---
Majoituspaikan tyyppi
Huoneisto
---
Majoittujien määrä
2
---
Makuuhuoneet
Arezzo, Toscana, Italia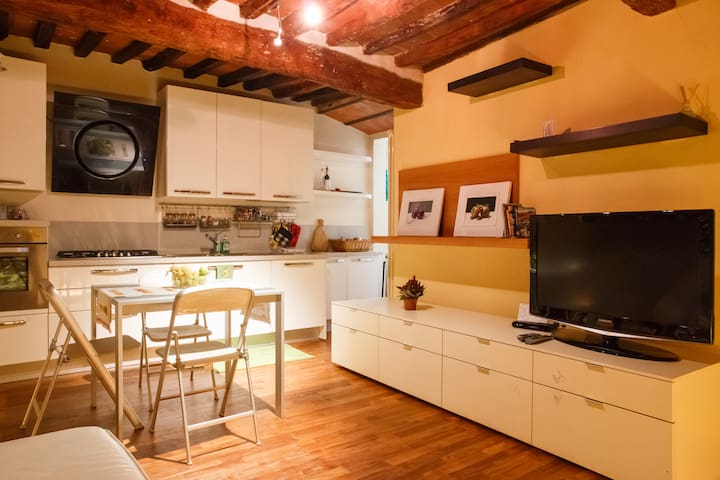 Small renovated house in Bagnoro (2km from historical centre) that can easily accommodate 2 people. Quiet and nice place, located adjacent to Arezzo in the near countryside. 10 minutes biking from the historical center.
The house is part of a small village, in the countryside. 5-minute walk from the Romanesque church of Bagnoro.
It's nearest countrsyde to the town of Arezzo (2km from the historical center). It's quiet in the evening and you can breathe fresh air!
Cantuccio Bagnoro is perfectly situated for exploring Tuscany and Umbria. We spent one week there, enjoying Enzo and Laura's great hospitality and many recommendations for trips in the area. The apartment is well equipped – even a washing machine. And you'll find groceries and also an excellent butcher in Bagnoro, just 500 meters away.
Mikkel
2014-10-19T00:00:00Z
Enzo is a wonderful host. He communicated well and was right outside when we arrived at the apartment. It is a bit outside of Arezzo, which is very convenient if you have a car. He also has nice bicycles for riding into town. The apartment is very cosy, clean and quiet. We enjoyed our short (2 night) stay there. There is so much to do in and around Arezzo, we would stay longer next time. The pizza place near the apartment is fantastic. We would highly recommend Enzo's AirBnB.
Bob & Martha
2016-10-16T00:00:00Z
We had such a lovely time staying with Enzo. The flat was a welcome treat from staying in singular hotel rooms - it felt like a mini house, huge rooms and a staircase separating upstairs and downstairs (a novelty for us flat-dwellers!) He went out of his way to make our experience in Italy one-of-a-kind, which included a trip to a nearby Olive Oil factory and a bottle of local Chianti in the apartment on arrival. A lovely setting and great place to be based if you plan on visiting Arezzo - a 5 min cycle straight down the road, but in a lovely, quiet, rural location.
Amy
2014-10-07T00:00:00Z
I think it couldn't be better
Fuchs
2014-09-11T00:00:00Z
We were in Arezzo for the antique market. We absolutely enjoyed our stay in Enzo's place. He is a wonderful host and the home is exactly as pictured. It is in a very nice and quiet location. You can reach Arezzo in about a ten minute drive. We will definitely be staying here again when we return to Arezzo next.
Melissa
2016-05-02T00:00:00Z
I miei genitori sono tornati molto soddisfatti dalla vacanza. Il Sig. Enzo e tutta la sua famiglia sono molto cordiali, disponibili e discreti. La casa è come dalle foto, bella, ampia e pulita. La posizione è ottima e di una tranquillità assoluta! Si consiglia!
Annalisa
2014-09-29T00:00:00Z
The perfect place to stay near Arezzo! We spent two and half weeks in Enzo's apartment. It is a beautiful and peaceful place to stay. There is a big bedroom & bathroom and a nice kitchen. You can enjoy your coffee or a glass of wine on the patio or in the garden. The house has everything you need. Enzo provides bikes too. It is really nice to bike around the area and you can easily reach the city center of Arezzo. We really enjoyed visiting Arezzo. It is a beautiful city. You can also drive a little to discover stunning cities and landscapes in Castiglion Fiorentino, Anghiari and farther off in Pienza & Monticchiello. Enzo and his wife and delightful, very warm and welcoming. They love to share their passion for Tuscany. We highly recommend this place, you will enjoy it for sure!
David
2014-08-26T00:00:00Z
Our stay at Enzo's house was amazing, we absolutely enjoyed it. The bedroom was beautiful and the bathroom was huge. The location is great, and Arezzo is easily reachable by bike from here. Enzo and his wife were incredibly welcoming and helpful, would definitely recommend this place to anyone. Siamo stati benissimo qui. La posizione e' ottima, in una località' tranquilla, e Arezzo e' facilmente raggiungibile in bici da qui. Enzo e sua moglie sono stati incredibilmente accoglienti e disponibili per darci informazioni. Consiglierei a chiunque questo appartamentino!
Gioia
2014-07-27T00:00:00Z
Huonetyyppi
Koko talo/asunto
---
Majoituspaikan tyyppi
Talo
---
Majoittujien määrä
2
---
Makuuhuoneet
Arezzo, AR, Italia
A charming bright studio located in a quiet street in the center of the medioeval town of Arezzo. The apartment has a private entrance, an huge terrace where you can eat under the stars and faces a quiet pretty garden.
A charming bright studio with private terrace located in the center of the medioeval town of Arezzo. The apartment has a private entrance, a huge terrace (270 square feet) where you can eat under the stars and faces a quiet public garden. This loft offers an open kitchen, two very confortable sofa beds, a bathroom with shower. Baby crib is available upon request. The apartment is equipped with air conditioning, TV, stereo, safe, kettle, toaster, microwave, dishwasher, an ice machine and hair-dryer. Linens, blankets and towels are provided. If you have a car we have teamed up with a private garage just few steps away or you can find free parking within a 10 minutes walk. Location is perfect since you have everything you may need within walking distance... groceries, restaurants, bars, shops, post office, banks! Very close to Piazza Sant'Agostino and Piazza San Francesco and a short walk to the train station, from where you can easly go to Florence, Cortona, Siena, Perugia, Assisi ... a great location to explore Tuscany, Umbria and the center of Italy. Arezzo is a lovely and authentic town, still away from the touristic crowds and is the perfect starting point to explore the major cities of center of Italy. On the first weekend of every month Arezzo hosts the "Fiera antiquaria", an antique fair with exhibitors all over the streets of the old part of the city. Even if you are not in the mood to buy is pretty nice to take a walk there since is the major fair of Italy. Moreover in June and September in Arezzo is held the "Giostra del Saracino" an historical revocation of an ancient game of chivalry. You may like to see the game or you can just enjoy the parade of the cavaliers with antique dresses that walk through the city. Check-in and check-out are flexible and they can be arranged case by case. If you have any questions or you'd like any suggestions I am happy to help you, just shoot me a message. I hope you will love it! Paola
Bella e originale la casa, da cui si possono facilmente raggiungere i luoghi storici e caratteristici di Arezzo. Ospitalità impeccabile.
Giorgio
2015-12-09T00:00:00Z
Estadia fantástica num apartamento de sonho. Tudo bonito e muito funcional. No centro de Arezzo perto de tudo e a melhor opção para se visitar a Toscana. Muito fácil para se estacionar o carro perto. Vou voltar concerteza.
Paulo
2016-09-13T00:00:00Z
Paola è stata sin dal primo contatto gentilissima e disponibile. Il suo appartamento è delizioso! Corrisponde perfettamente alle immagini pubblicate ed è tenuto in perfette condizioni: pulito, ordinato, con tutto ciò di cui si può aver bisogno durante un soggiorno. Cucina funzionale, buona musica a disposizione e un impianto di condizionamento efficiente! Un valore aggiunto è rappresentato sicuramente dalla terrazza, dove è possibile godersi un momento di relax in qualunque momento della giornata. Il quartiere è tranquillo e si trova a due passi dal corso, la via è poco trafficata e molto silenziosa. Insomma, un'autentica scoperta. Felicissima di aver conosciuto Paola e il suo appartamento!
Francesca
2015-09-01T00:00:00Z
Paola's studio was perfect place to stay in Arezzo. It's located not so far from train and bus station. Lesser than 10mins by feet. Peaceful and cozy place. More beautiful than picture. I hope to go there! Grazie Paola!
JeongRan
2014-06-04T00:00:00Z
I cannot recommend this place highly enough. It's indeed sunny, beautifully decorated, and truly comfortablE. It does have AC as advertised, and it even has an effectively flushing toilet (which is something of a rarity in Italy). It's also very very clean.The deck in front of the house is cool. It overlooks a little city park and it's a great place to have a drink at sunset. Paola and her father were very attentive and responsive. This is a really good deal. In Florence it would be twice the price, if you could find it.
D
2015-06-23T00:00:00Z
Appartamento curato nei minimi dettagli, silenzioso, luminoso e arredato con gusto. Il tutto concentrato intelligentemente in pochi metri quadri. Ma non sembra. Bottiglia di vino toscano a dare in benvenuto e da sorseggiare nel tranquillo terrazzo. Paola e la sua mamma, estremamente disponibili, hanno fatto di tutto per farci stare a nostro agio. Un grazie particolare per la Bici che ha reso la permanenza ad Arezzo ancora più dinamica e piacevole. Posizione perfetta. Una chicca: il kit da barman con libro dei cocktails e la macchinetta del ghiaccio. Ci torneremo!
Salvo
2015-04-18T00:00:00Z
The apartment is situated in a nice quiet street in Arezzo. We arrived very late at night and yet Paola was still able to accomodate us picking up the keys. The apartment itself was really nice - I would certainly stay there again
Paul
2015-09-12T00:00:00Z
Un piccolo loft newyorkese in pieno centro storico! Piano terra, molto pulito e molto ben equipaggiato (pentole, lavapiatti, etc). Non abbiamo incontrato Paola ma sua madre è stata gentile. Terrazzo molto carino e casa silenziosissima. Ottimo soggiorno.
Alice
2015-01-01T00:00:00Z
Huonetyyppi
Koko talo/asunto
---
Majoituspaikan tyyppi
Huoneisto
---
Majoittujien määrä
2
---
Makuuhuoneet
Arezzo, Toscana, Italia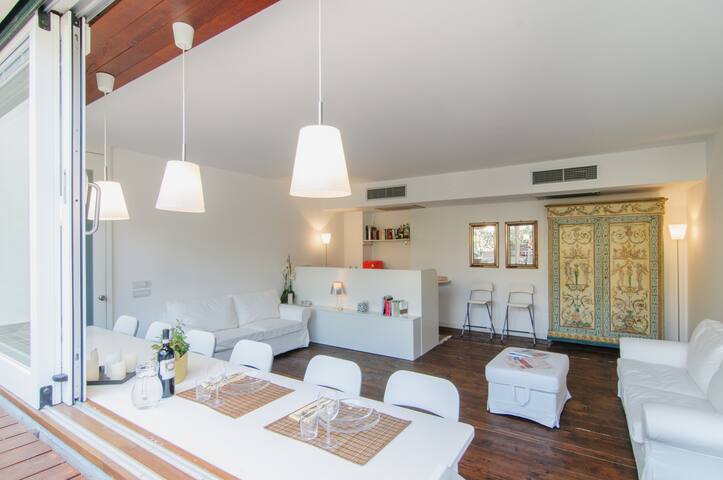 Comfortable and cosy apartment light and central walking distance from the centre in a quiet area opposite a park well equipped recently renovated kitchen and bathroom lift and covered parking space. Plasma 50' tv, wi-fi, stereo, latex mattress .
~ SHARED HOUSE ~ COMFORTABLE ♡ ROOM in a QUIET and COZY APARTMENT LIGHT and AIRY EASY WALKING DISTANCE from the CENTRE in a quiet area opposite a beautiful PARK Well-equipped recently renovated kitchen and bathroom Lift TV plasma 50' stereo FREE PARKING covered space FREE WIFI-4G ( please limited downloads ) Bikes available The apartment IS NOT ' a HOTEL NOT a B & B, but' the apartment where I live Please note ... You' ll be sharing the space with me and my friendly cat :) If it is' possible for me I CAN PICK UP YOU at the train STATION by my car ( without additional costs ) Anyway ... Thank to be here ~~~~~~~~~~~~~~~~~~~ CASA CONDIVISA L' appartamento gode di una LUCE MERAVIGLIOSA Svegliarsi al mattino con un buon CAFFE' e con il SOLE che penetra nella stanza sara' piacevole La stanza dispone di letto ad una piazza e mezzo armadio tavolino libreria comodino L'appartamento NON E' UN HOTEL NE' UN B&B, ma e' l' appartamento dove io vivo L' ambiente e' AMICHEVOLE, la zona e' TRANQUILLA e SILENZIOSA Dal balcone, si possono vedere i CAMPANILI e le TORRI dell' Arezzo vecchia TUTTI I LUOGHI da visitare sono raggiungibili a piedi IN POCHI MINUTI Centro commerciale e negozi sotto-casa CENTRO CONVEGNI, meglio conosciuto come CENTRAFFARI, e' ben collegato dal bus con l' auto sono 5 minuti Per percorsi piu' lunghi e/o per la citta' vecchia fermata del bus ( LANCETTA ) davanti al portone di casa ogni 20 minuti Nell' appartamento ci sono VARIE tipologie di camere I servizi sono adiacenti alla camera Recentemente ristrutturati con la cucina L' uso della CUCINA e' senza vincoli di orari, in spazi CONDIVISIBILI con la sala ed i balconi Se volete e se arrivate in treno compatibilmente con i miei impegni POSSO venire a PRENDERVI alla STAZIONE con l' auto Senza costi aggiuntivi Included : FREE PARKING Covered sotto-casa WIFI-4G (limited downloads) TV Plasma 50", e ... tutte le comodita' di un appartamento moderno. Biciclette disponibili COME and ENJOY ♡ AREZZO Spero che vi piaccia alloggiare da me :) Perche' . . .. LA VITA ad Arezzo E' ♡ BELLA !!
~ In posizione CENTRALE e TRANQUILLA Situato davanti al più grande parco cittadino, dove potete alternare momenti culturali unici, a momenti di totale quiete e relax In pochi minuti a piedi tagliando dal parco, si arriva nel centro della citta' Se desiderate potete passeggiare sin su' , tra le strade e stradine dove si e' svolto, parte del set " La vita e' bella " di R. Benigni, vincitore dell'Oscar. Parte di questa vincita, e' dovuta alla meravigliosa scenografia del posto E .. Giusto qui ... dove la storia incontra la vita mondana, vi potete soffermare per una sosta ... Nell' happy hours in uno dei tanti bar, o tipiche fiaschetterie Sorseggiando un buon bicchiere di chianti e .. Scranocchiando qualcosa scelto a buffet ... Tra la tanta gente che affolla il posto nell'ora... Ma se non gradite fare camminate di fronte al portone di casa, e' situata la fermata del bus ( Lancetta ), che collega Arezzo alta ... La vecchia citta', alla periferia della citta' ed oltre .. fino ai paesi storici della provincia. Provincia strategica, questa nel cuore della Toscana, a meta' strada tra i 2 mari, il mar Adriatico ad est, ed il mar Tirrenio ad ovest. Raggiungibili in h 1- 1.30 con l' auto, un po' di piu' con il treno. Citta' ben posizionata e' ben collegata dalla rete autostradale o dalla linea ferroviaria. In poco tempo si raggiunge le migliori localita' turistiche : ~ Firenze Perugia, Assisi o Siena e Roma, il lago Trasimeno o le Terme di Rapolano E ... Da non perdere, per ricordare ... Le 4 vallate che circondano la città, inclusa la Valle d'Arno ed il Casentino con le sue foreste secolari In ognuna di queste vallate come gemme ... piccoli paesi medievali ~ Anghiari Sansepolcro Cortona Lucignano solo alcuni ma ... Tanti altri sono in TERRA MIA Da casa ... sono partita e mi sono spinta a raggio nei dintorni, ed oltre .. ma l'esperienza diretta e' sempre, la miglior cosa :) COME and ... ENJOY AREZZO Spero vi piaccia ~~~~~~~~~~~~~~~~~~~~~~~
Luisa is very welcoming person and nice woman. I enjoyed my time in Arezzo. I recommend this accommodation. Home was colourful and beautiful. Wi-Fi is not unlimitness and it almost ended, but I heard that in Italy is normal. Luisa is very helpful to tell how to find everything in Arezzo and what events there are.
Tiia
2016-03-08T00:00:00Z
MariaLuisa è stata un host perfetto. Gentile, premurosa e discreta ha sopportato la mia presenza quasi costante in casa per tre giorni e mi ha fatto compagnia nei pasti, consigliandomi su dove andare e prestandomi la cartina della città. La stanza è silenziosa e curata, la casa a pochi passi dal centro. La consiglio a tutti per una permanenza serena ad Arezzo!
Davide
2016-05-13T00:00:00Z
Marialuisa è molto ospitale e cordiale. L'appartamento è vicinissimo al centro e molto comodo per visitare Arezzo. La consiglio vivamente :)
Davide
2016-08-25T00:00:00Z
It was really great experience, Luisa is truly perfect and wonderful host! She proposed assistance with my luggage before I've arrived, and I even get a nice breakfast and real italian tiramisu! The room was quite nice and clean, and home is only 10 minutes walk from railway station, near the park. Luisa have a few nice cats, but seems they are little bit shy and tried to hide from me. I would 100% recommended Luisa to any who want to stay in Arezzo for business or travel!!
Aleksey
2015-03-04T00:00:00Z
Ho soggiornato da Marialuisa per ben sei giorni e mi sono trovata super-bene! La casa è a due passi dal centro, ha dinanzi un gradevolissimo parco ed è a pochi minuti dalla stazione. Marialuisa si è prodigata molto per me: mi è venuta a prendere alla stazione, interrompendo un corso che stava seguendo, e mi ha riaccompagnato alla partenza. E' una donna energica, molto gentile e generosa. In casa ci sono tre innocui gattoni, molto teneri. Consiglio a tutti il soggiorno nella casa al parco... io ci tornerò :) :) :)
Ilaria
2015-03-29T00:00:00Z
This place is amazing! I was surprise to see her house. So clean. I couldn't even make any spot on it. Also interior is nicer and spacious than pictures. I really liked the place and Maria. She picked up me from and to station. It was really thankful cuz I had a heavy luggage. And when i was late for train she drove to the stations in 3min. The place is close to station and I could walk around the whole town. She is so nice we talked about this and that while she made me a coffee and chocolate pudding, which was nice. For me, it was one of the best experiences with her warm welcoming and concern and lovely cats, little birds ;)
Sol
2016-10-09T00:00:00Z
Luisa was a wonderful host! I had a hard day that day as my luggage had been stolen from me in Napoli that morning. She was so kind to pick me up from the train station and open her home to me. The breakfast in the morning was delicious and healthy as well. Freshly made juice and scrambled eggs! She even helped me clean my shoes. Highly recommended. Thank you!!
Cameo
2016-05-11T00:00:00Z
Marialuisa è una persona squisita, attenta ai particolari e sempre pronta a metterti a tuo agio. La casa è carina, la posizione è strategica. A 5 minuti a piedi dal centro storico ma con ampia possibilità di parcheggio. Consigliato a tutti !
Francesco
2015-12-18T00:00:00Z
Huonetyyppi
Yksityinen huone
---
Majoituspaikan tyyppi
Huoneisto
---
Majoittujien määrä
1
---
Makuuhuoneet
Arezzo, Toscana, Italia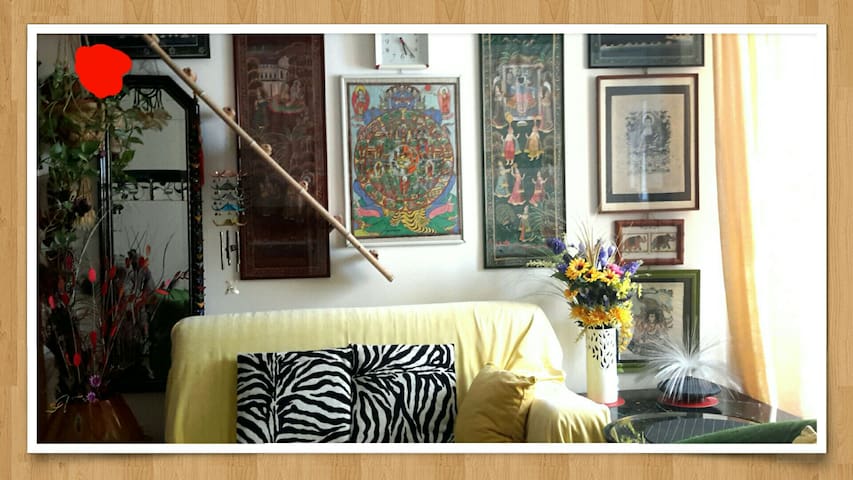 Our "Rifugio Pomaio" is surrounded by the Tuscan countryside, only 15 minutes far from Arezzo, and less than 1 hour from the most important Tuscan cities. It can comfortably host up to 3 people. A wide green area outside, and a unique view!
It's a two-room apartment divided into two flats. It's located on a hill. The dining room has a fireplace and a little kitchen area. On second floor there's the bedroom with a queen bed and a single bed, and the bathroom with a shower. Outside, there's a wood-oven, paths, woods, olive trees...
Only for those who want to escape from the city and live a relaxing experience nestled in the nature.
Our week at Giovanni's was incredible. We enjoyed the peace and quiet. Had lots of fun at the jousting tournament in arezzo. All the other suggestions Giovanni gave us were superb. The tiramisu was delicious as well as the wine which we bought some more of on our way out of town.
Jeanine
2016-09-01T00:00:00Z
We arrived - we are sorry, late in the evening, but Giovanni found us somewhere in Arezzo and guided us in the dark up to the place. We were welcomed kindly and got all the information - and a cake and wine too! The view (saw it in the morning) is breathtaking, could hardly get away on tour! It was clean and decent. Kitchen very small, and bathroom also, but it works OK. One thing we noticed: The cooking would have been easier with 1 or 2 pots more, and may be a whisk! We felt us really welcomed and taken care of. Thank you for your kindness in every way. Tinna and Boerge - Copenhagen -Denmark.
Børge
2014-09-09T00:00:00Z
Der Ort und das Haus von Giovanni waren genau was ich gesucht habe. Obwohl ich spontan verreist bin ist alles hervorragend gewesen. Giovanni hat mich von Arezzo aus bis zum Haus begleitet, da es abgelegen liegt. Auch ein herrlicher Kuchen hat auf mich gewartet ;-) Ein tolles Frühstück am Kamin und ein unvergesslicher erster Eindruck. Vom herzlichen Empfang bis hin dazu dass der Gastgeber immer ein offenes Ohr für Fragen hat war alles bestens. Definitiv werde ich meinen Freundin davon nur Gutes berichten.
Peter
2015-01-26T00:00:00Z
Giovanni è stato molto accogliente e gentile, torta e vino al nostro arrivo! E la casa lo è stata ancor di più. Caminetto (fondamentale), vista incredibile su tutta la valle, campi di ulivi. Insomma proprio un bel posticino, piccolo e ben curato. Lo consiglio assolutamente!
alexia
2016-05-02T00:00:00Z
We hebben drie echt hele fijne dagen / nachten doorgebracht in deze bijzondere locatie. Echt een toscaans huis/omgeving. Het uitzicht is zoals de foto's op de site aangeven. Het betreft een woning in een groter gebouw, waar kennelijk zijn moeder opgegroeid is. Beneden woonkamer met openhaard (hout beschikbaar en wel nodig bij koelere avonden) en keukentje en boven slaapkamer met badkamer en wc. Alles eenvoudig, maar dat hoort bij de omgeving. Wij hebben echt van de sfeer en ambiance genoten. We werden hartelijk opgevangen met eigen wijn en zelfgemaakte appeltaart, waarvan we drie dagen gegeten hebben. Als je rust zoekt dan ben je hier op de juiste plaats. Zorg dat je in Arezzo genoeg boodschappen gedaan hebt, want er is geen winkel dichtbij !! (Ong. 15 minuten rijden met de auto) De weg naar de locatie is onvindbaar met GPS(laatste stuk onverharde weg), daarom heeft Giovanni ons de eerste avond voorgereden vanuit Arezzo. Heel attent, vooral omdat we nogal laat aankwamen. Middels sms konden we e.e.a afspreken. Kortom : voor ons zeer geslaagd en voldeed echt aan onze verwachtingen.
Erna
2016-05-09T00:00:00Z
This setting was extremely beautiful, and we probably would not have come across it if it wasn't for Airbnb. It is hidden a bit outside of the city of Arezzo. My friend and I arrived quite late, but Giovanni was an amazing host and met us to show us the way to this off-the-grid-ey home. It is extremely cozy and has the best views of Tuscany. We drove around outside of town quite a bit and did not find anything quite like this. What a pleasure! Will definitely be coming back.
Laura
2015-08-07T00:00:00Z
Merci à Elisa pour son accueil, sa tarte et sa jolie petite maison! Les accros au luxe passez votre chemin! On parle d'une toute petite maison, avec l'essentiel, des lits confortables et surtout le calme et un très jolie vue! On a vraiment aimé! Peu importe les chaises de camping, nous ce qu'on a retenu c'est l'authenticité, les sangliers au bout du chemin, les voisins sympas (même s'ils font de temps en temps quelques travaux), la vue sur Arezzo, les odeurs. Une très belle découverte!
Vincent
2014-08-10T00:00:00Z
we had a beautiful journey in the tuscany. and giovanni's rustico and nice place in the mountains behind arezzo was one part of that. thanks for all!
Stephan
2015-08-21T00:00:00Z
Huonetyyppi
Koko talo/asunto
---
Majoituspaikan tyyppi
Talo
---
Majoittujien määrä
3
---
Makuuhuoneet
Arezzo, Toscana, Italia