4 vuokrattavaa huoneistoa
I am new here,so I will send you a big offer. Thank you.
Huonetyyppi
Yksityinen huone
---
Majoituspaikan tyyppi
Huoneisto
---
Majoittujien määrä
4
---
Makuuhuoneet
Ugao-Miraballes, Euskadi, Espanja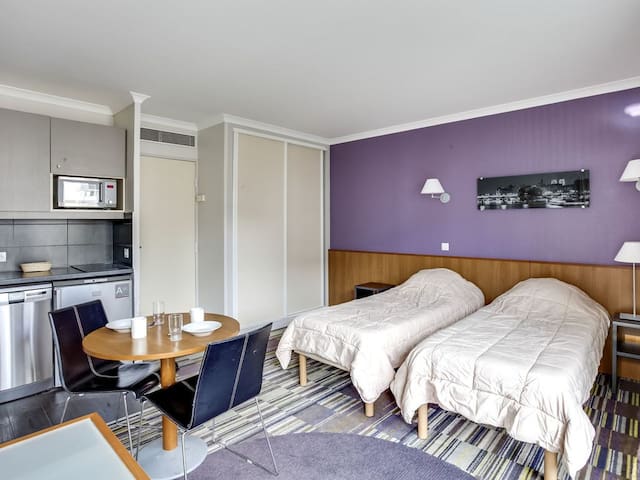 Forget the car problems ( pollution, congestion , expensive parking, ... ) in the city . This accommodation is just 13 minutes by train (every 10 min , 1.06 € / trip) from the very center of Bilbao.
An attic in which up to 4 people comfortably accommodated. Very airy and bright, with velux windows in all rooms. The complex has free on site parking, supermarket and public sports center with swimming pool. To make your stay more comfortable and enjoyable: ethanol fireplace (smoke), espresso machine, android tv, food processor, all music with spotify account and tablet bluetooth wireless speaker for smartphone / tablet, robot vacuum cleaner, weather station , shower column, ...
Quiet and peaceful . Green areas . A 10 minute walk you can stroll through a forest and lake . ( Look at pictures) . In half an hour walk uphill you reach the main hill of Bilbao ( Pagasarri 671 m . Altitude ) and its great views and nature walks .
Hôtes trés accueillant, sympathique et tres arrangeant. L'appartement est à 10 min en train du centre, tres pratique, il y en a un toutes les 10 mins, et toutes les 20 mins le dimanche. Appartement tres propre, aucun souci.
Dimitri
2015-06-08T00:00:00Z
acompañándome e informandome
Angel
2015-10-13T00:00:00Z
Our host's brother collected us at the airport for a reasonable E30. He showed us the apartment and gave us some details about the locality and Bilbao. The apartment is spotless and is as advertised. However it was not clear to us - not reading things carefully enough - how little head height there would be and that the kitchen and master bedroom are the same room. One bed is a sofa bed. We had hoped for more personal recommendations of local features and restaurants - two of us are vegetarians and that seemed to be a real problem in Bilbao in general. Hector, Jone's brother did phone some places to try to arrange a meal fro us which was very kind. It didn't work out but he tried hard. The train is a 5 minute walk and takes 12 minutes to get to central Bilbao. The locality is sub-urban. There is not much in the way of restaurants or sights. You really need to go to Bilbao for that.
mary
2016-07-12T00:00:00Z
Арендовали эти апартаменты для семьи из трех человек. Квартира полностью соответствует описанию. Было чисто и уютно. Понравилось как оформлена гостиная комната :). Район тихий. Продуктовый магазин всего в трех минутах ходьбы. Рядом с домом есть бесплатная парковка с большим количеством свободных мест, что нечасто встречается в Испании. В целом остались довольны и с уверенностью могли бы рекомендовать эти апартаменты.
Dmytro
2016-08-11T00:00:00Z
Jone's partner Mikel welcomed us and was very informative. The flat is very well equipped, comfortable and stylishly decorated. Parking was easy, access to public transport easy - especially with the provided multi person Barik card and convenience of a local supermarket made our stay memorable. Jone was in regular contact before and during our stay. We do no hesitate to recommend Jone's apartment.
Malcolm
2016-06-25T00:00:00Z
Jone and her husband are very lovely and obliging persons! They took absolut good care of us. The loft is perfectly situated to discover Bilbao and its surroundings. The interior is individually designed and offers everything you need! Me and my family felt very comfortable and wellcomed. We highly recommend Jone and her loft to anybody else!
Johannes
2015-05-07T00:00:00Z
El apartamento es como aparece en las fotos, estaba limpio y ordenado y en seguida te haces a el. El techo inclinado no supone ningún problema, nosotros íbamos con un niño de 2 años y para él era muy divertido. La cama era realmente cómoda. Mikel nos informó de todo lo necesario y nos dejó una tarjeta transporte. Los desplazamientos en coche bien comunicados y el tren hacia Bilbao cómodo y rápido. Hemos estado como en casa y volveríamos a quedarnos allí.
Ana
2015-09-18T00:00:00Z
Jone was very responsive to emails right from the start of booking. I stayed here with my 2 daughters aged 14 & 11 with everyone enjoying the time away. The apartment is as described, the area has everything you need and is very convenient getting to the centre of Bilbao. The area feels very safe and was great to walk around, only problem was that we didn't explore the countryside enough. Jone provided us with some good information about which beaches to visit and places to eat, there was also information about the surrounding areas. The apartment is stylish has everything that you need and is as described.
alexander
2016-08-20T00:00:00Z
Huonetyyppi
Koko talo/asunto
---
Majoituspaikan tyyppi
Huoneisto
---
Majoittujien määrä
4
---
Makuuhuoneet
Arrigorriaga (Bilbao), País Vasco, Espanja
Precioso apartamento ubicado en Llodio junto al tren a 23 km de Bilbao y 40 km de Vitoria. Habitacion disponible con cama de matrimonio y servicio y atencion inmejorables para una excepcional experiencia en el Pais Vasco. Baño propio para huespedes.
We came as guests and left as friends. Joseba is a fantastic host who took a lot of effort to let us feel welcome. Besides the great accommodation, and the tasty breakfast he also had a lot of tips for us what and how to visit. I would definitely recommend Joseba's place to anyone traveling to Laudio or searching a place near Bilbao and Vitoria-Gasteiz.
Marcel
2016-08-08T00:00:00Z
Joseba gave us a warm welcoming and felt like home. He show us the town and he give us some advice for what to do and where to eat. It was nice. The appartement us very beautiful and really clean. The double bed was confortable.
Mirunan
2016-08-06T00:00:00Z
Inmejorable. Desde el primer momento supimos que nuestro anfitrión iba a hacernos sentir como en casa. Joseba se puso en contacto con nosotros una semana antes de nuestra llegada a Laudio para aclarar los detalles del encuentro. Nos aseguró que podíamos llegar a la hora que quisiéramos sin problema, que aunque tenía que trabajar se las arreglaría para darnos las llaves. Terminó invitándonos a comer. Nos dio consejos sobre como llegar a Bilbao (a unos 20 min de distancia en coche y algo más en tren) de forma más fácil y también sobre el BBK que era el motivo de nuestra visita. Además nos ofreció dar una vuelta por Laudio para descubrirnos algunos de sus secretos, pero necesitábamos descansar para el festival. Por supuesto el piso y la habitación impecables, cuarto de baño para nosotros solos, salón con valcón para fumar, equipo de música, etc. El piso se encuentra prácticamente en el centro de Laudio, pegado al río que lo recorre. Como ciudad, se trata de una de las más septentrionales de Álava, y estratégicamente resulta ser un enclave excepcional. A medio camino entre Bilbao y Vitoria, pasando por el parque natural de Gorbeia, Laudio es perfecta además para visitar los distintos pueblecitos que desparramados por todo el País Vasco, con unos paisajes increíbles. Por último volver a destacar la enorme amabilidad de Joseba, que nos atendió como a reyes y que queda invitado a Murcia por descontado. Muchas gracias por todo.
JOSE ANTONIO
2016-07-09T00:00:00Z
Huonetyyppi
Yksityinen huone
---
Majoituspaikan tyyppi
Huoneisto
---
Majoittujien määrä
2
---
Makuuhuoneet
Laudio, Euskadi, Espanja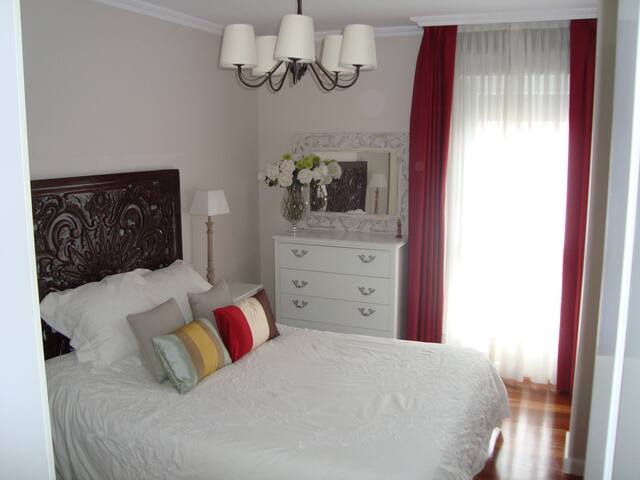 Superior single bed Korean pastoral Princess dome mosquito net coffee towards intelligent password lock Apartment layout is Sanshiyiting a kitchen and a bathroom, the room provides free wireless Internet hot water shower, washing machine, kitchen Qi Quanqie new.
Huonetyyppi
Yksityinen huone
---
Majoituspaikan tyyppi
Huoneisto
---
Majoittujien määrä
2
---
Makuuhuoneet
阿利格利亚格, 费罗尔, Espanja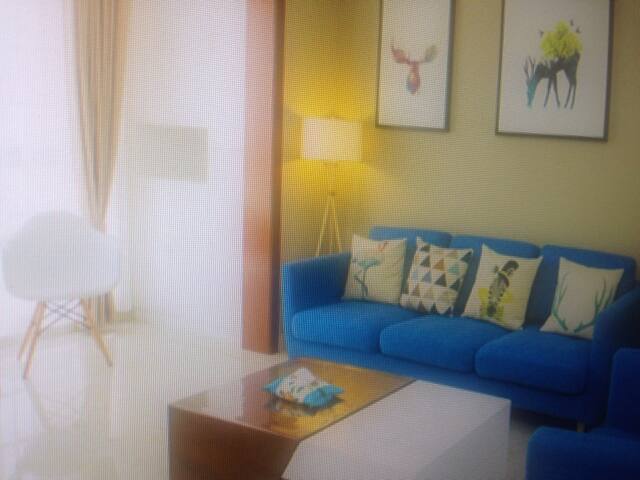 Vizcaya - Airbnb
:
Keskimäärin

4.53

tähteä yhteensä

5

65

vierasarvostelusta
1

–

4

hakutuloksista

4 vuokrattavaa huoneistoa
Anna päivämäärät nähdäksesi kokonaishinnoittelun. Lisämaksuja sovelletaan. Veroja saatetaan lisätä.