Syötä sisäänkirjautumispäiväsi muodossa pp.kk.vvvv
Syötä sisäänkirjautumispäiväsi muodossa pp.kk.vvvv
Kohteet, jotka voit varata odottamatta majoittajan hyväksyntää.
7 vuokrakohdetta
· Smyrna
7 vuokrakohdetta
· Smyrna
Anna päivämäärät nähdäksesi kokonaishinnoittelun. Lisämaksuja sovelletaan. Veroja saatetaan lisätä.
Heinä- ja elokuussa voit kokeilla yhtä näistä 100 arvostetusta kohteesta eri hintaluokissa ja kokea Sonoman paikallisen näkökulmasta. 24 tunnin sisäänkirjautuminen, Pikavaraus sekä paikallista viiniä ja välipaloja, jotta voit vain istahtaa ja nauttia matkastasi.
Smyrna: 20 min south of Nashville City; 15 min north of Murfreesboro City. Room has sunset view & night sky view. House has all amenities. Safe neighborhood. The owner is single man, a working professional, a musician and a gentle spiritual person.
This listing is for a Bedroom (11.5 x 10.5) on the first floor in brand new home in a very safe neighborhood. The Room has a walk in closet. Full bathroom outside the room right next door. Bathroom is shared by owner (who is mostly not home) only for shower. Owner will return the bathroom clean after use. There are all amenities in the house; Full kitchen with large fridge, glass-top stove/oven, microwave, coffee maker, tea pot, blender, dishwasher, pots, pans and utensils, large pantry, Washer and Dryer, 24 hours Hot water, WIFI, Bluetooth Music player. Hand soap, body soap, shampoo & conditioner available if required. Upon check in, guest will be provided the key to the main entrance which the guest will ensure to return to the owner upon check out. Owner is available mostly during weekday evenings and weekend days depending on his engagements. Owner will be happy to engage in healthy intelligent conversations if guest wishes to.
Within a driving distance of less than 15 minutes there are varieties of restaurants, cafes, shopping centers, spas, fitness centers, auto works, hospital, movie theater, etc. Nashville Airport is about 26 miles only, and commute takes about 30 min or less.
Anthony was very accommodating to my travel and arrival time. He provided me with a small tour of the house, showed me where all major appliances were and showed me my room.
Julio
September 2016
Antony was a great host- he was very hospitable and kind. He stayed up late to let us in and showed us around. The house was very clean and nice. We had a great stay!
jenna
July 2016
Very nice house in Smyrna, spacious comfortable and quiet. The two gentlemen living there are polite, courteous and accommodating. This was my first time using Airbnb and it was well worth it!
John
December 2016
Me and my girlfriend stayed for almost 2 weeks and our whole stay was great! Atony was very welcoming and friendly. The house was very clean and organized. I felt very comfortable and would definitely stay there again! 5 stars! :D
Joseph
July 2016
Antony was great to work with and very flexible and responsive to our situation which changed as the day went on. Would highly recommend his accommodations.
Sabrina
January 2016
Antony was a great host, If you ever in the area this is the place where you want to stay.
Alexander
March 2016
The host canceled this reservation the day before arrival. This is an automated posting.
Krish
Antony was a very kind, and hospitable host who made our stay very comfortable and welcoming in his home. He was accommodating and inviting to ensure we had everything we needed. We enjoyed insightful conversations and had a nice time!
Vanessa
January 2016
Huonetyyppi
Yksityinen huone
---
Asuntotyyppi
---
Majoittujien määrä
2
---
Makuuhuoneet
1
Smyrna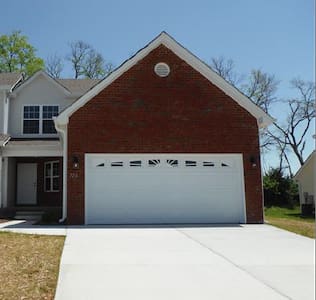 Our home is located on two beautiful acres with woods, lawns, a creek and wildlife. Nestled among the trees, but also in a neighborhood, convenient to I-24 in Smyrna, TN. Minutes to Nissan plant, and situated near Murfreesboro, TN and Nashville.
Our home is in a neighborhood, but has lots of space and a real sense of privacy. Our neighbors are our friends, so the environment is a friendly one. Our house is a single level ranch, built in 1986. There are three living spaces and an eat-in kitchen, which adjoins a living room with a fireplace. There is no carpeting in our home, with either tile, hardwood or laminate throughout. There's room for a family to spread out and relax while still being nearby one another. At the back of our property, you will find Stewart's Creek, a year round tributary that is lush and shady. We keep a couple of chairs by the creek for when we want to sit and relax in a shady, private and meditative space. You will see wild turkeys, deer and birds out back on a regular basis. We often feed them and treat them all like pets, so please make sure not to scare them or harm them. The turkeys will come right up to the patio out back. You will have access to the entire 2 acres and home during your visit. The property lines are well defined by a fence on either side and that line runs all the way to the creek. We respect our neighbors by staying on our side of the fence. We don't have cable, but we do stream video via our ROKU. We pay for Hulu, Netflix and Sling TV, all of which you are welcome to enjoy. There are two speakers in our home, one on the piano (iphone 4 and earlier) and a wireless one in the kitchen you can use via the bluetooth feature on your device to stream your music. The instructions are left with the kitchen speaker for ease of connection. You are also welcome to use the washer and dryer and all appliances in our home. We will meet you at our home when you arrive for your stay to give you the key and a tour of the property and then we will leave you in peace! We do have lots of family and friends nearby who will be able to help you in the event you need something and we are out of town.
We are located about 22 miles southeast of Nashville, which is easily accessed from exit 66 or 70 on I-24. There are number of grocery stores nearby. Notably, there is a Food Lion, Kroger and two Publix grocery stores within 8 miles. Please recycle. The smaller can in the kitchen is for paper, plastic and glass items. They do not have to be sorted separately. When the can is full, it should be emptied into the large green can that is located in the dog run, off the family room/media room. The garbage should be tied and placed in the smaller blue trash can in the same area. Please bring green recycling can to the curb at the top of the driveway on the opposite side of the mailbox when you check out.
The host canceled this reservation 18 days before arrival. This is an automated posting.
Pam
My family and I loved staying here! Lois and her family met us at the home and went over important info., gave us the keys and left us to our vacation. The home is exactly as it looks online but with many added features too. We loved sitting in the wooded backyard and watching the wildlife every morning and evening. Their home was welcoming,relaxing and peaceful. We had access to a full kitchen/laundry room too. It is located outside of Nashville but not too far. It is in a nice, established neighborhood. Lois made sure to give us contact information and was always helpful when we needed to ask a question. We would definetly stay here again!
Tamara
July 2015
Huonetyyppi
Koko talo/asunto
---
Asuntotyyppi
---
Majoittujien määrä
6
---
Makuuhuoneet
3
Smyrna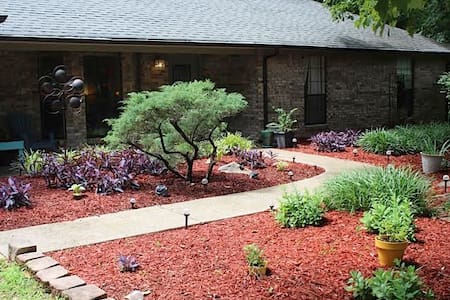 You will love our beautiful and newly updated split level home. Enjoy a cocktail by the fire pit and grill in the private yard. 2 min. from exit 70 off I-24, 25 min from the heart of downtown Nashville- Broadway, Bridgestone arena and Nissan stadium.
There is a queen bed downstairs, full and twin upstairs. Please enjoy the home and don't mind my junk drawer. I have eclectic taste and many of the unique pieces in the home I have refinished and repurposed. The location is great and very convenient. There is Wi-Fi and there are 3 tv's with cable. There will be one room upstairs in which guests will not have access. Everything else, you are welcome to use. We will not be present during your stay, but if you need anything we are just a phone call away.
We are located 2 minutes of I-24 at Almaville Road, exit 70. The neighborhood is so quiet, but so convenient. There is very little traffic on our street. A shopping center, with a Publix and restaurants is just a 5 min. walk from our home. You will be in the heart of Nashville in less than 25 minutes. Uber and Lyft are always available. Please enjoy the back deck, there is a fire pit and charcoal grill.
Great House! Really enjoyed our stay!
William
June 2016
My stay was impeccable. All the amenities were accurately depicted. The house renovations were fairly new so it was a little bit of the country mixed with the new. The fire place And BBQ were definently a perk. Will stay there again
Jason
November 2016
Thank you for a wonderful stay! It had everything we needed for a family weekend getaway. The backyard was a plus- we loved relaxing on the deck. We enjoyed admiring all the unique decor throughout the house- very cozy and welcoming place to stay! We'd love to come back next time we're in the area! It felt like home!
Kelly
October 2016
Great place! Laura has a beautiful home ,very comfortable and appealing. Everything was on hand so we had no difficulty. She was very flexible about our check-in time which we appreciated. She also gave us helpful hints that made our stay enjoyable. The music at the vineyards (close to her house) was a highlight and recommended by her. Our stay at her place adds to our lovely memories of Nashville!
Laurene
October 2016
Huonetyyppi
Koko talo/asunto
---
Asuntotyyppi
---
Majoittujien määrä
5
---
Makuuhuoneet
3
Smyrna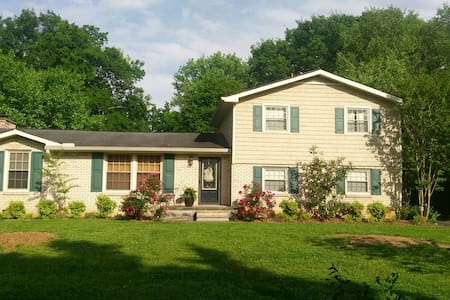 23 miles from downtown. Very Spacious home located between Nashville & Murfreesboro. EASY (all interstate) 20-25 mins to Downtown Nashville; 20 mins to MTSU; 10 mins to North Murfreesboro; 25 mins to airport. 3 bedrooms, 2.5 baths, open loft, 3 couches. Cable pkg w/Sports Entertainment & Redzone; shopping/dining/recreation a few mins away.
Way better than staying at a hotel! Downstairs: 2 living areas 6-person dining Full service kitchen w/ 4-person dinette 1/2 bath 3 fullsize couches Cable pkg* Upstairs: 3 bdrms (w/king, queen, full beds) 2 bathrooms Open Multipurpose room (can hold multiple kids and their sleeping bags!) On Demand shows (Amazon Instant Videos)** *Xfinity Cable (w/Sports Entertainment, RedZone) **Similar to Netflix Entry is via a digital code which is given on the day of checkin. Guests can access the whole house except for closets and garage. Drawer space is available only for longer stays (over 7 days). We clear a side of the fridge for your use but will have condiments etc in the door. I will be available for any questions, etc. Also, please see my Guidebook.
Walking distance (7-10m) to grocery and restaurants. 7m drive to shopping, Target, Ross, and The Avenues shopping center. Neighborhood is conducive to long walks, jogging or running. The town is known for its awesome parks, golf and recreation. House isn't near public transit. Best to have a rental car or use Uber/Lyft. If you're traveling in rush hour traffic, please allot extra time to reach your destination. The I-24 corridor is busy during rush hour.
Lana had fresh towels laid out for us and tidy rooms for us to relax in. It was a quiet neighborhood close to the highway so we could quickly get to our event all week. Much more comfy than staying at a hotel!
Estelle
October 2015
Everything was wonderful!!' She was great to work with and the house was perfect. Very close to Nashville and only a short trip to enjoy the city. I would highly recomment it.
Rhonda
May 2016
Our experience at Lana'a home was a great one! The location right between Nashville and Murfreesboro was perfect for us as well as the amount of space provided in the home. It was our favorite Fall Break for sure!
Jonathan
November 2016
Lana's house was perfect for our trip. Very close to the interstate, and plenty of nearby food/shopping options if you need them. I would definitely stay there again next time I'm visiting that part of Tennessee. We were a little worried about running out of hot water with 6 people, but it was fine! Five stars! Lana was very quick to communicate both before and during our stay.
Clifford
June 2015
I personally have stayed at Airbnb's several times and enjoyed the experience. However, this was my first time booking an Airbnb for work travel. I'm very glad we rent this route! I rented this home for three of our employees, September 19th - September 23rd. They said they felt very welcomed, pictures and descriptions were accurate, they home was very confortable, and the house was in a nice neighborhood. Lana did a GREAT job of communicating with us all. Not only myself prior to booking, but also the guests who stayed in the home.
Joanna
September 2016
Lana was a wonderful host and has a beautiful home. She had everything prepared and ready for us the day we arrived. There was even breakfast food for us. Our long weekend trip was a blast and would definitely recommend Lana's house. It's conveniently located and in an quiet neighborhood. Thank you Lana!
Mason
June 2016
We had a great stay! The house had more than enough space for the 6 adults in our group. Very clean and comfortable! Lana was great with quick and clear communication, even helping us find some great places to eat!
Peet
July 2015
Lana was a friendly and nice host. The home was easily accessible from the freeway and close to Nashville without being directly in the city. The neighborhood was cute and felt very safe. It was a comfortable stay. The only thing I would say is that our 7 person party was a tight squeeze, especially in the mornings with the 2 bathrooms and enough hot water. I think 6 people is the maximum for this home and 4 would have been perfect.
Veronika
May 2015
Huonetyyppi
Koko talo/asunto
---
Asuntotyyppi
---
Majoittujien määrä
10
---
Makuuhuoneet
3
Smyrna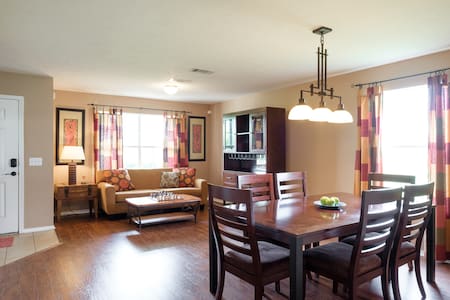 My wife and I love visitors . We are a home of four. The two of us and 2 kids . My wife and I moved here from Cinci in 2014 . I run a Case Dealer and she is a translator for the Government who is a trained cook from Cairo.
We are a multicultural home with the best food in Town. We will drive you to and from, but no extended trips . You will eat with us. You will be staying a Master Suite. We will not bother you unless you are outside of this area. This is our home; no inappropriate behavior.
One of the nicest Neighborhoods in Smyrna, TN. One of our neighbors is Sunny Gray. We are not sure which home it is since we just moved in a year ago. Lots of good neighbors We can provide transportation to and from Nashville which is 25 minutes North West of here .
Huonetyyppi
Yksityinen huone
---
Asuntotyyppi
---
Majoittujien määrä
2
---
Makuuhuoneet
1
Smyrna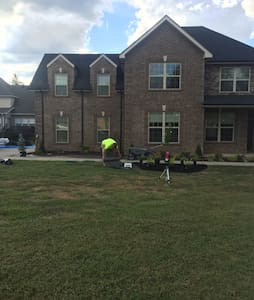 Bedroom, and bath for rent, Fridays, and Saturdays only. (Other times may be arranged). $175.00 per night, regular days. No use of kitchen. Many great restaurants 5-15 minutes away. ***($375.00 per night for New Years Eve, and Holidays.)*** Non-Smokers. No pets. No extra guests. References required. Credit check. ($50.00 for credit check will be deducted from deposit.)
Huonetyyppi
Yksityinen huone
---
Asuntotyyppi
---
Majoittujien määrä
2
---
Makuuhuoneet
1
Smyrna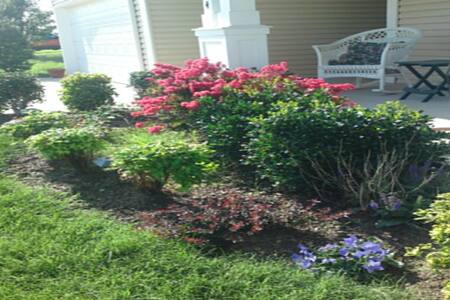 My place is close to The Avenue in Murfreesboro, Stones River Mall and about 30 minutes from Nashville, interstate 24 & 840.. My place is good for couples, solo adventurers, business travelers, and families (with kids).
Your room is the first room when you open the door and you will have a private bathroom that is connected to the room. There is a small refrigerator in the room and always stocked with water. Inside the closet, you will find toiletries, extra linens, towels, toothbrush, soap, cups etc. Please Feel Free to use per need. We will restock (no worries). ♡KEURIG COFFEE Machine in the kitchen for your use ♡ Upon check in, guest will be provided the key to the main entrance which the guest will ensure to return to the owner upon check out. Feel free to use all common areas. If you use our dishes please wash them after use. Our Master bedroom is off limit other than that feel free! I am in nursing management and I work long hours therefore I am not always home but am always available by phone. My husband spend more time at home than I do. He will interact as much or as little you want him too and will take care of any issues if any [He is a little Quiet just FYI; I am the talkative one :)]
The neighborhood is residential. There is ample parking, and quiet roads to enjoy an evening stroll under the stars. Easy access to interstate 24 & 840, near shopping center (Stones River Mall, Avenue in Murfreesboro). Great neighborhood overall. You can rent a car or you can easily do Uber or Lyft. We hope you enjoy your stay. We are fluent in French and Haitian Creole if you ever want to practice :)
This was my first time using airbnb and I'm glad I did. I didn't actually get to meet Regine in person but her husband was very nice and made sure we had everything we needed. The house was clean and comfortable and had everything we could have asked for. Great place to stay!
Destiny
October 2016
Fantastic place to stay. Close to the VA Medical center, which was the reason for our trip to Murfreesboro. Highly recommend staying with Regine when in Murfreesboro.
Amy
October 2016
Regine's place spacious, comfortable and is conviently located to the highway. Great place to stay.
Sheree
November 2016
GREAT atmosphere. Central location. Clean environment.
Sheree
December 2016
Regine's place is very welcoming.
Sheree
December 2016
The home is very nice and the room and bathroom were spotless. They did everything to make me feel comfortable. This home is a great deal.
John
December 2016
We had a great time! Regine and her husband were very accommodating and flexible. The room feels like home! We will def book again!
Gaby
December 2016
Regine is very gracious, kind, considerate and accomodating. The location is accessible from the interstate. Lastly, the house warm and inviting. I highly recommend Regine.
Sheree
October 2016
Huonetyyppi
Yksityinen huone
---
Asuntotyyppi
---
Majoittujien määrä
2
---
Makuuhuoneet
1
Murfreesboro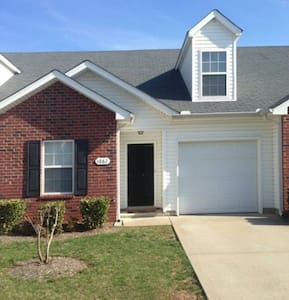 1

–

7

hakutuloksista

7 vuokrakohdetta