Contemporary 1400 square foot poolside guest house with private entrance on one acre Atherton estate. Beautifully landscaped gardens. High speed internet access. Three day minimum rental. $750 security deposit. Cleaning fee $100. Utilities included.
Contemporary design and beautifully furnished 1400 Sq. Ft. guest house with French doors facing pool area and gardens, tiled and carpeted, central heating, walk-in closet, new linens and towels. Our cleaning crew cleans entire house top to bottom as well as providing clean linens, towels, refrigerator and all kitchen items between each guest visit.
Atherton is located in San Mateo County in the so called mid-peninsula where is climate is very mild and much warmer than San Francisco 30 miles north. San Jose is 30 miles south. This is a upscale community, quiet, well vegitated.
What a wonderful setting in a beautiful area! The guest house is very peaceful and the hosts are delightful people. I hated to leave.
Renee
2015-07-09T00:00:00Z
Staying at Robert's place was much more than the picture reveal. Robert and his wife are kind, generous and helpful people. The place itself is huge and extraordinarily relaxing. We even got to jump in the heated pool. Would highly recommend booking this place.
Sondre
2016-04-07T00:00:00Z
Stayed in this house for 3 weeks. Robert and Diane are very welcoming. The house is very bright and spacious. And the grape fruit fresh off the trees are awesome!
Artem
2015-03-20T00:00:00Z
Beautiful place & freat hosts. Would love to stay there again.
Hessam
2015-04-05T00:00:00Z
We can't say enough about this charming guest house and our new friends! We were welcomed with delicious coffee cake and fruit fresh off their trees. Our family loved it so much we cancelled dinner reservations twice to grill at home and enjoy this private setting. Thank you for allowing us to make ourselves at home in this wonderful setting! We are ready to hurry back! ❤️
Kelly Jo
2016-06-14T00:00:00Z
My mom come to visit me and we live here for one month together. Both of us love this beautiful and lovely place! Bud and Diane prepare everything in the house and we felt like we are at home. This is my first Airbnb experience and I am really very lucky to find this place.
Wenbing
2015-10-24T00:00:00Z
Aaaaah, home again! this was my second visit to The Pool House, and it was as delightful as the first. Robert and Diane again welcomed me with fruit and pastry, and all the features of the house that I liked so much the first time were there once again. As before, the house takes advantage of the California light, and the cozy but totally functional kitchen, the comfy bed, the bright modern bathroom, and the abundance of closet space made my second trip feel like "coming home." I look forward to my next visit.
Susan
2016-03-10T00:00:00Z
Bud and Diane were lovely hosts and the pool house is a perfect retreat for business travel. The location is extremely quite, peaceful but still close to amenities and the 101.
sarah
2017-04-06T00:00:00Z
Huonetyyppi
Koko talo/asunto
---
Majoituspaikan tyyppi
Talo
---
Majoittujien määrä
3
---
Makuuhuoneet
Atherton, Kalifornia, Yhdysvallat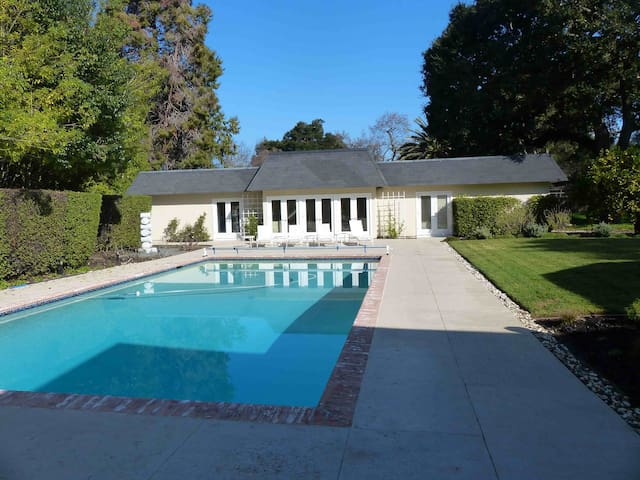 Our cozy in-law apartment is close to Stanford, downtown Menlo Park, Redwood City, and the Atherton train station. Situated in a lush tropical setting, you will appreciate the quiet peace of this modern bungalow. It's great for couples, solo adventurers, business travelers, and families (with kids).
We welcome you to stay in our cozy in law apartment in our quiet, spacious, tropical backyard surrounded by redwoods and roses. The space is very private and while we are nearby, you will probably not see us much. Living Space: - Large, light-filled living room with 42 inch HD television, cable, xbox, massage chair, pull out couch, treadmill, and table that can serve as a desk or a dining area. - Small kitchenette with new fridge/freezer, stovetop, convection oven, coffee maker and microwave. Fully equipped with pots, pans, and utensils. Bedroom: - Spacious bedroom with queen sized bed - Connected private wooden patio - Bathroom with tub and shower clean towels and toiletries provided Outdoor Space: - Parking is plentiful on the curb in front of the house - Small patio out the front door with gas BBQ available
We live in a quiet neighborhood called Lloyden Park. There are sidewalks, tons of trees, and street lamps. It's a great place to take a walk as the sun is setting to unwind. There is plenty of parking on the street in front of the house.
Wonderfull place for families. Close to all the key interesting sights in silicon valley, quiet neighborhood . Carter is a great host that made us feel welcome. I really recommend this. Kind regards Ricardo jorge
Ricardo
2016-08-24T00:00:00Z
Carter and Hillary's backyard cottage was an excellent choice for my business travel. The WiFi was strong, bed comfortable, and plenty (and I mean all) of the necessities for me. Highly recommend this place for a quaint place to stay, that is just off the Camino real and an easy place to get to.
Gregorio
2016-11-04T00:00:00Z
Thank you for a wonderful home away from home while our house is being remodeled. The location is so convenient and the house is complete with all the amenities we need. Between the choice of the treadmill and the massage chair, we chose the massage chair :) The house is so very conveniently located. Highly recommended to anyone who will be visiting the SF peninsula and Silicon Valley!
Michele
2016-10-25T00:00:00Z
Carter was a very gracious host and the place was, as described, very nice. Highly recommended.
Matthew
2016-11-08T00:00:00Z
Carter's home is beautiful and the bed/pillows were so comfortable. Lots of space to do yoga and Carter was very kind/generous in making sure my stay was comfortable. The neighborhood is lovely and quiet. I will definitely book here again!
Elenoa
2016-06-24T00:00:00Z
Carter and Hilary exceeded every expectation I had on this trip and are excellent hosts. They a terrific communicators and aim to please. The home is very comfortable and I was able to feel right at home. The neighborhood and surroundings are beautiful and shopping is nearby. I would absolutely love to stay with Carter and Hilary again and recommend them to anyone staying in the area.
Courtney
2017-02-17T00:00:00Z
We had a wonderful stay at Carter's place in Atherton! The cottage was well prepared upon our arrival with basic amenities and a few extra thoughtful touches. Carter and Hilary were great communicators before and during our visit, and were there to show us around when we arrived. The neighborhood is nice and quiet as described. A comfy bed, good wifi, a TV with hookups, and a well-equipped kitchen rounded out our experience. We would definitely recommend staying here!
Will
2017-02-12T00:00:00Z
Serenity amongst the Redwoods... What a wonderful little cottage in our host's backyard, which was quiet and convenient to Menlo Park and Redwood City. A lovely couple and children hosted us. They are well traveled and have great tips on the local area. We will definitely recommend this spot to family and friends visiting the Bay Area. Mandi and Adil
Mandi
2017-03-07T00:00:00Z
Huonetyyppi
Koko talo/asunto
---
Majoituspaikan tyyppi
Bungalow
---
Majoittujien määrä
4
---
Makuuhuoneet
Atherton, Kalifornia, Yhdysvallat
Detached guest house w/private entrance, large patio, beautiful garden. One room studio-style, open floor plan with full kitchen, Satellite TV, WiFi, washer/dryer. Comfortable pull-down queen Murphy-bed in the living area, separate bath with shower.
Studio style guest house with tile floors, vaulted ceiling, and sliding doors leading to large patio and gardens. Great natural light plus recessed lighting throughout. Spacious open floor plan with fully equipped kitchen, living area, dining area and pull-down queen Murphy bed (note: there is not a separate bedroom). Radiant heat. Separate bathroom with shower. Washer and dryer.
Quiet, residential neighborhood in Atherton (mid-peninsula) where the climate is very mild and warmer than San Francisco (~25 miles north). San Jose is 20 miles south. Near Stanford (2.5 miles) and in the middle of Silicon Valley. Walking distance to Holbrook Palmer Park (URL HIDDEN)
Timely response from Stephanie, very nice place, close to everything, quiet surroundings, and nice facilities.
hao
2016-10-06T00:00:00Z
I just booked my third stay here. I feel privileged to have the opportunity, as this place is top-notch, from the quality of the architecture, kitchen, cleanliness and our host's professional and thorough approach. I only wish it was available for me whenever I come.
Conrad
2016-12-02T00:00:00Z
This is really a great place to stay in Silicon Valley, quiet, beatiful and convenient to get everything you need. The kitchen is so well equipped that gives me a homy feeling. Stephanie is a wonderful host and we enjoyed the Japanese food she recommended very much.
祉均
2016-06-13T00:00:00Z
We had a lovely time at this beautiful studio. It was very clean and loved how open it was and how the kitchen was so well-equipped. The view outside the guesthouse is wonderful. We had never slept on a murphy bed before, but were pleasantly surprised at how comfy it was. Stephanie was always very prompt in responding to questions. She was very accommodating about any requests we had. Thanks again, Stephanie, for your hospitality. We will be back! Debbie and Mark
Debbie
2016-05-22T00:00:00Z
This place is so welcoming - a peaceful neighborhood with tall trees and sprawling ranch houses, a beautiful spacious courtyard, and a perfectly clean and comfortable guest house. I really appreciate a well-stocked kitchen as well, and this place has the highest quality appliances, pans and knives of any place I've rented. I met Stephanie once during my stay, and she is charming. I didn't run into her otherwise, but she made herself available by messaging. This has been my favorite of about 10 rentals in this area, and I plan to return.
Conrad
2016-08-19T00:00:00Z
Excellent studio in the grounds of a beautiful house in a beautiful part of Atherton. Highly recommended.
Steve
2016-07-15T00:00:00Z
The studio is a beautiful spacious space located in spectacular surroundings. The pictures don't do it justice. The unit was immaculate and the kitchen very well appointed. Very tastefully decorated. The Murphy bed has a thick mattress and is very comfortable . Very gracious and responsive host . Will book again when returning to Menlo Park
Claire
2016-04-30T00:00:00Z
Stephanie made the whole experience simple and the place was wonderful. Beautiful neighborhood, location, and space - super clean, modern and practical for me, a business traveler. 5 minutes to downtown Menlo Park.
John
2016-08-05T00:00:00Z
Huonetyyppi
Koko talo/asunto
---
Majoituspaikan tyyppi
Huoneisto
---
Majoittujien määrä
2
---
Makuuhuoneet
Atherton, Kalifornia, Yhdysvallat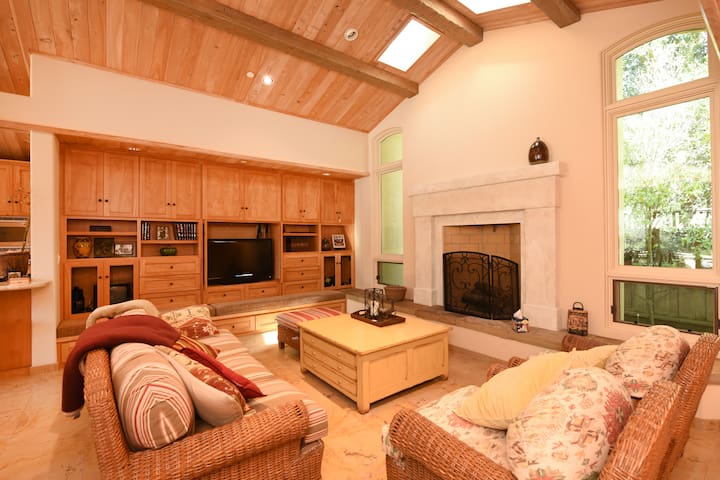 Lovely downstairs room with single twin bed for 1 guest is available and the bathroom is next to the room. There is a desk area to use if needed as well. Enjoy a prime location near to Stanford, Palo Alto, San Jose & San Francisco
Single room with twin bed in our lovely home. There is a bathroom next to the room as well. Easy access on first floor for privacy.
Our home is in a lovely section nearby to Stanford University, San Francisco, Palo Alto, San Jose etc. It is a nice quiet family street.
Always a pleasure!
Warren
2014-11-07T00:00:00Z
Very friendly family and enjoyed my stay. Looking forward to the next one.
Amir
2015-11-20T00:00:00Z
Happy to be a regular at my home away from home.
Warren
2015-02-06T00:00:00Z
Staying at MJ's place was an authentic experience - as if I was living in the Silicon Valley, in a very nice house, a beautiful neighborhood. The house is beautifully decorated, extremely clean and tidy. The shower is fantastic, and the bed is really good. The only comment I have is regarding the bed - too soft for me, but there're people who prefer it that way. MJ was extremely nice, gave me tips and we had a few nice conversations.
João
2013-07-13T00:00:00Z
Great house and happy to extend my stay!
Crystal
2014-09-22T00:00:00Z
I had awesome time staying at Mj's home. I could not have asked for more - Mj and her family have been AirBnB hosts for years, they are extremely kind and know how to welcome guests. The room is spacious and cozy and the location is extremely convenient with easy access to the Valley or San Francisco. Would be happy to stay with Mj again next time I visit.
Hristo
2015-08-02T00:00:00Z
MJ and her family made my first days in US simply great. They are very warm and open people. Place is very clean and perfectly prepared for the guests. Couldn't recommend more!
Wojciech
2013-10-10T00:00:00Z
Another lovely visit at MJs home. As always, these friendly and gracious hosts were so kind and made me feel very welcome and at-home. Visit and enjoy!
Sheree
2015-11-03T00:00:00Z
Huonetyyppi
Yksityinen huone
---
Majoituspaikan tyyppi
Talo
---
Majoittujien määrä
1
---
Makuuhuoneet
Atherton, Kalifornia, Yhdysvallat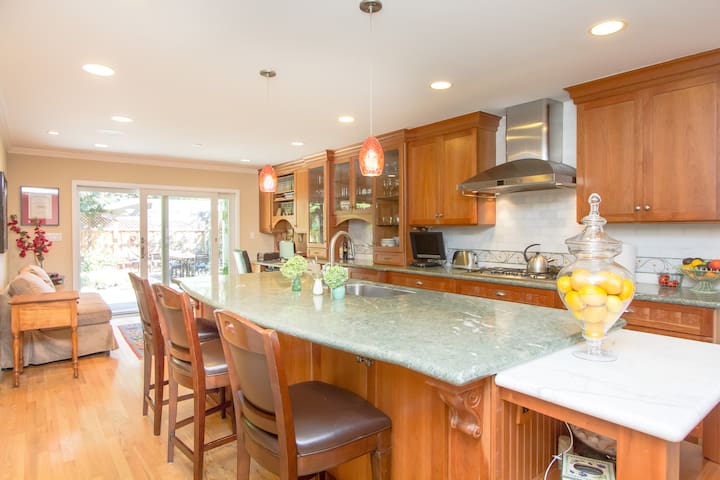 Darling separate cottage in the back of my home .
Very quiet, private and safe my sweet little 400 sq ft cottage has a comfy Double bed, working desk with task light, plenty of storage, eating table, large flat screen TV, A/C and WiFi . Comfortable for one or two. Nice small tile shower with curtain. Little BBQ in the yard. Seasonally heated pool.
Quiet residential neighborhood and a 15 min walk to downtown Menlo Park. Train and bus is close by..
Tricia's place was truly a heaven. We wanted to go somewhere that is not too far and not too crowded for our staycation and Tricia's place was the cherry on top of everything! Such a beautiful and serene neighborhood, and an ADORABLE lovely cottage that helped us enjoy our time spent together there even more. It was super clean, not too small but not too big, just perfect. Tricia got a new grill for us to use, and it was amazing. Too bad we didn't have enough time to jump in the pool :( Looked reeeaaall nice. We are glad we didn't choose to go to a hotel and went with our staycation plans! Turned out to be a perfect vacation thanks to this wonderful cottage. Tricia was helpful from the moment we booked this trip til the journey was over. Loved our staycation there and definitely are planning to go back there this winter! Thank you so much Tricia!!!
Heidi
2015-08-24T00:00:00Z
Tricia was most welcoming. The cottage is absolutely perfect and comfortable. The pool is lovely. I had a peaceful and restful stay. I highly recommend this convenient spot.
Katherine
2015-07-04T00:00:00Z
This is my very first Airbnb and I am here for business. The experience is just perfectly amazing. The location is wonderful. Supermarket, bus and train station are all within 10 minutes ride. The cottage is neat and tidy. The bed is very comfortable and housekeeper cleaned the room everyweek. You could also lie down on the beach chair next to the pool, enjoying the beautiful garden view. I enjoyed every moment of it. The host Tricia is one of the best people I have ever met. We became really close friends. We shared lots of wonderful memories. I also love talking to all the guests here. Thank you Tricia for making me feel at home! I appreciate everything you did. I would strongly recommend the place to anyone who likes pleasant, simple and peaceful environment.
Ellen
2015-06-20T00:00:00Z
I had a lovely stay at Tricia's cottage. The grounds were gorgeous and well-kept, and Tricia made check-in and check-out really easy. The cottage was well decorated and well cleaned, and I was very comfortable. The shower is small - I felt a little cramped as a 5'4" person, so taller folks might feel a lack of elbow room. It looked like she was in the process of renovating the shower, though, so that may change.
Alyssa
2015-01-16T00:00:00Z
Wow. This was a last minute stopover on a long trip. Directions were clear and easy to follow.The charming cottage was even better than I thought it would be. Micro and refridge check. Comfy bed and lux linen and bathrobe...check. I especially liked the retreat feeling. A meditation experience with a pond right outside the door. Serene atmosphere was truly rejuvenating. The hot breakfast was cooked to perfection, with a nice variety to choose from. I am looking forward to staying with Tricia again. I would recommend this to anyone who wants their spirits and body uplifted. Mary Lee Radka
Mary Lee
2014-12-19T00:00:00Z
We really enjoyed our stay in this cottage. Tricia is very nice, accomodating and helpful! The cottage is very quiet, well equiped and clean. Thank you so much!
Karine
2016-08-21T00:00:00Z
Great location in the SF peninsula. Tricia offers a secure cottage on beautiful grounds. She is a warm and welcoming upon arrival and gives you all the pertinent information while you are staying on her property. I was happy with just about everything and I would stay again! Thank you Tricia for opening your wonderful home to us.
Jamie
2015-01-26T00:00:00Z
Our stay at Tricia's cottage was just perfect. The koi pond just outside of the cottage is very sweet and peaceful. The cottage itself felt very private. My husband and I both felt like we slept so much better here than we would have in a hotel. Tricia is a lovely host. We will definitely stay here again.
Kim
2015-06-24T00:00:00Z
Huonetyyppi
Koko talo/asunto
---
Majoituspaikan tyyppi
Mökki
---
Majoittujien määrä
2
---
Makuuhuoneet
Atherton, Kalifornia, Yhdysvallat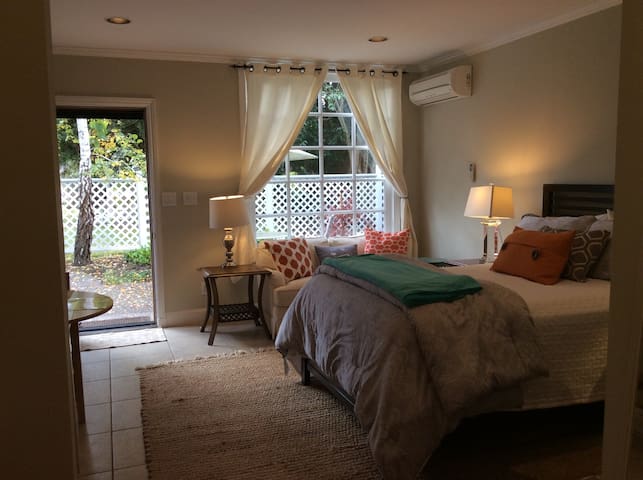 Private inlaw unit in gated Estate private entrance. In lieu of expensive hotels you get much more space and amenities. Excellent location for SF conferences and local tech and biotech businesses. High Speed Internet & Directv. In exclusive Atherton. This has two bedrooms with a nice living area w/a couch/futon. The new full kitchen has a full fridge, Microwave/Convection oven and cooktop. This in-law space is an upstairs area that has a private entrance. Convenient to SFO and SJC.
Pool with swim up bar and Rock Slide. Bocci Ball, Ping Pong, Volleyball and Putting Green with lots to do in the backyard.
This is where there elite of Silicon Valley live with Easy access to the City and new thriving Biotech industry. 10 Min from Four Seasons Hotel and other luxary hotels for meetings and gatherings. Atherton is home to some of the most expensive real estate in the country on par with Beverly Hills. Some of the worlds most famous live in Atherton. Beautiful nearby biking and jogging. Walking distance to Holbrook Palmer park. 2 miles to Stanford. 1 Mile from (SENSITIVE CONTENTS HIDDEN).
Hany is super nice , he accepted my last minute reservation also our special request for the extra room only cost $90 for two beds. Also the neighborhood are very beautiful .
Yutong
2016-12-11T00:00:00Z
As advertised. Very clean, comfortable, quite, and convenient. Very communicative during checkin and made it known they'd be available if needed, but I didn't need or see the hosts after checkin. Very quite home. I'd stay again!
Dan
2017-02-15T00:00:00Z
Great apartment, beds comfortable, nice kitchen, located close to major highways and easy access. Didn't get a chance to enjoy outside activities due to weather however looked just as pictures portray
Marc
2017-03-27T00:00:00Z
Hany was incredibly responsive and accommodating. We had a lovely visit!
Heather
2016-11-16T00:00:00Z
Huonetyyppi
Koko talo/asunto
---
Majoituspaikan tyyppi
Loft-asunto
---
Majoittujien määrä
5
---
Makuuhuoneet
Atherton, Kalifornia, Yhdysvallat
The host canceled this reservation the day before arrival. This is an automated posting.
Brett
2016-11-14T00:00:00Z
Great place in the beautiful Menlo Park; Heidi was an accommodating host and was fine when I arrived a little later than expected to check in House was nice, bed comfortable. Really convenient to drive to (SENSITIVE CONTENTS HIDDEN) HQ; just get on university and drive up to the Bay front Expressway Would stay again if presented with the opportunity :)
Tobias
2016-11-12T00:00:00Z
Huonetyyppi
Yksityinen huone
---
Majoituspaikan tyyppi
Huoneisto
---
Majoittujien määrä
2
---
Makuuhuoneet
Menlo Park, Kalifornia, Yhdysvallat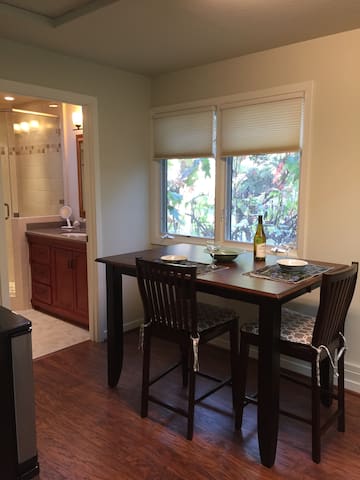 This is a very relaxing Bahama style pool house with high ceilings throughout the living room leading into the main bedroom. Also featured in this bedroom is a skylight and wood burning fireplace. A jacuzzi and heated pool are just steps away as well
Granite slab kitchen counter tops, dishwasher, microwave. Master suite has a wood burning fireplace, with a stacked laundry unit; skylight, full bathroom with shower. French doors lead out onto the Patio. Off street parking.
Quiet residential area, with many nice large homes.
Very relaxed and easy. Pool house is well equipped and sits in a very smart neighbourhood. Old school video games enthusiasts (think Defender/Joust etc..) will be happy. Note bathroom is ensuite to main bedroom.
Mark
2016-11-20T00:00:00Z
Large cottage with a beautiful view of the pool. Two large bedrooms. Nice hoster, ready to help and address any need
Bruno
2015-11-15T00:00:00Z
Stay was great! Loved sitting by the pool. Tony was accessible and the house was clean and quiet.
Corinne
2016-02-25T00:00:00Z
Tony is a friendly host and the location is great! I stayed here for a couple weeks after moving to the bay area for work and it was a great place to get on my feet. The neighborhood is very quiet but restaurants and stores are still easily accessible. Highly recommended.
Josh
2016-01-25T00:00:00Z
It was a nice and great place to stay. Tony is a very good host, it was a real pleasure to live in his house. I always would stay again there!
Rolf
2016-10-17T00:00:00Z
Tony was absolutely great. He is extremely accommodating and very quick to respond to any questions you may have during the stay. The house is peaceful and Tony makes certain he is available and it really shows he wants his guests to enjoy their time. Overall it was a phenominal stay and I will definetly stay here again if and when I return to the area.
Tim
2016-10-23T00:00:00Z
Tony is a nice host, and the place is quite big. The area is very quiet and safe.
Rand
2016-03-18T00:00:00Z
Tony was the most accommodating host we've ever stayed with. He and his buddy served us drinks (or offered) many times, and even fed us on our first night when we were exhausted from travel and work. They also gave us info about the locale. House was fully stocked with necessities, so no concern about basic little things. Could not have asked for a better location either, pretty central to all out work meetings in San Jose, Palo Alto, Mountain View, and SF.
Victoria
2016-08-20T00:00:00Z
Huonetyyppi
Koko talo/asunto
---
Majoituspaikan tyyppi
Rivitalo
---
Majoittujien määrä
4
---
Makuuhuoneet
Atherton, Kalifornia, Yhdysvallat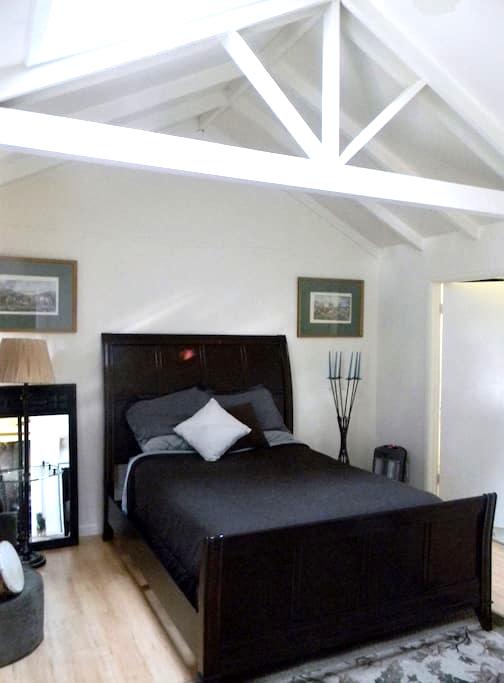 Beautiful, serene property in very upscale neighborhood. Incredible outdoor space with Pool (chilly to swim now), gardens and Koi pond. Rental for Super Bowl time. Minimum 2 nights.
Huonetyyppi
Koko talo/asunto
---
Majoituspaikan tyyppi
Talo
---
Majoittujien määrä
6
---
Makuuhuoneet
Atherton, Kalifornia, Yhdysvallat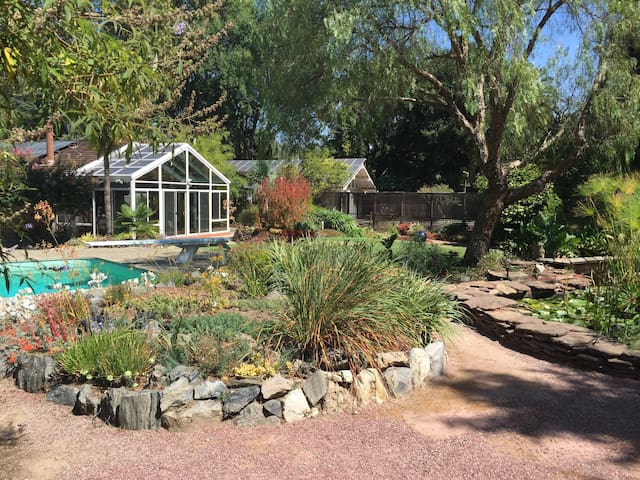 Our guest room is located in a quiet neighboorhood in Atherton with off street parking. Our room is furnished with a queen bed and there is a full private bath across the hall from the bedroom. There is a shared kitchen and laundry facilities that guests are welcome to use. Our home is near highway 101 and 280, and is centrally located: 4 miles from Stanford 17 miles from SFO 19 miles from SJC 30 miles from downtown SF
accès facile en voiture et place de parc garantie. La chambre et la salle de bains sont très indépendants de l'habitation principale. Un excellent petit déjeuner est offert la matin, indispensable vu l'éloignement de tout commerce. Il faut apprécier les chat car il y en a 3 adorables dans la maison. Très joli jardin, calme assuré
Francoise
2017-03-20T00:00:00Z
Jennifer was friendly and eager to make my stay as comfortable as possible. The room was quiet and felt private. I would definitely choose to stay here again.
Jocelyn
2016-09-21T00:00:00Z
Huonetyyppi
Yksityinen huone
---
Majoituspaikan tyyppi
Talo
---
Majoittujien määrä
2
---
Makuuhuoneet
Atherton, Kalifornia, Yhdysvallat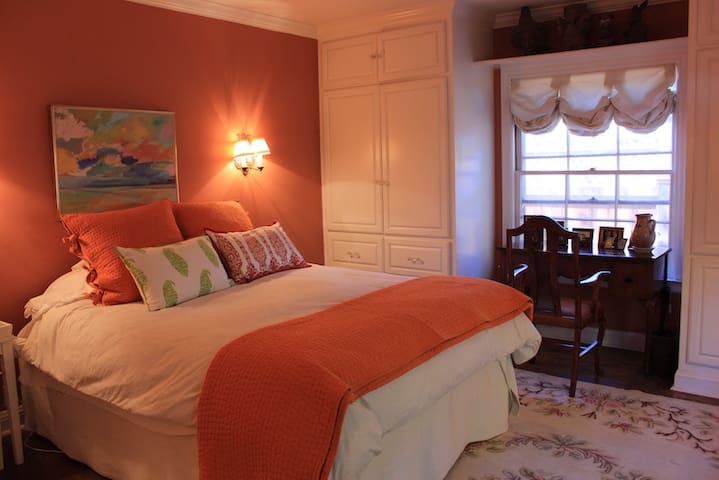 Beautiful detached guesthouse. Located in Silicon Valley between San Francisco and Levi Stadium. Minutes from downtown Palo Alto. Once in a lifetime opportunity. Has a private entrance. Go Broncos... And Panthers Rock!
Great Location. Private house. 5-Star house in Atherton.
Quiet, a lot of trees, very green, easily accessible to freeway and to downtown Menlo Park and Palo Alto
Huonetyyppi
Yksityinen huone
---
Majoituspaikan tyyppi
Talo
---
Majoittujien määrä
2
---
Makuuhuoneet
Atherton, Kalifornia, Yhdysvallat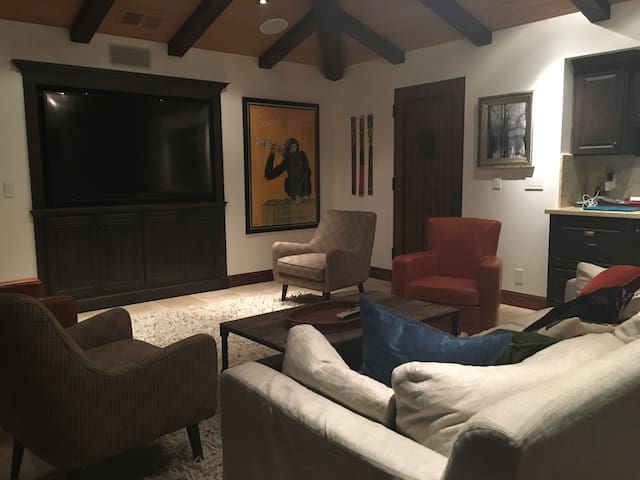 Traditionally and lovingly decorated home with wonderful light, safe, quiet, conveniently located neighborhood.
Huonetyyppi
Yksityinen huone
---
Majoituspaikan tyyppi
Talo
---
Majoittujien määrä
1
---
Makuuhuoneet
Atherton, Kalifornia, Yhdysvallat
Sunny, one story 3 bed / 2 bath w/ large backyard. Steps from Atherton CalTrain stop. Enjoy a 'true' neighborhood experience, but steps from access to CalTrain.
Huonetyyppi
Koko talo/asunto
---
Majoituspaikan tyyppi
Talo
---
Majoittujien määrä
6
---
Makuuhuoneet
Atherton, Kalifornia, Yhdysvallat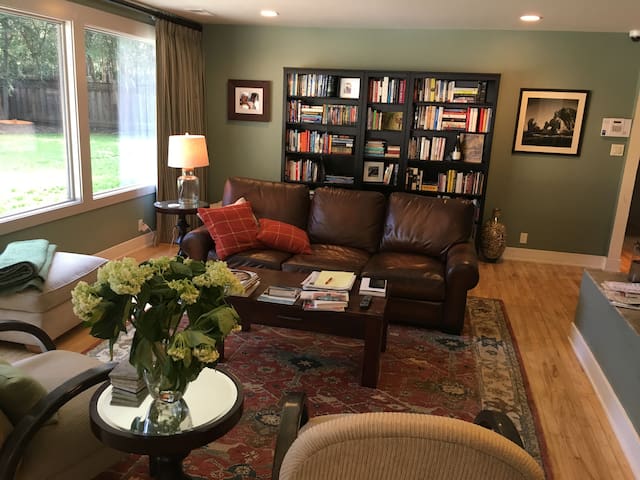 Perfect location for Super Bowl! Light, bright private guest house sits serenely by the pool and hot tub in the back yard of our quiet home. Easy access to train and freeways, Stanford University, San Francisco, San Jose, and beaches.
Perfect for 2 couples or small family. Cozy, clean, very safe neighborhood.
Quiet residential neighborhood of private estates. This area was the location of summer homes for wealthy San Francisco families and still has many historic properties. Nearby shops, restaurants, and entertainment.
Huonetyyppi
Koko talo/asunto
---
Majoituspaikan tyyppi
Talo
---
Majoittujien määrä
4
---
Makuuhuoneet
Atherton, Kalifornia, Yhdysvallat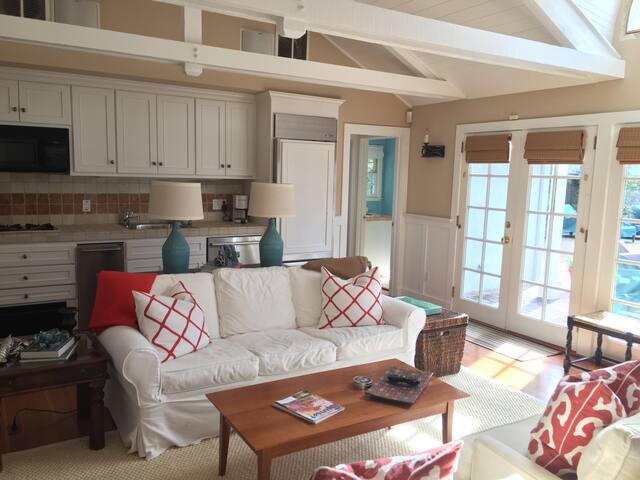 2 Acre 10,000 sq ft. estate 2.3 mi to Stanford. Close to Palo Alto, restaurants & shopping. Lrg kitchen w 3 ovens, microwave, gas stove tops, inside bbq grill. TV Free WiFi Premium Cable Channels.
Open space, tall ceilings. Beautiful Stain Glass Entry Way. Marble staircase with cast iron wood railings with beautiful pillars, balconies, terraces and patios.
The Location, Prestige Neighborhood, Safety, Size, Beauty & Amenities speak for themselves.
The house and grounds were beautiful. Natalia was a wonderful host and helped answer any questions vey promptly. I'd recommend a stay here anytime.
Lauren
2017-03-16T00:00:00Z
Natalia's Atherton Estate is a unique experience, as a stunning and palatial retreat located 10-20 minutes from the major companies in the area, providing a perfect home base for a team business trip. The suite format of private bathrooms and balconies for each room, together with big shared spaces for group sessions in the house, or outside by the pool, add a lot of utility for a company outing. Natalia and Julien who looks after the house are very responsive and helpful. I'd be delighted to return.
Adam
2016-07-15T00:00:00Z
Huonetyyppi
Koko talo/asunto
---
Majoituspaikan tyyppi
Talo
---
Majoittujien määrä
14
---
Makuuhuoneet
Atherton, Kalifornia, Yhdysvallat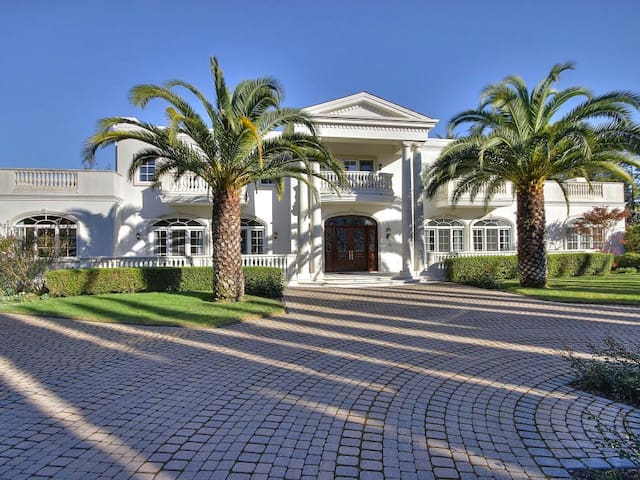 upscale Atherton minutes from 101. Plenty of parking. Second floor will be all yours. One bedroom has a loft. Beautiful yard if you want to BBQ and enjoy the outdoor
Huonetyyppi
Yksityinen huone
---
Majoituspaikan tyyppi
Talo
---
Majoittujien määrä
5
---
Makuuhuoneet
Atherton, Kalifornia, Yhdysvallat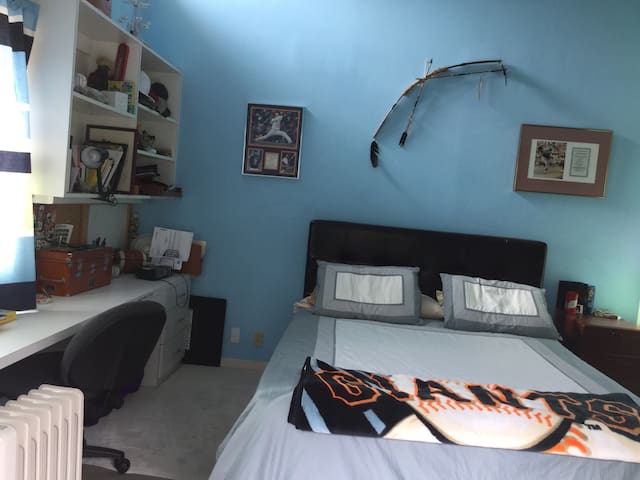 Enjoy this spacious Atherton home with beautiful 1.5 acre yard for Super Bowl Weekend. 10 Rooms plus 3 full baths.
Huonetyyppi
Koko talo/asunto
---
Majoituspaikan tyyppi
Talo
---
Majoittujien määrä
12
---
Makuuhuoneet
Atherton, Kalifornia, Yhdysvallat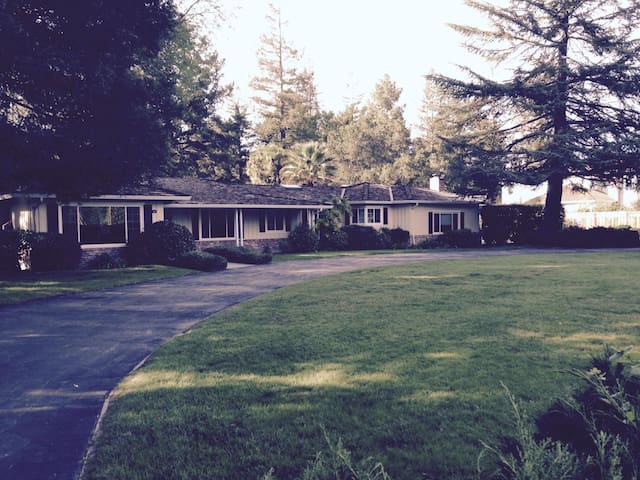 Stay in a private 1,000 sq ft. 1 bedroom/ 1 ba cottage. Completely separate and private with living area that includes queen size sofa bed, Kitchen, dining table for 4 and office desk.
Experience the California lifestyle. Quiet, relaxing hideaway cottage is the perfect place to work or relax. Enjoy all the amenities of home in the heart of the Valley. Easy access to both Highway 101 and 280, close to everything. Perfect place to get inspired to start your new venture.
Atherton is in the heart of Silicon Valley and its vibrant start up community. We are less than 10 minutes north of Palo Alto and approximately 35 minutes south of San Francisco (by car). Palo Alto, Redwood City and Menlo Park all have wonderful downtowns with lots of shops, restaurants and nightlife.
The host canceled this reservation 11 days before arrival. This is an automated posting.
Nicoletta
2016-06-04T00:00:00Z
Huonetyyppi
Koko talo/asunto
---
Majoituspaikan tyyppi
Bungalow
---
Majoittujien määrä
2
---
Makuuhuoneet
Atherton, Kalifornia, Yhdysvallat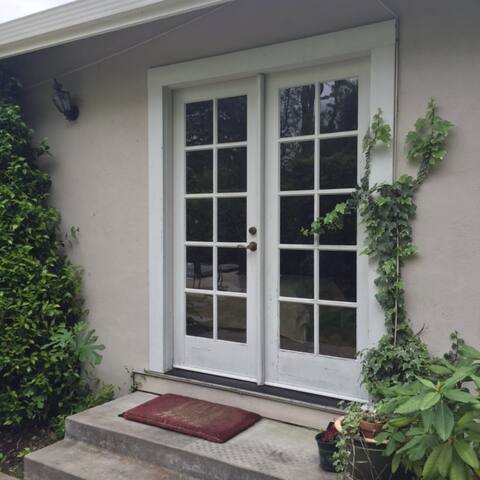 Atherton - Airbnb
:
Keskimäärin

4.84

tähteä yhteensä

5

272

vierasarvostelusta
1

–

18

hakutuloksista

300+ vuokrakohdetta
Anna päivämäärät nähdäksesi kokonaishinnoittelun. Lisämaksuja sovelletaan. Veroja saatetaan lisätä.