Newly Renovated, Self-Serve House, Furnished with Mid-Century Antiques, 3 BD, 2 BA, Full Kitchen, Breakfast Room, Living/Dining Room, Fireplace, Utility Rm with W/D, Terrace, Garage, Wildlife, Forests, Orchards, Pastures - Private, Quite & Peaceful.
The Guest House is located on a Historic Farm within the Plantation Trace Region of Georgia. The Guest House is completely renovated and restored with new fixtures and furnished with Mid-Century Antiques. The grounds are open and spacious with pastoral views. The Guest House is surrounded by a Wildlife refuge where Wild Deer, Turkey and Quail roam. Conveniently located 5 minutes from the Town of Bainbridge where entertainment, dining and shopping can be found. Visit the many Plantations in the area. World Class Bass Fishing is only 15 minutes away at Lake Seminole. Day trip to Florida's Beautiful Gulf Coast in only 2 hours.
The Guest House is Private, Quiet and Peaceful. There are Open Spaces, Pastoral Views and Lush Forest Surrounding The Guest House.
Franklin's place was great. It's nicely decorated and a peaceful location. He checked in with us during our stay. We appreciate his hospitality.
Michael
2017-01-15T00:00:00Z
Franklin was readily available and his guest house operation is very well managed. The home is in a convenient location and a beautiful pastoral setting. It was very clean and check-in and out was very efficient. I would highly recommend staying there if you're in the area. Franklin is a very thoughtful host.
Kathy
2017-02-12T00:00:00Z
We had a wonderful stay, and the house was beautifully furnished in mid-century modern decor, with fantastic attention to detail. I felt very comfortable and at home at the Guest House on Ten Horse Farm and Franklin was a most accommodating host. The house had just about every amenity of my own house, which makes travelling quite enjoyable. Would most definitely stay here again if business brings us back to Georgia!
Allison
2015-07-17T00:00:00Z
On April 29th we visited Franklins lovely home in Bainbridge, Georgia. Myself and 3 relatives traveled to north Florida for a college graduation. Franklin was an excellent host. Upon check in he greeted us cordially and showed us around the property. He even allowed us to check in a few hours early. His home is simple, quaint and very comfortable. We truly enjoyed our stay.
Jennifer
2016-05-02T00:00:00Z
This guest house is absolutely adorable. It is furnished in a retro style. I could stay there a month and just read all the books Frank has. The kitchen was well equipped. Dishwasher did a great job. The washer and dryer were amazingly quick. Detergent for both was supplied. The beds were firm, there were plenty of towels, and the sheets were soft. Loved the quilts and chenille bedspreads. It is on a farm, so it was very quiet and secluded, yet close to everything we needed. We originally booked 3 nights and needed to extend. Frank was very helpful allowing us to do that. He was also quite responsive to any question we had. We enjoyed the house, and would not hesitate to stay there again if we needed to.
Carolyn
2016-01-06T00:00:00Z
I did not meet the host. We arrived in the late evening. The description of the property was accurate. The property is spacious and quiet. The rooms were clean. It was a better value than the neighboring hotels. If it is available in March 2017, I would stay there again.
Gary
2016-10-16T00:00:00Z
Frank is a gracious host. He couldn't have been more accommodating. We made Ten Horse Farm our home base over a football weekend at Florida State and Bainbridge is pretty accessible to Tallahassee; it seemed like we were there and back in no time. Bainbridge has a bunch of great restaurants and Frank's reviews of each were very helpful as we made our selections. It is clear that Ten Horse Farm is a labor of love; visible in the careful planning he's put into color selection and appointing this charming house with mid-century modern furnishings. At sunrise, the subtle color tones lit up and almost seemed to glow, filling the space with an ethereal light. The grounds are like a pristine savannah with a pecan tree canopy. At night we could see so many stars, it was hard to find the constellations. Frank, thank you for making our stay a memorable experience.
Kurt
2014-10-19T00:00:00Z
This house was so charming! The pictures, while accurate, don't begin to capture the charm of this Southern gem! Everything in the house was very easy to find, and the layout was great. Franklin was attentive to needs and easy to get in touch with. Highly recommend!
Carlene
2016-08-01T00:00:00Z
Huonetyyppi
Koko talo/asunto
---
Majoituspaikan tyyppi
Talo
---
Majoittujien määrä
6
---
Makuuhuoneet
Bainbridge, Georgia, Yhdysvallat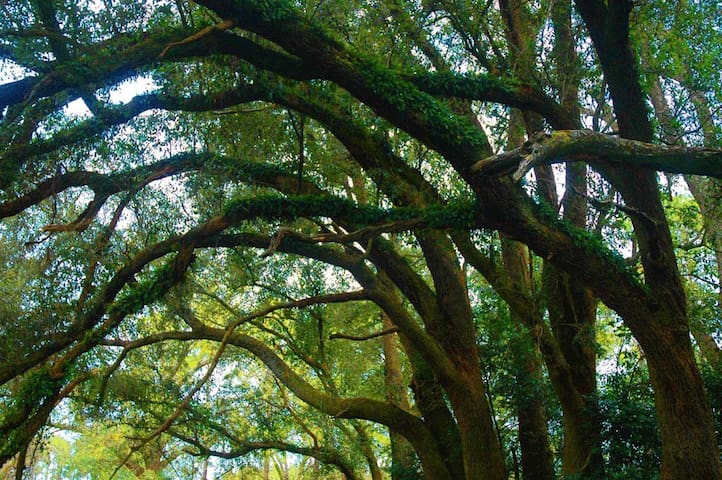 三间卧室,两浴砖家,配套齐全的家外之家。租房者必须使用码头,覆盖防滑内200英尺,对面的街道。小河是火石和查特胡奇河和湖塞米诺尔的支流。轻松睡8在佛罗里达室大号沙发床。火坑。狗的欢迎。围栏后院。两个大边码为停车场的车辆和船只。电气挂钩也可提供。 月租费是可以商量的。
为比赛渔民汽车和挂车的越野停车面积大。 两英里启动斜坡在春溪/大吉姆的雷诺兹着陆斜坡。 大围与火坑和炊事车烧烤后院。 进入码头并在租赁200英尺覆盖滑船。 好捞码头。 在房子的后面尼斯窗口门廊。 友好,安全的邻里有许多全职的居民。 几英里内的几个本地食肆。 美元基本商店有几英里的必需品。 20英里多纳森维尔和班布里奇具有很好的选择杂货店,沃尔玛(班布里奇)和餐馆。 在医院的两个镇。
非常友好邻邦,许多全职居民和安全的环境。
Georgia's place was great. Host was very helpful and responded quickly to any questions. The place was clean spacious and in a beautiful area. The most relaxing get away you could ever want
Kieran
2016-06-03T00:00:00Z
We arrived to south Georgia for my work.....and we found Me. Georgia....really.
Peter
2017-02-15T00:00:00Z
Ms. Georgia was such a wonderful host! She made sure we had all that we needed! Thanks again Ms. Georgia!
Tonya
2016-02-01T00:00:00Z
Georgia was very kind and her home was very comfortable. She let my kids fish with her, which they loved. The birds over at the lake were great fun to see, especially the nesting osprey.
Liz
2016-04-02T00:00:00Z
We absolutely loved this place. It was even better than expected. Georgia is such a joy to talk to and very friendly.
Lassie
2015-12-21T00:00:00Z
We were welcomed very kindly :)
Charles
2016-08-17T00:00:00Z
My brief stay in Georgia was blighted by weather so thank goodness i was not in a hotel but this lovely 3 bed family home. This was perfect for my break. Quiet neighbourhood, safe and friendly. House was a home from home. Big house at that, two large lounges and three big bwdrooms. Would highly reccomend. Joe
Joseph
2016-04-01T00:00:00Z
Georgia was very polite and more than helpful in giving us directions to the property. We loved the space on and in the property as well as the fact that there was a lake you can see from the front door. The location was very quiet and private and the house was clean and comfortable.
LeVar
2016-05-02T00:00:00Z
Huonetyyppi
Koko talo/asunto
---
Majoituspaikan tyyppi
Talo
---
Majoittujien määrä
8
---
Makuuhuoneet
Donalsonville, Georgia, Yhdysvallat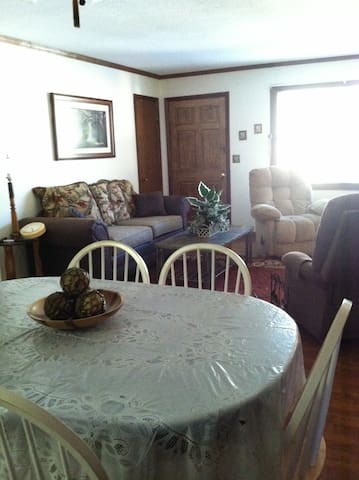 Notre maison est située à La Havane Fl, à 12 miles au nord de Tallahassee et I 10 et à 3 miles de la frontière Ga / Fl et est un grand rendez-vous loin de l'agitation de la vie au rythme rapide. Nous sommes sur un petit lac avec la grande pêche et l'utilisation du canot. Notre cheval miniature vous accueillera à l'entrée. Mon partenaire et moi aimons rencontrer et les voyageurs d'accueil. La Havane est connu pour son grand antique et des boutiques de souvenirs et un court trajet en voiture à Quincy et Tallahassee. S'il vous plaît venez profiter de votre séjour.
Mike and Earl are wonderful! They were gracious and welcoming hosts. This airbnb is everything you could ask for and we would definitely stay here again.
Simon
2016-12-31T00:00:00Z
I was trying to find where I could give this listing 100 stars, as it so rightly deserves, but I could only give the maximum of five stars. WARNING: the photo's that are posted do not due this listing justice. The place is so much nicer than the photos reveal. The lake is what appealed to us initially to choose this location, it certainly was everything we hoped it would be, but better yet was the awesome hospitality from Mike, Earl, and Flynn. Book this location with Confidence! We've decided we will have to visit this place 19 more times to award it the 100 stars it truly deserves.
Christopher
2017-02-05T00:00:00Z
As two girls traveling alone, we were obviously concerned as to where we'd end up, but we worried for no reason! Mike and Earl were sweethearts!!! The amazing care and comfort they provided was beyond anything we expected. Their house is so beautiful and the view left me and my sister in awe. We spent most of our time out by the deck staring at the lake in tranquility. We also enjoyed the intriguing and meaningful conversation about travel and life we had. The morning walk with Flynn around the lake (and our visit with Fudge) was great. We will definitely be back!
Gaby
2017-02-26T00:00:00Z
The host canceled this reservation 27 days before arrival. This is an automated posting.
Ellie
2017-02-26T00:00:00Z
Maya Angelou wrote "Each person deserves a day away in which no problems are confronted, no solutions searched for." This is the perfect spot to just be. Whether sitting on the deck or the dock, you can open your senses to enjoy the view, the wind in the trees, the songs of the birds or the splash of a fish. If you like, Flynn, the resident dog, will join you. Mike and Earl were the perfect hosts. Their greeting was warm and friendly. They were solicitous but not hovering. I was free to do as I pleased. My room was lovely and visually appealing. The bed was very comfortable. The site was easy to get to, traveling on good, well marked roads.
Linda
2016-11-12T00:00:00Z
Mike and Earl are extremely friendly and hospitable hosts. We felt very welcome. Beautiful country house. Amazing location on the lake. "Fudge" the pony was a great addition to our stay! We absolutely enjoyed it. Thank you very much!
Joanna
2016-10-13T00:00:00Z
Huonetyyppi
Yksityinen huone
---
Majoituspaikan tyyppi
Talo
---
Majoittujien määrä
2
---
Makuuhuoneet
Havana, Florida, Yhdysvallat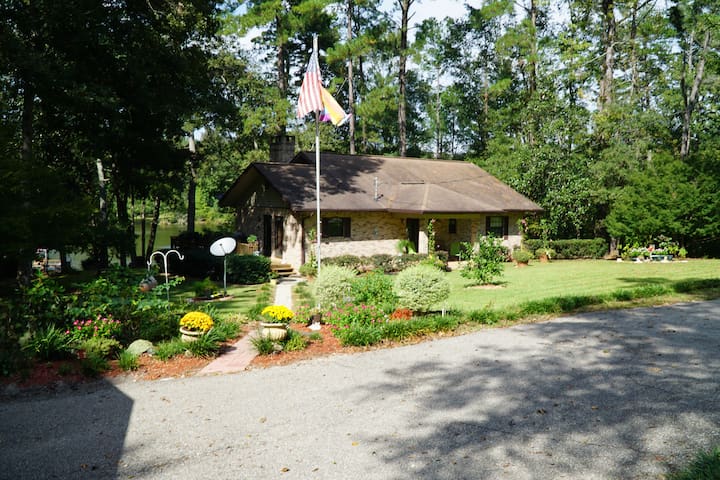 1940年的魅力硬木地板和大窗户。在大床的私人房间休息好。 AC /吊扇。整个大厅新的浴室,在客厅。全面评估厨房和客厅/餐厅。享受门廊,吊床或在树荫下的围栏码找到孤独。
我家的感觉就像一个幽静的地方。充满光明和家人的回忆。
我们的街道很安静最喜欢的一个小镇。有一个城市公园,操场只是一个街区之遥。邻居走路,慢跑和自行车过去我的房子早上和晚上。
My husband and I stayed one night to break up a long trip across the panhandle. M.E.'s home is so lovely, quiet and clean! Her communication was excellent. She was very accommodating, as we arrived pretty late and left very early the next morning. She was sweet and hospitable, and has an adorable dog!
Kathleen
2017-03-17T00:00:00Z
M.E. is a delightful person. And her cozy cottage is just that. I felt very safe a comfortable and knew that if I had any needs that M.E. would accommodate. I highly recommend this Cozy Cottage in Quincy.
Kristen
2017-01-28T00:00:00Z
This place is super cute and homey. ME is so nice. It was such a peaceful stay.
Lori
2016-10-12T00:00:00Z
AMAZING! This is the perfect place to stay if you are looking for a peaceful, quiet, relaxing, cozy escape. The house was so beautiful. The pictures don't do it justice. Its better in person! M E was very welcoming and friendly. I felt very comfortable and at home. bedroom and private bathroom are very clean and spacious. I will absolutely stay here again!
Jen
2016-10-27T00:00:00Z
Our room was cozy and comfortable, and M.E. was very accommodating and made us feel welcome. We will be back!
Lisa
2016-10-02T00:00:00Z
Wonderful place to stay and M.E. is an incredibly gracious and prepared host.
Mary
2016-10-07T00:00:00Z
Huonetyyppi
Yksityinen huone
---
Majoituspaikan tyyppi
Talo
---
Majoittujien määrä
2
---
Makuuhuoneet
Quincy, Florida, Yhdysvallat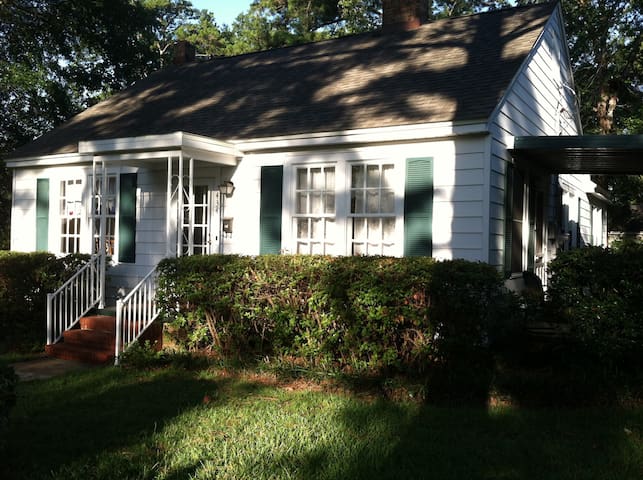 Dawana was a great host. Her place was clean and tidy. She was respectful To our need for rest. :) If I was ever in Tallahassee, I'd seek to stay with her again! Great time.
Damon
2016-07-10T00:00:00Z
That is a quiet place. The room and bed is as described large and clean. Dawana is friendly. We strongly recommended this place.
Chang
2016-05-31T00:00:00Z
Dwana welcomed us at the door on arrival. King bed was very comfortable. Room and adjoining bathroom were very spacious.
Patty
2016-10-02T00:00:00Z
Comfortable stay for a night after traveling. Comfortable bed, clean and cute puppy too!
Jennifer
2016-08-24T00:00:00Z
It was good
Glenn
2016-06-27T00:00:00Z
I have a great experience there! Thank you Dawana and Matt! The room is large and clean. Also, there are lots of DVDs of Dawana's personal collection. If you are a movie person, there should be your best choice!
Shengchen
2016-05-01T00:00:00Z
The room was spacious and the neighborhood was quiet. Even the dogs were quiet so we were able to sleep very well. The hosts were warm & inviting and tolerant of our coming in past midnight from the FSU football game. This was our first experience with AirBNB and it will not be the last.
Vicki
2016-11-27T00:00:00Z
Huonetyyppi
Yksityinen huone
---
Majoituspaikan tyyppi
Talo
---
Majoittujien määrä
2
---
Makuuhuoneet
Havana, Florida, Yhdysvallat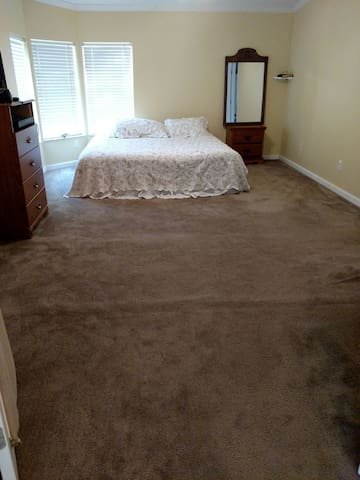 My wife and I a great time at Kevin's. Very secluded and situated on a remarkable property. Kevin was kind enough to offer a tour of his land and home upon our arrival, and the dense forest that is his backyard was a sight to behold. Thanks again, Kevin.
Winston
2016-12-05T00:00:00Z
Another fantastic stay at Kevin's home! Kevin is a gracious host who'll give you a great massage and fresh fruit breakfast.
Ralph
2016-10-30T00:00:00Z
Kevin was warm and gracious. His home is beautiful. We wished we had more time to see the area. He offered to take us hiking on his property which was quiet and beautiful. The owls hooting was the sound you could here sitting on the back porch. He even had fruit nuts and coffee for us in the morning. I recommend a stay.
Gina
2016-05-01T00:00:00Z
Kevin was a personable and gracious host. His home is very nice with interesting artifacts, art, and pool table. The property is as described on the site. The home is on 14 acres of woodland, very quiet and peaceful. Kevin made us a breakfast of fresh fruit and coffee with some of the fruit (pears and parsimmons) grown on property. He also provides complimentary chair massages for his guests. After breakfast he took us on a pleasurable hike around his property. A wonderful stay!
Ralph
2015-10-12T00:00:00Z
Our stay with Kevin was wonderful. The location just a few minutes outside of Tallahassee was very convenient and Kevin stayed up late to accommodate our arrival. The setting is amazing and we wish we weren't on such a tight schedule so that we could have spent time exploring the grounds and gardens. Kevin made us a very nice fruit plate for breakfast and great coffee. The bed was very comfortable and the room and adjoining areas very nice. We will definitely stay there again when we have business or pleasure in Tallahassee.
Will
2016-11-27T00:00:00Z
Driving down a couple dirt roads and then a grassy field we wondered if we were in the right spot, but after a turn or two the home came in sight and 'Woodland Escape' is a perfect description. We had an awesome bedroom/bathroom and foyer type room to ourselves, the bed was very comfortable and we had our own door to the deck and use of the kitchen. Kevin was very welcoming and accommodating of our coming and going and in arranging a wide arrival time window. The wood work in the house is incredible, and we loved sitting on the deck at night and hearing the owls and seeing the deer walk thru in the morning. Access to I-10 was easy and quick with our GPS. Kevin was great in suggesting local places to visit in the little free time we had. He fed us a plentiful fruit and bagel breakfasts and made us coffee even tho he doesn't drink it himself. We had a hard time pulling ourselves away after our massages out on the deck. This home is great if you are looking for a quiet, relaxing and comfortable stay with easy access and yet remote at the same time. There are several draws to staying here, the intriguing wood work, Kevin's knowledge of local areas for Mtn. biking, the quiet natural beauty, the easy access to the Interstate. When we come back to the area we will be staying here again.
Lynn
2015-10-26T00:00:00Z
We had a great time staying here and we will definitely recommend it to others. The cabin layout, materials, and build quality are all top notch. Kevin walked us around his land, showed us his garden, took us to his friends private swimming hole (spring), cut us fruit for breakfast and even made us a nice organic dinner! We had plenty of privacy, although, we found ourselves calling Kevin's name in order to challenge him to a game of pool or ask him questions. If you have bicycles, we recommend bringing them, there's plenty of trails. We saw lots of wildlife. We enjoyed eating blueberries & blackberries fresh off his trees. Close proximity to some very nice parks, a Walmart, and not too far from Tallahassee, which has everything. We'd like to visit again.
Jeremy
2016-07-05T00:00:00Z
Upon arrival to Kevin's house you wonder if you are lost...this is the wild north of Florida. There is nothing tropical about it. Tucked in the woods sits a warmly lit wood house where Kevin met us to help us with our bags. He is such a gracious host! The bed was comfortable, breakfast delicious and the house intriguing. Kevin took us for a hike in the woods as we searched for birds in the canopy. There are a few state parks nearby that Kevin has information on. We took a cave tour during our stay and recommend stopping by for that. Overall this visit was a wonderful adventure thanks to Kevin. He made our stay truly enjoyable!
Rebecca and Nathan
2016-07-25T00:00:00Z
Huonetyyppi
Yksityinen huone
---
Majoituspaikan tyyppi
Talo
---
Majoittujien määrä
2
---
Makuuhuoneet
Quincy, Florida, Yhdysvallat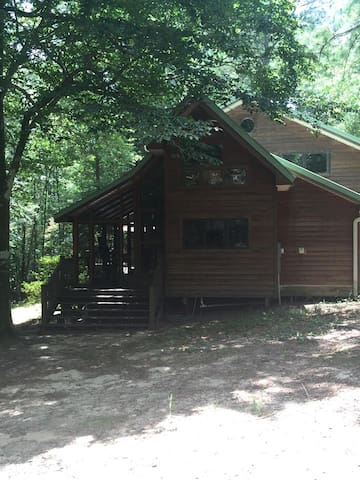 1

–

6

hakutuloksista

6 vuokrattavaa taloa
Anna päivämäärät nähdäksesi kokonaishinnoittelun. Lisämaksuja sovelletaan. Veroja saatetaan lisätä.