Solo per due .. l'accesso solo in barca .. impostazione boscaglia .. strade senza macchine! questo è glamping al suo meglio cucina all'aperto fuoco all'aperto doccia ACQUA PIOVANA CAMERA tra gli alberi Amaca per due mangiare all'aperto Esplorare il fiume in canoa FISH dal molo arrivare in taxi acqueo o Mailboat ....... maggiori informazioni riguardo il costo vedi sotto 3 ° notte ...... metà prezzo
la baracca offre un'esperienza unica per tempo lontano dalla corsia di sorpasso ...... la baracca è arretrato dalla riva del mare, in un bosco di macchia nativo ... ...... ....... Non ci sono porte tra il salotto e il ponte posteriore camino, solo tende che scendono se necessario ........ il concetto è quello di godersi lo spazio aperto come una ... .... la capanna è un design minimalista ma offre più solo le basi ................ Nota ARRIVO costo aggiuntivo ................ in treno o su strada a Brooklyn; poi Brooklyn a Bar Point in barca TAXI ACQUA circa $ 50pp per viaggio di 7 giorni Mailboat circa $ 20pp per viaggio MON - THUR arrivo; LUN-VEN partenza non adatto alla propria barca o il noleggio barca al Bar punto c'è poco ripido sentiero BUSH con 35 scale .... ma vale la pena l'escursione se vi piacciono le immagini !! .................................................. ........... IL CUOCO CUCINA / CUCINA .................................................. ........... in sostanza, uno spazio esterno, impostare sotto la grondaia della camera da letto delle strutture di vita e ...... .... persiane sono utilizzati anche nella zona della cambusa [vedi le immagini] .. a volte, lasciando cadere le tende vicino al lavandino diventa necessario in tempesta / notti ventose ..... Tutto è a posto per quelli con un amore per la cucina banco di lavoro in acciaio inox 2 piastre elettriche. piccolo forno elettrico. Barbecue con cappuccio. fuoco di legna 2 sotto banco frigo bar tedesco coltelli di carbonio realizzati. inox ciotole e utensili acciaio e ghisa vasi di ferro. ceste di bambù a vapore frullatore a immersione . mini robot da cucina. mortaio & pestello ugello latte, caffè stantuffo, italiano erogatore Dispensa ben fornita con oli, aceti, mostarde asiatico & europei salse e condimenti sali e pepe tè, caffè, zuccheri avvolgere contento, tovagliolo di carta, carta da forno, lamina eseguire il backup di farine e cereali quindi nessun bisogno di portare tutto il supermercato nel vostro zaino !!!! .............. CENARE .............. il bancone del bar vicino al fuoco, è un luogo preferito per mangiare, come è la tabella 'banco di lavoro' nel salone .... senza dimenticare il tavolo all'aperto sul ponte anteriore ..... Nonostante vi sia alcun tavolo da pranzo formale tutto è lì per creare un ambiente bellissimo pranzo .............................. LA CAMERA DA LETTO .............................. luce per i flussi in da tutti i lati da una banda di alte finestre rendendo questo spazio un meraviglioso spazio dall'alba al tramonto ..... Tutto è a posto per un sonno confortevole notti in tutte le temperature ma se siete alla ricerca di una camera da letto con oscuramento totale, allora questo non è per voi ................................ IL BAGNO ................................ soffione doccia di grandi dimensioni l'acqua piovana il bagno è anche un'esperienza INDOOR.OUTDOOR ..... un termoventilatore può prendere il freddo fuori sulle mattine fredde asciugamani BYO ............................ ALLA CAPANNA ............................. amaca tra gli alberi tappetini per lo yoga. blocchi. capezzali libri. riviste. i giochi . puzzle altoparlante bluetooth NO TV
................ PESCA ................ ganci BYO, esche e platine migliore di pesca è il alta marea sera ...................... NUOTO ...................... il pontone molo è un luogo ideale saltare su l'alta marea o kayak alla bassa marea spiaggia, appena passato il pozza d'acqua [circa 4 km] .................................................. .. FOTOGRAFIA - DISEGNO .................................................. .. il litorale di mangrovie è uno scrigno di materia ..................................... ESPLORA IN KAYAK ..................................... paddle [+ un piccolo cespuglio un'escursione in salita] a una pozza d'acqua fresca poi a un ombroso bassa marea Spiaggia vicina E poi passando la pietra arenaria scogliere a picco e al relitto Parramatta ............................. Walking Trail ............................. un viaggio passeggiata intorno lungo la pista battigia è di circa 40 minuti
Very warm host, great experience
Chi
2017-01-28T00:00:00Z
Had a really lovely time at Jacqui's place. The shack is located amongst the trees and less than a 5 min walk to the wharf where you can fish and kayak. Shack is exactly as it looks in the pictures, very bohemian, relaxing and cosy. Great way to spend a long weekend out of Sydney.
marie
2016-04-13T00:00:00Z
Jacqui's adult cubby house was really endearing and fun to stay in. She had thought of everything to make the place comfortable, both from our arrival point of view and in putting the house together. The house is comfortable, quirky and generally really fun. The canoe was really fun to borrow and paddle down the river on, Jacqui gave excellent directions and advice on where to go. The whole weekend was rejuvenating and relaxing and cut off from the hustle and bustle. Listening to the birds in the morning and sat by the fire at night were bliss.
Kelly
2016-09-19T00:00:00Z
We had a great stay at Jacqui's - we loved the quiet and being out in nature. The place was perfect, a little hideaway away from the hustle and bustle of city life. We would definitely recommend staying here if you want some time to retreat and feel refreshed and rejuvenated. Thanks Jacqui for having us.
Allen
2017-03-13T00:00:00Z
This is a very special place. Jacqui was a lovely host, and made every effort to ensure we were comfortable. Being in the shack was like lounging in the bush, plenty of great places to read and relax, but with lorikeets and kookaburras above. The kitchen was better stocked than our own and very intuitive to use. We would recommended staying here to anyone.
Gabriel
2016-02-15T00:00:00Z
Jacqui, was fantastic, very helpful, welcoming and a lot of fun, her Glamping cabin was all she said it would be and more, can not recommend it enough, great experience
Steve
2016-03-01T00:00:00Z
Couldn't have imagined a better experience! So wholesome, relaxing, beautiful. The shack itself is even better than the photos convey - a cool layout, tastefully styled, well stocked and set-up, and incredibly integrated with its surroundings thanks to the numerous windows and open wall. Waking up to the sounds and views of nature is something really special too. Loved having a digital detox of sorts, and in between moments of tranquility we were able to do as we pleased - go for a bushwalk, kayak to a private beach, play games on the lawn nestled along the foreshore, swim in the river and spend time reading on the jetty. Jacqui was an incredible host - very thoughtful and generous (thanks for the gin!), always contactable but never intrusive, and provided all the information we ever needed. I always love trying something new, but this is a place I know I'll be returning to - and can't wait to find the artesian water hole next time round! Cannot recommend highly enough :)
Nate
2017-01-04T00:00:00Z
Highly recommend going out for a paddle! I don't think we got the tide timing right but if unfamiliar get Jacqui to explain it and take notes (our crucial error). Super quiet and peaceful!
Amita
2017-01-01T00:00:00Z
Huonetyyppi
Koko talo/asunto
---
Majoituspaikan tyyppi
Puumaja
---
Majoittujien määrä
2
---
Makuuhuoneet
Bar Point, Uusi Etelä-Wales, Australia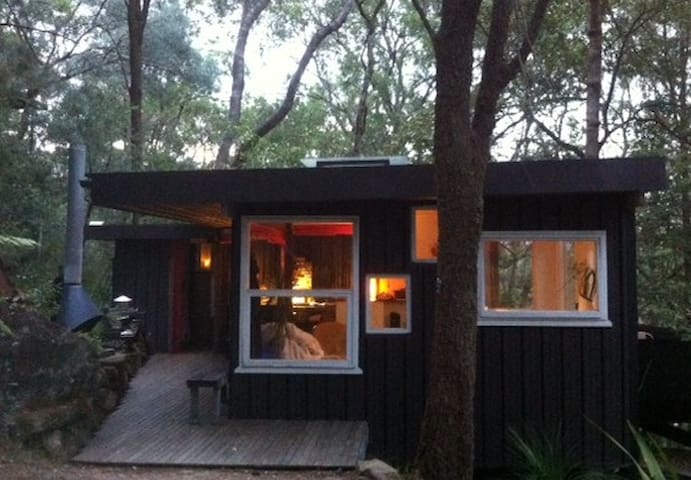 Uanset om det er en romantisk weekend, eller en part af 8. Uanset om sit fiskeri vandring skiløb kajaksejlads fortrænge rolig, du er ude efter. Du har det hele her. En virkelig u unikke experienceoaz i vinter eller sommer med alle de legetøj suppliedwgf at nyde denne spektakulære
Fortøje din båd på din hoveddør stå på ski i løbet af dagen Retur og whwqkjllkt nyde middag med familien Sæt børnene til at sove, og tilbage på vandet for en drink eller en hurtig fisketur i et eksklusivt sted kun få Sydneysiders nogensinde har set !!! Nyd flodbredden livsstil, hvor du og din familie kan fiske / ski / sejle i kano eller bare tage en doven sejltur eller gå på de græsklædte reserve. Nyd grillfest i lukket privat baghave eller gøre en enorm lejr brand i brand pit forudsat For de kølige nætter eller regnfulde dage, er en langsom træ brændende ild beliggende i det åbne plan stue sammen med en blå ray DVD-afspiller med omkring 100 DVD'er til rådighed (hvis du glemmer dine favoritter hjemme) Nu også inkluderet er Foxtel med alle de grundlæggende kanaler Huset har 4 soveværelser, hver med en dobbeltseng i, og ICAN komfortabel plads til 8 voksne eller to familier. Baghaven er helt lukket og kæledyr kærester er velkommen til at medbringe din hund En lille drevet båd licens til 5 personer, 2 kajakker og nogle fiskestænger er tilgængelige på huset alene til dit brug. Ingen licens er nødvendig for strømmen, hvis drevet mindre end 10 knob Internet til rådighed så arbejde fra "hjem" eller forlade børnene og rejse til Sydney CBD på under 1 time
Bar Point ligger i Popran naturreservat. Mange huse er besat af fuld tid beboere. På grund af vandet, ingen biler og kommercielle aktiviteter, stedet er meget stille og fredeligt, så meget, så hvis du er helt vil du høre fiskene springe i vandet og tidevandet skvulper på kysten fra balkonen af huset .Noise synes at bære meget let på dette område og dermed vi beder vores gæster til at holde det lavt efter 22:00.
The host canceled this reservation 32 days before arrival. This is an automated posting.
Vanessa
2017-01-16T00:00:00Z
We had a great time at Bar Point and would recommend this property for it's open space and great location. Everything met our expectations and was a perfect venue for our birthday gathering. David was especially helpful when my boat encountered problems. Thanks for your assistance and being such a generous host. Todd & Louise
Todd
2015-11-16T00:00:00Z
Lovely house, very unique, spacious and cosy on the waterfront with a big fireplace and stocked with plenty of amenities. Quite a different getaway but David helped us through and checked in regularly to ensure we were going alright and to make sure we felt at home.
Dean
2015-07-13T00:00:00Z
David was a great host. Super friendly, informative and accommodating. The house was truly amazing! We were there with a big group of friends (10+) and we loved our stay. Beautiful surroundings, a bbq, the jetty to explore the area and a nice terrace to hang out in the shade. We had a great weekend!
jolien
2015-12-08T00:00:00Z
We stayed here for a family get together for my 21st, and it was perfect! We loved that we could even bring the puppies to join us too. The location was beautiful, and was just loads of fun hanging out here. David was great with answering all the questions we had and made sure everything went smoothly for us on arrival. Thank you again, we definitely hope to come back sometime in the future!
Samantha
2016-07-05T00:00:00Z
The location was excellent only a few minutes by boat from the wharf at Mooney Mooney. Buggy was great for bringing stuff to/from the boat certainly saved a lot of carrying. Great views and fishing, overall a great relaxing weekend watching the world and an occasional fish pass by. David was very helpful and responsive to questions etc. which made the experience even better Thank You!
David
2016-06-14T00:00:00Z
Well first of all I want to thank David for everything, you have such a beautiful home, you were very welcoming and you made sure that my family and I were settled you were always available on call with the willingness to lend a helping hand. This is the first time I've booked a place through air bnb and if this is the kind of service that I'll be paying for then I'm very happy to continue to book through air bnb in the near future. My mother had a great weekend away to celebrate her 60th. And with your help and the amount of people that joined us, you made my weekend less stressful. You have been great from the get go, the view is so breathtaking, my children and nieces and nephews loved everything from kayaking, fishing and exploring the grounds. Everyone enjoyed themselves and not one person in my family had anything negative about the place. Although the weather didn't agree with my plans we did make the most of what could be done and David had literally everything available from board games for the kiddies, free wifi for the teenagers, playing cards for the mothers and a backyard layout for the men to sit back and have a yarn. My parents flew in from NZ, knew that I planned a weekend away, but didn't expect to see what was in store for them. They loved every moment of it and your home gave me that space to reunite with my siblings who made the long drive over from Melbourne to enjoy the peaceful place that your home offered. So thank you David once again for allowing me to take over your home for the weekend and being so welcoming and friendly. I will definitely be recommending your place to those that want to escape the crazy city life.
Monika
2017-03-05T00:00:00Z
Just wanted to say thank you to David for letting us rent his lovely home (and boat) in Bar Point for Easter weekend! We had such a relaxing time using the boat to have a few adventures and sitting by the fireplace enjoying a fine glass of wine. We will definitely be renting this again house soon!
Christy
2015-04-07T00:00:00Z
Huonetyyppi
Koko talo/asunto
---
Majoituspaikan tyyppi
Talo
---
Majoittujien määrä
8
---
Makuuhuoneet
Bar Point, Uusi Etelä-Wales, Australia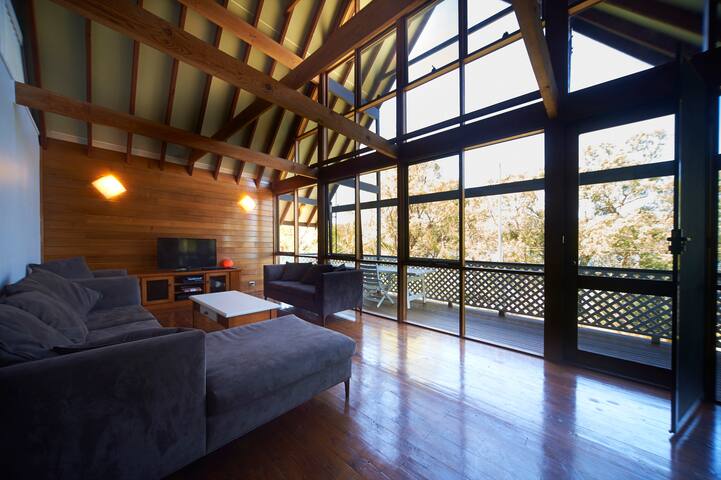 Bar Point Beautiful Cedar house set on the lovely Hawkesbury River. Set high among the trees. Bring your own boat or catch a water taxi. Own private pontoon and jetty 2 bedrooms , bath BBQ Includes linen
Water access only
The host canceled this reservation 3 days before arrival. This is an automated posting.
Matthew
2017-01-23T00:00:00Z
This place is great - set high up on the hill nestled amongst the sandstone boulders looking out over the Hawkesbury and amongst the trees and birds. It is private, secluded and quiet - very relaxing and comfortable. Communication from our host Dave was great - he responded quickly and explained everything we needed to know clearly. Tips on getting there - boat only access. We were quoted $100 each way in the water taxi so ended up hiring a 4 person run-about from Brooklyn Central Marina for $270 for the weekend (Fri-Mon). It took around 45min to get there with an 8hp motor (easy to find due to great directions provided by Dave). Hiring a boat allowed us to explore the waterways and go fishing. You can pay a little more for a faster boat. We didn't take too much stuff - which worked out well as there are quite a few stairs to get up to the house; but as the sign says when you reach the top "You have to climb the mountain to enjoy the view." In saying that, take all your food/drinks etc as its a mission to get back to a shop. We really enjoyed our stay and would love to go back again sometime! Shaun and Laurin
Shaun
2017-01-21T00:00:00Z
Huonetyyppi
Koko talo/asunto
---
Majoituspaikan tyyppi
Talo
---
Majoittujien määrä
4
---
Makuuhuoneet
Bar Point , Uusi Etelä-Wales, Australia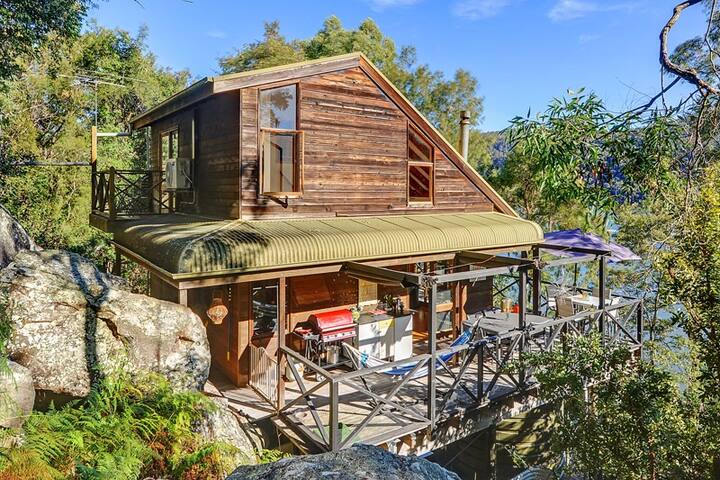 Accesible sólo por barco - taxi de agua, la barca de cartero o en su propio barco. Junto a la piscina climatizada con energía solar o disfrutar de la vista desde la cubierta de entretenimiento. Unas vacaciones frente al mar en un ambiente seguro, sin tráfico. Hay mucho por hacer en exteriores e interiores para niños y adultos. Pesca, natación, caminatas por el monte. Mascota amigable.
Nuestra escapada familiar con piscina, es una propiedad frente al río accesible sólo por barco. Bar Point es una comunidad aislada río. Llegar en su propio barco, reservar un taxi (aprox $ 20 pp para el grupo de 6) o (solo entre semana) la barca El cartero entrega el correo y pasajeros a Bar Punto. Una casa moderna en el río Hawkesbury, nuestra escapada familiar tiene una impresionante piscina, zonas de estar abierta y entretenidos grandes, grandes vistas de agua y un montón de actividades locales para niños y adultos. También hay grandes zonas de césped que conducen a la línea de costa y nuestro embarcadero compartida - que también proporcionan grandes áreas para pasar el rato. Disfrutar de la serenidad de ningún tráfico (que no sea el ocasional barco que pasa por), junto a la piscina, o pasear por la playa. Bar Punto está respaldado por Parque Nacional Popran y ofrece grandes caminatas por el monte para los más aventureros. La casa tiene un montón de espacio en el interior o en las cubiertas para relajarse y extenderse. Hay una cocina animadores que se abre a la sala de estar y comedor de planta abierta - perfecto para las cenas. La casa principal y estudio de invitados se unen por la cubierta alrededor de la piscina. Los arreglos de la casa para dormir son bien configuración para las familias con los diseños de la cama de la siguiente manera: El dormitorio principal: 1 x cama de matrimonio y baño (2 personas) Dormitorio 2: 1 x cama doble (2 personas) Dormitorio 3: 1 x litera individual y una cama nido (3 personas) El baño principal se sitúa entre 2 y 3 dormitorios. Sumado a la casa principal es el estudio de invitados. Esto es dormitorio 4: 1 x trío litera - doblar a continuación, solo por encima de (3 personas). El estudio de invitados también tiene una pequeña cocina, baño y mesa de billar.
Los peces de nuestro muelle compartido, colocar sus trampas para cangrejos para atrapar azul nadadores o cangrejos de barro, paseando a la presa de agua fresca, ir embarcadero tirándose al río, pasear por la playa de ver la fauna local, enviar a los niños alrededor del árbol comunidad Cámara de árboles y columpios, diríjase al otro lado del río a la turba de Bite restaurante (pre-reservar este), explorar las playas del parque nacional de los kayaks, o hasta Marramarra Creek.
Beautiful spot if you are looking for a waterside getaway. Great house, big kitchen and open plan lounge area very comfortable for a big family.
Ho-yen
2016-06-07T00:00:00Z
Such a beautiful spot and a great house. Tracy was very friendly and obliging. Plenty of room, activities at the house and even a nice welcome basket left for us. Highly recommend.
Danielle
2016-10-04T00:00:00Z
Great house that had all you needed. Attention to details including wine on arrival was fantastic. Thanks for a great place.
Ruth
2016-10-31T00:00:00Z
Just back from the most amazing weekend at Tracy's place - the images really do not do the property justice, it's just stunning and right on the water where we witnessed the most beautiful sunrise and sunsets. Access to kayaks and the jetty was very convenient, especially in the winter sun. A fully equipped kitchen made our stay and feeding 9 people so easy. Couldn't recommend Tracy's place more - it has been a perfect weekend and will definitely be back soon. Thanks Tracy!
Nicola
2016-07-30T00:00:00Z
We had an amazing stay at Bar Point. The location is amazing and the house is very comfortable to stay in. Tracey has made sure everything you need is there. We had such a relaxing getaway - I would highly recommend!
Phoebe
2016-08-08T00:00:00Z
If you're looking for a relaxing break and good quality time with your family or friends, Tracy's house is the perfect place. You have exactly all you need there (and probably even more) with a very well equipped kitchen, a nice swimming pool (just want you need to refresh yourself on a hot day) with the barbecue close to it, good room sizes, a quiet and nice location. We had a wonderful stay and I can only recommend it to anyone looking for a nice place, for a week or a week end.
Marie-Ch
2016-11-19T00:00:00Z
Wow just wow. Could not of ask for anything more the house was everything that we expected and more. Extremely well equipped from the kitchen to toys and games for the kids. kayaks and even a tinnie for us big kids. Having free wifi was a great added bonus. Plunge pool was just perfect to sit in and have a relaxing drink after a days fishing,which was also good including straight off the wharf in the morning and evening. Would like to thank Tracy for the use of such a wonderful home
Adam
2016-03-05T00:00:00Z
Thanks Tracy. We had a great weekend. You've got a very special spot there at Bar Point. Very peaceful, a beautiful surrounding landscape and the boat-only accessibility make it unique. Tracy kindly left a bottle of wine and block of chocolate on arrival and the place was spotless and had all we needed for a memorable stay.
Will
2017-02-25T00:00:00Z
Huonetyyppi
Koko talo/asunto
---
Majoituspaikan tyyppi
Talo
---
Majoittujien määrä
8
---
Makuuhuoneet
Bar Point, Uusi Etelä-Wales, Australia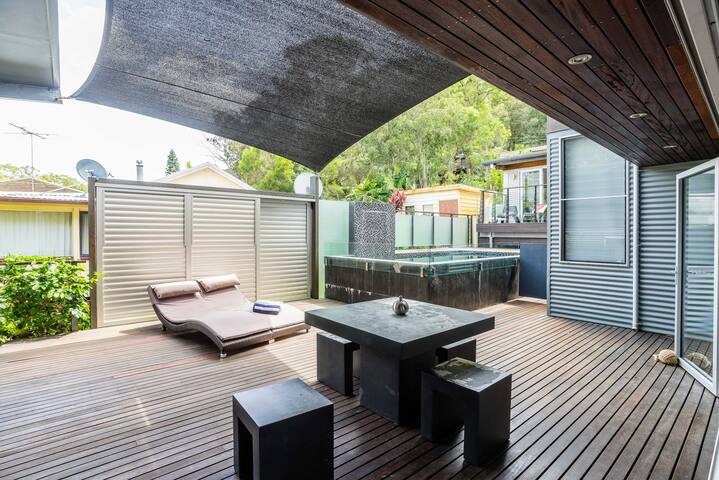 渔人点是一个真正独特的属性。壮丽的景色,豪华的,宽敞的,私人和真实澳大利亚。 4套房间和相邻客人平房(额外)网球场,游泳池,悬崖边按摩浴缸,烧烤,厨师的厨房和台球桌。一个特殊的地方与地球上的亲人分享ones.Heaven难忘的时刻!所有缔约方。居民看守。
豪华任命了最挑剔的客人。现场居民看守欢迎您。不只是房子,但你的独家使用的全部财产。美丽的散步由澳大利亚丛林袋鼠,笑翠鸟,巨蜥(巨蜥)和其他有趣的本土动物包围。 多个室内和室外用餐,休闲和娱乐区。热带棕榈环绕游泳池。全尺寸的网球场。崖顶按摩浴缸与香槟桶,迪斯科灯光!优良的品质床单和毛巾。有机洗浴用品。熊熊燃烧的壁炉。设计师意大利家具和现代化的澳大利亚艺术。
Hawkesbury河环绕着酒店。船,摩托艇和滑水橇都可以在附近租用。免费使用独木舟。野营探险可以安排。
Highly recommend this property! Skye was a wonderful host in the lead up to our stay at this property with great communication and suggestions of additional activities in the area! And from the first glimpse of the property as we approached from the boat, we knew the stay was going to be spectacular!! The property has everything you could want in terms of amenities, and is so stunningly decorated to the highest standard which is only seconded by the view from every aspect of the property ! We will certainly be staying here again! We did not want to leave!!
Timothy
2017-03-12T00:00:00Z
Simply beautiful. Me and the girls felt truly relaxed and indulged. The perfect weekend away within an hour from Sydney.
lizzie
2017-02-11T00:00:00Z
I cannot fault this listing... it was absolutely perfect! Only a short drive from Sydney and you arrive at this luxurious haven! It's been fitted out to the highest standards and feels very grand. Made to feel extremely welcome and couldn't have asked for better service. We had the best weekend celebrating my birthday and we would definitely book again.
Charlotte
2016-10-03T00:00:00Z
It was my second visit to this beautiful place which makes the perfect location for a girls weekend retreat. Relaxing, picturesque and extremely homely. It rained almost the whole time but it was fun to explore the island, go on long walks and read books. I will be returning in the near future for sure!
lizzie
2017-03-05T00:00:00Z
Beautiful and stunning place for a great weekend away. Tastefully appointed with attention to detail in designing the home. Great welcome by John and our host Skye was exceptionally helpful and offered recommendations, direction and suggestions on how best to enjoy the home. No questions were unanswered. All guest rooms were extremely posh and stocked with luxury products with Aesop. Sheridan beddings, comfortable living and dinning area and a kitchen to die for, no matter if you are a cook or a chef. Fit for royalty. We are already planning our next stay and visit to this outstanding property.
Karl
2016-12-17T00:00:00Z
Huonetyyppi
Koko talo/asunto
---
Majoituspaikan tyyppi
Talo
---
Majoittujien määrä
10
---
Makuuhuoneet
Bar Point, Uusi Etelä-Wales, Australia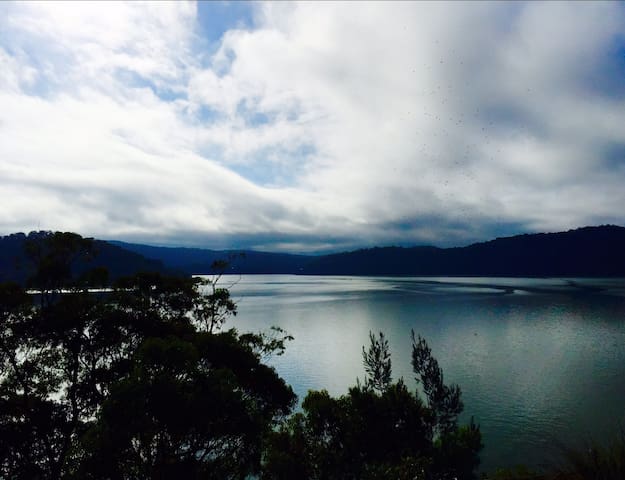 Newly listed and updated. Cubba Cubba is located on Coba Point, the most beautiful spot on the Hawkesbury River. Accessible only by boat this is a great place to escape for a weekend or week away with friends and family. Enjoy a spot of fishing, kayaking, water skiing, bushwalking or simply relax and enjoy the view from the balcony or your own sandy beach at mid-to low tide. It is a water access only property so you will be picked up by private boat at the public wharf at Berowra Waters.
Very large open plan lounge & dining areas adjoining the spacious modern kitchen. These areas open on to an 18 x 2.5m enclosed front verandah with expansive Hawkesbury River and bush outlook.
There is a Coles supermarket in Berowra as well as a local store at the Berowra Waters Marina for necessities
The host canceled this reservation 3 days before arrival. This is an automated posting.
Thaio
2016-12-27T00:00:00Z
Huonetyyppi
Koko talo/asunto
---
Majoituspaikan tyyppi
Talo
---
Majoittujien määrä
6
---
Makuuhuoneet
Berowra Creek, Uusi Etelä-Wales, Australia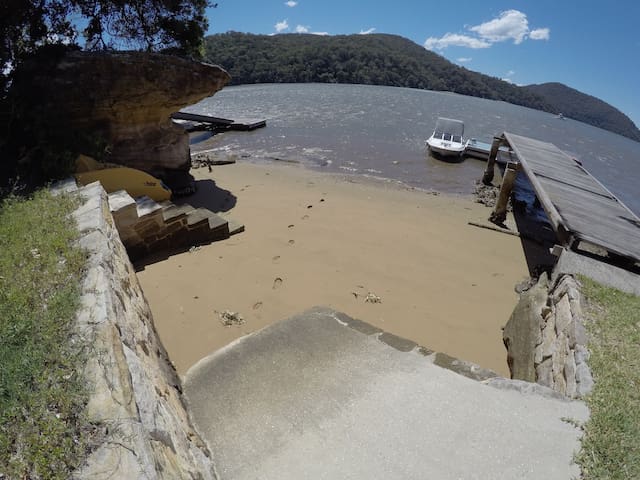 The ultimate beach escape just 75 mins and a ferry ride from Sydney CBD. This really is a hideaway! There are bush turkeys, wallabies, parrots, geckos and all sorts of other wildlife roaming free. Flexible check-in and late check-out too!
The place comfortably sleeps 4 in two queen bedrooms with two bathrooms. There is a third bedroom with two king single beds - great for kids or extras. All linen and towels provided. It's a simple and homely dwelling with an emphasis on green and organic living. There is a great kitchen and entertaining space as well as a huge verandah. Dining space indoors and outdoors. Less than 400m to near private beach and with a back drop of the national park. Along with basic fishing tackle and rods. There are no shops at Great Mackerel Beach - so take everything you need. Kitchen is full of spices, oils and the essentials - feel free to raid the designated cupboard when cooking. This really is a hideaway! There are bush turkeys, wallabies, parrots, geckos and all sorts of other wildlife roaming free - please don't feed them as you are in a national park. Access is by ferry from Palm Beach (where you leave you car if you have one) The ferry ride is idyllic - if there are 4 of you the water taxi for $38 is cost effective and readily available. You will have the place to yourself. I am available by phone and there is a handyman in town for emergencies. It's peaceful - this isn't a loud party place. Entertaining is about sitting back, relaxing and enjoying each other's company rather than sticking a stereo on full blast. The cleaning fee covers all supplied linen, towels etc... to be taken back to the mainland and laundered as well as top to bottom cleaning of the house after you have gone. There is a BBQ at the house but please bring your own gas with you and leave it clean when you leave.
It's peaceful - you'll be at one with nature. The neighbours let you get on with it and are super friendly. It's a great community. Brand new water tanks and system in May 2016.
Awesome house in a fantastic location at the edge of the Ku-ring-gai forest. Did not miss the internet at all, and had a blast listening to the birds on the porch, observing the local wildlife as they meandered through this little community, and kayaking out in the cove. Has a lovely, super relaxing stay.
Eliza
2015-11-25T00:00:00Z
We had a great stay at Jimmys place everything was exactly as described and we loved using the kayaks!
Lynsey
2015-08-02T00:00:00Z
The host canceled this reservation 2 days before arrival. This is an automated posting.
Bob
2017-02-22T00:00:00Z
Jimmy was amazing to deal with - really friendly and accommodating. The house was in a brilliant location and was a real hideaway gem. Thanks for a lovely weekend!
Gemma
2016-06-20T00:00:00Z
Magic stay with wildlife and forest. We used the kayaks and fishing rods every day, and cooked up a storm with the best frying pan ever. Loved the daybed And deck.
Ann
2014-12-31T00:00:00Z
We LOVED Jimmy's place. Comfortable, clean, lots of bits n pieces - games for kids to play with, beach activities, mozzie candles and coils, spray, extra kitchen bits... We would like to come back ASAP!! We even started looking at properties near by with the local real estate agent we loved it so much! I used to visit mackerel as a kid with my family, and they visited for lunch - we all loved how nothing had changed, how friendly everyone is. Its a beautiful spot.
Philippa
2016-10-08T00:00:00Z
Tropical Hideway was everything I was hoping for. I manage an intense work life and am also an inner city Airbnb host of Humble Pie Cottage. I was desperately needing a break and booked Tropical Hideaway for 3 nights. Jimmy was a responsive and helpful host and the house was exactly what I needed. I had read through some of the reviews and after having stayed at Tropical Hideaway feel they were a bit harsh. Here's my experience. The house is well equipped and comfortable. There's a casual atmosphere in the house which immediately helped me to relax. My experience was that Jimmy is a generous host he offers a selection of food items available in a cupboard and the fridge as well as a drawer full of toiletries available for guests. I imagine the food items are left from other guests or Jimmy himself. I did not experience these as stale old food as had been described in some reviews. I was very grateful to enjoy an unopened camembert from the fridge (thank you Jimmy). The house is an easy stroll to Mackerel Beach where there are a couple of kayaks to have a play in. The neighbours are welcoming and friendly and the wildlife abundant. The numerous birds will serenade you all day. The water is bore and does have a slightly brown colour less so from the kitchen tap. I drank it straight from the tap without any concern or ill effect. I feel safer with Tropical Hideaway's water supply than I do drinking water straight out of the tap from inner Sydney. There's bush tracks and beaches to explore or do absolutely nothing - bliss. I had little to no mobile coverage in the house which I appreciated. Full coverage down by the beach. This is a great getaway an hours drive and a sweet 20 minute quaint boat ride from the city. Thanks Jimmy - loved it.
Leesa
2014-12-01T00:00:00Z
Stay was as expected, relaxing, clean and comfy house in a really secluded location. Could have been anywhere in the world, we were spoilt by great weather and no crowds, thoroughly recommend.
Tony
2015-02-18T00:00:00Z
Huonetyyppi
Koko talo/asunto
---
Majoituspaikan tyyppi
Talo
---
Majoittujien määrä
6
---
Makuuhuoneet
Great Mackerel Beach, Uusi Etelä-Wales, Australia
Mackeral Beach is located on the northern beaches of Sydney and accessed by boat. It's a beautiful secluded beach community in stunning Ku-rin-gai Chase National Park, home to great bush walks inc Flint & Steel, Resolute Beach and America's Bay. Our house is less than 100 metres from the beach. Across the water are numerous surf beaches and restaurants. There's a cinema in Avalon which shows latest releases and excellent coffee stops.
There are three double bedrooms all with cathedral ceilings, wardrobes and closets. Each bedroom has double bed . There are two single mattresses which can be utilised in the living space on the first floor if required. The house is unique, with loads of character and personal touches, if you want a beige rental this is not for you! The deck leads to a front garden with jacaranda, frangipani and avocado tree. It's highly likely that you will see wallabies during your stay and in the summer goannas are often seen in the garden and sometimes even on the verandah. They're harmless and quite beautiful creatures. There's loads of birds, parrots and lorikeets and Kookaburras. On the top deck you will find a hammock and sun lounge and on the bottom deck, deck chairs, a dining table, shade umbrella and BBQ and plenty of deck space to relax , read a book or listen to music. The sound system plugs into your phone or there's a cupboard filled with CDs if you want to look for something new. Additionally we've left cards, puzzles and some games. We've left an eclectic selection of our personal books which includes poetry, novels , historical and photographic books, you'll find something that appeals. The laundry has both washing machine and dryer but there's a line to dry clothes in the sun which we'd prefer in terms of electricity consumption. the house is also on rain water so the drinking water is beautiful but we ask that you are careful and don't take long showers or leave the tap running whilst you clean your teeth, be respectful of the water supply. There's wifi if you need it but we'd encourage you to enjoy some time away, there's also a phone line which you can use for all your local calls. All sheets are provided and bath towels but please bring your own beach towels. We also provide shampoo, liquid soap, tea (loads of varieties including herbal),coffee, oil, salt and pepper, some jams etc, the basics. There's no shop here, that's the beauty of the place, so be sure to bring all you need as once you're here you likely won't want to be going anywhere.
The neighbourhood is unique in that it is boat access only, there are no roads and no cars, only the occasional golf buggy. It's an extraordinary location, sitting in and surrounded by national park and fronted by a stunning beach and populated by many animals including wallabies, goannas, bush turkey's and lyre birds. It's a small and friendly community, extremely child friendly, safe and generally very quiet except for the birds.
Will definitely be back to this little slice of paradise! Thanks Liz for being a great host
Milly
2017-03-05T00:00:00Z
Liz has a wonderfully unique and interesting home, where east meets west in the ozzy bush :)) really relaxed and comfortable stay in a character filled home, just a few moments away from one of the most secluded and beautiful bays we've been to in Sydney so far. The fact that there are no cars, shops or cafes really helps you unwind even though you are still so close to the city. We had a wonderful time.
ross
2017-03-12T00:00:00Z
We stayed at Liz's place last weekend and we absolutely loved our stay. Communication was great throughout, from our initial enquiries, to our stay and after we had checked out. The place has been meticolously decorated and we felt we had stepped into a Balinese/Thai beach home. We particularly enjoyed the laid back style, no TV, no blinds, and the various areas to chill out and/or read a book. It was great waking up to chirping birds and the natural daylight coming in through the windows. We used the outside BBQ and the kitchen everyday of our stay with no problems at all. Location wise, it is only a few mins walk from the ferry stop and the beach. We will definitely consider staying here again in the future and will recommend to others.
Esire
2017-01-08T00:00:00Z
Liz's place is a lovely place to get away from it... It has its own unique style which fits with Mackerel beach perfectly. I would definitely book again
Thomas
2017-01-28T00:00:00Z
Mackeral Beach is a beautiful and idyllic place. The house is in a great location - very close to the beach and wharf. It is comfortable and has everything you need to have a relaxing time. My kids had an awesome time loving the freedom that Mackeral Beach offers. Liz and Simon were very responsive hosts and I recommend staying at their home.
Julie
2016-12-29T00:00:00Z
5 star review for Liz's beautiful place! The house is very comfortable with a great vibe! Thanks Liz. We'll be back some day.
Emily
2017-03-25T00:00:00Z
Fantastic host indeed! Liz was not only very informative about the property but also played as a tour guide for all our needs. She provided detailed Bushwalk notes and was always available by phone with any of our queries. Thanks for ensuring we had a memorable ray Liz!
Omar
2017-01-07T00:00:00Z
Wow what a beautiful, warm and character filled home. We stayed for 4 nights but dreamed of remaining for weeks... too easy to slip into the soothing slow pace of Mackeral Village life! We could feel the wonderful loving memories that have been shared in this home. Beautifully furnished with travel trinkets, evident of lives well lived! Liz and Simon were such great hosts - very quick at responding, generous and accommodating to our needs. Can't wait for next time!!
Kirsten
2017-03-21T00:00:00Z
Huonetyyppi
Koko talo/asunto
---
Majoituspaikan tyyppi
Talo
---
Majoittujien määrä
6
---
Makuuhuoneet
Great Mackerel Beach, Uusi Etelä-Wales, Australia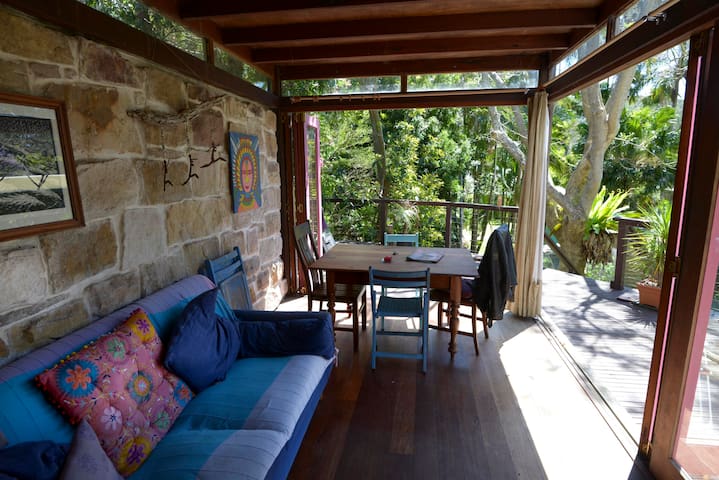 This original timber and sandstone fisherman's cottage on the water's edge of Pittwater's stunning Mackerel Beach has been lovingly restored into a beautiful, secluded beach and bush hideaway and couple's retreat.
Perfectly positioned, the Little Black Shack's North East aspect lets you wake to the sunrise over Palm Beach headland and enjoy the sun all day long. The sea breeze keeps the shack cool during summer whilst the tree-lined ridge of Ku-ring-gai National Park behind, shelters it from the cold southerly winds during winter. With its rustic, hand built sandstone open fireplace, comfy leather chairs, soft cowhide rugs and full-length window box seat, The Little Black Shack is also a cosy winter cabin. There are two bedrooms and 1 bathroom. Just metres from the water, every room features windows and French or barn doors opening out to uninterrupted views of Mackerel Beach, Pittwater, Barrenjoey Headland, Palm Beach and beyond. The interior features recycled and hand made furniture with an eclectic mix of nautical antiques and collectables gathered from travels around the world and forages along the beach. The lounge, dining and gourmet chef's kitchen are open plan. The lounge features a hand built sandstone fireplace and a floor to ceiling bookcase with an extensive library. A large flat screen TV, Blue-ray DVD and the latest Bose surround sound Wi-Fi stereo are hidden behind the doors of a rustic handmade cupboard with Bose speakers in the outdoor areas and Bose Wi-Fi systems in each bedroom. The window seat spanning the full length of the front of the lounge room, is the perfect spot to relax with a good book, chill out with your own playlist, take a nap or gaze out of any one of the 6 windows overlooking the stunning beaches and bay. The kitchen features concrete bench tops, wooden cupboards made from the original floorboards, a large farmhouse sink, commercial grade cookware, microwave, Ilve gas stove and electric oven, perfect for creating your favourite meals. Two French doors open from the kitchen/dining area onto a small covered balcony and bar area overlooking the water. Once you are here you will never want to leave - which is why the gourmet chef's kitchen comes equipped with everything you need and a fully stocked pantry. You can also help yourself to the fresh herbs in the kitchen garden. The original sandstone bathroom features a beautiful stone bath and a large copper shower with amazing water views. The main bedroom has a generous king bed and access to a private lawn and garden. The rustic hand made bed has loads of comfy down pillows and is elevated to take full advantage of the water views! The second bedroom is reached by a short set of sandstone steps in front of the house. This cosy room features a super comfortable hand made queen bed. The room is built from the original sandstone, lined with timber and has a soft cowhide rug on the floor. It also enjoys stunning panoramic water views through the window and barn door. It has its own private stone terrace overlooking the water and a grassed area shaded by a large Frangipani tree, with a hammock to relax in ... Both rooms are beautifully furnished with cowhide rugs, antique cupboards and chests of drawers and the bedding is 100% linen. There is a large north facing sun deck at the front of the shack and a covered terrace and outdoor hand-built sandstone kitchen. Featuring a wood fired oven and charcoal BBQ/fireplace this space is perfect for all day alfresco living, dining, cooking and entertaining. There is an outdoor shower set amongst the trees half way down the front steps leading to a secluded sandy beach at low tide. Here you can rinse off after swimming or shower under the stars on warm summer evenings. The cottage is surrounded by native coastal gardens and terraced grass level areas overlooking the water and shaded by huge Frangipani trees. The Little Black Shack is completely eco friendly. Windows, barn doors and French doors allow the sea breeze to circulate and cool the house in summer while the open sandstone fireplace warms the house during winter using firewood collected from fallen trees off the property. Rainwater is harvested for bathing and washing which is recycled to irrigate the main garden. The grounds also feature a small kitchen garden to provide you with fresh herbs. When it comes to the interiors, if we couldn't find it second hand, we made it by hand, from recycled, repurposed and found materials. Candles and oil lanterns are provided for alternative lighting.
Whilst we're only a mile from the mainland and Palm Beach, we might as well be a million miles away … Getting here is part of the experience. Once you board 'Myra' the old timber ferry at Palm Beach you leave the city and your worries behind. The Little Black Shack is reached via a short walking track at the end of the beach or via the rocks along the beach at low tide. Once you are here, close the gates, breathe in the fresh air and enjoy the view, the peace and the quiet. Relax and unwind on Mackerel's beautiful main sandy beach or enjoy swimming or snorkelling right out the front on a secluded section of the beach, fishing off the rocks below, kayaking or boating in the crystal clear protected waters of Pittwater. The surrounding National Park offers some incredible bush walks to secluded beaches, The Basin Lagoon, ancient Aboriginal carving sites and incredible lookouts. Take a leisurely stroll along Mackerel Beach or through the valley behind it where you will find friendly locals (including wallabies and bush turkeys) and some original fibro beach cottages. You can also hire your own 'tinny' from Palm Beach to explore Pittwater's many coves and bays by water. If you feel like heading back to the mainland, the old timber ferry 'Myra' leaves on the hour and is just a 10-minute ride to Palm Beach wharf. From here you can make the trek up to Barrenjoey Lighthouse, walk to Palm Beach, dine at the local restaurants, bars and cafes or browse the shops, galleries and Palm Beach markets (on set days). You can also head into Avalon village, just 5 minutes down the road by car. Here you can explore the many shops, restaurants and bars, visit the surf beach or take in a movie.
This place in amazing. The level of detail that Ingrid and Jamie have gone to to create the ultimate beach shack is incredible. The photos do not do it justice. We will be staying here again as soon as we have time.
Jungle
2015-04-23T00:00:00Z
If you want to escape to somewhere truly magical, The Little Black Shack will absolutely take you there. Ingrid and Jamie are obviously a creative couple with the vision and ability to transform a down-at-heel seaside cottage into a very special place that, as you will read, none of their guests want to leave. If we had the opportunity, we would stay here forever. On a grand scale it is brilliantly conceived but on a more intimate level everything has been thoughtfully considered and every need catered for. This secluded cottage nurtures you in all possible ways and if you can't relax here I doubt you would be able to anywhere. Great Mackerel Beach is only a stone's throw from Palm Beach in Sydney but the stretch of water between the two places offers complete isolation from the hectic pace of city life. There are no cafes, restaurants or shops unless you catch a ferry and that is exactly why it appeals to us. Not that you have to go without anything at all! This gorgeous little cottage is luxuriously appointed in a rustic, artistic, thoughtful and authentic way. You will be able to enjoy good coffee, a chef's kitchen, a wood fired pizza oven, a herb garden, a great sound system, board games, reading material and a very comfortable king-size bed with soft linen sheets that is raised high enough for you to gaze out to the water through the expansive windows when you wake. The window seat in the lounge is also thoughtfully raised to take in the views. If you visit in the winter there is an open fire to snuggle around and much appreciated by us there is a guitar for you to play. I arrived at the cottage with a sprained ankle and I was very grateful to find an ice pack in the freezer! Positioned right above the water, with the lapping waves providing a soothing symphony, every room of the cottage, including the shower, provides a sea view. There are many outdoor areas from where you can soak in the passing parade of yachts, fishing vessels, kayakers and, during our stay, leaping dolphins. You have access to kayaks, fishing rods, snorkelling gear, ocean swims and of course beach and bush walks. You can choose whether to be active or just chilled out and relaxed. Relying on public transport from Sydney we caught a train to Woy Woy, shopped for supplies there and then took a taxi to Ettalong (although there are buses) from where we caught a ferry to Palm Beach and then another to Great Mackerel Beach. Once out of Sydney it was a lovely introduction to the beautiful Pittwater area. This is not just a place to stay; this is a place to experience. It is thoughtful and generous. A stay at The Little Black Shack will touch you on every possible level, provide a feast for all your senses and completely soothe your soul.
Lesley
2016-11-02T00:00:00Z
We had an amazing experience at the little black shack. We couldn't have wished for more. Idyllic location, beautiful house which was perfectly equipped. Very much looking forward to a return visit.
Tom
2015-04-17T00:00:00Z
We made the trip from Victoria to have a short getaway and it was definitely worth it. It felt like we had made an escape to the south coast of Italy for a few days! A lovely experience.
sarah
2016-02-12T00:00:00Z
Ingrid & Jamie have an incredibly well built and looked after property tucked away up in the cliff face just on Mackeral Beach. They have thought of absolutely everything which made the stay very comfortable and relaxing. It was like living in a dream for the weekend. HIGHLY recommended!
Jac
2016-03-06T00:00:00Z
Put simply this place is heaven. So beautiful and every little detail has been thought of so whilst the shack is secluded everything you could want or need is there. Thank you so much for sharing it with us Jamie & Ingrid- we hope to be back soon!!
Pip
2017-01-01T00:00:00Z
We had an absolutely wonderful stay at The Little Black Shack. The privacy, the attention to detail, waking up to that view.... Everything about out stay was amazing. We kayaked, fished, made pizza to cook in the oven, lazed in front of the fire, walked along the beach... the list goes on. The stocked pantry, linen sheets, quality everything... you can tell that so much thought has gone into the details. Thanks Ingrid & Jamie for an amazing weekend, we'll be back soon. Claudia & Paul.
Paul
2015-08-16T00:00:00Z
Wow- what a trip! This place is amazing & we throughly enjoyed our time here. You can easily spend your day soaking up the sun & watching life go by on the water- the views are simply stunning. The set up of the shack was great. From the wood fire pizza oven, kayaks, selection of food & photography books to read as well as the collection of comfy chairs & lounges to relax in throughout the day. A slice of heaven. We hope to return again very soon, Thank you so much!
Katrina
2017-03-12T00:00:00Z
Huonetyyppi
Koko talo/asunto
---
Majoituspaikan tyyppi
Talo
---
Majoittujien määrä
4
---
Makuuhuoneet
Great Mackerel Beach, Uusi Etelä-Wales, Australia
A short walk between you & one of the most beautiful beaches in Sydney. Swim, fish, walk or just laze in a hammock. Mackerel Beach is an amazing place. Bed & breakfast (continental) included. Lunch and dinner provided at additional cost ($45 pp).
Mackerel Beach is only accessible by water. There are ferries here throughout the day on the hour from Palm Beach. You get a bedroom (double bed) in a three bedroom house. We serve a continental breakfast. There are no shops, restaurants or other commercial activities on Mackerel - it really is a retreat. For an additional $45 per day per person we will provide lunch, afternoon snacks, and dinner - food is dependent on season eg salads in summer, hot food in winter. Please let us know if you have any allergies or dietary requirements. We bake our own bread and there is always fresh food available. If you want to provide your own food we ask that you respect the fridge space and food of other guests.
There are few places in the world like Mackerel Beach. You'll agree once you stay here. It is quiet, it is funny, it is community, it is sun, sand and water, it is National Parks and wildlife. Days are calm and warm nights are fun when spent on the beach having a drink -perhaps near the fairly regular bonfire. People at Mackerel are very friendly so you may find yourself talking to a local, another visitor or in quiet solitude by the beach. We have a tv/video but there is no commercial tv reception. There are lots of games, musical instruments, books.. Oh and hammocks! There are two decks so it is easy to get away to a quiet spot if you want to.
Another fabulous trip to Great Mackerel, a must-do weekend of relaxing! Thanks so much for the amazing hospitality, looking forward to our next trip.
Anna
2017-01-21T00:00:00Z
Suzie and Joe were incredible hosts! Do not miss the opportunity to stay at great mackerel beach in their beautiful home. Comfy beds, delicious home cooked food (extra cost but so worth it!!), cozy fireplace and close to the beach. Great way to escape the hustle and bustle of the city. Thanks for welcoming us into your home Suzie! X
Christina
2016-04-26T00:00:00Z
AMAZING. Felt like we were staying with family, we felt so welcome. Suzie & Joe have a wonderful spot in the bush only a few minutes to the beach. Food was lovely & home-cooked, would encourage everyone to opt in for the meals! My favourite place was the hammock on the front balcony, swinging blissfully hearing the birds in the trees. You can't help but relax! We are looking forward to coming back in winter & getting the fire going. Our best Airbnb experience yet - thanks Suzie & Joe
Anna
2016-03-27T00:00:00Z
Huonetyyppi
Yksityinen huone
---
Majoituspaikan tyyppi
Aamiaismajoitus
---
Majoittujien määrä
2
---
Makuuhuoneet
Great Mackerel Beach, Uusi Etelä-Wales, Australia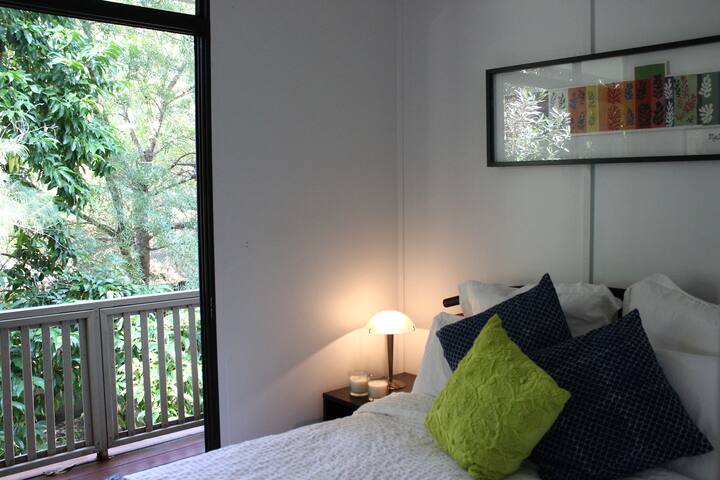 This is a beautiful rustic sandstone cottage hewn by hand from the land with 2 bedrooms, lounge/dining, small effective electric kitchen with sun deck and gazebo on one level with 3rd bedroom underneath (external access). This experience is best described as sophisticated camping where the streets are made of grass, the wildlife is outside the door and the beach is about a 7 minutes walk. The beach is close to the heads of Broken Bay with wavelets to small waves similar to the Mediterranean.
This is a simple rustic house. The environment is semi-tropical. For the energetic there are bushwalks to ancient aboriginal carvings, other beaches or other western foreshore communities. Local wildlife that has recently been seen includes wallabies, possums, brush turkeys, bandicoots, lyre birds, water dragons and other wildlife. Mackerel Beach is a small peaceful community opposite Palm Beach with no shops. Access is by ferry on the hour during the day or water taxi at other times. SOPHISTICATED CAMPING The peace and positive atmosphere of Mackerel is reminiscent of the past. There is no through traffic. The cottage is made of sandstone hewn by hand from the land it stands on. Please bring all the supplies you need. It is preferred that you bring your own sheets and towels. Bed linen can be arranged for a small fee. Rainwater is harvested for drinking, and you may want to bring your own supply. Bore water is used for grey water. Arrival is usually after 3.30pm and departure is usually before 12.00 noon. Mobile phone access in the house depends on your phone and provider. There is a phone available in the house to receive incoming calls. A public phone is located at the beach. Free wi-fi is available in the house. Boats are available for hire at Palm Beach. UNIQUE On any balmy evening you can take a lazy stroll down to the beach and enjoy the view of Pittwater in the fading light with some refreshments. It is then a gentle stroll back to the house for dinner from the BBQ or you can organise takeaway through the water taxi service. The house is in the valley which protects you from most winds and creates its own environment. With the palm trees and other vegetation you could easily believe you were in the tropics. In winter you can relax in front of the fireplace which is also a stove. Experience the extra flavours from the slow cooking of stews, curries or casseroles. You are protected from the outside elements by the thick sandstone walls. The whole ambience can make for great memories. There is also a range of excellent restaurants available on the eastern foreshore with a water taxi service at night (Pink Taxi). Mackerel Beach is ideally located in the off chance that you may have an urgent need to get to the city which is only about 1.5 hours away. There are also regular bus services every 20 or 30 minutes between the city and the ferry wharf. A more adventurous seaplane flight from Rose Bay to Mackerel Beach and return is also available. While Mackerel is a great place for children this property is not really suitable for children under 7 years of age and definitely not suitable for children or infants under 6 years of age. Cats are banned by Pittwater Council and must not be taken to Mackerel. Limitations are placed on dogs in public spaces. Domestic animals are not allowed on this property as they stop wildlife such as wallabies visiting and may cause allergic reactions in following tenants. In addition to the AIRBNB Terms and Conditions you also agree to the Owner's rental agreement by making a payment to AIRBNB. (c)#1 Photo Copyright P Levshin, Newport Beach CA USA. (c) #2 Photo Copyright S Taylor, Mackerel Beach NSW AUSTRALIA
There is no road access to Mackerel Beach. The streets of Mackerel Beach are made of grass. Some locals get around in golf carts but there are usually no other private vehicles.
Beautiful in every way, David was a pleasure to deal with.
Patrick
2017-02-11T00:00:00Z
Great tranquil escape from city life in one of the older houses at the beautiful Mackerel Beach
Gillian
2016-12-26T00:00:00Z
As advertised. Had a wonderful stay at Mackeral Beach. Beautiful setting and the house has a real beach shack feel
Andrew
2016-11-19T00:00:00Z
Pretty and quiet location. Simple rustic home.
Laura
2017-02-25T00:00:00Z
The host canceled this reservation 18 days before arrival. This is an automated posting.
Brett
2017-04-03T00:00:00Z
Huonetyyppi
Koko talo/asunto
---
Majoituspaikan tyyppi
Talo
---
Majoittujien määrä
6
---
Makuuhuoneet
Great Mackerel Beach, Uusi Etelä-Wales, Australia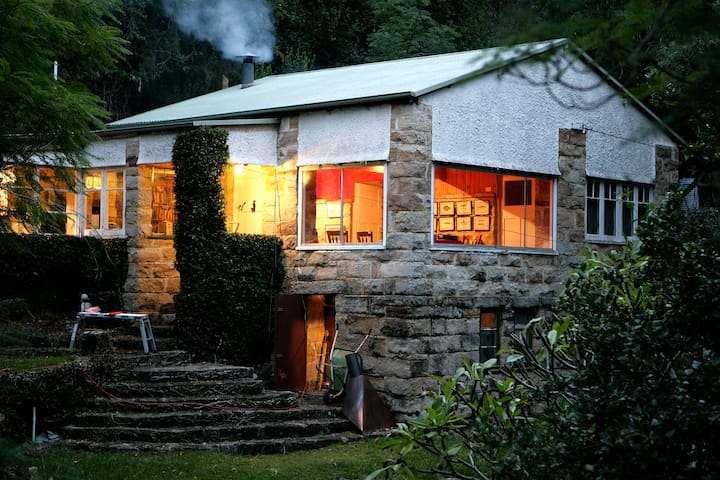 Absolute beach front sandstone cottage and separate studio with 3 bedrooms and accommodation for 8 people. Just 10 metres from the water and 60 minutes from Sydney CBD.
The house has a prime beach front location and is situated on a double section enjoying uninterrupted views of the Pittwater, Lion Island, Barrenjoey Heads and Palm Beach. Internally there are 2 master bedrooms with queen beds and a bunk room with 2 sets of bunks. Perfect for 4 adults and 4 children. Surrounded by national park Mackeral Beach is accessible only by water, but is serviced on an hourly basis by ferry as well as water taxi and barge services. The beach is extremely safe for children and is suitable for a number of water sports including fishing. There are wonderful bush walks through the national park and an abundance of wild life.
We were blown away by Richards place at Mackarel Beach. A short ferry ride from Palm Beach and you feel instantly on holidays and relaxed. The house is right on the beach and has a fantastic view. You'll spend most of your time admiring it. Do yourself a favour and stay
ed
2017-02-11T00:00:00Z
Fantastic spot with loads of character. Plenty of info from Richard to make sure we had a great stay- which we did. Thanks again.
John
2016-02-08T00:00:00Z
Wonderful property that feels like a home away from home. Well stocked with everything you need to be fully relaxed, comfortable and self cater. Beautifully appointed and lots of space as well as privacy if needed. We stayed in the outside cabin - wonderful experience waking up each day to the sunrise and view - the room bathed in sun during the morning. Perfect beach location, amazing views and the sights and sounds of nature on your doorstep. Richard was very communicative, accommodating and helpful all the way through our stay. Will definitely stay again.
Andrea
2015-08-31T00:00:00Z
We had a great stay at Richard's House. The view was gorgeous and the place is exactly as shown on picture. In the end we extended our stay by 1 extra night.
Grace
2014-02-07T00:00:00Z
Richard's place and Mackerel Beach are fabulous. This house is perfect. Everything is as described, it is truly stunning and just perfect for a relaxing time. Richard is a great host and easy to contact when organising the trip. We first came to know of this place when friends stayed here last Easter and we were at another place, we are so happy to have found a chance to show my parents (from Canada) this amazing location. Loved the treehouse for my parents. Thanks for having us Richard. We WILL be back!!
Lisa
2016-01-23T00:00:00Z
This is the sort of place one wants to remain secret--but the joy of discovering it is too great not to share the surprise! Wonderful tranquil surrounds coupled with loving attention to simple warm design that welcomes. Perfect.
Rachel
2014-08-05T00:00:00Z
We found our heaven at Richard and Claudia's place at Mackerel. It was an ideal home and location for our family and the holiday we wanted. Richard's communication was always prompt and helpful, and he and Claudia went out of their way to assist us with several aspects of our stay.
Danica
2015-01-05T00:00:00Z
We enjoyed a fantastic stay at Mackerel Beach with our friends and family. The house is small but beautifully appointed with everything you need. So very relaxing. Thank you Ruchard!
Melanie
2017-01-28T00:00:00Z
Huonetyyppi
Koko talo/asunto
---
Majoituspaikan tyyppi
Talo
---
Majoittujien määrä
8
---
Makuuhuoneet
Great Mackerel Beach, Uusi Etelä-Wales, Australia
Located in the picturesque Pittwater, surrounded by National Park, Mackeral Beach is a paradise just an hour from Sydney City. Accessible only by water Mackeral is serviced on a regular basis by ferry and water taxi.
Set against the backdrop of one of New South Wales most beautiful National Parks this house is perfect for a truly relaxing holiday. Whether you want a romantic getaway, an idyllic family break close to a beach or a base to explore the great walks and parks nearby there is everything you need. The house has a great indoor/outdoor feel to it and you can't help but feel yourself unwind within moments of arriving. There are three bedrooms comprising of two master queen bedrooms and a bunk room with two sets of bunks. Perfect for four adults and four children. There are also two bathrooms, an open plan kitchen lounge area that leads onto a deck and a comfortable outdoor covered seating area. In the garden there is a BBQ and wood fire pizza oven. There are kayaks, a paddle board and windsurfer for you to use not forgetting a couple of bikes to get around on.
Its quite unique to be able to find such a an idyllic hideaway that is only an hour away from Sydney's CBD.
We had the most wonderful holiday at Great Mackeral. The house is beautiful and Hannah was a wonderful host. I would recommend this house to anyone looking for a relaxing and peaceful holiday. You won't be disappointed!
Penelope
2017-01-08T00:00:00Z
We had a wonderful stay at Hannah's place. It's a beautiful home, very comfortable and well equipped. Mackerel Beach is a magical place that was perfect for a family getaway. Hannah was easy to communicate with and was very accommodating in working around our baby's sleep routine with check in and check out times. I think we've found our new weekender! We'll definitely be back.
Deena + Rory
2015-01-27T00:00:00Z
Hannah's home on at great Mackrell was the perfect Sydney get away. The home has all the creature comforts for those in need, and lovely rustic class for easy relaxation. We managed to book the only wet, cold weekend in September. But with an open fire, great open kitchen/living/under cover outdoor area, nice reading material and cable TV at our disposal the inability to take advantage of the surrounding outdoors was quickly a non issue. When blue skies did arrive the large sunny deck and lush grass were put to good use. Great Mackrell itself is cool little community, no roads, no shops and no fences really makes you feel along way from all the city hassles. If you haven't been. Go. Jerome.
Jerome
2015-09-29T00:00:00Z
I booked hannah's house for a family long weekend away. We had 6 adults and a baby staying in the house which had more than adequate space for everyone. We also had another house booked on Mackerel so had 12 adults hosted at the house during meal times. The house is fully equipped. You want for nothing staying here. It is a real foodies kitchen, all utensils and cooking equipment are made available. There are 2 fridges at the house which is great for Mackerel as you need to make sure you have catered for your full trip as there are no shops in the area. Hannah is great with communication. I had many questions to ask and she provided answers promptly and in great detail. The house is large! there is a full deck with large backyard for kids to run around in. The pizza oven is amazing although a little tricky to get going if you are not a seasoned pizza oven user ;) You can really relax in this house. It has been beautifully built and very carefully planned with all comforts needed for an escape. nice job Hannah!
Kylie
2015-03-31T00:00:00Z
We recently had the pleasure of staying for the long weekend at Hannah's beautiful home at Mackerel Beach. We stepped off the ferry from Palm Beach, walked a short distance from the wharf and found ourselves in paradise. Hannah's home is situated at the base of the National Park and a short walk from the beach, wharf and entrance to the native bush land. The outdoor entertaining area is the first room you enter upon arrival and it turned out to be our favorite. With a spectacular open plan living space, generous bedrooms, deep relaxing bath, well-stocked gourmet kitchen and perfect location, this is the essential weekend getaway. Hannah was lovely to deal with and made us feel very welcome. As part of our stay, we even had use of the kayaks and stand up paddle board which we thoroughly enjoyed. If you are looking for a peaceful, luxury, well-designed beach house to enjoy all that Mackerel Beach has to offer we would definitely recommend Hannah's home.
Sami
2014-10-07T00:00:00Z
This was the first time I'd used Airbnb & Hannah made the whole process super easy. She was the perfect host & we arrived to an immaculate house as well as some lovely fresh bread, cheese & jams. The house is the perfect luxury escape & ideal for a summer getaway. We had a great weekend & will definitely be returning soon!
Kate
2016-02-29T00:00:00Z
We fell in love with Hannah's beautiful house and with Mackerel Beach. We can't wait to return.
JUDY
2016-11-27T00:00:00Z
This is such a lovely place. Hannah was very responsive and welcoming. The house is about a 5minute walk away from the ferry and beach and the area is great. I highly recommend Hannah's place.
Joris
2016-04-04T00:00:00Z
Huonetyyppi
Koko talo/asunto
---
Majoituspaikan tyyppi
Talo
---
Majoittujien määrä
8
---
Makuuhuoneet
Great Mackerel Beach, Uusi Etelä-Wales, Australia
This spacious 4-bedroom beach house is located in the lush valley of the National Park just a few easy minutes' walk from the beach front. Made for relaxation, be it in winter in front of the fire or summer days and evenings spent on the spacious private back deck, this property caters for every occasion.
This tranquil slice of paradise, accessible by water is only 45 minutes from Sydney's CBD offers a beach-side escape, with roads made of grass, transport by wheelbarrow and an abundance of Australian wildlife. Great Mackerel Beach has no road access and no roads or vehicles; access is by our Palm Beach Ferry, water taxi, or private boat.
Mackerel Beach Mackerel Beach is a locality 43 kilometres north of Sydney. It is on the western shores of Pittwater in Ku-ring-gai Chase National Park, beside Currawong Beach, and near Coasters Retreat and Palm Beach. Great Mackerel Beach Reserve covers most of the headland between Currawong Beach. The Reserve occupies 16 hectares and has residential properties along the northern boundary. The Reserve provides panoramic views and is accessed from above via the Ku-ring-gai Chase National Park fire trail or from below by a track linking the two beaches. There are over 50 homes at Mackerel Beach half of which are lived in full time. Mackerel has a great sandy beach that is perfect for the children and is the starting point for numerous bush walks leading up to The Basin or West Head lookout. Come to stay at Mackerel for the day or hire a house and make a week of it, either way you won't be disappointed.
Jaime's place was seriously like 'home away from (URL HIDDEN) was wonderfully equipped for a family and the layout of the house was very functional for us. We also shared similar taste in household products, same pots and pans, kettle, set of knifes...even down to the bedsheets and other bits and pieces around the (URL HIDDEN) we felt very comfortable. The house is situated on higher ground which felt open and breezy. We loved every minute on being there. Thanks for having us! We will be back soon.
Carol
2017-01-09T00:00:00Z
We spent Christmas at this lovely home with some friends. Had a great time in a quiet setting, very close to a beautiful beach. The house had everything you needed for a weekend away. Would thoroughly recommend.
Harriet
2016-12-26T00:00:00Z
Friendly hosts who tried very hard to make sure everything was ok for our stay. Nice place, about 5minute walk from the wharf.
Emmanuel
2017-02-18T00:00:00Z
The host canceled this reservation 31 days before arrival. This is an automated posting.
Glenn
2016-11-30T00:00:00Z
Huonetyyppi
Koko talo/asunto
---
Majoituspaikan tyyppi
Talo
---
Majoittujien määrä
9
---
Makuuhuoneet
Great Mackerel Beach, Uusi Etelä-Wales, Australia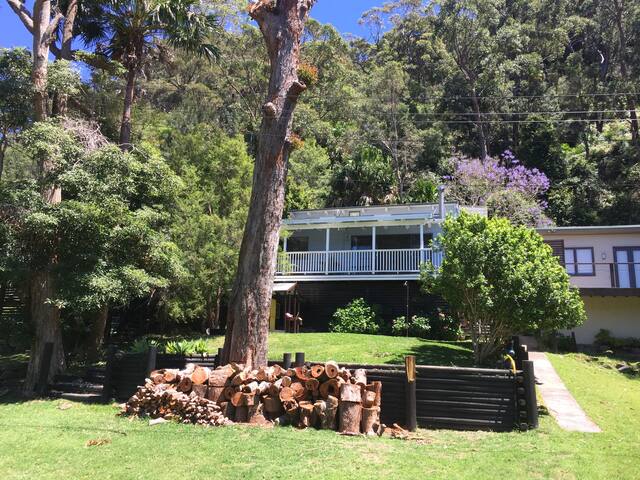 Stay at one of Sydney's cleanest beaches just 1 hour by car from the city plus a ferry ride from Palm Beach. You'll be amazed at how beautiful and relaxing Mackerel can be. Swim, kayak, paddle board or walk in the national park. Breakfast included. Other meals available ($ on request).
Your bedroom has a queen size bed with an external deck and leafy outlook. With leafy decks all around the house you're bound to find a chair or a hammock to read or just rest in. There are some great walks in the area and of course the beach.
Great Mackerel Beach is a fabulous community of sun seekers of all ages. There are about 100 houses but only 30 who live here full time. You can only get here by water. It is one of the most serene locations in Sydney. That is unless you don't like the sounds of birds and cicadas. The beach can get busy on public holidays but generally the few people who are here come to relax, fish, swim, kayak, walk through the national park, or just find a hammock and rest.
This was our second stay at Great Mackerel with Suzie & Joe, and as expected, had another marvellous time. Cosy & relaxing with the fire going a superb food. Can't wait to come back again to our favourite Airbnb spot!!
Anna
2016-04-26T00:00:00Z
We had a wonderful stay at Suzie and Joe's beautiful home. They were incredibly welcoming and we really enjoyed their company. Suzie cooked us delicious meals and the complimentary breakfast was delicious. I'm certain we'll return to this little piece of paradise!
Hannah
2016-03-27T00:00:00Z
Huonetyyppi
Yksityinen huone
---
Majoituspaikan tyyppi
Talo
---
Majoittujien määrä
2
---
Makuuhuoneet
Great Mackerel Beach, Uusi Etelä-Wales, Australia
My place is close to the beach. You'll love my place because of the location, the ambiance, and the outdoors space. My place is good for couples, families (with kids), and furry friends (pets).
There are 3 bedrooms in the house. The main and 2nd both have queen beds and there is a tri bunk in the 3rd room - this has a double bed on the bottom and a single bed on the top. There is also a trundle single as well if you need to sleep 1 more
Huonetyyppi
Koko talo/asunto
---
Majoituspaikan tyyppi
Talo
---
Majoittujien määrä
7
---
Makuuhuoneet
Great Mackerel Beach, Uusi Etelä-Wales, Australia
Architecturally award winning absolute beachfront property with stunning Pittwater views from the large sitting room & eat-in kitchen, both opening onto NE facing terrace for all day alfresco living. Surrounded by Ku-ring-gai national park.
Family home in idyllic location, within a national park and on a beach. Brush turkeys, parrots, wallabies and all sorts of wildlife roam freely. No car access means the lapping of the waves is the only disruption to the peace and quiet. The 5 Bedrooms & 3 bathrooms are over three levels. The king size bedroom and the queen size each have ensuite bathrooms. The twin bedrooms and two single bedrooms share a bathroom. There is also a warm outdoor shower by the boatshed. Fabulous eat-in chef's kitchen, well equipped with electrical appliances, quality cookware & Nespresso coffee machine. Spacious living area with pot belly fireplace opens onto the north-east facing terrace for all day alfresco living & dining. There is a iPod docking station for your music. The new gas BBQ is for your use and a authentic pizza oven. In the Boat shed you will find 3 single kayaks & lifejackets, water noodles, children beach toys and handheld fishing lines for your amusement. Linen and bath towels are included as well as tea towels for the kitchen.
Mackeral valley was formed by a creek flowing through subtropical rain forest and mangroves to exit onto the beach where a sand delta has been formed. It was originally a diary farm settled in 1823. It was subdivided in 1920 and since then over 100 houses have been built. Most fibre shacks built as fishermen's cottages and weekenders. Some of these have been extensively renovated to take advantage of the stunning white sandy beach location. There are no roads or vehicle access in this part of the Kur-ing-gai chase National Park. Access is by ferry, water taxi or private boat only. Fabulous bush walks on marked tracks start on the beach. Fish from the wharf or beach, kayak to surrounding bays, sun bake and swim on the beach only steps from your front door.
Mackarel Beach is a magical place away from everything. We spend 5 wonderful days with our two young kids fishing, sailing and relaxing on the beach. The house is very well equipped. The beds are super comfy with lovely linens. Anna is highly responsive and super helpful host. Would highly recommend.
rachel
2016-12-19T00:00:00Z
An amazing house, in a perfect & idyllic location. The house & location had everything we needed for a family of four and Anna was the perfect host, attentive to all our needs & questions. Would highly recommend the house to anyone looking for a convenient trip only 1hr from Sydney or Sydney airport but you feel like your in a different world.
Daniel
2015-04-12T00:00:00Z
The house is beautiful and very well equipped - both the interior and the gadgets and gear available. The location is amazing and it was a perfect 4 night holiday place for us and our three kids. We all enjoyed it and would highly recommend it. Anna was a very good and helpfull host. Communication was easy, to the point and the response time was quick. She helped out with all practical issues - from transportation tips, food delivery to local bushwalk tips and good places to eat in the area. We really appreciate all the efforts and good service she provided before, during and after our stay.
Anders Falck
2015-12-27T00:00:00Z
An exquisite property offering luxury, comfort and still allowing you to feel at one with nature. Anna went above and beyond by ensuring we had everything we needed to make the holiday enjoyable. We stayed during the week of the floods so were contained to the house most of the stay. This did not bother us one little bit because all the board games, movies and of course the incredible view kept us entertained. Thank you Anna!
Olivia
2016-01-11T00:00:00Z
staying at great mackerel beach at the 'absolute beachfront' was such a magical weekend away. everything was perfect, easy to get to, easy to find everything in the house and totally comfortable. thank you for a wonderful getaway experience anna!
nadine
2016-09-27T00:00:00Z
We has a fantastic break at Great Mackerel Beach. We booked in the last minute but Anna went out of her way to have everything ready, and helped us with so many logistical things. The house is perfect for a quick getaway from Sydney - you feel you are a million miles away from care. Well equipped house, stunning location, real rustic beach house feel. Waking up to the sound of waves and kookaburras - heaven! Recommend highly!
Karin
2015-01-01T00:00:00Z
The house was wonderful. It is very well equipped and organised. The kitchen is great and the large island is fantastic for preparing meal, socialising and eating at. We loved the pizza oven and eating out on the deck. The views are fantastic and location is unique being directly on the beach. We would love to holiday at Mackeral again.
Jo
2016-01-05T00:00:00Z
The listing description was spot on - this property is absolutely glorious and Great Mackerel is a little slice of paradise. We rented the house for the weekend to celebrate my 30th birthday. Anna was a little slow to respond to my initial enquiry but once I had made my reservation she was very helpful and responsive and patiently fielded my multiple questions. The house was immaculate, comfortably furnished and plentifully stocked with condiments, toiletries and firewood. Anna was there to meet us when we arrived and show us around the property. There was a slight hiccup with some problematic plumbing for which Anna apologised by leaving a bottle of lovely champagne. When the problem resurfaced, Anna arrived with a plumber within an hour of my leaving a voicemail for her. The weather was chilly but the pot belly, wood fired pizza oven and heaters made the house cosy. I cannot recommend this property enough - the location is stunning, the house is gorgeous and the surrounding area has so many great activities. We went bush walking, swimming, kayaking (the kayaks are supplied with the house) as well as relaxing on the gorgeous deck. The kitchen is extremely well stocked - the caterer who came to cook my birthday lunch was very impressed with the array of cooking and serving equipment. It was easy and fun to reach this secret hideaway by water taxi and felt a million miles from care. We will definitely be back. Thank you Anna for a wonderful weekend!
Anna
2014-08-04T00:00:00Z
Huonetyyppi
Koko talo/asunto
---
Majoituspaikan tyyppi
Talo
---
Majoittujien määrä
8
---
Makuuhuoneet
Great Mackerel Beach, Uusi Etelä-Wales, Australia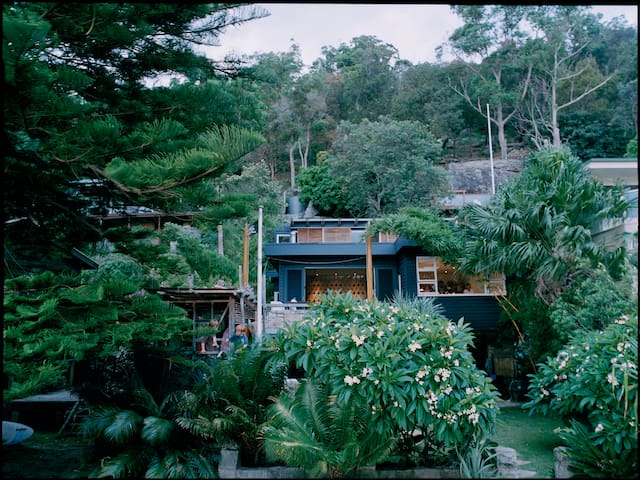 A 30 minute ferry ride from Palm Beach - idyllic beach location within Kur-ing-gai National Park in Pittwater. Large covered deck, 300m from family friendly beach. Fully equipped kitchen, NESPRESSO machine, use of bikes and cart to bring food and luggage from wharf
Large outdoor covered deck with seating for 12 plus 2 lounge beds.
See the following video to give you an idea about Great Mackerel Beach: (URL HIDDEN) Or seach for 'The Mackerel Video' on YouTube
Lovely stay at Geoff's. My children loved the location, house and beach!
Kim
2016-11-20T00:00:00Z
Huonetyyppi
Koko talo/asunto
---
Majoituspaikan tyyppi
Talo
---
Majoittujien määrä
8
---
Makuuhuoneet
Great Mackerel Beach, Uusi Etelä-Wales, Australia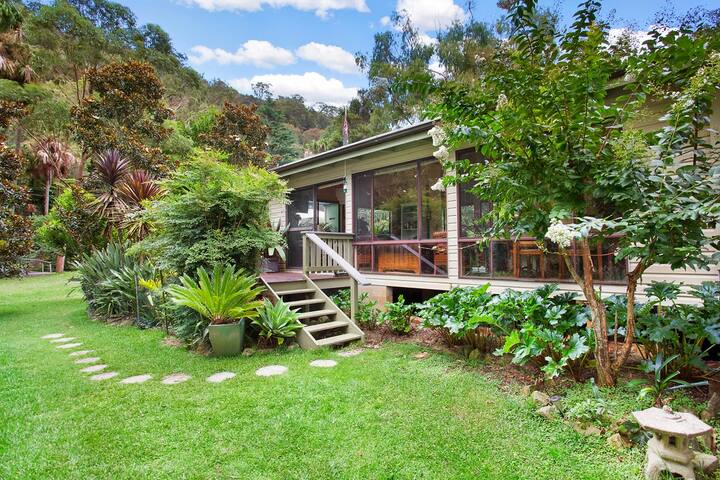 Bar Point - Airbnb
:
Keskimäärin

4.58

tähteä yhteensä

5

331

vierasarvostelusta
1

–

18

hakutuloksista

300+ vuokrakohdetta
Anna päivämäärät nähdäksesi kokonaishinnoittelun. Lisämaksuja sovelletaan. Veroja saatetaan lisätä.