- Newly built eco friendly terraced house with garden - Close to all essential amenities, including local shops, auditorium, golf course and driving range - 5 miles to Cleethorpes pier and resort attractions - Lincolnshire Wolds a short drive away
Another easy and brilliant stay at Tim's place
Terry and Vas
2015-04-27T00:00:00Z
Hi, Another stay at Tim s cosy place. Excellent and friendly host.
Terry and Vas
2015-03-01T00:00:00Z
Lovely house. Convenient for the Auditorium. Friendly landlord.
Alex
2016-08-22T00:00:00Z
Accurate post, Excellent Host, Excellent service. Is a pleasure to stay at this address! Would recommend!! Thanks Tim
Jinty
2016-09-16T00:00:00Z
The house is lovely. Really clean, great facilities and really comfy beds! We'd definitely stay again if ever we need to be up Grimsby way again.
Hedy
2016-11-15T00:00:00Z
Brilliant as usual. Thanks Tim!
Jinty
2016-10-31T00:00:00Z
Tim was waiting for us at the arranged time and explained everything clearly regarding his home. It is indeed a well furnished property and the beds are amazingly comfortable so have slept peacefully every night. Very quiet neighbourhood.
Roda
2015-08-16T00:00:00Z
Thanks time for.letting us use ur house. It's a lovely house in a lovely neighbourhood everyone is so friendly and it's close to a spar. Town centre is only 5 minutes away too. Tim's always available to talk to its great
Kate
2016-08-06T00:00:00Z
Huonetyyppi
Koko talo/asunto
---
Majoituspaikan tyyppi
Talo
---
Majoittujien määrä
4
---
Makuuhuoneet
GRIMSBY , North East Lincs DN34 4GH, Britannia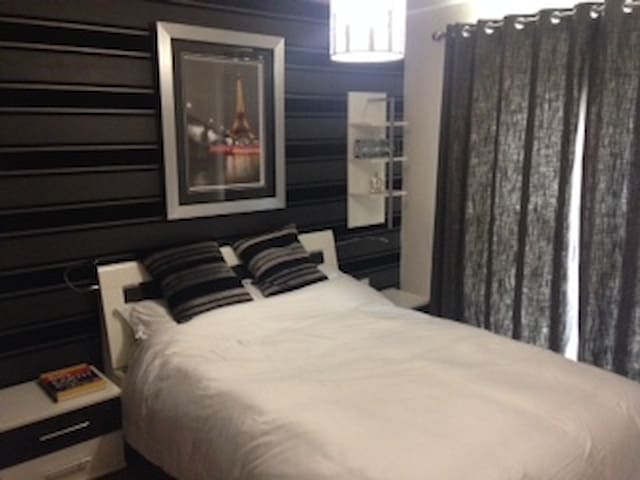 Modern, detached home in cul-de-sac, near Grimsby hospital. Scartho village with cafes, shops, takeaways & pub 10-minute walk. Free wifi. TV & Sky+ in bedroom. Park in drive. Continental breakfast £4pp. Tea/coffee/kettle/milk, water jug & tumblers in bedroom. Use of microwave, shelf in fridge & freezer. Washing machine £4 per wash-load & dry outside. Use garden & picnic table. 5-minute walk to Scartho Rd for regular bus service to Cleethorpes, Grimsby, Waltham, Humberston & Louth.
Cul-de-sac.
Pip and Paul made me very welcome and left me to it after a nice chat and advice about where all the nearest shops were, even drew me out a map so i could go for a run with no hassle as i was new to their area. My room was great, comfortable and an ensuite along with sky tv should i have wanted to watch. A kettle and tea, coffee were available in the room but i had the use of the main kitchen and living areas also if i needed. Very friendly very helpful hosts and i fear i may have missed more good points about this lovely couple.
Mike
2016-09-15T00:00:00Z
Pip and Paul are lovely hosts who welcomed me with a much appreciated cuppa after a fairly long drive. My room was immaculate and I hugely enjoyed Pip and Paul's hospitality. A delightful stay in my old home town.
pat
2016-09-06T00:00:00Z
Lovely people lovely place, thanks for a brief but enjoyable stay.
Annette
2016-05-16T00:00:00Z
I had a nice and comfortable few days staying with Pip and Paul. They are both lovely and welcoming and would recommend staying with them.
Christopher
2016-10-08T00:00:00Z
Excellent place to stay pip and Paul are very helpful and friendly and they go out other way for their guests .also its super facilities very neat modern and clean.we would highly recommend and would use this option of accommodation in Grimsby again.
Nicolas
2016-09-01T00:00:00Z
Pip and Paul were the consummate hosts, providing tea and cake on arrival, good conversation, and even an unsolicited lift into Cleethorpes the next day. The room is very comfortable and has all the amenities you'd want.
Thomas
2016-06-02T00:00:00Z
We felt very welcome at Pip & Paul's. They are very welcoming. The room is cosy, clean, and full of light. You can add breakfast for a small fee. We would definitely stay with them again!
Laura
2016-10-04T00:00:00Z
Very welcoming hosts, and the en-suite bedroom was as described as on the ad. The room was clean and big enough. I highly recommend this room! Thanks, Boris and Selina
Boris
2016-10-13T00:00:00Z
Huonetyyppi
Yksityinen huone
---
Majoituspaikan tyyppi
Talo
---
Majoittujien määrä
2
---
Makuuhuoneet
Grimsby, North East Lincolnshire DN33 3RJ, Britannia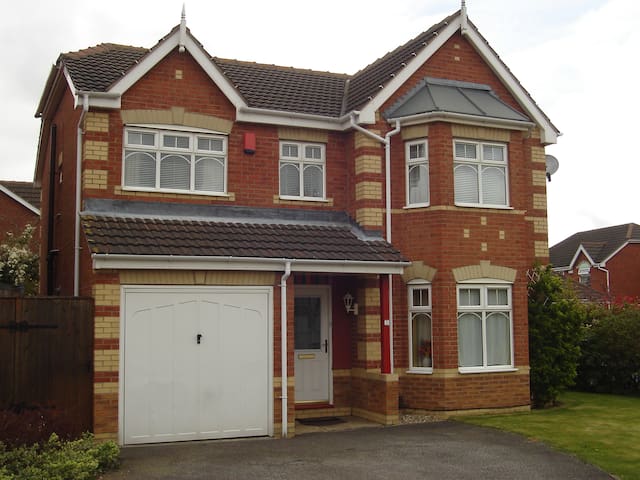 Newton's Cottage is decorated in warm neutral colours to provide a home from home feel. Comprising of large lounge dining area, kitchen , large double bedroom, twin bedroom, bathroom and walled terrace.
Newton's Cottage is situated in the heart of the picturesque village of Waltham, which has two thriving pubs both of which serve good food. There are a good selection of boutique style shops and selection of restaurants all within easy walking distance.
The cottage is absolutely gorgeous! Beautifully decorated and very clean (and I am very fussy!) Also, the cake left by Angela was lovely and a really nice touch! We will definitely be back again, thank you for a lovely stay :)
Lily
2017-03-10T00:00:00Z
This is a delightful house. It is very clean, tastefully decorated and has everything you could possibly want. It is very comfortable, both beds and sofas. We have no complaints. Yes, it is on a main road but we didn't get disturbed. The house was absolutely perfect. As was the Victoria Sponge awaiting us on our arrival. Highly recommend Graham and Angela's cafe next door. Had an excellent full English! We didn't want to come home!
Diane
2016-08-31T00:00:00Z
We felt very welcomed and nothing was too much trouble. Thank you.
Michelle
2017-01-09T00:00:00Z
Amazing terrace cottage. Very clean with modern decor yet keeping its original character. Cosy in the winter with a real log burner (fully stocked with wood). Huge cake and milk on arrival was a very nice touch. Parking on the street was never an issue but there is a free parking area around the corner just in case. If you're looking for a place to stay in Grimsby/Cleethorpes/Waltham then don't hesitate, just book this property now! We would love to stay again!
Adam
2017-01-06T00:00:00Z
Great couple of days, the cottage is beautiful, spotless and well equipped. The courtyard is a sun trap. Graham and Angie left us some milk, tea and best of all a homemade Victoria sponge from their cafe next door. Delicious and a really lovely touch which we really appreciated. I would highly recommend this cottage. The beach is 5 miles away and there are some local shops and cafes worth a visit. 5 stars.
Mairead
2016-08-08T00:00:00Z
What a lovely cottage, ideally situated for local amenities or a walk to the windmill. Spotlessly clean and with a well stocked kitchen this cottage has everything you need for your stay. The cake and flowers that greeted us were a lovely and tasty touch. Cold evenings were made cosy with the wood burner in the lounge. We had a great stay and would definitely recommend Newtons Cottage.
Karen
2017-01-29T00:00:00Z
Great place, ideally located. Very well furnished with all the comforts of home. Family of four and a baby stayed, plenty of room. Breakfast in next door cafe was great, also ran by the owners!
Ryan
2017-02-04T00:00:00Z
Excellent property, immaculately presented, and some nice cake left out for our arrival.
Mark
2016-09-06T00:00:00Z
Huonetyyppi
Koko talo/asunto
---
Majoituspaikan tyyppi
Talo
---
Majoittujien määrä
4
---
Makuuhuoneet
Waltham, Lincolnshire Dn370ll, Britannia