Welcome to THE BILLI HIDEOUT! An all Australian, Kelly Gang inspired home. Based in the Byron Shire, The Billi Hideout is 2 mins to Brunswick Heads & 15 mins to Byron Bay. Forget pricey motel bills, this place is decked out with: NETFLIX, WIFI, SPA, POOL TABLE, DART BOARD, FIRE PIT, BOSE SOUND SYSTEM, SONYTV. Enjoy a beer around the bonfire or a champagne in the spa. PRIME LOCATION for those wanting a weekend away. Perfect for families, group bookings and close for festival goers.
We have immaculate gardens with plenty of space for extra tents or multiple cars. (Please keep in mind that we charge per head after the stay rate) WE ARE ALSO PET FRIENDLY!!! Please enquire with host for further details on how to enjoy a stay with your pet. 5 Minutes drive to Brunswick Heads/ Ocean Shores/ New Brighton Beach 10 Minutes drive to Mullumbimby  15 Minutes drive to Byron Bay & the Luscious Hinterland 
Billinudgel is an old railway town in the Northern Rivers of NSW. Only 20 Minutes drive from Byron Bay, this quaint little town is situated between the coast and the Highway. You will find a little road noise especially during peak/festival times but the ambience of the season will have you buzzing with excitement. Billinudgel is central to Brunswick Heads, Ocean Shores, New Brighton, Tweed Heads and of course the beautiful Byron Bay. With easy access to the highway you can explore the shire as you wish. Affordable accommodation you won't want to miss staying at The Billi Hideout!
Awesome property! We felt like the Hideout was our own little ranch it was great and Jessica and Col were great hosts! Thanks again!
Luke
2017-03-04T00:00:00Z
The billi hide out was the perfect weekend getaway whether your looking to just relax or entertain or both we had a fantastic stay. Highly recommend it you won't be disappointed!!
Heath
2017-02-12T00:00:00Z
Huonetyyppi
Koko talo/asunto
---
Majoituspaikan tyyppi
Talo
---
Majoittujien määrä
9
---
Makuuhuoneet
Billinudgel, Nsw, Australia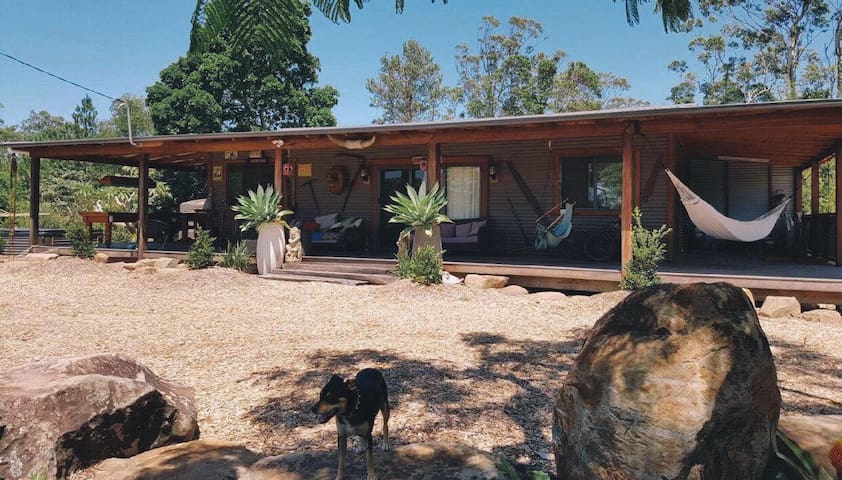 Perfect accommodation for all local festivals. Self contained studio on 6 acre property. Gorgeous views of valley, great sunsets, walks and native birds are all part of the experience. 10 mins drive to the beach, 15 mins drive to Mullumbimby, 20 mins drive to Byron Bay.
Newly renovated self contained studio with polished floorboards, new bathroom and basic amenities ( toaster, electric jug, plates, cutlery, microwave). Private outside area with views to your own valley - perfect for morning breakfast and sunset drinks. Comfortable new pillow top queen size ensemble mattress. Wake up in the morning to sweeping views of the valley as well as the sounds of kookaburras and other friendly native birds.
Billinudgel is one of the original Byron Bay Shire villages. The accommodation is located 10 minutes walk from the infamous Billinudgel pub where you can enjoy excellent meals as well as listen to live music on the weekends. Mullumbimby is a 10 minute drive and has an array of quaint shops, great cafes and restaurants and live music on the weekends. The New Brighton Farmers' Market (Tuesday 8am-11am) and Mullumbimby Farmers' Markets (Friday 7am-11am) is a fun morning outing. Enjoy the huge variety of farmers and organic produce, listen to local music, have a coffee, delicious cake and mingle with the locals. Choice of beaches nearby include Brunswick Heads, Ocean Shores, South Golden (5-10 mins away). Should you wish to venture into Byron Bay - you need only drive 20 minutes.
This was such a beautiful little cottage, on the most amazing property. The hosts were so accomodating and we thoroughly enjoyed our stay. The room was spacious, clean and only 15 mins to Byron and a couple of minutes from the beach. Highly recommend and we will be booking again.
Michelle
2016-10-02T00:00:00Z
I booked Francesca's place for my friend Anna, who thoroughly enjoyed staying there. She felt welcomed by Francesca and said the space was very beautiful and peaceful. Would highly recommend.
Kylie
2016-12-29T00:00:00Z
We had a lovely stay at Francesca's place. The unit was very spacious and open. Convenient location and easily accessible from the motorway. Francesca was very accommodating and welcoming, nothing was too much trouble. We felt very comfortable and would definitely stay here again.
Emily
2016-03-28T00:00:00Z
Francesca and Sam were both extremely hospitable and it was great to meet them. Nothing was too much trouble. We opted to stay outside of Byron to get away from the hustle and bustle but still remain closely to attend a festival. Only a $15 can ride to the Byron Parklands which was convenient. Very beautiful views and only a 20 minute drive to Byron Bay or 5 minutes to a local beach. We opted to pay $15 extra to have breakfast one morning prepared and it was worth it! Delicious! The studio is very comfortable and had everything we needed for 2 nights!
Sarah
2017-01-02T00:00:00Z
The studio is perfect - clean, spacious, has everything you need, and is a short drive to Brunswick Heads and Byron, Francesca and Salvatore were also the perfect hosts. They were lovely, hospitable and checked up on us to make sure that we had everything we needed. My boyfriend and I were driving up from Sydney and got stuck in the holiday traffic/crazy weather, so ended up arriving a lot later than expected, but Francesca was incredibly accommodating and made the whole process super easy. Definitely recommend this studio to anyone who wants to stay in the Byron Bay area, but who also want to be able to relax away from the hustle and bustle.
Nikki
2017-01-05T00:00:00Z
We have a lovely time at Francesca's country retreat. The retreat is set in beautiful countryside that is only a 5 minute drive to the beach. Great for a weekend away! Francesca and Sam made us feel very welcome and ensured we were very comfortable during our stay.
Rebecca
2016-03-30T00:00:00Z
A great little spot to stay and was very cosy. Bed was all new and super cosy after long days at a festival. Lovely host and very welcoming.
Brony
2016-07-26T00:00:00Z
We had a fantastic stay with Fran! The property was so tranquil, and waking up to the sound of birds was lovely! Short trip to many of the beaches and easy access from the highway! Would recommend!
Jordan
2016-03-25T00:00:00Z
Huonetyyppi
Koko talo/asunto
---
Majoituspaikan tyyppi
Talo
---
Majoittujien määrä
2
---
Makuuhuoneet
Billinudgel, Uusi Etelä-Wales, Australia
"BONZA BAMBOO" hideaway is a huge 2 storey, 1 bedroom house (170㎡) with 2 balconies and multiple spaces to relax. It is a secluded but conveniently located 167-acre bamboo farm in the north of the Byron Shire; 5 km from the Pacific Highway and 35 minutes to Gold Coast airport. Easy access to beaches, parks, Byron Bluesfest, Splendour in the Grass and Mullum Music Festival. A truly unique place!
The tropical garden atmosphere with giant bamboos and palm trees is the backdrop for our Asian inspired "Bali Building". This handcrafted building is furnished with all sorts of wonderful things that we have made from bamboo and recycled materials; from lamps to tables to couches. You can relax on the 2nd storey verandah overlooking the bamboo plantation or get comfortable with a book on the generous bamboo couches downstairs. Upstairs accommodation includes 1 large bedroom with a queen size bed and a loft at one end with a king single bed. The bedroom opens out onto a comfortable verandah overlooking the bamboo plantation with built in day beds for those wanting a relaxing, peaceful break. Downstairs there's a spacious lounge room, a fully equipped kitchen, dining area, a bathroom with a shower and a separate toilet. There's another verandah off the kitchen area also overlooking the bamboo plantation. A great spot to relax and chat. The hosts' living space and the original farmhouse is close by but still private. There's a ceiling fan in the upstairs bedroom and we have several pedestal fans available for those extra hot days :) We provide tea and coffee, bread, butter, a variety of spreads and muesli. For those who want to cook we'll provide the basic condiments and there will be seasonally fresh herbs from the garden. We do not get mobile phone or TV reception on the property but wireless Internet is available. There is a TV and a DVD player if you wish to bring along your favourite movies or borrow some of ours :) A torch would be handy if you are going out at night.
Eating out? Stop at the historic Billinudgel pub (only 5 km away) for a drink in the beer garden or a tasty meal. Catch some live entertainment on the weekend or you can eat at Billi Indian restaurant in the evening. Brunswick Heads (9 km) has a variety of restaurants and cafes and the Brunswick Hotel situated across the road from the Brunswick River makes for a fine evening in the beer garden. Have a picnic in the park on the beach and look out for the dolphins. We enjoy "Calamari and chips" at the The Brunswick Heads Fishing Co-op on the boat harbour, watching the pelicans and the seagulls. Love music? The Byron Bay Bluesfest, Splendour in the Grass, The Mullum Music Festival and Falls Festival are all close by.
Carolyn was a wonderful host, greeting us upon arrival & making us feel like the Bonza Bamboo farm was completely ours to love & explore. The Bamboo farm was such a serene tranquil escape. A perfectly airy, balmy, scenic, quiet, zen getaway. An aesthetes visual fest! The ultimate Asian inspired sanctuary, with ceramic, Jade, & wooden fine arts adorning the property. Carolyn & Lance are clearly creative, and their own creative projects, handmade artefacts & furniture add an authentic & inspirational flavour to the property. Hand thrown wood fired ceramic vessels to admire & perfectly carved wooden bamboo furniture sit back & relax into. We loved the clean, airy retreat style nature of our stay at "Bonza Bamboo" and wouldn't hesitate to recommend a stay for those looking for a peaceful getaway in the Byron hinterland. The Bamboo farm is close enough to Byron Bay to be convenient but far enough out of town to feel like an absolute mountain retreat. Well worth a visit.
Lauren
2016-01-09T00:00:00Z
Our experience at Bonza Bamboo exceeded our expectations in all arenas. Carolyn and Lance were excellent hosts. They are friendly and welcoming coupled with an excellent knowledge of the area. They go out of their way to make the stay a memorable one. They also provide space for privacy and relaxation. The area is truely beautiful and very relaxing. The pictures on website match the reality perfectly. I would highly recommend this place and could have easily stayed longer.
mike
2016-08-30T00:00:00Z
Little Balinese-inspired cottage was amazing and beautiful. Somehow managed to keep all the bugs outdoors (this is Byron after all~!). Furnished beautifully. Carolyn was lovely and helpful. Internet is a bit temperamental, which made outside communication a bit difficult. Lack of running water inside the actual cottage was a bit difficult to work around but Carolyn made sure we were well fitted out for water in the main house. The water should be fixed by the next Bluesfest, so hopefully we'll be back to enjoy the farm once again!
Russell
2016-03-29T00:00:00Z
What a treat to stay in this beautiful house. The place was clean, cozy and very unique. Very beautiful details in the home, truly a work of art. All spaces were easy to enjoy and we only wish we got to spend more time there. Carolyn was friendly, and welcomed us upon arrival. We would love to stay again if ever in the area. Highly recommended!
Zsuzsi
2016-12-10T00:00:00Z
WoW WOW WoW! Bonza Bamboo is incredible! It was perfect for us to wind down and take a break from Melbourne. Would go back in a heart beat. The sheer impressiveness of the building structure was truly inspiring. Carolyn was down to earth, helpful and made our stay as comfortable being at home.
Cassie
2016-01-26T00:00:00Z
As a new user to Air BnB I wasn't entirely sure what to expect and carefully shopped around to find a place that would fit our needs. Those needs were to find a place off the beaten track that would allow for some guaranteed quiet time and let us access the local area to explore. This place met all of those needs and more. It's actually two houses adjacent to each other about 2kms off the main road on private land, one a lovely cottage and the other an Indonesian styled house that the hosts have been building (looks amazing) in the middle of a bamboo forest. The hosts are artists and have crafted pieces that are put up all over the Indonesian house and give the pace an incredibly unique feel. Two of the most interesting people you could hope to meet and have a wealth of local knowledge on both places to visit and the local flora and fauna. Every conversation was an education and set us up for the next day as well as explaining about the land and their experiences there. I wish we had more time to spend with them and will definitely check in next time I'm in the region. This isn't your run of the mill experience, it's much more than that and you'll walk away knowing you had something more from your time there. Beautiful seclusion, an amazing house which is hard to do justice in words and two wonderfully interesting/accommodating people to talk to when you want. You can always stay in a house, but you can't get this experience in many places that I've ever seen. Treat yourself to something different. My only regret is not having longer to spend there as we were out exploring the local region everyday but I could have spent days relaxing in the middle of the bamboo forest. Saying that, the local beaches and rivers couldn't have been anymore suited to what I was after whilst there.
Lautaro
2016-03-15T00:00:00Z
Carolyn and lance were the perfect hosts and their bamboo farm is a a tranquil oasis!!! We loved staying in your gorgeous Asian house, cannot recommend this place more highly. Away from the hustle and bustle of Byron bay, we spent the day on the beach there and stayed out with Carolyn for the evening.
Victoria
2016-01-07T00:00:00Z
We were blown away with this property. The Bali house is so beautiful, pictures don't do this place justice, and our hosts were very kind and welcoming. Wish we had more time here, most relaxing Airbnb I've ever stayed at.
Cameron
2016-08-04T00:00:00Z
Huonetyyppi
Koko talo/asunto
---
Majoituspaikan tyyppi
Talo
---
Majoittujien määrä
3
---
Makuuhuoneet
Billinudgel, Uusi Etelä-Wales, Australia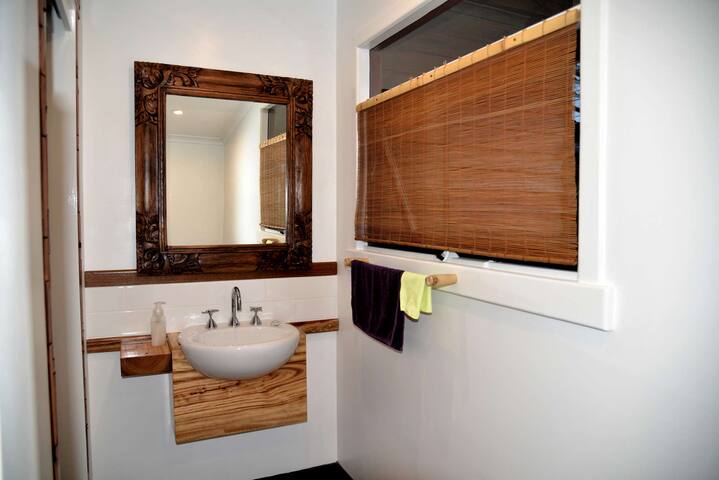 Hillview is located in the Byron Shire 20 mins from popular Byron Bay. The house is located on a hill above a large banana plantation. The house is only accessible by dirt road, 5 mins from Billinudgel town. Own transport is a must.
Large brick home, located on top of a hill out of town. This property has two dwellings on it, both are on the same ridge but separated for privacy. Nature lovers and working professionals looking for a secluded getaway would suit this property. There are three bedrooms in the house, the master is available for bookings.
Billinudgel is a real gem. Take a drive through to the Pocket for your fruit and veg needs. Its country and friendly, locals like people to respect that when visiting.
Huonetyyppi
Yksityinen huone
---
Majoituspaikan tyyppi
Talo
---
Majoittujien määrä
2
---
Makuuhuoneet
Billinudgel, Uusi Etelä-Wales, Australia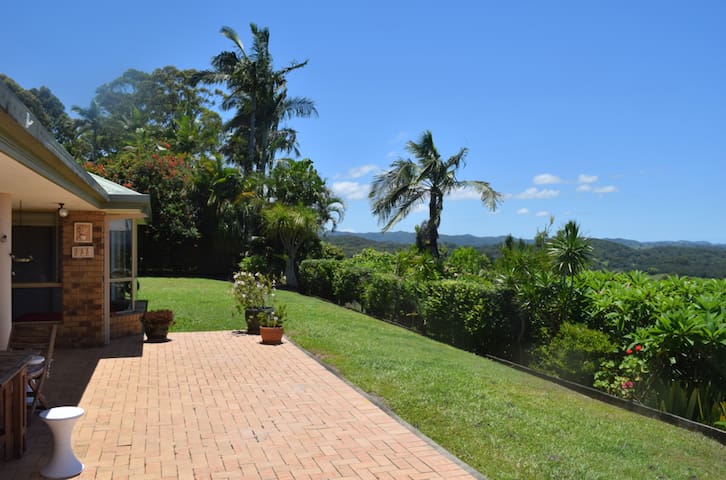 Open, spacious, modern large house on top of hill. Close to Brunswick Heads (7 minutes), Ocean Shores Shopping Centre (5 minutes) and Coolangatta Airport (35 minutes). Beautiful decking area with exquisite views and outside bath!
This is a great property with a beautiful outlook. David was a good host; generous, kind and more than happy to answer any questions. The downstairs and next door neighbours (and their dogs and chickens) were all very quiet and friendly. The house does not have a TV or DVD player, but the outdoor bath and shower are a winner.
Beau
2015-01-02T00:00:00Z
Huonetyyppi
Koko talo/asunto
---
Majoituspaikan tyyppi
Talo
---
Majoittujien määrä
4
---
Makuuhuoneet
Billinudgel, Uusi Etelä-Wales, Australia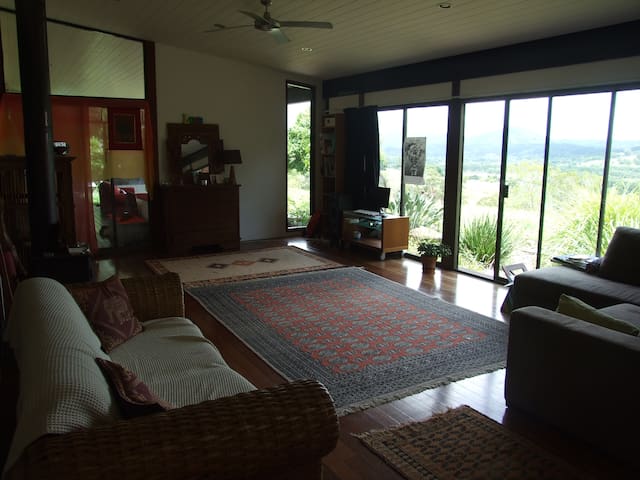 "Heaven" is a beautiful retreat tucked into a hillside at the end of a quiet country road. The pavilion-style house was custom built to highlight the natural environment with high ceilings & generous use of timber & glass.
Sleeps up to 4 guests 2 bedrooms North-easterly aspect 8 acres of peace and tranquillity Spectacular Pacific Ocean and hinterland views Easy 30 minute drive from Gold Coast airport Short drive to Byron Bay / Bangalow / Mullumbimby / Brunswick Heads Wide variety of bird life including kookaburras and owls Award-winning timber home designed by architect Paul Witzig Pavilion style layout Sun-filled living areas Bespoke detailing throughout Great outdoor entertaining Beautiful natural setting with majestic trees, stag horns & ferns There is NO internet connection on the premises PROPERTY DESCRIPTION Pitjantjatjara for 'heaven', Ngura Ilkaritja is a beautiful retreat tucked into a hillside at the end of a quiet country road. The pavilion-style house was custom built to highlight the natural environment. High ceilings and the generous use of timber and glass sees this home constantly flirt with its surroundings, drawing the landscape into every room. Set on a leafy elevated block, you will enjoy gentle breezes and lovely views. A large, partially covered first-floor deck separates the lounge pavilion from the kitchen and bedrooms pavilion. The lounge features a wood burning fire, Tasmanian myrtle cabinetry and 6 metre high raked ceilings. The kitchen is cleverly designed and opens onto an expansive outdoor dining space. The master bedroom and second bedroom are adjacent to a large bathroom featuring bespoke Villeroy & Boch toilet and basin. The master bedroom features a large walk-in robe and opens onto the deck overlooking the acreage and with amazing coastal views. This is a perfect get away for couples or small families. Parking - plenty of driveway parking is available. Pets - sorry, Ngura Ilkaritja is not a pet-friendly property. Non-smoking - this is a non-smoking environment. Heating and cooling - the design of the house and its elevation ensures that it is well ventilated and does not need air-conditioning. There is a wood combustion stove in the lounge pavilion for the occasional cooler winter night. Linen - all linen and towels are supplied. BEDROOM CONFIGURATION Bedroom 1: Queen bed Bedroom 2: Double bed RATES New Years, Easter, First week in January $450 per night or $2,800 per week (5 night minimum stay) Christmas & Summer School Holidays $420 per night or $2,500 per week (5 night minimum stay) Splendour in the Grass $400 per night (3 night minimum stay) Autumn & Spring School Holidays $380 per night or $2,300 per week (5 night minimum stay) Winter months $280 per night, $1,800 per week (2 night minimum stay, 5 night min during school holidays) All other times of the year $320 per night, $2,000 per week (2 night minimum stay)
Huonetyyppi
Koko talo/asunto
---
Majoituspaikan tyyppi
Talo
---
Majoittujien määrä
4
---
Makuuhuoneet
Billinudgel, Uusi Etelä-Wales, Australia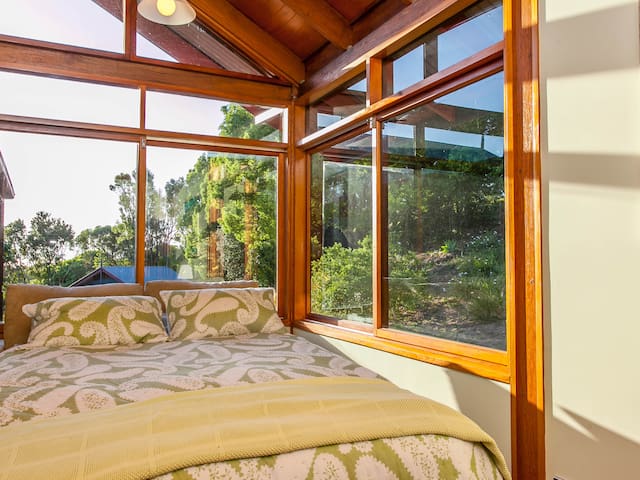 A newly built expansive timber home, in a magical setting, with unparalleled views of Mt Chincogan, set on 8 acres. Secluded, yet only 5 mins to the beach and Mullumbimby, a rare gem in the Byron Shire with a spectacular outlook.
Rarely do you find such a beautiful home so close to the beach yet with the feeling that you are deep in the magical Byron hinterland. Situated on the region's famed Coolamon Scenic Drive, this newly built architect designed timber home is set on 8 lush acres, with one of the best views of Mt Chincogan in the Shire. Relax on the huge covered timber verandah and soak in the peace that this property exudes, overlooking the lush native-fringed lawn, old growth forest and the Mount over the valley. The home features 5m-high open plan living, 2 spacious double bedrooms with own verandah/patio, luxuriously appointed bathroom with clawfoot bath and outdoor shower overlooking the rainforest behind, fully equipped kitchen with breakfast island bench opening out onto large paved patio overlooking the rainforest, large swimming dam, and established veggie garden. 5 minutes to a variety of beaches, the Blues and Roots Music Festival site, Ocean Shores shopping centre, Brunswick Heads, and Mullumbimby. 20 minutes to Byron Bay. 25 minutes to Gold Coast airport. Extra detail: -2 x queen size beds (extra mattresses available upon request) -All linen / towels provided -New gas stove and electric oven -Dishwasher -Washing Machine and Dryer -Wireless Internet -Television and DVD player -Good books -Good vibes
We had a lovely, relaxing stay at the Mountains to Beach retreat. Accessible to Byron but feels secluded. Just what we needed. The outdoor shower is a highlight. As is the kitchen. Had everything we needed. Damiem and Sinem were fantastic hosts. Made sure we had everything we needed for a comfortable stay. Looking forward to our next trip up.
Garrett
2016-01-05T00:00:00Z
If you are looking for a quiet countryside retreat one step away from the beaches and local amenities, you cannot go wrong with this house. The view from the patio inspires is awesome and inspires tranquility. The vegetable garden adds even more charm to the place. The house is beautifully decorated with a nice touch of mediterranean atmosphere. The house was recently built so general conditions are excellent. We did not have the opportunity to meet Damien and Sinem, but had very effective and straightforward email exchanges with them - they were always available when needed. In short, if you are considering a stay in Byron Bay's hinterland, you will not be disappointed.
Tania
2015-01-08T00:00:00Z
What an incredible place. The most amazing view as you woke up into the forest, walking out on the deck wth a cup of tea in hand and looking over the mountains. The kitchen was big and a great space to hang out in, the bathroom was the highlight for us...huge bath tub and the outdoor shower.. wow! We had fresh eggs everyday which was a real treat. Thank you Sinem &a Damien. We will be back in a heartbeat!!
Pia
2017-01-02T00:00:00Z
This was one of our highlights of the year. We had a great time. The house was clean and had a great view. All appliances worked and there was nothing we needed that wasn't there. We were looking for a quiet tranquil getaway from the city and this place was perfect. Damien and Sinem were very thorough in their instructions and organised everything for us before we arrived. Although we were a little familiar with the location the pointers we got from Damien Sinem and their friends came in very handy. The beach and shops for supplies, fruit and veg markets and art markets are on the doorstep! not to mention numerous natural activities all around! We would highly recommend this place for a family to take time out and explore the beautiful Byron Bay Shire. Our 17 month girl was totally inspired and happy. She had lots of room to run around and explore. We have come back from a week of holidays feeling like we've had three weeks away. The outdoor shower was one of the favourite times of the day!
Laurence
2015-01-03T00:00:00Z
Huonetyyppi
Koko talo/asunto
---
Majoituspaikan tyyppi
Talo
---
Majoittujien määrä
4
---
Makuuhuoneet
Billinudgel, Uusi Etelä-Wales, Australia
The view of the ocean is very nice - especially if you get up early enough to see the sunrise! Jules and Chris have done a great job brightening up the large space under their house and are continuing to work on the landscaping to bring it up to the same standard. The apartment is thoughtfully provisioned and they were quick in responding to me. Ceiling fans were a blessing in the north-coast humidity. Fresh flowers were a very nice touch when I arrived.
Alwynne
2017-03-27T00:00:00Z
Jule's apartment is lovely and spacious, and has a good view of the sea. Her and her fella are super nice, we had a great stay. It has everything you need. It's a quiet area, amazing beach and there's a really good sushi place, trust me, at the shops down the road.
Rob
2017-03-18T00:00:00Z
The accommodation was perfect with all the required amenities. It is private with an amazing ocean view. Jules was very welcoming and is a great host. Would definitely stay again.
Dimitri
2017-04-07T00:00:00Z
Thoroughly enjoyed our stay. The studio is spacious and clean. The area is quiet and in a friendly neighbourhood.
Dave and Laura
2017-04-10T00:00:00Z
Huonetyyppi
Koko talo/asunto
---
Majoituspaikan tyyppi
Talo
---
Majoittujien määrä
2
---
Makuuhuoneet
Ocean Shores, Uusi Etelä-Wales, Australia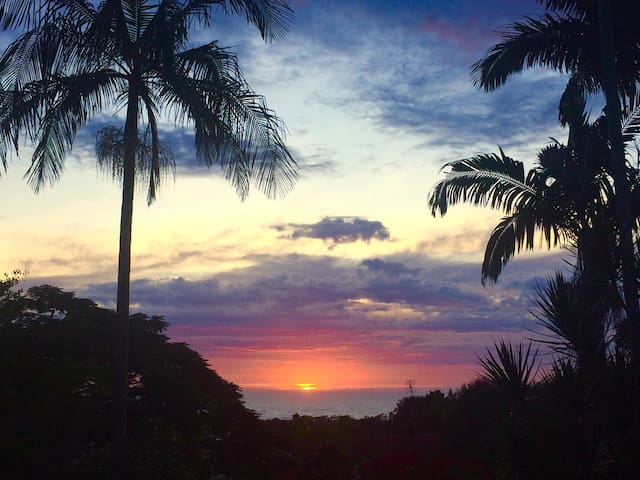 North Ocean Shores nach Hause. Nur zehn Minuten zu Fuß zum Fern-Strand oder nutzen Sie unsere zwei Fahrräder für 2 Minuten Fahrt. Eine komfortable Queen-Size-Bett, Deckenventilator und Bademantel für die Lagerung. Ihr eigenes Badezimmer mit Whirlpool. Klimaanlage in für Entspannung außerhalb Raum und Veranda leben. Das Frühstück beinhaltet: Müsli, Toast, Tee und Kaffee Minuten zum Splendour, 20 Minuten nach Byron Bay, 10 Minuten zu Brunswick Heads, 35 Minuten zum Flughafen Coolangatta. Kann organisieren zum Flughafen, Byron Bay und Veranstaltungen für eine Gebühr abholen und Drop-off.
Das Haus ist ruhig und in einer ruhigen Gegend. Zurück Veranda ist perfekt für das Lesen, Vogelbeobachtung und Entspannen in den Schatten. Nach einem aktiven Tag in der Sonne, ist der große Whirlpool toll zum Entspannen und abkühlen lassen. Es gibt sogar einen Fernseher im Bad zu sehen und entspannen. Verwenden Sie die Küche Mahlzeiten zubereiten zu jeder Tageszeit. Gäste, die mit Kühlschrank und Speisekammer Raum zur Verfügung gestellt. Alle Tee, Kaffee, Milch zur Verfügung gestellt. Das Frühstück beinhaltet: Müsli, Toast, Tee und Kaffee
Perfekte Lage für gemütliche Tage am Strand. 2 Minuten Fahrt zum Fern Strand und South Golden Beach. Leicht zu Fuß oder leihen unsere 2 Fahrräder zum Strand zu fahren. Die Strände sind ideal für lange Spaziergänge, Schwimmen und eine Welle zu kontrollieren. Es gibt Sicherheitsfahnen im Sommer in South Golden Beach. Besuchen Sie den Shop in South Golden Beach für einen guten Kaffee, das Papier oder die gute Qualität heißes Essen abholen. Fabulous Pizza 7 Nächte in der Woche. Am Eingang zum Fern Strand finden Sie einen Tennisplatz und Basketballring finden. Wir haben die Grundlagen für Sie zu leihen. Lokale Einkaufszentrum einschließlich Coles, Metzger, Obst und Gemüse, Apotheke, Getränkemarkt und vieles mehr. Es ist 10 Minuten Fahrt.
Karryn and Esther are lovely people who made my wife and I feel very welcome. I would definitely recommend their place to anyone looking for a weekend away on the beautiful Northern NSW beaches.
Sam
2017-01-29T00:00:00Z
Our stay with Karryn and Esther was wonderful. They were very friendly and everything was clean. Also the breakfast they provided was delicious. I would highly recommend them.
Vanessa
2017-03-12T00:00:00Z
Karryn and Esther live in a wonderful, modern house. Our room and own bath were very beautiful, clean and comfortable equipped. Karryn and Esther were very friendly, what maked us feeling like staing at home. So we would come back to them everytime. The beach is just 2min away with the bicycle but to go to byron bay we would recommend to rent a car. The communication and check-in were excellent.
Natascha
2017-01-16T00:00:00Z
Karryn and Esther are two really lovely, friendly and welcoming persons. We spent a great evening together watching cricket and had a great conversation about a lot of different things (we didn't make it to the beach, because it was so interesting). The private bath is awesome and has an own whirlpool bathtub. The room is very close to Byron Bay, so you might have a day trip to it. Unfortunately we only spend a night here, it's definitely a place where you can spend more days. Thank you so much! Cheers Fabian
Fabian
2017-01-04T00:00:00Z
Karryn and Esther both happily greeted my partner and I at the front door at arrival. The hosts were kind and helpful. I was amazed by the big spa bath and television displayed on the bathroom wall. The house is ideal for a relaxed couple's getaway. South Golden Beach is nearby and the backyard garden is beautiful.
Alice
2017-01-03T00:00:00Z
I really enjoyed my stay here! The place was really comfortable and clean and we also had our own bathroom! Karryn and Esther were really nice and even though it was pretty late by the time we got to meet, they stayed up to chat and gave us all the information we needed! Thank you so much once again! I'll definitely recommend this place to my friends!
Bernice
2017-02-26T00:00:00Z
Very friendly hosts and comfortable clean accomodation
Jacqueline
2017-01-07T00:00:00Z
Absolutely lovely people and very welcoming! Everything we needed was there in the house. Bed was really comfy and the extension leads by the side of the beds were fab! Bathroom was again great with a huge bath and shower. Breakfast was laid out on the side every morning for us to help ourselves. We cooked both nights in there modern kitchen. Highly recommended!!!
Georgia
2017-01-27T00:00:00Z
Huonetyyppi
Yksityinen huone
---
Majoituspaikan tyyppi
Talo
---
Majoittujien määrä
2
---
Makuuhuoneet
Ocean Shores, Uusi Etelä-Wales, Australia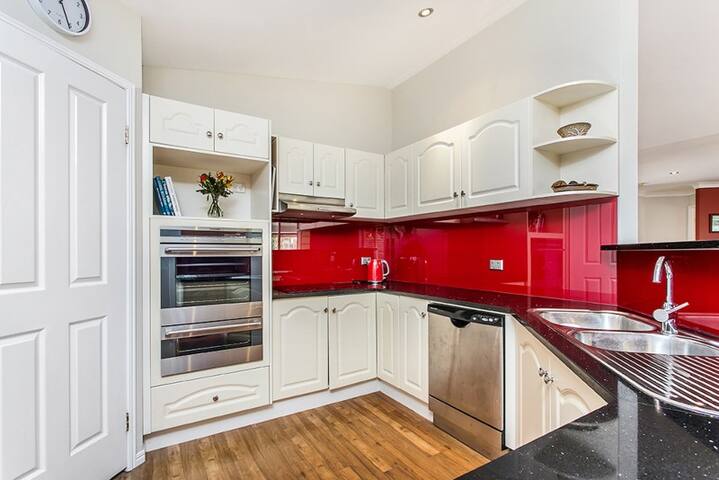 Mein Platz ist nahe an den Strand, Wald, Restaurants und Restaurants, Fluss, ein Einkaufszentrum, eine Taverne. Mein Platz ist gut für Paare, Solo-Abenteurer und Geschäftsreisende.
Loved all the beautiful greenery. Host was warm and welcoming, I felt right at home :)
Julie
2017-03-14T00:00:00Z
Ian & his partner are very relaxed, welcoming and I felt comfortable as soon as I arrived. There is a very natural energy to the place and I loved the feeling of just being myself during my stay with no expectations.
Michael
2017-01-14T00:00:00Z
Ian and Nikki are great hosts and the accommodation is nice. There's lots of nice cafes around and beaches and stuff.
Peter
2017-01-18T00:00:00Z
Second time staying here, host is wonderful and always welcoming. I'm sure it won't be my last stay!
Julie
2017-03-29T00:00:00Z
Down to earth, comfortable digs!!
Fi
2016-12-03T00:00:00Z
Had such a lovely stay at Ian and Nikki's place. They were so kind and made sure I felt like home. I felt very relaxed and safe here, it was amazing to wake up because it felt like if you woke up in the jungle. But their home is still very close to Coles (supermarket), bus stop and restaurants!
Cassandra
2017-03-11T00:00:00Z
convenient, good value, no fuss
Simon
2017-02-04T00:00:00Z
A vehicle will be useful , I used a bicycle to get to Byron Bay on beach side and enjoyed the wild life ,kangaroo and lots of different birds .... skydiving is a 20/25 min. ride , Byron Bay a bit over an hour ....Ocean Shores does have great beaches too :)
james
2017-02-17T00:00:00Z
Huonetyyppi
Yksityinen huone
---
Majoituspaikan tyyppi
Talo
---
Majoittujien määrä
2
---
Makuuhuoneet
Ocean Shores, Uusi Etelä-Wales, Australia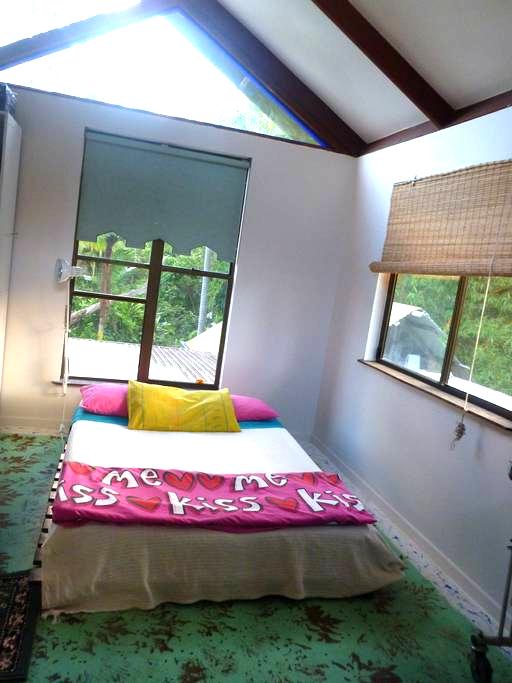 Huonetyyppi
Yksityinen huone
---
Majoituspaikan tyyppi
Talo
---
Majoittujien määrä
2
---
Makuuhuoneet
Ocean Shores, Uusi Etelä-Wales, Australia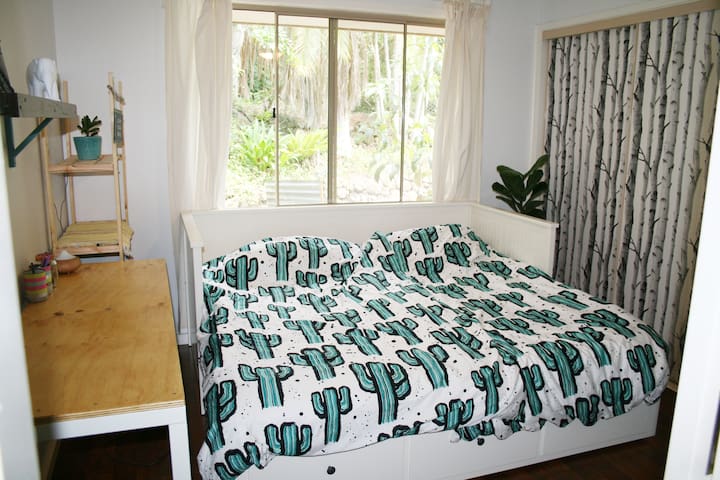 The hosts Paul and Jacqui were amazing . Made us feel very welcome and at home , me and my friend were out a lot as we were at a festival , but given we had more time would have been lovely to get to know them more . The room is amazing and is perfect for anyone . In the future , any more trips up their way , they would be first on my list :)
Nihkole
2017-01-02T00:00:00Z
Peaceful, quiet, an oasis of calm. Only 20 minutes from the beaches, Jacqueline's place is in the perfect position for day trips to Byron, Ocean Shores and Brunswick Heads. The room was large, airy and nicely decorated. The highlight of the property for me was the access direct from the bedroom onto a splendid balcony overlooking the garden full of their Chickens and a friendly dog. Overall, the property was perfect, the hosts were friendly and the location was ideal.
Thomas
2017-01-07T00:00:00Z
Huonetyyppi
Yksityinen huone
---
Majoituspaikan tyyppi
Talo
---
Majoittujien määrä
2
---
Makuuhuoneet
Ocean Shores, Uusi Etelä-Wales, Australia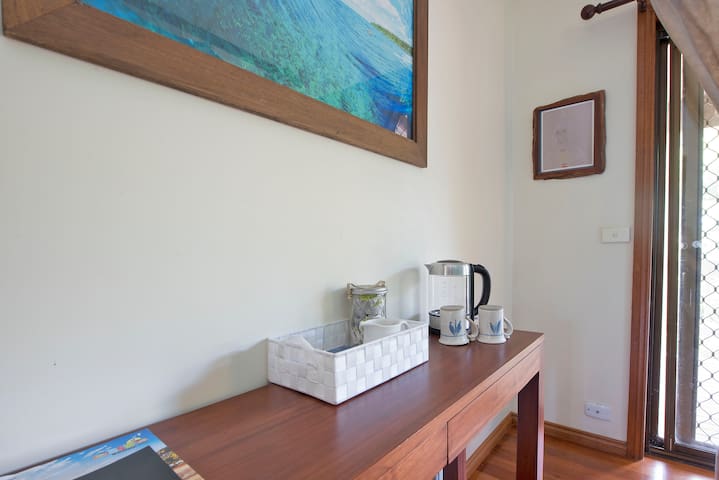 Dieses beeindruckende Erdgeschoss Architekten Rückzug hat einen ausgezeichneten Ausblick auf die malerische Fluss, der direkt am Ende des Gartens ist. Nur 2 Minuten Fahrt zum Strand wurde vor kurzem gebaut, inmitten der Ruhe, Sicherheit und natürliche Umgebung von South Golden Beach Village - nur eine 20-minütige Fahrt von Byron Bay. Das Gourmet-Haus ist lichtdurchflutet mit Falttüren. Wenn Sie Luxus wollen, Privatsphäre, Blick auf den Fluss und einen Rückzugsort in der Nähe zum Strand, haben Sie Ihre komplett eigenständig Platz gefunden.
Das Haus ist Architekt entworfen von Murray Cox. Es ist nach Nordosten, fängt schöne Meeresbrise und Sie fühlen sich, als ob du so weit weg von allem anderen sind. Es ist unglaublich privat, da sie über einen Fluss schaut, und hinter dem Fluss ist nichts anderes als Naturschutzgebiet. Die Wirbelsäule in der Mitte des Hauses ist aus Rammed Erde gebaut und ist so ein Vergnügen, damit zu leben. Dieses Haus ist wirklich exquisite und ist sogar noch besser als die Fotos im Fleisch. Besucher sagen, dass sie das Gefühl, als ob sie nur schmelzen, wenn sie in den Raum gehen.
Köstlich ruhig .. alles, was Sie im Inneren des Hauses zu hören und außen ist das Meer und die Vögel. Es ist ein Naturschutzgebiet auf der anderen Straßen (keine Häuser), und es ist am Ende einer Sackgasse, so gibt es praktisch keinen Verkehr überhaupt ist.
Skye's place is the perfect get away abode. Constructed from beautiful rammed earth and natural products, her place really connects you with nature which is what I love about a get away. The floor to ceiling windowns showcase the views out the back of the trees and the river and birdlife. The kitchen is fully equipped. Such a nice feel to this home and I'd love to get back there in the future.
Sharon
2017-03-05T00:00:00Z
Huonetyyppi
Koko talo/asunto
---
Majoituspaikan tyyppi
Talo
---
Majoittujien määrä
4
---
Makuuhuoneet
Ocean Shores, Uusi Etelä-Wales, Australia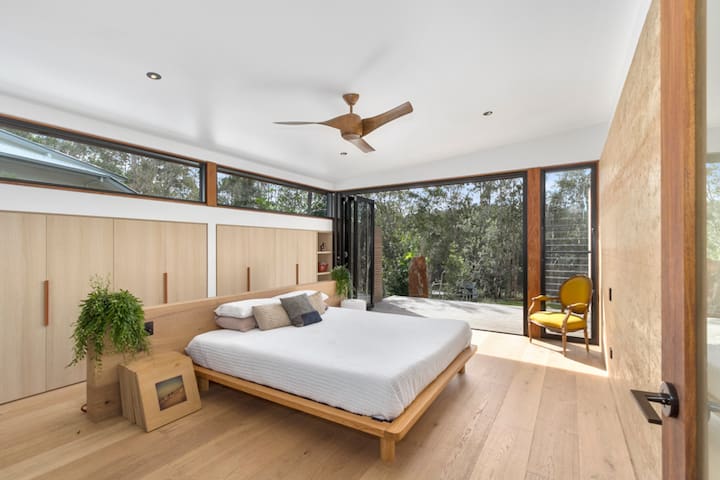 Ocean Shores è una bella comunità di gente amichevole e familiare. spiagge locali - New Brighton Beach, Ocean Shores, capi di Brunswick sono pulite e grandi per il nuoto, surf, passeggiate. Si accettano i cani sulla maggior parte delle parti della spiaggia e si può camminare lungo la spiaggia per miglia senza ostacoli. I mercati degli agricoltori sono ogni Martedì fino alle ore 11 alla fine del Orana Road, dove sarà alloggiato Ocean Shores Golf Club è appena oltre la collina per i pasti gustosi Ocean Village Shopping Center 5 minuti di auto - Coles / Panificio / Health Store / Bottleshop / da asporto Prodotti alimentari Yum Yum Tree Cafe è un must visitare servire Botero Caffè e sana colazione / succhi prime / pranzo / muffin GF / BUONISSIMO.
Super ruhig gelegen mit eigenem Zugang. Wegen eines starken Gewitters hatten wir eine unvergessliche Nacht
Roland
2017-03-18T00:00:00Z
Caraline and her kids welcomed us warmly even though it was late evening and we booked 1 hour prior arrival. Caraline is a lovely host and I would recommend her place definey to friends and family.
Franziska
2017-01-27T00:00:00Z
We washed away for 2 days sleeping outside whith heavy rains and wind. We asked Caraline for a night of good sleep indoors and she responded immediately. She took real good care of us, washed our wet laundry and even made a salad to go with our frozen pizzas! We had a great sleep in that wonderful and cozy garage that she made such an effort of of making it feel like a home. Thank you for having us!
Kim
2017-03-31T00:00:00Z
Caraline is very friendly host and her place is very spacious, clean and tidy.
Rajib
2017-01-07T00:00:00Z
Just 15min away from Byron Bay, spacious room with clean bathroom. We can easily stay here again. Caraline is a lovely lady who gave us good local tips. Had a good night at nearby Brunswich Hotel pub, good pizzas and live band, with dancing under the stars.
Jenny
2017-01-07T00:00:00Z
We booked the room 2 hour befor we go to sleep It was so nice that we can book this room in last minute
Patrick
2017-01-21T00:00:00Z
It was very clean and comfortable place. It was very easy to find.
Neil
2017-03-18T00:00:00Z
Caraline was a great host, she welcomed us nicely, offered her help if we needed anything and provided a great breakfast before we left. The room in the converted garage was fab, very spacious for the 3 of us and if it got too warm there was an air con unit to cool us down. Nice and modern bathroom too.
Alfie
2017-01-03T00:00:00Z
Huonetyyppi
Yksityinen huone
---
Majoituspaikan tyyppi
Talo
---
Majoittujien määrä
6
---
Makuuhuoneet
Ocean Shores, Uusi Etelä-Wales, Australia
Il est nouveau, dans un bel endroit calme et pourtant proche de tout
Great place to stay! Quiet, peaceful and scenic. Had the best sleep ever. Clean and simple. Lovely and friendly host.
Louis
2017-03-08T00:00:00Z
Kathryn was a wonderful host, extremely friendly and even dropped us into Brunswick heads! The room was very comfortable and clean and was perfect for what we were looking for. Would highly recommend!
Courtenay
2016-12-03T00:00:00Z
Kathryn was a great host! Due to the traffic and both of us forgetting there was an hours difference, we ended up being an hour late! But kathryn was so lovely, telling us not to rush and when we got there she met us with a smile and warm welcome! House, room, and bathroom was beautifully clean, airy and modern. The house was only 10mins from Byron and other beautiful towns and villages and kathryn gave us some great local info on what to do! Great lady and home! Thanks again!
Megan
2016-11-12T00:00:00Z
Loved staying here. Clean, comfortable, bed is super comfy. Kathryn was so welcoming - it was easy being in the space. I'm newer to airbnb and not quite sure how to be in someone else's home. She made sure we felt at home. Next trip up to Byron- will def stay there again. Fabulous
Rebecca
2017-04-08T00:00:00Z
I had a full day in Brisbane and wanted to make a head start on the trip to Sydney so stayed at Kathryn's to break up my trip and it was absolutely perfect! The place was beautiful, incredibly peaceful, really spacious kitchen and bathroom, light and airy bedroom, and easily the most comfortable bed I've slept in in a long time. Kathryn took phenomenally great care of me and sent very detailed instructions of how to get in etc. Communication and care were outstanding. The only negative was that I couldn't stay longer!! Highly recommend staying here if you're looking for a relaxing night or weekend away from the city (super peaceful), or if you're after a pit stop close to the Pacific Highway to break up a trip (super accessible).
Kate
2016-10-05T00:00:00Z
Great and quiet place to stay. I did find it difficult to find at night as (SENSITIVE CONTENTS HIDDEN) maps says it is down the end of the street but it's actually on the left (helpful hint for future guests). Also was quite warm as it had been a hot day and unfortunately the window doesn't open very much, although there is a ceiling fan that helped a bit. Would definitely stay here again though :)
Jennifer
2017-03-04T00:00:00Z
We stayed with Kathryn for 3 nights and were more than happy with our accomodation. Just what we were looking for
colm
2017-03-14T00:00:00Z
Friendly host, comfy space and close to the loveliest beach. (Also very convent to get to a morning dive with Blue Bay divers!). Thanks for having us!
Amy
2017-02-04T00:00:00Z
Huonetyyppi
Yksityinen huone
---
Majoituspaikan tyyppi
Talo
---
Majoittujien määrä
3
---
Makuuhuoneet
Ocean Shores, Uusi Etelä-Wales, Australia
Lovely place, comfortable & relaxed feel. Meri made us feel welcomed & was prompt in communications.
Judi
2017-04-02T00:00:00Z
Huonetyyppi
Koko talo/asunto
---
Majoituspaikan tyyppi
Talo
---
Majoittujien määrä
3
---
Makuuhuoneet
Ocean Shores, Uusi Etelä-Wales, Australia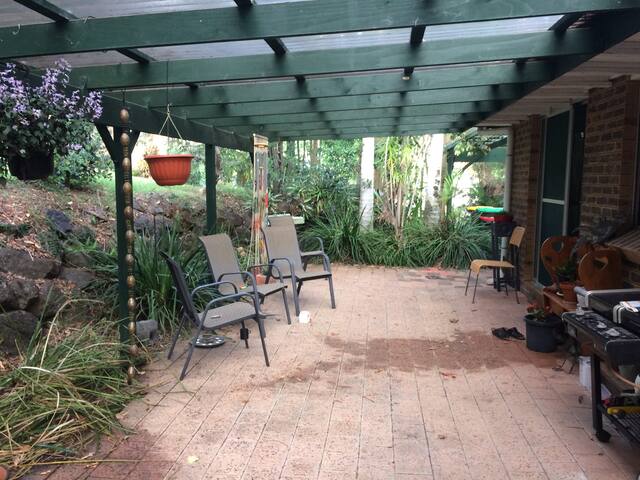 Huonetyyppi
Yksityinen huone
---
Majoituspaikan tyyppi
Talo
---
Majoittujien määrä
2
---
Makuuhuoneet
Ocean Shores, Uusi Etelä-Wales, Australia
Huonetyyppi
Yksityinen huone
---
Majoituspaikan tyyppi
Talo
---
Majoittujien määrä
4
---
Makuuhuoneet
Ocean Shores, Uusi Etelä-Wales, Australia
1

–

18

hakutuloksista

300+ vuokra-asuntoa
Anna päivämäärät nähdäksesi kokonaishinnoittelun. Lisämaksuja sovelletaan. Veroja saatetaan lisätä.