5 vuokrattavaa huoneistoa
The location of this apartment is superb; close to the M11, Stansted Airport and Bishop's Stortford station with the centre of town no more than 5 minutes walk to quaint tearooms and great restaurants. This apartment is great for business & leisure. The apartment features: - FREE HIGH SPEED WIFI - TV PACKAGE WITH 1000'S OF FREE MOVIES - HOTEL QUALITY LINEN AND TOWELS - GREAT CENTRAL LOCATION - CLOSE TO STATION - PARKING NEARBY - FULLY EQUIPPED KITCHEN - GYM AND CINEMA NEARBY
The apartment has been furnished for comfort to an exquisite standard. It will comfortably sleep 4 but can go up to five if required. It caters for the most discerning traveller/s. The kitchen is equipped with multiple functional microwave, washer/dryer and washing machine. There is weekly clean including linen and towel change.
There is so much to do; if you are a movie buff, the cinema is no more than a stone's throw away. If you often find yourself in need of a good workout, Nuffield Health Fitness & Wellbeing Gym can be found right on your doorstep. If you love walking or running, the scenic River Stort imbunes you with a sence of peace and tranquillity like none other. Eateries in Bishop's Stortford are simply divine and leaves you with a hunger for more. The apartment is well located for easy commute to Stansted airport, Cambridge and London.
Plaxy met us at the apartment and was very welcoming. Plaxy has a wonderful apartment. Everything is finished to the highest standard. Very big room with an extra large double bed and nice on suite. Another smaller room with 2 very comfy beds. The bathroom is very nice and very modern. Lovely kitchen and sitting area with great wifi and everything you need to make it a home from home. 2 mins walk from train station and 5 mins from the town centre. Absolutely fantastic stay and would definitely recommend.
john
2017-02-24T00:00:00Z
Huonetyyppi
Yksityinen huone
---
Majoituspaikan tyyppi
Huoneisto
---
Majoittujien määrä
4
---
Makuuhuoneet
Hertfordshire, Englanti, Britannia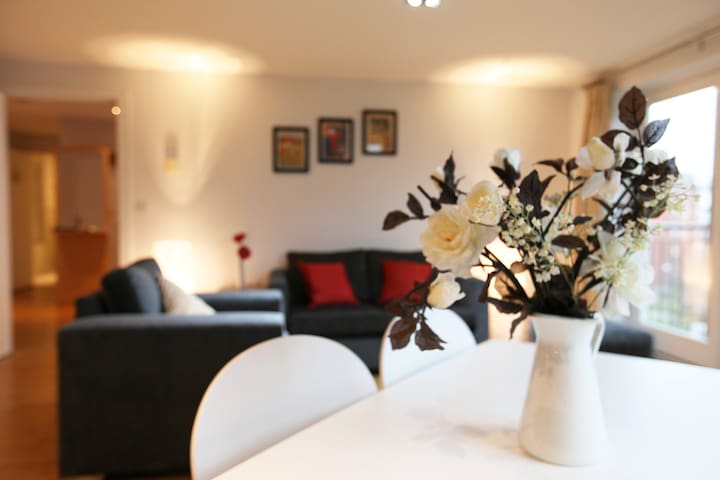 My place is close to Stansted Airport (with easy access), a train station with great access to the heart of Cambridge and London, and there lots of restaurants in Bishop's Stortofrd. You'll love my place because of the location. It's a great place to stay for couples, solo adventurers, and business travellers.
Sheila made us both feel extremely welcome, and the room was really comfy - perfect. The bathroom was really smart and clean and tidy too. I would highly recommend this as a place to stay. Thank you Sheila!
suzie
2016-09-08T00:00:00Z
Sheila ist eine sehr nette Gastgeberin, die Wohnung ist sehr sauber und die Nähe zum Bahnhof ist ideal, wenn man einen frühen Flug von Stansted hat - alles perfekt! Danke Sheila
Herwig
2016-09-12T00:00:00Z
Great hostess, everything spotless. Very close to the train station in a very nice area.
María Isabel
2017-01-30T00:00:00Z
Sheila and her boyfriend are nice people, they are so warm and welcoming. Apartment is really clean, beautiful and cozy. Best place to stay in Bishop! =) Thank You!
Elo
2017-01-13T00:00:00Z
The apartment was very clean, cosy and welcoming. The shower was powerful and refreshing. There is no parking around the apartment but Gareth kindly allowed us to use his space in the secure area. There are plenty of restaurants within walking distance. It took 20 mins to drive to Stanstead airport so very convenient.
Anne
2017-03-24T00:00:00Z
Sheila is flexible (with the check-in and check out) and very organised, they have a very nice and clean home, we had our own room and bath room. Thank you for everything, it was nice to meet you :)
Vlad
2016-12-14T00:00:00Z
Worked fine for the wedding I was attending--easy access to town and train station, comfortable room
Carah
2017-03-17T00:00:00Z
chambre comfortable et propre dans une residence moderne bien situé 5/ 7 min de marche jusqu'à la gare puis 10 min de train jusqu'à l aeroport de stansted ideal pour un depart matinal sheila et gareth sont tres reactif disponible et de bons conseils je recommande
marie
2017-02-07T00:00:00Z
Huonetyyppi
Yksityinen huone
---
Majoituspaikan tyyppi
Huoneisto
---
Majoittujien määrä
2
---
Makuuhuoneet
Hertfordshire, Englanti, Britannia
Spacious two bedroom apartment, with two bathrooms and open plan kitchen and living area. Fully furnished and located close to the centre of Bishops Stortford with excellent road and rail links to London and Cambridge.
Graham was a great host. He met me at the flat and then took the time to show me the best way to get to the town and where the grocery stores and train station were located. The flat was excellent. It had everything that I needed and the town was just a few minutes walk away. I stayed for work and one of my employer's major concerns was safety. The flat could not be more secure with a code to get into the building and two locks for the door. But the neighborhood is extremely safe and quiet - mainly small families. There is the commuter train that goes by in the back - but it is so quiet I didn't really notice it. I would definitely recommend staying here.
Megan
2016-06-19T00:00:00Z
Graham was really welcoming and responded really quickly to our emails, even when he was away. He did everything possible to make our stay comfortable and the flat was great. We quickly got used to the noise from the trains and it was great being so close to town. The neighbours were really lovely. Our three year old was also very at home there, and loved being close to the playground (we were glad to have packed a portable blackout blind as the rooms are very light). The supplies were really useful and parking really easy. We're grateful to Graham who was really kind and a great host. This is a brilliant flat.
Madeleine
2016-08-07T00:00:00Z
Very good location,we were pleased with clean and modern flat interior with good size bedrooms and living room,own parking space. A nice extra was cupboard stocked with milk and some food
Suzanne
2017-03-04T00:00:00Z
Graham's apartment is ideally located; one can explore the town of Bishop's Stortford on foot, with dozens of stores and restaurants nearby, and the train station for a quick hop to London is a 10 minute walk. Stansted Airport is also virtually next door. I had everything I needed in the apartment, from cookery to TV stations.
Jason
2016-02-21T00:00:00Z
Amazing location and the host is 5 stars. I would stay here over and over again! Very nice flat.
Jason
2016-08-26T00:00:00Z
The host canceled this reservation 9 days before arrival. This is an automated posting.
Fabrizio
2016-03-07T00:00:00Z
Lovely flat and very well equipped, convenient location and handy to be able to park. Graham made sure we had all the relevant information and was very helpful, only wish we could have stayed longer.
sharon
2016-04-05T00:00:00Z
Huonetyyppi
Koko talo/asunto
---
Majoituspaikan tyyppi
Huoneisto
---
Majoittujien määrä
4
---
Makuuhuoneet
Hertfordshire, Britannia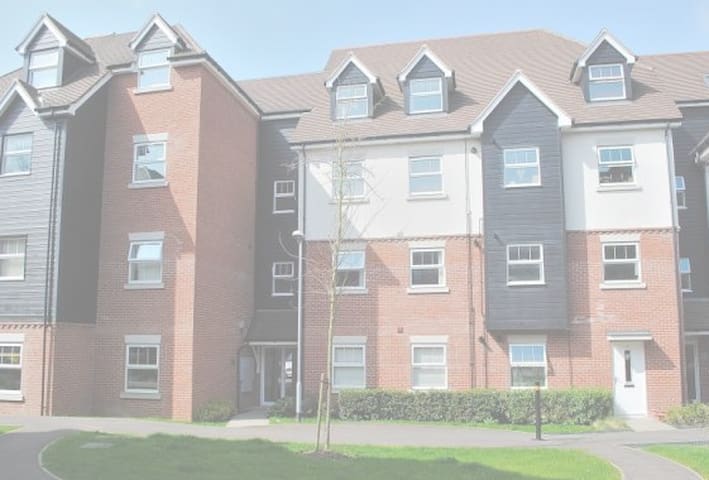 The Acorn is on the southern side of Bishops Stortford, roughly 15 minute walk from town centre. There is a river behind you can stroll along, outdoor space, and the room is light and airy. Private gated parking for one vehicle. The place is secluded good for couples, solo adventurers, business travelers, and one well-behaved furry friend (pet). (Please note that the hosts live 15 mins away & not next door). With transport links nearby (bus, train, Stansted airport), the adventure starts here!
The building sits alone with a large paddock behind for your use, so providing private secluded accommodation, all within walking distance (15 mins) of the town centre, and local pub (Coach and Horses) which serves good pub grub. The apartment is new build, with a very modern feel and 100meg fibre broadband.
All the restaurants, pubs and bars to visit in the town a 15 minute walk , or short taxi drive away, also with green areas, with walks along the river Stort, and up to Thorley Church.
Really lovely host, felt comfortable and enjoyed a quiet get away.
Kiera
2017-02-15T00:00:00Z
Warm and welcoming host. Comfortable space and bed. Tastefully and thoughtfully furnished. Perfect for a dog with immediate and wonderful walks.
Christopher
2017-03-04T00:00:00Z
The host canceled this reservation 4 days before arrival. This is an automated posting.
Jane
2017-03-06T00:00:00Z
Great place for a few days break - small but perfectly formed.
Dan
2017-01-11T00:00:00Z
Comfortable relaxed place all you need
Tony
2016-12-29T00:00:00Z
Sarah and Reuben went out of their way to ensure that we had peace and privacy for our short break at The Acorn, whilst being available if we did have any queries. The decor is lovely, fresh and modern, with all the amenities you need for a comfortable stay. Great walks along the navigation just at the back of the property, enclosed garden much enjoyed by ourselves and dog!! Appreciated the welcome muffins to start the New Year off in good spirits.
Jen
2017-01-06T00:00:00Z
Lovely stay. Nice and clean! Brilliant value for money. Thank-you
Amy
2017-02-12T00:00:00Z
Had a lovely stay in the clean and perfectly located Acorn, although the only downside was our shower experience... they had a lovely shower but as I found out on the first night you could only have it trickling out as the trap/plug was not big enough to deal with normal flow of water, so the water filled up and almost flooded the room! Not what you expect when trying to take a relaxing shower, other than this we had a pleasant and relaxing weekend
Lucy
2017-02-19T00:00:00Z
Huonetyyppi
Koko talo/asunto
---
Majoituspaikan tyyppi
Huoneisto
---
Majoittujien määrä
2
---
Makuuhuoneet
Thorley, Englanti, Britannia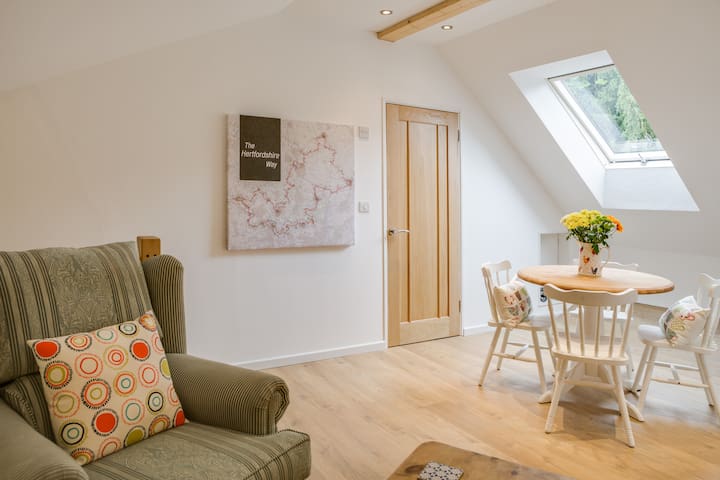 This trendy, bright and airy studio with its own private access is within the peaceful curtilages of a gorgeous English Heritage Grade II listed Georgian townhouse, extremely close (a minutes walk or less) to the very centre of the very quaint Bishop's Stortford town. It is very spacious and comfortable with everything you need for a great stay, whether for just a fab' long weekend away treat, perhaps a few months between home moves - or even longer.
It sits in a third of an acre, private manicured grounds, close to the very centre of the town and railway station, whilst benefiting from private, gated access parking and access to all restaurants, bars and amenities that Bishop's Stortford has to offer - without the need to pay for or use a taxi, saving travel costs (and/or your driving license!) whilst staying in a five star rated studio.
Amazing, picturesque and fun town central location, yet it is 'countryside quiet', protected by a row of shops and surrounded by beautiful things and places to see.
If you want to stay at just 30 minutes from London and still enjoy the beautiful English countryside, Simon's apartment is the place to stay. You'll have all the space of flat for yourself with all amenities you need to feel at home. Nothing like being able to cook your own food when you are on holidays, what will help you to save money and eat well. If you feel like eating out, though, Bishop's Stortford offers quite a few restaurant options within walking distance from the apartment. The train station is just a short walk, and you can get to London or Cambridge. It's important to mention that the apartment is separated from the main house, so you'll have all the privacy in the world. Simon was a terrific host and is always just a message away if you need anything.
Nelson
2016-09-15T00:00:00Z
Fabulous place to stay five stars
Tony
2017-03-11T00:00:00Z
The flat is in a great location, very close to shops and restaurants. Simon is a very friendly and helpful host.
Helen
2017-01-27T00:00:00Z
It is a great place with a great owner. Almost centre of town, but really quiet and cosy place. Highest level of privacy and private property parking. High-end fitted kitchen, stylish furniture, natural sunshine during the morning shower and sofa which you never want to leave once lain on)) It was hard to leave this lovely place and mostly because of hospitable friendly and helpful owner - Simon. He is the most liable, reliable and responsive man, we have ever met!)
George
2016-11-13T00:00:00Z
Huonetyyppi
Koko talo/asunto
---
Majoituspaikan tyyppi
Huoneisto
---
Majoittujien määrä
2
---
Makuuhuoneet
Bishop's Stortford, Herts, Britannia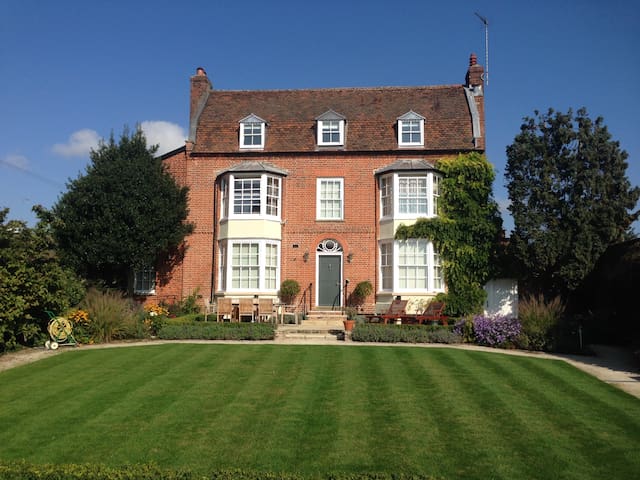 1

–

5

hakutuloksista

5 vuokrattavaa huoneistoa
Anna päivämäärät nähdäksesi kokonaishinnoittelun. Lisämaksuja sovelletaan. Veroja saatetaan lisätä.