Now offering turn-key apartments that are available for month-to-month or weekly rentals. Offering 2 bedroom/1 bathroom. BRAND-NEW CUSTOM KITCHEN CABINETS AND GRANITE COUNTERTOPS! All utilities included, kitchen is fully equipped, STAINLESS APPLIANCES, leather couch, high def tv, HD cable tv package, FREE HIGH SPEED WIFI INTERNET, laundry hookups, and queen size bed provided. Pet friendly! Off-street parking lot.
Huonetyyppi
Koko talo/asunto
---
Majoituspaikan tyyppi
Huoneisto
---
Majoittujien määrä
4
---
Makuuhuoneet
Canonsburg, Pennsylvania, Yhdysvallat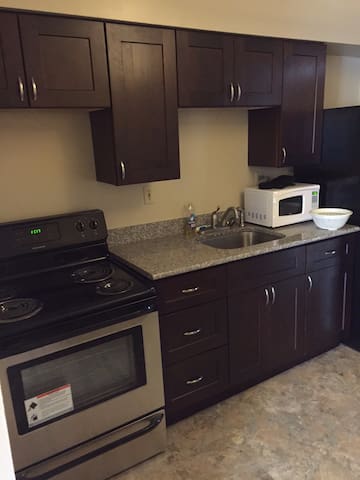 This 3 bedroom, beautiful town home is located 25 minutes from downtown Pittsburgh. It's 5 minutes to the Meadows Casino and the Sarris chocolate factory.
Huonetyyppi
Yksityinen huone
---
Majoituspaikan tyyppi
Rivitalo
---
Majoittujien määrä
3
---
Makuuhuoneet
Canonsburg, Pennsylvania, Yhdysvallat
Our beautiful fully equipped basement with media room, wet bar, kitchenette, full refrigerator and gym is available for you. Outdoor patio.
Settled on 4 wooded Acres private road within 1.5 miles of interstate 79 and route 19
Huonetyyppi
Yksityinen huone
---
Majoituspaikan tyyppi
Talo
---
Majoittujien määrä
4
---
Makuuhuoneet
Canonsburg, Pennsylvania, Yhdysvallat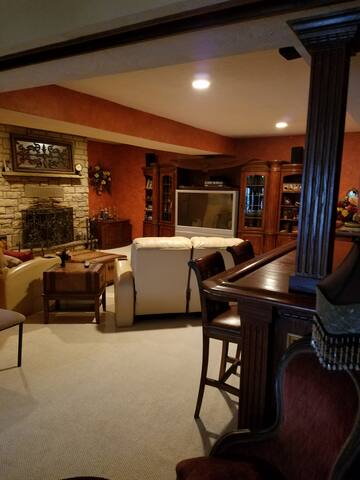 Private room for 1-2 people in a quiet and private setting, sharing the house with host. Rural and urban: best of both worlds. Great entry point for work or leisure to Southpointe (business park), Pittsburgh, Southwestern PA and West-Virginia.
Our house is located a few blocks away from the main road, in a tranquil setting amidst trees. Plenty of nearby opportunities for hiking, biking and other outdoor activities. 25-minute drive to Pittsburgh. If you're not in the mood to explore your surrounding, you can read a book or relax on the wrap-around porch, enjoy the grill or outdoor fire pit.
Quiet neighborhood, mostly private single-residence homes. Restaurants, (grocery) stores, movie theatres, casino within 5-25 minute drive.
I stayed with Rob and Virginia for a week and would definitely stay again. They are very kind and courteous and even offered to let me park in the garage to not need to brush snow off my car. Location is perfect as it is private, but still near enough anything you would want to do in the area.
John
2016-01-16T00:00:00Z
Huonetyyppi
Yksityinen huone
---
Majoituspaikan tyyppi
Talo
---
Majoittujien määrä
2
---
Makuuhuoneet
Canonsburg, Pennsylvania, Yhdysvallat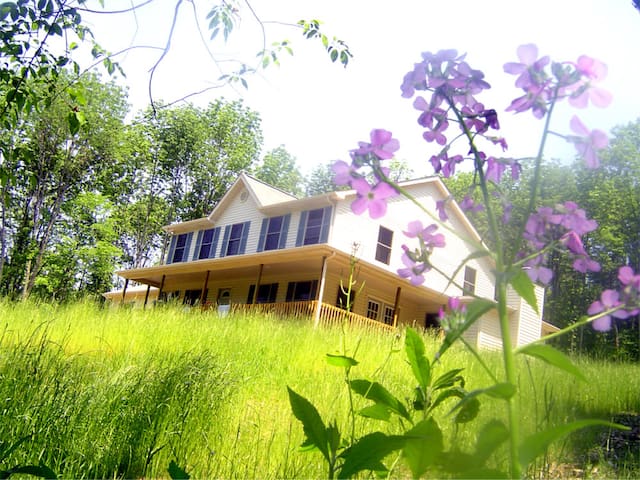 Room in our single family home right off the Canonsburg exit of I-79. Room includes private bath, walk in closet, dresser, and TV. Laundry and other home amenities are available to guests. 5 minutes to Southpointe business park.
Quiet street ending in a cul-de-sac.
What a terrific place to stay. Spent two nights here and even though the family had lots of activities taking place, the house was quiet. Hosts Brian and Marie took plenty of time to make sure I had everything needed, as well as to chat. Will book again!
Sheila
2016-10-17T00:00:00Z
gorgeous home on the hill, spacious bedroom and private bathroom which I liked.
Lise
2016-07-14T00:00:00Z
Brian and Marie were wonderful hosts who made me feel very comfortable while staying in their home. I immediately felt at home, and enjoyed a relaxing evening watching the hockey game on tv and engaging in wide ranging conversation with Brian. The accommodations were very nice. A large bedroom at the end of the hall, with comfortable bed and en-suite bathroom gave a sense of privacy. It was very quiet. The house is as nice inside as the picture suggests, and it is in a very nice neighborhood. Overall I give an 'A' rating for a shared accommodation stay.
Charlie
2016-04-21T00:00:00Z
My husband and I had a great time at Brian's. Brian was incredibly attentive, welcoming and helpful. He was accommodating for our crazy schedules while in Canonsburg and we felt at ease coming and going as we needed. He and his wife also made us feel very welcome, even inviting us to hang out and watch the Olympics with them. I would highly recommend this place and Brian as a host!
Ashley
2016-08-07T00:00:00Z
Brian and Marie are warm wonderful hosts. Their beautiful home is so easy to get to as it is close to Rt. 79. I recommend the comfortable accommodations offered here.
Dorothea
2016-05-17T00:00:00Z
The hosts were extremely kind, and the room was terrific.
Brian
2016-09-10T00:00:00Z
Huonetyyppi
Yksityinen huone
---
Majoituspaikan tyyppi
Talo
---
Majoittujien määrä
1
---
Makuuhuoneet
Canonsburg, Pennsylvania, Yhdysvallat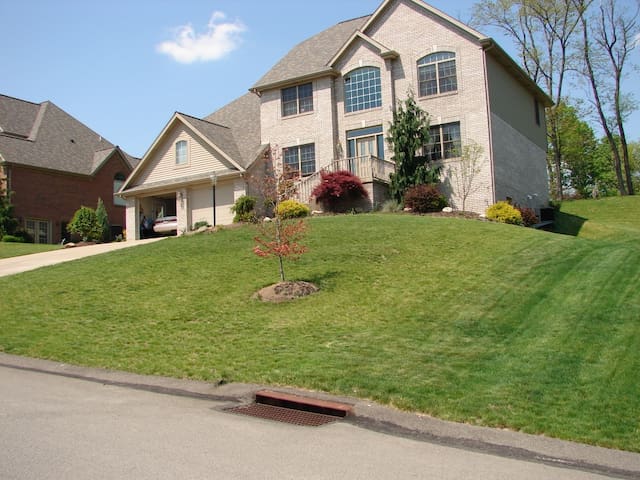 Our beautiful, light and airy designer townhome is 15 minutes from downtown pittsburgh in trendy Mt. Lebanon. Off street parking for 3 cars. The Gallaria mall, south hills village mall and the main street shopping, restaurants and cafes are minutes away. Mt Lebanon is the new foodie meca!
The entry opens to trendy aqua wallpaper. The kitchen is appointed with brand new stainless appliances and coffee station as well as a few amenities you would need for light cooking. The kitchen overlooks the light filled and airy great room with gorgeous, sparkling stacked stone fireplace and Internet tv. The townhome features three bright bedrooms and one and a half baths. There is a large deck off of one of the bedrooms as well as a one car garage and driveway parking for an additional 2 cars.
Our townhome is located in Mt Lebanon-a walking neighborhood in the Pittsburgh area with endless shopping, dining and nightlife options. Within 5 minutes: Trader Joe's, Fresh Market and Giant Eagle Market District. Target, Barnes &a Noble and Dicks Sporting Goods Coffee Tree Roasters & Starbucks Gallaria Mall & South Hills Village mall Anthropologist, Restoration Hardware, Footloose(a high end clothing boutique) La Guarmandine French bakery Our favorite local pizza joint is A Pizza Badamo and Totopo for Mexican both on Washington rd. BRGR in the Gallaria mall. It's an awesome burger and alcoholic shake joint!! Primantis sports bar which was featured on the food network is two blocks away: Pamela's Diner for breakfast Little Tokyo on Washington rd which has the best sushi in all of Pittsburgh IMHO. The Saloon bar on Washington rd is a local favorite Il Pizziola has a wine bar behind its restaurant that features low lighting and a cozy fireplace...very romantic! If you want to get to pittsburgh it's a 15 minute drive or you could take the trolley which is also super close. Sports fans can take the trolley straight to the stadiums. You can't beat this location!
This was such a great alternative to another hotel stay. The location was convenient to work, shopping & restaurants. I had a minor issue with the coffee maker and Brandi had it replaced with a new one the same day. Great communication & hospitality.
Elliot
2016-11-30T00:00:00Z
Our family was in town for a wedding and Brandi and Joe's place was great for us to call "home" for the week. Clean, quiet and comfortable. The beds were all very comfy. We had all we needed and Brandi met with us on the first day to show us around. The location is awesome and we were excited and surprised to see the deer roaming through the yard. We would stay here again!
Buffie
2017-03-27T00:00:00Z
Clean and shiny 3 bedroom close to everything you need for a great stay in Pittsburgh. Attentive hosts made our stay perfect. We will be back!
Sally
2016-12-28T00:00:00Z
Nice place, newly remodeled. Great location for a ~20 min drive downtown. More than enough shops, resturants within a few minute drive
Ashal
2016-12-05T00:00:00Z
This place was absolutely perfect for a meet up with our friends and our toddler and infant. Loved the location for what we needed. It was a VERY comfortable and lovely place to hang out in. Brandi and Joe were very sweet and made us feel taken care of. If we needed anything they took care of it immediately, for example it snowed overnight and Joe was there early in the morning to shovel the driveway. Would highly recommend.
emma
2016-12-31T00:00:00Z
Overall this was a great experience, and I highly recommend it! Only issue was with the kitchen--if you are planning to do much cooking at all I would suggest bringing all the equipment you need with you. House is very well decorated and comfortable.
Mary
2017-01-16T00:00:00Z
We loved staying here! Perfect location
Hannah
2017-02-12T00:00:00Z
Definitely a wonderful area. Location is great. Nicely decorated home that I would love to revisit in the near future. Thank you Brandi and joe
michael
2017-04-02T00:00:00Z
Huonetyyppi
Koko talo/asunto
---
Majoituspaikan tyyppi
Rivitalo
---
Majoittujien määrä
7
---
Makuuhuoneet
Pittsburgh, Pennsylvania, Yhdysvallat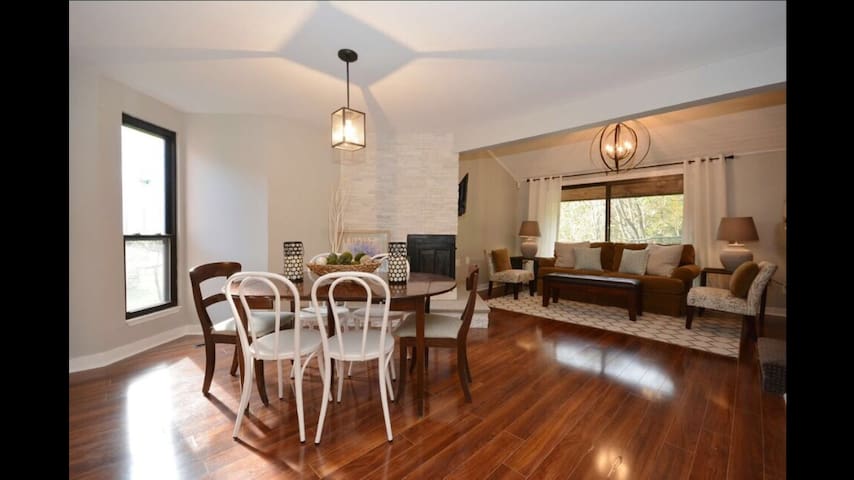 A bedroom with private full bathroom and two queen beds. A refrigerator and microwave oven will serve you when you are hungry. Plenty of parking space even for RV.
House sits on a 1.3 acre land with country view and modern life.
Nice and safe neighborhood.
Minlin and his wife are very nice hosts. Their accommodations are exactly as listed - clean and offers all the basic necessities. This is a great location if you want to be in the suburbs visiting family or friends.
Nic
2016-10-23T00:00:00Z
Minlin and his wife were very welcoming, and had everything ready for my stay. The room and its newly redone bathroom were clean and comfortable, with some privacy from family activities. Minlin helped carry my bags (there are two flights of stairs to negotiate).
Ann
2016-09-18T00:00:00Z
Great stay. Very nice couple with a very clean room and bathroom
Trevara
2016-11-27T00:00:00Z
Minlin and his wife were always attentive when I came thru their door and enthusiatically assist with carrying my luggage or groceries and turning on the lights. They make me feel welcome in their house.
John
2016-10-14T00:00:00Z
This was my first time using Airbnb. The room and bathroom were very clean. About the only thing I needed was a toothbrush and paste, everything else was provided. You have to go through the main family quarters to get to the room and expect to see their smiling and friendly children. The home does carry noises easily, but the nice fan/ AC unit in the room easily masks noise to little or no external sounds. The neighborhood was nice and felt safe. The only negative is parking. It is off a semi-busy street and backing out isn't easy. I recommend backing your car into the driveway for an easier time leaving the property. The family was extremely courteous and offered me bottled water frequently. I would definitely stay here again.
Austin
2016-09-28T00:00:00Z
It was great the room was nice very friendly host we will be back
Chris
2016-09-19T00:00:00Z
Great space. Nicely furnished room with sky light, private bathroom and comfy bed. One of the nicer places I've stayed so far.
Christian
2016-11-20T00:00:00Z
Minlin provided a welcome tour and showed us around the place - offered drinks, toiletries, kitchen access, and even ping pong. The neighborhood was very peaceful and very convenient to commute to and from Pittsburgh. We left early in the morning and didn't get to say farewell in person, but we're very grateful for such a positive experience.
Keith
2016-09-11T00:00:00Z
Huonetyyppi
Yksityinen huone
---
Majoituspaikan tyyppi
Talo
---
Majoittujien määrä
4
---
Makuuhuoneet
Pittsburgh, Pennsylvania, Yhdysvallat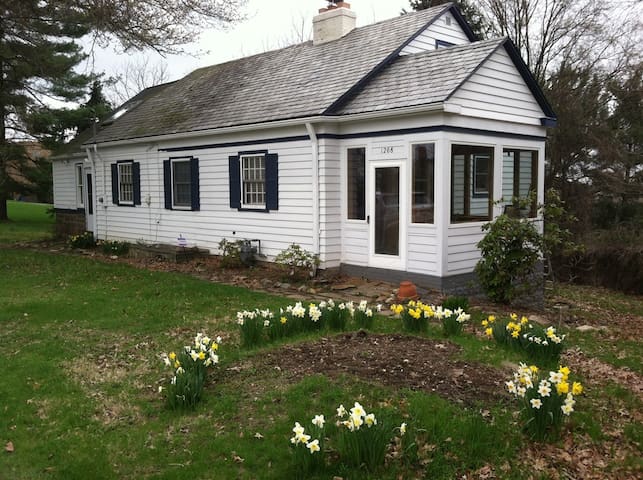 Beautiful cottage style home in a residential development, conveniently located between airport and downtown. On the edge of a quiet oak grove, with easy access to I-79/376. Minutes drive from historic Mt. Lebanon, SH Village mall, & library.
Nice area. Accurate listing. Made me feel welcome with hot tea when I arrived.
Michael
2016-08-06T00:00:00Z
Everything was perfect. Alena was a gracious host and the accommodations were above and beyond. Thanks!
Tony
2014-09-05T00:00:00Z
Alena is an awesome host! She is very down to earth, and will give you the space you need. The property was very clean and all the amenities that you need are available. I wouldn't hesitate to stay with Alena if I was in the Pittsburgh area, and need a good place to stay for a super reasonable price! I have been super busy Alena, and apologize for the late review. Had an awesome stay!
Danton
2014-08-26T00:00:00Z
Everything about my stay was great. Alena and her family were very welcoming to their very clean home. Room was nice, came with a mini fridge and personal ac. I arrived later than expected and booked the day of travel, all of which Alena handled quite well!
Lekha
2014-08-28T00:00:00Z
Great time and comfortable room! Alena and her sister were great hosts.
Jordan
2015-09-28T00:00:00Z
This was my second stay with Alena. Love this family, their home, and the accommodations. Highly recommended.
Stephanie
2015-05-22T00:00:00Z
Alena was a great host... I got lost on my way to her and she was very patient and welcoming.
Sandra
2016-07-14T00:00:00Z
It was my first experience with airbnb. It was exactly what I was looking for. no fuss. Just a place to rest while working away from home. It was comfortable and very clean. The neighbor hood was inviting as well. Great welcome from the cat who was very friendly.
shanda
2014-10-02T00:00:00Z
Huonetyyppi
Yksityinen huone
---
Majoituspaikan tyyppi
Talo
---
Majoittujien määrä
2
---
Makuuhuoneet
Pittsburgh, Pennsylvania, Yhdysvallat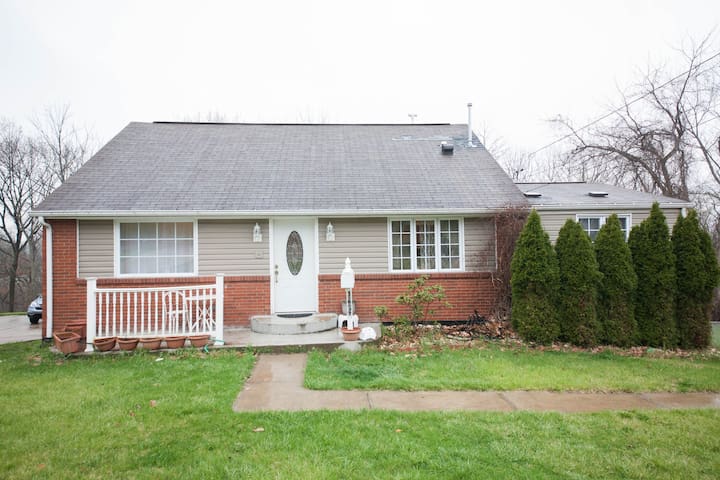 This room is my office. Not good 4 long stays. Pullout sofa with a memory foam mattress on top. Lots of shops and restaurants within walking distance. Easy access to and from the airport. Convenient access to stadiums and downtown by trolley. Public transportation is available in front of the house (except on weekend). The T runs all week long but the house is 1-2 miles away from any of the 3 trolley stations. Please, no shoes inside the house. Slippers and socks only. Cats inside!
This is my office. When the sofa is extended there is very little room left, because I have my desk there too. This is just a place to put your head down because there is no space for anything else. On the other hand it is the best bed in the house. It is a queen size sofa bed so it can accommodate 2 people. It can be booked by groups or families traveling together (in conjunction with my other listing). This room is only good for short stays, of a few days, when you only want to have a place to put your head down, or for kids if there is a family with children.
I live in the very heart of Mt Lebanon close to the shops, stores, malls, and the commercial district. Restaurants and high end stores are in walking distance. Across the street from my house it is a park. It is one of the safest neighborhoods in the city. It has lots of old oak trees and in my back yard you'd feel like in the forest.
It's a wonderful place and the upgraded bedding was a nice touch!
Corwin
2017-03-15T00:00:00Z
I had a wonderful stay and I'll definitely come back.
Corwin
2017-02-24T00:00:00Z
The host canceled this reservation 9 days before arrival. This is an automated posting.
Savannah
2016-05-19T00:00:00Z
The neighborhood is excellent with a mall and lots of restaurants close by. The room is very small but it is comfortable and she lets you access anything in the house that you need. The only drawback is the driveway is difficult and dangerous to get in and out because it is narrow and you have to be careful. Overall I would highly recommend Adrianna and her room.
Travis
2016-11-17T00:00:00Z
Adriana was exceptional. Made us coffee and breakfast. Ensured rooms were clean and towels, wifi etc were provided. Beautiful patio at the back. Very nice well kept house and a great host. Will definitely stay with her again. She is a super host for us
Ashwin
2016-05-23T00:00:00Z
Huonetyyppi
Yksityinen huone
---
Majoituspaikan tyyppi
Talo
---
Majoittujien määrä
2
---
Makuuhuoneet
Pittsburgh, Pennsylvania, Yhdysvallat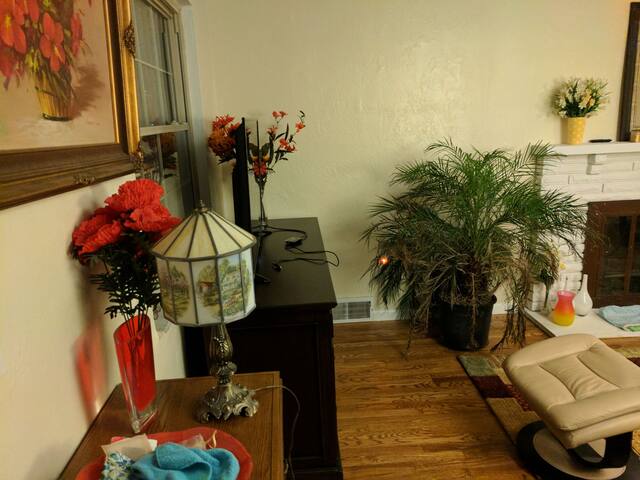 My house is in the heart of Mt Lebanon 6 miles south from downtown Pittsburgh and easily accessible from the airport. Convenient for the stadium. Why drive to the game when you can take the subway? There are lots of restaurants, shops, malls and grocery stores, high end stores, coffee shops, some in walking distance, others in 2 mile radius. This is a very safe and very nice area.
My place is great for solo travelers, couples and for people with kids (if your arty is more than 2 I have another room available, just ask). You can use the kitchen to cook something or warm up take out. If you are staying a few days you can store food in the fridge. Your room is on the second floor. There is a full size bed, a closet, a desk and a chair and an armchair. Ironing board and iron are also provided, along with towels and toiletries. Extra blankets in the closet. You can come and go as you please, interact with me or not.
This is a very nice and safe neighborhood with excellent schools. It has public transportation (bus in front of the house) and also 3 train stations in 1-2 miles radius.
Huonetyyppi
Yksityinen huone
---
Majoituspaikan tyyppi
Talo
---
Majoittujien määrä
2
---
Makuuhuoneet
Pittsburgh, Pennsylvania, Yhdysvallat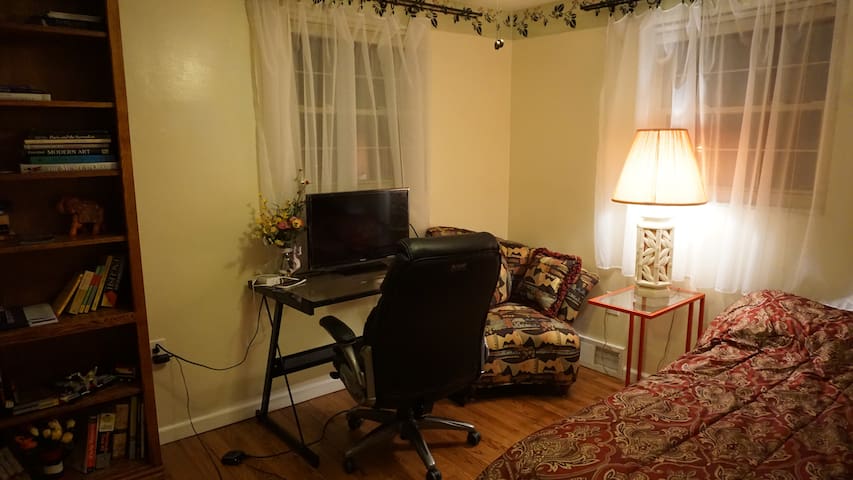 Ours is a complete and separate one bedroom Patio Apartment with convenient off-street parking at your door in a quiet suburban neighborhood and the sunsets on our hill here are ridiculous. Convenient I-79 access. Close to airport, Southpointe, Pittsburgh and downtown Mt. Lebanon. 250 feet from main transit line. Also a great walking neighborhood. Perfect spot for the business traveler.
This is a separate lockable guest apartment in our split level suburban home in Scott Township. It is NOT a basement apartment, nor does it feel like one. The bedroom is ample space with a queen size bed and nice linens and blankets. There is a closet with hangers and lots of open shelf space in the opposite corner of the room. Private bathroom with shower and sink with mirror. Kitchen has all you need except a dishwasher and the breakfast bar with stools also gives you a place to open your laptop. The ample sitting room has chairs, a recliner and nice tables with lamps.
This is a very desirable neighborhood. "Home for sale" listings here don't last very long on the market. There is a Rite Aid Pharmacy a half mile away for your convenience. Otherwise the character of the neighborhood is strictly residential. If you are here to visit a friend or relative at St. Clair Hospital, Kane/Scott, Concordia or Providence Point, you are literally walking distance to your loved ones.
Bob and Linda are great. The place is a one bedroom apartment, with a patio, under the split level home. The place is clean and stocked with essentials. Check in was easy. Bob and Linda each went out of their way for us. Uber ride to downtown is $14. The place is private, and cozy. Highly recommended.
Jonathan
2017-01-01T00:00:00Z
The place was clean and cozy. The hosts were very friendly and thoughtful.
Jany
2016-12-12T00:00:00Z
Huonetyyppi
Koko talo/asunto
---
Majoituspaikan tyyppi
Huoneisto
---
Majoittujien määrä
3
---
Makuuhuoneet
Pittsburgh, Pennsylvania, Yhdysvallat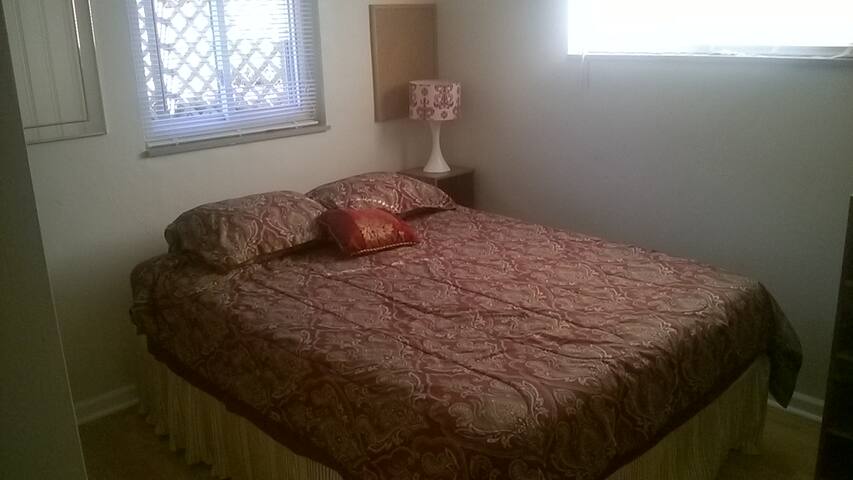 A private bedroom in a 2 story house 15 min to downtown Pittsburgh (in Mount Lebanon). Lots of shops and restaurants within walking distance. Easy access to and from the airport. Great for access to the stadiums by trolley. Public transportation is available in front of the house. Please, no shoes inside the house. Socks and slippers only. I have cats! If you are allergic, please think twice before booking.
The room is in a 3 bd house situated on a bus route (from downtown). There is a bus stop in front of the house. There are 3 subway stations close by (5 min driving). There are malls (Galleria and South Hills Mall), restaurants (too many to list) and supermarkets (Trader Joe, Whole Foods etc) within 2 miles. The bathrooms are shared. You can store food in the refrigerator. The living and dining rooms are shared. You will get your own key and if you ask me, I will give you information regarding your interests. You are most welcome to relax and eat on the back patio, but please, no loud music that could upset my neighbors. This is a very nice residential area. If you have a car you can park it on my driveway. There are two cats inside the house. They are old and shy. The litter box is in the basement and your room is on the second floor, so it shouldn't bother you. Smoking is allowed only on the patio. For people traveling with children or family members: I do have another listing, a smaller bedroom that I am currently using as an office but where I do have a full size pullout sofa, where two adults or two children can sleep comfortably. I have a brand new foam mattress that goes on top of it, since mattresses in pull out sofas tend to be thin. My house can accommodate 4 people, 2 in each bedroom. The bathroom however is shared. I appreciate it when potential guests send a quick message to tell me a bit about their travel plans before booking. Since I live in the house and I am full time employed, it is best if you book the room at least 24hr in advance. If you book it for the same day I might not be at home to give you the key until after work. One night stay is OK. You are welcome to store your take away food in the fridge and make your own coffee, if I'm not around. I don't have a coffee maker but I do have a French press. Teas are available as well (herbal and black). Light breakfast provided: tea, coffee, jelly, toast and fruit.
This is a very nice residential area. What makes it unique is the location. There is a mall (with a Starbucks) literally across the street, with a cinema and high end stores like Anthropologie, Ann Taylor, Cache, Talbot etc. There are 5 restaurants available in walking distance (5 min) and many more within 2 miles. On the patio you have the tranquility of a house in the woods, yet you are on a bus route and close to the subway(metro).
Adrian is a Five star rating herself, a great host believe me. The room was as described very clean , my time was too soon over due to her, once again thank you . Ken
Ken
2016-06-20T00:00:00Z
Lovely host, everything was exactly as listed. Adriana also sent me directions to avoid tunnel and bridge construction, which saved me a lot of confusion since I don't know the city very well.
Linda
2016-10-23T00:00:00Z
Adriana was great and very helpful with my first Airbnb experience. Great house and location. A+
Cole
2016-06-25T00:00:00Z
Very convenient and comfortable. I had business in the Pittsburgh suburb of Mt. Lebanon, so Adriana's place was the perfect location. Initially, I was wary of renting a room in someone's home - especially with a shared bathroom - but there was absolutely no problem. I had plenty of privacy and Adriana made it convenient to come and go as I wanted. The room was simply furnished, but had all that I needed. The bed was very comfortable. Good place. I'd definitely stay there again. And, if you're lucky, you may be able to talk Adriana into making some of her awesome cookies! Not to be missed! P.S.: The two cats are lovely, but very shy, so I left them to do their own thing.
David
2016-05-08T00:00:00Z
Our host was very welcoming. The room is nice and cozy. Cats are around. Driveway and street parking. Busy street so there is traffic noise . A bit far from central Pittsburgh so having a car is needed. No breakfast but Starbucks is a few minutes away.
Lisa
2016-10-02T00:00:00Z
Adriana's room was a very nice and clean room to rent. She had everything you need in the bathroom and supplied plenty of clean towels.
Zack
2017-02-26T00:00:00Z
Adriana provided enough information to get into the house while she was not home. She made breakfast in the morning - not expected. The location was very convenient for visiting my family and the price very reasonable. We got a pleasant chat before she went to work.
Jim
2016-11-02T00:00:00Z
Terrific stay, so great for my first AirBnB stay. She was very considerate - such a warm house and wonderful host! I can't gush enough.
David
2016-10-17T00:00:00Z
Huonetyyppi
Yksityinen huone
---
Majoituspaikan tyyppi
Talo
---
Majoittujien määrä
2
---
Makuuhuoneet
Pittsburgh, Pennsylvania, Yhdysvallat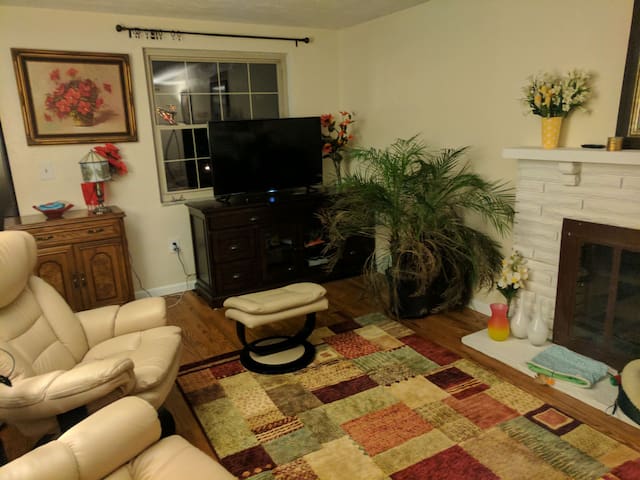 View: ceiling to flr. window in guest bedroom with view over wooded hills of exclusive suburb of Upper St. Clair Twp. 105 Yr old craftsman style home with barn. 12 miles from downtown Pittsburgh and 8 from airport. Bus stop 2 blks away.
Huonetyyppi
Yksityinen huone
---
Majoituspaikan tyyppi
Talo
---
Majoittujien määrä
2
---
Makuuhuoneet
Pittsburgh, Pennsylvania, Yhdysvallat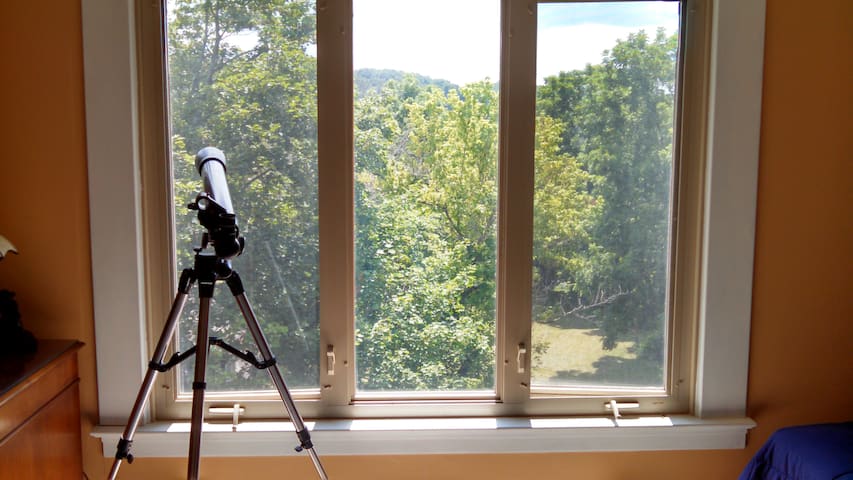 New, clean, comfortable, safe and convenient apartment surrounded by a large mall with tons of shopping and restaurants. Walking distance from subway and 10 minute uber from all downtown has to offer. Complex has a pool, 24hr gym and basketball court. Handicap accessible too!
Super clean and quiet spot with an awesome host! Enjoy what Pittsburgh has to offer without the hassle of being directly in a busy metropolis!
Everything you need at your fingertips! Access to shopping, food, entertainment and public transport! ***You will be sleeping on clean and very comfortable SOFAS covered with clean linens and pillows***
It was an excellent stay. I highly recommend.
Corwin
2017-03-01T00:00:00Z
Paul had a simple and very well maintained house.The next time I am in Pittsburgh, I would love to stay there again.
Ritesh
2016-11-13T00:00:00Z
Paul's place is in a really cool area a short ride from the Pittsburgh downtown - Paul was an incredibly cool and interesting host and gave us a ton of great suggestions on places to go and eat in his city. Highly recommend.
Susan
2017-03-29T00:00:00Z
Second time here and just as great as the first. Luxury at a superb price. Very clean and near everything. Will be back again! Thanks Paul!
Chuck
2016-11-28T00:00:00Z
As always, Paul was an amazing host, and has also become a good friend. I'm looking forward to staying at his place again on business!
Sonny
2017-01-13T00:00:00Z
Paul's place is very clean, cozy, and wonderful. He is an awesome host and I would recommend his place to anyone. Also, very affordable!
Alan
2017-01-06T00:00:00Z
Paul is the best host I've ever stayed with, and his apartment is my top-spot when looking for Airbnb in Pittsburgh!
Sonny
2016-12-11T00:00:00Z
We had the pleasure to meet Paul. He really is the best host you can imagine! The apartment is very clean and central to shops/ gym/ malls... We enjoyed our stay so much and recommend this place to everyone! Thx again, greetings from Isabella and me.
Thomas
2017-01-16T00:00:00Z
Huonetyyppi
Jaettu huone
---
Majoituspaikan tyyppi
Huoneisto
---
Majoittujien määrä
2
---
Makuuhuoneet
Bethel Park, Pennsylvania, Yhdysvallat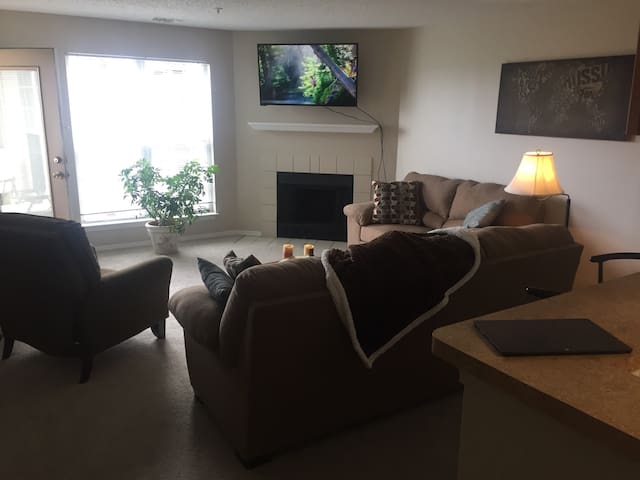 SPECIAL RATE FOR 2 WEEKS BEGINNING APRIL 24 ENDING MAY 7. WILL BE OUT OF TOWN FOR PART OF THE TIME AND REDUCED RATE IS IN EXCHANGE FOR CAT SITTING. $100 FOR 1ST WEEK; $25 FOR 2ND WEEK. USUAL RATE $202/WK. IF BOOKING FOR MORE THAN 28 DAYS WILL REDUCE 1 MONTH'S RENT BY $300. Ideally located for traveling professionals, especially oil & gas personnel. Convenient to Southpointe, The Meadows Racetrack & Casino; 3 miles from Walmart, Giant Eagle, & much more. Weekly & Monthly Rates Available
This is the 2nd Bedroom in a 2nd story 3 bedroom luxury apartment. You'll get a key to same front door we use. It's a cozy size, has large windows with ceiling fan, curtains & blinds, a really comfortable Serta bed, a full closet, a small desk, large dresser, and a TV w/ DirectTV & DVR. Your bathroom is next door to your room and considered the 'main' bathroom of the house. Except for very occasional use by us or when family visits, you will be the only one using it. I make sure it's sparkling when you arrive, and I provide cleaning products for you to keep it at the level of cleanliness you like during your stay.
The apartments are often mistaken for townhouses from the outside. Judging from the vehicles, lots of neighbors are oil & gas professionals, but there is also a good mix of families, couples and singles here. It is also pet friendly, so you'll see people walking dogs. This is a rapidly growing area with new things being built right now. Within 3 miles you can find, 2 on-ramps to Interstates 79 & 70, the Casino, Tanger Outlets, 5 gas stations, a driving range, Giant Eagle, Walmart, Sam's Club, Olive Garden, Outback, a Japanese steak house, several fast foods (including a Chik-Fil-A), Panera, 2 Starbucks and a many more similar establishments. Both local and state police stations are also very nearby.
Christina and Sam were extremely welcoming. The space was very clean and the bed was very comfortable. I slept really well! Christina went out of her way to make me feel welcome. The neighborhood is very nice and a great place to run around or walk. I truly enjoyed my time there. Friendly people!
Trish
2016-08-27T00:00:00Z
Christina and Sam are two of the friendliest, most welcoming people I have ever stayed with. They do all they can to make you feel like you're at home, rather than just a guest in their home, which makes this the perfect place for a long term stay. Their place is within driving distance to a variety of restaurants and stores, and is located in a cute, safe neighborhood. The bedroom had great natural lighting, and one of the most comfortable beds I've ever slept on. Christie and Sam were great (almost as great as their cats) - very easy to communicate with and get along with. I would stay here again in a heartbeat.
Catherine
2016-11-19T00:00:00Z
Christina's place was in the perfect location for my needs, but we weren't sure it would be available until the last minute. Chris answered all of my questions promptly and notified me the minute she knew we could make this work. Much appreciated!! Modern apartment, everything is quite new and clean. Felt like coming to a friend's house; we watched TV together. Comfy bed, great towels, lots of closet space, friendly cats, very nice family; everything was great.
Janet
2014-11-23T00:00:00Z
Christina was the best hostess. She was responsive, communicative and very welcoming. The room was very comfortable, and she helped me set up the wifi. The bathroom was spotless. Her home is very comfortable, and is in a safe and beautiful location, surrounded by pleasant rolling hills, very close to major highways. I really appreciate her thoroughness and responsiveness. This is an excellent place to stay. I highly recommend this AirB&B hostess and room!
Anne
2015-04-23T00:00:00Z
This was well worth the money! The room was very cozy, and the bed provided some amazing sleep after a long day. While the room itself is a bit small, Christina encouraged using the rest of the common areas, so it didn't feel like I was stuck in there the whole time. She was a great host, and we held conversations on many topics over the course of my stay, including recommendations for places to visit in the Pittsburgh area. I highly recommend this location and host to anyone considering it.
David
2017-03-19T00:00:00Z
I loved my stay here, Sam and Christina are both very nice and friendly. Their house is super clean especially the bathroom is in great condition. The neighborhood is very safe and quiet, there are a lot of convenience stores and places to eat not so far from their house. The room is nice, enough place for 1 person and the closet is spacious as well. If I get a chance, I would love to stay here again.
Manideep
2015-01-07T00:00:00Z
Christina and Sam were very welcoming hosts. They did everything they could to make me feel at home and their cats were very friendly. They kept a clean house and I always had a place to park my car. I stayed for 5 weeks and didn't have any complaints the entire time I was there. I highly recommend staying with them and would do so again in a heartbeat.
Lisa
2015-11-13T00:00:00Z
Christine's and Sam's home is great! Both are very kind and helpful hosts! Both are uncomplicated and very easy going people. I have spent a bit more than 2 weeks there and I always felt myself very good! They have lovely cats! I would everybody suggest to stay there! ....and in Washington PA you will find everything what is needed.
Mirco
2014-08-20T00:00:00Z
Huonetyyppi
Yksityinen huone
---
Majoituspaikan tyyppi
Huoneisto
---
Majoittujien määrä
2
---
Makuuhuoneet
Washington, Pennsylvania, Yhdysvallat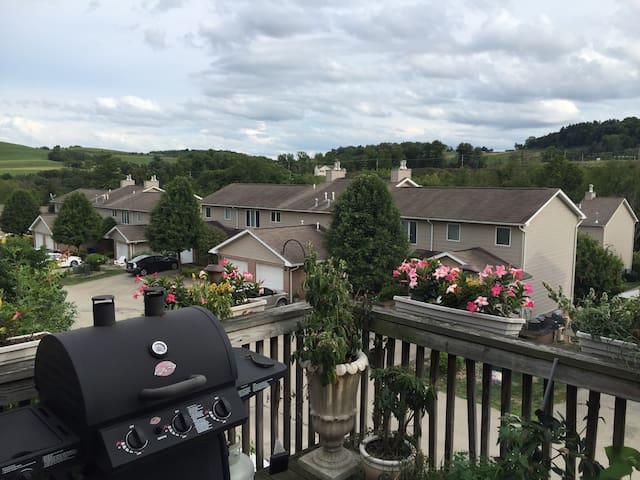 My place is good for couples, solo adventurers, and business travelers.
There is a queen bed in the bedroom and a queen sleeper sofa in the living space. The kitchen is equipped with basic appliances, minus a coffee maker.
Great, centrally located place! Quick communication made my weekend visit a breeze.
Ben
2016-08-28T00:00:00Z
Great place to stay. Place was stocked with food and everything was very clean. Also Alfonso is the dude in the picture lololollool
alex
2016-11-20T00:00:00Z
Great value, nice and clean.
NICK
2016-08-25T00:00:00Z
This place was wonderful! Very clean and in a nice area not far from restaurants/convenience stores. Would definitely try to stay here again if/when we return to PA.
Molly
2016-09-19T00:00:00Z
Communication was quick and the apartment was clean!
Taylor
2016-09-11T00:00:00Z
It was everything that the pictures were. I loved that the Walmart was right around the corner which made it a great convenience. The communication was spot on anything I need was answered right away. I would definitely would recommend to anyone to stay there if it is available.
Jevaughn
2016-11-19T00:00:00Z
Great place ... Comfortable enough. Loved it!
Neeraj
2016-11-27T00:00:00Z
Place was exactly as described, he's a really cool understanding guy. Loved staying there. If I ever go to Pittsburgh again, would def stay here again.
Marqui
2016-10-02T00:00:00Z
Huonetyyppi
Koko talo/asunto
---
Majoituspaikan tyyppi
Huoneisto
---
Majoittujien määrä
4
---
Makuuhuoneet
Presto, Pennsylvania, Yhdysvallat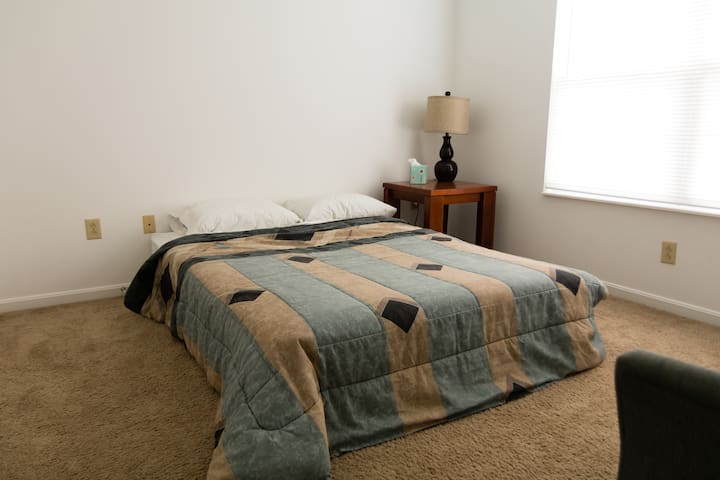 This beautifully remodeled suite with a private entrance comfortably fits two and is centrally located between Pittsburgh and the International Airport. Easy access to highways and walking distance to restaurants and the Panhandle biking trail.
The suite located on a quiet country lane in "America's Hometown" of Oakdale has a sitting room, a private bedroom with a queen size bed, a sprawling master bath that includes a shower, soaking tub, vanity, and bidet. an outdoor patio is also available for your enjoyment
Located within walking or biking distance to several local restaurants and the Panhandle Trail. A five minute drive to Pittsburgh's new Botanic Garden, a ten minute drive to Robinson Twp which includes major shopping and restaurant selections and access to major highways including I-376 and a twenty minute drive to either downtown Pittsburgh or the Pittsburgh International Airport.
It has been a very good experience to stay at Dawn's suite. The place is quiet and convenient to surrounding stores and restaurants. It is not far from airport and downtown. There is everything I need in the room when I get there. The kitchenette is small but functional and meet my need. The bathroom is roomy and luxury. I have been here for a extended stay before my new apt lease start and I been treated so well by Dawn. Her home-made weekend breakfast is wonderful and you don't want to miss that. She is also very responsive on your request. Once I replied late and won't expect her to reply till the next day, but she replied immediately. She respond very promptly every time when you try to contact her. I am very impressed by her hospitality. Thank you Dawn! I wish you good luck!
Junhua
2016-08-28T00:00:00Z
Dawn was an incredible host. Very kind and thoughtful. The suite is absolutely gorgeous. The mattress is so comfortable, we slept so well. The bathroom in the suite is brand new and beautiful. Absolutely spotless. This suite is like having your own private apartment. You have your own private entrance. We absolutely loved staying here. Dawn offers fresh made juices and a delicious homemade breakfast in the morning. It was such a treat. I would highly recommend staying here. You will love it.
Christina
2016-07-25T00:00:00Z
Dawn was a fantastic host, and the suite was beautiful. She was very accommodating to my ever changing schedule, and even had supplies to clean up if my puppy had an accident inside. She left us a list of local places to eat, visit, and go to church, as well as some very good coffee for the morning.
Courtney
2017-03-05T00:00:00Z
Dawn communicated with us each step of the way. She provided extra directions to be sure we arrived safely and met us promptly when she said she would. The room was absolutely beautiful, so spacious, and the bathroom is incredible! The pictures don't do it justice. Dawn delivered breakfast to us each morning which was a sweet added touch. I honestly wish we were coming back to Pittsburgh soon so we could stay here again!
Shelly
2016-10-10T00:00:00Z
Dawn was welcoming and was available to answer any questions. She provided excellent scones and juice for breakfast. The suite was outfitted with a small fridge and a coffee maker (as well as a hot plate), which was very appreciated. The house was in a private, small town setting that was close to a nearby suburb of Pittsburgh and downtown itself was no more than 20-30 miles away.
Amanda
2016-10-02T00:00:00Z
The room is as lovely as the photographs. Bed is comfortable and tub is great.
Danette
2016-10-01T00:00:00Z
The host canceled this reservation the day before arrival. This is an automated posting.
Lynn
2016-12-28T00:00:00Z
A very comfortable suite with thoughtful touches to make the stay enjoyable. Very quite
email
2017-03-19T00:00:00Z
Huonetyyppi
Yksityinen huone
---
Majoituspaikan tyyppi
Talo
---
Majoittujien määrä
2
---
Makuuhuoneet
Oakdale, Pennsylvania, Yhdysvallat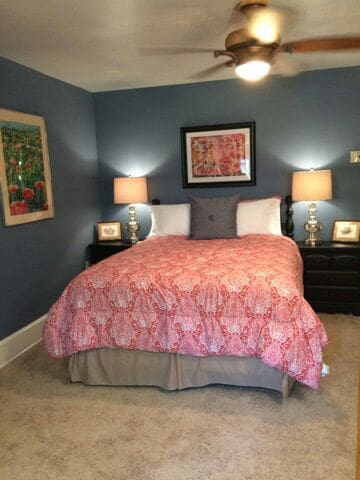 Clean two bedroom cozy ranch style home walking distant to the 't', shops, restaurants, south park and more. Prime location. TV but no cable. NO Wi-fi. Very basic house in a central location. NO SMOKING --- NO PETS
Small but cozy. Furniture for clothing and closets. Comfortable furniture and front deck.
Prime location in the heart of Bethel Park. On the 't' line, very close to south park (pool, golf, tennis, playground, ice skating) Bethel park library, churches and community center walking distance
The host canceled this reservation 6 days before arrival. This is an automated posting.
Andrew
2017-03-10T00:00:00Z
Susan's place was awesome for me and my two boys. We loved the spacious backyard. Close walking distance to food and T line. We would definitely look forward to staying here again. Wifi/cable would be a plus. Thanks for everything.
Cindy
2017-02-23T00:00:00Z
Quaint, cozy, clean home in a nice neighborhood, next to the "T-line (train stop) to get to Center City Pittsburgh and the Pittsburgh attractions...and priced right
Ron
2017-02-26T00:00:00Z
Huonetyyppi
Koko talo/asunto
---
Majoituspaikan tyyppi
Talo
---
Majoittujien määrä
4
---
Makuuhuoneet
Bethel Park, Pennsylvania, Yhdysvallat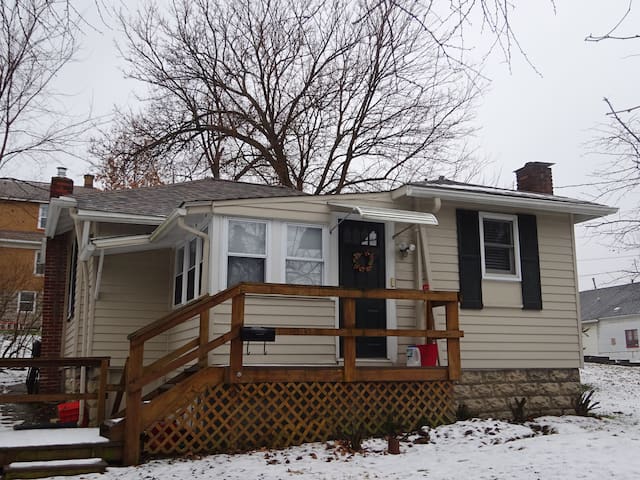 1

–

18

hakutuloksista

34 vuokrakohdetta
Anna päivämäärät nähdäksesi kokonaishinnoittelun. Lisämaksuja sovelletaan. Veroja saatetaan lisätä.