Casina Malò is a stone 65 square meters (700 ft2) house built in the ancient rural village Mergnano San Savino, born around one of the aristocratic mansion of Camerino's nobilty. The house has the distinctive trait of being built on 3 floors, recently renovated and reinterpreted to become the home of an architect who fell in love with Camerino, his people and his territory. Although the house has an unusual structure, Casina Malò is a bright home open to a striking panoramic view: southward a glimpse of the ducal city, and northward the boundless countryside where the horses from the near farm ride freely. Casina Malò is genuinelly sober, with no added frills; it valorizes the manuality of his modest origin. Truly intimate and private even in its tiny walled garden, it's meant to thrive souls. Basic and poetically true. All the spaces, always tiny, have been creativily renovated to the perfect living of a couple or a single. Beyond the entrance a room (former kitchen) hosts the old fireplace, where you want to sit for a delightedly rest during wintertime; then, before the garden, the former storeroom hosts the kitchen where to have lunch, as in the native organization of the spaces the sink is separated from the rest of kitchen and is found in a full glass corner next to an original washroom. The central stairway guides to a bright vestibule (former living room) with the wardrobe right beside the entrance to the bedroom with private bathroom. A second stairway continues to the second floor, which used to host two small bedrooms. It is now is a single long space, usable as living room/study room, with a console table as desk, a sofa bed for hosts, tv and a collection of classic music CDs. Mergnano, the village, inhabited mostly by locals, is surprising because of its silence, clean air, spontaneous vegetation, the peculiar scent of the land and the animals; in summertime, at night, fireflies! Few steps away, in front of the private chapel of the local Lords, ancient cypresses overshadow old benches where to read and meditate, looking up to the ducal city with the Sibillini mountains in the background. 3 km away the municipal sport ground is found, with numerous courts, activities and indoor swimming pool for the year round and an open one for summertime. The municipal public transportation also serves the village with several daily buses. It is possible to rent bicycles to ride around and visit the many different villages; way out of the ordinary traffic and deep through the different tones of green offered by the landscape.
Huonetyyppi
Koko talo/asunto
---
Majoituspaikan tyyppi
Talo
---
Majoittujien määrä
2
---
Makuuhuoneet
Province of Macerata, Marche, Italia
is waiting for you
Circondata dalle suggestive colline camerti, Casa Emanuela è una spaziosa, pratica e accogliente casa di campagna di due piani. Tipicamente marchigiana,recentemente ristrutturata, si trova alle porte di un piccolo ed affascinante borghetto. La casa si affaccia sul suo giardino e sullo splendido panorama della gola di Pioraco. Alle sue spalle Camerino, raggiungibile in macchina in pochi minuti. La posizione è strategica per gite culturali, escursioni ed esplorazioni enogastronomiche nell'entroterra marchigiano e umbro. Surrounded by the beautiful hills of Camerino, Casa Emanuela is a spacious, practical and welcoming country house on two levels. Its architecture is typical of the region but it's been recently restored and is located on the limits of a small and picturesque village. The house has its own garden looking onto the suggestive panorama of the Pioraco clefts and is only a 10 minutes drive from the historical town of Camerino. Its position is strategic for cultural getaways, excursions and wine and food tours of the surrounding regions.
Huonetyyppi
Koko talo/asunto
---
Majoituspaikan tyyppi
Talo
---
Majoittujien määrä
5
---
Makuuhuoneet
Province of Macerata, Marche, Italia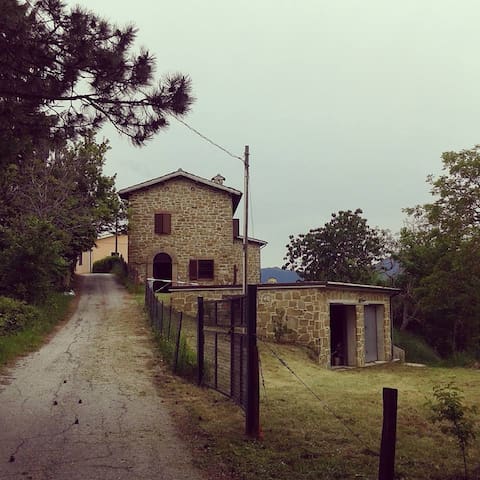 Mulino funzionante del 18 secolo a Gagliole provincia Macerata nelle Marche Italia. I° piano sala con cucina, II° piano 2 camere matrimoniali 2 bagni. Piscina 10x5 ml, quercia monumentale, laghetto. Un altro appartamento vicino (max 3 pers). Siamo anche su Youtube, intervistati da Geo&Geo! Visitate la nostra pagina di (SENSITIVE CONTENTS HIDDEN) con 2 video della proprietà.
Luogo fantastico per rilassarsi, con la famiglia, da soli, con amici. D'estate presente una piscina 10x5 con una rete da pallavolo rimovibile. Nel piazzale vicino la piscina troverete ombrelloni un tavolo e delle sdraie, il tutto sotto una bellissima pergola. Accanto una capannella con bagno, cucina e un grande tavolo di quercia; qui potrete mangiare e svagarvi quando il tempo ve lo permetterà. Sopra al Mulino un laghetto (con diga), con una papera e parecchi pesci.
Huonetyyppi
Koko talo/asunto
---
Majoituspaikan tyyppi
Talo
---
Majoittujien määrä
4
---
Makuuhuoneet
Gagliole, Marche, Italia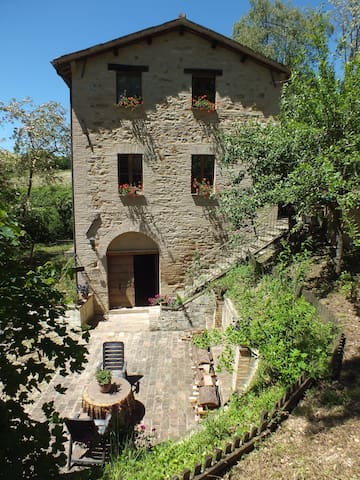 House surrounded by Settempedana campaign, divided into two independent units, a perfect compromise between the country life and the historical center, a 10-minute walk.
House surrounded by Settempedana campaign, divided into independent units, a perfect compromise between the country life and the historical center, some 10 minutes of walking. Mini apartments of approximately 50 square meters with kitchen, bathroom, double bedroom with possibility of adding a third sofa bed.
San Severino Marche is located 50 km west of the Adriatic Sea and is about 50 km Umbria-Marche Apennines; its artistic heritage is immense: there are many gothic churches visible in the city and the territory and works left by the local school of painting that had its greatest exponents in brothers Salimbeni and Lorenzo d'Alessandro, respectively at the beginning and end of the XV century. The most striking monument of the city is the large colonnaded square, by the unusual form melted, long 224 meters wide and 55; on one side of the square is the Teatro Feronia, the architect Ireneo Aleandri, who also designed the Sferisterio of Macerata. The place called "Castle", on top of Monte Nero, is the seat of the medieval city. Of ancient buildings remain large sections of walls, two doors and, on the summit, the two towers a symbol of the city: that of common (which still has a coat of arms with the lion passant ghibellino) and, opposite, the bell tower of the old cathedral. The latter, built in the tenth century and rebuilt several times, it keeps inside the remains of the patron saint Severino and a valuable Renaissance wooden choir, started local dall'intagliatore Domenico Indivini and completed by brothers Acciaccaferri in the early sixteenth century.
Abbiamo potuto godere dell'ospitalità di Laura per alcuni giorni a metà Maggio. L'agriturismo si trova in una zona verde e tranquilla, anche se a due passi dal centro. L'appartamento in cui abbiamo soggiornato è nuovo, pulito e dotato di ogni comfort. Laura, come tutta la sua famiglia, è discreta e disponibile. Incredibilmente ricca la colazione: yogurt, spremute, marmellate, biscotti e squisiti dolci fatti in casa. Consigliato!
Francesco K.B.
2016-05-17T00:00:00Z
Sono stata ospite di Laura insieme alla mia mamma. Saremmo volute rimanere una notte in più talmente era piacevole il posto. L'insalata e i pomodori appena colti nell'orto sono state una delle cose più gradite e non gustate da tempo. Cortesia, attenzione, cura dei particolari, una casa immersa nel verde piena di colori e di gusto che la rende bellissima. Completa di tutto e per tutte le necessità, con un tocco di "ricordi della nonna" particolarmente graditi.
Aurora
2016-08-10T00:00:00Z
The location was perfect secluded on a hill so it was quiet but just a short walk to the town centre. On arrival Lucia was very welcoming and helpful with our questions and directions. She prepared a large breakfast including homemade baked cake and muffins, fruits and much more. We had an apartment to ourselves which was large and clean. 10/10 would stay again. Note that the GPS finds the street but make sure you get instructions for the directions to the house.
Lucas
2015-07-04T00:00:00Z
Abbiamo apprezzato la cordialità, disponibilità e gentilezza. anche la location era carina, immersa nel verde, fresca e ben tenuta. Si nota che Laura e la sua famiglia sono persone di buon cuore. grazie.
Marco
2016-07-04T00:00:00Z
E' stata la nostra prima esperienza in una casa tutta nostra. L'appartamento è davvero carino, pulito, arredato con uno stile ricercato e con gusto. Laura è stata molto gentile e disponibile e ha preparato tantissime cose buonissime per la nostra colazione. E' stato quasi un peccato dover essere rimasti solo una notte. Lo consigliamo vivamente!!!
Cesare
2016-03-16T00:00:00Z
Il b&b è situato in una zona bellissima a 15 minuti dal centro di S. Severino. Laura e la sua famiglia sono persone davvero accoglienti. Peccato essersi soffermate solo per un giorno!
Martina
2016-07-13T00:00:00Z
Abbiamo soggiornato da Laura durante un viaggio in bicicletta. Siamo stati benissimo! Laura e Renzo ti fanno sentire come a casa e non ti fanno mancare niente. Consiglio a tutti di passare qualche giorno in questo posto immerso nella tranquillità ma a pochissimo dal centro storico. Esperienza fantastica!
Giovanni
2016-04-02T00:00:00Z
We werden bijzonder hartelijk ontvangen door Laura en haar man. In de loop van ons verblijf informeerden ze regelmatig of alles naar wens was. Op vragen van onze kant werd altijd heel prettig en behulpzaam gereageerd. We willen hier in de toekomst beslist nog eens terugkomen.
Robert
2016-07-30T00:00:00Z
Huonetyyppi
Koko talo/asunto
---
Majoituspaikan tyyppi
Talo
---
Majoittujien määrä
3
---
Makuuhuoneet
San Severino Marche, Marche, Italia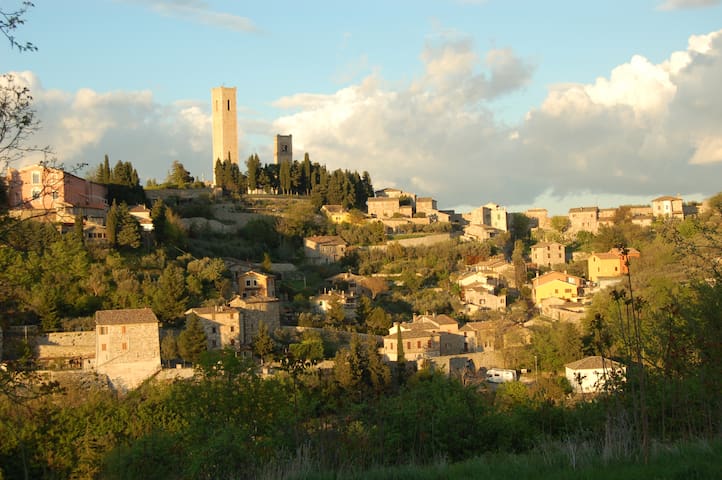 BORGO BELVEDERI: The spirit of a 15th-century retreat lives on in the perfect restoration that combines the highest standards of today's accommodation with the charm of ancient things, the joy of new emotions and perceptions of well-being..
This is fabulous little place in the hills of Le Marche, beautiful views of countryside all round. Camerino and CastelRaimundo are a short drive for places to eat and drink. We came early in the season and had the place to ourselves which was lovely. Luigi is a great host. Sorted everything for our arrival, including a basket of breakfast things which we weren't expecting. Would recommend without hesitation, especially when pool opens for the Summer months.
Jennifer
2015-04-03T00:00:00Z
Everything was just perfect, such a beautiful and peaceful place! The rooms are spacious, clean and comfortable, a fully equipped kitchen with a dishwasher, wi-fi and a washing machine! There is AC, which was great at the night times, because we were there during a heat wave. Kids enjoyed in a swimming pool. You have a feeling that you are cared for. Car essential.
Miia
2015-07-18T00:00:00Z
We fell in love with with place from the first site. Everything was great. People, atmosphere, swimming pool, house were awesome. Definitely place to be back to!!!!
svetlana
2016-07-24T00:00:00Z
Very nice and peacefull place with amazing view. Hosts are great and very welcoming. Thank you Luigi and see you soon!!!
Christophe
2015-08-14T00:00:00Z
hote très accueillant
Sophia
2016-08-15T00:00:00Z
Beautiful surroundings, nicely restored hamlet. Great swimming pool, well equipped apartment.
Csilla
2015-07-26T00:00:00Z
Huonetyyppi
Koko talo/asunto
---
Majoituspaikan tyyppi
Talo
---
Majoittujien määrä
6
---
Makuuhuoneet
Camerino, Marche, Italia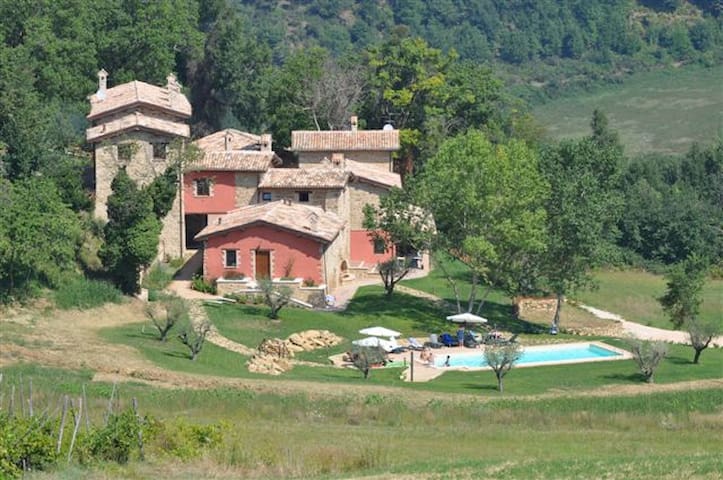 La casa ( cielo/terra), restaurata di recente è al centro di un piccolo paese , rimasto come un borgo di fine ottocento, tra colline ; la casa , costruita sopra antichi lavatoi , affacia sul fiume Scarsito ,dove nuotano cigni e si pescano trote .
La casa , che si trova in una strada privata , è stata completamente restaurata : è disposta su due piani molto luminosa , con una bella scala interna , luminosa , comoda ed ampia ; al piano terra vi sono un bagno e due ampie camere da letto ( una con letto matrimoniale e l'altra con due letti ) ; al piano superiore si trova un' ampia cucina ( con lavastoviglie e lavatrice ) , ed una stanza ad uso soggiorno con balcone con affaccio sul fiume , dove è situato un comodo divano letto . Vi è un ampio sotto tetto e un ancor più ampio ambiente seminterrato ; all'esterno vi è un piccolo cortile privato con recinto , comodo per posizionare biciclette o sedie per godere del sole .
Nei dintorni del paese vi sono interessanti grotte ; per gli appassionati vi è la possibilita di fare interessanti escusrsioni speeleologiche , vi è inoltre la possibilità di dedicarsi alle scalate , nelle montagne vicine . Vi sono campi da tennis ed una lunga pista ciclabile . E' possibile raggiungere il mare ( mare adriatico ) con una superstrada in circa un'ora . Nelle prossimità vi sono piacevoli ritoranti e piscine con facile accesso .
Huonetyyppi
Koko talo/asunto
---
Majoituspaikan tyyppi
Talo
---
Majoittujien määrä
6
---
Makuuhuoneet
Pioraco, Marche, Italia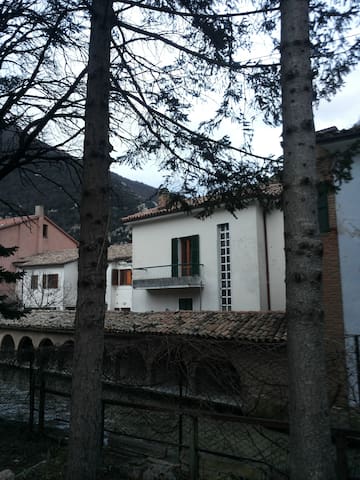 The house Anita is located in the historic center of San Severino Marche, a town rich in history and art One minute from the magnificent Piazza del Popolo, a few minutes from the castle to the mountain. convenient parking options The detached property is on three levels with attention to every little detail. a living room and a bathroom on the ground floor; a living room with fireplace and a kitchen on the first floor; a bedroom and a bathroom on the second floor
La casa di Anita si trova vicina alla bellissima piazza di San Severino, in una posizione tranquilla e molto comoda. Ristrutturata con cura, riscaldata benissimo é l'ideale per chiunque cerchi un rifugio sicuro e confortevole. Ho apprezzato il gusto degli arredi e il senso di calda, attenta accoglienza che Caterina ha saputo infondervi. Il paese e i suoi dintorni sono tutti da scoprire, non basta una visita, tornerò senz'altro anche per gustare le genuina gastronomia di questo incantevole angolo delle Marche.
Clara
2017-01-30T00:00:00Z
Huonetyyppi
Koko talo/asunto
---
Majoituspaikan tyyppi
Talo
---
Majoittujien määrä
2
---
Makuuhuoneet
San Severino Marche, Marche, Italia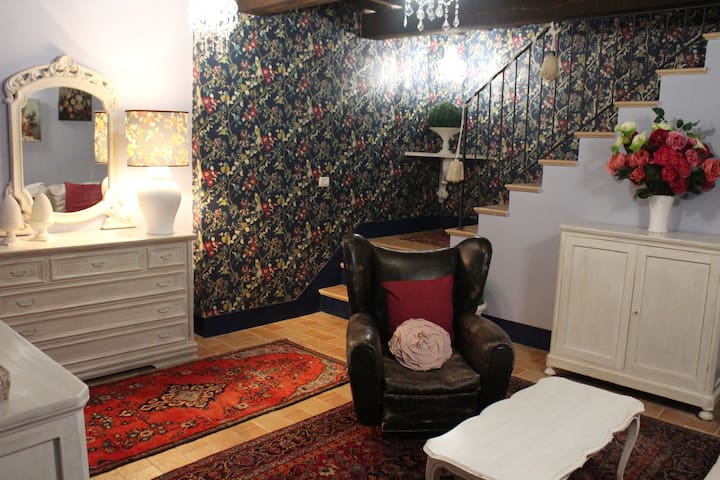 In località Serripola, a soli 5 minuti d'auto dal centro di San Severino Marche, immerso completamente nella natura, è la soluzione ideale per il soggiorno all'insegna del relax, per famiglie, amanti della natura e dello sport, gruppi di amici.
La villa di Pinonero, di nuova costruzione consente un soggiorno in assoluto relax, lontano dallo stress quotidiano. Immerso nella natura, è la soluzione ideale per le famiglie con bambini, fuga romantica, amanti dello sport e della natura, gruppi di amici e attività di meditazione e mindfulness. Dislocata su 2 piani con ingresso indipendente e giardino privato, la villa offre un'ampia zona giorno con un comodo e luminoso salotto, una cucina moderna attrezzata e una sala da pranzo. Al piano terra ancora troviamo una zona lavanderia completa di lavatrice, stendino, asse e ferro da stiro e un bagno con doccia. Al primo piano, al quale si accede mediante delle scale in legno, la zona notte composta da n. 3 camere da letto (2 matrimoniali con letto aggiunto e una tripla) e un secondo bagno con vasca. Nel giardino privato, un'area attrezzata con tavoli e sedie, barbecue. Su richiesta (con supplemento) disponibile anche vasca idromassaggio teuco nel giardino privato con capienza max. di 7 persone.
Pinonero si trova a 5 minuti d'auto dal centro del bellissimo borgo medievale di San Severino Marche, che offre ai visitatori un patrimonio vario e considerevole: aree archeologiche, palazzi nobiliari, chiese, conventi e castelli. E musei che custodiscono, fra gli altri, veri e propri capolavori dei maestri del Rinascimento, dai fratelli Salimbeni al Pinturicchio. Nel cuore del centro urbano si trova inoltre il Teatro Feronia, con la sua stagione teatrale nazionale e continuativa. Mentre l'enogastronomia consente di riscoprire i sapori più autentici delle Marche, tra vini DOC e cucina tradizionale, da gustare negli ottimi ristoranti della zona.
Great location to spend your holidays. Fantastic villa's with everything in and on it. Hosted by the very friendly Allesandra, who has been amazing for us. You can always count on her. Great surroundings, great new Spa with very good massage! High quality. We would love to return here with our little daughter!!
Jeroen
2016-07-02T00:00:00Z
Huonetyyppi
Koko talo/asunto
---
Majoituspaikan tyyppi
Talo
---
Majoittujien määrä
9
---
Makuuhuoneet
San Severino Marche, Marche, Italia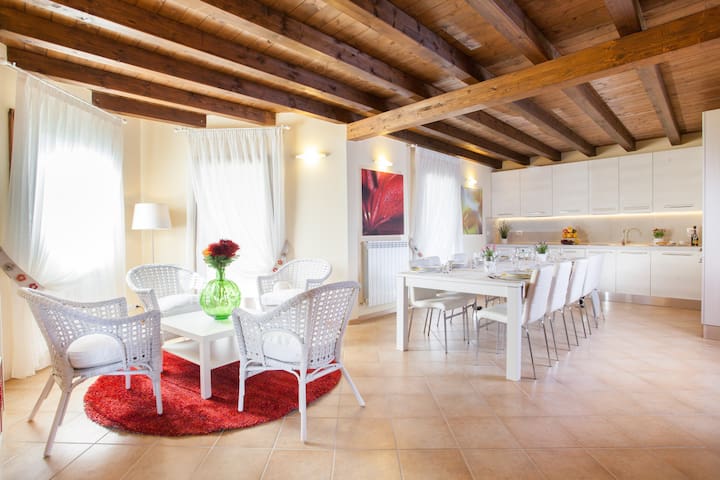 The villa is located on top of the hill which gives a fantastic view over the city of San Severino Marche. Large garden with swimming pool, relaxation and privacy assured. Two levels, nice and cozy furnishings.
panoramic views and privacy in the open.
panoramic view from the hill.
Huonetyyppi
Koko talo/asunto
---
Majoituspaikan tyyppi
Talo
---
Majoittujien määrä
11
---
Makuuhuoneet
San Severino Marche, Marche, Italia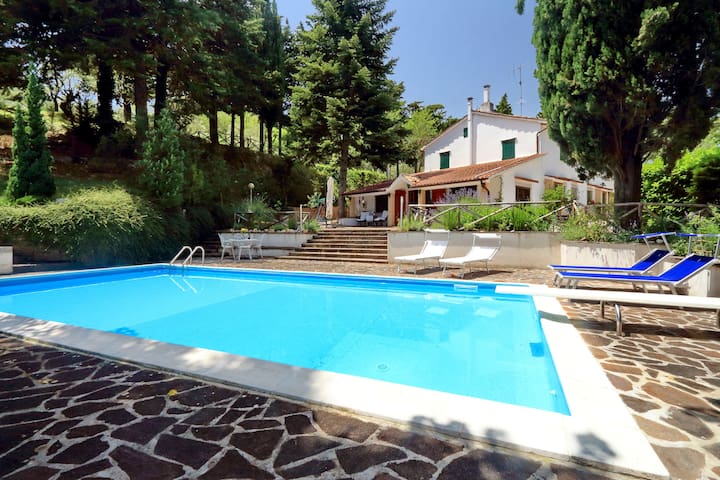 In the beautiful city of Camerino, this 5 bed house formerly a monastery, sleeps 9 and has views to the Sibillini Mountains. Just a 25 minute drive to Lake Fiastra and 50 minutes to the Adriatic coast. Local airport Ancona (60 mins to the house). AVAILABLE FROM DECEMBER 2016 - BOOKINGS BEING TAKEN NOW!!!!
Huonetyyppi
Koko talo/asunto
---
Majoituspaikan tyyppi
Talo
---
Majoittujien määrä
9
---
Makuuhuoneet
Camerino, le marche, Italia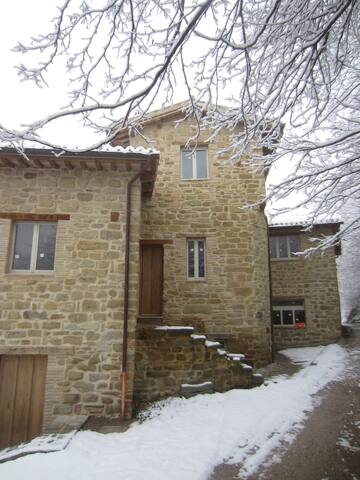 This property is a 300 year old stone villa in the beautiful Le Marche countryside near the hill-top Roman town of Camerino. The house is on two floors. The upper floor has a kitchen, dining room, main bedroom with en-suite, second bedroom (two single beds) with a small bathroom and an outside terrace (with views over the neighboring farmland). The lower floor has a double bedroom, bathroom, living room and loggia (with a view over a small stream.
The house was an old corn mill and is a listed historical building. All of the original mill equipment has been retained.
Camerino is a beautiful hilltop town surrounded by lovely countryside. There are an abundance of cafe and restaurants in the town. The beaches of Sirolo and Numana are 1 hour 15 minutes away and the Sybilline Mountain National Park, which has many interestign walking trails, is 40 minutes away.
Il Molino è un posto veramente sorprendente, ideale per chi vuole quiete e relax! Inoltre la città di Camerino è molto bella e ben collegata alla superstrada. Le mete turistiche più vicine sono Recanati e le grotte di Frasassi (imperdibili!), che distano circa 45 minuti in auto, e l'abbazia di Fiastra. Il signor Tommaso, che aiuta Peter a governare la casa, è molto gentile e disponibile. La struttura ha tre camere da letto con altrettanti bagni, cucina attrezzata, sala da pranzo, salotto e una bella veranda, tutto molto comodo e ordinato con uno stile moderno in mezzo ai resti del vecchio mulino, che rende tutto molto particolare e accogliente. È stata sicuramente una bella esperienza!
Elisa
2016-08-21T00:00:00Z
Huonetyyppi
Koko talo/asunto
---
Majoituspaikan tyyppi
Talo
---
Majoittujien määrä
8
---
Makuuhuoneet
Camerino, Marche, Italia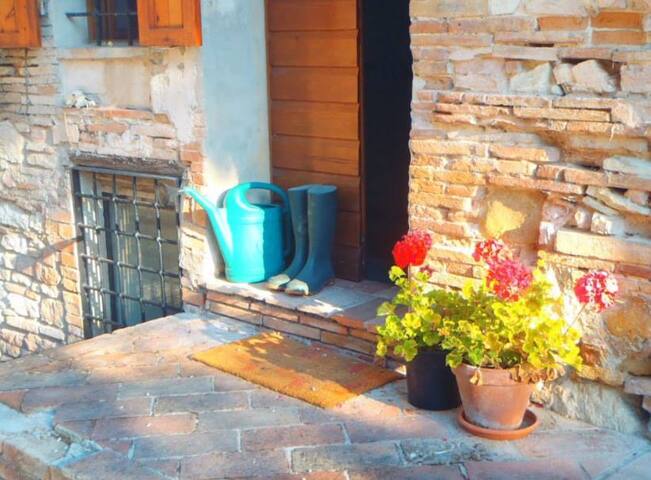 The house, located in an old town village, will surprise you; In fact, through the gate you will find yourself suddenly surrounded by nature and so you can enjoy peace and tranquility.
The house is very dear to me because it belonged to my grandparents but I'm very happy that other people can experience it and appreciate its quality! It spreads over two floors: the ground floor an entrance hall, main bathroom, a large living room with fireplace and adjoining kitchen space. The ground floor also a relaxation room with two sofas, one of which can become a comfortable double bed. Upstairs are two double bedrooms, a bathroom and a beautiful terrace that overlooks the countryside. Outside the garden: two thousand square meters of fenced lawn with a shaded area with three beautiful fig trees and many flowers. The house also has a garage.
The village where the house was very much alive in the past and was the center of various activities. It remains visible source dates back to 600 and the loggia above.
We had a fantastic time at Fiorella's house. She was prompt in replying to our emails. Her house is lovely and well located as we were able to walk to town. As we stayed over NYE, she had the house warmed up for us and the Xmas decoration up. Lovely. We hope to be back soon.
Berengere
2016-01-03T00:00:00Z
Huonetyyppi
Koko talo/asunto
---
Majoituspaikan tyyppi
Talo
---
Majoittujien määrä
6
---
Makuuhuoneet
San Severino Marche, Marche, Italia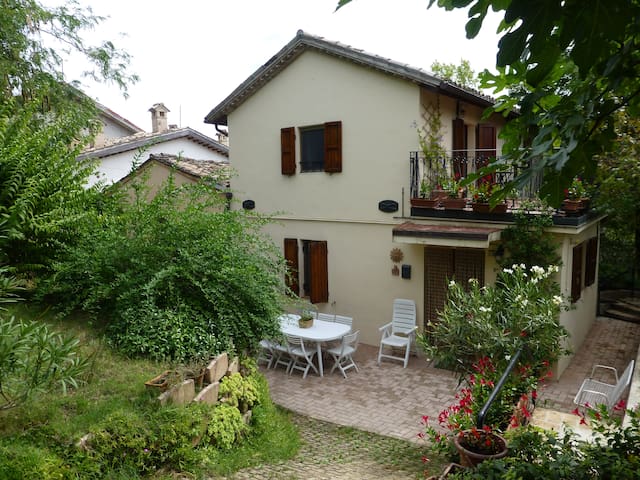 La casa è molto accogliente, arredata con gusto per un'atmosfera calda e familiare. La piscina e il giardino con gli ulivi garantiscono privacy e relax. Splendida la vista sulla vallata. Un posto meraviglioso per una vacanza rilassante e confortevole
Calda e familiare atmosfera
Il paesino è in una posizine davvero panoramica, posto tranquillo e silenzioso, a due passi dalla città
The owner of the house, Vania, was very helpful and available. The house was cosy, peaceful and beautifully renovated. A car is needed to get around and be aware of speed checks while driving. Backyard is full of trees so be aware of many bees and wasps. No grass so shoes must be worn in the backyard. The region is beautiful full of medieval castles and towns. Many restaurants to choose from to eat local dishes.
Monica
2015-09-18T00:00:00Z
Huonetyyppi
Koko talo/asunto
---
Majoituspaikan tyyppi
Talo
---
Majoittujien määrä
6
---
Makuuhuoneet
Serripola, Marche, Italia
Louez une maison d'été entièrement restaurée pour vous, vos amis et la famille et profitez d'un environnement magnifique et très tranquille. Entouré de collines vertes, parmi les oliviers et les vignobles de Verdicchio, profitez de la vue imprenable
Huonetyyppi
Koko talo/asunto
---
Majoituspaikan tyyppi
Talo
---
Majoittujien määrä
6
---
Makuuhuoneet
Colferraio, Marche, Italia
A two-bedroom apartment in our traditional stone farmhouse, restored with original materials and a touch of modern style. In the spectacular countryside of the Sibillini foothills, this is the perfect place for family holidays or a romantic getaway.
With a double room and a twin room plus a futon mattress, the apartment can sleep up to five people (please note that the fifth person must be 12 years or younger). It is furnished to be comfortable but simple, with everything you need but no clutter. The fully equipped kitchen is a pleasure to cook in and opens directly out on to a veranda where guests can eat al fresco. At the other end of the house, an open "terrace room" is a peaceful space to while away the hottest hours of the day, reading, watching the kids play in the splashpool, or just gazing out over the valleys and hills. Located in a peaceful rural area far from main roads the property is perfect for children to go safely wild, and offers a beautiful, calm space to wind down for stressed-out adults. Wildlife abounds -- from butterflies to buzzards -- and at night the dark skies let you see the full glory of the Milky Way. We have a 3.5 metre diameter circular splashpool which is great for children, and we have table tennis and darts in a converted barn. Children also love our animals -- a dog, two cats, chickens, and two ponies (one a Shetland). Both ponies can be handled and the larger one can be ridden (under strict supervision, of course) -- helping to feed and look after them is a highlight for many of our young visitors. The house contains many, many books. Most in English but some in German and Italian.
The house is immersed in the countryside and the area is a mixture of farmland and woods. Our nearest town is Camerino, 8km away. A charming small town with winding cobbled streets and one of Italy's oldest universities, it has everything you need in terms of shops, post office, banks, etc. The property is situated just outside the Sibillini Mountains National Park, where you can go walking in the high peaks. We are 20 minutes' drive from a fantastic lake (Lago di Fiastra) where you can spend a day sunning and swimming. We're 45 minutes from the Adriatic coast with its friendly, sandy beaches, warm, clear sea and brilliant-value seafood meals. Interesting destinations such as Assisi, Perugia, Ascoli Piceno, Gubbio and Macerata are about an hour's drive away. Closer to home are lots of small towns with fascinating treasures to discover and festivals to enjoy. The best thing about the area in general? The fact that it is still genuinely unspoiled, with very few tourists, uncrowded facilities, and people who are happy to see you! Eating out: There are three extremely high-quality and good-value agriturismo restaurants within five minutes' drive of the house, and numerous others in the wider area. Local products and wine are delicious and the restaurants take pride in serving you the seasonal delicacies of the region. The area has its own DOC for wine -- Verdicchio di Matelica, a tasty white -- and we can advise you on some excellent cantinas where you can buy wine direct at ridiculously cheap prices.
We were pleasantly surprised by this great site. We set up our base and were able to visit many sights because of the location. Kirsty and John were excellent hosts and gave us great ideas for touring the area. Great places to hike, walk and eat. Who could ask for anything more. Loved the early morning bird songs, the donkey's bray and the fabulous view of the farmlands and hills. Thank Kirsty for your hospitality.
Donna
2016-06-18T00:00:00Z
Huonetyyppi
Koko talo/asunto
---
Majoituspaikan tyyppi
Talo
---
Majoittujien määrä
5
---
Makuuhuoneet
Camerino, Marche, Italia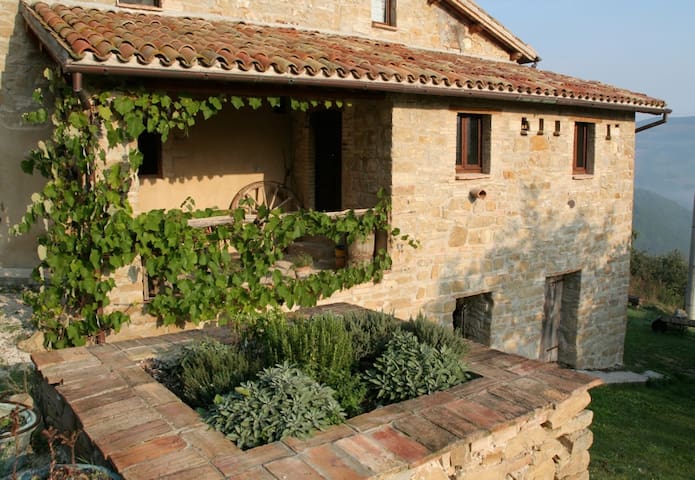 Ottima sistemazione x chi decide di trascorrere una vacanza alternativa, posta sulla via francescana fra Loreto ed Assisi ideale x pellegrini e cicloturisti con possibilità anche di un solo pernottamento. A disposizione anche 4 bici per escursioni.
Ho prenotato per 3 giorni insieme ad un amico e la casa e perfetta per le nostre esigenze. Fabrizio è disponibile e gentile. Raccomando per chi volesse fare una esperienza a fiuminata
Giorgio
2016-08-01T00:00:00Z
Fabrizio è una persona eccezionale!!! E' Gentile e premuroso verso i suoi ospiti che tratta al pari di vecchi amici. La casa è grande ed è fornita di tutto il necessario per trascorrere una vacanza in assoluta tranquillità, addirittura Fabrizio mette a disposizione le biciclette utili per raggiungere le frazioni vicine percorrendo la pista ciclabile che corre lungo tutta la valle. Il riscaldamento funziona alla perfezione. La casa è perfettamente pulita, i letti sono comodi, la cucina è attrezzatissima, fornita di stufa a legna e camino. La legna è a disposizione. Comodi i bagni. Non vi è alcun problema per il parcheggio dell'auto. Il comune di Fiuminata si raggiunge in 5 minuti percorrendo la strada interna illuminata. Nel paese non manca nulla: negozi di alimentari, panetteria, macelleria, ristoranti, bar ed addirittura la farmacia. Dalla casa di Fabrizio partono innumerevoli sentieri che conducono a posti di rara bellezza (ci ha affascinato la frazione Castello!!!). Una vacanza che rimarrà nei nostri cuori!!! Grazie infinite Fabrizio per averci dato la possibilità di trascorrere una vacanza diversa: non ci siamo sentiti turisti ma bensì parte integrante di un territorio e della sua comunità!!!!
Chiara
2016-03-28T00:00:00Z
Huonetyyppi
Koko talo/asunto
---
Majoituspaikan tyyppi
Talo
---
Majoittujien määrä
4
---
Makuuhuoneet
Fiuminata, Marche, Italia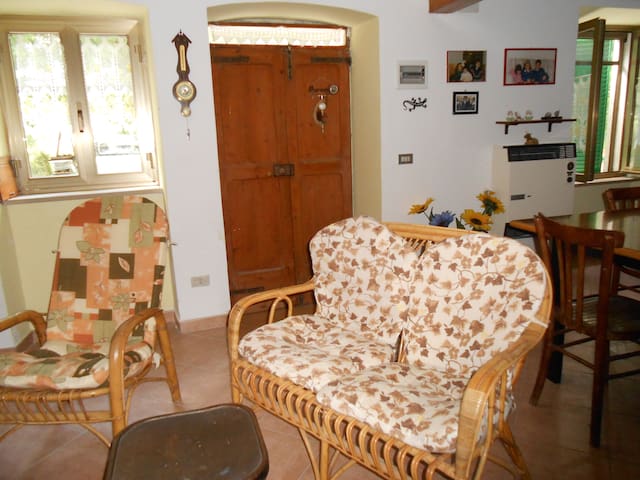 500 m altitude, hilltop village, art deco frecoes, brick floors, renovated. 3 bedrooms, kitchen, 2 living, garden patio. 11km from Fabriano a medioeval center,
Recently renovated the house has kept its original charm, preserving elegant lart deco frescoes, brick floors, original doors and antique furniture. The kitchen has a large fireplace, it is fully equipped, and has a samovar, toaster and drip coffee machine.
Beautiful hilly landscape, walled hilltop villages, small cities guarding treasures of Roman Age, Middle Ages and Renaissance, Natural Parks mountains and Caverns, white cliffs slanting down in the sea. Off the beaten track, these are the lands of Assisi, Urbino (both UNESCO site world heritage) , Gubbio and Sibillini mountains, grand wines and genuine food. The town of Fabriano (10km) has a medioeval center and among the most beautiful baroque churches of the Marche region, with some notable frescoes; famous in the middle ages for its paper mills, see the paper museums, pinacoteque, old bicycles museum, ancient musical instruments museum. Fabriano has been awareded the UNESCO prize for Creative Cities. From end July Fabriano will host the painting exhibit "From Giotto to Gentile" on Italian painting from (phone number hidden). (website hidden) Just outsite Fabriano do not miss • Frasassi Caverns and the Natural Park of Gola della Rossa (spectacular Caverns and Gorge in a beautiful natural setting) with the Romanesque church of San Vittore (15 Km), Roman bridge and modern thermal center (website hidden) • Gubbio (31 km) the best preserved Middle Ages town in Italy with Roman theather and museum, beautiful churches, brings you back to the legend of Saint Francis wolf (website hidden)_Utili/Servizio_Turistico_(email hidden)px
Het huis in het kleine dorp is een bijzondere verblijfplaats. We werden erg vriendelijk ontvangen door Abdel. Het huis was erg schoon met fris beddegoed en luxe handdoeken. Wat ons wat tegen viel was de kleine tuin, waar al vroeg in de middag de zon is verdwenen. Om de omgeving te verkennen moet je wel wat reistijd inplannen. Door het bergachtige landschap doe je lang over kleine afstanden
jan
2016-08-26T00:00:00Z
Nulla da dire, soggiornare in questa dimora è stato rigenerante!! il paese è una chicca, la casa ancor di più!
Jennifer
2016-08-13T00:00:00Z
Collamato è un grazioso borgo immerso nel verde delle colline vicino Fabriano. Ottima base per visitare Fabriano (museo della carta e del pianoforte), le grotte di Frasassi (santuario del Valadier) e vari monasteri. La casa è comoda, spaziosa e risponde pienamente alla descrizione dell'host. I proprietari sono molto ospitali ed attenti alle esigenze degli ospiti. Decisamente positivo il nostro giudizio.
stefania
2014-04-28T00:00:00Z
When I checked-in, everything was exactly as stated in the residence description. I met Abdul's wife and she explained everything about the house including how to use the heater, get out into the garden, and use the kitchen appliances. It was a great stay since I was able to cook and just relax over the weekend. I would definitely stay here again. Collamato is a small town with some wonderful views of the hills.
Gregory
2016-04-28T00:00:00Z
We had a nice time at Francesca's place. It's a nice, large house in a tiny, cute town called Collamato. We were received by Abdul, a very nice person who took care of everything upon our arrival. Also, even though there were some misunderstandings with a missing bed that we had asked, everything was resolved quickly. The house was somewhat cold the first day, but it became warmer the following days. In general, we had a nice, enjoyable experience.
Augusto
2016-01-01T00:00:00Z
Abbiamo trascorso tre notti per il capodanno a casa Elia e ci siamo trovati molto bene. La casa e' decisamente comoda, accogliente e pulita. Al nostro arrivo siamo stati accolti da Abdul, un tuttofare molto disponibile e gentile che la mattina ci spalava la neve davanti casa, sempre pronto ad esaudire le nostre richieste. Sicuramente un'esperienza molto positiva e una struttura super consigliata!
alessandra
2015-01-01T00:00:00Z
The lovely couple in Collamato that help Francesca were very welcoming. We had good communication throughout our stay. The house is as shown in the photographs but what is missing is the lovely wine cellar that was wonderful to explore. The borgo unfortunately does not have any life, most people must work in other areas. The local mini shop carries the most basic of supplies and there are no places to dine out in Collamato. The kitchen is well stocked with dishes and is a comfortable area to spend time. The house was chilly so we enjoyed a fire as we ate in the kitchen. The weather was too cool to take advantage of the garden area although the mint and roses were thriving there. Many happy hours could be spent there in warmer months lounging. The house is very private and stands on it's own piece of property. The Art Deco work on the walls and the furniture are quite unique. The lay out of the rooms makes this a good choice for families or couples traveling together. We had problems with the wi-fi and had no connection for our lap top which could have been very useful during our stay(URL HIDDEN)
giancarlo
2016-05-24T00:00:00Z
Francesca was unable to meet us at our arrival time but her caretaker Abdul lived just across the square and he was there to meet and greet us. He explained everything to us and offered support throughout our stay if required. The house was large for just the two of us but was interesting and a typical Italian house, very clean and comfortable. There was everything possibly required in the kitchen, two comfortable bathrooms a welcoming living and dining room. The village was a typical Italian mountain village, the church clock chimed regularly and comfortingly, the people were welcoming and charming and the local shop was amazing in its contents, well worth visiting. Collamato is not far from the pretty town of Fabriano and the views on the way down were amazing. There are bigger supermarkets in Fabriano. Le Marche has lots of lovely places to visit and Collamato is a good base. The house had a small garden with barbecue and outdoor dining facilities. It is well worth a visit and amazing value for money
Catherine
2016-10-08T00:00:00Z
Huonetyyppi
Koko talo/asunto
---
Majoituspaikan tyyppi
Talo
---
Majoittujien määrä
6
---
Makuuhuoneet
Fabriano, Marche, Italia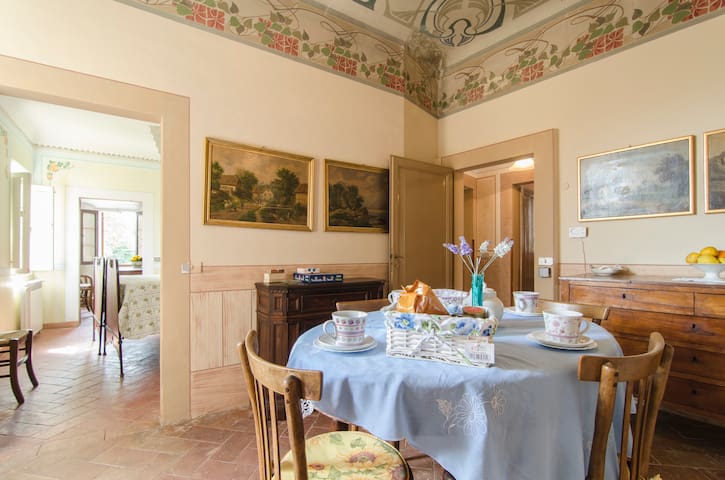 Ti piacerà il mio alloggio per questi motivi: l'intimità, la posizione e il posto. Il mio alloggio è adatto a coppie, avventurieri solitari, chi viaggia per lavoro, famiglie (con bambini) e amici pelosi (animali domestici).
Situata in un posto pittoresco circondato da meravigliosi paesaggi fatti di morbide colline, vigneti e uliveti, è il posto perfetto per una tranquilla e rilassante vacanza. Si compone di un bagno con doccia, una camera matrimoniale e una cameretta con letto singolo. L' open space con cucina fornita di tutti gli accessori e il piccolo accogliente soggiorno, hanno una porta finestra che dà su un ampio terrazzo panoramico dove potete prendere il sole o mangiare in tutto relax davanti allo splendido panorama del Lago di Caccamo.
Il posto è molto tranquillo, immerso nel verde e si trova in un piccolissimo borgo abitato da poche persone, sopra il Lago di Caccamo. Privacy garantita. Ciononostante, a soli due km di distanza, vi sono ristoranti, negozi di vario tipo ed alimentari dove potrete trovare anche i tipici prodotti locali.
1 semaine dans les hauteurs de serrapetrona où le silence est roi ! Elisa fut à l'écoute avant et pendant le voyage, elle nous a guidé pour les sorties et les endroits à visiter, nous la remercions fortement pour cela :) Le logement est exactement comme sur les photos, la vue est magnifique! C'est une région de l'italie que nous recommandions, de plus elle est accessible à tout ! Merci encore pour cette semaine :)
Sonia
2016-08-12T00:00:00Z
The host canceled this reservation 10 days before arrival. This is an automated posting.
Daniel
2016-10-30T00:00:00Z
The host canceled this reservation 56 days before arrival. This is an automated posting.
Joerg
2017-02-23T00:00:00Z
The host canceled this reservation 46 days before arrival. This is an automated posting.
Jane
2017-02-20T00:00:00Z
Huonetyyppi
Koko talo/asunto
---
Majoituspaikan tyyppi
Talo
---
Majoittujien määrä
3
---
Makuuhuoneet
Serrapetrona, Marche, Italia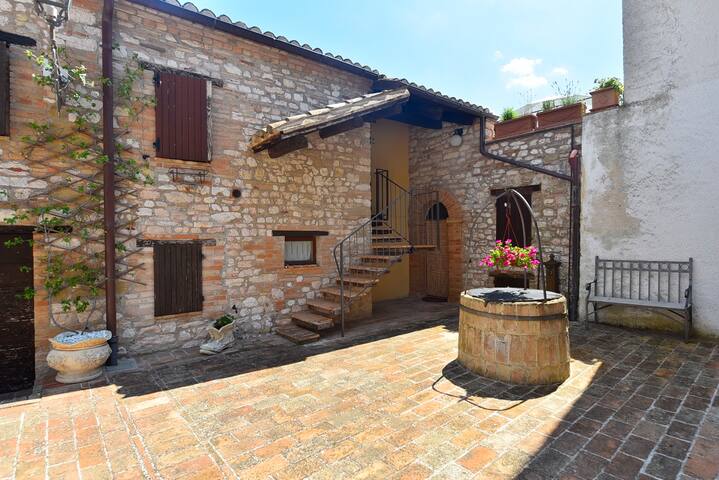 1

–

18

hakutuloksista

26 vuokrattavaa taloa
Anna päivämäärät nähdäksesi kokonaishinnoittelun. Lisämaksuja sovelletaan. Veroja saatetaan lisätä.