3 vuokrattavaa huoneistoa
Beautiful and festive studio in the Yosemite foothills.
Studio has a tree-house feel, beautiful views of soaring golden eagles, deer, other wildlife, and the abundant oak & pine trees up here in the Yosemite foothills. The bright and airy interior is decorated festively in keeping with the vacation-get-away theme here. It is the only apartment upstairs from the upscale Spanish home below it so has lots of privacy, does not share anything, and is away from our pets. If you are a fun person, love color and a very quiet but cheerful surrounding, this is for you! Note: LATE CHECK-IN OKAY for this unit because it has its own private entrance. There is a full kitchen and a counter with stools to eat at, a microwave and large refrigerator, a stove and range. It has a Mexican tile mural above the range, and a view of the courtyard and fountain below. There is also a full bath with custom tile, a shower/tub, and a combo living room/bedroom with a brand new queen-sized bed and also a single futon. Two nice bonuses are it now has newer carpet, and a covered balcony with small table and chairs overlooking the meadow, and a little further away my neighbor's pasture where their Appaloosa horses (and my one motley rescue sheep, Gladys) eat. This is a great place to chill, have a glass of wine and/or a cigarette on the balcony (there is no smoking in the room itself, and please shut room's front door while smoking on the balcony), listen to the tinkling windchimes hanging from a logpole above you, and enjoy the (usual) afternoon breeze. Bring a book (or Kindle) or write one:-], study, watch the occasional deer stroll by, squirrels playing, cotton-tail rabbits, ravens, quail, hummingbirds and lots and lots of other birds with their beautiful songs. The only drawback here is that you must climb 1 flight of stairs to get to this unit, and there isn't much storage space - has only a small closet. Distance from the Yosemite entrance is approx. 30 miles, which takes betw 40-60 minutes to drive, depending on traffic. The Gate is very close to the Mariposa Grove (huge Sequoia trees), 10-15 mi. to the Wawona area next to the Merced River with its covered bridge, and museum of Old West homes and artifacts. From there it is another 30 min. approx. to the Yosemite Valley or Glacier Point. We have great maps of Yosemite showing where all the waterfalls, hiking trails, etc., are, and also info on Bass Lake, which is only 25 miles away from our house. You can rent boats, hike, or even swim there. I am happy to go over the maps with you and make sure you don't miss anything important and don't get lost. I will also explain where the grocery stores are or anything else you need. Just come down to the main house if you arrive during the day and ring the bell, or if you arrive late, ring the bell the next morning after 10 am. ARRIVAL TIMES: Although check-in time is at 3 pm daily, we are flexible depending on our other guests schedules. You are always welcome to come early and drop off your luggage, go over the Yosemite maps, and take off for Yosemite afterward, making the most of your day and knowing your way home :-] Michael and I live downstairs and are usually home and available to talk or chat with, if you are interested in getting to know a local. We are warm, friendly hosts and enjoy meeting and talking with guests, so if you'd like to chat or have some questions about the area or whatever, just ring our doorbell :-) We also respect those who just want their privacy, so don't feel obligated to visit the main house if that's not for you. Our home is in a country setting with lots of oak, pines and huge, ancient boulders on the property. It is normally a very quiet place to chill out and relax. We also have some historic remnants of a very rough "Chinese Wall" made during the Gold Rush days (1800s) when miners panned the creek at the bottom of our 5-acre property. We will be happy to show you where that is if you are interested in seeing it. Groceries are available at a market in downtown Coarsegold, about 5 miles further north on Hwy 41, and the big supermarkets, sporting goods stores, restaurants, etc., are in Oakhurst, which is about 15 miles from our house, also further north on Hwy 41. It's a good idea to bring some groceries with you so you won't have to go shopping when you arrive. Or, there is a large casino just 8 minutes away that has a huge buffet, noodle bar, '50s cafe, and a regular restaurant with good food. Finally, there is a washer and dryer available in the garage for your convenience during day-time hours. I look forward to your visit!
This is a very safe neighborhood!
I absolutely loved this place!! The yard alone is stunning! This is most definitely the place to stay if you are looking to see Yosemite (and willing to drive maybe 30 minutes to get to the park); Michael has great insider information about what sites you don't want to miss in the park and suggestions on times to see them. They were very welcoming and approachable when it came to questions such as where to eat, buy groceries, get gas, etc. I would come back in a heartbeat if I had more vacation time!
Chloe
2016-07-31T00:00:00Z
This was our first airbnb trip and it was great. Hosts Ginger and Michael made us feel very welcome in this clean, quiet, well appointed, and very relaxing space. When we mentioned my wife's cat allergies, they generously added an air purifier to the room (at no extra cost), and we had no trouble. They also offered us a second space heater (it was January!) and communicated clearly about some minor electrical issues that they were in the middle of getting fixed (and which didn't impact our stay). They also promptly addressed several questions we asked of them. We'd stay here again. THANKS!
Tom
2015-01-21T00:00:00Z
We had a great time in the studio. It has all the amenities you will need. A good bed, a nice bathroom and a kitchen to cook yourself a meal. We also enyoed sitting at the balcony. Ginger is a good host. See knows a lot about Yosemite and because she asks every guest about their experiences in the park, she will also know the current conditions. There are a lot of animals walking in the yard...deer, quail, cats. It's a 8 minute drive to Oakhurst. It was a great stay.
Mark
2013-10-14T00:00:00Z
Awesome stay here with Ginger! She welcomed my girlfriend and I with snacks and an itinerary of Yosemite. This was as good as being at home. The place was stocked with utensils, towels, plates, etcI had a great experience here! Would definitely recommend if you are going to be going to Yosemite!
Justin
2014-05-09T00:00:00Z
Ginger was an absolutely wonderful host. We arrived early in the evening to see a few deer eating in the yard. Right off the bat Michael (Ginger's husband) invited us into their home and poured a glass of lemonade while Ginger went over the Yosemite maps and gave us some great suggestions. Communication was seamless and fast, and everything at the studio was just as described. Ginger has a beautiful place with easy access to the nearby parks, and she was extremely helpful and thoughtful. I could not have imagined a better experience!
Anthony
2014-08-16T00:00:00Z
The studio was very comfortable and well equipped and as advertised and the welcome from Ginger was friendly. However, we weren't given a key to the studio and when I asked for one Ginger said that another guest had taken it with them and a key wasn't available. Ginger assured us that it was a safe neighbourhood and that she would look after our valuables if we wanted to. I was very disappointed about this and think it was very unreasonable not to have provided us with a key. We arrived on a Sunday night and stayed for 3 nights so they had plenty of time to have had a key cut. I think one night was excusable but not more than that.
Matthew
2015-07-13T00:00:00Z
A lovely place during our Yosemite weekend trip! We stayed here for two nights, and the courtyard room was cozy and had everything we needed. Ginger was a wonderful host--veryknowledgeable about the area/Yosemite and and had tons of great recommendations for us to explore during our stay. :)
Mai
2014-02-24T00:00:00Z
The Romantic Treetop Studio was perfect for our family. Ginger and Michael were very friendly hosts and their tips and advice about touring Yosemite were definitely helpful. As soon as we arrived at the studio we saw deer grazing and felt enveloped by the peaceful surroundings. The studio looked just like the pictures - very clean and cozy. We enjoyed eating breakfast on the balcony while viewing all the wild life on the property. Our five year old son loved watching all the woodpeckers, quail and deer. The small town of Coarsegold is seven miles from Oakhurst, where you can find anything you need including a drive thru Starbucks and it's on the way to Yosemite. We stayed four nights and were very comfortable the entire time. We left with warm feelings for Ginger's Romantic Treetop Studio and hope to return again someday.
Jeff
2014-09-30T00:00:00Z
Huonetyyppi
Koko talo/asunto
---
Majoituspaikan tyyppi
Huoneisto
---
Majoittujien määrä
3
---
Makuuhuoneet
Coarsegold, Kalifornia 93614, Yhdysvallat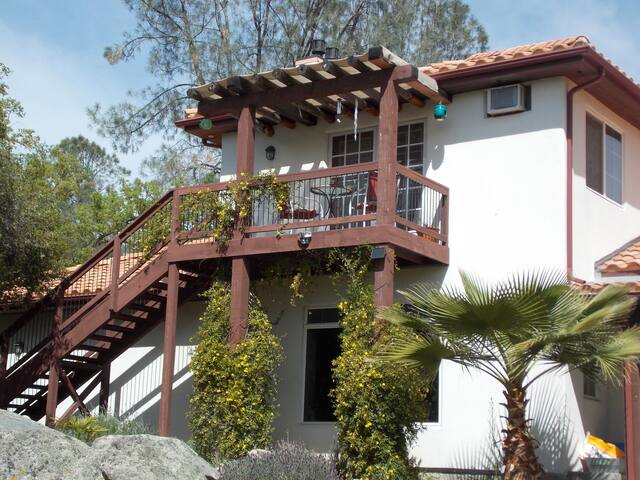 30 minutes or less to Yosemite, Bass Lake and more! 2 bed, 1 bath attached private apartment with private entrance, living & dining areas, and kitchenette with new appliances. 11% Yosemite/Occupancy tax will be requested after your booking.
This is a 2 bedroom 1 bath attached private apartment on 3 acres. You'll have your own private entrance, with ample and safe parking in a quiet neighborhood. Central A/C and heat keep you comfortable no matter the weather outside. We have never owned pets since the construction of this space thus it can be considered truly pet hair and dander free. The master bedroom has a new queen memory foam mattress, a side table, a mirror, and a cabinet full of board games. A sliding glass door leads to a small table and two chairs outside, and has a private door to the bathroom. The walk-in closet has hangers and an exercise bike you can easily roll out and plug in. The kitchenette has a mini-fridge with a freezer compartment. There is a 2 burner hot plate, a microwave, and toaster, and my favorite part, the coffee bar (with tea, too) which we hope will help you start your day off right. Almost everything in the kitchenette is new and includes flatware and place settings for 8, and basic kitchen tools. Ask if there is something specific you need. There is also an outdoor charcoal barbecue available for your use. The dining set seats 4 and would work nicely for a laptop work space. The second bedroom has a new queen pillow-top mattress a side table with mirror and a chest at the foot of the bed, that would work well for a suitcase. The peg rack is for any items you need to hang using hangers from the master bedroom closet. The bathroom's huge shower, which you share with a hanging plant, has an upgraded shower head, conditioning shampoo and shower gel, and if you forget something essential we may have what your missing, so just ask.
Yosemite National Park and all of its grandeur is a 30 minute drive. Sequoia/Kings Canyon National Park is a 45 min. drive. Bass Lake Recreation Area, the warmest Sierra lake, is a 20 min. drive. Chuckchansi Casino is a 5 min. drive. Sierra Meadows and River Creek Golf Courses are a 20 min. drive. Badger Pass cross-country and downhill skiing is a 55 min. drive. Sugar Pine Historic Railroad is a 20 min. drive. Horseback riding is available in several places, ask us! "Gallery Row" in Oakhurst features many local artists in a variety of media. The Golden Chain Theater, also in Oakhurst, is a live community theater and melodrama. Fresno is only a 45 minute drive and has what you would expect from any city plus some things that are unique (underground gardens for example). Ask us if you'd like to know more. Other nearby things to do include antique shopping, visiting museums, fishing, and gold panning. We are 1 mile off of Ca State Hwy 41 and gas, groceries, drive-through coffee shop, and restaurants are all within 2 miles.
"We wish we could live there permanently". That pretty much sums up our entire stay at Debbie's place. Clean, modern, spacious and cozy. We didn't get to meet Debbie, but her son Ben gave us such a great welcoming. Highly recommended!
Martin
2016-09-13T00:00:00Z
The staying in Hidden Oak Hideout was very pleasant and enjoyable for us, we liked the location and the home very much. The service and communications with Debbie were easy and effective. Great home, very stylish and clean, perfectly located. would definitely come again!
Erez
2016-09-26T00:00:00Z
We loved the place! Lou and Debbie were quick at responding, flexible, so friendly, thought of many details and have a warm and inviting space. We would highly recommend it!
Kristi
2016-06-24T00:00:00Z
Debbie was a great host, she welcome us and showed us everything. The property is beautiful and very clean. I would recommend any guest to her and her lovely home.
Jack
2016-04-24T00:00:00Z
The apartment was very well maintained, and was in a beautiful neighborhood. More importantly, it is a short distance from the park entrance, and the commute to and from the park was very reasonable. Debbie was very accommodating in offering extra pillows and bedding. She also had information booklets about the park handy in the apartment, and recommended places to visit around. The fruits and tea bags were a nice touch, as they were exactly what the doctor ordered before going on a long hike in the morning! Lastly, we wish we had more time to spend at the beautiful apartment, but with our busy schedule, we could only stay there just for the night. Would definitely recommend this to friends and family!
Atul
2016-06-02T00:00:00Z
Great hosts! Great place!
Sheldon
2016-09-05T00:00:00Z
Debbie made us feel very welcome! She greeted us upon arrival and helped us with all our requests, including a great dinner recommendation. The place was lovely with so many great extra touches. Only a shame that we couldn't stay longer!
Sarabjit
2016-08-14T00:00:00Z
This was the best Airbnb we ever stayed in! Beautiful amenities and Debbie even provided coffee and light breakfast/snacks in the kitchenette. She was great at communicating and letting us know everything we needed. Unfortunately we didn't get to meet her family, but it was so evident that they truly cared about their visitors with every detail in their home. Would stay at her place again if we come back to Yosemite!
Jaime
2016-11-14T00:00:00Z
Huonetyyppi
Koko talo/asunto
---
Majoituspaikan tyyppi
Huoneisto
---
Majoittujien määrä
6
---
Makuuhuoneet
Coarsegold, Kalifornia 93614, Yhdysvallat
Gateway to Yosemite. Private two room studio with bathroom (shower - no tub), dining room, kitchenette (refrigerator, sink, microwave), private patio, and private entrance. Quiet wooded location one mile to highway 41, restaurants and grocery stores. Drive carefully entering our neighborhood because wild turkeys and deer also call it home. We are located 15 minutes from Yosemite National Park's southern gate. Perfect size for a couple or a small family.
The Studio is in a quiet, wooded neighborhood of single family homes. Wild turkeys and deer call it home too (there are about 17 turkeys that band together). Our favorite restaurants in Oakhurst are the Southgate Brewery and Alice's Barbecue. If you are going to Yosemite, dine in the Awahnee Dinning room (changed name to the Majestic Yosemite Hotel!). I think it may be one the most beautiful dinning rooms in the world.
The space that Lois and Peter have created behind that pink daisy fence is exactly what everyone needs! The location is perfect for a getaway; it's extremely peaceful and close to Yosemite park. The patio is cute and welcoming and so are that couple!! Their introduction of the place was super short and sweet. They had left a couple of smacks and a bottle of wine for us to enjoy. We felt at home immediately and slept better than we do at home. We we're sad to leave so quickly but it was truly a memorable experience for me and my boyfriend.
Nirvana
2016-11-08T00:00:00Z
We loved staying at Lois' place on our holiday getaway to Yosemite! It was very cozy, quiet, and a great place to start off the New Year. The location was about an hour from Yosemite Valley and we enjoyed spending time there along with the cute town of Oakhurst. Lois was very helpful and accommodating. We would definitely visit here again! Thank you for everything including the wine and snacks!
Arielle & Jonathan
2017-01-02T00:00:00Z
Lois' place was cute and homey with a nice attention to detail. She was super friendly and easy to communicate with and went out of her way to make sure all our needs were met. Thank you!
Bronwyn
2016-11-27T00:00:00Z
The location was super great, not to mention the hosts! We loved staying here! We were provided with wifi, snacks, coffee and a nice cozy place to crash after hiking and taking pics in Yosemite. Definitely coming back!
Angie
2017-01-30T00:00:00Z
Absolutely charming little place. Spent a wonderful weekend there, and our hosts were beyond gracious! Highly recommend!
Erin
2017-03-13T00:00:00Z
Lois's husband Peter greeted us. He was really nice and gave us a nice explanation. The place was really nice and cozy. The place had a some food and that made our morning trip to Yosemite really easy. I would definitely come back to this place when I go to Yosemite again.
Philip
2016-12-27T00:00:00Z
Huonetyyppi
Koko talo/asunto
---
Majoituspaikan tyyppi
Huoneisto
---
Majoittujien määrä
3
---
Makuuhuoneet
Oakhurst, Kalifornia 93644, Yhdysvallat
1

–

3

hakutuloksista

3 vuokrattavaa huoneistoa
Anna päivämäärät nähdäksesi kokonaishinnoittelun. Lisämaksuja sovelletaan. Veroja saatetaan lisätä.