Anna päivämäärät nähdäksesi kokonaishinnoittelun. Lisämaksuja sovelletaan. Veroja saatetaan lisätä.
4 vuokrakohdetta
· Coromandel Peninsula
4 vuokrakohdetta
· Coromandel Peninsula
A private Double room (part of Wairua Lodge) with an ensuite, and a patio. Secluded and comfortable. Soak in the Treetop Bath house after a walk in the Coromandel rainforest, or a plunge in the swimming hole-without leaving the property.
Hosts were incredible, definitely made us feel welcome and had so much information for us. Everything was pristine, from the interiors to the property itself. Fantastic views, and plenty to do on the property. We will definitely be booking with Tam & Charles again.
Samantha
August 2015
What a blessing to visit this secluded haven for our 10th wedding anniversary! The journey there was like unfolding a most magnificent gift, the anticipation for what lies beyond the next bend continuously building. And then to arrive, so well met by Tam and Charles and their unbelievable abode. There are trails to follow in the rain-forest with well appointed seating to take in the surroundings, two private outdoor baths/ spa where you feel so immersed in nature and decadence, and very generously apportioned rooms. We could have contented ourselves just in our room (King Snug) - the facilities and comfort met every need and desire- restorative bed (high-praise from this pea-traumatised Princess!), kettle, beverage selection, toaster and cereal, mini fridge for own supplies, tv and dvd player, comfy armchairs, great high-pressure shower, and an outdoor setting with a BBQ. There was also a shared kitchen/ dining/ chill area with BBQ, electric hot plates, microwave and a mini cooker and large fridge, so you could cook your own meals if you brought supplies (why didn't I check your actual website so I knew this!! Gah!! (URL HIDDEN) ). Next time we will do this as we would want to soak up as much of the space as we could. Of course, Whitianga is only a 10-15 minute drive away, so very easy to pop out for dinner or grab some things from the supermarket. & then you get to experience the joy of returning! We spent most of our time peacefully reading and snoozing, which was just perfect for these two very tired parents of small wee beasties, so were able to happily return to our duties with a lighter heart. Thank you Tam and Charles!
Jasmin
December 2015
Huonetyyppi
Yksityinen huone
---
Majoituspaikan tyyppi
Aamiaismajoitus
---
Majoittujien määrä
2
---
Makuuhuoneet
1
Whitianga
Kauri Grove Lodge is an extremely private home nestled in the hills of beautiful Coromandel. Your uninterrupted views of our native bush land is the perfect place for a romantic getaway or a peaceful, quality family holiday.
Well presented family home set in private bush surrounds. Large deck complete with spa and BBQ makes for perfect holiday entertaining. Open plan living complete with woodfire lends itself well to holiday living winter or summer. 2 bathrooms, (1 with bath), makes this a practical set up with privacy for all. With fish cleaning area, bait freezer and plenty of parking allows you to bring your boats and the toys with you! Please note that you will travel approximately 10 minutes on a gravel road to get to property. There is 2 undercover parking spaces plus plenty of outdoor parking area as well. Please do not hesitate to call on 07 866 8900 or 0279276368 if you require assistance during your stay with us.
Situated on New Zealands famous 309 Rd it not only showcases spectacular scenery but has a number of the most popular tourist attractions in Coromandel. A mere 2 minute walk from the Lodge is the Waiau Falls that can be viewed from the road. Surrounded by native bush it is also a fabulous swimming hole. 1.2kms away (approx. 2 minute drive) is the famous Kauri Grove Walk where paths and boardwalks take you around these magnificient giant Kauri Trees known for their most accessable and mature Kauri's on the Peninsula. Family attraction of the Waiau Waterworks is only 2.7kms (4 minutes drive) down the road. Created on 5 acres of land it features amazing displays of water powered sculptures. It has playgrounds for both adults and children with picnic/BBQ areas and fresh water swimming hole. Spend several hours of fun filled, educational entertainment. For more walks, activities and attractions to Coromandel Township visit please visit www.thecoromandel.com/towns/coromandel-town/activities/ To get to property there is approximately a 10 minute drive on a gravel road.
This is a really beautiful and secluded bach, great for families/friends/couples. Also very handy for Coromandel township. Communication was great throughout, we had a really lovely stay, thank you!
Sebastian
December 2016
We had a lovely stay at this Coromandel get-away. Very peaceful in a beautiful location. Great for a stay with kids!
Amanda
January 2017
Such a lovely place. Really spacious accommodation, in a secluded location yet easy to get to places. Waiau waterfall and Kauri Grove an easy walk and so beautiful. 309 road to Coromandel Town easier then to Whitianga but if happy on gravel roads won't be a problem, probably 40 min steady drive. Nestled in the forest, beautiful outside space with hot tub, Tui singing in the forest. Take provisions and enjoy the kitchen facilities and BBQ. Great for couples, group of friends or families.
Sophie
January 2017
Huonetyyppi
Koko talo/asunto
---
Majoituspaikan tyyppi
Talo
---
Majoittujien määrä
6
---
Makuuhuoneet
3
Waiau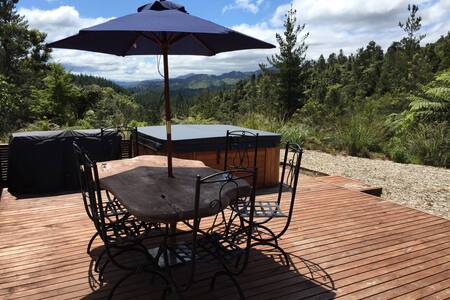 Enjoy the restorative tranquility of nature in this architecturally designed hideaway to rent on New Zealand's Coromandel Peninsula. A unique opportunity to experience New Zealand's natural environment with stunning views.
Huonetyyppi
Koko talo/asunto
---
Majoituspaikan tyyppi
Talo
---
Majoittujien määrä
4
---
Makuuhuoneet
3
Manaia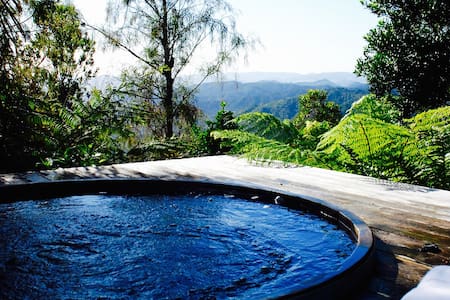 Wairua Lodge began its life as a family home, was once an Price is for 2 Adults. Any further adults $35 per person/night Any further children $15 per child/night
The Kiwi Apartment can be linked to one of our double rooms to give you 3 double bedrooms & 2 bathrooms. Ask about the Kiwi Combo if you are a large group. You have access to your rooms and the Conservatory Kitchen which is a well equipped kitchen/lounge/outdoor area. The Treetop Bathouse and the nightsky spa are free to use - just sign in at the time you would like to use it. The lodge has wonderful rainforest discovery trails and swimming holes for you to enjoy. Debbie & Ernst live on the property. Double rooms $195 per night (includes continental breakfast) Kiwi Apartment $275 per night for 2 adults Any further adults $30 per person/night Any further children $15 per child/night
We are situated in the Coromandel mountain ranges-a short drive to all of the amazing beaches. Come back at the end of the day and soak in the Treetop Bath house or the Night sky Spa......take a bush walk or a plunge in the swimming holes. Hot Water Beach and Hahei/Cathedral Cove are just a short drive away. Drive the famous 309 Road and discover the giant Kauri Grove, Wairau Falls and the Waterworks Adventure Park. Swimming holes in our own river. Bush Walks on property. Treetop Bath house, and the Nightsky Spa pool.
It was very easy to find this glorious retreat thanks to Charles and Tam's easy to follow directions. Once we got there it was amazing to see how well thought out everything was. their entire property is like a haven of tracks and hike's with waterfalls, swimming holes and hammocks to unwind. Very relaxing and truly a getaway from city life without being too far from Whitianga, Hahei and Cathedral Cove.
Amar
April 2016
Huonetyyppi
Koko talo/asunto
---
Majoituspaikan tyyppi
Mökki
---
Majoittujien määrä
2
---
Makuuhuoneet
2
Kaimarama
1

–

4

hakutuloksista

4 vuokrakohdetta