Want to experience local nipa house?
Susan and Carmelita were great hostess, the local was perfectly clean, it is simple but a very typical phillipino hut, the price is really affordable and the location is the best close to the center. If you wanna go to a resort ok, but if you want to experience the real Coron life that's the right place! Salamat po!
Willyen
2017-03-29T00:00:00Z
If u ready to experience an authentic fillipino life style in coron, come to David's place, and u will find out here wasn't just a place but more like home :-) Lovely and very hospitality susan & grandma are wating for u.
Julie
2017-03-31T00:00:00Z
Highly recommend staying here. It is a very authentic Filipino hut, and has everything you need. The family is extremely welcoming and kind. The location is a short walk to the town centre so is a bit quieter which was nice. Would definitely stay here again in the future.
Isaac
2017-02-10T00:00:00Z
Huonetyyppi
Koko talo/asunto
---
Majoituspaikan tyyppi
Maja
---
Majoittujien määrä
2
---
Makuuhuoneet
Coron, MIMAROPA, Filippiinit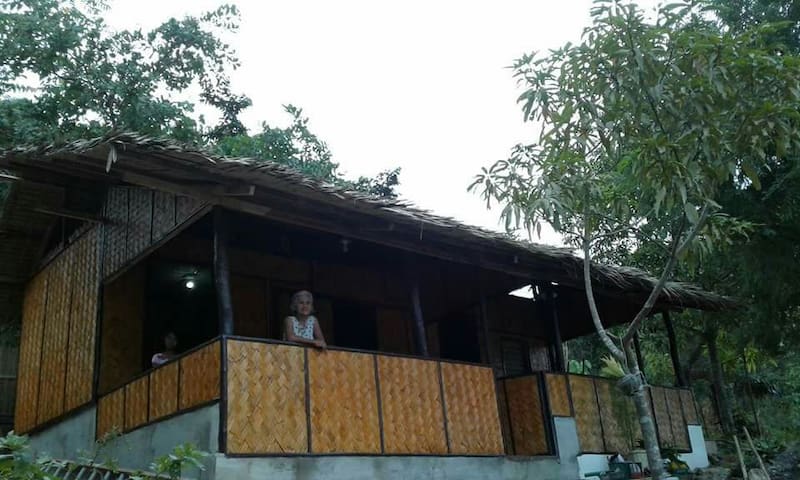 Fully self-contained one bedroom apartment with fridge, kitchen, washing machine and WiFi. Cool, clean and conveniently located in Coron town. Great for backpackers, couples and solo adventurers. Easy walking distance to everything. Located Bancuang Lower Road. We can organize airport transfer, tours with pick-up and return to the apartment, scuba diving and any additional travel requirements. Free orientation tour of Coron town on the motorcycle. Ask about our liveaboard diving adventures.
Apartment size 25 sqm. One double bed and two single floor mattresses for common area. Includes WiFi, fan, fridge with freezer, clean linen and towels, mosquito net, washing machine, electric kettle and hotplate, rice cooker, utensils, crockery and cutlery, large cupboard with hangers, dining table and lounge. Filtered water provided. Cooked breakfast available and served in your room with delicious coffee for small charge. Early check-in and late check-out if no other bookings that day. The shower does not have hot water but it is comfortable and refreshing in this tropical climate with good water pressure; soap, toothpaste and shampoo provided. Toilet with bidet and toilet paper.
One street away from the main road and town. You will be in the middle of the friendly local Filipino community with many sari sari stores nearby for all your needs and the usual street sounds of children playing outside, locals singing karaoke, roosters and the occasional street dog barking. All the shops, restaurants and bars are within a 10 to 15 minute walk or a short 20 peso tricycle ride. The standard of living for locals in the area is quite low and may be a bit of a culture shock for first time visitors to provincial Philippines; but Coron is very safe with little to no crime, many tourists from around the world to socialize with and, of course, spectacular scenery.
Cheyne and Peter were great hosts, giving me some great local knowledge. Very friendly and will to help out where even need. Would highly recommend this place to friends, family and other airbnbers!
Jack
2017-01-24T00:00:00Z
Great location just a short walk from town, cozy apartment with everything you need, good for couples or singles. Hosts are helpful and friendly. Thanks!
Julia
2017-01-30T00:00:00Z
We have a great day during our staycation to their place. We don't have any problem but on our last day we experienced water shortage but according from friendly neighborhood this is actually happen but minimal and we are lucky we experienced that ;-). All in all we have a great day with Peter and Cheyne place thank you
Ronald
2017-03-19T00:00:00Z
Peter and Cheyne are great hosts who will provide you with all your needs! Book with them! The wifi connection is great too!
JJ
2017-02-16T00:00:00Z
My friends and I had a great stay. Cheyne is a very hospitable host and will attend to all your needs as long as it's within the terms. Its affordable and you can have the place all to yourselves. You're allowed to cook your own meals and wash your own clothes (just ask permission). The place is located conveniently near the stores and restaurants, literally just a walk away. Definitely recommended!
Shenna Mae
2017-03-14T00:00:00Z
Cheyne & Peter's place is simply great! There is everything you need there. The place is safe, comfy, clean and is approx. 10min. to town by foot. Our hosts were amazing and made a huge impact in our trip! They gave us tips about the activities, town, etc. Our place was clean everyday and they were always there for us. Please be advised that our hosts are experienced scuba divers so they can really help you with this as well
Alejandro
2017-01-08T00:00:00Z
Nice and quiet place, as it is not on the main street it is very calm. Takes about 10 min to walk to the harbour where all island hopping tours leavs from, so it is close to everything. Great hosts! Good value for that price.
Ivan
2017-03-03T00:00:00Z
Cheyne and Peter were friendly and had a clean apartment to stay in. It was nice that they had available such things as toothbrush/shampoo/beers and water. I like the bed as it is quite firm. Easy to communicate any question I had was replied to within minutes. Was pretty noisy with the dog and neighbour likes to play techno and karaoke at night.
Bridie
2017-01-02T00:00:00Z
Huonetyyppi
Koko talo/asunto
---
Majoituspaikan tyyppi
Huoneisto
---
Majoittujien määrä
4
---
Makuuhuoneet
Coron, MIMAROPA, Filippiinit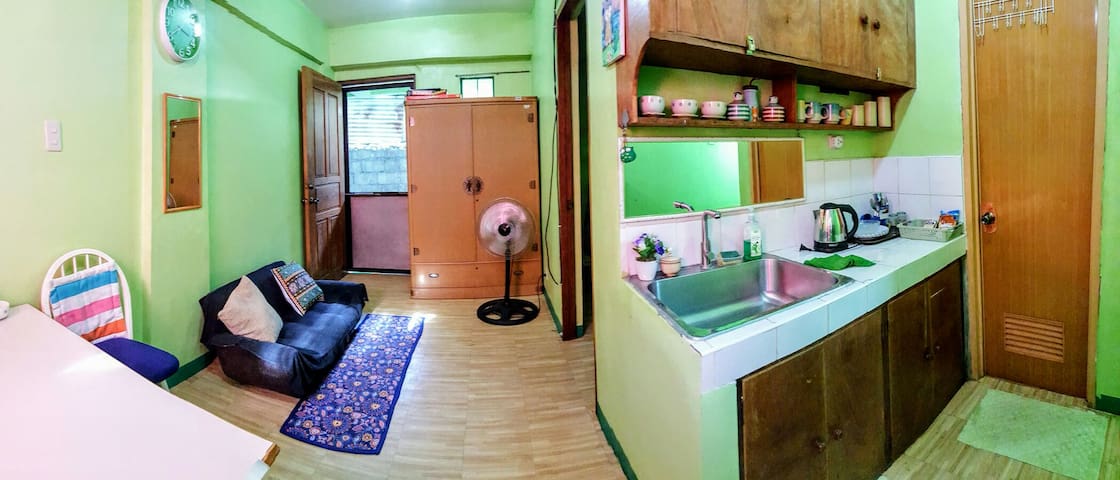 This place located in the Town Center, and is 3-5mins away from restos & shops. This is a De Luxe Room that has a verandah overlooking Coron Bay, perfect for sunset view. Location is very local and very safe too.
Bruyant (chien, poulailler, circulation) manque de fruits au petit déjeuner, chambre disponible 3h00 après l'heure indiquée.
Ginette
2017-03-05T00:00:00Z
The room shown on their pictures is their suite. We didn't stay in it since another night would have been too expansive. So we stayed 2 nights in a regular room. That was with a comfy bed, cold shower and quiet clean. Staff was unflexible about price. Otherwise ok price-value.
Livia
2017-01-17T00:00:00Z
I stayed here for 5 nights and for the price of each night, I expected more. The front desk staff were excellent and I would give them 5 stars. They are very attentive, friendly and helpful. But throughout my duration, the room was not cleaned, there was no change of sheets or towels, and the wifi was very slow. But in comparison to the hotels nearby, Coron Vista was much better.
Bukola
2017-03-09T00:00:00Z
Huonetyyppi
Yksityinen huone
---
Majoituspaikan tyyppi
Aamiaismajoitus
---
Majoittujien määrä
2
---
Makuuhuoneet
Coron, MIMAROPA, Filippiinit
My place is close to restaurants and dining, nightlife, great views, family-friendly activities, and the beach. My place is good for couples, solo adventurers, business travelers, families (with kids), big groups, and furry friends (pets).
newly remodeled
walking distance to anywhere
Central location. There is free breakfast which was a lovely surprise. The host was very helpful and organised activities for us. Would recommend the hot springs! They could do with some new bed linen as the sheets were quite rough. Otherwise it's been a very pleasant stay. Thanks John.
Vania
2017-03-08T00:00:00Z
Staying with John is definitely one of my top airbnb experiences ever. It is a true home stay as you are in his home and are made to feel completely welcome. John took us and friends on a tour of the island complete with an amazing BBQ on the beach for lunch! He always went above and beyond for us. The rooms are great and clean with comfortable beds! We booked 3 nights originally and ended up staying a whole week and even then we didn't want to leave. This is the perfect place for families, couples and solo travelers! Loved our time here and will definitely be back!
Kate
2017-01-08T00:00:00Z
J r is probably the best airbnb host you will ever meet,, the place is really nice, clean, very well located in the center of the town, and jr's family are great hosts it was an unforgettable experience in coron.. Until next time
Faisal
2017-01-05T00:00:00Z
We spent 3 nights at JR's place and it was good days. Coron is small town with many traffic and you won't wait long before a tricycle stop to drive you were you want. The place is just center city next to anything you need walking distance. The room is big, the bed is comfortable but a bit small for 2 tall adults. Bathroom is large for all we see here. Our heater was not operating but the water is not so cold. Just a small issue and I'm sure Jr will make it back to work ASAP. JR was fast to answer even if he we didn't get to meet him as he was in Manilla. Very good communication even if my English is sometimes poor. He provide us the best advices and we had a very good experience in Coron. His people at the guesthouse are very nice and helpful, always asking if we need help. Very good experience.
Antoine
2017-02-12T00:00:00Z
John and his family were welcoming and always helpful. The room was great and the house was in a very convenient location. John arranged a trip to the falls on basuanga for me which was fantastic. Breakfast made by his parents was always tasty! Thanks for a great stay!
Narelle
2017-03-03T00:00:00Z
John is the kindest people I met in Coron, he helped me out all the time including tourism, check-in, breakfast, and Van booking. I was so lucky to stay at his place :)
Toshiki
2017-01-18T00:00:00Z
John's place is simple, clean, spacious and well located for everything in Coron. You just can't go wrong. John and his wife are super hosts and couldn't be more welcoming. They are well informed about what's going on in town and are always on hand to help with anything. I stayed with them over New Years Eve and spent a delightful evening celebrating with them (John's wife is an amazing cook!!).
Mark
2016-12-30T00:00:00Z
Friendly and very helpful. I absolutely recomend his place, it's clean and comfy.
victoria
2017-01-22T00:00:00Z
Huonetyyppi
Yksityinen huone
---
Majoituspaikan tyyppi
Talo
---
Majoittujien määrä
2
---
Makuuhuoneet
Coron, MIMAROPA, Filippiinit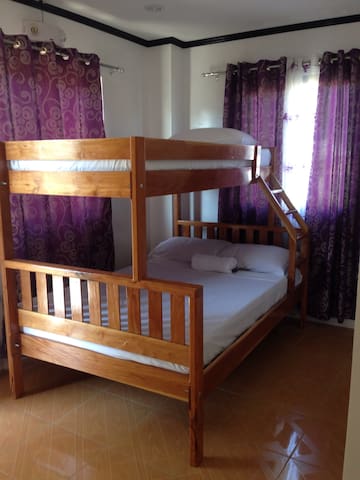 With breathtaking views of the city and the bay, Rogers Manor offers our guests a beautiful and relaxing place to unwind. Our goal is to offer travelers from near and far a place to enjoy the natural beauty of Coron, while still being in a central location with lots of activities and restaurants to satisfy the needs of guests.
Air conditioned room up to 3 people for 1950 pesos per couple per day. Add 500 for extra person. Each room comes equipped with air conditioner and fans, one double bed and one single bed, a small work station, a 32" flat screen TV and a private bathroom. Fresh linens and towels, soap shampoo, toilet paper are always provided. Television and Wifi, complementary coffee. Laundry/Food & Beverage/Vehicle Rental/Island Tour /Diving Packages are available upon request...
Rogers Manor sits at the end of Rosario Street and offers easy access to the town, which offers guests a variety of restaurants and bars, a short walk through the town leads you to the outdoor market which boasts plenty of fresh meats and produce. Rogers is also walking distance to Mt. Tapyas, which is a short climb of 718 steps but leads to outstanding views of the bay, the town and the port.
Nice Location in Coron with an amazing roof-terrace!
Vasil
2017-02-05T00:00:00Z
Amazing find! Place is very central, but also tucked up a side street so lots of privacy. The house is beautiful with lots of space, rooms are clean and spacious. Grace and JoJo look after the place and do a really great job whilst being very friendly and helpful! I would highly recommend!
Danielle
2017-01-22T00:00:00Z
Generally, it's a nice stay. Catherine and grace are helpful. The Villa locates great and it's quite. Kitchen is available to use if you want. Small tips: Don't rely on Jojo too much, cos he committed me for new plans ( which I don't ask for it) to take me to somewhere interesting almost every new day, but never comply, he always has too much party though. :) Grace is reliable and will be there always whenever you need something. Thanks a lot for Ashley's accompany for the 5 nights I stayed. No hot water, no hair dryer. Enjoy your days in Coron!
xin
2017-01-15T00:00:00Z
Nice place to stay. But be aware of food in your room Because it will be full of insects, so need to throw it away..
Floor
2017-01-31T00:00:00Z
Large, beautiful mansion in the centre of Coron City, the room is large enough for two/three people. The shower is better in the afternoon, the connection had some hiccups during my stay. Grace is very friendly and she can help with tours/rentals (since she recommends her friends, perhaps she could offer a little discount ;)
Andrea
2017-04-02T00:00:00Z
Initially finding it was a little difficult because Jojo and I never discussed where to meet but bare minimum ask to be dropped off at Blue Moon Bar because it's right up the hill from there. A few things to know, there is no AC so it can get a bit hot at night, you are also on a hot muggy island so ants and mosquitos are prominent if you don't take precautions (bug spray, take out trash, no food in room) They will help you find places to do island hopping, scuba diving, and any other help you might need so if you're lost just ask! If not you are in an amazing location so looking around shouldn't be too difficult
Sarah
2017-01-26T00:00:00Z
Rogers Manor was a great place to stay while in Coron. It was in a great location and was very cozy. We enjoyed the privacy of our own room with a TV, fan, and great WiFi. Jojo was a great host and offered a lot of advice on what to see and do. He helped organize whenever possible and wanted to make sure we got the best bang for our buck. There is a previous post about how to find the place and the blue moon resturaunt/bar is a great identifier. If you start there and walk up towards a closed looking bakery (can't recall name, I think I was three letters starting with R - Bakery). It's across from the bakery. If you're looking for a stunning view, go to the rooftop!
Gillian
2017-02-13T00:00:00Z
Rogers Manor was a nice place to stay while visiting Coron. Its conveniently located near restaurants (Carl's BBQ ftw) and shops in town and the staff was very polite and helpful. The island hopping tour company that we were referred to was very professional, we were 3x repeat customers. All in all it was a great stay. Our room was as described and met our needs well. We were instructed to use only the low setting on the AC which was kind of a bummer at first but worked well with the oscillating fan also provided. One night we did get a bit hot, but a nice cold shower (only cold water here - common for this town so no big deal) really helped to cool us down before going to bed. The sink in the bathroom seemed a bit clogged. Not too big of an issue really, just a little inconvenient. I didn't come to Coron to sit in a luxury suite all day, I came to see amazing beaches. This was a fine place to lay my head. The roof deck is awesome! After our best day hopping around from beach to beach, we grabbed some fresh peanuts from a little stand, a few cold San Miguel's, and just sat up their and watched the sunset. It was perfect. I'd stay here again if I go back. Recommended.
Nick
2017-03-25T00:00:00Z
Huonetyyppi
Yksityinen huone
---
Majoituspaikan tyyppi
Talo
---
Majoittujien määrä
3
---
Makuuhuoneet
Coron, MIMAROPA, Filippiinit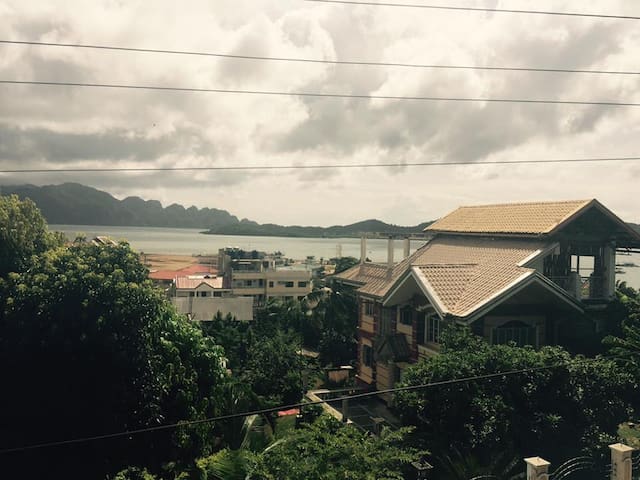 We are located a short 10 to 15-minute drive from town proper in a forest park surrounded by nature, with a natural swimming pool 150 meters at the end of the road, nature hiking or just relax. enjoy the best of coron with island hopping in the day and peace and quiet at night with plenty of fresh air. local tricycles are available for transportation and motor bike rentals.
A common kitchen is provided with all utensils needed for cooking. Cooking can be provided at additional cost. This room is a fan room only. Due to our location near the source of the water supply our temperatures are comfortably cool at night and air-conditioning is rarely used.
there is a natural swimming pool located 150 meters from our house, nature hiking or just relax and enjoy the peace and quiet.
Huonetyyppi
Yksityinen huone
---
Majoituspaikan tyyppi
Talo
---
Majoittujien määrä
2
---
Makuuhuoneet
Coron, MIMAROPA, Filippiinit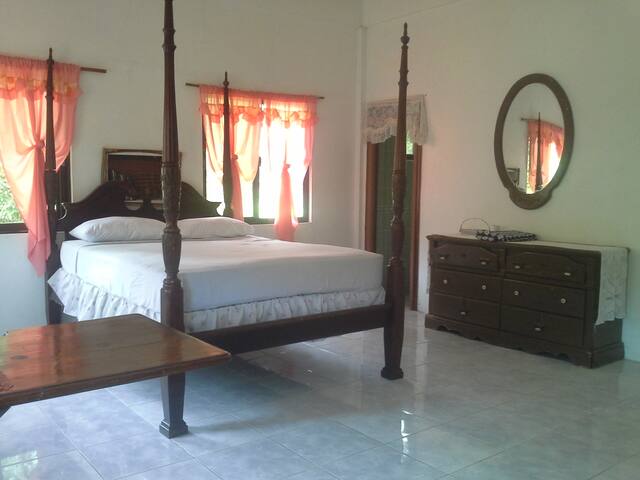 Latest Update March 2017 Standard Room: USD$35.00/night with FREE Breakfast Room can accommodate up to 2 - 3 pax with FREE Bathroom Amenities (Shampoo, Conditioner, Toothbrush, Toothpaste, Bath Soap, and Hand Soap) Transfers In and Out of Coron Town - Php 300/pax Tour Packages is available upon request *Tours handled by professional tour operator Calamian Travel and Tours
Great room. Great price. Great location ️
Michael
2017-03-10T00:00:00Z
We had a good stay in coron. The staff are really nice and helpful. Good price. Good localization. Good breakfast. Strong AC. The wifi is really good after 23pm, but during the day is slow. The bath should be more clean. The staff organized a transfer for the airport for only 150 pesos per person.
Claisso
2017-01-17T00:00:00Z
Perfect location! 5 mins from everything, tucked away down a quiet road away from all noise. Spacious room and friendly hosts. Would recommend!
Chris
2017-03-23T00:00:00Z
Great location! It was walking distance to everything you could need but still very quite, which we were very happy about! Staff are so nice and breakfast was always served early (7-7:30am) and to your door! I suggest you ask for a later service if this is too early for you. We had a bit of miscommunication when it came to our airport shuttle pick up time so triple check on that. The room was spacious, with air con and a tv. This turned out to be an important feature for us because we both got sick and were stuck in the room for a couple of days.
Nicole
2017-03-17T00:00:00Z
Nice place in the centre of Coron town. Quiet although in the centre.
Jan
2017-03-31T00:00:00Z
Good location, provided breakfast, arranged airport shuttle service. Would stay again.
Chris
2017-04-02T00:00:00Z
Value for money. Location is near all eateries and main Street. Intermittent wifi
tommy
2017-03-29T00:00:00Z
Das einchecken hat alles super geklappt, die Lage ist ok...etwas versteckt aber zentral. Der Gastgeber war immer hilfsbereit. Preis-Leistung war ok.
Annemarie
2016-11-25T00:00:00Z
Huonetyyppi
Yksityinen huone
---
Majoituspaikan tyyppi
Guesthouse
---
Majoittujien määrä
2
---
Makuuhuoneet
Coron, MIMAROPA, Filippiinit
This spacious vacation home is situated in a quite spot on the outskirts of Coron town (approx. 5 - 10 minutes by tricycle to the town centre). The house has three bedrooms, two bathrooms with hot and cold shower (hair dryer provided), a lounge and kitchen with a seperate dinning area that seats 6. The bedrooms all have a king size bed, air conditioning, and bed linen, pillows and towels are provided. The kitchen is fully equipped, with a refrigerator, gas/electric stove, rice cooker, and h/c water dispencer - kitchen towels are provided.The lounge has a cozy sitting area, a flat screen TV with DVD Player, free WIFI connection. The house is equipped with a generator Sleeps: 6 adults + 3 children Electricity and water are included in the rental price. Laundry service, grocery service, and cooking can be arranged at additional charge. Just ask the owner or Caretaker upon arrival. Island hopping tours can be organized by Caretaker.
Nvh is so nice and very economic. We stayed there for 4 nights. They helped us in bookings our everyday itinerary. The house location is perfect. The rooms and the house itself is spacious. Will go and book this house again if we will go to Coron.. Highly recommended.
Leonalyn
2016-01-13T00:00:00Z
The Nanay Vacation home was a unique experience in Coron. In a town that is full of tiny backpacker hotels and expensive resorts, this option was the best DIY option. With three bedrooms and two bathrooms, there is enough space for a family or a group of friends. Each bedroom as A/C and the caretakers were exceptionally friendly. They arranged the cheapest door-to-door transport to and from the airport possible (150/person). I highly recommend ****
Rafael
2013-04-22T00:00:00Z
We (6 adults and a child) really enjoyed our stay at Nanay Vacation Home. The house was clean, comfortable and well appointed and the staff were friendly and helpful. The house is about 5mins out of town by tricycle (10peso per person) but there is a bar/restaurant at the end of the road along with a small shop. The area was amazing to visit. We spent 10 days in coron island hopping, snorkeling and kayaking. I would highly recommend visting Coron and I would highly recommend staying here.
Tom
2014-02-04T00:00:00Z
非常不错哦 住的十分舒适 而且房东那还有两个小朋友超级可爱!nice
蓝朵
2015-07-21T00:00:00Z
Nanay Vacation Home is a good choice for those looking for spacious accommodation and quiet during a stay in Coron. The house is very clean and comfortable amatching the description provided on the internet. The owners assisted us in every way in organizing our island hopping tours and were very welcoming. I highly recommend this place, especially for families with children.
Elke
2015-03-17T00:00:00Z
The Hosts were very accomodating. The House is very affordable considering the size and amenities. I highly suggest for the host to do something on the road going to the House. It's rough and very dark at night. A bigger signage would also help the guests give instructions to local transpo. Two thumbs up for quality and value for money.
Von
2015-09-23T00:00:00Z
The hosts are awesome and will do what it takes to please you.
Arnold
2016-08-05T00:00:00Z
非常好的房子,有厨房,用具齐全,一个卧室内卫,另外2个卧室卫生间在房间外面。房东很热情,反应的问题能及时解决,离镇中心不远.总体来说很满意,下次去还要住这家.
Saibei
2015-12-01T00:00:00Z
Huonetyyppi
Koko talo/asunto
---
Majoituspaikan tyyppi
Talo
---
Majoittujien määrä
9
---
Makuuhuoneet
Coron, MIMAROPA, Filippiinit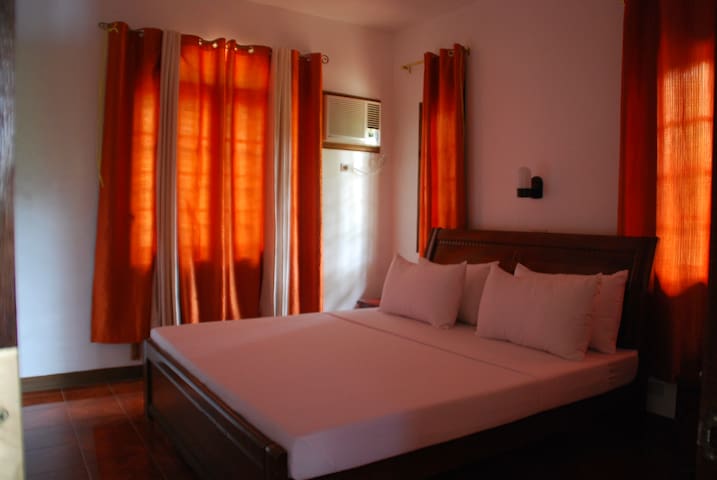 Situated in the center of Coron town ideal for back packers who want to explore the down town after a day of island hopping. Set in a private compound in Brgy 1, a few meters from the main road. Walking distance from restaurants, bars and shops.
5 bedroom house in a private compound a few meters from the town's main road. Each room has a fan, a closet for clothes and side table.
Located in Villa Enriquez Subd, Brgy 1, Coron. The Yellow House is situated in a quiet and private compound. It is near the local banks, municipal hall, fire station, church, and Mt Tapyas.
Very nice stay. Owners are amazingly helpfull and kind. My girlfriend got food poisoning at city restaurant and they helped her whole day when i was diving.
Mirek
2017-03-29T00:00:00Z
selten so tolle Gastgeber erlebt. offen, herzlich und zuvorkommend. einfach toll.:)
Marie
2017-03-25T00:00:00Z
Huonetyyppi
Yksityinen huone
---
Majoituspaikan tyyppi
Talo
---
Majoittujien määrä
2
---
Makuuhuoneet
Coron, Palawan, Filippiinit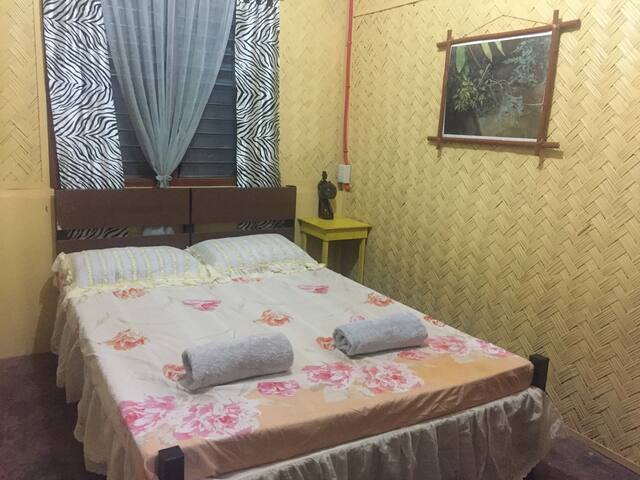 My place is close to Coron centre, the city centre, great views, parks, restaurants and dining. You'll love my place because of the location. My place is good for couples, solo adventurers, business travellers, families (with kids), and big groups.
The location is very good as it's at the town center, nearby San Augustin Church and surrounding by many good restaurants. However, the cleanliness was an issue as no one cleaned our room or changed the bed sheet during our 7 days stay. The water pressure is abit slow resulting sometimes we couldn't take shower. Overall, this listing is worth for short time stay.
Meggie
2017-03-14T00:00:00Z
Location is good but water pressure is very low in which you can't use the shower. Requested for bucket and dipper for us to take a bath. We had issue on our reservation because we reserved the entire house but the host gave the other room to other tourist. Host was willing to refund us. Common kitchen with minimal utensils but other guest did not washed their soiled dishes.
Janice
2017-02-05T00:00:00Z
Huonetyyppi
Koko talo/asunto
---
Majoituspaikan tyyppi
Huoneisto
---
Majoittujien määrä
9
---
Makuuhuoneet
Coron, MIMAROPA, Filippiinit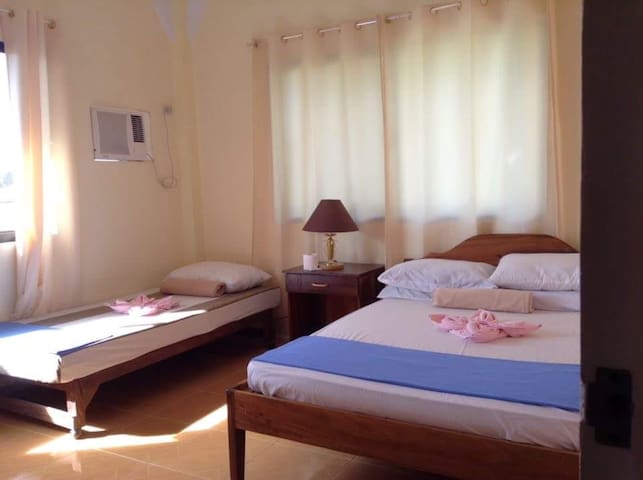 My place is close to Mt Tapyas Viewdeck, and Coron town center. It is 5mins walking distance to restaurants, town market, and Lualhati Park. It is 30mins from the airport and accessible via Airport Shuttles. You'll love my place because it is right on the foot of Mt Tapyas-- keep healthy by hiking 700+ steps each morning to fresh air and excellent views of Coron Bay. . My place is good for couples, solo adventurers, business travelers, families (with kids), big groups, and furry friends (pets).
TOUR OPTIONS CORON TOWN TOUR MAQUINIT HOT SPRINGS, MT TAPYAS TREK, SOUVENIR SHOPS, LUALHATI PARK AND TOWN CENTER, CASHEW FACTORY, ST Augustine CHURCH Starts at 4pm-8pm. PHP 700/PERSON CORON ULTIMATE TOUR 6 BEST DESTINATIONS!!! KAYANGAN LAKE, TWIN LAGOON, SIETE PECADOS MARINE PARK/ SKELETON WRECK, CORAL GARDEN, BANOL BEACH/ SUNSET BEACH, CYC BEACH Starts at 8am-5pm. PHP 1,600/PERSON ISLAND ESCAPADE TOUR MALCAPUYAISLAND, BANANA ISLAND & BULOG ISLAND Starts at 8am-5pm. PHP 1,700/PERSON REEF & WRECKS TOUR CALUMBUYANISLAND/PASS ISLAND, LUSONG GUNBOAT & SHIPWRECK, CORAL GARDEN Starts at 8am-5pm. PHP 1,500/PERSON CULIONHISTORICAL TOUR CULION 17thCENTURY CHURCH, CULION SANITARIUM MUSEUM, MARINE PARK Starts at 8am-5pm. PHP 1,700/PERSON CALAUIT SAFARI TOUR CALAUIT WILDLIFE SAFARI, BLACK ISLAND, CORAL GARDEN, LUSONG GUNBOAT & SHIPWRECK Starts at 6am-5pm. PHP 2,500/PERSON BUDGET TOUR CORON ISLAND TOUR A KAYANGAN LAKE, SMITH / SUNSET BEACH, CORAL GARDEN, QUIN REEF, BLUE LAGOON, CYC BEACH Starts at 8am-5pm. PHP 800/PERSON CORON ISLAND TOUR B BARRACUDA LAKE, TWIN LAGOON, SKELETON WRECK, GREEN LAGOON, SMITH / SUNSET BEACH, REEF GARDEN Starts at 8am-5pm. PHP 1,000/PERSON
Bon hôtel, personnel très serviable et aidant.chambre très correcte pour le prix, propre. Possibilité de faire laver son linge pour 75pesos/kg. Très bien placé, coron est une petite ville, facile pour se balader à pieds. A environ 2-3km du port de liaison maritime, 5-10 minutes à pieds du marché et du port de "plaisance" pour embarquer sur coron island ou prendre un bus vers une autre destination.
Mathilde
2017-03-10T00:00:00Z
Stayed three nights and absolutely loved it. Located within walking distance to tons of bars and restaurants. When I got to port, tricycle rider told me 100 pesos to k heights. I got him down to 70 but when I got to K-heights they said it should only have been 15 pesos. Make sure to not pay more than 20 pesos for a tricycle ride when coming from the port! As a solo female traveler, safety and security is very important to me and I felt safe at K-heights. Thank you for having me! Oh, also go to the hippie house (quick 3 minute tricycle ride, can be a dark walk at night) AMAZING REGGAE BAR!! Live music and good vibes.
Melody
2017-02-12T00:00:00Z
K Heights provides very basic accommodations for the budget traveler. Try to get a room on a higher floor if possible (we had a room on the ground floor, with no window -- might have been different on a higher floor). The staff is very friendly.
Erin
2017-02-26T00:00:00Z
We had a wonderful stay here! The staff was very accommodating and helped us print documents we needed to board the ferry to Manila. The room was spacious and clean. The shower had hot water which was nice after a hike up Mt Darala. The breakfast was tasty as well. We would stay here again.
L
2017-02-05T00:00:00Z
This is a good budget place to stay. It's really clean and the rooms are large. The staff are always willing to help and make sure you have a pleasant stay.
Shayda
2017-03-23T00:00:00Z
Ok
Fx
2017-03-17T00:00:00Z
Location is good in a street which is not in the Main Street. So the nights are quiet. But We got a room with a flickering light and a wash basin which almost fell off the wall. They gave us another room and the second room was better. Staff has problems with English language and pronouncing words. It was ok for this price. Breakfast was also ok.
ramona
2017-04-01T00:00:00Z
Nice and comfortabel hotel with easy-going friendly staff. Breakfast is served in the room. Yay! Breakfast in bed!
Kim
2017-01-27T00:00:00Z
Huonetyyppi
Yksityinen huone
---
Majoituspaikan tyyppi
Aamiaismajoitus
---
Majoittujien määrä
2
---
Makuuhuoneet
Coron, MIMAROPA, Filippiinit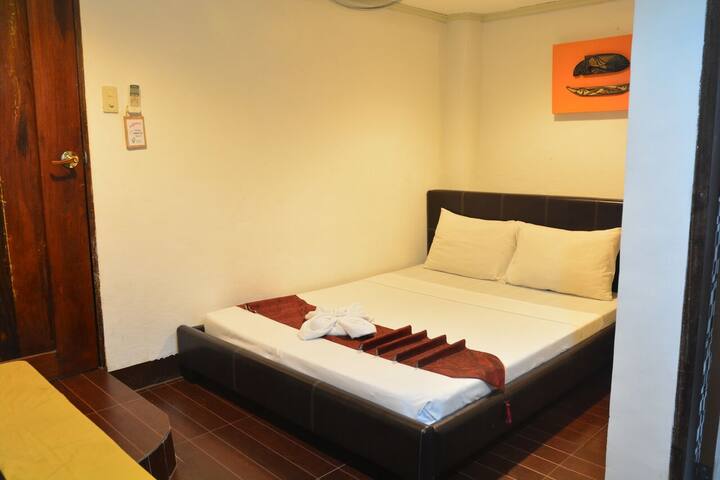 Tom and Jerry guest house is in front of Capayas Bird Sanctuary and near to Lanatura Resort. We also have half basketball court, and a Nipa hut.
Huonetyyppi
Yksityinen huone
---
Majoituspaikan tyyppi
Guesthouse
---
Majoittujien määrä
1
---
Makuuhuoneet
Coron, MIMAROPA, Filippiinit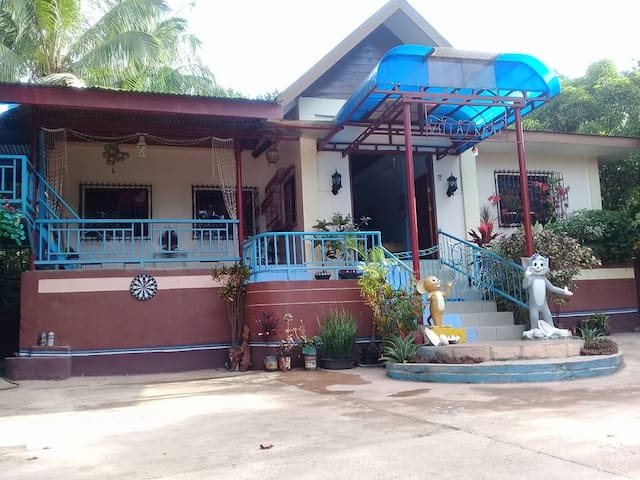 At X-BnB, eXperience nature, wildlife and local culture at their best and get the feel of the Coron-Calamianes in your own room as your adventure of a lifetime starts right here.. Expeditions BnB
Our visit to Coron was for business, and Al's BnB looked nice and he is responds fairly quickly with an answer to your request. Easy to get to after arriving by boat or plane. Centrally located and near several attractions and activity centers. Close to local transportation (trikes). Modern & very clean rooms with modern amenities. Breakfast is delicious and served on the rooftop restaurant. We will stay here again when we return to pick up our sailboat for our island hopping adventure charters beginning in July of 2017. (URL HIDDEN) . Below, you can see the personal message we sent to Al. "Hi Al, Rose and I enjoyed our stay. We are contractors & pili nut farmers. We noticed that the construction & cleanliness is beyond anything else we have experienced in our 11 years of traveling to the provinces. Keep up the great work and please share our gratitude with your staff. Also, we like your photos. We realized that these were by you while we were appreciating them. We will return again in April. We hope to meet you then." Greg & Rose (URL HIDDEN) (URL HIDDEN)
Greg & Rose
2017-02-05T00:00:00Z
Definetely a great place to stay!! Very attencious staff members, clean room, close to everything (restaurants, tour agencies, bars, boats). They think in all details (including medicines), the room is new with new furnitures, you can choose an option for breakfast (all very good), they have a tour agency there and all the tours I did really worth it. I really recomend them!
Ana Beatriz
2017-01-16T00:00:00Z
Huonetyyppi
Yksityinen huone
---
Majoituspaikan tyyppi
Aamiaismajoitus
---
Majoittujien määrä
2
---
Makuuhuoneet
Coron, MIMAROPA, Filippiinit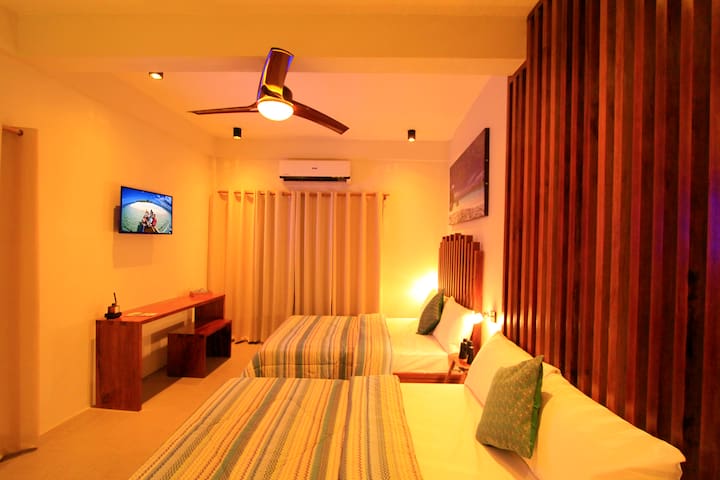 Contemporary Bay-Front Lodge Overlooking Coron Bay
This room is our Standard Room with 1 Double Bed
Local shops and houses are around us, so staying at Coron Vista gives you a very local feel. 100% Crime Free. ;)
Nice place, verry friendly staff, quiet rooms, a Nice place to stay, recommended!
Jochem
2017-03-11T00:00:00Z
Very comfortable hotel with breakfeast. We had a nice stay. Specially the bed was very comfy. :)
Petr
2017-03-24T00:00:00Z
The host canceled this reservation 4 days before arrival. This is an automated posting.
Bethany
2017-03-08T00:00:00Z
Nice quiet location. Balcony has a great view.
Kevin
2017-04-04T00:00:00Z
Huonetyyppi
Yksityinen huone
---
Majoituspaikan tyyppi
Muu
---
Majoittujien määrä
2
---
Makuuhuoneet
Coron, MIMAROPA, Filippiinit
My place is a private island. This is the perfect place for you to appreciate the wonders of the world that you could experience the magnificence living in one of the best island in Coron Palawan. You'll love my place because of God's gift a real virgin nature with its natural sounds. My place is good for couples, solo adventurers, and families (with kids), and even in a group.
A typical Filipino kind of bungalow house you will be expected, it has two air conditioned or fan bed rooms, to accommodate three to five person at maximum. It has kitchen and a dining where facing the sea at its great view. we also have tents for rent. Our place is also good for backpackers. Mountain climbing at the area is one of the best, our coral reef will make your day, you may swim and do your snorkeling all you want.
Huonetyyppi
Jaettu huone
---
Majoituspaikan tyyppi
Saari
---
Majoittujien määrä
10
---
Makuuhuoneet
Coron, MIMAROPA, Filippiinit
Nice and a quite place for all travellers, we are open for short and long rentals. BACKPACKERS are welcome. Good for family, couples, barkada and single travellers for a good price. Fully furnished. Start your bookings now!
Our house is compose of two bedrooms, each room we offer it for 550/night for fan room or you can also choose aircon for 750 minimum of 2pax plus the entire house. If you want whole house its 2,500 php for 6-7 persons including all the amenities. We have kitchen and living room, this is you home next to Coron Island. THE PINKHOUSE, is located at the back of diamond center, you can walk to the market and accesible to all your basic needs around the area.
Quite and friendly :-)
Pink House locates on the southest of Coron town.clean and allowed cooking is my priority .and Apple is a good hostress.
桂红
2017-02-08T00:00:00Z
Great place with great persons! The location is nice, quite, accommodations are perfect and Apple and Arthur (his brother) are two fantastic guys! Don't hesitate :-)
Cassiopee
2016-01-18T00:00:00Z
入住了四天,非常的棒,家人都非常的喜欢,特别是厨房,样样俱全,每天早上7点去市场买菜,买回来放在冰箱,8点出发跳岛,晚上回来自己做饭,大青口、螃蟹、虾子、鲍鱼、石斑等,但不是每一天都能买到,所以只能碰运气,有啥买啥,7-8点买菜是最佳时间。这栋房子含有两个房间,一张1.8米宽的大床,另一个房间1.5米宽,两个房都含有空调和电风扇,突突可以直接到那里,但是第一次来这里不知道房子的具体位置,就打电话让房东来接的。房东是apple,但是他基本不再科隆,在薄荷做自由潜,所以他哥哥arthur负责这栋房子的地接,他有一辆三菱8坐的suv,可以叫他接送机,和其他车一样价格为150p每个人去镇上,如果你有什么需要,你都可以给arthur打电话或者发短信,200米以内有小卖部,2分钟走到主干道有个大超市买什么东西都方便,附近100米还有一个篮球场。 总体来说,非常棒,房间很干净,很大,200元rmb一晚两个房间已经很不错了,不过在airbnb上面叫的钱只需要先付一个房间的电风扇的费用,如果你想开空调,还得支付200p每晚,另一个房间想入住,你需要来到科隆把钱给arthur,前提是你一定要在airbnb上面沟通好,你需要两个房间,也就是整栋房子的意思。arthur有着中国人的血统,他的曾祖父是广州人。 最后一天退房的时候,邀请了他和他的家人一起在这栋房子里面,做了一顿海鲜大餐给他们,他们非常的喜欢,这次旅程带了两位妈妈出来玩,她们在这里非常的高兴,舒适、温馨的感觉,没有直接的热水洗澡,但是有大桶和烧水的工具,感觉回到了小时候的感觉,值得推荐。 we have four person,i had booking whole house,the room is very big and chean ,and arthur is very nice ,the kitchen is useful ,you can cooking by yourself ,50php for day,the room you can choose fan or aircon,near the market and main road .recommend everyone come here ,and you will like here。
德杰
2016-05-25T00:00:00Z
Apple and Arthur are very kind people. I had some problems with my luggage at the airport during my transfer in Manila and they solved the problem bringing my luggage to the house. I highly recommand this accomodation which is very well located in Coron: among locals and near the main avenue.
Zainabe & Walid
2016-08-16T00:00:00Z
We didn't meet Apple but we were well taken care of by her brother, Arthur. The place is clean, spacious and everything was in working order! The place is only a ten peso tricycle ride from the main town. It is a very comfortable stay and Arthur ensured that we did not want for anything else. Book this place! You won't regret it. A better deal than any budget place you will get at other hostels or backpackers.
Mo
2016-03-17T00:00:00Z
I stayed nearly 1 week at apples place. It was clean, near to the center, but also quiet. The host were friendly and helpfull. It was really nice stay
Oliver
2016-01-06T00:00:00Z
The place feels like home. Me and my sister had an awesome stay for 3 days (Sept. 3-5). Sir Arthur was very accomodating. We look forward to coming back here again.
Juannah
2016-09-06T00:00:00Z
Ein wirklich schönes kleines Häuschen. Alles da was man braucht. Von Klimaanlage bis zur Küche ist alles da. Nur ca. 5 Gehminuten zum Zentrum der Stadt entfernt. Würde jederzeit wieder hin.
Romy
2016-04-02T00:00:00Z
Huonetyyppi
Yksityinen huone
---
Majoituspaikan tyyppi
Talo
---
Majoittujien määrä
7
---
Makuuhuoneet
Coron, Palawan, Filippiinit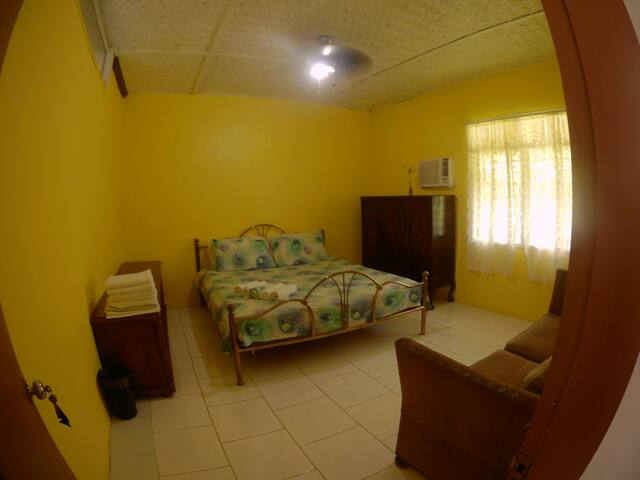 newly remodeled and affordable
Awesome stay and great location. Jr was very helpful with organising island hopping trips for us. Would highly recommend staying here!
Kim
2017-03-31T00:00:00Z
Séjour parfait chez John et sa famille, il est là pour vous si vous avez besoin de quoi que ce soit. Son logement est idéalement situé, bon petit déjeuner. Chambre en très bon état et très propre.
Geoffrey
2017-03-15T00:00:00Z
Amazing hosts! JR's place is clean, in a great location in town, and JR was also great at organizing tours for us which was awesome.
Marcus
2016-12-16T00:00:00Z
Our stay at Petro's was everything we wanted in our lodging. Good wifi, native English speaking host, good breakfast, great aircon and comfortable bed. John Raymond was a great host, friendly and very easy to communicate with, and he had great suggestions for things to do and places to go. I'd happily stay there again if I'm back in Coron.
Eric
2017-03-26T00:00:00Z
John was a fantastic host and helped with itinerary questions. Highly recommend
Edward
2016-12-22T00:00:00Z
JR and his family are wonderful. So sweet and very quick to help us with whatever we needed or had questions about. Breakfast was amazing and the room was clean and cool! When we come back to Coron we'll definitely stay here again!
Fergus
2017-01-01T00:00:00Z
Awesome, helpful host. Knows the city well, and makes your stay unforgettable! Highly recommended!
Pé
2017-01-20T00:00:00Z
It was a perfect stay at Raymond's place, very close to the city center. Very nice room with A/C and a fan. They are very nice with the guest and also very helpful. I really recommend this place.
Ionut
2017-02-28T00:00:00Z
Huonetyyppi
Yksityinen huone
---
Majoituspaikan tyyppi
Aamiaismajoitus
---
Majoittujien määrä
4
---
Makuuhuoneet
Coron, MIMAROPA, Filippiinit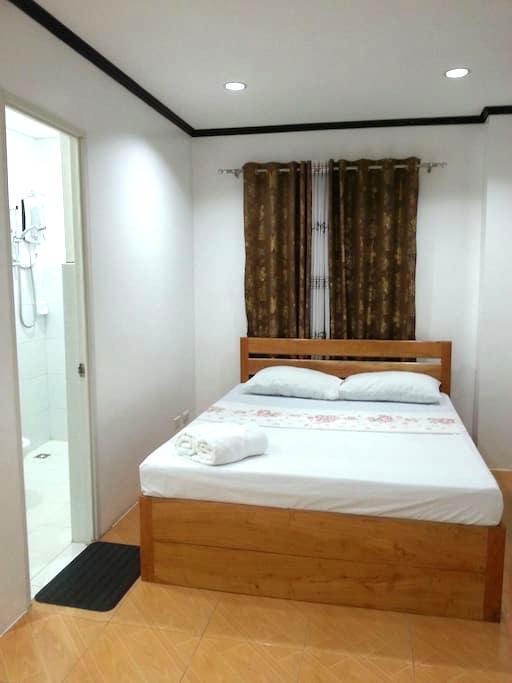 The Riverhouse is a true oasis of peace and tranquility, the owner has worked hard to create a unique location from which to enjoy the north of the island. Excellent local and international cuisine. Numerous tours available at reasonable rates.
My experience at the Riverhouse is beyond my expectations. The room is very clean, spacious, everything is new and it has a wonderful balcony with amazing view. What's more important, the owner Mr. Herold and his wife Judith, took good care of me, like my family. They were very attentive, considerate and working really hard to meet all my needs. When they knew that I traveled alone, they sent their employee to travel with me, free of charge. They also provide various tours around that area, if you are looking for a quiet place to escape from the cities and have some laid back activities, this is the place to be. The Riverhouse is 20 mins from airport and half an hour from Coron town where you can organise more things to do, it is also very close to the best diving spot there. You are paying for much less than what you will get. Highly recommend!
Lili
2015-11-01T00:00:00Z
We spent 2 nights at the Riverhouse for the end of our 2-weeks trip in Philipinnes and we can say without any doubt that this was the best time of the whole trip. The view from the house and the resturant is incredible and so peaceful that you can't do anything else but relax. We also did a one-day of island hopping on a little fishing boat on beautiful and almost private beaches. We want to thank Judith, her team but and specially her sister who made everything possible to make us feel like home. We highly recommend the Riverhouse to any person or couple looking for calm and relax in Coron. You won't regret it!
Cristina
2016-02-20T00:00:00Z
We had a great and pleasant experience for our stay with such a view you wish you had every morning when you wake up. Room was spacious and clean. The host treat us like their own family and makes sure that we had all the stuff we needed. Restaurant had great food too. Will definitely recommend this amazing place to our friends and hope to come back for a longer stay next time.
Muhamad
2016-02-27T00:00:00Z
We had a wonderful time with Judith, Herold and the team. It was a home away from home for our whole stay. We liked it so much that we extended our stay. It was perfect for a relaxing break from our travels, our room had superb views over the valley & river and the bed was very comfortable. We were very well looked after and felt very comfortable and I would whole heartedly recommend staying here to anyone wanting peace & tranquility. If you want to explore Coron you can hire a bike (Judith arranged this for us) or take a boat trip. But this is also a great place to be lazy and take in the beautiful scenery. people in the village and around north of island were very friendly and helped us out with directions when needed. There's a good choice of food & drink available and the continental breakfast was very filling. Judith offers packed lunches too if you're out for the day. There area some beautiful beaches where you're the only inhabitants just a short bike ride away. Be sure to pack a book or 2 and just relax.
Yvette
2016-03-02T00:00:00Z
We had the privilege of staying at the Riverhouse October, 2015. The sunrise views were from our balcony were breathtaking. Our room was very spacious and clean. The location was just what a person needs if they want to unplug from the rat race. Mr. Hartwig Harold or "Mr. H." as he likes to be addressed and Wife Judith had many challenges but, they took care of us none the less. The Chef was MIA the entire time of our stay however, Judith did the best she could to accommodate my family and did a good job. I personally only had one issue with Mr. H with something he said to another guest that I probably wasn't supposed to hear and I will not go into that. I took Mr. H aside and spoke with him and the issue was resolved. For the most part my family and I were the only guests staying here. Mr. H and Judith aim to please guests staying here. This is a new resort and they have some issues they are working out but this is no reason not to give the Riverhouse a try. I would definitely like to stay with them again the next time I'm in the Philippines.
Todd
2015-10-18T00:00:00Z
Found the place for a quiet, complete escape. Judith's place is further away from Coron town which is the jump-off point for most tours (and where the bars and restaurants are) so better get all your needed supplies whenever you're there. Itinerarywise, the distance isn't really an issue for the island and lake-hopping tours. You'll savor the thrills of the day from exploring Coron inside the peaceful bubble that is the Riverhouse. WiFi only available at the restautant though. Best to bring that book you've been wanting to finish.
Sunny
2017-02-13T00:00:00Z
Mr H and Judith are great hosts that ensured a fantastic stay for us at the Riverhouse. Expect stunning views and a very relaxing atmosphere on par with the big resorts. The prices may be slightly above smaller hotels in the area, but you certainly get what you pay for. The food in the hotel restaurant is mostly solid and there's enough variety for a few days. There's plenty of island hopping trips to keep you occupied, but if you have a motorbike and are not afraid of the rocky roads you'll find a lot more options open to you. There is scuba diving available through a partner dive shop but we would recommend that you confirm all the costs before setting out on the trip, most notably the cost of getting to the dive site surprised us. The equipment available at the dive shop was also a bit dated.
Eugene
2017-01-03T00:00:00Z
Endroit au calme et tres belle vue sur la rivière.chambre confortable. Hotes particulier. Le patron tres présent, un peu trop. Il vous vend des excuserons qui n'existent pas vraiment. Donc on a passé peu de temps sur place car pas a l'aise. Restaurant vraiment pas top! Loin de la ville, isole bien pour le calme mais prévoir un scooter sinon c'est un peu compliqué de profiter de l'île
Julie
2016-02-11T00:00:00Z
Huonetyyppi
Yksityinen huone
---
Majoituspaikan tyyppi
Aamiaismajoitus
---
Majoittujien määrä
2
---
Makuuhuoneet
Coron, Palawan, Filippiinit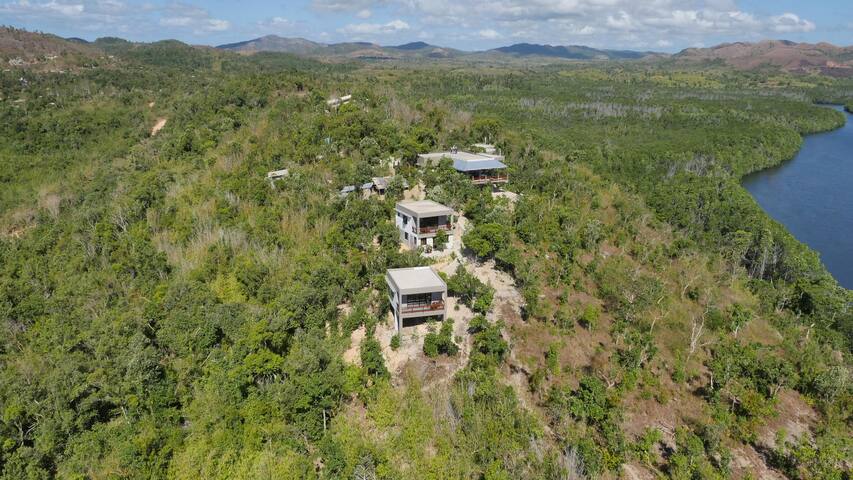 1

–

18

hakutuloksista

116 vuokrakohdetta
Anna päivämäärät nähdäksesi kokonaishinnoittelun. Lisämaksuja sovelletaan. Veroja saatetaan lisätä.