Anna päivämäärät nähdäksesi kokonaishinnoittelun. Lisämaksuja sovelletaan. Veroja saatetaan lisätä.
Fully furnished apartment with private entrance inside family home. Private parking with beautiful yard, just minutes from Devils Lake and boat ramps. Washer/dryer included, full kitchen, queen pillow top mattress in bedroom, + queen sofa sleeper & updated bathroom. Amenities include all linens & kitchen utensils + guests have gas grill, deck and picnic table for use.
The space feels like home and includes everything needed for a comfortable stay. Dishes, linens, towels etc. There is a gas grill available for the guests. We also have a place for guests to clean fish or ducks and dog kennels. Guests can enjoy and relax in the yard and gardens. There is a fire pit available to use with permission and a large deck that guests can enjoy.
Very good stay. Comfortable and clean. Quiet and peaceful surroundings.
Jean
September 2016
From check in to check out over the course of 5 weeks, Ray and Roxanne were excellent hosts. The apartment was clean and comfortable with all of the kitchen tools and comforts of home available. If you love luscious gardens and lots of greenery with yard decorations this is the place you must visit. Often times the hosts are willing to share the vegetables of their garden with you and even a possible s'more on the summer nights. A very convenient location about 5 minutes from town and a view of the lake on the way. Deer are often seen in the backyard in the evenings as well. Would highly recommend this BNB for a short term or long term stay while in Devil's lake!
April
August 2016
Roxanne and her husband were so very kind and provided a lovely apartment for us to stay in. It was clean, spacious, and provided enough room for 4 adults and a toddler. The yard was absolutely beautiful and had lots for our toddler to do! We boated and fished at Devils Lake while enjoying our stay. There are two boat ramps and the casino marina within 3-5 minutes away! Perfect little place for our fishing weekend.
Ashley
July 2016
Roxanne was not available but her husband Ray was very hospitable. The place was perfect for our trip. The living room, kitchen, bed and bathrooms were all clean and nice. Ray gave us suggestions on where to go and was very helpful. We would gladly stay there again. Also they were flexible with the dates and making changes last minute which was nice.
Matthew
October 2015
We had a wonderful time at Roxanne's! The place is marvelous and larger than we expected. My husband was mostly there to hunt, while I did enjoy the serene and wonderful gardens. I loved sitting outside reading and wandering around the property. Once we knew there were turkeys that crossed the property daily, I watched for them. The weather was warm for October and we enjoyed being outside. SO much to do just sitting back and relaxing. Many of the flowers were still in bloom and I had a great time wandering! We cooked all our meals but one and had everything we needed to bake and cook. The owners are wonderful and attentive, but you really do not know they are around. It was fun and we hope to go back in the near future -
John/Julie
October 2015
We didn't want to leave! Spotless, such a comfortable bed and the kitchen had everything you would need if you wanted to make your own food there. New cupboards and counter top - it's so different from staying in a motel/hotel because you are in someone's home. I found this place to stay at airbnb (my first time with airbnd) and don't think I'll ever stay in another Motel if I ever have to. I wanted to take my mom just on an overnight get-a-way for one night, but next time I'll book for two nights. Mom and I both love gardening, and you can spend the afternoon just walking around the beautiful yard that is full of unique gardening ideas, flowers, etc. We loved it and will be back! Thank you Roxanne! I'd give this review an A plus rating!!
Christine
September 2015
Roxanne was a great host. The apartment very well appointed and comfortable. Gardens were beautiful. Glad we stayed and we return again.
Gregg
September 2016
perfectly responsive,the best anticipation, ideally balanced friendliness and privacy, never better, an exceptional value.
Charles
July 2016
Huonetyyppi
Koko talo/asunto
---
Majoituspaikan tyyppi
Huoneisto
---
Majoittujien määrä
4
---
Makuuhuoneet
1
Devils Lake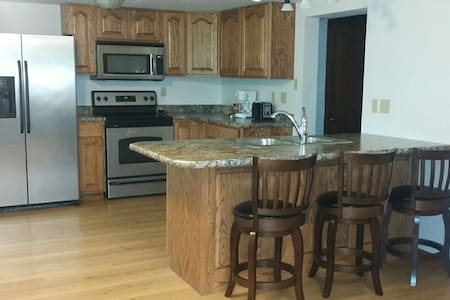 1

–

1

hakutuloksista

1 vuokrakohde