My accommodation is close to the beach and activities for the family. You will like my accommodation for these reasons: the views, the location, the atmosphere and outer space. My accommodation is suitable for solitary adventurers, families (with children), large groups and furry friends (pets).
Close-up of authentic farmhouse with large terrace and garden in the town of Elice (Pescara). It consists of: large kitchen with fireplace, large double bedroom with possibility of extra bed, bedroom, bathroom with shower. strategic position to reach the most important places from the point of view of cultural and gastronomic Abruzzo. Mountains, hills, sea, everything at your fingertips, culture, traditions, kindness. Wood oven, washing machine, hairdryer, iron, oven, drying rack, garden chairs. This includes linens. The house is not equipped with radiators.
Huonetyyppi
Koko talo/asunto
---
Majoituspaikan tyyppi
Talo
---
Majoittujien määrä
4
---
Makuuhuoneet
Elice, Abruzzo, Italia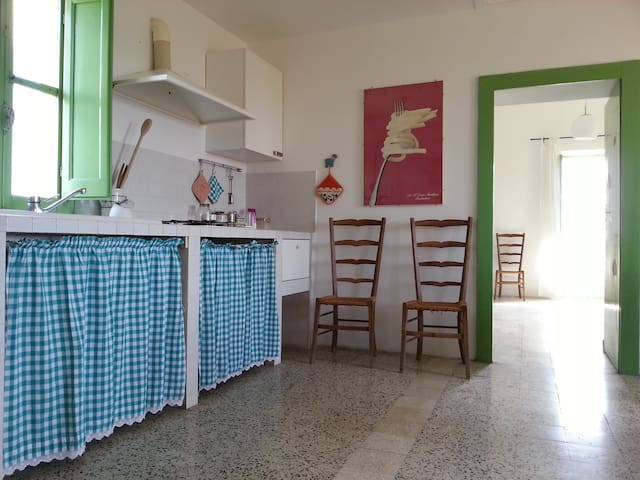 Il B&B "Il cielo in una stanza" è immerso nelle verdi colline a ridosso del mare Adriatico, a soli tre minuti da uno dei "borghi più belli d'Italia", Città Sant'Angelo (a nord di Pescara). Vi aspettiamo per regalarvi una vacanza nella tranquillità. Vi riceveremo con un brindisi di benvenuto. Agli ospiti che si trattengono per sei giorni (cinque notti) offriamo una cena con prodotti del nostro orto e specialità abruzzesi.
Un angolo di tranquillità circondato da una incantevole vista sulle montagne abruzzesi, sui caratteristici calanchi, sul verde della campagna e sul mare in lontananza. Mare facilmente raggiungibile in soli 15 min. Il B&B è situato in una romantica e pittoresca casa anni '20 con mattoni a vista e rose rampicanti che corrono sulla sua facciata. Essa conserva tutto lo stile ed il sapore tipico di una residenza di campagna arricchita con un giardino di alberi ad alto fusto, un frutteto, un orto, pergolati di vite e kiwi ed uno splendido prato cosparso dall'odore delle essenze aromatiche. Particolarmente amato dai nostri ospiti è poter gustare una colazione di frutta fresca, torte ed altri dolci fatti in casa all'ombra del grande albero di fico. L'ampia camera privata ed indipendente, si trova al piano superiore al quale si accede dalla scala esterna. Arredata con mobili d'epoca è dotata di un comodo letto, un confortevole salottino ed un bagno privato. L'ospite potrà ammirare gli splendidi tramonti sulle colline dal grazioso terrazzino esterno, o se preferisce, comodamente sdraiato sul letto attraverso le cornici di una finestra, e di una portafinestra a balconcino aperte sulla vallata. La casa offre inoltre un salotto con il camino ed una nutrita libreria di oltre 2000 testi di cinema, teatro, arte, giardinaggio e letteratura. E' a disposizione degli ospiti la possibilità di usufruire della cucina e del servizio Wi Fi gratuito.
Abbiamo pensato ad un buen retiro particolarmente adatto alle coppie che desiderano un alloggio da non dividere con altri ospiti. Momenti romantici da vivere liberamente tra la natura, silenzio, un panorama mozzafiato, le sdraio e l'amaca tra gli alberi da frutto, la colazione consumata sotto un grande fico (uova fresche delle nostre gallinelle che passeggiano indisturbate in giardino) e una discreta camera, l'unica, al piano superiore. I dintorni sono suggestivi da visitare: pieni di storia e bellezze naturali.
Tutto perfetto:l'accoglienza, il luogo con un panorama molto bello, il casolare con una stanza molto accogliente e calorosa, il luogo rilassante, una colazione genuina ed abbondante. Ma la cosa più importante la simpatia , la disponibilità, la generosità di Anna e Giancarlo che ci hanno fatto trascorrere una breve vacanza da ricordare con piacere ed affetto. Il luogo è l'ideale per chi desidera una location nella più assoluta tranquillità nel verde e a breve distanza dalle località di mare
Maurizio
2016-07-24T00:00:00Z
Place is bewteen Pescara and Abruzzo. The environment is very beautiful and guests are super friendly feeling us at home from the first minute. Good restaurants close by. Unfortunately we stayed only 3 nights. Thios should have been longer and certainly we will go back
Filip
2016-09-30T00:00:00Z
Il cielo in una stanza...e poterlo toccare con un dito grazie all'accoglienza speciale di Anna e Giancarlo! ! Casa molto curata e pulita immersa in uno splendido contesto. Panorama incantevole, anche di notte con il suo cielo stellato. Un buon risveglio con una colazione gustosa !! Ci siamo sentiti a casa :) Torneremo a trovarvi!
Francesca
2016-08-12T00:00:00Z
Es war wunderschön bei Anna und Giancarlo. Wir haben uns sehr, sehr wohl gefühlt und wir waren traurig, dass wir nicht verlängern konnten. Unser tolles Zimmer war leider schon wieder belegt. Beide sind sehr herzliche Gastgeber, die uns das Gefühl gegeben haben, willkommen und bei Freunden zu sein. Danke Anna, danke Giancarlo.
Anja
2016-08-16T00:00:00Z
Accoglienza meravigliosa. Anna e Giancarlo, sempre disponibili ma anche discreti, sono venuti a prendermi in paese per accompagnarmi alla residenza. La stanza era pulita e arredata con gusto. Si gode di un bellissimo panorama. La colazione è gustosa ed abbondante. Consiglio il soggiorno per una vacanza di relax immersi nella natura ma vicini a numerosi luoghi d'arte e al mare. Ora ho un amico in più: il tenero Cuba.
federica
2016-08-29T00:00:00Z
La stanza, il paesaggio, la colazione servita in giardino sotto l'ombra di un fico... Anna e Giancarlo gentili e disponibili... tutti fattori che hanno reso il nostro soggiorno a Città Sant'Angelo eccezionale! Grazie
Francesco Pio
2016-07-04T00:00:00Z
Anna and Giancarlo are amazing hosts and we could not have had a better holiday! They have lived in the area for years and can easely suggest the best beaches, restaurants and the many other areas to go and visit. Our stay was extremely comfortable and could not hope for better hosts or accommodation. The room on his own is just great: spacious, comfortable and with a fantastic view on both sea and mountains. The bnb is 15mins from the sea side and a very quiet location, perfect for whoever wants to have a relaxing holiday in a beautiful setting. Breakfast was more than adboundant and delicious. We think that the description given on airbnb completely undervalues the setting and the beauty that it is. In few words... we highly recommend Il cielo in una stanza!
Desy
2015-06-30T00:00:00Z
The best Italian country experience you could hope for. Anna and Giancarlo are amazing hosts, going out of their way to ensure we were comfortable, satisfied and relaxed. Unforgettable views, peaceful garden and loveable dog. They arranged for an English speaking friend to translste when we first arrived, but after that we got on like old friends with the help of (SENSITIVE CONTENTS HIDDEN) translate. A must for anyones trip to Italy.
Alex
2016-05-12T00:00:00Z
Huonetyyppi
Yksityinen huone
---
Majoituspaikan tyyppi
Talo
---
Majoittujien määrä
3
---
Makuuhuoneet
Città Sant'Angelo, Abruzzo, Italia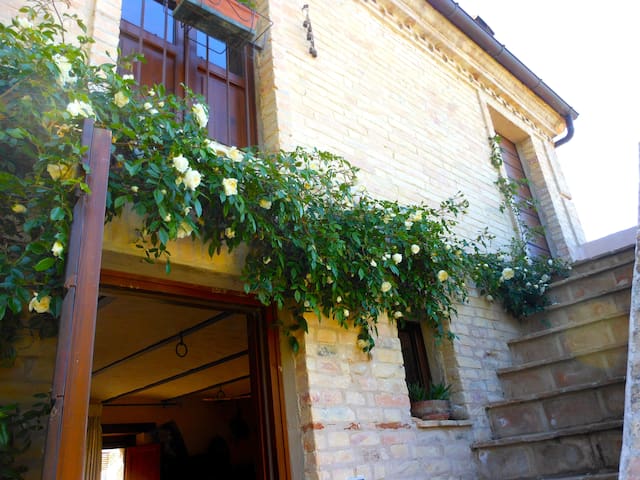 Modern villa 15 min by car from the sea, of about 280 sqm on 2 levels. Breathtaking view of the sea,mountains, hills. Wifi. Two big terraces. A fenced private courtyard.
Entrance to apartment of 200 sqm on two levels with kitchen, large living room, three bedrooms, two bathrooms, loggias and balconies with a fantastic sea view, view on mountains and green hills, attic floor, with large living room with fireplace, bathroom, kitchen, utility room, small balcony, roof terrace with stunning views of sea and mountains (It's possible to put in it an air materass for two or more people). Dishwashing machine, iron, washing machine. Attached to building private courtyard with garden 100 sqm approx. Breathtaking views of sea, hills, Maiella and Gran Sasso. Very good location, 5 min by car from the naturalistic reserve with foot and bicycle path, and 5 min from the important medieval town Atri with highly developed infrastructure.
15 min by car from the beach and pine grove vita pedant and bycicle paths, volleyball grounds, tennis courts, 40 min from the international airport Pescara, 2 hours from Rome, 1 hour from the rinomated thermal resort Caramanico Terme.
Мы отдыхали в доме Екатерины в августе. Дом расположен в очень живописном и красивом месте. Екатерина была всегда на связи и дала нам очень подробные инструкции и рекомендации по всем интересным близлежащим местам, чем очень нам помогла! В доме один раз с утра до обеда не было воды (была авария в этом районе), но это не испортило нам впечатления от отдыха!!!
Наталья
2016-08-27T00:00:00Z
Huonetyyppi
Koko talo/asunto
---
Majoituspaikan tyyppi
Talo
---
Majoittujien määrä
7
---
Makuuhuoneet
Atri, Abruzzo, Italia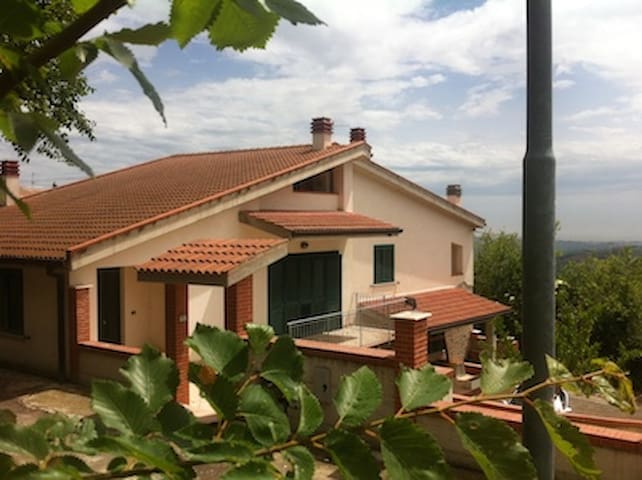 A stone house on the hill of Atri in Abruzzo in the center of Italy for 4 persons. The house with garden is completly reserved for the family. 2 bedrooms, 1 bathroom, 1 kitchen, livingroom and 2 beautifull terraces.
House with seaview and view on fantastic badlands. House and garden for the family. It s possible to make barbecue and park the car.
Abruzzo is the greenest region of Europe! We have sea, hill and mountains.
Lovely place. Wonderful hostess. We were made to feel very welcome
Andrew
2016-06-23T00:00:00Z
Très agréable maison sur la route d'Atri (plutôt passante dans la journée) avec deux belles terrasses offrant un beau point de vue sur le jardin, les calanques et la mer au loin. Les photos sont tout à fait conformes. La cuisine est bien équipée. Le mobilier aussi agréable à regarder que confortable. Excellent accueil de Cécile et Maurizio qui interviennent rapidement si besoin est. Produits de base fournis ainsi qu'une superbe corbeille pleine de cadeaux gourmands (dont certains faits par Cécile !). La salle de bains n'est pas très grande, mais très suffisante, avec un très bon débit en eau. Plages, commerces, visites touristiques ne sont pas très éloignés mais nécessitent une voiture (que l'on peut garer devant la maison, entièrement clôturée et avec un portail électrique)
Catherine
2016-09-16T00:00:00Z
Wir hatten mit unseren drei Kindern einen sehr schönen und angenehmen Aufenthalt in Casale Vittoria. Cécile war sehr hilfsbereit und die Ausstattung ist sehr schön und hat der Beschreibung entsprochen. An den kälteren Tagen musste mit dem Ofen geheizt werden, das funktioniert ganz problemlos, der Ofen macht allerdings etwas Hintergrundgeräusche. Insgesamt aber eine sehr schöne Unterkunft zu einem sehr fairen Preis.
Philipp
2016-10-22T00:00:00Z
Nous avons été très très bien accueil et avons passé un super séjour dans les Abruzzes ! Hôtes attentionnés. A recommander !
Simon
2016-04-06T00:00:00Z
Wir hatten eine sehr schöne Zeit in dem Apartment. Es ist geräumig und hat zwei schöne Terrassen, eine mit Morgensonne und ideal für ein schönes Frühstück mit schöner Aussicht. Cécile war sehr hilfsbereit und freundlich und überraschte uns mit einem Korb voll lokaler Spezialitäten. Die Wohnung ist gut ausgestattet, in der Küche gab es Gewürze, Essig und Öl, nichts fehlte. Das WLAN war perfekt, und die Kommunikation mit Cécile ging analog über eine Tafel oder per Telefon, sie wohnt nicht weit weg, man ist ganz allein im Haus. Es gibt allerdings zwei regelmäßige Besucher: In der Nachtbarschaft wohnen zwei entzückende junge Kater, die gerne zu uns gekommen sind und uns viel Freude bereitet haben. Am Abend mussten wir leider schon den Ofen nutzen, das war aber kein Problem. Cécile und ihr Mann zeigten uns, wie der Pellet-Ofen zu bedienen war, der sehr schnell die Wohnung beheizt hat und auch die Heizung in den anderen Zimmern versorgt. Man benötigt ein Auto, in 20 Minuten ist man an der Küste und hat die Wahl zwischen verschiedenen schönen Sandstränden. Restaurants und Pizzerien sind in der Nähe, Cécile hat einige gute Tipps und aus Empfehlungen für Unternehmungen. Durch die Nähe der Berge (Tipp: Campo Imperatore) und der Küste gibt es jeden Tag etwas Anderes zu entdecken.
Raimund
2016-10-02T00:00:00Z
Perfetta ospitalità; a partire dalle precise istruzioni per arrivare, proseguendo con l'accoglienza di tutta la (simpatica) famiglia e con la sorpresa di trovare, oltre ad una casa completamente accessoriata, curata e di buon gusto, il necessario per la colazione e addirittura un'ottima torta appena sfornata! La casa, panoramica e confortevole, è comoda al bel mare abruzzese, ma si fa apprezzare per la posizione tranquilla. Insomma: al di sopra delle ns. aspettative. Grazie
Mauro
2015-09-08T00:00:00Z
Huonetyyppi
Koko talo/asunto
---
Majoituspaikan tyyppi
Talo
---
Majoittujien määrä
5
---
Makuuhuoneet
Atri, Abruzzo, Italia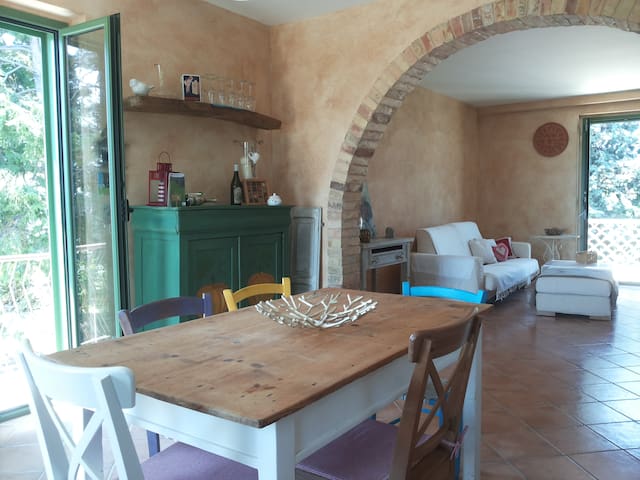 The surprise of stunning scenery between the Gran Sasso and Maiella, colors, fragrances, flavors and rites of our extraordinary land, a choice of wonderful tours to the sea, between the various ancient cities', including grasslands and hermitages.
The accommodation Recovery in green building of an ancient farmhouse, the creation of a vegetable garden with swimming pool and spacious rooms and very basic furnishings are functional are functional to make your stay the most 'comfortable but consistent with the nature and beauty of the countryside
The magic of the visual is associated with a particular dive continues and the scents, sounds and flavors of the countryside of Abruzzo A particularly beautiful countryside, the proximity of the ancient town of Penne with churches (52), palaces, fountains, several very nice restaurants and details: Il Ritrovo d'Abruzzo (Villa Celiera), The Inn of Lake (St. Stephen ), the golden Shell (Pineto), L'Osteria of plane (Chieti), Osteria Villa Cupoli (Faringdon), Ex Officine (pens) and Penne -The inn del Duomo, Osteria del Leone, Ex Officine, Tatobbe. Pescara for lively evenings with its shops and the Ponte del Mar
Huonetyyppi
Yksityinen huone
---
Majoituspaikan tyyppi
Talo
---
Majoittujien määrä
2
---
Makuuhuoneet
Penne, Abruzzo, Italia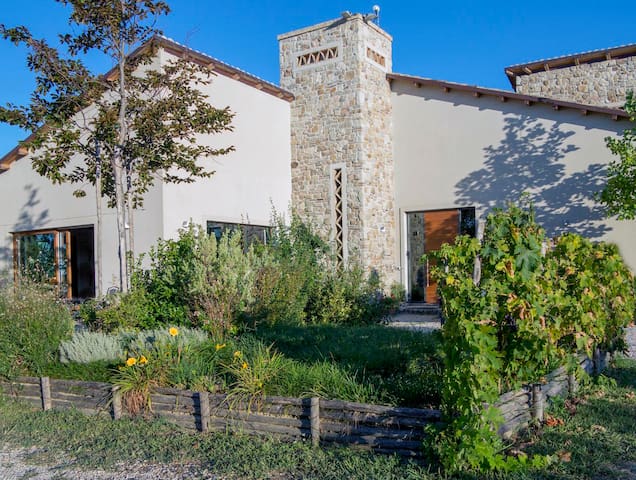 "Sinestesia" siede su una collina d'Abruzzo (in provincia di Teramo, al confine con la provincia di Pescara). La sua posizione tra mare e monti offre un panorama mozzafiato. Dispone di stanza matrimoniale, ampio soggiorno con divanoletto matrimoniale, cucina attrezzata e bagno. La villetta è circondata da un giardino dove è possibile ascoltare il Sole, respirare i colori e assaporare il relax che la Natura regala. E' possibile utilizzare il barbecue e cenare all'aria aperta. Ospita 4persone (+1)
"Sinestesia" è un alloggio finemente arredato per completare l'armonia che il magnifico panorama regala. L'ospitalità degli ambienti, la tranquillità, la natura incontaminata e la facilità nel raggiungere il mare o la montagna fanno di questo alloggio un luogo perfetto. Dotato di una stanza matrimoniale, un ampio soggiorno con divano letto matrimoniale, cucina e bagno con doccia, ospita 4 persone. E' raggiungibile in automobile, ha un parcheggio privato aperto, ed è circondata da un grande giardino nel quale è possibile prendere il sole, leggere all'ombra, fare colazione o preparare una grigliata al barbecue. Disponiamo di tavolo da ping pong, tappetini yoga, ed organizziamo attività nella natura (rilassamento, esperienze sensoriali ed emozionali ecc... ). Facilmente raggiungibili (in pochissimi minuti di guida, fattibili anche a piedi) si trovano il centro del paesino di Villa San Romualdo, il bar ed il supermercato. I ristoranti sono a 5/10 minuti di guida.
"Sinestesia" si trova in aperta campagna, all'interno di una villetta che sorge su una collina in un tranquillo paesino d'Abruzzo, Castilenti. Situata nell'entroterra tra Teramo e Pescara, è ideale per chi ama fare escursioni, per chi desidera raggiungere facilmente il mare (20 minuti di guida) e la montagna con i suoi laghi (un'oretta) e per chi vuole scoprire i suggestivi borghi dei paesi limitrofi.
Appartamento tutto nuovo e molto pulito, proprietari gentili e discreti. Mi sono trovato molto bene, ambiente tranquillo come volevo fra mare e monti
fabio
2016-07-30T00:00:00Z
Agata was very good to communicate with and always found creative solutions to help us. Thanks again Agata!
Clément
2016-08-10T00:00:00Z
Agata is een goede lieve gastvrouw die je privacy respecteert en alles goed heeft voorbereid. Appartement was verrassend ruim, schoon en goed uitgerust. Alles leek compleet nieuw! Het uitzicht was geweldig, zeer rustige omgeving (heerlijk!), laag geprijsd dus we komen zeker een keer terug! AANRADER!
Leone
2016-04-11T00:00:00Z
For the second time at Agata's place, fantastic, again! Great place, spacious, very clean and comfortable. Spectacular views... Thanks, hope to come back soon.
Ruud
2016-06-20T00:00:00Z
nous avons été accueilli chaleureusement par le Papa. Agata est une personne très présente et disponible.
Françoise
2016-08-25T00:00:00Z
Huonetyyppi
Koko talo/asunto
---
Majoituspaikan tyyppi
Talo
---
Majoittujien määrä
4
---
Makuuhuoneet
Castilenti, Abruzzo, Italia
Ottimo punto di partenza per un soggiorno all'insegna del relax e del buon cibo. Vista mare e monti. A mezz'ora di auto dalle migliori montagne e dalle più belle spiagge. Immersa nel verde delle campagne castilentesi. Adatto per famiglie e coppie di amici. Da scoprire e vivere
Lo spazio a disposizione
Huonetyyppi
Koko talo/asunto
---
Majoituspaikan tyyppi
Talo
---
Majoittujien määrä
4
---
Makuuhuoneet
Castilenti, Teramo, Italia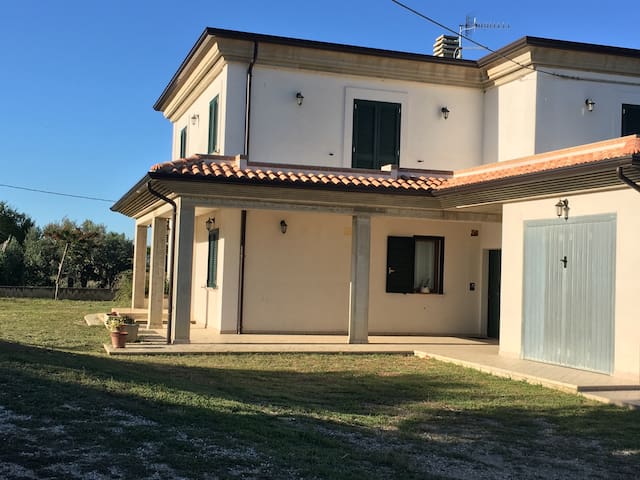 Unique and charming restored stone detached house with double-sided fireplace, pool terrace with fire pit and amazing views, and master bedroom terrace with beautiful views of the mountains and village of Castilenti. Escape to the mountains in 1 hr, beaches in 30 min, scenic hilltop villages in minutes. Walk to Castilenti in 5 min. 45 min to Pescara and 2.5 hrs to Rome. Perfect for couples and families (with kids). An ideal property for a relaxing or active holiday, no matter what time of year!
This is a private home with no sharing of space
Huonetyyppi
Koko talo/asunto
---
Majoituspaikan tyyppi
Talo
---
Majoittujien määrä
5
---
Makuuhuoneet
Castilenti, Abruzzo, Italia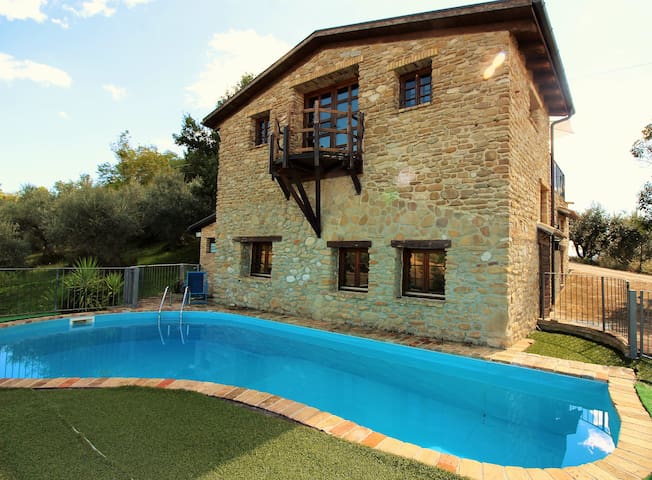 'Il Refugio' is a charming, traditional, stone house, typical of this part of Abruzzo. The decor is tasteful and comfortable complimenting the rustic Italian characteristics, such as the vaulted ceiling in the kitchen and beamed ceiling in the lounge
The house sleeps 4/5 – in two good sized double bedrooms. The fully equipped kitchen, with gas hob, electric oven, log burning stove, table and chairs, has everything necessary for preparing exciting dishes from locally sourced fresh food. The vaulted ceilings add an extremely characteristic touch. There is a walk-in pantry, meaning that if you decide to 'do a big shop' at the start of your holiday, storage certainly won't be a problem. The relaxing lounge has a log burning stove, flat wall mounted television, CD /DVD Player and 2 comfortable settees. There is an wide choice of books and DVDs. The family bathroom has a full size bath and shower. The walls are two feet thick making the house cool in summer and warm in the cooler months. The ground floor utility/wash room, containing toilet, bidet, sink and washing machine, is a useful place to keep your walking shoes and beach items. Another room has a large fridge/freezer. The house is centrally heated.
Penne nestles in a beautiful landscape, set in the hills between the Apennine Mountains and the Adriatic sea and serves a commune of some 10,000 people. Voted one of Italy's most beautiful towns, Penne is called the 'city of art' with museums, churches and a magnificent cathedral. With all the amenities of large town, including shops, bars, cafes, restaurants and a lively Saturday market, Penne provides an excellent glimpse of the real Italy. With many Festas (festivals) held throughout the year, especially during the summer months, you will find typical foods, wine and music of Abruzzo, providing an ideal way of getting into the local spirit and soaking up the atmosphere of local life. Penne is an ancient walled town, having been a seat of government of the Vestini people starting around 300 BC. In the Middle Ages, Penne was under the control of the Lombards as part of the Duchy of Spoleto. Around 1130,Penne became part of the Kingdom of Sicily. This rich history is reflected in the many architectural treasures and maze of atmospheric streets in the old town. The nearby 'Riserva Naturale Lago di Penne', a large man-made lake and nature reserve, established in 1987, includes a Botanical Garden and is host to over 160 species of birds. The Riserva is well equipped with a Visitor Centre, an Otter Centre and a Butterfly Garden, as well as wildlife areas with picnic benches and hiking trails.
Huonetyyppi
Koko talo/asunto
---
Majoituspaikan tyyppi
Talo
---
Majoittujien määrä
4
---
Makuuhuoneet
Penne, Abruzzo, Italia
Recently restored countryhouse, 3 bedrooms, 2 bathrooms. Situated opposite a lake, 1.3 kms from historical centre and 15 minutes to beach. To reserve the entire home see also "I Tre Laghi - Countryhouse.
Access from porch. Living and dining/kitchen area have vaulted ceilings. Living area with television. The kitchen is equipped with dining table, six chairs, cooker, oven, microwave, fridge, dishwasher, washing machine and all electric appliances. There are three bedrooms, two bathrooms, one of which is en-suite with shower. Separate from the house there is a barbecue area with fireplace, weber, garden table and 12 chairs. Parking facilities within premises.
"I Tre Laghi" is 9 km away from Pescara North – Città Sant'Angelo's toll booth along the A14 Bari -. Bologna motorway. It is 1.8 km from the historical centre of Città Sant'Angelo which was nominated one of the most beautiful borghi in Italy. The town itself offers all amenities, shops, bars, restaurants, chemist, banks, post office, theatre, weekly markets. There is a bus service from the historical centre to Pescara Station. 30 minutes to Pescara airport. Ten minutes to Montesilvano and fifteen to Silvi Marina beaches, approximately an hour 's drive to the four Abruzzo Parks (Gran Sasso and Monti della Laga National Park, Majella National Park, Molise National Park and Sirente Velino Regional Park. One hour drive to skiing resorts such as Roccaraso, Passo Lanciano, Campo Felice or La Magnola.
Alles war perfekt. Hatten einen wunderschönen Urlaub in I 3 Laghi. Oscars Eltern, Leticia und Piero, haben am Anreisetag unsere Zugfahrer vom Bahnhof abgeholt (und auch am Abreisetag den Transfer übernommen) . Wein, Saft, Obst, Gebäck standen zur Begrüßung für uns bereit. Die Unterkunft ist sehr schön (wir hatten die Wohnung im 1. Stock mit großer Terrasse), die Lage ein Traum und die Ausstattung großartig. Piero und Leticia standen für alle unsere Fragen mit Rat und Tat zur Seite. Strand, Wanderungen, Sightseeing, es gibt viele Möglichkeiten den Urlaub von dort aus zu gestalten. Wir freuen uns auf ein Wiedersehen!
Irene
2016-09-08T00:00:00Z
Just one word : PERFECT! !! The location was fabulous. This is the best location I have ever been in Abruzzo. Photos are 100% real with a beautiful panorama. Hosts were lovely and very helpful. They paid attention to every single detail to make this stay perfect. Thank you so much Piero & Letizia!
Anna-Johan
2016-10-13T00:00:00Z
What a wonderful apartment, in the most fabulous location! We had a really enjoyable stay here, and our hosts were so friendly and helpful. I would definitely book to stay again!
Liz
2016-10-22T00:00:00Z
Huonetyyppi
Koko talo/asunto
---
Majoituspaikan tyyppi
Talo
---
Majoittujien määrä
6
---
Makuuhuoneet
Citta' Sant'Angelo, Abruzzo, Italia
L'appartamento Belvedere si trova in Contrada San Martino, a 6 km da Atri (TE), nel contesto di Casa del Gallo, antica casa di campagna nel cuore dell'uliveto della famiglia Persiani, con ampio giardino, piscina e barbecue. File di olivi si alternano con il verde dei prati dando vita a un paesaggio di rara bellezza. Qui gli amanti della natura e della tranquillità possono soggiornare e visitare le bellezze del territorio. Nella struttura si possono trovare specialità enogastronomiche abruzzesi.
L'appartamento Belvedere può ospitare al max 3 persone. E' composto da una spaziosa camera matrimoniale, living con caminetto e angolo pranzo, cucina e bagno. Nel salotto c'è la disponibilità di un divano letto per due persone. Complessivamente sono 60 metri quadrati. L'appartamento è munito di tutti i comfort; per coppie, per chi viaggia per lavoro e per famiglie con bambino.
Casa del Gallo è a 12 Km dalle spiagge del Mare Adriatico (Pineto, Silvi, Montesilvano), a 30 km dall'aeroporto di Pescara e a 48 km da Teramo.
Huonetyyppi
Koko talo/asunto
---
Majoituspaikan tyyppi
Talo
---
Majoittujien määrä
3
---
Makuuhuoneet
Atri, Abruzzo, Italia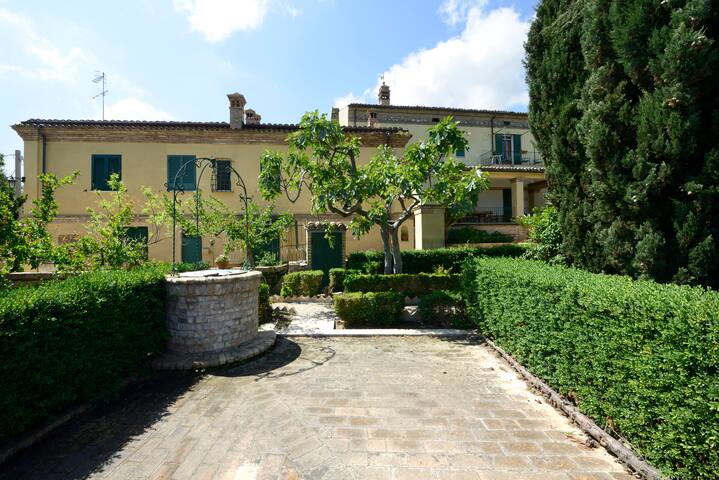 In posizione centrale a due passi dalle maggiori attrazioni storico-turistiche. Non avete bisogno di macchina per visitare la cittadina e per fare le vostre commissioni perché i servizi principali sono tutti intorno a voi. L'interno, caratteristico e rifinito nei dettagli, é fornito di tutto quello che occorre a garantire un soggiorno confortevole e rilassante. La casa dispone di due terrazzini e di una veranda d'ingresso che si affaccia su un cortile privato, lontano dai rumori della strada.
La casa indipendente é situata in un cortile riservato, lontano dai rumori. La nostra abitazione é di fronte all'alloggio per gli ospiti
Il quartiere é in pieno centro e a due passi dai principali servizi: negozi, ufficio postale, mercato, bar, ristoranti e pizzerie.Appena usciti da casa, sarete già immersi nell 'atmosfera accogliente e tranquilla della cittadina: raggiungerete in breve la maestosa cattedrale di cui dal vostro alloggio vedete il campanile ; il corso vi condurrà verso il palazzo ducale da una parte e verso il parco comunale dall'altra. Inoltratevi nelle varie viuzze laterali e ovunque incontrerete balconi e angoli fioriti, chiese e piazzette.
Annamaria e suo marito sono stati fantastici, accoglienza perfetta e casa fantastica situata dirà tremante nel centro storico di Atri. Siamo stati benissimo e speriamo di poter tornare al più presto a trovarli. Consigliatissimi!
Mennella
2016-08-27T00:00:00Z
Huonetyyppi
Koko talo/asunto
---
Majoituspaikan tyyppi
Talo
---
Majoittujien määrä
6
---
Makuuhuoneet
Atri, Abruzzo, Italia
Splendido casale immerso tra gli uliveti della nostra splendida Regione. Isolato con vista Gran Sasso a venti minuti dal mare e venti dalla montagna . Può ospitare comodamente 4\ 6 persone , con ampio giardino Riposante.
Casale in posizione stupenda, può ospitare fino a 6 persone
Da provare la cucina del nostro ristorante
Мы (семья с двумя детьми 8 и 3 лет) отдыхали на вилле в течении 12 дней в конце августа. Очень понравился дом, продуманная территория - огорожена, безопасна для детей. Дом обсажен соснами, которые дают свежий неповторимый аромат, вокруг дома есть оливковые рощи. Потрясающей красоты вид на горы, свежий воздух и прохлада даже в жару. На улице стол с зонтом от солнца, где удобно завтракать и ужинать. В доме есть все необходимое, уютно и удобно, не было проблем ни с горячей водой, ни с газом. Есть барбекю, шезлонги для отдыха, сушилка для белья и стиральная машина(URL HIDDEN) Антонио потрясающий хозяин, очень заботливый и внимательный - в первый же день привез нам прекрасное вино и сладости, которые были приготовлены в его ресторане. Не смотря на то, что мы совсем не говорим по-итальянски, проблем с общением не было, Антонио во всем помогал нам. В 2.5. км от дома живописный городок Picciano, где расположен ресторан Антонио - очень вкусная и необычная еда, уникальная атмосфера и прекрасный вид с террасы. В 20 минутах езды от виллы расположен песчаный пляж, с очень удобным входом для детей. Море теплое, берег чистый, лучше ехать на пляж не в саму Pescara, а за Montesilvano, в Sita San Angelo, намного меньше людей. Продукты удобно покупать в гипермаркете в торговом центре Pescara Nord, маленький магазин со всем необходимым можно найти в Picciano. Спасибо Антонио за гостеприимство и прекрасный отдых!
Elena
2015-08-28T00:00:00Z
Huonetyyppi
Koko talo/asunto
---
Majoituspaikan tyyppi
Talo
---
Majoittujien määrä
6
---
Makuuhuoneet
Picciano, Abruzzo, Italia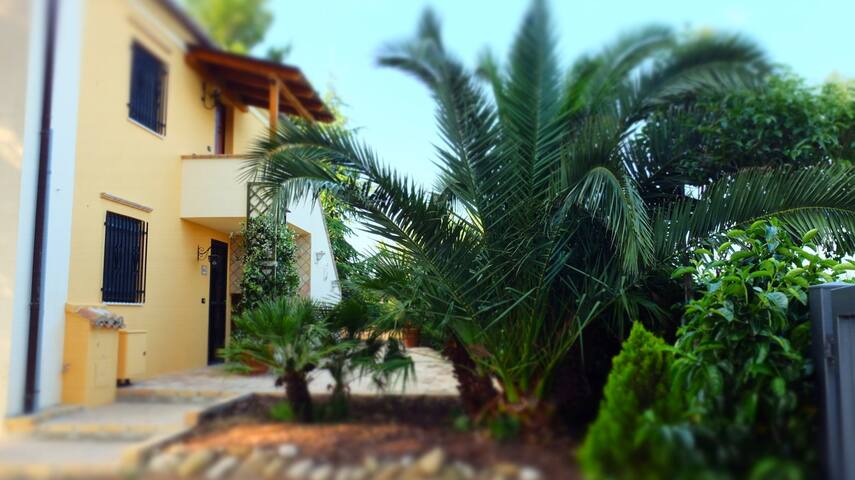 This is a unique restored farm with plenty of character, equipped with modern facilities. Breathtaking views all over, as far as the Adriatic sea. Unforgettable sunrises, surrounded by one hundred olive trees figs and apples. It is fully in the countryside but only 5 minutes away from the historic town of Penne, and 35 minute drive to vibrant Pescara. At the foothill of the Apenines with plenty of small towns and the Gran Sasso National Park. It is a true jewell.
The house has a very large kitchen with all modern amenities and sitting space for 10. It also has a living room with sofas and TV. This are has a full bathroom and a laundry room. On the ground floor there are two bedrooms and another full bathroom, accessible both from the living room and directly from the outside. On the upper floor there are two rooms and a beautiful bathroom with bathtub. The house is surrounded by a 7000 sqm garden and a very large pool. There is ample parking space. It is full of natural light and unique features, including a fireplace.
Huonetyyppi
Koko talo/asunto
---
Majoituspaikan tyyppi
Talo
---
Majoittujien määrä
10
---
Makuuhuoneet
Penne, Abruzzo, Italia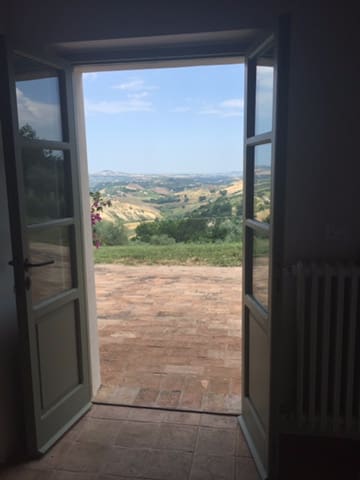 The house is in Villa Bozza, Teramo region of Abruzzo. It has a pool, 4 beds all ensuite, sleeps 2–9 people. Nearest airports: Pescara (45 minutes), Ancona (1.5 hours), Rome (2 hours). Ryanair offers cheap flights to all airports from Stansted
The house is a 100 year old property that has been extensively renovated to meet the needs not just for ourselves when we visit as a family but ensuring we meet all the needs of guests, the emphasis being on making a home from home. We want our guests to start their holiday the moment they arrive, so we always ensure a welcome package of essentials is left in the house for their arrival
The village of Villa Bozza is small with a restaurant, a bakery that supplies a lot of other food items. The village is surrounded by a number of other typical villages with other shops, and restaurants. There is also an excellent winery nearby where you will be able to purchase excellent wine of the region at ridiculously low prices
The host canceled this reservation 269 days before arrival. This is an automated posting.
Isabel
2016-10-26T00:00:00Z
Huonetyyppi
Koko talo/asunto
---
Majoituspaikan tyyppi
Talo
---
Majoittujien määrä
9
---
Makuuhuoneet
Villa Bozza, Abruzzo, Italia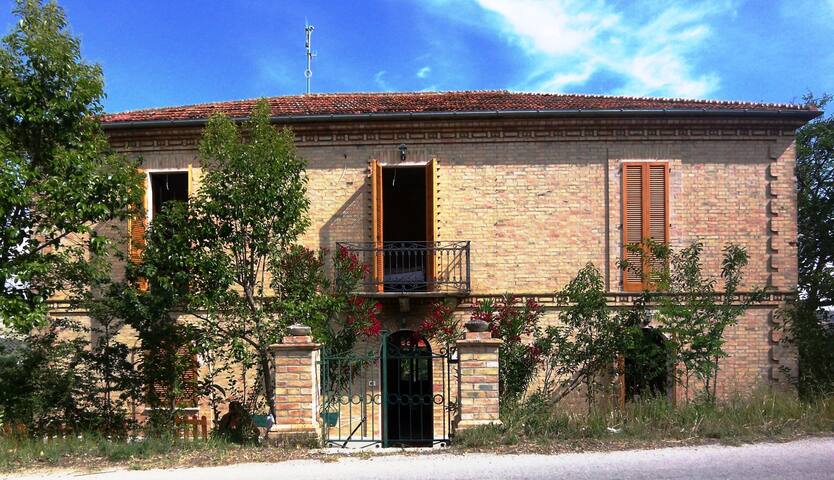 CARATTERISTICHE RESIDENZA: stanza dispensa, sala da pranzo-cucina, ingresso-salotto, 1 bagno, 1 camera letto matrimoniale, 1 camera singola, 1 camera doppia. PERSONE: 2 min. / 7-8 max. ZONA: CENTRO STORICO L'appartamento è ubicato a meno di 20 metri dal Palazzo Ducale in Piazza Duchi D'Acquaviva, in strada chiusa al traffico. In zona calma e silenziosa. Ideale per chi è alla ricerca anche di vero relax in vacanza. A pochi Km dalle principali località balneari (Roseto degli Abruzzi, Pineto, Silvi), raggiungibili in pochi minuti di auto; e a meno di 30 minuti per raggiungere le località montane. ATTENZIONE: Il prospetto dei prezzi riportato è puramente indicativo. Si riserva ai gentili interessati la facoltà di concordare direttamente con il gestore un PREZZO PERSONALIZZATO. Tutto ciò per rispondere nel migliore dei modi alle esigenze di ciascuno. Possibilità si sconto per nuclei famigliari. NON DIMENTICATEVI DI RICHIEDERE UN PREVENTIVO ANTICIPATO!!! OPZIONI: 1) I bambini di età inferiore 6 anni non pagano. I bambini di età compresa tra gli 6 e i 14 pagano la metà. 2) Costo della fornitura di lenzuola ed asciugamani ad inizio del periodo di residenza è di 2,50 euro a persona. Per periodi pari o superiori ad 1 settimana, invece, è compresa nel prezzo. 3) Metà della somma concordata dovrà essere corrisposta anticipatamente al momento della prenotazione; la parte restante al momento dell'entrata in possesso dell'immobile. 4) Cauzione da corrispondere alla consegna dell'immobile è pari a 100,00 euro. Maggiorazione di 50,00 Euro in presenza di animali. 5) Spesa pulizia appartamento pari a 50,00 euro non compresa nel prezzo. Possibilità di risiedere anche per periodi inferiori ad una settimana: mese MAG. 15,00 euro al giorno a persona. mese GIUG./SETT. 20,00 euro al giorno a persona. mese LUG. 25,00 euro al giorno a persona. mese AGO. 30,00 euro al giorno a persona.
Huonetyyppi
Koko talo/asunto
---
Majoituspaikan tyyppi
Talo
---
Majoittujien määrä
7
---
Makuuhuoneet
Atri, Abruzzo, Italia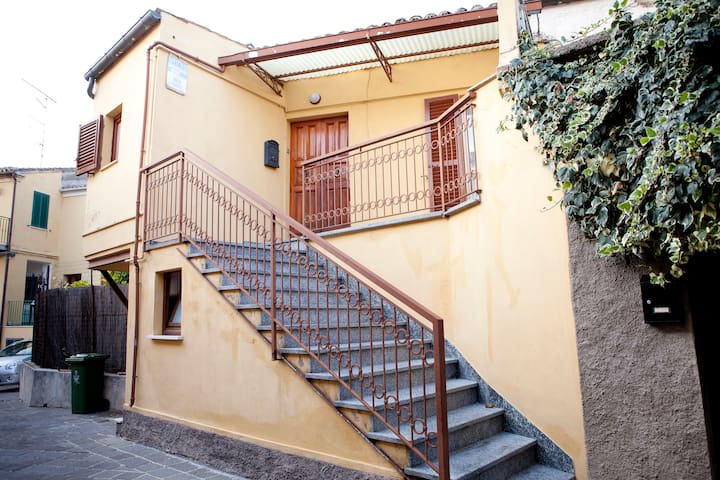 Private house in a seventeenth century's former home. Beautifully renovated with high quality finishes, the original historic features of the building have been retained and enhanced, skillfully combining ancient and modern.
The apartment is located in the heart of the historical center of Penne, in the highest point of the old town, overlooking the Duomo's square. To reach the square you need a private vehicle, not being present the public transport service.
Huonetyyppi
Yksityinen huone
---
Majoituspaikan tyyppi
Talo
---
Majoittujien määrä
2
---
Makuuhuoneet
Penne, Pescara, Abruzzo, Italia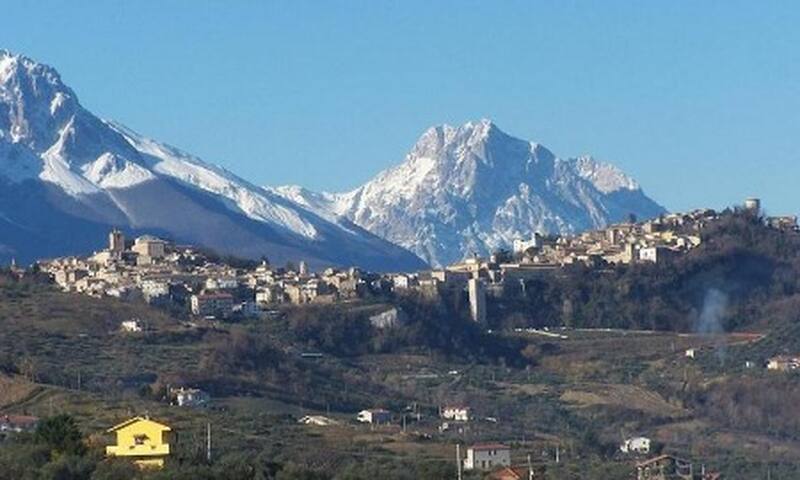 Beautiful new apartment with all the comforts immersed in nature in one of the most beautiful towns in Italy in cities sant 'angelo pescara
The quiet privacy of the place away from the hustle and bustle but at the same time in less than a km you reach the village of Sant'Angelo cities and eight km to the sea
In my neighborhood people are peaceful nature is the mistress and his animals
Une très belle situation pour cette superbe maison entre mer et montagne. Margherita et son mari sont des hôtes charmants et discrets. Le plus : les tomates et le basilic à cueillir dans le jardin.
Muriel
2016-08-17T00:00:00Z
L'appartamento di Margherita è unico. Accogliente, spazioso, ben attrezzato, completo di tutti i confort e situato in una posizione suggestiva: un panorama unico, immerso nella natura ma a due passi da tutti i servizi. Un vero paradiso. Margherita è un host eccezionale: è stata molto gentile, disponibile e cordiale, ci siamo sentiti a casa. Ci siamo innamorati di questo posto e lo consigliamo davvero a tutti.
Martina
2016-03-12T00:00:00Z
il nostro soggiorno è stata un'esperienza unica, assolutamente da rifare !!! L'appartamento è esattamente come descritto nell'annuncio, zona tranquilla e in completa armonia con la natura. Margherita e Ghersom sono stati gentilissimi, accoglienti, e sempre disponibili per qualunque nostra richiesta. Ci hanno offerto in diverse occasioni piatti tipici del posto e il vino abruzzese, inoltre ci hanno dato consigli che si sono rivelati utilissimi in ambito turistico, con loro abbiamo condiviso momenti fantastici.
Ashesh
2014-08-12T00:00:00Z
Margherita and Gerto were welcoming, friendly and generous hosts. The accommodation was excellent. It is easy to reach and I would not hesitate in recommending it.
alex
2014-08-24T00:00:00Z
Huonetyyppi
Koko talo/asunto
---
Majoituspaikan tyyppi
Talo
---
Majoittujien määrä
6
---
Makuuhuoneet
Città Sant'angelo, Abruzzo, Italia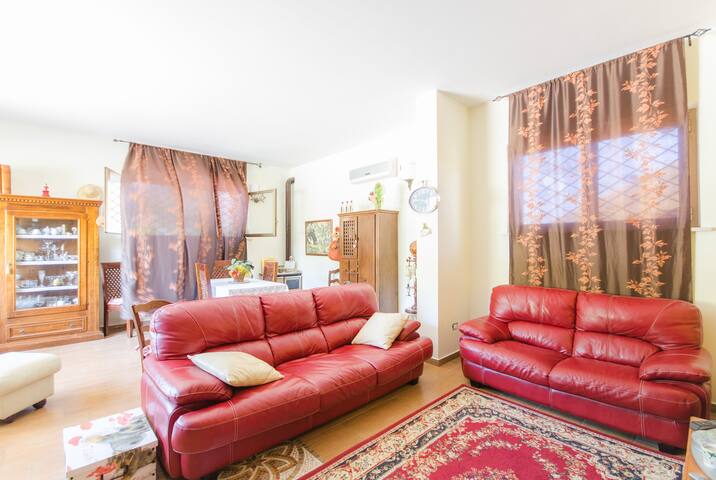 Elice - Airbnb
:
Keskimäärin

4.09

tähteä yhteensä

5

34

vierasarvostelusta