Anna päivämäärät nähdäksesi kokonaishinnoittelun. Lisämaksuja sovelletaan. Veroja saatetaan lisätä.
3 vuokrakohdetta
· Newton
3 vuokrakohdetta
· Newton
I have here a one bedroom, comfortable, Professionally Elite, luxurious. Clean. Highway side, beautiful. Out of city, but small city suburb Apartment. Which is conveniently located. Including available home/hotel accommodations. With full access.
Business casual. Use the couch like home, Have a seat or nap. Pop in a movie. Get out and enjoy the area. The perfect get away. Pictures do no justice. Kitchen Bathroom Bedroom Living room Books Power Accommodations. (Laundry room.) As much as you would like! Willing to further discuss.
An interesting group. Elderly, middle aged, great group of respectable folks. Cabs. Locally that run until 4:30-5:00pm time frame. Also cabs in Wichita. (30mil. Away) I can provide clean towles and sheets. And other discussed items.
An easy and awesome time! If you're in the area I suggest this place!
Tyler
March 2017
Huonetyyppi
Koko talo/asunto
---
Majoituspaikan tyyppi
Huoneisto
---
Majoittujien määrä
3
---
Makuuhuoneet
1
Newton
Beautiful home in great neighborhood. Quiet and relaxing setting. 2 bedrooms with queen size beds.
Warm, welcoming home. Beautiful, quiet and safe neighborhood. Neighborhood has easy access to Highway 50 and Interstate 135 making travel very convenient. Open concept main floor, 2 guest bedrooms with queen beds (1 on main floor and one in view out basement) and 2 full guest bathrooms next to bedrooms, full finished view out basement with family room, wet bar, refrigerator, dining room table, ping pong table and fenced back yard. Open concept main floor, guest bedrooms and bathrooms, full finished view out basement with family room, wet bar, refrigerator, dining room table, ping pong table and fenced backyard.
Non-smokers preferred. Smokers may smoke outdoors on the porch or patio in the backyard. Pets are welcome if potty trained, well behaved and current on vaccinations. Fenced in backyard. The neighborhood provides great opportunities for walks with bike/walking trail nearby.
Jill is awesome and made us feel right at home. Her property is everything she promises and the price can NOT be beat.
Jolene
September 2016
Fabulous find! Close to highway. Jill was very accommodating, easy to communicate with, and listing was just as described. If you are traveling through Kansas, this is a must stop! Quiet neighborhood.
Tamara
July 2016
My wife, granddaughter (11 yrs.) and myself spent 2 nights with Jill in 2 separate rooms in her beautiful, spacious, well decorated and immaculately clean home. She responded immediately to texts and was waiting for us on arrival. Jill took great care of us and even provided goodie baskets in the rooms (which our granddaughter loved). We wholeheartedly recommend this place to anyone.
Warren
August 2016
Staying with Jill was a lovely end to a long day. She was more than gracious, making certain our every need was met. The accommodations were wonderful, and her fenced yard and very walkable neighborhood was perfect for our dog. I highly recommend spending a night or more at Jill's welcoming home.
Lisa
August 2016
This is a gorgeous home and so comfortable. Jill is a really sweet and friendly host. She waited up late for us and went out of her way to meet our needs. The house is very easy to get to near I135. I highly recommend this place.
Cindy
July 2016
Jill was very accommodating. The neighborhood was nice and quiet. Her house was just as described. We would definitely stay here again.
Lori
November 2016
We very much appreciated Jill's prompt response to our request to stay with her because of our last minute travel plans. Jill is a delightful person and we enjoyed our brief stay with her. We hope all her travel dreams come true!
Mindy
August 2016
Huonetyyppi
Yksityinen huone
---
Majoituspaikan tyyppi
Talo
---
Majoittujien määrä
4
---
Makuuhuoneet
1
Newton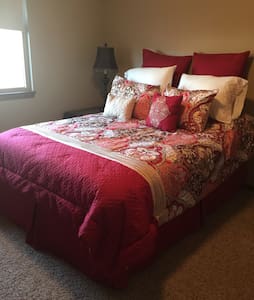 Historical home with lots of elegance spiritual retreat if needed with aromatherapy,massage, oiling yoga,meditation,where you can find your inner zen.lots of cozy evenings by the fireplace,warm tea or coco brought to your rooms upon request with lovey health breakfast but not to healthy. There is a place across the street to house your pet if you are traveling with a dog or cat dog massage available at extra charge ask owner.. elegant breakfasts infused waters fresh fruit upon availability of the season,happy hour at 4pm with snack,massages are extra .
The privacy and charm and true caring of the owners for you to have a truly sincere and wonderful time the warmth will capture your soul as well as the beauty of how things are served to you and how you are sincerely cared about. True English Elegance. We offer kindness and compassion for those who truly need to heal in a peaceful surrounding. Our B&B Has also been used as a spiritual Retreat for those who choose to come and reflect or pray, we are non denominational, so all faiths are acceptable with no judgments passed. We do basic mindful ,and Omvana meditation , but no matter what type of meditation you do we just practice together, sharing experiences and finding inner peace together sharing experiences together. You are welcome to explore the whole house except for, bussiness office. I would love the interaction with the guest as they see fit and would love to chat over a hot cup of tea served delightfully in designated areas or on the terrace weather permitting. Otherwise a glass of wine at the fireplace. Host on property so we may pass each other briefly but host will stay in the back ground unless guests prefer conversation and interaction.
Nice and quiet and peacefull to be able to truely rest, and meditate or find your inner zen, lovely atmosphere, and such caring when you really need it. The doggie hotel is across the street where your pet will be housed if you are traveling with your dogs or cats, they will be treated as little people with love compassion and kindness, dog holistic massages available for your pet as well inquire with your host re massage charges. As for guests wanting a massage the price is 35.00 for a half hour and 50.00 for a full hour and guests need to tell host when booking is made so arrangements can be made for this,there is a small detox machine on premises available to all guests for use to steam all impurities out of the body. We also do hot stone therapy for those interested. Aromatherapy and 100% natural essential oils will be used for relaxation and relief of sore muscles. Please let hostess know your desires of therapeutic things you choose to do so we can plan as needed for your stay. We are by no means saying our relaxation therapy will cure any diseases or cancer we just use our resources to help you relax and have a peaceful journey through meditation and caring. It is close enough to explore places to eat and shop, we have a brand new Ymca for those who choose to go a little further away approx. 2 miles from the B&B. Everything is really close if you want to explore around the area. There is a great Chinese & Mexican buffet on Thursday nights down the street, The Breadbasket ( Sundays all German), offers homemade soups and breads , good salads and jams for purchase, there is also a lovely store for all your health needs ,vitamins,soaps clothing boutique and anything you need. We are close to Bethal College , A Large Medical Hospital, Walmart, Antique shopping, quaint little out of the way eating places ask hostess for directions. At the Retreat we provide a sense of inner healing and inner peace to comfort your soul and heal your spirit. There is also a brand new YMCA available and close to us so ask your host for directions. We would be happy to book or design a specific package just to meet you needs, or if you just need a B&B then please contact us, we will do all to make your stay a lovely as possible.
Huonetyyppi
Koko talo/asunto
---
Majoituspaikan tyyppi
Aamiaismajoitus
---
Majoittujien määrä
7
---
Makuuhuoneet
4
Newton
1

–

3

hakutuloksista

3 vuokrakohdetta