Mjög huggulegur og snyrtilegur bústaður með einstöku útsýni þar sem íslenski hesturinn er í fyrirrúmi frábærar gönguleiðir í stórbrotinni náttúrufegurð. Bústaðurinn er um 5 km frá Gullfoss og stutt er í helstu náttúruperlur á suðurlandi.
This quiet cottage is exactly what we look for in a vacation rental: off the beaten path (but close to attractions), beautiful scenery, amazing hosts, and a unique experience we'll remember forever! Upon entering this charming cottage the fresh wood on the paneling and floors was pleasing not only to the eyes, but also the nose! The panoramic windows overlooked the vast acreage and provided a great lookout for Northern Lights that night! (Enjoying the lights from inside the warmth of a cozy cottage is my kind of heaven!) On a warmer, less windy day, spending the morning enjoying the views from the patio would be absolutely perfect! The kitchen was well stocked with spices and necessities. The hosts provided bath robes (which was helpful when I was putting the kids to bed, but had to keep getting them up so they didn't miss the lights!) The hosts invited the kids to the stables in the morning and introduced them to the horses. It's always nice to get to talk to the locals and learn more about their life and close attractions. (P.S. Check out the secret lagoon!) We could have stayed here for a week and really enjoyed ourselves!
Dustin
2017-03-28T00:00:00Z
thank you aki and krissa for the top location and for showing us all around your home. we come back as soon as possible!
Nicole
2016-09-29T00:00:00Z
We loved every minute at Kristbjörg's place. The view from the kitchen and living room was absolutely stunning and the house had everything we could have wished for. We even got a tour of the farm and got to spend some time with Icelandic horses.
Romy
2016-12-14T00:00:00Z
nice and kind. Check the address before going, since it is wrong in airbnb site. Recommendable
Byungju
2016-08-28T00:00:00Z
Schön gelegen Pferdefarm die jedes Tierherz höher schlagen lässt. Krista und ihr Mann sind sehr herzlich und haben viele Tips und arrangierten einen Ausritt. Traumhaft! Immer wieder!
Katrin
2016-06-29T00:00:00Z
This was simply amazing. Our children (5 & 7) said that this was the highlight of our trip to Iceland. The only downside was that we only stayed one-night. We will definitely be back.
Chris
2016-08-11T00:00:00Z
This was a great little cabin on a beautiful setting. The hosts were great and took the time to show us around their property. It was very close to Gullfoss waterfall. Definitely recommend.
Mark
2016-03-04T00:00:00Z
Krissa was there to meet us the moment we arrived. She was a great host and took pains to explain to us everything in detail. The cottage is a fantastic little place, away from the hustle and bustle of everything else and a short drive away from the attractions. Even though it was raining a lot over the one night we were there, the cottage was so comfortable that the kids did not want to leave. We absolutely loved it.
Boyd
2016-10-12T00:00:00Z
Huonetyyppi
Koko talo/asunto
---
Majoituspaikan tyyppi
Bungalow
---
Majoittujien määrä
5
---
Makuuhuoneet
Selfoss, South, Islanti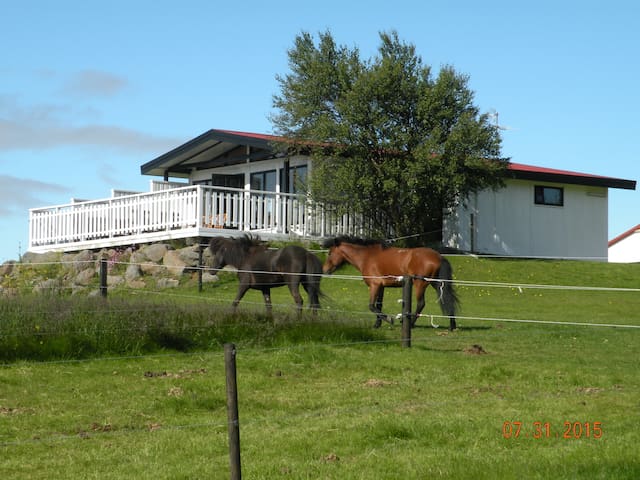 Gullfoss - Airbnb
:
Keskimäärin

5

tähteä yhteensä

5

20

vierasarvostelusta