Mjög huggulegur og snyrtilegur bústaður með einstöku útsýni þar sem íslenski hesturinn er í fyrirrúmi frábærar gönguleiðir í stórbrotinni náttúrufegurð. Bústaðurinn er um 5 km frá Gullfoss og stutt er í helstu náttúruperlur á suðurlandi.
This was a great little cabin on a beautiful setting. The hosts were great and took the time to show us around their property. It was very close to Gullfoss waterfall. Definitely recommend.
Mark
2016-03-10T00:00:00Z
nice and kind. Check the address before going, since it is wrong in airbnb site. Recommendable
Byungju
2016-08-30T00:00:00Z
We loved every minute at Kristbjörg's place. The view from the kitchen and living room was absolutely stunning and the house had everything we could have wished for. We even got a tour of the farm and got to spend some time with Icelandic horses.
Romy
2016-12-27T00:00:00Z
This was simply amazing. Our children (5 & 7) said that this was the highlight of our trip to Iceland. The only downside was that we only stayed one-night. We will definitely be back.
Chris
2016-08-17T00:00:00Z
It was such a lovely stay. The house is amazing. It's so quiet and so special. The brief visit to the stable was nice too. Thank you so much for hosting us. See you soon.
Ming Qiang
2017-02-10T00:00:00Z
Great location for exploring the country - Geysers, Waterfalls, Rivers, Mountains, and local Hot Springs. Krissa was a great host, and it was lovely to meet the horses too!
Sam
2017-01-13T00:00:00Z
This was our favorite place that we have stayed on our two week trip in Iceland. Highly recommend staying here, and staying more than one night. The hosts were hospitable, friendly and made us feel welcomed. We loved touring the property and meeting all of the horses. I would absolutely stay again!
Jayna
2016-06-14T00:00:00Z
Un coin de Paradis tout près de Gullfoss. Un merveilleux cottage très confortable et parfaitement équipé Un accueil extrêmement chaleureux. Krissa et son mari nous ont fait partager leur passion pour l'élevage de chevaux islandais et nous ont donné plein de conseils lors de notre séjour. De loin notre meilleur halte lors de notre séjour en Islande !et pour les petits et les grands un merveilleux souvenir de l'Islande. merci merci merci
veronique
2016-08-28T00:00:00Z
Huonetyyppi
Koko talo/asunto
---
Majoituspaikan tyyppi
Bungalow
---
Majoittujien määrä
5
---
Makuuhuoneet
Selfoss, South 800, Islanti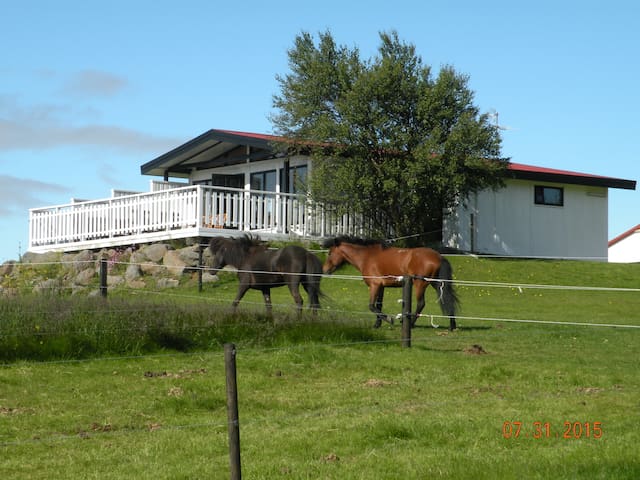 1

–

1

hakutuloksista

1 vuokrakohde
Anna päivämäärät nähdäksesi kokonaishinnoittelun. Lisämaksuja sovelletaan. Veroja saatetaan lisätä.