152 vuokrattavaa huoneistoa
You have your own entrance and front door leading into an open plan living room with an en-suit wet-room all approx 20m2. We are about 800m from the beach and can offer Acupuncture, CST, Shiatsu and Meditation. The surf is good and pub 100m away
Your own front door a stone's throw from the beach and the pub is less than 100m away. Open plan with an en-suite wetroom, real oak floor, patio doors and large window for plenty of light. We recently added a fold down dinner table and a kitchenette with a fridge, sink and microwave.
Quiet seaside village with local pub. Nature reserve and seal sanctuary all within a short walk, its great to take some time out and relax by the high cliffs and sandy beaches but also with a vibrant water sport scene here and not too far if you fancied a night out. Hayle and supermarkets 5 min drive.
Pierre's property was perfect for our short break and we were made to feel very welcome by all of the family! The apartment is in a lovely location with the beach within walking distance. The facilities were beyond what we expected for the price and they have made great use of the space. We would love to return one day if and when we next visit Cornwall. :)
Jacques
2016-07-20T00:00:00Z
Pierre was very accommodating, the space is clean and pleasant with nice local walks.
Shane
2015-09-02T00:00:00Z
From the moment we arrived to the time we left, Pierre and Caroline made us feel extremely welcome. The studio is perfect for a short stay: a comfortable bed, a compact kitchen area, a great wet-room and a pull-down dining table.
Steve
2015-07-08T00:00:00Z
My girlfriend and I had a wonderful and relaxing weekend in this cute and private en suite studio. We arrived after a long drive, and Pierre was very welcoming and flexible. The bed was new and comfortable and the room was spacious, clean, and had great touches like a kitchenette and fold-out dining table. We were a five minute drive to the beach, and just across the street from the local pub which made for a easy weekend with some relaxing and exploring mixed in. Pierre gave us some great advice for activities in the area and we would absolutely come back to stay here again. Thanks Pierre!
Noah
2016-05-03T00:00:00Z
My husband, 7 year old daughter and I spent a very relaxing weekend in this lovely space. Pierre was a very welcoming and helpful host, providing us with an extra fold out bed for our little girl and plenty of extra bedding. Lovely walks , swims and seal watching. we all really enjoyed our stay. Thanks again!
katherine
2015-10-04T00:00:00Z
Pierre was an interesting host and we wished that we could have stayed longer to explore the area. The room is self contained, and close to a really nice pub, with great food.
Jackie
2015-09-24T00:00:00Z
Pierre's studio room in Gwithian is the perfect little getaway, equipped with everything you should need for a mini-break or short surf trip! Warm and clean, and with the welcome addition of cutlery and china and a cold fridge! A lovely if brief stay - thank you!
Roo
2015-10-05T00:00:00Z
We had an amazing time in Gwithian. Pierre made us very welcome on arrival and took the time to recommend things for us to see and do in the area. The flat is just what we wanted, very cosy and had everything we needed. The new bed is very comfortable and the fold down table is ingenious! Our other host Caroline was very friendly and made sure we had everything we needed during the week. The flat is well located, only a stones throw from the local pup, which serves good food and lovely beer. The beach and another great café/restaurant are only a 10 minute walk through the village and sand dune nature reserve. We couldn't have found a better place to spend our week away. Will definitely be looking to visit again.
Matthew
2016-06-14T00:00:00Z
Huonetyyppi
Koko talo/asunto
---
Majoituspaikan tyyppi
Huoneisto
---
Majoittujien määrä
2
---
Makuuhuoneet
Gwithian, Cornwall, Britannia
This ground floor two bedroom suite looks straight out onto our garden, making a barbecue after a great day on the beach an absolute must. Perfect for families or for two couples holidaying together.
Great location, great apartment, and Tyson was the perfect host - both before and during our stay.
Jonathan
2017-04-08T00:00:00Z
Huonetyyppi
Koko talo/asunto
---
Majoituspaikan tyyppi
Huoneisto
---
Majoittujien määrä
4
---
Makuuhuoneet
Gwithian, Cornwall, Britannia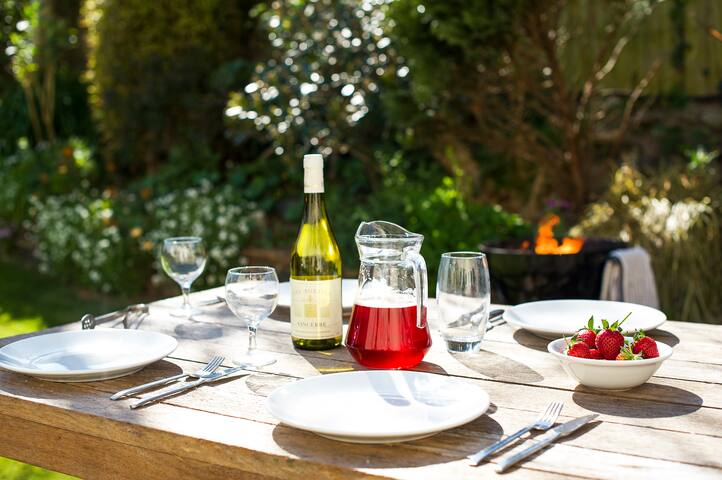 This flat is in an excellent location for town and the beaches. Everything is within easy walking distance. It's quiet, clean and conformable, and was exactly what we were looking for for a few days away. Excellent hosts who we knew were always on hand should we have needed anything.
Matt
2017-03-25T00:00:00Z
Jayce has a cozy, clean and sunny flat with a bay window looking out onto St Ives Bay. Excellent wifi, cooking and sleeping accommodations. We were able to house our family of four with no problem, and we really enjoyed that fact that it's an easy walk down the hill into the village. I took advantage of the six string acoustic guitar you see hanging on the wall, which is quite playable, and left it in open-G tuning for the next guy. We were challenged sometimes getting up and down the parking ramp in back. It's a tight turn into a narrow ramp and I dinged the left rear wheel on one approach, though maybe a smaller vehicle than a Peugeot Picasso would be fine. Street parking is hard to find. Jayce usually responded to inquiries within minutes, and though a few times he was out of contact for some time, he was an attentive host. Highly recommended.
JD
2016-09-14T00:00:00Z
Jayce contacted us on the day of our arrival to check our expected time. He made sure we were aware of how to access the flat and called round to see us to deliver a new key for the front door. He was very friendly and made sure we were happy with the flat and understood what was expected (not traipsing sand into flat etc.) We had his contact details if there were any problems but didn't need to use these as everything went smoothly. Visitors should be aware that the flat is near the top of a very steep hill when approaching from the town both for walking and driving.
Chris
2016-09-06T00:00:00Z
Great location, just a few minutes walk down the hill into town. Nice and clean and all amenities we needed. There was a problem on our first night with the heating but Jayce sent a plumber first thing the next day and it was sorted. Would highly recommend.
Heather
2016-10-26T00:00:00Z
We really enjoyed our stay at Jayce's place. Great location, nice apartment. Would highly recommend this place to anyone who fancies a trip to St.Ives.
Roger
2016-07-28T00:00:00Z
Lovely place just as in the pictures. The location is fab, walkable distance to the beach. The place is clean and rooms are good size. Very glad that there is a dish washer in house, saved us a lot of time. The car parking requires some skill, if you are not used to parking in hill area and driving in small roads, I'd recommend walk or get a local taxi.
Qin
2016-08-31T00:00:00Z
Eine sehr schöne Unterkunft in St Ives mit toller Aussicht. Die Stadt kann man schnell zu Fuß erreichen. Der Parkplatz ist nicht einfach zu erreichen, aber sehr nützlich. Jayce ist immer hilfsbereit. Alles bestens und wie beschrieben.
Marion
2017-04-06T00:00:00Z
Jayce's apartment was absolutely gorgeous, clean, tidy and full of lovely touches. The flat was nicely decorated, spacious with very comfortable beds. The parking space was a great addition and we managed to park a second car outside the front on the road. It was less than 10 minutes to walk down into the centre of St Ives and less than a five minute walk to Porthmeor beach too! Jayce was really helpful and quick to respond, the little information sheet about where to eat and drink in St Ives was a lovely touch too. 4 of us stayed but the flat could easily accomodate 6 if using the sofa bed too. The location and little touches make the apartment really feel like home while you're there. We would love to come back and stay in one of Jayce's properties again. Thanks for being a great host!
Kirsty
2016-08-01T00:00:00Z
Huonetyyppi
Koko talo/asunto
---
Majoituspaikan tyyppi
Huoneisto
---
Majoittujien määrä
6
---
Makuuhuoneet
Cornwall, Britannia
Lovely location, friendly locals great beaches what more could we ask for?
Tal
2016-07-17T00:00:00Z
Lägenheten är liten men ljus och mysigt inredd. Den är bra planerad med två ljusa sovrum med sköna sängar, och ett fint och väl utrustat kök. Vår värd Lynda hade köpt färska scones åt oss när vi kom fram, vilket var väldigt omtänksamt! Läget är det bästa tänkbara intill den fina sandstranden Porthgwidden beach, där också mysiga restaurangen "Porthgwidden beach cafe" ligger. Där kan man köpa en fantastisk frukost, och de serverar även utmärkt lunch/middag.
Maria
2016-07-10T00:00:00Z
Just got back from a lovely few days in St Ives at Beach Court. Lynda went above and beyond to arrange our stay and replied immediately if we ever had any questions. There were extra little touches that made our stay special such as scones and jam on arrival, lovely smelling flowers and the cosiest fluffy bath robes! Beach Court is in a brilliant location, 2 min walk to the harbour and Porthmeor surf beach just around the corner. We would love to stay again, definitely recommend !
Vicki
2016-04-01T00:00:00Z
Lynda's place is lovely and in such a wonderful location. Once the car was parked (which is always a challenge!) we didn't move it for 4 days and just loved being so close to the beaches and town. The apartment is cosy, perfect for a couple and perhaps one child (consider how much luggage you may have), was really well equipped, very clean and warm. We had a lovely few days away, thanks Lynda!
Amanda
2016-10-26T00:00:00Z
Lovely little apartment. Right next to the little beach and only 5 min walk into town, down to the harbour front etc.. Great communication from Lynda. Only downside was that you hear every little noise from apartment above but as we weren't in the apartment much it didn't bother us. Would stay again ☺️
Lucy
2016-08-04T00:00:00Z
All was fantastic, particularly the location! Additional touches like fresh flowers, scones and cream went down very well too. Just delightful, 50metres from the beach...and with sea views.
Rose
2016-08-12T00:00:00Z
I stayed for just two nights with my daughter as a treat for her 16th bday and to rest ready for her exams this year. We have stayed in St Ives many times so were surprised to find new places. 1 Beach Court was a fantastic location. Only 5 minutes from the main harbour but tucked away so nice and quiet. We couldn't fault the flat! Clean, well equipped, lovely fresh decor, really comfy beds, luxurious Habitat towels, and yummy welcome treats. Everything we've come to love about great Air BnB-ing. And I could even see the sea from my bed! Lynda's offer of a late check out on the Sunday was really generous and very much appreciated. We recommend Porthgwidden cafe for fantastic view and delicious breakfast.
Fiona
2016-02-14T00:00:00Z
The apartment is in a fantastic location, meters from the beach and with sea views. Lynda information and recommendation made the stay very easy. Recommended.
Pierluigi
2016-10-03T00:00:00Z
Huonetyyppi
Koko talo/asunto
---
Majoituspaikan tyyppi
Huoneisto
---
Majoittujien määrä
3
---
Makuuhuoneet
Cornwall, Britannia
Ground floor apartment in the town centre of St Ives, a short stroll from the harbour, beaches, restaurants, galleries and coastal walks. Quiet area, yet centrally placed. A lovely coastal retreat whatever time of year.
Die wunderbare und kinderfreundliche Wohnung von Patricia machte unseren (zu) kurzen Aufenthalt von 4 Tagen in St. Ives perfekt! Die Ausstattung ist sehr gut d.h. dass man sich sehr gut selbst versorgen kann und wir konnten sogar unsere Wäsche waschen. In wenigen Schritten ist man am Hafen und dennoch ist die Wohnung ruhig gelegen. Einziger Nachteil (aber wirklich der Einzige) der zentralen Lage ist, dass es keinen Parkplatz vor der Haustüre hat. Innert kurzer Zeit hatten wir jedoch den Dreh raus und fanden jeweils nach 18h gratis Parkplätze in 5 min. Gehdistanz (z.B. Alexandra Road). Wir können die Unterkunft (und auch St. Ives) wärmstens weiterempfehlen und werden bestimmt nochmals wieder kommen! Nochmals vielen herzlichen Dank! Tina, Beat, Amélie und Elin
Beat
2016-07-22T00:00:00Z
What a truly fabulous apartment. Three of us were in St Ives for a two day wedding & my man & I were lucky enough to be able to stay an extra night we liked it so much! Patricia couldn't have made us more welcome or been more helpful even driving us all to the wedding reception. Nothing was too much trouble & she was available through out our stay to help make it as relaxed & enjoyable as possible. The apartment was exactly as described & more. Bright & airy, spacious yet comfy & cosy & spotlessly clean with everything you could need for a long or short stay. The beds were great, the kitchen modern & very well equipped & the lovely decor & finishing touches such as a good DVD selection & plenty of clothes hangers made it a real home from home. Tea, coffee & everything we needed for breakfast our first morning were also provided & a sweet little out door court yard was perfect for morning coffee & alfresco dining. In a quiet residential street you are ensured of a good nights sleep whilst the location is just right being a short walk to the nearest car park & a similar distance to the centre, shops, beaches & harbour. Over all I really couldn't fault anything about it & would not hesitate to recommend the apartment. Amazing value for money, ideal for a romantic get away, or family holiday & a great host who really goes the distance. Thank you Patricia.
Clare
2016-09-18T00:00:00Z
This flat is amazing and highly recommended. It's located just a minute or so from the waterfront and all the shops and restaurants. The apartment is extremely comfortable and spacious. Ideal for a weekend or a week long break with a fully equipped kitchen and spacious rooms. Tricia is a fantastic host and answered all our queries promptly. She was there to meet us when we arrived and showed us around. She provided breakfast for us which included fresh bread, butter, jams and eggs. It means we didn't have to find a shop in the evening and was a very welcome surprise. We had a great weekend exploring St. Ives and will definitely come back to visit again.
Ben
2016-02-28T00:00:00Z
My husband and I had a wonderful stay at Patricia's apartment whilst visiting St Ives. We received a very warm welcome from Patricia kindly leaving us a lovely breakfast to kick start our holiday. Great location, very clean, comfortable and modern exactly as the photos show and is described. Patricia is wonderful hospitable host very respectful of our privacy yet it was reassuring to know she wasn't too far away should we have run into any trouble. So glad we picked this place for our special time in St Ives, it was perfect. Thanks Patricia for being such a great host! Diane and Chad
Diane
2017-01-01T00:00:00Z
Great location and very welcoming helpful hosts. The apartment was well equipped and very comfortable. Thanks for a great stay.
Anna
2016-09-21T00:00:00Z
Excellent apartment, for 3 people. Perfect location, very clean, everything you could need- even our first breakfast. Very helpful host.
Janet
2016-08-22T00:00:00Z
Really enjoyed our recent visit to St Ives and the sunny weather! Tricia kindly met us on our arrival and found us a place to park very nearby. The apartment is comfortable and very well equipped for a self catering holiday. It is in a perfect location within easy walking distance of the town and beaches. Tricia provided lots of information on where to eat and walks along the Cornish coastal path which was most helpful.
Diane
2016-09-25T00:00:00Z
We loved everything! The apartment is spacious, good sized rooms, dishwasher ;) and near to the sea and town. We liked the good contact with Tricia, she was very helpfull and friendly. We especialy liked watching the people going to and comming from the town. St. Ives is a lovely town and we recommend goning there. It was real value for money.
Josebet and Theodoor
2016-07-30T00:00:00Z
Huonetyyppi
Koko talo/asunto
---
Majoituspaikan tyyppi
Huoneisto
---
Majoittujien määrä
4
---
Makuuhuoneet
Saint Ives, Britannia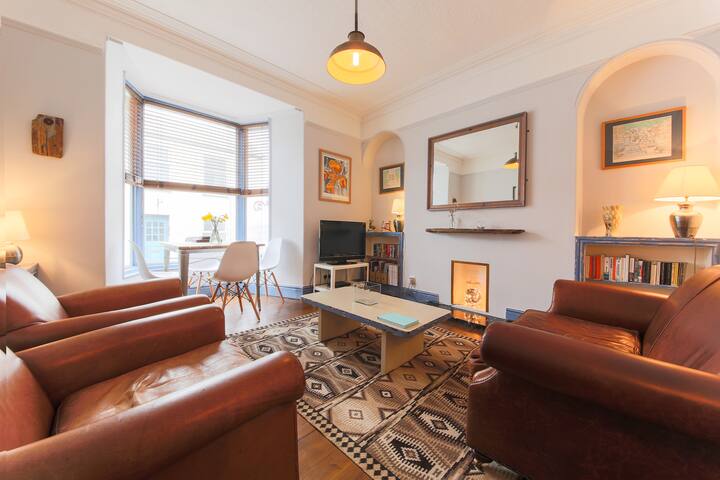 This first floor one bedroom suite is perfect for couples wanting a bit of luxury. The triple aspect living area is flooded with light, so you can feel like you're outside in the beautiful Cornish countryside.
The apartment was exactly as shown by the pictures and very well equipped (coffee maker, lots of knives, pans and sauce pans etc.). Good wifi connection, good location with very nice beach nearby. We saw Taylor at our arrival, he showed us the apartment and was very nice and helpful. He provided a cot and high chair as well. The only thing that surprised me is that the apartment is in an apartments building, but the other apartments were quiet (it was quite familiar) and we had a very happy Easter!
Anna
2016-03-30T00:00:00Z
Tyson was a great host, he replied quickly to our queries and was very helpful.
Rachel
2016-09-22T00:00:00Z
The apartment was great: clean, spacious and very comfy. We even got towels. Tyson is a nice guy and makes tou feel welcome.
Melle
2016-04-20T00:00:00Z
The host canceled this reservation 215 days before arrival. This is an automated posting.
Tony
2015-12-17T00:00:00Z
The apartment was very clean and as described. The local pub was closed for refurbishment but we took a stroll along the beach to 'The Rockpool' and had a lovely meal. Beautiful sunset on our walk back. We only stayed for one night but would recommend staying here.
Alison
2016-04-14T00:00:00Z
Huonetyyppi
Koko talo/asunto
---
Majoituspaikan tyyppi
Huoneisto
---
Majoittujien määrä
2
---
Makuuhuoneet
Gwithian, Cornwall, Britannia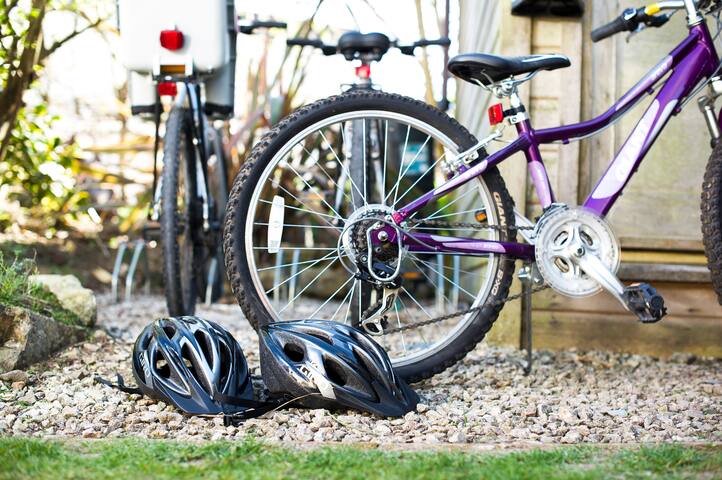 Eine atemberaubende, neu 3-Zimmer-Haus nur wenige Minuten von den Stränden renoviert. Mit seiner gewölbten Decke, fühlt sich das Haus hell und luftig, es der ideale Rückzugsort für Ruhe und Entspannung zu machen, aber mit allen Annehmlichkeiten der Stadt direkt vor der Tür!
Der Hof ist eine übliche Eigenschaft in St. Ives in einer so zentralen Lage zu finden, da viele der Eigenschaften waren ursprünglich Fischerhäuschen mit niedrigen Decken, so mit seinen hohen Decken im gesamten und einem gewölbten Wohnzimmer, es ist ein ziemlich selten Raum zu finden. Die Zugabe der Terrasse im Innenhof ist wieder ungewöhnlich Außenraum zu haben, und es ist ein schöner Ort, um die Sonne am späten Abend nach einem Tag am Strand zu fangen. Der Hof ist über eine Außentreppe zugänglich und bietet geräumige Zimmer auf zwei Etagen mit Außenbereich für 8 im ummauerten Innenhof. 3 Schlafzimmer, Schlafen 6 Personen 1x König, 1x Doppelzimmer, 1x Doppel Gewölbte Wohnzimmer LCD-TV, DVD, WiFi Küche mit Geschirrspüler WC und Hauswirtschaftsraum mit Waschmaschine / Trockner Familie Badezimmer und Gäste-WC En-suite Badezimmer mit Dusche Bettwäsche und Handtücher inklusive Garten im Innenhof und Grill Reisebett, stairgate, Mikrowelle Sterilisator, Hochstuhl
Der Hof ist so gut gelegen wieder direkt an der High Street gesetzt wird, so innerhalb von Minuten Sie bei einem der sechs Strände sein kann! Die zentrale Lage ist ideal für die Geschäfte und Restaurants und es ist auch nur 5 Minuten zu Fuß zum Bahnhof mehr Optionen geben die benachbarte Stadt, Carbis Bay zu besuchen. Leider haben wir keine Parkplätze, aber es gibt Raum außerhalb zu ziehen und zu entladen / Ihr Auto laden. Mit vielen öffentlichen Parkplätzen und privaten Websites, die Parkmöglichkeiten in der Umgebung bieten, ist dies kein Problem. Der nächste Parkplatz ist für uns Barnoon, 2 Minuten zu Fuß entfernt, aber der Rugby-Club bietet Parkplätze zu günstigen Preisen und betreibt einen Shuttle-Bus, der eine Minute von unserem Haus in die Stadt kommt.
Thanks for the memorable week in your house. We liked it very much. Everything was perfect. The location, the amenities. Nothing was missing. We are happy the evening went to the nearby pubs and restaurants and sat on the harbor. We enjoyed sitting outside on the patio and enjoy the tranquility. Our car has a good parking place because we bought a rover-ticket at the library (just around the corner right behind co-op). Many thanks for everything. We will come back. Ralf from Düsseldorf, Germany Vielen Dank für die unvergessliche Woche in eurem Haus. Es hat uns sehr gut gefallen. Alles war perfekt. Die Lage, die Ausstattung. Es fehlte an nichts. Gerne sind wir abends in die nahe gelegenen Kneipen und Restaurants gegangen und haben am Hafen gesessen. Wir haben es genossen, draußen auf der Terrasse zu sitzen und die Ruhe zu genießen. Unser Auto hat einen guten Parkplatz gefunden, weil wir ein rover-ticket bei der Bücherei gekauft haben(direkt um die Ecke rechts hinter co-op). Vielen Dank für alles. Wir kommen gerne wieder. Ralf aus Düsseldorf, Germany
Ralf
2016-09-24T00:00:00Z
The location is absolutely perfect to enjoy St Ives and the place is spacious and tastefully decorated. If you enjoy cooking your own meals, the kitchen is well equiped and very functional as well which is not always the case on AirBnB. Suzanne was very responsive / attentive throughout and we thoroughly enjoyed our stay. Hope to be back!
Nicolas
2016-05-08T00:00:00Z
We had a great experience with the hosts and had a lovely stay in the house. Hosts were great and made sure we had all the information we needed to access the property and for the surrounding area. The house is really lovely and very spacious. Perfectly decorated and had modern facilities (wifi was fab). Great outside area for eating. It was extremely central to town and near to the harbour area with all the restaurants. We would certainly book again.
Helen
2016-06-25T00:00:00Z
Great location right in the middle of St Ives. The height of the rooms have each a spacious and airy feeling. There were 4 adults and we were very comfortable and the property could easily have taken 2 more. Very clean. Parking isn't easy but you can load and unload outside. As it is on the high street there were occasional noises but not really an issue. Would highly recommend
Richard
2015-09-15T00:00:00Z
It was a lovely 1st floor appartment with plenty of space for a family of 5. The appartment was very clean and well equipped but a bit noisy because you're in the town centre and lots of great restaurants. Good location with beaches on walking distance and parking can be indeed a challenge. We made great use of the beach gear provided. We would definitely recommend the Courtyard.
Tino
2016-07-31T00:00:00Z
The house is right in the middle of the town so a certain amount of noise must be expected from the streets. Our bedroom was almost above a busy pub but we didn't find it a problem at all. There is no garden but there is a small outside area from the living room which was adequate for the five of us to relax in and has a huge parasol, which kept the ever-present Cornish seagulls at bay! As there is no facility to park at the property, we used the public car park further up the hill and a long-term one near the Tate, which kept us fit! We felt a bit guilty having to squeeze the car onto the pavement so other vehicles could pass whilst we unloaded but our luggage was secure inside the lockable gate whilst we moved the car to the car park. We would highly recommend the house for those looking for a central location within easy walk of the lovely restaurants and beaches.
Lesley
2016-07-02T00:00:00Z
Thank you so much! We cannot fault a thing, it was huge the more you explored and just right for 3 couples needing to hibernate. Beautiful setting, very helpful hosts, really well equipped....looking forward to going back. Highly recommend!
Lucinda
2016-12-05T00:00:00Z
Lovely apartment and excellently located in the town centre
Mark
2015-09-29T00:00:00Z
Huonetyyppi
Koko talo/asunto
---
Majoituspaikan tyyppi
Huoneisto
---
Majoittujien määrä
6
---
Makuuhuoneet
Cornwall, Britannia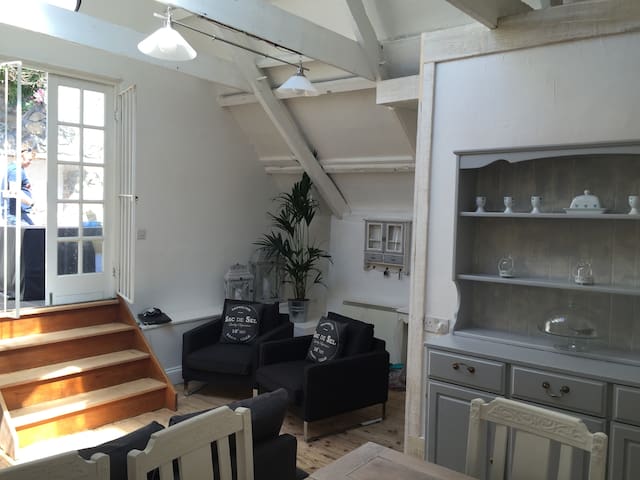 Mein Platz ist in der Nähe der schönen Stadt St. Ives (2 Meilen) bekannt für seine Kunstgalerien bekannt, Restaurants und goldenen Stränden auch nur eine kurze Autofahrt entfernt ist Penzance (7 Meilen), wo Sie die berühmte St. Michael Berg finden. Du wirst mein Platz, weil der offene Wohnküche / Wohnzimmer / ländlicher Umgebung und hervorragende weit reichendem Blick lieben. Es ist auch ein idealer Ausgangspunkt für diejenigen, für einen Wanderurlaub suchen. Mein Platz ist gut für Paare, Familien (mit Kindern) und pelzigen Freunde (Haustiere).
Everything was perfect about this place, beautiful cottage with stunning views.Lots of space, nice kitchen and bathroom. Even the kids loved it thank you
George
2016-08-24T00:00:00Z
We had a lovely stay at The View. Clean and comfortable and very relaxing. Thank you
Ronel
2016-08-27T00:00:00Z
Fab location, had a lovely walk into St Ives. Beautiful home with great views
Sara
2016-08-08T00:00:00Z
Lovely accommodation with beautiful scenery. Very quiet but a short drive from bustling St Ives & not far from Penzance. Several beaches within a short drive away. The lovely welcome pack with scones, jam & clotted cream, along with some decent coffee was much appreciated.
Lisa
2016-08-20T00:00:00Z
Beautifull cottage with stunning views. Lots of space, nice kitchen and bathroom, clean towels, toys for the kids.. Everything was there. A great place to stay in St. Ives!
Petra
2016-08-01T00:00:00Z
Had a great stay the location is great the house was amazing and the views are stunning. Would definitely recommend this property
Leighton
2017-04-12T00:00:00Z
Great property for a relaxing break. Very well equipped and comfortable
Sandra
2017-01-02T00:00:00Z
Janice's cottage is lovely, very clean, airy, and decorated with taste. We enjoyed being in a remote location with great views, so quiet and at the same time just a short drive from St Ives and other points of interest. The garden is tidy and clean, our girls and dog played a lot outside. Everyone was very happy with the place and Janice was really kind offering to move the beds to make it easier with our young kids, and putting out a cot and high chair. Thank you Janice, we had a lovely stay!
Chloé
2016-10-28T00:00:00Z
Huonetyyppi
Koko talo/asunto
---
Majoituspaikan tyyppi
Huoneisto
---
Majoittujien määrä
4
---
Makuuhuoneet
Cornwall, Englanti, Britannia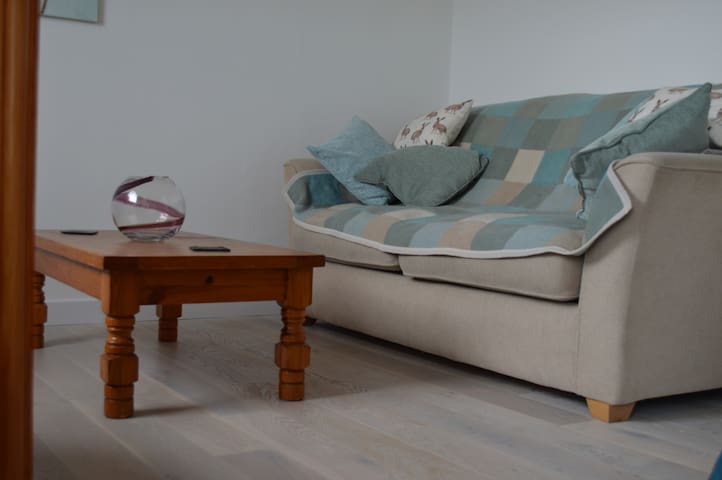 Mein Platz ist 5 Minuten zu Fuß zu den schönen Carbis Bay Strand und 20 Minuten zu Fuß entlang einer spektakulären Küstenpfad nach St. Ives Stadt. Perfekt gelegen, es liegt in der Nähe von öffentlichen Verkehrsmitteln mit einer Bushaltestelle direkt vor der Tür und der Carbis Bay Bahnhof ist nur 5 Minuten zu Fuß entfernt. Es gibt Restaurants und Pubs in der Nähe. Mein Platz ist gut für Paare, Solo-Abenteurer, Geschäftsreisende und Familien (mit Kindern). Umstellung Tag ist ein Samstag. Lounge verfügt über ein Schlafsofa für zwei kleine Kinder.
Huonetyyppi
Koko talo/asunto
---
Majoituspaikan tyyppi
Huoneisto
---
Majoittujien määrä
2
---
Makuuhuoneet
Cornwall, Englanti, Britannia
Eine einzigartige und liebevoll renovierte Wohnung, in unmittelbarer Nähe zu allen Stränden in St. Ives. Mit einem eigenen Außenraum, die die Sonne den ganzen Tag fängt und bis spät in den Abend. Es ist die perfekte ruhigen, erholsamen und romantischen Ort in schönen St.Ives
No.7 Trinke keinen Alkohol Street, ist ein schöner Ort in St.Ives zu sein. Es ist ein börsennotiertes Residenz und ein Teil einer historischen Umgebung in der Stadt mit dem Namen 'Downalong' dies traditionell ist, wo die Fischer und ihre Familien lebten und deren Bekämpfung und Netze gespeichert. Mit einem eigenen Außenraum (selten in St.Ives), die Sonnenlicht von morgens bis zum späten Abend wird mit einem eigenen Sukkulentengarten & maßgeschneiderte Bojen, seiner Lage inmitten eines vollkommen ruhig traditionellen St.Ives Straße, die fast alles ganz in der Nähe ist Sie würden den Zugang benötigen, um Ihren Aufenthalt zu genießen, von den Stränden zu Restaurants, Geschäften und Wanderrouten. Es ist wirklich der perfekte Ort. Kommen durch die traditionelle Haustür Scheune Stil, haben Sie ein EQUIP voll ausgestattete Küche, mit komplementären, Tee, Zucker und Kaffee, komplett mit Theke, sollten Sie wollen nicht die riesige Menge an Restaurants zu Ihrer Verfügung zu verwenden, wenn Sie Ihre Restaurants berücksichtigen. Das Fernsehen ist auf einem Full Tilt und Schwenkarm Stil Klammer, die Sie drehen können, ob zu beobachten Kochen oder an der Theke saß in der Küche oder im Wohnzimmer sitzen. Es verfügt über digitale Kanäle zur Verfügung und es gibt auch einen DVD-Player als auch für den Einsatz dort. Es gibt auch kostenlose WIFI-Codes finden Sie auf der Karte an der Wand neben dem Router und DVD-Player sucured. Die Lounge verfügt über einen großen maßgeschneiderten Tag Ibiza-Stil Bett / Sofa, das sich in vielen Kissen, Kissen ertrinkt und wirft, dass man gemütlich in in der Nacht und einen Film ansehen oder ducken mit, wenn das Wetter wird ein wenig wilden Außenseite (vor allem in der Winter natürlich). Alle Kissen am Tag aus dem Bett und legte getroffen werden können, die auf der Bank außerhalb sollten Sie lieber in der Sonne mit einem Getränk und einem guten Buch zu sitzen, fragen wir nur Sie kümmern sich um sie und nicht verlassen sie draußen im regen oder während Sie sind überhaupt nicht No.7. THE SEA WALL - in der Lounge, ist ein großer Teil von No.7 einzigartigen Funktionen. Es ist Ihre Go für Karten (alte und neue) von Cornwall, Penwith und St.Ives zu erkennen. Sehr wichtig ist seine ganz eigene Thermometer hat es auch auf diesem sich ständig verändernden Temperatur einchecken, Barometer, um zu sehen, wie das Wetter tun wird und ein sehr handliches Tide Uhr, die Stunden zu Ebbe und Flut zeigt, die, wie Sie sehen, wenn Sie erhalten zu St.Ives ist ein sehr sichtbares Tagesordnung. Nicht nur hat es, dass aber die Wand hat 3 große Funktionen, die Sie wollen, können entweder außen am No.7 oder am Strand ... zu nutzen. Du hast 2 Liegen, die an den Wänden mit Haken aufgehängt sind, dass man leicht die Stühle ab und führen heben können, sowie Unsere schöne STRIPY WIND, die auch auf Haken gesetzt ist, dass Sie einfach abheben. Perfekt, um den Strand zu nehmen hinunter Sie von der Brise zu schützen, während Sie hoffentlich in der Sonne von St.Ives baden. Nur eine kleine Anfrage ... ..bitte Sie kümmern sich um diese Elemente, wenn sie aus No.7 nehmen sie alle speziell für uns gemacht worden und wir würden wirklich nicht wollen, dass sie verloren oder unnötig beschädigt und stellen Sie sicher, sie sind wieder in ihre richtigen Platz, wenn es Zeit für Sie kommt zu verlassen. Das Bad hat eine schöne heiße Dusche, die Sie zu jeder Tageszeit nutzen können (ein- und ausgeschaltet werden die Zugschnur durch das Badezimmerlicht verwenden) und Gästetücher in Hülle und Fülle für Sie aus unserem Boot Erz Handtuchhalter zu verwenden. Das Schlafzimmer verfügt über einen großen Einbauschrank, zu entpacken und speichern Sie Ihre Taschen, oder Fälle. Ein gemütliches Doppelbett, mit Leselampen und viele Steckdosen für Handy-Ladegeräte und Haartrockner. Es hat auch einen schönen Platz am Fenster, um sich selbst zu verorten an mit einem guten Magazin im Sonnenlicht oder als kleiner Tisch zu verwenden, wenn draußen saß, also die Möwen nicht plötzlich ein Interesse nehmen Sie das Fenster mit einem Blind ausgestattet ist, sondern auch eine netto-Option, und ein schwerer grauen Vorhang sollten Sie wollen vom Aufwachen Sie die Morgensonne zu blockieren. Ich hoffe, dass Sie wirklich den Raum genieße ich tun, wenn ich in St. Ives bin, sein ganz besonderes für mich, aber wenn Sie Fragen haben, zögern Sie bitte nicht zu fragen. Beste Wünsche Gemma
No.7 Trinke keinen Alkohol Street, ist ein schöner Ort in St.Ives zu sein. Es ist ein börsennotiertes Residenz und ein Teil einer historischen Umgebung in der Stadt mit dem Namen 'Downalong' dies traditionell ist, wo die Fischer und ihre Familien lebten und deren Bekämpfung und Netze gespeichert. Badestrände: No.7 in gleichem Abstand von 4 der 5 wichtigsten Strände in St.Ives befindet, wobei dieser Porthmeor Strand mein Favorit, aber Porthgwidden ist ein schöner Ort zu und Ihre nächste zu, zusammen mit Bambaloose Beach (es ist ein Gezeiten überspringen Strand aber so zu bestimmten Zeiten des Tages ist es nicht so zugänglich). Der Hafen Strand ist buchstäblich um die Ecke zu und ist ganz der Hype der Tätigkeit im Sommer, aber gute Atmosphäre nicht weniger. Porthminster Beach ist etwas weiter entfernt, über den Hafen (10-15 Minuten zu Fuß je nachdem, wie beschäftigt der Hafen ist). Zum Entdecken und wenn Sie wie ein Surf fühlen gehen und die schönen Jungs bei St.Ives Surf School in Porthmeor Beach sehen WO ESSEN: Porthmeor, Porthgwidden, The Harbour Beach & Porthminster nahe sind und an ein paar wirklich schöne Restaurants. Sie müssen versuchen, und einen Tisch im Porthmeor Cafe zum Abendessen oder Mittagessen, wenn nicht West Beach auf der anderen Seite des Strandes bekommen hat ein schönes Menü und ist ein fabelhafter Ort zum Entspannen und beobachten den Sonnenuntergang über die Strand- seine nicht zu entgehen lassen! Porthgwidden haben auch ein fantastisches Restaurant, zum Mittag- und Abendessen mit Blick auf das Meer zu booten. Die Porthminster Restuarant, die auf Porthminster Beach ist berühmt ist und landesweit für seine preisgekrönte Menü überprüft und ist auch eine fabelhafte Lage. Wenn Sie wie die zu Fuß nicht das Gefühl, dort drüben, dann gibt es viele auf dem Harbour Front an Kopf. Gleich um die Ecke ist die Tea Rooms in den Abend, die eine der köstlichsten Menüs in der Stadt, die alle frische, regionale Produkte mit einem fabelhaften Weinkarte und entspannte romantische Atmosphäre. Alternativ ist das neu eröffnete Porthminster Küche sehr zu empfehlen, Frühstück, Mittag- oder Abendessen kann man wirklich nichts falsch dorthin zu gehen. Das neu renovierte Alba ist ein großartiger Ort für einen Cocktail und eine köstliche Mahlzeit. Auf Fore Street 57 Fore Street gibt es die für Wein und Tapas eines Abends (schönen Meerblick im Obergeschoss), The Seafood Cafe ist eine beliebte Wahl und weiter unten Fore Street in der Nähe des Marktplatzes ist Black Rock, die immer ein großartiger Ort ist, sehr für ihr Essen gelobt. Olive Cafe in der Nähe von Trinke keinen Alkohol Street ist ein kleines Juwel zu :). Bars wie The Hub, dem Balkon, Blass Burger & West Beach (Porthmeor) sind in ihrem Ansatz entspannt, aber sind für gut gemacht und gute Qualität an Speisen, mit einer Bar gemischt fühlen, um sie .... es gibt so viel mehr sind, aber ich werde dich gehen lassen hin und erobern St. Ives an dieser Front. SIEH DICH UM Fore Street, und der Hafen sind die wichtigsten Einkaufsstraßen, Es ist ein Off-Lizenz genannt Johns auf Fore Street, die mit etwas bestückt Sie an dieser Front erfordern, die Zuteilung Delli auf Fore Street hat alles von frischem Obst, Brot, gepresst Säfte und Gemüse zu Oliven, sandwishes und Picknick-Artikel für den Strand sie sogar Toilettenrolle & Teebeuteln tun Stellen Sie sicher, dass Sie die Küstenwege gehen und zu erkunden und Wanderungen vor Ort zu St.Ives, sie sind atemberaubend! Machen Sie einen Ausflug in die Tate St. Ives und vergessen Sie nicht das Hepworth Museum, eine wirklich interessante Art und Weise des Sehens der Kunstszene und seine berühmte historische Wirkung auf die Umgebung zu sehen, einer meiner Favoriten. Habe Spaß!
We had a lovely stay in St.Ives and the accommodation was great - just as described! Gemma's welcome booklet was full of useful information and we discovered some great places. It is in the perfect location and we wouldn't hesitate to visit again. Thank you!
Emma
2016-08-12T00:00:00Z
No 7 was just perfect, cosy and romantic as well as perfectly located for exploring St Ives. Gemma was so thoughtful, every detail made us smile that little bit wider. :)
Kate
2016-03-08T00:00:00Z
Gemma was really quick to respond to my questions, and the information she left was very comprehensive too. We were also left with a yummy loaf of local bread, some plonk and some other bits and pieces which was really nice. The place was really nice - I expected to know exactly what I was getting as have stayed in this road before, but it's been really well laid out to maximize the dinky space (the normal st Ives charm). As always st Ives was lovely. The mermaid was close enough to crawl to (my fave restaurant) and we had a great time fois gras'ing ourselves on all the local grub. Top trip. Thanks Gemma!
Kirsty
2016-09-26T00:00:00Z
As described No.7 Teetotal St is in a prime location, under a 5 minute walk from St Ives, with all the lovely views and restaurants it has to offer. The place itself is lovingly kept and was spotless upon arrival. The host (Gemma) communicated everything meticulously well in advance of our stay and offered helpful tips for the time we were there. Make use of the sun loungers like we did, taking them to the nearby beach! Would happily come back here again.
Michael
2016-07-01T00:00:00Z
Fab place, awesome location and quaint! Highly recommended! Great host too!
Alex
2016-12-29T00:00:00Z
Great host - good communication, useful information about accommodation and St. Ives. Accommodation was in great location and decor and furnishings provided real comfort and great sense of place. Would definitely stay here again.
Dominic
2016-04-02T00:00:00Z
Gemma's place was perfect for the two of us for a long weekend. Great distance from the centre and funky decor just like all the pictures.
Sophie
2017-03-19T00:00:00Z
Amazing host absolutely perfect
Maximillian
2017-02-26T00:00:00Z
Huonetyyppi
Koko talo/asunto
---
Majoituspaikan tyyppi
Huoneisto
---
Majoittujien määrä
2
---
Makuuhuoneet
St Ives, Cornwall, Britannia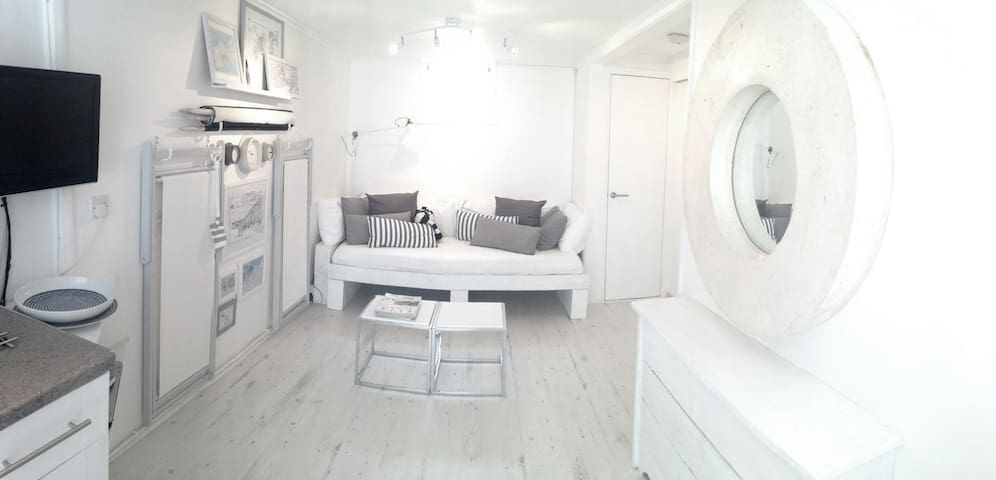 Beach View Apartment è un elegante, accogliente e confortevole appartamento al piano terra con una fantastica vista sulla spiaggia di Porthminster e del mare. Aveva un grande rinnovamento maggio 2016 compreso nuova cucina, riscaldamento centralizzato e pavimenti. Dotato di un elevato standard che ora vanta lavastoviglie, lavatrice, Sky Wi-Fi, 40 "TV intelligente a schermo piatto con la barra del suono (compresi Bluetooth), connettori USB per la ricarica del telefono. C'è un sacco di acqua calda, un bagno e un enorme doccia per contribuire a recuperare da giorni sulla spiaggia!
Primrose Court è una deliziosa casa costruita alla fine del 1800 e ora trasformato in appartamenti. Ha una splendida vista su St. Ives porto, il vicino Porthminster Beach e vista sul mare fuori di Godrevy Lighthouse. Beach View appartamento (numero 12) è un elegante, accogliente e confortevole appartamento al piano terra con una fantastica vista spiaggia e mare. Aveva un grande rinnovamento maggio 2016 compreso nuova cucina, riscaldamento centralizzato e pavimenti. Dotato di un elevato standard che ora vanta lavastoviglie, lavatrice, Sky Wi-Fi, 40 "TV intelligente a schermo piatto con la barra del suono (compresi Bluetooth), connettori USB per la ricarica del telefono. C'è un sacco di acqua calda, un bagno e un enorme doccia per contribuire a recuperare da giorni sulla spiaggia! La premiata Porthminster Beach, con il suo famoso 'gastro' beach bar, è una breve passeggiata di forse 250 metri. Campi da tennis di fronte alla casa sono aperti al pubblico dal lun-sab. minuscola stazione ferroviaria di St Ives 'si trova a pochi minuti a piedi che lo rende ideale per coloro che non vogliono portare la propria auto. Ma per quelli che lo fanno, l'appartamento ha un posto auto dedicato - essenziale per St. Ives - nelle vicinanze.
The host canceled this reservation 310 days before arrival. This is an automated posting.
Bert
2016-08-31T00:00:00Z
lovely spot with all the facilities you need for a relaxing holiday.
Kate
2017-04-05T00:00:00Z
The host canceled this reservation 140 days before arrival. This is an automated posting.
paul
2017-01-07T00:00:00Z
Huonetyyppi
Koko talo/asunto
---
Majoituspaikan tyyppi
Huoneisto
---
Majoittujien määrä
4
---
Makuuhuoneet
Cornwall, Englanti, Britannia
Gorgeous Studio Apartment on the ground floor of a large Victorian terrace house, with parking ( medium size car),sea and harbour view. Ideally located just a minute or two walk from the town centre, harbour and beaches. The studio apartment is fully equipped.
The Studio apartment has a fully equipped kitchen with solid oak work tops, two seater sofa, double bed, dining table & two chairs & en-suite bathroom with toilet, sink and mixer showerhead. Restricted head space in entranceway. There is a 32" SMART TV with Blue Ray DVD player and a selection of DVD's, games and books.
It's St Ives Cornwall - Need we say more it's amazing!
We had a wonderful stay at Vanessa's studio -really cute little studio, perfect for a couple (or single) , spotlessly clean and great location, just 2 mins from the centre. Parking space a big plus! Really happy that we found this place and would definitely return if we stay in St. Ives again. Thanks Vanessa.
Helen
2017-03-12T00:00:00Z
We had a great stay in the perfect location. Vanessa introduced herself soon after we arrived and let us know she was available at any time. The property was clean and tidy, with all appliances that you would need for a getaway. Although it was compact and the height of the ceiling was restricted, it was a comfortable studio and we enjoyed our stay.
Chloe
2016-08-02T00:00:00Z
was a great property as a base to go exploring in st ives. Modern and clean and everything that was needed. JUst remember to bend down when entering as ceiling is low when entering but perfect inside. and great location not far from station and short walk to the town
anthony
2017-03-20T00:00:00Z
I recently stayed for two nights and have no complaints whatsoever. Vanessa introduced herself on our arrival, made sure we had everything we needed and then left us to it to enjoy our stay. The studio flat was beautifully decorated and in a great location just a few minutes walk from the harbour. Extra touches such as bath robes and toiletries added a touch of luxury! I would stay here again!
Elaine
2016-05-29T00:00:00Z
Vanessa's place is ideal for a couple looking for a few nights stay in St Ives. It's lovely, clean, well presented and just a short walk to the shops , bars and beaches. Vanessa was a great host who made check in very easy.
Callum
2017-04-01T00:00:00Z
The studio was lovely, very clean and cute. Perhaps wouldn't be so good for a very tall person but was great for us. Vanessa made us feel welcome and the location was ideal!
Sarah
2016-09-03T00:00:00Z
Location was superb, everything is on your doorstep! 2 minute walk into town, 5 minute walk to the harbour. Lovely town with everything and some amazing restaurants. Has to be one of the nicest places in England. Studio apartment was fantastic, has everything and very modern. 6 stars!!! Thanks Vanessa!
Ben
2016-10-19T00:00:00Z
We recently stayed for 4 days at the studio. It's the perfect st Ives location for exploring, the studio is wonderfully decorated and has everything you could need for a trip. Vanessa was very helpful throughout and helping us when we forgot a charger. Would defintely return
Vanessa
2016-08-22T00:00:00Z
Huonetyyppi
Koko talo/asunto
---
Majoituspaikan tyyppi
Huoneisto
---
Majoittujien määrä
2
---
Makuuhuoneet
Saint Ives, Britannia
Porthminster Apartment Two is a one bedroom recently refurbished flat. It is perfectly located in the heart of St.Ives, with the beach, shops and restaurants all right on your doorstep! It has incredible panoramic views of St.Ives Bay from the lounge opening out onto a balcony, ideal for alfresco dining and people watching! It is a perfect bases for exploring all St.Ives has to offer, ideal for couples. Arrival and departure days must be Mondays or Fridays.
The apartment is situated on St Ives harbour front above an award winning restaurant
Stayed for 3 nights in this apartment and it was lovely. The apartment itself is clean and spacious. A highlight is the balcony overlooking the harbour. The location is also perfect, as it is within easy walking distance of the beaches, shops and restaurants. Would highly recommend this place.
Anjoli
2016-08-01T00:00:00Z
The location was amazing in terms of access to cafes, festival events and harbour views. We were happy to simply sit in the lounge room, or on the balcony and watch the world go by. Access to the wonderful Porthminster Restaurant via the entry stairs was a bonus. However, the stairs are steep and narrow and would not suit people with mobility problems (there is no lift)
Trevor
2016-09-19T00:00:00Z
We absolutely loved this apartment and Elaine was lovely... communicated well. Put a highchair and cot in the apartment for our 9 month old. She even let us check in early (even though we didn't use this due to traffic). The location was beautiful.. to look out and see the harbour everyday was a delight. We were situated above the restaurant and we never heard any of the noise. The loudest thing was the huge seagulls! I loved the little touches like books and dvds in the apartment lobby. The facilities of washer/tumble/iron etc were helpful. The only downfall we found was parking. There was loading bays where we could unload but the car park was that little too far and £7.50 for 24 hours. Trying to find a space was also challenging as majority of the car park was residents only. The area was very busy too and the little roads were full of people and cars BUT we went peak season (first week of August). But as an overall it was a wonderful stay and we will return to St.Ives. I recommend a visit to Carbis Bay beach... beautiful. Thank you Elaine, love the Carters X
Catherine
2016-08-05T00:00:00Z
This apartment is a little gem in the heart of St Ives. Perfect location. Elaine's communication was great from start to finish. We had everything we needed for our stay there!
Laura
2016-08-16T00:00:00Z
Thank you Elaine for letting us stay in your lovely apartment, the location was great for us, we loved just stepping out of the door and being right in the middle of everything, the views from the balcony over the harbour were fantastic, we would love to return. James.
James
2017-03-13T00:00:00Z
Excellent base to explore West Cornwall and so central in St. Ives with good harbour views.
Sue
2017-02-24T00:00:00Z
Lovely St Ives hideaway with gorgeous views in great location.
Eleanor
2016-10-20T00:00:00Z
Booked this apartment for our mini-moon and it didn't disappoint! Small but cosy and you can't ask for a better location. All the facilities to cater in for yourself and why wouldn't you, the views on the balcony are stunning. Everything provided including towels, tea & coffee, smellies. Super comfy bed! Great host, will be recommending!
Natalie
2016-11-04T00:00:00Z
Huonetyyppi
Koko talo/asunto
---
Majoituspaikan tyyppi
Huoneisto
---
Majoittujien määrä
2
---
Makuuhuoneet
Saint Ives, Englanti, Britannia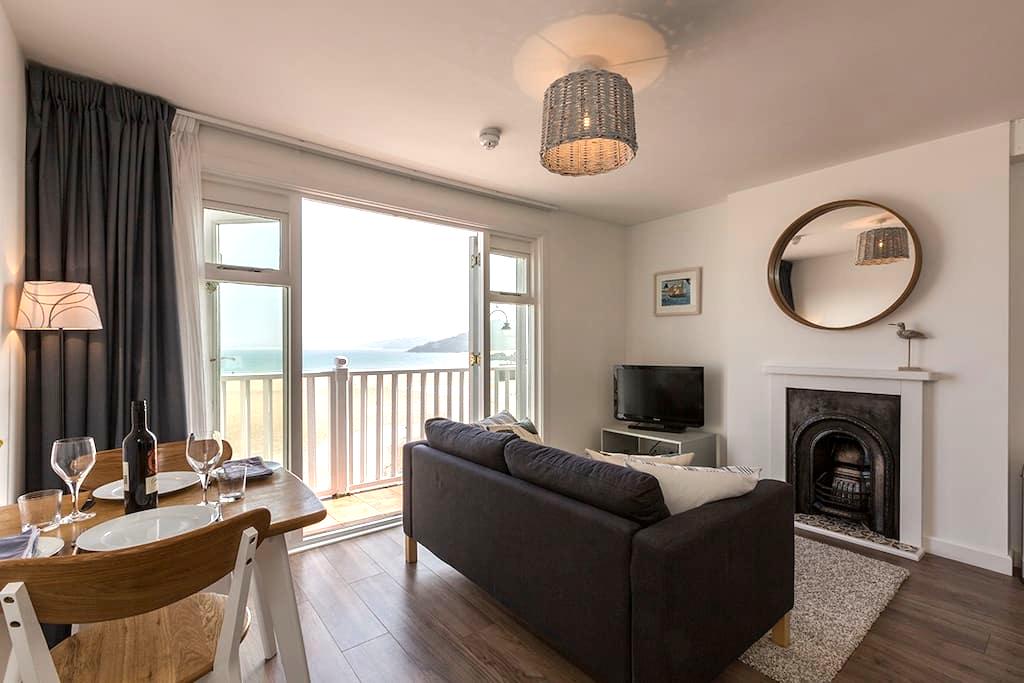 Byt se nachází v levém předním rohu našeho bungalovu. Přístup je přes jeho vlastní přední dveře přístupné zevnitř verandy. Má samostatný obývací pokoj / kuchyň / jídelna. V kuchyni je elektrický sporák se 4 varné kroužky, trouba a gril; dřez; pod pult chladnička s mrazákem; mikrovlnná trouba; varná konvice a toaster. Prostorná ložnice s vlastní sprchou. Ložnice má manželskou postel; noční stolky; Zásuvky a vybavená skříň prostor.
Connor Downs je malá vesnice, pouhých 5 minut chůze od nádherné pláže National Trust Godrevy a 15 minut jízdy autem do krásné rybářské vesnice St Ives. Jsme obklopeni úžasné pláže ve všech směrech. Pobřežní cesta je snadno dostupné pro ty, kteří chtějí projít kolem této krásné oblasti. Obec má krásný místní hospody v docházkové vzdálenosti sloužící dobré čerstvé potraviny. Za 10 minut chůze se dostanete do pohádkové Trevaskis Farm, naše místní farmě obchodě, deli a restaurace. Báječný jídlo a pokud máte rádi dezerty - to je místo k jídlu !! Nejsme daleko od kultovní St Michaels hoře u Penzance, jen 1 hodinu jízdy od ohromující Eden Project. Existuje spousta krásných zahrad, aby prozkoumala - Trebah, Lost Gardens of Heligan, Tremenheeru Sochařství zahrady abychom jmenovali alespoň některé.
Spacious accommodation and an ideal location for exploring the area. Everything is newly decorated and is clean and fresh. Friendly host and good Wi-Fi. A very pleasant stay!
Chris
2016-07-25T00:00:00Z
The Fourwinds Apartment was a fantastic experience. A five minute drive from the beach at Godrevy for great surfing and sunbathing. The location of the accommodation was perfect to explore other parts of Cornwall from as well. The apartment was comfortable and well furnished. Good facilities for cooking/eating and a fantastic en suite. The great location of Fourwinds is really what makes this a great place to stay, everything else is just the icing on the cake. Thank you Lynn!
George
2016-08-21T00:00:00Z
Four Winds was a great apartment, recently refurbished and beautifully prepared for (URL HIDDEN) had everything we needed and was spotlessly clean. Lynn and Phil were perfect hosts too. They welcomed us on arrival and gave us all the information we needed about the local area. They even offered to pick us up from the pub! The nearby Farm restaurant is a must - exceptional food! It is an ideal location for visiting the area being close to so many beaches, gardens and great walks. Thank you Lynn and Phil for a great stay.
julia
2016-05-31T00:00:00Z
Extremely satisfied overall with our stay, all the amenities you'd need, more than ideal location for exploration on the daily, the host very informative of the area and really pleasant, which resonated throughout the annex, really did transcend our expectations!
Daniel
2016-08-14T00:00:00Z
Lovely space with everything required to make it a home away from home. Perfect location to explore all the picturesque sights of the lower half of Cornwall, would definitely recommend and visit again.
Peter
2016-09-08T00:00:00Z
Lynn was easy to deal with and made us feel relaxed immediately. Fourwinds is an ideal location for exploring lower Cornwall situated close to the A30 and to Hayle for all shopping requirements. The annex was clean, very welcoming and spacious and felt like our home from home. It has everything you need to be self contained and independent for a few days or even longer. Tea bags and a small jug of milk were a welcome addition to our arrival and well needed. There is also ample parking. Thoroughly recommend a stay here if a self sufficient holiday in the heart of Cornwall is what you need.
steven
2016-09-06T00:00:00Z
Happy with our stay.
John
2016-09-17T00:00:00Z
The listing was accurate. It is a few mins drive from the beach.
Kuba
2016-09-13T00:00:00Z
Huonetyyppi
Koko talo/asunto
---
Majoituspaikan tyyppi
Huoneisto
---
Majoittujien määrä
2
---
Makuuhuoneet
Connor Downs, Cornwall, Britannia
SeaCrest 1 ist eine stilvolle, hochwertige modernen Leben für seine Gäste. Die Lounge blickt über Porthmeor Strand und beinhaltet hohe Spezifikation Smart-TV mit BT Vision und DVD. Gratis Wifi.
St. Ives ist eine weltbekannte Urlaubsziel mit zahlreichen Attraktionen, die nie die Besucher zu erfreuen ausfällt. Sie können die kleinen, gepflasterten Straßen genießen die Vielzahl individueller Geschäfte erkunden. Die malerische Downalong Bereich auf den Hafen und geschmückten in Blumen den ganzen Sommer über der Grenze ermöglicht es den Besuchern in der Zeit zurück und beziehen sich auf St. Ives "Fischerei Erbe. St. Ives ist von herrlichen preisgekrönten Strände bieten den Besuchern sicheren Baden und verschiedenen Aktivitäten wie Surfen, Tauchen, Bootsfahrten und Angel beringt. Es gibt viele hervorragende Restaurants auf frische Meeresfrüchte spezialisiert. Die Stadt ist berühmt als Kunstzentrum. Viele Künstler wurden in die Gegend gezogen und die Stadt Gastgeber der renommierten Tate Gallery und Barbara Hepworth Museum. Die St. Ives School of Art bietet Kurse das ganze Jahr über. Der South West Küsten-Weg kreuzt durch die Stadt und die Wanderung nach Westen bis Zennor bietet einen spektakulären Blick St. Ives ist auch eine fantastische Basis, die eine Vielzahl von lokalen Sehenswürdigkeiten, wie Ende des Landes, The Minnack Theater, das St Just Tin Mines für den Besuch - Weltkulturerbe und das National Maritime Museum in Falmouth.
We had a lovely stay in Seacrest; it is in an amazing location for walking to the beach/galleries/town and is well laid out with plenty of space. We definitely hope to return in the future!
Elizabeth
2016-04-30T00:00:00Z
Modern and bright apartment in a very good location in the centre of St. Ives. Walking distance to everything in town and a sea view across the car park from the living room.
Tessa
2017-03-20T00:00:00Z
Huonetyyppi
Koko talo/asunto
---
Majoituspaikan tyyppi
Huoneisto
---
Majoittujien määrä
6
---
Makuuhuoneet
Cornwall, Britannia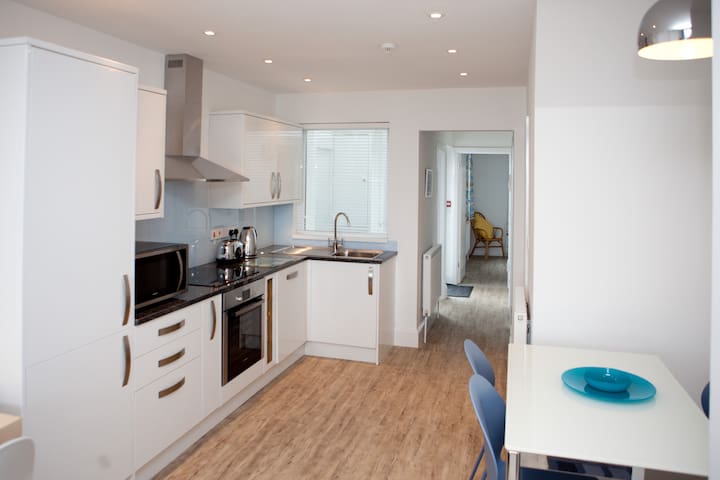 Nyrenoveret stuelejlighed med havet glimt, beliggende i et roligt boligområde area.Well udstyret køkken. Moderne brusebadeværelse med gulvvarme og håndklædetørrer. King size seng med kvalitet sengelinned og håndklæder. Udendørs kommunale siddepladser område. Tæt på surfe strand, kyst-sti og Tate Gallery. Kort gåtur ned i St Ives byen via Porthmeor Hill. På gaden parkering. Single størrelse garage til rådighed på anmodning.
Rummelig entré giver masser af plads til at opbevare udendørs gear, døre, der fører ud til den generøse størrelse åbent køkken / stue / alrum med terrassedøre, der fører ud til haven med udsigt over havet. En moderne brusebadeværelse med gulvvarme og håndklædetørrer. Soveværelse med udsigt over baghaven med King size seng, træ hængende garderobestang.
Carthew er et roligt boligområde. Kendt for sin lette adgang til strandene og Tate Gallery. En 10 minutters gang ned en kort stejl bakke bringer dig til Porthmeor Beach og Tate Gallery.
We recently stayed in Sea Salt apartment and had a fantastic time. The apartment is very close to Porthmeor beach, and around a 5-10 minute walk into the town and the harbour (depending on how fast you walk!) It's quite a steep walk uphill back to the apartment, although most of St Ives is hilly! Anna was really helpful - she was in touch beforehand with some restaurant tips, and made sure that essentials were at the flat when we got there. Having some prosecco and biscuits on arrival was wonderful, too! The apartment was very clean and the bed was super comfy. This place is perfect for a couple wanting to stay in St Ives. Would recommend.
Dora
2016-06-09T00:00:00Z
Alison was absolutely perfect. A lovely lady, responded very quick on my messages and was so kind and correct during check in.
Edwin
2015-10-29T00:00:00Z
The description of the apartment was accurate and the location excellent with parking available which was a bonus in St. Ives. The condition and cleanliness of the apartment was superb. It is located in a very quiet residential area and only a short walk from Porthmeor beach and the Tate Gallery (although closed for refurbishment on this occasion). Alison was easily accessible giving useful information about the apartment and the area.
Maureen
2015-10-05T00:00:00Z
First time using Airbnb and not disappointed. Anna's place was spotless, beautiful and extremely comfortable we thoroughly enjoyed staying there. It was in a lovely and quiet area with good views out to sea and a quick walk into town (the hill is a bit of a killer though!). Would not hesitate in staying here again. Good communication with Anna and the little touches of chocolate, biscuits and prosecco waiting on our arrival really put the icing on the cake, Thank you
Vicky
2017-03-27T00:00:00Z
Alison hat uns mit frischen Scones und Milch für den Afternoon-Tee empfangen. Wir hatten ein witziges und informatives Gespräch und haben uns gleich verstanden. Glücklicherweise stand uns eine reservierte Garage zur Verfügung in Anbetracht des ausgeprägten Parkplatzmangels in St.Yves. In der zweckmässig und modern eingerichteten Wohnung haben wir uns wohlgefühlt. Vor allem waren wir begeistert von den kurzen Wegen zu den verschiedenen Beaches, dem direkten Zugang zum Costal Footpath und den Restaurants.
Margrit
2015-08-25T00:00:00Z
The place was exactly what we wanted for a long weekend break. It was quiet, cozy and immaculately presented. One of the nicest airbnb experiences we have had.
Peter
2017-03-12T00:00:00Z
Lovely furnished and cozy apartment - we had a great relaxing weekend. Easy check-in with directions and local tips to eat and drink from Anna. Highly recommended
michael
2017-03-20T00:00:00Z
Anna is a fantastic host, she has a beautiful property that I would highly recommend. The apartment fresh, clean, welcoming and well presented! I simply couldn't rave about it enough, we were so impressed with everything, she even went to the trouble of leaving a birthday card for me and a bottle of prosecco with some shortbread and chocolates! Loved it, would definitely stay again!
yazmyn
2016-08-13T00:00:00Z
Huonetyyppi
Koko talo/asunto
---
Majoituspaikan tyyppi
Huoneisto
---
Majoittujien määrä
2
---
Makuuhuoneet
St Ives, Cornwall, Britannia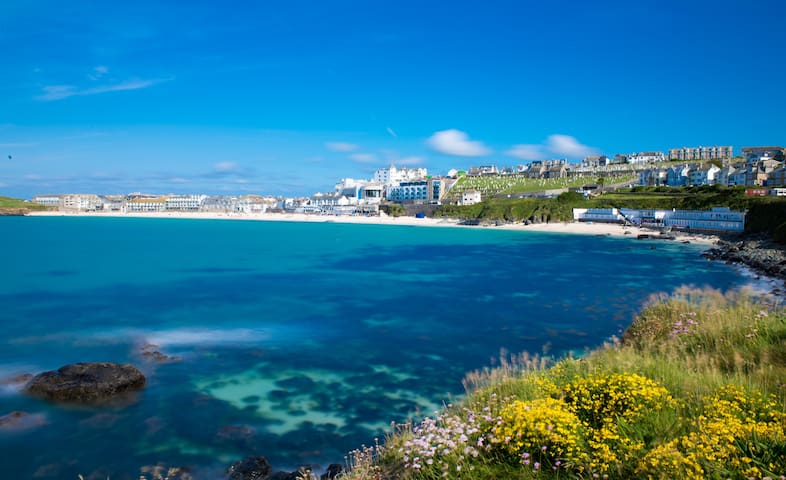 Relaxing, self contained studio flat near to town centre, separate access. 5 mins drive from golden beaches and lovely coastal walks near by. Main rail and bus links. En-suite with shower, kitchen (equipped with fridge, microwave, toaster and kettle). Wi Fi included.
Self contained double room with double doors opening onto your garden space . Your own Kitchen, equipped with Electric hob, Combination microwave, fridge, kettle and toaster. Shower and WC. Clean, comfortable and refreshing for your stay here. Tea and Coffee provided with Cornish biscuits. Clean towels are provided.
Lots of beautiful places to visit in West Cornwall. Three miles of golden, clean beaches within five minutes drive from here. Surfing and swimming in our fabulous beaches and lovely cafes for hot chocolate to warm up after . St Ives is a twenty minute train journey which is the most stunning and convenient way to visit the busy town. You can drive there in ten minutes but parking is expensive and limited. St Michael's mount is a twenty minute drive and also beautiful. Eden, Padstow, Mousehole are all lovely to visit from here. We are situated just off the A30 which makes All of Cornwall easily accessible.
Phil and Tor's Airbnb is perfect! Location was really convenient, being within walking distances of the beach and locals shops & pubs etc. But also being just a short drive to local towns & attractions. The studio itself is great for a couple - a cosy size but perfectly adequate. Bed is super comfy, shower is great. Overall, a really great place to stay and amazing value! Would definitely recommend. Also Didn't get to meet Phil - but Tor was lovely and really accommodating. Stay here!
Williamed
2016-10-03T00:00:00Z
Très bien situé proche des différents sites a visiter.
jessie
2016-08-21T00:00:00Z
Lovely place to stay for a short break. Peaceful surroundings but easy to get everywhere. Hayle is a nice small town with an easy walk to the beach and plenty of supermarkets. Also very easy to get to St Ives- we had a nice evening meal and stroll there. The studio is light and has good facilities for making breakfast/ lunch although no oven/hob. Thanks for a warm welcome and lovely stay!
Jenny
2016-05-25T00:00:00Z
The room is lovely, the hosts were very welcoming and friendly, there is a parking space just outside, lots of hot water, fast wifi and a comfy bed. Perfect for a short break. Great value. Would definitely recommend and definitely go back and stay again. Beautiful area and a great beginner surf location. Exactly as described.
David
2016-05-23T00:00:00Z
Me and my friend stayed with Phil and Tori for 4 weeks, I've had a really good experience, they were both really friendly and welcoming and did everything that we were not missing anything. I will happily stay with them again. Freja
Freja
2016-11-12T00:00:00Z
From the beginning we felt very welcomed by Phil who gave us lots of useful information about Cornwall and surroundings. The studio was very clean, well-equipped, cozy and beautifully decorated with strong attention to details. Location is perfect for visting basically every corner of Cornwall. We would definitely recommend this place to everyone!
Remigiusz
2016-07-19T00:00:00Z
Nice little place a short drive from St Ives, Godrevy head etc... Small and basic but absolutely does the job for a nice couple of days away. Would stay again.
Lucas
2017-02-13T00:00:00Z
Amazing hosts and amazing little gem in Hayle. The studio is cozy and very well decorated, with everything you need. It comes with a private parking space, a private entrance and a nice little garden, so you will get all the privacy that you need. Hayle is a very nice village very close to St. Ives, it takes only 10/15 minutes to go there by car. The beach is 5 minutes away (by car) and it's breathtaking! Phil is a great host; he gave us some useful infos about the surrounding area. The ONLY cons: Since there's only a little fan in the toilet and no window, it'd be great to have an additional dehumidifier, in fact it gets quite humid.
Tiziano
2016-04-02T00:00:00Z
Huonetyyppi
Koko talo/asunto
---
Majoituspaikan tyyppi
Huoneisto
---
Majoittujien määrä
2
---
Makuuhuoneet
Hayle, Britannia
The apartment is a modern conversion of an elegant Edwardian terrace house with a sea view. South-facing with high ceilings and large windows natural light fills the rooms. Just a five minute stroll and you can be on the spectacular Porthminster beach or in the centre of St. Ives and all of St Ives beaches are within easy walking distance. The apartment has its own private parking space right outside which means you avoid the hassle and expense of St Ives parking.
A recently refurbished first floor apartment, the rooms are spacious with high ceilings, large windows and modern decor. Free wifi, 40" TV, DVD player. Fitted kitchen incl. dishwasher, washer/dryer, oven, hob and built in microwave. Spacious bedroom with king size bed and a new (March 2017) pocket sprung mattress with cashmere, wool and silk filling for a luxurious night's sleep. There is a single fold away bed also with a pocket sprung mattress suitable for a child, a large chest of drawers and wardrobe. The corner sofa in the living room easily converts into a very comfortable double bed suitable for 2 adults or children. All beds have feather duvets and bed linen is provided. A travel cot and high chair is available on request. Living room is spacious with a corner sofa and an oversized Fatboy bean bag for you to sit, lie or lounge on anyway you like. Bathroom has a large walk in powerful shower and a heated towel rail. Towels and hair dryer are provided. For our winter guests all windows are double glazed, the apartment is centrally heated and there are radiators in every room. Please arrive after 3pm and depart before 10am to allow for cleaning. If the apartment is ready for you before 3pm we'll text you so you don't have to hang around unnecessarily.
All of St Ives beaches, shops, restaurants and galleries including the Tate are within easy walking distance of the apartment. Whilst just a few minutes walk to the harbour and centre of St Ives, the apartment is on a quiet residential road allowing you to escape the hustle and bustle of St Ives. In the summer the large windows can be thrown open without letting in the noise which inevitably comes with such a vibrant holiday town, so you can relax and recharge your batteries.
Gorgeous flat, super clean and tidy, and well located. Eva was a very attentive host. Highly recommend!
Sophie
2017-03-12T00:00:00Z
Eva is the perfect host and the apartment is exceptional. We would definitely stay here again, can't recommend it highly enough. It's very close walking distance to St Ives' wonderful shops, pubs, restaurants and beautiful beaches. Immaculate rooms in a very quiet residential area with stunning views. The bed and sofa bed are extremely comfortable. Lots of thoughtful extras are included. We were here for three nights and wish we could have stayed longer. Many thanks Eva!
Antony
2017-04-11T00:00:00Z
We had a great week in St Ives, the flat was modern, warm and in a great location. Eva was a perfect host and answered queries promptly. I have recommend this property to my friends and family as an excellent choice for St Ives.
Derek
2017-04-02T00:00:00Z
This is a hidden gem! Such a short walk from the centre of st Ives! It has all the things you would need, especially in the kitchen! I usually have to bring a sharp knife or some good kitchen scissors with me but this was all already here! And the parking is not to be taken for granted! Also a really comfy bed! Would 100% recommend this place and would come again! Thank you Eva.
Harriet
2017-03-27T00:00:00Z
You won't be disappointed staying here. A five star apartment with all mod-cons, parking, a welcome tray of tea, coffee, Cornish biscuits and fresh milk to make your arrival feel extra special. They even have buckets, spades, fishing nets and a picnic blanket. A fabulous place to stay in St Ives. Thank you.
Rachel
2017-03-24T00:00:00Z
Stunning views from a great apartment in walking distance to town centre and beautiful beaches.
Anna
2017-03-21T00:00:00Z
A lovely apartment. Light, airy, quiet, plenty of space for the two of us and a short walk into town. Great value for money and would certainly go back.
Simon
2017-03-16T00:00:00Z
Huonetyyppi
Koko talo/asunto
---
Majoituspaikan tyyppi
Huoneisto
---
Majoittujien määrä
5
---
Makuuhuoneet
Saint Ives, Englanti, Britannia