You will have a private bedroom with brand new King-size double pillow top mattress, dresser, desk, reach-in closet, sofa chair and a spacious bathroom attached to your room with Roman bathtub, kitchen is fully equipped, TV is connected to Wifi and Netflix, washer and dryer, 24 hr access to the clubhouse gym, swimming pool and jacuzzi, 15 minutes drive from the Strip or Airport, 3 minutes away from casinos, shopping malls, restaurants. I will be your only roommate and I work 3-11pm. Welcome! :)
Swimming pool, spa, gym, open 24 hours Internet lounge, pool, entertainment center, open business hour 15 minutes to the Strip Walking distance to the Water Park 3 minutes to the Boyd Stadium 5 minutes to Casinos, shopping malls, restaurants etc.
Sunset Station Casino, Wildfire Casino, Green Valley Ranch Casino, Galleria Mall, Sam Boyd Stadium, Water Park, Walmart, Costco, Macy's, Nordstorm Rack, Target, TJ Maxx, Ross, Burlington, Bank of America, Red Lobster, Gen Korean BBQ etc.
Muy atenta y al pendiente.
Oscar
2016-10-29T00:00:00Z
Angel was so sweet. I didn't 't realize she rents out both her bedrooms at the same time. She made a delicious latte in the morning. She is very accommodating
MaryAnn
2016-10-21T00:00:00Z
The place is great and the location is close to downtown and the airport. lots of extra amenities which I didn't get to use because I only stayed over-night. I will definitely stay again the next time I am in Vegas!!
Nee
2016-12-03T00:00:00Z
My stay with Angel was amazing. The place was clean , she was very attentive and always wanted to make sure my stay was comfortable. I came to Vegas to look for my new home and not only did I find it , I made my first Vegas friend. Angel is a great person to talk to and she is always intrigued and appreciative that you have taken the time to talk to her. You won't be disappointed staying here, it's clean and has access to a pool, spa, and gym 24hrs. Thank you angel.
zaya
2016-09-29T00:00:00Z
Great Stay!
Chuck
2016-12-09T00:00:00Z
This was a lovely place to stay! We were able to unwind in the jacuzzi in the evenings, which was lovely, and it was the perfect distance to the UNLV stadium. Everything we needed was pretty close by.
McKenzie
2017-03-05T00:00:00Z
If there's one thing I appreciate it's automation. Having a keyless entry should be a feature listed in in Airbnb because avoiding the key exchange is good for everyone and avoids having to be there at a certain time.
David
2017-02-10T00:00:00Z
Great host, great location.
Nanami
2016-12-25T00:00:00Z
Huonetyyppi
Yksityinen huone
---
Majoituspaikan tyyppi
Huoneisto
---
Majoittujien määrä
2
---
Makuuhuoneet
Henderson, Nevada, Yhdysvallat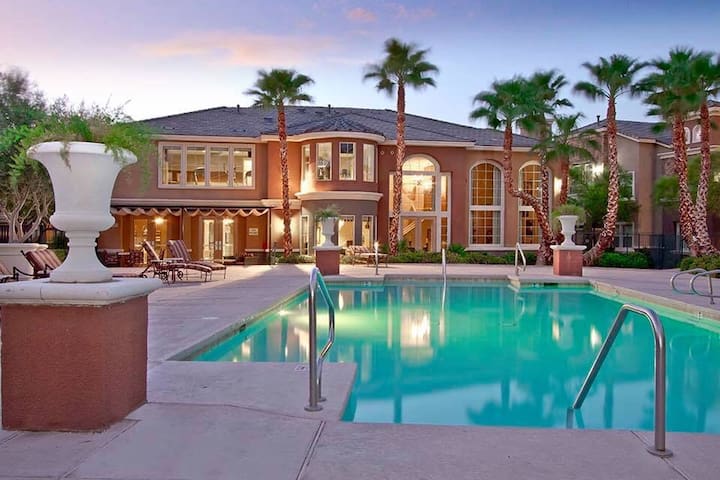 Very Modern & Spacious. 15 minutes from Strip. Beautiful Views! Gated Community 2 bedrooms & 2 bathrooms Pool & Jacuzzi Theater and Gym
* 1500 square ft. * Floor to ceiling windows in both bed rooms * Large balcony with mountain & city views
Quiet, close to freeway
Sheikira and Brandon were one of the best host who made our stay so easy and most memorable. They were so considerate and always kept asking us on how our stay was. The house is an awesome and worth the money. I would recommend this to all my friends.
Sitaraman
2017-04-09T00:00:00Z
Huonetyyppi
Koko talo/asunto
---
Majoituspaikan tyyppi
Huoneisto
---
Majoittujien määrä
4
---
Makuuhuoneet
Henderson, Nevada, Yhdysvallat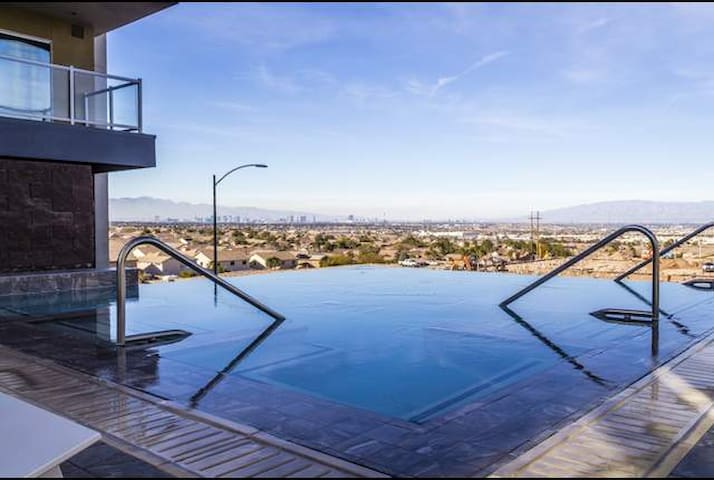 One of the best-hidden vacation destinations in the Las Vegas located in a Mountain Valley on the way to Lake Mead and Hoover Dam. Only 17 miles away from the World Famous Strip. This fabulous multi-billion dollar resort surrounded over 300 acres man-made Lake. Great for business , couples or solo traveler. Skip the ordinary stay at the Gorgeous Lake Las Vegas. NO RESORT FEE.
475 sqft Studio Unit with Kitchenette, shower and bathtub combo Bathroom. Full access to gym, pool and Hot tub. Free parking underground/outdoor. Wifi, cable all included.
Around every corner, you'll find new options for dining in the best international traditions. Or head out on the lake on a yacht, gondola, or paddle boat - the marina has plenty of options to choose from. Lake Las Vegas is also a popular location for events of all kinds: concerts, wine walks, beer festivals, triathlons, model boat races... there's always something exciting going on here! Escape to this Extraordinary Lake Las Vegas Resort
Enjoyed our stay and will definitely come back. Great location away from the strip (40 min drive to the strip). The area if first class. The pool area is relaxing, the lake makes for beautiful scenery and great restaurants within a short walk. Elton was attentive to the whole process
Mark
2017-04-08T00:00:00Z
Nice unit, easy to access. Enough amenities to make it feel like home. Elton is an A + communicator and host.
Michael
2017-03-30T00:00:00Z
Elton's hospitality was impeccable. Wonderful experience...
Wanda
2017-03-22T00:00:00Z
This was an absolutely beautiful place to stay. The room was clean and nice, and there was everything needed supplied for you. There are restaurants and a shop within walking distance and beautiful views. We will definitely be coming back to stay here!
Taran
2017-03-17T00:00:00Z
Thanks for being a great host! Only thing we were slightly bummed about was the hot tub was in-op but that wasn't Eltons fault! :-) loved it
Leslie
2017-02-10T00:00:00Z
Elton is nice host, he replays so fast and always helpful.
Megumi
2017-02-21T00:00:00Z
Great place, great host, great location!
Kathy
2017-03-02T00:00:00Z
Elton's spot is a great spot outside of Vegas but not too far. It's just on the edge of Lake Las Vegas and a quick, peaceful walk into the few eateries or couple hotels also surrounding the lake. This was a great alternate to a hotel room and we'll definitely bookmark this again for a stay in the future.
Kristin
2017-02-05T00:00:00Z
Huonetyyppi
Koko talo/asunto
---
Majoituspaikan tyyppi
Huoneisto
---
Majoittujien määrä
2
---
Makuuhuoneet
Henderson, Nevada, Yhdysvallat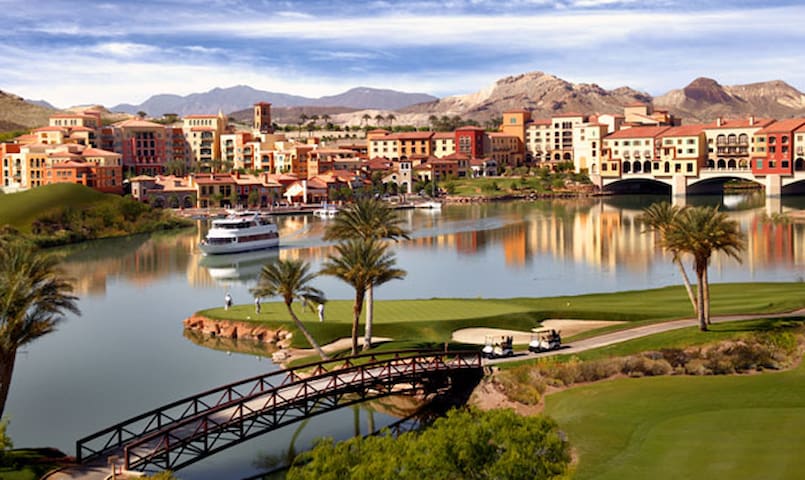 Lake Las Vegas
Life is simply better at the lake. The soothing waters of a 320-acre freshwater lake and 10 miles of shoreline highlight the Lake Las Vegas paradise. Many lake activities: Duffy boat rentals , Kayaking and Stand-Up Paddleboarding , Yacht Cruises. Have a passion for award-winning Reflection Bay Club has the distinction of being a prestigious Jack Nicklaus Signature Design and is ranked among the country's greatest public courses. *Challenging Par-72 Course *Five holes along 1.5 Miles of Shoreline *Favored by golfers at All Ability Levels.
Thanks to Andy for allowing us to stay in his condo! It's so convenient to walk to the restaurants in Lake Las Vegas.
Andy
2017-02-06T00:00:00Z
What a great place to stay. Andy is awesome. He is on top of his game. My hubby and I loved it so much we stayed an extra day. Everything is here, stores, pubs, restaurants, water sports and recreational activities. What a great place to be. Did I mention how awesome Andy is?
Barbara
2017-03-28T00:00:00Z
So we had some minor hiccups when we got there. Nothing and I mean nothing that was Andy's fault or even in his control. He made sure everything was taken care of and went the extra mile while we were trying to figure out an important package would be delivered. His instructions were extremely easy and check in and check out was too. Definitely will stay again when I go back. The room is so dang beautiful and comfortable which was so important to me and definitely lived up to my expectations.
Cece Rose
2017-01-22T00:00:00Z
Great location. Will recommend and most definitely re book with Andy.
Brenda
2017-03-19T00:00:00Z
I will stay here again. Clean, comfortable and quite. Andy was very responsive to all questions.
Robert
2017-02-03T00:00:00Z
Andy's place was clean and smelled wonderful when we walked in! The gated underground parking was a true benefit. The king bed was comfortable. We were there for business and Andy provided everything we needed. He was very quick to respond to our question on the evening we arrived. Thanks, Andy! You are indeed a Superhost!
Ginny and Phil
2017-01-19T00:00:00Z
Great space to stay! Very comfortable. Andy is great at communicating the check-in details. Nice area, clean grounds around the building. Highly recommended!
Gale
2017-03-26T00:00:00Z
Excellent value. Quiet building. Beautiful community. I will be back!
David
2017-02-12T00:00:00Z
Huonetyyppi
Koko talo/asunto
---
Majoituspaikan tyyppi
Huoneisto
---
Majoittujien määrä
2
---
Makuuhuoneet
Henderson, Nevada, Yhdysvallat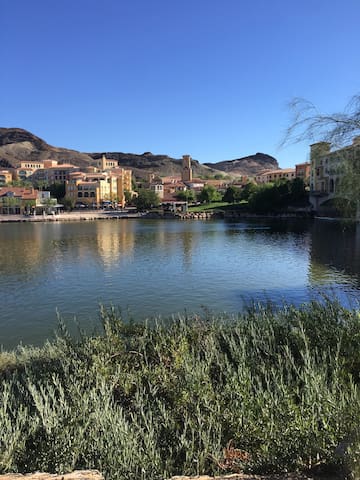 You'll love my place because of my Casper Matress complete with a set of Holy Sheets! It's perfect for a couple that want a "homey" alternative. I have cable, HBO, STARZ, and Netflix. My place is totally unique and 420 friendly. Bottom unit/ corner with bamboo fencing on patio :)
My space is unique because most of my furnishings were hand selected from an antique dealer, and hand painted in Asia. All furniture in room is empty and ready for you to put your things in. My space most comfortably fits two, however in the event there are two more, I have a blow up mattress (queen) which is also very comfortable. I will have a bag of freshly ground coffee for your stay, and anything in the fridge your welcome to help yourself to :)
I love the area here. It's so peaceful and quiet. Nestled right behind the cornerstone park, were on the baseball field side, but across the street you'll find the lake! Perfect for runners.
5 stars , would stay here again
Lee
2016-11-26T00:00:00Z
The host canceled this reservation 9 days before arrival. This is an automated posting.
Cedrec
2016-12-27T00:00:00Z
Huonetyyppi
Koko talo/asunto
---
Majoituspaikan tyyppi
Huoneisto
---
Majoittujien määrä
4
---
Makuuhuoneet
Henderson, Nevada, Yhdysvallat
This gracious light flooded, hardwood floor throughout apartment is comprised of three spacious bedrooms of which you will have the privilege of using the master bedroom which includes an on-suite bathroom. Amenities include the fitness center, pool, clubhouse and business center. This prime location is 30 minutes from Las Vegas. This residence is minutes away from the Green Valley Casino. This location also gives you access to stores such as Target, Sprouts and many more.
Guests have access to Kitchen, Living Room and Laundry room. Upon Check-in Wifi information will be released
Roger and Gem are wonderful hosts. Everything about the place exceeded my expectations. I would stay again and again!
Clarissa
2017-03-15T00:00:00Z
This place was perfect for us. We had a comfortable two days and would highly recommend The pool and exercise area was great and Gem the host was so nice with suggestions to help us as we needed. She was so kind to provide bagels and pastries for the a m along with bottled water. We needed a place near Anthem Country Club and this condo was a perfect ten minutes away We had a nice relaxing stay and would definitely return next time we are in Henderson
Bruce
2017-03-05T00:00:00Z
Gem was very pleasant and her home was lovely and very clean. Thanks!
Jeremy
2017-02-26T00:00:00Z
Gem and her son, Roger, were amazing hosts. Their place is beautifully decorated, clean, and very welcoming. The master bedroom is amazing. Big bathroom, big closet, TV, very comfortable bed, and quiet. The amenities were helpful (wifi MD laundry, being able to use the kitchen) and the little complimentary items they added to the room were nice. We stayed 2 nights and loved it. Highly recommended!
Maria Vanessa
2017-03-08T00:00:00Z
The accommodations were above my expectations! The townhouse is tastefully decorated and one is greeted with a clean, crisp welcoming ambience! The room itself is spacious with a walk in closet and a spacious private bathroom. Bottled water and pastries are provided upon arrival. The townhouse is in a quiet complex with access to a beautiful pool & fitness facility, though I did not have the chance to utilize it. Gem and her son were welcoming, but not intrusive-they respected my privacy and remained flexible regarding my check-in time. Information for check-in was expeditiously provided. I would not hesitate to recommend this accommodation and will be booking again in the next few days.
Carol
2017-04-09T00:00:00Z
Gem's place is great. Gem is an awesome host, very nice and helped me with anything I needed. The pictures of the room are accurate. The room is very spacious and clean. Don't hesitate to book. I highly recommend! Thank you Gem. Best regards, Frank
Frank
2017-03-10T00:00:00Z
Gem is a wonderful host and the master suite was perfect. Just a mile or so to the 215 and The District - a quick walk to a Starbucks. Wouldn't hesitate to stay here again on our next trip to Henderson.
Johanna
2017-03-31T00:00:00Z
The place was very nice and Gem was a very welcoming host. Would definitely stay again.
Brian
2017-03-06T00:00:00Z
Huonetyyppi
Yksityinen huone
---
Majoituspaikan tyyppi
Huoneisto
---
Majoittujien määrä
2
---
Makuuhuoneet
Henderson, Nevada, Yhdysvallat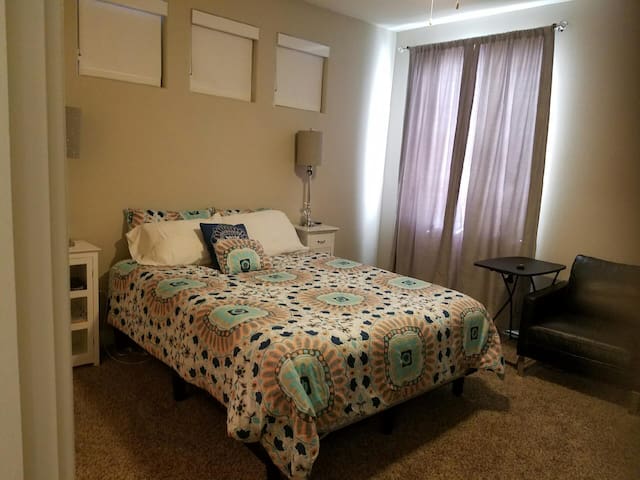 Our place is a Townhome located very near the airport but is still considered Henderson. Henderson is known as one of the safest cities in the USA. Jogging trails and park very close . Grocery Store is within walking distance to our place, along with a variety restaurants options. You'll love my place because of the location, amenities as gym, pool and hot tub areas. Downtown is 12 miles away. Eight minutes to the McCarran International Airport and 9 from the STRIP.
2 Bedrooms available in our home. 2 Adults in Bedroom A and 2 kids in Bedroom B (or one Adult). Bedroom A has a very nice sealy tempurpedic mattress. Mini Fridge in room. Bedroom B has a bunk bed with a standard on the bottom and twin ontop. PS3 and TV with DVD/BlueRay selection.
The townhome is located in a quiet street in a resident area.
This worked out great! Close to the airport. Really easy to get to. Hosts were really easy to communicate with and were very nice and helpful. The rooms were really nice and the beds very comfortable. Incredible value. Definitely recommend!
Joann
2017-03-18T00:00:00Z
The place was clean and comfortable. The hosts are really friendly and helpful.
珞
2017-03-22T00:00:00Z
Cynthia and her husband were great hosts they were alot of fun to talk to and made my first air bnb stay a good one. They were very knowledgeable about great places to eat. The beds were very comfortable and the rooms were spotless. The addition of TV and movies in the room was great.
Jesus
2017-03-10T00:00:00Z
Very accomadating really went their way to make us feel at home. Such a great place to stay in a gated community your own key to the house and gate access code to get in. Absolutely loved the place.
Daniel
2017-01-22T00:00:00Z
This is our second time staying with Cynthia and Jake. They are very friendly and helped with anything we needed including rides to and from the airport! It's very comfortable and a great value. I definitely recommend it!
Joann
2017-03-26T00:00:00Z
Very hospitable, quiet comfy beds, great for small family. Cynthia and Jake very nice, gave good tips on area, even printed out our boarding passes. Excellent stay.
Andrew
2017-04-01T00:00:00Z
Great location, clean place, and nice hosts..
sean
2017-02-20T00:00:00Z
Great value, great communication, and nice room
Ed
2017-03-12T00:00:00Z
Huonetyyppi
Yksityinen huone
---
Majoituspaikan tyyppi
Huoneisto
---
Majoittujien määrä
4
---
Makuuhuoneet
Henderson, Nevada, Yhdysvallat
Come enjoy a cozy 1 bedroom apartment in a gated community located in GV Henderson. With great amenities such as, spa & gym access, free wifi, W/D in unit, Gourmet kitchen, large dinning table set, spacious living room, & 1 queen size bed.
This was our first airbnb experience. Tyra was easily reachable over text, even left us a hdmi cable for us to watch movies from our laptop. Huge TV. She greeted us when we arrived. This place is a steal if you have 3-4 guests looking for a quiet gated community that is about 20 minutes from the Strip.
Jonathan
2017-04-02T00:00:00Z
Huonetyyppi
Koko talo/asunto
---
Majoituspaikan tyyppi
Huoneisto
---
Majoittujien määrä
4
---
Makuuhuoneet
Henderson, Nevada, Yhdysvallat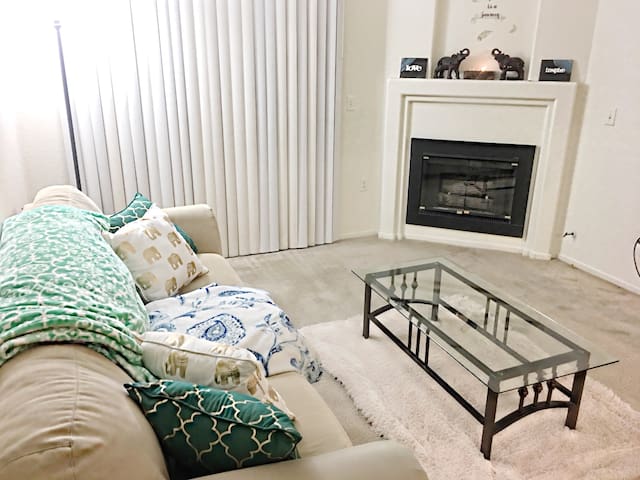 Located at 15mn from the strip; My condo is brand new, modern, Very cozy and comfortable . The suite comes with a connected private bathroom, walk in closet, queen bed with a 14 inch memory foam mattress, a desk for work, iron board and a mini fridge stocked with 2 bottles of water. Amenities includes: pools , hot tub, gym and electric car charging station
15mn to the strip and the airport, Very modern, extremely clean, very comfortable furnitures, Pool and gym and lots of other amenities.
Proximity to everything , close to the 215 freeway with lots of dining options around
I had a great stay. Hayette was very accommodating. The place is well kept and clean. It's not far from the airport or Vegas Strip.
Tammy
2017-04-03T00:00:00Z
Huonetyyppi
Yksityinen huone
---
Majoituspaikan tyyppi
Huoneisto
---
Majoittujien määrä
2
---
Makuuhuoneet
Henderson, Nevada, Yhdysvallat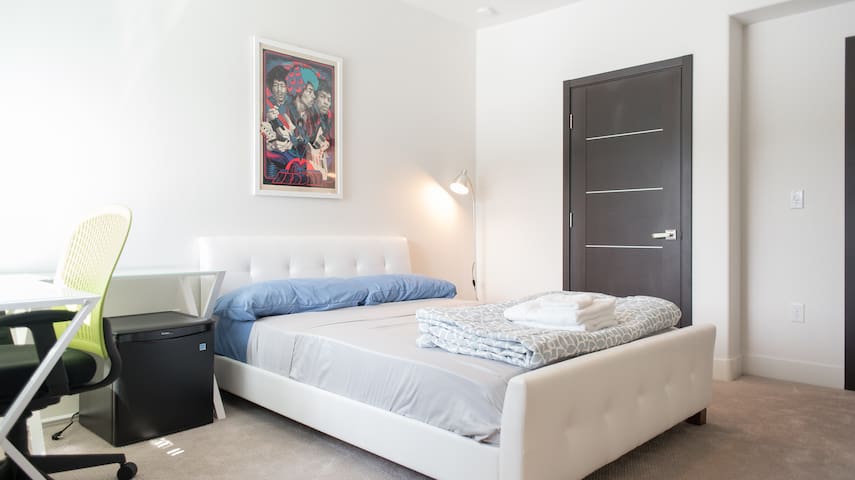 Spend your days enjoying a wide variety of water sports or golfing, hiking and visiting local sites (from Hoover Dam to the Las Vegas Strip) or just strolling or simply lounging and sunning by Luna pools. As the sun sets, choose from a variety of great restaurants and then take a romantic nighttime gondola ride on the shimmering lake or seek out some live entertainment in the Village... or simply relax on your private balcony, taking in the sweeping views of Lake and mountains of the Valley.
Check Our Other Apartments At Montelago Resort: Contemporary Apartment Overlooking Lake Las Vegas https://www.airbnb.com/rooms/13876001 Contemporary Penthouse Overlooking Montelago Resort https://www.airbnb.com/rooms/12568032 Luxury Studio In Upscale Resort https://www.airbnb.com/rooms/8148886 Modern Studio By The Lake https://www.airbnb.com/rooms/8148582 Luxury Apartment In Upscale Resort https://www.airbnb.com/rooms/8149233 Discover an oasis of old world charm combined with new age convenience at the lake Las Vegas Montelago village resort- just 15 miles from center of Las Vegas. Inspired by Mediterranean Tuscan regional architecture, and infused with a touch of metropolitan flair, this destination is one of the 'best kept secrets' in north america, preferred by those who appreciate the new urban designs of vegas, but enjoy being connected to the quieter life and lakeside surroundings of the l.L.V. Montelago resort. Enjoy deluxe accommodations and bring that special someone for a romantic dinner in one of the village's exquisite eateries... Take a gondola cruise on lake Las Vegas.. Or just stroll into casino and try your luck. If you are more active you can enjoy water sports, golf, hiking, fishing, etc. Or just lounge around the pools, stroll through the village, visit Hoover Dam. At the end of the night, from your private balcony, you can enjoy the sweeping views of the Mediterranean village. We will welcome you with bottles of wines, European snacks and a basket of fresh fruit! Explore our listing and view our photos to discover why this one of a kind destination may be just what you are looking for.
First time visitors to Lake Las Vegas are struck by the picturesque beauty of such an unlikely serene oasis located in the middle of the desert... and even more surprising – only minutes from the bustling activity of the Strip. The dam at the north end that creates the man-made lake is an earthen structure 18 stories high, 4,800 ft in length and 716 ft wide at its base. It contains roughly the same amount of dirt as Hoover Dam does concrete and was completed in 1991. The lake contains 3 billion gallons of water. When completed, Lake Las Vegas had 320 acres of placid surface area and over 10 miles of stunning shoreline... ranging from the rugged terrain of Rainbow Canyon at the northwest perimeter (just north of the Westin Hotel) and opposite the posh South Shore community nestled northeast corner just west of the dam... and on down to the quaint cobblestone streets of the Tuscan-styled shops and restaurants of MonteLago Village and the Hilton Hotel's authentic recreation of the famed Ponte Vecchio Bridge in Florence, Italy all located on the southern most shore. From day one, Lake Las Vegas was a world-class destination for travelers worldwide and a stunning attraction for locals right in their own backyard. Today... the picturesque beauty of this serene desert oasis – more so than ever before – is alive with new and exciting dining, entertainment, activities and special events that keep both visitors and locals coming back again and again... to live and enjoy the one and only... Lake Las Vegas experience
I stayed here for my 21st birthday and it was absolutely beautiful and amazing. It was better than what the pictures shows online. I was provided with full itinerary and suggestions from paul informing me about what I am surrounded with. I felt like I was out of the country in a small Mediterranean town. Paul left me some wonderful wine and delicious chocolates. He was perfect with communication and gave me clear instructions for anything I needed help with. I truly enjoyed myself and would defiantly go again!
kellea
2016-09-24T00:00:00Z
Paul was so very friendly and accommodating. Fantastic host. Condo is beautifully decorated, fantastic location with a great view. Very clean, soft sheets and plenty of towels. Will definitely stay again. Thanks Paul!
Lisa
2016-10-10T00:00:00Z
Paul was amazing and so was his place! There are those who host well and then those who stand above the rest. This place is one of those! Can't recommend it enough! I don't ever like to stay at the same place twice to get to experience new things, but I think I'll be making and exception the next time I'm in Vegas. Great place! Great host!
Will
2016-10-22T00:00:00Z
We enjoyed our stay. There were no problems with our request for a late check in. The condo was exactly as the pictures show. Loved the view from the patio. Only negative was that it rained our first day. Not much Paul could do about that though. We loved the location. Only a couple minute walk to the village. We stayed here to visit with our son who lives nearby. We definitely will be staying here again for our next trip to the area.
Debbie
2017-01-22T00:00:00Z
Absolutely beautiful setting with a balcony overlooking Lake Las Vegas. Condo was perfectly clean, modern and well equipped. Best of all, Paul was extremely responsive and helpful! I'll definitely stay here again when back in Vegas. FYI, very easy access (25 min) to the Strip--but allows for a peaceful recharge as well.
Jason
2016-01-09T00:00:00Z
Great place to stay for extended period of time. Was welcomed with gifts and stocked fridge with bottle of wine and cool stuff.
Jason
2017-01-09T00:00:00Z
This was my first Airbnb experience. My boyfriend and I found this place for our anniversary, which landed on the New Year's Eve weekend, so it was quite hard to find a nice place for a decent price. Paul had a minimum of 4 nights during this weekend, but was kind and understanding enough to accept my request for a 3-night stay. This place is about 20-30 minutes from the strip but it was not a bad drive at all and felt very short, perfect for anyone who wants to visit Vegas but also want a serene experience. The neighborhood is very upscale, there is a cute village filled with shops and restaurants that is about a 2 minute walk away and many activities that you can do around the resort, all of which Paul will recommend to you once you book. There was plenty of private parking spots, and check-in was easy. We were greeted by Raymond (Paul's partner) who gave us a tour, showed us to our room, answered any questions that we had, and gave us tips and tricks on how to survive New Year's Eve. The apartment is beautiful, very clean, and had tasteful modern decoration, I was surprised because I felt like the listing pictures look a little too edited but the apartment looks even nicer than it does in the pictures! Paul even left us complimentary wine, beers, sodas, fruits, and snacks. The view from the balcony overlooking Lake Las Vegas is extremely nice and relaxing, we got more than what we paid for because there was an extravagant New Year firework show right across the lake and we literally had private front row seating from our balcony. Paul and Raymond were both very quick to respond to our questions throughout our stay and were more than happy to help us in a very timely manner. I honestly have nothing bad to say about this place and the hospitality that they showed us. Thank you very much for your part in making this an amazing weekend for us and a positive first Airbnb experience!
Ashley
2017-01-01T00:00:00Z
Breathtaking view can be seen from every room! We had lots planned to do but found most of them unnecessary since it was amazing to just stay in the unit and complex. We were able to relax and really enjoy it at our own pace. We were also pampered by the manager and helped in every way! Truly exceptional!
Daniel
2017-03-26T00:00:00Z
Huonetyyppi
Koko talo/asunto
---
Majoituspaikan tyyppi
Huoneisto
---
Majoittujien määrä
2
---
Makuuhuoneet
Henderson, Nevada, Yhdysvallat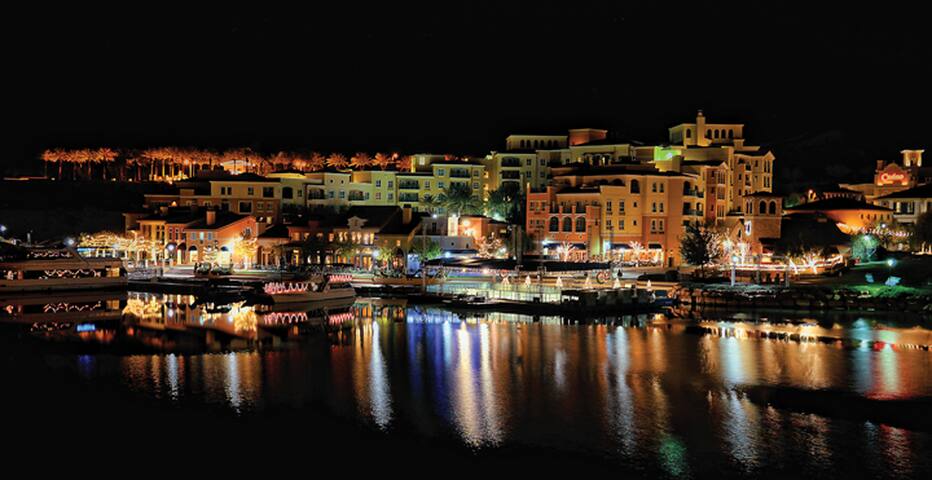 If you are looking for a place to rest after noisy sin city then this is the place for you. Cozy, quiet, safe and friendly. Everything that you are looking for.
My apartment located in a quiet and safe community complex in the heart of Henderson surrendering by couple of local casinos and a water park that operates during summer time.
I love my little neighborhood that is so convenience and close to everything. but it is Nevada so you probably will have to drive but that's 5 minutes away by driving and you will be surrendering by Walmart, Best Buy, In and out and all the good stuff. Right cross the street from my community there is a park that's quiet and safe, good for exercise. There is tennis court and basketball court in the park.
Very good host. There is a swimming pool that we can use, so it is cool ;)
Pierre-Antoine
2016-08-01T00:00:00Z
Michael was the man! His apartment is a very cute place on the outside of Vegas. Great place to get away from it. He was an amazing host. Made me lunch on the first day and took me to a beautiful hike. Made a great friend and would highly recommend anyone to stay her
Hasan
2017-03-19T00:00:00Z
Michael is a nice guy. His room is very clean. Everything is organized and prepared. Very good place!
Shuren
2017-01-08T00:00:00Z
Michael was a very great host. Although our plans were last minute and changed a few times, he was very accommodating and helpful. He fed us breakfast in the morning and offered us dinner as well the night before. The bed is more of a fouton in the living room, but it was big enough for me (6'3") and my wife. We would recommend this place to those who don't want the noise and prices of the strip.
Daniel
2015-07-25T00:00:00Z
The apartment was an easy access, Michael was very considerate to let us in late at night . Instructions were very clear and apartment was clean . Loved the stay
Sai
2016-09-03T00:00:00Z
Michael was a great host, he gave us a lot of advices where to go on our tour. We also had access to the pool, which was really great after our day in Death Valley :) I would absolutely recommend it!!
Alisa
2016-09-12T00:00:00Z
Michael was great! He has traveled to many places and goes out of his way to inform you of the best sights in Vegas. My brother and I are going on a road trip through California and he sent us more information on the best places to stop and see! Our stay was comfortable and the place was very decent! I would definitely recommend this Air BnB!
Savannah
2016-07-10T00:00:00Z
Michael was such a good host. He gave us lots of useful information and recommendations about tourist attractions, favorite local foods, and some travel tips. The place was quite neat and clean just like how it being advertised. Make sure when you stay, you ask about the Ramen! So yummy! :) Enjoy your stay!
Michael
2016-07-31T00:00:00Z
Huonetyyppi
Jaettu huone
---
Majoituspaikan tyyppi
Huoneisto
---
Majoittujien määrä
2
---
Makuuhuoneet
Henderson, Nevada, Yhdysvallat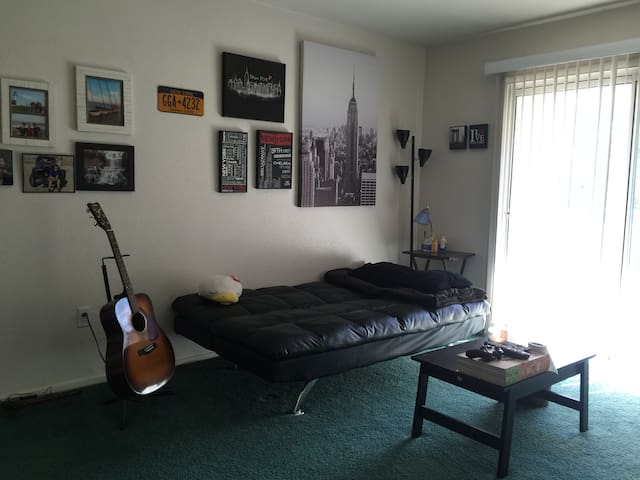 Luna di Lusso Resort Community - 29 Montelago Blvd at Lake Las Vegas. NO RESORT FEES CHARGED!!! Lake Las Vegas - Henderson, NV
Beautiful lake resort community at MONTELAGO BLVD at Lake Las Vegas. NO RESORT FEES CHARGED! Lakeview studio condo available for a weekend, weekly or monthly rental. King size bed, kitchen, flat screen TV, cable , wi-fi internet, indoor and outdoor parking. Awesome pool, hot tub, gym facility, and laundry room. All kinds of outdoor activities nearby and access to the lake at Lake Las Vegas if you have your own boat or rentals are available. Village Shops and Cafes are just walking distance from the condo. Boulder City and the Hoover Dam are 20 mins away! No smoking and no pets permitted. The condo can accommodate 2-4 guests.
Gisele is a great host. The studio's clean and fresh. It's well equipped with what I needed during my stay and located at the quiet side of the building. I am definitely staying there again when coming back to Lake Las Vegas!
Suryani
2012-07-31T00:00:00Z
Nice place! Very much like a room in a good hotel, but with better cooking facilities than a hotel would have: not only a coffeepot, but a toaster, a small range, etc. It is well-appointed and well-proportioned, and we really enjoyed the hot tub and its view of the mountains. It was 20 minutes from our family's Henderson connections, and an easy 35 minute drive to the airport.
Laura
2014-01-04T00:00:00Z
My wife and I have just spent almost 3 months in Gisel and Don's unit by Lake Las Vegas - Quite frankly we loved everything about this place including the hosts ! The place is very comfortable and clean. There is a lovely pool and gym which we used a lot. The surroundings are beautiful and the neighborhood is well maintained and quiet. If there were any questions or things that needed to be taken care of Gisel and Don always responded promtly. If possible we would go back tomorrow !
Karsten Bie
2014-08-02T00:00:00Z
I really enjoyed Gisel's condo at Lake Las Vegas. It was very clean, nice interior and parking was close by. The owner was extremely helpful with setting up our staycation and any questions we had while visiting. I recommend renting from her.
Cory
2014-02-17T00:00:00Z
She had everyone I needed and more. Walking distance to the village market. Pots and pans to cook with. Wifi, parking, gym, pool and laundry access. Felt like home. Thank you! We'll be back!! :)
Erica
2016-08-15T00:00:00Z
The place is charming and Lake Las Vegas(the area) is a sanctuary away from the hustle and bustle of Vegas. Very much enjoyed my stay.
Jessi
2014-09-14T00:00:00Z
The place is in a beautiful location, clean, nice kitchen, large frig, and a nice balcony. Stores are in walking distance and the pool and fitness room were very nice. I highly recommend staying at Gisel's place-she is a very considerate and kind host and prompt at responding to questions you may have.
Nara
2016-12-11T00:00:00Z
We were in the area outside of Vegas for World's Toughest Mudder. There are two hotels right on either side of the condos, Westin and Hilton... both expensive but will beautiful gardens, fountains, and small Florence village. We were not expecting this beautiful resort in the middle of the desert with a market, restaurants, a marina, gorgous pool, laundry. The condo was right in the middle of it all. It was exactly as pictured with kitchen, large bath, comfy pull-out sofa, and even stocked with water, coke, orange juice. Perfect and 1/4 the price of the hotels. Gisel was quickly responsive to questions. Easy check-in ay lobby. Highly recommend!
Tyra
2016-11-14T00:00:00Z
Huonetyyppi
Koko talo/asunto
---
Majoituspaikan tyyppi
Huoneisto
---
Majoittujien määrä
4
---
Makuuhuoneet
Henderson, Nevada, Yhdysvallat
Great location, near airport (7 min driving), 7 eleven; gas station; wells fargo and nevada state bank; many restaurants everything near by. Safe complex with gate. Bus stop 3min walking.
I stayed here for one night. Didn't get to meet Alana, but her husband Pedro is so helpful and nice! Gated apartment complex 15 min drive from the strip. Super clean! Overall, a great budget stay!
Jacqueline
2017-03-11T00:00:00Z
Nice cozy apartment, very comfy bed. Simple room, no complaints. Had a little trouble finding the unit toward the back of the complex, but otherwise a great stay.
Rachel
2017-03-05T00:00:00Z
Pedro goes above and beyond as a host. The room and bathroom are perfectly clean. I highly recommend!
James
2017-03-04T00:00:00Z
Duplicate Stay, read my other review :P
Nathan
2017-02-20T00:00:00Z
Alana's place is in a gated community which adds to the sense of security for travelers. Both her and her husband were very responsive to texts/emails and very helpful with helping us find great local places to visit and eat at. We had to stay a second night at the last minute and they were very accommodating. We were free to use the kitchen etc, but on a short trip I had no need, but it was nice for them to offer. Their house is your house, very welcoming. It was also close enough to the airport that we got in on a late flight and were able to be there, showered and in bed by midnight. Wonderful family, I would stay again!
Nathan
2017-02-19T00:00:00Z
Alana was a great host - very accommodating and helpful. The place is in a quiet residential area in Henderson - about an hour from the strip by bus if you want to take that option. The room is a bed - you have all the privacy you need. Shared bathroom. Alana left us a nice thank you note and some candy for our stay and allowed us use of the kitchen and refrigerator. Thank you!
Zachary
2017-02-24T00:00:00Z
Very nice couple. Nice and tranquil inside. I myself have allergies to strongly scented detergents, their bed sheets were not irritating to my skin :) . The location is great.
Diane
2017-03-19T00:00:00Z
The host canceled this reservation 2 days before arrival. This is an automated posting.
Amy
2017-03-09T00:00:00Z
Huonetyyppi
Yksityinen huone
---
Majoituspaikan tyyppi
Huoneisto
---
Majoittujien määrä
2
---
Makuuhuoneet
Henderson, Nevada, Yhdysvallat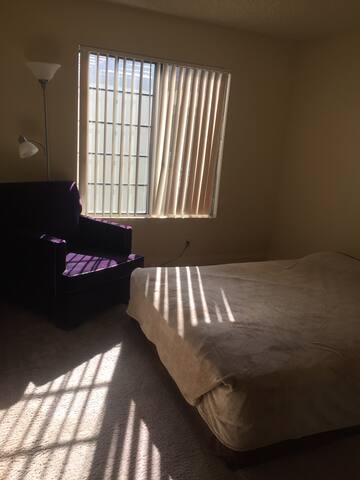 Green Valley Ranch area, restaurants & dining, family-friendly activities, library, Major Highway (215 E / W), nearby shopping center (Smith's supermarket) Starbucks, PF Chang's, Cheesecake Factory, Claim Jumper, & many more! You'll love the neighborhood, the Brand New comfy bed, clean & cozy accommodations, proximity to dining, shopping, walking trails. Wi Fi, 2 TVs for your viewing pleasure. Good for couples, solo adventurers, business travelers, and families (with kids).
- Brand New King Size Bed - Brand New TV / WiFi in Bedroom - Brand New Sofa Bed (Queen Size) - All new Bedsheets & Bathroom Amenities - Within Walking Distance to shopping, dining, gambling, walking trails, and more! - Pool / Gym - Private Garage for your rental car
Upscale outdoor mall, fine and casual dining nearby, public parks, public library, and walking trails nearby. Also, located nearby the lovely Green Valley Ranch. Airport - 10 - 15 min away by car Major Hospital - 7 - 10 min away by car The Strip - 15 - 20 min away by car
Great place! We loved that it was away from the hustle and bustle...yet only a short drive to the strip. Walking distance to nice shops and dining. We will be back!
Jennifer
2017-03-19T00:00:00Z
Easy walk to Green Valley Ranch and the shops and restaurants in The District. The outdoors pool was very nice - was even able to swim laps. Apartment itself is clean and nicely decorated. We didn't cook during our stay. Dee was very friendly and available. Would stay here again.
Micaela
2017-03-26T00:00:00Z
Hi, we loved staying at their place. Great hosts. They were so thoughtful and made our stay so comfortable. For instance I told them I have a 1 year old baby. When i moved in I saw brand new toys for the baby. Who does that even good hotels give you complimentary shampoo or lotion for babies but never toys. Their home was beautiful and location was perfect within walking distance to strip malls. Highly recommend this place and hosts. Love to stay in touchthanks
Neha
2017-01-28T00:00:00Z
Clean, modern, well appointed, all as advertised.
Kelly
2017-01-07T00:00:00Z
The chic and super clean condo is in a very nice area of Henderson, with everything available and conveniently nearby. The bed is very comfortable which is always an important factor when being away from home. Our hosts were super responsive to texts and questions. We loved staying at George's and Deirdra's place and will do so again in the future when we come to visit family there. Next time, we are looking forward to enjoying the pool and the deck. One bedroom rentals seem to be hard to find, so we really appreciated all the conveniences of a full kitchen, nice bathroom, comfortable furniture and outdoor space. We did not use the televisions (a bit confusing to us, as we have cable at home) and the wi-fi is good too. All in all, a wonderful place to stay! Thank you!
Brenda May
2017-03-02T00:00:00Z
The condo was fantastic. It was ultra modern and clean. The complex is very central to Green Valley Casino and restaurants and 15 min to the strip. We felt relaxed and safe there. The interior furnishings and linens were fantastic. The heaters, night light and flameless candle were all great extras! It was very comfortable and Deirdra was very friendly, helpful and communicative. We would love to stay again.
Tela
2017-02-22T00:00:00Z
Huonetyyppi
Koko talo/asunto
---
Majoituspaikan tyyppi
Huoneisto
---
Majoittujien määrä
4
---
Makuuhuoneet
Henderson, Nevada, Yhdysvallat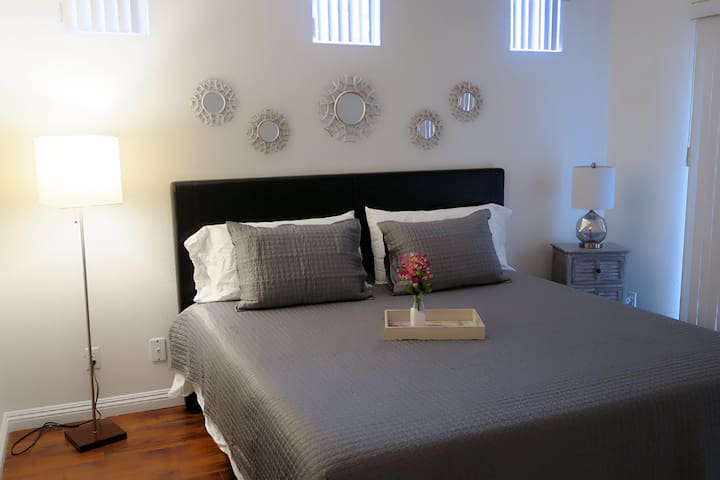 A beautiful 1 bedroom apt that comfortably fits 3 located on a golf course. It is 8 minutes from the Las Vegas Strip. The couch is a pull out bed that comfortably fits 1 person and a 1 bed that fits 2 people. Washer and dryer is located in the apt.
Surrounded by beautiful golf course
Clean, golfcourse, high quality of life
Glen's place was very clean. It was very easy to communicate with him. Hey was also very welcoming and prompt to respond. I would definitely recommend his place.
Leonel
2016-12-04T00:00:00Z
The location for --near Green Valley Resort where we attended a conference-- offered great value as we were able to prepare some meals rather than eating out. It feels like a nice, safe neighborhood with supermarkets and some restaurants about a mile away. The condo was well-equipped, clean and Glen was extremely quick and polite in replying to questions or requests. I'd definitely stay again and would recommend it to friends.
Andrea
2016-10-23T00:00:00Z
Great clean place to stay while visiting Vegas not too far from the strip.
Heather
2016-08-08T00:00:00Z
Glen is a fantastic and gracious host. Communication was very fast from the time of booking to the time we left, and Glen checked in to make sure we had arrived and had everything we needed. The apartment and location were perfect for our needs, a great spot close to the strip in a quiet neighborhood, with all the amenities for a perfect home away from home. I would definitely recommend!
Celeste
2016-02-08T00:00:00Z
I requested the stay on short notice, and Glen quickly got back to me with the acceptance. Quick communication and clear instructions made for an easy stay. Nice place for a quick night's rest!
Brad
2016-02-29T00:00:00Z
Glen was great, answered all of our text/questions promoty. Location was perfect, we even booked 1 extra night. Would definitely book again.
Taylor
2016-09-05T00:00:00Z
Glen's place was clean and organized. He provided lots of bottles of water for us to drink and offered more for the road. It was the perfect place to crash for a night. The tub/shower was really big and had good water pressure. The bed was comfortable. The overall apartment smelled good (like air freshener). His apartment was located in a quiet neighborhood, not too far from The Strip and other main attractions. Next time I come, I plan on booking his place again.
Alexis
2017-01-01T00:00:00Z
Exactly as described, good value for the price, easy check in, excellent communication, and a great host.
Savian
2017-01-06T00:00:00Z
Huonetyyppi
Koko talo/asunto
---
Majoituspaikan tyyppi
Huoneisto
---
Majoittujien määrä
3
---
Makuuhuoneet
Henderson, Nevada, Yhdysvallat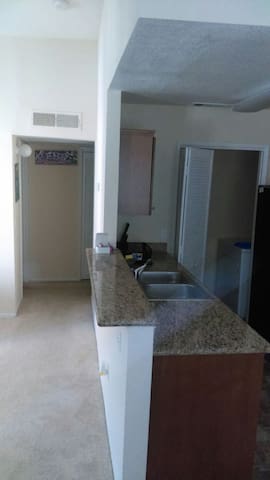 Beautiful, spacious and modern suite at the Viera luxury complex (previously Aston Hotel) right in the heart of Lake Las Vegas Montelago Village. Fully furnished, kind size bed, queen sleeper sofa and futon. High definition flat screen TVs with wifi and Roku TV! Gorgeous lake views from spacious balcony!
Spacious Full kitchen Lake views from spacious balcony Walk downstairs to heated pools and spa Full fitness facility Laundry Front desk Luxury hotel suite for fraction of price and NO RESORT FEES!
In the heart of Montelago Village, next to shops, market, entertainment and lake activities.
Very clean , the view amazing the places and restaurants around great! l really recommend this place for get away, so peaceful relaxing wonderful place
Gladis
2017-03-12T00:00:00Z
We had a great time at Christian's place. We were his first guests ever in this unit and he was rushing to get everything ready the day we arrived. Check in went very smooth and we received a parking pass. At all times Chris was available by phone or text and he answered all our questions within minutes. The condo is great, it has a balcony with a view over Lake Las Vegas. All you need is present in the apartment. The bed is comfortable, the kitchen is clean and well equipped, the bathroom has a tub and a shower. For us, as a family of 3, it was just perfect! We decided to stay a whole month and I will definitely recommend Christian's place to friends and family in the future.
Raf
2017-03-08T00:00:00Z
Huonetyyppi
Koko talo/asunto
---
Majoituspaikan tyyppi
Huoneisto
---
Majoittujien määrä
5
---
Makuuhuoneet
Henderson, Nevada, Yhdysvallat
An awesome Lake Las Vegas studio condo with magnificent views of the lake, the pool and Montelago Village at a world class resort. Golf & relax, enjoy the stars & music from the balcony in peaceful setting only 20 miles from the Las Vegas Strip.
Suzana is awesome! We had to do late check out and was very, very helpful with that. A really great hostess!! We stayed at Suzana's place for a conference at the Hilton Lake Las Vegas and were so glad that we did! There were so many amenities and so much personality in this place. Everything you could possibly want. The kitchenette was really nice to prepare small breakfasts and lunches. Very cute and cozy :)
Kristen
2016-09-26T00:00:00Z
the lake view condo was beautiful. a great location and amazing view. all the amenities that i needed were there, and the resort had several food and entertainment options within walking distance. it was a really cool area. location-wise it's pretty far away from the city, however it was a great location for me as i was attending a conference just a mile down the road from the condo.
tracy
2015-05-09T00:00:00Z
Thank you Susana!!! The condo unit was exactly as advertised and super comfortable. We especially enjoyed the amazing views of Lake Las Vegas.. We would definitely be interested in the unit again if we stay at Lake Las Vegas in the future..
David
2017-01-01T00:00:00Z
Suzana was great and so was her place! Really neat spot. She was easy to get a hold of and very accommodating. Highly recommend!
Will
2016-10-22T00:00:00Z
The unit was surprisingly large. It included towels for the pool, large, soft bath towels and large walk-in shower. The kitchenette included coffee, tea and snacks. The furniture was modern and tasteful. As a "first-timer" to airbnb, it was a great experience.
Hyla
2015-05-05T00:00:00Z
Huonetyyppi
Koko talo/asunto
---
Majoituspaikan tyyppi
Huoneisto
---
Majoittujien määrä
2
---
Makuuhuoneet
Henderson, Nevada, Yhdysvallat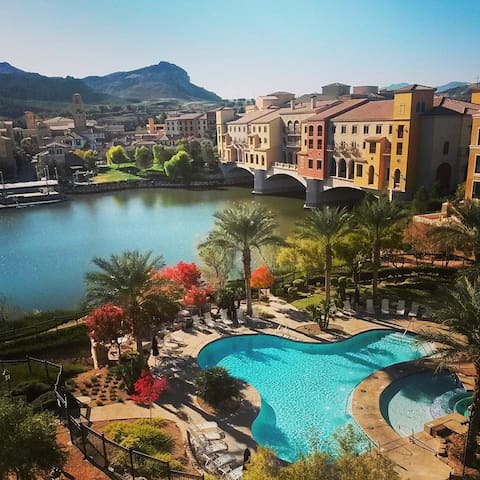 My place is close to restaurants and dining, parks, and great views. You'll love my place because of the coziness, the kitchen, and the location. My place is good for couples, solo adventurers, and business travelers.
Great place to stay in Las Vegas!
Terence
2016-10-16T00:00:00Z
Great apartment and tastefully decorated. Le'Joi is quick to respond if you need anything. The apartment is in a quiet gated community, so it is safe and it is also right next to the 215 highway, so you can get to anyplace around Henderson or Las Vegas quickly. Would certainly recommend staying.
richard
2016-09-09T00:00:00Z
Host very accommodating. I had to change times and host was very understanding.
Shannon
2016-09-25T00:00:00Z
The host canceled this reservation 2 days before arrival. This is an automated posting.
Vishal
2016-10-19T00:00:00Z
Beautifully furnished and very well decorated condo in a gated community with easy access to the 215 and close to major stores and restaurants. The bed was very comfortable, the kitchen was fully equipped plus there was a full size washer and dryer in the unit. There is a very nice community club house and pool, and a business office with free use of computers and wi-fi. The only thing lacking - I wish there was internet in the condo - it was available in the business office from 10-6, 7 days a week, though. Beautiful, cozy condo!
Kat
2016-08-18T00:00:00Z
Really beautiful place!! Easy to get to. Wonderful communication w host! Easy check in! Would love to come back.
Wendy
2016-09-18T00:00:00Z
Wonderful place and pictures were exactly as portrayed. LeJoi was a great host and very accommodating. Highly recommend.
Kristi
2016-08-21T00:00:00Z
Huonetyyppi
Koko talo/asunto
---
Majoituspaikan tyyppi
Huoneisto
---
Majoittujien määrä
2
---
Makuuhuoneet
Henderson, Nevada, Yhdysvallat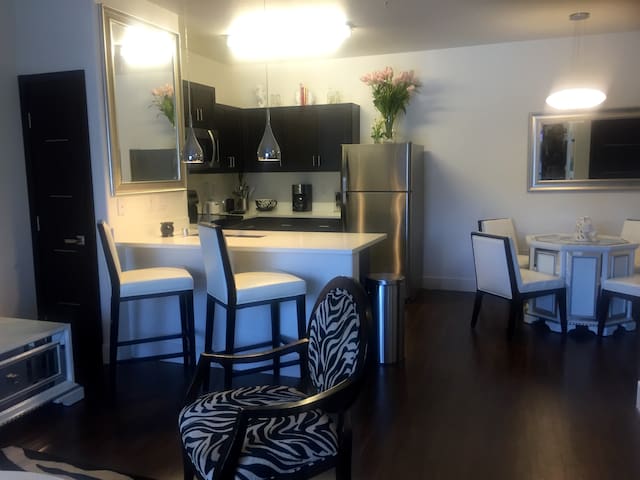 1

–

18

hakutuloksista

300+ vuokrahuoneistoa
Anna päivämäärät nähdäksesi kokonaishinnoittelun. Lisämaksuja sovelletaan. Veroja saatetaan lisätä.