Anna päivämäärät nähdäksesi kokonaishinnoittelun. Lisämaksuja sovelletaan. Veroja saatetaan lisätä.
5 vuokrakohdetta
· High Fens
5 vuokrakohdetta
· High Fens
Things to do/see nearby : -Ski tracks -Reinhardstein Castle -Robertville Lake -National park (Hautes-Fagnes) w/ beautiful nature -Spa/Francorchamps GP -Ravel (Family biking track) -NoName festival -Museums -Thermes de Spa -Bakery at 100m
Country house on the top of Belgium. Private bedroom upstairs, shared large bathroom w/ italian shower. Free access to the kitchen and the living room. Born in the area, we can give you a lot of advices. We speak french, english, dutch and spanish.
La maison est située dans un village de campagne. Bus line at 5 min. from the house
Merci à Stéphane et Pauline pour leur accueil très chaleureux! Leur maison est particulièrement accueillante et la région est très belle. Je reviendrais sans hésiter !
Tamara
April 2016
Stephane and Pauline were very kind, friendly and helpful guests. Helped us a lot with driving us to the formula 1 circuit. The house was very clean, stylish in the beautiful part of the Belgium. I hope we will meet again. Thank you, Michal and Mya
Michal
September 2016
Sympathiek, voldoende afstand, prijs-kwaliteit zeer goed, rustig, een eigen douche mag, open communicatie !
Linda
February 2017
Hi Stephane, thanks again for our stay in your house. We have enjoyed it very much: the hospitality, the location, the backery nearby, the style of your house, etc. take care and keep building! :-) Edgar
Edgar
January 2017
Stephane and Pauline have a very nice place. They have taken pride in renovating the old farm house into a modern home. They were very welcoming and we would stay again.
Thomas
April 2016
Super nette Vermieter, gepflegtes Haus, liebste Minikatze :-) und ruhigste Lage. Es hat uns sehr gefallen, also null Abstriche. Wiederkommen werden wir gerne, auch weil das Hohe Venn und die Eifel vor der Tür liegen: ein Rad- und Wanderparadies. DANKE!!!
Barbara
June 2016
Stéphane et Pauline sont très accueillants tout en étant discrets. Ils sont hyper disponibles. Avis aux amateurs de calme. La maison est en cours de rénovation mais Stéphane et Pauline font tout ce qu'il faut pour que le confort soit omniprésent. Je vous recommande vivement cet endroit.
Jérôme
September 2016
La maison est très agréable, située dans un cadre naturel très calme. Stéphane et Pauline sont très sympathiques et accueillants. Je recommande !
Benjamin
May 2016
Huonetyyppi
Yksityinen huone
---
Majoituspaikan tyyppi
Talo
---
Majoittujien määrä
2
---
Makuuhuoneet
1
Waimes
In der Doppelhaushälfte in den belgischen Ardennen mit eigenem großen Garten (900qm) und eigener Terasse lässt sich nach Erkundigung der Umgebung zu Fuß, per Fahrrad oder im Auto gut entspannen. Das Haus hat 2 Schlafzimmer: 1* Doppelbett, 1* 2 Einzelbetten. Daneben sind ein großes Wohnzimmer, eine Küche mit Eßtisch sowie Bad mit Dusche und eine Abstellkammer vorhanden. Im Gartenhaus können Fahrräder oder ähnliches verstaut werden.
Von Haus Venn aus ist man zu Fuß in weniger als einer Viertel Stunde im Wald. Auch die einzigartzige Vennlandschaft ist zu Fuß leicht zu erreichen. Fahrradrouten (Mountainbike) führen am Haus vorbei. Durch Sourbrodt führt die Fahhradroute von Aachen bis Malmedy. Räder, auch E-Bikes können in der Nähe gemietet werden. Sehenswerte Orte und Städte sind gut zu erreichen: Eupen, Malmedy, Stavelot, Lüttich, Aachen, Monschau, Spa (Rennstrecke), ... Vom Gourmetrestaurant bis zur belgischen Frittenbude ist alles im Umkreis vorhanden. Die Doppelhaushälfte befindet sich auf einem 1850 qm großen Grundstück. Der das Haus Venn umgebende Garten ist 900 qm groß. Hier gibt es immer irgendwo Schatten und Sonne. Terrassenmöbel sind vorhanden, ebenso wie ein Barbecue. Zur Begrüßung und zur Abreise sind wir vor Ort im Nachbarhaus. Seitdem wir im Ruhestand sind, verbringen wir auch mehrere zusammenhängende Tage in Sourbrodt.
Haus Venn liegt in den belgischen Ardennen, im Hohen Venn, einem einzigartigen Naturpark. Im Naturparkzentrum in der Nähe kann man an den verschiedensten Veranstaltungen teilnehmen und sich umfangreich informieren. In der Nähe (150 m) befindet sich eine Bushaltestelle. Bettwäsche wird gegen ein Entgelt von 5 € pro Person zur Verfügung gestellt. Handtücher sind selbst mitzubringen.
Huonetyyppi
Koko talo/asunto
---
Majoituspaikan tyyppi
Talo
---
Majoittujien määrä
4
---
Makuuhuoneet
2
Waimes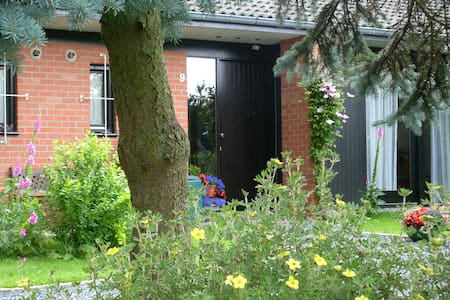 Welcom Dit huis is ideaal voor zeven personen en een baby. (Grenzend aan de lodge Coquelicots). De jacuzzi, sauna en solarium zijn alleen beschikbaar voor u om te ontspannen in Ovifat, aan de rand van het natuurpark Hoge Venen
Dit huis, dat plaats biedt aan acht personen plus een baby, (idealiter 6 volwassenen, 2 tieners en 1 baby) respecteert de architectonische stijl van het land. DE PRIJS IS EXCLUSIEF: de kosten van elektriciteit, verwarming, water (naar verbruik) - Een overnachting vergoeding (1 € / dag / pers.) - Schoonmaak (60 € / verblijf) - de vuilnisbakken (10 € / verblijf) • beddengoed en handdoeken zijn niet voorzien. Huren zijn: maandag 16.00 uur tot vrijdag 10.00 uur (meed-week) - 4 nachten vrijdag 16.00 uur tot maandag 10.00 uur (weekend) - 3 nachten vrijdag 16.00 uur tot vrijdag 10.00 uur (week) - 7 nachten of van maandag tot maandag 16.00 10.00 (week) - 7 nachten
• Gelieve niet te bewegen het meubilair, die onnodige schade kan veroorzaken en schade aan het meubilair en de vloer. De Beheerder heeft het recht om extra kosten in rekening als het meubilair in hun plaats worden gezet. • Laat niets gooien in het toilet, wastafels, badkuipen en andere lijnen (geen tampons, maandverband, luiers, inlegkruisjes). Gooi Ecotoxische schoonmaakmiddelen (zoals bleekwater), etensresten of vet door het toilet of in de afvoerkanalen om niet verstoppen de leidingen. • Gebruik altijd lakens Als u zich niet aan deze instructies, de schoonmaakkosten kussens, dekens en matrassen u in rekening worden gebracht. • Als u uw huisdier meenemen, zorg ervoor dat het niet klimmen op bedden of stoelen en bewaar het op een leiband. • Let op de tuin, geen bloemen plukken, zijn de bomen en planten niet beschadigen. Het is verboden om een ​​brand te steken! Vermijd het besturen van uw auto op het grasveld of in de tuin. Het is verboden om tenten. • Meld alle problemen bij aankomst en de manager op de hoogte binnen 24 uur, om niet verantwoordelijk aan het einde van uw verblijf zal worden gehouden. Meld eventuele schade veroorzaakt tijdens uw verblijf en voor uw vertrek, zodat de beheerder de nodige reparaties kunnen maken voor de komst van de volgende gasten. U bent verzekerd tegen schade in overeenstemming met de bepalingen in uw polis bepaald (zie Politie en General Insurance). • Het afval wordt elke 15 dagen verzameld op dinsdag. Dus neem de vuilniszakken van tevoren en leg ze in de container. De manager zal u vertellen waar u uw afval bij vertrek te zetten. En train jusque Verviers centrale puis le bus ligne 390 Verviers Rocherath. Voor beddengoed: er zijn kussens en dekbedden. Dus je moet nemen: 3 tweepersoonsbedden 160 x 200 cm • 2 eenpersoonsbedden 90x200 cm
Hele fijne midweek gehad met zn vieren (2 stellen). Prachtige omgeving waar genoeg te doen is qua natuur en bier
vincent
July 2016
It was a pleasure to stay at Pierre's. The house is very nice but you need to bring a bit of your own equipment though. We had a nice weekend and a very comfortable stay, the communication with either Pierre and Mrs Grandjean was very good.
Anna
November 2016
Heerlijke midweek achter de rug. Prima huis. De jacuzzi is n groot pluspunt.
Iris
August 2016
We had an amazing stay in the Lodge in Ovifat. The house was very clean and spacious. A lot of facilities. Close to the Robertville city centre with a small supermarket, friterie and bakery. Pierre was very friendly and even filled the jacuzzi with additional water on the second day. Very friendly. Would definitely stay again!
Arne
September 2015
Correcte prijs, leuk en ontspannen verblijf. Prachtige locatie voor mountainbike/wandelen. Sauna en jacuzzi zijn zeker een pluspunt, alsook leuk dat de hond welkom is.
Ilse
December 2016
Pierre went out of his way to make our visit as pleasant as possible. The space itself is still transitioning from vacation rental to Airbnb listing, however. In this vein, we were received by Mme Grandjean, a property manager who lives near the rental, who was clearly unfamiliar with Airbnb practices and quite rude and dismissive of us and our needs. She asked additional cash fees for guests, about whom we had already communicated and for whom we had paid at reservation. She also asked for a cash settlement for charges at the end of our stay -- for water, electricity, etc. And though I resisted this -- since we had made a deposit of €250 during our reservation ostensibly for that purpose -- Pierre supported the property manager's position since Airbnb is "slow in reimbursing deposits" (why is this our problem though?). This surprised me, to say the least, and it strictly doesn't comply with Airbnb practices in my experience. In the end, though, for use of the hot tub and sauna all weekend, we paid charges of €130 in cash. Now we are in the position of having to wait to get our initial deposit back from Airbnb, we have no receipt for our cash expenditure, and in the end we had to lay out almost €800 for a 3-day weekend getaway. In addition to this lack of conformity with Airbnb practices, it's important to know that the space itself is not a typical Airbnb listing either. As mentioned, it is more of a vacation rental -- meaning there are no basic amenities on site (towels, sheets, tp, d/w liquid, food items, etc.), though everything else -- beds, pillows, blankets, pots, pans, dishes, etc. are there. So you must be sure to bring all the former items with you or note that, because (as Ms Grandjean clearly said) "there is nothing in Ovifat", you will have to drive 15 minutes to the nearest shop in Malmedy. There is no owner on site either, though Pierre come by Saturday, spoke with members of our party, and due to a misunderstanding, brought a fire pit for our use. The residence itself (half a house, split with a second rental property in the other half -- identical except that the other has a fireplace), is well-appointed but definitely not 4-star. The condition of many items in the kitchen depends on previous tenants, it seems. We found many dirty and broken items in the cupboards, for example. Though clean, this space certainly lacked an air of luxury as portrayed in the pictures. The wifi was spotty at best, and there is no heating on the top floor of the house - which adds to the electricity charges, of course. Otoh, the hot tub (more "warm" than "hot") and sauna themselves, as well as the surrounding area was very nice. Though we didn't mind, the neighbors in the adjoining house were noisy and there are houses in close proximity on every side.
Cheryl
December 2015
Wir waren mit 8 Frauen ein Wochenende in dieser schönen Unterkunft. Wir haben uns dort sehr wohl gefühlt und wurden sehr freundlich begrüßt. Während des Aufenthalts gab es keine Komplikationen. Das Haus ist genauso wie beschrieben, man muss allerdings wissen, dass es nicht wie es bei Airbnb üblich ist Gewürze, Handtücher etc. gibt. Doch das steht ja auch alles in der Beschreibung. Wir haben zu acht täglich mehrere Stunden den Jacuzzi benutzt und ebenfalls mehrfach am Tag die Sonnenbank. Trotzdem haben wir am Ende des Aufenthalts nur 116 Euro bezahlt. Schlußendlich können wir diese Unterkunft nur weiter empfehlen!
Lena
May 2016
The host canceled this reservation 2 days before arrival. This is an automated posting.
Thomas
Huonetyyppi
Koko talo/asunto
---
Majoituspaikan tyyppi
Talo
---
Majoittujien määrä
8
---
Makuuhuoneet
4
Waimes
Bienvenue - Ce lodge mitoyen au lodge Orchidées, est idéal pour sept personnes et un bébé. Le jacuzzi, le sauna et la cabine infra-rouge, privatif sont disponibles pour vous détendre à Ovifat, à l'orée du parc naturel des Hautes Fagnes.
Les Sources – Coquelicots Il se situe dans la partie droite du lodge « Orchidées », complètement séparée de cette dernier. Pour les puristes du logement chez l'habitant, notre Lodge "Gite rural" est prévu pour les voyageurs, vacanciers et est reconnu et homologue par les instances officielles. Vous ne résidez donc pas chez l'habitant. Sa structure lui confère une petite touche d'originalité, alliant bardage en sapin du nord et moellons de la carrière de la Warche. La partie Coquelicot est entièrement clôturée, c'est idéal pour les petits enfants! A partir du gîte, vous pouvez entamer de belles promenades dans la réserve naturelle ou aux alentours du château de Reinhardstein dans la vallée de la Warche. En hiver, vous pratiquerez le ski alpin (2 pistes) et le ski de fond. En été, vous pouvez vous baigner dans le lac de Robertville et vous adonner au canotage, à la pêche… ou siroter un bon verre à l'une des nombreuses terrasses de la région. Vous êtes sportif ? De nombreuses balades en VTT vous attendent ! Le réseau est à présent actualisé et nouvellement balisé. Il offre 18 circuits avec une longueur totale de 420 km et des degrés différents de difficultés: facile, moyen, sportif. (690-300 m de différence d'altitude). A l'intérieur du gîte, le salon avec son immense fresque murale « Coquelicot » vous invite dans son atmosphère de vacances et de repos. Une TV et une chaine stéréo sont disponible pour les amateurs du 7ème art. La Tv est raccordée au câble et propose des chaines en langues néerlandaise, françaises, allemandes, … La cuisine allie tout le confort nécessaire (lave-vaisselle, micro-ondes, … ) pour vous permettre de concocter de savoureux petits plats à base des produits du terroir. Bon séjour ! Pierre Heinen LE TARIF NE COMPREND PAS : les frais d'électricité, de chauffage, d'eau (suivant consommation) - La taxe de nuitée (1€/jour/pers.) - les poubelles (10€/séjour) • les draps et serviettes de bains ne sont pas fournis. Les locations se font : du lundi 16.00 au vendredi 10.00 (meed-week) 4 nuits du vendredi 16.00 au lundi 10.00 (week-end) 3 nuits du vendredi 16.00 au vendredi 10.00 (semaine) 7 nuits ou du lundi 16.00 au lundi 10.00 (semaine) 7 nuits En plus du jardin et terrasse en teck, le jacuzzi extérieur invite (pour 4 personnes) à la rêverie et au bien-être. Profitez en toutes saisons de cette chaleur de détente (38 °C). A côté de celui-ci, le wellness-house reprenant le sauna, la cabine infra-rouge dans une ambiance chaleureuse. Un espace très apprécié pour se détendre après une longue promenade dans les bois. Spa – Whirpool Remise en forme passive Relaxation et guérison Dans un spa Hot Spring trois facteurs sont importants: la chaleur, l'apesanteur et les massages. Ensemble, ils offrent relaxation et guérison. Si vous plongez votre corps dans de l'eau tiède en massant, la température de votre corps augmentera, ce qui dilatera les vaisseaux sanguins et améliorera la circulation sanguine. La flottabilité de l'eau réduit le poids corporel d'environ 90%, de sorte que la pression sur les muscles et les articulations diminuent, l'effet est immédiat sur le mental et cela diminue le stress. L'effet de massage d'un spa Hot Spring est obtenu par une combinaison d'eau chaude et d'air à travers les jets. Cette stimulation décontracte les muscles et augmente la libération spontanée d'endorphines, analgésiques naturels … THE PRICE DOES NOT INCLUDE: costs of electricity, heating, water (according to consumption) - An overnight fee (1 € / day / pers.) - Cleaning (60 € / stay) - the bins (10 € / stay) • bed linen and towels are not provided. Rentals are: Monday 16.00 to Friday 10.00 (meed-week) 4 nights from Friday to Monday 10.00 16.00 (weekend) 3 nights Friday 16.00 to Friday 10.00 (week) 7 nights or from Monday to Monday 10.00 16.00 (week) 7 nights
• Veillez à n'occasionner aucun dérangement. Afin de ne pas déranger les voisins, le calme est requis après 22:00. • NE CONVIENT pas pour fête estudiantine, brulage de pantalon (avant mariage, ...) En train jusque Verviers centrale puis le bus ligne 390 Verviers Rocherath. Pour la literie : il y a des oreillers et des couettes. Vous devez donc prendre : 1 lit double 160 x 200 cm • 1 lit double 180 x 160 cm • 1 lit simple 90x200 cm et 2 x 80x200 cm ou 1 x 160 x 200 cm
Very nice house with all kind of luxury. Beds are really comfy. A lot of bathrooms! Fully equipped kitchen. Because of some mis communication about the key, Pierre personally brought us fresh bread on Sunday morning. Village on itself is not to interesting.. Nice wintersport options and hike routes, when wanted!
Hanna
December 2015
Alles prima, Pierre und Christine waren sehr hilfsbereit und entgegenkommend - das Haus entspricht der Beschreibung und wir hatten ein sehr schönes und entspannendes Familien- Wochenende in Ovifat. Die hauseigene Wanderempfehlung ist eine schöne Idee, die wir gerne und erfolgreich ausprobiert haben! Beste Grüße aus Mainz
Christina
February 2016
Heel mooi verblijf met alles er op en er aan. Heerlijk om 's avonds nog eens in de jacuzzi te genieten van de sterrenhemel. Alles is netjes en zeer goed voorzien. De omgeving is prachtig, mooie wandelingen & charmante dorpjes. Wij hebben alvast genoten van ons verblijf!
Geert
October 2015
We voelde ons welkom geheten door Pierre, zijn huisje was schoon, gezellig en wat voor onze hondjes fijn was, de tuin was omheind. De sauna en jacuzzi waren heerlijk, ook gezien de sneeuw, storm en regenbuien die we moesten trotseren eind april. Maar dat mocht de pret niet drukken. Wij hebben genoten en onze doggies ook. Dank hiervoor.
Wilma
April 2016
Communicatie verliep goed, goed ontvangen geweest, in het appartement lag een boekje met een kaart en wandelingen in de omgeving. Hebben we dan ook van gebruik gemaakt en een mooie wandeling kunnen maken. Het appertement zelf was heel proper, mooie ruimtes, de jacuzzi, sauna en infrarood cabine hebben er mede voor gezorgd dat ons weekend echt wel geslaagd was! We hebben er van genoten!! Bedankt! We willen zeker nog terug komen!
Jolijn
December 2015
Le logement de Pierre est très confortable. Nous avons particulièrement apprécié le jacuzzi extérieur ainsi que le sauna. La communication a été aisée et Pierre a réussi à nous trouver une baby-sitter au pied-levé (immense merci à Pauline !). Pour le reste, nous sommes plus sceptiques et avons été déçus. L'accueil n'a rien à voir du tout avec l'esprit RB&B: il faut tout apporter: draps, serviettes de bain, torchon de vaisselle. On ne nous met à disposition qu'un malheureux fond de produit vaisselle, deux pastilles de lave-vaisselle, et il n'y avait pas même un savon dans toute la maison. L'esprit est aux affaires. A la fin, on doit encore payer l'eau, l'électricité, le gaz et la taxe de séjour, même pour des enfants en bas âge. Et pour quatre jours, le montant s'élève à 98 euros qui s'ajoutent aux 60 euros de ménage! Si vous cherchez l'esprit RB&B, passez votre chemin.
Flore
March 2017
De lodge heeft een heerlijke jacuzzi, sauna en is gelegen in een mooi landelijk gebied, waarbij ook Luik , malmedy en ook aachen prima zijn te bereiken. De lodge was wat kleiner dan verwacht, we waren met zijn vieren en dat ging prima. Echter 7 personen lijkt me heel krap. Ook het uitzicht was iets minder dan dat we verwacht hadden. We hebben echter een heerlijke week gehad en kijken met veel plezier hierop terug
Paul
December 2015
Idéalement placé au coeur de la magnifique région des Fagnes, le logement est très bien équipé , sympa et moderne.
Patrick
December 2016
Huonetyyppi
Koko talo/asunto
---
Majoituspaikan tyyppi
Talo
---
Majoittujien määrä
8
---
Makuuhuoneet
3
Waimes
1

–

5

hakutuloksista

5 vuokrakohdetta