Large 3 bedroom duplex apartment in the middle of a green park. Very quiet. Nearby the city center of Leuven. With public transportation (bus stop at 150m). 2 direct lines to the center (5km). Beautifully decorated apartment with high ceilings and a lot of light. Large fully equipped kitchen. Fantastic view over the park. Big garden. Perfect for family (there is a playground nearby) and business stay (close to business zone Haasrode/Heverlee).
It is a 3 bedroom apartment with high ceilings. There is floor heating in the living room and kitchen. The fully equipped kitchen has a gas stove with a large oven.
One of my best !
Yousef
2017-03-08T00:00:00Z
Dit is een paleis(je). De foto's geven je al goede hoop dat het een mooi verblijf is en dat wordt werkelijkheid. Gesitueerd in een prachtig park (wat zomers ongetwijfeld nog mooier is als alle bomen in blad staan) ligt een prachtige authentieke villa. Het appartement van Audrey heeft een prachtige uitstraling met hoge plafonds en smaakvolle inrichting. Een heerlijke indeling van ruime woonkamer en geschakelde keuken met alle luxe aanwezig. Via het centrale trappenhuis ligt 1 etage hoger het slaapvertrek met luxe badkamer. Voor onze kleine meid van 8 voelde haar slaapkamer wel wat ver van ons als wij in de woonkamer zaten, waardoor ze in het begin onrustig sliep. Dank Audrey en Steven voor het beschikbaar stellen van dit prachtige appartement. Jullie vriendelijke ontvangst en royale onthaal met fruit en een drankje maken de beleving compleet!
Robert
2017-03-05T00:00:00Z
Het appartement is een echte aanrader. Mooi, ruim, van vele gemakken voorzien en gelegen in een prachtig park met historie. Mooie uitvalsbasis voor toeristische uitjes (Leuven, Diest, kastelen, museum Hergé) en leuke wandelingen of fietstochtjes (met af en toe kasseienstroken).
Ciel
2017-03-03T00:00:00Z
Unieke en naar verhouding goed betaalbare locatie in een prachtige rustige omgeving. Absolute aanrader, ook omdat er veel in Leuven en omgeving is te ontdekken
Cora
2017-03-27T00:00:00Z
Een super vriendelijke ontvangst door Audrey en haar man. Het appartement is prachtig en zeer netjes. Ruim, veel licht. De omgeving is fantastisch om te wandelen. Je bent in geen tijd in Leuven centrum. Absolute aanrader! We were welcomed by Audrey and her husband. The apartment is beautiful, clean, spacious and a lot of light. The surrounding park is great for a walk. And in no time you can reach city center of Leuven. Definitely a must book!
Sophie
2017-03-31T00:00:00Z
Het is een geweldig appartement in een mooi park. Gezellig ingericht met een fantastische keuken met alle apparatuur. Er is een gezellig zitje in de mooie tuin. Ook Leuven is heel goed bereikbaar, de bushalte is binnen 200 meter.
Yvonne
2017-04-02T00:00:00Z
Een prachtig appartement in een fantastische setting met een warme ontvangst. Een aanrader!
Sara
2017-03-19T00:00:00Z
We hadden een heel fijn verblijf: rust en ruimte, precies wat we zochten.
Judith
2017-03-16T00:00:00Z
Huonetyyppi
Koko talo/asunto
---
Majoituspaikan tyyppi
Huoneisto
---
Majoittujien määrä
6
---
Makuuhuoneet
Bierbeek, Vlaanderen, Belgia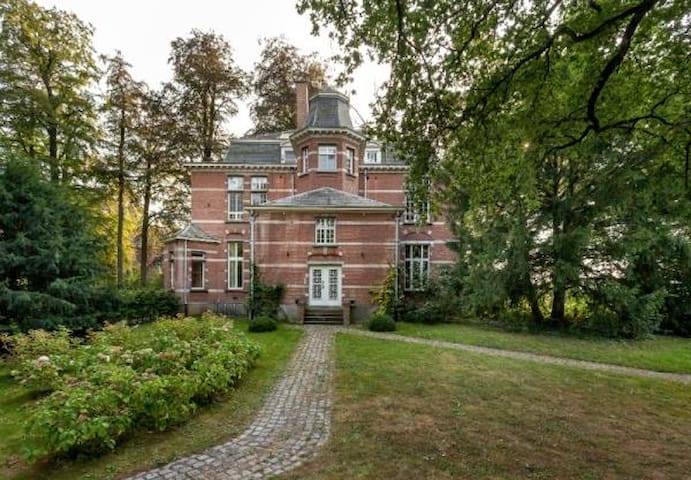 2 minute walk from the old market square. Illy coffee included + the best tips and tricks. Towels, shampoo, toothpaste, beers, even Netflix, I got you covered.
I speak Dutch, French, English and German to make it even easier for you
It's a quite street, but located in the middle of the centre however.
Huonetyyppi
Koko talo/asunto
---
Majoituspaikan tyyppi
Huoneisto
---
Majoittujien määrä
2
---
Makuuhuoneet
Leuven, Vlaanderen, Belgia

My place is close to public transport, the city center, and parks. My place is good for couples, solo adventurers, and business travelers.
Basic, but good value for money.
Lars
2017-01-25T00:00:00Z
The host canceled this reservation 175 days before arrival. This is an automated posting.
Attaporn
2017-01-05T00:00:00Z
Prima plek om te verblijven in Leuven. De woning ligt niet helemaal in het centrum, maar op ongeveer een klein kwartiertje loopafstand. Alles is aanwezig en de woning was schoon. De hoofdbewoner rookt waarschijnlijk dus dat ruik je wel in de woning (ook al is het voor airbnb huurders niet toegestaan om te roken, houdt er rekening mee). In de avond kan het verder wel donker zijn, omdat er niet veel lampen zijn in het huis, maar goed als je vooral weg bent is dat niet zo erg. Kortom, een handige plek voor een kort verblijf in Leuven met alle faciliteiten verzorgd in de woning aanwezig.
Jonathan
2017-03-31T00:00:00Z
Nice, quiet neighbourhood
Laura
2017-03-04T00:00:00Z
The host canceled this reservation 72 days before arrival. This is an automated posting.
Melloney
2017-01-12T00:00:00Z
Bon logement pour étape à Louvain, je recommande
samuel
2017-01-19T00:00:00Z
all nice. probably the best value for your money
Dominik
2017-01-11T00:00:00Z
Goede lokatie om leuven rustig te ontdekken.
Pieter
2017-01-07T00:00:00Z
Huonetyyppi
Koko talo/asunto
---
Majoituspaikan tyyppi
Huoneisto
---
Majoittujien määrä
2
---
Makuuhuoneet
Leuven, Vlaanderen, Belgia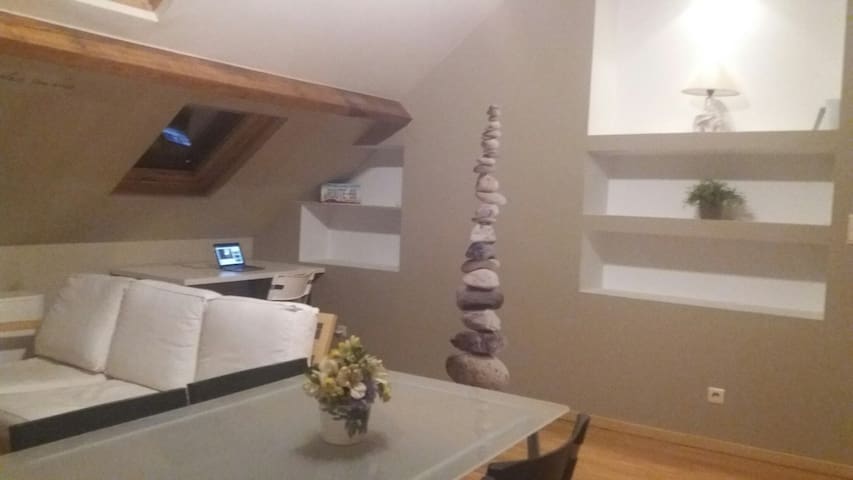 dont feel like sleeping in the tent ? need shower and like to cook ? stay in a room in city of Leuven centrum. wich is very easy to go to werchter festival. as there are free shuttle busses going to/from station of Leuven to the festival 24 hours ...
The host canceled this reservation 2 days before arrival. This is an automated posting.
Hannah
2016-06-30T00:00:00Z
The host canceled this reservation the day before arrival. This is an automated posting.
Rob
2016-06-30T00:00:00Z
Huonetyyppi
Jaettu huone
---
Majoituspaikan tyyppi
Huoneisto
---
Majoittujien määrä
6
---
Makuuhuoneet
Leuven, vlaams-brabant, Belgia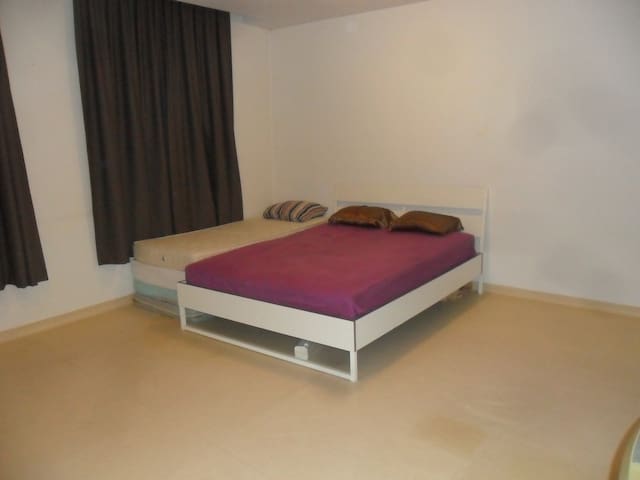 The loft is spacious and has lots of light through the roofwindows and high ceilings. The loft is located in the back and is as a result very quiet. It has a hyper equipped kitchen with island and built-in coffee machine, a warm and sunny patio, a big desk, ... The location is just perfect: close to the city center and in a green environment. With garage! The loft is suitable for couples, business travellers and families with children. Nearby: supermarket, parks, restaurants, bus stop, train
We renovated this loft with lots of energy and love. It has really everything you need for your stay in Leuven: it is quiet, has a garage where you can park your car for free (a second car can park for free in front of the garage), the loft has a sunny patio, is located close to the city center, with several nice parks just around the corner. You can enjoy the city and his nice restaurants, shops, museum, events, markets,... or just stay at home and prepare a nice meal in our fully equipped kitchen. With a big desk and iron possibilities the loft is also just perfect for a business trip!
The location is totally perfect: - only 10 minutes by foot from the city center - only 5 minutes by foot from several parks: Sportkot, Arenbergpark, Lambertuspark - only 2 minutes by foot from 2 supermarkets - pizza, kebab, french fries and money terminal next door - only 2 minutes by foot from several nice bars and restaurants - night shop in front of the street - only 5 minutes by foot from a big market on sunday - only 5 minutes by foot from tennis courts, athletics track and many other sports accommodation - only 20 minutes by car/train from Brussels - only 15 minutes by car/train from Brussels airport - near IMEC, Inbev headquarters - near Gasthuisberg hospital -...
Charlotte reageert vriendelijk en snel. Alles zeer ongecompliceerd op deze uitstekende plek. Ik ga de volgende keer weer!
Herman
2017-01-12T00:00:00Z
It's exactly what you see in the photos, but bigger. Bright, clean, comfortable home. If you have a car, this apartment is for you, as the garage is right outside the door. Convenient location - once we parked the car, we didn't need it again as everything is withing walking distance. A nice place to spend a few days. I would definitely stay here again. And Charlotte was very receptive to answering all my questions and offering assistance as we needed it. Lovely home.
Meredith
2017-02-22T00:00:00Z
Efficiënte communicatie van Charlotte. Perfecte uitvalsbasis Leuven. Leuke stijl, modern interieur. Lekkere koffie!
Pieter
2017-01-28T00:00:00Z
Wij zijn goed ontvangen door Charlotte en konden zo de garage binnenrijden... een grote luxe midden in de stad! Het was een aangenaam verblijf, open ruimte, gezellig,... We zijn met het openbaar vervoer naar het centrum gegaan, vlot bereikbaar. Wij zouden deze airbnb aan iedereen aanraden!!
Valerie
2016-12-18T00:00:00Z
When looking at the picture I knew the apartment is great. Still we were surprised when we saw it with our own eyes! Very big living room and bathroom and kitchen. Very modern and unique design and decoration. We guess Charlotte and Kevin are Architects :) Highly recommend to all guests!
Jim Huajun
2017-01-10T00:00:00Z
Aparte opvallende ruimte in Leuven. Fijne keuken en veel vloeroppervlak. Voor speciale gelegenheden,
Addy
2017-03-30T00:00:00Z
Een heel fijn huis met allen gemakken voorzien. Fijn dat we ook meteen een kopje koffie konden pakken. Verder ruimte zat en leuk ingedeeld . Wij hebben een fantastische tijd gehad.
Martijn
2017-03-12T00:00:00Z
Very spacious feelgood loft with great kitchen which was very clean and organised. We loved the peculiar way of decoration. Charlotte was always available on demand. The garage was very useful. We love the place.
Irene
2017-02-18T00:00:00Z
Huonetyyppi
Koko talo/asunto
---
Majoituspaikan tyyppi
Huoneisto
---
Majoittujien määrä
6
---
Makuuhuoneet
Leuven, Vlaanderen, Belgia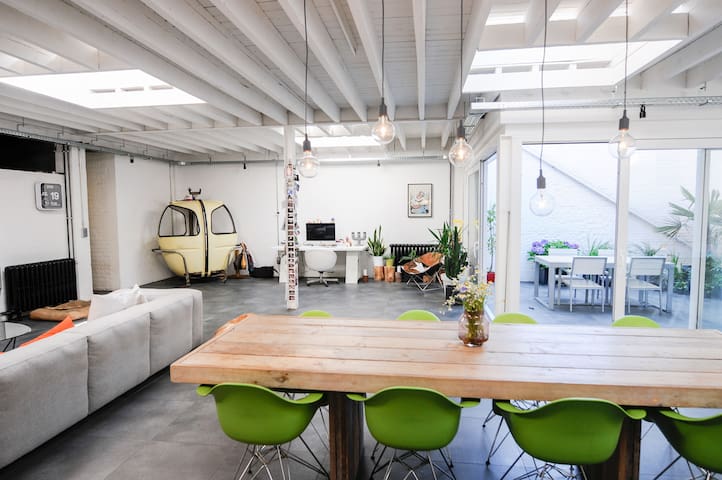 L'apartement se trouve tout près du centre à côté d'un petit parc. L'endroit est calme. Ce que j'aime tout particulièrement c'est la lumière et la vue. Il ny a pas des bâtiments que empềchent de regarder le coucher de soleil par exemple. Les magazins ne sont pas très loin non plus.
Le logement comporte un living avec des grandes fenêtres qui laissent pénétrer pleinement la lumière. Les chambres à coucher ne sont pas immenses mais normales pour un apartement. La salle de bain et la cuisine (integréé dans le living) ont été récemment renouvelées. La toilette est apart.
Alice was a great host and her apartment was clean, warm, comfortable and central. She went out of her way to accommodate our 1 year old and made our trip very easy for us. Her apartment was perfect. I would highly recommend it for location and comfort.
Jackie
2016-12-14T00:00:00Z
Great location in a wonderful city. Excellent host and very nice apartment. Highly recommended!
Flavio
2016-08-07T00:00:00Z
Alice war sehr hilfsbereit, zumal wir die Wohnung aufgrund der Wegbeschreibung von Airbnb nicht gleich gefunden haben. Sehr schöne helle Wohnung in ruhiger und trotzdem zentru(SENSITIVE CONTENTS HIDDEN)aher Lage.
Christiane
2016-10-22T00:00:00Z
A pesar de no encontrarse en Leuven, Alice se ha mostrado siempre dispuesta y muy resolutiva a la hora de ultimar las cuestiones prácticas de la estancia. El apartamento va más allá de la funcionalidad y con todo esto Alice consigue que te encuentres como en casa.
Andrea
2016-11-20T00:00:00Z
Alice was very welcoming and explained the apartment to us. It was well appointed and located in a quiet neighborhood, convenient to the center of town.
Josefine
2016-09-22T00:00:00Z
Alice was heel erg flexibel in aankomsttijd en stond ons zelfs op te wachten. De ontvangst was hartelijk, en alle voorzieningen in het appartement werden uitgelegd. Ook drukte Alice ons op het hart dat zij steeds bereikbaar was, gelukkig is dit niet nodig gebleken. Het appartement is goed gelegen, vlakbij het centrum, goede busverbinding ook.
Lien
2016-10-02T00:00:00Z
Great well-furnished apartment: roomy and sunny; perfect location with easy access to the town center and to the Belgian freeway network; welcoming host
Philippe
2016-08-29T00:00:00Z
Great location for self driving and taking public transport. When driving, the apartment is 300 meters to the ring road of Leuven as well as the junction to E314 highway. The central train station is about 20 mins on foot and is well connected by bus. I have two couples visiting me and I do not have enough bed rook in my house. So I booked Alice's aparment. The two bed rooms well accomodated the two families. In fact my friends are very happily surprised to see the clean, well equipped rooms. The view from the main balcony is fantastic to see the lovely hills that are surrounding Leuven. The landmark secene of Leuven - the townhall and old market, is within walking distance. My friends visited it without me. Considering the convenient location and the 2 bed rooms, as well as the reasonable cost, I would definitely come back when we have similar request to accomodate more guests in town. Thank you, Alice and see you soon. David
David
2017-03-22T00:00:00Z
Huonetyyppi
Koko talo/asunto
---
Majoituspaikan tyyppi
Huoneisto
---
Majoittujien määrä
4
---
Makuuhuoneet
Leuven, Vlaanderen, Belgia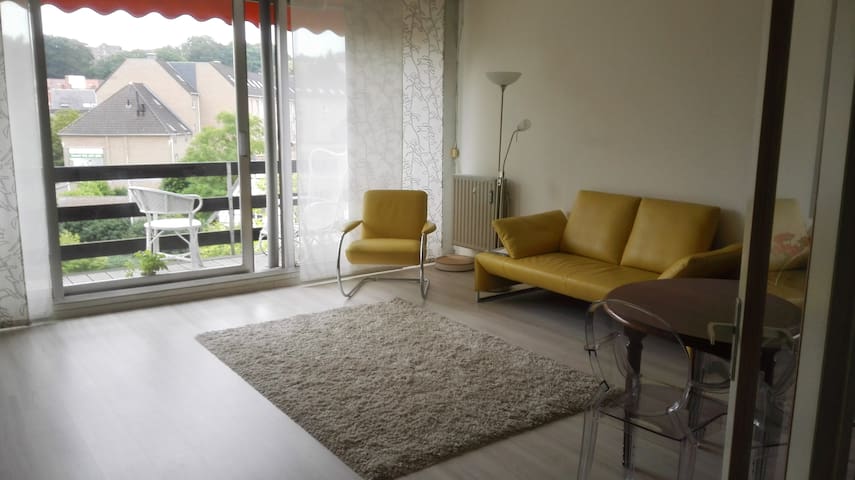 Comfortable and convenient room next to Leuven. Very quiet/safe area and with nice garden. Private room with own entrance, toilet and shared bathroom. 10 mins walking distance from Leuven station. 2 mins walking to bus stop, the bus can bring you straight to city center. Suitable for students or visitors for short stay.
Quiet living area for local people.
Really a nice place to stay. very quiet and adorable house. Host is also a very nice, friendly and outgoing person. It is not really far way from train station, just 15mins work. and the environment is safety when I walk through the community. One thing I want to emphasize is that the house is very cozy and the decoration are very heart-touched. It is a real "home" for the traveler. Also their cats are quite cute and quiet, so don't be worry about the noise of pets.
Brent
2017-03-10T00:00:00Z
The host canceled this reservation 89 days before arrival. This is an automated posting.
Annelies
2017-04-03T00:00:00Z
I stayed at Yu's place for a few weeks, and I never had anything to complain about. The studio is clean an cozy. It's located in a nice neighborhood, pretty close to supermarkets and other services. Yu has been extremely welcoming and discreet. Highly recommended.
Stefano
2017-04-12T00:00:00Z
Er hing een onaangename geur, hoewel de kamer er anders wel net bijlag. Voldoende ruimte, met een eigen ingang (en sleutel). Je hebt een eigen toilet, maar voor een douche moet je in de privé!
Suzan
2017-03-18T00:00:00Z
Yu has been an excellent host, very helpful and discreet; he also provided me with an umbrella for the rainy days :-) All in all a neat place to stay for a few days, recommended.
Stefano
2017-03-09T00:00:00Z
Great host and went to great lengths to offer me breakfasts during my stay and a ride to train station with my belongings. Appreciated the hospitality, thank you Yu Chun!
Farhan
2017-02-22T00:00:00Z
I booked the room for my friend. He told me Yuchun is super friendly. The place is cosy and quiet, an ideal place to have a rest. By the way the garden is really lovely
Ning
2017-03-19T00:00:00Z
Huonetyyppi
Yksityinen huone
---
Majoituspaikan tyyppi
Huoneisto
---
Majoittujien määrä
2
---
Makuuhuoneet
Leuven, Vlaanderen, Belgia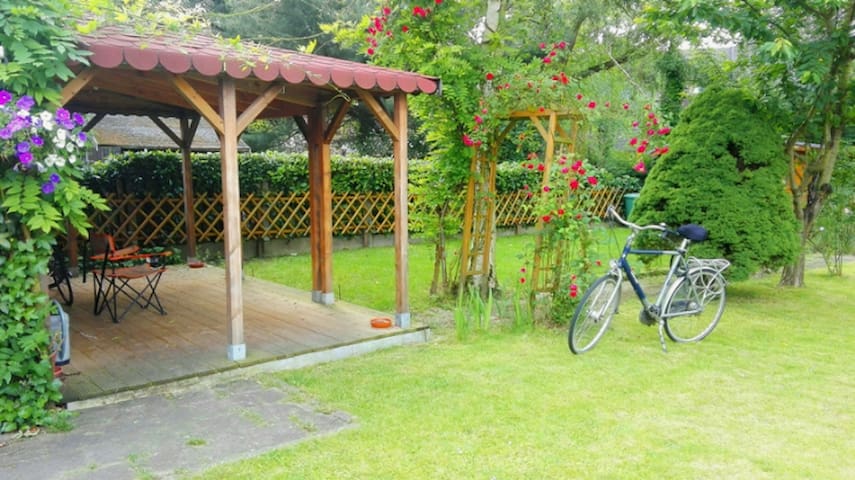 This brand new apartment is located right in the heart of Leuven right behind the "Oude Markt" The apartment has a sunny Large living/dining room with large terrace, a fully equipped kitchen with breakfast counter, two bedrooms and a spacious bathroom, with a large bath, separate shower and a double washing table. This is a non smoking unit. Also included are: - an underground parking spot. - Cable TV and Wi-Fi Location: Leuven, Belgium, Europe (20 min by train from Brussels) Accommodations: Large Apartment, 2 Bedroom, 1 Bath (Sleeps 4-5) Leuven is a nice-size city with direct train connections from Leuven to Brussels (17 Minutes to Bruxelles Nord, 25 minutes to Bruxelles Midi and), and direct bus connection to the airport (50 minutes). This 3th floor brand new two bedroom Apartment is located in the heart of Leuven right behind the "Oude Mark".. Vacation Rental Features •Amenities oFull size Washer & Dryer oLinens Provided oElevator (1) •Beds oQueen Bed o2 Twins oSofa Bed •Entertainment oHD Cable TV oDVD/Blue ray oCD Player oStereo System •Kitchen oKitchen oCooking Utensils Provided oRefrigerator oMicrowave oOven oDishwasher •Outdoor Features oBalcony •Other Amenities oFlat screen TV oWiFi oUnderground parking spot •Suitability oNo Pets Allowed oKid Friendly oSmoking Not Allowed •Activities (nearby) oShopping oRestaurants oFitness Center/Gym oHealth/Beauty Spa oCinemas/Movie Theaters oLive Theater oMuseums Rate Details (In Euros can be paid in Dollars) Rental Rates .. From: €95/night (minimum 3 nights) .. €550/week …€2100/Month Cleaning - Linen Fee of €95. Credit Cards through PayPal. For longer stays the monthly rate includes a once a month cleaning/Linen fee.
We stayed for four days in this very nice apartment and enjoyed it very much. Location is great: a modern and spacious apartment on the 3rd floor, with all the luxury you need, located very close to the city-centre. Instruction for the arrival was sent timely and was accurate. We do have some suggestions for improvement: 1) in the morning there is a lot of light in the sleeping rooms because of the lack of good curtains, 2) maybe some mood lights would be nice to make the apartment a bit more cosy in the evenings. But these are really minor points because the apartment is great located, big, clean, and equipped with all comforts. We loved our stay!
Vincent
2014-04-29T00:00:00Z
The area in which to take an apartment, beautiful, with lots of shops and restaurants! The apartment, at the time of our visit, was clean and well appointed. The hostess we expected more, as agreed ... but got what we got. Money for the inconvenience did not return ... Unfortunately. When we rest in Denmark, landlady left and sweets for the children and for us a bottle of champagne ...
Katya
2015-01-06T00:00:00Z
Due to some delays in travel our arrival was a bit late but this was no problem due to the self service check in which itself felt like a treasure hunt at first but the prize was well worth it - a gorgeous apartment that was well equipped and ideally located. We had zero problems with any of it and would love to stay there again our next time in Leuven - highly recommended!
Bolek
2013-09-01T00:00:00Z
Carina's flat was fantastic: all new and clean, a great large lounge, two small bedrooms with very good beds and large closets, a bathroom with an exceptionally spacious shower cabin, and the kitchen was very well equipped. Fast internet access and a nice balcony are a welcome addition. The area is very quiet despite its closeness to the city centre: it's just a two minutes walk to the Oude Markt! We recommend Carina's flat unreservedly with highest marks.
Michael
2016-09-12T00:00:00Z
Fantastic apartment. So close to the Oude Maart (bars, restaurants) and the beautiful heart of Leuven, yet tucked away enough to be quiet. Very helpful host left clear instructions on access. Highly recommended.
Virginia
2013-09-20T00:00:00Z
The host canceled this reservation 84 days before arrival. This is an automated posting.
David
2016-06-21T00:00:00Z
Very nice apartment in comfortable location. It's spacious, clean and well equipped. We had some problems with wrong door entrance codes, but at the end everything went well and we managed to get in. We also had to wait for the apartment to be cleaned because a previous guest checked out late, but after all this was not the host's fault so I recommend this place. We really enjoyed our stay there.
Magda
2013-06-25T00:00:00Z
Die Wohnung ist sehr schön, groß und sehr zentral gelegen. Es hat alles was man braucht. Auch auf dem Balkon ist es in der Mittagszeit schön warm und sonnig sowie auch schattig. Wir verbracheten eine gute Woche in Leuven. Wir können die Wohnung wärmstens weiter empfehlen.
Martina
2015-05-20T00:00:00Z
Huonetyyppi
Koko talo/asunto
---
Majoituspaikan tyyppi
Huoneisto
---
Majoittujien määrä
5
---
Makuuhuoneet
Flemish Brabant, Flanderi, Belgia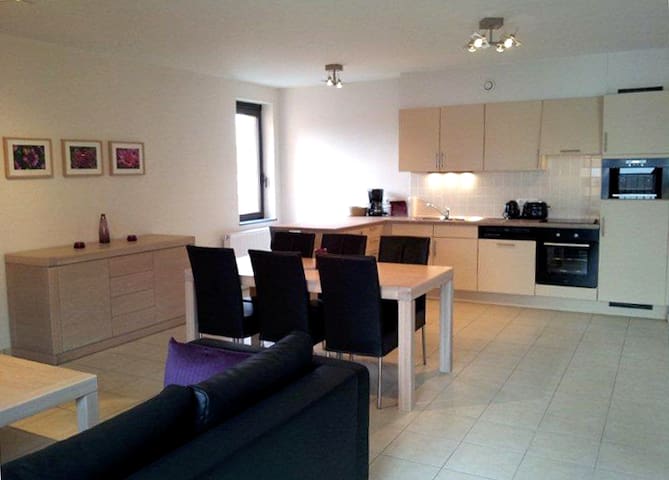 It is a very nice and friendly place to live thanks to its location in a low-traffic, dead end street with a park on the other side, its wooden floors, some antique or brocante pieces of furniture, two large terraces (one in the back and one in front) and the two-person corner bath. The apartment is conveniently located on the ground floor, but thanks to all the trees and bushes surrounding it you still have good privacy.
Furthermore, there is a TV with Netflix, a washing machine and dryer, a BBQ, a freezer, a fridge and a dishwasher. There are two bedrooms, each with a two-person bed. There is a third, smaller space for storage. Therefore, the apartment can conveniently house 4 people. Two more people can sleep on the coach if necessary. If you arrive by car, you will have no trouble finding a parking spot as there is a private parking in the basement of the building. Besides, most of the time parking in the street can also be found with ease. There is also a bus stop at about 300m, with a bus line that goes directly to the railway station. The apartment is conveniently located in the center of Leuven, near the university hospital. Shops, bars and a bakery can also be found at walking distance.
Leuven is a very nice town located at 25 km from Brussels, Belgium. Thanks to the presence of the largest and best university in Belgium, it is a very lively town, that easily matches towns 5x its size in possibilities.
Lovely house and in a great neighbourhood. Short walk from the centre so would definitely recommend.
Jacob
2016-06-06T00:00:00Z
Fredrik was extremely nice and welcoming and even helped us after we got stuck out of the apt once (: The apt was really doog, fit our needs
Yuval
2016-07-05T00:00:00Z
Appartement très jolie et agréable.
Maciel
2016-06-11T00:00:00Z
The host canceled this reservation 5 days before arrival. This is an automated posting.
Trude
2016-04-18T00:00:00Z
We hadden een leuk verblijf bij Jasmine. Ondanks onze laattijdige reservatie is alles heel vlot verlopen. Het appartement komt perfect overeen met de beschrijving en is een prima uitvalsbasis om Leuven te verkennen. Alles is aanwezig om je snel thuis te voelen.
Jonathan
2016-05-23T00:00:00Z
We very much enjoyed our stay in Leuven and in Jasmine's and Frederiks apartment. The flat is very well located (city center and university within easy reach), spacious and family-friendly. And communication with the hosts worked a treat.
Stephanie
2017-02-12T00:00:00Z
Leuk appartement met twee terrassen, ongeveer twintig minuten lopen naar het centrum. Buiten is de ring goed te horen. Veel privespullen aanwezig en niet heel schoon (volle prullebakken en wasmand bijvoorbeeld). Verder olie, kruiden, koffie, thee aanwezig!! Parkeerplaats in de kelder ook prettig.
Maaike
2017-04-02T00:00:00Z
The apartment was wonderful, and it was conveniently located within walking distance from the town center and along all of the main bus routes on the Ring Road. The hosts were incredibly nice and had all of our needs covered. I thoroughly enjoyed my stay and highly recommend it to all!
Sean
2016-06-27T00:00:00Z
Huonetyyppi
Koko talo/asunto
---
Majoituspaikan tyyppi
Huoneisto
---
Majoittujien määrä
5
---
Makuuhuoneet
Leuven, Vlaanderen, Belgia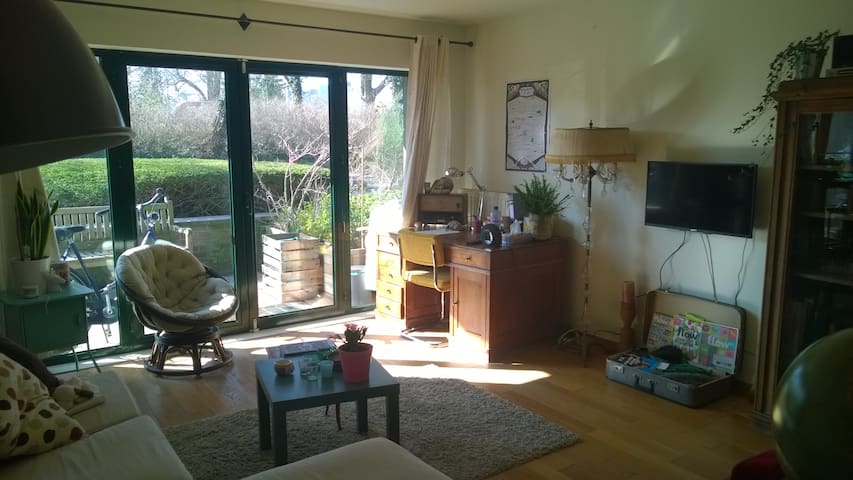 The house is close to the airport, the city centre of Leuven, parcs, arts and culture. You will enjoy your stay in my house thanks to a nice atmosphere and a comfortable kingsize bed. It suites couples, solo-adventurers and pets. Want to come with a baby? Everything is provided. It is a shared 2-family house, of which 1 family is on vacation. We have 2 bikes for rent to enjoy the many cycling routes in the vicinity.
Spacious bedroom, cosy living area, kitchen with washing machine, entry hall and storage (allowed to smoke here), small bathroom with shower, washbasin and toilet. Communal garden.
Situated in a quiet, kid friendly neighbourhoud. Supermarket, restaurant, snackbar and bar (café) within walking distance. Various walking/cycling routes in the nearby surroundings.
Ria is een zeer goede gastvrouw. De bnb is zeer ruim en heeft een knopoog naar Australië. Een aanrader!
Frederik
2017-03-26T00:00:00Z
Huonetyyppi
Koko talo/asunto
---
Majoituspaikan tyyppi
Huoneisto
---
Majoittujien määrä
2
---
Makuuhuoneet
Leuven, Vlaanderen, Belgia
* you get the private 2nd floor of my house ((PHONE NUMBER HIDDEN)) * this is 1 bedroom with double bed & sink + 1 cosy sitting room with sofa(bed) & table. Like in the photos. * 1st floor = Bathroom with bath/shower, private for you * Kitchen NO, but YES: microwave, fridge, toaster, Senseo, kettle. Small camping cooker on request. * Good WIFI * I live in my private space on the ground floor. * 10min walk to the Market Square. * Free parking on the corner. * Sofabed is an Ikea Solsta.
* free parking in front of the house (blue zone with 'blue disk') and 24/7 free parking 20 meters up the street (no disk needed) * 12 min walk to the center * supermarket nearby (6 min. walk) * quiet area
An Sophie is a very kind person! We love her and his place . The place is very nice, includes facilities to eat and to stay comfortable! Not so far to city center. We enjoy to stay there and we recommend it. Jose & Wal
Jose Maria
2016-09-22T00:00:00Z
It is comfortable to live here
Zhuoya
2017-04-09T00:00:00Z
Could not have hoped for a more comfortable base. Very thoughtful host had left everything to make the stay go smoothly. High speed Internet. Clean, well appointed, comfortable, characterful without being precious. Highly recommended.
etienne
2015-03-26T00:00:00Z
An Sophie heeft een heerlijk appartement op de bovenste verdieping van haar eigen huis, met gratis parkeren. Helaas kon An Sophie niet aanwezig zijn voor de ontvangst, maar door de uitgebreide uitstekende communicatie hebben wij de aankomst in haar appartement als een warm welkom ervaren. Met al haar goede tips (short-cut naar stadscentrum, inderdaad maar 10 minuten, tips voor leuke cafes en goede restaurants) hebben wij ons verblijf in Leuven als zeer prettig ervaren. Het appartement is ruim, absoluut schoon en voor een jong stel als wij zeker een aanrader als je een romantisch weekendje Leuven wilt boeken!
Loes
2016-12-18T00:00:00Z
Heerlijke plek! Dicht bij het centrum van Leuven! Leuk voor een steden tripje:)
Liset
2016-07-28T00:00:00Z
An-Sophie ist eine fröhliche und sehr positive Gastgeberin. Ich habe mich in Ihrem kleinen, süssen Haus sehr wohl gefühlt. Die Küche ist gut ausgestattet, das Sofa bequem, es gibt einen grossen Esstisch und im Sommer ist der schöne Garten sicher gut nutzbar. Das Bett ist sehr gross - Stauraum im Schlafzimmer ist allerdings etwas limitiert. Die Lage zur Innenstadt ist nah - man ist in ca. 10 Minuten Fussweg im Zentrum. Ebenso gibt es Parkmöglichkeiten, was in Leuven nicht einfach ist. Es ist wunderbar ruhig in dieser gegend und mann kann sehr gut schlafen. Einzig eine Waschmaschine ist nicht vorhanden, was allerdings auch so angegeben ist (konnte bei einem Freund waschen).
Daniel
2016-01-31T00:00:00Z
An Sophie's place was really nice... and even better and bigger than it appears in the photos. It was comfortable, artsy, roomy, fully equipped and private. There is a lovely garden in the backyard and nice light. The street is quiet and cute and an easy walk to the center of Leuven (10 mins), grocery store and other stores (less than 5 mins) and not far at all from the train station (20 minutes or so on foot). We really enjoyed the house. An Sophie herself was friendly and helpful and made sure we understood everything necessary in the house. All in all, a great place to stay in Leuven.
Bruce
2015-01-02T00:00:00Z
Het appartement voldeed aan alle verwachtingen! De locatie was prima, slechts 10 minuten lopen naar het centrum. De ruimte was groot genoeg voor z'n 2en. Ik was er samen met een vriend, dus heel handig dat er zowel een bed als een slaapbank was. An Sophie hebben we niet ontmoet, maar ze onderhield goed contact om te zorgen dat alles goed ging. Leuven is een leuke stad voor een weekend!
Koos
2016-08-15T00:00:00Z
Huonetyyppi
Koko talo/asunto
---
Majoituspaikan tyyppi
Huoneisto
---
Majoittujien määrä
3
---
Makuuhuoneet
Leuven, Flanderi, Belgia
My place is just about 10 min from the city cinter , in the apartment you can find every thing you need it , My place is close to public transport, nightlife, and restaurants and dining. My place is good for couples, solo adventurers, and business travelers. Check in : after 3 pm Check out : before 11 am
gentile e simpatico..attento alle nostre esigenze .. a presto. grazie!!
Sebastiano
2017-03-19T00:00:00Z
Obaida was a nice host. His place was exactly what we were looking for for a one-night in Leuven. We will definitely come back for a next trip in the city.
Michael
2017-02-26T00:00:00Z
Nice apartment for 1 night stay. Host was nice and very flexible and responded quickly. Hygiene could be better, but I would definitely recommend it for a short stay near the city centre of Leuven. Cheap parking is available at philipssite.
Melloney
2017-03-26T00:00:00Z
Obaida was a great host. Immediately made me feel welcome in this cosy little flat in central Leuven.
Mark
2017-02-10T00:00:00Z
I stayed in Obaida's place for one night with two friends and we had a nice stay. The palce is like in the pictures.
Xavier
2017-02-04T00:00:00Z
Spacious studio and a flexible, attentive owner.
Wouter
2017-01-26T00:00:00Z
The host canceled this reservation the day before arrival. This is an automated posting.
Hicham
2017-01-28T00:00:00Z
Nice, spacious place in a convenient location. Host was very accomidating. Can't complain especially considering the price.
Tanis
2017-01-28T00:00:00Z
Huonetyyppi
Koko talo/asunto
---
Majoituspaikan tyyppi
Huoneisto
---
Majoittujien määrä
2
---
Makuuhuoneet
Leuven, Vlaanderen, Belgia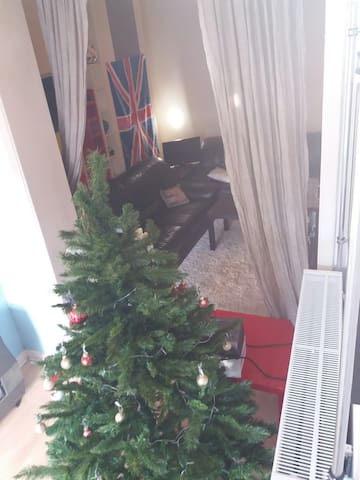 cozy room in the heart of Leuven. 2km from train station of Leuven. bicycle storage. easy transportation, and also free wifi.
In the middle of the downtown area. 2 min by walk to the Grootmarkt and the Oudemarkt of Leuven. Easy and close access to shopping and restaurant. Ideally situated for the University visitor. Also a restaurant open until midnight in the same building.
The Center of Leuven is the place to be for shopping and student life, by day and by night
Perfect verblijf. Midden in het centrum, allles wat je nodig hebt.
Eva
2017-04-07T00:00:00Z
Fethi was more than welcoming and was able to take time out of his workday to help me get settled and explain the rules and how things work. There were no issues and the place was a nice place to stay for the night. I would stay again if given the choice.
Mike
2016-08-02T00:00:00Z
Wonderful stay.
Massimiliano
2016-09-15T00:00:00Z
Fethi was really polite and communicated very clearly, I came in late but this was not a problem for him. The room is exactly as described and showed on the pictures. Unfortunately the room is located next to the stairs/entrance. Therefor it was quite noisy when other people came into the house. There was a lot of light from outside coming into the room, so it is necessary to bring a sleep mask.
Sharona
2016-05-28T00:00:00Z
Prima plek voor een correcte prijs
Alexander
2017-02-17T00:00:00Z
This was a top notch room! It is exactly as promised in the listing, is in a great location, is very clean, and very comfortable. Have no complaints, and would recommend to anyone looking for a place to stay when visiting leuven!
Kenneth
2016-10-18T00:00:00Z
The room is great, clean and bright, very cozy! Fethi is also very friendly and helpful!:D
xixi
2016-08-18T00:00:00Z
Confortable and clean room, very good shower. Close to the Grote Market. Fethi was gentle and friendly.
Izadora
2016-10-31T00:00:00Z
Huonetyyppi
Yksityinen huone
---
Majoituspaikan tyyppi
Huoneisto
---
Majoittujien määrä
2
---
Makuuhuoneet
Leuven, Vlaanderen, Belgia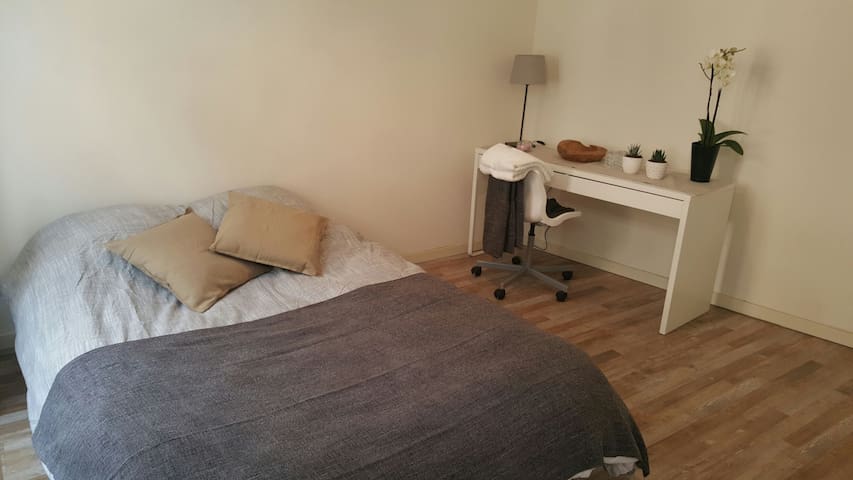 Charming and stylish studio located in an amazing location at the heart of Leuven. The studio is brand new and has everything you need as a comfortable base for your trip, very clean, very modern and very central. You'll be in the most vibrant, super cool and exciting part of Leuven. Spoiled for choice with bars, restaurants,cafes and shops in the immediate vicinity. All historical, interesting places are within walking distance. Perfect location! Enjoy the culture, eat great food, enjoy Leuven!
At the beating heart of Leuven city centre but located in a quiet street
All what you need is in the immediate vicinity, bars, restaurants, nightshops, supermarket. Leuven's city hall and Tourism Office is just around the corner.
Leuven is a very nice city and the flat is just a few meters away from the centre. It looks exactly the same as on the pictures; it's nice and clean, and very cozy. The check in &check out is super efficient and Paul is very responsive.
Annamaria
2017-03-13T00:00:00Z
De studio van Paul is zeer smaakvol en mooi ingericht. De communicatie verliep heel vlot. Paul antwoordt heel snel op de berichten. Pluspunt was de garage die we konden gebruiken. De studio ligt heel dicht bij het uitgangsleven in een rustige straat.
valerie
2017-02-26T00:00:00Z
This is maybe the nicest apt. I've been in, since I use airb&b. Brand new, stilish and extremely clean and relaxing. It is in the very centre if the City. Paul is a great host, provided all service i might need, including a couple of beers ;-)
Simone
2017-03-31T00:00:00Z
Paul's place is right in the heart of Leuven, it's perfect and comfortable for a great stay. I highly recommend it.
Irisa
2017-03-16T00:00:00Z
Huonetyyppi
Koko talo/asunto
---
Majoituspaikan tyyppi
Huoneisto
---
Majoittujien määrä
2
---
Makuuhuoneet
Leuven, Vlaanderen, Belgia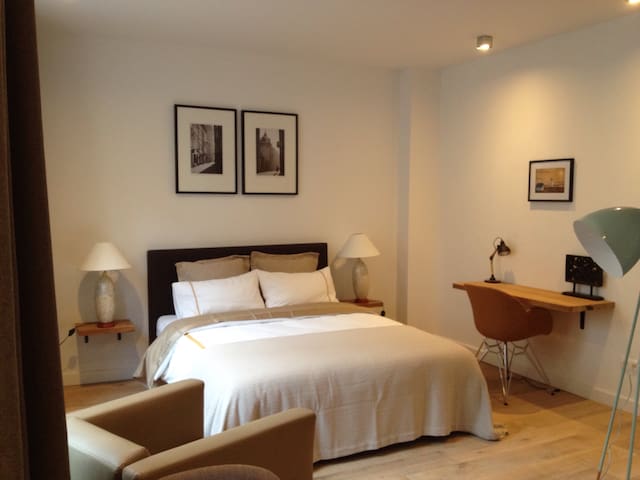 Authentic loft in one of the main streets of Leuven's historic city center! The apartment is situated on the top-floor of a two-story city house.
The loft encompasses a main area, including a dining area, a kitchenette and sleeping sofa. There is a separate bathroom and a mezzanine with sleeping area for another two persons (two single-beds). All kitchen supplies, towels and sheets are provided within the loft.
The loft is located in one of the main streets of the historic city center . It is only a 5-10 min walk from all Leuven's historic locations, e.g. the Grote Markt, the City Hall, the Great Beguinage, Botanical garden... Also at short walking distance from the University Hospital and other University sites.
Huonetyyppi
Koko talo/asunto
---
Majoituspaikan tyyppi
Huoneisto
---
Majoittujien määrä
4
---
Makuuhuoneet
Leuven, Vlaanderen, Belgia
Brand new studio apartment located in Heverlee, 25 minutes walking from city center
Huonetyyppi
Yksityinen huone
---
Majoituspaikan tyyppi
Huoneisto
---
Majoittujien määrä
2
---
Makuuhuoneet
Oud-Heverlee, Vlaanderen, Belgia
2 quiet rooms (living+bedroom) and a bathroom. 1 large bedroom accomodates 4. Breakfast not available. Peaceful valleys&hillsides all around. Excellent for short/long walks&for cycling. Historic castle of Horst nearby. Close to Leuven&Brussels. Bars&restaurants in Leuven, Aarschot and in neighboring villages.
Duplex on the first and top floor with separate entrance (outdoor stairs) of authentic rural house. Optional additional bedroom (with double bed) on the first floor if you are 5 to 6 guests. Your own bathroom with shower and separate toilet on the first floor. Use of the kitchen on the ground floor allowed only for basics and storage. (If we are at home) Breakfast not available but we can put food&drinks for breakfast in the fridge, only upon request. Coffee/tea/milk are free. Large (33are), rural garden with botanical and cultivated plants and quiet corners. Centrally located in Belgium (Leuven 20km, 45km from Brussels, Antwerp, Hasselt and Liège) and in the green, hilly Hageland region. Located near to GR and walking and biking routes. 3km from exit 22 (Aarschot) on the E314. Easy access with public transport. As locals, we can tell you about all that a tourist needs to know (cities and nature, museums and concerts, attractions, restaurants...). Some famous Belgian music festivals are not far away by car (public transport: x 2 or x 3): WERCHTER ROCK FESTIVAL (Werchter) 15 minutes WERCHTER CLASSIC (Werchter) 15 minutes SUIKERROCK (Tienen) 25 minutes PUKKELPOP (Kiewit-Hasselt) 35 minutes COULEUR CAFE (Brussels) 40 minutes
We loved the appartment! It is just around the corner of the buautiful historic city of Leuven and a lot of festival (we visited the Rock Werchter). To reach our destinations we used bikes but there are more ways of course. Most of all we loved the style of the appartment, with a lot of furniture from wood. And of course: we felt very welcome by the hosts Jan & Nora and can truelly recommend to stay here.
Sjoerd
2013-07-08T00:00:00Z
Prima geslapen en wat een leuke ruimte! Jan heeft ons heel vriendelijk ontvangen want Nora kon er niet zijn. Het is er heerlijk rustig en we hebben met volle teugen genoten van de prachtige tuin. Jan kweekt mooie planten en we hadden graag wat meegenomen, maar de planten hadden de reis niet overleeft helaas. Fijn dat de koelkast rijkelijk gevuld was met lekkere biertjes. Top!
Jessica
2015-07-03T00:00:00Z
Leuke overnachtingsplaats is Nora's green sleep. Een waar rustpunt, een warm onthaal, kleine toerismetips... De locatie voldoet aan alle verwachtingen. Mocht ik in de buurt nogmaals willen overnachten, zal ik niet twijfelen om bij Nora en Jan aan te kloppen.
Steven
2015-12-07T00:00:00Z
Het contact op voorhand was heel duidelijk. Het verblijf was meer dan de moeite waard met mooie wandelingen in de buurt, een heel aangename plek om te logeren en een warm onthaal.
Maya
2014-11-24T00:00:00Z
Ein wunderschönes Zimmer! Wir haben ganz prima geschlafen in den Bett, es ist schön ruhig und die Gastgeber total nett! Wir haben incl. Frühstück gewählt und es war bestens! Mit Tomaten aus eigenem Anbau sogar! Alles also bestens! Wenn wir nochmal in der Gegend sind werden wir es auf jeden Fall wieder buchen!
Jessica
2013-09-02T00:00:00Z
Hartelijk dank voor de twee fijne overnachtingen. De communicatie ging snel en het ontvangst was hartelijk, het gaf ons een welkom gevoel.
eelco
2016-10-19T00:00:00Z
My experience at the home of Nora was excellent, I recommend to people who want to stay in a quiet town. The accommodations are very good, the receptivity of Nora is excellent. You can also hire a full breakfast. The house is far from the big cities, but if you have a car is an excellent option. There is also a good beer to drink in the fridge!!
Alex
2013-06-12T00:00:00Z
Nora and Jan were very inviting and friendly, and the studio was perfect. Comfortable, clean and quiet. The fridge was stoked with goodies, coffee machine for the mornings and chocolates on the pillows! I would definitely love to stay there again next time on Belgium.
Mical
2015-01-30T00:00:00Z
Huonetyyppi
Koko talo/asunto
---
Majoituspaikan tyyppi
Huoneisto
---
Majoittujien määrä
4
---
Makuuhuoneet
Holsbeek, Flanderi, Belgia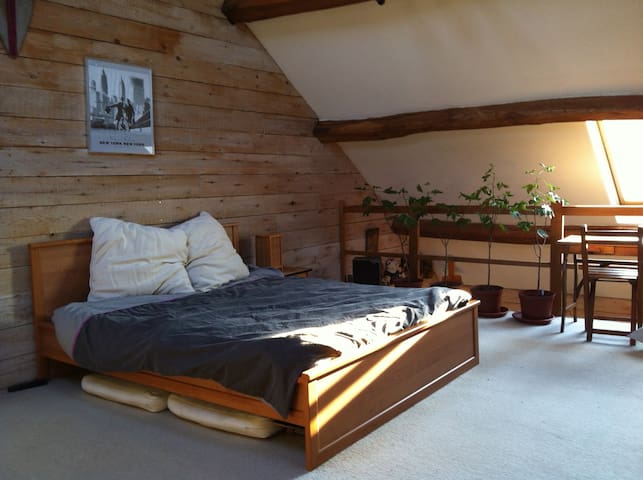 Single room close to the station and city center: nice, colourful, cozy, young... And low cost! Cheerful and sunny shared apartment with a young and nice couple :)
Do you need to come to Leuven but you do not know anybody and you look for a cozy and cheap place to stay? Do you need a place to stay very close to the station with quick and direct connections also for Zaventem airport? Do you want to stay in the city center, but in a quiet area with shops and restaurants nearby? THIS IS YOUR PLACE! A single room is available in our house, in a very peaceful and cozy neighborhood, 5 mins from main squares, 8 mins from the station, and several bus stops just few minutes away. A supermarket is next to the house and numerous shops and restaurants Are available in the area. Our sunny 2-bedrooms apt is waiting for you! You will find the living, the kitchen and a small guest toilet on the first floor, the bathroom with shower and our room on the second, while your bedroom is on the third level so it is very quiet. There is a king size bed, suitable for Two. Not convinced yet?! Well, our big terrace will do the rest ;-)
very close to every facility, 5 min on foot from city centre, 10 min from station, 3 min bus stops, supermarket next door, old library, restaurants and pubs nearby
Huonetyyppi
Yksityinen huone
---
Majoituspaikan tyyppi
Huoneisto
---
Majoittujien määrä
2
---
Makuuhuoneet
Leuven, Vlaanderen, Belgia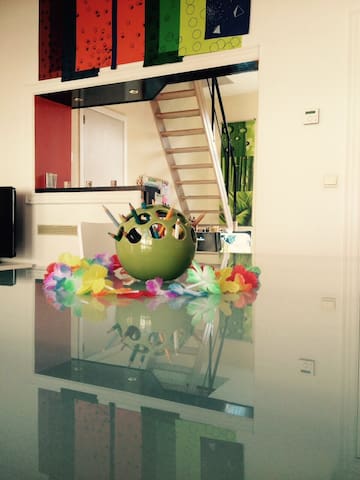 Holsbeek - Airbnb
:
Keskimäärin

4.35

tähteä yhteensä

5

408

vierasarvostelusta