Anna päivämäärät nähdäksesi kokonaishinnoittelun. Lisämaksuja sovelletaan. Veroja saatetaan lisätä.
8 vuokrakohdetta
· Leeswood
8 vuokrakohdetta
· Leeswood
This detached rural cottage is set in beautiful Welsh countryside with wonderful views. Ideal location for walking, exploring North Wales coast and mountains or the beautiful,historic city of Chester Convenient for Chester races, the International Eisteddfod in Llangollen or the World heritage site Pontcysyllte Aqueduct and canal. The cottage is self contained with central heating. Parking. BBQ.
Set back from the road and surrounded by farmland with wonderful views. The cottage has a good sized living room, well equipped kitchen and a downstairs shower, sink and toiler. Upstairs there is a split staircase leading to 1 double bedroom on one side and 1 single bedroom and bathroom with over bath shower on the other side. The cottage has Internet, TV. DVD microwave. Outdoor seating area. Gas bbq available on request . Within 5 minutes drive to local shops, pubs and excellent train connections to Wrexham, Chester, Liverpool and Manchester. There is also a good bus service to Wrexham and Mold. The cottage is self contained and detached from the main house. We will be available if required
Very rural and peaceful with wonderful walks from the back door but only a short drive to A55/A5. Good bus service from the village (half mile). Excellent train connections. Car essential Children must be supervised at all times as there are stone steps, walls and a open pond close by. Dogs, by request, also must never be left unattended and are not allowed on the furniture or upstairs.
Ruth and Allan were excellent hosts and made us feel very welcome. The cottage is everything advertised and more, being in the most wonderful, rural location with stunning views. It is a convenient place for visiting some fabulous local sites, from Liverpool and Chester to some great National Trust properties, Erddig, Chirk Castle and Bodnant Gardens.
Nicholas
June 2016
We had the happiest Xmas ever at Yellowstone cottage, everything was just perfect. Thanks to Ruth and Alans attention to detail to our every need. We were thrilled Alan even gave us some of his professional time to sing us a Christmas Carol on Christmas Day. We also had a walk over Pontcysylite Aqueduct which was amazing. We couldn't have asked for better hosts. Ruth and Alan are beautiful people and we very much hope to stay again soon. Thank you again
Angela
January 2016
Our experience in the Welsh cottage was absolutely fantastic! Ruth and Allan are fabulous hosts and very welcoming. When we arrived Allan was waiting for us and showed us around. The cottage was exactly as in the pictures. It was perfectly equipped with everything we needed. They made us feel like at home. We wish we'd spent more nights there to explore more, and enjoy the beautiful views and peacefulness of the Welsh countryside.
Raquel
December 2015
Ruth and Allan were so welcoming and lovely and accommodated our every need being really flexible. The cottage was amazing. So cute with cuddly toys that the boys loved and lots of space and home comforts. The bathroom was gorgeous with an amazing hot shower. We woke up to the birds and cows in the fields with amazing sweeping views. We didn't want to leave!
Chrissie
June 2016
Had a brilliant time at Ruth and Alan's cottage. Perfect hosts, who got my girlfriend a cake and a card for her birthday. The cottage is in a perfect location out of the way but not too far from civilisation. We had a brilliant weekend and i would highly recommend.
Darius
November 2016
Thank you Ruth and Alan for making us feel so welcome and helping us to make the most of our visit. We will certainly come to your charming cottage again! Margaret and Rog(PHONE NUMBER HIDDEN)
Roger
April 2016
We had a really lovely stay at Ruth's gorgeous well presented cottage. Very quiet and peaceful.. exactly what we wanted. Would definitely recommend this cottage. Or dog Pavlov loved it too, plenty of routes for walking and exploring. Would definitely stay again, just hope the weather is on our side next time.
Stacy
March 2017
Perfect, picturesque setting for a break. Beautiful cottage fully equipped. Hosts Ruth and Alan were very welcoming and communication with them was easy and questions answered straight away. Ruth provided some provisions to get us started and called in to make sure everything was ok. There were plenty of maps and booklets we could look through. The cottage was warm and inviting. Fabulous place to stay for a break. Would highly recommend it. Thanks Ruth and Alan.
Kathy
January 2017
Huonetyyppi
Koko talo/asunto
---
Majoituspaikan tyyppi
Talo
---
Majoittujien määrä
3
---
Makuuhuoneet
2
Cymau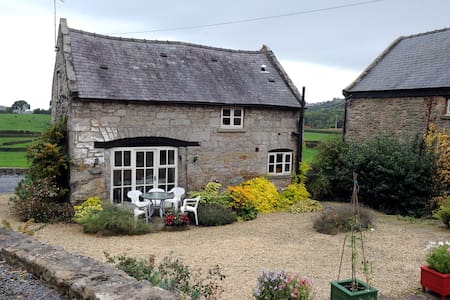 This new and modern top floor apartment is situated in the quiet but popular village of Penyffordd , located in the north Wales countryside just 10 minutes drive from the historic city of Chester. The accommodation comprises of 1 single and one double bedroom with en suite bathroom. Large open plan lounge, kitchen and dining area and pull out sofa bed in the lounge area. The accommodation is just a short walk from a local shop, butchers and two excellent pubs. Broughton park is just 5 minutes drive where you will find shops, bars and cinema complex.
Nice modern top floor flat, 2 bedrooms and sofa-bed in the sitting room. Minimally furnished and equipped but that's reflected in the price so good value overall. Saved us a fortune over hotels in Chester. Easy 15 minute drive into Chester on fast roads.
Jules and Jane
March 2017
This is a spacious 2 bedroom flat, Has a fully equipped kitchen and was perfect for me and my Son to relax and spend some quality time together. (I work away) I would definitely recommend.
Matt
January 2017
Disappointing No wifi Not all channels work on tv. BBC not working at al. Total lack of utensils and equipment to make a meal in the apartment. Had to buy my own glasses and knives! Only 1 towel and 1 pillow. Despite promising to rectify the situation I was then told he couldn't help as he had gone away on work. Would not recommend.
Lisa
February 2017
Good location and friendly host, who was easy to contact if needed. Ample parking and only a short distance to Chester and Broughton. Clean, warm and modern apartment, coffee and tea provided and comfy beds :)
Corinna
February 2017
Great place to stay within an easy drive of Chester or the surrounding area. Adam made it very easy to check in and was most accommodating with an early check in. Tea and coffee was much appreciated despite the fact that I couldn't work the coffee machine ( I can just about use a kettle so that's no reflection )
Nigel
January 2017
Huonetyyppi
Koko talo/asunto
---
Majoituspaikan tyyppi
Huoneisto
---
Majoittujien määrä
4
---
Makuuhuoneet
2
Penyffordd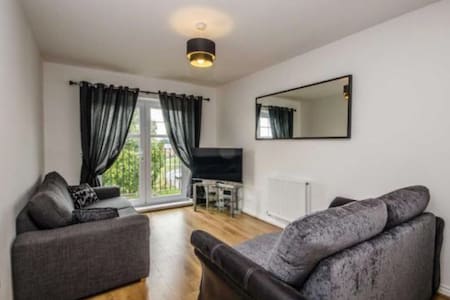 Tree Tops is situated overlooking Llanfynydd valley which is in the foothills of Wales, 20 mins from Chester and 45 mins from Snowdonia. Yards from the house are eight fly fishing lakes. Off the lounge/dining/kitchen is a furnished elevated veranda to enjoy the peaceful wooded valley below which provides excellent habitat for many bird species. Downstairs there is one bedroom and two upstairs, Parking is provided, There are shops within a 10 minute drive. and a 16th century inn 1 mile away
Very beautiful, quiet and relaxing place.
Vladimir
October 2016
Kaum waren wir in dieser Idylle angekommen, haben wir uns schon wie zu Hause gefühlt. Das gut ausgestattete Holzhaus hat eine sehr warme Atmosphäre, in der wir uns total wohl gefühlt haben. Joy und Peter waren sehr gastfreundlich, flexibel, offen und hilfsbereit bei einem kleinen persönlichen Problem. Vielen Dank dafür! Wer einen ruhigen Urlaub auf dem Land verbringen möchte und gerne Tagesausflüge nach Snowdonia, LLangollen, Chester & co. unternimmt, der ist hier genau richtig!
Silke
August 2016
Comfortable cabin in a quiet, secluded area. Joy and Peter made us feel very welcome and even supplied a real Christmas tree for our festive break. Looking forward to our next stay.
Lee
January 2017
I booked this accommodation on behalf of a company of actors performing at Theatr Clwyd. They had a very enjoyable stay and found everything to be most satisfactory.
Anton
September 2016
Huonetyyppi
Koko talo/asunto
---
Majoituspaikan tyyppi
Talo
---
Majoittujien määrä
6
---
Makuuhuoneet
3
Llanfynydd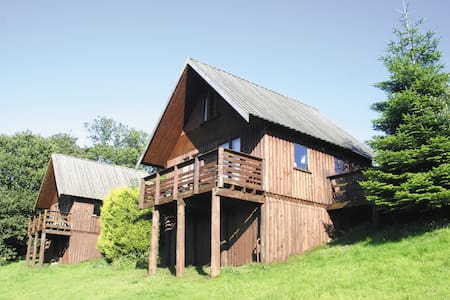 Nestling against Hope mountain & surrounded by trees the apartment feels like a tree house. The garden is visited by many birds. Depending on time of year you will hear woodpeckers, owls and buzzards as well as the general song of smaller birds.
Come and stay in our beautiful larger than average first floor apartment. We are in a lovely secluded area whilst having easy access to Chester, Wrexham and Mold. A little further away are Llangollen, Whitchurch and Oswestry and Liverpool, Manchester and Shrewsbury are only 1 hour away. We are located on the outskirts of the village of Caergwrle, a village well served by independent shops and take-aways. There are some nice restaurants within a short drive of the apartment. This is a perfect location for a holiday or for someone looking to move to the area and needs somewhere to stay whilst house hunting. We also cater for people who commute on a weekly basis for work. The apartment has its own fully equipped kitchen and lounge diner as well as TV and freeSat box, DVD and video player are available on request. Internet Wi-Fi is also available. The apartment is light and airy and decorated in a modern style. Massage and aromatherapy are available in the apartment. Please contact us for further details and price. There is free off street parking available for guests. Buses are available from the village into Mold, Chester and Wrexham. Train services run from Hope and Caergwrle, with mainline services from Chester and Wrexham. We are able to cater for up to 4 people, each bedroom has a double bed. It is a first floor apartment with stairs leading directly onto the landing so not suitable for young children. We are not able to cater for pets. A selection of breakfast ingredients will be available in your kitchen. We will adapt to your requirements when you book. We are a sociable couple who enjoy meeting other people. We live in the house next door so will be happy to help with anything you might need, but you will have your own space to relax. We look forward to welcoming you. You will have access to the whole apartment. It has it's own front door so you can come and go as you please. We are happy to give you information about local places of interest, restaurants, shopping facilities etc. Please just let us know.
We are rural but close enough to everything that you could want. The apartment is a great place from which to explore castles (there is one of significant importance to the area right here in the village), gardens, and even shopping centres. Please ask us for more details. It is also a great place for outdoor activities of all kinds. Just a few miles away we have a fabulous mountain biking centre, and canoeing, horse riding and other activities are available locally. Please let us know if you want to bring bikes and we can arrange for storage in our garage. We have ample parking space. Bus services are available from the village but infrequent. Train available from the village into Wrexham.
This was beautiful cosy, peaceful and comfortable haven for our family with very kind and charming hosts. The apartment was immaculate with many thoughtful touches. We loved staying there and seeing the picturesque and interesting town of Chester and the Pontcysyllte aqueduct.
Kathryn
August 2016
We (my parents and I) had a lovely stay at Sandra & Gavin's place. Wanted to stay longer! It is a nice bright and airy apartment which was great for relaxing in (great selection of DVDs too). Sandra and Gavin were really helpful before and during our stay (e.g., giving us advice on getting to CarFest and other tips). We had fruit and breakfast cereals left for us which was lovely. Beds comfy. It's placed at the top of a drive surrounded by trees- idylic. Would go back again.
Andrea
July 2016
Stayed at this lovely country retreat with my mother during a recent trip to Wales. Sandra and Gavin were lovely hosts and made sure our every need was seen to - as well as being interesting, entertaining and friendly to chat with. They also make a genuine effort to recycle and live in an environmentally friendly way which is great. As an added bonus, one of their rescued cats Sox provided me with loads of delightful pussycat attention which I absolutely soaked up. The apartment is clean, spacious and light, and looks out through the tree tops to the Welsh countryside. There are a wealth of historical sites nearby, and the little village of Caergwle has a few interesting pubs to visit. I would thoroughly recommend this place if you are looking for somewhere peaceful on the doorstep of Northern Wales.
Marg
August 2013
What a delightful and comfortable apartment. Thank you Sandra and Gavin for making us so welcome. We all enjoyed our stay - wish it could have been longer! I'm sure we will be back again some day soon.
Helen
November 2013
Our stay at this listing was absolutely amazing, it was exactly as described and very well presented. The space was clean and bright, and the hosts were very accomodating. There were also brochures and information leaflets about the area avaliable in the house, which was a very thoughful gesture. We would definitely recommend this listing to anyone wishing to explore the northern region of Wales as well as parts of England.
Hillary
July 2016
Sandra and Gavin went above and beyond to ensure our stay was comfortable and enjoyable. The flat is in beautiful surroundings, perfect for countryside walks. My friends and O all had a wonderful sleep because the location is so peaceful. A blessing after busy Chester on Race Day! Sandra and Gavin are the perfect hosts, and even drove my friends and I into Chester the morning after, which was really lovely of them. Highly recommended. Would stay again.
Deborah
July 2016
We spent a lovely two days at Sandra's place. We are a family of four including two boys. The apartment was spacious and ideal for us there was plenty of room for us all to relax. The apartment is a short drive from Chester and the welsh coast and made it an ideal base to explore from. Our hosts were lovely we will go there again Jill
Jill
July 2013
Sandra was an absolutely wonderful host, and we would love to stay with her again!
Peter
March 2017
Huonetyyppi
Koko talo/asunto
---
Majoituspaikan tyyppi
Huoneisto
---
Majoittujien määrä
4
---
Makuuhuoneet
2
Caergwrle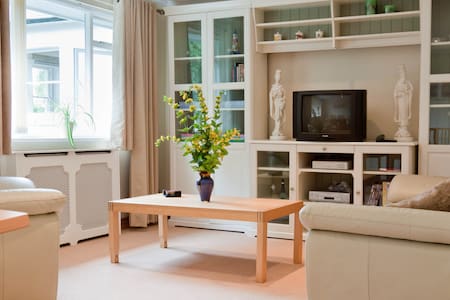 This spacious 4 bedroom barn conversion offers woodburners and a hot tub in addition to all the home comforts. Set within 6 acres of natural countryside, Clawdd Offa offers spacious and comfortable family friendly accommodation in the heart of North Wales. An ideal location for walking, exploring the North Wales coast and mountains or the beautiful, historic city of Chester.
This spacious barn conversion offers wood burners and a hot tub in addition to all the home comforts one requires from a holiday home, including a well equipped kitchen, contemporary bathrooms, fibre optic wi-fi, Smart TV and private outdoor hot tub. Underfloor heating downstairs. Ground floor: Living room/kitchen with breakfast area (TV in both), French door, beams and wooden floors. All bedrooms have wardrobes and TVs. Bedroom 1 (downstairs): Double (5ft) bedroom with en-suite shower room and toilet. Bedroom 2: Double, (5ft), Bedroom 3: Double with single bunk over, Bedroom 4: Twin. Bathrooms: 1 en-suit (downstairs) and upstairs bathroom with claw foot bath, shower cubicle and toilet. Separate downstairs toilet. Woodburners in living room/kitchen (initial fuel included). Solar central heating (underfloor on ground floor), gas, electricity, bed linen and towels included. Five Freeview TVs (two Smart TVs). DVD. Gas range included. Microwave. Washer/dryer. Dishwasher. Fridge/freezer. Wi-fi. NB: Stream in garden, 15 yards. Lake in grounds, 200 yards. Travel cot/high chair on request. Enclosed, lawned garden with patio and sitting-out area. Barbecue. 6-acre natural ground. Ample parking. We're available for meet and greet; and as required throughout your stay.
We are located near to the Flintshire village of Penyfford, which is just 10 miles from the historic city of Chester, Clawdd Offa is the ideal base from which to explore all that Cheshire and North Wales has to offer. Situated on the Wats Dyke footpath, with walking directly from the doorstep, the barn is perfect for those who love the outdoors. Other activities available locally include cycling, fishing and golf. Ideal for families, there is so much to see and do in the area. Children will enjoy Chester Zoo, Blue Planet Aquarium and Go Ape at Delamere Forest, which are all within a 30-minute drive, and the popular beach resorts of Prestatyn, Rhyl and Talacre are within a 40 minute drive. The city of Liverpool with all its many sights and attractions is also only 40 minutes away. Snowdonia can be reached in an hour, and just over an hour's drive will take you over to Anglesey. For those who prefer to leave the car behind, there is a railway station in Penyffordd with trains into Wrexham, Liverpool and Chester. Shop, pub and restaurant ½ mile. There is a railway station in Penyffordd with trains into Wrexham, Liverpool and Chester. Clawdd Offa Barn is situated on a farm where we operate a marquee/events company and wedding venue. The barn is available as part of our wedding package.
Great stay. The barn is beautiful and very cosy. Would definitely stay again and recommend to family and friends.
Matthew
February 2017
Excellent way to bring in the New Year! Thoroughly enjoyable time had by all and couldn't have asked for a better house and host. Our experience at the Barn was first class and wouldn't hesitate to recommend it. The hosts couldn't have been more helpful, always quick to respond to any questions we had no matter how small. We will be back!
Sam
January 2017
Huonetyyppi
Koko talo/asunto
---
Majoituspaikan tyyppi
Talo
---
Majoittujien määrä
9
---
Makuuhuoneet
4
Pen-y-ffordd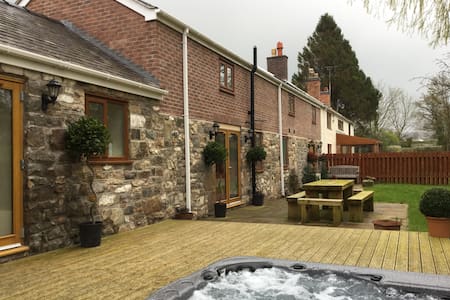 A delightful 2 bedroomed house accommodating up to 8 people situated just outside Chester in the town of Buckley in North East Wales. Offering 2 large double bedrooms, family bathroom, 2 reception rooms and well equipped kitchen the property provides comfortable accommodation for couples, families, groups or single travellers. Located just off the A549 road, with the larger A55 passing nearby, the property is ideally located for leisure travelers looking to visit North Wales, Chester or Wrexham or for business travellers working in or around the Deeside and Flintshire area.
With high speed wifi and flat screen TV this gardened property offers; A bright and spacious lounge with L shaped leather sofa which converts to an large and comfortable double bed Dining room with table for up to 8 people and sofa bed ( converts to an additional double bed) Separate well equipped kitchen with washing machine, fridge freezer, oven, hob and microwave. Bedroom one sleeps 2 people as either a double or twin configuration with wardrobe, bedside cabinets and luxury Egyptian cotton bedding for your complete comfort. Bedroom 2 sleeps 2 people as either twin or double configuration again has cabinets and luxury bedding. Separate family bathroom with bath and shower. Garden with beautiful views of the Welsh Hills On road parking available directly outside the property and a small driveway Each of Outlooks Properties has a guest management tablet allowing you to manage your stay, view features of the property, local amenities, order takeaways, make reservations and other services to add value to your visit. Outlooks Accommodation has developed a reputation as a market leader offering outstanding value and quality in the Serviced Accommodation sector. Our properties are all individually selected to provide flexible short and long term accommodation for both business and leisure travellers. 1.6 miles from Buckley Railway Station 6 miles from Deeside Industrial Estate 11 miles from Chester Racecourse 11 miles from Wrexham 3 miles from Mold – Theatre Clwyd 20 miles from Llandudno – Eisteddfod 21 miles from Liverpool 40 miles from Manchester
Huonetyyppi
Koko talo/asunto
---
Majoituspaikan tyyppi
Huoneisto
---
Majoittujien määrä
8
---
Makuuhuoneet
2
Buckley
Semi Detached Property near Chester and Deeside Enterprise Zones. Located in the centre of Buckley near local main road this property offers self-catering accommodation for up to 6 guests. This comfortable and recently refurbished 2 bedroom property features a lounge area with new Smart TV and Sofa Bed, a dining area to seat six, a modern kitchen fully equipped with a washing machine, ironing facilities, oven, toaster, fridge and essential kitchenware. Free WiFi throughout the property.
Huonetyyppi
Koko talo/asunto
---
Majoituspaikan tyyppi
Talo
---
Majoittujien määrä
6
---
Makuuhuoneet
2
Buckley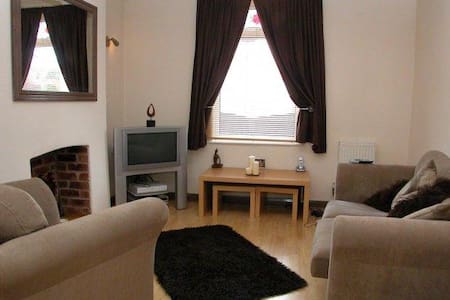 Tree Tops is situated overlooking Llanfynydd valley which is in the foothills of Wales, 20 mins from Chester and 45 mins from Snowdonia. Yards from the house are eight fly fishing lakes. Off the lounge/dining/kitchen is a furnished elevated veranda to enjoy the peaceful wooded valley below which provides excellent habitat for many bird species. Downstairs there is one bedroom and two upstairs. Parking is provided. There are shops within a 10 minute drive and a 16th century inn 1 mile away
Accommodates 6 maximum. Check in anytime after 4 p.m., check out time by 10 a.m. We live on the site, however, if we are out you can contact us anytime by telephone or by e mail.
Huonetyyppi
Koko talo/asunto
---
Majoituspaikan tyyppi
Talo
---
Majoittujien määrä
6
---
Makuuhuoneet
3
Llanfynydd