Anna päivämäärät nähdäksesi kokonaishinnoittelun. Lisämaksuja sovelletaan. Veroja saatetaan lisätä.
9 vuokrakohdetta
· Jefferson Valley-Yorktown
9 vuokrakohdetta
· Jefferson Valley-Yorktown
My place is close to parks, great views, historic sites, restaurants and dining. You'll love my place because of the spacious rooms and the comfy beds. My place is good for couples, solo adventurers, business travelers. You can will have access to private or shared bedrooms and shared living room.
Four bedrooms in total * 1 Bedroom with attached bathroom * 1 Bedroom , private separate bathroom * 2 basement bedrooms with 1 shared bathroom * Guests has access to the living room, TV and internet Bedroom, bathroom, microwave, kitchen utensils and living space (TV area). The use of the kitchen is an added charge. Use of Stove is not permitted.
Yorktown is a recreation-oriented community, with a network of parks, athletic amenities, and greenways. Nearby Things to Do: •John C. Hart Memorial Library •Franklin D. Roosevelt State Park •North County Trailway, Hiking & Biking •Turkey Mountain Nature Preserve •Hilltop Hanover Farm & Environmental Center •Mohansic Golf Course •Wilkens Farm • Shopping at Jefferson Valley Mall •First Presbyterian Church of Yorktown •AJ'S Sports Bar & Grill •Murphy's Irish Bar & Grill •Sparkle Lake •Yorktown Stage and Local shows There are local bus stop one block away. The two closest Metro North train stations are at Katonah and Peekskill. The Metro North travels North-South to and from New York City. Shrub Oak is a hamlet in Yorktown, close to the Taconic and Route 6. It is located 50 miles from Manhattan in scenic Westchester county. The Hudson river is 8 miles to the west in Peekskill. Yorktown Heights is 5 miles to the east and the Yorktown Library is one block away.
Olive was wonderful. She responded right away, greeted me warmly and made me feel very comfortable. Her and George's home was warm, and sleeping in her (now grown up) daughter's room was more than adequate. We had a lively chat in the morning. The location is very residential but close to highways. All in all a very positive experience.
Alvita
September 2016
I couldn't meet Olive, but George was very kind to let me check in little late in the evening around 9. He made sure that I was comfortable with the place. I'd definitely recommend this place to anyone.
Kranthi
February 2017
So thankful to have found this place when I needed to stay the night in Shrub Oak. George went out of his way to make sure check-in went perfectly. The house is cozy and the bedroom with its own bathroom made me feel right at home. A wonderful deal for the price
Lauren
February 2017
Beautiful home and the host was very kind and accommodating!
Jason
February 2017
I visited their place again and was welcomed by George . It was again a comfortable stay
Jalpen
December 2016
I had a great stay! I did not meet Olive, but George was very friendly and welcoming. Neither were home when I arrived, but I spoke with George on the phone and he provided instructions in getting in. When I arrived, they had a thorough print out of important information which was very helpful. It was very nice having my own private bathroom. It was also nice that they had available drawers for guests as well. There house was very welcoming and I would recommend it if you are in the area
Anna
November 2016
VERY clean, comfortable space. Shower had great water pressure and heat, and the bedding was pristine. Would absolutely stay again.
David
March 2017
Petfect
Liz
February 2017
Huonetyyppi
Koko talo/asunto
---
Majoituspaikan tyyppi
Talo
---
Majoittujien määrä
4
---
Makuuhuoneet
1
Shrub Oak
Our cozy cottage is perfect for a rural getaway. Only one hour from NYC and 20 minutes from metro north, our home offers the peaceful escape of nature with reasonable accessibility to the city. Situated on a nine acre community property, there is plenty of outdoor space for people of all ages to enjoy. Pay a visit to our two loving goats, and our flock of chickens. Or venture off the property to Fahnestock State Park only ten minutes away. Mitchell Farm is perfect for the outdoor enthusiast!
Mitchell Farm Cottage is a cozy space for nature enthusiasts or anyone looking for a peaceful getaway. Situated on nine acres, there is plenty of room for children and adults to enjoy the great outdoors. Visit our goats and chickens or walk around the vegetable garden and grape vines in the spring and summer. We are close to historic Cold Spring and Fahnestock State Park, and roughly an hour from NYC. Guests have access to laundry machine, full kitchen- including dishwasher, coffee machine, espresso machine, oven/stove, and microwave, wifi, cable tv, shower with shampoo and conditioner, a queen size bed and pull out sofa bed, yard space and parking.
There is plenty of hiking, swimming, and near by towns to explore such as Cold Spring and Peekskill. Mahopac village offers restaurants and shops and metro north is 20 minutes away with access to White Plains and NYC among other destinations. Parking is available for guests and metro north is 20 minutes away. Mitchell Farm Cottage is conveniently located minutes from the Taconic Parkway.
I cannot say enough good things about this home. Great deal, great communication, and had everything we needed. As a fellow Host who has reached superhost status, I can say that they are Superhost to me.
Massah
February 2017
Huonetyyppi
Koko talo/asunto
---
Majoituspaikan tyyppi
Talo
---
Majoittujien määrä
3
---
Makuuhuoneet
1
Mahopac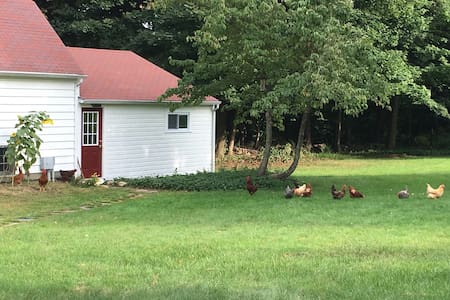 This is a quiet residential neighborhood, of well maintained homes, in a bucolic country setting with easy Access to Taconic State Parkway, Rte 684, and Metro North RR to NYC. Less than one hour to NYC for easy day trips, this home also provies a country setting for hiking, enjoying local lakes, and exploring outlet shopping. The best of everything within arms reach. Best for solo adventurers and business travelers.
Bedroom has a queen bed with a small desk for laptop use. Private Bath Access to main house. Owner lives in the home but travels frequently. I am ALWAYS available if you need anything whether home or not. My adult son lives in the home and occupies the finished basement space and shared living space.
This is a quiet residential neighborhood, of well maintained homes, in a bucolic country setting with easy Access to Taconic State Parkway, Rte 684, and Metro North RR to NYC. Less than one hour to NYC for easy day trips, this home also provies a country setting for hiking, enjoying local lakes, and exploring outlet shopping. The best of everything within arms reach. Best for solo adventurers and business travelers. Limited public transportation. A car is recommended. Metro North train to NYC within 15 - 20 minutes. Easy drive to NYC via Taconic State Parkway. Finished basement and living space is occupied by my adult son.
A very inviting home! Comfortable, clean with a host whose eager to help and fun to talk to!
rosemarie
January 2017
Kim's place is a great find. She communicated very well and went the extra mile to ensure I was comfortable.
Karthikeyan
March 2017
Huonetyyppi
Yksityinen huone
---
Majoituspaikan tyyppi
Talo
---
Majoittujien määrä
1
---
Makuuhuoneet
1
Yorktown Heights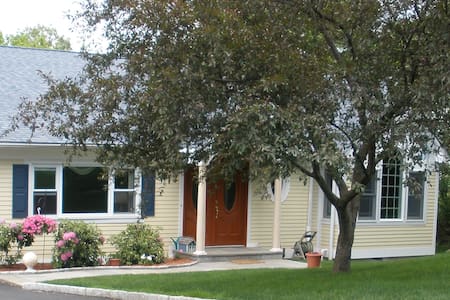 Our recently renovated lake house is the perfect getaway for a relaxing vacation! The home offers and open floor plan with a fully equipped kitchen, 2 bedrooms and 2 full bathrooms.
Our recently renovated lake house features and open floor plan with a fully equipped kitchen, 2 bedrooms and 2 full bathrooms. The master has a private bath and walk in closet. The second bedroom will have a queen bed although currently the picture shows a twin trundle. The large balcony has steps that lead does to the paver patio, grass yard and the deck/dock lakeside. There is a BBQ, rope swing and pergola lakeside. Enjoy swimming, canoeing and boating! You will have access to the top floor of the home, balcony, downstairs patio yard and lakeside deck/dock. We are always available for any questions or concerns.
The home had all the space needed to be nearby to our family reunion/graduation party. The weather was not the best so we really couldn't enjoy the lake location like we hoped....but obviously that is something out of human control :) It is a lovely home.
Yvonne
July 2016
Beautiful lake house, perfect for a weekend break. Really enjoyed the garden, views across the lake and the large patio. I recommend the house if you are looking to spend quality time with family or friends in a nice environment.
burak
September 2016
We had a lovely time at this charming lakeside home. It was everything Debbie described. The kitchen was well stocked for cooking, and we enjoyed relaxing by the water. We would love to return!
Danika
July 2016
We really enjoyed our stay at the Lakehouse and even extended our reservation one more night after we saw the house. We appreciated the quick communication, the cleanliness of the house, the attention to detail for the things we needed at the house and the beautiful lake location.
wanda
September 2016
We were met by the manager who reviewed the basics.
Beth
August 2016
I could not be more pleased with my stay at this lake house. Debbie was responsive and available whenever I had a question. The house was clean and modern with a mix of really charming old wood furniture. The lake was better than I could have imagined. It was quiet and very private. I would recommend this to any couple looking for a romantic getaway from the city. I hope to return.
Christopher
August 2016
Debbie made our first Airbnb experience very easy. The lake house was beautiful and our stay created some beautiful memories.
Sharon
September 2016
Had a great time at this beautiful lake house retreat. The house was serene, calm and very relaxing. Debbie was very responsive to my questions, although I didn't meet her personally. The entire experience made me appreciate and have faith in the Airbnb experience.
Kristi
August 2016
Huonetyyppi
Koko talo/asunto
---
Majoituspaikan tyyppi
Talo
---
Majoittujien määrä
4
---
Makuuhuoneet
2
Mahopac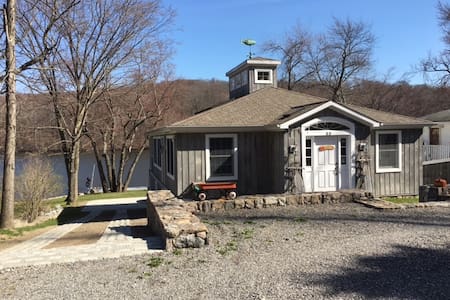 This is the upper floor of a raised ranch house located in a quiet residential neighborhood surrounded by woods. The space has a nice deck complete with patio furniture and bbq. Lots of space and furnished, very lovely.
DO NOT stay at this house in the summer. There is no air conditioning whatsoever. We had to get a tiny window unit from the garage and set it up ourselves, and it barely cooled one of the bedrooms. There was only one ceiling fan in the kitchen, so we joked that we would have been more comfortable sleeping on the kitchen table. We had other guests staying with us and they all left because it was unbearably hot. If you're staying in the winter I would confirm that there is heat before booking your stay.
alex
August 2016
Everything was just fine. Reliable and ready.
April
September 2016
Chris is a perfect host, welcoming then leaves you be. The apartment is very homey, nice and comfortable. It is a safe friendly neighborhood. We have enjoyed the back deck a good amount, it's quite private and a great place for morning coffee.
Scott (and Amy)
June 2016
Chris has been a gracious host! He provided all the necessities you could need on your trip to NYC or for a month-long stay (what I did). He was really attentive and was available to answer any concerns I had. Honestly, I would love to stay at his place again if it is available come next Fall; it has truly felt like a home away from home. Chris you da man!
Michael
March 2016
Christopher was an excellent host. The communication was very prompt and straight forward. We have stayed at his place for longer period and enjoyed it very much. The upper level flat has everything you need for short/long term stay and it is exactly as described. Christopher did his best to help us in many ways. We could only recommend this place and would stay here again.
Peter
November 2016
The place was nice. A little dusty. They definitely need new A/C units. It was really hot and the A/C unit they had was old and did not blow out any air. The space itself was nice, big and comfy. If they fix these things I would definitely stay there again.
Elizabeth
September 2016
Nice place to stay
Johanna
August 2016
Chris is a wonderful guy! He was there on time and the property was more than we expected. My brother Ronnie and I had initially planned to stay two days. But our schedule changed and we had to adjust to staying just one day. Even though we had paid for the two nights Chris and Airbnb quickly adjusted our bill to reflect the proper payment. I would definitely recommend this location for someone who is doing business in the area or just needs to get away for a few days.
Calvin
January 2016
Huonetyyppi
Koko talo/asunto
---
Majoituspaikan tyyppi
Huoneisto
---
Majoittujien määrä
2
---
Makuuhuoneet
2
Yorktown Heights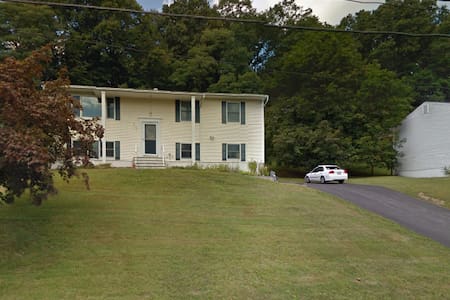 My place is good for couples, solo adventurers, business travelers, families (with kids), and big groups.
Huonetyyppi
Koko talo/asunto
---
Majoituspaikan tyyppi
Talo
---
Majoittujien määrä
6
---
Makuuhuoneet
5
Yorktown Heights
Our relaxing 11 room lodge has rustic elegance and is set on 20 acres and is 45 miles from NYC. It has private trails, a pool, hot tub, multiple decks, organic gardens, a cabin and a trout stream. There are 3 suites w/ private bathrooms and 3 single day beds, and an Adirondack style great room with a massive fireplace, You'll feel like you're at your own private resort. Hiking, biking, kayaking and Hudson Valley activities abound. We are 5 mins from the Taconic Pkwy 20-30 min from Metro North.
We hope you love the lodge and it manicured grounds with beautiful views.. It is a perfect place to reconnect with nature with your friends and family. We feel that the pictures tell a 1000 words :) You may access all areas of the home. We ask that you of course, not enter the tenant's cabin which, is just to the side of the house, or use the parking spot adjacent to it. :) Please don't enter the various storage/garden sheds that we have for safety reasons. Please don't go into the attic or the basement for safety reasons as well, although that is where the breaker box, verizon phone box, and oil burner are located. If you need to go into the basement because of a lapse in service please contact us first. Otherwise enjoy all the property has to offer which includes the lodge with a stone fireplace and 2 wood stoves, a pool, hot-tub, hiking trails, an organic vegetable garden that you can pick from, multiple flower gardens, a trout stream, a separate cabin with a fireplace, and multiple decks for eating, enjoying nature, and napping. Thanks! We'll be available via phone, text and or email as we want to make sure that just like at a luxury resort we will help you with any questions you might have about the lodge or the property as well as put you in touch with massage therapists that make house visits, suggest hiking trails, bike rental shops, day trips, or local restaurants that deliver... or offer unique food and environments. When needed, we like to interact with you and help . The lodge also comes with a guidebook/household manual.
Lovely rural Peekskill Hollow Road goes from downtown Putnam Valley to an entrance to the Taconic, and continues to Rt 301 a lovely rural highway that takes you to Cold Spring or to Carmel. Along our road you will catch glimpses of the wooded and rugged hillsides of Putnam Valley and you'll see a few horse pastures, Peekskill Hollow Riding Camp which offers lessons, Camp Combe... a YMCA day camp, Palumbo's Soccer fields, houses of all kinds, from little cabins, to historic homes, to a few estates, the little Putnam Valley Historic Museum, the historic Tompkins Corners church, which is now a cultural center featuring weekly concerts, and a farmer's market (on fridays) and our friend's small barn where he sells antiques on Sundays. You can enjoy an outdoor pancake breakfast at Niese's Maple Farm and eat dinner along the brook at Watson's that features music, bingo, and trivia games. Nearly all of the road is lined by a beautiful stocked trout stream. Over 2 miles of the rolling hills across from lodge will remain forever wild. Putnam Valley is also the home of Fahnestalk Park where you can hike the Appalachian Trail, picnic along a nature walk at Pelton Pond, or rent rowboats, go fishing and swim at Canopus Lake. You'll love this country life and so close to NYC and Hudson Valley activities. 25 min taxi from Peekskill (Metro North Railroad stop). 6 mins off of the Taconic State Parkway. Not far from 301 which will take you over to Cold Spring and the Hudson River Highlands. If you head south 6 miles/15 mins you'll head into the town of Peekskill. And Mahopac with luxurious lakeside dining, and Italian, Mexican, Asian, Mediterranean, Steakhouse and Seafood restaurants and our favorite yoga studio is about 15 minutes to the East. We have two parking areas. One down by the road that fits 6 cars and another parking area up by the side entrance of the house that easily fits 2 cars. You can decide which parking area is most convenient for you and of course you can use them both. Also, note we have 3 queens and 3 single day beds. Large parties and events require permission and additional fees may apply. Special longterm weekly and monthly rentals are available on request during the summer and the 12/20- 1/20 period. Holiday weekends require a minimum of 3 days rentals.
The lodge was gorgeous! We had an amazing weekend and would love to come bacn
Ciara
February 2017
This home and setting are beautiful. We especially enjoyed the hot tub and fireplace. Heather communicated regularly with us and was very accommodating. Thank you so much for a wonderful weekend.
christina
February 2017
Hosts were warm friendly and walked us through everything. Location was great for access to town and hikes.
Lauren
January 2017
The Lodge was the perfect escape from the hustle and bustle of city life. My wife and three children (7-9) loved the relaxing environment of The Lodge as much as we loved the base position it gave us to explore all the incredible and stunning trails and hikes near buy. Heather and Jim are wonderful hosts and highly recommend visiting The Lodge.
Brendon
November 2016
Jim and Heathers home is truly unique. Specious and cozy. Warm and inviting. It has everything you could want and need and then some for a nice weekend getaway or for an extended vacation. The property is secluded enough to feel like your miles away from others while still being just a few minutes drive from stores and gas stations. The amenities also make this home truly one of a kind. I have stayed around this area before and have booked many Airbnb's all over the east cost and can honestly say I have never had such a relaxing and pleasurable experience. Jim and Heather are also excellent hosts, ready to answer any questions you may have and can give you a very thorough rundown of some local attractions that only locals could know. A 5 star experience all around. If you're looking for a nice getaway in the Putnam valley area, look no further!
Matt
November 2016
Heather and Jim's lodge is a fantastic house for a cosy weekend getaway. It is well equipped for cooking, lounging, hot-tubbing and so much more. We slept soundly in the comfortable beds and appreciated the quiet surroundings. Unexpected perks included several outdoor cats and even one opossum whom we marvelled at through the dining room window. Highly recommended!
Andrew
February 2017
Heather and Jim checked with us before we arrived to see what we would need for our stay. They were excellent hosts! The property has so much to discover and is wonderfully maintained. The house is cozy and spacious and the furnishings are very beautiful and comfortable. We definitely recommend the Lodge!
Davita
November 2016
We would *highly* recommend Jim + Heather's beautiful home in Putnam Valley. The property is accessible, and the house beautiful & grand, while being so, so perfectly cozy! Our hosts were extremely communicative leading up to, and throughout our stay. This was especially clear because I, in partnership with another friend, was helping to plan a relaxing bachelorette weekend away for a dear friend, and Jim + Heather were more than willing to communicate with the two of us while we hashed out details and coordinated travel arrangements. They made sure the house was completely comfortable for the eight of us, and carefully led us through the property when we arrived, explaining all essential details, and making sure we felt at home. They also provided an extensive guidebook, along with a personal recommendation for a message therapist, whom we booked as a treat for the bride-to-be (Michelle - who worked her magic and had the bride in tears of happiness!). The amenities were everything we could have asked for and more (all needed kitchen supplies for a large dinner we prepared, shampoo + conditioner, "honor system" bottles of wine...). We explored the property by day (with a lovely dusting of fresh snow), soaked in the lovely, and clean, hot tub by night, cooked meals, relaxed by the fire, and had a wonderful, wonderful time. Highly recommended for anyone looking for a perfect weekend away with friends, family, or a loved one! Thank you, Jim + Heather!
Rachel
January 2017
Huonetyyppi
Koko talo/asunto
---
Majoituspaikan tyyppi
Talo
---
Majoittujien määrä
9
---
Makuuhuoneet
3
Putnam Valley
My place is located on beautiful Lake Mahopac in Putnam County, just 50 miles north of NYC and a 12 minute drive from Metro North Railroad. There is plenty to do for all, including swimming, boating (rental at Marina). My house is walking distance to town and is convenient to many shops and restaurants. This is lake living at its best and is a perfect retreat from the hectic pace and heat of NYC. My house is perfect for couples, solo adventurers, business travelers, and families.
This is a lovely home and I would highly recommend staying here. We recently stayed at this house over the holidays and it was beautifully decorated, warm and festive, and of course clean. It sits right on a lake so there are beautiful views of the water, especially from the upper deck. I can see this being a great rental for summer where you can rent boats nearby. Mark was accommodating, flexible and communicative. He left us a welcome basket full of wine, chocolates, and other nibbles. Each bedroom had welcome baskets as well with travel-sized toiletries in case anyone needed anything. My family took up the three bedrooms, but there were other areas to for sleep accommodations on sleep sofas. One of those rooms has two twin sized beds which is good for kids, rather than a couple. There was a cute reading nook upstairs and one downstairs; great for getting a little separation. The kitchen is cozy and stocked, and the dining room table is long to sit a full house. Hope to rent this place again!
Aileen
January 2017
Huonetyyppi
Koko talo/asunto
---
Majoituspaikan tyyppi
Talo
---
Majoittujien määrä
8
---
Makuuhuoneet
3
Mahopac
Whether you're planning a family getaway to the Hudson Valley or looking for a quiet retreat with friends, our home is the perfect escape! Large and spacious with a beautiful view it is also cozy and welcoming. In the summer enjoy grilling and sunbathing on the deck or roasting s'mores over the fire pit. In winter there are hills for sledding and a fireplace to warm you up. Less than 5min to Lake Mahopac, restaurants, bars, parks, hiking and 15 min from the train to NYC. Our home has it all!
1st Level Kitchen Dining Room Living Room w/ Fireplace 1/2 Bath 2nd Level Master bedroom w/ King Bed and Private bath Guest bedroom w/ Queen Bed Guest bedroom w/ Queen Bed Nursery w/ crib (or 4th bedroom) Full guest bath Basement Gym equipment and walkout to backyard You will have access to all rooms except the den off the master bedroom We will be here to check you in and help you get settled whenever possible. When that is not possible, we will still make every effort to make your checkin as easy as possible. Throughout your stay, we will be available my phone or email, but will give you plenty of space and privacy to enjoy your visit. PLEASE let us know if there is anything we can to make your stay amazing!
A beautiful home with as gracious a host as they come. Jim very much made us feel at home with a welcome gift/packet with full information on the area and a perfect set-up for a nice get-away from the city. Would highly recommend it and stay there again.
Omar
October 2016
We had an amazing time at this house. We went with three other couples and had plenty of space. The house was clean and extremely spacious. I would recommend this to anyone looking for a getaway from a big city! Check-in and check-out was easy, and the hosts were beyond welcoming and accommodating. Breakfast was provided and beds were comfortable. Plenty of places to sit around the table, large couch, and big kitchen. The fire place added a nice touch as well in the evenings to sit around and hang out. We really enjoyed our stay!
Yaniv
September 2016
The host canceled this reservation 20 days before arrival. This is an automated posting.
Aileen
Huonetyyppi
Koko talo/asunto
---
Majoituspaikan tyyppi
Talo
---
Majoittujien määrä
10
---
Makuuhuoneet
4
Mahopac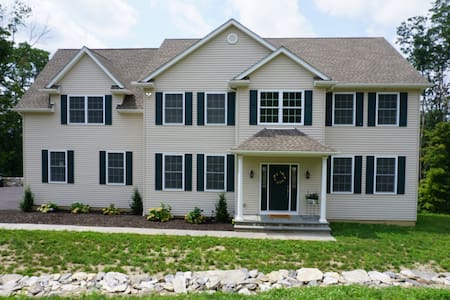 1

–

9

hakutuloksista

9 vuokrakohdetta