This is epic adventure we call life and a chance to stay in reused school bus named ( Kinder) I have allowed the space to evolve naturally and will try to make ur stay here as coZy and accommodating as possible. Peace to all
''This converted 1976 International short bus aka "schoolie" comes fully loaded with a queen bed, couch, tiny kitchen sink, pantry with essential dishes and cookware, small fridge, gas two burner camping Coleman grill,microwave. , A/C, quartz space heater for chilly nites,storage, tons of natural LIGHT with panoramic views of Green Goddess bamboo, dog friendly of course as long as yours is :), host's 400 sqft tiny house and fire pit. Oh yea! Tankless heated Outdoor shower and composting toliet are located right outside the bus door at the back end of the deck area. Don't spend $$ to stay in overpriced downtown hotel or a boring room in someone's house . Johns island is surrounded by beautiful farms, creeks ,rivers, ocean. Be free live peacefully
This neighborhood is electric mix of ol and new. No hoa and most have over 1/3 to half acre lots. Very cool neighbors and lots of like minded folks. Kinder is tucked in the back of property behind my mini mansion I built.
Johnny was very warm and friendly. His dog was super cute and she got along with our dog lily really well! Neighborhood was in an awesome and convenient location to beaches, downtown and really great Johns Island food!!
Jennifer
2016-08-31T00:00:00Z
Wonderful stay in the bus! We were so excited to find such a unique place to stay in for our visit to Charleston! Johnny was very welcoming and accommodating, and the whole experience couldn't have been better.
Megan
2016-03-25T00:00:00Z
What a beautiful sanctuary! My hubby and myself (along with our 2 pooches) had an amazing and relaxing weekend with the help of Johnny and Raisin. Johnny is so kind and immediately made us feel right at home. This adorable bus is the perfect place to get away and see Charleston without any of the stress of the city. It is a incredibly rad bus surrounded by the beauty of nature and we can't wait to go back to visit again in the future. Thank you for all you do, Johnny!!! Cheers!!
Nicole
2016-05-23T00:00:00Z
Had an awesome stay at the bus! It was full of sweet vibes and just down to earth atmosphere! Johnny was a great host! Would definitely stay again !!
Rory
2016-08-18T00:00:00Z
We had an awesome experience in this renovated school bus! It was charming and quaint!
Erin
2016-11-26T00:00:00Z
The stay at the bus was amazing; definitely coming back soon!
Ryan
2016-04-17T00:00:00Z
Places like this are why I LOVE Air BnB - the bus was the coolest place to crash for the night. Super comfortable and offered all the amenities that any hotel room or apt would have. Johnny was very nice and welcoming and made sure we had everything we needed for a great stay. Highly recommend giving this one a shot because it's way cooler than a boring hotel room and very affordable!
Anna
2016-03-31T00:00:00Z
Everything was perfect. Johnny and Raisin were very welcoming. The bus was very comfortable and cute. The outdoor shower was amazing. Thanks for the stay.
Emily
2016-08-17T00:00:00Z
Huonetyyppi
Koko talo/asunto
---
Majoituspaikan tyyppi
Muu
---
Majoittujien määrä
3
---
Makuuhuoneet
Johns Island, Etelä-Carolina, Yhdysvallat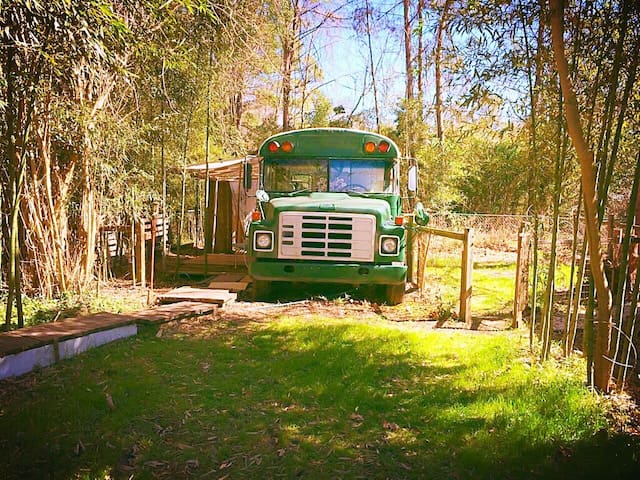 Come stay with me and take in the quiet charm of Johns Island. Centally located, you choose how you want to spend your time. In the city or at the beach? Fishing? Boating? On horseback, wakeboard or paddleboard? Located minutes from Kiawah & Folly Beach, fabulous dining & shopping. You'll have access to the club grade gym, 3 boat ramps, resort-style pool/clubhouse. There's no need to compromise. You CAN stay in Charleston and enjoy convenient, affordable, island living. See y'all soon!
Whether you're gracing us with your presence for one night or a long weekend this is the place for you! Since the complex is barely over a year old it offers everything updated from appliances to faucets, light fixtures, flooring and space. The apartment is on the 2nd floor in the back which provides a view of woods, a horse pasture and ultimately the utmost privacy. the spacious master bedroom and bath are located to the rear of the apartment doubling the privacy factor and giving guests closer access to the kitchen and laundry room. **Please know I do have two very antisocial cats that may or may not make an appearance.** I am in and out (way more out than in), but please make yourself at home no matter what! Cook, hang on the porch, watch TV in the living room, grill out poolside. Walking/Biking distance to the Wild Olive, Tattooed Moose and Fat Hen (awesome brunch btw) just to name a few and a short ride over the Stono River to a Charleston staple, The Pourhouse, for some live music on the deck and plenty more fabulous restaurants.
The Apartments at Shade Tree are just over a year old. Our little luxury retreat is a great and safe little community of all ages. The parking lot is well lit and my building is directly across from the pool and clubhouse so there are always additional lighting :) There are 3 boat landings within 8 miles. There are great restaurants in walking distance as well as The Low Tide Brewery and a few other fun bars. The Angel Oak is magnificent and right up the road!
Huonetyyppi
Yksityinen huone
---
Majoituspaikan tyyppi
Huoneisto
---
Majoittujien määrä
2
---
Makuuhuoneet
Johns Island, Etelä-Carolina, Yhdysvallat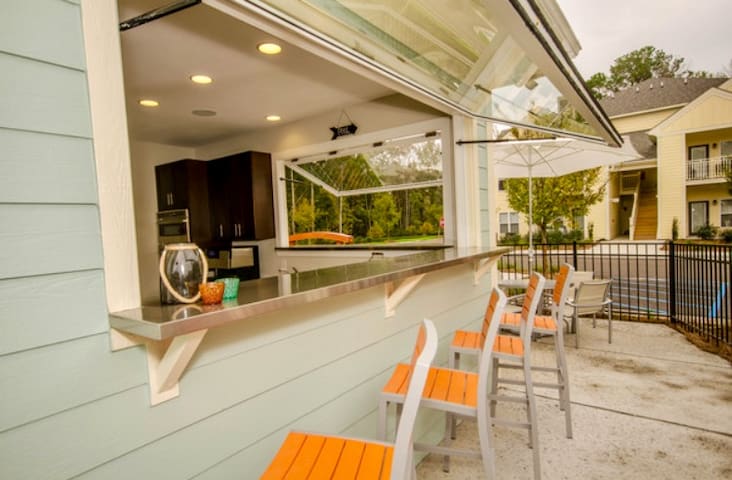 Incredible birds and wildlife surround this beautifully furnished retreat on Abbapoola Creek. Kayak to the ocean, fish, or walk past all the horse farms, before retiring to a fully equipped second floor apartment with great views.Enjoy a large well equipped kitchen, Wi-Fi & TVs, and wraparound private deck and gas grill. Easy 20 minute access to both downtown Charleston and the Kiawah Beachwalker Park.
Beautiful natural setting with access to the salt water tidal creek. The pond and creek provide great shorebird watching, and fishing is available. 20 minutes to downtown Charleston, yet just 15 minutes to Kiawah and Seabrook islands. Horse pastures surround this rural property, fantastic walking/running on quiet and pristine country roads. Guests have access to the one acre grounds and the water, and the vegetable and flower gardens in season. Happy to meet and greet the guests and introduce them to the private apartment, and am available to provide local information and resources from the peaceful ceramic studio downstairs as desired. This rural retreat is rich in wildlife and open spaces. We are surrounded by the water and beautiful horse farms. Great quiet roads to walk or run, but just a short trip to the beaches or the city. World class golf courses are available on nearby Kiawah Island, and the local Bohicket Marina offers boating and kayak rentals, sailing excursions, delicious local seafood and a variety of restaurants. Mullet Hall Equestrian Center, the Angel Oak and the Charleston Tea Plantation are also popular local attractions. It is just 14 miles to downtown Charleston, with its wealth of history, museums, great restaurants, wonderful nightlife and beautiful ambiance.
This rural retreat is rich in wildlife and open spaces. We are surrounded by the water and beautiful horse farms. Great quiet roads to walk or run, but just 10 minutes to the Beachwalker Park on Kiawah or 20 minutes to beautiful downtown Charleston.
We had such a wondeful stay in this well appointed home on the Abbapoola Creek. Celia is a wonderful hostess and will go out of her way to make sure you have a great stay. This is a beautiful place inside and out where you can rejuvenate your spirit. You can also spend a day or an evening in Charleston with a short drive into town. Wonderful way to experience the low country!
Denise
2017-03-08T00:00:00Z
This was a dream stay! The location is about 20 minutes from downtown and the beach, but all of the pictures are exactly what it looks like! We arrived late, but we were met with chocolates on our pillows and food in the fridge! Celia was always available for recommendations and sent us great suggestions of interesting things to do around town. The space was so relaxing, especially for movie days that we had (we didn't luck out on the weather). There is access to benches that are right on the water which are amazing to hang out with a book. This truly was my best experience with AirBnb, and if I ever go back to Charleston I know where I am staying!!
Catherine
2017-03-16T00:00:00Z
We really enjoyed our stay at Celia's place. The location was a short drive to both downtown Charleston and the beach. It was a nice, comfortable house with a great yard for our pup to play in and a scenic view. Celia was able to quickly resolve a small hiccup at check-in, and was a generous and hospitable host. Overall, we had a great stay and would recommend Celia's place.
Travis
2017-03-26T00:00:00Z
Huonetyyppi
Koko talo/asunto
---
Majoituspaikan tyyppi
Huoneisto
---
Majoittujien määrä
4
---
Makuuhuoneet
Johns Island, Etelä-Carolina, Yhdysvallat
Gorgeous equestrian property on Johns Island. Spend your Charleston stay in a quiet, beautiful setting amongst ancient oak trees and star-filled skies. 20 minutes to Charleston, Kiawah, and Seabrook. Comfortably accommodates 2 adults.
Historic cottage on equestrian property
A true Southern stay. Enjoy oak tree canopies along Johns Island roads. Relax in the hammock between the majestic oak trees on this 13 acre active horse property.
Lovely place, great hosts
Teresa
2017-02-08T00:00:00Z
Our host was fantastic -- while we did not require much attention she was there to meet us and offer her assistance if needed. The cottage was even more special and inviting than the pictures portrayed (and they were GREAT). It was quiet, secluded and beautiful, just what we were looking for on our vacation. It was especially cool to get up in the morning and watch the horses as we had our coffee. Trips to Charleston, Folly Beach, Angel Oak and Seabrook Island were not long drives and several good eating places were nearby (you gotta try the Fat Hen -- WOW!). All in ALL a great trip we will be back. Thanks John, Colleen, Kid, Black Jack and Nadia.
Lester
2016-07-08T00:00:00Z
Quiet, cozy, and well-equipped, what more could you ask for? I had events scheduled in Charleston for two days and wanted to stay someplace quiet and lovely during my down time; this place fit the bill perfectly. It's an easy 15 minute drive under Spanish moss cloaked roads to King St. Communication was A+. Very nice!
Maggie
2016-11-13T00:00:00Z
Our hosts were wonderful! We arrived earlier than expected and they allowed us to check in early. The cottage was exactly like the pictures posted on the site.
Joanne
2016-01-01T00:00:00Z
Staying at the cottage was one of the highlights of our trip. It was close enough to downtown Charleston that it was still convenient but far enough away that we had a peaceful nights sleep. Watching the horses, while we ate breakfast was very relaxing and we saw a flock of geese fly over too. The bed was very comfortable, wifi worked and there were cold beers waiting on the fridge for us. John was easy to communicate with and would definitely stay at the cottage again if in the Charleston area.
April
2015-10-24T00:00:00Z
The cottage was perfect. Better than the pictures. Private & cozy. We booked literally hours before we arrived. The cottage was ready and even had welcome beers in the fridge. Travelers Grapefruit Shandy is what a choose, it was suprisingly great and I don't even like Grapefruit. :) We were greeted by a horse and the fluffy barn cat. The cottage was clean and comfy. White towels and bed linens. Something about white just feels luxorious to me. The entire cabin decor just exudes cozy country perfection. The cabin has a full kitchen with everything you need, even Charleston coffee! Extra towels and linens provided. A washer and dryer. Cable TV. Propane grill, picnic table. I could go on and on...Beautiful scenery out every window and door. The view off the back deck of the large oak and horse pastures was absolutely perfect with our morning coffee. The cottage is in a great country setting complete with treelined shaded roads. Yet still super close to everything you may need. We had to run out for eggs and it was just a few miles back into "town". Convenient to all the other islands. We traveled to Wademelaw, Sullivans & Mt. Pleasant in a hop, skip and a jump. Super close to the Angel Oak and not far from the Charleston Tea Plantation, Firefly Distillery and sooooo much more. A short ride back over the bridge and youre in historic Charleston. Although we didn't get to meet our host because we arrived late in the evening and only stayed overnight we received a PowerPoint via email and phone call to ensure we had all the info needed to enter and enjoy the cottage. We would most definitely return and hopefully can stay longer to enjoy it even more next time. Highly recommended if you're looking a PERFECT getaway! Thank you John & Colleen!!!
amber
2016-04-16T00:00:00Z
Even though our stay was short, we loved this cottage. It was such a beautiful drive in with the canopy of trees draping the road. There was no need to see our hosts as they provided a very detailed presentation of everything we needed to know. We did get caught in the tornado warning, severe thunderstorms!!!! But the next morning it was so peaceful, waking up to igrets in the yard, and horses in the pasture. If you enjoy falling asleep to sounds of nature then you will enjoy the sound of frogs right outside the bedroom! But I think that was because of the severe thunderstorms/tornado. Colleen was quick to call and make sure that we were ok after the storm, very accommodating and welcome hosts.
Nicole
2015-09-26T00:00:00Z
What a great property! We thoroughly enjoyed our stay, surrounded by nature and off the beaten path we were away from the Charleston chaos but close enough to drive to it when we desired it. We met Colleen who was a very nice hostess and the property had everything we needed, we even cooked a few meals and used the grill. We would recommend the cottage to any traveler in the future.
Ryan
2016-05-28T00:00:00Z
Huonetyyppi
Koko talo/asunto
---
Majoituspaikan tyyppi
Mökki
---
Majoittujien määrä
2
---
Makuuhuoneet
Johns Island, Etelä-Carolina, Yhdysvallat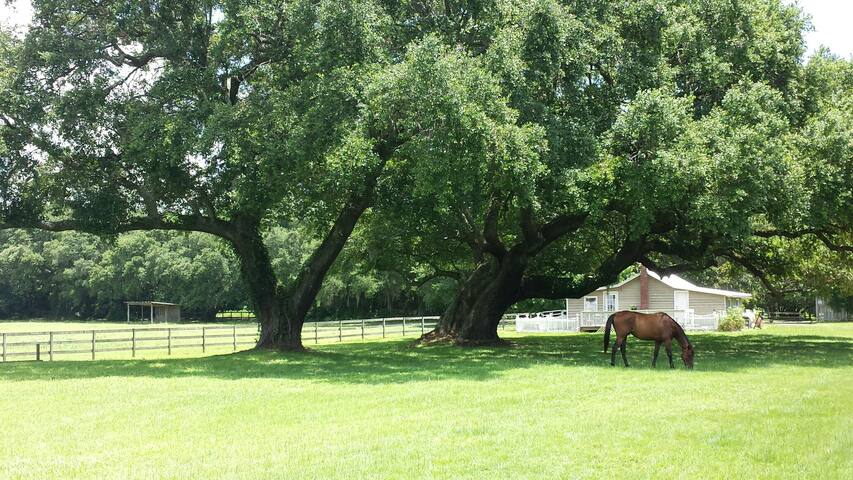 This is a totally renovated, spacious bottom unit of a navy Charleston-style home in downtown's vibrant Elliotborough neighborhood. Two queen beds, 1 bath, Modern Kitchen with new Stainless Appliances, and Off-Street Parking in the Driveway. One block from popular Hominy Grill brunch spot, Xiao Bao Biscuit, Lana, and Fuel. Walk to King St. for many more bars, restaurants, and shops. The home is professionally cleaned prior to every guest.
Please read everything prior to booking :) We are brand new to Airbnb! We installed a brand new kitchen and bathroom in this condo and just started booking in May. The home is a Charleston-Style duplex. This unit is on the bottom floor. This is an older home (1930s) that has a new kitchen and bathroom. Two small bedrooms with a queen bed in each. One small bathroom. Dresser drawers are provided in one of the rooms. New, clean linens and towels will be provided. Modern, uncluttered look. Guests have access to a full kitchen with basic necessities including a coffee maker. Feel free to stay in and cook one night. The large living room includes a sectional sofa and HD DVR cable TV
WALKABLE. Trending Elliottsborough neighborhood is full of great spots just minutes away. It is an eclectic neighborhood where the locals hang out, but still close enough to tourist areas. Also, it is the only neighborhood downtown where airbnb is legal. It is culturally diverse and on the up of up and coming. You can find million dollar houses beside ones that need complete renovations. A block from Hominy Grill, which has been featured in several TV shows for its brunch. Also a short walk to Xiao Bao Biscuit, Fuel, Five Loaves Cafe, R Kitchen, the Warehouse, and Chez Nous. A brisk 10-15 minute walk to Upper King Street bars and restaurants (or a 2 minute Uber drive for the ladies in heels). In the morning, grab a coffee and pastry at Sugar Bakeshop or Wildflour Pastry just down the street. Top Chef just filmed here and the chefs spent a lot of time in our neighborhood. They frequented Artisan Meat Share, Xiao Bao Biscuit, Brown's Court Bakery, Hominy Grill, and the Ordinary. Happy to report we are getting a fresh juice bar, just a block and a half away!
Meredith's place is among the best I've stayed in all my Airbnb experiences! Her apartment is ideally located, cozy, roomy, and modern. She provided detailed amenities that felt inviting and customized. The apartment is perfectly decorated and pristine - I would stay here again!
Catalina
2017-01-16T00:00:00Z
Meredith was super helpful and the place was great; we felt so welcome! We would definitely stay there again.
Lauren
2016-10-16T00:00:00Z
Great place!
Dan
2017-03-27T00:00:00Z
Meredith and her boyfriend were responsive to all messages and provided a wonderful experience for my friends and I! The house was beautiful and clean and it was in a great location. There were snacks and drinks and even a list of events going on the weekend we were in town! We loved the city and the stay :)
Rebecca
2016-06-06T00:00:00Z
Very nice apartment with plenty of space! Meredith was very welcoming and provided us a with a helpful list of restaurant and activity recommendations prior to our arrival. She also had a few snacks and drinks laid out for us, as well as a variety of books and DVDs for us to enjoy on a rainy day. The rooms were all clean and well decorated. Her "welcome letter" was also very helpful and explained all the details of the apartment (A/C, bathroom, etc.), our arrival, and our departure.
Laura
2016-09-02T00:00:00Z
Our stay was wonderful. The apartment was clean and prepared when we got there. We walked to everything. Meredith helped us with restaurants and everyone of them was amazing! There are lots of close restaurants to the apartment all of which are delicious. Absolutely would stay again and recommend this apartment.
Royce & Rebekah
2016-11-01T00:00:00Z
The home is in a perfect location for walking to many popular restuarants, and is only a short drive to other fun destinations. The home was a good size for the four of us and had everything we needed. The absolute best part was all of Meredith's recommendations! They were excellent!
Rachel
2016-11-08T00:00:00Z
Great location, super clean place, quick response to any questions or needs of ours. We would gladly stay again if we came back to Charleston and would recommend it to our friends and family without a doubt. Honest. Thanks Meredith!
Steven
2016-07-04T00:00:00Z
Huonetyyppi
Koko talo/asunto
---
Majoituspaikan tyyppi
Huoneisto
---
Majoittujien määrä
4
---
Makuuhuoneet
Charleston, Etelä-Carolina, Yhdysvallat
New house with access to swimming pool. It comfortably hosts four and is centrally located on lovely Johns Island, just 10 minute drive from downtown Charleston. Enjoy a gourmet kitchen, garden and BBQ with easy access to Folly Beach.
New house with access to neighborhood swimming pool. It comfortably hosts four and is centrally located on lovely John's Island, just 10 minutes drive from downtown Charleston. Enjoy a gourmet kitchen, garden and BBQ with easy access to Folly Beach and downtown Charleston. It takes about 10-15 minutes to drive downtown and about 20 to the local beaches, Sullivan's Island, Isle of Palms and Folly Beach. There are hardwood floors throughout this pet-free home. Both the bedrooms have queen size beds with free high speed secured wireless internet. There are sizable closets and two full baths. The kitchen is new and well stocked with plenty of cookware, glasses, plates and utensils. I am frequently in Europe visiting my family and then you have the house to yourselves. However, when I am here in Charleston, I will stay on the premises in a private suite and, therefore, I will offer you the discounted rate of $88/night and also I follow the airbnb price tips in the off-season, so sometimes the price is even lower! The calendar is regularly updated and we can email with any questions that you may have. You will have your own private rooms and private bathrooms and you will have the rest of the whole house. This arrangement has worked very well for other guests and I hope that it works for you, too! I only accept children over the age of 5- sorry for any inconvenience. Swimming pool open sun up to sun down during the regular season. Off street parking and spaces in driveway.
The neighborhood is calm and friendly with community pool. The Ladson Fairgrounds is home to a weekly flea market & the fair in late October, early November. You may enjoy historical home tours, carriage rides, harbor boat tours, ghost walks & golf courses. The Wadmalaw Tea Farm (only tea made in America) & the Firefly Vodka tasting tours. Wonderful tours at Boone Hall Plantation & Magnolia Gardens. Shop famous King St stores & boutiques. Beaches offer para-sailing, stand up paddle board, surfing, deep sea fishing, sea shell collecting & more. Wonderful restaurants & bars in every part of town & surrounding areas. Depending on the month you attend its not uncommon to find some sort of oyster roast or festival. Charleston is home to the famous Spoleto Festival & the Southeastern Wildlife Expo. Spring Charleston's Festival of Houses and Gardens While Paris in springtime may be memorialized in song, the beauty of Charleston this time of the year speaks for itself. As the magnolia trees and flowers bloom, the city's stately historic homes open their doors each year from mid-March to mid-April for the annual Festival of Houses and Gardens. The event is a celebration for all the senses, with the scent of gardens and also the aromas of oyster roasts. There's music to be heard from gospel and bluegrass concerts to the sounds of the city's harbor on history boat cruises. The Market Pavilion hotel provides an ideal base for anyone attending the festival. Charleston City Market is across the street if you are shopping for a sweetgrass basket, the harbor is only a few blocks away, and the stately historic architecture of Charleston is everywhere you turn. Head to the hotel's celebrated rooftop bar for a nightcap and stunning views of the Holy City before you retire for the night. To experience The Market Pavilion Hotel, visit (URL HIDDEN) by The Leading Hotels of the World Sponsor
We loved staying at Kasim's home. The house is beautiful and clean and the rooms very comfortable with their own bathrooms and towels. There is a supermarket and good restaurants close-by, also easy access to the center. It was a pleasure talking to Kasim and hearing his stories. I would say the quality of staying here is as good as a hotel. Thanks for everything!
Kati
2015-07-18T00:00:00Z
Kasim was a pleasure to spend time with. Fantastic space, wonderful atmosphere and convenient location in South Carolina. Everything was clean, and it really was a wonderful experience. An overall wonderful experience.
Charles
2015-12-08T00:00:00Z
Kasim was an absolute joy as a host. This was our first Airbnb experience, and I'm not sure now that it could be topped. The house and neighborhood is gorgeous and quiet, and the location is central to everything. We were able to go to Folly Beach and then several times to downtown Charleston in just a weekend. Kasim was so nice and friendly and made us feel so welcome. We were able to cook in his kitchen and he gave us his extra tickets for a Greek festival that was happening that weekend. We enjoyed his conversation, and had an overall truly lovely trip. We know where we'll be staying when we're in Charleston!
Hannah
2015-10-18T00:00:00Z
The experience was outstanding! The room we had was Beautiful! Airy,bright, roomy and very clean. Our Host Kasim, was a delight. Started our day fresh pot of coffee and kept checking on us to ensure we had what we needed. Went as far to give us suggestions of where to go site seeing and where to eat close by. We stayed 5 nights and will definitely plan to return as Kasim and his beautiful home were above and beyond our expectations! Thank you & Merci ! Donald & Rebecca
Rebecca and Donald
2017-02-25T00:00:00Z
Great location...good access to both Charleston and the beaches of Kiawah Island...outstanding eateries in Charleston, Johns Island, and James Island...great host (Kasim) and friendly, welcoming (southern hospitality) environment made our stay even more pleasurable...great base to work from as we traveled for golf to Myrtle Beach and for tourism to Beaufort...bike and walking trails at James Island State Park conveniently located...Fulton Five (Italian) and Angel Oak Restaurants were both outstanding as were the Maybank Public House and Three Little Birds for lighter fare...thoroughly enjoyed the time spent with Kasim (our host) who welcomed us into his home and embraced our extended visit...his home was spotless and our accommodations were first class...he even borrowed a neighbors bike for my wife to use...we would highly recommend this airbnb to anyone who is planning a visit to the Charleston area.
Bill
2017-04-04T00:00:00Z
I highly recommend staying here. The accommodations match the descriptions. Kasim--a gracious host--really does make coffee every morning, and I enjoyed talking with him. He has very tastefully decorated his recently-built and very clean house. The beds are very comfortable, and the temperature can easily be adjusted according to one's preference. Cleanliness, hospitality, quality, comfort... This place has the whole package.
Luke
2016-05-23T00:00:00Z
Kasim is an excellent host - very outgoing, very thoughtful - an overall nice guy. He made sure that we knew how to change the settings on the thermostats and fans, and helped make our breakfast every morning - even providing nut bread for us. He introduced us to his friends, and we were invited to tea at one of their homes! He showed us his garden and he suggested several places to visit. He carried our suitcases in/out. His home is new, spacious, and clean. A terrific visit!
Anne
2015-06-03T00:00:00Z
Great looking house, very clean, lots of space, charming host. Close to downtown if you have a car. Grocery store close enough of the house to get everything you might need. Would go again no doubt !
Charles
2016-09-23T00:00:00Z
Huonetyyppi
Koko talo/asunto
---
Majoituspaikan tyyppi
Talo
---
Majoittujien määrä
4
---
Makuuhuoneet
Johns Island, Etelä-Carolina, Yhdysvallat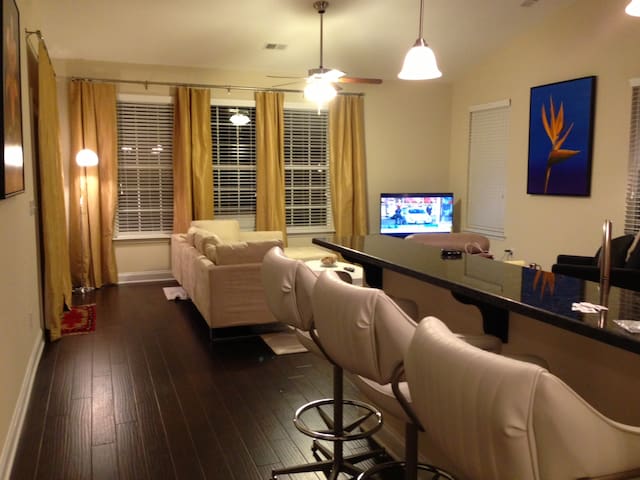 Our home is brand new built in 2016 and is close to 25 Minutes from Downtown Charleston and 20 minutes to Kiawah Island! The Angel Oak Tree is less than 10 minutes from the house as well. Our home is good for couples, solo adventurers, business travelers, families (with kids), and big groups.
Our home has a large Master Bedroom with a connecting Master Bathroom including a large tiled shower with dual rainfall shower heads. A door off the second level Master Bedroom leads to a second story front porch, which faces a beautiful large where pond you can sit on a rocking chair and enjoy the view. We have an upgraded designer kitchen with a built in gas range. The Dining room includes a large Farmhouse Table that seats at least 10 guests comfortably. The Living Room includes a large 60 inch TV with surround sound. We also have a screened in back porch perfect for sitting and relaxing. Feel free to enjoy the backyard and use with use of the Grill or the outdoor fire pit.
We live in the Swygert's Landing Community, one of the most sought-after communities on Johns Island. There are sidewalks and beutiful Oak trees.
The house is absolutely beautiful. It's clean, and nicely decorated. twenty minutes to downtown and twenty minutes to the beach. Moreover, it's a wonderful environment. We had a great time. Thanks again
Dilan
2017-03-06T00:00:00Z
Huonetyyppi
Koko talo/asunto
---
Majoituspaikan tyyppi
Talo
---
Majoittujien määrä
6
---
Makuuhuoneet
Johns Island, Etelä-Carolina, Yhdysvallat
Romantic get away for nature lovers. Private 2nd floor studio apartment over garage (guest parking), nestled among large live oaks overlooking tidal creek & dock on wooded property. Less than 30 minutes from downtown Charleston, Folly Beach, Kiawah. Shrimp, fish, crab or just enjoy the hammock on the dock. Or go for a paddle in one of the kayaks provided for your enjoyment.
This cozy studio apartment, built over the garage with parking for guests, is situated among large oak trees overlooking lowcountry marsh/tidal creek from one window and a tropical garden from another. The 'big' house and guest apartment is on 16 wooded but manicured acres, with a working greenhouse nursery on the other end of the property. We are on the upper end of Johns Island far enough out to provide peace and quiet yet less than 30 minutes from downtown Charleston and the beaches of Kiawah and Folly. There is one full size bed and an optional twin size airbed which can be utilized for a third person.
Beautiful wooded, rural setting offering privacy along with peace and quiet.
Nancy is the perfect host and her place is a little slice of heaven! The property is gorgeous- her gardens are immaculate and the dock over the salt marsh to the river was our favorite spot. There's lots of nature to watch, including dolphins, and a swim was great on hot days. We loved the tranquility of the location, plus it was pretty easy to get to downtown Charleston or other sights. The apartment was clean, nicely decorated, and had everything you need. There was plenty of room for the two of us. Nancy is a terrific host and honored requests, offered extra comforts, and yes, the muffins are amazing! She offered suggestions of what to see at Spoleto, which was a happy surprise after we booked, and everything we saw was spectacular. We alsobtrued a number of the restaurants she recommended and all were great. Our trip was exactly the relaxing decompression we needed as a last trip before our family gets bigger. We were sad to leave, but look forward to making it back again someday!
Gwenn
2015-05-29T00:00:00Z
What an amazing trip we had while staying at Nancy's retreat! The perfect getaway for our anniversary and the perfect time of year to enjoy Charleston without too much hustle and bustle. We enjoyed ourselves very, very much.
Sara
2015-04-21T00:00:00Z
When we got lost coming in Nancy responded immediately to our distress text. All the restaurants she recommended were grand- in fact the little notebook she prepared for the area was very useful. The area was a real treat...we felt it was special to be able to spend time on the creek and so private! We were fascinated by the height of the tides. The apt. was clean and well appointed, but quite tiny. Nancy provided a wifi hot spot which made it possible to enjoy a movie. And i couldn't resist some shopping at her nursery. There was jusst enough room in the car for the box of ferns.
Joanne
2015-05-19T00:00:00Z
Big problem...our stay was too short. Hubby and I thoroughly enjoyed our short visit and the only way it could have been better was to be there longer. The view, the landscaping, the dock and oh the tranquility - and we haven't even gone in yet. The apartment was immaculate, very high on our list of enjoyment! We enjoyed the muffins in the morning and Nancy had great restaurant suggestions. We look forward to returning and recommending to friends and family.
Debbi
2015-05-11T00:00:00Z
We had a wonderful stay at this incredibly peaceful property. It's better than it appears in the pictures, and Nancy did a great job of making us feel like it was all ours. When we go back to Charleston, this is where we'll stay.
Dan
2015-03-31T00:00:00Z
I had a wonderful time staying in Nancy's apartment. The space itself is well appointed, with a mini kitchen, separate bath, and a nice sound system for playing music. The grounds are so scenic, with mature trees, beautiful flower beds, and a long walkway leading to the boat dock and seating area. The waterway view was my favorite part--sitting out at sunset, watching the shore birds flying around, and the tide rising or falling. I was in town for a meeting on Kiawah Island, and I really enjoyed coming back to this homey lodging, as opposed to staying in the condos on Kiawah. Nancy is a warm and friendly host. She made me feel very welcome. I used (SENSITIVE CONTENTS HIDDEN) maps to navigate to her home, and had no problems finding the place. I do not recommend coming in after dark if you can avoid it, as you are driving on unpaved roads through dense woods towards the end.
Julie
2015-07-12T00:00:00Z
Nancy greeted me upon my arrival and made sure I was aware of everything to do and see in the area. She was one of the most gracious and friendliest hosts I have met. The studio apt was a perfect escape from the hustle and bustle of city life, tucked away from other homes. The boat launch/pier provided an amazing spot to catch a morning sunrise with coffee, and hanging the hammock on a sunny afternoon allowed for a mid-day siesta.
Shawn
2016-07-31T00:00:00Z
Nancy offers a unique setting on the beautiful Church Creek where we kayaked. The apartment is spotless and very comfortable. Nancy is a gracious and helpful hostess offering information about restaurants, local sites, and kayaking in her backyard.
Sally
2016-12-19T00:00:00Z
Huonetyyppi
Koko talo/asunto
---
Majoituspaikan tyyppi
Huoneisto
---
Majoittujien määrä
2
---
Makuuhuoneet
Johns Island, Etelä-Carolina, Yhdysvallat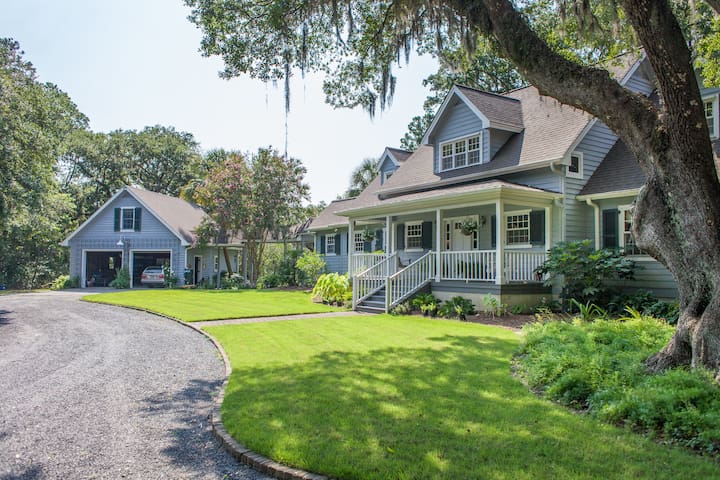 Come enjoy some peace and quiet in this simple yet private, comfortable apartment located under the Oak trees of Johns Island. 20 minutes from Downtown Charleston, Folly Beach, and Kiawah. Enjoy a fire in the fire pit, heat up the grill for some fresh seafood or take a hot shower under the stars!
The Sleepy Shack is simple, comfortable, bright and clean! The studio apartment is ideal for two tenants. Three can easily fit in this 500 square foot cabin if one person doesn't mind the couch or a blow-up mattress (provided).
The Sleepy Shack is within walking distance to Low Tide Brewery and very close to various dining options. Catch a movie at the Terrace Theater or enjoys some live music at The Pour House (within 5 miles). Come explore Johns Island - The Vineyard, Sweet Water Distillery, the Tea Plantation, Angel Oak, the Johns Island Farmers Market. The wide, quiet beaches of Kiawah are 20 minutes away. Or hop over to neighboring James Island to enjoy the many offerings of Folly Beach. Check out the fishing and surfing at the pier, or relax in the tidal pools, or shop and dine on the main drag. Grab some fresh Seafood from Crosby's or Huff's and bring it back to cook on the grill! James Island County park is about 7 minutes from the apartment and offers scenic bike / walking trails and a great opportunities for fun with the kids! 20 minutes from the heart of Downtown Charleston!
Our stay with Cava was amazing, they have designed a beautiful little Oasis in their backyard! It was a secluded quiet and very relaxed stay. Thank you Cava, for being so welcoming and hospitable. I would highly recommend staying in Johns island it's absolutely beautiful! Cava we plan to come back for another :) -Jon and Jackie
Jon
2016-09-04T00:00:00Z
The Sleepy Shack was exactly what we were looking for (&more)! After a long busy week, we wanted a relaxing space to unwind and the Sleepy Shack was perfect! Cava and Billy were wonderful hosts and made us feel right at home. They were super down to earth & lovely- we even spent the day hanging with them on their beautiful property. What a relaxing weekend. Highly recommended- book your trip now! :)
Madeleine
2015-04-14T00:00:00Z
Oh my gosh we loved this place. It was such a cool little bungalow tucked into the back of their property. The inside was clean and homey. Cave greeted us when we arrived with a huge smile and a warm Charleston personality. She made sure we had everything we needed for our stay. It was nice to just get back from the day, shower, and hide away back in the little Sleepy Shack. Just the perfect combination of everything we needed for the end of our trip! We would undoubtedly stay here again!
Pahl and Lauren
2015-09-18T00:00:00Z
Cava and Billy's place was perfect for our brief stay at Johns Island. The hand built space is beautiful and comfortable. The bathroom/shower is worth checking out--galvanized metal walls and cool hand crafted fixtures. They are a lovely family and we so enjoyed spending what little time we had with them in their inviting and beautifully crafted home. We will see you again!
amy
2016-07-28T00:00:00Z
We loved our stay at the Sleepy Shack and Cava & Billy could not have been more accommodating. The Sleepy Shack is no more than 30 minutes from all of the Charleston attractions & restaurants, not to mention the beaches and outdoor entertainment venues. Our weather was warm but with a few grey days that were lightly misty. Hope all is well with our great hosts and their families neighbors and friends since the low country area took a serious hurricane hit a few days after we departed. Our prayers to all of folks who were impacted. We'll be back.
Edward
2015-09-27T00:00:00Z
We had an amazing time! It was super easy to get to folly beach from here and there were some great restaurants within walking distance. The sleepy shack was clean and we were pleasantly surprised with a larger mattress! Cava and Billy were very friendly and accommodating. I would definitely recommend a stay here!
Katherine
2014-08-26T00:00:00Z
This listing was better than expected! We had read reviews and seen comments about it being a "hidden gem" and they were bang on. The tree-lined street leading to the property, the quaint comfortable shack, and the location on Johns Island were exactly what my husband and I were looking for on our trip. Billy & Cava made us feel welcome and met all our needs. We've been raving about our trip and recommending the Sleepy Shack to everyone back home. We're already planning our next visit!
Jacqueline
2015-05-02T00:00:00Z
We loved the Sleepy Shack! It was perfect for our weekend away. It was clean with a comfortable bed and other furniture. Great "oversized shower" in the well-stocked bathroom. We enjoyed meeting Cava and Billy who made us feel right at home but gave us plenty of privacy! We loved sight seeing on John's Island and Charleston. We will be back! We recommend staying in the Sleepy Shack.
Melina
2016-03-27T00:00:00Z
Huonetyyppi
Koko talo/asunto
---
Majoituspaikan tyyppi
Huoneisto
---
Majoittujien määrä
3
---
Makuuhuoneet
Johns Island, Etelä-Carolina, Yhdysvallat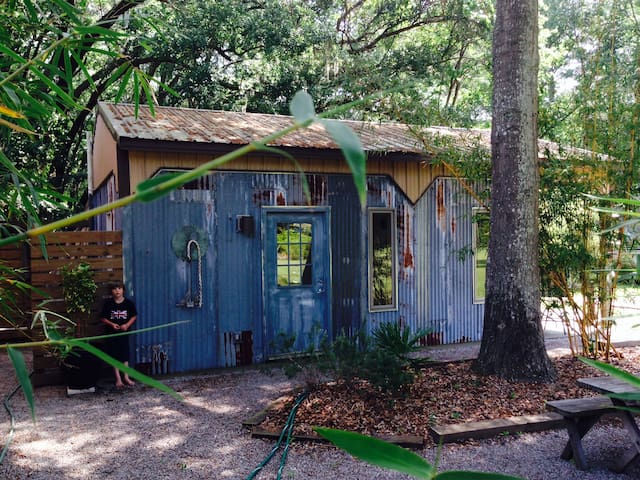 The house is a one level house with a good balance of indoor and out door space. The location is ideal because the following are: Angel Oak Tree- 2 mins. The only Tea Plantation in the USA- 15 min. Downtown Charleston_ 20 mins. Kiawah/SeaBrook and Folly beaches( for surfers)- 30 min. Chaleston International Airport- 20 min. Magnolia Plantation- @ 20 min. Town center with Bi-lo, CVS, library, gas station, restaurants, breweries, medical facility, Blackbird Market- 5 mins.
The house is situated close to all the amenities- within less than a half mile. The unique feature is that it is only 20 mins. from Downtown Charleston and the local beaches like Kiawah/SeaBrook and Folly. This means that older guests can walk Downtown and go to the pristine less crowded beaches like Kiawah/SeaBrook. Younger guests can surf on the huge waves of Folly beach. You can also stay home and explore on the kayaks and canoes or fish and crab. The house has life vests, two kayaks ,a canoe, fishing rods/tackle and crab traps and nets. Best of all there are two large floaters and a covered dock that makes rainy days irrelevant.
I had a fantastic stay here. Really a special place. Spent a week hanging out on the pier, watching birds, crabbing. The house is great too, very well laid-out.
Phillip
2017-01-21T00:00:00Z
The house really helped make our trip great! Quiet area and the dock and screened-in porch was awesome. Caught some nice blue crab from the dock to cook up for supper. Nice kitchen with everything you need to cook whatever you need. It was truly a home away from home!
Chris
2017-03-19T00:00:00Z
If you are looking for a private place away from the crowds, this is it. We loved the private deck overlooking the river and dock. Great wifi and tv, super kitchen with everything you could need. The bed was great and the towels and sheets were 1st class. Really great value for your money. It was an easy drive back into Charleston, close to Kiawah Island and lots of good eating places close by. Also grocery and CVS and gas and car wash(Johns Island Car Wash, great job). So glad we made this booking, thanks Clara.
Sheila
2017-01-29T00:00:00Z
Huonetyyppi
Koko talo/asunto
---
Majoituspaikan tyyppi
Talo
---
Majoittujien määrä
4
---
Makuuhuoneet
Johns Island, Etelä-Carolina, Yhdysvallat
Comfortable 2-story, 1,000 sqft. one bedroom loft with 1.5 baths. Full kitchen and dining area, overlooks the golf course and has a deck with patio furniture. Short bike ride to the beach, pools, tennis courts, equestrian center, gym and club house, all located behind the gate to Seabrook Island! 30 minute drive to downtown Charleston.
3 minute drive to the beach, bike rentals are available!
Great location on the golf course. Close to the public beach parking on the island. Loved the seclusion from the city, while still being able to get to Charleston in 30 minutes. Thanks again Connie! We had a blast!
Brad
2017-03-19T00:00:00Z
We had a wonderful stay. This condo is comfortable, close to the beach and the host was wonderful and easy to contact. Highly recommend!
Brianna
2017-04-03T00:00:00Z
Nice and private.
Kelly
2017-02-13T00:00:00Z
Huonetyyppi
Koko talo/asunto
---
Majoituspaikan tyyppi
Huvila
---
Majoittujien määrä
3
---
Makuuhuoneet
Johns Island, Etelä-Carolina, Yhdysvallat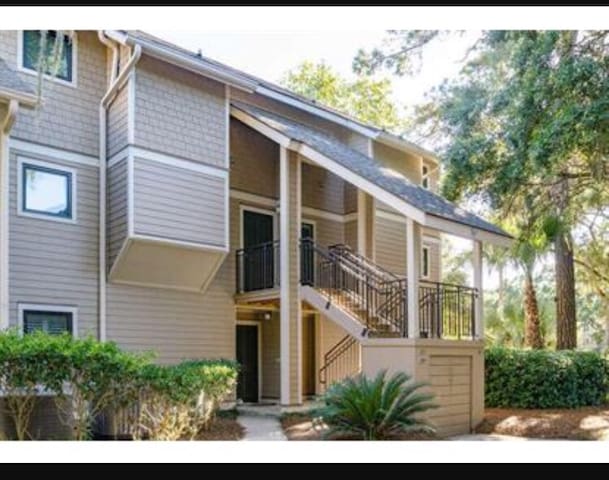 Beautiful home on the Kiawah River with wonderful views of sunrises and sunsets from every room in the house. Enjoy the pool or walk down the dock to go boating/kayaking in the river. Large bedrooms, family room and theatre room. Boats are welcome
Stay here! We can't say enough about how wonderful this home is--perhaps the only thing to top it is Monique's skill at hosting! This home is absolutely beautiful. Clearly every item in the house was chosen with expert attention. Only the best bedding, towels, furnishings, and the kitchen...if you love cooking...you are in for a treat. And the master suite is so luxurious! The views from the home are breathtaking. The garden is beautiful and well-maintained. Huge live oak trees, and birds chirping every morning, and dolphins in the river! We stayed here with a group of friends and the layout of the home was perfect for socializing, but if you wanted to retreat for some privacy the layout allowed for that as well. We've stayed at many Airbnbs and we can't say enough about how great this experience was. Monique is a gem, this house is fabulous, Kiawah Island is heavenly. Stay here!
Valerie
2016-12-19T00:00:00Z
Monique was very prompt and attentive both before and during our stay! She made sure we had all of the information we needed to have a smooth arrival well before we began our trip!
Gretchen
2016-08-29T00:00:00Z
Amazing house sitting right on the river!! The views from inside at sunset are amazing and worth the rental. The owner Monique was great to deal with and answered my questions immediately. I will rent this house again in the years to come.
Chris
2016-09-23T00:00:00Z
Wow! What an amazing trip all thanks to Monique and her beautiful home. The house is gorgeous - the pictures don't do it justice! Everything is immaculate. If you're a cook, the kitchen is fully stocked with the best appliances and pots and pans. The bedrooms are well distributed throughout the house for great privacy. Everything that you can imagine this house has. You can tell that it's managed by a wonderfully hospitable host! Monique was amazing - especially since we were coming in 2 weeks after the big hurricane! She reassured us all would be fine and we were impressed with how well the grounds were manicured even a few weeks after the big storm. Her communication was immediate after I would reach out. We will 100% be coming back. This house is the perfect vacation home.
Marco
2016-10-24T00:00:00Z
Absolutely stunning home! Beautiful location, plenty of space and just beautifully decorated and stocked. Will absolutely be renting again!
Amber
2016-09-12T00:00:00Z
The host made sure we had all information necessary prior to us arriving on the island. Monique was very accommodating and communicative the week leading to our arrival. The property is really amazing, hard to find value that beats this.
ryan
2016-09-20T00:00:00Z
House is beautiful. Doesn't get much better than Kiawah. Host is quick to respond to any questions and was available when needed - she made the stay that much more enjoyable. Would definitely stay again!!
Ben
2015-07-14T00:00:00Z
Monique was great in working with us to accommodate our group at her beautiful Kiawah Island home. She was prompt in responding to all our messages and questions and was friendly and helpful each time we needed something. The home was exactly what we wanted and was a great place to stay when coming down for a golf weekend/Charleston experience. This luxurious home is very comfortable for a family or large group and the sunsets are amazing!
Andy
2015-07-19T00:00:00Z
Huonetyyppi
Koko talo/asunto
---
Majoituspaikan tyyppi
Talo
---
Majoittujien määrä
10
---
Makuuhuoneet
Johns Island, Etelä-Carolina, Yhdysvallat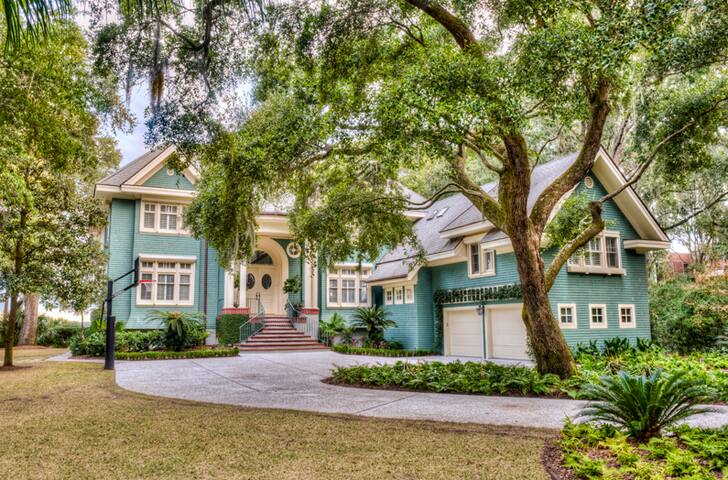 New cozy wood cabin tastefully decorated, situated among the live oak trees on the Stono River (ICW). Cabin is convenient to downtown Charleston, the white sand beaches of Kiawah Island and Folly Beach. Enjoy nearby sights and fabulous local food. End your day relaxing on the screened porch and deck overlooking the serene Stono River.
Beds include one Queen bed and bunk beds. DirecTv and dvd player are available.
Rural secluded retreat setting.
Huonetyyppi
Koko talo/asunto
---
Majoituspaikan tyyppi
Mökki
---
Majoittujien määrä
4
---
Makuuhuoneet
Johns Island, Etelä-Carolina, Yhdysvallat
My place is close to the Intracoastal waterway. You'll love my place because of the outdoor space, roominess, and vicinity to Charleston, Kiawah, and Seabrook island. My place is good for couples, solo adventurers, and business travelers.
The house was great! Perfect size for my small group. Chris is a great host who checked in with us all the time. The house's location is great for johns island activities and close enough to go into the city.
Austen
2017-03-19T00:00:00Z
Lovely place, great place to stay in the low country!
Christy
2017-03-26T00:00:00Z
Christopher and his family were amazing! They went out of their way to give us suggestions and make sure we were comfortable:) They even made a special blender delivery when I was dying for a smoothie for breakfast one morning! Their AirBNB was stunning. Couldn't have been more comfortable. Thanks so much!
Haley
2017-02-19T00:00:00Z
This home is lovely! It was perfectly located for us to attend a wedding on Johns Island. Lots of space and coastal decor make this a great spot for a small group to stay at. Our only regret is not getting to stay here a little longer!
Graham
2017-03-12T00:00:00Z
Christopher's place was great! Both him and his wife are very hospitable and were available if needed. If you're looking for a "local" feel in the Charleston area, this is it. Not only is the place beautiful, but the drive in is as well. Couch and beds are both super comfy! Will definitely look at staying again next time we go!
Chelsea
2017-04-02T00:00:00Z
Huonetyyppi
Koko talo/asunto
---
Majoituspaikan tyyppi
Guesthouse
---
Majoittujien määrä
4
---
Makuuhuoneet
Johns Island, Etelä-Carolina, Yhdysvallat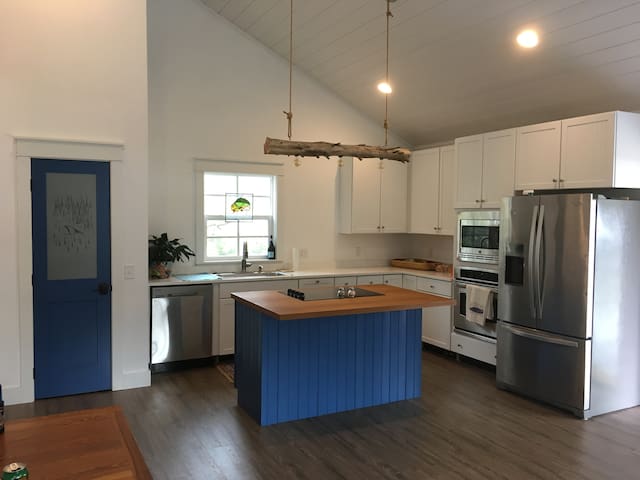 Seabrook Island Villa with Lagoon Views and Club Amenity Access
This 2 bedroom villa offers beautiful lagoon views, full of wildlife, as well as views of the 16th hole of Ocean Winds Golf Course. The master bedroom has a queen sized bed, the guest bedroom has a queen sized bed and the loft has 2 twin beds, all with two full bathrooms. To make you feel right at home there is a fully equipped kitchen, dining area, living room and washer/dryer. So relax on a private gated island with tropical vegetation and abundant wildlife. Kiawah Island Resort is located next to Seabrook Island. Guests staying on Seabrook also have access to 5 different resort golf courses on the Kiawah property as well. All this along with tennis, equestrian center, biking, boating, fishing, kayaking, fitness center, nature trail, gorgeous sunsets, incredible restaurants,and much more!!
So relax on a private gated island with tropical vegetation and abundant wildlife. Kiawah Island Resort is located next to Seabrook Island. Guests staying on Seabrook also have access to 5 different resort golf courses on the Kiawah property as well. All this along with tennis, equestrian center, biking, boating, fishing, kayaking, fitness center, nature trail, gorgeous sunsets, incredible restaurants,and much more!!
Huonetyyppi
Koko talo/asunto
---
Majoituspaikan tyyppi
Huvila
---
Majoittujien määrä
6
---
Makuuhuoneet
Johns Island, Etelä-Carolina, Yhdysvallat
My place is close to Beautiful Sandy Beaches, golf, swimming, great resort for couples or families. We are a pet friendly unit. Access to the Lake House with Amenity Card. We do not provide access to the Beach Club. Just a short drive to one of America's top ten travel destinations. History, Arts, Wonderful restaurants, theater, shopping and so much more!
Two bedrooms each with private bath downstairs. Loft bedroom and bathroom. New front loader washer and dryer. Bikes and beach chairs available for use. Gas grill.
Private island very safe and secure. Great for outdoor enthusiasts. Runners, bikers, walkers. Dog friendly.
Charming, quiet place to stay
Michael
2017-03-06T00:00:00Z
Huonetyyppi
Koko talo/asunto
---
Majoituspaikan tyyppi
Bungalow
---
Majoittujien määrä
6
---
Makuuhuoneet
Johns Island, Etelä-Carolina, Yhdysvallat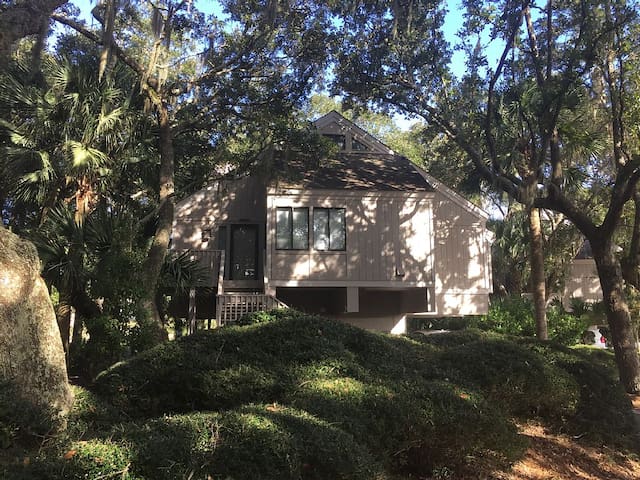 The upstairs portion of my home is available with 2 bedrooms/1 bathroom. I have a small home gym, private back yard with seating and fire pit, and paddleboard available for use on the neighborhood lake. Breakfast will be avail on weekends on request
Linday's place was perfect for our small family. It's a short drive to local attractions. We highly recommend staying at Linday's place. Clean and well equipped with everything you'll need.
Kim
2017-03-16T00:00:00Z
Lindsay's place is wonderful- we had the entire upper floor of her bright, modern gorgeous house. The neighbourhood is built around a lake and is very close to the beach and Angel Oak. It is a short drive in to Charleston. The house is beautifully decorate. Lindsay is very friendly and her standard poodle Kimo is a real charmer! We enjoyed our stay and would definitely stay again.
Ilze
2017-03-22T00:00:00Z
Any woman who hugs a dog like that (or holds a paw lovingly) in public must surely be a great host.
Robert
2017-03-23T00:00:00Z
We had a great time! Lindsay's place is close to downtown and the beaches which is the perfect location! Her home is beautiful and spacious!
Sara
2017-04-02T00:00:00Z
We really enjoyed our quick overnight stay. The rooms were perfect for us and everything we needed was readily available. Perfect!
Jeff
2016-02-21T00:00:00Z
Staying at Lindsay's house provided the most perfect whole experience. The house is absolutely lovely, complete with all types of little extras in the bathrooms. Lindsay made our entire stay unbelievably easy and we just had the best time seeing Charleston. Gorgeous neighbourhood and in the most beautiful area. Would definitely love to return and get to see Lindsay's gorgeous dog too! All in all a perfect stay and perfect host !
Michael
2016-04-19T00:00:00Z
My host was Lindsay's mother Joyce, who was absolutely wonderful. The accommodations were excellent. Joyce's and Lindsay's dogs are very well behaved and appropriately friendly.
David
2016-10-28T00:00:00Z
Wonderful place to stay. Everything was nice and clean. Lindsay is friendly and helpful. Highly recommend.
Eric
2016-09-19T00:00:00Z
Huonetyyppi
Yksityinen huone
---
Majoituspaikan tyyppi
Talo
---
Majoittujien määrä
4
---
Makuuhuoneet
Johns Island, Etelä-Carolina, Yhdysvallat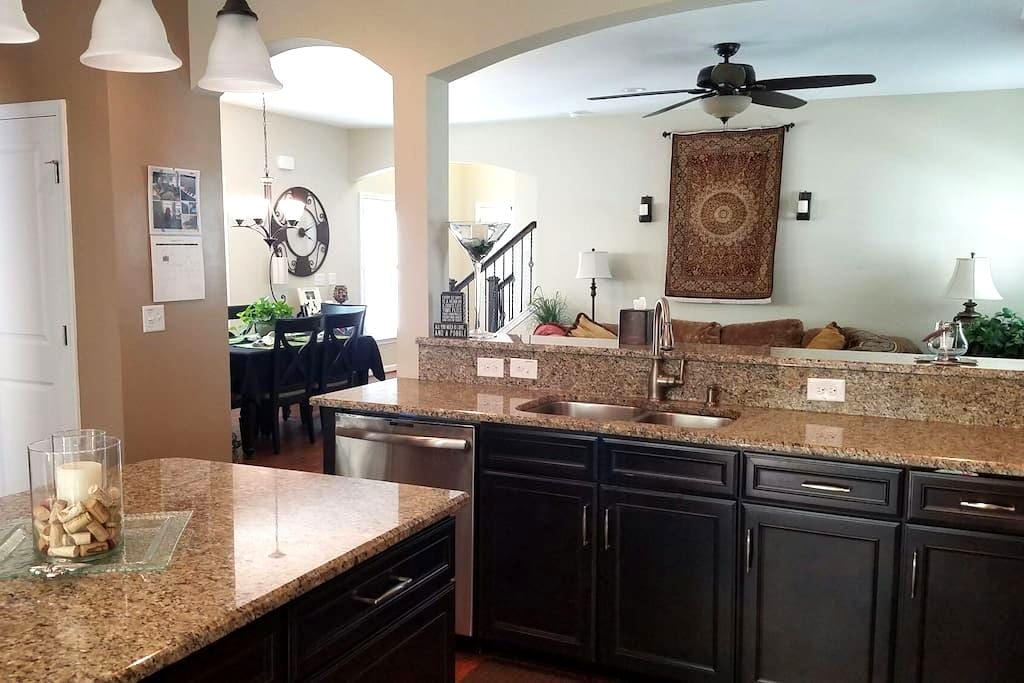 Charming 1920s recently restored cottage style in the historic Old Windermere neighborhood. Best location in Charleston for those in the know - 1 minute drive over the bridge onto the peninsula/downtown and walking distance to everything you need.
Enjoy your charming 1920s recently restored brick cottage style house in the historic Old Windermere neighborhood for the month of May. May in Charleston is the best time of the year with great weather, Spoleto festival, beaches and golf courses in full swing. This is the best location in Charleston for those in the know. 1 minute drive over the bridge onto the peninsula/downtown and walking distance to everything you need. - Recently renovated Kitchen with Stainless steel appliances and gas stove - Original Hardwood floors - 4 fireplaces - 2 Covered Parking Spaces in carport in back of the house, plus additional room for parking in backyard area - Sun room - Open floor plan (very unique in a 1920s house) - Washer/Dryer on-site - Approximately 1500 square feet OFFERING A LARGE DISCOUNT TO RENT FOR WHOLE MONTH OF MAY!
Historic Windermere is the best neighborhood in Charleston. - 2 minute walk to Earthfare grocery store, Starbucks, Yoga studio, Barre studio, Yo Burrito Mexican Cantina and other restaurants and shops in Windermere - 1 minute drive onto the Peninsula/Downtown Charleston. Uber rides from our house to the middle of the Peninsula/Downtown are less than $6. - 10 minute walk to Avondale Bars and Restaurants - 5 minute walk to California Dreaming Restaurant on the water in Charleston harbor - 5 minute walk to Porter-Gaud School - 15 minute drive to Folly Beach - 15 minute drive to Sullivan's Island Beach - 1 minute walk to the West Ashley Green Way (10 mile walking/biking trail)
Huonetyyppi
Koko talo/asunto
---
Majoituspaikan tyyppi
Talo
---
Majoittujien määrä
5
---
Makuuhuoneet
Charleston, Etelä-Carolina, Yhdysvallat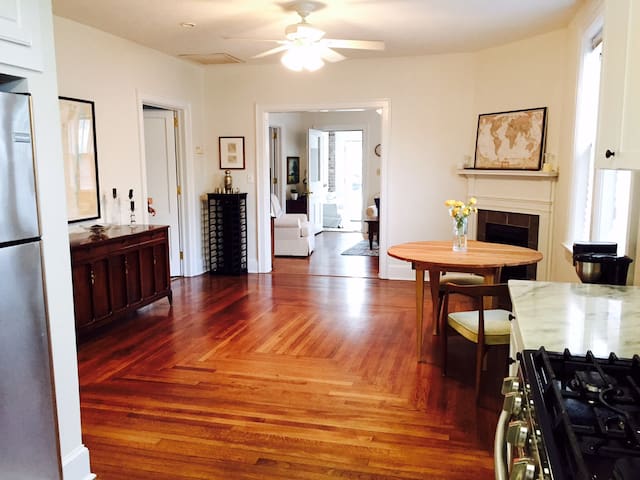 1

–

18

hakutuloksista

300+ vuokrakohdetta
Anna päivämäärät nähdäksesi kokonaishinnoittelun. Lisämaksuja sovelletaan. Veroja saatetaan lisätä.