44 vuokrattavaa huoneistoa
Specializing in short term corporate housing for over ten years in the Tri Cites, AB Properties offers luxury beds with finer linens, fully stocked chef's kitchens, cleaning services included, and each unit is uniquely custom designed. Call today.
Each unit is unique with a different theme and ambiance giving our residents complete serenity and relaxation. Sterns & Foster, Tempur-Pedic, and All Latex beds, king/queens beds, many leather sofas, some of the best coffee machines on the market, and much more.
Huonetyyppi
Koko talo/asunto
---
Majoituspaikan tyyppi
Huoneisto
---
Majoittujien määrä
3
---
Makuuhuoneet
Jonesborough, Tennessee, Yhdysvallat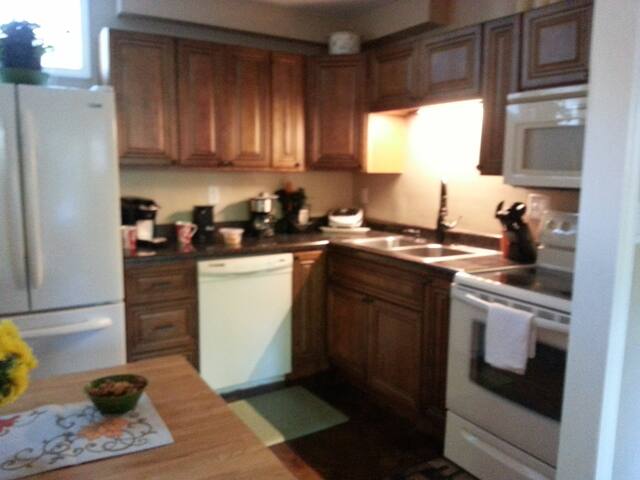 Welcome to a private, centrally located 2BR (sleeps 3) fully furnished and newly renovated apartment in Johnson City, TN (hub of the Tri-Cities). 5 min to ETSU/VA campus, JCMC, downtown, Tweetsie Trail, shopping, and restaurants. 20 min-Appalachian Trail, Elizabethton (Antiques), Jonesborough (Storytelling Festival, Antiques, Dining), Erwin 25 min (17 miles)- Bristol Motor Speedway, Kingsport 30 min-Bristol 60 min-Asheville, NC Enjoy your comfortable and restful stay!
Apt is 900 square feet with Queen pillow top mattress in one bedroom and twin bed in the other bedroom, new kitchen, and two, huge, comfy couches in the living room. Located on the second floor with parking right out front, in a safe neighborhood.
Kirby Flats are in a quiet neighborhood, two blocks from a main parkway in Johnson City. The apartment is brick, built in the 70's, and was completely remodeled in 2016. Just around the corner is the 2,300 student High School and 1,300 student middle school. The sports complex is only three blocks away, as is the 1.5 mile walking trail.
Great spot - Close to everything in town. 2nd floor apartment is perfect for 2-4 people.
Joe
2017-03-04T00:00:00Z
Conveniently located. Excellent wifi. Good towels and bedding. The building is dated, but work has been done in the apartment to update things a bit. The host was great. Easy access. The neighborhood seemed safe.
Robert
2017-01-14T00:00:00Z
This place was worth the money. Very clean and very nice. Bed was super comfortable!
Joe
2016-12-10T00:00:00Z
Good olace
Tammy
2017-03-26T00:00:00Z
There for 1 night - easy in and easy out
Steve
2016-12-18T00:00:00Z
I booked this apartment for a very quick trip to do some wedding planning. I needed something that was safe and clean and also economical. Prior to, during, and after my stay, Thomas was wonderful with communication. I was mostly busy during the trip so I was gone during the day but it was a great place to relax in the evening. The neighborhood is very quiet and I felt very safe. The apartment is really clean and efficient. The AC/heating system was a little confusing but the heat works really well and fast! The internet works great, which was important for me to conduct business while away. Since it was such a short trip, I didn't really need much but for a longer stay the kitchen would be more than perfect for preparing and eating meals at the apartment. Shower pressure is great and the bathroom is clean. The beds are comfortable. I would certainly recommend this apartment, especially if you are looking for a safe, clean, full-functioning place that won't break the bank! Will be recommending to some of my traveling wedding guests.
Vanessa
2017-02-19T00:00:00Z
This was my first experience with Airbnb and it was a wonderful introduction. I stayed for 11 days and could not have asked for a better situation. When I first arrived I kept finding these neat little surprises, things that were useful to have but I didn't expect to see. Tom and Rhonda were excellent hosts--very available, but not intrusive. A few minor glitches were rectified promptly and graciously. I just wish that I could add some stars to the ratings--five is just not enough. You will not be disappointed if you choose to stay at this location.
Lynn
2017-03-03T00:00:00Z
Had a great stay. Thanks Thomas for taking good care of everything!
Michael
2016-12-03T00:00:00Z
Huonetyyppi
Koko talo/asunto
---
Majoituspaikan tyyppi
Huoneisto
---
Majoittujien määrä
3
---
Makuuhuoneet
Johnson City, Tennessee, Yhdysvallat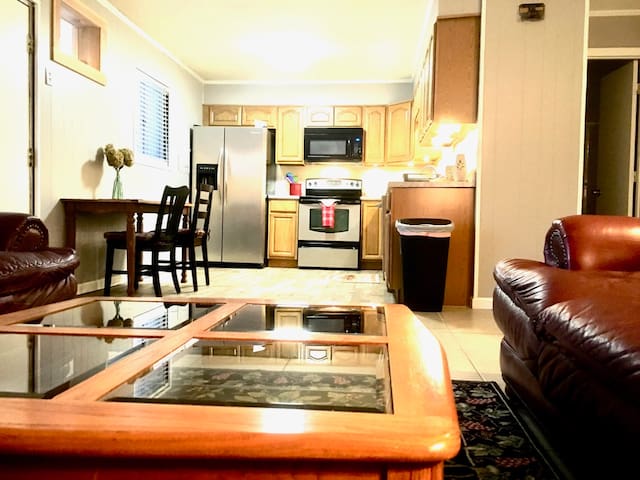 1 Bedroom Apt. located in the heart of Downtown Johnson City, literally steps away from the best food, drinks, & entertainment the city has to offer. Convenient to ETSU, Johnson City Med Center, VA, The Mall of JC, in addition to an assortment of restaurants, parks, and activities. Visitors, Vacationers, Business Travelers, & Passers-through will find this apartment can serve all of their accommodation needs. Search "Downtown JC TN" to find out more about the experiences Downtown JC has offer.
Spacious bedroom features queen-size bed, and views of historic downtown. Spacious bathroom includes shower and tub. Guests can also use living area, couch, TV, washer/dryer, and full kitchen. Food will not be provided (special requests accepted), but all dishes, utensils, cookware, and appliances are at your disposal. Code to access building and key to apartment will be provided at or prior to check-in. Apartment is located on the top level (4th floor) of the building, and can be accessed by elevator or stairs.
If you are planning a night or more in downtown Johnson City this is the perfect place to stay. A great view of the downtown area and central to everything Johnson City has to offer. Jason was perfect to deal with and communicated very well and his place was clean and comfortable. Highly recommend!
ryan
2017-04-01T00:00:00Z
Huonetyyppi
Koko talo/asunto
---
Majoituspaikan tyyppi
Huoneisto
---
Majoittujien määrä
3
---
Makuuhuoneet
Johnson City, Tennessee, Yhdysvallat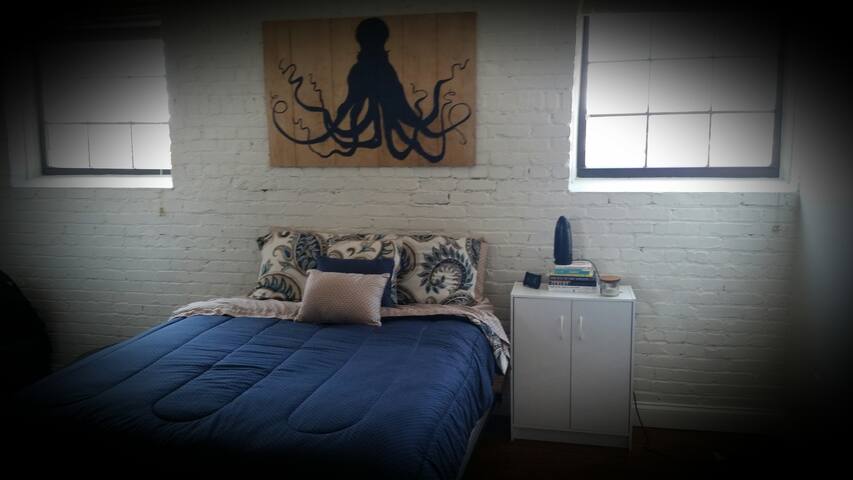 Our Tree Streets apartment is within walking and biking distance to downtown Johnson City, and is very close to restaurants, shops, three great breweries, and the brand new Farmer's Market! Only a mile from ETSU campus, the Tree Streets neighborhood is one of Johnson City's coolest communities and one of Tennessee's original historic districts. Our apartment is great for couples, university visitors, solo adventurers, business travelers, and families with kids.
We positively loved our stay at Nathan and Diana's home. It was so beautifully appointed and cozy. We felt right at home and our hosts were wonderful! Cool neighborhood that's close to lots of shops and restaurants!
Carolyn & Michael
2016-10-02T00:00:00Z
The apartment was just as described! Nathan and Diana were very easy to work with and made check-in very easy. We really enjoyed admiring the quirks of the historic home. The apartment had everything we needed for a quick overnight stay. It was convenient to downtown Johnson City, within walking distance. Although there wasn't time to explore the backyard or neighborhood community sale, both looked interesting and fun. We would definitely stay here again.
Brittany
2016-09-12T00:00:00Z
Nathan and Diana's apartment is a cute section of an old house just off the main strip of Johnson City. The house may be old, but it has plenty of charm and subtle touches that make it a joy to stay in. The kitchen was always bright and full of sunshine. The rooms were crammed with books about all sorts of topics from Theodore Roosevelt to bread making. They have a little pillow stuffed with pine needles on the bed so that it smells like you're sleeping in a pine forest. There isn't a whole lot going on in Johnson City, but Nathan and Diane's house is near it. There are several breweries, cafes, and restaurants less than half a mile away.
Steven
2016-10-16T00:00:00Z
Nathan and Diana's home has a unique charm that makes you feel at home as soon as you walk in. Between the adorable town, the record collection, and more books to choose from than most people read in a lifetime, our quick stay was full of fun yet very relaxing. We can't wait to come back!
Morgan
2017-01-15T00:00:00Z
Huonetyyppi
Koko talo/asunto
---
Majoituspaikan tyyppi
Huoneisto
---
Majoittujien määrä
4
---
Makuuhuoneet
Johnson City, Tennessee, Yhdysvallat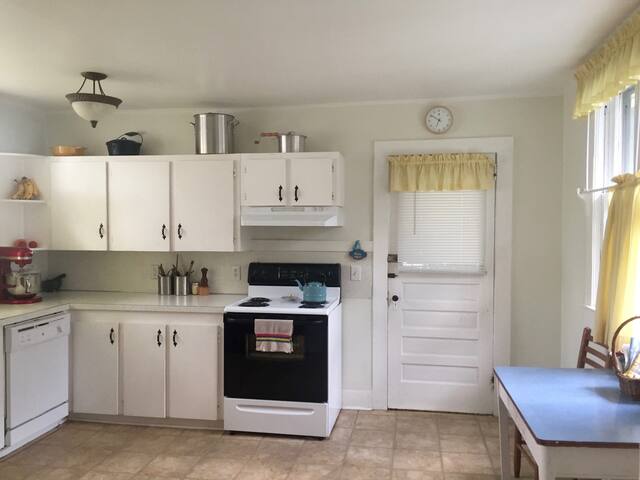 Great space in the heart of Johnson City right off interstate 26 surrounded by tons of restaurants and shopping within walking distance. 2 miles from Freedom Hall 3 miles from ETSU 5 miles from Downtown Jonesborough & International Storytelling Center 14 miles from Bristol Motor Speedway 20 miles from Downtown Bristol locations for Rhythm and Roots Festival
Apt is 1024 square feet with King and Queen pillow top mattresses and large sectional in the living room. Super clean always!
I was traveling with a colleague and we had a comfortable stay. Quick, efficient, an pleasant. Would definitely stay here agin.
Christopher
2017-03-27T00:00:00Z
An amazing place to stay for a weekend getaway. Ryan is an excellent host.
Justin
2017-03-26T00:00:00Z
Great location. Extremely clean. If you cook, this is a great place because pots and pans are top notch. Ryan is a good host. The place is very convenient to Johnson City. I recommend!
Ted
2017-04-06T00:00:00Z
Huonetyyppi
Koko talo/asunto
---
Majoituspaikan tyyppi
Huoneisto
---
Majoittujien määrä
4
---
Makuuhuoneet
Johnson City, Tennessee, Yhdysvallat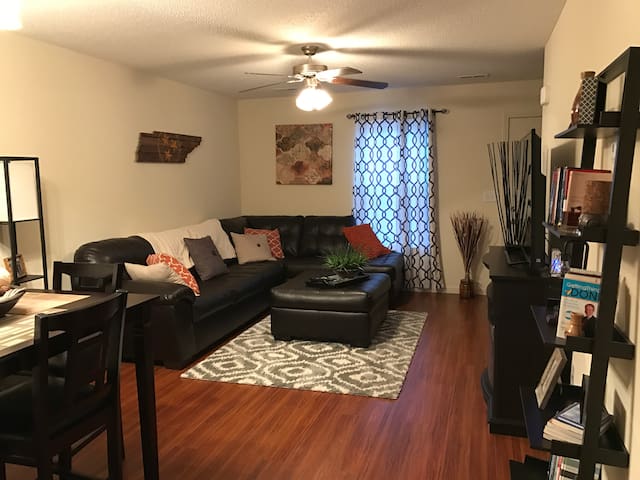 Man Cave your wife/GF will love
Everything was exactly as Paul said it would be. The place was very comfortable. We felt like we were at home! We stayed here in order to go skiing in NC. The drive to Sugar Mountain was only 35 minutes. We also went hiking at Laurel Falls, which was beautiful! Paul made it easy to know where all of the trails were by providing pamphlets in the apartment. Everything was great!
Misty
2017-02-20T00:00:00Z
My husband and I stayed in Hampton TN for three nights. Paul was very accommodating and quick to respond to questions. He allowed us to have our two dogs with us (provided we kept them off the furniture) which was awesome! We did a lot of hiking while we were there.; the Appalachian Trail is just a one minute drive from the rental! The place was spotless when we got there and the beds were comfortable. Paul even let us have some of the beer in the fridge and some of his frozen waffles. It's a great location for hiking or boating. Johnston city was a 30 min drive and it took us about 45 minutes to get to Boone. We had a great stay. Highly recommend!
Sarah
2016-12-30T00:00:00Z
I ran an hour later than the agreed upon check in time and I got lost. Paul was accomidating and flexible. The place was exactly as advertised.
Pat
2016-11-13T00:00:00Z
Fantastic apartment. Very comfortable and clean. Great location. Would definitely stay there again
Jessica
2017-02-01T00:00:00Z
Communication was excellent and Paul was very accessible and helpful. Location was great for sightseeing in both the TN and NC mountain communities. Very cool loft like large apartment. Was there with my son on a roadtrip but my wife would have been perfectly happy there too. WiFi was excellent and even had the ability to charge my electric car.
Scott
2017-01-14T00:00:00Z
Huonetyyppi
Koko talo/asunto
---
Majoituspaikan tyyppi
Huoneisto
---
Majoittujien määrä
4
---
Makuuhuoneet
Hampton, Tennessee, Yhdysvallat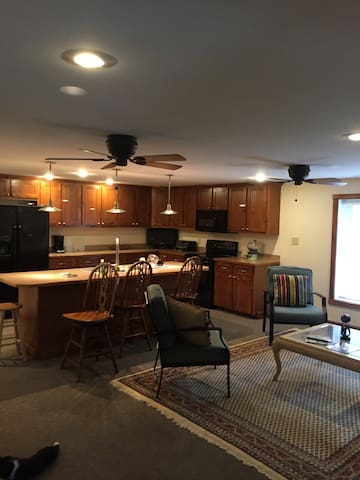 100 acre mountain farm. The luxurious Rhododendron Suite is a 2-bedroom with kitchenette, private bathroom & private entrance. Other suites are currently under renovation. Also on the property are 10 spacious campsites, camp store and gorgeous bathhouse, hiking trails, stocked fishing pond and fresh garden produce in season.
Blackberry Blossom Inn & Farm has a gorgeous view of the Unaka Mts. The luxurious Rhododendron Suite has the privacy you want and the access you are searching for local events, festivals and adventure. The suite has in-room Keurig coffee maker, mini fridge, microwave, toaster, small crock pot, sink, utensils, dish ware, wine glasses, ice, ice bucket, bathroom amenities; soap, shampoo, lotion, hairdryer, and other essentials you may have forgotten. We provide a small welcome basket of snacks, water, a glass of wine, cheese & crackers and a small Continental breakfast. Should you require a more substantial breakfast, we recommend Clarence's, 5 miles down the road which is a family run restaurant , and are really nice folks. If you prefer no alcohol in your room, just let us know and we'll substitute something else refreshing. We provide a coffee pod for Keurig maker per guest as part of the Continental breakfast, please feel free to bring additional pods if you drink coffee throughout the day, or it is always available for sale at the camp store. Linens are high end sheets, pillows and plush towels. Extra blankets and pillows are located in the closet. Flat screen TV is in the main bedroom and has Netflix & Hulu; but currently with limited service. We are working on improving the service reception for both WiFi and TV reception, but you may experience glitches due to the remote location of the Inn. Please also note that cell phone reception is very sketchy due to the remote location and some service providers may not get cell service. Our space is naturally air conditioned by the cool mountain air and a fan. A quartz heater for each room is in the suite to ward off the chill of cool mornings. Firefly shows start in June, so enjoy the cool evenings as the sun sets and relax into the peaceful mountain pace. We are a perfect choice for families visiting children at ETSU or Milligan College. Sometimes it's nice to pluck your child out of the high stress environment of school and give them a peaceful rest. We also cater to business travelers, overflow for family gatherings and vacationers. Even if you are just passing through on your way to somewhere else, give yourself a respite at Blackberry Blossom Inn to recharge for the rest of your travels.
Blackberry Blossom Inn & Farm is nestled into the mountains of the Limestone Cove community. The property is quiet, private and peaceful. There are several creeks and hiking trails on the property, and a fully stocked fishing pond. Our neighbors are wonderful friendly folks who wave to all as you pass them on the narrow winding road to the farm. Go slow, you never know what is lazing in the sun as you make your way up into the cove. We frequently encounter turkey, chickens, ducks, peacocks, dogs, and an occasional cow who has nudged under the fence.
Blackberry Blossom offers both peace and adventure, both excitement and respite. We even got to relax on the porch with a glass of wine with the incredibly friendly hosts. Not only did we walk away with a great experience, we walked away with friendship! Simply the best Airbnb experience we've ever had!
Aaron
2017-02-19T00:00:00Z
If you are looking for a relaxing environment this is definitely the place .
Dorothy
2017-03-26T00:00:00Z
Ed and Janice were very hospitable. They helped us get settled in and provided site recommendations for where to go hiking. The room is great; spacious, clean, and with a large bathroom. Breakfast was a joy and included orange juice, coffee, raisin bread with local made jelly, and a bowl of fresh fruit (this is just what we selected to be delivered each morning)! A+++ experience.
Jordan
2017-02-28T00:00:00Z
WOW! What a getaway! Come get grounded in this beautiful place! We had an amazing time! The room is so spacious and quiet. Everything is so clean! The jet in the jacuzzi bath is so relaxing. You simply fill out your breakfast card and select when you want it and it will be there waiting for you in the morning. This will be a regular getaway for us! We loved it!
Shaun
2017-04-02T00:00:00Z
The place was amazing. Love the bathroom. We spent 5 nights to explore the beautiful region.
Sugiharto
2017-01-29T00:00:00Z
An amazing place to stay if you're looking to get away from it all.
Alexander
2017-03-17T00:00:00Z
I would definitely stay again. We really enjoyed it.
Leighan
2016-08-22T00:00:00Z
Blackberry Blossom farm is an absolutely wonderful place to stay. Alas we were only in the area for one night, otherwise we would have loved to stay longer. The home is clean and welcoming, and the grounds around it are lovely to wander around with incredible views into the hills. We had a great time sitting out on the porch and looking up at the milky way once the sun had gone down. Janice is a friendly and helpful host. She showed us around when we arrived and provided drinks which was a very nice touch. We also enjoyed chatting with her about the area and the road trip we were on. If you are looking for a tranquil place to stay for a few days or a week, this is definitely the place to stay!
Thomas
2016-10-01T00:00:00Z
Huonetyyppi
Koko talo/asunto
---
Majoituspaikan tyyppi
Huoneisto
---
Majoittujien määrä
4
---
Makuuhuoneet
Unicoi, Tennessee, Yhdysvallat
Very clean townhouse with spacious private bedroom & bath. Located conveniently in Johnson City, you will be minutes from ETSU, Johnson City Medical Center, Mountain Home and Historic Jonesborough! Wi-Fi included. Prefer to cook rather than eat out?
The room has a queen size bed, private bathroom with tub/shower, towels, and sheets. There is not a TV in the guest room. Great Wi-Fi reception in the room for your portable electronics. I have no pets, so don't have to worry about pet hair getting on you or if you have pet allergies.
I am within 1-2 miles of several restaurants, local and chain. Nearby chain restaurants include Pizza Hut, Barberitos, Ruby Tuesdays, and Zaxby's. Local restaurants include El Charolais (Mexican), Fire House, and Tupelo Honey. My neighborhood are condos on top of a big hill. It's a quiet family oriented neighborhood. You will need to drive or uber to locations around town.
I really enjoyed my stay. The room was clean and comfortable, and Matt was really nice. Would definitely stay again!
Shannon
2015-09-25T00:00:00Z
Our stay here was great. Matt's very nice and accomodating and the room was very comfortable and clean. It's a great, peaceful location close to downtown as well as to nature, a great view of the mountains right outside. Can highly recommend.
Daniel & Carolina
2016-12-29T00:00:00Z
Great stay and great host.. Very clean and comfortable.I would definitely stay here again
Tiffany
2016-07-22T00:00:00Z
Good dude, very clean house, good experience over all
Jake
2015-12-02T00:00:00Z
Good location, clean and really comfortable bed!
Jane
2017-01-11T00:00:00Z
Matthew was friendly, understanding, and an impeccable host. I highly recommend you stay at his place. His place was quiet, clean, and comfortable. I really enjoyed my stay and would stay here again.
Michael
2016-02-24T00:00:00Z
Great place! Simple and just what I needed as a one night stopover mid-road trip. Matt was very helpful, working with me through changing arrival times. Johnson City seemed like a beautiful place, I wish I'd had more time to explore the area.
Ellen
2016-10-27T00:00:00Z
Matt was very accommodating and polite. He worked with me as my arrival times changed. He is pleasant and funny. A great host
Tina
2016-09-18T00:00:00Z
Huonetyyppi
Yksityinen huone
---
Majoituspaikan tyyppi
Huoneisto
---
Majoittujien määrä
2
---
Makuuhuoneet
Johnson City, Tennessee, Yhdysvallat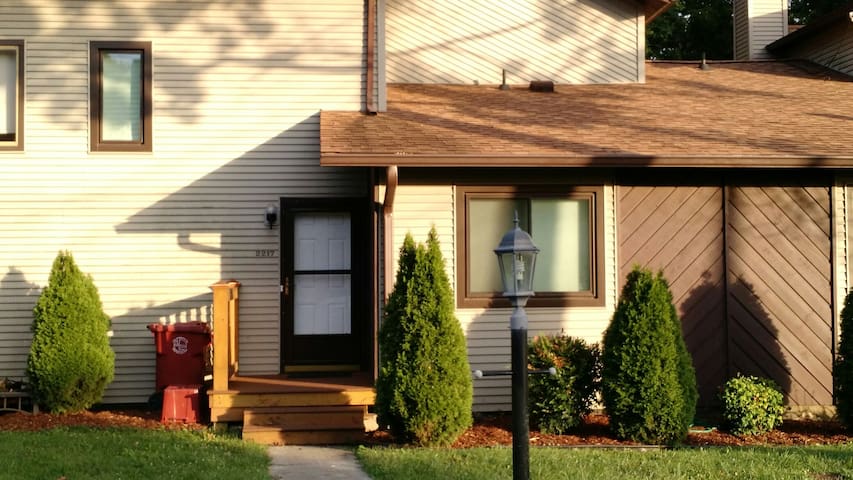 Welcome to a private, centrally located 2BR (sleeps 4) fully furnished and newly renovated apartment in Johnson City, TN (hub of the Tri-Cities). Apt is within 5 min of ETSU/VA campus, shopping, and restaurants. We would love to have you stay.
Apt is 900 square feet with Queen pillow top mattresses, new kitchen, and comfortable living room. Located on the ground floor with parking right out your front door, in a safe neighborhood.
Kirby Flats are in a quiet neighborhood, two blocks from a main parkway in Johnson City. The apartment is brick, built in the 70's, and was completely remodeled in 2016. Just around the corner is the 2,300 student High School and 1,300 student middle school. The sports complex is only three blocks away, as is the 1.5 mile walking trail.
We stayed at Kirby #2 for 7 days - from check in to check out it couldn't have been any better. Tom and Rhonda were gracious hosts, from water in the refrigerator (a water filter was on order) to snacks and a gift certificate for coffee on the counter, we couldn't have been more pleased. The apartment was very neat and clean. The furnishings were comfortable. Everything we needed to cook was available and all in good condition. I found the rate to be more than reasonable considering we stayed for a week and got a discount for the long stay. If you get the chance, stay here - you won't regret it!
Karen
2017-03-31T00:00:00Z
Stayed in Kirby #1 the first time and it was great! Kirby #2 is EVEN BETTER! The two bedrooms are extremely cozy. Beds are amazing. Bedding immaculate! Nice roomy closet, too! One of the rooms has a huge corner desk!!! Wi-Fi is flawless!! The kitchen is fitted with everything you need to prepare a 5-course meal...which we did!!! Super modern appliances, too! Thomas had a problem with the dishwasher the day before our stay, asked ahead if we needed it, came by and fixed it not long after we arrived to be sure it was in good shape before we were going to use it! In the process, we got to know him and sincerely enjoyed meeting him. He's one of the most authentic, thoughtful, and kind people we've met! The location is perfect - near everything, easy to find, yet QUIET...and peaceful!!! The huge sectional couch is great for stretching out to watch the smart TV! Also, as we walked in, the little lamp in the bedroom greeted us with a warm glow, followed by finding the nice notes his wife left welcoming us, suggesting nice restaurants nearby, things to do, etc.. This one had a basket full of goodies, too...just like Kirby #1...even coffee and a deck of cards!!! I was curious about other airbnb offers and did look; but, even with offers that LOOKED more enticing, I knew we could count on Thomas for a clean, well-appointed place without a single doubt! This says a lot considering we brought my elderly parents into the apartment as their first airbnb experience. They used the word "fantastic" along with "wonderful" and "great". Need I say more? Thank you, Thomas. Thank your wife also, please, for the kind thoughtful touches throughout the apartment! -Stephanie
Stephanie
2016-11-08T00:00:00Z
Tom was a great host. The place was clean and welcoming. Truly a great Airbnb experience.
James
2017-02-19T00:00:00Z
I could not have had a better experience. Thomas is an excellent host - fast communication, kind, thoughtful. The apartment was perfectly located for my trip and fully furnished with everything I needed. And so clean and comfortable. I have to return later in the year and am already making my return reservation.
Linda
2017-01-13T00:00:00Z
We continue to return to Thomas' apartments because they are very comfortable and always clean and ready for guests! He and his wife are quick to add things that guests need very quickly. In fact, this time I inquired about an iron and found him there as we arrived MAKING SURE the iron was there. Of course it was, just as expected; but it was nice to see him. Thank you again!
Stephanie
2016-11-28T00:00:00Z
Thomas was great! He was always easy to reach and very accommodating to our needs. He also gave great recommendations on restaurants and places to check out. The apartment was just what we needed for our stay. It was very clean and cozy. The location was perfect for us and it was easy to find. It was reasonably priced and an awesome place to stay.
Dora
2016-09-11T00:00:00Z
This apartment continues to serve us well in regularly visiting with family members. Every time we stay we notice a few extras that have been added or upgraded. For example, high-end Teflon cookware, small live plants inside, shadow-box style window that adds more sunlight to the unit and gives a nice place for more plants, constant additions to the kitchen supplies...the list goes on and on. As always, the TV, Wi-Fi, cleanliness, organization, communication, accommodations, are STILL WONDERFUL. Never do we reach for something and not find it! Also, these hosts go far and above the call of service in every way. If you reach out, they're either there very quickly in person or via an immediate text back! The best on the block!
Stephanie
2017-02-22T00:00:00Z
Very clean, large space. No steps for those with bad knees. Easy parking.
Samantha
2017-03-05T00:00:00Z
Huonetyyppi
Koko talo/asunto
---
Majoituspaikan tyyppi
Huoneisto
---
Majoittujien määrä
4
---
Makuuhuoneet
Johnson City, Tennessee, Yhdysvallat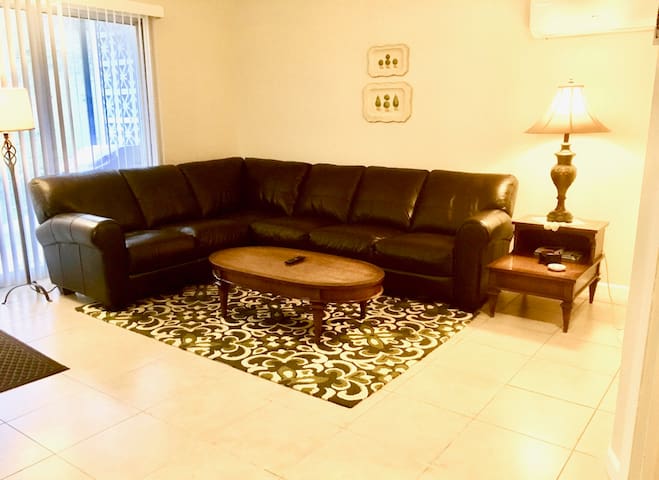 Enjoy your vacation on our organic family farm in the woods. Our new rental boasts full modern amenities, kitchen & comfort essentials. Farm fresh eggs, produce & canned goods available. Walk the creek, garden & check out the chickens & bees. Pet Friendly. Pet fee includes pet welcome package. Pet sitting available.
Enjoy full modern amenities in this first floor apartment of a larger 2 story passive solar farmhouse design featured by Debra Coleman of Sun Plans. Stretch out on a King in the Master Bedroom which also includes a set of twin bunk beds. The second room has a Queen canopy poster bed. All are quality, comfortable mattresses. The kitchen has coffee essentials, spices & fresh fruit. Bathroom has all the essentials. We also have fishing poles, tackle and a few inner tubes for tubing down the river to help complete your stay. No need to pack like you're moving. We have it all here for you. Just relax. We are tapped into a pristine artisan well. You'll want to take our water home with you. The apartment itself energy efficient, uses a mini split state of the art heating / cooling system, and has baseboard heaters throughout including in the rooms.
Our location is in Poplar, NC between Erwin, TN and Burnsville, NC. Minutes from the Unaka / Indian Grave Gap section of the Appalachian Trail and the Poplar Boat Landing, a popular fishing spot & put in for class 3 & 4 rafting. We are a great place to stay if you are thinking of visiting the area to go whitewater rafting at USA Raft, NOC, or Cherokee Adventures. We have loads of flyers for local attractions and some hand drawn maps to my favorite local trails and hangouts. Distances to Popular Destinations Erwin , TN - 25 min. Burnsville, NC - 30 min. Spruce Pine - 45 min. Johnson City, TN - 45 min. Asheville, NC - 60 min. Boone - 2 hrs. Tri-cities Airport - 60 min. Asheville Airport - 1hr 15 min.
Beautiful, modern home with all the amenities. Very spacious, can sleep a whole bunch of people, although there was just 2 of us and our dog. Fire place had plenty of wood, very cozy. Small gift shop inside the house with home grown dried shitake mushrooms which was cool. Probably the most comfortable bed I've ever slept in. Big river a couple miles down the road if you like to fish and a nice hikeable road/trail behind the property that is very pretty, otherwise just curl up with a book and turn off the cell phone.
Ash
2016-03-23T00:00:00Z
This was our very 1st time using Airbnb and were extremely pleased. Michelle and Lauren are wonderful hosts who welcomed us as family. The location is very tranquil and the accommodations are first rate. The apartment is very clean and updated. We had plenty of space to just sit and relax at the end of the day. Our dog was made to feel right at home. Having use of the fire pit we were able to make a bonfire every night. We purchased some homemade honey and jewelry. We wish we could have stayed longer. We will definitely go back.
Ray
2016-09-18T00:00:00Z
With how hectic my life has been, we wanted peace and quiet. which is precisely what we received. upon arrival we were excitedly waved in by little Mikey. We were given directions to the apartment and drove in to unpack for the weekend. Shortly after, Michelle and Lauren arrived and warmly welcomed us as well . We were invited tubing and to feel free to explore where ever we wanted on the property. The entire family are truly lovely people. We spent most of the weekend catching up on sleep or hiking the property. There is a gorgeous river just a 15 minute drive away where you can wade or tube for hours. We also took advantage of the meditation walk several times a day; so unbelievably gorgeous! The house was clean and opened up wonderfully to nature outside. I loved waking up to the forest views. The apartment had a full kitchen which we needed to avoid spending extra money or time going out. it also cam stoked with delicious milk and fruit. the entry also offered extras such as smores, pickled things, jams, etc. Lauren also made us delicious spaghetti to warm up and enjoy. Really, everything you could want or need is in this apartment! I look forward to my next stay!
Kimi
2016-06-28T00:00:00Z
My wife, Marie, and I spent two nights in February 2016 at Poplar Creek Farm's Creekside Apartment. Lauren was an excellent host. She welcomed us with a warm smile and a friendly demeanor. The apartment was clean and tidy, yet relaxed and welcoming. The little details go a long way: baggies, blankets, bowls and treats for our pup; affordable hand-crafted jewelry for sale (a great souvenir for friends/family back home); headlamps you can borrow for your treks into the wild; plenty of books to read and movies to watch; and enough fresh foodstuffs to whip up a nice hot meal upon arrival. The wood chimney is a godsend in the winter, and Lauren makes sure you have plenty of firewood to keep the fire going. In fact, it's so nice, we spent our second night in the living room recliners next to the fire! I promise you will want to spend a lot of time on those recliners, vegging out by the fire. If your dog likes to run around in the wild, they will love this place, but it's important to be mindful of the resident dogs' territory. Our pup is very eager to meet and play with other dogs, and the dogs in the property are not as interested in that, so we made sure to respect that. Lauren's family was very welcoming to his presence, however, even when he took it upon himself to play chase with one of their chickens. Their neck of the woods is stunningly beautiful and quiet. There were several inches of snow during our stay, and it looked exactly as it does in the winter photos (i.e. like a winter wonderland). The drive up the mountain makes for a great set-up, as it prepared us for the beauty of the property itself. We can't say enough good things about our stay at Poplar Creek Farm. Marie and I look forward to staying with Michelle and Lauren again sometime soon!
Alfonso
2016-02-15T00:00:00Z
Everything was great. We enjoyed the tour of the gardens and surrounding area that Lauren gave and were very happy to have a dog friendly place that would also walk our puppy when we went places that he couldn't go. Do be aware, however, that this is a pretty remote location. Be prepared to drive about 20 minutes before you get to the closest town or major roadway.
Shannon
2016-09-05T00:00:00Z
What a wonderful experience! Michelle and Lauren - the entire family-made us feel welcomed and at home. At the time of booking and again after arrival, we were invited to join their family for Thanksgiving dinner! After our days of travel, my wife and I were happy to hang out and nap on the comfy couch and missed dinner - but were given the most delicious leftovers the next day. We spent our first full day exploring the area - specifically Grandfather Mountain. The next day, we explored the area around the farm and enjoyed the beautiful scenery. I would recommend a tour of the farm! We rented the entire apartment for our stay, as we were travelling with our dog. The apartment was clean, welcoming and very comfortable. The kitchen had everything we needed, the bathroom (shower) felt great after our long walks and the bed offered some really great nights of sleep. And since it was late November when we stayed, the wood stove took the chill out of the air and offered ambiance! We plan to visit again, maybe earlier in the fall to enjoy the fall colors!
Joseph
2015-12-01T00:00:00Z
This place is awesome! Very secluded, but the hosts are always available when you need something and very fun and friendly. The beds are super comfy and the apartment is clean and cozy. The floor does get chilly, so bring slippers. Walking distance to hiking trails and a short drive to the Appelacian Trail. We loved it so much, we stayed an extra day. You won't be disappointed!!!
Kindra
2017-03-24T00:00:00Z
What a great place!, what warm and hospitable hosts!, my friends and family had a wonderful stay and I can't say enough on how helpful and caring Michelle and Lauren were. Truly a remarkable farm and way of life that open my eyes to many new things. Great communication, and really made our stay truly special. Highly recommend.
Juan
2016-01-03T00:00:00Z
Huonetyyppi
Koko talo/asunto
---
Majoituspaikan tyyppi
Huoneisto
---
Majoittujien määrä
6
---
Makuuhuoneet
Green Mountain, Pohjois-Carolina, Yhdysvallat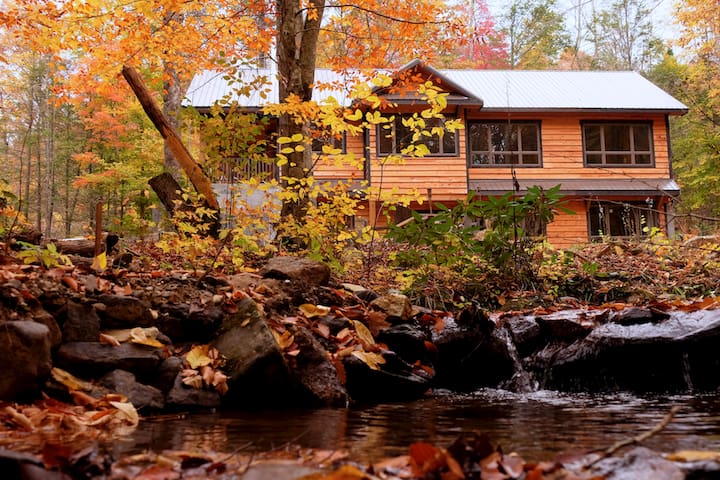 Enjoy a private cabin with beautiful mountain views. Located in the Northeastern corner of Watauga Lake and the Appalachian mtns in TN. Perfect location for fishing, hiking, boating, skiing and October fall spectacular scenery.
Located minutes away from Cove Ridge Marina, Fish Springs Marina , and Lakeshore Marina on the gorgeous and picturesque Watauga Lake. Guests of cozy cabin will enjoy close access to the Appalachian Trail, Laurel Falls, and Dennis Cove all located within 10 miles from the cabin. Winter sports are also a hit at this location. Skiers enjoy Sugar Mountain, Beech Mountain, and Appalachian ski resort all located within 30 miles. Enjoy the mountainous, winding road as you drive across the lake to Butler. If NASCAR is of interest to you, Bristol Motor Speedway is 32 miles away! The speedway in lights is a spectacular display during the holidays offering a snow tube, ice skating and Santa visits.
David's place is great! Comfortable and well appointed. David and his wife were most accommodating with my schedule. I knew I was going to be coming back late and did not want to bother them. They completely understood and made the visit great. I would like to come back again and explore the beautiful lake next time.
Clyde
2016-09-10T00:00:00Z
Really a great value, clean, quiet ,quaint and comfortable. There wasnt a stove which caused a change in plans and no sitting area or chair for table. this would be a great setting for a fishing trip or a getaway for solitude but not a romantic getaway.
David
2016-11-04T00:00:00Z
The cabin was very quaint and comfortable and had everything we needed. We were able to bring our dog with us and he even left some dog biscuits! The scenery was beautiful and we were able to do some great hiking. The cabin had excellent wifi which made looking up maps and trails in the area very easy! We enjoyed our stay!
Celeste
2017-03-05T00:00:00Z
Wonderful. Could not ask for more. Best little cabin in the woods.
Linda
2017-03-18T00:00:00Z
BEST EVER.
Linda
2017-03-19T00:00:00Z
5 stars! The cabin is fantastic, it has everything you need and more. The area is beautiful with lots of trails to explore and we can highly recommend Monsoon's for some authentic Thai cuisine. David and his wife made us feel very welcome - we wish we could have stayed with them for more than one night.
Verity
2016-09-23T00:00:00Z
Very nice place! Great Value and nice hiking experience around!
Marc-Alexandre
2017-02-15T00:00:00Z
The host canceled this reservation 5 days before arrival. This is an automated posting.
MICHAEL
2017-03-06T00:00:00Z
Huonetyyppi
Koko talo/asunto
---
Majoituspaikan tyyppi
Huoneisto
---
Majoittujien määrä
3
---
Makuuhuoneet
Butler, Tennessee, Yhdysvallat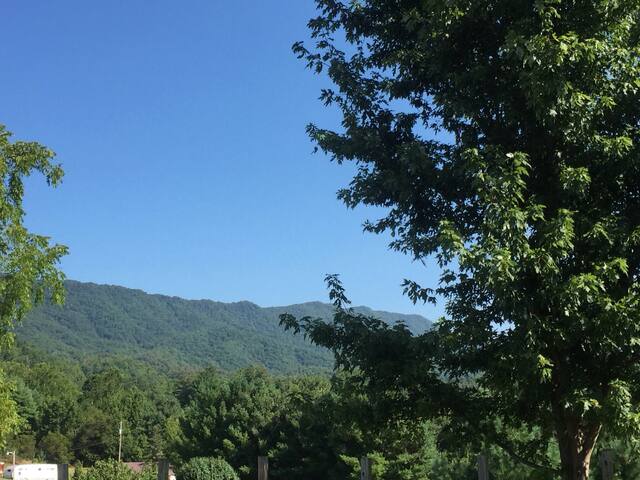 This open layout space is open and inviting. I love the fireplace and solid wood family history elements such as my maternal grandfather's quarter-sawn oak desk and my paternal grandfathers gun over the fireplace. It is my favorite place to write.
All one room with detached bath that has laundry. Fireplace, TV with Netflix and HDMI connection for computer. Record player with vinyl album selection, plenty of bookshelves, couch/futon and single bed. Kitchenette with convection burner, microwave, roaster oven and small faucet and fridge.
Right in Johnson City, yet with nothing but a creek and miles of mountains behind, my neighborhood is close to everything but you feel like you are in the country.
Brady is a very friendly host and gave us lots of privacy. The house was super convenient location for my son & I on a road-trip to see NASCAR at Bristol Motor Speedway. The basement room was BIG, clean and a bit eclectic. We had our own entrance at the back with an electronic lock for easy in/out without a key, and the outside was well-lit for coming and going at night. We heard no noise from inside or outside the house & so we got plenty of needed rest after long days at the race track. This is a great place to crash if you're out doing other stuff, and was perfect for my son & I; but this is not the place to bring your girlfriend or wife on a romantic weekend. Think of it like staying in your bachelor friend's basement with basic amenities. Bring your favorite pillow and a towel if that's important to you. I slept on the very basic mattress and my son took the basic futon...nothing fancy here but we MUCH preferred it to checking into/out of some rando motel.
John
2016-08-22T00:00:00Z
Brady was the best. I landed at his house after hard day of driving and not feeling well. He listened so well and even made me a peanut butter sandwich so I could take my medicine! Lovely person.
Jane
2016-07-29T00:00:00Z
Brady was very communicative before arrival and provided a great video explaining what to expect.
Mary
2016-09-11T00:00:00Z
Second stay at Brady's place. Cozy and convenient. Thanks, man!
Michael
2016-07-22T00:00:00Z
Brady made me feel welcome at his home. I loved the open layout of the spacious room and plan to go back, the next time I am in this area.
Ramona and Abigail
2016-03-06T00:00:00Z
We had a great experience staying at the Writing Retreat. Brady was very hospitable and accommodating. He was very gracious even though the time we were to arrive kept getting later. He even helped us with our bags. The space was very comfortable, quite large, and provided exactly what we needed...a very comfortable bed, a fridge for some leftovers, and privacy. The most pleasant part of our stay was a nice conversation with Brady the next morning and a warm send-off.
Suzanne Brindamour
2016-07-04T00:00:00Z
Brady was an awesome host and I highly recommend staying with him if you're ever in Johnson City and don't want to spend $100 or more on a hotel room. The location is within a 5 minute drive of downtown and his neighborhood seemed to be quiet and peaceful. I was in town for a running race and he was totally cool with me needing to be up at 5 am and out the door by 6 which I appreciated. I also thought it was cool that he seemed to really care and listen to me talk about the race when I got back to the house. So Brady himself felt like a genuinely good person. This was my first experience using Airbnb for a private room and the bar has been set pretty high. If I'm ever in the area again, I will not hesitate to book with Brady again.
George
2016-06-26T00:00:00Z
Highly recommend this place. Not only was Brady just amazing, the room was more of an apartment and it was extremely comfortable. Brady had so Much hospitality, and I can't say that enough!! Thank you Brady!!!
Sharon
2016-07-25T00:00:00Z
Huonetyyppi
Yksityinen huone
---
Majoituspaikan tyyppi
Huoneisto
---
Majoittujien määrä
2
---
Makuuhuoneet
Johnson City, Tennessee, Yhdysvallat
My place is extremely close to Johnson city medical center, 5 min walk, 10 min walk from VA medical center. 3 to 4 min walk from the major shopping areas and restaurants , TRI airport is a 20 minute drive from my place, I can however help you with that if needed. You'll love my place because of It is extremely well located, clean , spacious, You will have an entire bed room to your self, and I am a very chilled out host.. My place is good for couples, solo adventurers, and business travelers.
Amit's accomodations are very simple, and as long as there aren't expectations otherwise, it is an affordable place to stay.
Thomas
2016-10-09T00:00:00Z
Amit was a great host! Very communicative and generous. He even drove me to the bus station. It's a completely separate room with its own bathroom, and described accurately. Convenient for visiting ETSU and the hospitals there.
Vidiya
2016-11-28T00:00:00Z
The host canceled this reservation 14 days before arrival. This is an automated posting.
Cindy
2016-12-05T00:00:00Z
Amit was a great host. Sincere and willing to help however he could. The room was very basic, but I did have access to the main living areas of the apartment, and it suited my needs perfectly. I would definitely recommend him if you need a room on a budget, and a gracious host. Thank you Amit.
Heidi
2017-02-22T00:00:00Z
Amit was extremely hospitable and sweet. The room was exactly how it was advertised-simple and clean. Perfect place to crash
Jessica
2017-03-18T00:00:00Z
Amit was a very nice and welcoming host. Place is good value an in a very convenient location. We asked if he would drive us to where we were starting hike on Appalachian Trail and was great about that!
Terry
2016-10-15T00:00:00Z
Basic, clean accommodations as advertised; bed with private bathroom. Right next to medical center and many restaurants. Amit is very friendly.
Damon
2017-03-16T00:00:00Z
Amit was great at communication before my stay. He was out of town during my stay and simply wanted me to leave the door unlocked when I left. The room was ok. But, the kitchen, living space, and rest of apartment were very dirty. I didn't see a trash can or any kitchen utensils like cups or silverware. But, then again, I didn't really open many cabinets because everything just seemed a little dirty and gross. I also saw several bugs around the home (spiders, weevils, beetles, and other creepy crawlies). I booked this because this was very cheap and because I'm not very picky. But, I would have preferred to have paid more money for a cleaner apartment. I suppose it is possible that Amit left for his trip in haste and did not have time to clean and prepare.
Clare
2016-12-22T00:00:00Z
Huonetyyppi
Yksityinen huone
---
Majoituspaikan tyyppi
Huoneisto
---
Majoittujien määrä
2
---
Makuuhuoneet
Johnson City, Tennessee, Yhdysvallat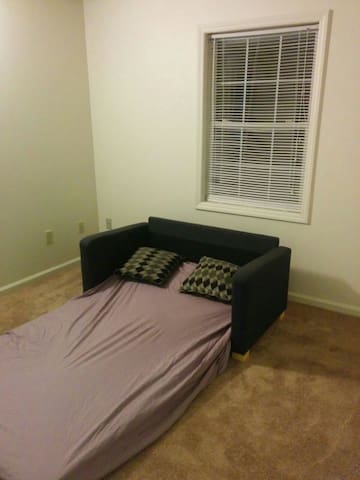 Centrally located to outdoor activities: Appalachian Trail, Creeper Trail for bicycling, choice of four lakes for boating, canoeing, kayaking and fishing. We have some of the prettiest parks & hiking trails. Special events: Bristol Rhythm & Roots, Jonesborough International Storytelling, Bristol Motor Speedway races, "Battle at Bristol" TN and VA Tech Football Game. Cultural: Birthplace of Country Music Museum, theaters, art galleries & antiques galore. Free outdoor concerts in the summer.
My apartment is centrally located between the "Tri-Cities which include Johnson City, Bristol and Kingsport.
There is a boat launch and restaurant next door with access to Boone Lake.
Wonderful home and even more wonderful host! Highly recommended!
Ken
2016-06-20T00:00:00Z
First off, Cheryl was very accomidating with our arrival time which was as 10:00 pm. She greated us and showed us around the apartment and made sure we had everything to be comfortable. There was coffee and breakfast items to get us through each morning and we had the pleasure of being a guest for dinner one evening. My son and I stayed at Cheryl's place because it was centrally located to the South Holsten River and the Watauga River which are premier streams for fly fishing. I will definitely stay at this place again and I would recommend that anyone who fly fishes to consider this location.
Jane
2016-11-07T00:00:00Z
We had a fine experience, no complaints, and would stay again.
S
2016-08-21T00:00:00Z
I have to say this was my first airbnb adventure and I'm glad to have shared it with ms Cheryl she was a great host, the house is spacious and comfortable was in a convenient location! Would be more then happy to book with her if ever in kingsport again! Thank you for all you did for us while we stayed in your home!
Kaleb
2016-08-20T00:00:00Z
Cheryl will make you feel at home with her warm welcome and the extra comforts of her apartment. Cheryl obviously takes pride in providing a clean comfortable place providing all of the amenities of home. She is a delightfully,friendly hostess. Catherine &Jeff
Catherine
2016-11-26T00:00:00Z
Cheryl went out of her way to make us feel welcome and cared for. We appreciated the breakfast and snack options. She explained everything in the property, helped with dinner ideas and directions, and even printed my boarding pass. Personally, she is a warm and caring person who makes you feel at home, even gave us individual Christmas cards upon leaving.
Wendy
2016-12-16T00:00:00Z
My husband stayed here for about 6 weeks. Our family is in transition due to relocation of his job. Cheryl was able to accommodate my husband and provide a safe and comfortable apartment! Cheryl is extremely nice and made sure he had everything he needed! We definitely recommend this location!
Megan
2017-02-28T00:00:00Z
This wonderful host and her perfectly located and huge apartment (which was really a massive bottom floor of her house completely separate from her living area- with a full kitchen, massive bathroom and even bigger living room) were even more than was expected! Cheryl was incredibly accommodating with check in and out times as well as keeping us in the loop with everything Bristol! Would highly recommend this for anyone headed to the race track or just a relaxing Tennessee getaway!
Krista
2016-09-12T00:00:00Z
Huonetyyppi
Koko talo/asunto
---
Majoituspaikan tyyppi
Huoneisto
---
Majoittujien määrä
4
---
Makuuhuoneet
Blountville, Tennessee, Yhdysvallat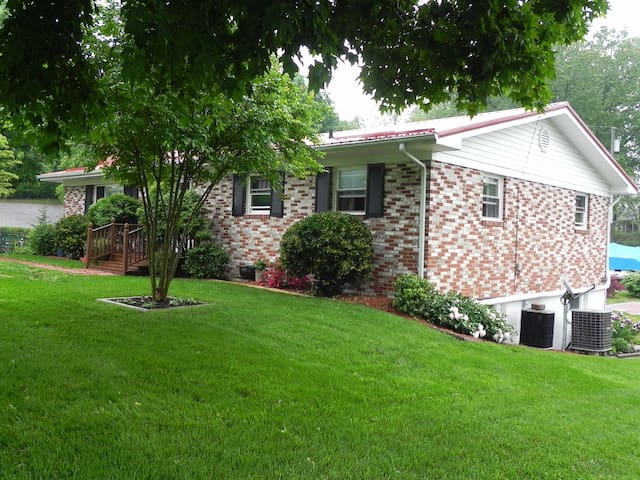 70 acre working cattle/sheep farm located in the scenic Appalachian mountains. Near I-81 & minutes from Bristol VA/TN & Bristol Motor Speedway. Roomy bsmt apartment sleeps 4-5. Spring/Fall races at BMS & Bristol Rhythm & Roots.
One Bedroom with a double bed & closet, large common area with kitchenette (fridge, microwave & sink), couch & sofa bed couch. Room for additional air mattresses. Large bathroom, Wi/Fi, HiDef surround sound entertainment system w/72" screen. Small dogs allowed $25/night additional fee.
Quiet, country living is what we offer--yet literally 'right over the hill' from a movie theatre, a multitude of shops, dining experiences, and more!
I can't say enough about Johnna and her husband Saul. Their home was amazing. What a location and what a view and the finished basement where we stayed was super clean, comfortable and had everything we needed. Their hospitality was just amazing, Second to none. We are already planning to go back next year and stay with them. A 5 star place and 5 star people to stay with for sure.
Cliff
2016-08-21T00:00:00Z
Simply a great place to stay. Johnna and family made us feel right at home. They welcomed us into thier beautiful home and family, treated us as part of the family the entire time. Feels like you are far away from it all, but actually close to Bristol and I-81.
Robert
2016-09-12T00:00:00Z
Huonetyyppi
Koko talo/asunto
---
Majoituspaikan tyyppi
Huoneisto
---
Majoittujien määrä
4
---
Makuuhuoneet
Bristol, Virginia, Yhdysvallat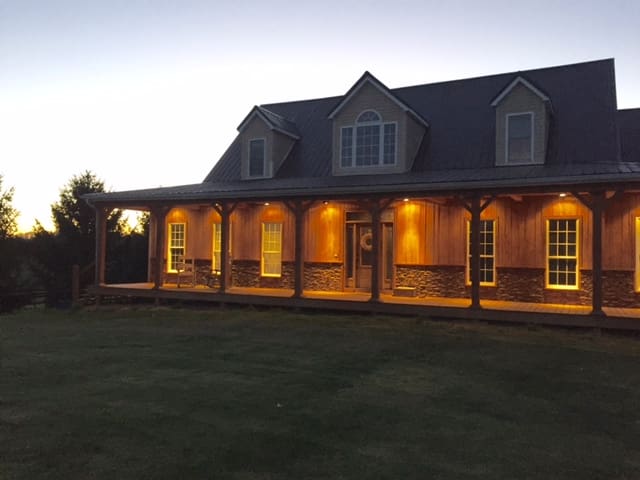 Our place is good for almost anyone! You are getting one whole side of a duplex that is completely private, approximately 1000 Sq ft. Includes private fenced backyard, newly renovated and very clean with modern decor and comfortable beds. Just minutes from historic State Street, Bristol Motor Speedway, and easy I-81 access. * I welcome pets, however they will be considered on a case by case basis, please message me before you book if you are traveling with pets.
A cozy, cabin like feel. Satellite TV in living room and single person jacuzzi in the master bath. Also enjoy two very comfortable beds, a sofa, and a fully stocked kitchen with all the essentials including silverware, a microwave, coffee pot, gas range, and refrigerator. All bedding linens, towels, etc. are provided. Outdoors there is a nice covered back patio with a gas grill and sitting space and and covered front porch with rocking chairs.
Located on a corner lot within walking distance of a convenience store. A very safe neighborhood. Very quite and respectful neighbors on the other side of the duplex. Great neighbors in the neighborhood as well.
The house was spotless and very nicely decorated!! It was beyond our expectations, I will be booking again the next time I come back to Bristol!!
Gordon
2017-03-27T00:00:00Z
Wonderful location! Quiet, residential location that's minutes from downtown, the Speedway, and Exit 7 attractions. Pictures don't convey how well the place is decorated and all the thought-out details. Chad even left a bag of kitty treats for our kitty who traveled with us, along with other snacks. In addition, there was a basket of various travel size toiletry items provided in the bathroom. The backyard is completely fenced in, allowing pets to safely be outdoors. The kitchen was fully functional and stocked with pots, pans, and dishes....making cooking easier than any other time I have traveled. The master bed was amazingly comfortable, better than some hotels and timeshares I have stayed at in the past. I literally have nothing but positive comments to say about this place and I won't hesitate to book it again when I travel back into the area.
Brandie
2017-03-15T00:00:00Z
Chad's place was clean and spacious. Wonderfully decorated and he left snacks and extra's of everything you might forget while traveling. Great host. Loved the front porch with rocking chairs and plenty of room to sit and visit!
Amy
2017-04-02T00:00:00Z
Very clean place with up to date decor. And easy access to interstate
Richard
2017-02-26T00:00:00Z
Chad is the perfect host and has thought of everything! He has set the bar for other Airbnb host. If you have an event within a 30mi radius, stay here! It is worth the extra drive. Thank you again for a perfect stay Chad. Your home is lovely, squeaky clean, updated, and offers everything anyone could wish for. Also important, safety for your 4 legged baby with a secure, enclosed outdoor family area.
Andrea
2017-03-05T00:00:00Z
Very lovely convenient and clean place. Chad is always reachable and helpful. I will definitely recommend this place to any one who passes by Bristol.
Vijay
2017-03-17T00:00:00Z
Chad is very helpful, quick to respond, and friendly! The place is also gorgeous. We definitely enjoyed our stay here.
Madison
2017-03-20T00:00:00Z
Huonetyyppi
Koko talo/asunto
---
Majoituspaikan tyyppi
Huoneisto
---
Majoittujien määrä
5
---
Makuuhuoneet
Bristol, Virginia, Yhdysvallat
2nd-story, clean one bedroom with swimming pool/gym access.
The host canceled this reservation 14 days before arrival. This is an automated posting.
Lara
2016-06-11T00:00:00Z
The host canceled this reservation 12 days before arrival. This is an automated posting.
Marykate
2016-06-11T00:00:00Z
Anahita was there to greet us on arrival, gave us the basic info we needed and was on her way. She was available by phone for questions but we only had one. My only problem was her extra firm bed which bothered by bursitis but that is a personal choice and not a negative. The building did lose power on the morning we were going to leave but again not a negative, just an experience that we all have to deal with time to time. Overall stay was great and we would stay again if in the area.
Jude
2016-08-22T00:00:00Z
Huonetyyppi
Yksityinen huone
---
Majoituspaikan tyyppi
Huoneisto
---
Majoittujien määrä
2
---
Makuuhuoneet
Johnson City, Tennessee, Yhdysvallat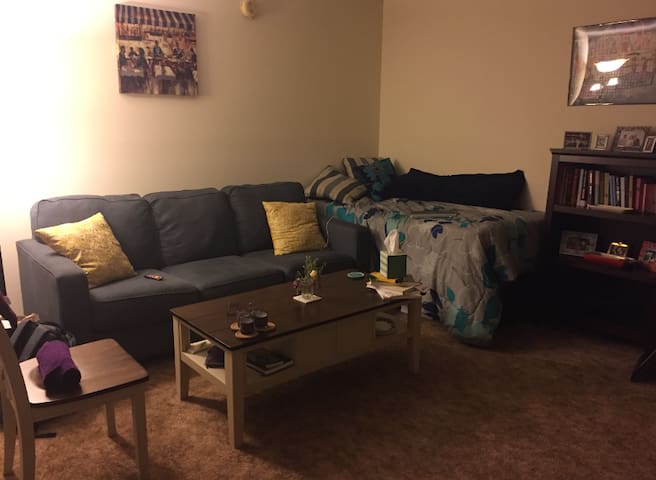 My place is close to the city center, restaurants and dining, parks, and great views. You'll love my place because of Modern newly constructed suite offering scenic views in the heart of the city. Wet bar, spacious bathroom and vaulted ceilings complete your experience..
Huonetyyppi
Koko talo/asunto
---
Majoituspaikan tyyppi
Huoneisto
---
Majoittujien määrä
2
---
Makuuhuoneet
Johnson City, Tennessee, Yhdysvallat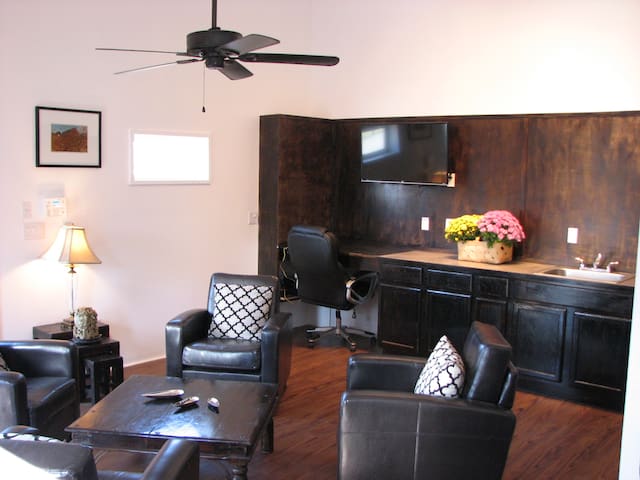 1

–

18

hakutuloksista

44 vuokrattavaa huoneistoa
Anna päivämäärät nähdäksesi kokonaishinnoittelun. Lisämaksuja sovelletaan. Veroja saatetaan lisätä.