Anna päivämäärät nähdäksesi kokonaishinnoittelun. Lisämaksuja sovelletaan. Veroja saatetaan lisätä.
3 vuokrakohdetta
· Kezar Lake
3 vuokrakohdetta
· Kezar Lake
Ce confortable 1 chambre à coucher (avec mezzanine de sommeil) maison d'hôtes est située sur le lac Kezar exquise. Obtenez loin de tout pour profiter d'un environnement paisible lac ou de la randonnée dans les montagnes voisines .Paddle, nager, pêcher, chasser, ou tout simplement être!
La Coop est une cabine hiberné facile à chauffer avec plinthe ou poêle à bois. Ceci est un chalet confortable - ne pas amener les gens ne vous plaisent pas, mais ceux que vous voulez apprendre à mieux connaître! La cuisine et le salon sont un espace ouvert - vous pouvez cuisiner, lire et parler tous ensemble. Le loft est accessible par une échelle verticale, et ne convient pas pour les petits enfants ou des personnes âgées. Trois lits là font un excellent endroit pour les enfants. La salle de bain est accessible par la chambre du bas qui a un lit queen très confortable. Ceci est un endroit pour débrancher, rebrancher et recharger. Il y a des livres à gogo, des jeux et des puzzles. Il n'y a pas d'internet, et pas de télévision. le service cellulaire est sommaire, mais il y a une ligne fixe de travail. L'ensemble Coop est le vôtre! Le grand porche est actuellement enfermé dans verre- une grande aire de repos pour vos aventures. Parking pour deux véhicules est juste en face. Il y a des kayaks et un canot disponibles pour l'utilisation, en tant que locataires propres risques. Il est vraiment difficile de nous trouver dans l'obscurité! S'il vous plaît essayer de venir pendant les heures de lumière du jour si vous le pouvez. Ceci est une maison d'hôtes sur un terrain clôturé d'un acre partagé. Mon mari et moi vivons ici toute l'année avec nos 3 chiens sympathiques et un vieux chat. Le chalet est privé; la plage, table de pique-nique au bord du lac et d'un foyer sont des espaces communs. Nous sommes disponibles pour vous aider à découvrir la région et de recommander des activités.
Wifi est disponible à l'extérieur et de la Bibliothèque Charlotte Hobbs, à 10 minutes en voiture - prenez une tasse de café et un beigne au Rosie dans la rue! Le Stow Corner Store est le magasin général / restaurant le plus proche - Mo fait chili et le petit déjeuner friandises méchants !! Grande sélection de café, de la bière et du vin. Les véhicules personnels sont vraiment la seule façon d'aller ici, mais si vous aviez un cheval que vous seriez le bienvenu. La Coop est un excellent point de départ pour une variété d'activités. Kayak et canoë sur place avec des bateaux, pagaies et VFI à utiliser sur le lac. Chasse à distance de marche, la pêche (presque) juste à la porte: basse, hornpout, ouananiche. Il est situé sur le bord de White Mountain National Forest avec des possibilités de randonnée pour tous les niveaux. La landtrust locale entretient de nombreuses propriétés à proximité avec des sentiers bien balisés. 40 minutes pour les points de vente de North Conway, et à 25 minutes à Bridgton Maine, avec un cinéma drive-in et un centre-ville pittoresque avec de nombreux restaurants et magasins d'antiquités. Les activités hivernales sont abondantes! mobiles de neige sont disponibles à la location dans les environs de Fryeburg, ou apporter votre propre. Kezar lac est de 75 pieds de la porte d'entrée. Aucune garantie de conditions de glace, mais la pêche sur glace et cross-country randonnées de ski peut être amusant! Il y a amplement l'occasion de mettre sur une paire de raquettes (2 paires d'emprunter) et profiter des forêts du Maine. Il y a une zone de fiducie foncière locale avec des sentiers non damés limitées à distance de marche, et nos routes locales sont agréables pour anad marche vérifier vieux murs de pierre, des pistes de cerfs et de dinde - et orignal ?. Ne pas oublier votre appareil photo!
My partner, Matt and I really enjoyed our stay in the Coop! Pefect for a couple or small family/group of friends seeking a serene getaway in a beautiful place! I can only imagine how amazing summers here are, the winters are gorgeous! You can feel the history that's happened in this cabin, and you can tell that you're in a place where good memories were made! Towels, kitchen supplies, all the necessities totally supplied for you. Loved the board game/puzzle closet. Just an overall cozy little cabin and a great place to stay! Be sure to find the journal and write a little note about your time there.
Katelyn
January 2017
Very nice location for a get away. Right on a lake. Perfect size cabin with woodstove. Everything was in working order and we could bring our dog which was a huge plus for us coming here. He was able to roam around and play in the snow. Linda was a great host. Very respectful of our privacy but was also very friendly. Great breakfast/lunch spot close by at the Stow General Store. Nice hiking close by as well. I highly recommend this place.
michael
December 2016
It was an incredible place next to a lake. It is perfect cabin to take some rest and spent nice calm time with friends or family. We really enjoy everything! Linda and her husband are helpful every time! Thank you!
Marianna Julia
January 2017
My weekend at Linda and Heiner's cabin was a great relaxing escape. The cabin itself is very comfortable and has all the amenities you could ask for. We were close enough to the White Mountains for hiking, but still secluded. We also had almost all of Kezar Lake to ourselves. Anyone looking for a quiet escape should consider it.
Matt
January 2017
This place is magical! We came just after there'd been quite a bit of snow, and it was like a winter wonderland. The second morning we were there, we went out on the frozen lake with mugs of hot chocolate to watch the sunrise...can't imagine a better start to the day! The cabin kitchen was incredibly well-stocked, which was great for making a few meals there, and the wood stove was so cozy. Cross-country skiing and hiking is not too far away in Bethel, ME or the White Mountains, and Ebenezer's (one of the best beer bars in the U.S.), is just 15 min. away. Linda and Heinrich even loaned our puppy a dog toy that he loved playing with while we were there! We can't wait to come back and check this place out in the summer, since the location right on the lake can't be beat.
Sarah
February 2017
My friends and I loved The Coop! It was a great getaway weekend. The place was very clean and Linda met us upon arrival to provide us with details and show us around. We went ice fishing on Kezar Lake for the weekend, and the Coop was an ideal place to rest up and relax at night in front of the heat stove. I highly suggest the Coop to anyone looking to unplug for a weekend! We will definitely be booking another trip down the road.
Van
January 2017
A beautiful setting on Lake Kezar with friendly, gracious & helpful hosts. I obtained an abundance of fond memories during my stay, and look forward to returning!
Jeanine
November 2016
The Coop is great place to unwind and get away from the crazy! Linda is a fantastic host - very responsive, flexible, and met with us to get acquainted. She even left us a nice bottle of wine and card for my wife's birthday! Her dogs are sweet - her retriever came out to greet us and make our pup feel welcome. The cottage is cozy and we were thrilled to find a cribbage board in the cupboard, and enjoyed reading by the wood stove. The lake is beautiful and has lots of history, and Fryeburg is a 15 minute drive for groceries, drinks, and convenience stores. Make sure you swing by Stow Corner Store for some Homemade Chili, fresh coffee, local directions, and advice. We need to come back in the summer and enjoy some fishing, etc. thanks again, Linda, for a great weekend.
Scott
March 2017
Huonetyyppi
Koko talo/asunto
---
Majoituspaikan tyyppi
Guesthouse
---
Majoittujien määrä
4
---
Makuuhuoneet
1
Lovell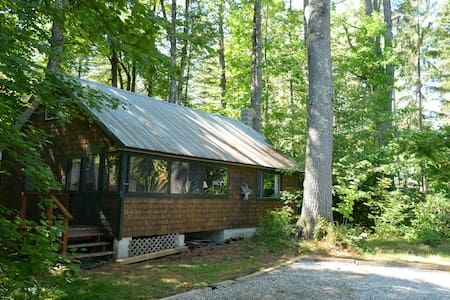 Mi lugar es bueno para parejas, familias (con niños), y amigos peludos (mascotas). Disfrutar de todo lo que el oeste de Maine tiene para ofrecer, desde las actividades del lago de esquí, motos de nieve, senderismo o simplemente para relajarse. Una escapada perfecta.
Steve's cabin is the quintessential lake house: remote but easily accessible, full of charm and well appointed. We loved waking up to beautiful views of the lake and sipping tea in front of the fireplace. Overall the cabin is spacious and we appreciated the attention to detail. Everything was very well organized and Steve was quick to reply to messages. I hope to see it again in the summer!
Estée
December 2016
Steves lake home was magical. Me and my family spent my birthday week there and I can't describe how beautiful and peaceful it was. The house was perfect and the lake was out of this world! He did nothing but make the experience fantastic, replying fast and eager to make sure we were having a wonderful time. We went to 302 smoke house down the road and ate some tasty food and won trivia night (the locals weren't impressed) haha! Nothing but 100 stars for this home, can't wait to come back!
Maranda
September 2016
Steve was a wonderful host. He checked in with us within the first hour to make sure everything was ok. The house is fantastic. The kitchen, dining room, living room and sun porch were all open to each other so it was great for our family getaway, lots of space to hang out with each other. The four bedrooms were large and we appreciated the Wi-Fi at the house too. The location was spectacular right on the lake and the views were beautiful of the leaves changing. We enjoyed our family weekend getaway and will be returning next year! Thanks Steve!
Caitlin
October 2016
Home was beautiful. Exactly like the pictures. Steve was very easy to contact and got back to us extremely quickly. We will certainly stay here again! Thank you Steve
Brian
November 2016
Let me just start out by saying wow ! This was an unbelievably beautiful place to stay. Steve was very quick to get back with any questions that I had. Checking in to make sure I was settled in. We will definitely be coming back as this is now one of our favorite spots . It was so nice because this particular place gave us a very cozy feeling it was a little rainy one afternoon but we are cozed up on the couch with the fireplace and it was just perfect .
samuel
September 2016
Awesome location if you want to get away from civilization and relax, cool pub around the corner, bridgton is 20 minutes away.
Alfie
December 2016
A beautiful, updated home on a very quiet and peaceful lake with terrific mountain range views. We could kayak right from the dock. Everything was comfortable and clean. We would definitely stay again!
Jennifer
September 2016
The home was absolutely wonderful. The pictures were accurate. This home was very comfortable and had everything you needed.
Dorothy
September 2016
Huonetyyppi
Koko talo/asunto
---
Majoituspaikan tyyppi
Talo
---
Majoittujien määrä
8
---
Makuuhuoneet
4
Lovell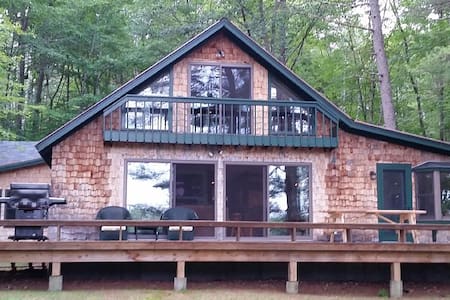 非常私人的设置这个湖前,在Kezar湖3间卧室的平房。享受划船,游泳,远足和怀特山脉的壮丽景色。国家地理作为世界上5个最美丽的湖泊排名第一。包括沙滩,一亩半林地,并查看白山。双玻璃推拉门导致甲板俯瞰湖。免费使用17英尺独木舟,两个2坐着皮艇和2个单皮艇。
在机舱内的堂屋是一个开放的平面图,有14大教堂的天花板,和大约24'24'。这个空间包括: 设备齐全的厨房:冰箱/冰柜,烤箱/炉灶,洗碗机,微波炉,咖啡壶,电扒炉,存储储藏室,并储备充足的厨房用具和餐具。 客厅:沙发,爱座位,柴炉 用餐区:座椅8 - 10 这主要房间还设有2套滑动玻璃门,通往我们的私人甲板的。自定义窗口延伸到天花板全,自然光线和Kezar湖的下湾的美丽的景色。 浴室: 全浴室,浴缸从堂屋访问 独立的主浴室的大卧室 理由: 小屋坐落在1/2英亩土地与170英尺湖临街。它包括一个小型的私人海滩,并与硬件系泊您的船私人码头。我们有一个17'canoe,2串联皮艇,并为您无需额外付费使用单人皮艇。 我们的棚包含船桨,救生衣,沙滩椅。我也强烈建议我们的吊床上转一转,在水的边缘,坐落权 - 这是对我们的财产最放松点! 我们也有供您使用炭火烧烤。请使用后清洗。 整个机舱是我们的客人访问,除2只适用于业主使用标记壁橱。 如果您在入住期间有任何疑问或问题,请不要犹豫与我联系。我会提供的个人移动和电子邮件,一旦你已经预订您的行程。
我们的小屋位于一个私人的,穷途末路的土路,由街道的业主维护。维护这条道路都有它的挑战,特别是由于恶劣的冬季缅因州。但是,这大大增加了质朴的魅力和特色,以我们的邻居,我们不会有任何其他方式。 本地热点: 好了,真的没有任何热点。你在树林里。但这里有几个地方的场地: 罗西村店:234主街,洛弗尔 良好的OLE老式吧台与回简单而丰盛的供品缅因州的一个表。 Rosie的是我们镇上一个长期的主食。如果你想结交朋友与当地人,这是为了满足他们的地方。 洛弗尔中心市场:1007 MAIN ST,洛弗尔 餐厅菜单有限,但漂亮的自制产品;一般商店有所有的基本知识,包括鲜肉选择熟食店 Ebenezars餐厅和Pub:44 - 阿伦路,洛弗尔 这可能是你将永远参观最有趣的酒吧。这是藏在一个孤独的树木繁茂的街道上Kezar乡村俱乐部高尔夫球场的后端。它有一个舒适,经典缅因州的装饰,拥有比利时啤酒的最独特和全面的解决方案的任何地方(包括比利时)之一。这个地方被评为#啤酒倡导杂志在美国,1扎啤酒。乡亲们走出木工来这里品尝自来水的35种不同的比利时啤酒之一。 Kezar湖码头:219西尓路,洛弗尔 如果您正在寻找租一条船,李某提供了这里1/2天出租,全日或每周租金。这也是让你的船检查欧蓍草在启动之前的地方。保持我们的湖泊干净! 牛津House Inn酒店:548 MAIN ST,Fryeburg的 特殊场合?试试这个宝石。这是任何地方我们的最爱之一。这是一个华丽的,百年老酒店。食品和服务是神话般的。在保留其里屋一张桌子从他们的后院获得山脉的美景 带来什么:床单,纸制品,木炭, 垃圾桶:你负责你的垃圾清除。采取一切垃圾桶洛弗尔镇转运站关闭保留时间5小时运行的是周三,周四,周六,周日上午8时 - 下午5点
Huonetyyppi
Koko talo/asunto
---
Majoituspaikan tyyppi
Mökki
---
Majoittujien määrä
8
---
Makuuhuoneet
3
Lovell
Kezar Lake - Airbnb
:
Keskimäärin

5

tähteä yhteensä

5

21

vierasarvostelusta
1

–

3

hakutuloksista

3 vuokrakohdetta