This little unit, situated high in the trees on a 10 acre block, sits behind the family home and is connected by a large, covered, outdoor entertainment area. The 10 acre property is 'For Sale'. Enjoy drinks and nibblies while relaxing on your balcony, a meal at Country Life Hotel or Kin Kin General Store & Cafe/Restaurant. Surf and swim at the pristine beaches along the Noosa coastline. It's only a 40 minute drive to the iconic Hastings St in Noosa where you can shop til you drop.
The unit is fully self contained with cooking facilities including stove, oven and microwave. It comprises open plan lounge/dining/kitchen which opens to the balcony, 1 bedroom with a roomy ensuite bathroom. We supply a litre of milk for your arrival with a variety of teas, instant and pod coffee, hot chocolate, porridge and selected cereals. If you like toast for breakfast, bring your favourite bread as we supply portions of butter, vegemite, jam, marmalade and honey. We also have raw and white sugar, tomato sauce sachets, spray and pour oil and salt & pepper.
Beautiful scenery in a great location. Kin Kin is simultaneously isolated enough for a get away, but also within driving distance of a number of great beaches and other attractions.
Nicholas
2016-12-03T00:00:00Z
Helens place is just devine. I could sit on that verandah listening to the birds for ever! Helen went out if her way to make us feel welcome, and kin kin is a gorgeous town with an awesome cafe and local pub.
Jodie
2016-09-21T00:00:00Z
Very nice! Terrace with a beautiful view, country location. Cozy, clean and has everything. Peaceful and remote
Alisa
2016-08-10T00:00:00Z
A great place to get away from the bustle and spend a restful night or two with an idyllic view. Lots of thoughtful touches make this a great find for a weekend getaway.
Cassandra
2017-01-27T00:00:00Z
Helens apartment at KinKin is idyllic and peaceful. Helen and her husband were helpful. What a lovely part of the world to wake up in!
Ann
2016-07-24T00:00:00Z
The place was completely as expected. The pets were also friendly.
Aaron
2016-12-30T00:00:00Z
Beautifully appointed apartment in a stunning location, perfect for a quiet break but equally good for easy access to all that Noosa and the Eastern beaches have to offer. Lovely touches like assorted teas, good coffee, spreads, biscuits, lots of local info, fast wifi and car parking next to the house. Perfect.
Judy
2017-02-17T00:00:00Z
A quiet relaxing stay ... lovely rustic feel. Hosts Andrew and Helen went all out to make us feel so very welcome. Thankyou
JOHN
2017-01-29T00:00:00Z
Huonetyyppi
Koko talo/asunto
---
Majoituspaikan tyyppi
Huoneisto
---
Majoittujien määrä
2
---
Makuuhuoneet
Kin Kin, Queensland, Australia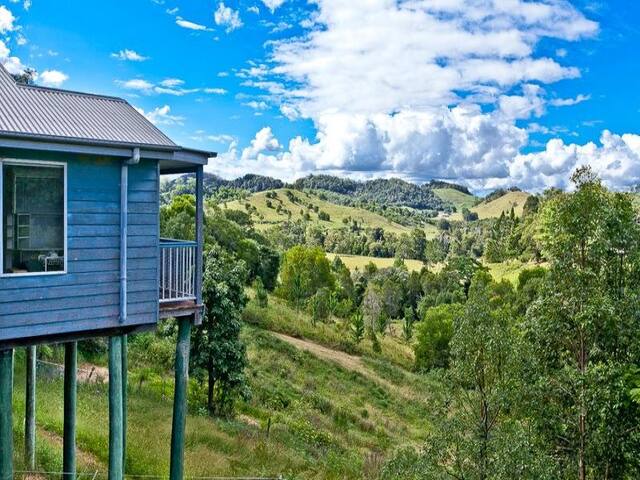 This is a brand new completely stand alone private 1 bedroom 70 metres sq apartment, with completely separate private access, perched amongst trees in the heart of Sunrise Beach where you are a 7 mins stroll to gorgeous unspoilt coastline & 10 mins drive to famous Hastings Street for shopping, cafes, restaurants & National park. The apartment is spacious, modern, sunny and waiting for YOU! Walk to the local cafe in the morn for awesome coffee and jump in the ocean...Sunrise Beach is waiting!
The upstairs apartment is private and spacious and you will feel rejuvenated after your stay here. It is a totally separate building away from the main house. Every window has a view of trees and the sky, which makes you feel very relaxed. Balcony is perched high for privacy and refreshing breeze.
Sunrise Beach is a quiet undiscovered beachside haven where we live everyday thanking our lucky stars we live in paradise! You can walk down to the beach, local cafe or along to Sunshine Beach Surfclub and surrounding cafes and restaurants and if your really energetic and like walking you can continue along the beach through the National Park over to Hastings Street which takes roughly 2-4 hours depending on how many swims you have on the way and how many whales you spot! Once there you can feast at world class restaurants or enjoy an ale overlooking Laguna Bay from the Noosa Surfclub Balcony.
I stayed at Rebecca's place over a weekend. It is a comfortable, spacious and had everything we needed for a relaxed weekend up in Noosa. Rebecca was a great host, I'll totally recommend her place.
Kate
2016-11-13T00:00:00Z
Excellent stay with thoughtful & generous host. Pristinely clean, fresh cotton linen, fluffy towels, beautifully equipped throughout. Highly recommended. Thank you Rebecca!
Fiona
2016-10-03T00:00:00Z
This apartment was spotless and new and really nicely decorated! It had everything we needed for our comfort, delicious healthy brekkie options, and a lovely porch to sit and drink a cup of coffee on while listening to the birds and the waves! Rebecca was super friendly, made everything clear and easy, and provided us a lovely place to stay on our travels! I only wish we had more time as this really was a nice place to stay.
Thom
2016-08-11T00:00:00Z
Rebecca's place was lovely and we thoroughly enjoyed our stay here. Without doubt we will be telling our friends about this place!
Danielle
2017-01-05T00:00:00Z
We really liked Rebecca's sanctuary and returned for a second night before heading out to sydney. Highly recommend her place for ease if access, proximity to the beach, clean, comfortable and wonderful host.
Stephanie
2016-07-29T00:00:00Z
Rebecca was an excellent host from the very start. Clear directions and great communication. The place was excellent and very clean. The bed was comfortable which ensured a great nights rest!
Ryan
2017-03-10T00:00:00Z
Had a wonderful stay at Rebecca's lovely home. The bed was very comfortable, everything was prepared very thoughtfully, mini breakfast was provided. Check in and out was very easy as well. Would definitely recommend!
Amy
2017-01-28T00:00:00Z
Rebecca's communication was great and she was extremely welcoming. Lots of welcome goodies on arrival, which is very helpful if you've travelled a bit to get there. I would highly recommend Rebecca's place!
June
2016-09-05T00:00:00Z
Huonetyyppi
Koko talo/asunto
---
Majoituspaikan tyyppi
Huoneisto
---
Majoittujien määrä
2
---
Makuuhuoneet
Sunrise Beach, Queensland, Australia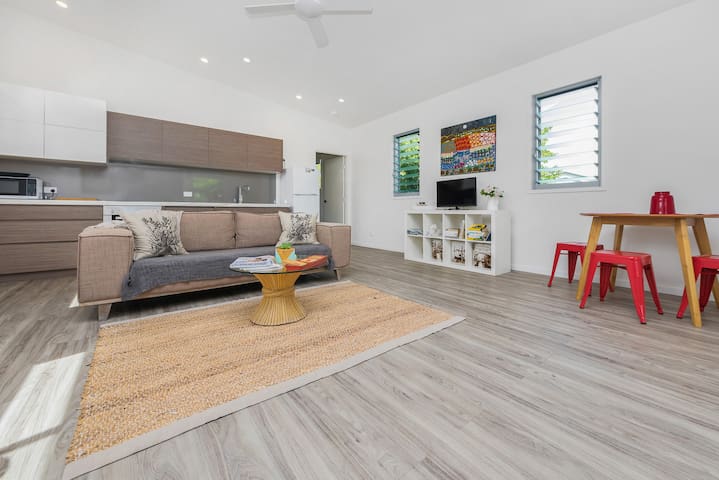 Jojo's in Sunrise is a gorgeous self-contained flat on the ground floor of our home. A short stroll to the beautiful Sunrise Beach. Close to shops, aquatic centre and easy transport to Noosa Junction & Noosa Heads. Pushbikes for you to borrow for fun rides along the coastal path to Peregian and beyond. Welcome to Sunrise!
The flat has recently been renovated with lots of love and it is a light, airy, happy space! Quirky artwork throughout, handmade Australian soaps in the bathroom, lots of little extras in the kitchenette to help you settle in and pushbikes for you to borrow. Your own barbecue and outdoor sitting area for those well deserved sundowners! There is a pull out sofa bed if you need to accomodate an extra guest or 2.
We provide many information booklets for you to get to know some of our local favourite eating spots, tour operators etc. Always very happy to have a chat about any of them if you would like.
Perfect accommodation and great location - definitely recommend.
jenog1
2016-12-09T00:00:00Z
Jo's flat was just perfect for our weekend away. Well-appointed, clean, and lots of lovely extras (such as plenty of spare towel, fresh flowers, milk in the fridge for tea, etc). An easy drive to everywhere we wanted to go in the area. Comfy bed too. Thanks Jo for a lovely stay!
Monica
2017-03-18T00:00:00Z
Beautiful, clean property and the photos are accurate. Great location being a short walk to the beach and only a 10 minute drive to Noosa Heads. Jo and Bruce were very friendly and helpful. We really enjoyed our stay.
Mairead
2016-11-13T00:00:00Z
Jo's place was modern, well equipped, nicely decorated and very clean. There is private access to the accommodation via a garden path, and it is only a short walk to patrolled beaches and a nice local cafe. It was a good place to stay for a comfortable and relaxing weekend at the beach.
Rose
2016-11-27T00:00:00Z
Great place to stay
Marco
2017-01-13T00:00:00Z
Jo's apartment is spacious, bright and beautifully decorated. It was a perfect base for our 3 days exploring the area; close to the beach, great coffee, restaurants etc. Jo was a wonderful host and we thoroughly enjoyed having Nellie the dog around too (although if you are not a dog person she is very well behaved and will leave you alone if you tell her to!).
Daisy
2017-01-07T00:00:00Z
Lovely spot near sunshine beach. Great facilities and well maintained. Jo and bruce are really nice hosts!
Tim
2017-02-13T00:00:00Z
Lovely self-contained flat. Very clean, great layout and styling. There is a BBQ to cook up meals, lovely soft towels and a comfy couch to relax. Jo was wonderful, she came and picked us up from the bus station and took us for short a tour of the area to get our bearings. Would recommend to anyone wanting a quiet getaway. Thanks Jo!
Rachael
2016-12-12T00:00:00Z
Huonetyyppi
Koko talo/asunto
---
Majoituspaikan tyyppi
Huoneisto
---
Majoittujien määrä
2
---
Makuuhuoneet
Sunrise Beach, Queensland, Australia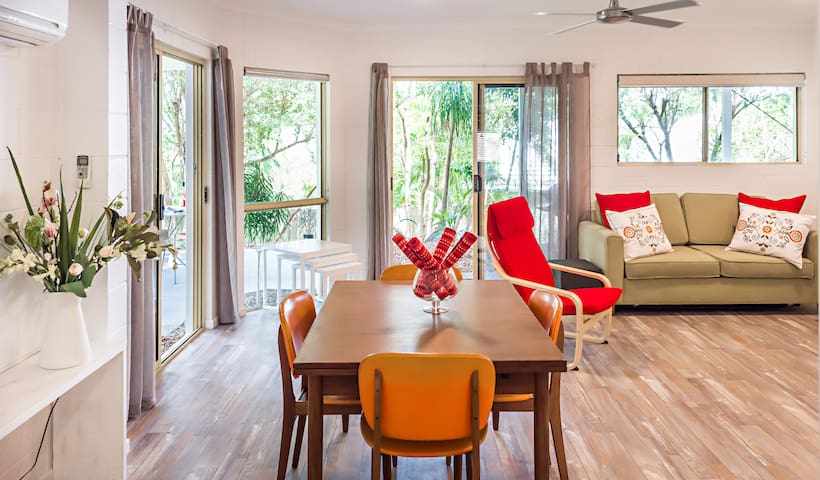 Spacious, private, self contained studio located on the beautiful Sunshine Coast at Sunrise Beach. Own entrance, courtyard. A 5 minute walk to the beach, Chalet and Co Cafe and a 5 minute drive to Noosa Heads. Very private.
The apartment is downstairs in a two story home and includes separate bedroom and bathroom, living room, kitchenette/laundry facilities and own gated courtyard BBQ area. A short stroll to patrolled beaches, bus stop and convenience store. 5 minute drive to Noosa Heads. Internet and Netflix available.
There is a patrolled surf beach two streets away from us, cafe/shop. Also not far the Noosa Aquatic Centre on Ben Lexcen Drive, Bakery, Butchers, Chemist, Doctors, Bottle Shop and more.
We loved staying at Kim and Greg's place, it's a fantastic space in a beautiful location. They were both great hosts and made us feel very welcome, helping us out with dinner suggestions and places to go. If we're ever back in Noosa, we'd love to stay here again. - Brittany and Steven.
Brittany
2016-12-08T00:00:00Z
Great little find, gorgeously fitted out, ample room, well taken care of! Would stay again for sure :) xx
Madeleine
2016-12-03T00:00:00Z
Kim and Greg were amazingly friendly, generous hosts. From the moment we arrived they greeted us like old friends and gave us an extensive tour of the apartment, and then took us for a drive around Noosa, pointing out all the best places to eat and swim, and where to get busses (although you're better off getting an Uber - it's cheaper and easier). The apartment itself is really well set up with almost everything you could need. It was great being able to use the barbeque to cook dinner. Being on the ground floor under their living area, the apartment was a bit noisey at times with dog and people noise, but Kim and Greg were aware of this and tried to minimise it. Also the ceiling in the bathroom is quite low, if you're over 6 feet tall you may be a little uncomfortable. But those are tiny things compared to the overall awesome accommodation and incredible hospitality provided. We loved staying here and had a great time.
Nick & Sarah
2016-09-22T00:00:00Z
Had an amazing time. Kim & Greg are awesome.
Kelly
2017-01-19T00:00:00Z
A lovely super huge pad in an amazing location - you cannot go wrong. You are 5 mins walk from the beach and a 5 min uber ride from Hastings St so best of both worlds really. Highly recommended!
Balpreet
2017-02-03T00:00:00Z
Kim &a Greg are very friendly host. We had great time in this place. Very clean , silent, and good location to sunrise beach. I recommend this place.
Haruka
2017-02-25T00:00:00Z
Fantastic hosts, highly recommend staying at Kim & Greg's place
Kate
2017-03-24T00:00:00Z
Great location! Only a couple of minutes drive to Noosa beach. Kim and Greg were lovely and more then helpful. Would definitely recommend to anyone :)
Clare
2017-01-21T00:00:00Z
Huonetyyppi
Koko talo/asunto
---
Majoituspaikan tyyppi
Huoneisto
---
Majoittujien määrä
2
---
Makuuhuoneet
Sunrise Beach, Queensland, Australia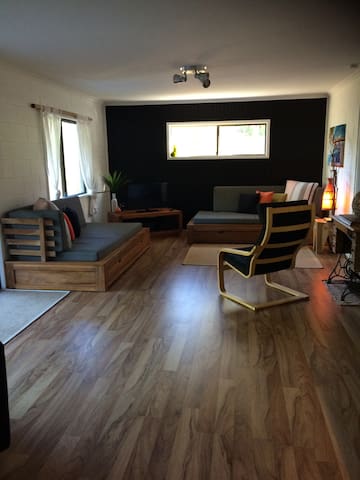 This spacious seaside bedroom (w/ensuite) is your perfect escape. Ideally positioned 1.5km's from Sunshine Beach it offers a large private (heated) swimming pool, 180 degree water views, and a modern coffee shop/cafe at street level. The apartment is part of a small friendly complex, and promotes a fun and safe place to relax. *Large luxury bed, with TV *Wardrobe *Coffee/tea facilities *Linen, towels, umbrella & surfboards *Direct beach access *Courteous Japanese hostess
This home is approximately 5km's south of Hasting St/Noosa. An easy commute, yet far enough away to be peaceful and quiet. Enjoy the best of both worlds, and do so at a fraction of the cost.
*This is unquestionably one of the nicest holiday accommodation areas, and is the chosen neighbourhood for many families that reside permanently in Noosa. *Sunrise Beach is very close to Noosa Main beach, without any of the parking difficulties, and late night 'party' crowd. *Access to the Sunshine Beach retail precinct is a short walk on the sand. Alternatively take theNoosa National Park headland walk into Noosa Main beach!
Kat is great, friendly and helpful and the place is fantastic. Highly recommended
iain
2017-02-01T00:00:00Z
Nice place for a weekend getaway.
Ben
2017-02-26T00:00:00Z
Kat is a great host. She is very helpful and friendly. The room is great and has an ensuite bathroom - was great for us. Not far from Noosa, we had a great time.
Michael
2017-04-08T00:00:00Z
Lovely accomodation at a great location . The host is very sweet and helpful and would happily stay there again
Paul
2017-03-18T00:00:00Z
perfect in every way
Thomas
2017-01-29T00:00:00Z
Kat war eine super Gastgeberin. Unsere Unterkunft war sehr sauber und ordentlich und die Lage der Wohnung ein Traum. Außerdem war Kat sehr hilfsbereit und lieb. Absolut weiterzuempfehlen :-)
Miriam
2017-04-03T00:00:00Z
Really enjoyed my stay with Kat. Made to feel at home, and Kat was very helpful and kind. The view of the ocean was lovely and the beautiful beach just a few mins walk away. Great cafe downstairs. what more do you need when you have a chance for a break away? Thank you so much Kat for making me welcome
Emma
2017-03-12T00:00:00Z
Japanese people are always kind and welcoming ... book this place if you want to experience the ultimate surfing /lifestyle getaway or even just a relaxed holiday coupled with the warmth hospitality of Japanese culture :)
Richmond
2017-03-25T00:00:00Z
Huonetyyppi
Yksityinen huone
---
Majoituspaikan tyyppi
Huoneisto
---
Majoittujien määrä
2
---
Makuuhuoneet
Sunrise Beach, Queensland, Australia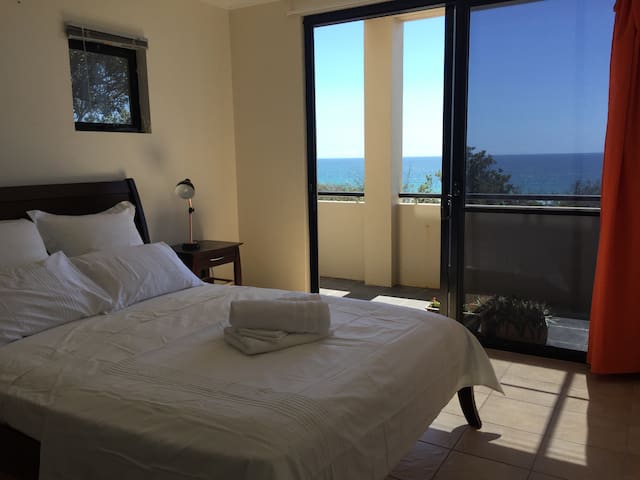 Seaview on Tingiri is a north facing beachside apartment located between sunshine and sunrise beaches. Beautiful ocean views in a peaceful location its the perfect getaway for couples or families.
Our apartment is opposite the beach between sunrise and sunshine. Featuring gorgeous ocean views the apartment is located a 10min walk through the rainforest to the hub of sunshine beaches restaurants cafes and the surf club.Its only a 200 metre walk to beach access at sunrise which is patrolled on weekends and school holidays. It has 2 bedrooms each with queen size beds both decked out with pillowtop mattress and luxury bed linen.Each bedroom has access to a bathroom which is perfect for couples or families. There is a fully equiped kitchen and laundry as well as lock up garage. A swimming pool is available for guest access.
On the edges of both sunshine and sunrise beach its the perfect location.
Lovely little unit with stunning view.
Nick
2017-04-04T00:00:00Z
Great place, great location, great hosting
Simon
2017-03-18T00:00:00Z
Sarah was very friendly and flexible when we wanted to arrive a little bit earlier. The house is also very nicely decorated and clean. Recommend to anyone!
Coen
2017-04-05T00:00:00Z
Sea view on Tingara is a private beachside getaway and beautiful space to relax in. We were able to make the most of walking to the beach and nearby restaurants, and national parks are a short drive away. We left feeling refreshed. It was a pleasure to meet Sarah who is a friendly and considerate host. Sarah and Craig have done a great job doing up the unit and it is full of thoughtful touches.
Jessie
2017-03-08T00:00:00Z
Good location with spectacular views and within walking distance to shops, cafes and beaches. The apartment was modern, well furnished with a well-stocked kitchen. There was also wi-fi. Communication with Sarah was excellent and she made us feel very welcome. We were very happy with our stay and would happily return in the future.
Paul
2017-03-12T00:00:00Z
We recommend this house to everyone. It was super clean with surprise raisin bread in the cupboard along with other groceries. The spectacular view was a handed by the proximity to the ocean. An excellent choice of decor.
Julie & Angus
2017-03-15T00:00:00Z
This is a beautiful airbnb - spacious, clean, beautifully appointed. It was an Instagram dream ;) We were so glad we chose this over a hotel! Waking up to beautiful views of the ocean, relaxing on the super comfy couch, and taking a short stroll to Sunshine Beach and grabbing coffees at Chalet and Co on the way. Didn't get a chance to check out the pool as we were too busy swimming at the nearby beaches. Will definitely be back!
Julia
2017-04-01T00:00:00Z
The host canceled this reservation 21 days before arrival. This is an automated posting.
Adam
2017-02-04T00:00:00Z
Huonetyyppi
Koko talo/asunto
---
Majoituspaikan tyyppi
Huoneisto
---
Majoittujien määrä
4
---
Makuuhuoneet
Sunrise Beach, Queensland, Australia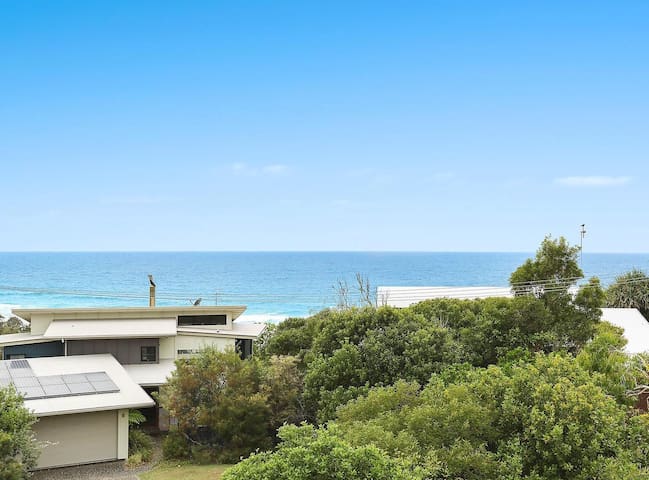 My place is across the road from the beach, has a bus stop out the front and a few minute walk to the local shops. Great for couples, solo adventurers, and business travellers. With a pool, tennis court and spa available, it really is a holiday. There is a tv and foxtel available to you and upon request breakfast can be available also. With a relaxed feel and calming energy, my home is great for a one night stay or a month long holiday. I look forward to meeting you soon.
Are you looking for that perfect place to relax? Or just need a cosy bed whilst passing through or visiting Noosa? Come and enjoy your stay in my quiet home. Listen to the ocean as you relax on the patio and fall asleep to the sound of the waves. A perfect location for the family holiday with the pool, tennis court and spa, and directly across the road from the patrolled beach. A stroll along the beautiful beach and you are at Sunshine Beach Surf Club. Normal rates for the resort are between 170 and 240 per night. Any questions please feel free to drop a line. I look forward to connecting with you soon. Please note Wi-Fi will be available from 26th October
My Girlfriend and I had a lovely stay at Rebecca's house. Rebecca was very very hospitable and very kind. She made us feel like home and was so helpful with everything. The location is beautiful as well, close to the beach and not too far from Noosa Heads. Thank you Rebecca
Morten
2016-08-17T00:00:00Z
stayed with Rebecca for the month of February 2017 you could not ask for a better place to stay or a better person to stay with the place has everything you could ever need for a relaxing time with in a day or two I felt like I was just staying with an old friend Rebecca help make it an amazing holiday The location is only 2 minutes from an amazing beach The local shops are only a 5 minute walk The bus stop out side the complex with a 5 minute bus ride to main noosa and all the shops or you can walk it in 40 minutes and take in some amazing views would not hesitate in going back or recommending Rebecca place to anyone who wanted to go stay in noosa next to a beach
Jason
2017-03-02T00:00:00Z
Rebecca was friendly and accomodating. She was responsive to emails and available on our arrival! I had a good chat with her and she seemed really cool and laid back and gave us some recommendations on stuff to do in the area despite the poor weather during our stay. Too bad we couldn't stay longer, thanks!!
Daniel
2016-12-19T00:00:00Z
Excellent flat in a nice resort. I would recommend it to all Noosa visitors!
Omy
2017-03-19T00:00:00Z
Rebecca's place is very close to Sunrise Beach, very clean and comfortable. Rebecca was friendly and helpful.
Lia
2017-01-25T00:00:00Z
Had a fab stay. Rebecca was very friendly and helpful. The beach was so close and was lovely to have a morning stroll with the waves lapping at my feet.
Sarah
2016-12-21T00:00:00Z
The host canceled this reservation 5 days before arrival. This is an automated posting.
Camille
2016-10-31T00:00:00Z
We realy apreciated to stay at rebeccas. She was so lovely and friendly and she helped and supported us wherever possible. The room and the hole unit was most cosy and we felt so much comfortable. Best Airbnb so far!
Susann
2016-11-02T00:00:00Z
Huonetyyppi
Yksityinen huone
---
Majoituspaikan tyyppi
Huoneisto
---
Majoittujien määrä
2
---
Makuuhuoneet
Sunrise Beach, Queensland, Australia
Enjoy a stay in this fabulous 1 bedroom cottage located in Sunrise Beach. Ten minute walk from the ocean within a pleasant neighborhood. The perfect alternative retreat from bustling Noosa Heads.
Unique, cosy beach cottage is tucked away in the quiet streets of Sunrise Beach. This self contained cottage is perfect for your Noosa get away. It is just a 10 minute stroll to the beach. Opposite the house is a bus stop which can take you directly to Noosa Junction or Hastings Street / Main beach, local shops are a 3 minute drive and tennis courts are also just around the corner. Next to the Tennis courts is an Aquatic centre. If you're a big walker and love seeing some amazing sights you could walk on down to Sunrise beach and follow one of the many tracks through the national park which branch out to look outs and isolated beaches. Eventually it will lead you to Noosa Heads for a coffee or bite to eat. The Cottage is fully self contained and includes : Queen size bed, Air con, Dishwasher, TV, Movies, Oven, Fridge, Dining Utensils, WiFi, DVD player and just outside is a Pool. You are welcome to bring your dog. There is a spacious modern bathroom with shower and lots of storage space in the hall.
Sunrise Beach is a happy bright neighbourhood close to a beautiful sandy Ocean beach, not far from cosmopolitan Hastings Street and protected Laguna Bay. Relax in a leafy setting with birdsong (URL HIDDEN) Sunshine's patrolled beach (URL HIDDEN) in the Noosa National Park 4.Explore the Noosa river & lake system 5.Discover the Eumundi market's treasures 6.Visit galleries in cute hinterland towns 7.Day trip to World Heritage Fraser Island
My partner and I had an excellent experience while staying in Carole's cottage. Carole was very welcoming and the cottage was beautiful. Very good value for money.
Sarah
2016-01-14T00:00:00Z
We had a great 2 night stay at Carole's semi-detached unit in Sunrise Bay. It was a great area to stay being so close to the beach and only a short drive to Noosa. The place is well equipped with everything you could need. Highly recommend staying here! Thanks For having us Carole.
Pip
2016-04-01T00:00:00Z
Carole was an amazing host and the cottage is fantastic! We've been traveling around Australia and New Zealand for 3 months staying in places around the same price range and this was probably the best place we stayed. Clean, comfortable, spacious, perfect for two people. Carole was so helpful with recommendations and showing us around, and responded very quickly to all my messages. Highly recommended!
Jacki
2016-05-10T00:00:00Z
This was a beautiful house just a stones throw away from the beach. Carole was a great host, would definitely stay there again!
Jankee
2016-05-28T00:00:00Z
Great host and place
Nathan
2016-07-18T00:00:00Z
Our holiday in the Sushine Coast was about to become somewhat of a disaster, until we decided to stay at Carole's lovely cottage. She wasn't able to welcome us, but her friendly son did. The following morning we found a personal note under the windscreen wiper. Very nice touch. We met the next evening and Carole is as lovely as the cottage. The cottage has everything you need for a pleasant stay, including a stylish ambiance and a great Ipod music selection! Carole saved our holiday by having us over at such a short notice. Thanks Carole!!!
Derk
2015-08-27T00:00:00Z
We spent to two enjoyable days with our two little dogs at Carole's place. The unit was as described and had everything we needed for our stay. The info pack provided was a fantastic source of information for the local area. Being so close to Sunrise Beach was excellent for dog walks. We would definitely come back when we visit Noosa again.
Doron
2016-06-04T00:00:00Z
Had a great time at carole's lovely and clean cottage!
Stefan
2016-01-09T00:00:00Z
Huonetyyppi
Koko talo/asunto
---
Majoituspaikan tyyppi
Huoneisto
---
Majoittujien määrä
2
---
Makuuhuoneet
Sunrise Beach, Queensland, Australia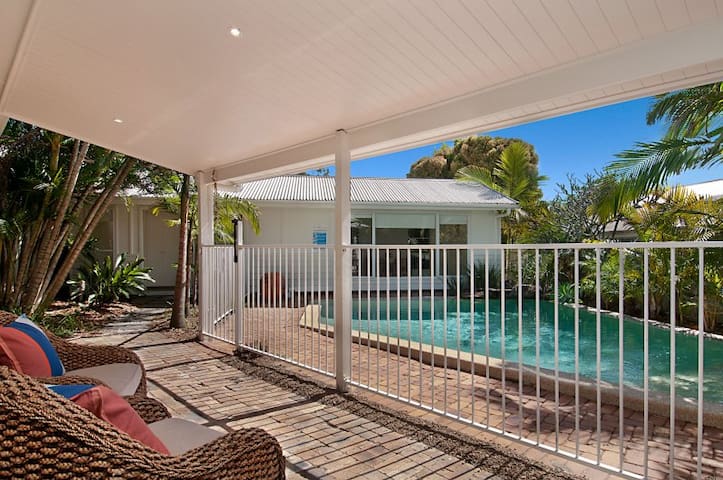 Our newly renovated one bedroom apartment is ten minutes walk to beautiful Sunrise Beach, backs onto national park and bus stop 20 metres away. You'll love the ambiance, the quiet & friendly neighbourhood, the outdoor space, and the comfy bed. Fully stocked kitchenette, brand new bathroom with washing machine, air conditioning, indoor and outdoor dining. Great for couples, singles, solo adventurers, and business travelers. Chillout in Sunrise!
This fully self contained air conditioned entire apartment is a completely separate/private space with own entrance. Funky kitchenette with dining. Perfect for 2 adults. New bathroom! A wonderfully friendly neighbourhood and short walk to endless pristine surf beaches. We LOVE it! Includes quality bed linen, towels and final clean. N.B. Not serviced. Street parking.
Pristine endless surf beaches, walk to stunning Dolphin Head part of Noosa National Park. 20 minutes walk along the beach to Sunshine Beach cafes & surf club. 10 minutes walk to The Chalet for good coffee. Near by: Noosa (Hastings Street) and Sunshine Beach (food & entertainment).
Gerry and Pete's apartment is great, walking distance to the beach and very comfortable. There are a lot of thoughtful details, such as beach-related needs (towel, umbrella), and the kitchen is well-outfitted. Fantastic bathroom as well. Thank you, Gerry and Pete. Meeting you and getting to stay at your place was lovely!
Jocelyn
2017-03-17T00:00:00Z
Very nice and relaxing, friendly helpful people and good location.
Bradley
2016-11-23T00:00:00Z
Great spot for a cheeky beach getaway! Just a 2 min drive to the beach and everything you need is there. Thank you!
Brooke
2017-02-11T00:00:00Z
We had a great stay at Gerry and Pete's place. it is super comfortable and cosy, with every amenity you could think of. Gerry really takes care of her guests. Plenty of free parking on the street, with beaches and shops less than 10 minutes away. We would definitely recommend staying here if you're looking for a peaceful place in Noosa.
Hianta
2017-01-11T00:00:00Z
Very nice and clean place. Nice host
Ingrid
2017-02-02T00:00:00Z
Gerry and Pete's beach pad was fantastic! We had a very enjoyable stay close to the beach and restaurants, a short drive to Noosa Heads. They had thought of EVERYTHING in terms of stocking the beach pad with everything you need for a relaxed, chilled out stay. Even a beach umbrella which we really appreciated! Gerry and Pete were very friendly and lovely people and we cannot rate this listing highly enough, thoroughly enjoyed!
Sarah
2017-01-04T00:00:00Z
We thoroughly enjoyed our stay with Gerry & Pete, the apartment was tucked away to make it super private and the location was perfect. We caught the bus into Noosa Heads every day. We would highly recommend this property especially as Gerry & Pete we're so lovely and the perfect hosts! Thank you for accommodating us, it felt like a well deserved rest bite.
Beth
2017-01-13T00:00:00Z
Die Unterkunft von Gerry und Pete war wesentlich besser, als ich erwartet hatte. Ich war 6 Monate auf Reisen und habe meistens in airbnb Unterkünften gewohnt. Diese war eine der besten. Es gibt einen Schlaf-Wohnraum und eine Küche mit grossem Esstisch. Vor dem Appartment befindet sich eine Terrasse mit zusätzlichem Esstisch und Stühlen. Alles ist sehr, sehr sauber und gepflegt, das komplette Bad ist neu. Das Appartment liegt hinten auf dem Grundstück und hat einen separaten Eingang. Dadurch hatte ich wirklich meine Privatsphäre. Die Unterkunft ist komplett ausgestattet. Es fehlt überhaupt gar nichts: Bügeleisen, Bügelbrett, Haarfön, Shampoo, Duschhaube, div. Lebensmittel (etwas Marmelade, Butter, kl. Flasche Wasser), ausreichend Handtücher, auch Geschirrtuch, viele Töpfe, Pfanne, sehr viel Essbesteck und Kochbesteck (sogar Knoblauchpresse), Küchenpapier, Alufolie, Öl, Zucker, Salz, Pfeffer, Tee, Kaffee, und und und ... SUPER! Gerry habe ich leider nicht kennengelernt. Pete war sehr freundlich und hilfsbereit. Ich hätte ihn bei Fragen jederzeit ansprechen können. Gerry and Pete, thank you for everything! I will come back.
Brigitte
2017-02-24T00:00:00Z
Huonetyyppi
Koko talo/asunto
---
Majoituspaikan tyyppi
Huoneisto
---
Majoittujien määrä
2
---
Makuuhuoneet
Sunrise Beach, Queensland, Australia
Newly renovated ' beach themed' studio apartment, air conditioned & fully self contained, with views over our palm fringed tropical garden which includes a water feature and goldfish. Enjoy the ambiance of this little piece of paradise, relax and unwind on the patio with a chilled glass of wine while you listen to the sound of the splashing water fountain. We are only minutes away from Sunrise beach and a short drive to all the delights that Noosa has to offer!!
One Queen bedroom - Air conditioned plus ceiling fan & security screen. Private Kitchenette - includes Washing Machine, Cook -top, Microwave, Fridge, all cooking/eating utensils. Tea & Coffee supplied ( no breakfast) Private bathroom, with shower and full size bath. Bed Linen, Bath Towels, Beach Towels & toiletries provided. TV. Bench for computer use. Private front patio area. Safe, on - street parking.
Sunrise beach is only 7 minutes walk so why not stroll down and grab a coffee and breakfast at the local cafe 'Chalet & Co, open from 6am most days. Sunrise Beach is a residential area, we have local shops only a short walk away they include a Bakery, General Store, Pharmacy, Doctor, BWS, Hairdresser & Dentist) Everything in Noosa is only a few minutes drive away including the Cinema, public transport, Sunshine Beach, Noosa Junction shops, Hastings Street shops and Main Beach ( approx 6 minutes drive), these areas have a good choice of boutiques & restaurants. Noosa River is a little further about 10 mins drive and definitely worth a visit, there is a walking path with spectacular views ( a must for any walker!) lots of water sports with Boats , Kayaks, Bicycles and SUP for hire. There are also many wonderful Restaurants and small shops to enjoy along the river.
Dawn's place is simply amazing! It is honestly even nicer than the pictures! It has a very good size room and kitchen and also a very big bathroom with shower and a bath. The room has all the amenities you need for your trip as well and all seems to be done with the best care in the world. The place is a very short walk to the beach and a very short ride to Noosa as well. Dawn and Rus are wonderful hosts! We even got a treat because it was my wife's birthday! They went over and above our expectations as hosts, we went out for drinks and they gave us precious tips for the area and also hours or very good conversation! We will definitely stay there again on our next trip to Sunshine Beach and would recommend it to anyone that is going there. We have stayed in several Airbnb's but this was by far our best experience!
Charles
2017-04-01T00:00:00Z
We stayed for one Night and had a lovely time. Dawn had put the air con on just before we arrived which was great! A very neat and clean space, would stay again!
Adeline
2017-03-24T00:00:00Z
Great location 2 minutes from Sunshine beach. Very clean and had everything we needed.. Would stay again!
Michelle
2017-04-02T00:00:00Z
My wife and I stayed last weekend for one night. The place is small but had everything we needed. The hosts left some water and ice in the fridge, which was great after long hours of walking in the national park. Everything was clean and tidy. The only thing that would be great to have is the air conditioning or at least insect screens so it would be possible to open the door at night.
Anton
2017-03-18T00:00:00Z
Excellent location close to the beach & Sunrise Beach Restaurants & Cafes are only 5 minutes away. The Suite is tastefully decorated with a beach theme & was extremely clean. I was traveling for work & the Suite is secure & private & the bed was very comfortable - had a great sleep! Would stay again!
Kylie
2017-04-02T00:00:00Z
Very nice person and very accommodating.
Darren
2017-03-27T00:00:00Z
Dawn and Russell's apartment is adorable! They did SUCH a great job kitting it out to have a cute beach vibe. So much attention to detail. During our time in the apartment, Dawn was extremely responsive and even allowed us to extend our stay by a day, which was much appreciated. Highly recommend!
Rachel
2017-04-06T00:00:00Z
Huonetyyppi
Koko talo/asunto
---
Majoituspaikan tyyppi
Huoneisto
---
Majoittujien määrä
2
---
Makuuhuoneet
Sunrise Beach, Queensland, Australia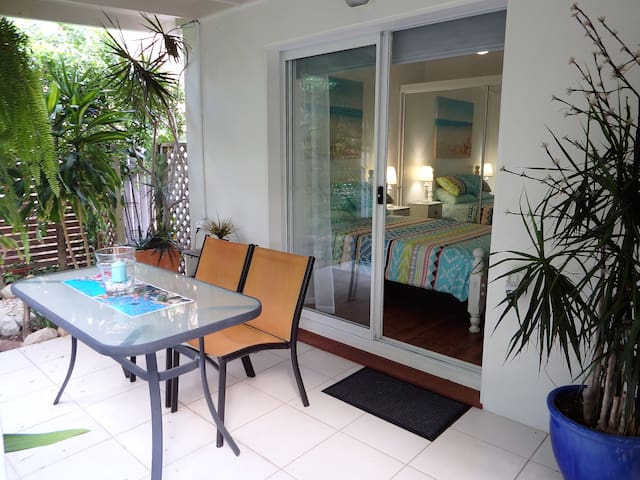 Top Floor Apartment with uninterrupted Beach and Water views. Less than one minute from front door to the surf. Hear the waves crashing on the beach from your bed and living room. Watch the Sunrise from the balcony every day. During the whale migration we see whales every day. Less than 10 minutes drive to Hastings Street, Noosaville and Noosa Junction. Walk along the beach to the National Park. Bus Stop is 2 minutes from the front door.
I misread the ad and thought we had the whole apartment to ourselves. So when i realised we were sharing it I was petrified! But that was unnecessary, my son fell in love with Bodo's son and did not stop talking about him. He was a bit upset that be barely seen them. Very pleasant stay. Thank you.
Gosia
2017-03-26T00:00:00Z
Absolutely beautiful view from the balcony and only a 30 second walk to the beach right across the road. The beach was fantastic - it's not the main bit of Noosa - though it is only a 5 minute drive away, and there are local cafes within walking distance if you don't feel like heading into town.
Sally
2017-01-29T00:00:00Z
Bodo is an absolute gentleman and it was a pleasure to stay at his apartment. The location and views are phenomenal with the beach on your doorstep and only a 5 min drive from Noosa main beach. Would definitely recommend a stay here!
Bradley
2017-03-11T00:00:00Z
Great host - welcomed us on arrival and even carried our bags up all the stairs. Excellent location with beautiful views over the ocean directly across the road with a short walk to the beach. Bodo and his son were great with our 11 month old, who was a bit unsettled at night during our stay. Room towards the back of the house was a bit warm - windows open for the breeze were fine however there wasn't any flyscreen and due to recent rain the mozzies got us a bit. Our host tells us this is unusual though. Felt more like we were staying with a relative or a friend.
Karen
2017-03-04T00:00:00Z
I travelled to this residence for the weekend with my partner and friends and we were beyond happy with our stay. Bodo was a fantastic and friendly host and made sure we felt welcomed. The property itself is literally a short 1 minute walk to the beach and has a stunning view. All rooms were spacious and comfortable. We would not hesitate in choosing this place again, highly recommend.
Shane
2017-02-12T00:00:00Z
Great flat!
Jeanne
2017-03-30T00:00:00Z
The beauty of the location cannot be overemphasised. The hosts are busy people but provide you with everything you need. Level 2 with no lift to was a pleasant exercise for our group but might not suit everyone. The beds are very comfortable and spacious kitchen/living room had everything we needed and more.
Julia
2017-02-24T00:00:00Z
Bodo and his son were very welcoming and easy going. Lovely company the short amounts of time we crossed paths. Incredible view, good vibes and bright, airy apartment. Thanks for your hospitality and carrying our bags up the stairs for us!
Helene
2017-02-17T00:00:00Z
Huonetyyppi
Yksityinen huone
---
Majoituspaikan tyyppi
Huoneisto
---
Majoittujien määrä
4
---
Makuuhuoneet
Sunrise Beach, Queensland, Australia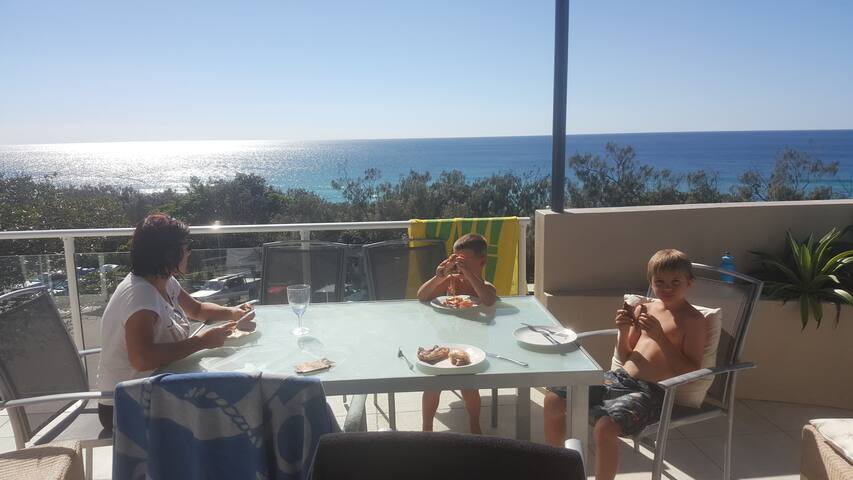 This is a simple ,spacious , nice , clean light and cosy modern apartment with swimming pool , water aircon. short stroll to beach, bus, bike ride to shops and close to many of the lovely sights and attractions that Noosa and the sunshine coast has to offer......
Our unit is conveniently located within a short stroll to the beach, the bus stop which provides a regular service to a lot of the major attractions including the sweeping stretch of surf beaches and sub tropical paradise bays to swim and surf, National park rainforest and coastal walks to superb, surf , swim and snorkel locations only accessible by foot.... Local supermarket and cafes are 5 mins by car and 10 by bus. Bus links to the River and a variety of water activity, the famous Steve Urwin Wild life park. The mountain ranges , beholding year round waterfalls , water holes and bush walkes are spectacular views are also under one hour by car and accessible by bus and provide a cooling place to explore on a day to hot for the coast. In the evening you may like to enjoy a picnic dinner or fish and chips with a panoramic view, just down the road at the park overlooking the beach. The local Sunshine beach cafes , bistro dining and fish and chip shop is just ten minutes walk further along the beach heading south..... No wifi but portable hot spot and mobile phone available for your internet and phone use & convenience. WASHING MaCHINE avail.
The neighbourhood is a 1.5 min mike to beautiful beach or a look out, minutes for the heart of Noosa heads, the famous Surf spot and popular Tourist destination for its sublime tropical beaches, Majestic ,pristine Nature and abundant wildlife .... (if your lucky a koala siting)..... , 10 minutes by car or 30 by bus to Noosaville , where Gympie Terrace provides access to the goegous family friendly river side parks to enjoy a sunset picnic or barbie or treat yourself to a budget or fine dining experience at one of the local award winning restaurants or cafes.... And one of the best Ice cream/ gelato bars in Australia. Access to boat tours , fishing boat hire or a variety of water sport fun is also available from Noosa river on Gympie Terrace
Loved the location. The beach is really close and super quiet. Cab ride away from town. The surfboards were definitely an added benefit. There is no AC which is something you should know, not a deal breaker, but it can get hot.
Yasper
2016-12-23T00:00:00Z
Really nice house close to the beach, perfect for a weekend in noosa ! Would come back againg.
Simon
2017-03-27T00:00:00Z
Great place to stay, very clean and cosy. Ngairi is an amazing host, and very thoughtful. We felt at home! Thank you very much.
Maud
2016-06-10T00:00:00Z
Simple house but expensive for just one day (as cleaning fee is $45). Very noisy bed.
Vera
2016-09-12T00:00:00Z
Great stay, very easy and v close to Noosa and the eastern beaches
Alasdair
2016-11-06T00:00:00Z
There we're a few issues with the accommodation but Ngaire was more than happy to help when we needed it.
Emma
2016-11-21T00:00:00Z
We had a good stay at Ngaire's place, close to the beach and easy drive from Noosa. Comfy bed, nice cozy apartment, and Ngaire was very helpful and communicative.
Alex
2016-10-24T00:00:00Z
Had a lovely stay at Ngaire's home. It's well sized and cosy with a relaxed vibe. A nice quiet neighbourhood, just a short stroll to the beach. There was food in the fridge to use, which was a nice touch. Only criticism is that the kitchen wasn't very clean. Other than that, great stay, recommended.
Lucy
2016-10-08T00:00:00Z
Huonetyyppi
Koko talo/asunto
---
Majoituspaikan tyyppi
Huoneisto
---
Majoittujien määrä
4
---
Makuuhuoneet
Sunrise Beach, Queensland, Australia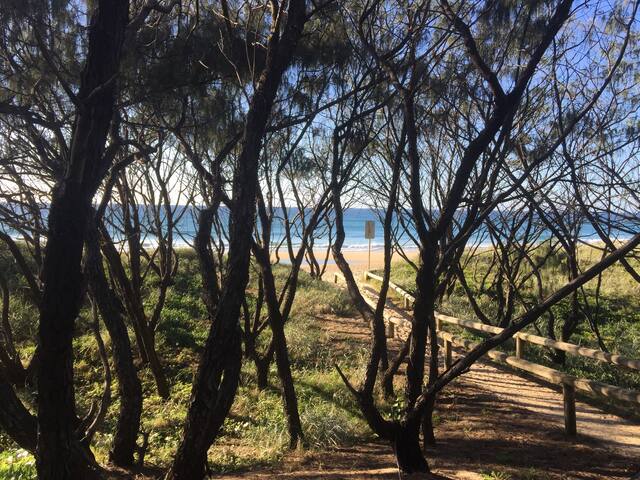 Come and enjoy everything this unique destination has to offer. Located in Sunrise Beach, a quiet corner of Noosa, walking distance to beaches, shops, cafes, bars and National Park. Enjoy a healthy breakfast, comfortable bed and great company. You may also like to have a massage in my home, I am a therapist of 10 years, a great way to relax, unwind and restore in the evenings.
You will enjoy your own bedroom overlooking your own private balcony and your own private bathroom and toilet. The bedroom has a ceiling fan for your comfort. Included in your stay is a yummy breakfast of which includes yogurt, muesli, fresh fruit, or toast, we can accommodate gluten free breakfast if preferred. We also have a great selection of teas and espresso coffee.
Sunrise Beach enjoys a calm, laid-back ambiance. The expansive stretch of golden sand at Sunrise Beach is lapped by pristine surf rolling in from the ocean. Sunrise Beach can be found five minutes drive south of Noosa Heads or approximately one and a half hour's drive north of Brisbane. Noosa Junction features a good cinema complex, and you will find many varied eateries and shops there, as well as in Hastings St, and Gympie Terrace along Noosa River.
Ruth made me feel very welcome as a guest and the bedroom is light and airy with a very comfortable bed and a nice balcony that is good at sunset. The bathroom is lovely with thick towels and a super shower! Seven mins easy walk from Sunrise beach and a quiet neighbourhood with local bus access. Ruth's homemade muesli is delicious and the cooked breakfast on Sunday was most welcome - thanks Patrick! I enjoyed our chats and it was a very nice place to stay. Thank you!
Anna
2016-08-27T00:00:00Z
My stay was fantastic, Rith and Patrick made me feel really welcome, the accomidation and location was excellent.
Steven
2016-09-24T00:00:00Z
Ruth and Patrick are superb hosts & room/bathroom/balcony are perfect! Ruth was there to meet me on arrival, her friendly, kind & considerate nature fills the house & is perfectly complimented by beautiful garden surrounds & a delightful neighbourhood. I stayed 3 nights while in Noosa for business, and really appreciated Ruth's & Patrick's diverse interests in health & food. I enjoyed delicious gluten free breakfasts & was privileged to sample Ruth's cooking the first night (your ratatouille is divine!). I felt I was staying with friends, open for a cuppa & chat, relaxed & easy to connect with, yet with perfect setup & space to enjoy retreat & quiet moments to myself. Ruth & Patrick will be my first choice if staying in Noosa again. Thank you! xo
Felicia
2016-10-09T00:00:00Z
My husband and I had a great but unfortunately too short stay at Ruth & Patrick's home. They are great hosts who were always available for a chat and can give lots of information about the area. We felt like at home the two nights we stayed and will definitely come back in our next australia trip. On top of that, as it was fathers day, they even invited us for a BBQ dinner with the family. Great food Patrick and Ruth!!!
Iris
2016-09-06T00:00:00Z
We thoroughly recommend staying with Ruth and Patrick! They were friendly hosts who were both happy to chat and give us our own space. Ruth gave us plenty of recommendations of things to do in the local area and Patrick even picked us up from the Greyhound Coach station when we arrived as it was his day off! The room was spacious, clean and comfortable with its own private balcony! We were able to do our laundry, use the well equipped kitchen, lovely private bathroom and enjoyed a delicious healthy breakfast each morning. We had a great 2 night stay!
Bethany
2017-02-07T00:00:00Z
Ruth & Patrick were perfect hosts. Warm, friendly and extremely hospitable. All our facilities were clean and comfortable. We felt like we had known them a very long time; it was like they were family! Will definitely stay with them again. Many thanks for a relaxed time!
Olivia
2016-08-22T00:00:00Z
Ruth and Patrick were wonderful hosts and we really enjoyed our stay. The guest room is clean, comfortable and well appointed and the large private bathroom is adjacent A healthy breakfast was available and Patrick even made us cafe style coffees! Ruth and Patrick are experienced travellers and comfortably relate to their guests. Thank-you both!
Dorothy
2016-09-03T00:00:00Z
Ruth and Patrick are very kind and generous hosts who obviously enjoy the whole airbnb sharing environment as nothing seemed too much trouble to ensure my stay was enjoyable....Ruth is always up for a chat about "life" and Patrick is very willing to share his skills as a respected chef....Sunday morning was quite rainy but we managed to go to the local Organic Market (great food), then shared Patrick's hearty cook-up brekkie....all in all a lovely stay, highly recommended. Oh and gorgeous comfortable bed, private balcony for reading with a cuppa, and the private huge bathroom a bonus!!
Anne
2016-10-25T00:00:00Z
Huonetyyppi
Yksityinen huone
---
Majoituspaikan tyyppi
Huoneisto
---
Majoittujien määrä
2
---
Makuuhuoneet
Sunrise Beach, Queensland, Australia
The perfect place for a family holiday :) This apartment has everything you need for an amazing family holiday. 180 degree views of the Pacific and a world class patrolled beach right out the front. Sit back, relax and enjoy.
Enjoy the open space in this spacious unit. Large bedrooms and large renovated bathrooms. The unit is located at Sunrise Beach and has a coffee shop just down stairs for the early morning coffee. Sunshine Beach Village is Just a short stroll either through the walkway at the end of Tingira Cres or along the beach.
This was a little slice of paradise. It was close enough to everything, yet far enough away to feel secluded. Two days we were at the house, we barely left the house. The view from the porch makes you never want to leave. I can not say enough good things about this house. Perfect place for a couples getaway, family getaway, or even just a time for you to get away. We cooked every meal at the apartment and enjoyed coffee at a close by place. For sure a number one place to stay in my book.
EmilyAnne
2016-05-09T00:00:00Z
Beautiful setting and really relaxing. there is a washing machine as well as tumble dryer and that worked nicely for a longer stay. Comfy living space with full panoramic view of the ocean.
Tiaan
2016-06-21T00:00:00Z
The place was very nice. It had a superb view and an amazing view of the sunset clouds on our first night. Everything was easily organised and we were very comfortable. We would recommend this place to others for a beach get away. Hopefully with no rain!
Aaron
2016-06-15T00:00:00Z
Wonderful location for those wanting a quieter setting than Hastings st. But still only a quick drive away from everything. An older unit but very comfortably furnished and clean and amazing views. The views are everything. And so lovely to have the beach right at our doorstep.
Jelena
2016-10-23T00:00:00Z
My pregnent partner and I stayed 3 nights in this amazing place. First and foremost the view of the ocean was spectacular, much better than all the unit views at sunshine. Photos do not do it justice. The apartment is rather large and has high ceilings which makes it feel very open and relaxing. Plenty of room to move around, it was just myself and my partner there but felt like it would be perfect for familys. Host was fantastic to deal with and was a very pleasent and easy entry experience to the property. Simply rang Trish when i got to Noosa and she advised the apartment was unlocked and told me the pin code to get in the garage door. The few cons of our stay are as follows - beds (not the most comfortable) - wifi password was not supplied in the apartment and upon sending a sms request i did not get a response. - stairs (as it is the top apartment there are 7 flights of stairs from the garage) wasn't too bad for a young bloke like me but older people or pregnant woman may stuggle with going up and down frequently. I know my partner did. Over all it was a great experience, really nice cafe down stairs next doors and i can honestly say i have never stayed at a unit at sunshine or sunrise with a better view... and i have stayed at alot. Thanks Trish :)
Michael
2016-11-13T00:00:00Z
The place was great; very comfortable, quiet neighbourhood, amazing views.
Murka
2016-05-17T00:00:00Z
Great place. Gorgeous view. Everything you need. Easy booking process. Coffee shop next door and Sunshine Beach surf club is the best place to eat and have a few beers.
Kate
2016-10-27T00:00:00Z
Loved it here. Apartment is huge and literally on the beach!
Fred
2016-11-03T00:00:00Z
Huonetyyppi
Koko talo/asunto
---
Majoituspaikan tyyppi
Huoneisto
---
Majoittujien määrä
6
---
Makuuhuoneet
Sunrise Beach, Queensland, Australia
Our unit is humble but homely. You can walk to Sunrise Beach in a matter of moments and drive/bus to Noosa Heads beaches in ten mins. There is a great cafe round the corner or a 15 min walk/3 mins drive up the road to Sunshine Beach offers restaurants,pubs,take aways etc with a chilled local vibe. Our complex has pool for tenant use and a bus stop just accross the road if you want to avoid parking chaos is Noosa. The entrance is private and shared visitor parking is available on the premises.
Huonetyyppi
Koko talo/asunto
---
Majoituspaikan tyyppi
Huoneisto
---
Majoittujien määrä
3
---
Makuuhuoneet
Sunrise Beach, Queensland, Australia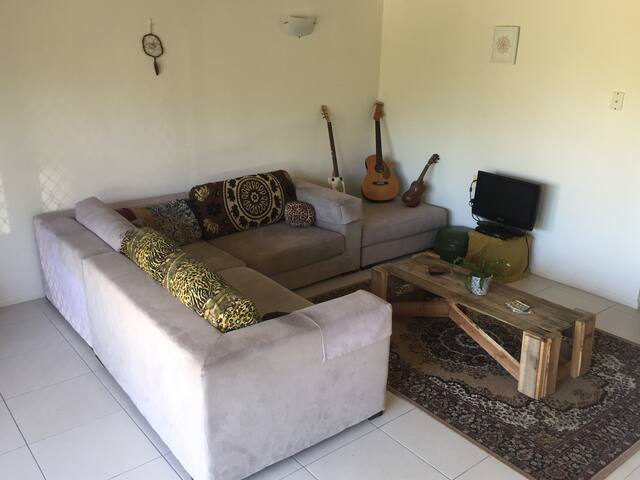 Entire downstairs of an Australiana pole home; two good-sized bedrooms with one queen-size and one double bed; full kitchen; lounge and study area; access to pool; two outdoor areas; quiet court location close to beach, swimming complex, shops, local bus; suits two couples, two singles, couple with 1-2 children; dog friendly with enclosed yard.
The local beach at Sunrise is a few minutes' walk away. There are local shops, an aquatic centre, skate park, tennis courts and, of course, the beach!
Great place! Perfect location. Big enough for four adults & a dog. Both Eva & Andrew were more than accommodating & very welcoming on our arrival. Our dog, George especially had fun. Hightly recommend. :-)
Lauren
2017-01-29T00:00:00Z
We were lucky enough to be Andrew and Eva's first Airbnb guests! They are very attentive, caring and generous hosts, who went out of their way to look after us. Communication was excellent and Andrew gave us plenty of great tips. Nothing was too much trouble - we felt very comfortable and at home in their home. They even provided dog treats for our dog! The place and location is exactly described - a clean, private, safe and spacious granny flat beneath their house, with access to two patio areas, lovely gardens and their swimming pool. There was plenty of room for the three of us (2 adults and 1 teenager) and it would be comfortable for two couples. It's a very short drive to Sunshine Beach's little main street and we took advantage of the lovely shops, bars, cafes (Costa Noosa does excellent coffee and is open at 6am!), and nearby dog beaches. Beautiful Lottie the dog was also a fabulous host, who was lots of fun and made our dog feel very at home in the secure fully fenced yard. We had a fantastic time at Andrew and Eva's house and look forward to visiting again someday soon! Thank you both so much! :)
Amber
2016-12-29T00:00:00Z
Great place to stay, next to a beautiful beach. The apt is big enough for 4 adults and also if you have a pet. Spacious bedrooms and living, great outdoor too. Andrew and Eva are the best, super friendly and they'll do anything to help you out. Would definitely go back.
Sara
2017-03-12T00:00:00Z
Perfect place for our family of four with our dog. We spent most of our time at the beach but the pool provided a nice change from the beach in the middle of the day. Eva and Andrew made us feel very welcome. Thank you!
Lucy
2016-12-31T00:00:00Z
Eva and Andrew are extremely welcoming. Would recommend this as a base to explore Noosa Heads and surrounding area.
David
2017-01-10T00:00:00Z
Andrew and Eva were really welcoming and accommodating. Sunshine beach is a real gem- you won't need to go to Noosa. We had a great time relaxing by the pool and there was plenty of space for our dog to chill out too. Unit was comfortable, clean and had everything needed for a few days holiday.
Alana
2017-01-11T00:00:00Z
Really nice friendly people, would recommend to others
donna
2017-01-01T00:00:00Z
Eva & Andrew were lovely hosts and the house was as described.
Iain
2017-03-19T00:00:00Z
Huonetyyppi
Koko talo/asunto
---
Majoituspaikan tyyppi
Huoneisto
---
Majoittujien määrä
4
---
Makuuhuoneet
Sunrise Beach, Queensland, Australia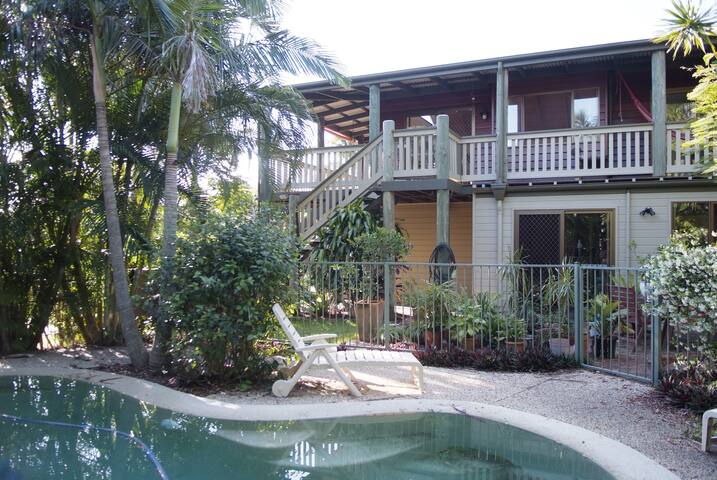 100m walking distance to surf beach. Head North 2.5km along the beach and you are at the start of the Noosa National Park, head South and you can walk 7km to Peregian Beach. The 2 storey townhouse is in a resort. Bedrooms and bathroom upstairs and downstairs is the living and kitchen as well as laundry and a second toilet. The resort has a heated Swimming pool and spa and a full size tennis court.
The delights of Noosa's famous "Hastings Street" tempts visitors with cosmopolitan restaurants, sidewalk cafes and specialty designer boutiques only a short five minute drive north, or closer still is the Sunshine Beach Surf Life Saving Club & alfresco dining restaurants & cafes only two minutes drive north, then return to tranquility.
2 1/2 km North to the start of the Noosa National Park. Surf beach 100 metres, cafe located 50m (open for Breakfast and Lunch).
Julie and Lindsay were most welcoming hosts and we had a great stay in Sunrise beach the location is exactly as described - perfect. Our apartment was spacious and clean and just right for our family of 4 this is a place I would love to return to and stay longer
April-Anjali
2016-10-25T00:00:00Z
Thanks to Julie, Lindsay & Brook for such a lovely welcome. Crisp & clean. We had a great weekend.
Alys
2016-08-01T00:00:00Z
The hosts were very welcoming and very helpful with suggestions of places to visit.
jayne
2016-12-01T00:00:00Z
A nice place, in a terrific location. The place is clean and tidy. Pool and spa were lovely after a big day at the beach. The entire complex is a little dated but not an issue for us. You need a car to get to Noosa but the area is so lovely with a gorgeous beach in walking distance.
athena
2017-02-25T00:00:00Z
Great place for a holiday/weekend break. Very quite and relaxing spot, still very close to all the touristic attractions and facilities, including supermarkets etc. (takes at least 10 mins to get anywhere) Apartments are spacious and have everything necessary; the pool is perfect, with spa included. People are very nice and help with all info required.
GIULIO CARLO
2016-04-26T00:00:00Z
Loved this place. Spacious and clean. Hosts were very nice. Easy to catch the bus or walk to close cafe with great food. Beach was right there to walk on and watch the sunrise. Thank you.
Nancy
2016-11-07T00:00:00Z
We have a lovely and relaxing time at Noosa. Nice appartment with everything you need. Host were very nice, and it Was very close to the beach. THanks Lindsay to share your space with us :)
Rocio
2016-05-23T00:00:00Z
We had a great stay here for a friends wedding. The location was perfect for us and the accomodation had everything and more that we needed. We will certainly stay here again.
Felicity
2016-09-04T00:00:00Z
Huonetyyppi
Koko talo/asunto
---
Majoituspaikan tyyppi
Huoneisto
---
Majoittujien määrä
4
---
Makuuhuoneet
Sunrise Beach, Queensland, Australia
Amazing ocean, surf and beach views from this lovely top floor two bedroom apartment. With a queen and two single beds it accommodates up to four guests. Features include ensuite, spa bath, large plasma TV, DVD, BBQ, outdoor dining on balcony, single lock up garage and pool. The beach is directly across the road with only beach reserve between you and the water. The local cafe / convenience store is only a short stroll and Sunshine Beach Village and Noosa Heads are only a few minutes drive away
Absolutely gorgeous apartment! I'm definitely home sick from that beautiful ocean view every morning, Lou was lovely to deal with and we can't wait to come back!
Lydia
2017-03-08T00:00:00Z
Lou was very hospitable and extremely helpful when it came to collect the keys.
Ada
2016-09-30T00:00:00Z
The views are magnificent, never got tired of this fabulous position. Having the basic kitchen requirements like salt & pepper, oil, cling wrap etc made us feel at home. Even the jigsaw puzzle was great, though did take us a couple of days! Getting the keys was the most difficult thing about the property. Also we needed to contact the host for one problem (with the BBQ gas bottle) & it was dealt with both quickly & professionally- AH's too.
carol
2016-12-22T00:00:00Z
We didn't see Lou, just talked to Aspire when we picked keys up & dropped them off. We hope our suggestions will be looked after as it is a beautiful place with perfection location.
Wilma
2016-12-11T00:00:00Z
This spot in Sunrise Beach is quite idyllic! A short drive from the hustle and bustle of Noosa Heads, a 20 min beach walk to Sunshine Beach and cafes, this abode is nestled in a small suburban / coastal paradise! The apartment itself is located on the top floor and has awesome panoramic views of the Pacific Ocean! The sounds of the sea emanate through the balconies and make you feel perpetually relaxed! There is a great open plan kitchen, dining and lounge, with well stocked kitchen! There a washing machine, dryer, a great bathroom spa and 2 well appointed bathrooms! Parking is always accessible out front right next to the apartment block! I recommend going for a Sunrise swim in the waves across the road! That's an incredible thrill!
Peter
2016-11-02T00:00:00Z
Great apartment with amazing ocean view. The apartment is clean and well suited for couples or families. Fantastic location, about 10-15 mins walk to Sunshine Beach, which has fabulous cafes and restaurants.
Kate
2016-08-12T00:00:00Z
Lou's place is a well equipped comfortable apartment with wonderful views across the Pacific Ocean. We really enjoyed our stay.
Tim
2017-03-24T00:00:00Z
The key exchange was delayed slightly but the rest of the trip went smoothly. Very nice apartment with great view.
Leo
2016-07-07T00:00:00Z
Huonetyyppi
Koko talo/asunto
---
Majoituspaikan tyyppi
Huoneisto
---
Majoittujien määrä
4
---
Makuuhuoneet
Sunrise Beach, Queensland, Australia
Kin Kin - Airbnb
:
Keskimäärin

4.93

tähteä yhteensä

5

547

vierasarvostelusta
1

–

18

hakutuloksista

300+ vuokrahuoneistoa
Anna päivämäärät nähdäksesi kokonaishinnoittelun. Lisämaksuja sovelletaan. Veroja saatetaan lisätä.