The Chalet Mi Amur can be booked as an entire house accomodating up to 10 people. 5 bedrooms are luxuriously designed for 10 guests with more than 180 m² of living space including 4 bathrooms and 2 living rooms with 2 fully equiped open kitchen.
5 bedrooms are luxuriously designed for 10 guests with more than 180 m² of living space including 4 bathrooms and 2 living rooms with 2 fully equiped open kitchen on the first and second floor. One balcony and one terrace facing east overlooking Santa Croce and La Varella mountain. -
The supermarket is very close to the chalet and can be reached by foot. For further recommendations we gladly help you when you arrive.
Huonetyyppi
Koko talo/asunto
---
Majoituspaikan tyyppi
Talo
---
Majoittujien määrä
8
---
Makuuhuoneet
La Villa, Trentino-Alto Adige, Italia
Small apartment in the centre of Arabba in the heart of the Dolomites UNESCO. Very close to shops, restaurants and ski lifts. Ideal for your holidays if you like hiking, cycling, skiing or just to have relax. Ski slopes are in front of the house.
30 METRI QUADRI composto da camera da letto, soggiorno con angolo cucina e divano, 1 bagno con doccia.
Huonetyyppi
Koko talo/asunto
---
Majoituspaikan tyyppi
Talo
---
Majoittujien määrä
2
---
Makuuhuoneet
Arabba, Veneto, Italia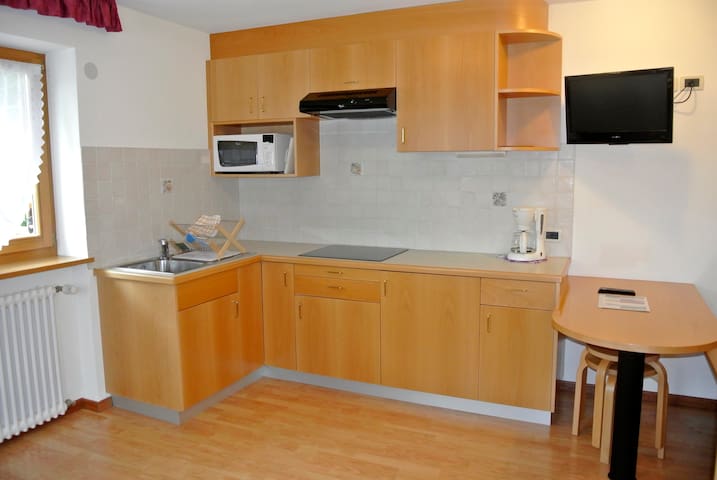 Piccola camera singola 14-18 m², doccia, asciugacapelli, accappatoi, telefono, collegamento ADSL , TV satellitare, cassaforte, balcone.
La zona viene denominata con "salotto di Selva" è centrale ... tranquilla... ed a pochi passi dal Parco naturale Puez Odle. Fermata Dolomites Herritage Unesco Bus di fronte al Hotel con ticket gratuito.
Very nice room and all organization matters were smooth.
Kasi
2015-07-30T00:00:00Z
We loved to stay at the Acadia hotel. The room was comfortable, cosy and clean, the people were nice, the food was fantastic, it felt like being at home. The hotel is located right next to the ski slopes. It's only a 10 meter walk from the door to the lift. Awesome! We hadn't realized we had only booked a room and no breakfast. So be aware of this and then you'll be fine!
Mieke
2017-02-02T00:00:00Z
Had a great experience in Selva. The room was better than we expected, the balcony was nice with a world class view of the Dolomites. Very nice place to stay, would definitely recommend. The frizzante water left in the fridge every morning was also a nice touch. Selva was a good location for hiking and very accessible by bus.
Alex
2015-08-08T00:00:00Z
The host canceled this reservation 142 days before arrival. This is an automated posting.
Emma
2016-08-06T00:00:00Z
Huonetyyppi
Yksityinen huone
---
Majoituspaikan tyyppi
Talo
---
Majoittujien määrä
2
---
Makuuhuoneet
Selva di Val Gardena, BZ, Italia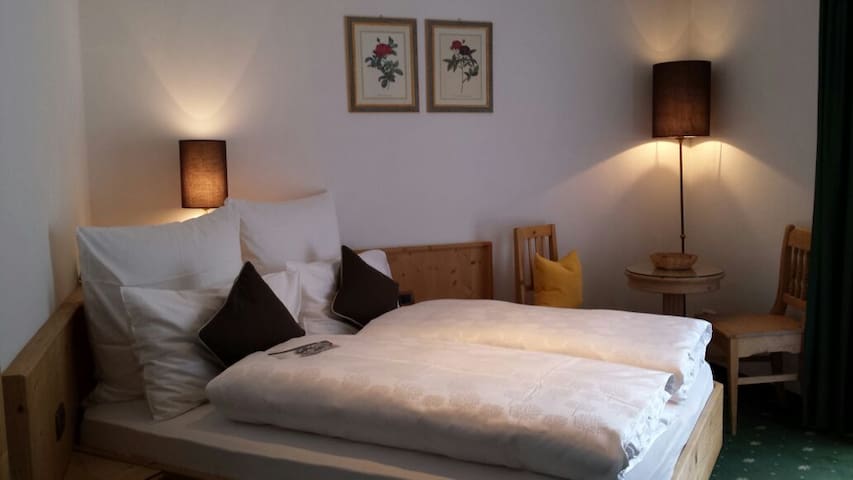 casa in autogestione per 17 persone composta da 7 camere da letto, 7 bagni, 2 cucine, 1 saae da pranzo/soggiorno, 1 deposito sci con scaldascarponi. La casa è situata a Selva di Val Gardena. NOI VOGLIAMO PROPORLE QUESTO: - tranquillità per poter pensare a valori, progetti e traguardi - tanti prati verdi intorno a casa, perchè rilassano anima e spirito - vacanze nel bel mezzo delle meravigliose Dolomiti, dove l'aria è buona e l'acqua è chiara e limpida - prati e pascoli curati dai contadini, perchè fanno riposare l'occhio e portano a contatto con la natura - nessun accesso internet, per evitare che il lavoro venga in vacanza con Lei - destinazione conveniente in una zona turistica di rilievo mondiale se invece avete voglia di intraprendere qualcosa: per gli sportivi: - passeggiate innumerevoli direttamente da casa verso baite tipiche e montagne stupende - sentiero percorribile con gli sci per raggiungere a 1 km la stazione a valle della pista mondiale "Saslong", e accesso alla famosa SELLARONDA con oltre 500 km di piste - centri sci di fondo a 2 km (Monte Pana/Alpe di Siusi e Vallunga) - via ferrate, ciaspole, slitta e sci alpinismo - piscina, sauna e centro benessere/wellness a 6 km - centro d'arrampicata, stadio del ghiaccio, tennis, bowling, billard, equitazione, (1,5 km) - bocce, ping pong ( in casa) per gli amanti della cultura: - concerti, sfilate folcloristiche e altre manifestazione - Selva (1,5 km): negozi, ristoranti con piatti tipici tirolesi e non, apres ski,Vallunga - S.Cristina (1,5 km): Castel Gardena, orologio solare Monte Pana, sentiero dei pianeti, cascata Tervela, mercatino di Natale - Ortisei (6 km): zona pedonale pittoresca, museo ladino, gallerie d'arte Unika e Art 52 gite giornaliere: - passi dolomitici - Bressanone (35 km), piscina Acquarena, museo diocesano, museo farmaceutico, Duomo e via crucis con affreschi gotici - Bolzano (43 km), chiesa dominicana costruita ca. 750 anni fa, museo archeologico, Castel Roncolo con affreschi del 15.secolo, passeggiate Osvald e Talvera, Messner Mountain Museum, Thuniversum - laghi naturali di Monticcolo (60 km) e Caldaro (71 km), dove è possibilie fare il bagno da giugno a settembre - Merano (74 km), Castello Trauttmann con giardino botanico, Castel Rametz con degustazione di vini tipici, Bagno Termale, Museo del Turismo (Touriseum) - Innsbruck (115 km), Alpenzoo (zoo alpino più alto d'Europa), Duomo, Tetto d'oro (Goldenes Dachl), Castello Amras, trampolino Berg Isel, centri commerciali, casinò I proprietari abitano in un appartamento al piano terreno e saranno a disposizione durante il vostro soggiorno
Das Haus ist bestens geeignet für Familien. Wir waren 5 Familien mit einigen Kindern zwischen 1 und 3 Jahren. Rund um das Haus ist viel Platz zum Spielen für die Kinder. In dem Tal gibts super Spielplätze und einige Wanderstrecken für Kinderwägen.
Andreas
2016-09-04T00:00:00Z
Nous avons un groupe de 12 personnes d'une soixantaine d'années et nous avons passé des vacances fabuleuses grace à l'accueil et la gentillesse de la famille de Thomas et à tout le confort que nous avons trouvé dans leur appartement (constitué de 7 chambres avec salle de bain , plus cuisine et salle à manger) pour un prix plus que correct. Dans un emplacement stratégique et de premier ordre, nous recommandons cette location pour passer des vacances idéales dans les Dolomites (été comme hiver) à un prix plus que correct. En effet, nous sommes vennus en mai (hors saison) et avons visité, Sirmione en bas du lac de Garde, le val de Funès, Cortina D'ampezzo, le lac de Misurine, l'alpe de Suisi, le lac de fiè, Innsbruck, Bolzano, et Verone, tout celà en une semaine. Un grand merci à Thomas et sa famille pour nous avoir permis de passer un séjour si agréable, et peut être à bientôt.
Jo
2013-05-12T00:00:00Z
Huonetyyppi
Koko talo/asunto
---
Majoituspaikan tyyppi
Talo
---
Majoittujien määrä
16
---
Makuuhuoneet
Sëlva, Trentino-Alto Adige/Südtirol, Italia
Camera matrimoniale con zona soggiorno 54 m², stufa tirolese, vasca Jacuzzi, bagno di vapore con getti massaggianti e aromaterapia, asciugacapelli, accappatoi, telefono, collegamento ADSL , TV satellitare, Dolby Surround, minibar e cassaforte.
Un ambiente gradevole Vi fará sentire a proprio agio fin dal primo istante. L'ospitalità calorosa e attenta, il comfort e la splendida posizione nel cuore di un'area vacanze unica al mondo sono le garanzie per una vacanza indimenticabile. D'inverno direttamente sulle piste da sci con collegamento diretto alla Sella Ronda e d'estate a pochi passi dal Parco Naturale Puez-Odle e dalle Dolomiti, patrimonio mondiale della natura dell'Unesco. Nell'area relax troverete una BIO sauna e un angolo con succhi di frutta, acqua e tisane.
a pochi passi dal parco naturale Puez Odle rimanendo comunque centrale.
Huonetyyppi
Yksityinen huone
---
Majoituspaikan tyyppi
Talo
---
Majoittujien määrä
2
---
Makuuhuoneet
Selva di Val Gardena, BZ, Italia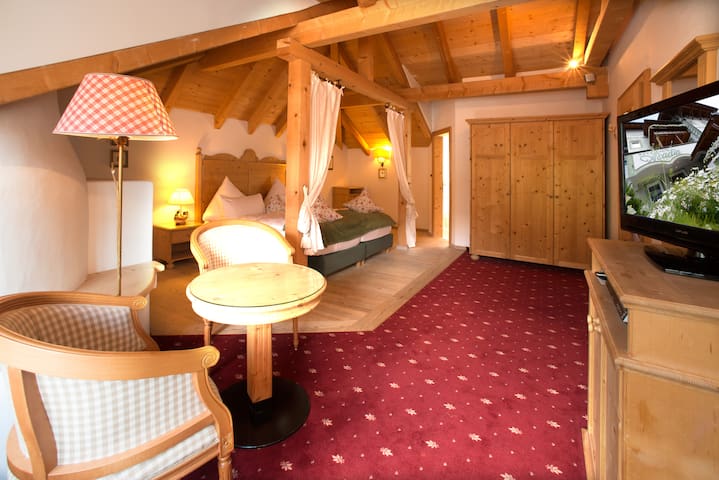 Beautiful chalet, wonderfully located in the woods of Santa Cristina di Val Gardena,served by shuttle bus to the ski slopes,original vintage style furniture.For those who love the mountains and want to have an exciting experience with family/friends. Perfect for groups of 8,if adults, and suitable up to 11 if some of the guests are young people or children and teen agers who easily sleep in three in one room or with their parents.
The house offers a spectacular panoramic view of the Sasso Lungo and Sella Group of the Dolomites. The ideal location for those who love trekking, hiking and summer walks in the mountains and - most importantly! -a Paradise for those who love skiing. Spacious, bright and comfortable. It comprises all together of four bedrooms and a spacious living room with a large dining table ( synthetically described by the website as the 5th bedroom)and nice a sunterrace, a fully equipped dining room/kitchen where a large group can eat meals in the second dining table of the house. The bed rooms are organized as follows: two double twin bedrooms ( in one of them an extra third bed can be added); one ( the biggest ) with a double king size bed and an extra single bed, one single bedroom and two bathrooms (one with shower, and one with bathtub), plus a sink in one of the two twin bed rooms. The house can accomodate up to 11 people ( considering the sofa bed and the third extra bed), but for full confort it's ideal for 8, if all adults, and up to 11 if there are young people or children and teenagers who can sleep together in the room of three beds and one with the parents in the third single bed of the king size double bedroom .
Santa Cristina in Val Gardena, with Selva and Ortisei, is a popular tourist destination of South Tyrol, both in winter and in summer, with its many attractions and sporting activities. Santa Cristina dislocate at 1.428mt of altitude, in the heart of the Dolomites, extending from the Odle Group in the north to Sasso Lungo and Sasso Piatto in the south. During the summer it is the ideal starting point for beautiful hiking, walking, and climbing, while during the winter months it offers perfectly prepared skislopes of vary ingdegrees of difficulty, all connected in the famous Sella Ronda and the Gardenaronda route. The better-known areas are the Col Raiser and Seceda, The Champinoi, Plan de Gralba and Monte Pana. For those who prefer cross-country skiing, our Valley has about 30 km of trailsthrough the woods of the famous Alpe di Susi.! The central location S. Cristina guarantees easy reach to the numerous ski lifts of the Dolomiti Superski area! Were mind you that our chalet, situated above the village, on the edge of the wood, in the quietness of nature, however its only few meters from the bus stop for the shuttle for skiers ( winter service)!
We stayed with family of 7 people in this house for 7 days. We had a great time and the house was very good. We got good information from the owner on activities in the area. We got quick reply to all our questions and good introduction to the house when we came there. The house is located above the main town but there was a ski bus in the morning and afternoon, in front of the house that took us to the skiing slopes and back. Good parking place at the house, car is needed since the house is located in 30 min walk up hill above the town. The house in on the "sunny side" of the valley with spectacular view of the mountains.
Hjortur
2016-01-03T00:00:00Z
Ho affittato Il Ciabot per una vacanza in famiglia (sette adulti e una bambina di nove anni), cercando di accontentare tutti, data le nostre differenze di età, predisposizione alla montagna e aspettative su dieci giorni di convivenza. La casa, ben posizionata e curata amorevolmente, ci ha subito trasmesso una sensazione positiva. Ad attenderci il giorno dell'arrivo abbiamo trovato la mamma di Elisabetta, che ci ha accolto calorosamente e ci ha spiegato tutto quello che dovevamo sapere. Il soggiorno è stato più che piacevole per tutti e ha sicuramente contributo alla riuscita della nostra vacanza. Un grazie ad Elisabetta e alla sua meravigliosa famiglia: un'esperienza da ripetere! Just a few words to help our English speakers. I booked Il Ciabot for a ten day family holiday (seven adults and a nine year old girl). We were welcomed by Elisabetta's mum, a lovely lady who spent some time with us explaining all we had to know about the house and offering to help us on planning our days in Val Gardena. The house was beautifully presented and completely suited our needs and fulfilled our expectations, giving us a cosy feeling since the beginning. Thank you to Elisabetta and to her lovely family. For sure an experience worth repeating.
Daniele
2016-08-25T00:00:00Z
Exactly what we wanted! We were looking for good value basic accommodation to use as a family skiing base but we wanted it to be warm, clean and well equipped for a 3 generation family of 6. This self contained apartment on the top floor of the house met our needs perfectly. It was exceptional value for money. We really enjoyed the quiet location, the lovely hot showers, warm rooms, the well equipped kitchen and the fact we could park our car in the garage. Elisabetta was very helpful over booking and arrival arrangements and we knew she could be easily contacted if necessary. If you stay here you will need a car but the road down to the village is an easy drive. Santa Cristina is a good skiing base and has a lovely small children's slope right in the village.
rob
2016-02-20T00:00:00Z
Il Ciabot is a traditional house situated on the hill above Santa Cristina a 2-3 minute drive from the center of town. There is also a ski bus stop right outside. The road to the house is a normal, well maintained street and parking is easy in the driveway. The road is regularly plowed but during heavy snow you would need chains or snow tires to reach the house (these are required by law anyway in the winter in this part of Italy). The house has beautiful views of the surrounding valley and mountains including Sassolungo. The kitchen is newly renovated and the rest of the house was comfortable. We enjoyed a wonderful week cross country skiing on the many spectacular trails in Val Gardena. This is truly one of the most beautiful places to do cross country skiing. Elisabetta was a warm, well organized and reliable host, confirming the booking quickly and ensuring the house was clean and warm when we arrived and that there was someone to meet us. We stayed with our dog and this was a very pet friendly rental. Grazie mille Elisabetta per il buona setimana in Val Gardena.
Michael
2015-02-28T00:00:00Z
Хозяин был гостеприимный и быстро реагировал на все просьбы. Жильё соответствовало описанию.
Aleksandr
2016-01-10T00:00:00Z
Plus Points Elisabetta - Wonderful. Nothing was too much trouble and her English is excellent. The Chalet. Quite traditional but the bathrooms and kitchen have been modernised. Comfortable, spacious, warm and very clean. The position. 30 minutes walk up a steep hill from town (taxis are easy and plentiful) but it is very quiet and the views are excellent. There is though a ski bus (€10 per week for area wide pass - please note that rather oddly you can't buy this pass on the bus [machine in ski pass office in town centre or at the Tourist Office]) that runs a service morning and late afternoon which runs every 15 minutes from just outside the chalet [the other advantage is that this is the first stop so you are guaranteed to get on!] The Dolomites - what a wonderful area. Our first visit but it certainly won't be our last. Negatives - none really but the chalet, we think, would be improved by knocking down the wall between kitchen and sitting room and making a larger living area (having a sliding door could then be used if the sitting room was needed as a bedroom). The various pictures on the walls are a bit 'eclectic' and some of the furniture is a bit 'random'. The lighting is basic.
David
2016-01-18T00:00:00Z
The chalet is well situated uphill, close to the city center (2/3 minutes by car). Many thanks for the detailed description of the area, restaurants, slopes and infomation about the chalet. The chalet is perfect for 8 people, for 10 it was a little tight (2 people on the couch in the living room). The kitchen equipment was barely enough for 10, but Elisabetta is a perfect host, very helpfull. She provided us with more kitchen utensils via her private apartment below. The Dolomites, Santa Christina and Il Ciabot account for a perfect (ski) holiday in Italy! Kind regards, Ella, Yvette, Maarten, Cedric & kids
Cedric
2016-02-13T00:00:00Z
Elisabetta was an excellent host. Helpful, friendly and very quick to reply to any questions. The house is well located in a quiet and safe location for the children with the added benefit of a secure garage to store our bikes in. We had a great time staying here with good biking and hill running from the door. Amazing views from it's elevated position on the hill. Good local shops and easy access to the west side of the Dolomites. I would recommend staying here and highly commend our host Elisabetta.
Neil
2016-08-14T00:00:00Z
Huonetyyppi
Koko talo/asunto
---
Majoituspaikan tyyppi
Talo
---
Majoittujien määrä
11
---
Makuuhuoneet
Santa Cristina Valgardena, Trentino-Alto Adige/Etelä-Tiroli, Italia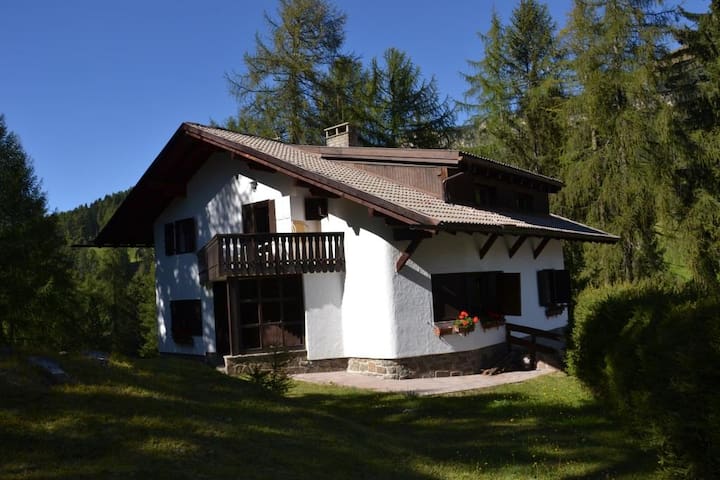 Das Doppelzimmer mit Badezimmer. Schöne Aussicht mit Blick auf die Dolomiten. Der Garten kann auch von den Gästen benutzt werden. liegt 150m von der Bushaltestelle (URL HIDDEN) Nacht und Gast wir eine obligatorische Ortstaxe von 1,10€ extra verrechnet (Kinder unter 14 Jahren sind von dieser Taxe ausgeschlossen). N.B.: si noti che a persona (oltre 14anni) e notte viene calcolata una tassa obbligatoria di 1,10€ Oligatory tax 1,10€p/n AUßERSAISON KEIN FRÜHSTÜCK!!! NO COLAZIONE FUORI STAGIONE
This place is very highly recommended! It's more of a hotel than your typical Airbnb place. They treated us like royalty and were incredibly helpful and well-prepared. The hillside it's situated upon gives beautiful views of the town. The place is clean, spacious and very comfortable. The highlight of our day staying there was the wonderful breakfast we could start our day with. Also, something we weren't expecting was a week-long public-transport card they gave each of us upon arrival which allowed us to ride all the buses in the South-Tyrol region for free; it came in very handy. The only downside is that it can be a bit of a pain to get to. There is a rather steep hill that takes about 20 minutes to walk up - not too much of an issue, unless you have all your luggage. We arrived in Santa Christina with all our luggage and discovered that the local bus that runs from the center of town up the hill only comes about 5 times a day - we'd have to wait 3 hours for the next one. But they were kind and hospitable from the start and when we sent them a message from the wifi of a nearby restaurant they immediately drove down and gave us a lift. Despite that hill, I still whole-heartedly recommend this place because of how great our stay there was. We were sad to leave it.
Raymond
2016-07-11T00:00:00Z
verhuurders zijn lieve,brave mensen.Omgeving en natuur zijn (URL HIDDEN) kamer en badkamer zijn klein maar (URL HIDDEN) ons geval als tussenstop voor een nacht op terugweg van toscane juist goed,maar naar ons gevoel te klein voor een ganse week.Ontbijt was goed.
Mathieu
2016-09-11T00:00:00Z
Otto was a great host. The room was even better than the pictures and the service was five star. Complimentary breakfast was the cherry on top. Thanks again Otto!
William
2016-07-23T00:00:00Z
We loved our stay!! The hosts were very hospitable and helpful. Our room had everything we could need and the view was amazing. It's definitely a hike to get to the house, but we thought it was well worth it.
Lindsey
2016-10-14T00:00:00Z
Очень гостеприимные хозяева! Дали нам апгрейд в виде комнаты с персональной ванной. Кухни нет, но нам дали всевозможную посуду и кипяток, чтобы мы могли попить чаю и перекусить в номере. Завтрак потрясающий с замечательным видом на горы! Плюс ночью было тепло, что немаловажно в октябре!
Grigory
2016-10-16T00:00:00Z
We had an amazing staying. The family was nice and helpful. Thank you for hosting us :) we had a very good time.
Elena
2016-07-14T00:00:00Z
Esperienza molto buona. Otto e sua moglie sono stati fantastici e molto accoglienti. Pulizia impeccabile. Colazione buona e abbondante
Sofia
2016-08-08T00:00:00Z
Wir haben einen super schönen Urlaub bei Otto gehabt. Die Familie hat uns sehr herzlich aufgenommen und regelrecht verwöhnt. Das Zimmer und das Bad waren super sauber und mit viel Liebe eingerichtet. Das Frühstück war abwechslungsreich und der Kaffee typisch italienisch stark und super lecker. Es gab immer viel Gesprächsthemen und war sehr offen und herzlich. Wir kommen gerne wieder und können das Quartier sehr weiterempfehlen.
Ute
2016-05-22T00:00:00Z
Huonetyyppi
Yksityinen huone
---
Majoituspaikan tyyppi
Talo
---
Majoittujien määrä
2
---
Makuuhuoneet
Santa Cristina Valgardena, Trentino-Alto Adige, Italia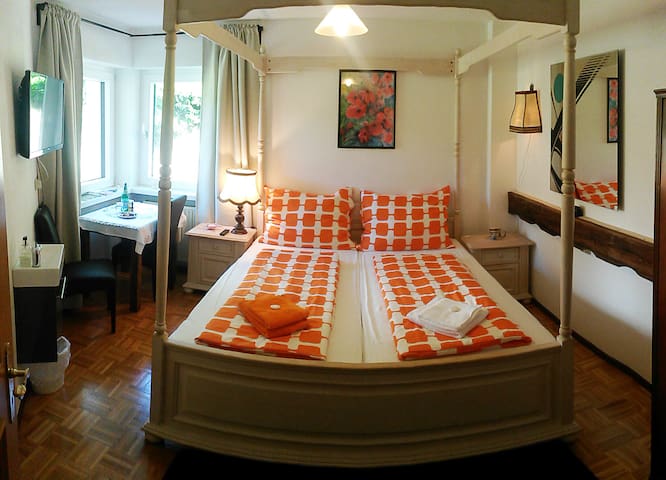 Se cerchi un posto accogliente a due passi dalle piste da sci, hai trovato quello che fa per te! Situato nel cuore del paese, vicinissimo a tutti i servizi che la Val Gardena offre!
Nel cuore del paese è a disposizione un accogliente appartamento all'interno del "Residence Casa Metz". La cucina abitabile è completamente attrezzata e con tutto il necessario per cucinare in autonomia. La sala ha un divanetto letto matrimoniale. Nella camera da letto si trova un letto matrimoniale molto confortevole. Il bagno principale è dotato di doccia e vasca. L'appartamento è dotato di riscaldamento condominiale. Il parcheggio auto è gratuito davanti all'appartamento. E' una sistemazione adatta a coppie oppure anche a famiglie con bambini. A disposizione degli ospiti reception, garage, sauna, idromassaggio, deposito sci e scarponi, lava/asciuga e la taverna con il camino dove incontrarsi la sera. E' disponibile la connessione internet gratuita nell'area della reception.
L'appartamento si trova nel centro del paese, vicinissimo a tutti i servizi che la valle offre. La cabinovia "Ruacia/Sasslonch" dista 600 mt., la seggiovia "Monte Pana" 300 e lo skibus 200. Santa Cristina è il più piccolo dei tre paesi che caratterizzano la val Gardena. Posizionata proprio di fronte al Sassolungo è il luogo ideale, non solo per tutti gli sport che si possono praticare, sia d'inverno, che d'estate, ma anche per chi cerca un po' di tranquillità. Gli impianti di risalita partono direttamente dal paese e permettono di accedere in pochissimo tempo al famoso "Sella Ronda" e alle piste più affascinanti di tutto il Dolomiti Superski.
L'appartamento si trova in un residence quindi massima comodità per il check in e il check out alla reception. La casa è molto accogliente, con arredamento di montagna, un bell'angolo cottura e una spaziosa zona living con due divani dove poter rilassarsi dopo una giornata sugli sci. Gli impianti sono raggiungibili a piedi. Ideale anche con bambini.
alessia
2016-02-10T00:00:00Z
First of all, I would like to thank Gianluca for his communication before the arrival. Generally, it was a great ski week without really big complaints! I was switched after my arrival to another apartment No. 10 (I reserved formerly the No. 9.), so my suggestions suits for the No. 10, not for the No. 9. As for the negative (don't take me wrong, these are minor issues) - I would recommend to add more kitchen´s equipment, which is basic. I missed any kind of boil kettle or coffee machine, toaster or toast-maker and bigger cups (mugs) for tea or instant coffee drinkers. Normal wine cups would be also welcome. There were some small issues with interruptions in the wi-fi, but overall for the rest it was OK. The No. 5 Strada Iman was a little bit harder to find in my navigation. You have to search for the Casa METZ. The apartment is big enough, the beds comfy, the armors spacious, and the toilet clean. A bonus is the balcony. I would also say GREAT THANKS for the sauna (even if some of the other guests did not understand that it is necessary to reserve "your hour" in advance at the reception), the lockers for ski and the spacious heated room for the ski boots. The bank, the shops, the restaurant, every kind of facility, the things are close... As for the distance to the ski lifts we are sporty skiers and we found it correct. In every case, to Monte Pana the distance is decent, anyway for the rest (Saslong and others), for an average family, it is advisable to buy the bus pass or to count on the car and go early in the morning to take your place at the parking near the slopes. If you go to Dantercёpies or Alpe di Siusi, there is a lot of place and the parking is only 4 or 5 € a day. Overall this was a great experience and would like to return one day!
Zděnovec
2017-02-11T00:00:00Z
Huonetyyppi
Koko talo/asunto
---
Majoituspaikan tyyppi
Talo
---
Majoittujien määrä
4
---
Makuuhuoneet
Santa Cristina Valgardena, Trentino-Alto Adige, Italia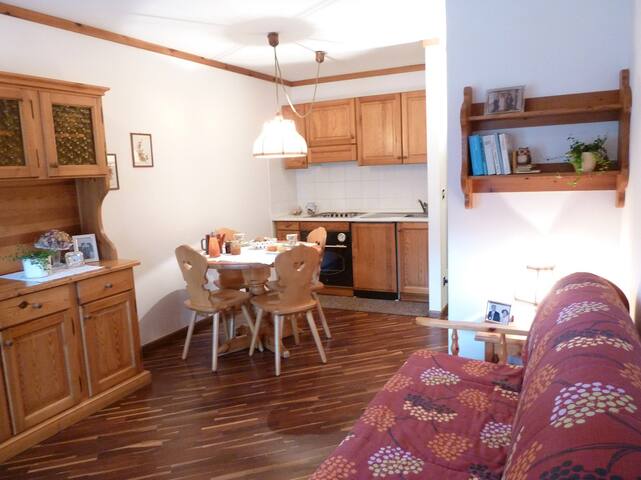 The residence Val di Fassa is located in the municipality of Canazei in the hamlet of Alba, just 900 meters from the Belvedere cable car Canazei and only 800 meters from the new cable car Col de Rossi Alba. Both systems connect you directly with the Dolomiti Superski, the legendary tour of the 4 steps called Sella Ronda, and can be reached by ski bus which stops are located right in front of our apartment. And 'it is including the use of the garage marked with n. 27
The ski bus stop is right in front of the apartment to reach the lifts without taking the car. You can also dine at the price of 20 € per person, drinks included, at "Villa Emma" agreement with our residence, just 50 meters from our hotel. The price includes use of the indoor garage for your car that is located below the apartment and marked with n. 27
In Canazei, just 900 mere lies the aquatic center Dòlaondes, swimming pools with water slides and wellness center while in the hamlet of Pozza di Fassa, just 10 km, you will find the brand new and beautiful "QC Terme" to spend some beautiful days in relax also it is made by those who do not ski. The population of Dawn is only 700 meters from our house there is the ice rink where they play the Fassa Falcons, the league team of ice hockey in the Val di Fassa, and where you can also rent the equipment for ice skating . During the summer you can also rent mountain bikes to move along the beautiful trails of the valley and make climbing courses for beginners and advanced students as well as organizing walks and excursions with mountain guides of the place on foot or on horseback.
Huonetyyppi
Koko talo/asunto
---
Majoituspaikan tyyppi
Talo
---
Majoittujien määrä
6
---
Makuuhuoneet
Alba-penia, Trentino-Alto Adige, Italia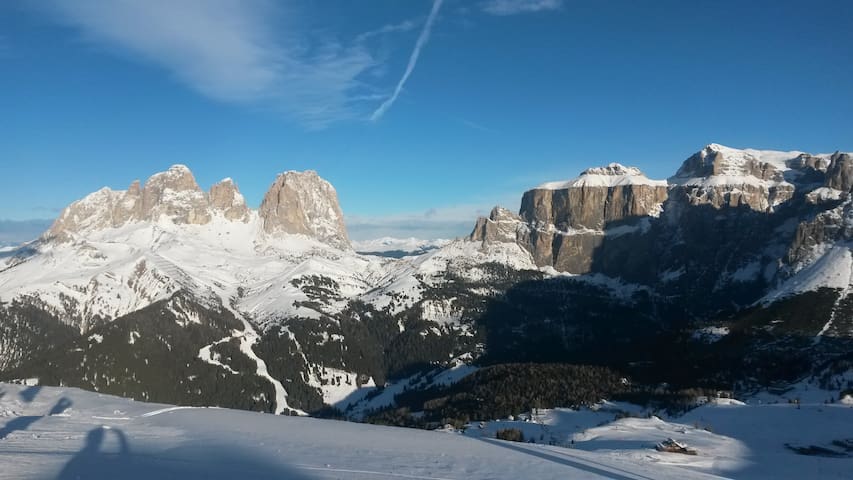 Schlafzimmer mit Privatbad.Auch für 3 Personen geeignet (beachte PREISÄNDERUNG!!). Aussicht mit Blick auf die Dolomiten.Der Garten kann auch von den Gästen benutzt werden.150m von der Bushaltestelle (URL HIDDEN) Nacht und Gast wir eine obligatorische Ortstaxe von 1,10€ extra verrechnet (Kinder unter 14 Jahren sind von dieser Taxe ausgeschlossen). N.B.: si noti che a persona (oltre 14anni) e notte viene calcolata una tassa obbligatoria di 1,10€ AUßERSAISON KEIN FRÜHSTÜCK!!! FUORI STAG NO COLA
Otto and his family were incredibly friendly. He offered us information on anything we needed. The location and view are spectacular! Breakfast was great with lots of choices. The room itself was very clean and big. Would definitely come back and stay here again.
Caitlyn
2016-08-10T00:00:00Z
Sehr netter Gastgeber. Alles wie beschrieben. Auf jeden Fall weiter zu empfehlen.
Alexander
2017-02-25T00:00:00Z
Otto e sua moglie sono molto gentili e attenti. Abbiamo usufruito di una stanza doppia per due notti e ci siamo trovati molto bene. Posto incantevole appena fuori dal centro di Santa Cristina, comodissimo per chi è in auto con parking alla pensione Bellavista a 50m. Un po' distante a piedi dal centro ma panorama mozzafiato su Santa Cristina. Ottimo per una coppia che vuole una soluzione economica ma di qualità.
Samanta
2017-02-12T00:00:00Z
Posto con una vista panoramica mozzafiato. Alloggio famigliare ed accogliente, pulizia al top! Super mountain view!!! Very nice familiar accomodation, TOP clean!
Enrico
2017-01-22T00:00:00Z
Qui sei accolto in famiglia, una bella famiglia, senza che loro interferiscano sul tuo soggiorno. Ottima e abbondante prima colazione con vista bellissima sul Sassolungo. Camera essenziale ma curata e silenziosa.
Francesco
2017-03-19T00:00:00Z
Ottima accoglienza, gestione familiare e pronta a venire incontro alle esigenze del cliente. Il posto è davvero incantevole ed il panorama dalla sala da pranzo mozzafiato. Penso che tornerò da Otto anche qualche giorno in estate!!
gaetano
2017-03-01T00:00:00Z
Great place to stay, perfect location 3 minutes driving from Selva and connected to bus service to Col Raiser and Seceda slopes.
Elena
2017-01-08T00:00:00Z
Abbiamo alloggiato una notte in una bella camera accogliente con tutto il necessario!! Colazione abbondante e il paesaggio che si può ammirare è veramente molto bello. Consigliato!!
Daniela
2016-08-14T00:00:00Z
Huonetyyppi
Yksityinen huone
---
Majoituspaikan tyyppi
Talo
---
Majoittujien määrä
2
---
Makuuhuoneet
Sankt Christina, Trentino-Alto Adige, Italia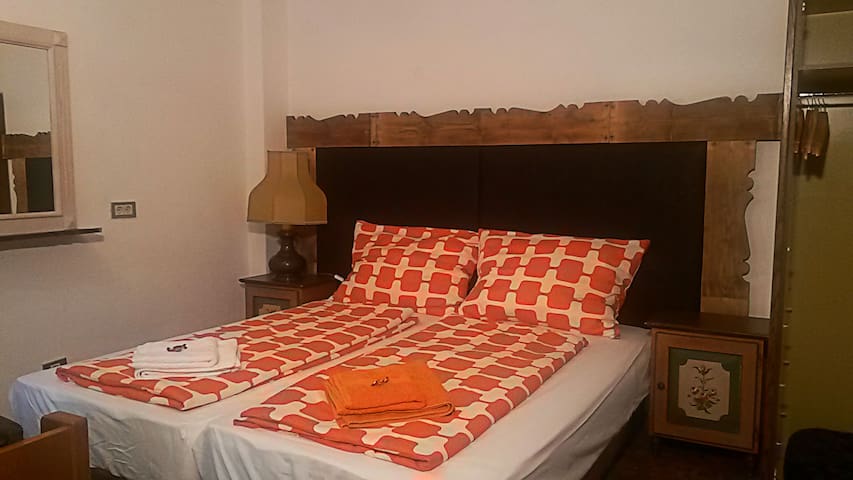 Double room with private bathroom
Our bed and breakfast is a typical mountain apartment at the third floor of a house without elevator, in the middle of the Dolomites. There are three rooms, one with private bathroom and two rooms with shared bathroom, a breakfast room with the balcony and parking space for cars and motorbikes. From the balcony you can enjoy a breathtaking landscape of the Dolomites.
The best way to reach Campobase is by car. The village is at around 1500mt in a silent area. If you are looking for relax here you will find it! In Laste there are no supermarkets, just a little shop and no restaurants. We have a convenction with the nearest Restaurant Digonera at 4 km from Laste where you can have lunch and dinner.
I am Italian and I have traveled a lot but this place is the best best place in the world, it's so cozy and massimo is fantastic, it's few minutes from SAS DE ROCIA, you can climb it with no equipment ! I wanna move there ! It will be the best place on earth !
Marco
2016-08-12T00:00:00Z
I have been traveling in Italy for thirteen weeks and this was truly the best place I've stayed, probably the best place I've ever stayed. Not only is it in an absolutely breathtakingly beautiful location, but Massimo is the kindest host you could ever imagine. When I told him I didn't have a car, he picked me up at the train station in Belluno (an hour and a half away), and drove me back there on the day I left. He gave me all sorts of great recommendations for hiking trails, cooked me a traditional Tyrolean dinner, spent a day giving me a driving and hiking tour of the Dolomites, and when I told him I was out of toothpaste, he even went to the store to get me a new one. Truly the kindest host I have ever had. I cannot recommend this place more highly. In addition to Massimo's fantastic hosting, the place is also lovely with windows framing the Dolomites in every direction. It's super clean and Massimo has a well-stocked kitchen full of yummy breakfast items. If you have a choice of where to stay, stay here! 110% recommended.
Justine
2016-09-04T00:00:00Z
This was an excellent location to rest and recharge my batteries. While based here I visited Tres Cimes for an excellent day hike, Marmolada for a hike and lunch (charming place across the Dam wall), Ice climbing in sottoguda, The restaurant in Laste served excellent an dinner. Massimo provided excellent hospitality throughout my stay, catering to my late/early departures and making sure I felt safe while hiking. The rooms are cosy and shower is nice and hot after the day's activities. I would highly recommend you stay with Massimo, you will need a car in this region to get the most out of your experience.
Matt
2016-12-30T00:00:00Z
Se amate la montagna e volete viverla in ogni sua forma, lontano quanto basta dalle orde di turisti, ma vicino alle vette più imponenti delle Dolomiti, non c'è posto migliore per soggiornare di Campobase. Un ottimo punto di partenza per ogni tipo di avventura in ogni stagione, un luogo in cui trovare pace e serenità e sentirsi come nella propria casa in mezzo ai monti. Massimo ha reso il nostro soggiorno indimenticabile grazie alla sua disponibilità, accoglienza e simpatia. Ci ha fatto sentire parte del luogo in cui stavamo vivendo guidandoci verso posti meravigliosi, ascoltando i nostri racconti e facendoci rivivere la storia di quelle valli incantate.
Daniele
2017-01-08T00:00:00Z
Huonetyyppi
Yksityinen huone
---
Majoituspaikan tyyppi
Talo
---
Majoittujien määrä
2
---
Makuuhuoneet
Laste, Belluno, Italia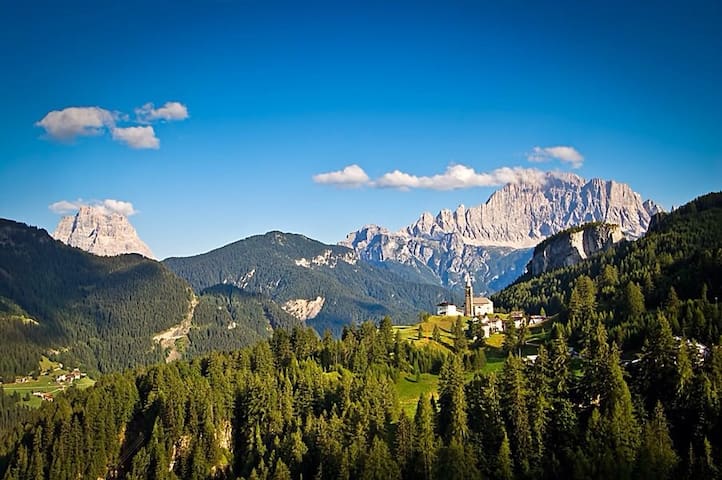 Einzelzimmer mit Badezimmer.Schöne Aussicht mit Blick auf die Dolomiten. Der Garten kann auch von den Gästen benutzt werden. liegt 150m von der Bushaltestelle (URL HIDDEN) Nacht und Gast wir eine obligatorische Ortstaxe von 1,10€ extra verrechnet (Kinder unter 14 Jahren sind von dieser Taxe ausgeschlossen) N.B.: si noti che a persona (oltre 14anni) e notte viene calcolata una tassa obbligatoria di 1,10€ AUßERSAISON KEIN FRÜHSTÜCK! NO COLAZIONE FUORI STAGI Obligatory tax 1,10€ per night/person
Der Kontakt vor Anreise lief super. Wir sind herzlich in Empfang genommen worden, und hatten ein tolles Zimmer. Das Frühstück war gut, sogar mit Sicht auf die schönen Berge. Die Bußstation ist um die Ecke und Parkplätze sind ebenfalls vorhanden. Auch der WLAN Empfang war einwandfrei. Wir haben unseren Aufenthalt sehr genossen und kommen gerne wieder. Danke für alles lieber Otto und Familie :)
Ramona
2017-01-22T00:00:00Z
Otto is a very nice guest and the place is really good and comfortable
Adrian
2016-10-14T00:00:00Z
Super nette Familie, tolle Unterkunft. Immer wieder gerne ...
Dominik
2016-06-05T00:00:00Z
I had a wonderful time in Otto's residence. He was very kind and a good host. The appartment has a awesome view and the room is very clean and comfortable
Paola
2016-12-14T00:00:00Z
I had a wonderful time and enjoyed my stay very much with such a lovely family! Perfect ! Thank you!
Anita
2016-09-15T00:00:00Z
Красивый вид, тепло, уютно, чисто!
Oleksandr
2016-10-23T00:00:00Z
Jeg ble møtt på en strålende måte. Jeg ble tatt godt i mot og fikk god informasjon om stedet og om turmulighetene i området. rommet var rent og pent, og svarte til mine forventninger. Om morgenen fikk jeg god frokost sammen med andre gjester, noe som bidro til god stemning. Stedet ligger vakkert til med utsikt over dalen og fjellene i området. Dette er et sted jeg virkelig kan anbefale.
Harald
2016-08-22T00:00:00Z
Huonetyyppi
Yksityinen huone
---
Majoituspaikan tyyppi
Talo
---
Majoittujien määrä
1
---
Makuuhuoneet
Santa Cristina Valgardena, Trentino-Alto Adige, Italia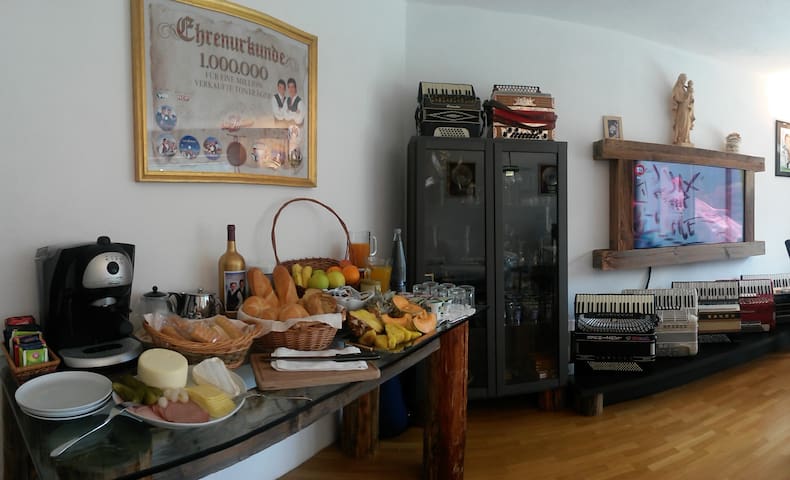 The house was built in 2008 and has 3 bedrooms, 2 bathrooms, a large kitchen / dining area with full kitchenware and a cozy living area. Two terraces, one balcony, two indoor parking spaces in the basement. Plenty room for ski equipment and bikes!
A two storey townhouse with garage in the basement. It has 2 bathrooms, 3 double bedrooms, a huge kitchen/living room with dishwasher and TV/SAT.
Campitello is an old mountain village with supermarket, butcher, bakery, restaurants, bar, bank, info, sports shops, etc., and a cable car to Col Rodella. In summer there are a multitude of hiking trails, bike tours, rock climbing, etc. and in winter a huge ski area. The swim Dolaondes in Canazei is highly recommended!
The host canceled this reservation 4 days before arrival. This is an automated posting.
Pietro
2015-11-30T00:00:00Z
Casa moderna, pulita e accogliente. A due passi dal centro del paese e con una vista notevole...ideale per una vacanza rilassante e all insegna della natura. Il soggiorno e stato breve, ma sicuramente in futuro torneremo. host gentile e disponibile.
Barbara
2016-10-16T00:00:00Z
Huonetyyppi
Koko talo/asunto
---
Majoituspaikan tyyppi
Talo
---
Majoittujien määrä
6
---
Makuuhuoneet
Campitello di Fassa, Trentino-Alto Adige, Italia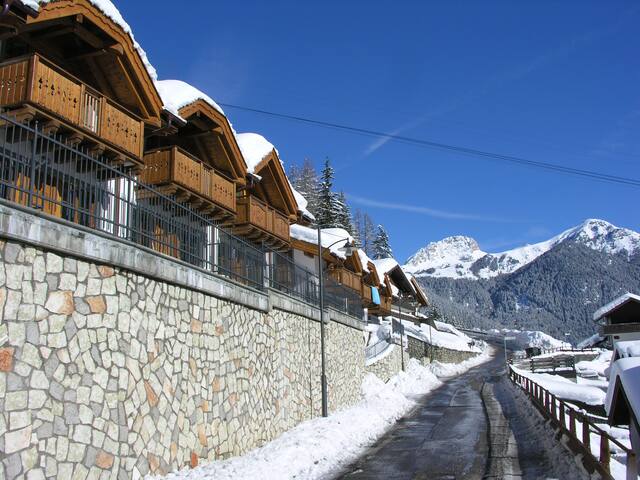 The en suite rooms of Saslong Smart Hotel have a minimalist design and are entirely decorated in local wood. Room rate includes SMART cleaning, which consists of litter removal and airing out of room.
22 sqm with a large modern shower. Smart and ideal for a econom stay with high quality.
Just 800 meters from the center of santa cristina, fine to reach in few minutes the most important starting points for the Dolomites Heritage.
Excellent hotel. Awesome breakfasts, lunches and dinners. Friendly staff. Very convenient location. Quick access to the ski lifts. Highly recommend!!!
Leonid
2016-02-15T00:00:00Z
Nice and convenient place to stay, everything as described in the ad with the one exception that it is in fact a hotel, not a private room. Anyway, can only recommend it if you want to stay in the area.
Elisabeth
2015-08-03T00:00:00Z
The place was great! Good location. Great value. Very clean. Staff were very nice. Good breakfast! Overall enjoyed our stay. We should note though this is not an Airbnb. It is a hotel.
Jason & Sari
2016-08-19T00:00:00Z
Albergo molto carino, camere piccoline ma comode e pulite, si pagano solo i servizi di cui si usufruisce! Con 10 euro a testa abbiamo usufruito della colazione a buffet, buona e abbondante, sia dolce che salato! La posizione è comodissima per le piste, per far bellissime passeggiate e per il centro di Ortisei! Abbiamo potuto inoltre portare il nostro cagnolino!! Consigliato!!
Anna
2015-12-08T00:00:00Z
This is a 'Smart hotel'. everything went very good, we felt nice and comfortable! The area around is very beautiful. Its about 35-40 minutes driving from Bolzano.
Ron
2015-09-05T00:00:00Z
A great modern hotel in the beautiful location. We'd like to stay there again.
Dmitry
2016-07-18T00:00:00Z
Superschön, alles perfekt!!!! Hier werde ich ab jetzt immer hergehen :-)
Verena
2015-07-23T00:00:00Z
Accoglienza cordiale e gentile, personale disponibile, sorridente. Purtroppo mi sono infortunata il primo dei due giorni prenotati e abbiamo dovuto abbandonare la stanza prima del previsto. Spero che si riesca a recuperare il giorno non occupato! Per il resto, adatto a giovani e molto comodo per le piste. Consigliato!
Susanna
2016-01-18T00:00:00Z
Huonetyyppi
Yksityinen huone
---
Majoituspaikan tyyppi
Talo
---
Majoittujien määrä
2
---
Makuuhuoneet
Santa Cristina, BZ, Italia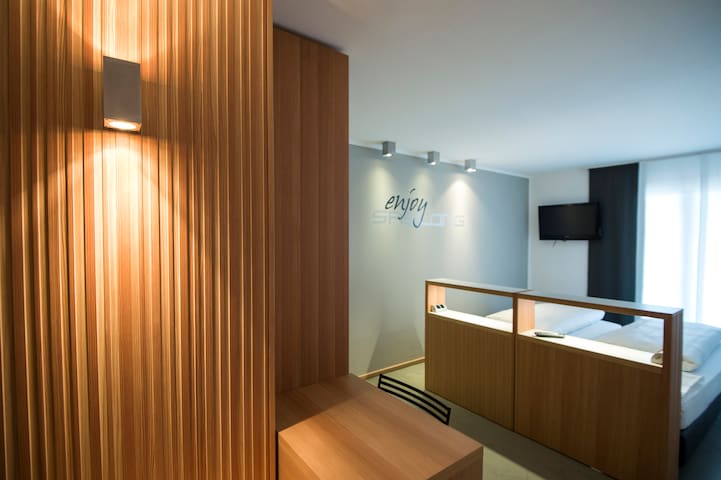 Self catered accomodation in Prime location. - Skiers - Paragliders (100mts to starting point and landing field) - Climbing
Ottima accoglienza, appartamento pulito e spazioso superiore alle aspettative. Location strategica a brevissima distanza dalla funivia. Da ripetere
LUCA
2016-01-10T00:00:00Z
The host canceled this reservation 45 days before arrival. This is an automated posting.
Pavel
2016-01-27T00:00:00Z
Huonetyyppi
Koko talo/asunto
---
Majoituspaikan tyyppi
Talo
---
Majoittujien määrä
7
---
Makuuhuoneet
Campitello di Fassa, Trentino-Alto Adige, Italia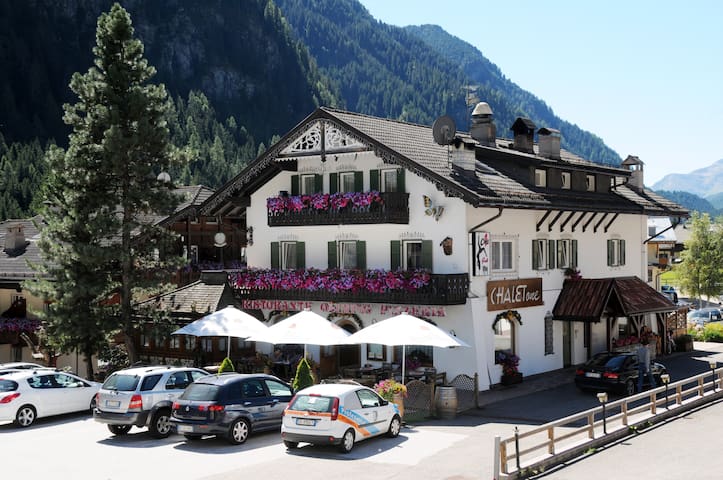 Apartment with wooden walls, decorated in a modern style for you to maximize your comfort during your stay :) This Wi-Fi, TV, Sky and Xbox. Beds and cozy home located just two kilometers from the nearest slopes!
Kitchen, Wi-Fi, shower, bathroom, guest computer, TV and Sky Dialogue very often :) The location is fantastic, for lovers of peace is the place, a few meters there is the best bakery in the Val di Fassa! The stop of the ski buss is a short walk from home :)
The location is fantastic, for lovers of peace is the place, a few meters from my house you will find the beginning of a path leading in different locations (Campitello, Canazei, Vigo di Fassa and pool), 200 meters c ' it is also the best bakery in the Val di Fassa! 500m you will find instead the plants!
Elia è un Host fantastico. Molto socievole e simpatico, sempre disponibile per ogni evenienza! La casa è accogliente, pulita e ben riscaldata. Se volete trascorere alcuni giorni sulle Dolomiti come a casa di amici.. Elia è la persona giusta da contattare! Super consigliato
Lorenzo
2016-01-26T00:00:00Z
Elia is the great host! He was extremely kind and very helpful. We had a super time in his alp's chalet. The Arabba, Canazei and others ski resorts it's quite near. If you have a time to ski or snowboarding just go to spend time in Dolomites and stay with Elia.
Natalia
2015-12-31T00:00:00Z
Nous avons passé un très bon moment chez Elia, meme s'il était en vacances il nous a très bien accueilli. L'appartement était très bien situé, bien amménagé, très beau.
Marion-jeanne
2016-06-24T00:00:00Z
El trato ofrecido por Elia ha sido exquisito, y eso ha hecho que la estancia en su casa haya sido muy agradable.
Marc
2016-08-04T00:00:00Z
Appartamento comodissimo provvisto di tutto,posizione perfetta per godersi al meglio le magnifiche Dolomiti. Non ho avuto occasione di conoscere Elia ma è stato molto disponibile ad ospitarmi in sua assenza..tornerò sicuro per escursioni, giri in bici e sciate!
Alberto
2016-06-20T00:00:00Z
Un grand merci à Elia pour sa disponibilité, son accueil, sa bonne humeur et sa simplicité. Appartement charmant qui contribue à l'appréciation globale du séjour.
pauline
2016-07-16T00:00:00Z
Elia è simpatico, accogliente e pronto a rispondere ai bisogni dei suoi ospiti. Io ero lì per un viaggio di lavoro e il wi-fi quel giorno ha funzionato molto poco, quindi questo è decisamente da migliorare. C'erano due amici dell'host a vivere in casa quei giorni e dei lavori al bagno per gli ospiti: ho potuto accedere al bagno dell'host e gli amici erano piacevoli e rispettosi, avrei però preferito sapere prima di arrivare questi particolari.
Denise
2016-04-07T00:00:00Z
This was a great stay! If you ever go to ski in Dolomites, don't forget to accomodate at Elia's apartment. Everything we needed was there, it's located right on a ski-bus stop, in a quiet place, close to several ski-lifts and shops, and stuff. The most important thing: Elia is such a good guy! He spent some great time with us, told us about everything we asked, cooked for us, got us to know some of his friends (great fellas too), and nothing was a problem whatsoever. We chilled, laughed a lot, learned italian a little, and enjoyed the presence of such a warmhearted people all the time. Definitelly worth it, definitelly going back. Awesome experience. Thanks again! Miro & Ryba
Miroslav
2016-02-10T00:00:00Z
Huonetyyppi
Yksityinen huone
---
Majoituspaikan tyyppi
Talo
---
Majoittujien määrä
6
---
Makuuhuoneet
Fontanazzo, Trentino-Alto Adige, Italia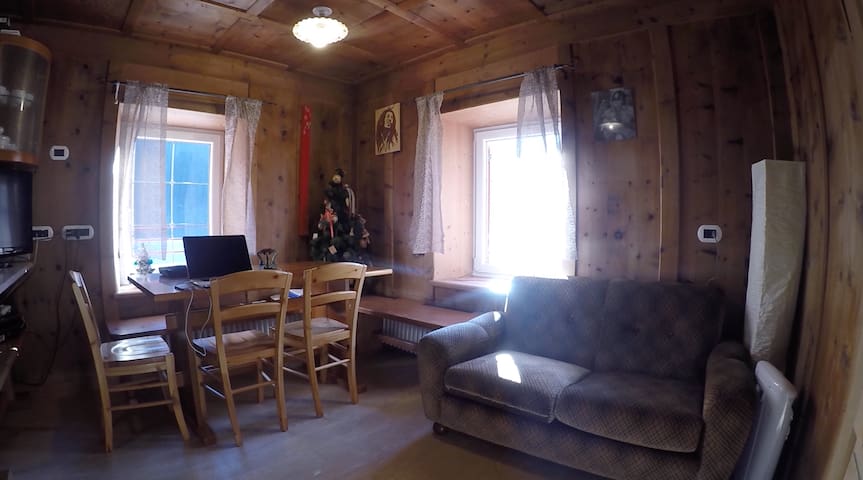 The en suite rooms of Saslong Smart Hotel have a minimalist design and are entirely decorated in local wood. Room rate includes SMART cleaning, which consists of litter removal and airing out of room.
Here, based on the saying "Great vacations at Smart prices", you'll find style and atmosphere, trendy Italian design, cordial South Tyrolean hospitality, lots of amenities and…incredibly good prices! In this Hotel, you only pay for what you actually consume. This is THE SMART HOTEL SASLONG in Santa Cristina Our hotel is the ideal destination for an active holiday in the Dolomites, but also for short stays, groups travel or business trips.
Embedded in the unique mountain world of the Dolomites, a paradise for skiers, hikers and bikers.
Really great experience staying here. The staff was super friendly, the room was very clean and comfortable. The place is actually a lot nicer than the photos make it seem. The hotel has cheap breakfast buffet and there are so many choices of things to eat you can eat something new every day. We really enjoyed our stay thank you!
Thom
2015-07-08T00:00:00Z
Nice
Max
2016-07-19T00:00:00Z
Das Zimmer und das Bad waren sauber. Die Zimmerreinigung ist bei AirBnB im Preis enthalten (kostet sonst 9 Euro pro Tag). Jedoch hatten wir es manchmal nur daran erkannt, dass jemand da war, da der Mülleimer geleert war. Die Betten wurden zB nicht mehr gemacht. Hier muss man aber sagen, dass wir die Betten selber gemacht hatten, bevor wir das Zimmer verlassen haben. Hervorzuheben ist, dass man kostenlos in der Tiefgarage parken kann und sich dort sogar eine Hundedusche befindet. Wir können die Unterkunft somit insgesamt gerne empfehlen...
Holger
2016-10-09T00:00:00Z
Excellent friendly front desk staff, could not have helped us more! Clean modern rooms. Excellent good value restaurant for breakfast and dinner
Nick
2016-09-10T00:00:00Z
Zimmer waren schön und sauber. Tiefgarage direkt durch das Hotel erreichbar. Frühstück war nicht inklusive, aber für 9 Euro dazu buchbar und hervorragend! Vielen Dank!
Indra
2015-07-29T00:00:00Z
the room was very clean.
Bianca
2016-07-24T00:00:00Z
A perfect stay, including great breakfast buffet for 10 Euro, garage for bicycles, fast wlan and very clean and modern rooms.
Matthias
2016-07-04T00:00:00Z
Everything was very clean and organized. We arrived in the evening and were sent a text msg prior to arriving with instructions for late arrivals with regard to picking up our key. It was all VERY easy and organized, and we were very happy to settle into a lovely, spacious, and clean room after a long journey. Breakfast buffet the next morning was very tasty and we would highly recommend it. Rentals are right at the hotel and the bus stop for the hill is right out front. This place is wonderfully located. We will definitely be returning! Thank you for wonderful experience :)
Anna
2016-03-29T00:00:00Z
Huonetyyppi
Yksityinen huone
---
Majoituspaikan tyyppi
Talo
---
Majoittujien määrä
2
---
Makuuhuoneet
Santa Cristina, BZ, Italia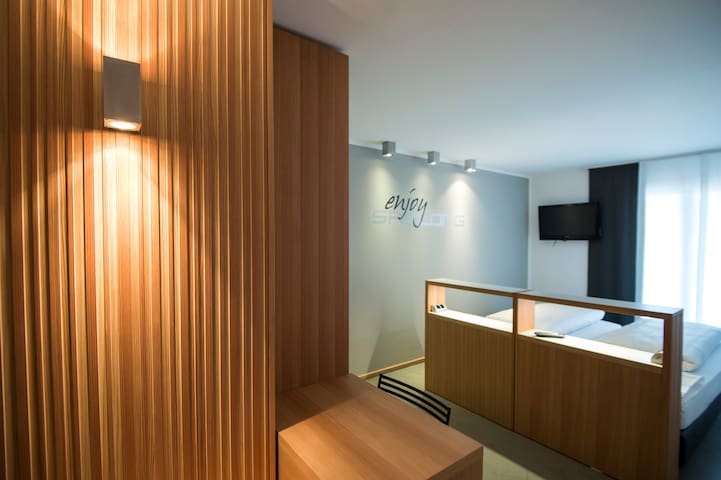 La Cica è un caldo ed accogliente "nido" per coppiette ma anche per famiglie che cercano qualcosa di unico! Gli interni in legno di pino, larice e cirmolo sono fatti su misura nel tipico stile tradizionale di montagna. È munita di parcheggio, garage e sopra di giardinetto per soleggiati pranzi estivi. Vicina a negozi ,ristoranti, hotel (con zona relax) è a 50 mt dalla partenza dello skibus per il Dolomiti Superski. Da non perdere una visita nella gola dei serrai
Casa stupenda, accogliente, calda, intima, comodissima per 4 persone. Comoda alle piste della Marmolada, e ai serrai di sottoguda. Host estremamente disponibile, gentile, e preciso. Location super consigliata.
lorenzo
2017-01-06T00:00:00Z
I stayed 3 days for skiing in a real adventure cottage with my Kids (15) and (12). A nice place without any fancy luxurious things, e.g. WLAN & Co. Perfect for 4 persons how are looking for the cottage-feeling in the middle of the mountains.
Helmut
2017-03-05T00:00:00Z
Valerio's cottage is unique, charming, and in a great location. The accomodations were basic, with no WiFi, which is what we expected based on the listing. It is located within a short walk to the little town of Sottoguda, where there are shops, restaurants, a bus stop, and a hiking trail along the river. It is also within walking distance to the Serrai which was spectacular. We stayed there with two children (8&10) and had enough space for a long ski weekend. There is an open shower in a rather small bathroom, but everything works well, with good water pressure and hot water. The kitchen is small, but functional. There are great views out the windows and from the deck outside. Valerio was quick with communications and was very easy to work with. Our one complaint is that the upstairs (Master) bed is very uncomfortable. Overall though, we loved the charm and location and would definitely stay there again.
Christopher
2017-03-01T00:00:00Z
Il sig. Valerio e' stato veramente cordiale e disponibile. Nonostante un notevole nostro ritardo sull' orario del check-in, ci ha aspettato fino a tarda notte per l'apertura della casa. La casa e' in una posizione di grande veduta panoramica , molto calda e nonostante le sue dimensioni ridotte, molto confortevole. Un ottima vacanza in compagnia di amici
Cristian
2017-01-29T00:00:00Z
This is one of the most cutest and cosiest places i have ever been. Valerio is very friendly and on time. The house is beautiful. It is a bit old fashioned but comfortable. it's a nice place to warm up after a whole day skiing in this amazing area. We stayed here with two couples and really want to recommend this house.
Eline
2017-02-25T00:00:00Z
Huonetyyppi
Koko talo/asunto
---
Majoituspaikan tyyppi
Talo
---
Majoittujien määrä
4
---
Makuuhuoneet
Sottoguda, Veneto, Italia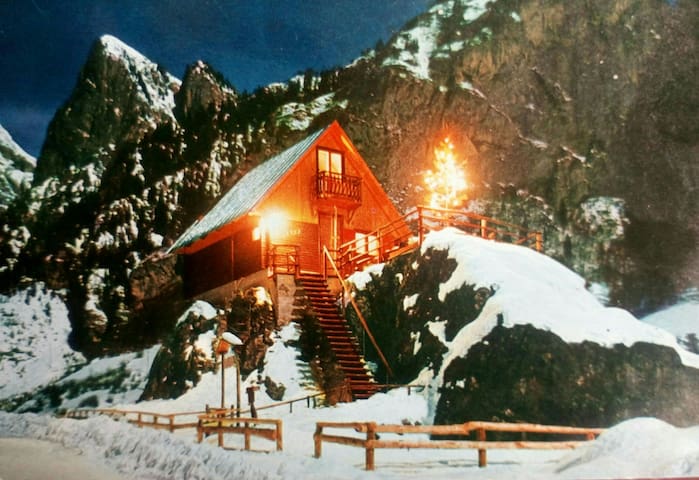 1

–

18

hakutuloksista

27 vuokrattavaa taloa
Anna päivämäärät nähdäksesi kokonaishinnoittelun. Lisämaksuja sovelletaan. Veroja saatetaan lisätä.