219 vuokrattavaa huoneistoa
Gernsbach on virallisesti tunnustettu ilmasto spa upea historiallinen keskusta. Lähellä Baden-Baden kanssa sen ikonin kasino, linnat ja roomalainen kylpylä, se on ihanteellinen loma paikalla. Sumptuous schwarzwald kakkuja, maukkaita Spätzle ja muita paikallisia erikoisuuksia tekee haluat tutustua tähän koskematon alue luonnon ja kulttuurin. Kätevästi, jossa upea näkymä linnan istuu vuoren harjanteelle yli tämä paikka on ihanteellinen perhe matkaa tai romanttinen pako.
Koko asunto 135 q / m2 oleskelutila sekä suuri parveke. Täysin kalustettu keittiö, makuuhuone, vierashuone, tv-huone, jossa vuodesohva. Kaksi täysin ja hiljattain kunnostettu kylpyhuone. Automaattinen ikkunan kaihtimet, WiFi, plasmatelevisio ja monet muut ominaisuudet ovat käytettävissä.
We had a great stay at Brigitte's place. She is a welcoming host and we felt really comfortavle. Very clean and large with great view and nice bathrooms.
Lara
2017-01-30T00:00:00Z
Huonetyyppi
Koko talo/asunto
---
Majoituspaikan tyyppi
Huoneisto
---
Majoittujien määrä
5
---
Makuuhuoneet
Gernsbach, Baden-Württemberg, Saksa
The apartment is located in the Black Forest and connected by a railway line south of KARLSRUHE. Baden Baden and the historic Ettlingen can be visited. WELLNESS: sauna in the apartment; Park location; 3 min walk to Siebentaelertherme. The apartment is cozy, of fate and speaks for itself. The view (from every window you can see the Black Forest, ideal for walking, hiking and fitness) is soothing for the soul. Particularly suitable for couples, and business travelers
A designer fireplace is ready for cozy evenings, homey, it is already the warm hardwood floors. With the sauna in the apartment you can look forward to relaxing even in winter the snow in the Black Forest. For browsing is plentiful. The large corner bath can accommodate two. A very pleasant nest for couples.
KARLSRUHE: Fair, ZKM, KIT, culture and shopping. About public transport (S-Bahn) or reachable by car. BAD HERRENALB: The Wanderungstips are too numerous than I could count them - but the Falkenfelsen, landmark of Bad Herrenalb is (you see it from the sauna room) only half an hour's walk away and offers a beautiful view of the city and parts of the Albtals. The city tax of 2.50 per person per night (including in the price.) Allows one to use the "Guest Card" which free driving with the transport in the Black Forest contains, as well as some free hiking guide and discounted tickets to attractions around to Bad Herrenalb. Restaurants are relatively many available. We recommend the Klosterscheuer, there you have to try the freshly caught trout meuniere. But even if you after the locally very estimated spaetzle is in our street the spaetzle Andi. Or perhaps Greek? Dyonisos! The old post office with all sorts of delicious is only 200m away. Cake? Right next door. Delicious coffee? The scenery. All our street :) And in Baden Baden and Ettlingen wait numerous cafes and restaurants on exploring, not to mention Kalrsruhe with any international cuisine. TRANSPORT The S1 runs from Bad Herrenalb "station" (5 minutes from the apartment on foot) twice an hour through Ettlingen to Karlsruhe and beyond. Ettlingen you expect for 20 minutes after KA main station about 30 minutes and in the shopping street KA (from the marketplace to the Ettlinger Tor) about 40-45 minutes. In addition, some bus routes cross the neighboring villages to Baden Baden and Pforzheim, but they take a long time. However, for trips to the forest, the bus is very good, because you can then run "home" :) And if they include paragliding to locomotion: The next two take-off locations can be reached by car in about 10 minutes. (Loffenau Teufelsmühle or Bernbach Drachenflieger).
Huonetyyppi
Koko talo/asunto
---
Majoituspaikan tyyppi
Huoneisto
---
Majoittujien määrä
2
---
Makuuhuoneet
Bad Herrenalb, Baden-Württemberg, Saksa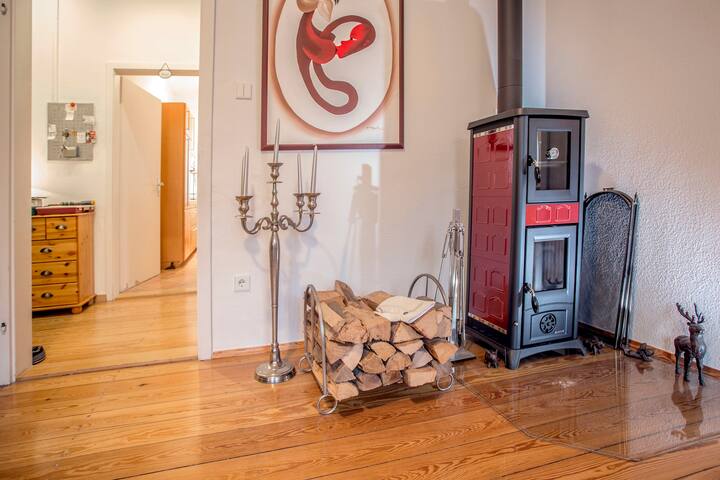 Mein Ziel ist es, ein Zuhause weg von zu Hause für meine Gäste zu machen. Dazu gehören eine gemütliche Atmosphäre, bequeme Betten und Komfort: Waschmaschine, Wäschetrockner, Geschirrspüler, Breitband-Wi-Fi, ein großer Fernseher, BlueRay-Player, Chrome, Bluetooth Lautsprecher usw.
My apartment lies in Gernsbach , Germany. Gernsbach is called the "Pearl of Murg valley". The Murg valley is part of the famous Black Forest. Gernsbach is a very romantic small town with a beautiful river running through it and a very well preserved old town. Baden-Baden, known for its natural hot spring spas, casino and classical concerts is just a 15 minute drive away. In the summmer, your children can go swimmming in the fantastic Igelbach Bad down in the "Kur Park" of Gernsbach or take horse riding lessons at Karin Lufts ranch in Gernsbach. The region of Black Forest has a lot to offer, with its nature, castles, museums and cities. Gernsbach is the perfect place to explore out from! There is a variety of restaurants in Gernsbach. The closest to my apartment is Restaurant Alte Schule (pizza), 2 mins walk away. The apartment is a 2 room + kitchen of roughly 60 square meters with a nice big balcony with a great view. The apartment is fully furnished with bed linen, towels etc.. The kitchen is very nice with all appliances. There is also a washing machine in the bathroom as well as a tumble dryer in the kitchen. The maximum number of people who can sleep in the apartment are 6 persons. New beds with new high quality mattresses were installed in april 2013. The double bed (2x90cm) has adjustable head and feet parts. The bunk bed is also 90x200 cm per bed. There is even a loose mattress (140x200 cm) under the double bed plus a childs bed of 70x140 cm, as well as a travel bed of 60x120 cm. There is an extra mattress for the travel bed. Choose from 5 (!!) different kinds of pilllows for best sleeping comfort:-) Curtains in the living room were added at the end of august 2012, even if not shown on the pictures. If you arrive with a car, you should easibly find a parking place on the street within 100 meters. Internet: High speed DSL (16mb/s) wifi. Passwordis found on the fridge door. Parking on the street. Free use of public transport!! In the price you pay is also the "Kurtaxe" of 1 euro per adult per night included. You will then be able to travel all around the region for free with public transport as well entering museums etc for a cheaper price. If you plan to go to Karlsruhe Centre by public transport it takes about 1 hour from my apartment and you have 2-3 options: (search on KVV) 1. Take the bus from "Scheuern Sternen" (3 mins walk) to "Gernsbach Bahnhof" and hop on the train to Karlsruhe. 2. Walk down to the station Gernsbach Mitte (1.1 km from apt.) and take the train which stops on all stations, approximately 50 minutes. 2.1 Walk 800 meters further to Gernsbach Bahnhof (main station) and take a faster train (Eilzug), approx. 30 minutes.
Communication with the host was very good, he responded very quickly. The Appartement ist vertraulich spacious and clean. Washing machine and refrigerator have some minor problems which the host promised to take care of. In the morning you can walk down to the city to buy fresh bread and there is a train station, but overall I would recommend to come by car.
Robert
2017-02-22T00:00:00Z
Communiction with host is good although we do not have the chance to meet him. Olaf's place is nice with everything you need in your stay. Just like home. Gernsbach is a lovely place and staying here two days wasn't enough to explore. Hope we can be back some time.
Kay
2016-12-22T00:00:00Z
The apartment was very clean and it had everythigs you neded. The neighborhood was beautiful plase with easy parking and only 10 to 15 mintus to Baden-Baden center. We had a very comfortable stay, highly recommended.
Ali
2015-08-01T00:00:00Z
Great appartment. Cleaner than most hotel rooms and an extremely nice view! Olaf was very responsive and helped out where neccesary. I would go here next time as well.
Mathijs
2014-11-28T00:00:00Z
It is a very good apartment Olaf get everything in it Unfortunately I didn't see him
ali
2015-07-24T00:00:00Z
Logement très fonctionnel pour 5 personnes.
DELPHINE
2016-12-26T00:00:00Z
Nous avons passé un agréable séjour à Gernsbach. L'appartement était très bien équipé et propre, nous nous sommes sentis comme à la maison. A part un petit souci avec le réfrigérateur (un peu bruyant), tout était parfait. Merci.
Élodie
2016-10-12T00:00:00Z
We loved staying here! The lounge is spacious and the views from the balcony were nice. The apartment was really clean with lots of extra towels and bedding. The kitchen is modern and really well equipped. We had a bit of difficulty in getting there as the taxi driver didn't know the road, so I suggest taking a printed map. It was easy to gain access and the area is residential and quiet, but near a local restaurant and walking distance from town. The local swimming pool was fantastic! An extra bonus for us were the toys available for our toddler to play with.
Kate
2015-08-11T00:00:00Z
Huonetyyppi
Koko talo/asunto
---
Majoituspaikan tyyppi
Huoneisto
---
Majoittujien määrä
5
---
Makuuhuoneet
Gernsbach, Baden-Württemberg, Saksa
ROMANTIC BEAUTIFUL APARTMENT IN VILLA: WOOD FLOORING, TRAUMHAFTE ANTIQUES: An ideal starting point for hikes, an oasis of tranquility, 2 bedrooms. 5 people
The Villa, a former forester's house, which is a listed building today, is like a castle surrounded by a romantic plot in the beautiful spa town of Bad Herrenalb. Here you can go hiking in summer and skiing in winter. Bathing in thermal baths, golf, strolling in Baden-Baden, meditate, read, unwind, eat well or enjoy the lovely furnished apartment - old wood flooring, antique furniture and a wonderful view over Bad Herrenalb. We are happy to assist you in finding tips for trips, restaurants etc. A large library provides you with fascinating books. Of course you are welcome at any time in our large garden. The garden of our villa is huge and wildly romantic. You are also welcome crickets here. Bikes are available free of charge from us upon request. The cost per night are always at 75 € / night. However, we require a cleaning fee of 50 euros if you stay less than four nights with us. Towels and linens are provided, of course available. We are looking forward to your visit!
The house is located almost in a secluded location. Rest rest rest awaits you. They are the apartment does not want to leave.
Logement très accueillant, spacieux, bien équipé et très propre. Bonne communication par mail au préalable avec Alfred que nous avons pu rencontrer sur place. Il s'est montré très chaleureux et prêt à nous renseigner pour découvrir la région. Ce court séjour nous a donné envie d'y retourner plus longtemps.
Delphine
2015-05-10T00:00:00Z
The house is lovely with great view of the city cause it's located on the hill. We even received some Christmas cake and cookies in the morning from the kind hostess. :)) Btw kitchen is available and one can basically get everything you need.
Linyuan
2015-12-30T00:00:00Z
We had a fantastic stay at the Villa Himmelsblau and I highly recommend it to anyone visiting the area. In my opinion a great alternative to staying in more touristy Baden-Baden. Very nice communications with the owner Alfred prior to arrival but unfortunately I did not get a chance to meet with the host. The apartment is actually even nicer than the description makes it look. It is extremely pleasant, comfortable, quiet and bright. Just off the center, in a residential neighborhood, with a great view on the town and surrounding valley.
Philippe
2014-11-12T00:00:00Z
Eine wunderschöne Wohnung mit einem super Blick. Wir haben uns sehr wohl gefühlt und die Tage in der Villa genossen. Auch organisatorisch hat alles bestens geklappt. Wir kommen wieder :-) Einen herzlichen Dank an die Gastgeber!
Kira
2015-07-13T00:00:00Z
Unterkunft ist wie beschrieben. Sehr freundliche und sympathische Gastgeber. Würde jederzeit erneut buchen.
Martin
2015-11-07T00:00:00Z
The host canceled this reservation 19 days before arrival. This is an automated posting.
Nitish
2016-04-24T00:00:00Z
Très bon accueil d'Alfred. Nous avons été accueillis dans sa jolie maison, décorée avec soin et qui a beaucoup de charme. Le plancher musical a beaucoup amusé les enfants. La vue depuis le salon est à couper le souffle. Merveilleux endroit pour visiter la région.
Elodie
2015-08-26T00:00:00Z
Wir waren über ein Wochenende in der Villa Himmelsblau und es hat uns sehr gut gefallen. Das Haus, die Ferienwohnung und der Garten sind traumhaft schön, auch die Lage & die Aussicht sind herrlich. Familie Abel hat uns sehr herzlich und völlig unkompliziert empfangen, sodass wir eine entspannte Zeit in Bad Herrenalb hatten. Wir kommen jederzeit gerne wieder!
Selina
2015-06-01T00:00:00Z
Huonetyyppi
Koko talo/asunto
---
Majoituspaikan tyyppi
Huoneisto
---
Majoittujien määrä
5
---
Makuuhuoneet
Bad Herrenalb, Baden-Wurttemberg, Saksa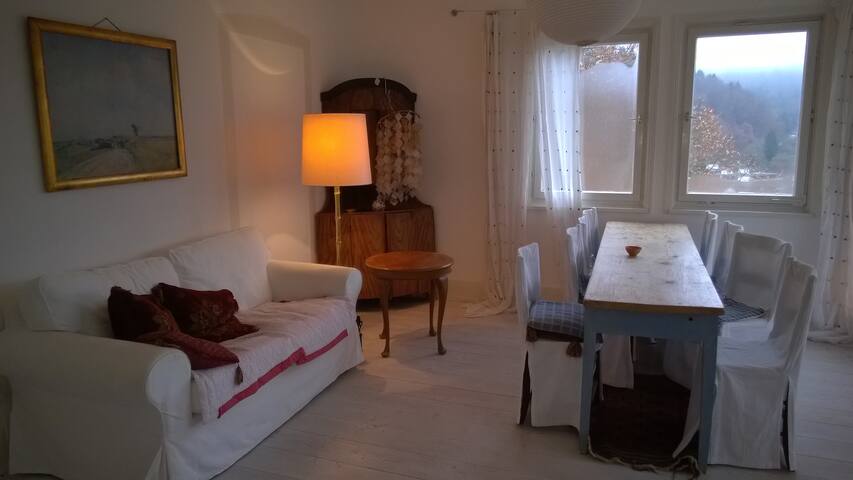 Familiengeführtes Apparthaus bittet 4 liebevoll eingerichtete Wohnungen für Urlauber aber auch für Beschäftigte als Monteurzimmer geeignet.Einkaufsmöglichkeiten 1 km.Zentrum 3 km.Merzedes-Benz Werk 2km.Bahnhaltestelle 500m.
Ausführliche Beschreibung Die Ferienwohnungen liegen im idyllischen Gaggenau- Ottenau direkt neben dem Schwarzwald. Sie sind mit Liebe zum Detail eingerichtet, komplett neu renoviert und verfügen jeweils über eine Küche bzw. eine Küchenzeile und einem modernem Badezimmer. Die Wohnung bietet Platz für 3 Personen, bzw. für eine Familie mit zwei Kinder. Zudem wird in den familiengeführten Wohnungen kostenloses WLAN zur Verfügung gestellt. Alle Sehenswürdigkeiten sind wegen einer sehr guten Bahnanbindung gut zu erreichen. Die nächste Haltestelle ist nur wenige Gehminuten entfernt. Die nächste Einkaufsmöglichkeit für Lebensmittel ist bloß 600m vom Haus entfernt. Die Stadt Baden Baden mit ihren Thermalbädern ist nur ca. 11 km entfernt. Aber auch Gaggenau hat ein schönes Thermalbad namens Rotherma zu bieten. Dieses liegt ca. 5 km vom Haus entfernt.
Гаггенау ето известный Городок Германии,исвестен он своими кухонными Електроприборами и кафелъними Печами.Лежит 12 км.от Баден Бадена и 12 км.от Растатта.20 км.от Карлсруе.Место оченъ красивое для Прогулок по Лесу,имеет свои термалъные Воды и конечно свои термалъные Купалъни с различными Саунами и Басейнами,также Озеро в Лесу оборудованное для кулътурного Купания и Отдыха на Теретории которого можно вкусно покущать в Ресторане.
Wonderful place close to Baden Baden. 10~15 min drivable. A new apartment, close to the train track, but it will not disturb you. You got every thing you need to make the stay memorable.
Sandeep
2016-05-30T00:00:00Z
Anna è stata cordiale e sempre disponibile alle nostre richieste. L'appartamento è piacevole, funzionale e pulito.
Edy
2016-08-19T00:00:00Z
Anna was a great host- accessible, relaxed and friendly with a great sense of humour. The apartment was central, easy to find, and very clean and newly renovated . I travelled with my two young adult sons, and Anna suggested some last minute changes to the sleeping arrangement; she went above and beyond to provide a very comfortable stay!!!
BIRGIT
2016-06-13T00:00:00Z
Absolut spitzenmäßiges, sehr gefplegtes und zeitgemäße Apartment. Wunderbar unkomlizierte Abwicklung aller Modalitäten und sehr freundliche und kompromissbreite Kommunikation. Es gibt absolut nichts zu bemängeln. Sehr zu empfehlen!
Thomas
2016-06-27T00:00:00Z
Ottima soluzione, appartamento nuovissimo ed Anna gentilissima molto consigliato
Giuseppe
2015-12-13T00:00:00Z
The apartment was new and clean. It was spacious enough for the 4 member family to stay at. Great option for the offering price. Very close to Baden-Baden and a nice neighborhood. I would highly recommend this place.
Prajeesh
2015-08-09T00:00:00Z
Huonetyyppi
Koko talo/asunto
---
Majoituspaikan tyyppi
Huoneisto
---
Majoittujien määrä
4
---
Makuuhuoneet
Gaggenau, Baden-Württemberg, Saksa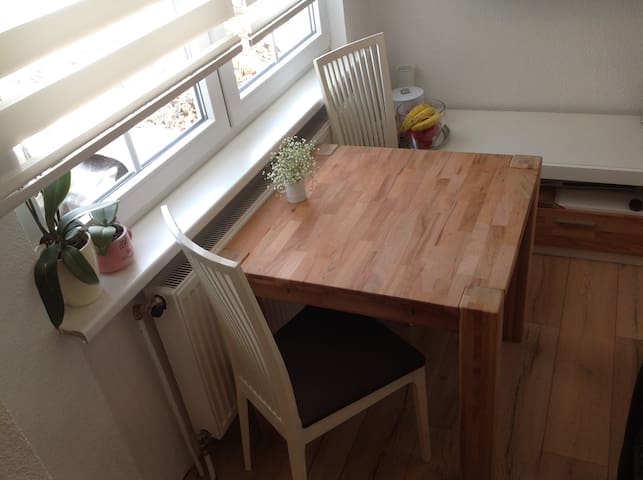 Wunderschönes Schwarzwald-Apartment in Bad Herrenalb in mitten ruhiger Natur und dem wohlriechenden Schwarzwald. Perfekt geeignet zum Entspannen, wandern oder für Unternehmungen mit der ganzen Familie. In der Nähe befinden sich Wellnesseinrichtungen und gute Restaurants. Die Nähe zu Karlsruhe und Baden Baden lässt schöne Ausflüge in die belebteren Zentren zu.
Das Apartment verfügt über eine einzigartige Atmosphäre. Zum Einen finden sich typische Schwarzwaldelemente, wie ein traditionell eingerichtetes Stübchen, in welchem man gemütlich beisammen sein kann, zum Anderen ein großes Wohnzimmer mit modernem Marmorfußboden. Eine große gemütliche Couch und eine Leseecke runden das Zuhausegefühl einzigartig ab. Gleichzeitg haben Sie einen wunderbaren friedlichen Ausblick in den Schwarzald und eine große lichtdurchflutete Fensterfront. Ob Winter oder Sommer, das Apartment und die Umgebung laden zum bleiben ein.
Die Nachbarschaft ist sehr ruhig und ausgeglichen, perfekt zum Entspannen.
Very cosy home in a beautiful landscape! :)
Sandra
2016-12-26T00:00:00Z
Huonetyyppi
Koko talo/asunto
---
Majoituspaikan tyyppi
Huoneisto
---
Majoittujien määrä
3
---
Makuuhuoneet
Bad Herrenalb, Baden-Württemberg, Saksa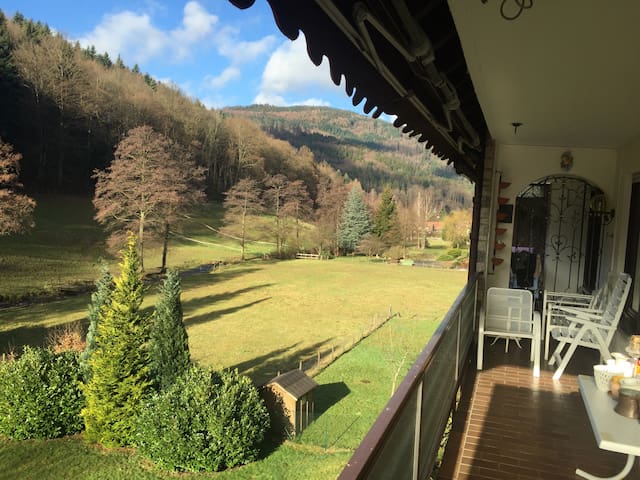 Meine Komfortwohnung ist in der Nähe von Baden-Baden im romantischen Murgtal. Du wirst diese lieben wegen der besonders hochwertigen Ausstattung und dem einmaligen Panoramablick auf den Schwarzwald. Sie ist besonders gut geeignet für Paare, Geschäftsreisende, Urlauber, Wanderer, E-Biker ua, die das Besondere und die Ruhe zu schätzen wissen. Alle Annehmlichkeiten einer Komfortwohnung mit separatem Eingang und 90 qm Wohnfläche garantieren einen erholsamen Aufenthalt.
Das Anwesen liegt am Rand des Ortes Gernsbach im wildromantischen Murgtal in der Region Nordschwarzwald und dem Nationalpark. Absolut ruhige und erholsame Lage. Wanderparadies.
Huonetyyppi
Koko talo/asunto
---
Majoituspaikan tyyppi
Huoneisto
---
Majoittujien määrä
2
---
Makuuhuoneet
Gernsbach, Baden-Württemberg, Saksa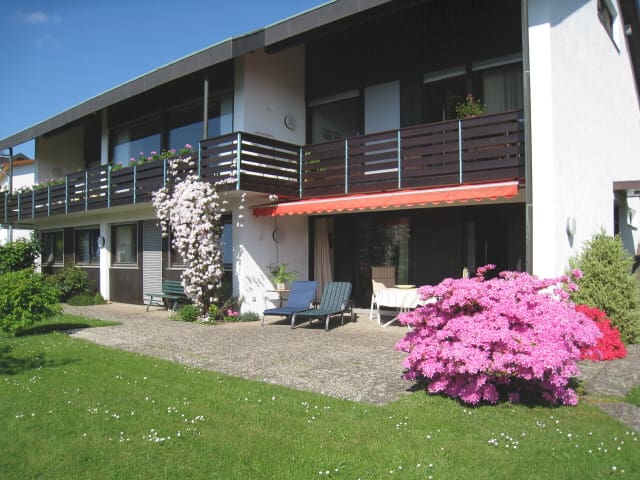 Stilvoll mit antiken Möbel und trotzdem modern eingerichtet und mit 4 Sterne ausgezeichnete Ferienwohnung. Die mit 110 qm große Wohnung bietet Ihnen ausreichend Platz bis zu 4 Personen, 2 getrennte Schlafzimmer jeweils mit Doppelbett ausgestattet. Ein Safe bietet Ihnen Sicherheit für Ihre Wertgegenstände. Nach Baden-Baden sind es ca. 10 km. Großzügige überdachte Terrasse mit Garten. Ein PKW-Tiefgaragen-Stellplatz. WLAN ist vorhanden.
Our apartment is located in Gernsbach a health resort in the Black Forest, this is also called "Pearl of Murgtal`s". Welcome to our apartment. Enjoy pure relaxation and holidays with us. You can expect a stylish by the DTV 4-star apartment for up to 4 people. The apartment is wheelchair accessible, 110sqm in size and has therefore plenty of space. The spacious and fenced garden and the covered terrace are at guests' exclusive use You can completely undisturbed sunbathe in the garden and let your in private seclusion in the fresh air, the soul. To comfortably outside and it does not break breakfast equal to a picnic? Do not worry, our apartment is equipped with a garden and a spacious covered terrace. More Find Out and extras: Internet wireless Exclusive country house style fitted kitchen: Cooker with ceramic hob Senseo coffee pod machine Microwave Kettle and toaster dishwasher exclusive oven Refrigerator (without freezer) Dishes / pots / pans / utensils / glasses etc .... everything available large spacious hallway 2 separate bedrooms each equipped with a double bed: Bedroom 1 - double bed 2.00 x 2.00 m, Bedroom 2 - double bed 1,80 x 2,00 m Iron and ironing board and vacuum cleaner are available at the bedroom. 1 large living room equipped with a high-quality leather furniture 3-2-1 seater TV - flat screen (cable) DVD Player VCR and radio Compact stereo 1 Dining room with furniture Large round table (extendable) with 5 chairs The bathroom has a shower a bathtub and toilet, hairdryer, Washer and dryer only for a fee 1 guest toilet. First set of towels and bed linen are of course also available. The apartment is located Paterre (ground level). Going from the garage directly to the apartment Smoking in the apartment is not permitted on consideration of other holiday guests, but a smoking possibility on the roofed terrace.
Tranquil setting in the wistful district scrub with quick access to the park, a beautiful park with newly designed pool both located in the immediate vicinity. From here you can reach Baden-Baden by car in about 15 - 20 min. The vineyards with magnificent views over the Rhine valley and the Black Forest can be reached in about 15km. The Eberstein Castle impresses with its special flair and gastronomic class wine lovers and history buffs, be reached in about 5 minutes by car. Alsace is about 35 km away.
Immense appartement avec des chambres et lits enormes. Tout était nickel. Je conseil franchement... attention au tel sur le site c'est un fixe alors ça ne sert a rien d'envoyer des sms pour convenir de l'heure. Ca ne marche pas..
Gwénolé
2016-07-18T00:00:00Z
Huonetyyppi
Koko talo/asunto
---
Majoituspaikan tyyppi
Huoneisto
---
Majoittujien määrä
4
---
Makuuhuoneet
Gernsbach, Baden-Württemberg, Saksa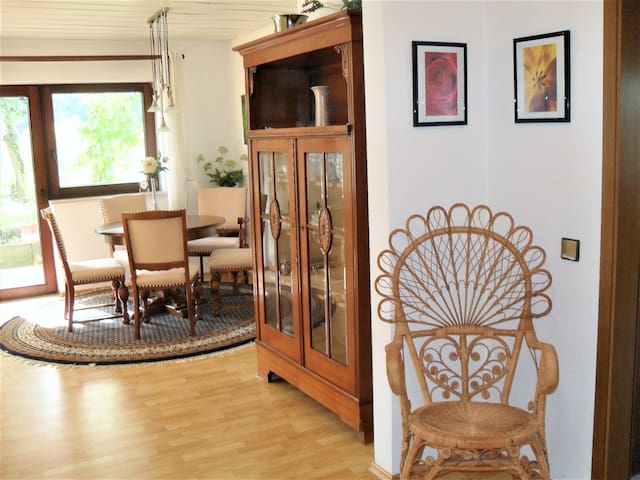 You can expect a bright sunny penthouse apartment (60sqm) incl 30 sqm roof terrace, harmonious and loving. Kitchen with dishwasher, induction hob, coffee machine, kettle, toaster, linen and towels incl.
El apartamento está genial. Moderno, bien equipado y bien ubicado, con unas vistas estupendas. Buen pueblo para moverse y conocer el norte de la Selva Negra, a 15-20 minutos en coche del famoso Baden Baden.
Sonia
2017-03-27T00:00:00Z
The host canceled this reservation the day before arrival. This is an automated posting.
Zeyu
2016-05-03T00:00:00Z
Gemütliche, saubere Ferienwohnung, große Südterrasse, sehr gut und zentral gelegen. Das Stadtzentrum, Geschäfte und Restaurants sind problemlos zu Fuß erreichbar.
Florian
2016-03-02T00:00:00Z
Huonetyyppi
Koko talo/asunto
---
Majoituspaikan tyyppi
Huoneisto
---
Majoittujien määrä
4
---
Makuuhuoneet
Gernsbach, Baden-Württemberg, Saksa
The "Hermitage Le Large" is a newly renovated 100 year old house on the edge of the forest of Bad Herrenalb. Of the two independent APARTMENTS, we occasionally use the top and offer you to indulge in the lower self a break.
(Fr ermitage. "Hermitage") is a place of contemplation. Hermits who can be clerics, monks or religious laymen and sometimes are also called Forest Brothers, seek in solitary Klausen and chapels to harmony with God and nature. There is no bell, no phone, and no television. In return, we offer a well-stocked bookshelf, music CD's of different styles, audiobooks or just fresh forest air on a stroll. For the children there is a giant trampoline and a play and exercise room.
The house is in a cul de sac near the forest. For concerns include 1100 m² of land, next to a steep mountain meadow belongs also a small part of the adjacent forest to. In the immediate vicinity is the spa of Bad Herrenalb and attached thereto the Siebenthäler Therme - Bad Herrenalb Spa. Both also be reached on foot in less than 5 minutes. The Street "under the rocks" takes its name by the Customised location below the ancient sandstone cliffs, from which you can enjoy the panoramic view of Bad Herrenalb.
Monique's Ferienhaus ist sehr angenehm und hat alles was man braucht. Die Umgebung ist wunderschön. Wir haben eine wunderbare Woche im Schwarzwald verbracht. Monique war auch ser hilfsbereit und sehr kommunikativ in den Wochen vor der Reise. Sehr empfehlenswert!!
Daniel
2015-08-23T00:00:00Z
Hey! Die Wohnung ist wirklich direkt am Bahnhof und doch schon weit weg von allem Trubel. Sie liegt romantisch am Fuß eines Steil Felsen mit einem Wanderweg in der Nähe um auch auf die Felsen zu gehen und die Aussicht zu genießen! Ein magischer Ort! Wir haben es sehr gemütlich gehabt. Bei Anreise war es allerdings schon dunkel gewesen und es ist super mit dem Safe so dass eine unabhängige Ankunft möglich ist. Doch ein bisschen schwer zu überblicken wo was ist und mit 2 Kindern dabei und Regen war das nicht so einfach. Und wo ich parken kann war auch nicht so klar. Tipp niemals mit dem Auto die Einfahrt hoch... Hahaha Ja ich denke im Sommer wird es dort noch viel schöner sein mit Trampolin und Terrasse!! Ich hoffe wir kommen nochmal zu euch! Danke
Devinder
2017-02-21T00:00:00Z
merci pour votre hospitalité. Tout était fait pour que nous nous sentions comme à la maison mon fils est moi... Très agréable d être accueilli et reçu ainsi. Nous espèrons revenir dans votre joli maison dans ces mêmes conditions . Mathias & Cyril
Cyril
2016-05-09T00:00:00Z
Das Häuschen war perfekt für uns, wir haben uns sehr wohl gefühlt. Ideal als Ausgangspunkt zum Wandern! Danke!
Rike
2016-03-25T00:00:00Z
We had a wonderful stay here. The apartment is spacious, clean, well-equipped, and quiet. Monique was very welcoming and communicated well. This is a very romantic setting--great place to get away and relax. We wanted to stay longer!
James
2015-09-24T00:00:00Z
Huonetyyppi
Koko talo/asunto
---
Majoituspaikan tyyppi
Huoneisto
---
Majoittujien määrä
4
---
Makuuhuoneet
Bad Herrenalb, Baden-Württemberg, Saksa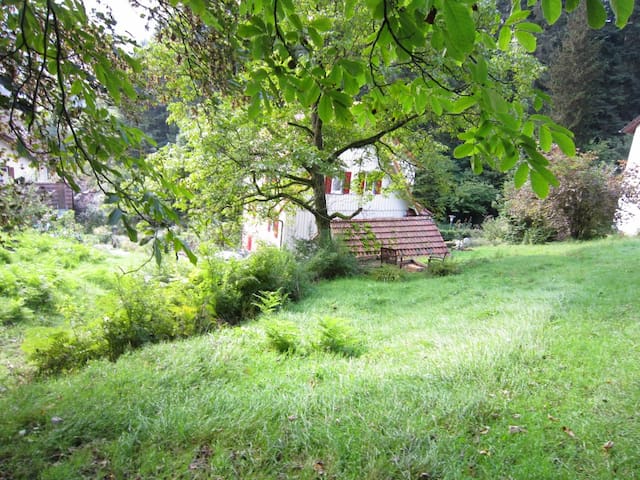 This lovingly furnished luxury apartment with pool and sauna located on the hillside and has a large balcony with garden furniture. The light-filled apartment can quickly forget about everyday life. The beautiful Bad Herrenalb has a special charm. For excursions we recommend Baden-Baden, Ettlingen and Karlsruhe. Both the S-Bahn and the CONE spa card free accessible.
Come to the Garden Show 2017 to Bad Herrenalb! From 12.5. until 09.10.17 experience over 2000 events and enjoy the unique location in the city center surrounded by mature trees. After your excursions you can be invited by the beautiful bedroom with four-poster bed to dream, you can simply relax on the spacious bed in the living-dining area, you enjoy some wine from the large south-west balcony with a glass of the sunset behind the Mauzenberg or spend you few sunny hours in the beautiful and very peaceful back garden. The completely new kitchen has space for cooking and baking and has really everything you need. The indoor pool on the ground floor has a 8x3 m swimming pool with 28 ° and a small sauna (3 persons) - do not forget to bring a bathrobe and slippers. And if the weather permits, you will find on the spacious balcony everything needed to start the day for breakfast, afternoon hanging until evening barbecue to spend.
Die nächsten Einkaufsmöglichkeiten (Supermarkt) sind zu Fuß in ca. 15 min. erreichbar und von Mo-Sam ab 8:00 Uhr bis 22:00 Uhr geöffnet.
Absolut empfehlenswert! Die Wohnung ist sehr gemütlich (Himmelbett!) und hervorragend ausgestattet und alles war pikobello sauber. Beate ist super freundlich und total unkompliziert und hilfsbereit. Nächstes mal komme ich um Urlaub zu machen!
Andreas
2017-01-26T00:00:00Z
Huonetyyppi
Koko talo/asunto
---
Majoituspaikan tyyppi
Huoneisto
---
Majoittujien määrä
2
---
Makuuhuoneet
Bad Herrenalb, Baden-Württemberg, Saksa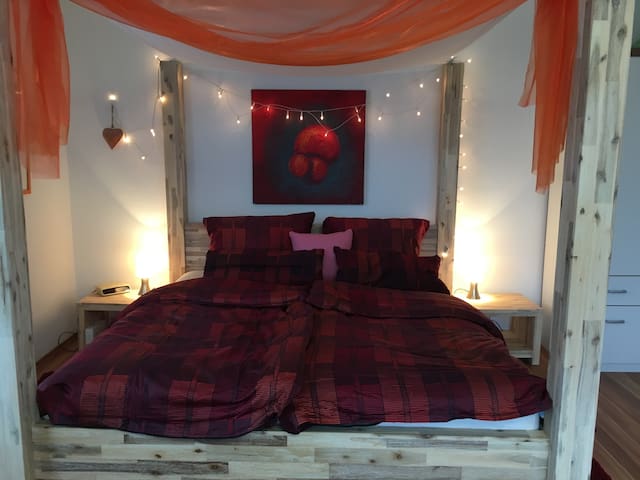 Cozy 60 sqm luxury apartment with balcony near Baden-Baden in the northern Black Forest. Quiet location with distant views. Ideal for hiking and cross-country skiing! Additional room with separate. Bath and 4 additional beds can be rented additionally.
In the apartment a folder with information from the area, valuable tips and a walking map is made.
In a splendid exclusive location in Gernsbach, a few kilometers from Baden-Baden, Alsace, Baiersbronn, Freudenstadt, Bad Herrenalb, Karlsruhe and the Baden Airport in the northern Black Forest, our two family house with our 2 4 Room comfort apartments. Time for sport, culture and relaxation, the area, but also the units with magnificent views to the Black Forest invite you to linger. It is possible in the separate part of our garden to relax and barbecue. We, your hosts Luba Senyk and René Dusseldorp will be there during your stay for them and glad to help you. We like to travel, and are happy when the world comes to us even now :-) Foreign languages: English, Dutch, French In the apartment a folder with information from the area, valuable tips and a walking map is made. It is important that you feel comfortable during their stay. According to our motto: I feel at home where I'm welcome!
I love the apartment it's all clean and tidy. It has wonderful view and I advise you people to stay here
Fahad
2016-05-05T00:00:00Z
A great place! Special hosts! Highly recommended!
david
2016-07-07T00:00:00Z
Huonetyyppi
Koko talo/asunto
---
Majoituspaikan tyyppi
Huoneisto
---
Majoittujien määrä
2
---
Makuuhuoneet
Gernsbach, Baden-Württemberg, Saksa
This property is in a listed former county prison. Elaborately renovated, one can enjoy the peace and the optimal indoor climate the meter by 1 strong, massive sandstone walls arises.
The property has a beautiful kitchen, a fireplace and a corner bath.
The health resort Gernsbach (160-984 m), and situated in the Murg Valley, provides ideal conditions for a relaxing holiday. Pure adventure awaits you in the old city office on the Murg with the districts scouring Staufenberg, Lautenbach, Obertsrot, Hilpertsau and Reichental Kaltenbronn. The "Pearl of the Murg" as Gernsbach is also known, can look back on an eventful past. Impressive monuments in the historic old town bear witness to the wealth of bygone days. Picturesque half-timbered houses, fountains and the old city walls invite you to stroll through the winding streets. From the Old Town Hall, the most famous and most beautiful buildings of the Murg, it goes over to the marketplace, which invites with its bistros and cafes to linger.
Accueil sympathique, bel endroit atypique, très soigné, et propre dans un village tout à fait charmant. Nous n'avons pas pris le temps de mieux connaître la famille, mais ils ont été prévenant dès notre premier contact! Merci à eux!
claire
2016-05-10T00:00:00Z
It was a nice place and a good experience
Christine
2016-05-18T00:00:00Z
The host canceled this reservation 22 days before arrival. This is an automated posting.
Bettina
2016-06-30T00:00:00Z
Huonetyyppi
Koko talo/asunto
---
Majoituspaikan tyyppi
Huoneisto
---
Majoittujien määrä
2
---
Makuuhuoneet
Gernsbach, Baden-Württemberg, Saksa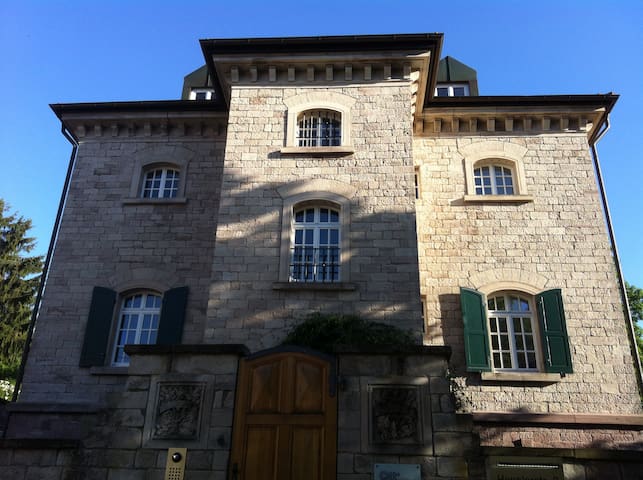 Die Wohnung im historischen Altbau liegt im Zentrum von Gernsbach, am Rande des Schwarzwalds. Auf großzügigen 110 Quadratmetern erwartet Dich eine stilvoll ausgestattete Etage mit zwei Zimmern und offener Küche. Die S-Bahn Haltestelle befindet sich 100 Meter entfernt und Restaurants und Einkaufsmöglichkeiten sind fußläufig erreichbar. Das Haus aus der Gründerzeit befindet sich direkt an der Murg. Genieße das Flair der großzügigen Wohnung und die zahllosen Attraktionen in der Umgebung.
Unser Haus liegt sehr zentral, daher befinden sich der Fluss und eine belebte Straße direkt vor dem Apartment. Es gibt leider keinen Balkon oder Garten, aber wir stellen euch gerne einen Tisch und zwei Stühle um die Abendsonne auf dem Treppenabsatz zu genießen.
Huonetyyppi
Koko talo/asunto
---
Majoituspaikan tyyppi
Huoneisto
---
Majoittujien määrä
2
---
Makuuhuoneet
Gernsbach, Baden-Württemberg, Saksa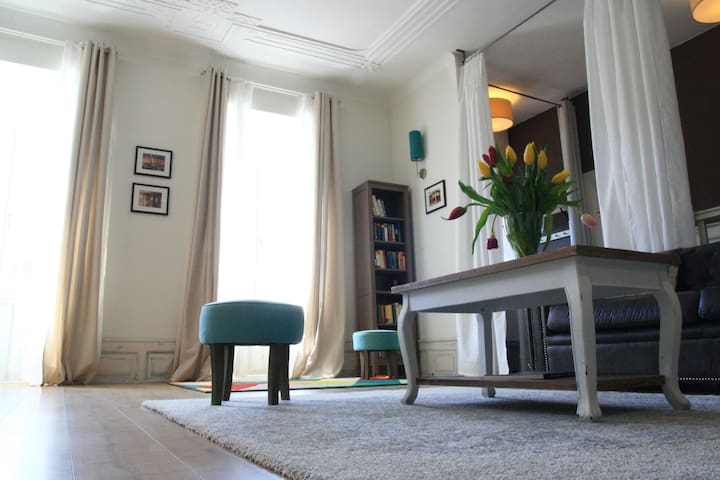 Diese Studio befindet sich im 1. OG einer gepflegten Wohnanlage. Der Wohn- und Schlafraum, mit Zugang zum Balkon, ist sehr geräumig. Die Wohnung zugehörig einen stellplatz und kelleraum. Diese schöne Wohnung ist ideal für zwei person geeignet.
Huonetyyppi
Koko talo/asunto
---
Majoituspaikan tyyppi
Huoneisto
---
Majoittujien määrä
2
---
Makuuhuoneet
Bad Herrenalb, Baden-Württemberg, Saksa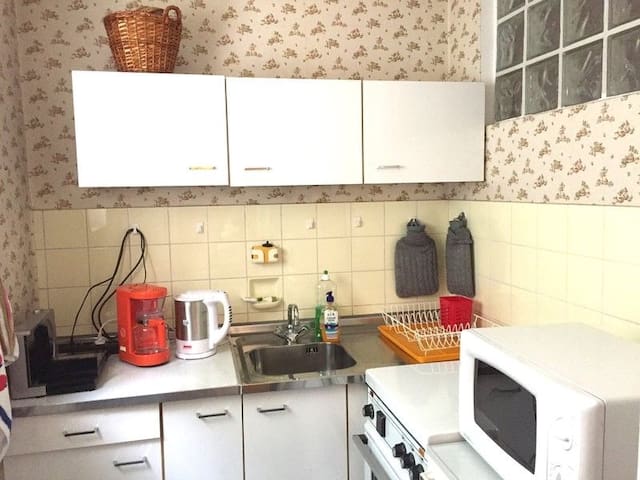 Beautiful comfortable apartment sleeps 5 in the picturesque village of Bad Herrenalb.This area is ideal for relaxing with lots of wonderful walks, a local spa and some excellent restaurants (URL HIDDEN) is also an ideal location for touring the area.
It is 82m and has 2 large (URL HIDDEN) 1st bedroom contains a large double bed and the 2nd room has 3 single beds and is an ideal space for children.The house is located just beside a wonderful restaurant serving authentic Black forest cuisine and has views up to Oberes Gaistal.
Very comfortable apartment in a beautiful little town. Great location from which to explore Baden Baden and the Black Forest. The restaurant next door (Linde) was excellent.
Donald
2014-09-14T00:00:00Z
Satisfactoria
Maria Angeles
2017-02-28T00:00:00Z
We spent a couple of nights at Deirdre's house and we had a good time. Deirdre's neighbour is very gentle, he gave as the keys and explained everything we needed to know. The house is confortable, with a lot of space and nice woods around. There are some toys that our kids enjoyed a lot, wifi and rolling window shutters. Bad Herrenalb is a nice place with big parks that our kids also enjoyed.
María
2015-08-28T00:00:00Z
Great place to stay, only 15 minutes walk of center of Bad Herrenalb. We were welcomed by Deirdres neighbour, who explaned everything. We only stayed one night but it is a great place to explore The black forest from.
Anco
2015-08-29T00:00:00Z
Great location, right in the woods, nice walk to town, 30 minutes to Baden Baden by car. Very relaxing.
Cornelius
2015-01-18T00:00:00Z
Huonetyyppi
Koko talo/asunto
---
Majoituspaikan tyyppi
Huoneisto
---
Majoittujien määrä
5
---
Makuuhuoneet
Bad Herrenalb, Baden-Wurttemberg, Saksa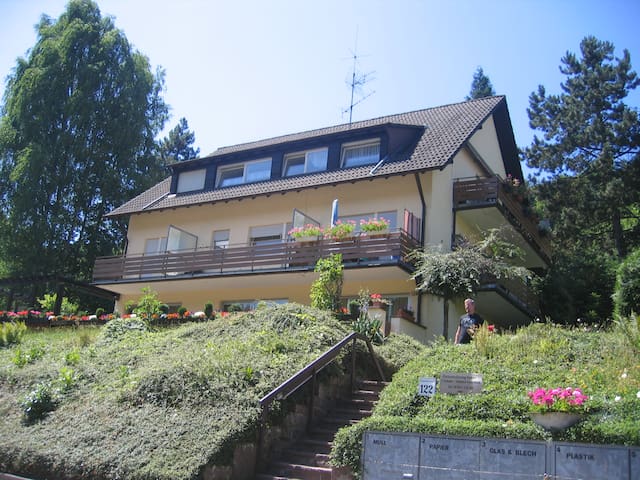 *** 3 star comfort-apartment, 83 sq.m. Apartment for 2 - 4 people; It is quietly situated at the edge of the forest and has plenty of room for two to four people. Magnificent views of the surrounding wooded Black Forest heights.
The apartment consists of a large living and dining area with fireplace, a spacious bedroom with parquet flooring and furnished with pine furniture. Both rooms have direct access to the terrace. The kitchen is equipped with modern kitchen appliances and offers all the comfort. The bathroom has a bath, a washing machine, as well as plenty of towels, bedding, kitchen towels (incl. Detergents), etc. Families with children we can offer a cot or sleeping mattress.
Healthy Healing water is available all year round in the Siebentaelertherme with Klangbad and wellness world "Priessnitz Spa". Directly in center are located spa gardens and Kurhaus, and the historic town center with the monastery church, Klosterscheuer and more. The city offers a varied cultural event program.
El piso es tal como se ve en las fotos, limpio y con todo lo necesario para sentirnos muy cómodos en él. La zona es preciosa y descubrimos pueblos y entornos encantadores. Estuvimos muy a gusto y sin duda volveríamos. Muchas gracias Sussanne
Jorge
2016-08-28T00:00:00Z
Хозяйка был гостеприимна. Беспокоилась о нашем комфорте. Район понравился. Жилье описанию соответствует. Нужно только сменить кран в ванной, потому что горячая вода плохо регулируется. Из недостатков - отсутствие лифта и кофемашины. Из достоинств - красивая природа, свежий воздух, камин, интернет, большая квартира с верандой, гараж. Мы остались довольны. Спасибо, Сусанна.
Galina
2016-05-17T00:00:00Z
Huonetyyppi
Koko talo/asunto
---
Majoituspaikan tyyppi
Huoneisto
---
Majoittujien määrä
4
---
Makuuhuoneet
Bad Herrenalb, Baden-Württemberg, Saksa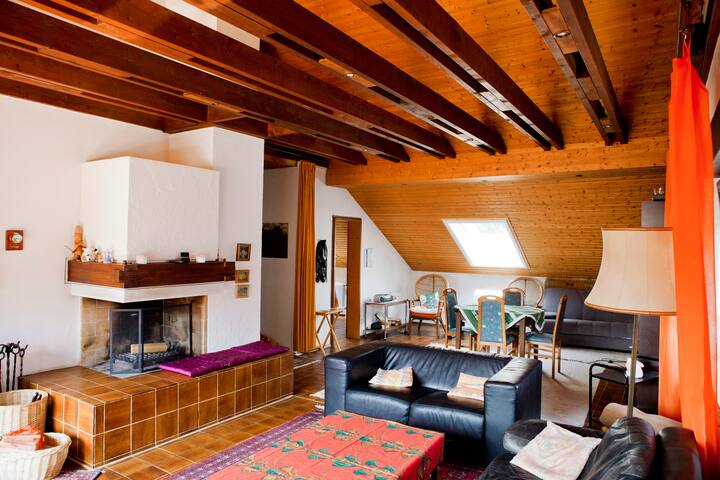 Die Wohnung ist komplett eingerichtet. Die Terrasse ist am den Garten angeschlossen Die Natur liegt vor der Tür Baden- Baden und Gernsbach sind in ein paar Minuten zu erreichen
Das war eine schöne Erfahrung! Eine ausgesprochen herzliche, unkomplizierte, freundliche und hilfsbereite Gastgeber-Familie - vielen vielen Dank, wir haben uns alle sehr wohl gefühlt! Die Wohnung ist geräumig und bestens ausgestattet. Konnten gar nicht alles nutzen... Und das alles in herrlichster Umgebung. Toller Spielplatz in direkter Nachbarschaft. Wir bescheinigen absolute Wohlfühl-Garantie!
Corinna
2015-05-20T00:00:00Z
Huonetyyppi
Yksityinen huone
---
Majoituspaikan tyyppi
Huoneisto
---
Majoittujien määrä
4
---
Makuuhuoneet
Gernsbach, Baden-Württemberg, Saksa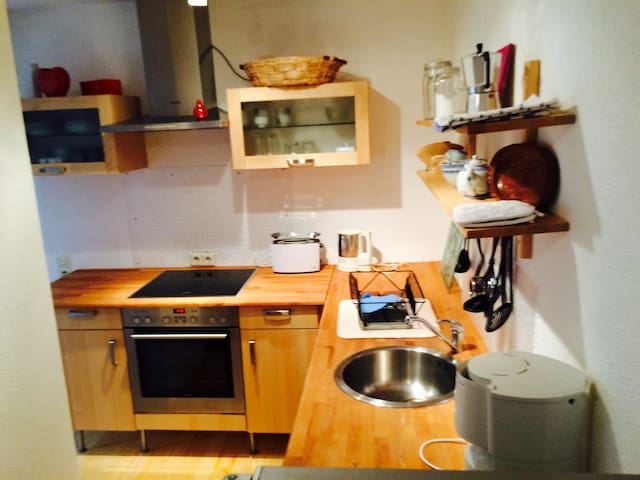 Loffenau - Airbnb
:
Keskimäärin

4.28

tähteä yhteensä

5

143

vierasarvostelusta
1

–

18

hakutuloksista

219 vuokrattavaa huoneistoa
Anna päivämäärät nähdäksesi kokonaishinnoittelun. Lisämaksuja sovelletaan. Veroja saatetaan lisätä.