Heron View Cottage je váš domov daleko od domova v divočině Connemara. Tento vlastní stravování chaty je krásný a příjemný připojeny bungalov v Renvyle, Connemara, Co Galway.
V blízkosti zajímavosti v této oblasti patří: -Scubadive Západ potápěčské centrum -Cafe & Shop -Dva Nádherné pláže -Malé Vesnice poblíž
Carmel was really sweet and made me feel very welcome at her cottage. Check-in process was easy and she showed me everything nearby. The place is really close to so many beautiful walks and views. Just go out and explore the western edge of the Irish countryside. Highly recommended.
Sanish
2017-03-06T00:00:00Z
This house is amazing ! The view is incredible and sooo cool when you open the windows in the morning. Carmel is really nice and we have everything in the house to cook, which was helpful. The location is perfect, 15 min driving for the Connemara National Park and the Kylemore Abbey, around 1 hour and a half from Galway. It's a perfect accomodation ! :)
Salammbo
2017-03-27T00:00:00Z
Quelle bonne adresse! Nous la recommandons sans hésitation.
Gaby
2017-03-09T00:00:00Z
Arrivés de nuit, Carmel nous a accueilli chaleureusement et nous a indiqué ou nous restaurer. Quelle surprise d'ouvrir les rideaux le lendemain matin ! Une vue imprenable. L'endroit idéal pour se retirer du monde et profiter de la nature et de la mer !
Nolwenn
2017-02-26T00:00:00Z
This place is just stunning. Inside and out. Carmel was extremely kind in making sure we got in fine (well into the night) and made sure everything was provided for. It's a lovely house and the view outside is amazing. Next trip to Galway would love to stop by here longer!
JP
2017-03-30T00:00:00Z
Emplacement super pour silloner dans le Connemara. Endroit très paisible ef Carmel est très gentille.
Clémence
2017-04-06T00:00:00Z
Huonetyyppi
Koko talo/asunto
---
Majoituspaikan tyyppi
Huoneisto
---
Majoittujien määrä
4
---
Makuuhuoneet
Renvyle, Galway, Irlanti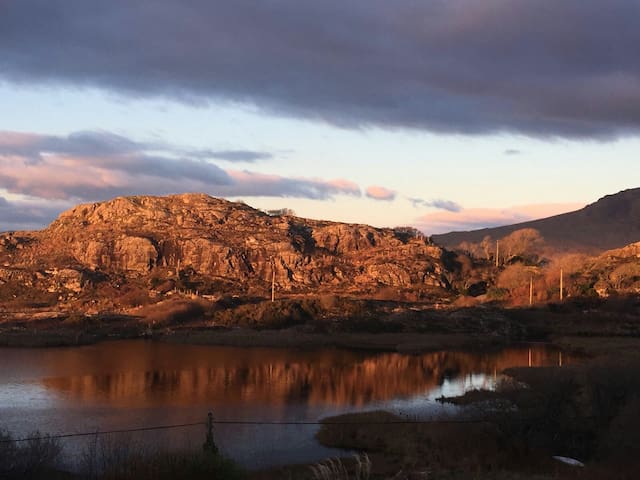 Bo i hjertet af Galway, omgivet af caféer, traditionelle pubber og de bedste natklubber! Denne lejlighed er knyttet til et hostel, så du kan bruge alle faciliteterne på hostel (morgenmad, computere, underholdning) når du havde dit privatliv!
Du lejer en lille 1 værelses lejlighed, fordelt på tre etager med eget badeværelse, lille tekøkken, stue og separat soveværelse på øverste etage. Du har også adgang til vandrerhjemmet, hvor du kan bruge fælles område med computere, WiFi eller Grib nogle morgenmad i morgen. Hostel har 24 timers reception, hvis du har spørgsmål.
Vores lejlighed ligger på en fodgænger laneway, Kirwins Lane i Galway Latinerkvarteret hvor du vil finde alle de bedste cafeer, barer, restauranter og teatre, som du kommer til Galway at besøge.
We loved staying in Dublin with Barnacles Hostel! They were extremely welcoming, and the little apartment was adorable and just what we needed. Unlike other reviews, I didn't have a problem with any noise—sometimes we could hear people talking, but it wasn't enough to interfere with sleep. We would definitely recommend this Airbnb to our friends! The only issue we had is that the bathroom is on the first floor, and the bedroom on the third, so if you have to pee in the middle of the night, you have to go down two flights of stairs. Not a dealbreaker, however :)
Vanessa
2015-09-18T00:00:00Z
This was a perfect spot to stay, right in the heart of vibrant and colorful Galway City. You are 30 seconds walk from the top dining and pubs! The apartment is like a mini Castle! 3 floors to exore. The bed was comfortable, the shower good and hot. There's a car park literally right down the ancient alley. We were very pleased with the accomodation!
Henry
2016-09-20T00:00:00Z
Très bon accueil et appartement superbement situé à deux pas des rues commercantes. L'appartement est sur 3 étages et très bien organisé, parfait pour quelques nuits sur Galway. En revanche, dommage que le service ménage soit passé à 10h30 alors que le check out était prévu à 11h.
Gaetan
2016-11-17T00:00:00Z
The apartement was delicious! Very central and comfortable!
Carlotta
2016-12-08T00:00:00Z
Warm welcome, comfortable beds and clean rooms. Felt safe and secure. Location was right in the latin quarter, great choice of pubs and food to suit all tastes if music and food on the doorstep. I would recommend earplugs if a light sleeper but didn't bother us.
Judith
2016-12-19T00:00:00Z
Great location and cool apartment!
Brooke
2015-06-23T00:00:00Z
The apartment is located at the perfect location, in the middle of the city center. Small but very cosy, this lovely 3 floors apartment would make you feel like loving birds in this beautiful city.
Louis and Marie
2015-03-31T00:00:00Z
This was a great spot for an overnight stop. Great private space on a quiet back street just off the bustling pedestrian zone in Galway city center. The apartment is managed by the adjoining hostel - and the shared walls are very thin. The bedroom is on the third floor - and while noise from the street was a non-issue; noise from a rowdy band of Germans in the adjacent hostel celebrating a birthday at 2 a.m. was another story altogether! Would absolutely stay here again. But the late night noise from the hostel was definitely a detraction.
Mark
2016-10-08T00:00:00Z
Huonetyyppi
Koko talo/asunto
---
Majoituspaikan tyyppi
Huoneisto
---
Majoittujien määrä
2
---
Makuuhuoneet
Galway, County Galway, Irlanti
Our cool and comfortable flat is a perfect oasis in the gateway to Connemara. It comfortably fits two an extra bed can be provided, and is centrally located on a quiet street just off the town centre. Close to all amenities and loads of secure parking. Enjoy our village in style.
It is a private, self contained apartment. Very reasonably priced In village center Quiet & secure Fits 2 comfortably extra fold out bed can be added
A friendly Connemara village with plenty of pubs, restaurants & culture. The beautiful Owen Riff is just 250 yards walk away, while lough Corrib lake is 1 km walk from apartment. You can rent boats locally, go on a Corrib cruise to visit the historic Inchagoill island or go further on to the world famous Ashford Castle. Fishermen love the lake as it's the largest wild brown trout fishing in Europe. In my cafe downstairs I have the largest wild brown trout ever caught on the lake, a 23lb 12oz beauty caught by Ceri Jones. Steeped in history, Oughterard boasts numerous attractions including Glengowla mines, Aughnanure Castle, Brigit's Garden and Corrib cruises. In the cafe I have a visitors attraction wall that informs tourists of places to visit, local walks and interesting local stuff like famous Harry Clarke stained glass window, literary works by James Joyce and his local connections and writings by Walter Macken. A perfect base for touring Connemara Kylemore Abbey, National Park, Sky Road and Wild Atlantic Way all 1 hour drive from apartment.
Dessie was very nice ! The studio is just near of restaurants, pub, centra ... It was perfect for us (young couple) ! The bathroom and kitchen were clean and had all that we needed! Unfortunatly for a BnB , there was nothing for the breakfast (just coffee) no toast , no butter , no milk... Despite of this point, we still enjoy our night !
hanaa
2016-06-01T00:00:00Z
Dessie was welcoming and accommodating. We felt independent, yet well-cared for. Dessie was a great host. The lamb shank at the Boat Inn is hard to beat.
kendall
2015-05-07T00:00:00Z
Dessie est un hôte sympathique et très disponible. Le logement est clair, propre, calme, et bien adapté pour 2 personnes. Situé idéalement aux portes du Connemara et proche de Galway, dans une petite ville bien vivante avec magasins, restaurants et pubs. Le wifi mis à disposition est bien efficace. On bénéficie d'un parking privé, ce qui est très appréciable dans cette rue où les emplacements autorisés pour se garer sont peu nombreux. Petits bémols: la batterie de cuisine et la vaisselle sont en nombre un peu restreint et contrairement aux autres B and B fréquentés lors de notre séjour irlandais, il y a trop peu d'ingrédients pour le petit déjeuner (seulement quelques sachets de thé et un fond de pot de Nescafé). On peut toutefois se restaurer dans le restaurant de Dessie qui se trouve presque en dessous de cet appartement. Dans l'ensemble ce logement est d'un bon rapport qualité prix et nous l'avons bien apprécié.
Françoise
2016-07-06T00:00:00Z
Dessie's place is located in a close knit county town that's on the way to Connemara. The accommodation itself is like a loft. Dessie was very friendly, he showed us around the appt and explained how the shower/kitchen worked. Dessie was also really helpful in recommending places to see in Connemara, he showed us on a map how to get to Kylemore Abbey, the info centre at Connemara National Park (and explained that the info centre would show us the different options we could walk- he recommended the diamond hill walk and it was beautiful) as well as the sky road (beautiful scenery while driving). We booked the place to make our own food, the kitchen facilities looked good but Dessie's take away pizza menu was too delicious to pass up. It's certainly an ideal place for self catering though. The wifi worked well. It was nice to have private off street parking also. Would happily stay here again!
Kyle
2016-07-01T00:00:00Z
Lovely place, great location, great host. Thanks!
Mary-Jane
2015-09-22T00:00:00Z
Good self catered accomodation in a great location at the start of the connemara at lough corrib. Dessie was a great host, the flat was warm but a bit basic, however, it had everything that we needed including a comfortable bed.
Harry
2015-04-06T00:00:00Z
Dessie was extremely friendly and approachable. He accommodated our late arrival. It was also convenient to have his cafe/restaurant nearby. He was generous and we really appreciated it. The place was spacious, tidy and comfy. No complaints about the unit itself. There was also convenient free parking.
Hillgan
2016-05-09T00:00:00Z
Dessie is a very charming and welcoming host. The room was just like in the pictures. Very clean and tidy. Perfect for a short stop. We enjoyes our stay there.
Basti
2015-10-26T00:00:00Z
Huonetyyppi
Yksityinen huone
---
Majoituspaikan tyyppi
Huoneisto
---
Majoittujien määrä
2
---
Makuuhuoneet
Oughterard, Galway, Irlanti
"Wir wünschten, wir hätten eine Nacht länger geblieben, da wir wussten nicht, dass es so viel zu sehen und in Cong zu tun!" Dies ist die häufigste Feedback, das wir für die Gäste empfangen, die mit uns in den Mews bleiben Luxuriöse 2 x Zimmer-Wohnung ruht über dem Hungry Monk Cafe Trip No.1 Ort zum Essen in Cong. Kostenloses WLAN in der Wohnung. Smart TV, Netflix aktiviert für Ihr eigenes Konto Cong ist ein einzigartiges durch klare Flüsse, wilde Waldwanderungen und wunderbare Geschichte an jeder Ecke umgeben malerischen Inseldorf.
Die Wohnung ist eine geräumige 2 x Doppelzimmer, Wohn- / Esszimmer und Küche. Es liegt oberhalb des bekannten Hungry Monk Cafe, fabelhaftes Essen, cremige Kuchen und natürlich die große große Kaffee. Nicht geeignet für eine behinderte Person oder kleine Kinder wegen Treppen. Wohnung Mülltonnen werden zur Verfügung gestellt. Eine offene Gemeinschafts noch sicherer Hofraum Fahrräder zu speichern. Yard ist mit dem Cafe geteilt und eine andere Wohnung 10% Rabatt in unserem Irish Craft and Art Gallery, der Lady Buttery, wird dies zu AirBnB Gäste gewährt werden. Wir werden die Gäste bei der Ankunft und Abreise treffen, Gäste sind willkommen, für lokale Empfehlungen zu unserem Geschäft zu nennen und Sehenswürdigkeiten zu besuchen. The Hungry Monk Cafe und Apartments befinden sich an der Abbey-Straße im historischen Teil von Cong Dorf. The Village Tourist Office ist 5 Türen entfernt. 6. Jahrhundert Königlichen Abtei von Cong befindet sich gegenüber Ihrer Wohnung. Der berühmte 14. Jahrhundert Monks Fischerhaus, in dem Cong Fluss stehen, ist nur 5 Minuten von der Tür. Der Cong Wald Schleife geht 5 Minuten von der Haustür beginnen und Sie in Connemara führen kann. Der Cong Fluss, weltbekannt für Lachse und Forellen, ist an der Unterseite der Straße. Lough Corrib, Irlands größter See ist 10 Minuten entfernt, mit See-Kreuzfahrten und Bootsverleih. Fahrradverleih ist 5 Minuten entfernt im Dorf Irland School of Falknerei ist für Sie im Ashford Castle Estate, 10 Minuten zu buchen. Reiten und Tontaubenschießen ist für Sie auch an der Ashford Equestrian Centre zu buchen. Essen in Cong Dorf ist leicht, hat das Dorf 4 Restaurants und 2 Cafes. Darüber hinaus essen Sie können auch bei 4 Restaurants auf dem Anwesen Ashford Castle und The Lodge at Ashford. Das Dorf ist gut mit 4 Pubs serviert. Es gibt 2 x Kunstgalerien, 1 x Buchhandlung, 1 x Friseur. Die Apotheke ist 4 Türen entfernt. Die Kosmetikerin ist 4 Türen entfernt. Das Dorf Supermarkt ist 5 Minuten zu Fuß von Ihrer Wohnung entfernt. Beide Dorfkirchen sind nur 5 Minuten zu Fuß entfernt. Ashford Castle Hotel Estate und The Lodge at Ashford Hotels sind in weniger als 10 Minuten Fahrt von Ihrer Wohnung entfernt. Bus von der Stadt Galway zu Cong Dorf arbeitet von Montag bis Freitag nur. Fährt von Galway Busbahnhof 17.40pm Bus nach Galway fährt von Cong (Ryan Hotel) 07.00 Kein Wochenende Busverkehr Parken auf der Straße für Autos in Cong Dorf oder Parkplätze in den beiden öffentlichen Parkplätzen. Cong ist ein Dorf, Erfahrung zu erkunden und mit einem guten Paar Wanderschuhe genießen !!!
The Cong Village Mews is a lovely, well-appointed apartment. Robert and Susan are very thoughtful, knowledgeable, and considerate hosts. They went well out of their way to accommodate us. They left homemade treats, milk, and butter when we arrived. Robert even drove me to see the doctor on a Sunday morning when he should have been relaxing!
David
2017-04-03T00:00:00Z
My only hesitation in writing this review is that the place was so wonderful that it won't be available next time we visit Cong. Robert and Susan are execellent hosts. The apartment was spotless. The location was perfect. Susan left us amazing scones. The beds were very comfortable. We have stayed in Cong many times but we have never had such a great home base. We are really looking forward to coming back again!
Kristen
2017-03-17T00:00:00Z
We had a great stay at Robert and Susan's place. The house is incredibly lovely with everything you could need (and amazing blankets), and is so well-located for a beautiful walk in the Cong forest. Really glad we stayed here rather than in Galway as we got to see a lovely place we wouldn't have been able to otherwise. Highly recommended.
Molly
2017-02-27T00:00:00Z
My stay at Robert and Susan's place was perfect! The apartment is situated on the main road in town and access to everything in the village and surrounding area was very convenient. The apartment itself is impeccably clean and very cozy. Sitting down with a cup of tea in front of the living room fireplace was the perfect way to unwind after a day of hiking through Cong's lovely walking trails. I didnt have the chance to meet Robert, but Susan was very helpful and welcoming, I would stay with them again in a heartbeat the next time I'm in Cong.
Caroline
2017-03-22T00:00:00Z
Excellent location in the centre of this little town, walking distance to a good selection of pubs and restaurants and local walks and attractions. The apartment was spacious, well equipped, clean and comfortable. At the end of a day's sightseeing it was great to get back to this apartment rather than a hotel room. A great stay
David
2016-07-21T00:00:00Z
Had such a lovely nights stay at Robert and Susan's apartment. We booked at the last minute ( we were in Cong village when we sent our first message !! ) and Susan was so accommodating. The apartment is right in the center of the village and although most of the restaurants and coffee shops were closed (as it was mid week in December ) we can't wait to return to stay here again in spring when they are open. The bedrooms are beautifully decorated and the bed is so comfortable. Everything was spotlessly clean. Can't wait to return again !! Thank you Susan
Sonia
2015-12-18T00:00:00Z
We stayed at robert & susan appartment just for one night unfortunately. The appartment was so nice and clean and robert gave us a lovely welcome. The appartment a very central n cong. Cong is such a lovely village we were disappointed we cd not stay longer but promised ourselves we wd b back. If u r looking for a wknd with a difference away from the hussell and bussell of every day life and wd like to chill out for a few days this s the place to stay. We will b bk thank you robert. Maura
Maura
2015-10-19T00:00:00Z
Our host made us feel very welcome. Super nice people.
Margaret
2016-10-03T00:00:00Z
Huonetyyppi
Koko talo/asunto
---
Majoituspaikan tyyppi
Huoneisto
---
Majoittujien määrä
4
---
Makuuhuoneet
Cong, Mayo, Irlanti
Es befindet sich in Clonbur Haus im Dorf Clonbur, Connemara. Dieses gemütliche Studio Apartment verfügen über die perfekte Lage im Dorf geschmackvoll mit allem Komfort eingerichtet Diese Oase ist nur einen kurzen Spaziergang von hoch bewerteten Restaurants und publichouses. Alle neuen WLAN 2017.
Studio-Apartment mit Doppelbett, ein eigenes Bad und Küche / Wohnbereich
Hier finden Sie Musik und craic finden, ein paar Worte in der Mutter irischen Zunge und Erinnerungen mit nach Hause zu bringen. Ein weiterer Ort von einzigartiger Schönheit ist Lough Coolin, ein kleiner See gesetzt wie ein glitzerndes Juwel in den Ausläufern des Mount Gable, nur 3 Meilen von Clonbur. Für Abenteurer, ist der Mount Gable eine leichte Steigung von etwa einer Stunde Dauer. Was auch immer Ihr Geschmack sind Sie sicher beeindruckt sein mit dieser atemberaubenden Umgebung und lange zurück, um Jahr für Jahr.
accueil chaleureux et préparation de séjour efficace, seuls bémols, carrefour utilisés par des camions assez tôt le matin et isolation phonique insuffisante par rapport à l'extérieur et dans la communication avec l'autre appartement séparé du premier par une porte simple (intimité réduite)
Noel
2015-06-25T00:00:00Z
Merci Hugh pour ce superbe accueil et ton aide précieuse tout au long du séjour. Si vous venez à Clonbur, surtout ne prévoyez rien et demandez conseil à Hugh, il vous donnera tous les bons plans du coin ! Nous avons logé dans le petit appartement du premier étage. Un chouette endroit très confortable avec un petit poêle à bois. Vous serez en plein coeur du pays de Joyce, un base parfaite pour explorer le Connemara. Je recommande vivement cet appartement !
Paul
2016-11-12T00:00:00Z
Hugh nous a très bien accueilli, très ponctuel (il était là 2 min après nous être garés) et chaleureux, il nous a donné tous les conseils nécessaires pour que notre séjour se déroule au mieux. Situé au centre de Clonbur, l'appartement est parfaitement localis(URL HIDDEN)pied, une supérette et quelques très bons pubs; - une forêt avec de belles balades qui peuvent être faites à vélos (Hugh en prête); - le Connemara est à quelques pas en voiture. Je recommande donc ce logement sans hésiter.
Pauline
2016-07-19T00:00:00Z
A very nice studio centrally located in the middle of Clonbur. It's very tidy and clean. Hugh was extremely helpful and friendly. He really looks after you regarding where to go and what to do. With a great pub just around the corner it was a wonderful stay.
Wouter
2016-08-13T00:00:00Z
Myself and my Finace spent a lovely weekend in Connemara using Clonbur as a base. This apartment was perfect, extremely clean and well equipped. Hugh met us on arrival and was very helpful, giving us information about activities in the area. We spent the weekend visiting Killary harbour, Kylemore abbey, Clifden.. all of which were within easy driving distance. I would definitely recommend this apartment as a base for a getaway out West!
Anne-marie
2015-05-05T00:00:00Z
What a good experience! Hugh welcomed us very well. He gives us some advices for climbing and eating and his guidance was great. The appartement is fonctional, clean and confortable. There is anything you need. Clombur is a well situated for discovery of conemara. We recommand. Nous avons été très bien accueilli par Hugh qui nous a donné des conseils sur les coins à voir, les routes à faire, les ballades sympa et les endroits où manger et boire un verre. L'appartement est propre et joli. Petit mais fonctionnel, il y a tout ce dont on a besoin : Épiceries et pubs dans le village, ballades accessibles à pied... Clombur est par ailleurs très bien situé pour découvrir le conemara. Nous recommandons.
Anaëlle
2016-08-27T00:00:00Z
Excellent trip! Highly recommend it!
Leanne
2016-06-27T00:00:00Z
Thank's a lot to Hugh for his flat which was very spacious. We spent great moments in the Connemara, hiking in the national Park and around Clonbur, on this point thank you for advices about Mount Gable. Moreover, the file about the activities around Clonbur and Cong was very useful.
Cindy
2016-06-20T00:00:00Z
Huonetyyppi
Koko talo/asunto
---
Majoituspaikan tyyppi
Huoneisto
---
Majoittujien määrä
2
---
Makuuhuoneet
Clonbur, Galway, Irlanti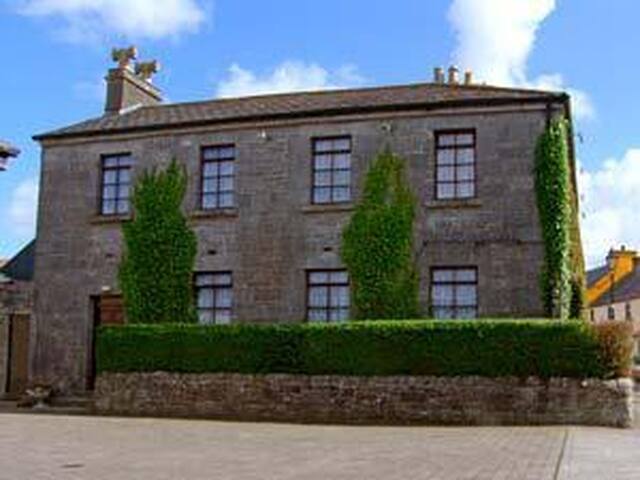 Cosy 2 bedroom apartment located right in the middle of the historic heritage town of Athenry. Located right beside the "North gate" built 800 years ago and with wonderful views of a medieval church, your sure to enjoy and remember your stay☺☺☺
Cosy, centrally located, great views and all the necessary amenities. We will do our best to make your stay as comfortable as possible☺
Athenry is a great town for a visit as it has a vast amount of historical structures, from its castle, medieval church, Dominican Abbey, not to mention it has the largest Norman town wall still intact in Ireland which was built in 1211. It also has a number of small bars and restaurants, one of which is a craft beer pub which is situated very near the apartment, it serves a variety of beers and stouts from small breweries around Ireland and a variety of European beers which all taste great. Athenry is very well served by public transport and has many trains and buses travelling daily to the nearby city of Galway and also to Dublin.
Everything was exactly as said, no problems
Brendan
2016-05-13T00:00:00Z
Nice stay in the studio of Paul. Clean and spacious.Her wife welcome us when we arrive, and explain us everything about the house. Lovely stay there
Mathilde
2016-04-12T00:00:00Z
Nice place apart from noisy washing machine. and mold on bathroom celing.
Lesley
2017-03-21T00:00:00Z
Paul is a very nice guy, he received me and my friends very well, show everything we need to. His apartment was very clean and very well equipped
Marcelo Juan
2016-12-11T00:00:00Z
Paul meet us at the appointed time and knew to find us in a nearby parking lot as the apartment entrance is not immediately obvious. He walked us through all areas of access and amenities and made himself available for additional questions. We had none as his briefing left nothing unanswered. We were just passing through for the evening but would have otherwise been happy to consider a longer stay.
Kevin
2016-09-23T00:00:00Z
The Castle View flat is accurately photographed and described on the air bnb listing. It is a lovely well appointed, clean flat centrally located to the village of Athrenry with supermarket, petrol station, pubs and restaurants close by. Excellent starting point to drive from to explore Cliffs of Moher and Galway City. Enjoyed our short stay here. Thank you Paul and Caroline
sharyn
2016-10-20T00:00:00Z
Todo genial, la casa bonita, limpia y acogedora. Recomendable.
Lorena
2016-09-10T00:00:00Z
Great flat, nice host. Would recommend to others.
Matthew
2017-03-22T00:00:00Z
Huonetyyppi
Koko talo/asunto
---
Majoituspaikan tyyppi
Huoneisto
---
Majoittujien määrä
4
---
Makuuhuoneet
Athenry , Galway, Irlanti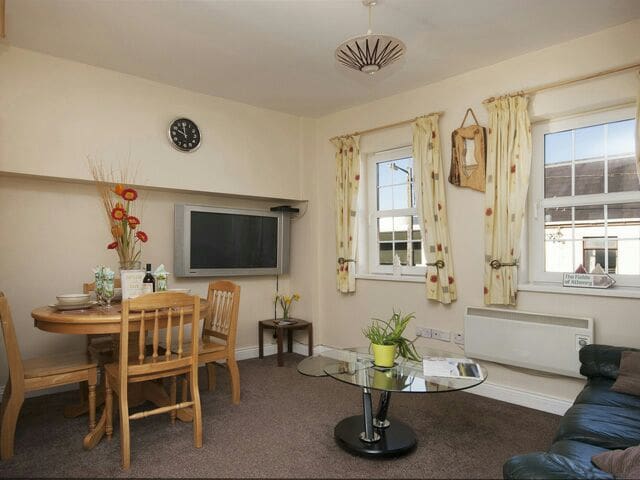 My place is 5 mins to village Craughwell .shop pubs ect . 25 min drive to city centre, art and culture, Double and single bed in bedroom and living area has couch turns into Double bed all mod cons (URL HIDDEN) cot,babysitter, if needed by request.
GREAT Space outdoors especially for children Hammock in garden Has wonderful peace and tranquillity here patio area outside to relax can bbq 1bedroom has Double and single bed and living area has big double couch bed , fridge ,cooker ,coffee machine ,toaster ,ect underfloor heating 10 mins drive to Athenry beautiful castle there known worldwide for famous song fields of athenry golfing horse riding very historical town.craughwell has 3pubs rafterys for good food supermarket fast food. deli.atm.chemist .postoffice .beauty rooms .hairdressers .nice quite village .Cliffs moher 45 min drive as are aliwee caves .sleeps 5 .laundry room .
Nice quite area if u want to relax only hear birds in morning
Very nice and quiet, beautiful surrounding area. Close to Galway and supermarkets, convenience store, local pub, a large lake, etc. Elizabeth and her husband are friendly & funny. We had a great stay. Would recommend and stay again.
Amanda
2017-03-31T00:00:00Z
Elizabeth et sa famille sont des hôtes très accueillants serviables le logement était parfait pour 3 rien ne manquait comme à la maison excellent rapport qualité prix
sylvie
2017-04-12T00:00:00Z
Liz was a fantastic host and made us feel at home straight away. House was brilliant and perfect for a few days on Ireland
Daniel
2017-03-19T00:00:00Z
Huonetyyppi
Koko talo/asunto
---
Majoituspaikan tyyppi
Huoneisto
---
Majoittujien määrä
5
---
Makuuhuoneet
Craughwell, County Galway, Irlanti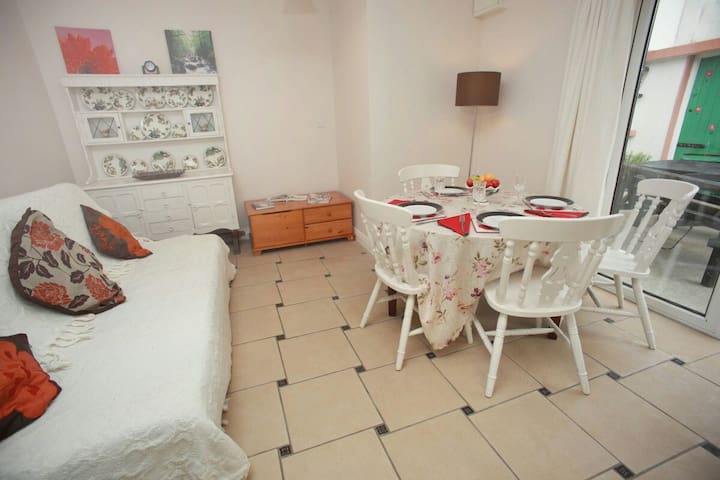 A ben presentati Appartamento 2 camere da letto immerso nella campagna a 10 miglia dalla città di Westport e 10 miglia dal villaggio di Leenane Connemara. C'è una camera matrimoniale e una doppia c'è anche una struttura in più al piano terra con accesso per disabili con un letto e doccia. La posizione è molto suggestiva e una posizione ideale sia per riposare o giocare
Soggiorno minimo 2 notti
Una zona di campagna molto tranquilla
Huonetyyppi
Koko talo/asunto
---
Majoituspaikan tyyppi
Huoneisto
---
Majoittujien määrä
5
---
Makuuhuoneet
Westport , County Mayo, Irlanti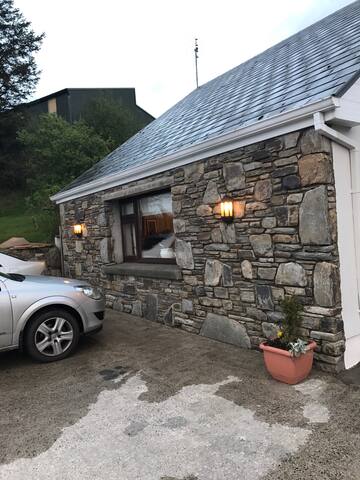 This stylish town house in the centre of Carraroe epitomises contemporary boutique style accommodation. A luxurious holiday accommodation that features three double bedrooms, two bathrooms, a fully equipped kitchen and spacious living area with communal area and parking. Additionally, free wi-fi, pet friendly and large flat screen TV.
Stunning townhouse situated in the heart of Carraroe with restaurants, pubs and shops on your doorstep. Benefiting from free internet service, pet friendly, outdoor communal bbq area, very stylishly designed throughout, ample parking and travel cot and high chair provided upon request. Carraroe is nestled in a wild and wonderful region of western Ireland, with varied, rugged landscapes waiting to be explored by foot or bike Clifden can be reached within an hour's drive, along with the bustling city of Galway, where you're certain to enjoy a true taste of the wonderful West of Ireland. Carraroe, is situated in the South of Connemara on the Coast of Galway Bay. Being one of the most important areas for promoting Irish Culture including song, dance and Irish Summer Schools. It is very popular with other Irish - Speaking Holidaymakers. Not only is Carraroe between Casla Bay and Greatman's Bay, but it also has the whole series of Islands composed of Lettermore, Gorumna and Lettermullen all joined by Causeway to the mainland. There is an old world atmosphere to be found here, with endless winding boreens and high granite walls leading to now silent turf quays and deserted beaches. Stairs leading to main entrance door. Ground floor: 2 double bedrooms with windows allowing ample natural light. Both bedrooms have built-in wardrobes and large chest of drawers. There is a separate shower room. Upstairs: Very large open plan reception with huge windows oozing natural light. The sitting room area has a large l-shaped couch and flat scrren TV, the dining area has a dining table seating 6. The fully equipped ktichen area has a built-in large fridge freezer, induction hot, oven and separate grill oven, microwave and dishwasher. There is further 3 seater couch. From the kitchen area there is a stoarge cupboard housing a separate washing machine and drier. From here you will find a further large double bedroom with 2 double beds, fitted wardrobes, large window overlooking the front of the building and a chest of drawers. The main bathroom has a bath with shower overhead, sink and wc. Exterior. There is ample parking, large gravelled communal area with a picnic bench and a bbq upon request.
Huonetyyppi
Koko talo/asunto
---
Majoituspaikan tyyppi
Huoneisto
---
Majoittujien määrä
9
---
Makuuhuoneet
Carraroe, Galway, Irlanti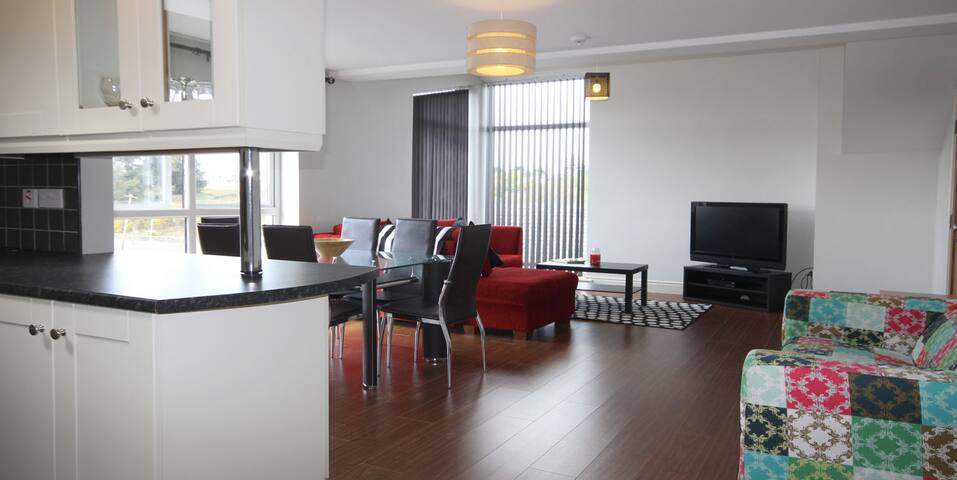 Our apartment is a 5-minute walk (800m) from the scenic Salthill promenade, 1.6 km from NUI Galway and a 12-minute stroll (1.1km) from the City centre. Guests will have their own private double bedroom and they will be provided with towels upon arrival. Your private bathroom includes a bath, shower as well as shampoo and toothpaste. Guests will also have access high-speed WiFi, free parking as well as access to the kitchen for tea, coffee and toast in the morning only.
Owen was a great host. Very friendly, lots of useful information and suggestions for what to do. Good location, comfortable bed, nice private bathroom. Couldn't have asked for anything more.
Anastasis
2016-10-23T00:00:00Z
Great place to stay in, they made us feel at home. The location is perfect if you're visiting the city and you're arriving by car. There's free parking and the location is only a 10-15 minute walk into the city centre. Spacious and private room, also a private bathroom next door. All in all, a great stay!
Kerry
2016-08-21T00:00:00Z
Owen and Hannah You are wonderful hosts. Thank you for opening your home to us. It was lovely to meet you both. Thanks for the advice on trad on the prom- a must see show of the world's leading Irish musicians and dancers. Thank you for your advice on places to stay too.
Sandhya Girish
2016-09-26T00:00:00Z
Owen & Hannah are great hosts, very friendly. Room very clean and private bathroom a sell. Great value for money.
Mary
2016-10-02T00:00:00Z
Owen and Hannah are great hosts ! It was pleasure to stay at your place guys ! Thank you !
Nick
2016-10-03T00:00:00Z
Great location, great apartment, great people! What more do you need?
Rob
2017-04-05T00:00:00Z
Vielen Dank für das tolle Wochenende in Galway. Owen war sehr hilfsbreit. Ein Parkplatz und ein kleines Frühstück waren dabei. Bad und Zimmer sauber und nur ca. 15min die Straße runter in das Zentrum. Meine Empfehlung!
Joachim
2016-09-04T00:00:00Z
Nice place near the city centre. Clean and confortable. Owen was very kind and helpful all the time
Carlos
2016-12-19T00:00:00Z
Huonetyyppi
Yksityinen huone
---
Majoituspaikan tyyppi
Huoneisto
---
Majoittujien määrä
2
---
Makuuhuoneet
Salt hill Road Lower, Galway, Irlanti
3 minuutin kävelymatka Galwayn keskustasta ravintolat, teatterit, museot, kanavat joki, Galwaynlahdelle, 10 minuutin kävelymatkan päässä Grattan Beach / Salthill, perheystävällinen toimintaa, taide ja kulttuuri, ravintolat ja ruokailu. Ihastut paikkani takia mukava sänky, valo, keittiö, rauhallinen sijainti, off-kadun pysäköinti ,. My paikka on hyvä pariskunnille, solo seikkailijoita, ja liikematkailijoille.
Perfect stay in perfect city with perfect people ! Thanks Ronnie !!!!!
Angela
2016-10-29T00:00:00Z
Ronnie was very welcoming and had provided us with scones and a few extras that made our stay very comfortable (including conditioner !). The space is a perfect base for exploring Galway, self sufficent and very central. We had a great stay thank you!
Alice
2016-07-25T00:00:00Z
Ronnie's loft is a fantastic place to stay in Galway. The neighborhood feels quiet and residential, but the city center is just a 10-15 minute walk away. The loft is comfortable and private, with interesting and eclectic decorations. Ronnie was friendly and helpful, and offered great suggestions on how to spend our time in Galway. He served a lovely breakfast including fresh baked croissants, smoked salmon, and delicious cheese. Overall this was a great accommodation!
Mitra
2017-04-01T00:00:00Z
Nice place to be, near city center and quiet! We had a good time and Ronnie was very nice, answering our questions :)
Sophie
2017-03-29T00:00:00Z
We had a wonderful stay with Ronnie! He is so kind and gave us a warm welcome. He gave us tea and a tasty snack when we arrived and had breakfast waiting for us in the morning with pastries and fresh squeezed orange juice. The location was amazing! Walking distance to downtown and he gave great suggestions for food and live music. We had a great stay in Galway, thanks Ronnie!
Darra
2017-02-12T00:00:00Z
good quite place but quite central
Gerry
2017-02-10T00:00:00Z
Ronnie is a great host and it was a real pleasure to stay at his house. I arrived in Galway three days before Christmas and booked into Ronnie's for a couple of days, so therefore giving him practically no notice. I was travelling under a veil of secrecy, from Sydney, to visit my elderly parents as a Christmas surprise. Nobody in my large family knew I was coming, so I wasn't sure if there would be room in my parents house for me, hence the backup plan of using an AirBnB as a staging post to get my bearings after the 36 hour door-to-Galway bus station trip. Ronnie responded immediately and in a few hours he was showing me around his wonderful house and the self contained loft flat where I would stay. Very clean and with some wonderful ornaments and paintings. Fresh towels, bathroom amenities you could eat your dinner off, plenty of hot water in the shower. The surprise was sprung on my parents and siblings, to much joy and elation. It was insisted I was to stay in the house of my parents and no mucking around with an AirBnB. But I happily demurred and retreated into the night back to Ronnie's for my two nights of relaxation before the high drama of Christmas with the family. The house is located just a few minutes up the road from the Latin Quarter. Walking towards there, with the Claddagh on the left, over the river Corrib at Wolf Tone bridge, there's the Spanish Arch and Quay Street opens up right into the heart of old Galway. Before setting out each morning, a light breakfast of smoked salmon on brown bread, croissant, cheese and crackers, orange juice appears on a tray outside my door. And the coffee machine provides the couple of cups of anti jet lag juice to get the day started. Ronnie's apartment has two large skylights looking to the west from the bedroom and lounge area. I lay on my bed on the second night, the night before Christmas Eve, and watched the constellation Orion, the Hunter, slowly arise framed by the skylight. It's great to be back in Galway for Christmas, and fantastic to have such a generous and considerate host as Ronnie to open up the proceedings.
Karl
2016-12-24T00:00:00Z
Ronnie's place was great. Perfect for our 3-nights. He was so helpful and welcoming, yet non-intrusive. Upon our arrival, he greeted us with his friendly smile and welcome, showed us to the loft, and then invited us for tea and fresh bread in his below home. He gave helpful advice on restaurants and pubs, which were only a few minutes walk away. Each morning, he deliver to us on a tray our breakfast, which consisted of fresh juice, bread, salmon, and wonderful croissants with jam. Coffee and tea making was in the room already, which made everything so convenient and efficient, as well as a delicious breakfast. Overall a great stay.
Gary
2017-03-25T00:00:00Z
Huonetyyppi
Yksityinen huone
---
Majoituspaikan tyyppi
Huoneisto
---
Majoittujien määrä
2
---
Makuuhuoneet
Galway, Galway, Irlanti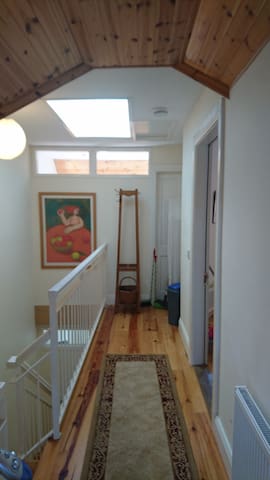 amplio apartamento con estilo, de 2 plantas en un edificio antiguo en el puerto deportivo del puerto de Galway está a pocos minutos de la bulliciosa vida de la ciudad y combina lo mejor del viejo y nuevo.
Ocupando los dos pisos por encima de un minorista de TI a nivel de calle, este luminoso apartamento espacioso, tiene una puerta de entrada independiente. Las puertas dobles se abren desde el confortable con vistas al puerto sala de estar en una cocina-diseñador de la cual hay algunos escalones para llegar a un comedor tranquilo seis asientos en una mesa de cromo y vidrio. En buen tiempo se puede comer en la terraza de la azotea trampa de sol. Hay un lavadero con lavadora y secadora y un baño para invitados a este nivel y el apartamento cuenta con wifi de banda ancha rápida y TV por cable de alta definición. Arriba hay dos dormitorios, uno doble y otro con una cama king size, cómodos colchones y baños de lujo. El dormitorio principal tiene vistas al puerto deportivo y el zumbido de la ciudad, el cuarto de atrás es tranquilo y pacífico. Una cuna de viaje está disponible para los huéspedes del bebé. Cinco minutos a pie de la estación de tren, a diez minutos a pie de la estación de autobuses, que no se necesita un coche, pero el aparcamiento puede arreglar si es necesario.
Está justo en el medio de todo lo que la ciudad tiene que ofrecer, pero todavía se puede ver el mar y, en un buen día, el Burren.
We had a wonderful time in Galway. We loved the apartment. It was very clean, spacious and pleasant. It was close to shops, restaurants and pub. I recommend it.
Maryline
2016-07-28T00:00:00Z
A wonderful apartment on a quiet street but just two blocks from the action of downtown Galway. The apartment is bright and clean and well equipped, the beds are comfortable and great showers. Highly recommended!
David
2016-08-16T00:00:00Z
Great hosts who give you good tips and suggestions. A super apartment, very well equipped, clean and fresh. It is only a few hundred meters to the town, but you don't feel I'm the town due to the harbour view. The car parking pass is a big bonus. Lots to do on the Galway coast where the views are stunning. Clever outdoor seating area at the back is a little sun trap! Highly recommended, an exceptional apartment.
Nigel
2016-06-07T00:00:00Z
What a wonderful apartment and unbelievable hosts! They went over and above expectations to make us feel welcome and our vacation special. The apartment is beautiful and spacious and beautifully done.There are stairs though so that should be a consideration for those with limited mobility. 'The area was great walking distance to train, bus and town center. We felt very safe and noise was not an issue for a city pretty quiet. Tours of surrounding areas were all right there. We opted for a private tour with Jim from Ireland West Tours. would highly recommend. We hope to stay at Deirdre and Patrick's place again and definitely recommend it for anyone looking for a great vacation home!
diane
2015-12-29T00:00:00Z
I loved this apartment! I was perfect for the four of us as it has 2 bedrooms, each with their own bathroom and then a 1/2 bathroom and laundry on the main living area. The bedrooms are upstairs from the living and kitchen area which made for great separation. Would highly recommend if coming to Galway. Location was excellent.
Jennifer
2016-03-05T00:00:00Z
Superbe appartement idéalement situé tout proche du centre ville (5 mn à pieds des commerces et pubs). Parking à disposition à 50 mètres. Conforme à la description sur le site, très spacieux et très propre : on se sentait vraiment chez nous. Patrick nous a très bien accueilli, très à l'écoute et très serviable. On gardera un très bon souvenir de notre séjour à Galway.
Valérie
2016-02-21T00:00:00Z
We had an absolutely FABULOUS time in Galway at Deirdre's place. It was exactly what we were looking for. Clean. Great location. Easy to find. We are coming back next year for sure!
Krista
2016-07-05T00:00:00Z
Great location, modern three storey clean apartment beautifully decorated. Highly recommend this place.
Sarah
2017-01-26T00:00:00Z
Huonetyyppi
Koko talo/asunto
---
Majoituspaikan tyyppi
Huoneisto
---
Majoittujien määrä
4
---
Makuuhuoneet
Galway, Galway, Irlanti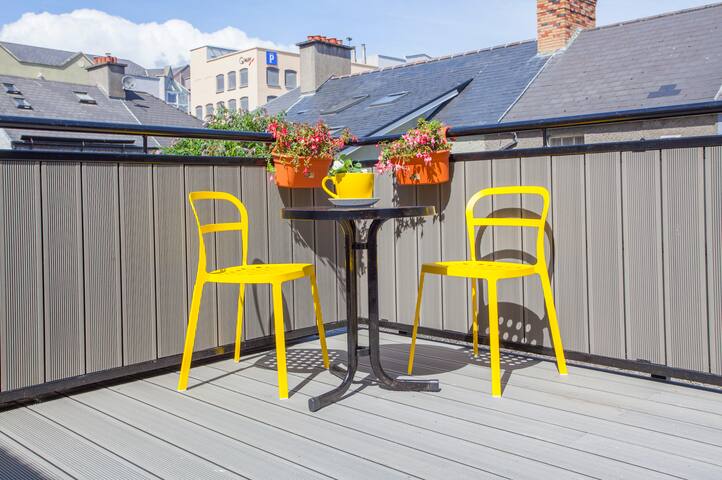 LOCATION, LOCATION, LOCATION!!! Charming 2BR/2BTH with spacious private yard located on Galway's Historic "The Long Walk" Lots to do and see as well as the added bonus of a quiet escape haven.
A house within a house best describes this self contained/self catering ground floor apt located on The Long Walk (where Galway Bay meets The River Corrib). The apt features Living/Dining area, Kit, 2BR/2BTH (one en-suite) as well as a Pvt Yard/Patio w/BBQ facility. Other amenities include: Free Broadband/WiFi, Cable TV/DVD, Radio/CD, Washer/Dryer/ Refrigerator/Stove and Microwave. Heating is electric and charges are included in rental
Apt is a stone's throw from The Latin Quarter, Shop Street, Galway's City Center, Galway Cathedral, Museum, Town Hall Theatre, Pubs, Restaurants and Churches. No car is necessary. A 20 minute walk will take you to the beach and prom area at Salt Hill. Aside from exploring Galway City, the location is also central to enjoying day bus/boat trips to sights such as the Aran Islands, the River Corrib, the Cliffs of Moher and the Connemara coastline while keeping Galway as your home base.
If you are planning a trip to Galway, stay with Annamarie! Her apartment is beautiful-- plenty of room for 4 people although it was just my husband and me this trip. The location is perfect, a couple of blocks from the pub/cafe/shopping district but away from it, on a little canal which makes for peaceful walks and watching the swans when the tide comes in and out. Annamarie could not have been more welcoming and helpful, including bus station transportation, restaurant suggestions, showing us how the showers etc worked (not always obvious in Europe) and food in the kitchen when we arrived after our endless travel day from the U.S. She had lovely little touches like fresh flowers and a bottle of wine. There is an oil-powered fireplace stove we lit on a couple of evenings, making the apartment so cozy after rainy days. The apartment is walkable along the water to the Salt Hill district, probably a 15 minute beautiful walk or so. I would recommend going to the Salt Hill area for different types of pubs and shops. The Aquarium is there too, so staying at Annamarie's would be great for families. I have stayed with and visited homes from Airbnb hosts in other European places, and Annamarie's is a gem. She is the perfect B&B host-- available but lets you alone if that is your preference. If we were to visit Galway again I would hope to book her place again. As an aside--In terms of bus tours, I would not recommend the Galway Tour Company, as we took that tour to the Cliffs of Moher but the time they said we would get at the Cliffs was quite cut short. So I would say book a different tour company if you can.
Kathy
2014-08-28T00:00:00Z
Incredible location right on Galway Bay. The house is literally on postcards. My husband and I counted 38 swans in the bay at one time. Additionally, there is a resident heron named Berdie who walks the sidewalk greeting everyone. Our lovely host answered all our questions and left us some yummy snacks. We would definitely recommend this place to anyone traveling to Galway.
Brittney
2016-07-01T00:00:00Z
What a great weekend! My two friends and I stayed in Annamarie's apartment for three days and it was perfect. She was a great host: picked us up from the bus station and dropped us off, provided groceries so we had snacks and breakfast, and even got us a bottle of wine. The location was very convenient, only a few blocks from the main strip of Galway, and picturesque views of the river outside! I definitely recommend this place to others!
Leslie
2015-06-22T00:00:00Z
Parfait sauf le wifi
THIERRY
2016-08-31T00:00:00Z
Merci à Annamarie pour son accueil, et sa patience pour nous aider malgré notre anglais sommaire, très bon séjour dans un appartement très propre et bien équipé, si les nuits étaient un peu fraiche chauffage d'appoint.
GHYSLAINE
2016-03-22T00:00:00Z
Annamarie is a wonderful hostess! She met us at the apartment, showed us around, showed us maps and had many great suggestions for shopping and restaurants. There was some food supplies for breakfast and cooking. The kitchen has all the tools you need. The apartment has a wonderful view of the river and is centrally located. We didn't move our car for two days. The beds are comfortable with plenty of pillows, although the beds are typical for Ireland-no American king beds. We would definitely stay there again!
Justin
2015-09-15T00:00:00Z
I am from Galway so when I saw this place on Long Walk we had to stay here and we were so happy we did :) A beautiful house in a wonderful location. Annamarie was very welcoming & even had some goodies left for us upon our arrival. The place was a perfect size for us & our friend- a great location- one of my favourite parts of Galway. We would recommend this place to anyone visiting Galway. A parking permit was provided which was super useful! Thank you so much Annamarie :)
Aileen & Wayne
2016-12-04T00:00:00Z
Great location with an accommodating host!
Michele and Cody
2016-07-25T00:00:00Z
Huonetyyppi
Koko talo/asunto
---
Majoituspaikan tyyppi
Huoneisto
---
Majoittujien määrä
4
---
Makuuhuoneet
Galway City Centre, Galway, Irlanti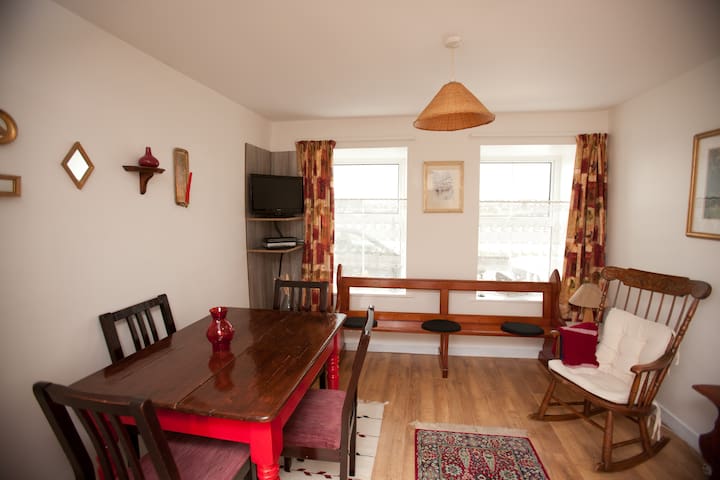 Newly refurbished, small, modern apartment in a quiet area - close to the beach and a big selection of restaurants and bars. It's the perfect location for exploring Galway city, Galway bay - Salthill - and the Connemara Wild Atlantic Way. With a full kitchen, secure off street parking, a cosy bedroom, wet room, complete privacy, excellent free wi-fi, it's good for couples, solo adventurers, and business travelers. Its a perfect short stay space for 1 or 2 people. S.C breakfast included.
Self catering breakfast includes: selection of granola, muesli, porridge, orange juice (not from concentrate!), gourmet brown bread, selection of jams, teas and coffees. -enjoy! Perfect work station for laptop and other devices, with easy to access sockets. You can work uninterrupted in peace and quiet. Self check in no problem. This is a very private apartment, near to all amenities. Your own front door and outdoor coffee spot, kitchen and chill out space with new sofa bed, double bedroom with peace and quiet guaranteed, local tourist information and holiday reading provided. The bedroom and kitchen are completely separate, so you have two spaces. Both rooms are bright with large windows. Nearest convenience shop is just 2 minutes away and is well stocked. Galway bay and the famous promenade (the prom) practically on your door step. Lovely seaside walks and beaches right nearby, with spectacular views of the Burren and Aran islands.
Very close to the sea, the famous Salthill promenade (the prom), and Salthill Park. Beautiful seaside walks on the beaches or the prom with spectacular views of the Burren and the Aran islands practically on your doorstep. Nearest convenience shop is just 2 minutes away, well stocked and open 'til 10 pm. There are over 20 restaurants and cafes, about 8 bars and a range of shops, chemists, supermarkets, deli's and bakeries in Salthill. Depending on which route you take Galway city centre is a 20 minute walk - a scenic route by the sea and the Claddagh is about 30 minutes walk with uninterrupted sea views. West of Ireland weather can be wet and windy - Leisureland is around the corner with 25 metre pool with sea views, sauna, steam room and full gym all with public rates.
Fiona's apartment is cosy, quiet, and comfortable; a lovely little place. It's well-equipped, the decor is lovely, and Fiona is a kind and gracious host. I really enjoyed staying there!
Dearbhaile
2017-01-30T00:00:00Z
I would absolutely recommend Fiona's place for your next trip. The apartment is warm, inviting and well appointed. The experience was added to by Fiona's Galway charm and fresh brown bread! Salthill's best kept secret :)
Maggie May
2017-03-18T00:00:00Z
Fiona è una ragazza molto ospitale e gentile! La casa era completamente in ordine e pulita, Fiona non ci ha fatto mancare niente! Ci torneremo volentieri!
melissa
2017-03-17T00:00:00Z
Fiona was a great host and gave a very warm welcome and had a box full of information about Galway and the West of Ireland ready. The apartment is in a very quiet culdesac close the main street in Salthill and Galway bay. We had a wonderful peaceful time here and the apartment is warm and we could cook easily. Best of luck Fiona and we hope to stay there again soon :).
Daf
2017-01-03T00:00:00Z
Handy little apartment!
Rachel
2017-03-29T00:00:00Z
Fiona's place was bright, contemporary, comfy and welcoming, close to local seaside Salt Hill cafes and a walk to Galway centre. Fiona made sure we had everything we needed, a great place to stay!
Mary
2017-02-27T00:00:00Z
Clean and modern space. My Dad and I had the perfect amount of room to stay here for one night. The apartment is very close to the city centre. Fiona kept in contact with us throughout the day as we arrived much later than we had originally intended. She even provided some bread, butter and jam for us. All necessities described were included. Everything was clean and well maintained. We enjoyed talking to Fiona for a few minutes the next morning and she was able to give us a few suggestions as to what to visit in Galway. We even got to play fetch with her dog, Bella, for a little while! Great place to stay if you plan to spend a little time in Galway!
Amber
2017-04-05T00:00:00Z
Fiona was helpful and her place was perfect for a quick stay!
Melissa
2017-04-01T00:00:00Z
Huonetyyppi
Koko talo/asunto
---
Majoituspaikan tyyppi
Huoneisto
---
Majoittujien määrä
2
---
Makuuhuoneet
Salthill, County Galway, Irlanti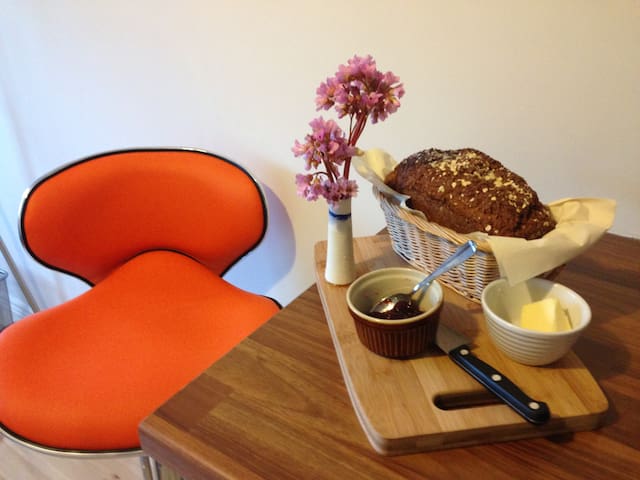 An apartment on the shore of Galway Bay. Kitchen, Living Room area, Bathroom, 1 double bedroom suitable for 2 adults. Parking. Convenient to Galway city, Connemara, and the Burren, which are all worth touring. 8 mins from the Dublin motorway (M6), and 3 mins from the Shannon/Limerick/Cork national primary road (N18). The beautiful towns of Oranmore and Clarenbridge are close by.
Sea Breeze overlooks Rinville Harbour which is a viewing stop on the Wild Atlantic Way. Rinville Park is a very popular park area for walking and exercising. Golfers will enjoy the Galway Bay Golf and Country Club also located in Rinville. I understand that the green fees are reasonable. On the other side of the Ardfry peninsula, birdwatchers will enjoy the egrets and herons that grace our shores along with many other varieties. Tawin, a peninsula three miles for Sea Breeze is a migration transit point for the Brent Geese.
Rorys Appartment was very nice and cosy. It looked like on the fotos and it was very easy to find. The way to Oranmore is a little long, so you need your own car. There is everything you need in the appertment to stay for a week and the location is exellent to do exursions to Galway, to the Burren or even to Connemara. Rory was very helpful and friendly. Thank you very much for everything!!
Luca
2016-07-17T00:00:00Z
It's a great location
Julie
2017-02-13T00:00:00Z
This is a great little getaway by the sea. Remote and soulful, a good place for long, contemplative walks.
Joel
2016-11-24T00:00:00Z
Perfect little hideaway for a winter breakaway. Cosy, fresh linen and great service from Rory and the cats. Easy enough to find, although you would likely need a car. Very comfortable and great value. About 1.5 hours drive to Cliffs of Moher and Connemara. Excellent.
Jen
2017-03-09T00:00:00Z
Merci à Rory pour son accueil,il est venu nous rejoindre pour nous mener jusqu'à son logement Le lieu est tranquille et très beau Un bel endroit pourvisiter le Connemara , les falaises de Moher.......
Martine
2016-09-15T00:00:00Z
Beautiful place (directly in front of the sea), very clean and lovely furnished. Had a very warm welcome and Rory and Martina were very helpful and warmhearted, just wonderful people. Been there for a week and it felt like home. We would love to come back, highly recommended!
Katharina
2017-03-26T00:00:00Z
Nous avons passé un excellent séjour à Oranmore. l'appartement est bien placé dans la baie de galway ( à 20min en voiture ), avec une vue mer très agréable. Rory nous a réservé un accueil chaleureux et s'est rendu disponible pour tout conseil! Idéal pour découvrir une partie de la côte ouest Irlandaise!!
Jacques
2017-03-17T00:00:00Z
A place to relax and dream.
Katharina
2017-04-03T00:00:00Z
Huonetyyppi
Koko talo/asunto
---
Majoituspaikan tyyppi
Huoneisto
---
Majoittujien määrä
2
---
Makuuhuoneet
Oranmore, County Galway, Irlanti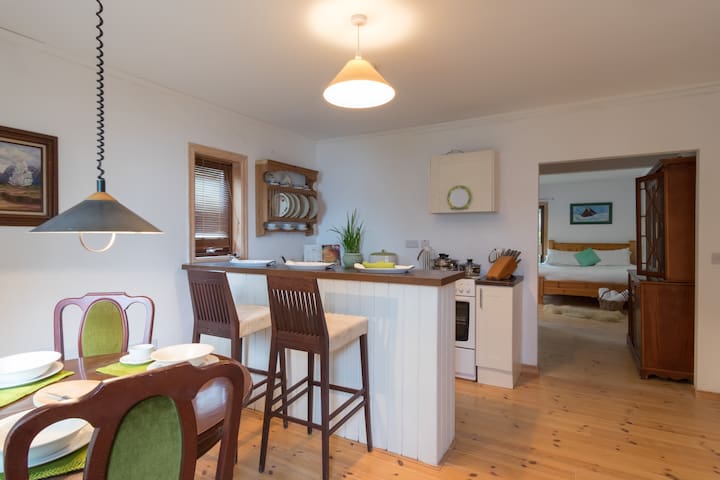 Nachází se na Španělský oblouk, tichý vlastní manželskou postelí v bytě tři úrovně s vlastní střešní terasou a výhledem na město. Káva, čaj, džus, mléko, cereálie, chléb a ovoce. 30 sekund do restaurací a hospod! Velmi čisté a příjemné.
Tento prostor je velmi tichý a je v centru města Galway, během několika vteřin ke všemu Galway City může nabídnout.
Quay Street se nachází pouhých 30 sekund daleko, snadný přístup ke všem restaurací a hospod.
Troy and Neve are amazing hosts! They went above and beyond to make sure we enjoyed our stay in Galway. The two of them are simply delightful. After a few minutes of talking with them I felt we'd been friends for years. (Neve has now "adopted" my little brother :)) Troy met us at the Harbour hotel and directed us to our parking spot. They made us feel completely at home after a long day of travel. They are very detail oriented and are so giving an willing to help. I recommend them entirely! We had a lovely game of Flying Penthouse Paper Airplanes (you'll never forget your stay in Galway with these two!)
Kylie
2016-11-11T00:00:00Z
We had such a GREAT time in Galway : our only regret is that we couldn't stay any longer... Troy is really the best host ever : he did everything to accomodate us, gave us tips to visit the city, its pubs, places to go during our roadtrip etc. The place has an ideal location to visit the city. So the best feature in the appartment is undoubtedly its host. We would definitely recommend this place to a friend, and come back if we have the opportunity (and plan more time to spend in Galway...) Thank you for everything Troy, we hope to see you again!
Damien
2016-05-13T00:00:00Z
Wow! Great time! Troy and his girlfriend took me to the a local bar and they made me feel like we were friends for years! Great people! Book with confidence
Pat
2016-11-21T00:00:00Z
Troy was wonderful and made us feel very welcome. His home is warm and inviting and we immediately felt comfortable. Troy knew that it was our anniversary trip and he left us treats in the room. He was so helpful in providing tips on local restaurants and places to go. His home is in the center of everything. We couldn't have asked for a better place to stay or a nicer, more attentive host! We would highly recommend it!! Thanks Troy!
Denise
2016-09-10T00:00:00Z
After reading so many effusive reviews here, staying with Troy became a destination in itself. He does not disappoint from moment one of meeting you to helping you along every aspect of your visit with him. You get several bonuses. Two quiet cats who are thrilled to be living it up in penthouse style and The Lovely Niamh, who is a treasure!  But if it space you want, you can get that as well...but you will want to "chase rabbits" talking with them all night. And if you're lucky enough to stay on a Sunday night YOU MUST GO SEE JOHN CONNEELY!(URL HIDDEN)G!!! 
Stephanie
2017-04-04T00:00:00Z
El piso y el anfitrión son maravillosos, muy buen ambiente y buena limpieza. Troy fue a recogernos a la estación y nos dio todo tipo de ayudas y consejos. Lo recomiendo y ya tengo un lugar al que regresar.
mar
2017-02-24T00:00:00Z
If you are staying in Galway, Troy's is the place to be. The only thing that beats Troy's location to the places you want to be is his hospitality. I was all over Ireland for the week I was there, and Troy hands down turned galway into the highlight of that entire week. If you are looking for an Airbnb in that area, look no further. This is the one you want!
Zak
2017-03-19T00:00:00Z
Wonderful stay at Troy's! His place is in the heart of Galway right above many shops and pubs! Beautiful view out of the window and nice warm room on a cold night. Troy gave us awesome advice about where to go and what to do. Breakfast was delicious and he had many things to choose from! We actually went out with Troy and his fiancé and ate pizza and walked around the downtown. They were both super knowledgeable about Ireland and answered any tourist questions we had...including how to move or Ireland! Lol Highly recommend!
Cindy
2017-03-24T00:00:00Z
Huonetyyppi
Yksityinen huone
---
Majoituspaikan tyyppi
Huoneisto
---
Majoittujien määrä
2
---
Makuuhuoneet
Galway, Galway, Irlanti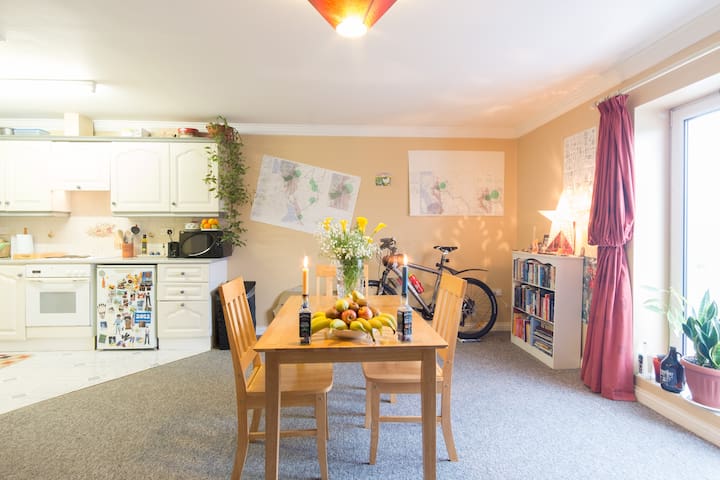 Ihana tilaa, tyylikkäästi sisustettu, kevyt ja ilmava. Minuutin päässä keskustasta, mutta rauhallisella sisäpihalla kaukana hälinästä. Lataa Histry sovellus opastaa Galwayn rikas historia. Se tarjoaa sinulle täydellinen työkalu askel ajassa taaksepäin ja löytää tarinoita ja merkkejä, jotka ovat ydin tämän rakkaan kaupunki Länsi-Irlannissa.
Kauniisti koristeltu Duplex Galway erinomaisella paikalla Pitkä marssi Espanjan Arch. Kuohuviinien puhdas, tilava, jossa on jääkaappi täynnä tarvittavat välineet, sekä kuivana ruokakomero myymälän asiakkaiden käyttöön. Makuuhuone on yläkerrassa ja on parveke että unohdetaan hyvin hoidettu puutarha sisäpihalla. Koti on sisustettu nykyaikaisella tyylillä. Paljon valoa ja raitista ilmaa. Hyvä laatu vuodevaatteet käytetään sekä pää- vuode ja extra taitettava vuode. Kylpyhuoneessa pehmeät pyyhkeet ja kosmetiikkaa. Suihku on sähköinen, ja kylpy vesi kuumennetaan ajastimella upottamalla sitä tarvitseville. On aivan navan Galwayn, kivenheiton päässä Quay St / Cross Street, mutta kuitenkin oma piha joten varsinkin hiljainen yöllä. Täysi turvallisuus ja 24 tunnin call-out saatavilla. Lastenhoitopalvelu. Matkasänky käytettävissä vastasyntyneille / taaperoille.
Espanjan Arch (An Póirse Spáinneach) Galwayn kaupungissa, Irlanti, oli alun perin jatke muurissa Martin Tower pankkiin Corrib, keinona suojella kaupungin laiturit, jotka sijaitsevat alueella tunnettiin Fish Market (nyt Spanish Parade). Se on rakennettu vuonna 1584. 18. vuosisadalla Eyre perheen Eyrecourt, County Galway, loi laajentaminen laiturien nimeltään Long Walk ja loi kaaria sallimaan pääsy kaupungin uuteen laitureita. Espanjan Arch sijaitsee joen Corrib suoraan vastapäätä Claddagh. Vuonna 1755, kaaria oli osittain tuhoutunut tsunamin tuottamat Lissabonin maanjäristys 1755. Vuoteen 2006, osa Arch majoitettu Galwayn kaupunginmuseo. Tuolloin museo siirrettiin uuteen, omistettu rakennus sijaitsee takana Arch. Pitkä marssi on kävelykatu yhdelle puolelle Arches.
Ms. D on erittäin hyvä emäntä ja pitää vieraistaan hyvää huolta. Hän sai olomme kotoisaksi ja auttoi kaikissa pienissäkin asioissa mielellään. Jos matkustan uudestaan samalle suunnalle, haluen ehdottomasti majoittua hänen luonaan.
Saara
2016-06-11T00:00:00Z
This apartment is in a fantastic location and is extremely comfortable. Aoife was very helpful even booking a hairdresser appointment as we were attending a wedding. Aoife was easy to contact and happily answered our many questions. I can highly recommend this apartment.
Deb
2014-07-07T00:00:00Z
The apartment was fantastic, and in an ideal location. Couldn't fault any aspect of the booking! We will definitely be back...
Ciara
2014-08-04T00:00:00Z
Ms. D's lovely apartment was situated in a perfect spot in Galway. Tons of restaurants, pubs, and shops were close by. The apartment was clean and beautifully decorated and had everything you'd need. We would stay here again!
carrie
2016-06-15T00:00:00Z
Aoife's apartment is lovely, very conveniently located. It was spotless, the beds were lovely and the welcoming items in the refrigerator were much appreciated. We loved it.
Evelyn
2016-09-26T00:00:00Z
Comfortabel en gezellig appartement op een toplocatie: een rustige binnenplaats op letterlijk vijf stappen van de pittoreske kade van Galway en op nog geen 3 minuten lopen van het levendige, gezellige centrum van Galway. Aoife is zeer hartelijk en gastvrij en had goed voor ons gezorgd bij aankomst. Wat in de kastjes stond konden we gewoon gebruiken. Grote keuken. We voelden ons thuis en vrij. Bijkomend groot voordeel was de goedkope parkeerplaats in de garage bij het complex. De foto's laten goed zien hoe het eruit ziet, al kun je de sfeer van de omgeving nauwelijks vastleggen. Galway is ontzettend leuk en dit is de perfecte uitvalsbasis.
Tileke
2016-08-13T00:00:00Z
This house was everything we hoped for in a holiday home! Booking, direction etc. made the process really easy. The house was lovely spotlessly clean and included absolutely everything needed - ok no TV but with all the technology we carry about now this wasn't a problem! Plenty of supplies available so didn't have to make a mad dash to the shops. The location was amazing - just like the picture and a very short walk to busy Quay Street which is always buzzing. Aoife was really helpful without being intrusive. We would definitely recommend this house and will probably be back again ourselves.
Pat
2016-09-19T00:00:00Z
Great location and nice apartment. Overall, a really great place to stay! Aoife was extremely helpful! She was gracious, quick to respond to all of our inquiries, and gave us some great advice about places to see in the Galway area. We would definitely stay there again!
Alexandra
2013-08-16T00:00:00Z
Huonetyyppi
Koko talo/asunto
---
Majoituspaikan tyyppi
Huoneisto
---
Majoittujien määrä
3
---
Makuuhuoneet
Galway, Galway, Irlanti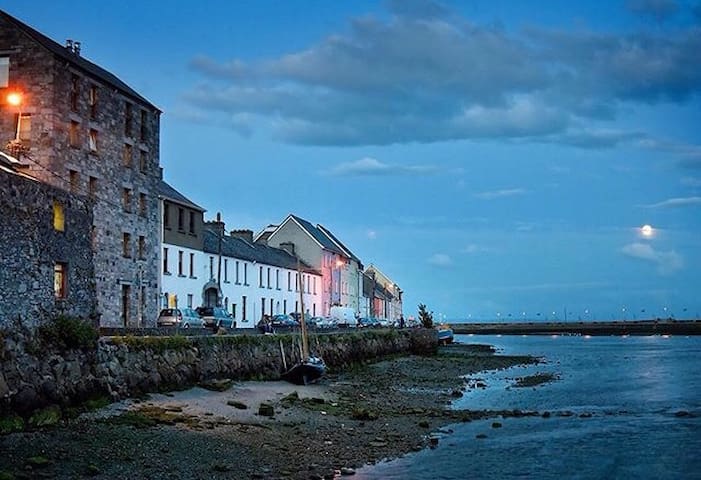 Geräumiges Zimmer mit Garderobe, Abstellraum und ein eigenes Badezimmer. Von zentraler Bedeutung für Salthill Prom und Dorf und 20 Minuten zu Fuß von der Quay Street in Galway
Huonetyyppi
Yksityinen huone
---
Majoituspaikan tyyppi
Huoneisto
---
Majoittujien määrä
2
---
Makuuhuoneet
Galway, County Galway, Irlanti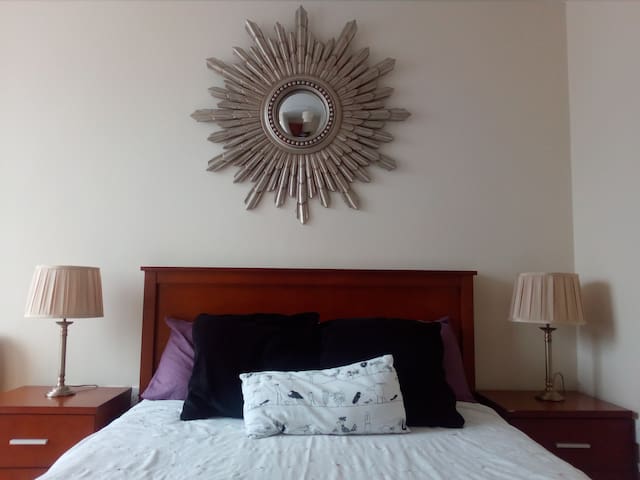 1

–

18

hakutuloksista

300+ vuokrahuoneistoa
Anna päivämäärät nähdäksesi kokonaishinnoittelun. Lisämaksuja sovelletaan. Veroja saatetaan lisätä.