Hello and welcome to Malibu! Come enjoy this contemporary oceanfront townhouse on a quiet beach with amazing views. Granite and limestone kitchen & bathrooms, living room with fireplace, spa tub, BBQ on oceanfront deck, 2-car parking, lounge/recreation area with bar, ping pong and dart board. Just a short drive or bike ride to all the great shopping and dining Malibu has to offer! And in addition to the beach, there are lots of hiking/biking trails and wine tasting nearby.
You'll love this townhouse as it is spacious, quiet and private with the sound of the rhythmic surf in every room. It's laid out like a house and the master bedroom is amazing with a huge picture window that looks out to the ocean. And at night, you can see the moon and the stars without even lifting your head off your pillow!
This townhouse is located on quiet and star-studded Malibu Road. Most beachfront residences are on the Pacific Coast Highway, a four-lane highway that is both noisy and dangerous. Whether you choose my place or another, I highly recommend you choose somewhere on Malibu Road. Enjoy a short walk down the beach to Malibu Seafood where they serve the best fish & chips I've ever had! Or check out the tide pools on Flat Rock, just a few hundred feet away.
位置非常棒,阳台上就可以看到海浪拍打着沙滩,沙滩人不多,没有公共海滩那么喧闹,房间设施有点陈旧,但还算舒适。我是临时预定的,房主沟通及时,程序简便。
FEI
2016-09-07T00:00:00Z
David's place was great. Waverly was very welcoming and communicative throughout our stay. We really enjoyed being on the beach! The townhouse is very convenient to fun shops and restaurants in Malibu.
Madeline
2016-11-27T00:00:00Z
David and his assistant Zoe were amazing. They received us early and the place was better than expected. Perfect for a group of friends three bedrooms and three baths open kitchen and a view that is second to none. The terrace over the ocean makes you feel like royalty. My friends stated that they have never had accommodations this close to the ocean. We had an amazing time and I would definitely recommend again. 5 out of 5
Donald
2016-09-06T00:00:00Z
Great place with an amazing view! Very spacious, very clean and quiet. I highly recommend this place and will certainly come back if I'm in town!
Sandosh
2016-11-08T00:00:00Z
David's place was fantastic. Highly recommend for anyone who is looking for a secluded place on a beautiful beach. We highly recommend it.
Itay
2016-12-22T00:00:00Z
Amazing location right on the water! Property is beautiful and very clean. We had a wonderful time and would definitely come again.
Sahar
2017-03-26T00:00:00Z
Great house, right by the beach, in perfect condition. Reservation was super easy, as well as all logistics. It was a dream stay and I'd go back any time!
Alexandre
2016-08-31T00:00:00Z
Huonetyyppi
Koko talo/asunto
---
Majoituspaikan tyyppi
Huoneisto
---
Majoittujien määrä
6
---
Makuuhuoneet
Malibu, Kalifornia, Yhdysvallat
This modern and luxurious one bedroom apartment is on its own beachfront, with private beach access, and offers the best of Malibu. Prime location. Paradise! Less than 30 feet away from the Ocean at high tide! From the apartment you will hear the ocean and you will have partial ocean views from some of the windows. However you will be on Malibu Beach!.
A nice peaceful stay ...apartment clean and nice located . No micro wave working and no washing machine but i enjoyed anyway my stay there . I would come back with pleasure .
Emanuella
2017-01-19T00:00:00Z
What a great location! Directly on the beach with spectacular views. Close to beautiful public beaches. Spectacular restaurants from high end to farm market. Large deck for both eating and sunbathing. We love to cook so the proximity to grocery stores and markets was key. Kitchen has all the basics to create wonderful meals. We will definitely be returning!
Char
2017-03-30T00:00:00Z
This is in the heart of Malibu and was so easy and convenient. It is a very nice building with good parking and the apartment was spotless and so bright and cheery! It was a quick stay, so all I can really report is that it was easy access, better than expected and I would definitely recommend and rent again
Melonie
2017-02-25T00:00:00Z
Excellent location, cute interior, surprisingly quite, safe and private. We hope to return soon!
Courtney
2017-02-24T00:00:00Z
Such a beautiful location, right on the beach with an incredible view. Neighbors were super cool and our host was incredible. We had tons of questions, all were answered in a timely matter and were really nice about it.
Julie
2016-12-14T00:00:00Z
We had a wonderful time. Laurence was a great host Accommodating all needs We will definitely stay with him again!
Cecilie
2017-03-10T00:00:00Z
Being raised in Malibu it is very hard to find a clean, centrally located, beach apartment for such a good price. Most places are overpriced and very cluttered, this was like staying in a hotel but for a third of the cost of the Malibu Beach inn. I highly recommend it and wish they had another night available here. One of the cleanest Airbnb's I've ever been in. There is no clutter, just the essentials and is steps on the beach. I really enjoy the fact that you can cook in this kitchen and actually have a sit down dinner and then walk the beach for sunset. Well done!
pascal
2017-03-07T00:00:00Z
Loved it! Great views & easy private beach access for a quiet retreat. Would definitely book again!
whitney
2017-03-12T00:00:00Z
Huonetyyppi
Koko talo/asunto
---
Majoituspaikan tyyppi
Huoneisto
---
Majoittujien määrä
4
---
Makuuhuoneet
Malibu, Kalifornia, Yhdysvallat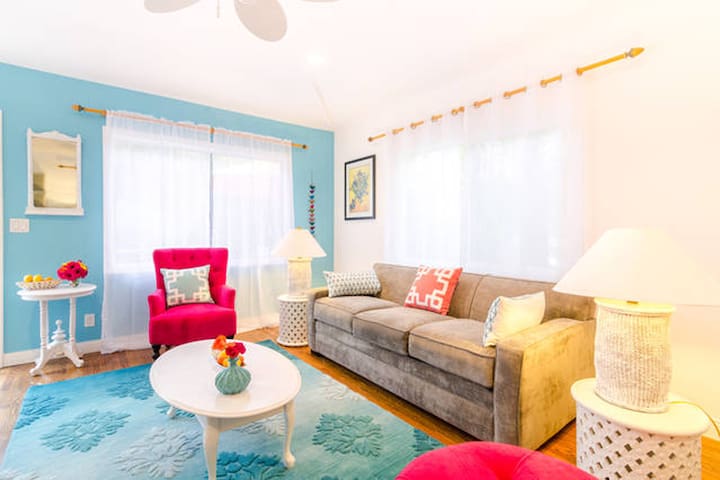 Do you like to awaken right at the beach? We do! Take a peek...and welcome to Malibu...
Hello there...we hope this tempts you all! Beautifully spacious and impeccably appointed, please enjoy our (your) luxe 2 bedroom condo with its massive, unobstructed ocean views from the living room, dining room/kitchen, and the master bedroom. Located on Malibu's famous Carbon Beach, we are within walking distance to the delicious 'Nobu Malibu' and the Malibu pier. It's gorgeous here...and we'd love to have you. For your further ease and comfort, all of our 3 large wall-mounted TVs are equipped with cable access and AppleTV for streaming. And of course our building has a fabulous ocean-view pool and barbecue area - plenty of lounge chairs, seating, and our private, secured beach access for you. We welcome your family and friends...ALL people from all over this gorgeous world we all share are welcome...thank you. Enjoy this bliss! Please note: We have 2 tandem parking spots for your cars, trucks and SUV vehicles with 5'7" or shorter height clearance - taller autos/SUV's will not fit. And there is also free street parking right outside all along our building and beyond.
Our fantastic organic grocery store, 'PC Greens', is across the street for you, as well as an amazing Thai massage place, 'Malibu Thai Body Works'. You say you like to shop? The awesome Malibu Country Mart (a one-of-a-kind open air shopping area, not to be missed) is less than a 5 minute drive, or a 20 minute walk away.
Anne was a great host and was very accommodating. She was helpful with local tips of things to do. Would definitely recommend to others!
Brian
2016-08-25T00:00:00Z
If I could give this home and Anne more than 5 stars, I would! Everything was so amazing and far exceeded our expectations. This is one home we did not want to leave at the end of the week... Actually I'm certain my mom had tears in her eyes when it was time to go! I'm sure I cannot capture everything in this review, but here are the highlights: Location was phenomenal. Nothing beats having the beach and ocean in your backyard, walks along the coasts, the pier, fantastic restaurants all within walking distance, and all with the sound of the waves constantly present. The apartment is very spacious, open, sunny, and beautifully designed with the most lovely furnishings and artwork, comfortable beds, high-quality linens (much better than my own! I need to ask Anne where the sheets are from...) really the most luxurious of accommodations you can imagine, while at the same time, fun and laid back vibe- capturing for me what is the beautiful dichotomy of Malibu living. Some of the best features for us were the glass doors which slide fully open to the balcony, creating an outdoor living and dining room; the fireplace on chilly nights, the professional kitchen where we made some beautiful meals, the pool, the grilles by the pool, of course the beach access, and above all the constant background of waves crashing. As an added bonus, all of the neighbors were so welcoming and nice! We had the pleasure of meeting a few while at the pool and on the beach- they treated us with such warmth that we're not accustomed to coming from the east coast. Anne was so kind to us, an amazing communicator, attentive, and genuine from beginning to end. The best host ever! We can't wait to return!
Michelle
2016-10-12T00:00:00Z
This apartment on the beach has everything. The decor is as beautiful as the ocean outside the glass doors. Having a fire at night with the doors open to the sounds of the waves crashing was wonderful. One main perc is the gated covered parking..remember the height restriction though. parking on the 101 is nearly impossible, so you will truly appreciate the parking provided. This apartment is VERY convenient to the Malibu pier for dining and relaxing, as well as Nobu. Close to the Malibu Country Mart and our favorite breakfast place Ollo. We loved it!! Our 16 and 18 yr old sons did too! We can't wait to stay here again.
Casey
2017-03-21T00:00:00Z
Anne, Thank you so much for a wonderful stay, You were an amazing host and we so enjoyed our stay in Malibu! You gave us excellent recommendations for restaurants. We loved being So close to the ocean and the sound of the surf And waves. Couldn't have asked for more! Your the best, Diane
Diane
2016-03-23T00:00:00Z
Anne is great. Fun and responsive to any good reasonable request. This is my second time renting this apartment and will probably rent it again in the future
John
2016-05-23T00:00:00Z
Anne is a super premo hostess. Just a pleasure to deal with. Really as good as it gets. The apartment is actually even better than the pictures would suggest. It's the kind of place, at least for me, that you never want to leave. Floor to ceiling windows looking out on the ocean's moods and beauty, the alluring sound of the waves, always, the calm of nature's proximity, and the apartment itself is gorgeous, clean, immensely comfortable. And a minute or two walk to Nobu, Soho House, PC Greens, and a quick drive to anything you might want to do in Malibu. My fave airbnb ever!
Sandy
2016-12-24T00:00:00Z
This oceanfront condo is clean, spacious and well equipped. It is harder to be any closer to the ocean. Listening to the surf at night with the doors open was sublime. The location is excellent and walkable. This is a great spot for a beach front stay in Malibu. Perfect for a couple or a family. I would definitely return.
Michael
2016-12-02T00:00:00Z
We had an amazing stay in Malibu! The apartment is every bit as beautiful as the photos suggest and is in great condition. It is at once modern and sleek, and also cozy-- just as wonderful on a rainy or a sunny day. At high tide, standing on the deck feels like being on the open ocean and at low tide, you can take long walks on the beach to the Malibu pier. The comfy beds, televisions, kitchen, fireplace, and stereo system were cherries on top. We wanted to spend our whole vacation inside! Anne went above and beyond to welcome us, answer any questions, and address any issues as they came up. We couldn't figure out how to light the stove, and she immediately drove a half hour to show us in person. Her generosity and enthusiasm are unparalleled. We can't wait to go visit again.
Hana
2017-01-02T00:00:00Z
Huonetyyppi
Koko talo/asunto
---
Majoituspaikan tyyppi
Osakehuoneisto
---
Majoittujien määrä
5
---
Makuuhuoneet
Malibu, Kalifornia, Yhdysvallat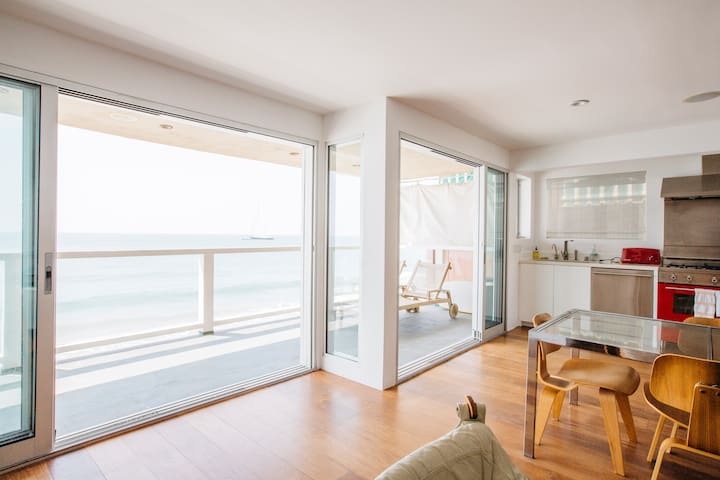 Peaceful Malibu Beach Pad with Spectacular Ocean View. Day & Night meditating sound of the waives right under your vindow. Fresh ocean breathe. Salt Water Pool (80 F), Hot Jacuzzi, private sandy beach -- ultimate resort-style living.. Blue sky, blue ocean, blue pool & a bright white light feel like you already in haven... Comfortable King perfect for two & large TV /Cable Living room: comfy sofas -- sleep up to 3 more ...Large TV near restaurant/entertainment/ shopping
Peaceful Malibu Beach Pad with Spectacular Ocean View. day/ night meditating sound of the waives right under your vindow. Salt Water Pool (80 F), Jacuzzi (100), a private sandy beach -- make it the ultimate resort-style living.. Blue sky, blue ocean, blue pool & a bright white light feel like you already in haven Bedroom : Comfortable King perfect for two -- large TV /Cable Spacious Living room : sleep up to 3 more ...Large TV hotel like service : fresh linen, fresh towels, necessities in the shower, plus Fully equipped kitchen: toaster oven, blender, coffee maker, tea kettle , cooking wear, and breakfast supplies : water, tea, coffee, juice, sugar, cream, oatmeal ect.. Pacific Greens -- healthy locally grown groceries & deli across the street ..
Main value of our place is beautiful view, healthy fresh ocean air, calming sound of the waives, and of course pool, jacuzzi & private beach entertainment available all around .. check pictures in our listing for details & locations.. Steps to world famous Nobu, SoHo house ( private club for Hollywood Celebrities), Malibu Pier, & Surfrider Beach. Cross Creek Shopping plaza - movie theater, shopping, children playground, groceries, restaurants, library.. Malibu restaurants all use organic locally grown food & have spectacular ocean views : Cafe Habana Malibu owned by Cindi Crawford has karaoke nights .. Paradise Cove Beach Cafe -- eat and drink right on a sand walk near homes of big stars.. Sunset Restorant - sunset watching, Whale watching , dancing, DJ weekend nights Mastros -- live music every night from 5 pm Moon Shadows - quiet ocean ambiance, mellow DJ entertaintmen Geoffrey's located on a cliff over the ocean endless Spectacular hiking trails ..
This was a perfect place for our family. The live views are as awesome as the pictures show! We enjoyed being able to go out for adventures during the day and come back and enjoy the pool, hot tub and the views in the evening. The balcony was awesome in the morning for coffee. We were able to see lots of dolphins and even some sea lions while enjoying time on the private balcony. The host was awesome with her communication and was very accommodating to make sure she was there to give us all of the info, that we would need for the week, when we checked in. I would absolutely recommend this property. Thank you, Lola, we appreciate your communication and your accommodation.
Stacy
2017-03-19T00:00:00Z
Kat was a great host - responsive, friendly, and very knowledgeable about the area. The location and view really can't be beat!
Dew
2017-01-28T00:00:00Z
This is a great apartment with amazing views from bedroom and living room! Access to beach is right downstairs. Restaurants and grocery stores are a short drive. Community was friendly, quiet and well maintained. We would stay here again.
Andrea
2017-03-12T00:00:00Z
This condo was amazing, the views were breathtaking, the sunrise and sunset were absolutely beautiful. Kat and Larissa were very helpful and made us feel right at home. We walked on the beach, swam in the heated pool and relaxed in the jacuzzi. We loved that we could hear the waves crashing in from our bed at night. We have no complaints. Kat made sure we were taken care of. We will be back for sure.
Molly
2017-01-31T00:00:00Z
Can't say enough good things about this place and the host! We were super comfortable in this home, well-equipped with everything we needed, and a stone's throw away from the water! Views are second to none - some of our favorite moments were spent on the porch with the amazing view of the ocean. The bed is amazingly comfortable too! And what a great pool and jacuzzi with amazing views of the water.. The host was super friendly and very helpful before and during our trip. They took great care of us! Thank you again for a wonderful weekend! We hope to visit again soon!
Natalie
2017-01-22T00:00:00Z
Huonetyyppi
Koko talo/asunto
---
Majoituspaikan tyyppi
Huoneisto
---
Majoittujien määrä
4
---
Makuuhuoneet
Malibu, Kalifornia, Yhdysvallat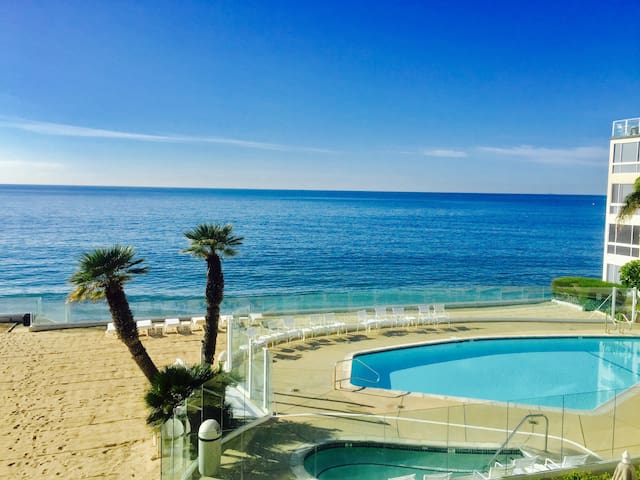 Extremely rare Malibu Road beach loft. This apartment is attached to a home that is very rarely occupied so you will have total privacy. This white, bright, and clean loft sleeps 4 and has a full bathroom with a washer and dryer. It has a large toaster oven, new microwave, coffee machine, and a new medium-sized refrigerator with freezer. It has a brand new sleeper sofa that sleeps two. The unit accommodates 4 people total. Two outdoor showers and two decks. This the perfect beach get away.
Beachfront access on the prestigious Malibu Road. Surrounded by homes ranging from $8mm to $30mm. Two private decks. One deck off of the living room and one huge deck right on the beach. Two outdoor showers. Plenty of parking. This property does not have a stove and a kitchen sink although there are appliances to cook small meals. We have knives, a cutting board, 4 plates, 4 salad bowls, 4 cereal bowls, silverware, 4 glasses, 4 coffee cups, oversized countertop convection oven, microwave, refrigerator, and a freezer.
Malibu Road is the most popular Road to live in Malibu. Plenty of parking, beach access, hiking trails, and a long walk to restaurants and shops. Malibu road is several miles long and it is perfect for a walk or a jog any time of the day. It is a beautiful quiet road with a speed limit of 25 mph which makes it very safe for walking or jogging compared to PCH.
We had a nice time
Hany
2017-04-04T00:00:00Z
Amazing place. Right on the water. Wonderful view. Beach access from the property. 5 minutes to: - Nobu - Malibu Farm Cafe - Geoffrey's Go to Geoffrey's for the food, Nobu for the cocktails or if you're in the mood for sushi. Malibu Farms cafe for lunch!
Kelvin
2017-03-26T00:00:00Z
Stuart's place is perfect for 2 to relax and enjoy the beach. You can't beat the beach access under the house. Also 5 minutes from downtown Malibu. House is clean and Stuart is responsive and accommodating
Madison
2017-03-17T00:00:00Z
Beautiful location! The back porch is RIGHT on a pretty secluded area of the beach. Stuart was very responsive and the house is so nice!
Elise
2017-03-30T00:00:00Z
Location Location location people! If going to Malibu this is the best location in the center of it all. Direct beach access and minutes from all the best restaurants! My wife and I enjoyed an glass of champagne watching he waves below our balcony! The open 2 level loft felt very open bringing the ocean into the living room giving us the complete Malibu living experience ! Super clean and Stuart was awesome! This place is a must if your ever make a stop in the Bu!!
Steve
2017-03-12T00:00:00Z
Huonetyyppi
Koko talo/asunto
---
Majoituspaikan tyyppi
Huoneisto
---
Majoittujien määrä
4
---
Makuuhuoneet
Malibu, Kalifornia, Yhdysvallat
Quintessential Beach Bungalow seated ocean front on the sand of Carbon Beach, Malibu. Features: 1BR/1BA, queen bed and a queen size sofa sleeper, fully appointed kitchen, washer/dryer in unit, A/C, gas fireplace, large private deck, & smashing views!
Located at ground level on the sands of private Carbon Beach, this beautiful beachfront bungalow has sunrise to sunset panoramic views from Santa Monica to the Malibu Pier and beyond. The living area and private deck provide a pristine front row seat to watch the waves, surfers and sail boats with no one above or below. The best restaurants and shopping in Malibu are within easy walking distance as are movie theaters, the historical Adamson House, water sports and the world famous Surfrider Beach… And when you're ready to take a break from the beach, just minutes away you'll find some of the best hiking and biking in Southern California in the parks of the Santa Monica Mountains. A lovely one bedroom/one bath bungalow beautifully furnished with queen bed and down bedding, additional queen size pull out sofa sleeper in the living room, a fully appointed kitchen, AC, washer/dryer, Wifi, cable, large HD flat-screen TVs in both the bedroom and living room and Apple TV. Download the free Sonos app and wirelessly listen to your own playlists, subscriber music services or local radio stations from your Blue Tooth device on our state of the art Sonos sound system. One private parking space is also included at no additional charge.
An affluent beach town west of Los Angeles, Malibu consists of 27-miles of prime Pacific coastline. The community is famous for its warm, sandy beaches which include Surfrider, Zuma, Malibu, Topanga and Point Dume to name just a few. The best restaurants and shopping in Malibu are within easy walking distance as is the Malibu Pier, movie theaters, the historical Adamson house, water sports and the world famous Surfrider Beach… With a short car ride you will find some of the best hiking and biking in the Santa Monica Mountains.
Valérie a très bien organisé notre arrivée, par sms nous avons reçu toutes les instructions pour l'accès au bungalow. Le bungalow est bien bien décoré et équipé. Magnifique séjour à Malibu.
veronique
2016-05-11T00:00:00Z
The beach cottage is very charming and peaceful in the area of Malibu. The sunset views and beach views are breathtaking. The waves crashing in front of the condo gives you a really special and romantic feeling. For my girlfriend and me it was a perfect stay in every way.
Raimund
2015-11-19T00:00:00Z
Valerie's bungalow was a perfect cozy beachside vacation for me and my family. Clean, comfy, and beautiful we could not be happier with our stay. Highly recommend the place to anyone!
Amanda
2015-11-16T00:00:00Z
If you are searching for a little slice of heaven to rest, relax and recharge...then search no further than Bungalow 10. This oceanfront property in Malibu is as spectacular, if not more so, as the pictures that are posted on the ad. The views of the mighty Pacific from the balcony are breathtaking as is the sound of the waves crashing on the beach directly below. I highly recommend a stay, even if for only a couple of days. Thank you Valerie for offering a place that has created some fantastic memories.
Robert
2016-06-01T00:00:00Z
The place is perfect for a weekend getaway. The view is amazing, and communication with Valerie was very easy as well.
Hanna
2016-06-25T00:00:00Z
Had a great 5 days at the bungalow. It has beautiful views and a great location for enjoying Malibu. Everything in the bungalow was in good order and I had a great time. Would definitely rent again.
John
2016-05-19T00:00:00Z
Stylishly simple and simply stylish!We had a wonderful stay here and would love to return turn again.Really first class ,thanks Val.
Andrew
2016-08-08T00:00:00Z
This bungalow is awesome. Great location... Brent is so nice
Marlene
2015-03-24T00:00:00Z
Huonetyyppi
Koko talo/asunto
---
Majoituspaikan tyyppi
Bungalow
---
Majoittujien määrä
4
---
Makuuhuoneet
Malibu, Kalifornia, Yhdysvallat
* Special Pricing for January * Within walking distance to World Famous Surfrider Beach & Nobu, the Malibu Surf Shack is located on the hillside across from Carbon Beach. Enjoy epic ocean views from the living room and from the fully fenced outside patio which is dog friendly. Great for a work from home getaway, or a couples weekend close to everything in Malibu.
What you'll find: A Private, furnished 1 Bedroom Bungalow with a recently renovated bathroom and large tiled shower. 2 Parking Spots reserved for guests. Blazing Fast 150mb/Sec Wireless Internet.
The host canceled this reservation 72 days before arrival. This is an automated posting.
Courtney
2017-03-17T00:00:00Z
We had a wonderful time at James' place. He provided recommendations for food, beaches and other things to do, and was very responsive if we needed anything from him. The bungalow was clean, had everything we needed and we loved the view. Wish we were still there!
Katherine
2017-03-09T00:00:00Z
James and his place were amazing! House was exactly as described, if not better, and had all the amenities you'd want and need. The beach view is incredible and the house offers privacy you'd want. Great location in Malibu and close to everything! James was so great with communication! The home details were so helpful and offered some great personal recommendations. He also texted day of to check in on arrival and was there to greet us, show us the spot, as well as offer some awesome dinner suggestions. I would definitely recommend and plan to come back again soon!
Jess and Sean
2017-01-11T00:00:00Z
This was was perfect for us (my boyfriend, 75 pound dog and me) to spend a few days on the beach with a beautiful view. My boyfriend loves to surf and it was convenient for us to walk to first point each day. James (Greg) welcomed us on our first night and made sure we knew he was available if we needed anything. He even introduced us to his dog, Zeus. Zeus was super friendly, yet mellow. I would definitely recommend.
Morgan
2017-03-28T00:00:00Z
Great host! Great place! Clean and private with a great ocean view!
Elizabeth
2017-01-02T00:00:00Z
Beautiful bungalow & A great host This bungalow offers a cozy feel with one incredible view! The kitchen has all the basic necessities to cook a meal and the place overall is VERY clean, fresh and well kept. James couldn't have been a better host. He made sure we were well taken care of and we definitely plan on returning.
Reuben
2017-03-26T00:00:00Z
James is so helpful and nice! The place is extremely clean and in the best location. If you want to hang out in Malibu, this place is a better value than a hotel.
Libby
2017-02-25T00:00:00Z
Great location...a few steps down the hill to a good market. View and patio very nice a block above PCH. Street noise yes, but view and access better.
Marcia
2017-01-19T00:00:00Z
Huonetyyppi
Koko talo/asunto
---
Majoituspaikan tyyppi
Bungalow
---
Majoittujien määrä
2
---
Makuuhuoneet
Malibu, Kalifornia, Yhdysvallat
My place is close to Malibu Pier, Pepperdine University, Malibu Bluffs, Walking distance to Beach, Hiking Trails, Point Dume, Nobu Malibu, Getty Villa, Civic Center Shopping Center. You'll love my place because of Its in the heart of Malibu, yet quiet and peaceful. A beautiful community with spacious, bright condo and close to all amenities. My place is good for couples, business travelers, and families (with kids).
My husband and another couple stayed here to explore Malibu. This is a perfectly functional, clean and central space from which to adventure into the shops and restaurants. Parking couldn't be better and the host made it easy to access the space even though we came in later than planned. Instructions are clear, and it was all in all a pleasant stay in a wonderful city.
Sadie
2017-01-14T00:00:00Z
Comfortable and conveniently located!
Lori
2017-04-08T00:00:00Z
Nice view of the ocean and close to beach.
Christina
2017-04-02T00:00:00Z
A great and spacious place to stay in Malibu with a view of the ocean. Very close to the beach and just off of the PCH. Quiet neighborhood and relaxing vibe. One of my favorite seafood joints, Malibu Seafood Co., is just minutes north on the PCH. Highly recommended.
Mark
2017-01-09T00:00:00Z
Location was very nice, pretty view from the living area and bedrooms of the ocean. We felt like this was a nice house for our business travel, it was basic and good for someone on a budget.
Dixie
2017-01-19T00:00:00Z
This cozy apartment was perfect for our 4 days with family in Malibu. It has a nice location overseeing the ocean. The private BBQ area with ocean view was a highlight. The 2 bathrooms was nice with a group of 6 and the kitchen was fully equipped. The parking also was super convenient. We'll definitely go back if visiting Malibu again.
Roberto
2016-12-29T00:00:00Z
Great place. Good location. Perfect getaway for relaxing.
Carlos
2016-11-12T00:00:00Z
It's a great place to stay!
Surina
2017-02-25T00:00:00Z
Huonetyyppi
Koko talo/asunto
---
Majoituspaikan tyyppi
Osakehuoneisto
---
Majoittujien määrä
6
---
Makuuhuoneet
Malibu, Kalifornia, Yhdysvallat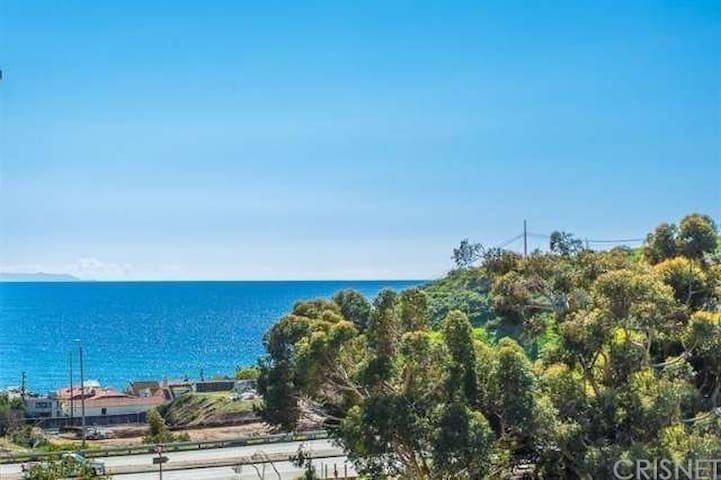 This modern and luxurious one bedroom apartment is on its own beachfront, with private beach access, and offers the best of Malibu. Prime location. Paradise! Less than 30 feet away from the Ocean at high tide! From the apartment you will hear the ocean and you will have partial ocean views from some of the windows. You will have direct access to the deck facing the ocean!.
We LOVED our stay in the condo! Absolutely BEAUTIFUL location, and they had so many nice amenities like hair dryer + straightener, left toiletries for us, had an iron + ironing board...and there are even beach chairs and towels in the closet along with an air mattress, so no need to bring those. And it really is right on the water, so no worries there. Totally walkable to Nobu and Malibu Pier, we really didn't even need a car unless you want to venture out. Pro tip, though: walls are pretty thin below and above, so it's pretty easy to hear neighbors if they're loud or playing music. All in all, amazing trip!
Elise
2017-02-11T00:00:00Z
Absolutely wonderful! Beautifully decorated, superclean, there was even maid service during our stay. Location is excellent and the views are just breathtaking. Check-in was a breeze and the parking spot is very convenient. I hope to come back!
Outi
2017-02-26T00:00:00Z
Awesome stay! Thank you for your hospitality. We had a great time at your beautiful place on the beach. Thanks!
John
2017-01-11T00:00:00Z
I have booked because I thought I can enjoyed partial view of ocean from the apartment She needs to change the description says there is only two unit #C and obove have the view Unit #A that I have stayed does not even sunny... Better to pay more and get the unit with view Very old but ranovated ...
hanna
2017-03-07T00:00:00Z
This place is perfect for a weekend getaway! You can't beat this location right on the water and walking distance to many of Malibu's attractions. Views of the ocean and Malibu Pier with the sounds of the ocean at your doorstep. Very clean, easy check in, and quiet. I would recommend staying here if you are looking to live that Malibu lifestyle
Bradley
2017-03-26T00:00:00Z
This apartment was what it was presented to be. It's a quaint apt, very conveniently located in walking distance to restaurants etc. This apt doesn't face the ocean, but as soon as you walk out on the patio you are facing the beach and an overall beautiful view. The place was clean and worked for an overnight stay.
Nicole
2017-04-02T00:00:00Z
We just spend three nights here in early February. The place is clean, great size for a 1-bedroom, in a super convenient location near a bunch of restaurants and with an amazing view of the water. The private beach access was awesome and the private deck with lounge chairs was a great place to have morning coffee. Check in and check out were super easy. We will be back!
Nicole
2017-02-15T00:00:00Z
Exactly as advertised..and if you're looking for a coastal get away Laurence's place is perfect. Needed alone time to meditate from everyday life and was able to get a quick recharge just a night.
Kevin
2017-03-21T00:00:00Z
Huonetyyppi
Koko talo/asunto
---
Majoituspaikan tyyppi
Huoneisto
---
Majoittujien määrä
4
---
Makuuhuoneet
Malibu Beach, Kalifornia, Yhdysvallat
LOCATION, LOCATION, LOCATION- less than a mile from the Civic Center, Cross Creek (Malibu center). Less than a mile to Pepperdine University, Bluff's park (great for kids) and minutes to Surfrider Beach. Clean, quite guest cottage with separate driveway and parking in front. Full kitchen including washer/dryer. Desk, wifi, printer and scanner. One bedroom on main floor and loft with full size bed w/trundle. Located in an old Malibu neighborhood with spectacular views.
Private quaint Malibu cottage, with outdoor sitting area. Living area, dining, bedroom and kitchen on main floor. The bathroom and loft bedroom/sitting area has a full size bed with a twin size trundle, is upstairs. Coffee makers, toaster, pots and pans, plates and cutlery in house.
Great street for morning or after dinner walks.
Jeff was great and made sure we had everything we needed to be comfortable . His place was very clean and comfortable. He was thoughtful to have wine and some water available for us after our long ride.
Anna
2016-09-19T00:00:00Z
This was by far the best value in the Malibu area. Jeff was nearby and made sure we had everything we needed. Malibu Bluffs Park is nearby and we used the trails for jogging every morning.
Phil
2016-11-15T00:00:00Z
Great location if you are visiting Pepperdine or getting away for the weekend! Has all the amenities and is super clean and simple -- perfect for children. Jeff and his family were very kind and welcoming. They were very fast to respond if we had any questions and provided us with a list of helpful information before we arrived.
Morgana
2016-08-15T00:00:00Z
Great location, great price and Jeff was helpful. We had a nice stay. It was true to description, clean and quiet.
Jennelle
2016-09-06T00:00:00Z
This was a great alternative to staying in LA, allowing us easy access by car to several wonderful beaches. Jeff was very hospitable and made us feel at home. Our boys loved having the loft to themselves. Comfortable and spacious enough to spread out, and a nice big round table for family dinners and game night. :)
Carolyn
2016-11-26T00:00:00Z
Jeff was great about checking in with us throughout the weekend. The place was perfect for our family of four. We loved the trundle bed because we have a daughter and a son. They liked having their own bed :) We are Pepperdine Alum coming to Malibu for Waves Weekend so the cottage was in the perfect location. I loved seeing the view of the university! Thank you to Jeff for a wonderful Malibu experience!
Hannah
2016-10-17T00:00:00Z
We enjoyed our stay at the Malibu cottage. The location was perfect for us when we visited our grandchildren. Jeff was accommodating and helpful.
Gaye L
2016-10-23T00:00:00Z
Jeff was a fantastic host he made everything easy and practical we had a lovely time
Cindy
2016-08-05T00:00:00Z
Huonetyyppi
Koko talo/asunto
---
Majoituspaikan tyyppi
Talo
---
Majoittujien määrä
5
---
Makuuhuoneet
Malibu, Kalifornia, Yhdysvallat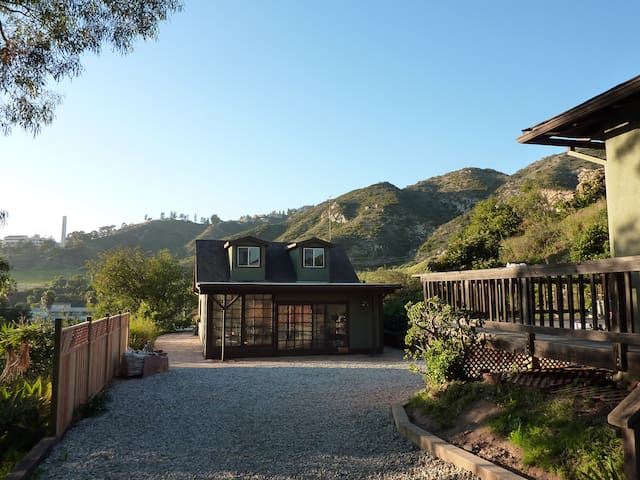 Peaceful living at the beach! Come view this oceanfront condo unit, complete with 2 bedrooms/2 baths, new kitchen appliances, new bathroom fixtures, and granite countertops. Functioning fireplace and new central heating just installed!
Very private Malibu escape with gorgeous views and a cozy fireplace. There is a secure, connected garage with parking that all guests have access to. We'll supply you with a remote. Brand new central heating and air conditioning recently installed.
For Discounts, Bookings or inquiries use the following email to contact the host: (EMAIL HIDDEN)*
We had the loveliest time and can't wait to come back to this beautiful getaway! The pictures do it justice: It's an immaculate, bright and lovely place, and the sound of the waves crashing right outside your door can't be beat. Really well appointed kitchen, soft sheets and towels, clean and lovely bathrooms. It was so comfortable and in a great location too. We had a blast!
Carley
2015-05-25T00:00:00Z
The Malibu beach house was a perfect weekend treat - house is clean, beautiful views and Andrew was quick to respond when we had questions. Will definitely recommend his place to friends and look forward to spending another weekend here again soon!
Lindsay
2016-04-05T00:00:00Z
It was an amazing visit to this lovely beachfront home. It's wonderfully decorated, very spacious, direct beach access and views for days! I highly suggest it to anyone looking for time in Malibu.
Patrick
2016-02-10T00:00:00Z
Wow! This place is incredible. I'm still dreaming of lounging on the porch and listening to the ocean. Take me back! I was able to walk to an amazing market, the Malibu Pier, restaurants (including Nobu), and stand up paddle board with the locals. This place is so simple with impeccable design. Lots of room and easy beach access. Truly everything I could have wanted for a quiet weekend retreat. Andrew made me feel super welcome and was really cool!
Molly
2015-09-28T00:00:00Z
The condo was modern, clean, and spacious, it had everything you could need. Great place to spend a weekend over looking the ocean! Andrew was super nice and responsive. He did everything he could to make our stay great!
Kaila
2016-05-23T00:00:00Z
Je ne veux pas décrire c'est personnel ..
Marie Dominique
2017-01-04T00:00:00Z
Great location and outstanding flat. We really, really enjoyed the waves right underneath the living room, the luminosity of the apartment, the fire place and the completeness of the offering, e.g.: towels, kitchen appliances, etc. Thumbs up!
Alfonso
2016-03-14T00:00:00Z
This property was even better than we expected. The location is fantastic, walking distance to surfrider beach and has Nobu and several shops, supermarkets nearby. The apartment itself is very well equipped with beach chairs, towels, etc. it is bright and airy with a great fireplace for cosy evenings. Excellent wifi and great contact with the host who was very flexible with our check in. We wouldn't hesitate to come back, it felt like a home rather than a holiday. The neighbours are also lovely and made us feel very welcome. All that and I haven't even mentioned the truly stunning views, ocean backdrop and whales passing the window!
Laila
2015-04-19T00:00:00Z
Huonetyyppi
Koko talo/asunto
---
Majoituspaikan tyyppi
Huoneisto
---
Majoittujien määrä
5
---
Makuuhuoneet
Malibu, Kalifornia, Yhdysvallat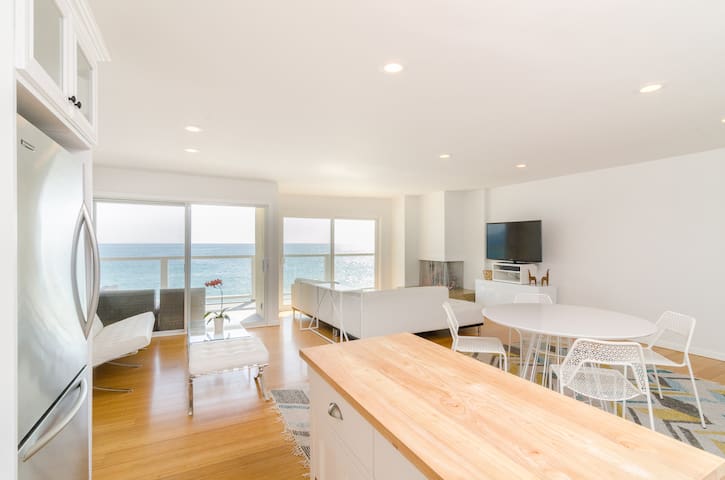 Located on World Famous Carbon Beach 'Billionaire's Beach'! Luxury condo with huge Ocean Front deck! Top of the line everything... Steam Shower, Big Screen TV's, Pool, Ocean Views, and SAND! Walk to bars, restaurants, shops. As good as it gets!
Welcome to Paradise! Spectacular, spacious condo features a large living room which includes a 60″ TV, Cozy Fireplace, and opens out on to the ENORMOUS deck with Ocean Views, Views, Views! Hardwood floors throughout. THE LIVING ROOM FEATURES A BEAUTIFUL CURTAIN WHICH WHEN CLOSED CREATES THE PRIVATE 2ND BEDROOM WITH IT'S OWN BATHROOM AND CLOSET! Fully stocked kitchen with top of the line Stainless Steel appliances. The kitchen opens out to a large dinning table. The Master bedroom features a King Size bed, 42" TV, and a Luxury bathroom including a huge steam shower multiple shower heads - perfect after a dip in the Ocean! The guest bathroom is equally nice with a giant Japanese sunken tub and rain shower. Washer/Dryer in the unit. One garage parking space included.
Location simply does not get better anywhere in the world…. enjoy a walk along Billionaire's beach, maybe catch a few waves, followed by a dip in the pool. Walking distance to the Malibu Pier and tons of bars, restaurants and shops, including Nobu, Malibu Inn, and everything Malibu Country Mart has to offer. Awesome PC Greens grocery store across the street. Minutes to World Famous hot spots like Dukes, Moonshadows, Mastro's, the Getty Villa and more. Pacific Palisades and Santa Monica a spectacular 15 minute drive away.
The location can't be beat. It's right on Carbon Beach and w/in walking distance to Nobu, the Malibu Pier, Surfrider Beach, and even a grocery store. The unit is in fabulous condition and very modern -- they have all of the amenities you need for a very comfortable and enjoyable stay. It's roomy, open and we love having access to a heated pool and BBQ's right downstairs. My only complaints ... the "owner" Chad, isn't the real owner. The unit is managed by a rental property company on behalf of the unit's owner. That company is who you will deal with for check-in/check-out and any issues that might arise during your stay. I have never had this happen before on AirB&B and much prefer renting from owners who add a very personal touch to the stay. The management company wasn't very pleasant to deal with on some of the simple issues I had when I checked in like the lack of cable TV or even basic TV like Fox, NBC, CBS, ABC. (it's listed as an amenity for the unit). The woman I spoke to on the phone seemed annoyed and was a tad dismissive when I asked her for help. Her solution was that I watch TV on my laptop. Now you're probably wondering why I would need to watch TV in such a beautiful place but it was a working vacation and I work for a network so NOT having it was a huge issue. They only have Roku and Netflix which are fine, but if the internet is weak, you have nothing to watch. There is also NO landline in the unit and the cell phone service can be barely to non-existent so if you need to place a call or be available for a call you need to go out of the unit. Major hassle! Lastly, there are no screens on the balcony doors so you can't leave them open and let in the beautiful ocean breeze because these tiny gnats/bugs will come inside. We learned the hard way and had to go out and buy a fly swatter just to get rid of them all. Part of the beauty of staying so close to the ocean is being able to open the doors and hear the waves crashing, but you really can't do that here. If they could resolve these issues, I would recommend this unit to anyone visiting the Malibu area. I would give this 3.5/5 stars.
lilliana
2015-09-07T00:00:00Z
Chad was very responsive and accommodating. The unit, which was a gift for my parents, was solid, and it was a lovely experience for them. I would recommend staying here.
Andrew
2015-07-31T00:00:00Z
This place was awesome. Beautiful and comfortable interior. Prime location right on the beach. And Chad was an excellent communicator and great to deal with. We loved our stay.
Joseph
2015-08-08T00:00:00Z
Beautiful apartment in a great location. Exactly as it was in the pictures. Walking distance from the Malibu pier, shopping and restaurants. The host is extremely well organized and very easy to contact Very comfortable beds, gorgeous kitchen and really everything you need. Perfect for a family of 4. This was our first time using airbnb and based on our experience we would definitely use it again We might even return to Malibu
Diane
2015-07-23T00:00:00Z
Great property, and in excellent condition.
Julia
2015-07-20T00:00:00Z
First of all, this was an amazing location, with parking and a 2 minute walk from a grocery store and about few minutes ride from Moonshadow. Host was easy to contact and helpful with checking in. Would stay again!
Alex
2015-10-12T00:00:00Z
Beautiful condo; just as described in the listing. Right on the beach, views of the water, great location for walking to the pier and nearby restaurants, etc. Chad was extremely helpful and communicative, and made sure he was on hand when we checked in. Great experience all round. Will definitely stay here again next time we're in Malibu.
Matt
2016-06-13T00:00:00Z
Had a wonderful relaxing experience at this beach front property. Very clean and inviting space. Loved drinking my coffee every morning on the balcony patio deck and just watching the beautiful waves and occasional dolphins that would come by. I have a 2 year old and the space is very kid friendly and wide open. We also loved making use of the heated pool on the occasional overcast days. Strongly recommend it. Such a great location... Carbon Beach is amazing. Best part? Nobu is next door lol You won't be disappointed!
Kellie
2015-06-06T00:00:00Z
Huonetyyppi
Koko talo/asunto
---
Majoituspaikan tyyppi
Osakehuoneisto
---
Majoittujien määrä
4
---
Makuuhuoneet
Malibu, Kalifornia, Yhdysvallat
TINY no frills room in Malibu Surf Shack with beach & walk to pier, Nobu & Soho House, NO KITCHEN, small bathroom. Tiny bedroom Sleeps 2 or more. Place to crash after day at beach or in LA. Just a room with a bed, fan & light, nothing fancy:)
It's for surfers or people that need a bed and that only eat out. NO KITCHEN
The beach & the Malibu Pier
Huonetyyppi
Yksityinen huone
---
Majoituspaikan tyyppi
Talo
---
Majoittujien määrä
4
---
Makuuhuoneet
Malibu, Kalifornia, Yhdysvallat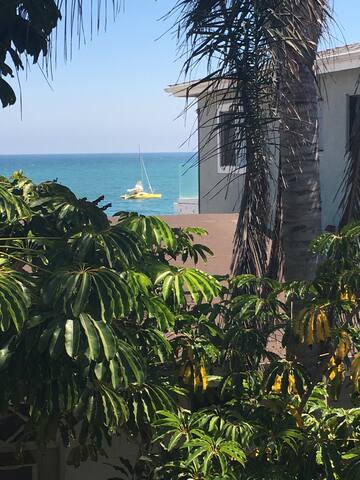 Top level suite sitting directly on the sand of beautiful Carbon Beach. 1BR/1BA with queen bed and additional pull out queen size sofa sleeper. Fully appointed kitchen, balcony and floating dining room with panoramic ocean views. 1 parking space.
Top level suite on the sands of beautiful Carbon Beach in Malibu. A one bedroom/one bath with queen bed, down bedding and additional pull out queen size sofa sleeper in the living room. Whether you decide to eat out or order in, a fully appointed kitchen also allows you to prepare your own meals to be enjoyed directly above the water in the "floating" dining room or outside on the private deck in comfortable sectional seating. Also included are AC, HD flat screen TV with cable and Sonos sound system, wireless internet and Apple TV. The suite offers stunning panoramic views from the Malibu Pier to Santa Monica and beyond. Carbon Beach is one of the most desirable beaches in all of Malibu. A short walk to great restaurants at the Malibu Pier or walk beach side from your room to world famous Nobu, crown jewel of celebrity Chef Nobu Matsuhisa. This property is centrally located in the heart of Malibu. Numerous restaurants, shopping and entertainment for all budgets are within walking distance plus miles of world class beaches, beach activities, hiking, mountain biking and museums. All this and just 15 minutes to Santa Monica.
Malibu is an affluent beach city in Los Angeles County, California. As of the 2010 census, the city population was 12,645. Malibu consists of a 21-mile (34 km) strip of prime Pacific coastline. The community is famous for its warm, sandy beaches and for being the home of many Hollywood celebrities. Signs around the city proclaim "27 miles of scenic beauty", referring to Malibu's original length of 27 miles (43 km) before the city was incorporated in 1991.
Amazing location in a condo on a private stretch of Malibu! If you like the sound and power of crashing ocean waves, this is for you!! 180° views from the deck and the glass encased dining area. Cozy and within walking distance (street) to Malibu Farm (great food!), the pier and Nobu. Fireplace added a nice warmth! Nothing exotic about the amenities or furnishings, but great value compared to most other options. Overall, good experience!
Krystal
2016-04-05T00:00:00Z
Our stay at Valerie's was in the whole a really amazing experience however I think there is area's for improvement. Firstly the things we loved: The location and view are spectacular, whilst like much of the housing in Malibu it's located on the highway it's set far enough back from the road that you do not notice at all. Also, you can walk to Nobu which is a bonus. There is parking provided, and it's off street. The outside setting area is a beautiful spot, you can sit out and admire the view - if it gets too hot you can just pop down the stairs and jump in the ocean. 4K TV with cable, Apple TV and SONOS soundbar are awesome, nice to catch a movie once the sun had gone down. On the things that could be improved There was a smell of wet dog in the apartment when we arrived, it dissipated soon after we opened the doors and windows but returned if we were out for any time. The check in time is 4pm, and checkout is a 10am which is a bit harsh, the cleaner knocked on the door at 945am when we were checking out and we felt under pressure to leave. The apartment itself is starting to show it's age a bit, it was clean but it looked well used, especially the outdoor furniture that could do with replacing. The aircon unit in the lounge was SO LOUD that we couldn't have it on which meant that the apartment got very hot. All in all given the location and price we had a really good time here but felt that there were some things that could be improved on.
Chris
2016-09-21T00:00:00Z
Wonderful experience! Beautiful condo, the location could not be any better, and Valerie was extremely responsive and professional. This was our first Air BNB experience and we really enjoyed it.
Matthew
2016-09-03T00:00:00Z
Sensational position overhanging the breaking waves on the coast of Malibu. Close to everything, the apartment had all of the conveniences we required. Clean, tidy and with amazing views, will happily stay again when next in Malibu.
Dion
2016-04-16T00:00:00Z
A little spot of paradise, off the Pacific coast highway, in between the millionaire beach houses and the world class surf break of Malibu. The 180 degree ocean view was mesmerising.....Dolphins, seals, pelican feeding hour and much more. Sunrise is exquisite and sunset is relaxing and reflecting. The property was very clean and well maintained, easy to use appliances, and a rather too comfortable bed. As our first air B and B the bar has been set rather high....
Dominic
2016-04-01T00:00:00Z
Fantastisk beliggenhed og udsigt samt dejlighed lejlighed med alle væsentlige faciliteter.
Flemming
2016-07-29T00:00:00Z
5-Star Experience all the way! Nothing can top this Ocean view - My boyfriend and I stayed here to celebrate my birthday and we went to Nobu for a delicious dinner. We Absolutely loved our stay at Valerie's AirBnB and would recommend it to anyone. I wanted to stay here forever. Hearing the ocean at night was the perfect way to fall asleep and morning walks on the beach were delightful. I recommend getting a bottle of wine and watching the sunset on the balcony - it's stunning!
Allie
2016-10-03T00:00:00Z
Suite 8 was as described in Valerie's listing - the apartment was very clean, comfortable and spacious for a couple. The parking space was also convenient. The check-out time was miscommunicated prior to our booking (it was a last-minute booking on our part) which led to some confusion after our stay at Valerie's. We nevertheless would recommend her apartment to other Airbnb customers.
Megan
2016-06-10T00:00:00Z
Huonetyyppi
Koko talo/asunto
---
Majoituspaikan tyyppi
Huoneisto
---
Majoittujien määrä
4
---
Makuuhuoneet
Malibu, Kalifornia, Yhdysvallat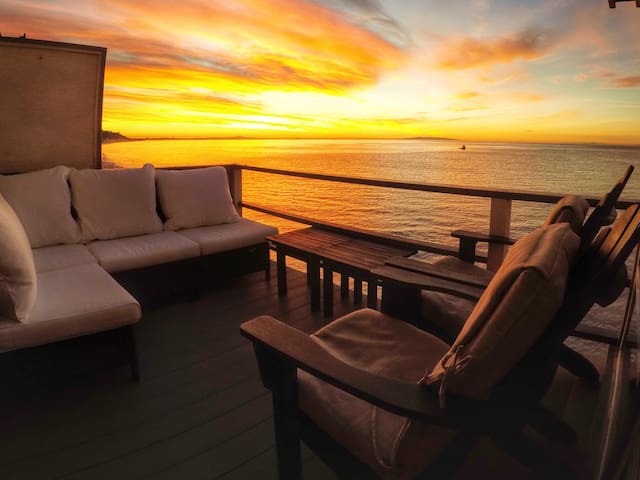 Tranquil and secluded 600 sq.ft. suite with a private entrance in our home, Villa Mariposa, located in Serra Retreat--one of Malibu's most exclusive neighborhoods. The Suite features 2 full size beds, a pull out sofa and an en suite bathroom with a large stall shower. There is separate room for coffee, a compact refrigerator and microwave. A cozy sitting area complete with wireless internet, direct TV, DVD player, and a 42 in" plasma TV. Twice weekly maid service is also included. On the same floor as your suite, we have laundry facilities and a spa. You can enjoy a far-infrared sauna and a massage at your leisure in our serene spa. I also would be happy to recommend a professional and reasonable therapist to you. Though the remainder of the house, which includes our kitchen, is not included in the rental, guests are welcome to relax and enjoy the resort-style saltwater pool, nestled amidst our beautifully manicured acre of gardens. Serra Retreat is a hidden, luxury community nestled between the foothills of Malibu Canyon, and the Pacific Coast Highway, just a short walk to the world famous Malibu Beach and Pier. This gated enclave is home to some of Malibu's most distinctive residences. We are also within walking and biking distance to "downtown" Malibu, where residents can enjoy world-class dining, shopping, cafes and movie theater. Nearby is a yoga studio, surfing and paddle board rentals and lessons, horseback riding and miles and miles of beautiful hiking in the Santa Monica Mountains, visit the waterfalls and grazing deer! Beverly Hills, Hollywood, Downtown Los Angeles, Orange County and most major theme parks including Disneyland are within an hour's driving time. Santa Monica, with it's many attractions is 15 miles down the beautiful Pacific Coast Highway.
The suite was fabulous!!!! It was very clean and very comfortable! The pool area was beautiful. Great Location in Malibu...very close to shopping and Pepperdine University. Thanks Maggie for a great stay! We hope to be back in the near future!
Char
2016-10-16T00:00:00Z
We so enjoyed our stay at Villa Mariposa. Our room was perfect in every way – charming, immaculate and including every amenity we could ask for. The home is located in a beautiful, private enclave that is perfect for long walks up to the Mission as well as a short walk down to the Malibu Country Mart where you will find boutiques and restaurants right across the road from the beach. We cannot recommend this property more enthusiastically. And, the best part of our stay was getting to know our new friends Maggie and Bill. They are wonderfully gracious hosts who, without hesitation, welcomed us into their home and lives. Thank you Maggie and Bill. We hope to see you again soon.
Jon
2015-08-10T00:00:00Z
Lovely experience. Amazing location and accommodations on par with a 5-Star Hotel. We recommend highly!
Holly
2015-07-06T00:00:00Z
We were met on our arrival by Maggie. She is wonderful and friendly. During our entire stay, she kept reminding us to enjoy the estate. We kept busy being tourists visiting many of the sites in Malibu and beyond. Our suite was spacious and clean. There is a private entrance just for guests. Maggie's descriptions of her place in the Airbnb site are accurate. Maggie's husband Bill is accomplished and friendly. Next visit, we will take more of their time. Lastly, I would do reviewer Bryan one better. I rate our stay 21.
Douglas
2015-06-01T00:00:00Z
Beautiful home and Maggie is an excellent host!
zheng
2017-02-04T00:00:00Z
Wow, I have stayed at the nicest villas and hotels in the world and nothing compares to villa mariposa. most importantly, maggie and bill are the warmest, funniest most gracious host and couple. i can count them as friends as well. a most special place and couple, full of heart. exactly what i was looking for in malibu!
Allison
2015-07-10T00:00:00Z
Maggie and Bill were incredible hosts and their home was as picturesque as described and illustrated. Nothing can truly express how warm and inviting their home is (as are they). With the beach and Country Mart just down the street, the house was ideally located for those not inclined to drive. I cannot thank them enough for a wonderful trip and lasting memories. I will definitely be going back the second I can book my next trip.
Edward
2013-08-12T00:00:00Z
We had a phenomenal stay at Villa Mariposa!! The private room was clean, comfortable and spacious. Maggie is a gracious hostess and made us feel extremely comfortable. We will for sure come back and highly recommend this listing !!
Stephanie
2016-11-21T00:00:00Z
Huonetyyppi
Yksityinen huone
---
Majoituspaikan tyyppi
Talo
---
Majoittujien määrä
4
---
Makuuhuoneet
Malibu, Kalifornia, Yhdysvallat
Sitting on an impressive 3.5 acres of land, this sprawling architectural wonder would impress even the most discriminating guest. Adorned with only the most opulent furnishings, spoil yourself with a trip into pure, unadulterated luxury. Enjoy your luxury vacation inside the property, or venture outside the gates in your personal, chauffeured Mercedes Maybach. Professionally managed and designed to exceed every expectation, welcome to La Maison de Reve.
Sitting discreetly behind private gates in the heart of Malibu's secluded celebrity enclave of the Serra Retreat, this 6,800 square foot chateau has no rival. Equipped with 5 ultra lux bedrooms and bathrooms, the estate can comfortably accommodate 10 of the luckiest guests in all of Malibu. Prepare to lose yourself in opulence that rivals any 5-star resort. OUTDOOR LOUNGE AREA, POOL & WHIRLPOOL TUB: Driving up to the property on the individually placed old stone driveway, past the 18th century fountain to the sculptured courtyard, it's difficult not to become infatuated by the chateau's rare level of sophistication. Stepping out of the villa and into backyard area, you'll feel like the only person in all of Malibu. Impressive in size and surrounded by trees and shrubbery for the utmost privacy, the estate covers numerous acres of land that are fully manicured. Exploring the surroundings you'll be taken aback by the enormous lawns, 200 bush rose garden, and bountiful orchards. Enjoy a meal at one of the four separate patio and Al Fresco dining tables, or an evening glass of wine at the evening sitting area overlooking the pool. For the grill masters out there, take advantage of the outdoor granite and stone BBQ island to cook up a meal for the whole group while their taking a dip in the pool or enjoy a leisurely soak in the hot tub. If you're here to take in the California sun and keep up your tan, kick back and relax on one of the many lounge chairs and lounge beds. Chilly evening air won't be enough to force you inside at La Maison de Reve, as the open air, vine and stone covered cabana is the ideal place to keep warm. Equipped with luxury couches, a granite table, and fireplace, stay out late and enjoy the cool California breeze. _ _ _ LIVING AREA & KITCHEN: Featuring high ceilings, antique hand plastered walls, hand carved limestone and walnut flooring, imported French fireplaces, and hand sculpted doors, and a private office space, this villa is jaw dropping from every single angle. Upon entering the main living area through the front doors, you'll be taken aback by the sheer size and luxury of the estate. With it's modern design, take in the beauty of the decor from one of the numerous luxury couches which can provide seating for more than 10 people! Equipped with a massive 20 foot sliding door, transition seamlessly from indoors to outdoors living spaces. Flowing directly into the formal dining area which is equipped with a drink cart, enjoy a home cooked meal in style. Moving towards the kitchen area, enjoy a second, open concept living space. The den area is filled with 4 separate, deluxe seating areas, direct patio access, and a large LCD TV. With high ceilings and a rustic chandelier, enjoy a bottle of wine during the evening before a meal. Separated by a kitchen island, the kitchen itself is a chef's utopic fantasy. With bright lighting, granite counter tops, dual sinks, and top of the line cooking equipment, cook up a storm for the entire group! If you don't feel like cooking, have a professional chef do it for you! (extra fees apply). As well, kitchen area has a rather secluded breakfast nook. With seating for 7 guests and a direct view of the pool area through 2 large patio doors, there is no better place for eggs, toast and coffee. If you're planning on a night in, enjoy an evening with family and friends in the exclusive video screen room. Equipped with three high end, home theatre designed extended couches, two single armchairs, a luxury couch, and blankets, enjoy the feel of a movie theatre without leaving the villa! For the wine connoisseurs out there, we got you covered! The estate comes with a private 4,000 bottle wine cellar equipped with Chateau Margaux barrels inset in the wall. Be sure to bring a few bottles of wine to stock the shelves. _ _ _ BEDROOMS MASTER SUITE Impressively sized with tons of natural sunlight pouring in through 3 patio doors, the contemporary designed master suite is truly built for a king. Step out on the private balcony of your master suite to soak in the view of the surrounding greenery, or enjoy some late night television from your premium king size bed on the large LCD TV. Chilly night? Turn on the fireplace to keep a little warm after a late night dip in the pool! Directly attached to the master suite is the ensuite bathroom. Fully adorned with granite and wood and a beautiful extra large shower area, feel like a king while on the throne! It comes fully equipped with dual sinks, large mirror, makeup table, and everything else you need for a relaxing stay! SECOND MASTER SUITE Almost as large as the master suite, the second master bedroom boasts stunning views, a king size bed, and extremely modern design. Every bit as luxurious as the master suite, step out onto the private patio to watch the sunset, or feel musically inspired by your surroundings and play a song or two on the portable electronic piano. Also equipped with a stunning ensuite bathroom, enjoy a perfect night's rest in Malibu. THIRD DELUXE BEDROOM Marked with a queen size bed, the third deluxe bedroom provides it guests with an unforgettable view. Stepping out onto the private balcony, breathe in the smells of nature and enjoy the sights of rolling hills and lush greenery. With an en suite bathroom, enjoy your evenings out on the patio with a glass of wine! FOURTH DELUXE BEDROOM The deluxe fourth bedroom comes with a very comfortable double bed, and a dual sink ensuite bathroom! A little smaller than the other bedrooms, the fourth bedroom is just as stunning in its simplicity and design. FIFTH DELUXE ROOM The fifth and final room of the house comes with a ultra comfortable queen size bed for a good night's rest! _ _ _ AMENITIES: The villa is professionally managed, fully cleaned before every stay, and for your convenience, it comes with clean luxury organic linens & bedding, towels, soaps, and everything else you'll need for a comfortable stay. The entire estate is air conditioned for your comfort, and Is fully stocked with top of the line flat screen TVs and high-speed wireless internet. Your stay includes: - Chauffeured Mercedes Maybach to transport you wherever you want to go in Malibu! - Full Service Concierge on hand to provide you with expert local tips and recommendations during your stay, as well as to help plan, reserve and/or book your activities & on-site V.I.P. services or for you, upon request, and at no extra cost! - 24/7 Gated Community Security Guard - On-site property manager: There's nothing we can't handle. - Luxury linens & bedding, towels, fully stocked ON-SITE V.I.P. SERVICES (UPON REQUEST): Upon request, all guests will also have access to on-site V.I.P. services such as (but not limited to): - Luxury Vehicle Rental - Chef Services - In-home Massage, Hair/Makeup & other beauty services Beauty Services - Private Fitness Instruction - Restaurant Recommendations and Reservations - Nanny and Butler Services - Nightlife Recommendations and Connections - Local Knowledge - Yacht Charters - Private Jet Service Your satisfaction and comfort is guaranteed. MUST DO ACTIVITIES: Play a round of golf at the Perenchio Golf Course Swim around the infamous Malibu Pier or Coral Canyon Beach Enjoy an extraordinary meal at Nobu Restaurant A must visit the Universal Studios See some amazing animals at the Los Angeles Zoo Find your artistic spirit at the Getty Center Take a day trip to beautiful Santa Monica IMPORTANT: Your concierge will be on hand to provide you with expert local tips and recommendations during your stay, as well as to help plan, reserve and/or book your activities for you upon request
With all your essentials easily attainable nearby, your villa is located just: Less than a mile to the Malibu Pier and Surfrider Beach Less than a mile to the Perenchio Golf Course Less than two miles to Nobu 1 mile to Cross Creek Farm 1 mile to Taverna Tony 4 miles to the Coral Canyon Beach 6 miles from downtown Malibu 13 miles from Santa Monica 17 miles to the Getty Center 32 miles to Universal Studios 37 miles to the Los Angeles Zoo 25 miles from the Van Nuys Airport 25 miles from the Los Angeles International Airport _ _ _
Huonetyyppi
Koko talo/asunto
---
Majoituspaikan tyyppi
Huvila
---
Majoittujien määrä
10
---
Makuuhuoneet
Malibu, Kalifornia, Yhdysvallat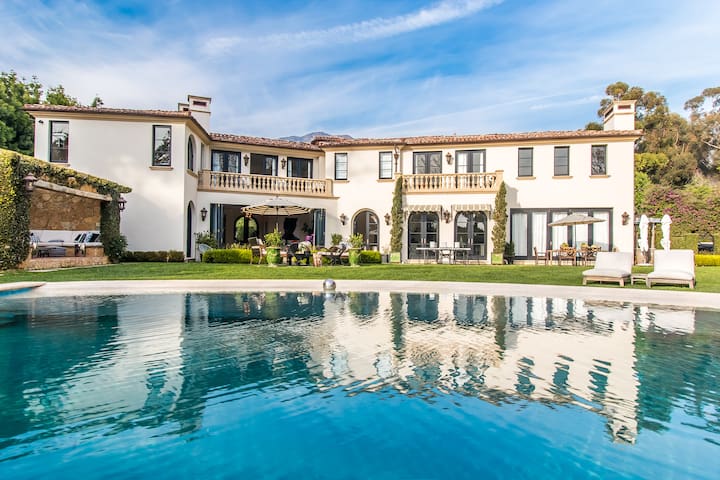 Pristine & recently completed. Wake & enjoy a swim in pool or take a beach walk down Carbon! We are WALKING distance to Nobu, Soho House, PC Greens Mkt, , V's restaurant/bar, D'Amore's Pizza, Liquor Store, Thai msg, Cross Creek Malibu w great shopping, Regal Twin movie theater, The Farm on the Pier, etc. Bdrms offer big ocean views. Amazing master has open spa & open to patio. Our place is good for couples, solo adventurers, and business travelers. Go to sleep with the sound of waves crashing!
(URL HIDDEN)
Most rentals you will find in Malibu are not close to much without a car and traffic can be thick morning and evenings. Our condo is close to most of the best of Malibu! You can uber here and have a great visit!
Huonetyyppi
Koko talo/asunto
---
Majoituspaikan tyyppi
Osakehuoneisto
---
Majoittujien määrä
4
---
Makuuhuoneet
Malibu, Kalifornia, Yhdysvallat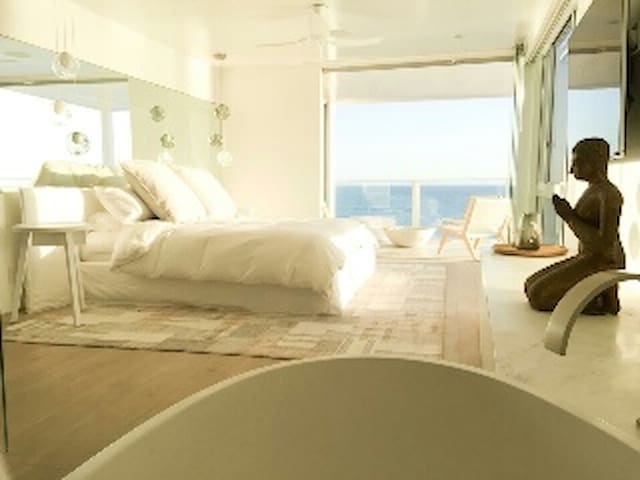 Conveniently Located Near the Pier in Malibu. Condo is oceanfront. Hear the roar of the ocean and see the waves from your balcony. Condo sits in the heart of downtown Malibu walking distance to all the amenities for dining, shopping and water sports. Beach front on Carbon Beach.
This condo is one of only 8 ocean front condos at the complex. Please note there is reserved parking in the garage for 2 vehicles tandem style. The entry to the garage will only accommodate up to a 66 inch high car.
Huonetyyppi
Koko talo/asunto
---
Majoituspaikan tyyppi
Osakehuoneisto
---
Majoittujien määrä
4
---
Makuuhuoneet
Malibu, Kalifornia, Yhdysvallat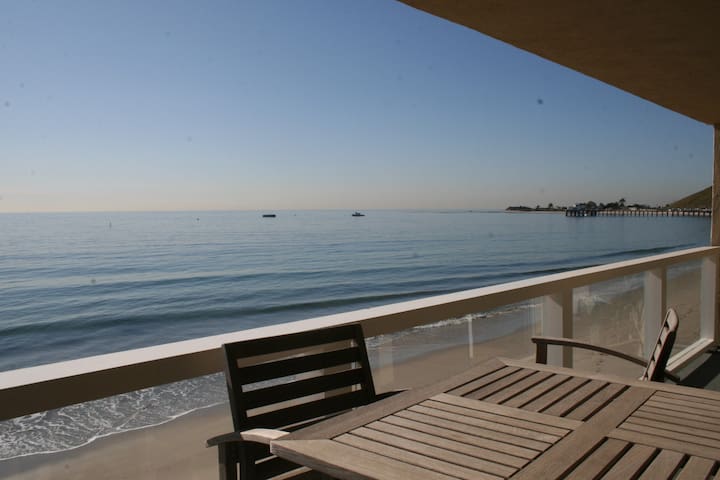 Malibu Point - Airbnb
:
Keskimäärin

4.91

tähteä yhteensä

5

339

vierasarvostelusta
1

–

18

hakutuloksista

35 vuokrakohdetta
Anna päivämäärät nähdäksesi kokonaishinnoittelun. Lisämaksuja sovelletaan. Veroja saatetaan lisätä.