Syötä sisäänkirjautumispäiväsi muodossa pp.kk.vvvv
Syötä sisäänkirjautumispäiväsi muodossa pp.kk.vvvv
Kohteet, jotka voit varata odottamatta majoittajan hyväksyntää.
7 vuokrakohdetta
· Natchitoches
7 vuokrakohdetta
· Natchitoches
Anna päivämäärät nähdäksesi kokonaishinnoittelun. Lisämaksuja sovelletaan. Veroja saatetaan lisätä.
Heinä- ja elokuussa voit kokeilla yhtä näistä 100 arvostetusta kohteesta eri hintaluokissa ja kokea Sonoman paikallisen näkökulmasta. 24 tunnin sisäänkirjautuminen, Pikavaraus sekä paikallista viiniä ja välipaloja, jotta voit vain istahtaa ja nauttia matkastasi.
My place is close to the city center and great views. You'll love my place because of the outdoors space and the neighborhood. My place is good for solo adventurers and business travelers.
Is a simple no frills spacious room with a bed and lamp BUT guests have access to the living room with a TV, etc. Guests will have access to: Guest Room Full Bath Upstairs Living Room Kitchen/Dining/Laundry Room Toilet/Powder Room Downstairs Outdoor Space Wifi If I am home, I will primarily stay in my room to give you privacy, but am available to help if needed. If I am away, I'm just a phone call away.
Trees, tress, and more trees There is no public transportation as this is a small (SMALL) historic town.
Our room was 10 minutes away from Natchitoches downtown, in a quiet complex. The bedroom and the bathroom were very clean and Brandi is a perfect host, making sure everything is alright before you arrive and when you're here.
Laetitia
December 2016
Comfortable bed, no issues, and no hassel. I arived later in the day and had no issue checking in. I enjoyed my stay
Ryan
December 2016
Brandi was a great host. She made us feel very at home.
Nina
December 2016
Brandi was a great host. She understood my oil field schedule and accommodated.
John
December 2016
Brandi was very helpful and thoughtful because we arrived really early in the rain and she offered early check in for us. Location was a short drive into town, and she was very knowledgeable.
Twin
December 2016
We had a nice stay there. The house ise clean, the bed is comfortable and the kitchen has everything that you need.
Bruno
December 2016
Brandy was very welcoming and friendly. She made our stay very pleasant, but the bed was too small for two people and it wasn't comfortable. For one person the bed is fine, but it was hard sleeping in it with 2 adults. I would say adding a tv to the room would be a nice addition. Overall it was a very good stay, thanks!
Amy
December 2016
Brandi was an excellent host. Just as described, the place is centrally located. Only 10 minutes to the historic district and close to a grocery store. The puppies of the house are adorable, and the room is quite spacious.
Sarah
December 2016
Huonetyyppi
Yksityinen huone
---
Asuntotyyppi
---
Majoittujien määrä
2
---
Makuuhuoneet
1
Natchitoches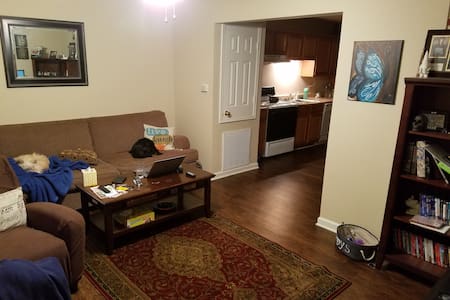 Our place is right next to the Red River and Cane River, less than 15 minutes from Downtown Natchitoches. Just 3-5 miles away from the famous Oakland Plantation and Cherokee Plantation. A local hangout called "Point Place Marina" is 5 miles away. Both Red River and Cane River offer excellent fishing opportunities. Located on a working ranch, there is abundant outdoor space for couples, families with kids, or someone on their own. You will surely enjoy the STARS at night.
The house is located on a 2000 acre working ranch. It can accommodate up to 6 guests. Everything you need is well provided in this gorgeous house. The bright living room has two couches. One is a sofa bed which very easily turns into a comfortable double bed. The house is very private, safe, quiet, and is located in a peaceful spot. The kitchen is fully equipped with cooker and oven, huge fridge, coffee maker, toaster and microwave. It's an open kitchen with breakfast bar. You can also enjoy dining al fresco way- the deck is perfect for bbqs and picnics. The bedrooms feature unfussy earth tones with a view of the ranch. In the mornings you wake up with birds chirping and cows mooing! A good country experience. Each room has a queen size bed, walk-in closet and a luggage stand, you surely have an ample storage for your belongings. The house features a private bathroom fitted with a sink, bath and toilet. Fresh Towels and bed linens are included in the price. Added Bonus: - 32" LG High Definition TV with DirectTv - Washer and Dryer (for guests staying 4 nights +) - Picnic table outdoors -hair dryer, iron -satellite network (wifi) If you are looking for a fishing trip, a quiet weekend with the family or a romantic weekend with a loved one, or just simply a quick getaway, our ranch house makes the perfect choice for your visit in the historic town of Natchitoches. It's your home away from home! We hope to welcome you soon. You have the whole house to yourself including living room, kitchen, bathroom, bedrooms, double garage, and large yard with a deck where you can relax while watching the sunset. You are free to explore our ranch, we have a river front access/ the sand bar by The Red River, our ranch is 1600++ acres, with over 200 pecan trees, when in season you are free to pick pecans. We live just next door so we can meet you at the house, hand you the keys and show you around. Then the place is all yours! Feel free to contact us thru our mobile or just simply knock on our door if you need assistance. We are more than happy to help you.
Getting to the ranch is thru a dirt road. From the ranch, you do have a good access to Red River, and it's not very far from the Marina if you'd like to bring your boat to fish. The nearest pub is at Point Place, a 5 minute drive, if you fancy a drink. Downtown Natchitoches is a 15 minute drive. Cherokee plantation and Oakland plantation is only about 3-5 miles away. About less than 5 miles from Cherokee plantation and other old plantation houses. Cane River is 3 miles. The nearest pub is at Point Place which is about 3 miles away. It is a local hang out, overlooking the cane river. Downtown Natchitoches and the College is less than 15mins drive. The ranch house is located on Red River Ranch which is a working ranch. Access to our ranch is thru a dirt road. Our guests find the location very private, refreshing/relaxing and the entire experience fascinating!
We were very thankful to be accommodated on such a short notice. The place was very clean, nice and cozy. Felt very relaxed and rejuvenated the next morning. We hope to come back and actually explore Nachitoches when we have more time.
Lauren
December 2016
Came for the weekend for the Festival of Lights downtown. Was only a 10-15 min drive away. First time using Airbnb but will deffinelty use again thanks to this trip! Will also book with them again once it warms up because the view is beautiful! These are two of the nicest people and the cutest little house! PS if you stay here...you may get some awesome muffins!
Samantha
December 2016
My friends and I are NSU alumni and chose to stay here instead of a hotel. We couldn't be happier with our choice! The farmhouse was plenty of room for us 5 friends and the decorations were adorable. Perfect place to stay while visiting Natchitoches!
Amanda
October 2016
David and Marianne are both very kind and helpful hosts. The place is very nice on a beautiful working ranch. A private beach on the river is only a 2 minute drive. I will definitely be returning if I am ever in the area again.
David
November 2016
The house was great. It was very clean and the kitchen was the best equipped of any AirB&B we have stayed. David and Marianne were great hosts. They were there when and if we needed them, but out of sight when we didn't. The location is very secluded and quiet. It is a great place to unplug and recharge. Natchitoches is only a short drive, which made the location ideal for attending the Christmas Festival. We will definitely be back.
Shaun
December 2016
It is worth going down a long country gravel road to get to this unique place of pure beauty. The scenery is vast and beautiful. The barn house is adorable and cozy. I would definitely go back.
Candace
November 2016
Marianne greeted us as soon as we arrived at the ranch. She is very friendly and very accommodating with requests such as the barbecue grill and outside table set. She made some fresh scones on Sunday morning for us! If you want somewhere quiet to relax this is the place.
Stefano
October 2016
Always responsive to contacts from reservation through stay. Helpful recommendations for things to do and places to eat in town.
Royce
December 2016
Huonetyyppi
Koko talo/asunto
---
Asuntotyyppi
---
Majoittujien määrä
6
---
Makuuhuoneet
2
Natchitoches
Cozy Cottage is conveniently located off of Highway 6 and close to the city center, restaurants, shopping and I-49 interstate. You'll love the whimsy and classic touches of Natchitoches decor. Cozy Cottage easily sleeps 4 on two comfy queen beds. With access to a fully equipped kitchen and coffee setup, you can enjoy the outdoors right from the woodsy back porch. Natchitoches is waiting to entertain you. No pets, please.
Nice location, just a few minutes from downtown. Clean and comfortable place to stay. Would recommend.
Bob
January 2017
We felt very welcome. Our accommodations were very nice. The neighborhood was quiet and well kept.
Phillip
December 2016
Great spot and great experience
Johnny
December 2016
Huonetyyppi
Koko talo/asunto
---
Asuntotyyppi
---
Majoittujien määrä
4
---
Makuuhuoneet
2
Natchitoches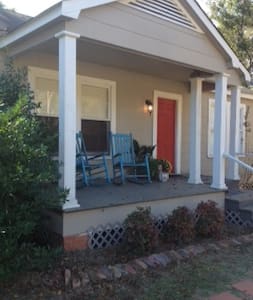 Ultimate Southern living on beautiful Black Lake near the public boat ramp. You'll love the morning sunrise with a cup of coffee on the balcony. The private boat dock accommodates 4 boats, quiet neighborhood, huge yard, breathtaking night sky, gorgeous sunrise and outdoor space. It is perfect for fishing, duck or deer hunting. The location is great for couples, solo adventurers, families (with kids), hunters, fishing groups and big groups. The whole second floor is yours. Downstairs is not used.
The allure of this space is the beauty of the outdoors. The Spanish moss covered Cypress trees are absolutely breathtaking. Entering the house: a few days before check-in, you will receive a code for the front door keypad. The downstairs is off-limits due to construction. There will be no construction occurring during your stay and no one else will be staying downstairs. You will have the entire place during your stay. My cell phone is always on to take your call.
Some of the nicest people you'll ever meet live in this neighborhood and neighbors look out for each other. Enjoy the company along with the outdoors! Free parking on the premises and we are close to the public boat ramp. The drive to the lake house is very scenic and beautiful. The roads themselves are not the best though, as they are windy and bumpy. Use caution when driving, but be sure to wave at all the neighbors. It's expected!
This place would be great for the fisherman and hunter. However, we visited with 4 adults and 5 children as a place to just get away - and it worked. The hosts were VERY responsive and offering of their time. We walked the neighborhood, the kids made friends with the numerous local dogs and we spent a lot of our time skipping rocks at the boat launch. The open kitchen/den layout is great for eating, cooking, and playing games. The market was close and had what we needed and with Natchitoches only 20 minutes away, we departed from our excursion without any regrets. A big bonus was the price.
Robbie
November 2016
The hosts are obviously making improvements to the property. New carpet, some new paint, etc. The scenery, namely the swampy edge of the lake, is beautiful. There is a pier/walkway out over the water, and it is in very good condition. If it hadn't been raining, I would have taken my morning coffee out there. We had everything we needed. Directions to the place were very accurate. The hosts were very responsive, considering how technologically challenged I am!
Malena
December 2016
This is a quiet lake house in a secluded neighborhood. Everything was as described, no surprises. The hosts' communication was excellent.
Ryan
January 2017
This property was a good value. It is off the beaten path, offers a beautiful setting as a unique older property that is under renovation. The moss laden trees and wildlife were spectacular.
David
December 2016
This is such a peaceful getaway! The property is beautiful and quiet. The lake in front of the house is awesome and we loved sitting on the balcony drinking coffee as the sun rose. The property is just a few miles from nacthitoches which has a great strip of shops on the cane river. During the winter season they have Christmas lights and festivals all season long on the banks of the Cane River. Definitely will be back and would recommend it to anybody trying to have a peaceful getaway.
Steffany
December 2016
Host was very helpful with any questions or concerns. Absolutely beautiful place to stay. I will definitely try to get same place if I ever need to stay in area again. Beautiful property
Nicholas
November 2016
Host was very helpful and answered questions immediately. We celebrated Christmas at this location. My family was very satisfied, especially my wife!
Hendrix
December 2016
Huonetyyppi
Koko talo/asunto
---
Asuntotyyppi
---
Majoittujien määrä
9
---
Makuuhuoneet
2
Campti
Newly upgraded!! Let us provide your home away from home! Sit back in a comfortable rocking chair on the porch and enjoy mesmerizing views of the beautiful Cane River. Grab a pole, try out some fishing on the dock,explore beautiful Natchitoches, or do some shopping.
Peaceful. Relaxing. Fun. Feel free to bring your own boat to dock at the home. Our beautiful home can accommodate up to 5 guests. There is a master bedroom with a king bed and a cozy loft at the top of the stairs with a twin bed. In the living room is a pull-out couch with a bed. Come enjoy the peaceful serenity of the beautiful Cane River. Mesmerizing views combined with the comfort of home make for an all-around relaxing stay. Some guests prefer to lay around enjoying the views while some prefer to explore! There's so much to do in Natchitoches! When you're ready to explore, we invite you to experience the charm of the original French colony in Louisiana, established in 1714 and well known as the film site of "Steel Magnolias". Downtown Natchitoches is just minutes away, where you can explore our Landmark Historic District with shopping, dining, and attractions plus historic fort sites, museums, and year-round cultural events and festivals. Natchitoches is home to the Cane River Creole National Historical Park at Oakland & Magnolia Plantations. It's all about privacy here! Unless you request our services, the house is yours during your stay.
What's special about our location is that you are completely secluded on the water yet only a half mile from food, shopping, and entertainment. For all your traveling needs, there is a Walmart located only about a half mile away, along with Brookshire's grocery store and multiple dollar stores for groceries, toiletries, etc. The Downtown Historic District is only a few miles away, where you will find historical tours, shopping, and dining on the beautiful Cane River.
We are so happy with this rental! Jennifer is awesome and did everything to make my family feel welcome. We had a great time and we are sad to be checking out tomorrow. Hopefully we will be able to rent it for our annual trip next April!
Sara
April 2016
Jennifer was very communicative and helpful. The cabin was immaculate and we were sad to leave. We'll definitely be back!!
Joshua
December 2015
We chose to stay in The River House instead of a hotel for my mom's wedding over the weekend, and that was a choice we will never regret. From the very beginning, our host Jennifer was responsive, warm, and provided an absolutely stress free experience. The River House is absolutely delightful! With a fully supplied kitchen, my siblings and I made oven pizzas, watched movies, and slept in the most comfortable beds. Even the pull out was comfy! In the mornings we made coffee, and watched the sun rise over the water. Nothing like a hot cup of coffee, breezy morning, and the sound of a rocking chair. The home was exceptionally clean and incredibly well organized. Wifi was very fast and easy to connect to, towels were cozy, home was beautiful, location was perfect, and experience was pleasant. 10/10 would recommend :)
Brook
October 2016
Perfect Spot for a quiet and fun place in Nachitoches! Short drive to downtown and the owners are very nice and accommodating. Can't wait to come back!
Matthew
November 2016
We had a great time! The location is close to Walmart and other stores, but still feels secluded and relaxing. The home is well stocked and comfy. Only one thought for future bookers, it's not great for privacy from fellow guests. There aren't any closed door bedrooms so it's good for small families. The water view was beautiful and we cooked a full Christmas dinner in the fridge!
Erin
December 2015
Second time, and just as great and relaxing as the first time! Jennifer is a great host and is always available for questions! The juice, milk and breakfast goodies are a hit with everyone!! Will be back again soon!
Lori
July 2016
We had a great time at the River House. Jennifer was a very good host. The property was exactly as listed. I would highly recommend it if you are visiting the area. It was a wonderful get away!
Beth
June 2016
The birds nest is such a special spot. Being over the water there is lots of wildlife to see including turtles, fish and birds. We also caught a fish straight off the balcony! Jen was very attentive and a wonderful host to deal with. We will be visiting again for sure.
Laura
April 2016
Huonetyyppi
Koko talo/asunto
---
Asuntotyyppi
---
Majoittujien määrä
5
---
Makuuhuoneet
1
Natchitoches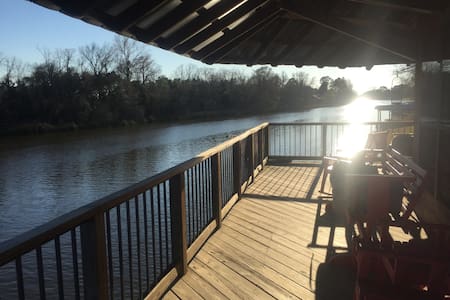 Natchitoches is a wonderful place to visit during the Christmas Holidays - lights on the Cane River, fireworks on the weekends, great food and vendors on the river bank. You can walk to the historic downtown from our home. There you will find great restaurants and pubs and the Cane River. You'll love my place because of the ambiance, the outdoors space, and the historic neighborhood. We are on the East side of the Cane River just off of Williams Ave.
Over 3500 sq. ft. of living area. 4 bedrooms, 3 full baths, large sitting area, sun porch with a daybed. Wonderful screened in porch with wicker rockers and a chaise lounge. Gourmet kitchen with a commercial gas stove and whole house water filtration system. You have access to the whole main house. The pool house and pool area are closed and off limits. We will be there to greet you and show you around the home.
Our home is in East Natchitoches - a short walk over the bridge to downtown historic Natchitoches. It was built in 1901 and was totally renovated in 2016. We have parking for up to 4 vehicles. Parking is not allowed on the street. You will be towed or fined. You can walk to the downtown - during Christmas season it would be a good idea to do so - as parking is at a premium in downtown. Bring a flash light and good walking shoes some area sidewalks and surfaces are not level. We are not handicap accessible. Two bedrooms are upstairs. We add a $100 cleaning fee and we must collect the 13% local taxes
Beautiful house. Great location. Easily accommodated 6 adults. We are looking forward to coming back to stay here again.
Ronnie
December 2016
Beautiful and amazing home! Plenty of room for the family. We hope to visit again! I love this house and Mr. Jerry was very sweet!
Virginia
December 2016
Huonetyyppi
Koko talo/asunto
---
Asuntotyyppi
---
Majoittujien määrä
8
---
Makuuhuoneet
4
Natchitoches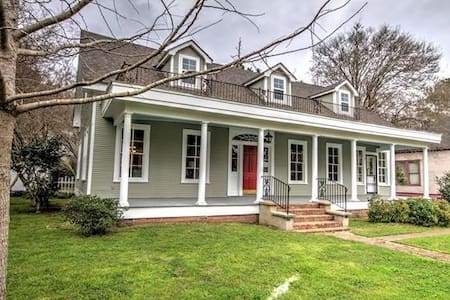 Peaceful and relaxing. Just a short 10 minute drive to downtown Natchitoches, the home of Steel Magnolias the annual Christmas Festival. Located on the Cane River with a magnificent view. Boat launch and pier for added enjoyment. Quaint 3 bedroom, 2 bath that sleeps 12. The perfect size house for a weekend getaway or a week filled with fishing and boating.
Huonetyyppi
Koko talo/asunto
---
Asuntotyyppi
---
Majoittujien määrä
12
---
Makuuhuoneet
3
Natchez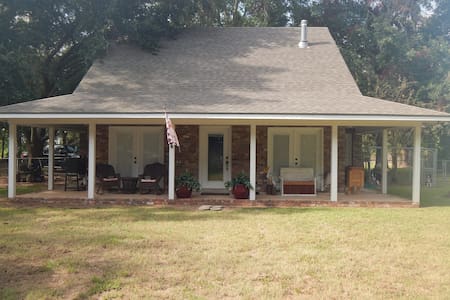 1

–

7

hakutuloksista

7 vuokrakohdetta