2 Bedrooms in private house, Safe and Subway less than 2 blocks away.
The host canceled this reservation the day before arrival. This is an automated posting.
Emily
2017-04-08T00:00:00Z
Huonetyyppi
Yksityinen huone
---
Majoituspaikan tyyppi
Talo
---
Majoittujien määrä
1
---
Makuuhuoneet
Bronx, New York, Yhdysvallat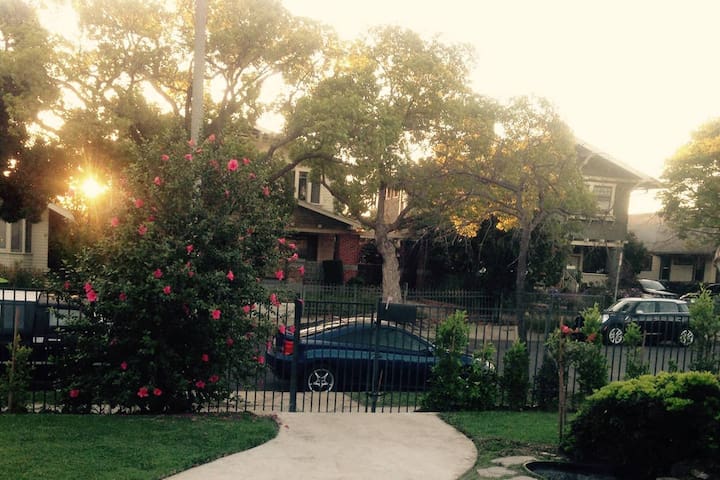 Come stay in my beautiful, newly renovated townhouse! Gorgeous hardwood floors, bright sunny windows, vintage and artsy decor, plenty of privacy, and a social atmosphere. Spacious private backyard to enjoy. :)
Planning on visiting NYC or need a temporary place between moves? Come for a stay in our guest rooms! Located in the historic Crown Heights neighborhood, our brownstone apartment is conveniently situated across Prospect Park from the Park Slope area and within walking distance of the Brooklyn Museum of Art, The Brooklyn Botanic Gardens, The Brooklyn Children's Museum, The Jewish Children's Museum, Several churches of all denominations, and the newly restored Brooklyn Public Library(Main Branch). The area has an eclectic taste which reflects the diversity of cultures inhabiting it. Crown Heights has some lovely architecture and a variety of peoples and shops, ranging from variously hatted and top-coated Orthodox Jewish residents to vegan Rastafarian Afro-Caribbean restaurants and college students. The guest room is quite cozy and has everything that you might need, including a travel adapter for your electronic devices. Currently there is a very comfortable twin(single) size bed with a pillow top mattress, a small bedside table, and a spacious closet. You would be sharing the common spaces (kitchens, living room, 3 bathrooms, and backyard) with other guests, as I have several guest rooms. So, why is this better than staying in a Hostel? We offer lot's of Free amenities: Secure Wireless internet, free state-of-the-art laundry machines to use and a kitchen with great tools and culinary gadgets. For all you shoppers, the bathroom has a weight scale that you can use to weigh your luggage before heading off to the airport! In the backyard there is a small garden with a beautiful flowering tree. You can park safely on the service road, which is right in front of our house, for free. We also have several bicycles(and helmets) that you can use to ride around the neighborhoods. As an added bonus, we are only a few steps from the Subway! The 3 & 4 trains run express into downtown Brooklyn and Manhattan. The B43 bus also stops right outside our door, and that will take you directly to Williamsburg, Greenpoint and Bushwick!
The diversity of people and cultures are what drew me in to this neighborhood. Also the fact that it is a family area, which provides a little sanctuary away from the hustle and bustle of busy areas like Manhattan.
Daniel has been verry nice. I had a wonderfull stay and the area is beautiful.
Silvia
2016-07-14T00:00:00Z
At first I thought that stay only 1 night but the room was so cozy and nice that I decided to stay 1 more night. I didn't understand only thing about price. Because at 1 night I paid 18 $ less than second. But anyway everything was perfect.
Maria
2016-03-25T00:00:00Z
C'est la première fois que je testais Airbnb et je ne suis pas déçue. Superbe expérience, lieu propre, chambre agréable et calme. Daniel est très agréable et répond aux attentes de ses hôtes ! Au top !
Jenny
2016-12-15T00:00:00Z
Daniel's place was just as described, it had all the amenities I needed to feel right at home in Brooklyn. The proximity to the subway was super handy as well! Daniel was also super friendly and good to chat to! I'd definitely stay here again :)
Stephanie
2016-08-02T00:00:00Z
Daniel was very precise in his communication, and the little room was fine and clean. I sure can recommend it.
Nina
2016-09-30T00:00:00Z
Great place to stay, easy to get to and house full of character. Anthony was very communicative too which was helpful. The train is a walk across the street.
Matt
2017-01-05T00:00:00Z
Daniel was very accommodating of my schedule as I could not get in till very late. Everything was clean and very easy to find.
Jimmy
2016-04-05T00:00:00Z
I had a great time staying at Daniel's house during my stay!
Claire
2016-10-15T00:00:00Z
Huonetyyppi
Yksityinen huone
---
Majoituspaikan tyyppi
Talo
---
Majoittujien määrä
1
---
Makuuhuoneet
Brooklyn, New York, Yhdysvallat
Only a few minutes away from the subway station. To Manhattan take J or M line just 12 minutes. From JFK 30-40 min, to LGA 18min. Room is clean and nice, cozy with full size bed. Safe and friendly neighborhood. Share the bathroom with a person.
Nice and friendly neighborhood
I had a great stay at Mimi's place. Very clean and a perfect place to be for a couple of days.
Danielle
2017-02-09T00:00:00Z
We had a nice time at Mimi's house. The neighbourhood was very lively. Subway is nearby, so getting somewhere is very easy.
Esmee
2017-04-05T00:00:00Z
My first airbnb-experience and it was great! Mimi was a great host, i enjoyed my stay and the location, connection to the city was good. the appartment was very clean. I would love to visit her place again :)
Norma
2016-09-25T00:00:00Z
It's really cool place! Also thanks a lot for Mimi for her hospitality!!! It was my first time in USA but partly as for her I so enjoyed that time!!! And I felt myself as in "my cup of tea"
Zhibek
2016-09-12T00:00:00Z
Me and my friend Luigi spent a great time in Mimi's flat. The room is tiny but perfectly clean and the house is also kept in great conditions, really close to the Subway that goes everywhere. Mimi has been always available and helpful. Recommend 100%
Salvo
2017-03-23T00:00:00Z
Down the street from the best coffeehouse in Bushwick (Small Skips) populated by locals and serving the best espresso/latte possible. This is a nice room if you're on a budget it has a large closet and clean Kit/bath. Mimi is an attentive host.
Guy
2017-02-28T00:00:00Z
She is a kind host and the room is very clean!
Taito
2016-09-15T00:00:00Z
I really enjoyed staying at Mimi's place. The room is quaint, with only the essentials, and the rest of her apartment is lovely! The place is two minutes away from the subway station (as well as a 24hr Dunkin' Donuts) with easy access to Manhattan. I was only staying for the weekend so I didn't have any large luggage with me, but it might help you to know the apartment is on the first floor. As a host, Mimi was always very responsive and helpful. The room is a steal at this price! 10/10 would recommend.
Phoebe
2017-03-27T00:00:00Z
Huonetyyppi
Yksityinen huone
---
Majoituspaikan tyyppi
Talo
---
Majoittujien määrä
2
---
Makuuhuoneet
Brooklyn , New York, Yhdysvallat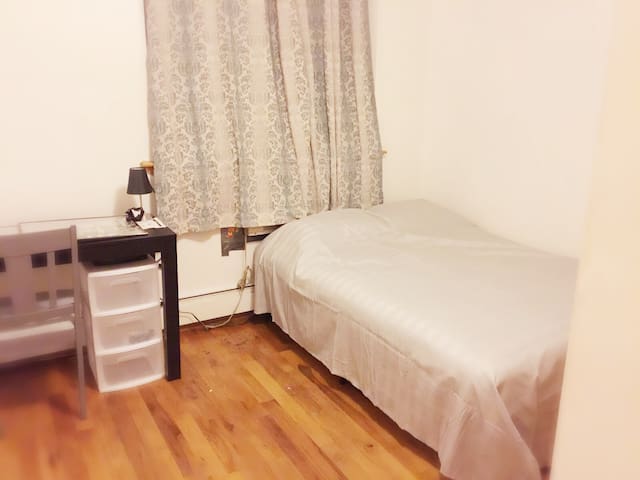 Ελάτε να μείνετε σε ένα όμορφο, ήσυχο ιδιωτικό δωμάτιο μας μόλις 6 λεπτά με τα πόδια από το JFK. Μόλις 1 τετράγωνο μακριά από το υπέροχο Springfield Park. Γιατί να πληρώσει $ 150 + μια νύχτα σε ένα ξενοδοχείο αεροδρομίου, όταν μπορείτε να νοικιάσετε ένα καθαρό, φωτεινό υπνοδωμάτιο για πολύ λιγότερο; Αυτό το δωμάτιο στον πάνω όροφο είναι ηλιόλουστη, ευρύχωρα και καθαρά. Αυτό το πρόσφατα ανακαινισμένο χώρο έχει τη δική της εισόδου χωρίς κλειδί του. Δεν χρειάζεται να ανησυχείτε για να χάσει τα κλειδιά ή ψάξιμο με τα κλειδιά για να πάρει το! Αυτό το ήσυχο χώρο είναι ιδανικό για μια στάση αεροδρόμιο αεροδρόμιο JFK.
V místnosti je umístěn do jedné ze schodů. Přístup do horních místností jsou k dispozici prostřednictvím postranního vchodu. Oba Boční vchod a vaše ložnice mají bezklíčový vstup. Není třeba se obávat ztráty klíčů nebo zápolil s klávesami se dostat do! V patře apartmán má společnou koupelnu a další Airbnb pokoj pro hosty na druhé straně chodby. Váš patře pokoj je slunný, prostorný a čistý. Váš pokoj je vybaven čalouněného manželská postel s ložním prádlem, televize, stůl a židle, střevícem židle, dvě v noci stánky s lampami, a mini ledničkou a mikrovlnnou troubou.
Jedná se o tiché, klidné okolí nachází ve městě Springfield Gardens, Queens, NY. 1 blok od Springfield Park - vysoce hodnocené 23 akrů park s jezerem. To je populární park, který je krásné po celý rok. 10 minut chůze do okolních restaurací a jídelen, včetně jamajské blbec Truck, motýli II čínské restaurace, McDonalds, Pepka námořníka, Dunkin koblihy, metro, a poživatelné ujednání. Máme také restaurace s nabídkou, které přinesou. Springfield Gardens je také opraven četné autobusy, dodávky, dojíždějící železniční vlaky, a samozřejmě Uber.
Excelente opção para quem deseja hospedagem próximo ao aeroporto.. Muito confortável, organizado e limpo...
Ellison
2017-04-02T00:00:00Z
Great place
Alexander
2017-03-31T00:00:00Z
Deloris is lovely and the room was great! I had a nice shower in the clean bathroom and a great sleep after flying for too many hours! The surroundings are nice and there's a park round the corner that I strolled through during the day. I would totally recommend you to stay with Deloris!
Weiliang
2017-04-10T00:00:00Z
If was a great place. Very calm and neat place. Would visit again.
Pallab
2017-04-06T00:00:00Z
I will recommend this place for anybody any day, especially those who are passing through JFK airport. It is very close to the airport and the cost is very much affordable.
Greg
2017-03-29T00:00:00Z
This place was amazing. The space was just as advertised and beautiful. The host was great and attentive. I'll stay here every layover at JFK in the future.
Danuel
2017-04-03T00:00:00Z
The room was nice and clean, just like the pictures. Bathroom is shared and clean. Deloris was very kind and thorough at check in. Her daughter and co-host, Jacqueline, was great with communication. We would definitely stay here again!
Katelyn
2017-04-08T00:00:00Z
Huonetyyppi
Yksityinen huone
---
Majoituspaikan tyyppi
Talo
---
Majoittujien määrä
2
---
Makuuhuoneet
Queens, New York, Yhdysvallat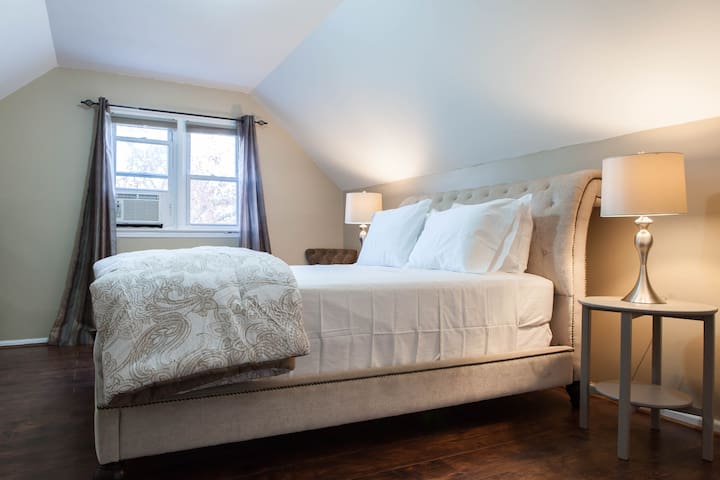 Olemme lähellä Kennedyn lentokentälle, 3 päivittäistavarat (Walmart), 2 Pankit, 1 Post Office. Kennedyn lentokentälle on 10 minuutin ajomatkan (kustannus $$ 16-22). Julkinen liikenne taloon kestää 1 hour- Q111 Rosedale Bus (4min kävellä talon), LIRR Rosedale (20 min kävelymatkan päässä talon). Jotta Manhattan- Q111 Bus E juna tai LIRR Penn Station tai x63 ilmaista linja. Lisäksi olemme 10 minuutin ajomatkan Green Acres Mall, Walmart, Home Depot, Olive Garden, Apple Bees jne On työpöytä saatavilla ja joogamatto destress.
Olemme kadun leikkikentän / koulu. Olemme 5 minuutin kävelymatkan päässä Brookville Park. Vuonna 10 minuutin kävelymatka - siellä on Rosedale Queens Library, posti, Walgreens, Jamaika Ruoka Ota, pesula, puhdistusaineet, paikallinen baari pubi, paikalliset ravintolat ja ruokakauppaan. Vuonna 20 minuutin kävelymatka on Rosedale LIRR Station, joka voi viedä sinut suoraan Manhattanille 25 minuutissa. Vuonna 30 minuutin kävelymatkan on Green Acres Mall Centerin pääsy Walmart, Target, Home Depot, Best Buy, Macys, TGIF, Arbys, Olive Garden, Red Lobster jne Jos ottaa auton / uber / ohjaamo kaikki näistä paikoista ovat 5 minuutin ajomatkan. JFK on 10 minuutin ajomatka.
Very welcoming and nice host. Christine welcomed me lovely even though I came quite late. Location was perfect for catching my flight early in the morning.
Verena
2017-03-09T00:00:00Z
I had a pleasant stay at Christine's. She prepared my room nicely and offered me some towels, candys and water. Although I arrived very late, she was still up, waiting for me. I can really recommend her room. Thanks for everything!
Nina
2017-02-07T00:00:00Z
Very accommodating
Laura
2016-12-18T00:00:00Z
I had a great stay at this place. Everything worked out really well and it is a very good place to stay if you want to stay close to the airport. My hosts are so friendly people and they helped me with everything and made me feel like home. Thank you so much!
Emma
2017-03-04T00:00:00Z
The best place for the price. Very cooperative and friendly family. I give 5 stars to this not just because of place but because of their attitude as well. Super fast WiFi, neat and clean washroom. You feel like you are in your home. Everything is well organized
Amjid
2017-02-16T00:00:00Z
Very nice and friendly people willing to help. Made my check in very easy even after a spot of trouble at the airport
Emma
2017-02-12T00:00:00Z
The host is pretty nice! But the old house failed to block down external noices for me, such as people's voice and mysterious metal clash. It took me one hour or so to get sleep, but still I slept to morning because I was too tired to stay awake for those sounds.
Ci
2017-03-24T00:00:00Z
Warm place and warm hosts :O)
思嫻
2017-02-01T00:00:00Z
Huonetyyppi
Yksityinen huone
---
Majoituspaikan tyyppi
Talo
---
Majoittujien määrä
1
---
Makuuhuoneet
Queens, New York, Yhdysvallat
Bedroom with private bathroom in large house near all amenities and buses. 15min from NYC. Bus stop in front of the house 5 min from Englewood center with all restaurants boutiques and cafes. Quiet area We are very friendly
Relaxing and beautiful bedroom. Closet Mirror Dresser Tv Parking available
Quiet Bus in front of the house Great restaurant Boutiques and café Malls are in 20 min by bus ( bus in front of the house ) Englewood is a town located 20 min away from NYC Very Peaceful
Great as alway. The one thing that truly impressed me was I had recommended putting a TV in the bedroom, not just in the den. Well, upon my arrival there was a nice flat screen sitting on the dresser. That's how not to ever lose a guest!
Barry
2016-06-30T00:00:00Z
The home is beautiful and the accommodations were better than some hotels. The location is very good for trips to New York.
victoria
2016-12-27T00:00:00Z
Super acceuil. Tres belle prestation.Merci à tous deux.
Inge
2017-01-30T00:00:00Z
Awesum place 2 stay. Wil definitely b back!
Tertia
2016-10-03T00:00:00Z
Laura and Romains home was lovely and just as described. They have thought of everything. I was quite busy during my stay, but they made sure to check in with me regularly to make sure I was I satisfied with everything. I would highly recommend staying with them if you're in the area!
JJ and shelly
2016-03-25T00:00:00Z
I find that a car is necessary for me, because my operas end after the last buses. But there is a bis stop right next to the house. The street is quiet. A safe place for my car and me. Laura makes the room and bath I had, just perfect for me. Clean, and comfortable, and this time I needed a work table, and it appeared immediately. I want for nothing. I am so pleased I found this place. AND it only takes me 20 minutes or less from my parking space in NYC to here, after the operas. They have a dog, the cutest little well-behaved dog. I was pleased she finally was brave enough to to visit me when I was working this morning. What can I say? You can't go wrong with this place. I just say again. I needed my car. You may not.
Leslie
2017-03-24T00:00:00Z
Laura's place was great! The house is just as the photos show. She is a great hostess as well. The house is just a mile from Englewood Center and there are a log of great food choices and more. My only suggestion would be to put a TV in the bedroom even though the one in the basement is just fine, it's nice to be able to watch TV in bed and unwind.
Barry
2016-06-24T00:00:00Z
The host canceled this reservation 14 days before arrival. This is an automated posting.
Amy
2017-01-23T00:00:00Z
Huonetyyppi
Yksityinen huone
---
Majoituspaikan tyyppi
Talo
---
Majoittujien määrä
2
---
Makuuhuoneet
Englewood, New Jersey, Yhdysvallat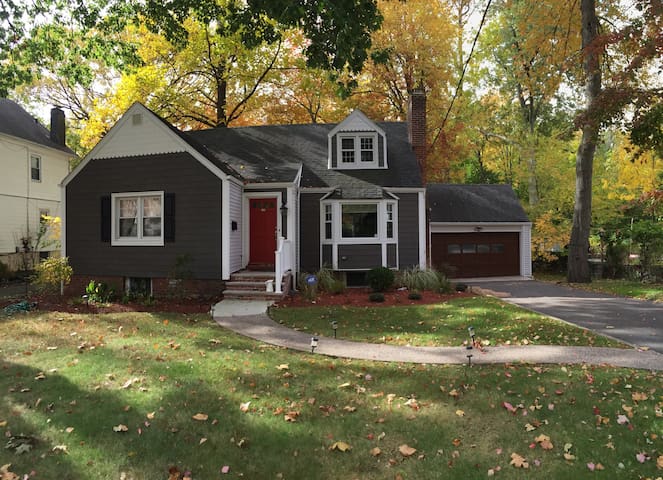 أنا أعيش في حي جدا جدا. ويبعد 5 دقائق عن مطار كينيدي. بيتي لديها كاميرات مراقبة مدخل خاص ونظيف جدا. ونحن نقدم الآن مياه مجانية والقهوة والشاي والشوكولا الساخنة.
لقد عملنا بجد لجعل مكاننا مريحة للغاية. لقد سافر في جميع أنحاء العالم، وتعرف ما جعل إقامتك مريحة. تقع الغرف في الطابق السفلي لدينا النهائي، وهناك حوالي 10 خطوات. إذا أمتعتك ثقيلة لدينا على وصول الباب الخلفي لمساعدتك في أمتعتك
حينا قريب جدا من مطار جون كنيدي. كان هو عدم منطقة الحظر الجوي حتى لم تشاهد أو تسمع الطائرات. حينا هو تماما مع الكثير من المطاعم المحلية والمتاجر، ومخازن الأدوية.
I had a wonderful experience with Donna and her sister. They were very quick to respond to my request, and greeted me so warmly. I felt like k was with family. They even graciously arranged for me to leave my vehicle at their residence for the duration of my trip. I will definitely stay with them EVERY time I fly from JFK. They're only three minutes away from the airport. I'm so grateful for their hospitality and care.
Vincent
2016-02-25T00:00:00Z
Good service.
Danny
2016-04-23T00:00:00Z
Dona welcomed us warmly. We stayed just a night, but we could spent a nice time there. We'd like to visit again! Appreciated.
Shunsuke
2016-05-21T00:00:00Z
We stayed the last 2 nights of our USA trip with Dona & Sandi (who were very hospitable) before flying out of JFK. The Q3 bus from the end of the street takes about 15 minutes to the airport. There are also a 24-hour grocery and excellent (and cheap) Jamaican restaurant nearby. The neighbourhood is safe, quiet, and residential. The only potential drawbacks are: (1) the distance to/from Manhattan (but a cheap $2.75 ride by E train + Q111 bus) (2) the air-conditioner is a bit noisy (though appreciated on hot summer nights) A contender for best budget accommodation in NYC!
Sarah
2016-06-24T00:00:00Z
Very convenient place for an airport stop over. The room and bathroom were clean and cosy and only 5-10mins from JFK. It was ideal!
Rachel
2017-03-10T00:00:00Z
Actually I couldn't find any better people than Dona and Sandi, they really was great and very helpful about all... It was my first time in New York and thanks to then I had a great time on there.
Guilherme
2016-04-09T00:00:00Z
Donna's welcome was a warm hug ! She and her friend helped us to reach our goals in Manhattan. They are very friendly and kind. The room was very clean with water, cofee and free internet that worked perfectly. We felt like home ! Thank you Donna !
Giovanni
2016-02-20T00:00:00Z
It was a really short stay and we didn't have the opportunity to meet Dona but she was very responsive to our questions and gave us a lot of advice such as how to get to her house from the airport and good places where we could eat. The room and bathroom were clean. Very good experience!
Stéphane
2016-08-05T00:00:00Z
Huonetyyppi
Yksityinen huone
---
Majoituspaikan tyyppi
Talo
---
Majoittujien määrä
2
---
Makuuhuoneet
Queens, New York, Yhdysvallat
Ampli i còmode apartament d'1 dormitori al soterrani d'una casa de 100 anys d'antiguitat totalment renovat a Staten Island, 3 parades de metro del ferri. La casa es troba enmig d'una enorme i salvatge jardí, 2 quadres del port de Nova York.
Aquest espai és un apartament d'habitació del soterrani un, per a un màxim de 4 persones, amb la seva pròpia entrada al costat de la casa. La cuina té una nevera, una pica, un forn torradora, un microones (afegit recentment, foto no actualitzada), una cafetera italiana (cafetera) i una placa elèctrica, però sense forn o estufa. Tota la casa ha estat renovat des de zero i té calefacció i aïllament eficient. L'espai és fresc a l'estiu (sense A / C és necessari en absolut) i molt còmode a l'hivern a causa de la calefacció per terra radiant. Hi ha un aparcament gratuït al carrer i sempre espai disponible. Aquest és un carreró sense sortida tranquil·la.
El meu barri és tranquil, amb una barreja de cases recent i el segle d'edat (com la meva) i arbres alts, i només un parell de quadres de la costa est del nord que donen al port de Nova York. Des d'allà es pot veure Brooklyn, Manhattan i Nova Jersey, així com el pont Verrazano tot el trànsit de vaixells al port. A poca distància es troben supermercats, botigues de delicatessen, bugaderies, farmàcies, un xinesa per portar, un lloc d'hamburgueses i més.
Arrivés tard, Aurélie nous a gentiment offert de quoi nous restaurer car les magasins étaient fermés!! Le logement nous a beaucoup plu, simple, joli et frais compte tenu de la chaleur qu'il faisait à ce moment-là. Le quartier résidentiel est très sécurisant et l'accès à Manhattan par les transports en commun très facile.
sylviane
2016-07-19T00:00:00Z
Logement agréable pour profiter de NY à petit prix. Hôte très sympathique et très serviable. Si on peut retourner dans le coin, ce sera notre premier choix !
Jean-François
2016-08-07T00:00:00Z
Gentillesse, bonne communication
Guillaume
2015-07-19T00:00:00Z
A first-time Airbnb user here, but Aurelie was especially very helpful. She wasn't in town the entire time we were here, but we still felt her presence. Her two friends were staying at her house and they were also very helpful to us. We got lost in NYC coming from the airport on our first day and they came quickly to pick us up and drive us back to Staten Island - which meant a lot. I know that doesn't always happen, so we're very grateful for that because being lost in NYC was a scary and frustrating experience. The place was stunning and it provided a comfortable "home" to come to after our long busy days in NYC. There were some squirrels - which delighted my girlfriend as she has never seen squirrels before. My girlfriend came all the way from Europe and the power adapter she brought didn't work, but it turned out that there was an Europe power adapter in the place which was very helpful. We didn't have a car, but there are plenty of nearby stores to walk to for grocery shopping and take out food. Aurelie had a House Manual and a bunch of brochures that provided helpful information for where to go in Staten Island and NYC. Especially with the Metro/Ferry schedules. We couldn't believe how close the metro station was! So the trips to/from NYC were surprisingly easy and worry-free! The walls were a bit thin so there were noises coming from upstairs, but it wasn't that much of an issue. We will definitely recommend this place to anyone who is thinking about visiting NYC. It has a perfect location and it is comfortable and we always felt welcomed. We will definitely love to come back the next time we visit NYC :) Thank you, Aurelie!
Janelle
2016-01-06T00:00:00Z
Quartier plutôt sympathique,bien desservi mais assez éloigné de Manhattan.Pour ceux et celles qui aiment se sentir à la campagne tout en étant à la ville et profiter du calme après une journée pleine de (URL HIDDEN) faut compter 1 à 1h30 de trajet pour relier Manhattan centre. Notre hôtesse Aurélie nous a fourni de nombreux renseignements pratiques dans une ambiance sympathique.Nous avons passé un excellent séjour et la gentillesse d'Aurélie y a contribué. Adresse à recommander.
Serge
2016-07-11T00:00:00Z
Very good place and the host is very helpful
Kowshik
2017-01-16T00:00:00Z
Quartier très calme situé à quelques rues de la station de métro Clifton par laquelle on arrive en 3 station au ferry pour Manhattan. Appartement tres grand pour 3 personnes
Jérôme
2016-09-02T00:00:00Z
Bon séjour passé chez Aurélie! L'appartement est conforme aux photos. Il est bien équipé et nous avons apprécié la multiprise française!! Le trajet est effectivement long pour rejoindre Manhattan mais agréable avec le ferry donnant vue sur la Statue de la Liberté et la vue sur Manhattan.
Morgane
2015-10-04T00:00:00Z
Huonetyyppi
Koko talo/asunto
---
Majoituspaikan tyyppi
Talo
---
Majoittujien määrä
4
---
Makuuhuoneet
Staten Island, New York, Yhdysvallat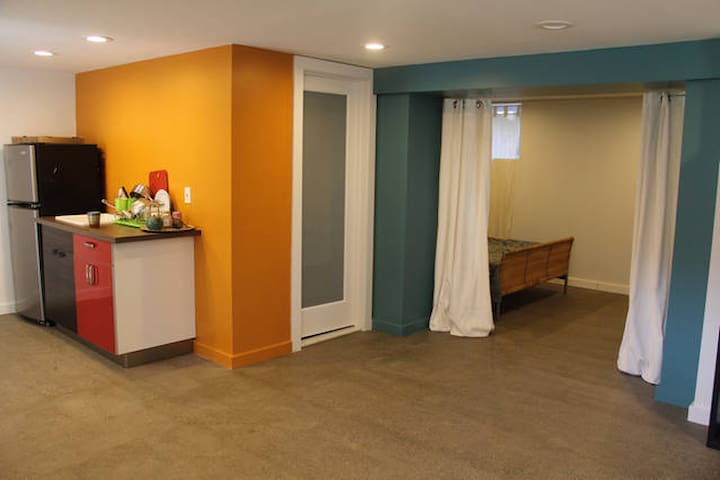 Brownstone bor på Upper Upper East (URL SKJULTE) Spanish Harlem !! Nyd ægte New York lever i en unik og QUIET "ø" som omgiver. Ejeren besat velplejet hjem er blevet gut renoveret for at afsløre en udpræget urban kant. Den rummelige 900 sqft (90smt), fuld sal Lejligheden er sol fyldt med gulv til loft vægge af vinduer. Accessorized med 5 stjernede funktioner som en alle marmor bad, GIANT badekar, bidet, opvaskemaskine, vaskemaskine, stor skærm TV, DVD-afspiller, og wifi. Overdimensionerede soveværelse og stue med tre store vinduer. Fuldt møbleret. Vidste du, at der kun er 500 brownstones i New York? To korte blokke til de vigtigste metro linje, som løber helt nord og syd fulde længde af byen på den østlige side. 10 minutter til midtown. Kvarteret er tre blokke fra Central Park. Og Museum Mile, hvor du vil finde en hel strækning af New Yorks berømte museer; Met, Guggenheim, Whitney og mange flere. Neighborhood ydelser spænder fra supermarkeder, deli, søde restauranter. En kort gåtur til en perlerække af restauranter og saloner byder inexepensive billetpris fra køkkener rundt om i verden. Venligst ingen henvendelser uden foto, profil og kontakt info verificeret. Vi vil ikke reagere og automatisk falde. Da vores plads er for én person eller et par, giver vi et sæt nøgler. Tak
El departamento cumplia con todas lo necesario y mucho mas para sentirse muy comodo, es realmente hermoso, es tal cual se ve en las fotos. La ubicacion es excelente para moverse por la ciudad ya que el subte esta a dos cuadras, solo que por la noche tarde uno puede llegar a sentirse no muy seguro. De todas formas no hemos tenido inconvenientes. El departamento de Amy es muy recomendable
Marcela
2016-09-17T00:00:00Z
Our experience at this apartment was just fantastic and we would recommend it to anyone without hesitation. Amy was wonderful to deal with at all stages of the process. All of our initial enquiries were answered promptly and in a super friendly manner, and when we arrived we were warmly welcomed by Amy's brother Steven. The apartment was great: exactly how it is portrayed in the photos, and all of our questions were answered in a timely fashion. The neighbourhood is authentic and friendly, and we enjoyed travelling via the subway which was really close. I can't speak highly enough of our experience and we would return in a heartbeat.
Belle
2015-08-02T00:00:00Z
Our stay at Amy's place was terrific! The apartment itself is so charming and located quite close to the subway, Central Park, and great shopping and museums. Amy was so great to work with and even accommodated our very early arrival our first day, which was greatly appreciated. We found the apartment to be the perfect retreat after a busy day taking in the sights of NYC. It felt safe, quiet, and so comfortable with everything we needed for it to feel like home while away. We highly recommend Amy's place!
Lisa
2016-12-17T00:00:00Z
Thanks to Amy and Steven for a great stay in NYC. Both are great hosts and do everything to let us have an unforgetable stay. The apartement is cozy, clean, quiet, well equiped. We felt like home and highly recommend to everybody. We would book it again when we come back to NYC. Thanks again
Barbara
2015-05-12T00:00:00Z
Amy and her brother made our stay at their beautiful, spacious and spotlessly clean apartment an outstanding experience!
Paul H. B.
2016-10-28T00:00:00Z
Amy is a great host. We were bumped off our flights and arrived very late but she was very flexible with the chek-in. Her brother and niece live in the same building so there's pretty much always someone at hand. Flat is very nice, ideally located 3 blocks from the gorgeous Central Park, and 300m from the subway #6 which takes you anywhere. She knows NY inside out so her recommendations were perfect. She's also very responsive, at anytime, which is really appreciated. Finally, she listened to the tracks I sent her and liked them, which makes her a very cool and respectable lady :). We highly recommend booking her flat for your trip to NY.
eric
2014-02-18T00:00:00Z
Je recommande vivement l'appartement d'Amy ! Il est situé à deux pas du métro, proche de Central Park, il ne faut pas beaucoup de temps pour rejoindre le centre de Manhattan. L'appartement en lui même est super, bien décoré, lit confortable, très grande baignoire (très profonde), très propre, il y a même des adaptateurs pour les prises. Amy est vraiment très gentille et attentionnée. Le jour de notre arrivée à New York nous sommes arrivés très tard (et en retard), Amy nous attendait, elle n'était pas du tout fâchée au contraire elle était inquiète pour nous. Elle a ensuite pris des nouvelles de nous tout les jours tout en nous donnant des conseils sur sa ville. Nous avons vraiment apprécier notre séjour dans l'appartement d'Amy ! Nous y retourneront à chaque fois que nous iront à New York. N'hésitez pas à louer cet appartement vous ne serez pas déçu et vous rencontrerez une personne géniale !
Lorene
2014-05-09T00:00:00Z
Amy and Steven were incredibly welcome and responsive. They have thought of every little detail to make things go smoothly-from booking right to living in this incredibly well stocked apartment. The apartment is big, comfortable and so relaxing in a great neighborhood. We hope to be back at the end of the summer!
Mimi
2014-06-23T00:00:00Z
Huonetyyppi
Koko talo/asunto
---
Majoituspaikan tyyppi
Talo
---
Majoittujien määrä
2
---
Makuuhuoneet
New York, New York, Yhdysvallat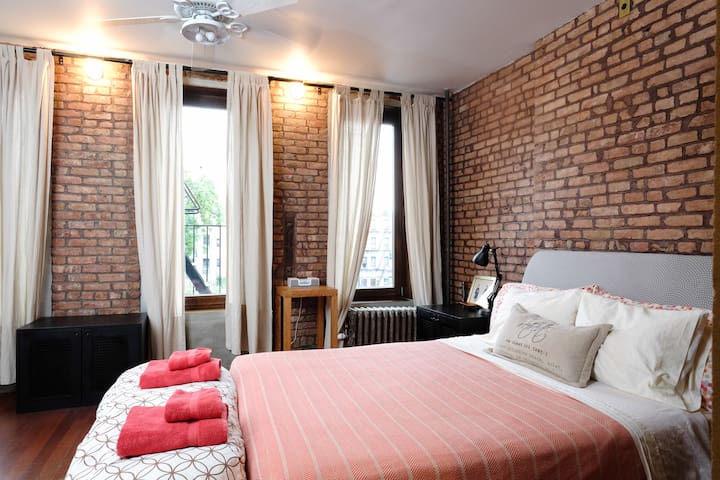 This private Br w/ bath just down the hall is ideal for 3-6 guests. Clean & comfortable. 100% great time!
Just a block away from the 6 train (email hidden). 3rd Ave. and a few more blocks from the 4,5, 2 train is this amazing 3 bedroom 2 bath duplex in a brown stone. 3 stops and 20 Minutes away from Grand Central. 4 stops to Union Square/ NYU. Any destination in the city is within your reach. The house sits on a quiet, tree-lined block, and filled with an abundance of natural light. The house was recently renovated, and is always clean, and peaceful! The 1st floor of the apartment has the kitchen where daily breakfast is served. Living room has a large couch and arm chair, 60" a desk with computer for your use upon request. Guest room comes with two NEW queen sized beds and another twin trundle, full dresser and vanity, nightstand, small couch and air conditioner! This room is just down the hall from the bathroom which will be stocked with fresh towels, and toiletries are available on request. The 2nd floor has the washer-dryer, along with our room
The apartment is just a block away from the train, with plenty of different restaurants (even Thai & Sushi are available for delivery), and shops. I would highly recommend checking out the clock tower by the water and the new Art Gallery which opened up down the block. The police station on the corner is across from several local delis and convenience stores.
The host canceled this reservation 3 days before arrival. This is an automated posting.
Jürgen
2015-07-16T00:00:00Z
Chip & Host were very welcoming and flexible to make me and my friends feel like we were at home. The brown stone home was very clean and exactly like the pictures in profile. Very grate location and stay. I Will stay there every time I visit NYC. Thanks Chip & for the morning muffins they were awesome!!!!!!! Celeste & Friends
Celeste
2016-05-02T00:00:00Z
Chip and Alex's were great hosts! I stayed with 4 other friends for a fall break trip and we have one of the best times staying here.
Yutaka
2016-10-18T00:00:00Z
The apartment is very conveniently located.
Kyle
2016-12-10T00:00:00Z
chip m'a tres bien reçu, la maison est très sympa et bien placée ,je recommande cette adresse . vincent
Vincent
2016-05-13T00:00:00Z
The apartment was very comfortable. Chip welcomed us and was a great host and then I was able to meet Alexes on the morning that I was leaving. Their dog was lovely also! Breakfast as mentioned in the listing is delicious!
Katie
2015-08-02T00:00:00Z
This place was awesome! The room was everything I needed and more, and I loved the exposed brick throughout the building. Alexes and his roommates were wonderful. The were all so nice, helping me find my way around, and being there for a good chat at the end of the day. I had an absolute blast during my stay. It was my first time in NYC so I was unsure about the area before I arrived, but I felt totally safe. There is a subway stop just around the corner, and I was able to get everywhere I needed to go with no trouble. I loved staying in The Bronx! I would absolutely stay here again. Thanks so much to Alexes and the gang for making my first airbnb experience one I will always cherish.
Jesse
2015-03-12T00:00:00Z
We had an amazing time staying with them. Breakfast every morning and help with what to see with directions. Plus so much fun with just the conversations. Loved meeting other families from around the world too. Couldn't have imagined a better stay. We loved them!!! They were amazing at making our daughter's birthday trip so fablous!!!! Rooms were clean and nice. Loved the New York experience.
Katie
2015-10-15T00:00:00Z
Huonetyyppi
Yksityinen huone
---
Majoituspaikan tyyppi
Talo
---
Majoittujien määrä
6
---
Makuuhuoneet
Bronx, New York, Yhdysvallat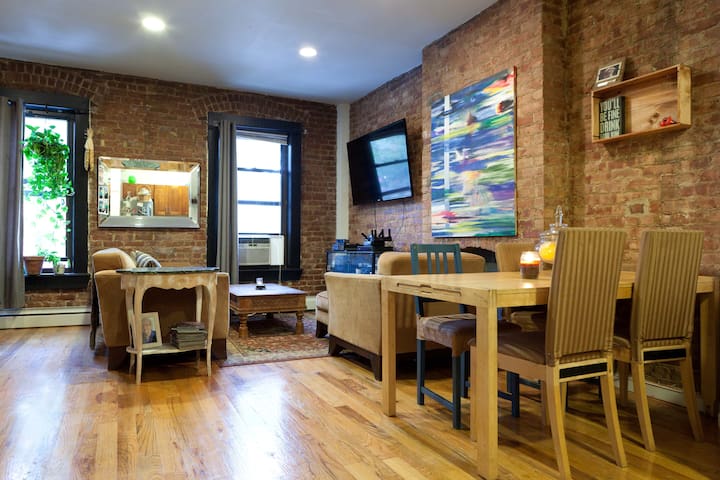 30 až 60 minut na Manhattanu v závislosti na tom, kde budete! Prostorný velká postel, vždy čerstvé a čisté Plně vybavenou kuchyň, káva a čaj zdarma Snadné Kódový zámek se zúčastnit! Vysokorychlostní internet 5 Star Rating žádné poplatky Zamilujete si svůj pobyt !!
No Záloha Žádné poplatky za úklid Žádné další poplatky Great Location: 30 až 60 minut na Manhattanu v závislosti na tom, kde budete! Bloky od LGA letiště (chůze), krátký autobusem nebo taxíkem na letiště JFK, krátké veřejné dopravy cestu do New Yorku. Půjčovna automobilů a bezplatné parkování v blízkosti Výborné hodnocení! O prostoru: Budete mít svůj vlastní soukromý klíč do svého pokoje, stejně jako ke dveřím. V místnosti, kuchyň a toaleta jsou vždy udržovány v čistotě a organizovaný. Hosté mají neomezený přístup ke vařit a používat zařízení, jakož i vysokorychlostní připojení k internetu :) Letiště a město jsou pohodlně přístupné krátkou jízdu autem nebo městskou hromadnou dopravou.
Okolí je velmi pohodlné a bezpečné i pozdě v noci. Tam je hodně co do činění s velkým množstvím etnických restaurací. Okolí je bezpečný a přátelský. Je velmi snadné se dostat kolem, veřejnou dopravou velmi blízko. Dům je také v těsné blízkosti nákupního centra se všemi hlavními obchody, Flushing Meadows Park, Queens Center Mall, Letiště, pošta, příjemné restaurace, rychlé občerstvení, prádelna mat, 24/7 supermarket, a mnohem více!
Our stay with Angela was short but so welcome and comfortable. The location being so close to LGA was extremely convenient, and having individual locks to access our room made us feel safe and at home. The bed was extremely comfortable and we were very impressed with the B&B feel of the whole apartment! Angela came up stairs to meet us in person and helped us find a late-night place to eat nearby. A lovely host and apartment, we would gladly stay there again.
Mary
2016-03-24T00:00:00Z
I ended up not staying over cuz I had some appointment ran long had to go to Manhattan after... so stayed in Manhattan with friends. But the host was very helpful!
Monica
2016-10-10T00:00:00Z
Angela was so helpful and responded to my messages very quickly! The room was comfortable and we had a great stay! We loved that it is a 10 min walk to La Guardia airport and close to the buses! We would definitely stay again!
Stephanie
2016-06-30T00:00:00Z
easy to arrive easy to find. Good location for LGA flight by 24 hours bus. . Though i did not see Angela. But Selfcheck in is very convienence. Angela is very warmhearted for my every question, i should say thanks. If you want to go to Manhatan from here, you just need to take bus and subway in 1 hour, good price. IF you want to go to Laguardia airport, you just need to take buy in 10 minutes, good location. Your will share bath with other tow guest room. I will recomend to the one who take flight from LGA!
旸
2016-07-12T00:00:00Z
Angela and Ricardo have turned a little old house in Queens into a well-oiled guesthouse machine! From what I could tell, they have three guest rooms that they rent out in a separate part of the house from where they live. The only slightly drawback was that one bathroom was shared by all three rooms. An extra toilet somewhere would make the place perfect. As it is, communication beforehand and during my stay was excellent, and the place, although simple, had lots of little extra touches like a complimentary toothbrush in case guests forget their own, umbrellas by the door for guests to use, a stocked kitchen for guests, etc. The place is perhaps a bit out of the way for sightseeing in Manhattan (as a transfer is needed in most cases), but for Laguardia Airport it could not be more perfect. I walked there in 10-15 mins the morning I checked out. All in all, I would happily stay and Angela and Ricardo's again should I ever need to transit through Laguardia.
Justin
2016-08-27T00:00:00Z
Chambre et sanitaire propres. Lit confortable malgré une très courte nuit pour nous. Je conseille.
Sabrina
2016-08-10T00:00:00Z
It was in and out for us as we had a flight to catch. Even though we didn't meet Angela she was always available on text . She had candies and toothbrushes in the room for us. Everything was clean. Really liked the experience. I would highly recommend the listing for anyone looking for a comfortable and private stay.
Humza
2016-10-18T00:00:00Z
Angela was a great host, she made everything very easy and convenient. My boyfriend and I loved the little treats and toiletries she left in the room too. She even brought us an iron and ironing board when we asked her! The walk from the airport was convenient, it only took about 12-15 minutes. It's also an easy walk to a nearby subway station with easy access to NYC. I would definitely stay here again if I'm in the area.
Erin
2016-12-06T00:00:00Z
Huonetyyppi
Yksityinen huone
---
Majoituspaikan tyyppi
Talo
---
Majoittujien määrä
2
---
Makuuhuoneet
Queens, New York, Yhdysvallat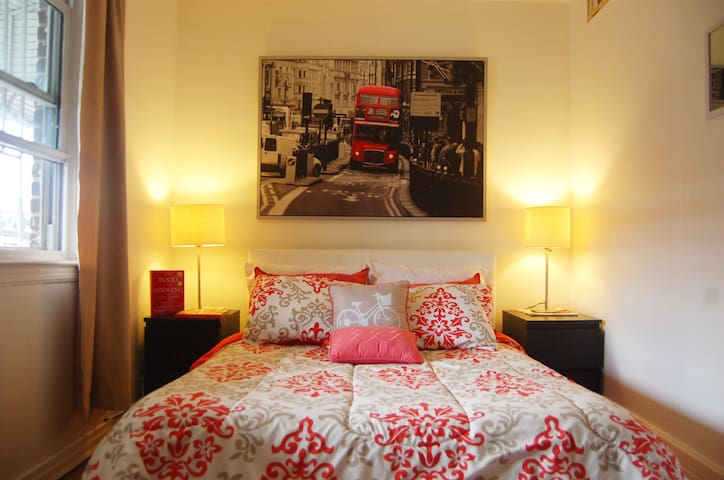 Our house is in a small town of Queens, Near JFK and Subway. Around 35 minutes from JFK by airtrain and subway. 15 minutes from JFK by taxi. * Listing price is for one guest. Extra $10 per night for second guest. Cozy, private room. Share kitchen and bathroom. Offer info of NYC for my visitors. convenient area, near the second biggest park in Queens, Forest Park. Near JFK 9 minute Walking to J train and Z train, 30 mins to Lower Manhattan. Transfer to L train / A train / C train / E train to other area of Manhattan. We always offer any information to our visitors. Help them explore the city access to kitchen Offer info of NYC for my visitors. Hispanic, Chinese and Indian mixed community, near the second biggest park in Queens, Forest Park. Near JFK Walking distance to J train and Z train, 20-30 mins to Lower Manhattan. Transfer to L train / A train / C train to other area of Manhattan. We always any information to our visitors. Help them explore the city
My stay was excellent. Amy was very helpful and the place was always clean. I recommend it.
William
2016-10-15T00:00:00Z
Amy is very nice, she will assist you in her very best making your stay wonderful. She shows us the best way to get around, prepare full breakfast, and even let us rest and arranged us for take-out dinner after we checked-out. Well, she had actually offers much more than anyone can ask for. Will definitely stay again and highly recommend everyone to stay.
Sheryn
2015-10-15T00:00:00Z
Amy was a wonderful host! The house was very clean and quiet! It was a 10 minute walk to the subway going to JFK which was perfect! Amy also made me breakfast in the morning! Amy and her husband were very welcoming and I would definitely recommend staying at their house!!!
Katherine
2015-04-18T00:00:00Z
Amy is a nice and great host. She taught me the basic of NY subway system and I felt welcome. House is great, clean sheet and comfortable bed. Highly recommend
Victor
2016-07-12T00:00:00Z
Amy is hospitable, helpful and responsive. The place is really clean and we have an enjoyable stay.
Elaine
2015-11-16T00:00:00Z
Expectativa atendida! A anfitriã foi super legal conosco. Disponibilizou café da manhã para nós e nos orientou sobre a localização em geral.. Casa muito confortável e limpa. Super indico!!!
Enne
2016-10-22T00:00:00Z
Amy hat in einer stillen, freundlichen Weise gesorgt, dass wir hatten, was wir brauchten um uns wohlzufühlen. Das Zimmer war sauber, und die Nachbarschaft war ruhig. Die Atmosphäre im Haus ist angenehm. Danke Amy! Annette und Fiona
annette
2016-01-16T00:00:00Z
Amy makes you feel very welcome. A great host. Amy even ordered me a car to take me to JFK the next morning.
Geoff
2016-06-23T00:00:00Z
Huonetyyppi
Yksityinen huone
---
Majoituspaikan tyyppi
Talo
---
Majoittujien määrä
2
---
Makuuhuoneet
Woodhaven, New York, Yhdysvallat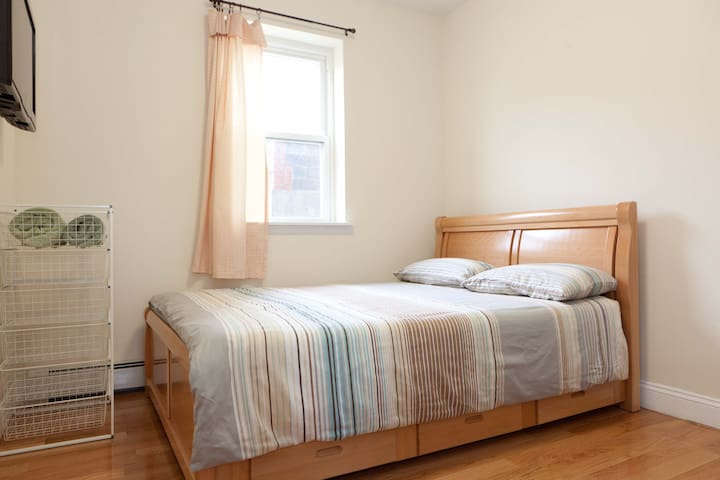 Náš soukromý komfortní pokoje v čistém udržovaném bytě, je pouhých 10 minut, s volným trajektu na Staten Island w / 24/7 služby na Manhattan. Užijte si každodenní trajektové jízd, které vám umožňují neuvěřitelné zblízka výhled na Sochu svobody na Ellis Island a městských panoramat Manhattan, Brooklyn, Staten Island a New Jersey. (Také můžete pít pivo na lodi!) Byt prostor může být sdíleny s dalšími dobrodruhy, kteří chtějí vychutnat tento velký město!
V pokoji je dobrá velikost skříň, v plné velikosti postel, čerstvé prádlo a multi draw prádelník. Plná koupelna s vanou, mýdlo, šampon, vysoušeč vlasů, žehlička. Jídelní prostor má bar výška stolu, vysokorychlostní Wi-Fi připojení k internetu, lednička, plné velikosti sporák, mikrovlnná trouba, kávovar a vybavená kuchyňská linka s hrnce, pánve, talíře, skleničky a další. V bytě je ideální pro malé cestovatele na údržbu. Jsme normálně ven a asi i jen zřídka na předpokladu. Hosté, kteří jsou rádi, pobyt v našem bytě jsou obvykle soběstačné lidi.
Michael a été très serviable avec nous et a tout fait pour nous rendre le séjour le plus agréable possible. Nous sommes arrivés avec 5h de retard et cela n'a posé aucun problème, il nous a gentiment attendu. La chambre était propre et conforme à la description. La salle de bain était propre malgré qu'elle soit partagé avec d'autres personnes.
Kelly
2017-01-01T00:00:00Z
Clean, organized, looks as advertised. Michael is a great host.
Colron
2017-03-16T00:00:00Z
Michael is very flexible and helpful! The place is always clean and is just as good as the description. Although it's further from Manhattan than stated. However, the place is particularly perfect for young travelers. The neighborhood is very quiet as well.
Busisiwe
2016-12-22T00:00:00Z
Michael and Jade are one of the best hosts I've stayed with! They are very accommodating and are willing to help you with anything you need! I would recommend staying here whenever you visit the city.
Alyssa
2016-12-16T00:00:00Z
The hosts were very nice and we're very good about communicating with us before our arrival. We were able to ask questions about traveling to the area and they were very helpful with answering questions. The room was very clean and neat. It would have been great to have our own bathroom, but we did have access to it along with other guests and full kitchen. Overall, it was a pleasant stay.
Camille
2016-12-28T00:00:00Z
The best so far
Alx
2016-12-13T00:00:00Z
Never got to stay there because of the snowstorm but he was very helpful!
Sean
2017-03-15T00:00:00Z
Quiet, neat, and safe--a bundle of excellence packed into one house. Michael's home is near bus stops that will take you to NYC without a problem. Convenience stores are scattered throughout the area and are within walking distance. One of my favorite quirks about the home is that there is a gym located within one of the houses. If you're looking for a warm-hearted stay and great value, come to Michael's place.
Claudia
2017-03-14T00:00:00Z
Huonetyyppi
Yksityinen huone
---
Majoituspaikan tyyppi
Talo
---
Majoittujien määrä
2
---
Makuuhuoneet
Staten Island, New York, Yhdysvallat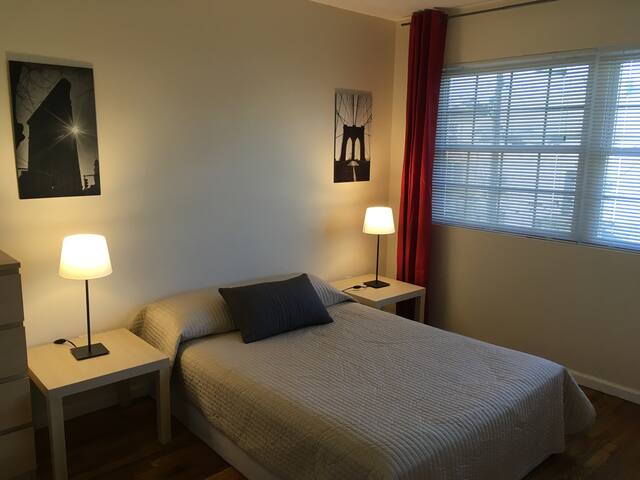 Park Slope is a great place: it's a lively, hip, diverse, family friendly community and considered one of New York City's most desirable neighborhoods. It's a cozy modern apartment in a convenient busy location. The F G and R are only a ½ block away.
Escape into this cozy apartment located on the ground floor of our Brownstone. This apartment is completely private and a great escape from bustling street outside and the perfect place to come back to after a long day of site seeing in the city. This comfortable apartment has all the necessary amenities anyone would need for the perfect stay in NYC. The place is fully furnished and includes high-speed wireless internet, internet TV, full kitchen and a full bath. As you enter the brownstone into the main foyer, you'll see the door to the right which has a sign on it welcoming guests. The other door is the private entrance to our home above; we are a family of four is living upstairs. Upon entering the guest apartment, you walk into the bedroom room/living room area with a comfortable queen size bed. For extra added luxury, all pillows and comforters are down (non-down upon request). The bedroom/ living area has a sleeper sofa which pulls out to accommodate two people for extra sleeping. This bed is surprisingly comfortable. The entire floor of the apartment is divided into two separate areas by French doors, allowing for privacy and two distinct sleeping areas. In the kitchen/sleeping nook/office area which is in the back of the apt, there is a daybed which can be a twin or double sleeper (the daybed is also a perfect nesting spot for children). There is a full bath with clean, lush towels. We provide all towels and bed linens. Other amenities for your convenience are a blow dryer, iron, and small ironing board. There is a desk/office area allowing a quiet space to work if you are in the city on a working vacation. The apartment sleeps 4 and can accommodate up to 6 if necessary (BUT please note not comfortably). If you like to cook you will have a well-equipped kitchen, coffee maker, microwave, blender, and toaster oven. One block up is a grocery store (with plenty of organic options), or Wholefoods and the weekly Farmers Market held on Saturdays, all within walking distance of the apartment.
Park Slope, Brooklyn is considered one of New York City's most desirable neighborhoods. It is a bustling, diverse, family-friendly, safe neighborhood with a real sense of community. It attracts the young and the old. It has much to offer culturally with the Brooklyn Museum, Brooklyn Academy of the Arts, Botanical Gardens, Prospect Park, Greenwood Cemetery. There are ample places for eating and shopping. Other Brooklyn Communities are also enjoyable to visit and easily accessible from Park Slope. Dumbo, Downtown Brooklyn, Carroll Gardens, Boerum Hill, Fort Greene, and Williamsburg are just a few stops away on the train.
We loved the place! We are from the neighborhood and needed a place to transit from before moving abroad. Soooo comfortable and homy. But but those who are not from NY, the apartment is close to some of the best streets in Brooklyn and next to a train station.
Julie
2015-12-24T00:00:00Z
Loved staying at Deirdre's place. I had a last minute request to book and she was most accommodating. Everything was done to make my stay inviting and stress free. She communicated with me often and was always ready to meet my needs.
Rochelle
2016-09-28T00:00:00Z
We were at the apartment for 10 days and had a great stay. The location is convenient being a short walk to the subway station. The Bagel Pub (opposite) and Daisys Diner (around corner) were both great for local meals whilst supermarket, delis and laundromats are within walking distance. The apartment is very clean and well maintained. Our stay made a welcome break from characterless hotel rooms and the owners were very helpful and respected our privacy. Would definitely stay there again and miss Brooklyn already! Dimi and Dean
Dimi
2016-04-24T00:00:00Z
The apartment was clean and plenty of room for my husband, son, and I. The location was very convenient. We enjoyed all the small touches in the apartment like the fans, reading lights, and white noise machine. Great experience!
jaya
2015-06-11T00:00:00Z
Deirdre's place is perfect, simple, cozy and convenient. Great neighborhood with short walks to Park Slope bars, restaurants, shops and friends, and an easy brief Uber to meetings across Manhattan. Way better than any hotel for the business traveler.
David
2015-10-21T00:00:00Z
I have visited NYC a bunch of times but this was my first time renting in Brooklyn. I booked Deirdre's place for 5 days for my parents and I. The apartment is absolutely perfect. Accessibility, safety, location....you get it all. It is literally 1 minute away from the subway (F,G,R lines) and getting into Manhattan (or anywhere in NYC) is a breeze. The neighborhood is peaceful, but abuzz with cafes, restaurants and grocery stores nearby. The apartment itself is clean, well organized, and aesthetically pleasing. The bathroom and kitchen are stocked and Deirdre is easy to reach for assistance. She was also very willing to work around my parents' flight schedule and adjust our check in/check out times. I definitely recommend Deirdre's place to anyone visiting NYC, the process is very smooth and you won't regret it!
Parita
2015-07-30T00:00:00Z
My second time staying at Deirdre's place. Very comfortable and clean place, great location in Brooklyn with restaurants and shops nearby, plus easy access to Manhattan for work! Highly recommended!
Joanne
2017-01-11T00:00:00Z
Very nice stepping back from the chaos of the city into Deirdre's very clean and nicely decorated Brooklyn's apartment. A good location with very practical subway connections to all standard and off the beaten track attractions. Deirdre is a wonderful host. You really notice that she goes the extra mile to ensure you enjoy your stay.
Fedra
2016-08-13T00:00:00Z
Huonetyyppi
Koko talo/asunto
---
Majoituspaikan tyyppi
Talo
---
Majoittujien määrä
4
---
Makuuhuoneet
Brooklyn, New York, Yhdysvallat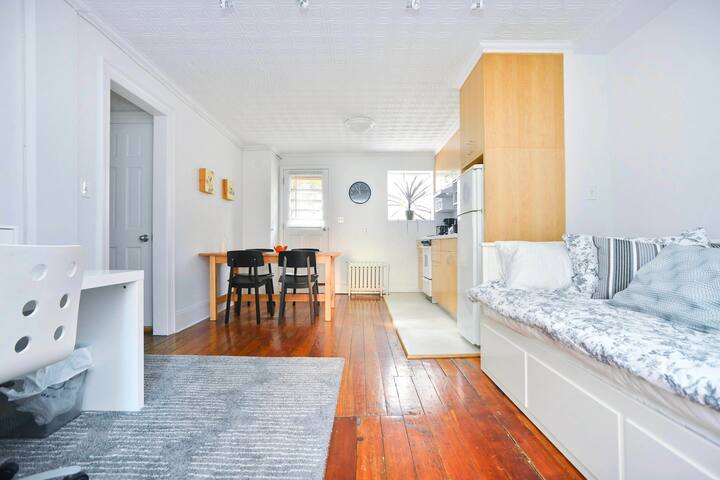 Kätevä, nopea ja helppo pääsy Manhattan Mielenkiintoista, suosittu, SAFE New York NY naapurustossa. Hyvin lähellä metroa ja Manhattan. Tilava huone + puutarha-alue + ylimääräinen eteinen huone bargain kaupat, ravintolat, yllin kyllin Rauhallisempi ja tyyni kuin Manhattan New York Ny Astoria kuningattaret
* Annamme sinulle puhdasta, mukava ja rauhallinen paikka. Tila on luonnollisesti hiljainen yöllä, koska se on yksinäinen osa talon rauhallisella alueella. Illallisella aika (6-8pm) voit kuulla vähän "perhe" melua, mutta pidämme tätä vaimeana (meillä on vain 1 lapsi). tiedustele kautta Airbnb profiiliisi + valokuva ennen varata paikka. * Emme voi isäntä pikkulapsille. Sinulla on oma yksityinen tila koostuu suuresta, mielenkiintoinen huone + kylpyhuone / suihku + oma yksityinen sisäänkäynti + oma eteishallin + oma puutarha / patio. Sinulla on yksityisyyden oma erillinen taso (maanpinnasta / 1. kerros) talon. Tila sisältää pesuallas, työtaso, mikroaaltouuni, leivänpaahdin, vedenkeitin, Wi-Fi tietokoneen tai laitteen, hiustenkuivaaja ja jääkaappi. Tarjoamme myös vuodevaatteet, lakanat, ja olennaiseen (shampoo ja saippua). Ja tarjoamme lautaset, kupit, hopean jne. Voimme majoittaa jopa 3 vierasta. Huomaa, että kaikki 3 vuodetta sijaitsevat samassa huoneessa. Voisit puristaa jopa 5 vierasta osaksi paikka, jos et mielessä tungosta. Yksityinen puutarha-alue on aina saatavilla lounge tai syödä ulkona. Kotimme oli rakennettu myöhään 1939 lopussa art deco aikakauden. Me particulary ihailla amerikkalainen muotoilu tältä ajanjaksolta, joten meillä on joitakin vintage huonekaluja 1930-luvulta asunnossa New York NY Manhattan
Meidän naapurustossa sisällä NYC kutsutaan Astoria. Mielestämme Astoria on piilotettu jalokivi New York NY pääkaupunkiseudulla. Olemme sijaitsee rauhallisessa ja erittäin turvallinen ympäristö. Se on hieno ja mielenkiintoinen naapurustossa ....... Astoria on hyvin lähellä Manhattanin joten se on ihanteellinen paikka, jossa perustaa itse nauttia ja tutkia NYC. Tämä pätee erityisesti talomme, koska olemme niin lähellä suuri metroaseman ja metrolinjan. Astoria tunnetaan "kreikkalainen" yhteisö (ihmisiä Kreikka elää täällä). Alueemme Astoria on elinvoimainen sekoitus kreikkalaisten, italialaisten, "Anarkistit", midsters, oldsters, Brasilian, yuppies, japanilainen, kiinalainen, ja lähes kaikki muutkin maailmassa on edustettuna. Se on hauskaa ja mielenkiintoista miksataan monikulttuurista tunnelmaa. Astoria on ainutlaatuinen pikkukaupungin tunnelma, mutta sijaitsee hyvin lähellä Manhattan. Astoria on täynnä ravintoloita, baareja, klubeja, ja ostokset yllin kyllin. Lähes mitään, mitä haluaisi ostaa löydät sen täältä. Marshalls ja monet muut alennus vähittäiskauppiaat ovat hyvin lähellä talomme. Meidän naapurustossa pidetään yksi "ja tulevina" ja suosittu lähiöissä in NYC .. Usein kuvaavat Astoria kuin itä osana Keski tai itäpuolella Manhattanin itäpuolella. Astoria on paljon haetaan jälkeen naapurustossa. Se on helppo ja hauska kävellä Astoria ja liota monissa eri alakulttuurit ihmisten ryhmien Astoria. Löydät aitoja ja edullisia ravintoloita kirjaimellisesti ympäri maailman. On kahviloita, pubeja, baareja, klubeja ja puistojen yllin kyllin. Se on hauskaa täällä. New York Ny
Location is good but if you want to bring your car, you need to move it everyday since the parking hours are all different on the street. Good experience. Thank you.
Yunjae
2015-07-01T00:00:00Z
First off, I am happy to say that Dennis was extremely accommodating with move-in and check-out times as my situation was a little bit unusual. He allowed me to check-in at 7 am and if I needed to, leave my luggage there to be picked up later on the day of check-out. The space was perfect as I needed an affordable room for an extended period with good access to the subway system in Queens because I came back to New York to work the US Open. The space was MUCH bigger than I expected. It is quite a bit bigger than any hotel room you will find in Manhattan equipped with a full bathroom and plenty of storage space. I lived in New York for 4 years and it was the largest room I have ever had. Commute to Manhattan is probably about 30 min but definitely an easy ride. I was also pleasantly surprised by the amount of culture, diversity and restaurant/bar selection in the Astoria area. I can see it being comparable to Park Slope or Williamsburg in the future. Overall, I had a great experience!
Derik
2011-09-12T00:00:00Z
This was a great location - just one block from the subway. It only took minutes and we were in Manhattan. The apartment had everything we needed and the back patio-garden was a great place for coffee or tea. The neighborhood was very family friendly and we felt safe walking to and from the subway station. Dennis was helpful and courteous and strove to ensure that we had everything we needed.
Doug
2011-10-16T00:00:00Z
The apartment is located conveniently between two subway stations with easy access to Manhattan and Brooklyn. The apartment is clean and comfortable and the host was always helpful and friendly. We enjoyed our perfect stay in New York!
Juho
2012-07-14T00:00:00Z
The room was more shabby that we had expected, and cold. Also, the bathroom was cold. The heating in the room, which we turned on, was very loud, so we did not get much sleep during the night. The host was nice, the information from him was good, he replied fast. Though the service attitude to his guests might be even slightly better. The guest should be prepared for that the family, with a little child, lives above the apartment, and there is therefore some noise in the the apartment. Great place to easily approach the Subway/Manhattan/Airport.
Ivana
2015-12-19T00:00:00Z
Staying at Dennis' place was great. It's a safe neighborhood, incredibly convenient to get to Laguardia, and there are accessible restaurants and shops located nearby. Dennis was very hospitable and kind. He was very friendly to communicate with and quick to respond. We enjoyed our stay!
Heather
2015-09-07T00:00:00Z
Dennis is a really nice host. He helped us with any information we needed. The place is a ideal for exploring the city. Close to a subway station, where the important lines are leaving from. Everything what you need, you can find nearby (restaurants, supermarkets, etc.). The neighbourhood is nice and very safe. The flat itself is clean and ideal for more or less just resting your tired bones after a long and exhausting day in the city. Maybe in our opinion the beds are a little bit quite hard, but in the end for us it´s better than the other way round. We really recommend the apartment.
Peter
2016-04-23T00:00:00Z
We had a great stay with Dennis. The apartment was exactly as described and as in the pictures. Dennis was right there to meet us when we arrived and everything couldn't have gone more smooth. This is a fantastic apartment in a great location, only 1 block from the subway. We were only able to stay one night, but we will definitely consider his place again when we travel to NYC!!
Dustin
2012-10-16T00:00:00Z
Huonetyyppi
Koko talo/asunto
---
Majoituspaikan tyyppi
Talo
---
Majoittujien määrä
5
---
Makuuhuoneet
Queens, New York, Yhdysvallat
An Ideal Space For That "In And Out" Independent Traveler Looking To Do Something More With Their Time Instead Of Waiting Around At The Airport Or If You Simply Want To Explore And Discover What A Great City NYC Has To Offer On A Limited Budget And Time ....
Call a spade a spade. This is a 'No Frills' space is perfect for long layovers, independent travelers and those looking to maintain a "cheap and cheerful" budget that stretches during your NYC stay. The JFK Stopover/Bookworm'd nook is the key Gateway to Brooklyn which offers baggage storage, wireless internet printing capabilities, an reading oasis, providing a safe and compact haven for one stop guests during a brief layover stay. Why bother with the hassle staying in the airport?? With practically an all day layover, why not make the most of your time?? Whether it be a couple of hours to check emails, make phone calls, get some shut eye or make the most of your time by exploring cool Brooklyn neighborhoods and having a safe place to store your luggage. Only a stones throw away from JFK, the one stop work/rest and play space offers wireless Internet connection, wireless printer for ease of printing out boarding passes or important business document, digital TV with Chrome cast capabilities, a comfy twin mattress to get some shut eye, use of kitchen facilities with additional complimentary refreshments. About me: I am a MBA graduate who is pretty much down to earth. I am originally from London, UK and now live full time in NYC. The area offers great high street shopping on Rockaway Avenue and local amenities such as a 24 hour Laundromat, supermarket and take away eateries (KFC, McDonalds and Subway on Rockaway Ave are to mention a few). The area also boasts a wide choice of public transportation subway options with Rockaway Avenue and Broadway Junction stations. This is where the A, C, L J and Z lines meet and it is considered one of the largest subway stations in Brooklyn. The Broadway Junction subway stop is also near the Long Island Rail Road (LIRR) at East New York Station. Bus options are widely available from the B60, B7 B12 and B14 connections. It is accessible to Brooklyn Museum, Botanical Gardens, main Public Library and Prospect Park - ONLY 30 mins into Downtown Manhattan!!!!! A great hidden gem in the Bedford Stuyvesant sub section of Ocean Hill. It is an eclectic neighborhood mix where old meets new. Young urban professionals with a sprinkling of family orientated fun that also offers pockets of stable refined residents, that welcome the burst of energy and diverse changes that the neighborhood brings. ***Partnership with 2020 Cars*** Need a personal driver to collect you at JFK, drop off your luggage so that you can make the use of your layover time. Need to schedule a ride back?? No problem - just provide details of your arrival and I can put you directly in contact with the driver. .. just ask more for details ... This adorable space comes with a shared bathroom and kitchen AND a spacious private retreat outside, which you will find very peaceful and relaxing, terrific for escaping the scorching NY summer heat. Bed linen, towels and kitchen utensils are always provided What I LOVE about Ocean Hill?? It is that undiscovered hidden gem in the Bedford Stuyvesant sub section of Ocean Hill. As Bedstuy neighborhoods florish with more residents and great places to hang out at, the changes are rapid. Ocean Hill has a charm that it is slowly sharing with those fortunate to live here. It is an eclectic neighborhood mix where old meets new and boasting young urban professionals like myself with a sprinkling of family orientated fun that also offers pockets of stable refined residents, welcoming the burst of energy and diverse changes that the neighborhood brings. The area offers great high street shopping on Rockaway and Pitkin Avenues. The area also boasts a wide choice of public transportation subway options with the 3 Train at Rockaway Avenue. You can also catch the A express, C, L, J and Z trains at Broadway Junction, considered one of the largest subway stations in Brooklyn. The Broadway Junction subway stop is also near the Long Island Rail Road (LIRR) at East New York Station. Across the road you will find the L train subway stop at Atlantic Avenue. Bus options are widely available from the B60, B7 B12 and B14 connections. You can catch the B60 on Rockaway avenue going in two directions in Brooklyn; Canarsie and Willamsburg. The B60 will also take you to the J train subway stop at Chauncey Street. Take the B7 bus on Thomas Boyland Avenue which takes you down to the J train stop at Halsey Street. These trains lead you directly into China Town in Manhattan. Please be sure to check out my (SENSITIVE CONTENTS HIDDEN) page "Over the Hill" where it features things to do in the Ocean Hill neighborhood, Brooklyn and beyond. "LIKE" the page and follow the new happenings, the what's going downs and the latest up to date things to do in the neighborhood. (URL HIDDEN) Pre Check in and Check out Luggage storage options are also available. Again, ask me for details prior to booking for price options etc.
+What I LOVE about Ocean Hill?? It is that undiscovered hidden gem in the Bedford Stuyvesant sub section of Ocean Hill. As Bedstuy neighborhoods florish with more residents and great places to hang out at, the changes are rapid. Ocean Hill has a charm that it is slowly sharing with those fortunate to live here. It is an eclectic neighborhood mix where old meets new and boasting young urban professionals like myself with a sprinkling of family orientated fun that also offers pockets of stable refined residents, welcoming the burst of energy and diverse changes that the neighborhood brings. PLEASE NOTE: that this neighborhood is a diamond in the rough, especially in the Summer months you will get that Brooklyn authenticity of people chilling, hanging out, barbecuing and enjoying the weather until the small hours of the morning. If you can't "walk like you belong", then this isn't the location for you ...
Clean and tidy, great place to stay and Michelle is lovely.
Lauren
2016-09-10T00:00:00Z
I didn't meet Michelle because I only stayed one night but she was always very helpful and quick with responses. The area is easily accessible from the metro and I never felt unsafe there. Would recommend and stay here again!
Sarah
2016-05-26T00:00:00Z
Very welcome. Nice neighbourhood close to the metro and local shops
Julia
2016-03-31T00:00:00Z
Stayed for 3 nights only and perfect for what I needed and price. Michelle allowed me to drop my bags off so I could get out and start exploring straight away. Liked that ms kitty checked me out straight away to make sure I was okay. The room was small but nice and cozy with lovely floorboards, and the bathroom clean. I felt safe walking around the neighbourhood and I hope with all my heart that this does not becomes gentrified like other places in Brooklyn. The only downside was outside of Michelle's control. The subway had its usual big city problems with closures and delays. When working, very convenient, but if it is not, it can take awhile. Luckily I left extra, extra early to get my bus at port authority; it took over 2 hours! At the beginning of my stay I arrived at JFK and got the airport train then c line to Rockaway. If you check the map before you head out you'll see it's pretty much a straight route and about 10 mins walk to Michelle's. It's easily done. Def recommend this place if you are on a budget, probably will not find anything better.
Doreen
2016-10-30T00:00:00Z
Good
Yi-Chun
2016-07-17T00:00:00Z
Michelle was lovely, very accommodating. Room was cozy and clean.
Arwen
2016-09-30T00:00:00Z
Michelle was very kind and welcoming. The room was nice and comfortable . I would definitely stay there again .
Khara
2015-09-11T00:00:00Z
Great experience. She provided detailed, in depth instructions and made the stay very convenient and easy! The room was nice and cozy, too!
Andrew
2016-01-13T00:00:00Z
Huonetyyppi
Yksityinen huone
---
Majoituspaikan tyyppi
Talo
---
Majoittujien määrä
1
---
Makuuhuoneet
Brooklyn, New York, Yhdysvallat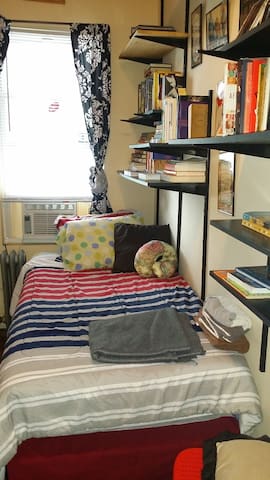 Tento velký pokoj nad New Yorku Harbor je na krátkou procházku do volného Staten Island Ferry pro snadnou dostupností na Manhattanu! Jedná se o soukromý pokoj s plnou vanou uvnitř místnosti a zahrnuje lednička, mikrovlnná trouba, TV, Wi-Fi a parkování zdarma. Ručníky, šampony, mýdla a snídaňové položky, jako jsou obiloviny a ovoce jsou k dispozici.
Tento velký prostor je zcela soukromé a je chůze s volným trajektu na Manhattan. Pokud máte auto, můžete zaparkovat přímo před naším domem nebo v naší příjezdové cestě (což není případ ve většině oblastí druhé čtvrtí). Královna-size bed má pohodlné střední / pevnou matraci s bavlny. Dodatečný twin-size postel lze nastavit pro třetí osobu, pokud hosté zůstávají tři nebo více nocí. Playard / postýlka je k dispozici pro malé dítě. Přístup k internetu je v ceně a prostor má svůj vlastní stůl a židle, toustovač, mikrovlnná trouba, kávovar, lednici a kabelovou TV / DVD. Čaj, káva, džus, vřídelní vodě se snídaní položky jako například obilovin, ovoce a toast a džem jsou zahrnuty.
V docházkové vzdálenosti od našeho domu, můžete najít několik výhodné obchody, restaurace, čistírny, knihovna, pošta a lékárna. Naše čtvrť, Saint George, je občanské centrum Staten Island a má několik dalších atrakcí včetně baseballovém stadionu s krásným výhledem na přístav v New Yorku, kde je naše menší ligový tým, Staten Island Yankees, hraje po celé léto.
This is the first time I use Airbnb. I had a great experience, Rob&Elle are very friendly and kind, they picked us up the first day and also gave us a ride the last day because we carried a lot of luggage at the Ferry station. The room is very lovely and comfortable, exactly as the picture. The neighborhood is quite and safe, we really enjoyed our stay.
Yanyun
2015-11-21T00:00:00Z
Elle and Rob are the epitome of great hosts. Most of my contact was with Elle, and she could not have been more helpful. She provided excellent directions, scenic route, and a very helpful tip to take a taxi to their home from the Staten Island Ferry Terminal due to the steep hills. She offered to escort me from the terminal, but our schedules didn't align. After a long day hoofing around Manhattan, the last thing I wanted was a hike uphill, so the cab ride was great. Elle also offered me the use of an unlimited Metro card left by a prior guest. The accommodations are spacious, very clean, and very comfortable. If you are considering a visit to Manhattan, consider staying with Elle and Rob, both of whom clearly take pride in their BNB. Thank you both for a great experience and a good night's sleep.
Dianne
2015-10-14T00:00:00Z
Elle and Rob went above and beyond to make my daughter and me feel welcome. The room was spotlessly clean, all necessary sundries plus additional (and very welcome) supplies and advice were given. The location was fantastic for us as it was very convenient to the Staten Island Ferry. The neighborhood is safe and there are many options for picking up a few grocery items or grabbing a quick or more elaborate meal. This was an excellent experience for us and I couldn't have asked for kinder or more helpful hosts.
Joni
2015-02-21T00:00:00Z
Elle and Rob are very kindly hosts. We had a nice stay at staten island and I can totally recommend it. Thank you for the wide instructions and all!
Sebastian
2016-07-24T00:00:00Z
This was the first Airbnb experience for our hosts as well as ourselves. Wonderful! Warm and welcoming hosts with lots of useful information. They met us at the ferry and showed us the area on the way to their place. Clean, comfortable and private like a large garden studio apartment. They provide a coffeemaker, toaster microwave, small refrigerator and radio and tv. Bed is a solid wood futon frame with a real bed mattress on it, more like a real queen bed. We slept very well. Clean bath with nice shower and fluffy towels. They also gave us fruit, cereal, organic bread, peanut butter and jam, some bottled water, juice and coffee to brew. Also a variety of teas. Way more than we expected. They also provided a lot of brochures and maps, ferry schedules and so forth. Ten minute walk to Staten Island Ferry to Manhattan (free). Perfect location to see New York! We went out all day and touched bases with Rob and Elle in the evening for a bit sharing our experiences and getting pointers for the next day. We recommend Rob and Elle and would go back without hesitation.
Raymond
2014-05-19T00:00:00Z
The listing description was accurate. Rob welcomed us at the Ferry station and gave all the information about Staten Island, where to go in New York City, and the directions. There were also maps available in the room. Amenities were great! Everything that you need for breakfast - well-balanced diet (fruits, milk, peanut butter, jelly, bread, coffee, tea, honey, bottled H20, etc). Having a private bathroom is a plus. The room is very private, overviewing the little garden where you the option to go out there and relax, read, or have some tea. We were not able to enjoy the garden because of the rainy weather but was able to see it through our window. The 25-minute ferry trip was so relaxing after spending the day in a crazy New York atmosphere and the long wait to exhale after the subway rides. You also have the luxury to view the Statue of Liberty while relaxing during the trip. Tourists were so excited to do selfies with the Statue of Liberty and upon arrival to the island, most of the people run to catch the next ferry to Manhattan and enjoy the free ride again. This was my first AirBnb experience and it was a successful decision! Thank you again, Rob and Elle! I will definitely stay with you again and refer you to my friends.
perni
2016-10-10T00:00:00Z
This is the place to stay in NYC!! We were greeted at the ferry terminal, oriented to the neighborhood and shown the ways to go to the house. My wife and I were 100% satisfied! We had everything that we needed! TOP NOTCH!
Alfred
2014-12-14T00:00:00Z
We had a great experience at Rob and Elle's airbnb. The location is a 10 min walk to the ferry, so you're in NYC in 30 min. The room was large with a fridge, microwave, coffee maker and toaster. There was a wide range of breakfast items in the room including fresh ground coffee. As much as we liked spending the day in the city, it was great to get back to a quiet neighborhood for the evening. We would definitely stay here again!
Rasa
2016-06-12T00:00:00Z
Huonetyyppi
Yksityinen huone
---
Majoituspaikan tyyppi
Talo
---
Majoittujien määrä
3
---
Makuuhuoneet
Staten Island, New York, Yhdysvallat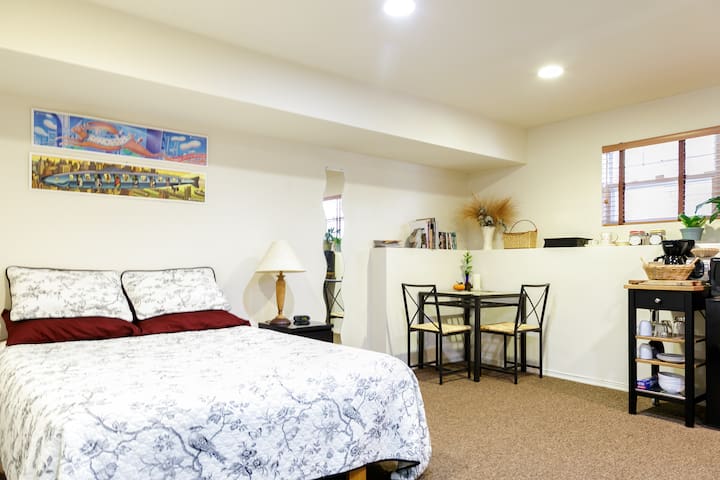 This century-old home is eclectic and modern with touches of boho. Original moldings, built in glass door china and book cabinets, beautiful woodwork, stained glass skylights, and hardwood floors throughout all bring out the original character of this home while updated chandeliers, modern furnishings, granite countertops, and a fully-equipped kitchen offering professional-grade stainless steel Viking appliances modernize the space. This Bay Ridge limestone home has 4 bedrooms on the second floor, plus a large parlor floor with living room, fireplace/bar room, formal dining room and kitchen opening to the private back yard, which has a lawn and a brick patio surrounded by trees. Bedrooms include 1 master bedroom with queensize bed, 1 guest bedroom with double bed, 1 kids room with toddler bed and 1 nursery with crib and changing table. There is a family bathroom with tub and shower.
This classically elegant Bay Ridge limestone on a quiet tree-lined residential block in the heart of Bay Ridge has plenty of space for the entire family to stay in style and comfort. A fully stocked kitchen makes cooking meals at home a breeze. On nights out, the neighborhood offers many cuisines and a variety of places for snacks and beverages. There is a popular wine bar complete with live music and tastings across the street. Nightcaps in the backyard are also a great way to wind down - and the baby monitor connection reaches the backyard.
Huonetyyppi
Koko talo/asunto
---
Majoituspaikan tyyppi
Talo
---
Majoittujien määrä
6
---
Makuuhuoneet
Brooklyn, New York, Yhdysvallat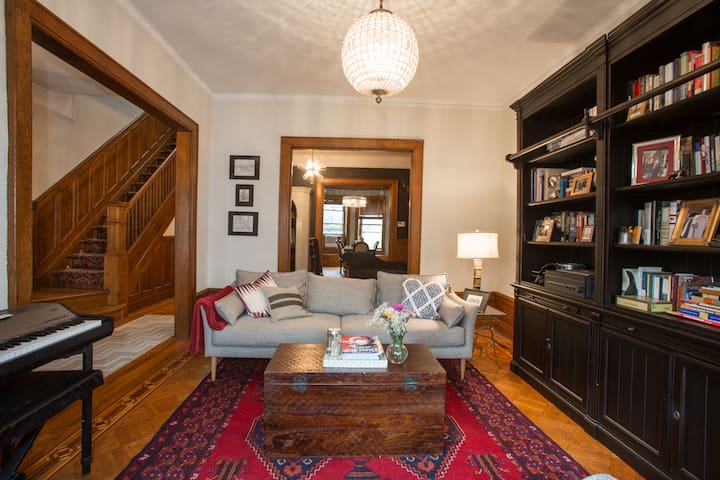 1

–

18

hakutuloksista

300+ vuokra-asuntoa
Anna päivämäärät nähdäksesi kokonaishinnoittelun. Lisämaksuja sovelletaan. Veroja saatetaan lisätä.