5 vuokrattavaa huoneistoa
一個愉快的,寬敞的公寓在美麗的高高的天花板,自然光線充足的維多利亞風格的醫院。客人臥室在樓上,俯瞰休息室的夾層。它包含了高品質的日式和埃及棉床單。
位於舊Middlewood醫院的理由,我們都小於10'minutes開車到一些美麗的散步,布拉德菲爾德,大壩瓶和Agden和謝菲爾德市中心15分鐘車程。
Huonetyyppi
Yksityinen huone
---
Majoituspaikan tyyppi
Huoneisto
---
Majoittujien määrä
2
---
Makuuhuoneet
Sheffield , South Yorkshire, Britannia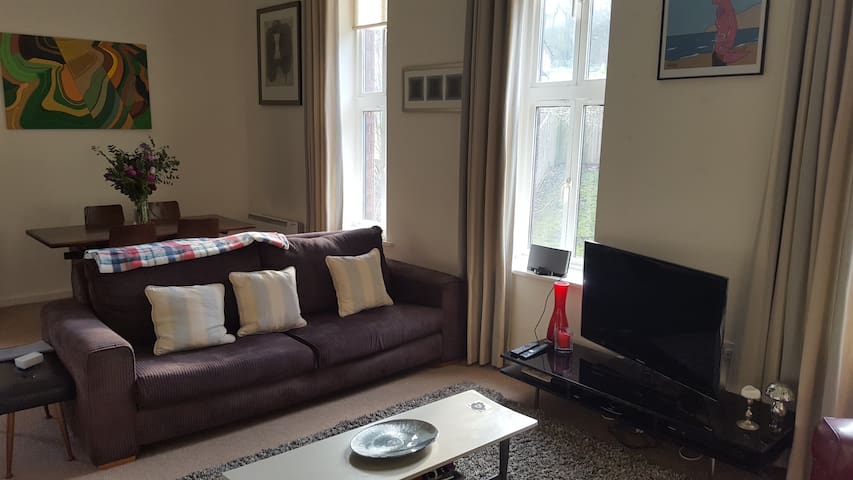 Cosy, modern studio apartment, close to the Barnsley centre. Surrounded by countryside and great views. You'll love my place because it is a bright, spacious and is self contained with kitchen. Good for couples, solo adventurers and business travellers.
The studio comfortably sleeps two adults in a double bed. There is an open plan living area and dining kitchen. Enjoy full use of all the facilities, with kitchen appliances, including electric induction hob, fridge, dishwasher, sink, microwave and kettle. Also included are all pans, plates, dishes, glasses and cutlery. Complete with complimentary wifi and a Smart HD Freeview TV, with catch-up TV services: BBC iPlayer, ITV Hub, 4OD and My5 and Netflix. Modern bathroom with toilet, sink and power shower (Bath and hand towels provided). Heating and hot water included. 24 hour CCTV is in operation for your safety on the exterior of the building and driveway.
A quiet cul-de-sac with friendly neighbours. The local village offers a range of Take Aways and Restaurants. The local: The Travellers Inn pub is a short walk, which serves excellent Pub Food, and nearby Dodworth Valley (Junction 37 roundabout) serves a lovely Carvery. We are in the heart of the countryside, yet 5 minutes from the M1 and 12 min to Barnsley city centre. Local tourist attractions include Cannon Hall and Wentworth Castle and we are only a short walk away from the Penine Trail. A short ride away is Locke Park for walk and a coffee. We are surrounded by countryside. Barnsley town centre boasts a lively nightlife with a large number of pubs very close together in 3 main streets. Barnsley is also famous for a large indoor and outdoor markets. Dodworth has two excellent Indian Restaurants, the famous Brooklands Restaurant (part of the Holiday Inn Hotel), famous for the Barnsley Chop. The Surrounding villages of Silkstone and Cawthorne offer further pubs and Restaurants which are only a 5 or 15 min drive away.
They couldn't have been more welcoming or accommodating- lovely, clean and comfortable - easy to Find and do Convenient- will definitely stay again and highly recommend it
Rosalie
2017-01-25T00:00:00Z
Another lovely stay! Clean and relaxing after a day at work
Emma
2017-02-26T00:00:00Z
Thank you Andrew and Ann for another lovely stay. A home from home!
Sarah
2017-01-29T00:00:00Z
A lovely place to stay!
Emma
2017-02-19T00:00:00Z
Had a lovely stay, really great hosts, highly recommend. Perfect little place and really worth the money! Thank you both :)
Tabitha
2017-01-02T00:00:00Z
The purpose of our stay was for a short one-night break to explore a bit of Yorkshire by car. Particularly to visit the Sculpture park for which Andrew's place was perfectly situated for a trip. The apartment itself was great, perfect for the 2 of us, nice views around, and appreciated the use of netflix in the evening! And they were very welcoming!
Joe
2017-02-15T00:00:00Z
This is a lovely little cabin-like space in a picturesque part of Yorkshire with good walking access to the nearby train station that takes you into the town centre. Nice pub and nearby supermarket also. Cute quiet, cosy and comfortable. Perfect for a relaxing getaway :)
Joe
2017-03-12T00:00:00Z
Great place great host 5 star all round
Banaras
2016-12-04T00:00:00Z
Huonetyyppi
Koko talo/asunto
---
Majoituspaikan tyyppi
Huoneisto
---
Majoittujien määrä
2
---
Makuuhuoneet
Barnsley , South Yorkshire, Britannia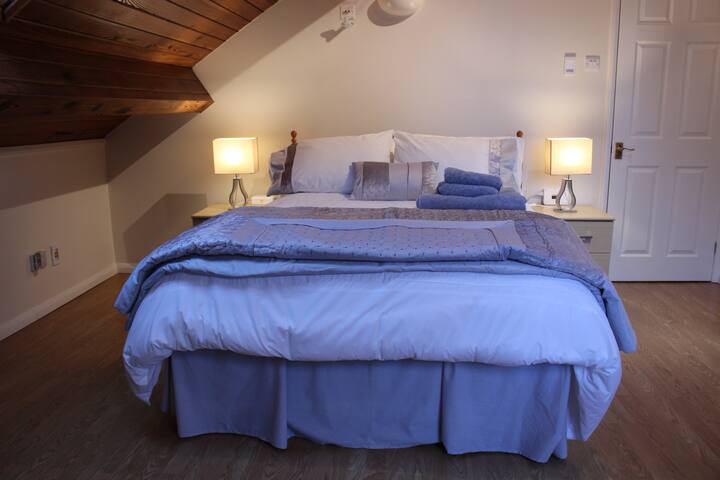 Di and Dave were the perfect host, made you feel very welcome. Very clean and tidy and a beautiful place to stay.
Dipanwita
2016-08-31T00:00:00Z
非常好的一间名宿,特别整齐干净,该有的都有,Di 也非常的热情,有任何问题都能帮你解决,而且依山傍水,风景也非常好!
felix
2016-12-03T00:00:00Z
Beautiful view, great hosts.
Guy
2016-11-30T00:00:00Z
Great place to stay. Lovely self contained studio. lots of space for the 4 of us (2 teenagers). Clean, attractive and very comfortable. loved the river and the ducks in the garden. Di and Dave very welcoming and helpful. Thank you for making our stay so enjoyable. will definitely stay again when visiting family in Yorkshire. Thank you
karen
2016-09-11T00:00:00Z
Perfect for our needs. A hospitable welcome. Pleasantly situated. Would love to stay again and would definitely recommend to friends.
Mandy
2017-03-13T00:00:00Z
Great hosts and wonderful view. Clean space with own kitchen and entrance.
Guy
2017-03-30T00:00:00Z
Very nice and friendly people. I arrived 5 hours later due to the congestion on M1, but they didn't mind. The host was keen on giving you advice about the most beautiful places to visit in the area. The studio was very clean and the kitchen provides everything you need for cooking.
veronica
2016-09-26T00:00:00Z
What a perfect setting for a fabulous B&B, Di and her husband were perfect hosts to my little family, even laying out a simple breakfast spread for us that was totally unexpected and very kind. The views from the rooms are fabulous and the ducks on the river love being fed.
Steve
2016-12-04T00:00:00Z
Huonetyyppi
Yksityinen huone
---
Majoituspaikan tyyppi
Huoneisto
---
Majoittujien määrä
4
---
Makuuhuoneet
Millhouse Green, Britannia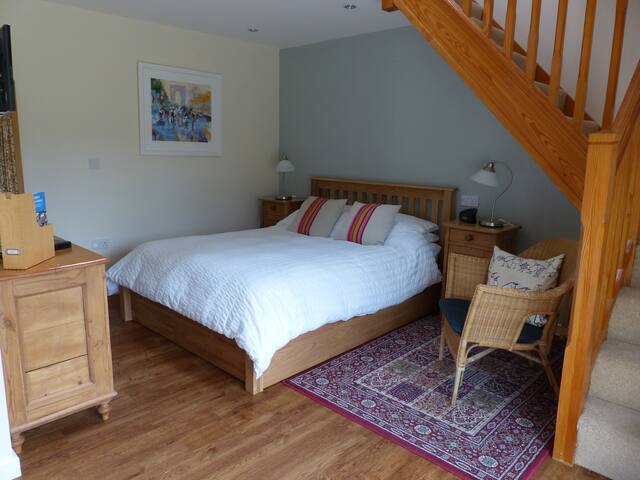 A one bedroomed accommodation in the village of Thurlstone within easy walking distance of Penistone in South Yorkshire, the one bedroom flat is just off the Trans Pennine Trail ideal for walking and cycling. Car parking is available and there is Good public transport.
The flat is a converted double garage separate to the main house
There is a great real ale pub called the huntsman and nice walks around the village
Denise was so welcoming, friendly and warm. She made my stay really lovely and I had everything I needed. I arrived to milk, tea bags, orange juice, and a lovely box of chocolates. The flat is warm and really nicely done out. It's very comfortable and there's plenty of space. I stayed for nearly a month and really felt at home. I can't recommend enough. Would definitely stay again and thought about moving in full time!! Thanks!!
Jessica
2015-12-01T00:00:00Z
Nice, private, clean airbnb! A little hard to find, but Denise was very easy to contact and helped us find the place within minutes. She was also full of helpful tidbits and advice as far as pubs, restaurants, coffee, and walks/hikes nearby. We stayed here for quick access to the Peak District, which is exactly what it was. Thanks, Denise!
Betsy
2016-07-18T00:00:00Z
great welcome and a brilliant set-up. Thanks for a great first airbnb experience!
Jamie
2015-10-26T00:00:00Z
Denise was an absolutely perfect host. Friendly, warm and inviting, she did her best to make our stay as pleasant as possible. The It El Do annex is ideal for two and we're so glad we chose to stay here for our first Airbnb experience. The place is lovely and spacious, with more than you could ask for. Denise even went to the effort to stock the fridge with dairy supplies and had chocolates waiting for us by the tea set. The area is a beautiful part of the English country and we had a marvellous time on walks and off road mountain biking around Langsett and Ladybower. Definitely one to remember!
Farihah
2016-05-31T00:00:00Z
Denise was helpful and made us very welcome at her flat. We arrived later than planned and yet she was waiting for us and showed us round the flat. It is small but cosy and well-equipped and very clean.
Alice
2015-10-24T00:00:00Z
Denise was a wonderful host, she made me feel very welcome throughout my stay. The accommodation was great, I actually don't think that the photos quite do it justice. Everything had been thought of and any minor issues that I did have were sorted out immediately and without fuss. The area is lovely also, lots of places to go walking or cycling.
Tracey
2015-07-14T00:00:00Z
Denise made us feel welcome before we even arrived; she was regularly in touch, offering directions and checking we were looking forward to our stay. Her husband, Steve, was so easy going and chatty and put us completely at ease when we arrived on Saturday morning - and Denise was accommodating enough to let us check in a little earlier than usual so we could get ready to attend a wedding in nearby (and stunning!) Hepworth. The flat is just what we wanted, and a little bit more. The touches of orange juice, milk and butter in the fridge were a really welcome surprise. There was everything we could have needed in the kitchen, Wifi if you need it (but there's good mobile phone reception) and even mini-toiletries which we definitely didn't expect. The flat is just off the main house, but it feels completely private, and once checked in, Denise and Steve left us to our own devices. We knew we could call on them if we needed any advice, but there's lots of local information in the flat put together to help you explore, if that's what you need. There's lots of space for parking, and the whole place felt secure and relaxed. Denise was also kind enough to let us check out at our leisure, which was wonderful after a really late night! There's a great traditional pub called The Huntsman just up the road, and a little corner shop for eggs which was open on Sunday morning. I haven't been to such a friendly village in a long time, and I wish we had been able to stay longer. We wouldn't hesitate to recommend It-El-Do, and we had a great time. PS - the pillows in the bedroom are brilliant!
Kat
2015-06-01T00:00:00Z
Denise was very friendly and welcoming. The property is close to the Trans Penine Way which made it great to access walks from there. We did the Pen-Den trail in reverse by taking the train over 2 viaducts & 1 tunnel to Denby Dale then walking back. Also went as far as Castleton via a very scenic route which was only an hour away.
Vicki
2016-07-10T00:00:00Z
Huonetyyppi
Koko talo/asunto
---
Majoituspaikan tyyppi
Huoneisto
---
Majoittujien määrä
2
---
Makuuhuoneet
Thurlstone, Englanti, Britannia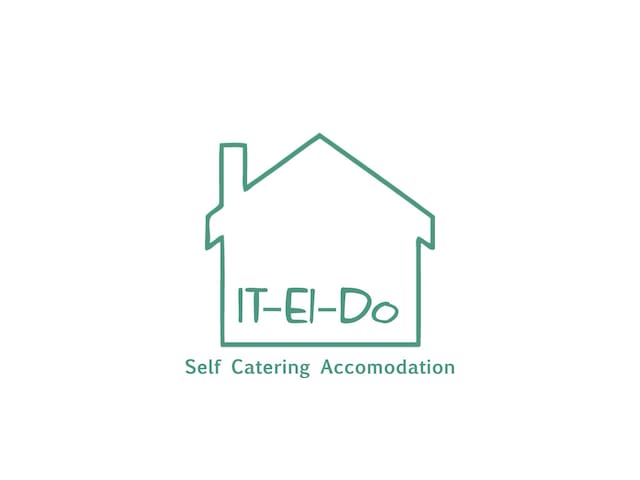 Modern student campus set in the rural area Located on the outskirts of Huddersfield and just a 15 minutes drive to west Yorkshire sculpture park and many more local attractions. We offer single en-suite rooms, each having access to a shared kitchen
Kristopher was an excellent point of contact during my stay always responding very quickly to my emails. The accomodation was basic but comfortable. Overall it was a good stay for its price.
Richard
2016-03-13T00:00:00Z
Huonetyyppi
Yksityinen huone
---
Majoituspaikan tyyppi
Huoneisto
---
Majoittujien määrä
1
---
Makuuhuoneet
West Yorkshire, Britannia