One of the best neighborhoods in Pereira: PINARES. Enjoy the view, heated swimming pool and GYM. Free parking place for your car. WIFI in entire place. TAXI or UBER from "Aeropuerto Matecana Pereira" about 10.000 peso (3 USD!)
Very safe area of Pereira (Pinares)
Es un lugar genial para estar mientras se visita la ciudad
Mauricio
2017-03-20T00:00:00Z
Nice appartment with a lot of light thanks to big windows. Basic equipment. Easy check-in and out, no problems in communication. 2 evenings/nights out of 6 without water in the appartment, comsequently only 4 of 5 stars. Would nevertheless stay here again everytime.
Stefan
2017-03-31T00:00:00Z
Excelente apartamento. Cumple con todas las descripciones y esta ubicado en un sector bonito y seguro.
Mileth
2017-03-10T00:00:00Z
El lugar resultó absolutamente perfecto para nosotros, llegamos a Pereira para llegar al parque del café y al otro día ir a Salento y resultó que el apartamento estaba increíblemente cerca de la terminal. Además estaban muy cerca centros comerciales y un carulla. El lugar muy limpio y tranquilo, linda vista desde el balcón. Muy cómodo y privado, definitivamente volveríamos a hospedarnos. Muchas gracias a David por todo!
Daniela
2017-03-24T00:00:00Z
David's a nice guy. The place is nice and new. The grounds have very good amenities, like a pool, tennis court, playground for kids, gym. The guards were all very pleasant. And the neighbors were friendly enough. The things to consider is that it is a bit far from were things are happening. The walk is about 15 to 20 minutes and there's nothing nice to see for half of it, a lot of construction going on. Also you will be climbing a hill both ways. The area is upper class and residential, so most people drive their cars. The town doesn't have much to offer fun wise, but I think David's place would be a ideal location for travelers with cars who what to explore the surrounding areas of the coffee triangle.
David
2017-02-14T00:00:00Z
Huonetyyppi
Koko talo/asunto
---
Majoituspaikan tyyppi
Huoneisto
---
Majoittujien määrä
4
---
Makuuhuoneet
Pereira, Risaralda, Kolumbia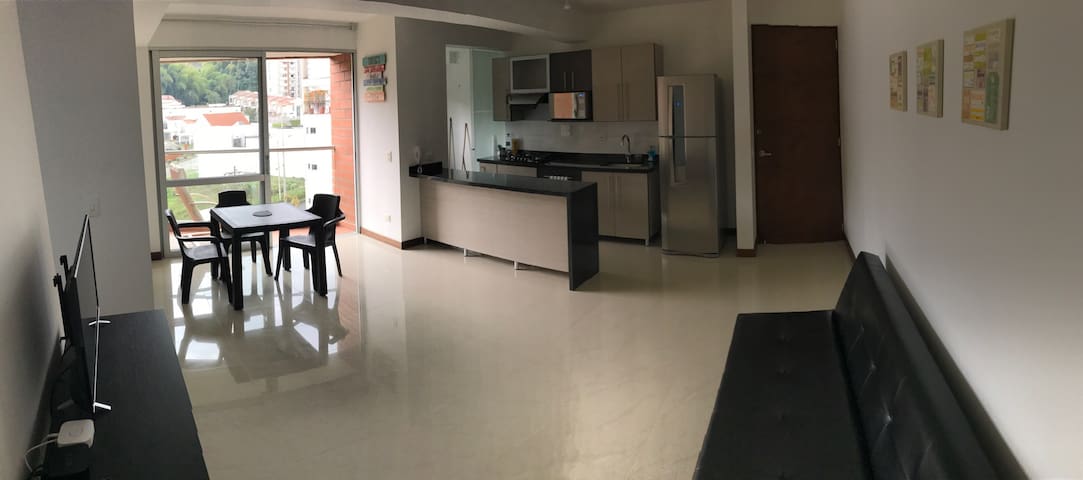 Lugares de interés: La finca Hospedaje cuenta con fácil acceso a transporte público. Ofrecemos transporte privado desde el aeropuerto, la finca hospedaje se encuentra ubicada a 10 minutos del centro de la ciudad de Pereira. Es un lugar que ofrece arte y cultura cafetera.. Te va a encantar mi lugar debido a el espacio acogedor, la cocina, la comodidad de la cama, los techos altos, y las vistas. Mi alojamiento es bueno para parejas, aventureros, familias (con hijos), grupos grandes, y eventos.
Julie te hace sentir como en casa desde que llegas
Omar
2016-09-04T00:00:00Z
The views are great, the house was clean; the hosts were friendly and helpful.
Saulo
2017-03-02T00:00:00Z
Excelente anfitriona. Julie es cálida, amable, se preocupa por sus huéspedes. La finca y la casa son una experiencia real del eje cafetero que nos permitieron aprender y apreciar más nuestro país. La casa muy espaciosa, muy limpia, cocina muy bien equipada, descansamos y nos sentimos como en casa. Vistas espectaculares, café excelente. Disfrutamos el jacussi al máximo. Muy recomendada. Gracias Julie y a toda su familia por una estadía inolvidable.
Isabel Cristina
2016-12-28T00:00:00Z
Van a tener una anfitriona perfecta, simpatica alegre y solicita. Van a vivir en una finca grande y muy linda. Con todo necesario por unos dias y noches comodos. Pueden descansar al lado de una piscina limpia y linda. Van a ver una naturaleza impresionante con un panorama espectacular. Van a disfrutar los mejores días del año aquí. Saludos, Isa, Michael, niños y nietos
Michael
2016-11-25T00:00:00Z
Muy feliz y (URL HIDDEN) se que estuvo mejor. La excelente divisa de Risaralda, la atencion de nuestra host Julie, o el desayuno tan delicioso. Gracias por la transportación y la atencion. Volveremos
Felipe
2016-08-14T00:00:00Z
Huonetyyppi
Koko talo/asunto
---
Majoituspaikan tyyppi
Guesthouse
---
Majoittujien määrä
16
---
Makuuhuoneet
Risaralda, Risaralda, Kolumbia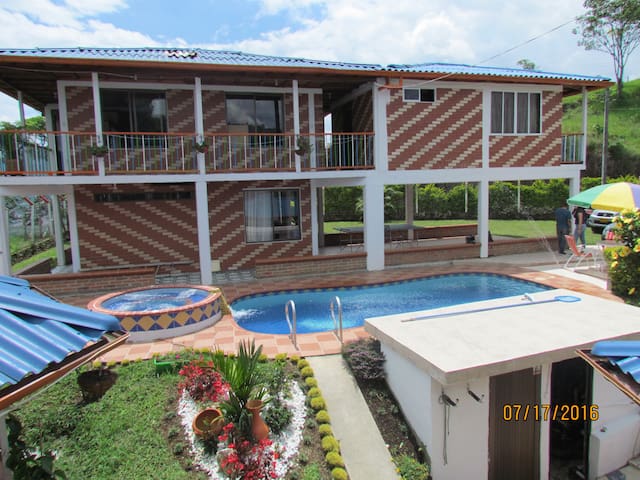 Fully furnished and equipped in the center of Pereira near the Plaza de Bolivar. Internet, kitchen, cable TV and includes parking. Ideal executives and business people who require security and comfort close to the city center.
Este es un edificio de tres pisos y un sótano en la calle peatonal, pero que tiene acceso a un estacionamiento público. Este funciona las 24 horas, donde además puede contactar a la persona encargada para efectos de trámites con su alojamiento.
El centro de Pereira es una zona muy concurrida y recursiva, caminando y a corta distancia hay disponibilidad de todo tipo de almacenes y centros comerciales, oficinas de empresas públicas y estatales. Cerca está disponible una estación del Megabus que es un sistema de transporte público y hay oferta de servicio de taxis.
El apartamento es cómodo y moderno, pero muy impersonal, es un negocio, un edificio entero vacío para alquilar a turistas. La cocina tiene apenas lo necesario para el desayuno de dos personas. Con apenas dos platos, dos juegos de cubiertos, una cacerola pequeña y una pequeñísima olla. No había nada para lavar los platos, no había papel higiénico. Aunque en la reserva dijimos explícitamente que eramos dos personas, sólo nos dejaron una toalla. Cunado llegamos el apartamento estaba ocupado, pero por fortuna, porque fue el huésped quien nos dijo por el citófono dónde debíamos recoger las llaves, con el vigilante de un parqueadero, fuera del edificio, quien tuvo que llamar a la adminsitradora, pues no sabía que nosotros llegábamos. Entramos al apartamento en compañía del vigilante, quien tuvo que sacar las maletas del anterior huésped, nos dimos cuenta que había una sola toalla y no había papel higiénico, por lo que el vigilante nos dijo que la persona que hacía el aseo llegaría en nuestra ausencia, pero nunca lo hizo. Cuando llegamos el baño estaba sucio y la ducha llena de pelos. No volveríamos nunca a este lugar.
Paula
2017-01-06T00:00:00Z
Never meet with her. If give me the impression it was a 'double booking with the reservation'. The address was wrong.
Lesley
2016-09-09T00:00:00Z
The apt is great! Very clean, host is very friendly, excellent communication and the location is amazing. I will definitely be back!
Juan David
2017-03-06T00:00:00Z
The apartment was very nice and well located, it was located close to restaurants, shops and markets. Catalina answered all my questions without any problems. I definitely recommend this apartment and would stay here again.
Carlos
2016-06-26T00:00:00Z
como siempre, catalina muy atenta.
Julio
2016-12-20T00:00:00Z
Honesta
Robinson
2016-11-06T00:00:00Z
very nice modern studio apartment 1 block from Parque Bolivar and 1 block from Victoria mall. and at a great price.
brian
2016-08-04T00:00:00Z
Muy buena estadía
Lucia
2016-08-19T00:00:00Z
Huonetyyppi
Koko talo/asunto
---
Majoituspaikan tyyppi
Loft-asunto
---
Majoittujien määrä
3
---
Makuuhuoneet
Pereira, Risaralda, Kolumbia
Nuestra Ecogranja cafetera organica es muy central para los dos Termales de Santa Rosa de Cabal. Aquí le ofrecemos aire puro, descanzo y un rico cafe organico. Es el lugar perfecto para recargar energias, desconectarse de la ciudad y reconectarse con la naturaleza.
Vom Balkon der Zimmer Sie die Natur bewundern können. Sie können ökologische Wanderungen machen und den Besuch Kaffeeplantagen (wir reisten). Der Nähe gibt es andere ökologische Wege mit Wasserfällen. Die Zimmer sind sehr komfortabel und sauber. Wir sind hier, um Ihnen zu helfen und geben Ihnen die besten Empfehlungen für die Region.
Umgeben von der Natur.
Great time at the Farm.
Erika
2017-02-18T00:00:00Z
wonderful and peaceful place where all the people are very friendly!
Pietro
2017-02-10T00:00:00Z
Una experiencia muy buena, con anfitriones muy amables. Un lugar para disfrutar de un ambiente tranquilo.
Alejandro
2017-02-05T00:00:00Z
Excelente anfitriones, excelente sitio.
Gloria
2017-01-29T00:00:00Z
What a beautiful location to visit! The couple living downstairs was very friendly, and the food they cooked for breakfast and lunch was fresh and delicious! The farm is a bit difficult to get to and from, but it is absolutely worth the extra effort. Thanks for providing such a memorable experience for my fiancé's 30th birthday!
Angela
2016-10-06T00:00:00Z
Tatiana fue muy amable siempre estuvo presta a orientarnos y ayudarnos. William, carmenza y su familia que viven en la granja son personas maravillosas. Fuimos en epoca de lluvias así que sentimos un poco de frio por lo demas es un lugar muy bello de descanso y relajación; si quieres alejarte de la tv y las conexiones de internet es el lugar perfecto. Hubiese tenido mas tiempo un libro es el mejor aliado. Los termales increíbles, la ubicación de la granja cercana muy fácil de llegar. Sin duda volvería.
Johanna Milena
2016-10-26T00:00:00Z
Gracias a todos por los buenos servicios recibidos y la amabilidad con que nos trataron. Siempre estuvieron dispuestos a colaborarnos en todo lo que necesitamos y fueron muy amigables ademas. Este sitio es maravilloso para un buen descanso, la naturaleza, los animales, la paz que alli se respira lo hacen maravilloso. Recomendado para quienes buscan un destino con paz y tranquilidad.
flor
2017-03-20T00:00:00Z
Buen lugar para alojamiento, alejado del ruido y la ciudad. Tranquilo, excelente ubicación ya que queda cerca a las termales.
Yesid
2017-02-28T00:00:00Z
Huonetyyppi
Yksityinen huone
---
Majoituspaikan tyyppi
Maan sisään rakennettu talo
---
Majoittujien määrä
10
---
Makuuhuoneet
Santa Rosa de Cabal, Risaralda, Kolumbia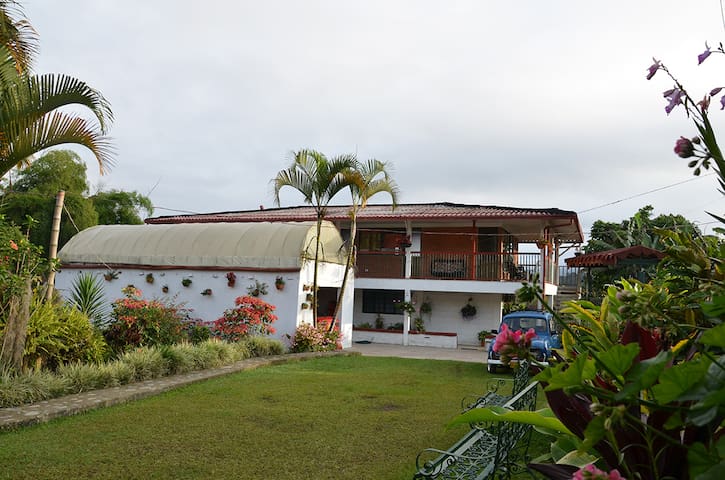 Apartamento ubicado en un exclusivo sector de Pereira, central y muy cómodo. A tan solo 15 minutos del aeropuerto y 5 minutos del terminal de transporte. A solo 4 cuadras del centro comercial más exclusivo de la ciudad, cuenta con excelente vista. ................ This apartment is located in an exclusive neighborhood of the city. Comfortable and cozy. The apartment is within 15 minutes of the airport and 5 minutes from the bus terminal. The best mall of the city is just 4 blocks away.
Por su ubicación, precio y comodidad. Este apartamento ofrece todos los requerimientos necesarios para tu viaje de negocios o turismo. For it's location, price and coziness . This great place offers you every thing you need for your pleasure or business trip.
El barrio es de los más exclusivos de Pereira, donde se hallan los mejores restaurantes y centros comerciales. This neighborhood is located in one of the most exclusive and central areas in the city. So you will find the best restaurants and malls, within a walking distance.
El espacio es muy lindo, en un excelente sector de Pereira, tranquilo y cerca de todo, Jennifer es una excelente anfitriona siempre estuvo pendiente de mis requerimientos
David
2017-04-07T00:00:00Z
Really nice Apartment! Perfect for 4 or 5 people. Fully equipped and clean. Close (5 min walk) to La cirvunvalar where you find all kind of night clubs and restaurants. Safe area also.
Pablo Andres
2017-04-09T00:00:00Z
Huonetyyppi
Koko talo/asunto
---
Majoituspaikan tyyppi
Huoneisto
---
Majoittujien määrä
6
---
Makuuhuoneet
Pereira, Risaralda, Kolumbia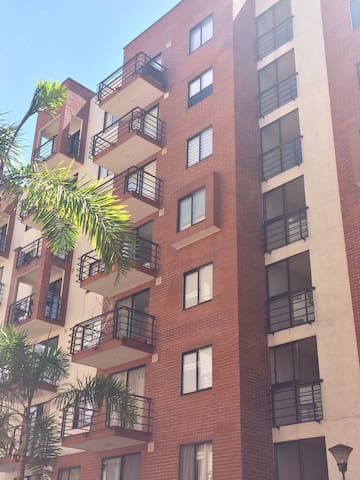 The apt is fully furnished. The apartment is completly furnished
The apartment is comfortable, is furnished completely. It is located on the main street of Santa Rosa de Cabal. The apartment is located in the main street in Santa Rosa De Cabal, it is a very comfortable apartment.
El apartamento esta ubicado sobre la calle principal de Santa Rosa de Cabal, queda a dos minutos del parque . A 30 minutos de termales,a 30 minutos del bioparque Ukumari, a 1.10 minutos del parque del cafe , a 1:15 minutos de Panaca , a 1:10 minutos de Salento, a 30 minutos del aeropuerto de Pereira. The apartment is located in the Main Street in Santa Rosa De Cabal, it is two minutes away from the main park. 30 min away from termales , 30 min away from Bioparque Ukumari in Pereira, 1 hour and 10 min away from El Parque del cafe , 1 hour and 15 minutes from Panaca , 1 hour and 10 min from Salento , and 30 min from the airport in Pereira.
Ubicado en muy buen sitio, limpio ordenado y una excelente atención
Juan
2017-02-27T00:00:00Z
Huonetyyppi
Koko talo/asunto
---
Majoituspaikan tyyppi
Huoneisto
---
Majoittujien määrä
8
---
Makuuhuoneet
Santa Rosa de Cabal, Risaralda, Kolumbia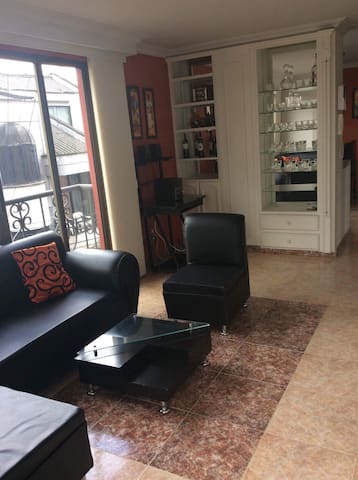 Typical colombian coffee farm in the heart of coffee area at Colombia. We offer the ancestral indigenous way to produce (in a healthy way) coffee (picking it up, peal, dry, mill, toast and grind), plantain, honey, several fruits and vegetables. Natural path way that you can walk (guide include) and camping area. Live the colombian indigenous experience. No extra costs. You will be attended by the landlords.
No luxury stuff, humble place. Two houses with capacity to host 4 people each (sharing kitchen). NO WIFI. Kitchen is available to use in the way you want, you can order food for cooking from the closest village or you can make a short walk till there and buy whatever you want. If you want us to cook for you it will required some special conditions that we'll have to discuss previously.
Arabia is the closest village from our place, 5 minutes. It's a typical colombian coffee village due to its intrinsic dependence of it, in a economical way. Go to Pereira by bus (bus stop one block from farm) 40 minutes of wonderful landscapes in a little curvy road. We're really close from other cities like Manizales or Armenia, and several other small towns that you can visit during day include natural reserve.
It was just a single night stay, but we never expected that we would gain so much wonderful experience! They welcomed us with all of their passion and hospitality. Their place is surrounded by great nature and we loved the scenery from the outside balcony. It was also a lovely moment to have night chat with them over the bonfire. However, the highlight of our experience is "Coffee experience"! Gabriel took us a forest tour and to his coffee farm. I was so excited to see real coffee beans and see all the process of making coffee. Gabriel and Rubi are wonderful host who took you to exciting nature and coffee trip in beautiful Colombian region.
Yuno
2017-04-04T00:00:00Z
Pachamama turned to to be not just a house farm. It is two houses! We enjoyed one single house just for us. Gabriel and Rubi they do not speak English very well but they have such a Great and warm Heart that our stay was no need for language as the communication was with the soul. This was a beautiful Experience. They received us with fruits and a big an delicious breakfast. If you are in the Coffee area I will recommend to cancel ANY other plan and visit Pachamama.
Camilo
2017-03-10T00:00:00Z
This place was like finding a jewel in the rough. Escape from city life and stay here. The birds wake you up in the morning, the smell of freshly brewed coffee is amazing. It was a lovely experience. The sunrise and sunsets are different every day! Truly a peaceful and magnificent experience!
Marie
2017-02-20T00:00:00Z
We spent two nights at Pachamama and were warmly welcomed by Gabriel and Ruby. They quickly make you feel a part of the family, we cooked together (the cooking lady was not available at that time), watched bonfire and did morning exercises. They are easy going and very engaging people - so you won't be bored at the farm, the days pass by quickly! As for the tour, a lot of it was about biodiversity and different trees on the farm. We also did the whole coffee process, from picking to roasting, and it was actually the main thing that we wanted to experience, so we did! The process itself was great, the only pity is that coffee is actually not produced there, so my super detailed questions (like what and how affects the taste of coffee, brings it more or less acidity etc) were left unanswered. But the coffee that we had in the end was very good and actually the feeling that you drink your own coffee is wonderful.And don't forget, all this cate and information is already included into your accomodation price and is done with a lot of enthusiasm! We really enjoyed our time at Pachamama! Facilities do not evoke any questions, there is plenty of space, rooms to choose from, everything is clean. There are 2 buses that go directly to Pachamama from Victoria city center in Pereira: at 10:30 p.m. and at 3:30 p.m. And back, repsectively, at 11:30 am and 4.30 pm (Colombian time ))) Otherwise you take the same bus to Arabia and then a jeep to the finca (8000 pesos). Enjoy your stay!
Yuliya
2017-04-06T00:00:00Z
The best place to experience a typical Colombian coffee farm! The location is absolutely beautiful - the ranch is surrounded by incredible plants that Gabriel and Rubi have planted themselves. They are very knowledgeable and hospitable, spent so much time showing us around and teaching us about the coffee process and biodiversity. The food was the best we have had on our trip so far! I would highly recommend this place to anyone, especially those looking to meet some fantastic people and have a great cultural experience learning about the Colombian coffee farms. I couldn't speak more highly about the whole family and the amazing experience we had here! They went out of their way to give us the best time at their farm. A must see!
Natalie
2017-03-25T00:00:00Z
Huonetyyppi
Koko talo/asunto
---
Majoituspaikan tyyppi
Guesthouse
---
Majoittujien määrä
8
---
Makuuhuoneet
Arabia, Risaralda, Kolumbia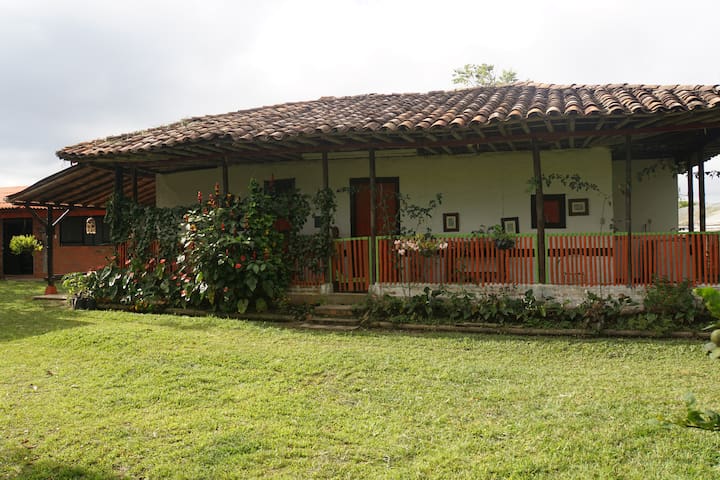 Es una cabaña en la zona rural, con una gran vista y mucha tranquilidad, un sitio hermoso, acogedor, económico y lo mejor a tan solo 15 minutos del centro de Pereira. Ubicado en la vía Armenia, en el corregimiento de Huertas muy seguro y tranquilo.
The host canceled this reservation 2 days before arrival. This is an automated posting.
Francesca
2016-03-22T00:00:00Z
Viaje desde Medellin a la casa privada de Alan la cual ocupe con mi esposa e hijo, es un verdadero encanto imersa entre las montanas cafeteras alrededor de Pereira, es absolutamente tranquila no hay ruido alguno lo que te permite dormir plácidamente, también es muy segura y los detalles de decoración y arquitectura al ser una casa flotante te hacen vivir una experiencia inigualable nunca antes vista. Me di cuanta que esta estrategicamente ubicada muy cerca a Pereira y si los planes son ir a los termales, Salento, Parque del Café o Panaca todo esta a menos de 1:15 h. Alan es excelente anfitrión resolvió todas nuestras necesidades de información es un joven profesional muy culto y atento. Recomiendo sin vacilaciones tomar la casa de Alan la cual supera todas las expectativas.
Juan
2016-03-24T00:00:00Z
Huonetyyppi
Koko talo/asunto
---
Majoituspaikan tyyppi
Mökki
---
Majoittujien määrä
4
---
Makuuhuoneet
Pereira, Risaralda, Kolumbia
Apartamento en un piso 15, con disponibilidad de parqueadero cubierto, Internet wifi, en el sector residencial más tranquilo y seguro de la ciudad.
Excelente anfitrion, muy respetuoso; amable y atento, lo recomiendo 100%.
Francisco Fernando
2016-02-09T00:00:00Z
Superb host!! Nice, safe part of town. Would like to spend more time next time.
Aniel
2016-02-16T00:00:00Z
Had the best expierance ever the host was super friendly helpful very respectful and his place was in a great location very trendy best bars and restaurants in the area, his place is super clean in a high rise building with all the amenities private security swimming pool tennis court gym racket ball courts basketball courts sauna, jacuzzi, and Turkish bath. Unbelievable place so sweet I rented an apartment in the same building for an entire year, looking forward to having him as a Niebor and friend. I highly recommend he totally accommodated us in every way.
Elizabeth
2016-03-03T00:00:00Z
Attentive host. Highly recommended!
Michael
2016-01-19T00:00:00Z
Leonel was great, accommodating me on a same day reservation
Daniel
2016-03-27T00:00:00Z
Huonetyyppi
Yksityinen huone
---
Majoituspaikan tyyppi
Huoneisto
---
Majoittujien määrä
2
---
Makuuhuoneet
Pereira, Risaralda, Kolumbia
I have two private rooms to offer and a shared bathroom, one room has a queen size bed and the other a full size bed, both rooms have plenty of closet space. This house it's located outside the city in a country setting and offers beautiful views. Enjoy a nice cup of coffee as you sit in the outside porch and watch all the beautiful birds fly by and sing, there is a walking trail between bamboo, natural water streams and beautiful fauna and flora. Hop in a taxi and be in the city in 10 minutes
Beautiful country home minutes away from the city ( Pereira) where there are several shopping malls, restaurants and night life. Enjoy a walking trail between bamboo trees, a beautiful stream and countless different flowers. The house it's located 30 minutes away from Los Termales de Santa Rosa ( natural hot water springs) about 45 minutes away from Salento which is a gorgeous typical Colombian town full of character, known for its fried fish and crafts all over town, you can go horse back riding in the beautiful mountains of Salento!!
Very peaceful country condo
Huonetyyppi
Yksityinen huone
---
Majoituspaikan tyyppi
Talo
---
Majoittujien määrä
4
---
Makuuhuoneet
Dosquebradas, Risaralda, Kolumbia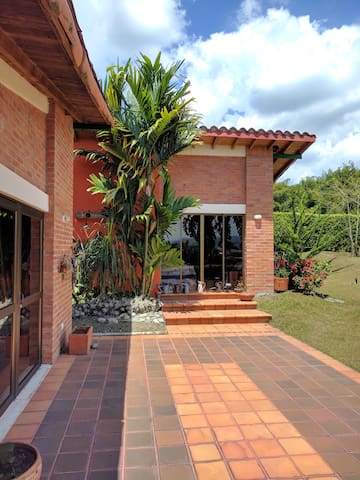 Huonetyyppi
Yksityinen huone
---
Majoituspaikan tyyppi
Retkeilymaja
---
Majoittujien määrä
16
---
Makuuhuoneet
Santa Rosa de Cabal, Risaralda, Kolumbia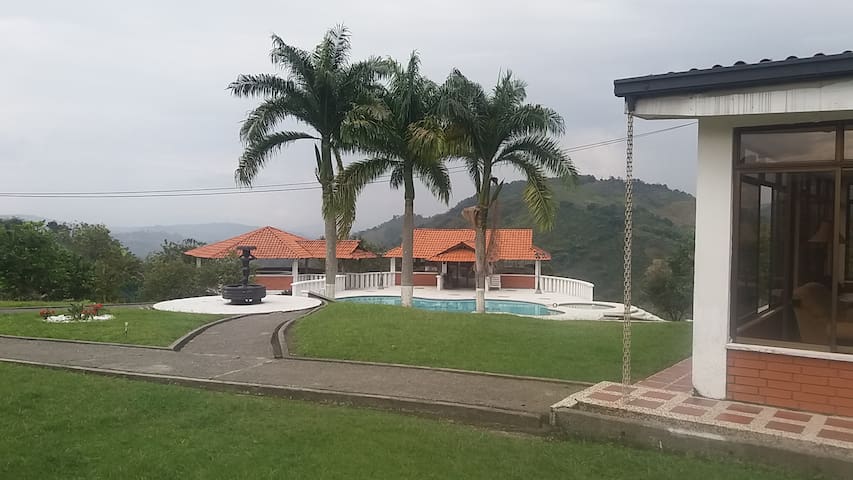 Apartaestudio totalmente remodelado, con excelentes acabados, cocina semi-integral, patio de ropas, lavadora, nevera, closet, wifi y television... Ubicado en conjunto cerrado con piscina, zonas verdes, cancha multiple y area social; La urbanización se encuentra cerca de centros comerciales, supermercados, area comercial, a dos calles de estación de megabus, y cerca del lago la Pradera.
Huonetyyppi
Koko talo/asunto
---
Majoituspaikan tyyppi
Huoneisto
---
Majoittujien määrä
3
---
Makuuhuoneet
Dosquebradas, Risaralda, Kolumbia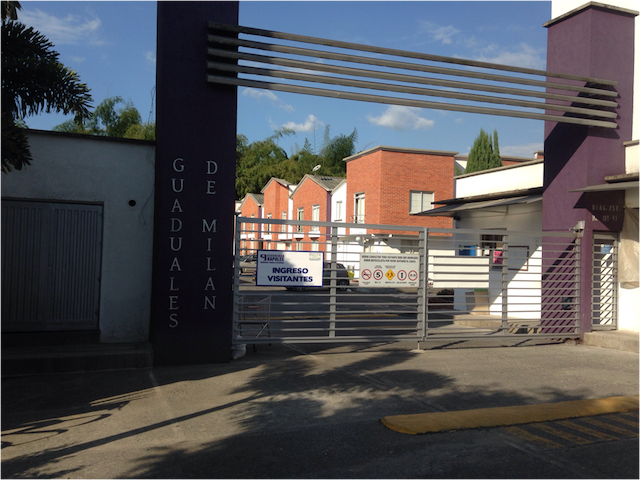 Lugares de interés: el centro de la ciudad a tan solo 5 minutos, a tan solo 35 minutos del aeropuerto Matecaña, del Bioparque Ukumarí, a 40 minutos de termales. a tan solo 1 hora de Quindio y Caldas. Entretenimiento nocturno. Te va a encantar mi lugar debido a la luz, la comodidad de la cama, el espacio acogedor, la amabilidad, la privacidad y la tranquilidad en las noches. Mi alojamiento es bueno para parejas, aventureros, viajeros de negocios, familias (con hijos)
Todo muy bien excelente ubicacion y muy buen servicio de parte de Laura Gracias!
Sebastian
2016-11-20T00:00:00Z
Muy bonito, coincide exactamente a las fotos. Esta ubicado en un conjunto tranquilo y bastante comodo.
Kelly
2016-11-24T00:00:00Z
El apartamento es mucho mas lindo de lo que se ve en las fotos, tiene todo lo que aparece en el anuncio, es super cómodo y esta en una buena zona, fácil de llegar, Laura fue muy linda y siempre estuvo atenta a cualquier duda. Super recomendado
Paola
2016-11-26T00:00:00Z
El lugar es tal cual su descripción. Muy limpio y completo, La Cocina tiene todo y tiene patio con lavadora. Nos encantó el lugar, el baño y la habitación.
Jeisson
2016-12-18T00:00:00Z
El departamento esta en un conjunto privado, el acceso al departamento es en planta baja. Muy cerca del centro, el transporte en taxi es muy barato. Por experiencia como anfitriona, debe de estar mas visible el acceso al wiffy. De lo demas un departamento moderno y acojedor
ELSA
2017-02-25T00:00:00Z
El apartamento es excelente, cómodo, limpio, ubicación, seguro y Laura es excelente anfitriona, soluciona todas las dudas.
Juan
2017-01-01T00:00:00Z
todo muy bien, son muy amables
Edwin Alfonso
2017-03-26T00:00:00Z
El lugar es cómodo, igual a lo expuesto en las fotografías. Es fácil acceder, el mobiliario es funcional y la zona circundante es segura y apacible.
Carlos Andrés
2016-10-06T00:00:00Z
Huonetyyppi
Koko talo/asunto
---
Majoituspaikan tyyppi
Huoneisto
---
Majoittujien määrä
4
---
Makuuhuoneet
Dosquebradas, Risaralda, Kolumbia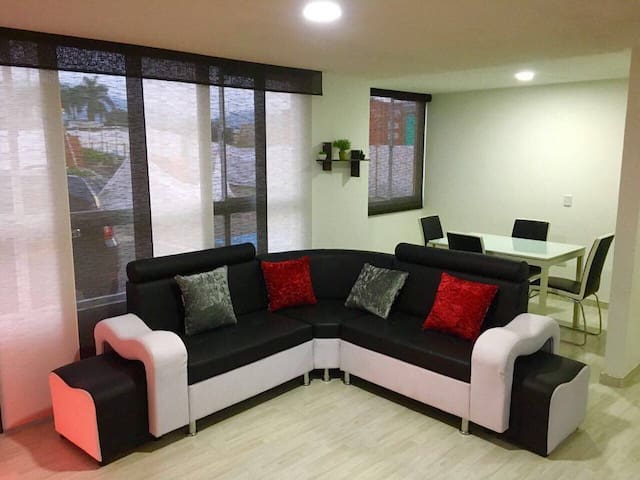 Watch rare birds sail between fruit trees and coffee plants on a finca just outside Dosquebradas in the coffee district. Accessible by public transport, close to Pereira, the airport and many local sights. Enjoy the view from the pool or the basketbal court.
Spacious apartment (20 m2/215 sqft) with private bathroom. Unique location with impressive view of the green surroundings, and yet close to the Pereira city limits and highways to Santa Rose, Manizales, Medellin en Cali. Temperatures all year around 25 - 30 C
Rural area at altitude of (PHONE NUMBER HIDDEN)ft, close to the Andes mountains, just outside the village of Dosquebradas. Pereira's megabus and other buses and taxis are just an 8 minute walk away. Buses to Manizales, Santa Rosa and other destinations are 12 minutes away.
We never saw our host since they don't live there. The caretaker was nice and helped with our concerns. We had great difficulty finding the farm since we were driving and it was already night. The room was very spartan, simple. The bathroom was very basic, no hot water available. I did not enjoy having an insect crawl over my face while sleeping. But the location is nice, the view is great. We expected a terrace on our room from the pictures we saw, but the terrace is on another building. At least we enjoyed breakfast on it. Breakfast was great and the lady in charge was very sweet and helpful.
Calhoun
2015-08-30T00:00:00Z
Really nice and interesting place! Comfortable accommodation and good service! Includes breakfast with local fruits (from the garden) and introduction to the process of coffee production! You should visit the village Marselles nearby too! Great nature and very relaxed people!
Lutz
2015-06-28T00:00:00Z
One of The nicest places we have been in Colombia so far. If You are Looking for a few Days of relaxing And Remoteness, this is The place. Wonderful people Hosting you, own pool And bball-Court, great Breakfast and good sized room. Totally recommended!
Matthias
2015-12-02T00:00:00Z
Raymond provided an excellent experience at his beautiful finca just outside of Perira city. He was very responsive and made getting there from our late night bus arrival a breeze. The house was absolutely beautiful and the day and nighttime view over the city was an unexpected bonus. There is an amazing pool with breathtaking view of the valley and every day we had breakfast on the verandah with the panoramic view and beautiful birds landing in the garden below us. A great place to stay, great local knowledge and help, we felt part of the family and very at home. A great base for a few days in the coffee region with easy access to Salento and surrounding towns.
Lucy
2015-01-04T00:00:00Z
Raymond and his Family are a Great Host. They are very friendly and try to help you whenever they can. Raymond recommended a few places which you do Not have on page 1 of the lonely planet. The finca is lovely. You feel like in Paradies . The view is amazing. You can spend hours sitting in a Hamock on the Veranda and watching Into the valley. Additionally the finca offers a Pool and a jacuzzi. The Appartement is simple but nice and clean. You have your own bathroom. For breakfast they always Served Fresh eggs, Fresh orange juicy, arepa as well as Fresh Fruits. All Comes from the Garden of the finca , eben the coffee. You can Ask Raymond as well to get a tour through the coffee plantage. All in all I can Hardly recommend this Place if you are planning to go to the coffee Region .
Beni
2015-03-06T00:00:00Z
Raymond, Marisol and their team, which takes care of the place when they are not around, are amazing! They are very sympatic, easy and interesting to talk to and simply adorable. They hosted us extraordinarily well, offered transportation, tips and a tour around their property, which is simply fantastic. There are plenty of fruits, flowers, birds, 3 dogs, great facilities, amazing swimming pool with a relaxing area and above all a magnificent view from the terrace. The room was spacious, clean and the beds are comfortable. We hadgreat streetfood in bosque de las aquarellas, which is a nice 15 min stroll down the hill. There is plenty to discover around Pereira and their Finca is the perfect place to relax and recharge your batteries after a busy day. One of the best Airbnb locations we have been to! This will for sure be a fixed point on our next Colombia itinerary!
Anja
2017-02-10T00:00:00Z
My parents expended an amazing day in this "finca", if you are looking a quite place with perfect weather this is the place. The host was attending with any request and gave my parents a full tour around the place sharing his knowledge about the flower, birds and fruit trees. My parents enjoy the full typical breakfast(included)
DiEgo
2016-05-31T00:00:00Z
Raymond made us feel at home and picked us up from the place the bus dropped us off at and was kind enough to drop us back at the bus station. The Finca is gorgeous and the pool was great. The whole place has breathtaking views and exotic birds. The breakfast was great with fruit, eggs and aperas and fresh juice. It's close enough to the thermal hot springs and other attractions.
Vanessa
2015-01-28T00:00:00Z
Huonetyyppi
Yksityinen huone
---
Majoituspaikan tyyppi
Aamiaismajoitus
---
Majoittujien määrä
2
---
Makuuhuoneet
Dosquebradas, Risaralda, Kolumbia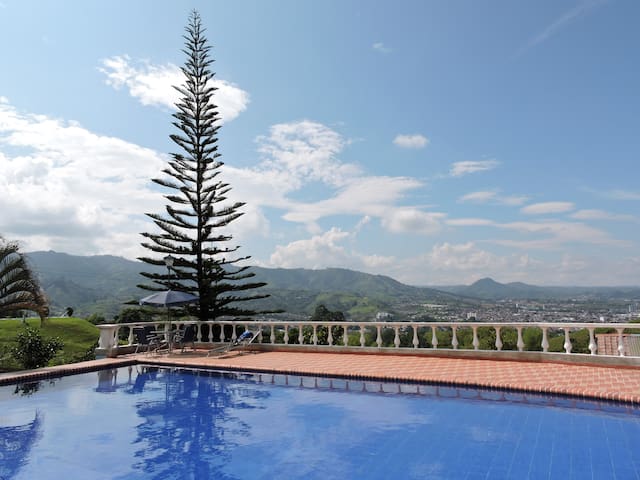 Apartamento en Pinares Campestre conjunto cerrado, parqueadero, habitación privada, zona social con tv, sofá y comedor disponibles para el uso al igual que la cocina. Cerca de la Avenida Circunvalar la zona comercial de la ciudad.
Great place to stay at Alejandro's, he was very helpful with local info and activities. The apartment is clean and modern, and located within 10min of the bus terminal and good restaurants. Highly recommended.
Arshabh
2017-03-28T00:00:00Z
Excelente estadía. El apartamento es super chévere y está muy bien ubicado. Fueron pocos días, pero placenteros. Alejandro estuvo al tanto de todo lo que fue necesario para estar cómodo en el apartamento, además de colaborar amablemente con parte de la logística de mis transportes. ¡Gracias! Very short but pleasant stay. Alejandro payed attention to all that was required for an excellent stay. The location is really good, and the apartment also. Thanks for all your help!
Rogelio
2016-12-02T00:00:00Z
Great place to stay. Nice apartment in a near new building. Good location and Alehandro is a good host.
David Hamilton
2017-02-13T00:00:00Z
El alojamiento está muy bien ubicado,limpio y muy bien amueblado. Además Alejandro es de confianza. Lo recomiendo para todo aquel que se quiera sentir como en casa.
Guillermo
2016-12-04T00:00:00Z
privacidad, es un lugar tranquilo
David
2016-11-09T00:00:00Z
el lugar y el clima es perfecto!!!
martha
2016-12-17T00:00:00Z
Huonetyyppi
Yksityinen huone
---
Majoituspaikan tyyppi
Huoneisto
---
Majoittujien määrä
2
---
Makuuhuoneet
Pereira, Risaralda, Kolumbia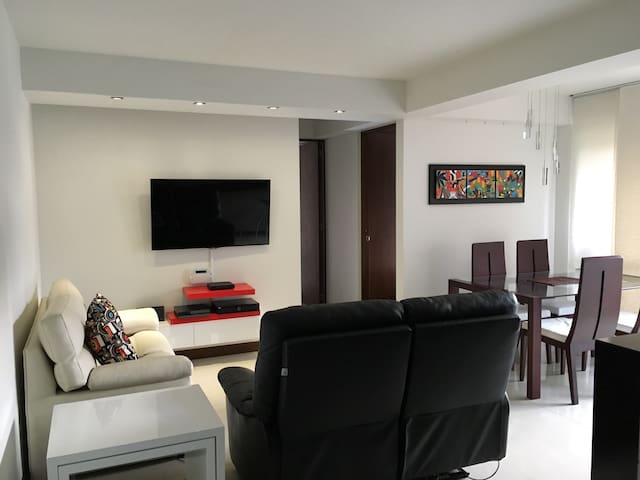 Este apartamento esta totalmente nuevo, para estrenar, muy cómodo y bonito, cuenta con vista a las montañas, lo que brinda gran frescura y una experiencia de tranquilidad única.
Excelente, en conjunto privado, acogedor, buen internet, anfitrión recomendado 100%.
Jaime
2016-12-28T00:00:00Z
Hermoso apartamento, todo nuevo y tal cual como se muestra en las fotos. Sector muy cómodo y seguro. Los anfitriones super amables y atentos a colaborar. Totalmente recomendado.
Carola
2016-03-28T00:00:00Z
La estadía fué buena. Las fotos corresponden a la realidad, el apartamento es cómodo, buena ubicación, la atención del encargado es excelente, es un apartamento nuevo. Lo incomodo es q la unidad aún está en construcción, entonces el ruido desde temprano (7:00 am) es terrible xq al parecer los trabajadores no son consientes que es una unidad ya habitada, para una persona sencible al ruido, es incómodo. Siempre tuvimos parqueadero, aunque el parqueadero que le correspondía al apartamento durante 2 noches lo ocuparon con otros carros, y los propietarios de los vehículos no quisieron Moverlos. El anfitrión siempre estuvo pendiente, nos atendió todas las inquietudes, y los inconvenientes del ruido y del parqueo fueron ajenos a su buen servicio.
Marcela
2016-06-17T00:00:00Z
Great place, great people! I recommend!
Javi
2016-11-13T00:00:00Z
Huonetyyppi
Koko talo/asunto
---
Majoituspaikan tyyppi
Huoneisto
---
Majoittujien määrä
6
---
Makuuhuoneet
Dosquebradas, Risaralda, Kolumbia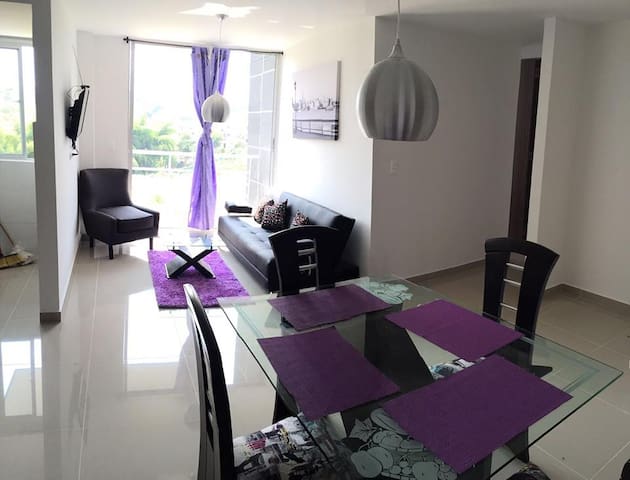 Lugares de interés: parques y restaurantes y comida. Ubicación: Dosquebradas, en el sector de El Progreso, detràs del CAM, junto al colegio Salesiano, muy cerca del Centro Comercial El Progreso, Ùnico y el Intercambiador del Megabús. Con un súper acceso con una vía de doble carril totalmente asfaltada. Acogedor apartamento a 10 minutos del centro de Pereira. A 25 minutos del Parque Ukumarí, a 1,5 horas del Parque del Café y de Panaca, a 30 minutos de los Termales de Santa Rosa de Cabal
Clean, Hot water in the showers, the washing machine was useful, we used the facility gym while we were there. Luz was so helpful and available, she was the reason our trip went so well.
David
2017-01-11T00:00:00Z
Piedad fue una muy buena anfitriona, estuvo siempre muy pendiente de nosotros y nuestra llegada. Su alojamiento es moderno y bastante acogedor. Está equipado con todo lo necesario.
María Alejandra
2017-01-08T00:00:00Z
Everything was GREAT Luz, the apartment the area all very good
Pedro
2017-03-21T00:00:00Z
la mejor experiencia. El apto es súper cómodo y la locación es súper agradable. Mi familia y yo disfrutamos muchísimo nuestra estadía. Piedad estuvo muy atenta a nuestras necesidades.
Lorena
2016-11-24T00:00:00Z
Hermoso apto, Limpio y agradable.
Los Raves
2016-12-20T00:00:00Z
Excelente apartamento, buena ubicación, organizado, limpio y muy buena anfitriona Luz Piedad... Recomendadísimo
Natalia
2017-02-21T00:00:00Z
Huonetyyppi
Koko talo/asunto
---
Majoituspaikan tyyppi
Huoneisto
---
Majoittujien määrä
5
---
Makuuhuoneet
Dosquebradas, Risaralda, Kolumbia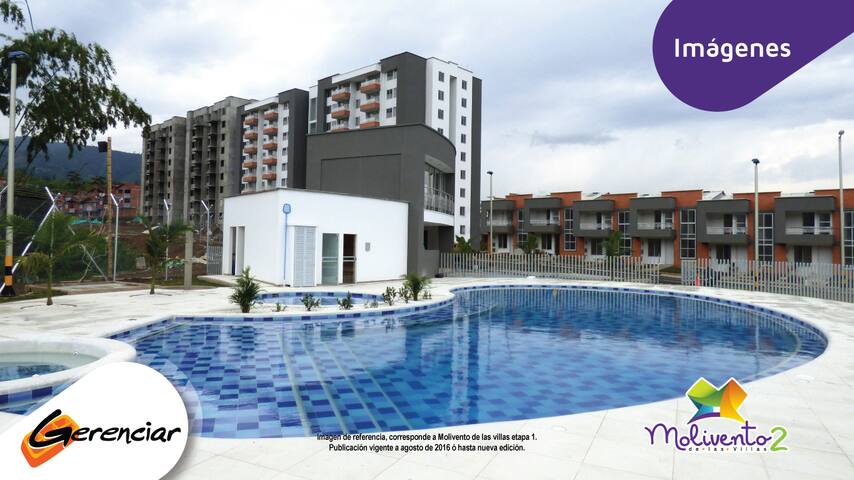 My place is close to restaurants and dining, great views, and parks. You'll love my place because of the location, the ambiance, and the views. My place is good for couples and business travelers.
Perfect location, just a block away from the very best part of Pereira - Due to a major disappointment with another host in Bogota, I came here for a break. This apartment is modern, clean, large, comfortable, safe - and very near the bets part of town. Great bars, an amazing shopping center. Yet is is just far enough away that the nights are quiet and peaceful. There is a balcony, so those who smoke can go outside. Great security, and very friendly. I recommend this for your stay in Pereira.
Cian
2017-01-24T00:00:00Z
Very well equipped, modern apartment in a nice part of Pereira, just a couple of blocks from the bars and restaurants on the Circunvalar.
Michael
2016-12-08T00:00:00Z
Jorge had great communication with me. I was switching from a different AirBnB location that was not serving my needs. This place has a full kitchen where I could cook (I am diabetic so I cook for myself a lot). The kitchen was well stocked for my needs. As well there was a washer and dryer here to keep my clothes clean during my long stay in Pereira The place was nice and spacious and was very clean overall. There were small things that made the room not so desirable. Some small places that places could have been a bit cleaner, but it was not a deal breaker at all in general. The apartment is located very close to the nightlife in Pereira. It is far enough to be quiet though. It is also located close to a mall where you can shop for your needs and near many restaurants including a vegetarian place I fell in love with. It is also walking distance from a Carulla, a great supermarket. In general this place was a great place to stay. I would recommend it again.
Erick
2016-11-16T00:00:00Z
Me gusto la estadia en este apartamento por lo cerca que estan muchos restaurantes, el lugar es muy acojedor y con buena seguridad.
Daniel
2017-03-08T00:00:00Z
A great small space to enjoy the city life
Mauricio
2017-03-11T00:00:00Z
Huonetyyppi
Koko talo/asunto
---
Majoituspaikan tyyppi
Huoneisto
---
Majoittujien määrä
2
---
Makuuhuoneet
Pereira, Risaralda, Kolumbia