To je ideální, zcela nový byt pro ty, kteří si chtějí vychutnat klid a pohodu, ale je stále ještě 10 minut chůze od centra města. Má to je soukromá terasa s úžasným výhledem na Jaderské moře a staré město Trogir.
Byt je v ideální poloze; 10 minut chůze od historického centra města a hned vedle borového lesa, který má velké sledovací stezky pro běhání nebo dlouhé procházky. Máte přístup k WiFi v bytě a venku na terase. 500 metrů od pláže. Byt má jednu ložnici s jedním queen size postel a v obývacím pokoji je skrytý (pohovka) pro 2. V případě potřeby zajistíme dětskou postýlku, takže 2 lidé nemuseli spát spolu na skryté posteli. Máme také další dva byty: Úžasný výhled na byt # 1 a úžasný výhled byt # 2, které jsou ve stejné budově a jsou téměř totožné. Oni jsou také uvedeny na Airbnb a každý z nich má vlastní terasu s nádherným výhledem!
Považuji naše sousedství jeden z bezpečnějších částí světa.
I really recommend this apartment. We stayed for … days and it was just how we expected, just as Darko describes it on his profile and how it looks like in the photos. The apartment was very clean and spacious and well equipped with everything we needed. The bed is comfortable, the bathroom and kitchen/living room are new. There was nothing we felt was missing. There is a great view from the terrace of the city. We loved sitting on the terrace and enjoying the view especially. The old part of Trogir could be reached easily by a 10 minutes walk. A local bakery and a little supermarket are close to the apartment. Darko is a very friendly and open-minded person and let us feel very welcome at any time. He was very courteous and answered all our questions from the first contact. Because it was the off-season Darko upgraded us to the bigger apartment #3. He picked us up at the airport and brought us to the apartment. The day of our departure, he brought us back to the airport. We highly recommend this host and apartment!
Stefanie
2016-05-08T00:00:00Z
Darko is an unbelievably helpful and nice person! Both him and his wife did everything they could to make our stay as amazing as it has been. He helped us out at any time, was always reachable and gave us awesome recommendations for the most beautiful places in the region! The apartment has a very nice terrace from which you have an amazing view down into the harbor and the old town centre even better than on the pictures. Definitely my best airbnb experience so far!
Nico
2016-08-16T00:00:00Z
We really enjoyed our stay at Darko's place. The house is located on a hill that oversees the historical centre of Trogir, so you get a fantastic view day and night. The flat is very well furnished and has everything you need. Darko and his family were very welcoming and always ready to help. We will definitely recommend this place to our friends!
Maria
2016-09-30T00:00:00Z
Beautiful apartment with an amazing view. Trogir was probably the best of our stays and it wouldn't be possible without the apt location and hosting of Darko. His brother came all the way near the centre of the city to escort us to the apartment. The apartment itself is filled with all the modern day amenities for someone planning for a short or longer stay. All in all, just perfect.
ravinder
2016-12-03T00:00:00Z
Fantastic host, really helpful! Great view and location. Would definitely recommend staying at Darko's apartment!
Rebeca
2016-08-31T00:00:00Z
Wir wurden von Darko herzlich empfangen. Die Wohnung war wie beschrieben, ganz neu, sehr sauber und schön eingerichtet. Die Lage war einzigartig mit direkter Sicht aufs Meer. Es war sehr ruhig. Darko war sehr hilfsbereit und gab uns gute Tipps für Ausflüge und gute Restaurants. Wir können die Wohnung bestens weiter empfehlen.
Theo und Trudi
2016-04-24T00:00:00Z
Darko and his wife are fantastic hosts. They provided us the best possible support. Definitely recommend this place to stay in Trogir. And indeed, view is amazing!
Aleksey
2017-02-23T00:00:00Z
Darko is a great host and very concerned about us as guests. The appartement is brand new as very well equipped as well as decorated. The beds, bathroom, kitchen etc. are nice and functionel. The terrace is very cocy and realy does have an amazing view. The neighbourhood is pittoresk and we had a nice swim at the closest Beach.
Henriette & Ole
2016-09-18T00:00:00Z
Huonetyyppi
Koko talo/asunto
---
Majoituspaikan tyyppi
Huoneisto
---
Majoittujien määrä
4
---
Makuuhuoneet
Trogir, Splitsko-dalmatinska županija, Kroatia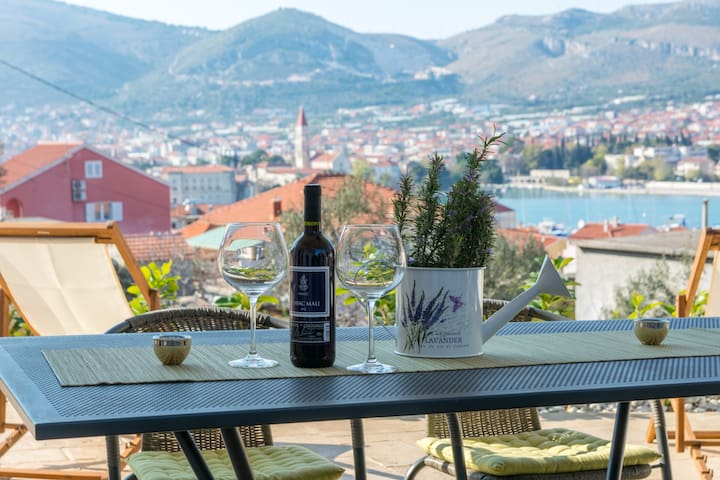 Unsere kühlen und gemütliches Studio im Haus, wo einst lebte Adelsfamilie Dragazzo, nach der Wohnung benannt ist ein wahres städtischen Gefühl hat! Es passt bequem Platz für zwei und liegt zentral in der Altstadt. Genießen Sie einen einfachen Zugang überall!
Wir befinden uns im mittelalterlichen Haus im Herzen der Altstadt von der UNESCO geschützt gelegen. Unser Haus lehnt sich auf berühmte Palace Cipiko, die dem frühen Mittelalter. Also, wenn Sie ein Fan von Geschichte und Kunst sind, ist dies der richtige Ort für einen Aufenthalt in. Es passt bequem Platz für zwei. Alle Angaben sind sorgfältig ausgewählt und jedes Ding nach innen hat seine Geschichte. Raum vollständig mit allem ausgestattet ist, wir denken, dass Sie hier während Ihres Aufenthaltes benötigen.
Die Lage ist die beste. Sie befinden sich in der Mitte von allem. Der Aufenthalt hier, fühlen Sie die reale Erfahrung der Aufenthalt in der Stadt "Stadtmuseum" genannt.
Ivana's studio apartment was right in the heart of the old city, down a narrow cobble stone street. It was very cool, both in appearance and temperature. It was very hot during our visit. Ivana was very friendly and helpful. She kindly dried our washing which was a great help. Trogir is a great place to visit and Ivana's studio is well appointed, clean and in a fantastic location.
Robin
2015-07-09T00:00:00Z
Ivana's apartment in Trogir was nicely hidden, small, cosy and furnished with all necessary requirements and some extra sweet treats. She is a cheerful person, picked us up at the airport and gave us advices on what to do.
Janine
2016-08-12T00:00:00Z
Ivana was a great host, she was very kind and helpful. We really liked her! The room was also charming and welcoming. So we had a short but very good time in Trogir! Thank you so much!:)
Silvan
2016-07-20T00:00:00Z
Ivana and her husband are excellent hosts, going the extra mile to make you feel welcomed and confortable. The apartment is small but very well organized. Ideal for a person alone or a couple. Trogir is a lovely town to visit for a day or two, to unwind. I would highly recommend a stay at Ivana's place. Their hospitality is above average!
Marc-André
2016-05-23T00:00:00Z
Ivana was so wonderful! We arrived earlier than we had planned but Ivana was able to meet us and help us with our luggage and with parking. She gave us a lot of useful information and recommendations. The apartment is very well located. Just a couple of alleyway turns from anything in old town. It was fun to explore around. The space had everything we needed and was comfortable. Highly recommend!! We wish could have stayed longer than one night.
Madelyn
2016-06-24T00:00:00Z
Ivana came to meet us at the bus stop when we arrived in Trogir. She gave us advice on what to do in Trogir. The apartment was great, for a shorter stay. It was exactly like on pictures. Location was really good. We really enjoyed staying with Ivana, and could absolutely recommend it.
Lee
2016-07-27T00:00:00Z
Perfect in every way. She has gone above and beyond all other host I've stayed with.
Darla
2015-09-18T00:00:00Z
Un joli petit apparement directement dans le centre de la ville. Vous aimerez vous perdre dans ses petites ruelles entre les boutique et les cathédrales. Tout près de la mer, vous pouvez vous promener le long de la digue ou vous reposer dans un des nombreux restaurants/bars avec vue sur le château médiéval de Kamerlengo. C'est une petite parenthèse dans le temps que vous offre ce séjour à Trogir.
Julie
2016-08-06T00:00:00Z
Huonetyyppi
Koko talo/asunto
---
Majoituspaikan tyyppi
Huoneisto
---
Majoittujien määrä
2
---
Makuuhuoneet
Trogir, Split-Dalmatian piirikunta, Kroatia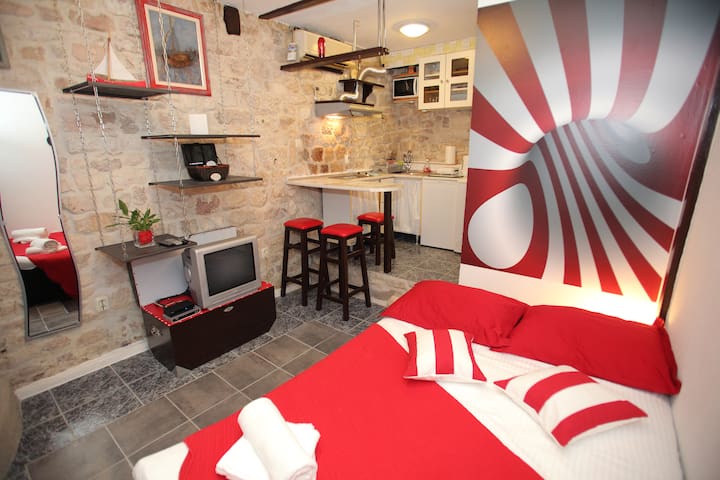 "Die Lage der Wohnung könnte nicht besser sein, die Aussicht ist atemberaubend direkt am Hafen und wenn Sie wie am Abend sitzen die Welt durch diese gehen zu beobachten ist der perfekte Ort." ... Das sind nur ein paar Worte von unserer berühmten Gäste :)
Studio Tironi situé dans une maison rénovée du 16ème siècle située dans la marina ACI sur l'île de Ciovo, à 400 mètres de la plage et à 5 minutes à pied de la vieille ville UNESCO de Trogir. Studio Tironi se trouve au rez-de-chaussée de notre maison familiale à Trogir. L'appartement offre tout ce dont vous avez besoin pour votre hébergement confortable. Il y a un jardin / pergola commune pour vous de profiter de la belle vue sur la marina et la ville de Trogir.
What a wonderful experience! From the minute we arrived Arijeta was very friendly and welcoming and was on hand throughout the stay to answer any questions, always ensuring that we had everything we needed. The apartment is beautiful and immaculately clean. It makes a pleasant change to find such a modern apartment in Croatia. Everything is new and has been finished to a very high spec with no expense spared. The decor has also been done very tastefully. We also found the location of the apartment perfect. It is about a 5 minute walk over the bridge to the main centre of Trogir with all the restaurants and shops, but being the other side of the water means that you can get away from the noise and hustle and bustle to relax in the lovely garden, which as you can see from the pictures has an amazing view. We had such a fantastic stay here with Arijeta and will definitely book to stay at Studio Tironi in the future. We would highly recommend this apartment for anybody looking to stay in Trogir and really did not have a negative thing to say about it, which is why we have rated it 5 stars.
Matthew
2016-08-04T00:00:00Z
Having been to Trogir before we knew it was going to be a lovely holiday but Arijeta's apartment made it much more special! It is in the perfect location in that it is out of the hustle and bustle of the city itself but only a 4 minute stroll to get there. The apartment is beautifully decorated and very clean. It is very well equipped with hairdryer,iron and towels. It also has a fully stocked kitchen meaning we could buy food from the local market and cook a delicious meal ourselves one night. Arijeta has also landscaped the outdoor area so you can sit outside and enjoy the view. It is very good value for money! Arijeta herself was the perfect host-very good at communicating, offered information on local activities and travel and even took us to the airport on our way home! I would recommend this place to anyone and we will hopefully be back soon.
Megan
2016-08-25T00:00:00Z
We knew we picked the right apartment the minute we arrived at the marina! Upon meeting Niksa & him helping us with our luggage, we knew it was going to be a great stay. Arijeta was at the door to greet us with a big welcome smile on her face--they actually enjoyed their job as hosts. FANTASTIC LOCATION being right on the marina, I mean right outside your door! Very well decorated, colorful, clean apartment--we only wish we could have stayed longer. It was an extra bonus to have free parking right next door. They both were very helpful with ideas where to eat, how to get there, & sights to see. OUTRAGEOUS sunset that evening!! Small market & shops less than a 5-minute walk away over the bridge. We highly recommend their comfortable rental, you will not be disappointed.... Thank you very much, Arijeta & Niksa....
elizabeth
2017-03-19T00:00:00Z
Studio très agréable et bien équipé, idéalement situé pour nous qui avions à travailler sur un voilier à la marina. Propriétaires chaleureux. Place de parking appréciable.
PIERRE
2017-03-01T00:00:00Z
We really enjoyed our stay at Tironi's, awesome view, close to the old town, nicest appt around and what a welcome from our host that came to meet us and help find our way; can't ask better than that!
Serge
2016-10-04T00:00:00Z
Arijeta is an amazing woman who is very loyal and welcoming. She waited for our arrival and showed us the way to her lovely appartement. It is so nice located near the port for litle sailingboats. You have a wonderful view on Trogir! The apartment is spacious and modern. Everything is there for a comfortable stay. Breakfast in the pergola with Trogir as a decor, romantic! A good place to start some excursions in the area. Arijeta is a good advisor and helped us what to do and where to go. We loved our stay and will definitely recommand It and we hope to go back!
Eline
2016-10-19T00:00:00Z
Our first experience with using Airbnb and what a hard act to follow! Arijeta is such a lovely, friendly, warm person and made us feel so welcome as did the rest of her delightful family, nothing was too much trouble. The most important thing to me when looking for somewhere to stay is cleanliness and Studio Tironi is immaculate, a real credit to Arijeta. The studio is beautifully decorated and very well equipped with everything you could want. Perfect location overlooking the beautiful marina and just a 5 minute stroll to the stunning old town of Trogir. We highly recommend Studio Trogir and look forward to our next visit hopefully in the not too distant future.
Rachael
2017-03-28T00:00:00Z
Petit studio joliment décoré et situé au cœur d'une marina aux portes des ruelles de Trogir. Arijeta a ete tres disponible. Nous recommandons!
Vanessa
2016-09-04T00:00:00Z
Huonetyyppi
Koko talo/asunto
---
Majoituspaikan tyyppi
Huoneisto
---
Majoittujien määrä
2
---
Makuuhuoneet
Trogir, Splitsko-dalmatinska županija, Kroatia
Neue und gemütliche Doppel schlechtes Zimmer mit eigenem Bad, in einem renovierten, im Zentrum 600 Jahre alte Steinhaus, (Fußgängerzone), von Trogir Altstadt. Das Haus befindet sich in einem modernen Stil mit einem Hauch von Interesse Details renoviert ...
Pension Tiramola, befindet sich in einem renovierten 600 Jahre alte Steinhaus im Zentrum der Altstadt von Trogir, (Fußgängerzone), ... aufgeführt auf der UNESCO-Liste des Welterbes. Tiramola ist eine warme und gemütliche Zimmer mit eigenem Bad ... weiße Farbe zusammen mit süßen Details und modernen Stil geben diesem Raum ein einzigartiges Gefühl, wie Sie in unserer Fotogalerie sehen ... Internetzugang & Wi-Fi, Kabel-TV, Klimaanlage, Lage, nur wenige Meter von der Stadt Hauptplatz, Kathedrale, und unsere berühmten Uferpromenade mit nur 6 km Entfernung vom Flughafen machen Guesthouse Tiramola der beste Ort, um Ihren Urlaub zu verbringen ... oder die perfekte Stadt brechen ...
Sie befinden sich nun im Herzen der Altstadt von Trogir, in einem schönen Labyrinth von kleinen Gassen, umgeben von Kunst Ateliers, charmante Restaurants, Weinstuben, Museen, Denkmäler. Mit einer der größten historischen Erbe in der Welt, ist Trogir gibt es zuhauf in Schönheit und Geschichte, und es ist von der UNESCO geschützt. Pension Tiramola liegt nur 30 Meter von unserem berühmten Uferpromenade, wo Sie Bootsfahrten zu den vielen Inseln arrangieren und Strände um die Stadt. 100 Meter von uns den Hauptplatz und die Kathedrale sind ... grün und Fischmarkt sind nur 2 Minuten entfernt und die Entfernung zum Flughafen beträgt nur 6 km.
Hosts were welcoming and very kind. The room was very clean and the bathroom was spacious.
Eunsoo
2016-07-16T00:00:00Z
we were delighted to be able to stay one night in marija's room. wish it could have been longer because it is one of the best rooms we have enjoyed w airbnb! squeaky clean, modern, well-located. they even offer a discount at a family owned restaurant downstairs. trogir is a charming town. after the height of the tourist season, it is peaceful and quiet, particularly at night and in the morningtime.
bill
2015-10-21T00:00:00Z
Nous avons passé un séjour très agréable a Trogir! Marija a été très réactive pour nous guider (par mail) et nous accueillir. La "cozy room" est idéalement située dans le vieux Trogir, parfaitement conforme aux photos, confortable et bien équipée. Le quartier est bien animé! Si vous voulez vraiment bien dormir prenez vos boules quiès! ;)
Rémi
2016-09-20T00:00:00Z
What a fantastic little room for our stay in Trogir. The room is situated right in the heart of the old town. It was spotless and very tastefully decorated. The hosts were very quick to respond to messages and also checked we had settled in okay. Marija was also kind enough to book us a taxi to the airport. Staff downstairs at Capo restaurant were also extremely friendly and helpful - and the discount on food was also a great touch. Thank you!
Helen
2016-05-29T00:00:00Z
The host was very nice, met us at the bridge of the old town and showed us the way to the apartment. She kept contact with us during our stay. The nighbourhood is nice and felt safe. People were friendly.
Randi
2016-06-26T00:00:00Z
Die Kommunikation mit Marija verlief reibungslos. Auf unsere Nachrichten hat sie immer sofort geantwortet. Ihr Mann hat uns netterweise von dem kostenlos zur Verfügung gestellten Parkplatz abgeholt und zur Unterkunft gebracht (die Innenstadt von Trogir, wo sich die Wohnung befindet, ist autofrei). Die Wohnung ist sehr zentral mitten in der Altstadt gelegen und sehr ansprechend dekoriert und eingerichtet. Wir haben uns in der Wohnung sehr wohl gefühlt!
Anne
2016-08-29T00:00:00Z
We loved this apartment! It was clean, modern and very centrally located. Marija's husband met us at their shop to show us their parking space, great added bonus, and then showed us over the bridge to their apartment in the old town. We wished we had a few more days to enjoy Trogir and the apartment, but it was perfect for what we needed.
Ana
2016-07-11T00:00:00Z
The room was perfect! It almost felt like a hotel. Everything was okay except maybe the wifi....
Jay
2016-08-05T00:00:00Z
Huonetyyppi
Yksityinen huone
---
Majoituspaikan tyyppi
Talo
---
Majoittujien määrä
2
---
Makuuhuoneet
Trogir, Splitsko-dalmatinska županija, Kroatia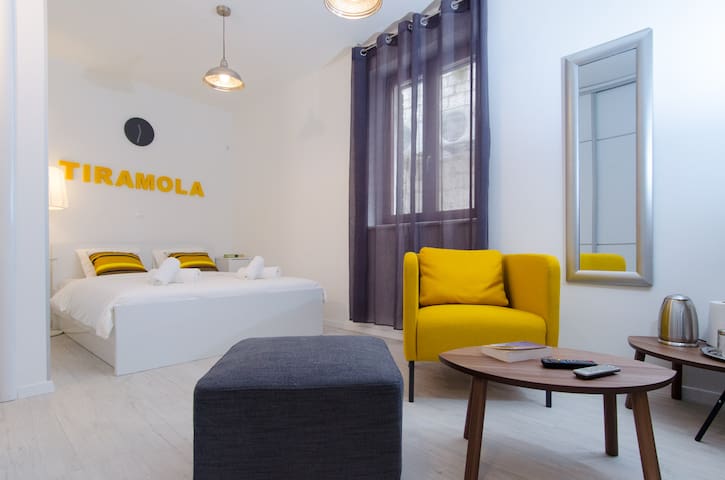 Características básicas: Tipo de Apartamento: A1. 4 cama / s para los adultos. Número de camas supletorias 1.
Aeropuerto - 7 km Playa - 350 m Ferry - 30 km Estación Central de Trenes - 30 km Restaurante - 500 m
Huonetyyppi
Koko talo/asunto
---
Majoituspaikan tyyppi
Huoneisto
---
Majoittujien määrä
5
---
Makuuhuoneet
Trogir, Kroatia
Nauti lomasta tässä viehättävä talo mäkeä lämmitetty uima-allas, puutarha poreallas ja kattoterassi. House vuokraa kokonaisuutena, suojassa ulkopuolinen näkemys ja tarjoaa täydellisen yksityisyyden. Se sijaitsee rauhallisella alueella keskuudessa oliivipuita, 10 minuutin ajomatkan Trogir, rantoja, ravintoloita, kauppoja ... kaikki mitä tarvitset täydellinen loma. :)
Talo sijaitsee pieni, rauhallinen kylä Seget Gornji 6 km luoteeseen Trogir. Talon ajavat tiellä kaunis näköala Split, Trogir ja saaret. Ympäröi kaunis maisema ja terassi, josta on näkymät oliivilehto ja ympäröiville kukkuloille, jossa voi nauttia aamiaista ja romanttisen illallisen. Se on ala on 75m2 ja on kaksi makuuhuonetta, olohuone, keittiö, iso kylpyhuone ja erillinen pieni wc. Yhdessä makuuhuoneessa on parivuode, toisessa makuuhuoneessa kaksi sänkyä ja sohva olohuoneessa voidaan muuntaa yksi lisävuode. Talo on täysin varustettu kaikki laitteet, ilmastointi, satelliitti-tv ja langaton internet. Talo erityisellä tavalla koristavat hoidettu puutarha, jossa lämmitetty uima-allas, puutarhaporeallas jossa voit virkistää ja rentoutua, ulkona aurinko suihku, katettu terassi suuri puinen pöydät, penkit, tuolit, keinut ... On erillinen mökki, jossa on takka, grilli ja autotalli kahdelle autolle. Vain 10 minuutin ajomatkan kaunis historiallinen kaupunki Trogir ja pieni kalastajakylä Seget Donji jossa on kauniita rantoja, ravintoloita, kahviloita, kauppoja ja liikuntapaikkoja, ja suosittu hotelli Medena pääsee rantakatua. Talo sijaitsee erinomaisella paikalla: lentokentälle Split 15 km, valtatien Prgomet 11 km, Split 35 km, Šibenik 38 km ja Krka National Park on talomme pois vain 40 minuutin ajomatka. Ihanteellinen paikka loma, kaukana melusta ja lähellä kaikkia kesän vetovoima. Tervetuloa!
Ystävällinen, rauhallinen, yksityinen, ympäröi luonto
Wonderful place, better than the pictures show. The hosts are lovely and the house is equipped with everything you need.
Jonas
2017-04-13T00:00:00Z
Dirsi and his wife, were very nice and helpfull during our trip. They came pick us up to show us the road the house, offered us some drinks and show really dedicated to us having a nice stay.
maxime
2015-10-02T00:00:00Z
Dirsi en haar man verwelkomden ons zeer hartelijk. Ze stonden ons op de afgesproken plaats op te wachten en begeleidden ons naar het huis. Bij aankomst stonden er frisse drankjes en koekjes op ons te wachten. Dirsi was ook steeds bereikbaar indien nodig, iedere e-mail werd zo goed als meteen beantwoord. Ze was altijd even vriendelijk en behulpzaam. Haar man zorgde zelf voor het onderhoud van het zwembad en de jacuzzi. Het huis beantwoordde perfect aan de verwachtingen, was heel goed uitgerust en zeer proper. Er zijn verschillende supermarkten in de buurt en het huis is ook geschikt als vertrekpunt voor leuke uitstapjes. Kortom, wij hebben echt genoten van ons verblijf in Seget Donji!
Sara
2015-06-28T00:00:00Z
House Marija is superbly well-equipped and comfortable with lots of outdoor space, covered eating areas, and a lovely garden. Sitting in the jacuzzi and watching the swallows was great! Dirsi and her partner were brilliant hosts and couldn`t have been more welcoming or helpful. If you have a car and don`t mind being ten minutes or so from the sea, shops, and markets this makes an ideal base and is cooler, quieter and more peaceful than being right on the coast. We thoroughly enjoyed our stay and can`t recommend it more highly! The Krka National Park is not to be missed and we also loved both Sibenik and Pristomen as well as the beaches on Ciovo and at Seget Vranija and Trogir itself.
neil
2013-07-05T00:00:00Z
Dirsi and her lovely family made our stay an absolutely comfortable and cosy one! The house is very well equipped and the ideal place to have a pleasant and relaxed vacation! Dirsi was always very quick with responding and made sure that all is perfectly set up for us. Dirsi's husband even came around to clean the pool for us during the week. The house is located in a very quiet place on a hill next to Trogir and it took us about 10 minutes to the center by car (along a beautiful panorama road!). We would definitely come back for our next Croatia trip!!
Corinna
2013-07-28T00:00:00Z
Dirsi and her husband were lovely. This is a fantastic house with beautiful pool and Jacuzzi and great setting. Only a short drive to airport but far enough to feel like you are in the middle of nowhere! Would recommend and cannot wait to return. Dirsi provided us with drinks and lovely home made food on arrival and even a bottle of champagne.
Alice
2016-08-08T00:00:00Z
My wife and I visited Dirsi's house for the last few nights of our honeymoon around Croatia and Bosnia. Dirsi and her husband Damir arranged a meeting place in the nearby town, which meant to had no problem finding the house afterwards. We arrived after a four hour drive from Bosnia, and were very kindly handed much appreciated cold drinks before being shown around the well equipped house and gardens. The house was lovely and clean, and came with a pool, hot tub, and lovely olive groves and fig trees. Dirsi and Damir were very attentive hosts - whenever we needed anything, they were very quick to respond and help us out. We cooked outside on the brick barbecue a couple of times, spent a lot of time relaxing by the pool, and also popped down to Trogir once for a bit of sightseeing (about 10 mins drive). We really loved the place, however very occasionally the nearby road provided a bit too much noise for our liking. Thank you very much for looking after us so well!
Edward
2015-09-10T00:00:00Z
excellent accueil, maison magnifique, super bien équipée, piscine de rêve, tout au calme à 10 minutes en voitures de Trogir (ville très animée). nos hotes nous ont installés très confortablement, avec un frigo garni de boissons pour notre arrivée mais aussi quelques produits d'épicerie à notre disposition. Notre séjour a été un régal, et la maison est même mieux en réalité que sur les photos.
Stef
2016-06-29T00:00:00Z
Huonetyyppi
Koko talo/asunto
---
Majoituspaikan tyyppi
Talo
---
Majoittujien määrä
5
---
Makuuhuoneet
Seget Gornji, Split-Dalmatian piirikunta, Kroatia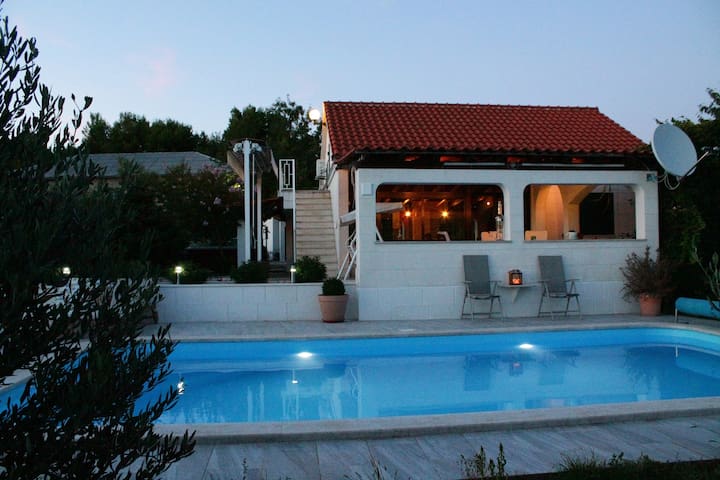 3rd floor: room with 20sqm for 2 persons, with balcony and sea view.. Double bed, bathroom with shower, free WiFi Hotspot, satellite TV, refrigerator. On request with optional breakfast. villa-miliccom If you need an airport shuttle to the property, we provide for a fair package our shuttle very happy to help.
The Villa Milic philosophy: A special holiday home in which to make three generations side by side and each holiday and feel comfortable. We are a guest house for kids, singles, large and small families, for grandpa and grandma, for spa guests, for nature lovers, for sports, for active and "passive" people! As in a large family, you spend your holidays in an atmosphere of friendliness and warmth. The personalized hospitality of the Milic family toasty relaxed atmosphere, the security and the diverse offerings allow your well-deserved summer vacation truly unforgettable !!! Your family Milic, wishes you a pleasant stay in our house ... Visit us at villa-miliccom
Goran is a wonderful host. More than expected. Really kind and helpful. Nice location, wonderful views. All that you need. It is just perfect! Definitely, we will come back soon.
Lara and Montse
2016-10-31T00:00:00Z
I stayed just for one night with my girlfriend. goran was really welcoming and the room was super nice and clean!
ALBERTO
2016-08-12T00:00:00Z
It was a good experience
Petra
2016-07-27T00:00:00Z
Nous avons été accueilli chaleureusement par Goran qui nous a bien conseillé sur les principaux sites à visité. La chambre correspondait au descriptif avec une vue sur la mer exceptionnelle. Dommage que la route est un peu bruyante.
Claude &Souad
2016-09-15T00:00:00Z
Belle maison sur les hauteurs de Trogir avec une belle vue sur la baie. L'accueil de Goran & Family a été très agréable. La chaleur nous a un peu empêché de dormir mais le cadre est somptueux ! Merci pour tout
Jèm
2016-07-29T00:00:00Z
Goran was very friendly anв it was a big pleasure to stay at his apartments with a great view to the bay and the city of Split. There is a pebble beach in 7 minutes walk.
Artem
2016-07-06T00:00:00Z
Goran and his mother were perfect hosts. I warmly recommend them to everyone, the room have an amazing seaview and also provides good parking.All the best to you! Janko
Janko
2016-07-28T00:00:00Z
Huonetyyppi
Yksityinen huone
---
Majoituspaikan tyyppi
Aamiaismajoitus
---
Majoittujien määrä
2
---
Makuuhuoneet
Seget Donji, Splitsko-dalmatinska županija, Kroatia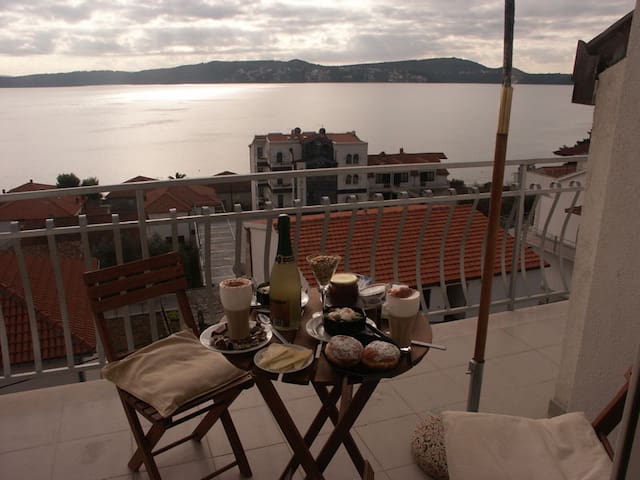 Willkommen in unserem entspannten, komfortablen Deluxe-Zimmer zwischen der UNESCO Mauern im Herzen der Altstadt von Trogir. Von dem Moment an Sie abgerechnet bekommen, hat Ihre Flucht begonnen. Genießen Sie einen einfachen Zugang überall!
Wir bieten angenehmen Aufenthalt im Herzen der Altstadt von Trogir. Unser Haus lehnt sich auf dem berühmten Big Palace Ćipiko aus dem frühen Mittelalter. in diesem Zimmer übernachten, werden Sie den Geist der alten Zeiten fühlen, sondern auch auf eine moderne Art und Weise trösten. Jedes Detail ist sorgfältig ausgewählt. Raum vollständig mit allem ausgestattet ist, wir denken, dass Sie sich hier während Ihres Aufenthaltes benötigen.
Die Lage ist das Beste! Der Aufenthalt hier werden Sie in der Mitte von allen Veranstaltungen sein. Hauptplatz mit der Kathedrale ist nur eine Straße entfernt :-)
Mukava asunto Trogirin vanhassa kaupungissa! Ei kovin tilava, mutta asunnossa on kaikki mitä voi tarvita muutaman yön majoittumiseen. Asunto oli erittäin siisti ja ilmastointi toimi.
Jaana
2015-07-26T00:00:00Z
Ivanna made us very welcome. Kindly collected us from the airport, helped in every way she could. The room was very small but well equipped and every detail carefully designed, looked good, great ideas.
Ann
2016-07-14T00:00:00Z
Tome and his wife kindly welcomed us. The appartment was very nice and well located. They indicated us what to see in the city, abd also to go to a nice island.
Anne
2016-08-09T00:00:00Z
The location of this apartment is fantastic, in the old town near the central square. Everything you need is just footsteps away. We spent two nights here and although the room is small, it has space for all the essentials and is all you need as a base to explore the surroundings. The apartment is decorated brilliantly and is light and clean. We will definitely be back
Kerryn
2016-09-27T00:00:00Z
Danke für die gute Zeit in dem netten, stilvoll eingerichteten Zimmer und dem sehr freundlichen Empfang. Gerne wieder. Timon
Timon
2015-07-27T00:00:00Z
A lovely place to spend our last night in Croatia. The room is a delight - small, but stylishly and imaginatively designed and fitted out. Ivana met us at the bus station, and warmly welcomed us with home-made nut brittle and her parents' figs, as well as useful information about the town. The room is tucked away down an alley in the heart of the old town; the street outside was a little noisy at night, but not a problem as we closed the windows and and shutters and used the air-conditioning.
Chris
2016-06-10T00:00:00Z
Lovely little room and host!
Maéva
2016-07-20T00:00:00Z
Ivana made us feel very relaxed and gave us lots of information about the local area... Where to get the best ice cream, where to go for dinner, etc, all the essentials! The room itself was very beautifully decorated, and really comfortable. It it exactly lie the photos. The location is perfect, I cannot recommend highly enough.
Imogen
2015-07-24T00:00:00Z
Huonetyyppi
Yksityinen huone
---
Majoituspaikan tyyppi
Huoneisto
---
Majoittujien määrä
2
---
Makuuhuoneet
Trogir, Splitsko-dalmatinska županija, Kroatia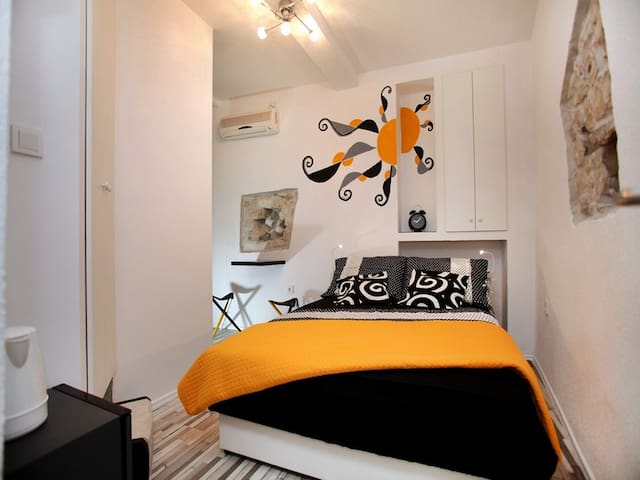 Apartment (für 2 + 1) 44m2 im 2. Stock. Ein Doppelzimmer, Bad, sowie Waschmaschine und Geschirrspüler in der Küche, mit Wohn- / Essbereich mit Sofa, Wi-Fi, Sat-TV, Klimaanlage und zzgl grosse Terrasse mit Blick auf alle Trogir.
Willkommen in der einer der ältesten und aufregendsten Städte an der kroatischen Seite der Adria. Apartment "Trogir Stadt" befindet sich in Trogir, Insel Ciovo, etwa 500 m vom Zentrum Trogir (dem alten Teil der Stadt auf eine kleine Insel). Die Wohnung befindet sich im zweiten Stock des Gebäudes. Privatparkplätze vor dem building.You haben alles dafür gesorgt, dass für einen angenehmen Urlaub benötigen. In dieser Wohnung haben Sie Trogir in der Palme Ihrer hand.You ist die Schönheit von Trogir während Sie Ihren Morgenkaffee, Mahlzeiten oder romantische Abende bei einem Glas Wein und Kerzenschein bewundern können. Küchenausstattung: Küchenschränke mit eingebautem in Geschirrspüler, Kühlschrank, Elektroherd und Glaskeramik-Herd, Esstisch für 4 Personen, Geschirr, Gläser, Küchenutensilien, Mikrowelle, Mixer, Toaster ... voll funktionsfähig Freizeiteinrichtungen: kostenloser WLAN-Internetverbindung, ein Sofa, Klimaanlage und eine Terrasse mit schöner Aussicht, Tisch für 4 Personen-TV mit Heimkino-System. Badezimmer: Badezimmer mit Dusche, Waschmaschine, Waschbecken mit Spiegel, Handtücher, Bad und Reinigungsutensilien, Erste-Hilfe-medizinische Ausrüstung. Trogir ist voll von authentischen Gebäuden, schönen Straßen, wo man bett und herrlichen heritage.Unique Geschichte Markröhre treffen, Radovanov Portal, Kunstsammlungen, die begeistert Reisende haben, werden Sie auch ohne Atem lassen. Nicht weniger Eindruck hinterlässt die Stadt Split und 1700 Jahre alten Diokletian-Palast, Festung Klis und Antic Stadt Salona Hexe auf `s Zeit 80 000 Menschen hatte. Außer in Bezug auf die Geschichte der Kultur bieten Ihnen in der Natur zu genießen. Ein Tagesausflug in die nahe gelegenen Inseln, Bergsteigen in den Park der Natur Biokovo, Rafting auf dem Fluss Cetina, Besichtigung des Nationalpark Krka Ihren Urlaub erfüllt wird. Das gastronomische Angebot voll auf natürliche Lebensmittel, frischer Fisch, Obst und Gemüse, Olivenöl und Dalmatians Weine sind die Gründe, warum Sie von Ihrem Urlaub ein Pfund schwerer zurückkehren wird.
Split -30 km Strand Saldun - 200m Strand Rožac - 800m Strand Okrug - 1 km Strand Labadusa - 7km ACI MARINA TROGIR - 150m ....
Beautiful view and proximity to the old town. Good host and clean apartment.
Elisa & JP
2016-07-06T00:00:00Z
Mariana and her husband are lovely hosts. Their apartment is darling and the view from their large deck is one of the best in Croatia. Their warm welcome included delicious homemade cookies. Everything about our stay was a delight!
Laura
2015-07-02T00:00:00Z
Apartment just as good as description . The terrace is very big & has an amazing view especially at night . Location is very good . Just a 5 minute walk downhill via the shortcut described to us . Very clean & well equipped & with a dedicated parking space in front of the building . Very helpful hosts who let us pick up the key early & use the parking spot as we were off to Split on the ferry to meet up with our son for the day . Very prompt response to queries . Overall an excellent experience . Highly recommended !
Sally
2015-09-28T00:00:00Z
Nice apartment. complete in terms of decor , almost as luxurious as at home and the view from the balcony is truly breathtaking! Pleasant welcome and good communication both before and during the stay. Really been a pleasure to be there.
Erica
2016-06-22T00:00:00Z
Mariana and her family were very nice. They had a glass of wine and pastry waiting for us. The apartment is lovely. Amazing view, probably better than the picture shows. The apartment was very spacious with everything you need. Walking distance to down town Trogir which is so lovely to visit. I would definetly stay here again. The neighbourhood was quite and we definitely needed a good night sleep. Trogir was one of our favorite city to stay. Just a note if you are flying from split, the airport it's very close to Trogir actually. It took the bus about 34/40 min from split to the airport as it was very close to Trogir. Thanks again Mariana and her husband for a wonderful place.
Lumi
2016-05-31T00:00:00Z
Vi ble hentet på flyplass .God info og husverten tigjengelig.Velutstyrt leilighet og flott utsikt.
Elin
2016-08-21T00:00:00Z
The appartment was as described, perfectly eqipped and the view from the balcony fabulous. Marina and her husband were very friendly and made us feel at home.
jean marie
2015-08-16T00:00:00Z
Appartement confortable avec un grand balcon et une très belle vue sur la ville. Très bon accueil.
Caroline
2016-08-13T00:00:00Z
Huonetyyppi
Koko talo/asunto
---
Majoituspaikan tyyppi
Huoneisto
---
Majoittujien määrä
3
---
Makuuhuoneet
Trogir, Splitsko-dalmatinska županija, Kroatia
Apt Klara je nový, pleasent byt v rodinném domě, někteří deset minut pěšky od starého centra města. Nejbližší pláž je vzdálena jen 2 km od hotelu. Apt nabízí vše potřebné pro pohodlný pobyt v této krásné město ... Vítejte! Všimněte si také, MY Výpis 2!
Jsem Marijana, vítejte na mém domě! Moje rodina bydlí nad bytem a pokud potřebujete něco prostě přijít a zaklepat. Aparment má jeden pokoj s manželskou postelí, obývací pokoj s pohovkou, která může být obrácená do manželskou postelí pro dva, jídelním koutem a kuchyní a sociálním zařízením. V přední části bytu je roztomilý malý bod se stolem a židlemi, kde si můžete posedět a relaxovat. Byt se nachází v blízkosti starého města, asi 10 minut chůze od všeho, obchod s potravinami, lékárna, restaurace a další. Dostat se sem je snadné. Autobus: Pokud přijedete autobusem na autobusové nádraží je velmi blízko. Pokud mi dát informace o svém příjezdu mohu učinit opatření k vyzvednutí vás, jinak je to 10 minut chůze. Letadlo: Pokud přijíždíte letadlem na letiště Split, se nachází mezi městy Split a Trogir (4 km od apparment). Taxi jízda je velmi krátká nebo znovu dejte mi vědět váš čas a můžeme se dohodnout. Aktivity: Staré Město Trogir má mnoho příjemných restaurací. Pláže jsou v blízkosti (půjčit kolo / skútrů, taxi čluny). Nejbližší pláž je vzdálena 2 km od hotelu. K dispozici jsou půjčovny kol, koloběžek, venkovní trh, obchody, turistické agentury (výlety lodí, vodní rafting, paintball, turistika apod), zeptejte se mě a já ti dám vodítko o tom, kam jít. Apartmán: klimatizace je k dispozici, ale obvykle je teplota v něm je velmi příjemná, i během extrémně horkých dnech. Ve večerních hodinách, můžete potřebovat. Stačí otevřít okna a vytáhnout okenice. V kuchyni je plně vybaven, aby se téměř jakýkoliv typ jídla. Televize má základní kanály. Ložní prádlo a ručníky jsou k dispozici také. V přední části bytu je roztomilý malý bod se stolem a židlemi, kde si můžete posedět a relaxovat.
We had a very nice stay at Marijana place. The apartment is new and modern, clean, very well equipped and exactly as seen on the photos. Marijana is very friendly too! Thank you!
Ivo
2015-09-23T00:00:00Z
The apartment was wonderfully designed and in a distance from the city center. It's on the ground floor making it very cool during even extremely hot days. In it you can find anything you might possibly need and more. It's comfortable and very clean. Marijana and her husband are wonderul hosts and truly welcoming and hospitable. All in all, I'm glad to have visited and will surely go back.
Emir
2015-07-29T00:00:00Z
Marijana is a great host and made me feel comfortable during my stay.. The apartment is Brand new and less then 10min walk to the old town. A great choice
Christoffer
2015-07-24T00:00:00Z
The apartment was great and Marijana is very nice and a great host.
Alexander
2015-08-31T00:00:00Z
Marijana was a really friendly and helpful host! She made sure that everything was perfect when we arrived and gave us some really good recommendations for Trogir! I can highly recommend staying at her place, as it's a lovely and clean place
Luca
2016-08-30T00:00:00Z
The apartment was really nice and new, good price for the size and features of the place. Not a long walk from the centre, and trogir is a lovely town to visit! Recommended!
Stefania
2016-07-06T00:00:00Z
La vieille ville de Trogir, à 7mn à pied de l'appartement (chronométré par nos fils...), est très agréable et très animée (petits concerts en plein air notamment). Nous y sommes allés plusieurs fois avec plaisir. L'appartement était exactement comme décrit sur le site et, de plus, très lumineux, propre et avec une bonne literie (matelas fermes et lits très larges) même pour le canapé. Nous n'avons pas eu besoin d'utiliser la climatisation (passage en juillet pourtant..). J'ai aussi apprécié de me retrouver hors d'une zone trop touristique: l'appartement se trouve dans un quartier un peu "campagne" et on se retrouve au milieu des gens qui mènent leur vie au quotidien, des enfants qui jouent... Marijana a très rapidement répondu à toutes nos questions avant notre voyage et s'est montrée très agréable lors de notre arrivée. Le frigo contenait déjà quelques aliments, un bouquet était posé sur la table et notre hôte nous a apporté des crêpes au nutella lors de notre premier repas! Elle a été très disponible durant notre séjour et nous a même proposé de nous prêter sa machine pour faire une lessive. Marijana est très désireuse de discuter mais mon anglais a grand besoin d'être perfectionné pour pouvoir avoir de grandes conversations... Merci beaucoup de nous avoir reçu avec autant de gentillesse!
Corinne
2016-07-20T00:00:00Z
호스트가 친절합니다. 위치는 시내에서 걸어서 10분 정도면 가능하고 근처에 슈퍼마켓이 있어서 장 보기도 편합니다. 뜨거운 물이 잘 나오지만 보일러가 작아서 금방 끝나는 것이 약간 불편한 것만 빼면 좋습니다.
Jungwon
2016-09-16T00:00:00Z
Huonetyyppi
Koko talo/asunto
---
Majoituspaikan tyyppi
Huoneisto
---
Majoittujien määrä
4
---
Makuuhuoneet
Trogir, Splitsko-dalmatinska županija, Kroatia
habitaciones Carol está situado en el corazón de la antigua ciudad de la isla de Trogir - protegido por la UNESCO monumento de la ciudad, a 4 km del aeropuerto, a 100 metros de la estación de autobuses, a 50 metros del puerto de la nave, a 10 metros del restaurante. Carol habitaciones están situadas en el palacio de 300 años de antigüedad en la zona tranquila de la ciudad vieja. Todas las habitaciones son amplias y confortables, equipadas con Wi-Fi, aire acondicionado, TV / SAT, cuarto de baño y nevera. Posibilidad de desayuno en el restaurante al otro lado de las habitaciones.
Super acceuil, logement au top situé en plein coeur de la vieille ville, avec climatisation. On se serait presque cru à l'hôtel :) Bon conseil pour garer la voiture à moindre coût.
Nicolas & Orianna
2016-09-05T00:00:00Z
La chambre est propre, au calme, a l interieur d un hotel. Nous avions vu une chambre sur le descriptif qui nous avait seduite mais nous en avons eu une autre beaucoup moins jolie. La chambre est située en plein coeur de la vieille ville. Pour 4 euros nous pouvions nous garer au parking de l autre côté de la rive grace aux recommandations de l hotesse d accueil. Nous avons passé un très bon séjour a Trogir.
anouk
2015-09-12T00:00:00Z
Everything was fine! Thanks.
Lisa
2015-09-13T00:00:00Z
Chambre très bien, clean, pas très grande mais suffisante, on se croirait à l'hôtel. En plein dans la vieille ville. Pour se garer on a nous a donné un badge pour un parking à 3 min de la chambre, donc très pratique de ne pas à avoir à payer de parking dans cette ville piétonne! Une femme très sympathique nous a reçu! A recommander
Anne-Camille
2014-09-04T00:00:00Z
Really well located in Trogir. Easy to find. The hosts helped me find the bus station and the schedule. Thank you!
Pierre Luc
2015-06-23T00:00:00Z
My stay at Carol rooms was was very nice, and very affordable. I received all instructions for my arrival and possibility of free parking. Apartment is clean and centrally located.
Irena
2016-10-16T00:00:00Z
This was a great location in the old town of Trogir. It is actually a hotel, but you can book through AirBnB. Very clean, and quiet as well. Great value for the price. The staff was also very accommodating with arranging a 4am taxi to the airport for us. Would stay again!
Stephanie
2015-09-21T00:00:00Z
The apartment was really clean and we liked the style of it. The nice lady - we forgot her name - helped us with everything and she was super friendly. The address of our apartment was really central and it was easy to find. Our days in Trogir were relaxing and full with sunshine. Thank you very much for your efforts and your kidness, we enjoyed our trip very much.
Sue
2017-04-01T00:00:00Z
Huonetyyppi
Yksityinen huone
---
Majoituspaikan tyyppi
Talo
---
Majoittujien määrä
2
---
Makuuhuoneet
Trogir, Split-Dalmatia, Kroatia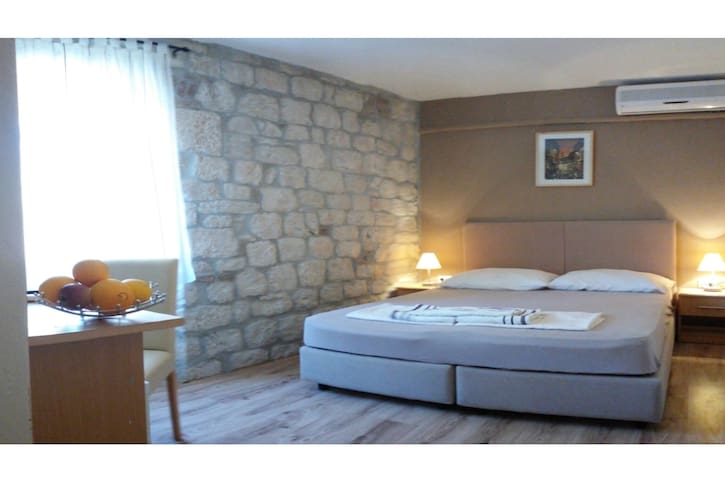 Mein Platz ist ideal für Menschen, die eine ruhige kleine Ort mag, mit großer ausgestatteter Küche, neue Fenster mit ausgezeichneten Fensterläden (komplett dunkel) und Moskitonetz. Niemand lebt an dem Ort, was es noch ideal für Menschen macht, die zwei Wohnungen nehmen, weil der Privatsphäre, zur Verfügung stellt. Sie sind alle willkommen :)
Apartments Dora bietet zwei Vier-Sterne-Studio-Apartments. In einem renovierten Haus aus dem 17. Jahrhundert, komplett renoviert, unsere Wohnungen sind ungewöhnliche Mischung aus modernen Räumen und den Geist der Antike. Modern eingerichtet, komplett renoviert, mit einem erhaltenen alten Steinmauern, die jeweils für bis zu drei Personen, mit Klimaanlage, Wi-Fi-Internetzugang und eine voll ausgestattete Küche. Die Appartements befinden sich am Ufer gegenüber der Altstadt von Trogir, so in nur 2 Minuten zu Fuß befinden Sie sich im Zentrum von Trogir, die Perle unter den touristischen Destinationen mit ihren vielen Kulturdenkmälern und reiche Geschichte finden. Dora Wohnungen sind gute Wahl für Paare, Erwachsene und Familien für erschwingliche, gemütliche Unterkunft suchen, die das reiche kulturelle Erbe von Trogir und Dalmatien zu erkunden. Wir laden Sie einige Zeit während der Reise verbringen, in Trogir, die Stadt mit einer der reichsten historischen Erbe in der Welt, die von der UNESCO geschützt und voller Geschichte und Erbe. Die Appartements sind ausgestattet mit: - Klimaanlage - Kostenloser WLAN-Internetverbindung - Flat Screen / Satelliten-TV - DVD Spieler - CD-Player - Voll ausgestattete Küche - Kühlschrank - Wasserkocher - Kaffeemaschine - Mikrowelle - Toaster - Badezimmer mit Dusche - Dusche - Haartrockner - Heizung - Eisen - Safe - Schallisolierte Zimmer - Handtücher und Bettwäsche - Babybett Entfernungen: Busbahnhof - 300m, Flughafen Split - 3 km, Split - 25km, Krka Wasserfälle - 70km, Restorant - 50 m, Bäckerei - 60m, Geschäft für Lebensmittel - 80m, Diskothek - 80m, ACI Marine - 100m, Entfernung zum Strand - 300m Für alle Informationen oder Dienste, die Sie während Ihres Aufenthaltes benötigen, stehen wir Ihnen gerne zur Verfügung. Abholung vom Flughafen oder drop off (mit dem Auto) auf Anfrage. Alle Steuern und im Preis inbegriffen Gebühren Ich bitte Sie verhalten sich wie Sie in Ihrem eigenen Hause waren.
Marina's place is a perfact location in Trogir to stay, it's five minute walk to the old town. Beautifully decorated, very neat, clean & extremely comfortable bed. I even asked her, where did she buy her bed linen! Private & free parking 100 m from her apartment. It's very easy to communicate with her. I would recommend her place to anyone. Thanks Marina.
PIYUISH
2016-09-12T00:00:00Z
L'appartement est merveileusement situé, tout près de la vieille ville. Décoré avec beaucoup de gout et très confortable., Marina a été charmante. Nous recommandons cette adresse et sutout Trogir.
Jacques
2014-08-29T00:00:00Z
Marina has a great place just across the bridge from the old town. It's a 2 minute walk to get to the south gate of Trogir. The apartment is completely renovated and the nicest place we stayed during a 3 week trip to Bosnia and Croatia. I would recommend this place to all!
Dylan
2013-09-06T00:00:00Z
Marina made us feel very welcome and she provided us with accurate and useful information about Trogir.
Susan
2015-09-01T00:00:00Z
This place was wonderful. The apartment was very clean with a kitchen and large bathroom. Marina was very attentive and checked in on us to make sure we had everything we needed. If you're going to Split, stay in Trogir (right outside the city), and stay here. It is a great location.
Stephanie
2016-09-22T00:00:00Z
Die Kommunikation mit Marina war immer sehr schnell und freundlich. Sie hat bereits vor dem Apartment auf uns gewartet und uns beim parken geholfen. Marina ist sehr herzlich und hilfsbereit und hatte viele gute Empfehlungen für uns :) Das Apartment ist genau wie beschrieben/auf den Fotos. Alles sehr sauber, modern und nagelneu - mit Flair. Das Zentrum ist zu fuss schnell erreichbar, das Apartment selber hat eine ruhige Lage direkt am Wasser/Hafen. Wir hatten eine tolle Zeit in Trogir/dem Apartment!
Corinna
2016-05-29T00:00:00Z
We were worried that the apartment was not on the little island of Trogir, but realized when we got there it was a PERFECT location and proved to be a highlight of our trip down the coast! The apartment is very modern, clean and had all we needed.
Trina
2015-08-28T00:00:00Z
Our host Marina's communication and help was truly excellent, fast to reply and so helpful before we arrived. She was also very flexible when we changed our arrival time at short notice. When we arrived, Marina met us as planned and welcomed us with great enthusiasm and made us feel very at home in her small but lovely and perfectly located studio apartment. Her restaurant recommendation, Tsr, was brilliant. We really enjoyed our short stay (1 night) in Trogir and happily recommend her lovely apartment.
Dom
2015-07-18T00:00:00Z
Huonetyyppi
Yksityinen huone
---
Majoituspaikan tyyppi
Talo
---
Majoittujien määrä
2
---
Makuuhuoneet
Trogir, Splitsko-dalmatinska županija, Kroatia
Brand New Schlafzimmer (Doppelbett) mit Bad. Es gibt eine Klimaanlage, Sat / TV, einen kleinen Kühlschrank, WIFI ... sehr sauber Schlafzimmer. nur 5 Minuten zu Fuß vom Zentrum von Trogir, UNESCO-Stadt. Es gibt einen kostenlosen Parkplatz. Es liegt nur 4 km vom Flughafen Split entfernt. Wenn Sie den Transport vom Flughafen benötigen, zögern Sie nicht, uns zu conatct.
Wenn Sie durch TROGIR fahren und nach einem schönen Hotel suchen, eine Nacht zu verbringen oder mehr, sind Sie an der richtigen Stelle. Herzlich willkommen!!!
Trogir (UNESCO Kulturerbe) ist eine alte und sehr schöne Stadt. Es gibt (ist Trogit bekannt für gute Restaurants) viele Restaurants mit leckerem Essen, viele Souvenirläden ... Trogir liegt in der Mitte von Dalmatien. Aufgrund seiner Lage und Naturschutz, ist es eines der beliebtesten Stadt an der adriatischen Küste. Trogir ist weit vom Flughafen Split nur 4 km von der Ausfahrt Hochstraße nur 15 Kilometer ... Es befindet sich nur 30 km von Split, auch UNESCO-Stadt (Dioklecian Palast). Hinzu kommen die Anzahl Sonnentage, und Sie haben ein ideales Ziel für Abenteuer von Dalmatien zu erkunden.
Hôte sympathique, chambre propre et confortable, à 10 min à pied du centre.
Jean-Baptiste
2016-08-15T00:00:00Z
Very friendly welcome, the room was clean and as described, the apartment is located 10 minutes walk from Trogir and is in a quiet neighbourhood. We had a lovely stay
Lisa
2016-05-03T00:00:00Z
It was absolutely wonderful staying with Ivan and Vedrana. The apartment is as pictured and incredibly comfortable. My communication was limited coming into Croatia but Vedrana was incredibly patient and helped with offering a lift from the airport. Ivan picked us up and we had a great short drive to the apartment where Ivan filled us in on all the things to see and do. Would definitely stay here again if ever back. Thanks!
Kate
2016-08-27T00:00:00Z
We had a lovely stay with Ivan. The room is brand new, clean, spacious and has air conditioning. The property is within walking distance to old town Trogir and a ten minute bus ride to the airport. Ivan and his family are very kind and always willing to help.
belinda
2016-09-02T00:00:00Z
The room was comfortable and clean. Location is perfect for visiting Trogir and I would definitely recommend staying here! Vedrana welcomed us and she was really nice and helpfull.
Jolijn
2016-09-23T00:00:00Z
I had a great stay at Ivans' place. The room was well equipped and just a 10 minute walk from the centre of Trogir. Bed was comfy, there was air conditioning which was nice given the temperatures in Croatia. I would certainly recommend staying there.
Emily
2016-09-03T00:00:00Z
l'hébergement est vraiment super! l'accueil à été top Ivan et sa femme on été super sympa! je recommande vraiment leur chambre d'hôtes car elle est juste à côté de trogir on y est en 2 min à pied et est suffisamment spacieuse pour 2 et il y a la wifi! sans oublié le café très gentiment proposé par Ivan et sa compagne! avec grand plaisir j'y reviendrai!
Flore
2016-09-20T00:00:00Z
New room in great location. Only five minutes walk from Trogir Island and set back from the road. Ivan and Vedrana are attentive and helpful hosts. Kettle, small fridge with welcome refreshment, air con. Room as described. Free parking available.
Melanie
2016-07-15T00:00:00Z
Huonetyyppi
Yksityinen huone
---
Majoituspaikan tyyppi
Muu
---
Majoittujien määrä
2
---
Makuuhuoneet
Trogir, Splitsko-dalmatinska županija, Kroatia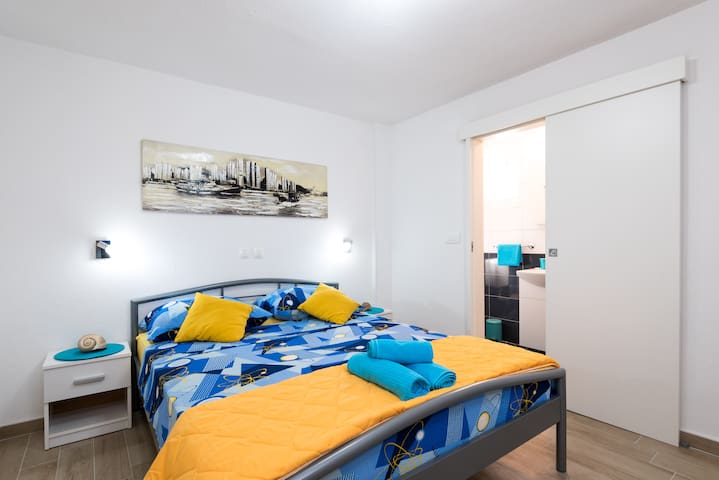 Naše pohodě studio se nachází jen 200 m od starého města pod ochranou UNESCO. Užijte si historické památky, dobré jídlo, poznávání pláží, nedaleké ostrovy a místní život! Letiště Split je jen 5 km od hotelu! Bezplatné parkoviště v areálu!
Studio se nachází v prvním patře, na západní straně objektu. Je to malý, ale nejpůvabnější vše, co potřebujete pro perfektní dovolenou: velké obrazovce televizoru se satelitem, klimatizace, moderní koupelnu s vysoušečem vlasů, žehlička, bezplatné Wi-Fi, chladné a světlé kuchyně, ložní prádlo, ručníky, šampony ... Ať vás chtějí strávit jen krátký romantický víkend nebo pár týdnů dlouho to svátek je ideální volbou pro vás! Budeme nejvíce rádi přivítáme!
Trogir je krásné staré město pod ochranou UNESCO. Má bohatou historii, dobře zachovalé památky, středověkých domů a kostelů. Také si můžete vychutnat dobré jídlo, spoustu slunce, krásné pláže, druh místní lidi, zkoumání nedaleké ostrovy nebo nedaleké vesnice v kopcích. Doporučujeme navštívit starobylé Salona, Split a Pevnost Klis - asi 30 minut jízdy autem.
We had a really good time staying in this apartment! Everything is completely new and modern. The balcony is perfekt for having breakfast or dinner. The aparment is very close to the Center of trogir and all you need is just arround you. We also rented scooters to explore the island and the area around trogir, which was a lot of fun! The hosts are very welcoming and help you with every question! When we arrived they picked us up from the bus Station and gave us Information about the area. In the studio we found fresh towls and cool drinks, also a selfmade sherry! This place is perfekt for couples! :)
Alessa
2015-09-09T00:00:00Z
The studio is small but very nice and clean, with the balcony facing a very quiet street (dead end). Trogir town centre as well as two supermarkets are reachable by foot within minutes.
Philip
2016-05-22T00:00:00Z
We very much enjoyed our stay at Josko's studio. He made us feel very welcome. Josko even picked us up from Trogir Bus Station, when we weren't sure where to go. Studio is exactly as shown in pictures and is just a few minutes walk from Trogir centre, which is then within easy reach of Split, Primosten & Blue Lagoon.
Dudley
2016-09-13T00:00:00Z
Perfectly fit with the description, warm welcoming and Nice studio in a quiet neighbourghood, very close to togir center
Gua
2016-09-21T00:00:00Z
wonderful! we booked last minute and they were very accommodating..even with us being so very late! we were met with cold beer and chocolate treats that were very appreciated after a long drive! the place was very new and clean and had a wonderfuly hot shower
Sarah
2015-11-01T00:00:00Z
We stayed only one night in Trogir, but this apartment was really nice! Very comfortable, clean, new-furnished. The bathroom is big. Located just near the old town, about 5 minutes walk, and in a quiet neighborhood. Supermarket Konzum is also close. Josko is so nice and friendly! We are so sorry that we checked in too late, but Josko still waited us patiently. And they have private parking place! Highly recommend this apartment!
Xuan
2016-05-26T00:00:00Z
Stayed for 2 nights. Beautifull new and quiet apartment with nice decoration. Easy to find and close to city center. We arrived later in the evening but our host Daniela waited for us and showed us city on the map (shops, market, center...). Thanks for the tip for beach on Ciovo :)
Damir
2016-07-23T00:00:00Z
In a nutshell we had a very very pleasant stay at Jaškos and Danijelas Apartment. The apartment is very central, nicely furnished. You can walk into the old town of Trogir very easily. When we checked in Danijela gave us tips for restaurants and beaches which I strongly recommend to follow. The restaurants she recommend were very good. Her best recommendation was a beach near Trogir in a little bay. Probably the best beach we went to in Croatia. We enjoyed our stay in this accommodation. Jaško and Danijela are great hosts.
Martin
2015-09-20T00:00:00Z
Huonetyyppi
Koko talo/asunto
---
Majoituspaikan tyyppi
Huoneisto
---
Majoittujien määrä
2
---
Makuuhuoneet
Trogir, Split-Dalmatian piirikunta, Kroatia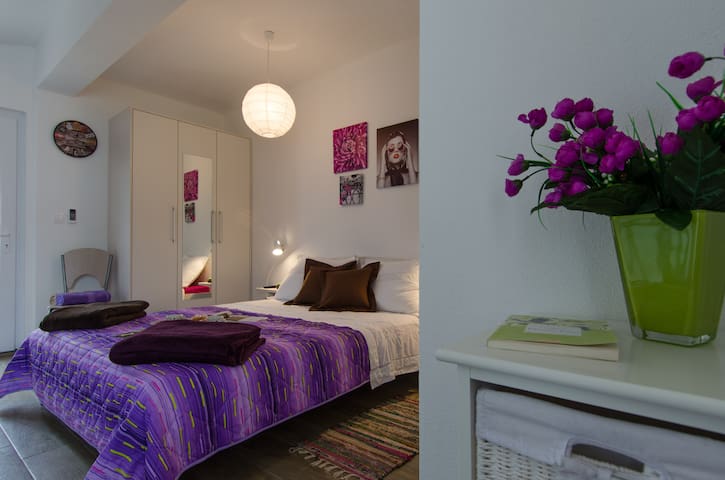 Náš byt se nachází v malé středomořské vesnici Seget Vranjica. To je strategicky umístěn, protože nabízí pohodlí a soukromí malé středomořské vesnice a také dostupnosti známých dalmatských měst.
Naši milí hosté. Nabízíme dobrou kvalitu za přijatelnou cenu. Náš byt se nachází v malé středomořské vesnici Seget Vranjica. To je strategicky umístěn, protože nabízí pohodlí a soukromí malé středomořské vesnice a také dostupnost nejznámějších dalmatských starých měst, jako je Trogir, Split, Šibenik a Národního parku Krka. Na pláži je 30 metrů od bytu a hlavní štěrková pláž se nachází v centru obce. V centru Seget Vranjica najdete několik místních restaurací, které nabízejí místní jídla. Byt se nachází 5 minut jízdy od krásné a dobře zachované středověké středomořské městečku Trogir, které je pod ochranou UNESCO. Světově proslulé a největší dalmatské město Split je 30 minut jízdy autem. Ve Splitu můžete nyní světově proslulý Diokleciánův palác, starověkých architekturu, mnoho muzeí, restaurací a klubů. V blízkosti se nachází staré město Šibenik a Národního parku Krka, a to jak v rámci jedné hodiny jízdy od bytu. Exkurze do krajské Modré laguny může být snadno přístupné s lodí z nedalekého Trogiru. Parkoviště pro vaše vozidlo se nachází v domě. Další výhodou je letiště, které je 10 minut jízdy od bytu. Také si můžete vybrat některou z našich dalších apartmány ((URL HIDDEN)osoba bytů). Uvidíme se toto léto! rodina Morpurgo
We had a fantastic stay at Natan's apartment. It is clean & tidy, spacious, fully equipped with everything you may need. And the sea view is really stunning! You can enjoy your meals (or a glass of local wine) with the best view ever from the balcony, which we did every day :) Natan was very helpful, he gave us some brochures & tips for our stay. The location is perfect, just a few steps away from the sea. It's a wonderful place to relax. Would definitely stay again. Thanks for a lovely few days!
Alicja
2015-07-23T00:00:00Z
We stayed in the appartment for four nights with 2 persons. We had a very good stay. The appartment was spacious with a stunning view (best of the complex we were told). Starting the day with breakfast on the balcony was amazing! The beach is only 50m away. It is not crowded and you have, again, that beautiful view. Natan was a very nice and relaxed host. He guided us to the appartment when we had a difficult time finding it. He also made a map with usefull places in the neighborhood. When we needed him, he was always available. We would totally recommend this appartment, even though it is a bit expensive.
Gerdien
2015-08-24T00:00:00Z
Natan and Jelena welcomed us very friendly at our arrival and showed us the apartment, which is as on the pictures: very nice, very clean and with a breathtaking sea view from the balcony and from the sleeping room window. The village Seget Vranjica is a calm and peaceful place and we enjoyed the beach, which is just about 50 meters away, every day. We can simply just recommend the apartment and the hosts and we would stay there any time again!
Sascha
2015-08-12T00:00:00Z
thank you for a beautiful and very quiet holiday... we enjoyed the apartment and it´s location very much. natan was helpful with info! if you need some quiet days next to the sea, it´s a great spot to go!
Magdalena
2015-09-08T00:00:00Z
Natan was fantastic to deal with and set up our stay. he ensured it got off to a great start by picking us up from the bus station and driving us to Seget Vranjica which is quite a way out of Split but serviced frequently by buses if needed. A nice welcoming conversation had us set up very quickly and then on his way to let us enjoy his apartment. lots of room for two and easy to walk to everything. Dinner on the balcony was a treat as was a refreshing dip in the ocean just 30m away.
Damian
2016-06-08T00:00:00Z
Beautiful view from flat, 50 meters to the water, close to airport. Air conditioner didn't freeze, but as hot weather came only last day of our stay it didn't affect the overall impression.
Constantin
2016-06-25T00:00:00Z
Fantastic place to stay - relaxing and peaceful so exactly what we were looking for. Amazing views, great little harbour village with really good restaurants. Definitely would love to return.
Beth
2016-09-17T00:00:00Z
We stayed in Natan's apartment for one week in May. This is a very relaxing et quiet place and the sea view is really stunning ! The location is great : Seget Vranjica is a charming place. You can find a little store close to the apartment and a cupple of restaurants on the little harbour and you can reach Split or the Krka National Park in less than one hour by car. So if you want to spend relaxing holidays in a beautiful scenery : I definitely recommend this place !
caroline
2016-05-22T00:00:00Z
Huonetyyppi
Koko talo/asunto
---
Majoituspaikan tyyppi
Huoneisto
---
Majoittujien määrä
3
---
Makuuhuoneet
Seget Vranjica, Splitsko-dalmatinska županija, Kroatia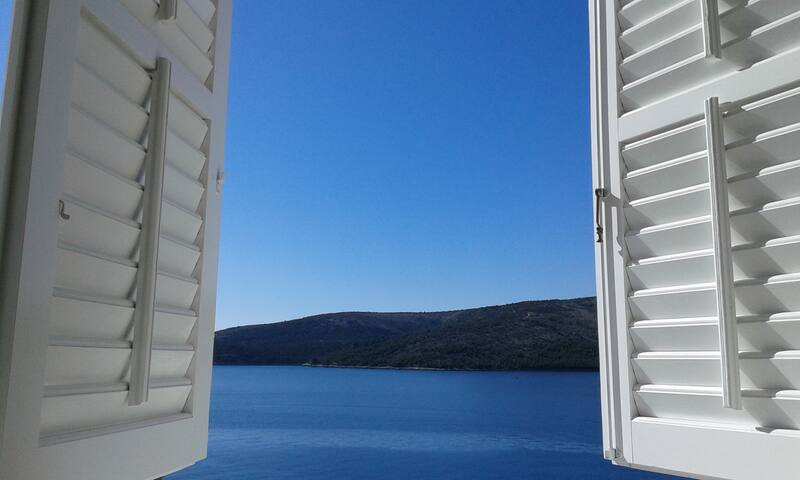 Set i et traditionelt stenhus i hjertet af UNESCO-beskyttede Trogir Old Town.Air betinget indkvartering med gratis WI-FI, gratis parkering, båd linjer til stranden, båd linjer Split center ...
Asunto vanhassa kaupungissa on tunnelmallinen, ihana kattohuoneisto. Huoneisto oli toimiva ja kunnostettu kauniisti. Parveke sisäpihalle oli mukava paikka nautiskella viiniä. The apartment was very beatiful and romantic in the heart of the old city. Service was excellent and we really enjoyed staying in Trogir.
Raisa
2016-07-24T00:00:00Z
Thank you to jelena for welcoming us. Lovely stay. Apartment was spotlessly clean and perfectly located in centre of Trogir.
Lelia
2016-06-20T00:00:00Z
Very comfortable, clean, and cozy apartment in the heart of Trogir - surprisingly quiet for its central location, and more spacious than the pictures show! Hosts were very easy to communicate with; we did not meet Ante but Jelena greeted us and was extremely attentive and helpful with parking, local suggestions, etc. It can be madness driving into the town, but checking in and out of the apartment was a breeze for us. A peaceful haven in a crowded town.
Catherine
2016-07-05T00:00:00Z
We stayed at Ante's apartment for 2 nights. It is located right in the heart of the old town, a perfect place with shops and restaurants at your doorstep. We were met by Jelina, who let us in and set us up with parking. The studio is a great size for 2 ppl and the balcony is great for breakfast or evening cocktails before dinner. It was HOT in Trogir, but thankfully the studio is air conditioned. Ante was always quick to reply to my messages and we enjoyed our stay very much.
Crystal
2016-07-03T00:00:00Z
We liked our stay in the apartment of Ante, which was complete and good located in the old centre. Ante was very helpful by arranging a parking place for charging our car. Trogir is a nice touristic place where we just staid for one night, traveling through on our way back home.
Rick
2016-08-23T00:00:00Z
The accommodations were very nice. I enjoyed the short taxi ride from the airport and very easy walk to bus station to go to Split. I would recommend this place!
Melissa
2016-03-22T00:00:00Z
We thoroughly enjoyed our stay at Ante's delightful little top floor apartment. It was comfortable and clean with good quality towels and right off the Main Street in the old town and parking was made easy by Ante's husband. We enjoyed it so much we wanted to stay another night.
Lyn
2016-05-21T00:00:00Z
We had a lovely stay in Ante's apartment. Even though we did not get to meet Ante, he was easy to get in touch with and responded to any queries very promptly. The apartment was as per the pictures and it was a very handy location to see Trogir.
Aideen
2016-05-14T00:00:00Z
Huonetyyppi
Koko talo/asunto
---
Majoituspaikan tyyppi
Talo
---
Majoittujien määrä
3
---
Makuuhuoneet
Trogir, Split-Dalmatian piirikunta, Kroatia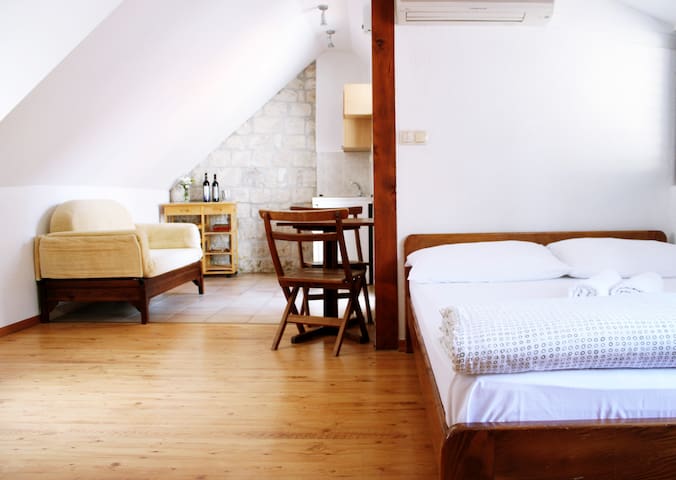 , Pokud jedete TRUE Trogir a zájem o příjemné místo, kde budete trávit noc ve městě Trogir, jste na správném místě. POKOJE DOJASKA se nachází přímo na nábřeží naproti starobylého města Trogir, POKUD chcete cítit kouzlo Trogiru, Navštivte nás a budete jistě chtít vrátit zase někdy v Trogiru.
We had a great one night stay in Trogir. Kaja let us know where his brother would meet us upon arrival. He gave great directions and we had no problem finding Rooms Dojaska. The location was excellent. The pictures are completely accurate and the view out the window is amazing. It overlooks the promenade, yacht boats, and old town of Trogir. The water color is beautiful! It was a simple 5 minute walk over the bridge to Old Town and all of the restaurants. The building felt very safe and the room was super clean. I loved the charming stone walls and modern feel. Josko gave up simple and brief instructions but that is all we needed. He also showed us where to park the car around the corner which was very convenient. The scooters get louder the farther south you go but that is part of the experience. We enjoyed our stay and we would recommend it to anyone who prefers a nice stop in a smaller town. We preferred Trogir over the much larger split. Great experience.. Thanks Kaja & Josko!
Mobley
2015-06-30T00:00:00Z
It was really easy ton contact Kaja ! The room was very nice, clean and with a wonderfull view. We can recommended it :)
Chloé
2015-08-07T00:00:00Z
Die Lage selbst wäre meiner Meinung nach fast perfekt, wenn nicht die vielbefahrene Strasse vor der Tür wäre und man abends die laute Musik der Bars/Clubs hören würde. Dennoch kommt man innerhalb von 2-3 Minuten Fußweg in Altstadt und kann sich die herrliche Stadt mit ihren schönen Bars und Cafés anschauen. Kaja selbst haben wir nicht angetroffen - nur seinen Bruder, der uns allerdings mit allen wichtigen Infos vertraut gemacht hat. Zum Apartment selbst - es war klein, fein und sauber.
Michael
2015-07-07T00:00:00Z
Perfect service, host was waiting for us in front of the building when we arrived. Room was exactly as described and expected, beautiful view over the old town and harbour, spotless, very cosy. Very worth a stay!
Torang
2014-08-07T00:00:00Z
Habitación comoda similar a un hotel
Laia
2016-09-07T00:00:00Z
We had a great stay in Trogir - the room was exactly the way the pictures looked and was really clean. It was a close walk to the older part of Trogir and easy to access a beach with a car. We didn't meet Kaja (he was working) but met with his brother (Joško), who was friendly and helpful.
Kelly
2014-07-04T00:00:00Z
The room is perfectly located in Trogir, within easy walking distance from the bus station (even with heavy bags). Lovely view across to the town from the room. Room is quite small but just enough for 2, and was very clean. Perfect for an overnight stay before continuing our holiday in Croatia. Only negative was that the shower was cold, but that was ok due to the hot weather outside!
Lucy
2016-05-19T00:00:00Z
We loved our stay in Kaja's place in Trogir. Kaja was lovely - he was there to give us a warm welcome and tips on places to visit. The place was really nice and very central - perfect for exploring the old town.
Laura
2015-08-22T00:00:00Z
Huonetyyppi
Yksityinen huone
---
Majoituspaikan tyyppi
Huoneisto
---
Majoittujien määrä
2
---
Makuuhuoneet
Trogir, Split-Dalmatian piirikunta, Kroatia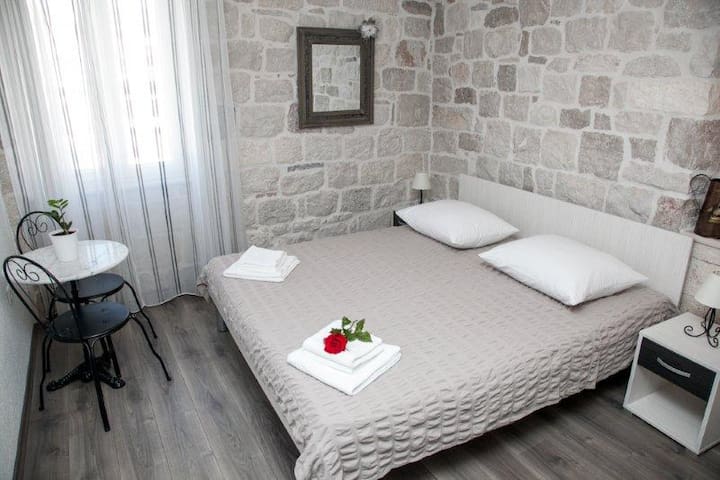 Gamle sten hus i centrum af gamle bydel i Trogir. Ferielejligheder Marija er et godt sted for dig at hvile. Huset er placeret på UNESCO gamle bydel i Trogir, har mange museer, lokale butikker, gamle kirker, reastaurants blot et par minutter fra huset.
La maison est entièrement rénové, avec cuisine équipée moderne avec salle de séjour équipée avec TV / SAT et air conditionné. Il dispose d'un canapé pour deux autres quêtes. Belle salle de bains. A l'étage au premier étage est la chambre pour deux personnes avec air conditionné. Au deuxième étage est un grenier confortable avec chambre et air conditionné. Au deuxième étage, il y a une terrasse isolée pour que vous puissiez profiter. Toutes les chambres disposent d'un balcon. Accès wifi gratuit et un parking gratuit à quelques minutes de la maison (5 mn de marche), il est impossible de se garer devant la maison. Vous obtiendrez une carte de stationnement gratuit à utiliser al le temps, mais seulement pour une voiture (VOIR LES PHOTOS DE L'EMPLACEMENT DE PARKING) Vous pouvez profiter d'un moment privé dans la maison pour vous-même, mais dans le même temps que vous entrez dans les rues les restaurants, bars, musées, boutiques de souvenirs sont à votre portée tout en marchant autour. Le Riva est à 3 minutes. En été, il y a des bateaux réguliers (bateau taxi) de Riva à proximité des plages: Okrug Gornji, Slatine. Il y a un ferry sur la Riva qui va les îles, Veliki Drvenik i Mali Drvenik. Nous vous souhaitons d'excellentes vacances dans notre maison :-)
Stille fredeligt kvarter ideel for dig til at hvile og få en dejlig ferie ... Trogir er fuld af barer, til restauranter ant butikker for du ser ...
Vietimme 25 vuotis hääpäivää mm Trogirissa ja majoituimme Ivanin huoneistossa. Huoneisto oli aivan Trogirin vanhan kaupungin keskellä eli sijainniltaan täydellisellä paikalla. Ulko-ovelta lähimmän ravintolan pöytään oli kymmenen askelta ;) Huoneisto oli silti rauhallinen ja todella viihtyisä. Ja vastaanotto mitä sydämellisin. Viihdyimme todella hyvin ja voin lämpimästi suositella Ivanin asuntoa muillekin.
Päivi
2016-09-05T00:00:00Z
Ivans appartment was great. very cosy, clean and right in the heart of Trogir! absolutely perfect. Ivan was very helpful and answered really quick when we had any questions. 5 star host!
Bram
2016-09-08T00:00:00Z
We stayed two nights at Ivan's house. It is amazing! Really central. There are two balconies, a roof terrace and a little ground floor space for outside seating so you can take your pick where you would like to sit if you want to stay in or have a drink. Ivan left loads of food and drinks for us to try and the rest of the house has everything you can think of that you might need. Free parking is also a great bonus. We arrived earlier than expected and Ivan arranged for his sister and mum to come and meet us so we weren't waiting long. We are already trying to plan a return trip as it was the best place we stayed on our trip by a mile.
Laura
2016-09-18T00:00:00Z
Ivan's little house was lovely, in the perfect location in the centre of Trogir. Sitting out with our aperitifs on the terrace - nice restaurant ambience without the restaurant prices! Ivan was great and made us most welcome.
Andy
2016-08-21T00:00:00Z
We were met with a very warm welcome from our host, Ivan, who showed us around the apartment and filled us in on everything we needed to know. With his kindness, generosity and lovely sense of humour, Ivan is more than you could ask for in a host! The apartment is in a superb location in the heart of the old town and with all amenities within easy access. There are lots of different spaces for a family to spread out including three verandas and a terrace. From the second floor verandah you can see the clock tower and boats on the marina. It really is beautiful!
Debbie
2016-11-12T00:00:00Z
Ivan gjorde tidigt klart, via SMS och telefon, att han ställde upp till 100% för att vi skulle få en trevlig vistelse i Trogir. När vi träffades var han mycket positiv och hjälpsam. Lägenheten var i toppskick och läget kan inte bli bättre. Rekommenderas!
Bertil
2016-07-01T00:00:00Z
Het huis voldeed geheel aan de verwachtingen en zelfs meer dan dat. We kregen een warm welkom van Ivan en zijn moeder. in de woning stonden drankjes en schalen met hartige en zoete hapjes voor ons klaar. Heel bijzonder.
Emily
2016-05-14T00:00:00Z
Super location, extremely kind hosts and a really nice house. The place is located right in the heart of Trogir at the best possible location. Just outside there is a wonderful restaurant and with three minutes walk you reach the small harbour where you can take a water taxi to one of the two great beaches. The apartment was well equipped with a really nice design and also was very clean. The hosts were kind and caring through out our stay. We had a wonderful time there and for sure we will return again. I can only recommend this apartment to everyone!
Bistei
2016-09-03T00:00:00Z
Huonetyyppi
Koko talo/asunto
---
Majoituspaikan tyyppi
Talo
---
Majoittujien määrä
5
---
Makuuhuoneet
Trogir, Splitsko-dalmatinska županija, Kroatia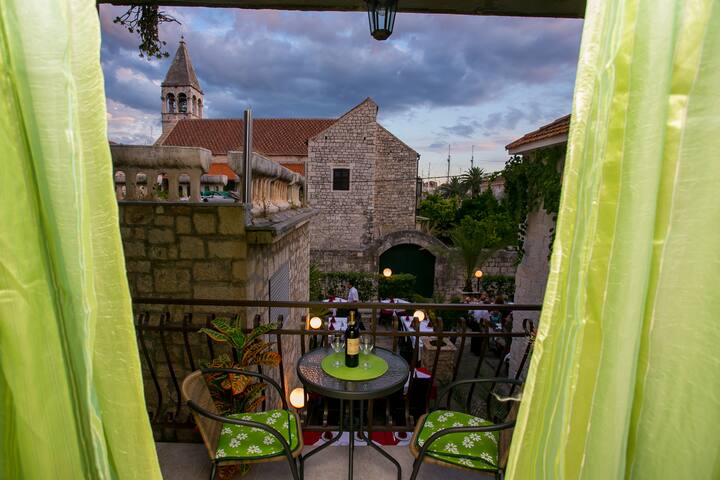 1

–

18

hakutuloksista

300+ vuokrakohdetta
Anna päivämäärät nähdäksesi kokonaishinnoittelun. Lisämaksuja sovelletaan. Veroja saatetaan lisätä.