2 vuokrattavaa huoneistoa
A tranquil 1 bed ground floor self catering apartment retreat, that sleeps 2-3 adults or 2 adults 2 kids. Peacefully situated on a wooded hillside farm with great views just 15 mins from York Park & Ride, 25 mins from York centre & 5 mins to Castle Howard in an Area of Outstanding Natural Beauty. Modern and well appointed with 2 comfy sofas, table & chairs for up to 6, fitted & equipped kitchen, comfy king size bed and a gorgeous wet room en suite.
The apartments living room is also an art studio (but only when no one is staying in it) with lots of light and views of the wood and fields around us as well as lots of paintings & drawings and art books & materials all around. The floors are all tiled and underfloor heated from an air source heat pump. The living room is open plan to the kitchen and has a 3 seater double sofa bed ideal for 2 small kids or one adult. There is a table and chairs that will dine 6 people, a toy box/coffee table and 2 whicker arm chairs. Flat screen TV's with freeview in the living room and the bedroom. The bedroom has a king sized bed and there is a large & relaxing wet room en suite with fluffy white towels, complimentary toiletries and tissues. The apartment is on the ground floor and there is another room which may also be let out (also on airbnb) above it on the first floor.
We absolutely love the peace and tranquility of living on this hilltop. We love the long distance views and we love our neighbours, the owls, the sheep, the ponies and the deer. The "Brush and Boot" luxury self catering apartment & art studio is the ground floor of a detached annexe to the rear of an 18th century Woodsmans cottage which sits 300 feet above the city of York on top of a hill by a wood that lies between two castles near York. The dramatic ruins of King Richard III's Sheriff Hutton Castle and the Baroque majesty of Castle Howard (famous as the location for the film and TV series Brideshead Revisited). Off the beaten track with big views over the Yorkshire Wolds & the Vale Of York, yet just 11 miles away from the ancient walled city of York?.
We had such a lovely time in this beautiful little house/studio. An extremely tranquil setting and Richard and Kim were fantastic hosts. The place itself is extremely comfy - nice bed, great bathroom, etc etc. Thoroughly recommended!
Joe
2015-03-23T00:00:00Z
Richard & Kim were very welcoming & helpful hosts both before our arrival and during our stay. The bed was extremely comfortable, and we both slept like tops. The walk-in shower was a huge luxury. Generally the self-contained accommodation is very clean, comfortable and well-equipped. The setting in a small cluster of houses/cottages in the Howardian Hills AONB is lovely, with 2 good country walks straight from the front door. We enjoyed having the freedom to self-cater 2 evening meals, & our own breakfasts after our morning walks, getting to grips with calor gas with Richard's help! I only have 2 suggestions - the first is egg cups! The second is that, although we were able to connect to the free wifi easily, the connection to the internet kept going down. I'm not sure what one can do about this, and for a couple of days it's ok, but for any longer a stay, it would have caused problems with both our businesses back home.
eve
2015-08-23T00:00:00Z
Brush and Boot was in a perfect location for a countryside retreat. The apartment itself was well equipped and very clean, we loved our stay here. Richard and Kim were very accommodating, making us feel very welcome and making us and pringle feel at home.
Lyndsey
2016-05-12T00:00:00Z
Brush & Boot is an ideal country retreat. Set in the idyllic Howardian Hills - the apartment contained all essential resources and was equipped with most modern amenities. Richard and Kim were the perfect hosts; communications were thorough in advance of our arrival and they were very welcoming, hospitable and accommodating upon arrival. A personal tour guide of the local Bluebell Woodlands was highly appreciated and Ruby; Richard & Kim's Cockerpoo was a welcomed frequent visitor! It is a beautiful area; ideal for walking, 25 minute drive to York City Centre and a 10 minute drive to Castle Howard. Richard and Kim were the perfect hosts!
Daniel
2016-05-02T00:00:00Z
Staying here was an absolute pleasure! Such a beautiful place and just as described, if not better. Richard and Kim were very accommodating and the breakfast was lovely. They were more than happy to answer any questions we had about activities in the local area and Richard even walked the dog with us and helped to show us the area when my partner and I went for a walk. I'd definitely recommend this place for a quiet getaway for a couple or a family. Very peaceful and the added bonus of being able to stargaze at night. We'd happily come back again, perhaps in the summertime. Thanks!
Emma
2014-12-24T00:00:00Z
We had a wonderful time in this well furnished, hassle-free, cottage conveniently located for glorious countryside and for the city highlights of historic York. The apartment is tastefully furnished with modern and easy to use appliances. The bathroom and underfloor heating were a particular treat! The hosts Richard and Kim were warm and amenable. As they run the BnB next door they understand the needs of vacationers and were helpful and available whilst allowing us the space to relax uninterrupted. We have nothing negative to say about our lovely few days in Yorkshire. We would surely recommend this to any couple looking for a relaxing few days in a secluded yet accessible area of outstanding beauty.
MARK
2015-01-04T00:00:00Z
The Brush and Boot is a nice place, in a nice area, run by a couple of nice hosts. We arrived very late and the hosts left the apartment open for us which we really appreciated. Unfortunately though, my partner and I had two very bad night's sleep and wouldn't stay here again. The bed is quite small and very stiff. If you are a back sleeper this may be fine, but as a side sleeper this kept both me and my partner awake throughout the night. In addition, the bedroom window shade lets a lot of light through which made things worse. When we booked the house we assumed it was a self contained single house set some way back on the premises for privacy. It is in fact divided into two apartments, which doesn't afford you as much privacy and comfort. People walking up and down the rear metal stairs next to your window is not nice. The apartment is to a high standard however, with all the mod cons. Although you will need to choose which to use when, as we trippped the power more than a couple of times. The location is lovely if a bit out of the way. Very picturesque. Parking is available, although there were, for some reason, around 4 cars parked when we arrived. Overall it's a nice place that's difficult to recommend. I have stayed in country Airbnb's before and they all have their shortcomings. Those shortcomings are often parts of their character. The Brush and Boot felt like it was run like a business however. With charged breakfast that was never offered, artwork with prices on the wall, lots of cars parked out from, guests above you, and a poor nights sleep. No matter how nice your apartment is- it can be at the Ritz- if it results in an unrested night's sleep it is very unenjoyable.
Ryan
2016-09-20T00:00:00Z
The apartment was perfect. Richard and Kim had thought of everything a guest could possibly need. The setting is deeply rural but very accessible. Beautiful views and walks nearby. A helpful and affable host.
Gail
2015-09-17T00:00:00Z
Huonetyyppi
Koko talo/asunto
---
Majoituspaikan tyyppi
Huoneisto
---
Majoittujien määrä
3
---
Makuuhuoneet
York, North Yorkshire YO60 7TW, Britannia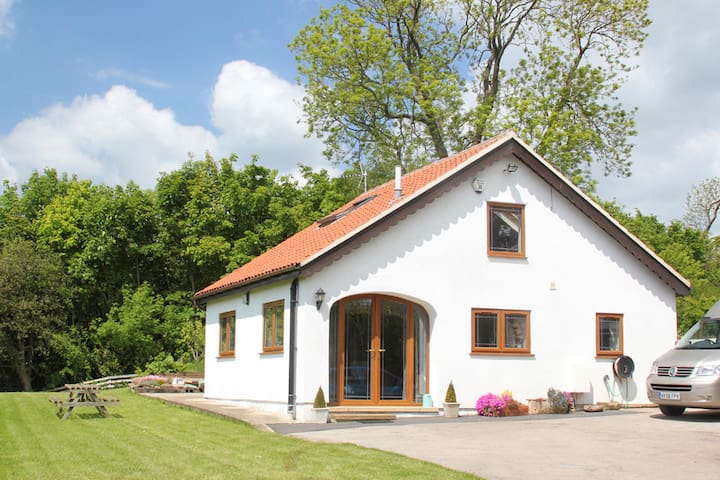 New Wells is a modern light and comfortable house close to Castle Howard , North York Moors National Park, East coast resorts of Whitby Scarborough Robin Hoods Bay Pickering and the N York Moors Railway. Within a half hour drive of York. In a quiet lane of a conservation village,great view over the fields to the moors. Close to wonderful restaurants and pubs. With comfy beds fresh linen and modern bathrooms. Great both summer and winter. We accommodate groups couples and families (with kids).
We do not provide a cooked breakfast but we do provide a continental style self serve cold breakfast.
Terrington is a pretty traditional conservation village in and area of outstanding natural beauty. Its a peaceful place with fresh air and lovely walks just on the doorstep.
Huonetyyppi
Yksityinen huone
---
Majoituspaikan tyyppi
Huoneisto
---
Majoittujien määrä
2
---
Makuuhuoneet
Terrington, Englanti YO60 6NS, Britannia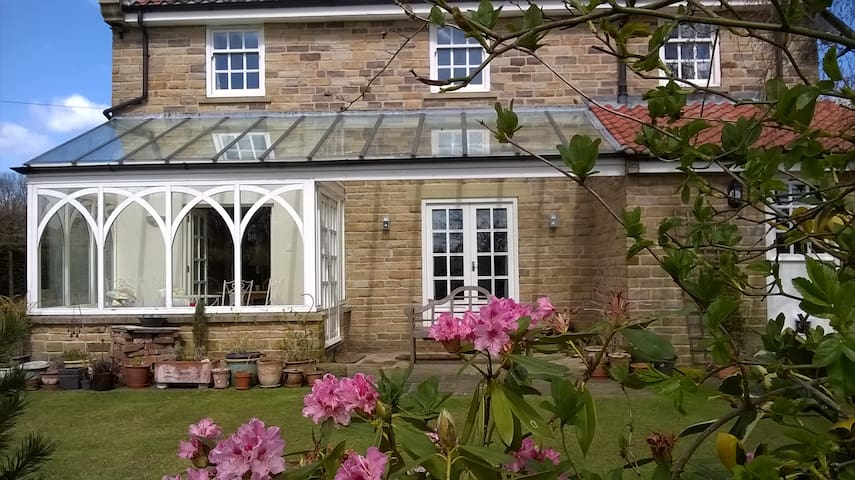 1

–

2

hakutuloksista

2 vuokrattavaa huoneistoa
Anna päivämäärät nähdäksesi kokonaishinnoittelun. Lisämaksuja sovelletaan. Veroja saatetaan lisätä.