Anna päivämäärät nähdäksesi kokonaishinnoittelun. Lisämaksuja sovelletaan. Veroja saatetaan lisätä.
8 vuokrakohdetta
· Halling
8 vuokrakohdetta
· Halling
My little but very cosy house is placed in a traditional English village. There are two local pubs and an Indian restaurant. You'll love my place because of the views and the outdoors space.
This people is incredible. I really enjoyed my stay. The room is fantastic and the bedroom really comfortable. The house it tidy and clean. I have to be around there a couple of times a month so if possible I will stay always here!
Alicia
September 2016
Great place. I always come here when I have to be at work! Higly recommended
Alicia
November 2016
This is a great place. I was here twice and will come again next time. The house is really cozy and clean. I love it!
Alicia
October 2016
I always come to this place when I am around. The house is amazing, clean, cozy and the people are great. I just love it. Highly recommended
Alicia
January 2017
This is the perfect place to stay. I have to go to Maidstone quite a lot and I always stay in this room. The house is really clean and cozy. The hosts are perfect, really nice and helpfull. I love it!!
Alicia
December 2016
The host canceled this reservation the day before arrival. This is an automated posting.
Karol
This place is great. I always come back when I need to stay in the area. It is quiet and comfy. The house if beautiful decorated and smells fantastic. And the people is wonderful! Highly recommended
Alicia
February 2017
Huonetyyppi
Yksityinen huone
---
Majoituspaikan tyyppi
Talo
---
Majoittujien määrä
2
---
Makuuhuoneet
1
Wouldham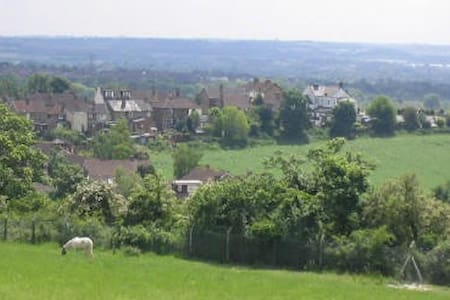 location is peaceful village hour and half from main London train nearby relax and sea view local shop and pub near by. all what you need in the kitchen as well and close to lovely Maidstone as well that offer mini town shoping center as well.:)
Huonetyyppi
Koko talo/asunto
---
Majoituspaikan tyyppi
Vene
---
Majoittujien määrä
2
---
Makuuhuoneet
0
Cuxton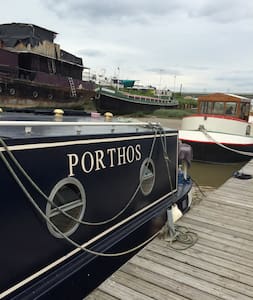 My place is good for couples, solo adventurers, business travellers, and families (with kids).
There are beautiful country walks close by and water sports on the lake which I can book ahead for you if you would like. Guests will have there own bedroom bathroom and living space. Tea and coffee is also provided in your room. plus clean towels. If you need anything else just ask. Please let me know if you would like a light breakfast. Toast. Fruit. Porridge etc And if you would prefer gluten free products.
Close to M20 great links to London and local town. Train station within walking distance. If I can help you with your stay please let me know. Due to work commitments please talk to me re check in. I am not always available before 5.30
nice clean room/washroom/sitting area...carol is so helpful, caring & sweet...recommend her place to everyone...10/10...
Haseeb
November 2016
Lovely stay at a convenient location.
Lawrence
November 2016
Nice house, all as described. Carol did a good job of making me feel welcome. Would definitely stay again.
Tom
October 2016
Carol was a great host. Made me feel very welcome and at home. Great location with easy access to Maidstone, Canterbury and beyond. The room was super clean and really comfy. Definitely worth the money. Great nights rest. thanks Carol
Kevin
October 2016
I had a lovely stay at Carol's place. She is very friendly and accommodating, I would recommend staying here!
Janell & Tertius
January 2017
Carol is a very good and understanding host. I would definitely recommend her B&B. Good breakfast, fast internet and very friendly host.
Lawrence
October 2016
Hi, I have stayed here a few times and it is a great place to stay. Carole is a lovely host.
Lawrence
January 2017
Huonetyyppi
Yksityinen huone
---
Majoituspaikan tyyppi
Talo
---
Majoittujien määrä
2
---
Makuuhuoneet
1
Larkfield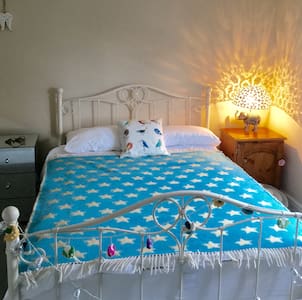 Nestling in an area of outstanding natural beauty on the North Downs. Dating back to 1840 and surrounded by countryside the house itself has been used as a film set.
Minstrel Room - quiet country Bed and Breakfast, en-suite room with double bed. Ideal location for relaxing break in beautiful surroundings, easy access to many Kent attractions. We are limited to take only adults, sorry no pets. Guests are welcome to make use of the sitting room and gardens, including the summer house.
Laundry Cottage is a pretty house in a lovely setting. A good, clean double room with an ensuite awaits you. Excellent breakfast and very welcoming hosts. What more could you ask?
MELANIE
September 2015
Many thanks Philip and Julie, Truly grand hosts, if you are considering this property don't hesitate. We are seasoned travellers and this would be as good as it gets. We were greeted with tea and freshly baked cake which was great as we were jet lagged and frazzled. Our gps had given up the ghost and Philip went way beyond the call of duty and gave me an old one to get us going again, many thanks. Their accommodation is all new and well appointed. Excellent breakfast that set us up for the day. Their attention to detail is impressive. These are genuinely very nice people, just book it. Cheers Martin and Peggy from New Zealand.
martin
June 2015
A great place to stay with amazing hosts in a quiet location. The homemade cakes with the tea and coffee are amazing.
Neal
January 2017
Philip and Julie couldn't have looked after us better. They are charming, friendly hosts happy to go the extra mile. The house is a rural gem, beautifully maintained and spotless. We were thoroughly spoilt with homemade cakes and biscuits. The breakfast was also wonderful and at a time to suit our needs. Philip was also kind enough to drop us to a reception and pick us up which was also very helpful. We had a delightful overnight stay and can recommend it highly.
Chris
September 2016
A lovely room and a warm welcome. Philip and Julie were so helpful and friendly and the breakfast was fantastic. A real gem.
Hanna
March 2016
Laundry Cottage, an amazing place to stay
Julie
September 2016
Philip and Julie are the nicest B&B hosts I have ever stayed with. They (and their lovely little dogs) were so welcoming when we arrived giving us tea and cake. They even drove us down to the local pub for dinner and picked us up again afterwards. Next morning the breakfast was fantastic - a great range of food with locally sourced produce. The house itself is great and is surrounded by lovely countryside.
Dave
October 2016
From the moment we booked until the moment we left Philip and Julie did their utmost to make the stay perfect. The room was lovely and the bed was very comfortable. It's nice and quiet. Just what we needed. A wonderful array of breakfast cereals were waiting the next morning followed by a lovely cooked breakfast. This is a wonderful place to stay and we will be returning especially for more cake!!!
Antoinette
May 2016
Huonetyyppi
Yksityinen huone
---
Majoituspaikan tyyppi
Aamiaismajoitus
---
Majoittujien määrä
2
---
Makuuhuoneet
1
West Malling
This Lovely 2 bedroom flat is located on the 2nd floor of a purpose built block. Very quiet, 10 min walk to historic Rochester Castle & Cathedral. 2 flights of stairs no lift. Light room, contemporary decoration & river view. Parking outside free.
Breakfast is not included however, you have use of fully fitted kitchen to prepare your own meal. you are free to use the kitchen, living room and bathroom/shower room. Due to my work I may be away from home from time to time during your stay but I am happy to help with advice, maps and any information required prior to your arrival.
10 min walk from historic Rochester Castle and Cathedral, Dickens festivals and Sweeps Festivals, Morris Dancing, and traditional crafts and wares are all part of the local culture. Local Coop, mini market and news agent 5 min walk from the flat. If parking under flat is full please note the previous and the road after they have full free spaces avalable about 1 min walk. 33 minutes fast train from Rochester to London and within 10 min drive from the A2 or M2/M20 Very tidy and clean flat. If I am away from the premises my neighbour in the same block has keys and can meet you to access the premises and take care of you. Also I speak 5 languages (English, French, Italian, Spanish and Japanese) please do not hesitate to contact me in those languages if needed.
Good location within 10 mins walking distance of Rochester. Monica was very welcoming and the room was perfect.
Caroline
February 2017
Huonetyyppi
Yksityinen huone
---
Majoituspaikan tyyppi
Huoneisto
---
Majoittujien määrä
2
---
Makuuhuoneet
1
Rochester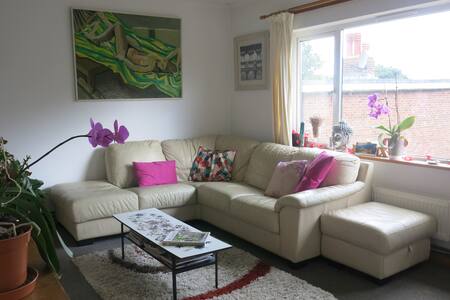 Warm and luminous family house, 2 miles away from the train station. This countryside house is ideal for a family/2 couples and is all equipped for a baby. The area is surrounded with wood and paths to enjoy the countryside and quietness.
Front door access. The access to the garden can be done through the outdoor garage space. If we are not there to give you the keys directly, one of our neighbour will!
The neighbourhood is really family friendly. If you experience any issue, you can be sure to find someone to give you a hand in the neighbourhood. For special occasions, I advise you to go to the restaurant called "The Swan" in Swan Street. Otherwise the Farmhouse is a very nice pub on the High Street.
Excellent property, especially for a family, and great communication. Pauline could not have been more helpful. Would highly recommend.
Erika
January 2017
Good little place, perfect for where we needed to be in relation to Trottiscliffe. We hired a car and found parking easy. Pauline was easy to contact and made it a smooth arrival and departure.
Elspeth
December 2015
Great place to stay, a comfy warm family home & we enjoyed our short break. Good location with easy access to motorway & travelling around Kent & London. Thanks.
Bernard
December 2015
Huonetyyppi
Koko talo/asunto
---
Majoituspaikan tyyppi
Talo
---
Majoittujien määrä
4
---
Makuuhuoneet
3
West Malling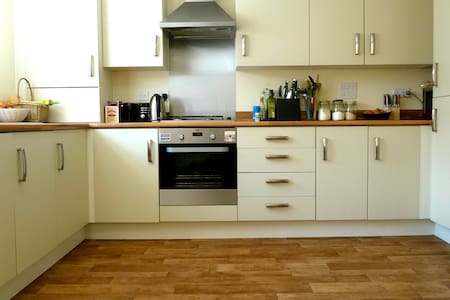 A cosy room in a Countryside Luxury apartment with Lake view, in the heart of Kent, close to some of the most historic places such as Leeds Castle. Room sleeps 2 in a Four-posted bed. Car park. The hotel-standard bathroom is dedicated to you..
So many things: the surroundings, specially The Lakes. Full access as long as you treat it as if it is place ;-) ... With love and care ❤️ How often as they want depending on each other's availability.
American / New England style condo type development Is in the heart of Kent by the countryside, with the lakes and all the amenities available at your doorstep, including historic villages and a 24hrs MaxiTesco 2 mins walk away. Plus, it is safe, tranquil, clean ... There are buses and Snodland train station is only ~50mins from London St. Pancras. There are a few taxi companies, but I would recommend to drive if possible. Is just a dream place all together ... Also, if you like gyms and SPAs, I can get you to come to one of the best David Lloyds Clubs in the UK nearby at an extra cost of £15 pp
It was an incredible stay at JP,s, he is a very welcoming guest which made me feel relaxed right from the start. The property was clean and the surroundings very comfortable. The views overlooking the lakes is absolutely stunning!! I'll definitely go back. PS he makes the most incredible porridge.
John
July 2016
JP is a fabulous host and the flat is genuinely beautiful. The bed was extremely comfortable and the views of the lake are both luxurious and stunning! JP is very hospitable and couldn't do enough for us, giving us advice and help whenever we needed. He really did make our stay memorable, we will definitely be visiting again. Thanks JP!
Trishna
September 2016
Huonetyyppi
Yksityinen huone
---
Majoituspaikan tyyppi
Huoneisto
---
Majoittujien määrä
2
---
Makuuhuoneet
1
Larkfield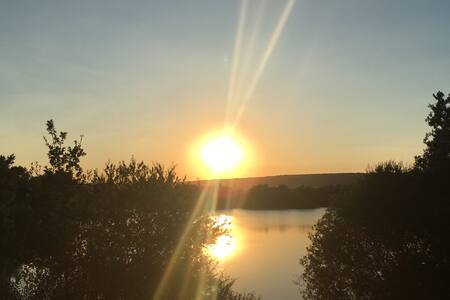 The listing is for a private double bedroom in our 4 story riverside modern townhouse. The room is clean and bright. There is 1 double bed with en-suite shower room with shampoo, shower gel, hand wash and clean towels for the guests to use for free. The bed linens and towels are cleaned after each guest stay. Our house is about 1 mile to Rochester High street (20 minutes walking, or 2 mins driving ) The price: £45 for 1 person per room/per night £60 for 2 people per room/per night Please see my other listing if more room required. Free facilities to use: wireless Internet Tea/coffee making facility in the kitchen (The kitchen is not for guests use for cooking!) Garage to keep your bicycles overnight Visitor Car parking I am around at home all the time
The place is about 1 mile to Rochester High street (20 minutes walking distance, 2 minutes driving, or £6 for taxi). It's closed to all the local attractions, e.g. Rochester Castle, Rochester Cathedral, Six poor travellers house, Eastgate House, Restoration House as well as nearby attractions in Medway towns, such as Fort Amherst, Chatham Marina, Upnor castle, etc. Trains are available to other historic towns of Kent (e.g. Dover, Margate, Whitstable etc). Trains are also available to London. High Speed trains take around 34 mins from Rochester to London St Pancras International station. The slow trains also go to London Bridge, London Charing Cross, London Victoria for just over an hour. Please bear in mind we are NOT in London, we are in Kent county (in South East of England), so if you rely on the public transport to travel to/visit London everyday, it is probably not ideal place to stay. please refer the ticket price from http://www.thetrainline.com The host is bilingual with English and Chinese.
Laura is a great host and the room was spacious, clean and comfortable.
Caryl
October 2013
Laura was nice and friendly. The room was spacious and clean.
Danielle
September 2013
We had a very nice stay at Laura's place in a room with riverside view. The apartment is located very close to the centre and Laura gave us a lot of tips on what to see in beautiful Rochester.
Inge
June 2013
Laura and her partner were very nice and made us feel welcome in their home. The room was very spacious with a lovely en-suite bthroom and an excellent shower. It was all very clean and tidy and well presented. The flat was within walking distacne of the town center which was ideal for us.
lucy
March 2014
Huonetyyppi
Yksityinen huone
---
Majoituspaikan tyyppi
Talo
---
Majoittujien määrä
2
---
Makuuhuoneet
1
Rochester