Large Victorian home set in 1 acre of gardens. This room Now with brand new en-suite!!? Double bed. 3/4 mile outside village with pub. 3 miles to Spalding. Family Home. Use of lounge, dining room, garden room, grounds etc. Relaxed and informal.
welcoming Family home set in countryside. Very large bedrooms & reception rooms available for your usage. We have a dining room that can seat up to 14 in comfort so a large gathering can be arranged if required. The house has a total of 6 bedrooms, 2 of which are permanently set up for guests but bedrooms 3 & 4 could be made available by arrangement for the right situation by negotiation. Although listing for 6 we could manage 8-10 if sofa beds were utilised!
Rural country location. We are on the road between Spalding and Bourne. 3 miles from Spalding and the train station. A courtesy pick up/drop off at the station is available subject to Either Louise or William being around,
the host is friendly and kind. if you need heater before October, you should to tell the host when you ordered this house. to be careful, when you use shower nozzle, because of the stress of water is very strong.
Sun
2015-09-30T00:00:00Z
Great house. Lovely people. Topped off with a decent continental breakfast. Have given some private feedback to help hosts tighten up their description. We had a great stay, all be it brief.
Siv
2016-04-25T00:00:00Z
Never used AirBnB before, if everyone is like William & Louise I will be using again and again.
Mike
2017-01-27T00:00:00Z
After being accepted William stated he was unable to accommodate me and I was placed with his neighbour. I never met William but his neighbours were delightful and most hospitable. I had a very pleasant stay with a delightful and intellectual couple and their beautiful friendly dog.
Kim
2016-08-01T00:00:00Z
Had a great time with William and Louise, who are the perfect hosts. A very short stay, but a beautiful house partnered with great hospitality. Our first time using Air BNB and a thoroughly enjoyable one. Definitely recommend staying with William and Louise if you are planning to visit the area.
David
2015-11-10T00:00:00Z
William and Kate are a lovely couple who made us feel very welcome. They provide a friendly and personal experience. The room is spacious and comfortable. Location of the listing is ideal for peace and quiet. Will be happy to go again.
Steven
2016-04-28T00:00:00Z
Very pleased with speed my booking was accepted. The description of their home was accurate and the directions helpful. I had a relaxed stay and found the whole family warm and welcoming.
Barbara
2017-02-20T00:00:00Z
A fantastic and relaxing stay at this very comfortable and cosy house. William and Louise have been very friendly trying to make me feel part of the family. Their children are fantastic. I could use lounge, TV, lunchroom, kitchen as I would have been in my house. The surroundings is very quiet and the house is big enough to have your own privacy if you want it. There is a fantastic garden and town is not so far away. I have been really impressed and I would reccomend it to anyone would like to have a stay in a English Country House with two fantastic hosts. The stay was really worthwhile.
Marco
2016-10-15T00:00:00Z
Huonetyyppi
Yksityinen huone
---
Majoituspaikan tyyppi
---
Majoittujien määrä
2
---
Makuuhuoneet
Pinchbeck, Lincolnshire PE11 3SQ, Britannia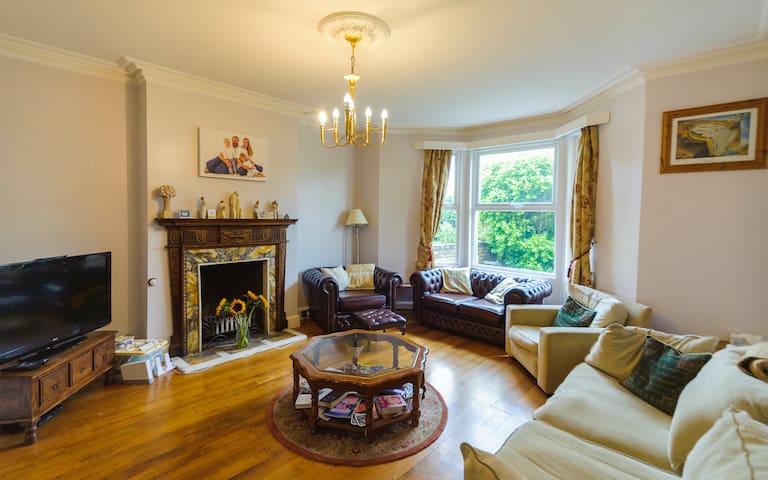 Victorian Country House, 6-7 Bedrooms, fantastic dining & reception rooms plus massive kitchen. 1 acre gardens including orchard at the bottom garden. Perfect for family celebrations. Dine in Style. Relax in luxury. Full Chef/Maid service available from very hospitable owners. Package tailored to make your stay perfect! This is a large, majestic mid-victorian country house. It comes with the quirks and qualities of a traditional country house of local standing. Enjoy!
Oak panelled hallway. 28ft dining room with herringbone floor with feature fireplace. 27ft lounge with feature fireplace. Acre of garden & orchard. Modern, high quality beds in most rooms including super kingsize in 2. Power showers and jacuzzi bathroom. Please note this is our family home and whilst a lot of effort will be put into making it scrupulously clean and tidy, there will still be personal effects and trinkets around. That's the air bnb way!
Quiet but only 3 miles from Spalding. Country lanes for walking. River bank walk 50m from house.
We stayed as a large group and all enjoyed our stay. The children had great fun in the large garden and we enjoyed having different rooms downstairs we could relax in. The large table in the dining room is a great addition to the house and we used this everyday of our stay. Two ovens also really helped when we were cooking for our big group!
Claire
2017-01-03T00:00:00Z
We had a lovely relaxing time great house lots of space our Grandchildren and Neices and Nephews loved it they had so much fun in the huge garden will definitely be going back William and Louise where very helpful couldn't fault it
Deborah
2016-07-07T00:00:00Z
Our stay at William and Louise's house was very enjoyable. We had plenty of space to celebrate my mum's birthday and was lucky enough to have great weather to make the most of their vast outside space. The kids certainly enjoyed the trampoline. As hosts they were kind and thoughtful. Located in a quite rural area it was lovely to enjoy the quiet .
Emma
2016-07-27T00:00:00Z
Lovely house with helpful and friendly hosts. A group of 10 of us went for a weekend away and the house was perfect for us. William and Louise were really helpful and gave good restaurant recommendations and information about the local area which we found really useful.
Anna
2016-10-24T00:00:00Z
Both William and Louise were fantastic hosts. All of our group were made to feel very welcome. The accommodation was clean, tidy and very comfortable. The food and wine were excellent. I could not have asked for more from the trip. Would definitely recommend to all my friends!
Miles
2016-06-27T00:00:00Z
William and Louise's home was absolutely gorgeous and perfect for our family celebration! We slept comfortably, ate very well and enjoyed their stunning garden. If you are looking for a relaxed getaway in a lovely rural location then this listing is perfect for you! On a personal level, I can't recommend this family highly enough. They were friendly, helpful, reassuring and generous hosts. I felt trusted and supported knowing they were on hand if I had any queries or concerns. A wonderful experience from start to finish.
Rachel
2016-08-08T00:00:00Z
We were looking for somewhere to stay for a family gathering to celebrate a 90th birthday in December and were so pleased when William and Louise's house was available AND they could provide the catering too. This freed us up to relax and enjoy spending time with our family rather than spending hours in the kitchen preparing meals and washing up! The house was spacious for our party of 10 plus another 10 joined us for the evening meal. The lounge was perfect because it provided two areas; at one end the younger people were able to gather and be a bit noisy leaving the other section for the oldies to sit around the open fire - but we were still all together as a family. The dining room and kitchen are very spacious and accomodated our numbers perfectly. There were enough bedrooms for everyone and with a family bathroom and an en-suite there wasn't much queing for the facilities in the morning. We were grateful for the towels provided which saved us bringing our own. William and Louise were great hosts; very clear comminicators and they worked hard to make sure we had everything we needed. They got the balance just right - of being on hand should we need anything and leaving us to it for the majority of the time . The food was delicious, portions were very generous and made for a very special celebration dinner party in the dining room that we decorated with candles, fresh flowers and bunting. The communication before the weekend was excellent. William and I discussed on a number of occaisions via e-mail and telephone to make sure that the house was suitable for our needs. He was very open and clear about what they could or could not provide and checked with me several times as I was confirming numbers to make sure we had beds/ rooms and dietary requirements to meet everyone's needs. I was so glad the house is not a sterile, pristine 5 star hotel, it is a warm family home which is shared for the weekend by two welcoming hosts. Unlike a hotel it felt homely and relaxed with just a few simple house rules that were easy to respect. I felt our hosts worked with us to help us have the event we wanted. It was important to us that we stayed somewhere where we felt looked after and welcome and not as if we were imposing and William and Louise have got this just right. A big thank you to them and their family.
Anne
2016-12-20T00:00:00Z
A lovely family weekend in a pleasant house ruined by actions of host after our departure. House - positive points - spacious kitchen, living room, dining room, master bedroom and bathroom. Good off street parking. Large garden. Generally clean. Warm. Excellent local pub with good food. Negative points - one bathroom not sufficient for large group, some bedrooms cramped and cluttered, dirty sheets on sofa bed, towels need updating, annexe wholly unsuitable for paying guests. Word of warning - when arriving at house I advise you to photograph rooms, furniture, blinds etc. This will give you evidence should host make claims about damage, as he did with us. Claims were settled amicably but it took a lot of time, effort and expense to achieve this outcome. Specifically, please ensure you receive instructions regarding the use of dining table. I hope host invests in a heat/water proof table cloth. To conclude, would I recommend this house? Probably not. Would I return? Absolutely not.
Katy
2016-11-04T00:00:00Z
Huonetyyppi
Koko talo/asunto
---
Majoituspaikan tyyppi
---
Majoittujien määrä
15
---
Makuuhuoneet
Pinchbeck, Lincolnshire Pe11 3sq, Britannia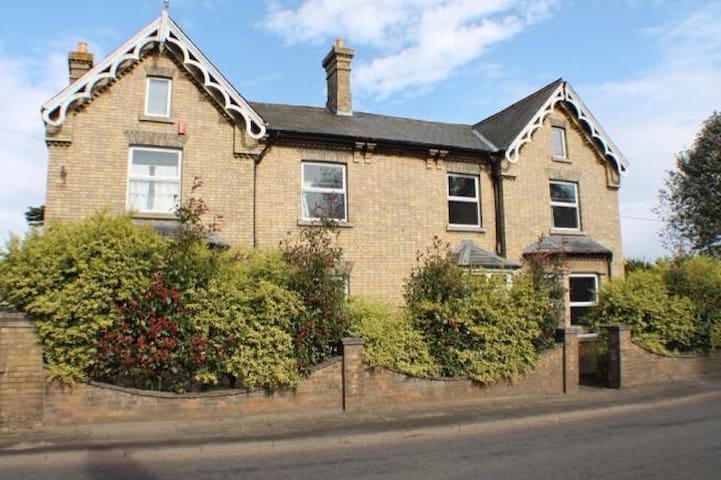 this room is a big room with superking size double bed plus (if required) rollaway bed x2 to sleep up to 3-4 in a (URL HIDDEN) acre of garden & orchard. Shared use of large bathroom, power shower, jacuzzi bath etc. All grounds, dining room etc free to share.
Please see our main listing. This is only on here because air bnb require us to run separate listings for each bedroom. Full continental breakfast included. EVENING MEALS & PACKED LUNCHES CAN BE BOOKED BY ARRANGEMENT.
Wonderful place to live as the host made me feel like I am at my own house. The best part is we get together to cook every fort night and amazing play time with the kids. Welcome for any feedback and improvements and any problems were always asked to speak up which is the first I have experienced. Love to come back and stay with you guys. Miss you... Joshua has been the best company on the weekends. Thank you all for the wonderful experience. Will visit you again soon.
Aravind
2016-03-04T00:00:00Z
Whilst on business in the area I spent 4 lovely nights with the Ruddles and from the outset was made to feel part of the family. I've never been in such a place that exudes the care and consideration of its owners William & Louise. The attention to detail was incredible, just delightful all round. The entire Ruddle family were a delight too, so thoughtful and put so much into making the stay such a wonderful, memorable place to stay. I wanted to stay for Xmas! I didn't have time to explore the nearby countryside but I did get to try the local pub grub which was very nice and was good value for money. With all the meals whilst at the Ruddles the ingredients were all locally sourced, perfectly prepared and each morning I had a delicious continental breakfast prepared by Louise. The views were beautiful, the room was well appointed with a king size bed and more than enough wadrobes for even the most discerning traveller or business person . I can't rate this place and the Ruddle family high enough!
Darren
2015-12-19T00:00:00Z
Huonetyyppi
Yksityinen huone
---
Majoituspaikan tyyppi
---
Majoittujien määrä
4
---
Makuuhuoneet
Pinchbeck , Lincolnshire PE11 3SQ, Britannia