37621 Hwy 190 is located 2 miles above Springville on the river awaits a quaint studio apt. Enjoy a glass of wine on the deck or next to the river. Quiet, relaxing, and on the river.
Steps away from the river, guests can sit in beach chairs in the river to cool off or take a swim. The apt. Is equipped with a window a/c and fireplace heater, cable TV, a hide a bed for extra guests, and endless wildlife. A second room off the main room has a double bed. The guests sleeping in the second room can access the bathroom only through the main room. A variety of birds, deer, raccoon, squirrels and even skunks can be seen around the place! There is a full fridge, microwave, hot plate, electric skillet, and toaster in the kitchenette. You may also use the gas BBQ on the deck. We ask that you be present with children around the property. The pool and river are very dangerous for children unattended. Conservation is a must in our drought. Please conserve water. There is clean drinking water from the reverse osmosis fauct. No pets please.
The house is located on two acres. Neighbors across the river and on one side of us aren't visible nor do we hear them, it is a very quiet and peaceful setting. We live in the main house adjacent to the studio apartment. It is just the two of us and our two dogs. We are very quiet and will respect your privacy.
Fantastically peaceful location close to the wilderness and trails. Doug was a great and attentive host, and we could not have asked for more. The river running through the back garden was very peaceful and a great spot to relax. We were sad that we could not stay longer!
Graeme
2016-04-09T00:00:00Z
Sharon's home was amazing! We only stayed one night but Sharon and her husband were so flexible with our check in. They even let us check in early and babysat our puppy while we went on a hike! The river was so much more impressive than the pictures!!!! I'd say about 20 feet across at least and waist deep! We enjoyed countless hours playing with our dogs and their 2 pups as well. The studio was the perfect size for us. Because of lack of time, we didn't use their pool but we did enjoy their new jet jacuzzi under the stars! You can tell they put a lot of work into their home and it is just beautiful! There were many other aspects they provided but we just didn't have time! Next time we plan to have more meals by the soothing river and a splash in the pool. The house is about 5 minutes away from swimming holes and about an hour from the Sequoias. Thank you for a wonderful stay, we will be back!
Melissa
2015-10-19T00:00:00Z
Our stay at Doug and Sharon's place was wonderful! We had the best sleep here and the sound of the river in the morning was beautiful. Thank you for sharing your home with us.
Stephanie
2016-11-24T00:00:00Z
The ground was beautiful with river, small play area for kids, many chairs and etc. The house was small but had all the amenities we needed including pots, plates and utensils. We loved the jacuzzi at night, and it was so refreshing to hear the water running the next morning. Doug and Sharon were very nice and friendly. The only irritation was the bees at dinner time. We sat outside for BBQ, and there were so many bees flying around at our table, and I was scared with a baby.
Ariel
2016-08-03T00:00:00Z
We had a wonderful stay at Doug & Sharon's place. The setting is wonderful. We enjoyed sitting on the deck by the river and relaxing in the hot tub. The hosts were very hospitable. We would definately stay there again.
Sanja
2016-10-04T00:00:00Z
Doug and Sharon's place is one of a kind. It is right on the river. You can enjoy meals or coffee sitting practically on top of rapids. The space itself is very cozy, with a great full kitchen and bathroom. There were two TVs, a heater, and extra blankets. The sound of the rushing river can be heard from the room as it rocks you to sleep. Doug and Sharon were very helpful in showing us to how to use the grill, hot tub, and sauna. There's great hiking across the street and lots of nature to explore all around.
Ezra
2017-02-05T00:00:00Z
Great stop near the Sequoia National Forest and not too far from the General Sherman tree. We found Doug and Sharon extreamly accommodating and the property was absolutely beautiful. High lights were the two dogs Lincoln and Aberham, the zucchini bread that Sharon made us was delicious as well. We had a great stay!
Erik
2016-01-10T00:00:00Z
Doug and Sharon's place was cozy, comfortable and perfect for a little getaway. The hosts are sweet, gracious and do everything they can to make you feel at home. the location is wonderful, the sounds of the river are really nice to wake up to! the place is clean and well kept and they were nice enough to keep a lot of materials in the unit for the visitors about the area and places to go. the dogs are super sweet and fun to play with! all around great place! recommend!
Xena
2017-01-04T00:00:00Z
Huonetyyppi
Koko talo/asunto
---
Majoituspaikan tyyppi
---
Majoittujien määrä
4
---
Makuuhuoneet
Springville, Kalifornia 93265, Yhdysvallat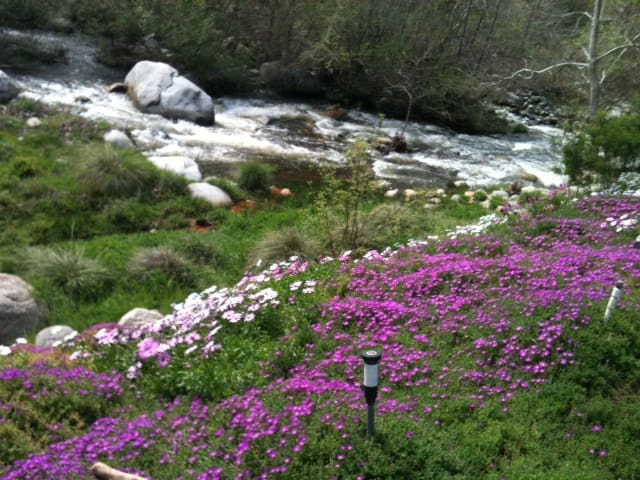 My place is close to Center the Sierra Nevada Mts., Sequoia National Park and has great views. You'll love my place because of its Authentic (the real thing) bunkhouse. You may want me to light the propane heater. THE ELECTRICITY is a 12 volt system and very safe. It is charged by solar panels. The biggest trees in the world are an easy and very beautiful drive up the road. There are thousands of these trees up there. I love them.
Please know this is a WESTERN experience and not the Hyatt hotel. The quaint two story bunkhouse has soft clean beds and sleeping bags and new quilts.
This is horse property with spreads of three to twenty acres. I have good parking. This is an upscale area of the Sierra foothills and is friendly and safe. My town of Springville has a Cowboy / Cowgirl (authentic) cafe for breakfast and lunch. In nice weather you can BBQ outside. Free charcoal no less. You can cut your own wood if you like.
AWESOME!!! Alfred is a fantastic host! I absolutely loved staying at the bunkhouse. During a 15 day trip through 4 diff states with my dog, I stayed at a lot of different air b&b homes, but nothing like this. Perfect for the solo traveler or couple with a real sense of adventure & love of the stars. Alfred is a delight!
Nina
2016-11-10T00:00:00Z
This little countryside place is just like paradise. If you're not waiting for everything to be perfect, this is perfect! There's all that's needed: heating worked, the stove worked. (It might be a bit freezing though in a month or 2) Alfred was fishing with our Leo (6 years). Alfred is awesome! :)
Ville
2016-11-15T00:00:00Z
Al was a great host and was kind enough to show me how everything worked and make sure I was settled in for the night, all in the pouring rain. Beware, there are lots of spiders. So, if you're not a fan, bring spray. The bunkhouse was super cute on the inside and had everything in it you would ever need. Also, if you're a light sleeper, bring ear plugs. Overall, great little place that is close to the Sequoias.
Jenni
2016-12-28T00:00:00Z
Alfred is amazing and just a great host! My husband and I planned a last minute trip to the Sequoias and loved every minute of it. Alfred is so helpful and provided tips and maps for how to see the sights. The house was so cozy and had a great fishing pond right behind the house! My husband was in heaven. We had a campfire every night and grilled steaks under the stars. Thank you Alfred!! We will definitely be back!
Jessica
2016-11-22T00:00:00Z
Tucked away near hwy 190, this bunkhouse won't disappoint you if you are looking for a quiet place. It's very close to the beautiful forests that the area has to offer.
Alex
2016-11-25T00:00:00Z
Nothing like living like a cowboy!
Marilyn
2017-01-13T00:00:00Z
Alfred. What more can be said but that you are awesome! You went above and beyond sharing your knowledge of the area and making us feel so welcome! That cabin is awesome and exactly what we wanted for our stay at the mountains!! We will be back!! Thanks again, Jessica
Jessica
2017-01-14T00:00:00Z
Our stay with Alfred was great. He decided to upgrade our booking from a bunk house to his own house. It's around 5 miles away.
Pak
2017-01-09T00:00:00Z
Huonetyyppi
Koko talo/asunto
---
Majoituspaikan tyyppi
---
Majoittujien määrä
4
---
Makuuhuoneet
Springville, Kalifornia 93265, Yhdysvallat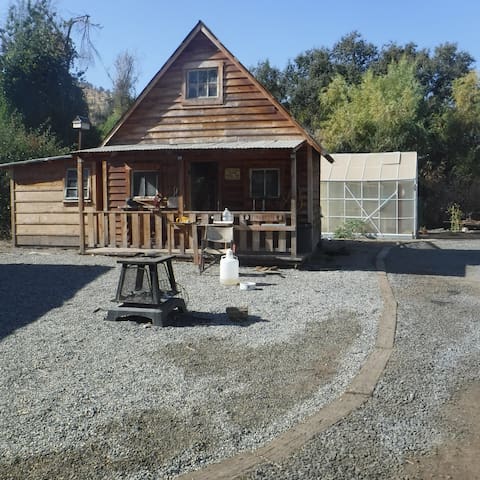 This outdoor room on 12 acres on the Tule River in the Giant Sequoia National Monument is surrounded by mountains and sits on a valley. We offer outdoor living/camping spaces. Rock climbing, biking, hiking guided tours available. Perfect for Sierra adventurers. 15% of our Airbnb proceeds go towards volunteer-driven land and river restoration projects with the local non-profit organization WildPlaces Our guests are invited to volunteer (see (URL HIDDEN) for calendar of events).
Our spaces are perfect for those looking to make an overnight trip to see the Giant Sequoias while on a budget. Our space is very private, no neighbors, completely dark night skies, and is a spiritual as well as recreational location. The Outdoor Bedroom is on the land with our home nearby. It is a unique dwelling open to the view, roofed, and perfectly suited for two. There is an outdoor shower and composting toilet adjacent to the room. No electricity. The listing is for the Outdoor Bedroom which accommodates two.
Springville is the gateway to the Giant sequoias and many recreation opportunities. The town is small and our place is located just out of town at the end of a very rural road.
Mehmet and Xico were wonderful, generous and kind to us. Their place is a piece of paradise that you should definitely visit while you are in the area. We loved everything about our stay! Thank you so much for your great hospitality! XOXO, MJ & Vitaly
Mengjiao
2016-05-28T00:00:00Z
I had another wonderful experience in this gorgeous place! Will absolutely be back again!
Kristen
2016-07-23T00:00:00Z
Xico & Mehmet were the most accommodating hosts I've ever met! I come from hospitality, and the environment they created was loving, safe, warm and beyond special. They welcomed us with open arms as soon as we arrived with fresh watermelon juice, we had great conversation with the other air bnb guests staying on their huge property and then we were guided by Xico to our romantic outdoor living space. We all ended up going to the river to swim and then everyone chipped in by making a delicious dinner. We broke bed with such interesting people and had great conversations. Xico offered to make us homemade breakfast for a small fee with eggs that came from his chickens ❤️- the food was absolutely delicious, thoughtful and one of a kind. I can't wait to return and spend more time with these wonderful men and their beautiful land. It felt more like a bed and breakfast in the woods than anything else! Amazing hospitality- detailed and extremely thoughtful ❤️❤️❤️
masha
2016-06-06T00:00:00Z
We had a great time staying with Mehmet and Xico! There was fresh orange juice from local oranges when we arrived and coffee in the morning! We spent the evening reading in the river right near the house which was really relaxing.
Elise
2016-07-12T00:00:00Z
Mehmet and Xico were great hosts and were very accommodating to my late check in time. Their place is clean and conveniently located for hiking into the sequoias (it is literally at the base of the mountain)! I would definitely stay here again. Highly recommend!!
Spence
2015-12-20T00:00:00Z
Mehmet was an incredible host and his property was AMAZING! There is so much to explore and we felt very welcomed and at home. It is such a beautiful, humble space and hope to visit again. Would definitely recommend this place to friends. Best part, sleeping under the stars!
Malia
2016-09-12T00:00:00Z
We had an amazing stay at Mehmet and Xico's place. We only met Xico as Mehmet was away and he was extremely hospitable and friendly. He also had great suggestions for the area. The space is beautiful and relaxing and the animals on the property are friendly and really added to the experience for us! Would definitely recommend! Also, the breakfast is highly recommended. Very delicious! This is probably the best Airbnb that we've stayed at. A very unique experience. Also we recommend taking a bath in the river on the property.
Beth
2016-09-15T00:00:00Z
There are not enough words to describe how welcoming and warm Mehmet and Xico are. We really enjoyed camping at their property near the Sequoia National Park. Their outdoor room proved to be a priceless shelter during a strong rainy night at la sierra. We look forward to come back in the summer to enjoy the Tule River that passes by their property.
Adriana
2016-11-28T00:00:00Z
Huonetyyppi
Yksityinen huone
---
Majoituspaikan tyyppi
---
Majoittujien määrä
2
---
Makuuhuoneet
Springville, Kalifornia 93265, Yhdysvallat
Our quaint studio apartment is located on the Tule River. Wake up to the sounds of the rushing water. One bedroom studio apartment sleeps 2 comfortably. Small kitchenette allows you to whip up some eggs for breakfast or grill steak on the BBQ. Located in the Sequoia National Forest, just minutes from the fifth largest redwood tree!
The studio apartment has a main room with a dining table and TV. Adjacent to the main room is a small kitchenette. A separate bathroom is off the kitchenette. The studio is attached to the main house and accessed by way of the back deck.
The studio is located on two acres right at the edge of the Sequoia National Forest. We are right on the river and our closest neighbor is 3 acres away. If you are looking for quiet serenity, this is the place! Wildlife abundant, you can expect to see deer, ducks, hummingbirds, and even bears depending on the time of year.
Huonetyyppi
Koko talo/asunto
---
Majoituspaikan tyyppi
---
Majoittujien määrä
2
---
Makuuhuoneet
Springville, Kalifornia 93265, Yhdysvallat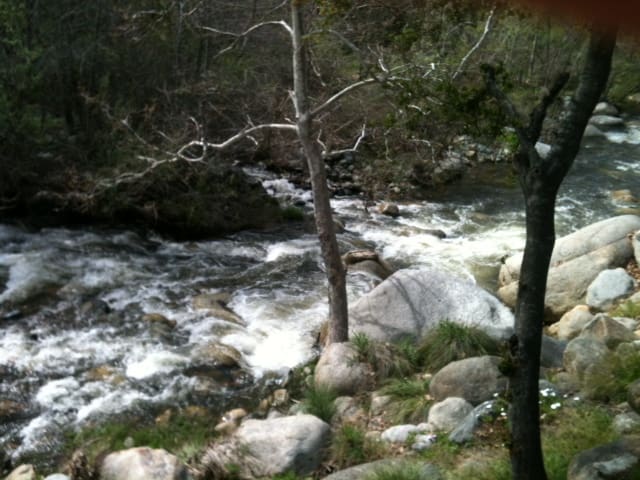 Wildflowers through April!! Hidden in the trees. Awe inspiring views of the Valley below and High Sierra above. Rustic beauty with comforts. A series of waterfalls continue down the mountain below the cabin, carving pools from the granite bedrock. Study the stars in a black sky from a giant granite boulder by a waterfall Off the Beaten Path in Giant Sequoia National Monument. No crowds. No traffic. Bring your dog on the mountain trails. Hug a Giant Sequoia.
See our website at (URL HIDDEN) for more information The Treehouse cabin is a romantic cedar shake cabin with lodge decor, leather sleeper sofa, Franklin wood stove, and open beamed ceilings. Large picture windows on the south and east sides provide natural light and views that distinguish it from other mountain cabins. The Treehouse cabin is in a private location on 1 1/2 acres surrounded by woodland and not within a mountain community or resort development. It is within the Giant Sequoia National Monument at 3800 feet elevation and only an eight mile drive from Giant Sequoia Groves in Balch Park. A series of granite waterfalls carved out of the granite bedrock flows behind the cabin. There are breathtaking view of the mountains to the east and an expansive view of the valley (sometimes to the Coast Ranges) to the west. It has a spacious 'tree house' deck with gas barbecue for outdoor relaxation. Luxury towels, Egyptian cotton linens, Turkish bath robes, and down comforters are provided for a special romantic experience. The cabin is equipped with high speed internet and Wifi. It is a perfect 'out there' couple's retreat for those who want to lose the touristy scene and find some serenity. A comprehensive hiking and recreation binder is provided at the house with maps and descriptions of local hikes, Big Trees, swimming and fishing holes, waterfalls, and scenic drives and horseback rides to help you plan your time. Dog owners can take their dogs on the leash onto the Giant Sequoia National Monument trails in this area as opposed to the National Park where dogs are not allowed on trails.
This is a private, off-the-beaten path location in a natural mountain setting.
What a great place to stay when you want to get away from the city! The setting is beautiful. The cabin is cozy and comfortable. The large living room windows face west, so in evening you are treated with a spectacular sunset view that seems to go on forever! The cabin was clean and had very clear instructions for anything we may have had questions about (e.g. how to use the wood burning stove, where to go hiking, the proper way to close up the cabin upon departure, etc.) It was a wonderful birthday advenure that I'd love to repeat in the near future!
Amy
2016-02-09T00:00:00Z
This cabin was great: clean, comfortable, functional and perfect location. One day we drove to Belknap Grove and did the Nelson Trail - about 40 minutes away. The next day we went to the spectacular and totally underrated Mountain Home state Forest - literally up the hill from the house. Spectacular trees and hikes all around. Very convenient to the little town of Springvale to stock up on groceries. I highly recommend this place. Shelly was very communicative and a great host.
Jesse
2016-09-06T00:00:00Z
This might very well be my favorite Airbnb stay yet. Shelly was wonderful! She was very detailed, with all the information you could ever want to know, and instructions for everything. It was perfect. Everything you could possibly ever need to enjoy your vacation was there- towels, blankets, shampoo, body wash, kids toys, board games, movies (for kids and adults). The hike to the waterfall, though brief, was a little challenging with two small kids, but completely worth it! and she mentioned all the dangerous plants to avoid touching too. There was plenty of firewood and the fireplace was set up when we arrived, all you had to do was light it. The cabin itself was very clean and well-maintained, with a completely stocked kitchen as well. It's a little bit of a hike up some narrow and winding roads, but the drive is completely worth it because once you're up there you feel like you have the world to yourself. Incredible views of the stars, and the only sound you'll hear is the soft roar of the waterfall down the hill. Had an absolutely wonderful time!
Xack
2016-03-19T00:00:00Z
This place is total perfection. I could not have asked for a better stay. I will %100 be coming back. Shelly was a great help and the house is immaculate. I don't want to leave!
Jacqueline
2015-03-26T00:00:00Z
Wow! Thank you Shelly! This is an amazing cabin in a beautiful and secluded area with so many hidden gems short distances away! We were truly shocked by how much the location has to offer. Here we avoided the tourists, crowds, and commercialism found in so many California adventures. The cabin itself has everything you could possibly need for a joyful getaway. The privacy, views, and amenities were second to none. Shelly is also an exceptional host who provided us with all the information we needed. We hope to be back someday and stay in this exact location!
Shawn
2015-07-03T00:00:00Z
The cabin was just as pictured!
Rachel
2016-05-05T00:00:00Z
We had a really wonderful time at the treehouse. It is just as beautiful as the pictures and as described and is really high up in the mountains. It is fantastically well-equipped with cooking utensils and plates etc and is the perfect romantic retreat. It was lovely just sitting on the deck, looking out at the view and the naughty squirrels and I had never seen as many stars as there were at night. We really hope to come back one day. It was a very special experience.
Jeni
2015-08-20T00:00:00Z
Perfect quaint cabin getaway. Even more beautiful than the pictures! Our host had firewood waiting for us in the fireplace when we arrived. Gorgeous views, warm rustic interior, comfy bed, great kitchen. Tons of private land to explore and an amazing waterfall practically right outside the door. Our host provided all the information we needed: including tips for exploring the park. Just a short trip to the giant sequoias! Everything you'd want in a mountain retreat.
Sonny
2016-01-31T00:00:00Z
Huonetyyppi
Koko talo/asunto
---
Majoituspaikan tyyppi
---
Majoittujien määrä
3
---
Makuuhuoneet
Springville, Kalifornia 93265, Yhdysvallat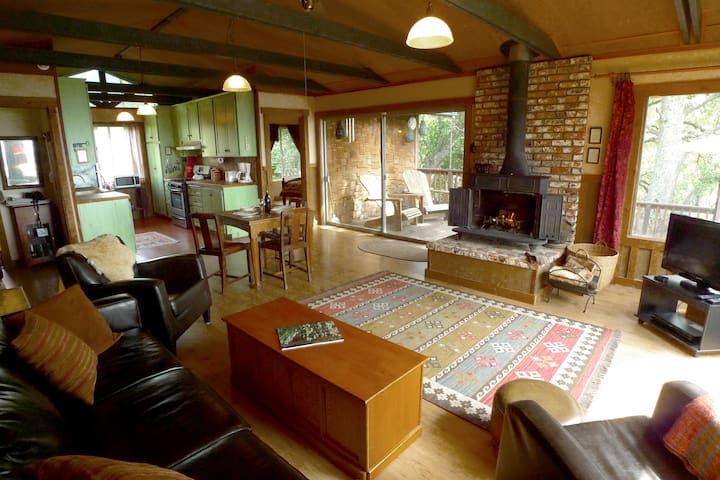 Welcome to Springville CA, only 3 hours North of LA and 3.5hours south of San Jose in the foothills of the Sierra mountains. We are 90 minutes South of Sequoia National Park and 45 minutes West of Balch Park, home of the largest trees in the world. Our home is on the 13'th fairway of River Island Golf Club right across the street from the clubhouse. The house makes the perfect getaway for family gatherings, the neighborhood is quiet and private and makes for a great place to stay.
We have worked very hard to provide something for everybody. There are many fun things to do like Ping Pong, Bocce ball, Soft tipped electronic darts, Corn Hole, tons of board games. We have 2 BBQs (Gas & deep pit charcoal) and we supply the gas and charcoal. We have HD Direct TV as well as Sonos music in every room with with Pandora, XM & Spotify music services ready to play your favorite tunes. This is the perfect house for a large group, 5 Bedrooms, 4 baths, (3 of the bedrooms are suites with private baths) and lots of outdoor areas to enjoy. The home sleeps 10 comfortably but can accommodate more, perfect for large groups, weddings, reunions or family vacations. We recently insulated the entire house and installed a new A/C & heater so the house will stay at your preferred temperature during any season. We have a new large Fridge/Freezer with an ice maker and a second one in the garage that can be used if requested. We have designed the outdoor living areas to take advantage of the perfect Springville weather. It is a wonderful house for your large group. River Island Golf Course (The highest rated course in the Central Valley) provides preferred tee times for our guests. This house has 2 large indoor dining tables (One flips over as a professional Poker table) Poker chips and cards are provided. We have a huge 10' picnic table outside to take advantage of the perfect Springville weather. Because the house is so centrally located and is one story, it is the perfect home for all ages. The house is very popular for families with young kids as well as older family members. With new beds and a quiet location, it is a favorite with everybody. We have had a number of groups use the house for the older members of the family for wedding parties and family reunions since access is so easy. Whatever the size or age of your group, purpose of your trip or time of year, we really do have it all. Hot water: Please note that for our larger groups, the hot water supply can be depleted quickly if all the showers are used at the same time. We recommend spacing showers out to avoid this from happening. We also recommend running the dishwasher at night.
This neighborhood is quiet and private and makes for a great place to stay.
Was excellent. Inside of house was cool with A/C on.
Moochin
2015-09-15T00:00:00Z
We had a great time at the house, Steve was very accommodating and very helpful.
Lucy
2016-08-11T00:00:00Z
Great place with great kitchen. Clean house with nice pool.
Anaram
2015-07-22T00:00:00Z
My family of 10 (2 grandparents, 4 parents, 4 kids ages 5-16) spent a long weekend in this house. Highlights: sitting by the pool in the evenings, watching the kids play; enjoying the darts, ping pong, games and puzzles provided by the hosts; private baths for all couples with an extra one for the children; family dinners with plenty of space for everyone to sit; lovely views of the golf course and hills in the background. The house is less than a 2 hour drive from the center of Sequoia National Park. Dining and shops are a 30-40 minute drive; we really enjoyed lunching in Exeter and walking around the town there. Overall a great trip! The house is a bit dated, as you would expect, but very clean and comfortable with all the basic necessities. There are five bedrooms: 2 have two double beds, 1 has a single double bed and 2 have 2 twin beds. Plenty of beds but be prepared for the smaller double size if you are accustomed to a queen or king. Also, the hosts prefer that you shut down the A/C if you are out for the day, which is understandable, but it can take an hour or two for the house to cool down when you return. The gas barbecue is huge and worked beautifully, definitely a plus. Steve was very responsive to my inquiries and couldn't have been more accommodating as host. We would not hesitate to stay here again. Thank you Steve!
Gretchen
2015-08-11T00:00:00Z
Thanks for accommodating. Its truly a wonderful place to stay.
Anand
2015-01-07T00:00:00Z
House on the golf course with pool and air conditioning...perfect for our large family reunion. Everyone for 12 yar old twins to 85 yea old grandmother enjoyed our visit.
Nancy
2016-08-02T00:00:00Z
The location was great. Right on the golf course. Neighbors were friendly and the house spacious and well equipped.
Jonathan
2016-02-09T00:00:00Z
The house was clean, nice, well decorated, and had all the amenities necessary to spend our weekend gateway beautifully with my friends. The location and neighborhood was quite, serene and peaceful. There is plenty of common space/bedrooms in the house to accommodate large parties. Also, Steve was a great host. We called the local property manager few times but got no response. However, we called Steve and he immediately picked up the phone and accommodate our request. Also, one of my friends had forgot his valuable in the house and Steve was kind enough to follow up and help my friend recover his item. Thank you very much Steve. Overall, we are very delighted with the experience and would definitely recommend the property.
Nilesh
2016-04-22T00:00:00Z
Huonetyyppi
Koko talo/asunto
---
Majoituspaikan tyyppi
---
Majoittujien määrä
14
---
Makuuhuoneet
Springville, Kalifornia 93265, Yhdysvallat
My place is close to great views Sequoia National Forest. My place is good for couples, solo adventurers, business travelers, and families (with kids).
Close to Lake Success.
Springville House is located close to the Sequoia Forest and a few miles away from Lake Success.
Huonetyyppi
Koko talo/asunto
---
Majoituspaikan tyyppi
---
Majoittujien määrä
6
---
Makuuhuoneet
Springville, Kalifornia 93265, Yhdysvallat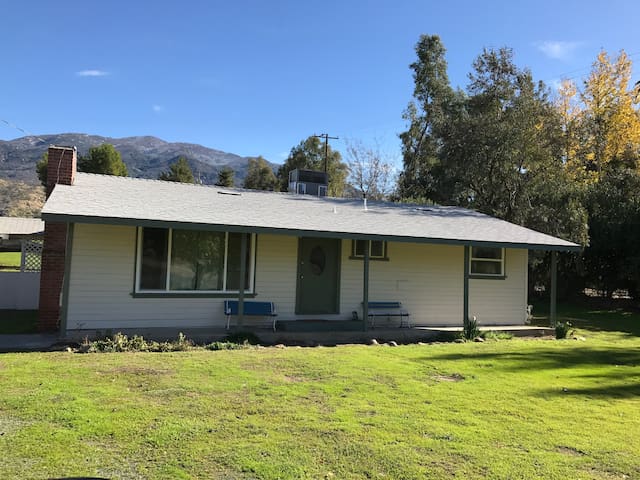 An option for small families with young children, where you are happy to have 2 simple rooms (listing says 1) and share a bath room. You can still use the pool, kitchen and common areas, but this is more economical than booking the suite and studio. And, I live here, will likely be here; it is not a party rental house.
My home is right in the center of Springville; you can walk to the market and the few restaurants. I work during the week, but I will have coffee, tea, and bread for you to make your breakfast.
Springville is safe and quiet and dark enough at night to see the stars. It's a great base for exploring the mountains and the sequoias, and it is before the winding roads. In the summer you will enjoy the pool and the small village. My house is perfect for visitors because though I am surrounded by acres of cattle land, I am also a two minute walk into town (though "town" is only about two blocks long.) There are two Mexican restaurants, a home cooking cafe, and , a burger place, as well as a small grocery store if you would rather cook.
We had a great time! Michal is a great host, wanting to make us comfortable in every way. The beds were very comfy, lots of fans to cool the rooms and the pool is awesome. Michal and I emailed back and forth plenty before we even got there with many details and lots of ideas of what to do in the area. Don't miss the swimming holes! We had full use of the kitchen and living room which our family of four took advantage of since we needed a "down day" after 7 days on the go. This airbnb is worth your stopping by!
Nisargo
2015-07-03T00:00:00Z
The perfect place in the nature! Very beautiful home and host! Near to the Sequoia National Forest. Our kids loved the pool and the new treehouse! The place is very clean and Michal give us some secret Tips for our further journey, thank you for this! It is a quit and peaceful place, full of love and art, a home with a soul!
Meike
2014-10-26T00:00:00Z
Michal was just an amazing hostess! We were greeted warmly and given a tour of the place. The house is even better than the photos! It was 100 degrees outside, so having AC and fans made it a comfortable stay. Michal gave us great tips on where to go sight-seeing, even drafting a map of all the hot spots. We talked about travel as she is an expert, and had a great stay overall. I highly recommend this experience!
Victoria
2015-06-21T00:00:00Z
Michal was a great host. She is very interesting person, widely traveled. Her suggestions to do hikes around Springville really made our trip. We were glad we took her suggestion. Her house is beautiful. The highlight is the small tree house that has been built. We used it to do some star gazing in the night after our hike. It was great. The only problem we had was locating the house, but that's because we reached her place pretty late at night and it was quite dark.
Madhumitha
2016-05-31T00:00:00Z
I had a wonderful stay here with my family who were visiting from England. Although sadly I didn't get to meet Michal, she was really helpful and made sure that everything worked out! The house was lovely and homey and we enjoyed cooking together in the evenings. We took Michal's advice and went exploring up and down the Tule river and loved the hike to the Needles. While we were staying at the house there was a lovely Ecuadorian couple there too, who we ate and chatted with - it was a really nice communal vibe.
Kathryn
2015-06-15T00:00:00Z
Michal was the best host ever. We stayed one night with the kids and they loved the tree house and back yard. This house is a hidden heaven for families traveling with kids to see the Sequoia National Park.
Alp
2016-08-11T00:00:00Z
Michal's place is such a unique experience! I highly recommend it to anyone who comes to this area for visit, though it is a bit off highways. She is exceptional, the house is fantastic, the surrounding is lovely, especially for hikers.
New
2016-05-02T00:00:00Z
We had a real nice stay in Michals house. The house is lovely and Michal is a very good host. We were with 3 teenage girls and the swimmingpool is absolute perfect for them. We had a lot of private space and we shared the common room and kitchen with the other guests. The nearby nature is wonderful and we loved the drive to the stagg tree. We want to thank Michal for sharing her special house with us. We also visited sequoia national park which is about two hours drive away. In total we spent 4 nights with Michal and had great time there alternating the sightseeing in the wonderful nature and leisuring near the swimmingpool.
Ferrie
2015-08-02T00:00:00Z
Huonetyyppi
Yksityinen huone
---
Majoituspaikan tyyppi
---
Majoittujien määrä
4
---
Makuuhuoneet
Springville, Kalifornia 93265, Yhdysvallat
A 2 bedroom 2 bath shabby chic 2 story apartment inside a great barn. Located 2 miles outside of the Sequoia Nat'l Forest, Holland Ranch has 7 acres.* ONLY CELL SERVICE is AT&T. It is a very rural area with the full spectrum of wild life.
THE BARN APT is AVAILABLE THROUGHOUT THE YEAR. It is a 2 bedroom/2 bath 1100 square foot APT. with a full kitchen. It sleeps 6. There are 2 queen beds in one bedroom and 1 queen bed in the master bedroom with large second story deck. ** There is ONLY AT&T cell usage in this area.**
This is country living. Neighbors are not right next door. There is lots of privacy. PRICING In calendar reflects pricing for the barn Apt only.
Diana was an amazing host!! From making my reservation to leaving the keys she was always friendly, positive, and quick to respond. So much so that I started sharing details of the event and getting ideas for the next visit. This time around, I was visiting for a wedding and I look forward to return for a visit of leisure. Both the main house and the barn house are beautiful and so comfortable. It was like a home away from home. I can't wait to return so we can put that beautiful kitchen and patio to use. It is clear that they love this property as much as their guests do. I can't thank her enough for hosting myself and friends for a very important occasion. For those attending weddings at the Springville Ranch, this is the place to go!! Cheers Diana and thanks a million!!!
nicole
2014-11-20T00:00:00Z
Beautiful spot! Ronn's property and neighborhood are very nice, and we very much enjoyed the barn. Great view of the night sky and the surrounding desert. Just know going in that there's no cell reception and even the internet is limited within the barn, so it might not be the spot to stay if you need to do work or want to watch Netflix during your stay.
Greg
2016-08-15T00:00:00Z
We had an absolutely wonderful weekend! The apartment was clean, spacious, and just as described in the listing. Ronn's directions to the property were spot on...we easily followed his directions and check in instructions to access the property. We were welcomed with fresh flowers, chilled wine, and a fruit basket. Thanks, Ronn, for an easy, relaxing stay!
Paula
2015-09-10T00:00:00Z
I was happy staying in the house. It's a wonderful property with amazing views from the patio. We stayed there for 2 nights and had great fun roaming around in the country side. Sequoia national park is just about an hours drive from the property. So it was a perfect spot for us to stay there.
Siddharth
2015-05-27T00:00:00Z
We thoroughly enjoyed staying at the Barn Apt. It was private and quiet. There was wildlife around and sitting outside enjoying a drink on the porch in the afternoon was relaxing. The deck just outside the master bedroom gave great views of the area. It was our first trip with our rescued dog and it was great being able to take him. Ronn was friendly and welcoming and made sure we had everything we needed.
Loretta
2016-06-13T00:00:00Z
The Holland Ranch was the perfect place for our wedding stay. By renting out both the barn and the house, we were able to separate the bridesmaids and groomsmen and keep my husband and I from seeing each other the morning of the wedding! Both spaces were beautiful both inside and out and were a perfect fit for our group. I would definitely recommend staying here for a relaxing trip.
Anneke
2015-10-30T00:00:00Z
When we went there, place matched our expectation.. To our surprise, Apt had all the stuff we needed.. Including internet for the evening (SENSITIVE CONTENTS HIDDEN) post :) Ronn answered all our queries and took care of our requests very quickly. Would highly recommend.
Velavan
2015-08-20T00:00:00Z
My wife and I were looking for a way to have our daughter spend time with her cousins who live in LA (we live in the Bay Area) and we decided on staying at Diana and Ron's barn. The setting was gorgeous and a great place for our kids to play outside with their dogs and generally explore nature. The barn's two bedrooms are spacious and we more than large enough to accommodate our two small families. The BBQ worked great, and the kitchen, while small, was very efficient and we were able to easily orient ourselves in it. Diana and Ronn were very responsive and helpful. I recommend it
Ardis
2015-02-24T00:00:00Z
Huonetyyppi
Koko talo/asunto
---
Majoituspaikan tyyppi
---
Majoittujien määrä
6
---
Makuuhuoneet
Springville, Kalifornia 93265, Yhdysvallat
Our Ranch-Resort has all the amenities you want. Swimming, fishing, hiking, pool, all on our property. Balch park has great sequoia's, horse back riding, fishing, hiking. Balch Park and the Sequoias are less than an hour away.
Had a great time. A place to relax and unwind and spend time with friends.
Chip
2016-05-24T00:00:00Z
Jeff was a great host. I called him when I first made the reservation, which was a few months before the reservation date, and he answered all my questions and was very friendly. He was also very helpful when I called him the day before the trip with last minute questions. The house itself was huge, beautiful, and great for my group of 9. It was a wonderful place for my extended family to relax and bond. We had a small issue with one of the heaters during our stay, but Jeff was great when I called him about it and his house caretaker was very helpful and went out at midnight to buy some portable heaters to tide us over until the next day, when the handy man could come and fixed the heater. The rest of our stay went great and my dog had a ball running around the huge property Overall a great stay and highly recommended, especially for groups!
Wendy
2016-01-09T00:00:00Z
This place is beautiful! My friends and I (9 of us total) had a wonderful weekend here. Watch the sunrise from the deck and the sunset from the front of the house (or the lake perhaps, we didn't go but it looked cool). Pool, pool bar, and pool table were great pluses. Definitely would recommend. Thanks again, Jeff!
Habib
2016-08-18T00:00:00Z
We loved staying at Hafuma Ranch! It is an amazing home with spectacular mountain views. There was so much to see and so much to do. The swimming pool, jacuzzi, paddle tennis court, pool table, board games, starry nights, even archery! We hope to return there someday for more R&R and memory making with my husband and kids!
JAN
2016-08-06T00:00:00Z
This place is the ultimate getaway. Set back into the rolling hills of Springville, up high with breathtaking views overlooking the whole area. The house feels like a giant maze, equipped with pretty much anything you need. The pool is perfect, with a swim-up bar, definitely a favorite. And the BBQ was great to cook up some tri-tips on post-swimming all day. There were some pool floaties and toys which were nice to have available. Hafuma Ranch is a really big property with something for everyone to do, and I definitely want to go back again soon. All the family that came out for my husbands birthday weekend couldn't stop praising the place and all its amenities, and they all want to go back soon as well.
Angela + Billy
2016-07-11T00:00:00Z
This place is beautiful and was perfect for our 3 family weekend. The pool and the acreage were the highlights. We'll definitely be coming back.
Darius
2016-08-10T00:00:00Z
Oh, Hafuma Ranch! It takes your breath away! Our family of 9 had the most comfortable weekend stay! We were looking for something not too far from Sequoia Nat'l Park and this place had it all! The bedrooms were spacious, the kitchen/ dining area was great- had all of the cooking necessities (cute layout, too) and the pool was fresh & clean every morning! The sofa beds in the pool house/ game room were a little stiff but they had plenty of blankets to fluff it up! And the views! Awesome views all around the Ranch! Perfect sunrise & sunset photo ops! The Sequoias were only about an hour out and traffic was pretty much nonexistent! And of course, Jeff was a great host! He checked in to make sure we were settled in & was very courteous of our privacy! He was understanding during checkout, too! (We were running a little behind) Overall, we loved every minute of it! We'd love to visit again! Thanks Again, Jeff!
Karis
2016-08-30T00:00:00Z
To start off, this place was absolutely amazing. The house was much larger than we thought and easily fit everyone comfortably. The Hafuma Ranch provides a lot of activities to do including paddle tennis, archery, swimming, pool and even just chilling in the Jacuzzi. The ranch is about 20 min away from Porterville, so going to the store wasn't that bad. Make sure to go outside for the sunsets! Jeffrey was also very helpful and easy to reach out to for any questions I had.
Patrick
2015-10-26T00:00:00Z
Huonetyyppi
Koko talo/asunto
---
Majoituspaikan tyyppi
---
Majoittujien määrä
10
---
Makuuhuoneet
Springville, Kalifornia 93265, Yhdysvallat
My home is close to Sequoia National Park and Sequoia National Monument. You'll love my place because of the ambiance, the light, and the great energy! My place is good for couples, solo adventurers, families, and medium sized groups. I live in my home and offer four rooms, each with a queen bed, to guests. The price here is for 3 rooms for 6 people. The 7th person, if a child, may sleep on a mat on the floor for $25 a night more. Eight people will need 4 rooms which will cost $460 per night.
Thank you!
Cara
2016-10-20T00:00:00Z
Michal's home is gorgeous, secluded and very comfortable. I enjoyed our conversations and the opportunity get to know the other house guests. Would've loved to stay longer. I recommend this spot for small and medium-sized groups. Our family of seven had a great time here. Make sure to take a dip in the pool and stargaze on the observation deck. Don't miss this gem!
June
2016-08-14T00:00:00Z
For the family that loves road trips, we could not have asked for a better place to stay than the home of Michal's. We are a family of seven, who can no longer find adequate accommodations easily, and with our summer road-trip through the Sequoias, we found a home away from home here. She had welcomed our big family in, even when the season was busy, and finding a place was difficult. Her place offered us a warm bed with view of the stars, my parents a cozy retreat, and even an amazing outdoor experience for my boys to sleep under the stars. For any weary travelers, whether small or large, Michal offers a beautiful home that is off the beaten path that is sure to feel like you have escaped the tourist bustle. I could not ask for more. We all would highly recommend this little gem to anybody looking for a night or nights to recharge, recoup, and relax on their journey.
Alice
2016-08-07T00:00:00Z
Huonetyyppi
Yksityinen huone
---
Majoituspaikan tyyppi
---
Majoittujien määrä
8
---
Makuuhuoneet
Springville, Kalifornia 93265, Yhdysvallat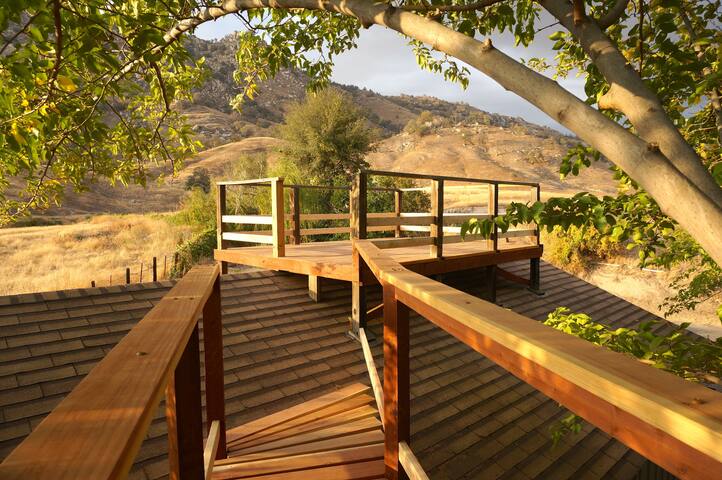 Outdoor Campsites available for 1-5 campers. Bring all your own gear, food, kitchen. Outdoor composting toilet and shower. Hiking, Biking, Climbing tours available for fee. Each site unique w/ outdoor beds, hammocks, platform beds from trees. 15% of our Airbnb proceeds go towards volunteer-driven land and river restoration projects with the local non-profit organization WildPlaces Our guests are invited to volunteer (see (URL HIDDEN) for calendar of events).
Spontaneous decisions are rewarded here. Planning to camp? Camping to plan? A little under prepared? Super prepared? No concept of how seasons work, but with relentless determination to camp? Luckily, you have found the Land that Xico and Mehmet stewards and your request to stay is immediately reviewed. Our little secluded paradise is a blast and accepts exceptional people. Friends from the Aztec, environmental justice, spiritual, and playful communities come here regularly. No camp neighbors, no tourist shuttles, just straight up nature as f*ck. We are both accommodating hosts and are passionate about our community and the environment. Connect with us. Do some brain picking with us or just be surrounded by some juicy-land love. "Chico and Mehmet are one another's dream weaver and run a dazzling array of ranch, nature, spirit and song," says recent guest Iggy. Are you a mentally exhausted Babylonian seeking a quick getaway? On the Land, staying in the little outdoor bedroom-covered shed (Outdoor Bedroom listing) or at a secret camp site (Camping Listing) is "glamping". Beautifully made and furnished with comfortable camping cots and mosquito netting for warmer weathers. You don't need to bring too much...just the personal items and a sleeping bag unless you're persnickety about a specific Dr. Brauners scent (we use tea tree) or how bright you want your lantern (our's is just right). The land has a communal patio equipped with an outdoor kitchen and a comfortable living/dining area next to a camp furnace (affectionally called The Franklin). The entire setup is warm and inviting and it's easy to find yourself cozied-up on a couch next to the fire with a book and their lovely pets. You will inevitably fall in love with the pets -- Tule the tour guide, Belknap the matriarch, Scout and Little Toes the side-kicks. So book away and don't look any further. It's the best you're going to get for the price. It's only $10-$15 more than camping in the national parks but the solitude here is superior to designated camp slots in the parks. It is worth the extra dollars. And if you came to hang out with some Giant Sequoias, the Trail of 100 Giants is just an hour drive from the property. Dome Rock and its climb opportunities is even closer a nice little spot with the perfect view overlooking the Sierra. Xico and Mehmet are knowledgeable locals and they can craft an experience for you if you just ask. Go out there and have fun! Side tip: Visalia and Porterville has an odd concentration of used furry suits in almost all the thrift stores if you're into that...(URL HIDDEN)(Thank you, Iggy, for allowing your words to be used here)
Springville is the gateway to the Giant sequoias and many recreation opportunities. The town is small and our place is located just out of town at the end of a very rural road.
It was a great stay for our family and we all enjoyed the convenience and amenities of the campsite. This kind of "glamping" gives the best of both camping and comfort, specially with young children, or people new to camping.
zee
2016-08-21T00:00:00Z
We made a few stops along the way to Sequoia, which postponed our scheduled arrival, but Mehmet was nice enough to stay up until midnight to welcome us. When we arrived, Mehmet also patiently told us where to go, and kindly brought chairs and table to our campsite for us. The pets were smart and adorable, making the camp experience even more pleasant. I would recommend bringing lots of blankets, as the night can get really cold. There also was a miscommunication about setting up a bond fire, but Mehmet was nice enough to help us put out the fire without complaining. Mehmet's nonprofit organization is also very meaningful, and we had a chance to help pick up some trash near the rive with his volunteers as well. Mehmet decorated the site so beautifully, and it was an inspiration to see someone so artistic. Definitely a great weekend getaway!
Lydia
2016-09-06T00:00:00Z
We were greeted with blended watermelon juice drinks and from that point throughout the rest of our stay the experience was blissful to say the least. Our hosts were sweet, genuine and over the top hospitable. Their pets are so sweet and friendly. The views are breathtaking and the house and property had a cool vibe while still feeling like home. Plenty of water in the river. Swimming holes were perfect to lay around and stay cool. I cant count how many times our boys thanked us for such an amazing trip. Our best family camping trip to date. We can't wait go back! Can we just live here please? :)
Joshandmissy
2016-07-17T00:00:00Z
Mehmet and Xico have an amazing property for camping. So nice being able to just sleep on their swinging bed under the stars. Would definitely recommend this to anybody.
Andrew
2016-05-31T00:00:00Z
I enjoyed myself more than i thought i would have. It's nice to get away and reacquaint yourself with wonder
Andrew
2016-11-14T00:00:00Z
Both Xico and Mehmet sure made us feel welcomed since the moment we arrived. Once entering their land, anywhere you stood you would have a spectacular view. We had the privilege to experience an outdoor living weekend which was extremely amazing from the bed swings to the outdoor bedroom. Our stay with Xico and Mehmet and along with other Airbnb guests was very memorable therefore we can't wait to go back! We totally recommend others to step out of the daily routines and put your cellphones down and truly enjoy a weekend surrounded by nature and good friends.
Yessenia
2016-06-10T00:00:00Z
Mon séjour chez Xico et Mehmet était exceptionnel. Si vous cherchez un coin pour vous relaxer et être en communion avec la nature, vous serez servis! Le petit déjeuner à base de produits de la ferme est délicieux!
Simo
2016-09-13T00:00:00Z
Mehmet and Xico were fantastic hosts! Some of the most friendly and open people I've met. They are both dedicated to ensuring you have the best possible experience and it is clear that they enjoy meeting new people and sharing their wonderful property. Out of the four bed options, we slept in the grandmas bed both nights we were there. It was great to be able to sleep outside under the stars and trees while listening to the river nearby. If you go during winter, you definitely need to bring some extra layers as it will get cold at night. They have a great communal patio area with a neat stove they use as a fire place which is perfect for gathering around to get to know each other. Xico and Mehmet's place is secluded and immersed in nature. It is perfect spot to come to, to relax, commune with nature, or get away from the bustle of city life. It is not a place where you come to get drunk and throw a party. If that's what you are looking for, you should look elsewhere. As a bonus, their animals are all super friendly and sweet, just like Xico and Mehmet! Highly recommend this place, and hopefully will be coming back myself soon
Kevin
2016-02-19T00:00:00Z
Huonetyyppi
Jaettu huone
---
Majoituspaikan tyyppi
---
Majoittujien määrä
5
---
Makuuhuoneet
Springville, Kalifornia 93265, Yhdysvallat
The Holland Ranch is a 7 acre hillside home located 3 miles from the Sequoia National Forest. Enjoy the newly remodeled cooks kitchen and wide open spaces. The views from the cantilever deck are breathtaking and only 26 miles up to the big trees.
The ranch sits just 2 miles from the edge of the Sequoia National Forest in the foothills of the Sierras. Giant granite boulders tower and others rest in the sweeping pastures surrounded by horses and cattle. The Home lies high above these pastures with spectacular westward views. The surrounding area is beautiful with lots to explore: Ride bikes, Take a long walk around Globe Drive (6 miles), Go to Lake Success for a swim or fish. This is a rural setting with plenty of indigenous wildlife to include: Mountain Lion, Black Bear, Coyote, Raccoon, Bobcat, Rattlesnake, Golden Eagles, Red Tails, Blue Heron, Egrets and many songbirds etc...**** THERE IS ONLY AT&T cell phone service in the rural Springville area. !****
The Location is gorgeous. Amazing mountain views with large boulders and rolling pastures. Nicely paved roads for biking, hiking abounds! Let us know if you need bikes for a ride around Globe Drive. Explore the Sequoias the gateway is just 5 miles away. Lake Success is a nice lake where you can swim or if you have a boat or jet ski you can use them there. In the nearby town of Springville, there are a few restaurants and shops. I have a hand book for you that lists everything to see in Springville and surrounding area. The local Giant Sequoias are within 23 miles (Balch Park) & 75 (The Generals) miles. It is rural community with a mixture of local ranchers as well as professionals and retirees. .**** THERE IS ONLY AT&T cell phone service in the rural Springville area. !****
A perfect escape. Feels like a real getaway, beautiful spot to relax with friends and family or explore the nearby parks. Host has been fabulous about everything. Already want to come back!
Perri
2016-11-12T00:00:00Z
We enjoyed our stay at Artists Home. It was an ideal location for family to gather for our daughter's wedding weekend. The home was clean and comfortable. We were welcomed with fresh fruit, complimentary white wine, and some Snickers bars!
Rebecca
2015-10-29T00:00:00Z
Huonetyyppi
Koko talo/asunto
---
Majoituspaikan tyyppi
---
Majoittujien määrä
6
---
Makuuhuoneet
Springville, Kalifornia 93265, Yhdysvallat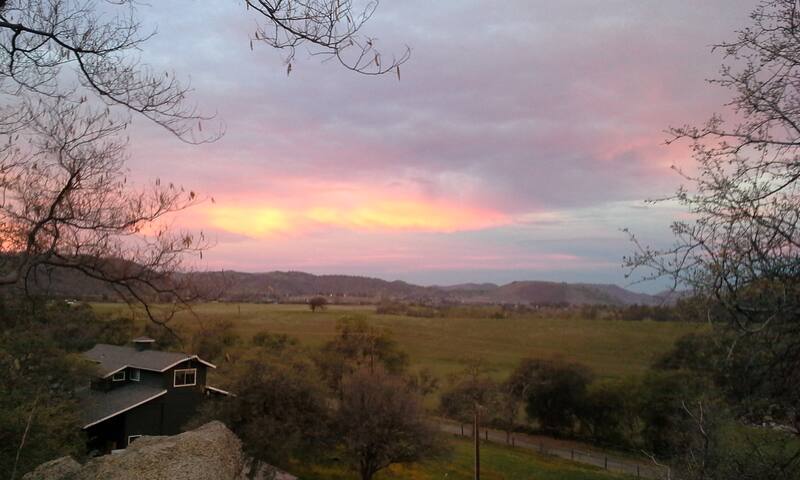 A small bedroom with two beds (or one large), private bath in our home on 12 acres on the Tule River in the Giant Sequoia National Monument is surrounded by mountains and offers outdoor relaxing spaces and river access. Guided rock climbing, biking, hiking tours, and MEALS available thru hosts.
Our spaces are very private, no neighbors, completely dark night skies, and is a spiritual as well as recreational location. The Indoor Bedroom is in our home. It is a unique dwelling open to the views and perfectly suited for two (three if you are a child). The beds can be twin or pulled together into a double. There is a private bath with tub (no shower yet), shared kitchen and living room, outdoor dining room and many relaxing spots on the property. We expect guests on out home to manage all their own cleaning and cooking.
Springville is one of the gateways to the Giant Sequoias and many recreation opportunities. The town is small and our place is located just out of town at the end of a very rural road.
Appealing Eclecticism My husband and I recently (Early April 2016) enjoyed a three-night stay in the indoor room at Mehmet and Xico's place near Springville. These two gentlemen are warm and welcoming hosts. They had several guests the weekend we visited, one other Airbnb guest and personal friends of theirs. We were invited and gladly participated in their socializing activities and a communal meal. This place is set on twelve acres bounded on one side by the Tule river, and the sound of the water coursing over its rocky coarse and the many birds provide a very nice audio background. The hosts have cut several pleasant walking trails into the property and were actively improving them during our visit. We availed ourselves to the extra fee breakfast and it was well worth it. Xico's has experience as a hotel chef in San Francisco and the breakfast he served was sumptuous and delicious. We unequivocally recommend this place and are will return soon.
Amy
2016-04-08T00:00:00Z
Xico was a terrific host. He is passionate about his projects and takes pride in his home. The only downside is the second bed within the house is very narrow and not all that comfortable.
Dan
2016-06-06T00:00:00Z
We had a great experience staying at Mehmet and Xicos. We only saw Xico for a short time, but Mehmet was a fantastic host. He is warm and welcoming, he even made us amazing gourmet burgers! The animals were very sweet and in harmony with the property. The property itself and the river were beautiful. Our room was clean and cosy. We had a great time thanks to Mehmet and would have loved to stay longer.
Jessica
2016-07-12T00:00:00Z
Really friendly hosts, made us feel welcome. Excellent breakfast, all home grown food. Would recommend if you're looking for a simple, close to nature experience. But if you like your creature comforts this isn't the place for you. The two guard dogs are amazing so no need to feel alarmed by the noises of local wild animals!
Claire
2016-06-15T00:00:00Z
What a fantastic place Mehmet and Xico's home is. I really loved everything about my (only 2 nights) stay there, it is beautiful, relaxed, friendly and comfortable. Mehmet was a perfect host, and I had the unexpected pleasure of an evening around the fire with his friends, family and dogs. I would highly recommend their home, this was one of my best Airbnb experiences in years!
Rebecca
2016-04-10T00:00:00Z
If you like nature, beautiful surroundings, lovely animals and friendly and very helpful hosts, it is a perfect place to stay. We were there in January so we booked a room inside. We had a comfortable bed and because of the tall windows much daylight, which was a wonderful start in the morning. Xico was there, whenever we needed something and it was also amazing talking to him. For us it was perfectly located in order to visit the Sequioa National Park.
Joachim
2017-01-15T00:00:00Z
Talked to Xico when we got to Porterville and he was personable and friendly. I loved the "neighborhood" - so peaceful out in the country next to the Tule River, very quiet and restful setting. Lots of outdoor places to sleep too! Charming signs as you enter the property, made the whole place friendly and inviting.
Crystal
2016-10-16T00:00:00Z
Such an amazing location with the exact warm welcoming described by the owners. You will want to choose one of the outdoor options, the site is too amazing to be spent indoors. I will never forget the fantastic conversations, great advice and memories made on this magical spot. The hosts are easy going and welcoming of all. The perfect spot for those wanting to get away from the hustle and bustle of our modern world.
Matthew
2016-05-31T00:00:00Z
Huonetyyppi
Yksityinen huone
---
Majoituspaikan tyyppi
---
Majoittujien määrä
3
---
Makuuhuoneet
Springville, Kalifornia 93265, Yhdysvallat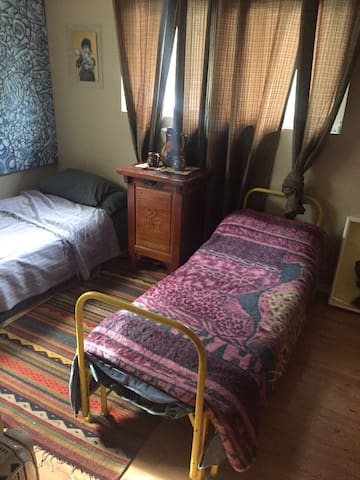 1

–

14

hakutuloksista

14 vuokrakohdetta
Anna päivämäärät nähdäksesi kokonaishinnoittelun. Lisämaksuja sovelletaan. Veroja saatetaan lisätä.