Syötä sisäänkirjautumispäiväsi muodossa pp.kk.vvvv
Syötä sisäänkirjautumispäiväsi muodossa pp.kk.vvvv
Kohteet, jotka voit varata odottamatta majoittajan hyväksyntää.
15 vuokrakohdetta
· Stanley
15 vuokrakohdetta
· Stanley
Anna päivämäärät nähdäksesi kokonaishinnoittelun. Lisämaksuja sovelletaan. Veroja saatetaan lisätä.
Heinä- ja elokuussa voit kokeilla yhtä näistä 100 arvostetusta kohteesta eri hintaluokissa ja kokea Sonoman paikallisen näkökulmasta. 24 tunnin sisäänkirjautuminen, Pikavaraus sekä paikallista viiniä ja välipaloja, jotta voit vain istahtaa ja nauttia matkastasi.
Views of the peaks with quick access to all that the Sawtooth Mountain's have to offer. This is a great place for adventurers.
In the winter, I recommend a vehicle with 4x4 or all-wheel drive with snow tires. This will be the 16th year of plowing Iron Creek. Before that we skied/sledded in and out and there were only 5 households here. It is such a privilege to be able to drive in. We are so grateful to all the plow drivers, past and present and to the Forest Service for our special use permit. First and foremost, if it is snowing with a high probability of more than 5-6 inches it is wise to take your vehicle to the highway and ski or walk back in or stay put! It is really hard to plow after people have driven on the road, and to clean up after people have gotten stuck!!! If you need to be somewhere please plan ahead. Stanley Construction has many places to plow and sometimes they don't get to us until 12 or more hours after you all would like to be out. If you see the plow/blower DO NOT pull off the road. They will move around you. Stay straight in road because you'll get stuck in the loose stuff and there are also ditches on the sides of the road, so you'll really be in a pickle. Drive SLOWLY. There are dogs, and people using the narrow roads. Notice where the pullouts are and use them, back up if you have to. I often lift my hatch up so I can see better if visibility is crappy and I'm backing up. It is also a good idea to carry a snow shovel in your rig.
Host extremely personable, courteous and hospitable! Gorgeous residence! A wonderful break from the fast pace city life... would go back in a heartbeat!
Brian
June 2016
Excellent experience right next to Stanley. Conor was a great host and his very nice cabin was an outstanding place to stay!
Tyler
July 2016
Conor was a great host! His cabin is beatiful and clean - a lovely place to stay right near town. He gave us clear instructions before we arrived and everything was ready for us.
Ruth
August 2016
The host canceled this reservation 2 days before arrival. This is an automated posting.
Briana
In advance, we were given great directions to the house, clear information about when Conor would be home and away, and how to get situated. On arrival we found a very clear and helpful information sheet about the home's amenities and simple directions for the wood stove, bedding, etc. The house itself is in a nice, rustic new development of wooded lots, many of which are not yet built. The house is a modern cabin style and extremely comfortable, not cluttered or over-decorated. The main space and back deck are a sunny and welcoming place to hang out. The kitchen and bathroom in particular have higher end finishes. Overall, I'd be happy to live here! Stay here; I don't think you'll be disappointed with the house or its friendly owner. If we're in the area again we will look here first.
Jon
July 2016
Everything was great and as advertised. If anything this place exceeded expectation. It was a great rustic outdoors location, but very modern and extravagant on the inside. Very comfortable bed. Very clean.
Elliot
September 2016
Conor was warm and welcoming. He let us play around with his telescope, had advice on the local spots, and was delightful to speak to. Thanks so much for welcoming us to your home!
Braden
July 2016
Huonetyyppi
Koko talo/asunto
---
Asuntotyyppi
---
Majoittujien määrä
7
---
Makuuhuoneet
2
Stanley
In the heart of our little town, great views, park, art gallery, library and the airport.. You'll love my place because of the rustic coziness, within walking distance of restaurants and bars, festival events, and enjoying the scenic outdoor activities of the area. Go play and see all our mountain valley has to offer, then come back, enjoy the apartment and not have to drive to get to everything in town!
Centrally located to all activities, and someone is usually around to answer questions and help in planning adventures. Some of the most beautiful mountain settings in the United States. Great sunrises and sunsets, hiking, biking, fishing, rafting, horseback riding, ATVs, mountain fed rivers and lakes and more. Everything is very close to the apartment. We are available for check in, and live next door to the apartment. Can be as helpful as guests want or you can enjoy your privacy. The entry way to the apartment is completely separate from the main house and you'll have your own patio and parking.
Our neighbors are so friendly and outgoing. However, everyone respects each other's privacy, are quiet and enjoy wide open space between. When you stay here you are within walking distance to everywhere and everything in our small town. We are new to the vacation rental stays so please bear with us. The newly redecorated apartment is attached to our home but very private. We hope you come and enjoy our small town as much as we do and look forward to assisting you in your travels.
Host made us feel welcome. The place was an accurate description. Extremely clean.
Jeri
June 2016
This is the perfect location between a restaurant, a bar, an ice cream store, and breakfast/bakery! Great launch point for hiking, fishing or boating on Redfish Lake. The apartment is not elaborate but is well appointed and very comfortable. I hope to come back soon. Stanley is such a unique and wonderful little town.
Regina
August 2016
Nice owners. Very congenial. Perfect local in a stunning valley.
Katherine
July 2016
Location in Stanley was within walking distance to everything
Roger
September 2016
Perfect location and place for staying in Stanley. Clean, comfortable and a good value for the location plus close to a wonderful breakfast and bakery.
Debbie
September 2016
I was very impressed with Kim's home/apartment! We originally booked it because all of the local hotels were filled, but next time I would pick Kim's place first based on location, comfort, friendliness, and value. Her rental was centrally located to everything as it's literally in the center of town and just minutes away from hiking, kayaking, etc. Given the location of her rental, we were able to visit the entire town and eat/drink at many of the best local restaurants/bars without walking more than 500 foot from our door step including the best breakfast shop in town. Kim and her daughter were very friendly and contacted me before, during, and after the trip to ensure my satisfaction. Kim also was very attentive to the details including to make sure we had enough bedding since we had multiple people staying, provided us a guide book, maps, and local recommendations for activities and dining. Again, I highly recommend her home/apartment based on all the factors above including value.
David
July 2016
Kim's place and her availability to answer questions make this a great Stanley base for adventurers. Location is ideal!
Anne
September 2016
Kim was very accommodating and prompt with communication. Her apartment is exactly as pictured and very clean and comfortable. The location is the best in Stanley!
Jenni
August 2016
Huonetyyppi
Koko talo/asunto
---
Asuntotyyppi
---
Majoittujien määrä
4
---
Makuuhuoneet
1
Stanley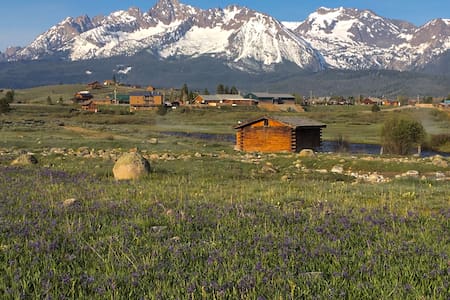 My place is close to family-friendly activities and great views. You'll love my place because of the outdoors space and the comfy bed. My place is good for families (with kids) and big groups.
This property is located at the base of the Sawtooths in the Iron Creek area and is the perfect basecamp for all your Sawtooth adventures! The first floor of the cabin offers a large bedroom with a King bed, Queen Bed, Queen sleeper sofa and seating area with a television. The downstairs also includes a bathroom with a tub (no shower) and laundry facilities. The second floor is the main floor and contains a modest kitchen, equipped with all the essentials. There is a small bathroom with a shower (no tub) adjacent to the kitchen. Also on this floor is a dining area and a living room/seating area with a propane stove. The tops of the Sawtooth Mountains can be seen from the main living areas. Two lofts provide an additional Queen bed each. Each loft is open to the main floor below and has been fitted with a curtain that can be hung for privacy when desired. These lofts are accessed by built in ladders. The lot offers plenty of parking to include room for trailers and boats if needed.
Tyler was very accessible to help us figure out details. And friendly. The setting is spectacular and the heating system is shockingly powerful. It's an ideal, cozy cabin.
Mark
October 2016
Tyler's place is wonderfully situated for access to the wilderness, not too far from town or to Redfish Lake beyond, and just a couple minutes to a trailhead. The cabin is well stocked with kitchen equipment and utensils. Even with four adults and five kids we didn't feel cramped. We would recommend this place to anyone.
william
August 2016
Beautiful cabin! The house and especially the kitchen was well stocked. Tyler was very responsive to our messages as we were dealing with wildfire-related detours on our drive from Boise to Stanley. This was our first Airbnb experience and it was great!
Tracey
August 2016
The cabin is beautiful, secluded, amazingly well stocked with everything you could need, and has a wonderful, happy energy. We loved the loft beds, BBQ grill, and fire pit. Absolutely nothing bad to say. We'd stay here again any time.
Andrew
July 2016
Tyler's Cabin is a very economical way to stay in Stanley, ID for a group. Very nice quaint cabin with lots of room and sleeping areas. About 5 miles west of town. Very quiet and comfortable. We would stay here again without a doubt.
Bradley
July 2016
Huonetyyppi
Koko talo/asunto
---
Asuntotyyppi
---
Majoittujien määrä
10
---
Makuuhuoneet
1
Stanley
Sunny, fully furnished studio apartment with Sawtooth and Creek views. Private entrance. Kitchenette with 2 burner stove, small refrigerator, coffee maker, and assorted kitchen gear. Two blocks to downtown. The studio is the upper unit of our home and it is located on valley creek and has great views of the Sawtooth Mountains. Our Your Own Private Idaho Studio has everything you need...peace, quiet, views and access to town for whatever else you need. Queen bed and sofa bed.
Large, sunny studio with mountain and creek views. Very private and very quiet. Small but user friendly kitchenette, full bathroom, three large closets for luggage and gear, small exterior deck large enough for a few chairs. Sofa couch and a queen bed, dining table and four chairs. All linens provided. Please do not rent this studio if you are planning on spending your time cooking or baking as there is a small toaster oven, a small refrigerator, a two burner stove and a microwave and some basic kitchen gear. The studio is a stand alone unit - you have your own staircase and entrance separate from the main home. The main home is occupied by the owners. The studio is a separate unit and the rental of the studio does not include access to the yard, grounds, deck, porch or hot tub. If that is not going to work for you please consider alternative rental options for your stay in Stanley. We live in Stanley and we are available to assist with any issues during your stay. Your privacy is important to us and we want you to enjoy your time in the Studio.
The Studio and home are located on Valley Creek and there is fishing access and swimming right from the backyard. Studio guests are welcome and encouraged to use and enjoy the water from the yard.
Jocelyn was quick to communicate. The location is conveniently located.
Bryan
August 2016
Huonetyyppi
Yksityinen huone
---
Asuntotyyppi
---
Majoittujien määrä
4
---
Makuuhuoneet
1
Stanley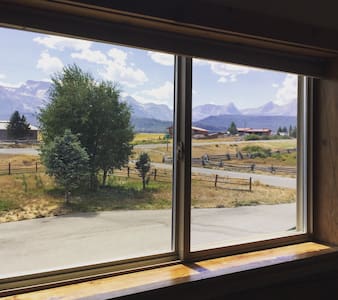 Our bright and airy three bedroom condo is an ideal mountain retreat. Open concept living, kitchen, and dining area provide stunning views of the Sawtooth Mountains and Valley Creek from a central location in the rugged town of Stanley.
Huonetyyppi
Koko talo/asunto
---
Asuntotyyppi
---
Majoittujien määrä
6
---
Makuuhuoneet
3
Stanley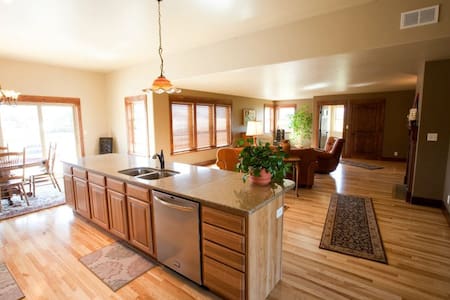 Located at the Bridge Street Grill, our rustic cabins offer a great resting place for the travelling adventurer. Great food at your doorstep and also ATV rentals to get off the beaten path. Our smaller studio cabin has a queen bed.
WELCOME TO STANLEY!!! Visitors come here to enjoy the great outdoors and our cabins make a great home base. If you are looking for something modern and upscale, please keep looking! The cabins are simple and rustic. We do out best to provide a clean and cozy space in a world class location for a competitive price. The cabins are located adjacent to our home and the Bridge Street Grill. In the summer months it is a very busy location. if you are looking for dead silence and serenity, don't stay here from July 1 to August 15. There is great hiking and public land access from our place. There is not a view from the cabins, and you do not have any access to the rest of our property. Check in at the Bridge Street Grill. if we've forgotten anything, just let us know. It is likely that we may not get a chance to meet you, we hope you have a great time! If you are looking to get to know us, come dine in the restaurant. We are probably a better fit for independent folks who aren't looking to be entertained.
We don't typically write reviews. Partly because we don't have time, and partly because we don't really buy into "REVIEW CULTURE". We try to show people the respect of communicating honestly and directly face to face, and we ask for the same in return. We're not likely to review you unless you steal or damage something, or if you sneak in extra people/animals. If you feel the need to spread negative opinions far and wide, you're probably not our kind of guest. We are a family owned business and we work hard, but we aren't perfect! If you're looking for the Hilton, please continue on to Sun Valley.
I was impressed with the availability for the type of cabin during that specific week.
Craig
June 2016
We loved Stanley, what a beautiful place! The cabin was just what we needed at an affordable price. The host was very friendly and accommodating.
Katrina
March 2016
We got lost on the way in and Brett was very helpful in directing us. Location is absolutely perfect, 5-10 minutes from Stanley Lake and Red Fish Lake and awesome trails. Exactly what we needed for our 4 day trip. Restaurant has great food, definitely worth trying. Thanks again!
Nicole
June 2016
Nice and quaint cabin well-located next to the delicious and lively family-owned restaurant. Convenient location in an awesome little town. Cabin was clean and very comfortable. Would definitely stay here again!
Rachel
October 2016
Unwelcoming
Mary
July 2016
It was perfect. It was exactly what we wanted. It was a rustic wood burning stove cabin long side of river.
Allison
March 2016
I had issues with Brett responding to any messages prior to arrival. Upon calling I did get directions and instructions to come to restaurant upon arrival to check in. Brett was very pleasant at check in and even "upgraded" us due to my husband being 6'2 and not fitting in cabin 1 shower. At initial walk through it was rough but only here for night, we'll make it work. Well an hour into our stay we moved out and went uptown Stanley to very nice accomidations for same price Buyer beware cabin 2 has outlets that run hot, exposed light sockets (we ask for lights to read by and they brought us two new light bulbs), there are no curtains covering view from main road, bed linens look tired and if you ask you will get 1 washcloth for two people to go with your 3 kitchen towels and 2 bath towels
Carla
September 2016
I would NOT recommend this place to anyone! The owner Brett has no customer service skills. He was rude and condescending. The room was ok but the bathroom had no sink, was extremely cold and no heater. There was a tiny sink in the main room. There was a coffee maker, but no cups or mugs. There was an outlet with NO plate cover, very dangerous. It is also far away from the town of Stanley. This was a big disappointment for our first airbnb experience.
Kathie
October 2015
Huonetyyppi
Koko talo/asunto
---
Asuntotyyppi
---
Majoittujien määrä
2
---
Makuuhuoneet
0
Stanley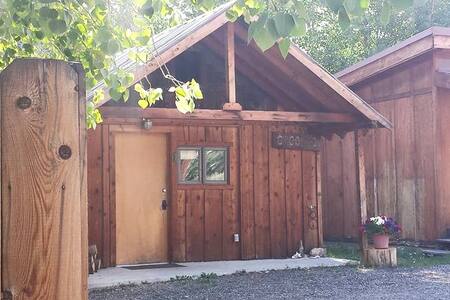 2 bed 2 bath fully equipped house located next to the turnoff to Stanley lake. Wireless Internet Washer/Dryer Full Kitchen Sleeps up to six
Nice spot, would stay there again.
Matt
September 2016
Todd was an excellent host! He was very laid back and friendly and the neighborhood was peaceful and relaxing. The cabin was well stocked and very clean and cozy. The beds were super comfortable, and we had everything we needed and more. We stayed two nights and would definitely do it again! We rented a kayak which was delivered to our front door as well. Thanks so much Todd we hope to be back!!
Matthew
June 2016
Huonetyyppi
Koko talo/asunto
---
Asuntotyyppi
---
Majoittujien määrä
6
---
Makuuhuoneet
2
Stanley
Nature sanctuary on the E. Fork Salmon River .Tipi on the river with antique iron bed, campfire circle.Easily accessible.Sandy beach.Next to Boulder White Cloud Wilderness area.Fishing.Hiking.Mtn biking.Horse corrals.Romantic..Compost toilet.Solar shower.
Very comfortable antique iron bed in the tipi...down featherbed with flannel sheets, next to the river. You will have a composting toilet. An outdoor solar shower. Private entrance in. Picnic table with a grill for cooking. Clean excellent drinking water available. Fire pit with firewood. Sandy beach. ...horses extra, corrals and pasture with loafing shed available. You will have access to my sandy beach and shore for fishing, swimming, rafting. Extensive knowledge of area hiking trails, horseback riding trail, fishing...etc. I will be happy to tell you where you may find sources of entertainment, if needed...
An eclectic area of ranchers, artists, and people who enjoy living "out of the mainstream"......Lakes, music, kayaking,fishing, hiking, horseback riding, star gazing...clear skies abound.....for those who appreciate nature.... This is a nature sanctuary, to be enjoyed for the peace and serenity of the property. This isn't a "party " scene.....I will respect your need for privacy, and expect the same. But I am open to helping in any way I can...it is a magical place.
As I said winter is coming early & Golde knew I had a cold so she had the fire going & a jug of hot water, tea & honey - very sweet & thoughtful & much appreciated. Setting & lodging was perfect - everything I needed & if not I would have felt comfortable asking!
Ann
October 2016
We loved staying in Golde's tipi. It had everything we needed and more. Highly recommended!
Erin
August 2016
Golde was extremely accommodating in addition to being knowledgable about the area and all it had to offer. We really appreciated all of the little personal touches in the tipi and on the property. The location is incredibly beautiful and a great place to unplug. Overall, a wonderful experience in a really magical place.
Lynda
September 2016
Our experience staying in Golde's tipi was definitely the highlight of our trip. What was so unexpected for us was how PRIVATE the whole area was. We cooked dinner on a private grill and firepit (with pre-gathered, pre-chopped wood, matches, etc.), swam on Golde's beach with her inner tubes, and slept in a big tipi with a comfortable bed, falling asleep to the sound of the river. Golde was really welcoming and went above and beyond to make us feel comfortable. She was there to greet us when we arrived, gave us a detailed tour of all the amenities, and chatted with us about Idaho. We would definitely visit again!
Jonah
August 2016
Golde was so welcoming and accomodating and just an overall interesting person to talk to! The teepee was really cool and peaceful down by the river. It was very secluded and private and the surrounding nature was absolutely gorgeous. The bed is also very comfortable! Staying here is one of the things that definitely stands out about my 2 week road trip through multiple national parks. Thanks so much Golde! My friend and I would absolutely stay here again!
Linna
July 2016
The place was amazing. Just what we were looking for.
Derek
September 2016
Golde was an amazing host! She had a fire waiting for us when we arrived and took the time to show us around the property which was gorgeous and right on a crystal clear river. The tipi was awesome and we both slept like babies in the warm and cozy bed with the sound of the river flowing in the background. Really cool unique place to stay, I highly recommend it!
Daniel
October 2016
I think this trip was our most inspirational yet. Golde taught us that you really can live the life you want, you just need to know what that life is first and make it happen. She's amazing. She has built a beautiful little oasis for others to come enjoy her gorgeous property right on the salmon river. To stay in her Air BnB is a mix between glamping and adventure. We were there when it was a bit chilly so we really enjoyed cozying up at night next to the fire and using kerosene lanterns that felt as if you were in the 1800's. There is so much to do in the area if you are into the outdoors. Great fishing, ghost towns, plenty of hot springs and hikes, river rafting and tubing, and endless beautiful forest. If you are headed to Idaho and wish to camp but can't bring all the gear, try staying at the Jammin' Salmon, you'll remember it forever.
hans
September 2016
Huonetyyppi
Koko talo/asunto
---
Asuntotyyppi
---
Majoittujien määrä
2
---
Makuuhuoneet
0
Clayton
Beautiful Bsmt. Apt., completely furnished, 1-Bedroom (Queen Bed), 1-Bath, Dish Washer, Microwave, Fireplace, TV, Washer and Dryer, & Outdoor Grill. Step out the door and on to the scenic Salmon River. $120/Night or $700/Wk.
Apartment is located on Highway 75 Scenic Byway going toward Stanley Sun Valley and 20 feet off the Salmon River. The apartment comfortably fits 2 people. There is also a landscaped RV pad available with Septic, Water and Electricity available for $35/Night. Access to Steel Head and Salmon fishing. Great hunting of Bear, Elk, Deer, Big Horn Sheep and Wolf. Challis National Forrest, Bay Horse Ghost Town and lakes within 6 miles, ATVing, Rafting, Golfing, Hot Springs, Hiking. The Host lives above the locked apartment. The Host will be present during the guests stay.
The River Drive neighborhood is very quiet and scenic with numerous wildlife visiting the location. The location and water is very soothing and relaxing. Public transportation in not available in Challis. Parking is available at the Apartment. The closest Air Port would be at Pocatello, ID. Travel on Highway 93 towards Challis, ID and turn at the Yankee Fork Junction I75 Scenic Byway towards Sun Valley. Turn at Mile Marker 235 on to River Drive , approx. 11 Miles from Challis, ID, the house address is 420 River Drive, Challis, ID 83226 Close to Red Fish Lake, Sun Valley, Stanley, Salmon. River Rafting, Fly Fishing and Hunting guides are available in the area.
Our stay was great! Barb was a fantastic host and made our first Airbnb experience very positive. The accomodations were lovely and the view of the river was beautiful. Thanks Barb!
Todd
August 2015
This place is stunning. Barbara makes you feel completely at home in this immaculate property on the river. Perfect for escaping the distractions of home, without having to escape any of the comforts. Barbara was very attentive and accommodated all requests. A definite recommend from me.
Nick
July 2014
Barbara was amazing and her place is in a beautiful location. She made us feel right at home and even provided some essential food items knowing that we'd be arriving too late to make it to a store or have a hard time keeping items cold on a long drive. The Salmon River is a magical place with hot springs on the side of the river, amazing geological features, changes in landscape, ghost towns and adventure. We have coffee in the mornings with Barbara and her family while enjoying the early morning sunshine. Our daughter loved fishing from the bank of the river and making s'mores after the sun went down.
Bree
July 2014
We drove out of our way specifically to stay here -- and it was well worth the added miles. I was giving my parents their first tour of Idaho for my mom's birthday, and relaxing by the Salmon river at Barb's was their favorite part of the trip. The view of the river from inside the apartment is beautiful, we spent many hours watching wildlife and discussing our need to "get out of town" more often. This was truly an inspiring spot and we plan to be back! Barb was a very welcoming and accommodating host -- and such a fun lady! The apartment was SO COMFORTABLE and peaceful. All four of us slept great, the sound of the river as you're falling asleep can't be beat. The kitchen was also fully stocked with such attention to detail! My mom was excited to find her favorite sweetener for coffee, and we had homemade oatmeal bars for breakfast. There were even supplies to make smores or caramel apples! We were already planning our return before we had left, and hope to make a weekend trip out of a Goldbug hotsprings visit at Barb's! You won't be disappointed if you book this space.
Erin
June 2015
Barbara was an excellent hostess and the apartment was gorgeous. Plenty of privacy, space, and wonderful views. The apartment had a fireplace and a comfortable bed. The kitchen was well equipped and breakfast fruits and goodies were provided. The sound of the river and the stars at night were unforgettable. We even saw a shooting star. The neighborhood appeared to be quite and safe. When we woke up on Easter Sunday we attended a local church and restaurant. The people in the community are very nice and welcoming, especially Barbara. If we have an opportunity to go back sometime, we will look forward to staying at Barbara's apartment again.
Nelly & Jared
April 2014
Barbara is open and welcoming, she is a gem. She made us feel as if we had long history together. She had a prepared kitchen for our use stocked, so we could easily find something to eat after a long while on the road. The bed is divine. You will be very comfortable here.
Susan
August 2014
We love Barbara! What a nice person, so welcoming and accommodating. For starters, the property is even better than the pictures indicate, which is saying something. The "apartment" is big and clean and has everything you'd need and more. Of course, having the Salmon River as your backyard is pretty great too. But back to Barbara. She let me her tube and life jacket so that I could go rafting down the river. She even offered to drive me up to the spot where you go in. When I got back, I was informed by my wife that Barbara and her friends had invited us to join them for dinner on her balcony overlooking the river. Great conversation and free dinner after 7 hours on the road was just perfect. We will definitely be back!
Jeff
August 2014
Staying at Barbara's Idaho Salmon River Apartment was one of the highlights of our 11 day trip out west. It's location, right on the river, is just a beautiful setting. The apartment is very comfortable with all the amenities that made us feel right at home. It's newly decorated and includes all you may need in the fully stocked kitchen. Barbara is a wonderful host and I would recommend her apartment to all travelers.
Katherine
August 2014
Huonetyyppi
Koko talo/asunto
---
Asuntotyyppi
---
Majoittujien määrä
2
---
Makuuhuoneet
1
Challis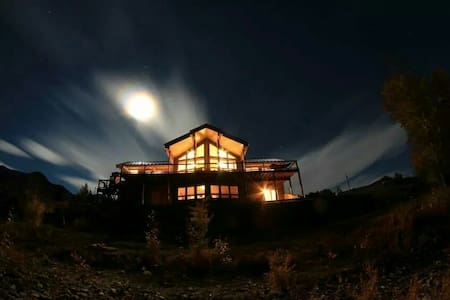 Conveniently located at the Bridge Street Grill, our rustic cabins offer a great resting place for the travelling adventurer. Adjacent to National Forest, hiking and fishing opportunities abound. Great food at your doorstep and also ATV rentals to get off the beaten path. Our larger cabin is set up with two rooms open to each other, with a queen bed and a fold out futon.
THIS IS STANLEY!!! If you are looking for upscale lodging with all the amenities, please keep looking. We do our best to provide clean, comfortable lodging at a great location and a competitive price. We are a very busy family run business and we're not perfect. If we forgot a towel, just let us know! If you want a host to come spend time with you, we're not who you are looking for! The cabins are located adjacent to our restaurant and our house. In the busy season there is a lot of action. There is NOT a view from the cabins and you do NOT have access to the rest of our property. If you need something you can inquire at the restaurant or send Brett a text. We are not typically available for extensive interaction.
We will typically not review you for 2 reasons: one, we're very busy and have a lot of visitors. Number two: WE DONT REALLY BUY IN TO REVIEW CULTURE, and feel it can be misused as a way to avoid honest communication and accountability. We're probably only going to review you if you stole or damaged something, or if you snuck in extra people/animals. We ask the same respect from you...make sure you have reasonable expectations, and give us an opportunity to remedy any shortcomings.
We packed 4 guys in for s ski trip in the sawtooths. It was very cozy for four. Brett was a nice host.
Matt
March 2016
This is a very basic unit. Closer to elk hunter accommodations than a typical AirBnB. Brett is kind of crusty, but can be ok if you don't act a total PITA. We got a huge serving of rhubarb pie & ice cream at Brett's restaurant for $6! If you want minimal, on the river and close to grub, look no further. If you want anything more, this may not be for you.
Joe
August 2016
Brett's cabin is in a perfect location next to his restaurant on the beautiful Salmon River in Lower Stanley. The views are incredible. The accommodations are definitely rustic but totally sufficient for our needs.
Caitlin
June 2016
Brett was helpful and did address a couple of issues found during check in. It seemed that they were not quite ready for our arrival and a few items fell through the cracks. We got those corrected, and from there things went pretty well.
Rick
July 2016
Huonetyyppi
Koko talo/asunto
---
Asuntotyyppi
---
Majoittujien määrä
4
---
Makuuhuoneet
1
Stanley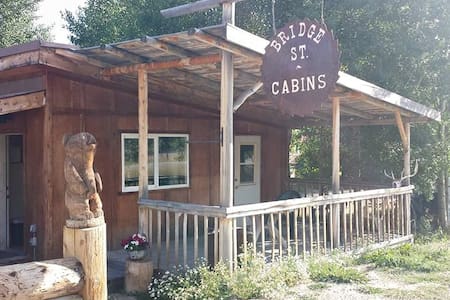 The Ultimate Lodge for Retreats, Family Reunions or Destination Weddings. Property Includes full access to your own private resort: 18 suite guest rooms - sleeps 50! Pool and hot tub Par 3 golf hole Volleyball Tennis Court 2 private lakes and river access w canoe, paddle boards, etc.
Originally homesteaded by Herman Coors of the Coors Brewing Company, the Lazy H Ranch and Hot Springs located in Atlanta Idaho is heaven on earth. The property includes: - Natural hot spring pool and hot tub (pool and hot tub are hot even in the winter. Pool can be whatever temperature you choose in the summer) - Par 3 golf hole with 5 different tee boxes - Hiking and mtn biking trails - Volleyball - Horseshoes - Tennis Court - Basketball Hoop - Fishing in 2 private lakes or middle fork of the boise river - Paddle boats/canoeing in the private lakes - We can arrange an outfitter for horseback riding - We can arrange or bring your own ATV's/UTV's/Snowmobiles - Commercial Kitchen - Meeting Room/Board Room This is the place to get away and connect as a family, executive team or to celebrate a private wedding or event. We have onsite and available for you to use: paddle boats, paddle boards, canoe, golf clubs, tennis rackets, volleyballs, basketballs, soccer balls, horse shoes, board games, croquet, etc. etc. Just show up and start having fun! The property was at one time listed for sale at $15 million. The owners of the property have decided to keep it in the family and make it available to the public. Read the reviews! Anyone who ever comes leaves saying it is one of their favorite places on earth! The property was at one time listed for sale at $15 million. The owners of the property have decided to keep it in the family and make it available to the public. Read the reviews! Anyone who ever comes leaves saying it is one of their favorite places on earth! The property is approximately 95 miles from Boise (3 hour drive) or 350 miles from from Salt Lake City (6.5 hour drive). The property has a 4000' private runway for those wishing to fly into or out of the property (please inquire for recommended flight companies). The property includes: - Natural hot spring pool and hot tub (pool and hot tub are hot even in the winter. Pool can be whatever temperature you choose in the summer) - Par 3 golf hole with 5 different tee boxes - Hiking and mtn biking trails - Volleyball - Horseshoes - Tennis Court - Basketball Hoop - Fishing in 2 private lakes or middle fork of the boise river - Paddle boats/canoeing in the private lakes - We can arrange an outfitter for horseback riding - We can arrange or bring your own ATV's/UTV's/Snowmobiles - Commercial Kitchen - Meeting Room/Board Room All balls, rackets, golf clubs, board games are onsite and available to use. Just show up and start having fun! The property is very private. There are no neighbors. The property does have a caretaker who lives in town and is available to give a walk through of the property when you arrive as well as address and questions or concerns. Before your arrival the owner is available for suggestions on preparing for your arrival and the planning of your stay.
It is unbelievably beautiful. You'll feel like you are staying in your own private national park.
Huonetyyppi
Koko talo/asunto
---
Asuntotyyppi
---
Majoittujien määrä
16
---
Makuuhuoneet
10
Atlanta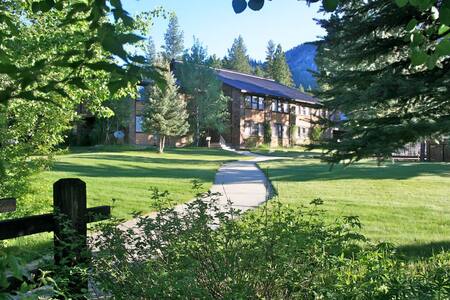 Redwood Cabins are situated on the banks of the world famous Salmon River in Stanley Idaho and we are located just five miles from the Sawtooth Wilderness and Redfish Lake.
There are 13 cabins on the property. Cabin configurations are: 2 beds with a kitchen, 1 queen bed with a kitchen, 2 full size beds with no kitchen, or 1 queen with no kitchen. Access is specific to your cabin and the common area along the Salmon river.
There is no public transportation we are surrounded by millions of acres of wilderness.
Huonetyyppi
Koko talo/asunto
---
Asuntotyyppi
---
Majoittujien määrä
4
---
Makuuhuoneet
1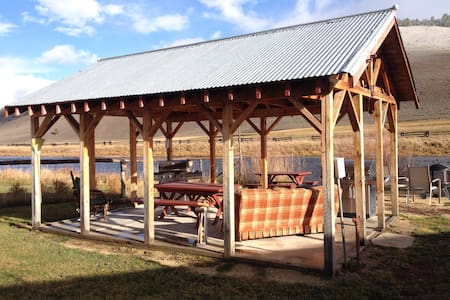 Calling all adventurers, fishermen, hunters, horse enthusiasts, families with children or those seeking solace and communion with nature in her most majestic form. It is time to bring our beloved Sky Ranch to the Airbnb community so that people may enjoy this magical place.
Welcome to Idaho as it was meant to be. We are ready to share our beloved Sky Ranch with you. Please note, our ranch is a home on 2 acres next to two neighboring houses in a small group of homes on the edge of the Sawtooth Wilderness. We call it a "Ranch" because there are hundreds of acres to explore right past the driveway. Our home is located forty five minutes to one hour from Ketchum and Sun Valley over Galena summit near the headwaters of the Salmon river in Smiley Creek. Views of the Sawtooth National Forest and the White Cloud Wilderness offer stunning panoramas. Please Note: at this time we do not have internet or phone service. Cell phones and internet work from the nearby Smiley Creek lodge at the bottom of the hill. Enjoy day trips to local lakes, rivers and mountains. Bring your ATV and ride from the house onto hundreds of miles of trails. Three stories offers a top bedroom loft open to the living room and kitchen below. Loft has a queen bed and two twin beds plus a sink. Middle floor has bedroom and bathroom with kitchen, dining and living room. Please note here, our kitchen is very small. The stove is an apartment size stove. Bottom floor has bedroom with queen bed plus a bathroom and living room area has a blow up bed upon request. Laundry and additional refrigerator plus sink on bottom level. Riding trails galore in every direction. Peace, beauty, freedom and nature. All Access Available by phone or Airbnb
This is a beautiful cabin, located just off the highway, in a quiet neighborhood. The cabin was spacious, excluding the kitchen, which is very small. You might find it helpful to know that the stove/oven is tiny, not standard-size. The view of the mountains from the cabin is breath-taking, and there are several areas outside from which you can enjoy the view. During our stay, we enjoyed driving to two separate lakes-- Redfish Lake and Alturus Lake, for swimming and fishing. The Smiley Creek Lodge had delicious ice-cream, and we highly recommend the Huckleberry! It would have been helpful to know ahead of time, that there is absolutely no internet connection available at this listing, although it states in the amenities that there is wireless internet. Upon our arrival, we were directed by the owner to go to the Smiley Creek Lodge for internet, but soon found out that it was not available to us, because wireless internet is reserved for lodge-guests exclusively. This was frustrating due to a couple urgent issues we had, but did not ruin our weekend. Overall, we highly recommend this beautiful home! The host, Ahnalisa, was a delight to work with!
Sheila
July 2016
The house is in a beautiful and convenient location to both Stanley and Ketchum. The patios are awesome and the views amazing! Annalisa the host was very helpful and accessible for questions. We had a great time and stayed for four days. The appliances are definitely getting a little older as are the cushions on the furniture but all in all it has a cool vintage vibe and everything worked well. As for cell service those of us with Verizon had signal and those with other carriers did not. We would stay there again
Brady
July 2016
We had a wonderful time at the cabin- spectacular views from every window. Cozy, comfortable & authentic Sawtooth mountain decor :-) Amazing wrap around deck is the perfect outdoor dining spot. Lots of grassy lawns to frolic & play. Beauty abounds in all directions! Outdoor fire ring w rustic bench & stumps for making smores. Beds were comfy & well equipped w blankets & pillows. Jacuzzi tub was a great suprise. 20 min drive to Stanley & the amazing Redfish lake. Plenty to explore out the back door- miles of bike riding & hiking. We even ventured on back roads for gold panning & elk viewing and ghost town exploring. Our children also loved to ride bikes to Smiley creek lodge & sip a milkshake at the log bar. We are definitely coming back next summer for a few weeks :-)
Susan
June 2016
Huonetyyppi
Koko talo/asunto
---
Asuntotyyppi
---
Majoittujien määrä
8
---
Makuuhuoneet
3
Ketchum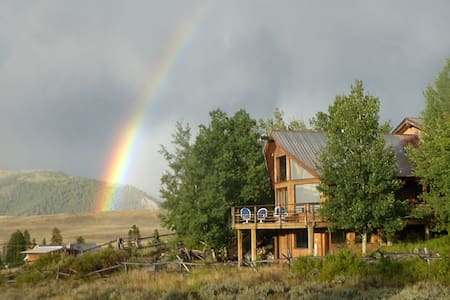 Located on the East Fork of the Salmon River 5 miles up East Fork Road. The house sits on 4+ acres with approximately 1000' of river frontage. Mountain views adjacent to the White Cloud Wilderness. The location offers peace and quiet with abundant wildlife. Great jump-off spot for mountain bikers, hikers, and explorers.
Huonetyyppi
Koko talo/asunto
---
Asuntotyyppi
---
Majoittujien määrä
4
---
Makuuhuoneet
2
Challis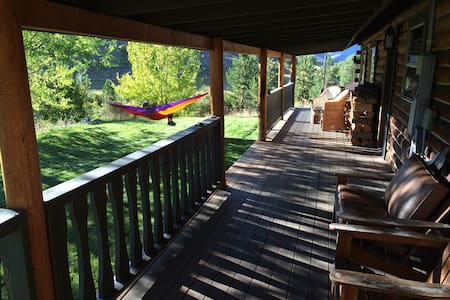 The Coyote Yurts sit on a promontory ridge at 8700' in the mountains high above Sun Valley, Idaho. Ideally situated for adventurous travelers who enjoy hiking, mountain biking and backcountry skiing. Check out Sun Valley Trekking website for more
2 yurts connected by a covered deck with views forever. A separate wood fired sauna and outdoor solar shower make for great bathing. The entire yurts and facilities are part of your own private Idaho!
Deep wilderness We recommend having a guide accompany you on your first day. Package guided trips available with catered food, guiding and lodging included. Please contact us for more information. Cell phones work well at Coyote Yurts allowing access to phone and web. There is a solar power system to power small gadgets and computers as well as lights.
The host canceled this reservation 5 days before arrival. This is an automated posting.
Ike
The host canceled this reservation 54 days before arrival. This is an automated posting.
Kelsey
We snowshoed/skied to Joe's yurt at -10 °F. Sawtooth Ranges was quiet and charming, covered by dry, fluffy snow. Had a great time. One thing I have to mention is that the yurt is not very well insulated. After midnight, when all the heat from the fireplace was gone, is was almost as cold inside as outside. Be well prepared. :)
Kelsey
January 2016
Huonetyyppi
Koko talo/asunto
---
Asuntotyyppi
---
Majoittujien määrä
16
---
Makuuhuoneet
2
Sun Valley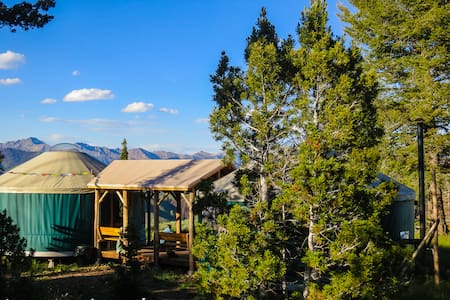 1

–

15

hakutuloksista

15 vuokrakohdetta