这是在这个风景优美的村中心的大4个床位的乡间别墅。北约克郡内的优越位置。
这间宽敞的203yrs历史的乡村别墅在这个历史性的市场村,北约克郡,靠近克利夫兰山,米德尔斯堡,惠特和Scarborough的中心。 4间卧室。三3间双人卧室有新的可逆(公司/记忆海绵床垫)。 1单人卧室。一个非常大的客厅,现代化的厨房/早餐和一个独立的用餐室(6)。 已在整个雅致的现代感被彻底现代化的平房。美丽温暖的壁炉一个伟大的宽敞的客厅。美国式的厨房和一个独特的玻璃的栏杆,楼梯夹层。浴室和浴缸淋浴和独立的一楼卫生间/衣帽间。附加的车库可以存放自行车/摩托车,而且安全,无车辆停放距离酒店20米。 你有整个房子就在村!有独立的洗衣机和烘干机。洗碗机。内置双烤箱,微波炉,咖啡机设备。 如果您需要整个房子,那么无论自己或家人会检查您输入/输出,这一切都为你的逗留期限。否则,如果它只是一个房间,你需要那么我可能偶尔会出现在我很高兴能分享喝酒聊天,让你知道有关该地区的这种情况。 这家历史悠久的格鲁吉亚集镇克利夫兰山的壮丽景色,坐落在Leven河,与学院广场的一端,西青在其他。鹅卵石铺就的高街与个体商店,餐馆,酒家和咖啡馆热闹非凡。除了每周一次的市场,每月的农贸市场,斯托克斯利做东每年农展会。镇也有一个图书馆,健身中心和酒店。休闲设施包括:板球和足球场,高尔夫练习场,游泳池休闲中心,艺术社,电影俱乐部和园艺俱乐部。还有对面的酿造自己的啤酒,并提供了一系列的美食小屋一间酒吧。 有定期巴士路线米德尔斯堡和Northallerton的连接到全国铁路服务。亚姆火车站15分钟的士车程 目前该物业是市场上销售,但直到那个时候,我正在提供给旅客和度假者。 2全高速WI-FIS在整个可用。 如果您有任何更多的查询,那么请不要犹豫,开除我的电子邮件。
这家历史悠久的格鲁吉亚集镇克利夫兰山的壮丽景色,坐落在Leven河,与学院广场的一端,西青在其他。鹅卵石铺就的高街与个体商店,餐馆,酒家和咖啡馆热闹非凡。除了每周一次的市场,每月的农贸市场,斯托克斯利做东每年农展会。镇也有一个图书馆,健身中心和酒店。休闲设施包括:板球和足球场,高尔夫练习场,游泳池休闲中心,艺术社,电影俱乐部和园艺俱乐部。
David was brilliant and really helpful, communication was great sending us information about parking and the events that were happening around the village. From the first time we stepped in to the cottage we received a very warm welcome from David's lovely aunt who showed us round and explained how everything worked, she even helped us get a parking place for two cars. The cottage was really well equipped, warm and extremely comfortable. Well appointed in the middle of the village with plenty of coffee shops and nice places to eat. The surrounding countryside was beautiful and we had some lovely walks. A thoroughly enjoyable stay.
Janette
2015-09-21T00:00:00Z
An absolutely lovely, spacious house in a lovely village area. David's communication prior to and during the trip were excellent. I would definitely recommend staying here and would consider it again in the future.
Katie
2016-02-20T00:00:00Z
Had a great stay at Dave's. Excellent accommodation to a high standard. A Good choice of pubs and restaurants on the doorstep and easy access to the beautiful North York Moors. We highly recommend Dave's property. A real home from home and Dave was there to greet us in person.
Nev
2016-02-03T00:00:00Z
Stokelsley is a very lovely town, we enjoyed our stay very much! The home is very spacious and had everything we need and was just a quick walk to the restaurants and shops downtown. David was really easy to organize with leading up to our stay and Roz showed us around when we arrived and was very nice and welcoming. Thanks for everything David!
Michelle
2016-09-02T00:00:00Z
Myself and a group of friends stayed in David's home over bank holiday weekend. The house is gorgeous and has plenty of space, especially for 7 of us. The facilities and appliances provided are top notch and there were no times we felt there was something we needed that wasn't there. Communication was great throughout from the booking process through to check in. I'd recommend David's house to anyone wishing to get away with a touch of luxury.
Laura
2016-05-31T00:00:00Z
Dave had a family member meet is on arrival to show us round the property ('Aunt Roz' - lovely lady). We were due to arrive a little earlier than the check-in time and Dave was more than happy to accommodate our request. He also contacted us on the night of arrival to make sure we'd settled in and check that everything was ok and comfortable for us. He continued to make regular contact (by text) to make sure we had everything we needed. I thought this was a nice touch that he cared. The property was as described, very comfortable and had everything you'd need, especially for a longer stay (16 nights for us). Because of the size of the property, we were able to have a few family members come stay with us which was a huge bonus given we were visiting from Australia. Stokesley is a beautiful area (I know the area pretty well) but Dave passed on his own knowledge of the area which was appreciated. I loved staying at this property and would definitely stay again. Highly recommended.
Ali
2015-10-09T00:00:00Z
A lovely family home in a great location. All the facilities you could need. V comfortable beds!
Hazel
2017-03-19T00:00:00Z
We were welcomed by our host who left us a warm, comfortable, spacious and clean house, he even put up a Christmas tree as we were staying over Christmas. Great experience, fantastic family holiday
Eric
2016-12-27T00:00:00Z
Huonetyyppi
Koko talo/asunto
---
Majoituspaikan tyyppi
Talo
---
Majoittujien määrä
7
---
Makuuhuoneet
Stokesley, North Yorkshire, Britannia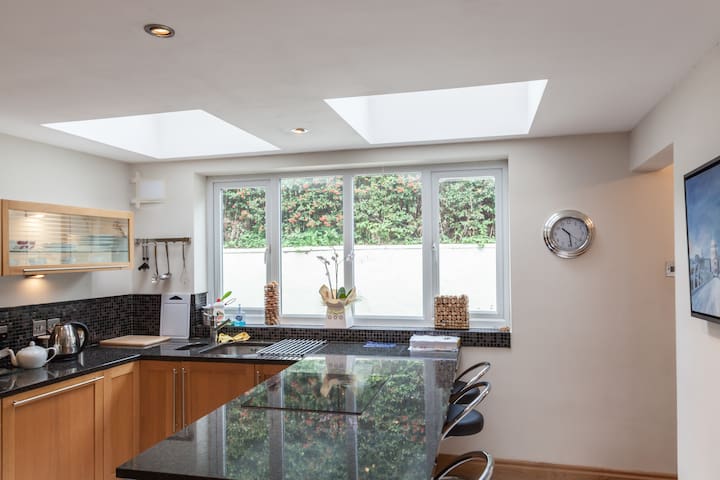 Barn conversion in beautiful North Yorkshire on the edge of the North York Moors in Cpt Cook village. Modern, comfortable, self-contained. Walking and tourist area. Market town of Stokesley 2 miles away, accessible by car, bicycle or via footpath
The whole cottage and the field and river behind the cottage. Guests are responsible for their own and their children's safety at all times.
Great Ayton is where Captain Cook went to school (visit the schoolroom museum) and worked (Aireyhome Farm). There are a two pubs; Joplin's restaurant; Stamps and other coffee shops; Beauty Salons - all worth a visit. It also has a Co-op, chemist, newsagent, hairdressers and hardware store. There are Anglican, Catholic and Methodist churches in the village. Stokesley, two miles away, is a market town: market day is every Friday with a Farmer's Market on the first Saturday of the month. Lots of coffee shops, restaurants, takeaways (Chinese, pizza and fish and chips) and pubs to visit. There is also a large and a small Co-op, a chemist and several hairdressers with a garden centre a short walk outside the town
We had a really lovely few days here at Great Ayton staying in a beautiful barn conversion with the chickens for company. Shame we didn't have the time to really enjoy the property as we were chasing teen and horse all over the place, so we shall have to return when it it is less hectic to enjoy more of Caroline's hospitality. Thank you so much.
Sam
2016-04-05T00:00:00Z
Caroline was a great host, very helpful and relaxed. We loved the warm, comfortable cottage. Breakfast provided was lovely especially the eggs. We loved the area and will hopefully return.
Richard
2016-04-25T00:00:00Z
Caroline was a great host. We stayed at this specifically to attend an event in the village so didn't have much time to explore the area. But the cottage itself was lovely: clean, spacious, warm and comfortable, we had a great weekend stay.
Flora
2017-03-26T00:00:00Z
We were made very welcome by Caroline and the animals. We enjoyed the breakfast provided. The cottage was well appointed, spacious and peaceful. We enjoyed being able to see the Cleveland Hills from the lounge. There was an electrical problem and Caroline called an electrician who responded the same day.
Edward
2016-06-13T00:00:00Z
Very spacious cottage, bright and clean. Well located for the North York Moors. Quiet and peaceful.
Mary
2017-03-19T00:00:00Z
We had a wonderful stay at the cottage. It was perfect for a small family and the cottage was well equipped with everything you may need. Highly recommend the eggs, Caroline had left us a lovely breakfast for the first day too. Will definitely return!
Matt
2016-04-08T00:00:00Z
Lovely rural location. A very restful place to stay. Clean, cosy, comfy...
Lois
2017-03-05T00:00:00Z
A wonderful relaxing two days.
Martin
2016-03-31T00:00:00Z
Huonetyyppi
Koko talo/asunto
---
Majoituspaikan tyyppi
Talo
---
Majoittujien määrä
4
---
Makuuhuoneet
Great Ayton, Britannia
Good value for money. Salma also helped me out with a room during the day after working nightshift when other b&b's turned me down.
Dewald
2017-02-25T00:00:00Z
Good value stay in an area of much more expensive alternatives. Room was basic but very clean. Salma gave us a very friendly welcome and let us store our muddy bikes in her spare room. We were even offered evening meals for a small price. Unfortunately we had already booked a table at the Falcon Inn, so make sure to ask in advance, as we felt we missed out on a belting curry. Just to note. This is a smokers house which I don't think was in the advert. Thanks again for letting us share your home Salma. Jon and Helena X
Jon
2017-04-04T00:00:00Z
Huonetyyppi
Yksityinen huone
---
Majoituspaikan tyyppi
Talo
---
Majoittujien määrä
2
---
Makuuhuoneet
Seamer, Englanti, Britannia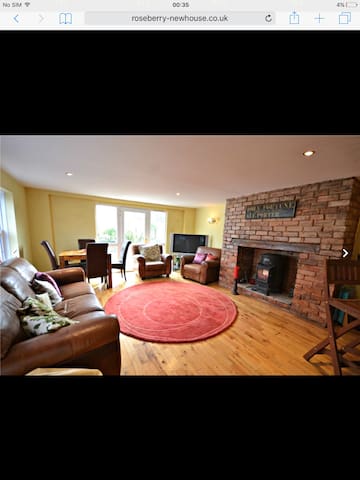 Huonetyyppi
Yksityinen huone
---
Majoituspaikan tyyppi
Talo
---
Majoittujien määrä
1
---
Makuuhuoneet
North Yorkshire, Englanti, Britannia
Stokesley - Airbnb
:
Keskimäärin

4.7

tähteä yhteensä

5

110

vierasarvostelusta